Story and select photos by DinaRella / Additional photos from Solace Boats
In part one, we said Solace Boats – the newcomer with old school roots – leads the way in innovative and purposeful craftsmanship. What exactly did founder, CEO and boat-industry veteran Stephen Dougherty and his team do to make the Solace 345 and 41CS so sought-after? Take your pick, for example, Solace incorporated a hydraulically controlled windshield and similarly functioning stern sunshade; added magical (my word) magnetic technology all around; and then tossed in the massiveness of reinventing a newly configured outboard transom.
Luxurycenterconsoles.com is not the only marine editorial outlet singing the Solace praise; the center consoles have been accumulating boating-industry accolades across the board since  arriving on the water. "It is a courageous design done with flawless execution," said Boating Magazine's editorial director, Kevin Falvey; Power & Motor Yacht crowned it Readers Choice top honor; and the Newport International Boat Show showered it with Best Powerboat Under 36' and Best Powerboat overall. Let's see why...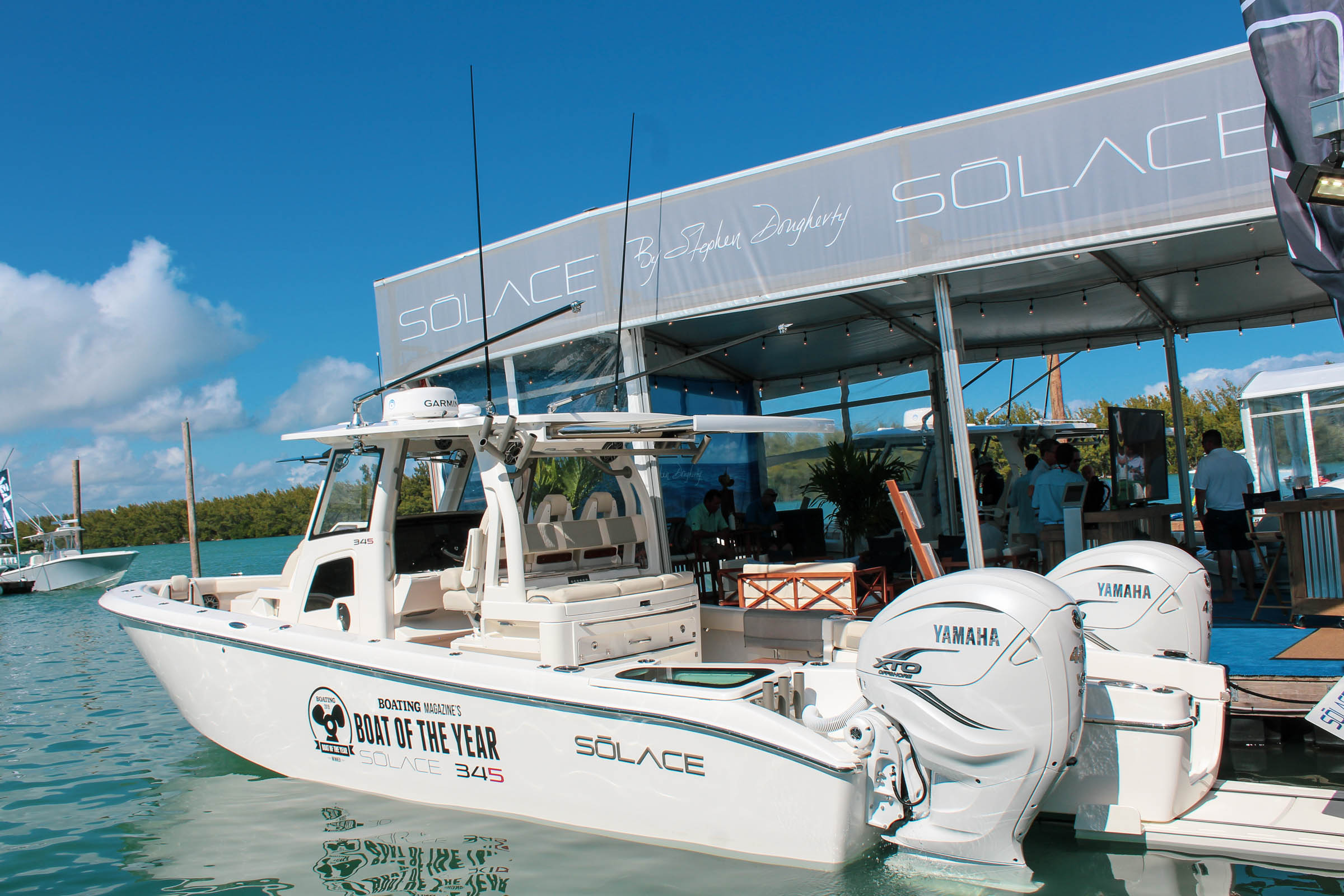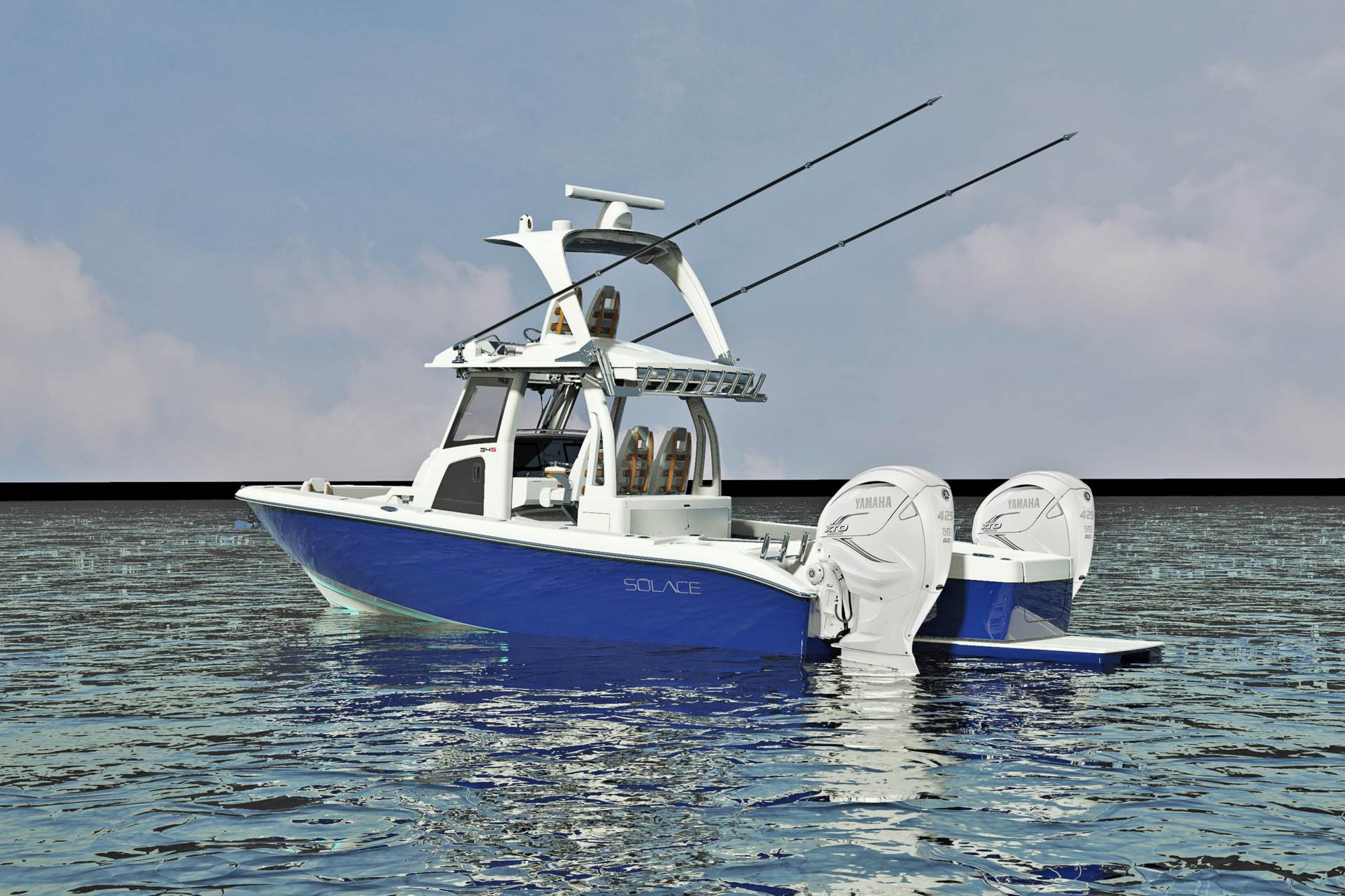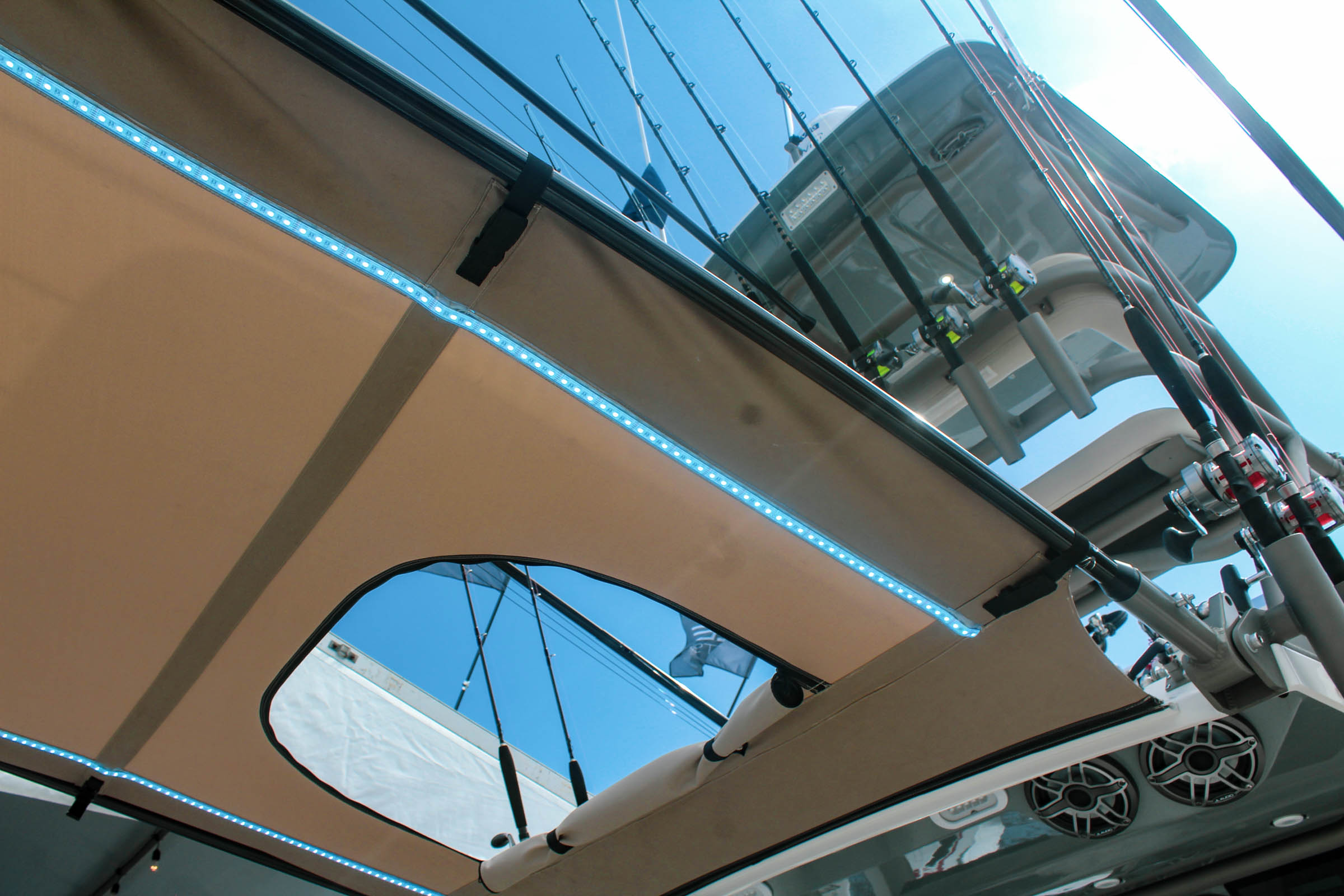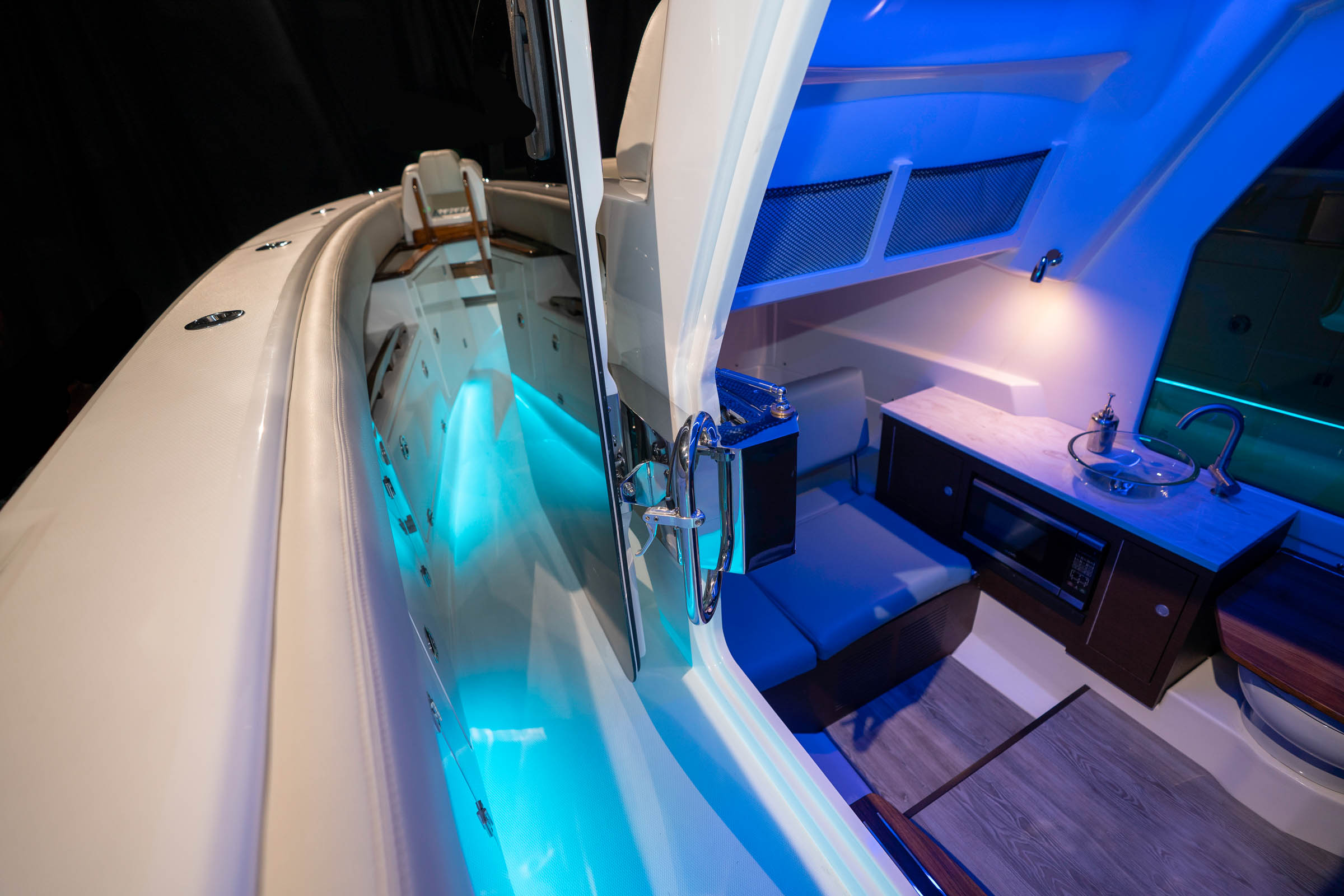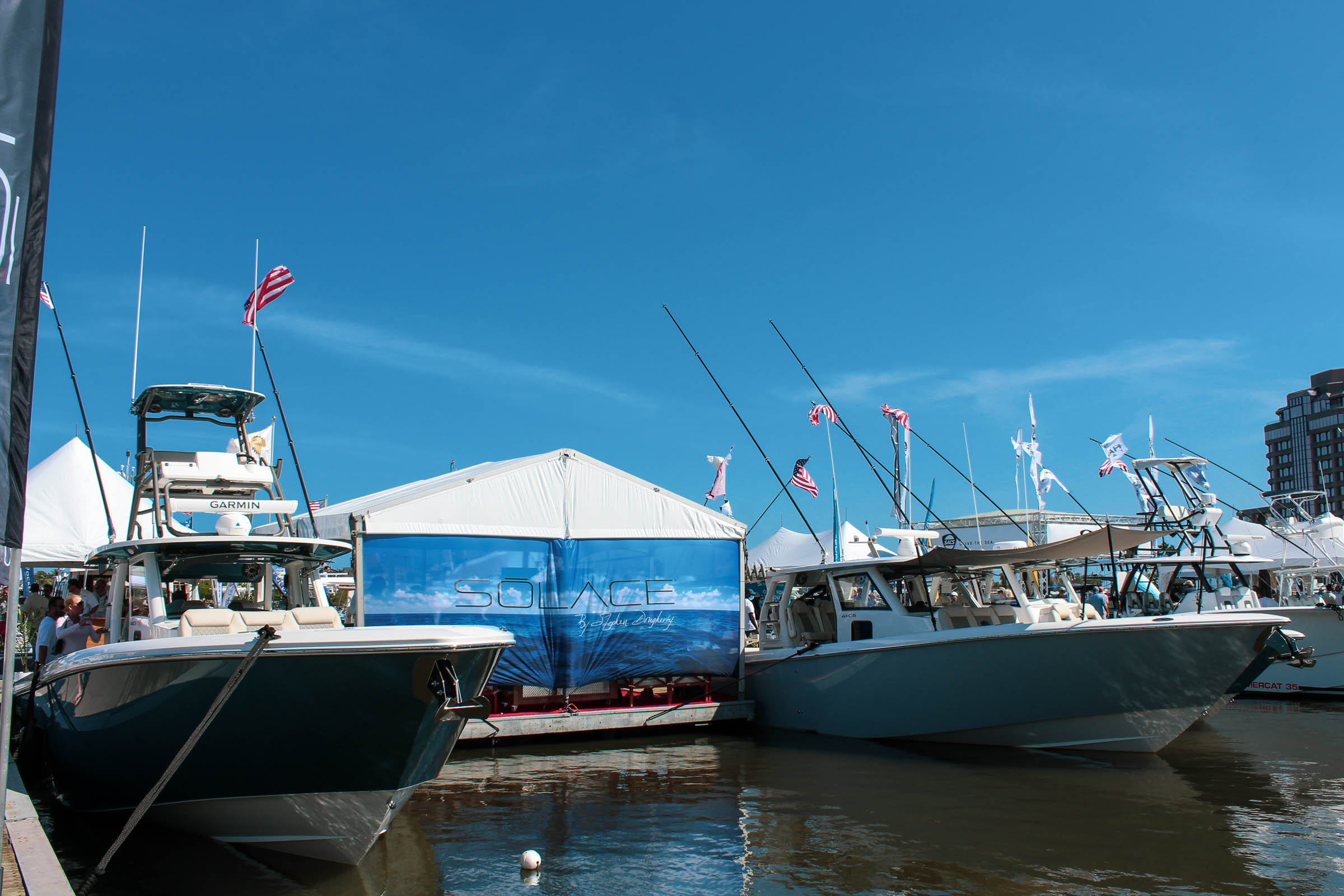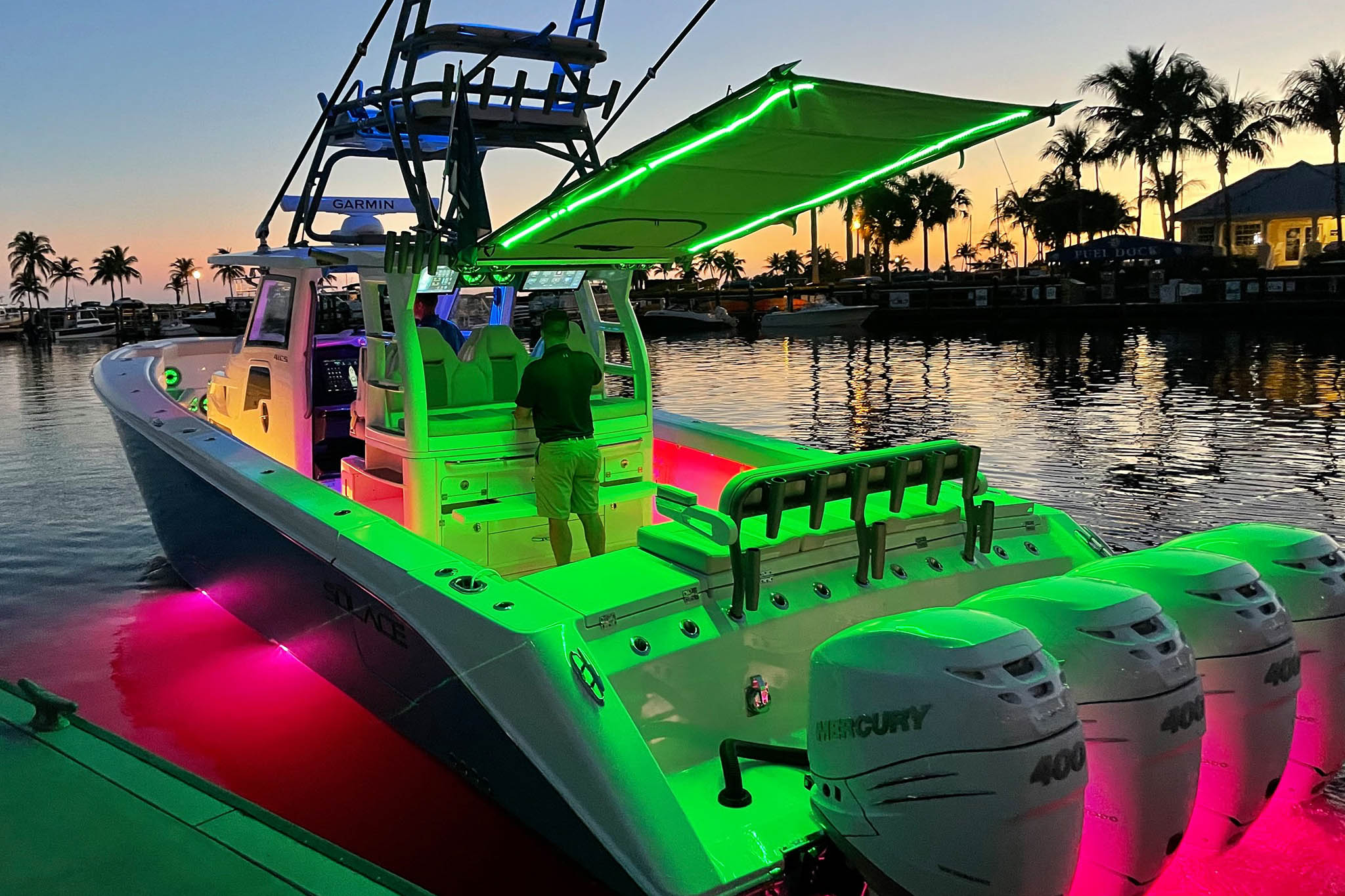 Solace 345: Stand Alone Style
 First and foremost on this forward-thinking marine machine is the patented Fish-Thru transom. It allows anglers to fight for their feisty fellows on a four-foot middle walkway aft of the outboard cowlings and recoups lost stern space. The platform stretches so far back it eliminates having to engage with the engines. There's no working lines around protruding outboards, and no blurting out four-letter epithets when fetching your catch.
Fed by a custom sea chest in the stringer system, two 45-gallon pressurized livewells with integrated tuna tubes come molded into 23-inch-high gunwales, and the positive locking latches and toe-kicks allow you to secure, segregate and snap up your bait during retrieval time. A pair of 68-gallon fishboxes are present to the port and starboard, as well as an additional 80-gallon box up front. Another benefit is the props also profit from the clean water, and if any issues arise, it is possible to reach them from the cockpit when the outboards are tilted up.
Dougherty explains the details behind the Fish-Thru breakthrough, "It started when we tried separating the engines farther apart to achieve better performance turning the boat with the joystick controls and differential thrust. In doing so, we realized as the engines go out, they too go up and draft less water. Thus, an additional improvement was the draft didn't change when the engines moved. On the Solace 345, the keel is the lowest part of the boat, whereas other boat engines are in and down below the keel, so we saved 18 inches of draft there. Next, we noticed this giant space between the engines which morphed into, 'Now we have room to incorporate a swim platform and do even more cool things.' That's how most designs start for us, first as something small."
Being that the Fish-Thru transom is the star attraction of the Solace 345, I made the mistake of grouping it in the hardcore fish-boat category, but Dougherty corrected me by clarifying the 345 is all that for fishermen, but it's much more. With easy access to the water from its electrically-actuated retractable swim platform, it's a dream for divers and sun bathers too.
Dougherty says, "Our buyer is a boater. It's a guy's purchase. He wants his family to come with him and to be comfortable, or they won't want to go boating. He doesn't know what exactly they will do over the weekend, but he knows it's going to be on a boat. With that in mind, we design our boats to do a lot of things with spaces for everyone." Whether it be dad's 6 a.m. fishing tournament, a family cruise with the in-laws, or a weekend of island hopping hoopla; everyone smiles when on a Solace because there are no compromises.
Regardless of looking up, down or head on, you'll be floored by the functionality of the cockpit's creature comforts. Feet will appreciate the closed-foam EVA SeaDek padding, and the captain won't miss a trick or lose sight of the horizon, thanks to the center helm pod which levitates up to 10 inches. When focusing on the twin flush-mounted 17-inch Garmin GPSMap 8617 screens; securing your phone on one of the  Scanstrut Rokk wireless, waterproof charging mounts; or peering out over the front bow; why not leave the tempered glass electric windshield open to enjoy that ocean breeze? The fresh air effect is cool (literally) but Dougherty points out the windshield was originally developed to reduce glare as day turns to night.
"One  night I was out with the family watching fireworks. There were a ton of boats on the water and on the way back, I didn't feel confident getting up on plane due to a glimmer of light messing up my night vision. Late that evening I started dreaming up a movable windshield, and that Monday started the new design for a sliding windshield to remove the window from your view. In developing the Solace brand, we couldn't use the previous patented sliding one from Everglades, and instead we pioneered a hinged windshield that operates electrically with the push of a button."
Adding to the boat's enhanced visibility, is its stability. A 12-volt Seakeeper 2 (which is optional) controls the center console's rock-n-roll and keeps onboard occupants on their toes, unless of course, seated on one of the three Llebroc Billfish chairs with Shockwave S5 bases. The hardtop is bolstered by a carbon-fiber support structure and includes a hydraulic sunroof, TACO GS 500 HD outriggers and 20' carbon fiber telescoping poles. A second station with twin helm seats is another alternative, and boaters who trailer their Solace 345 will give two thumbs up to the "buggy top" option which effortlessly folds back into the cockpit to reduce vertical clearance when on the move.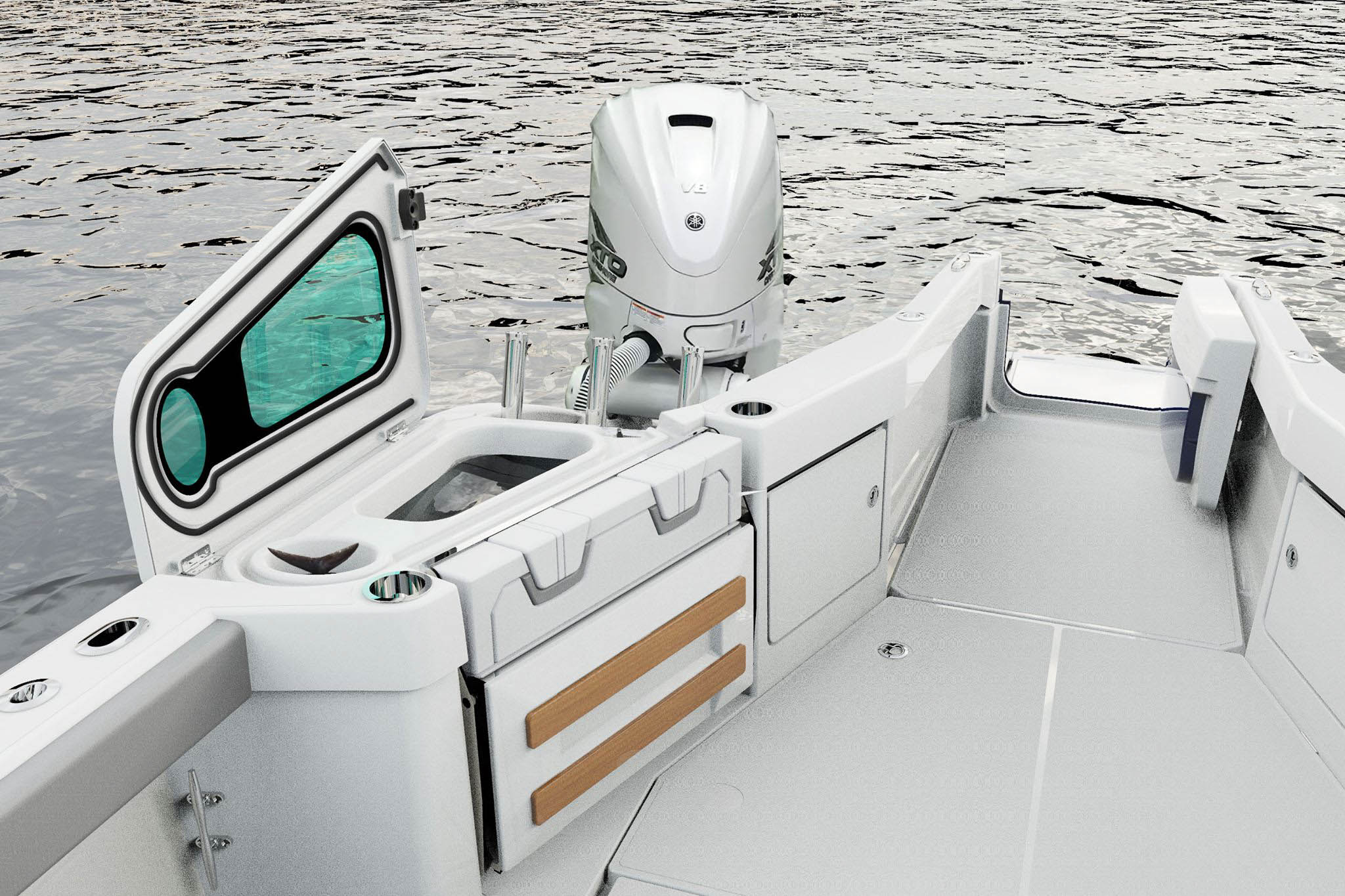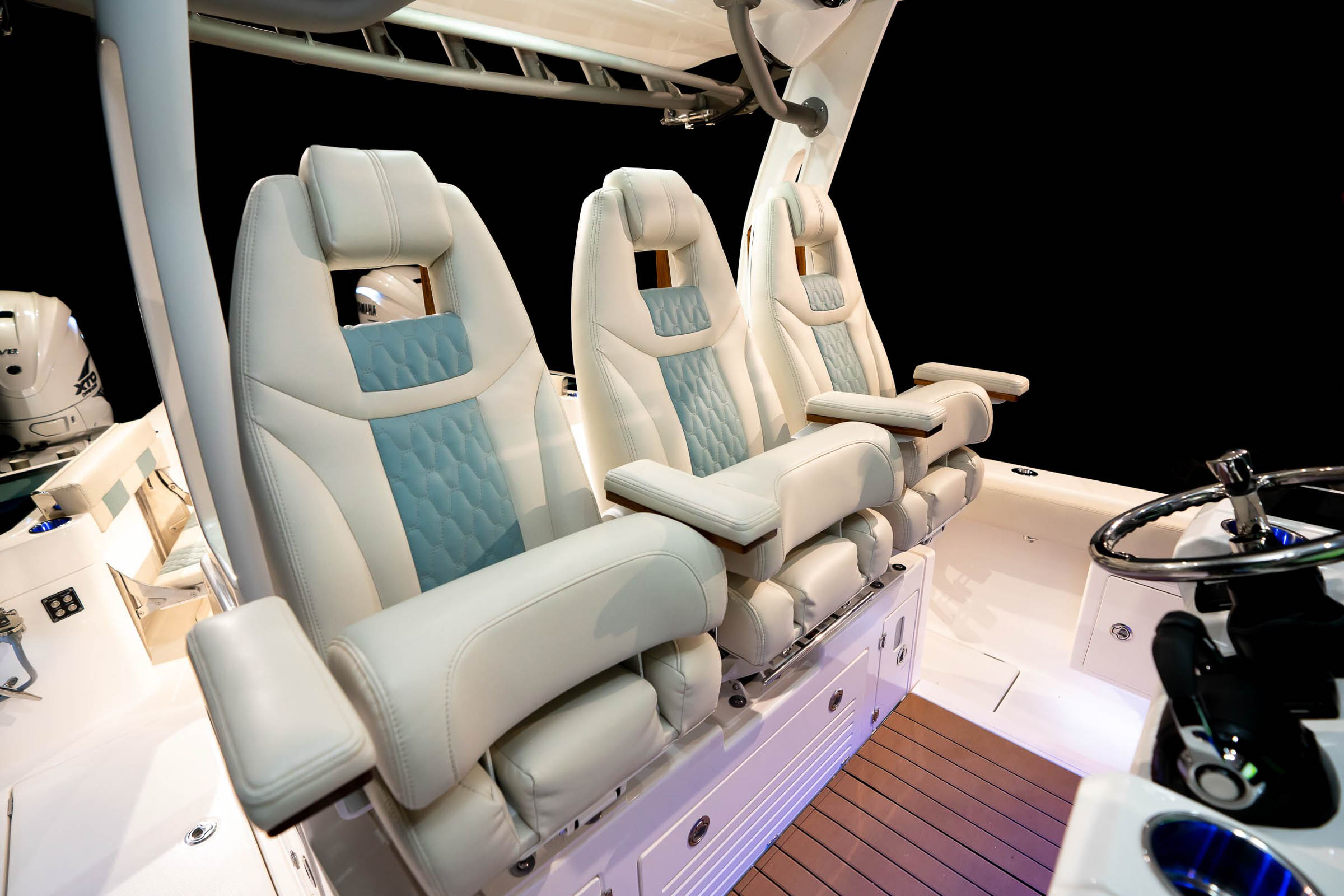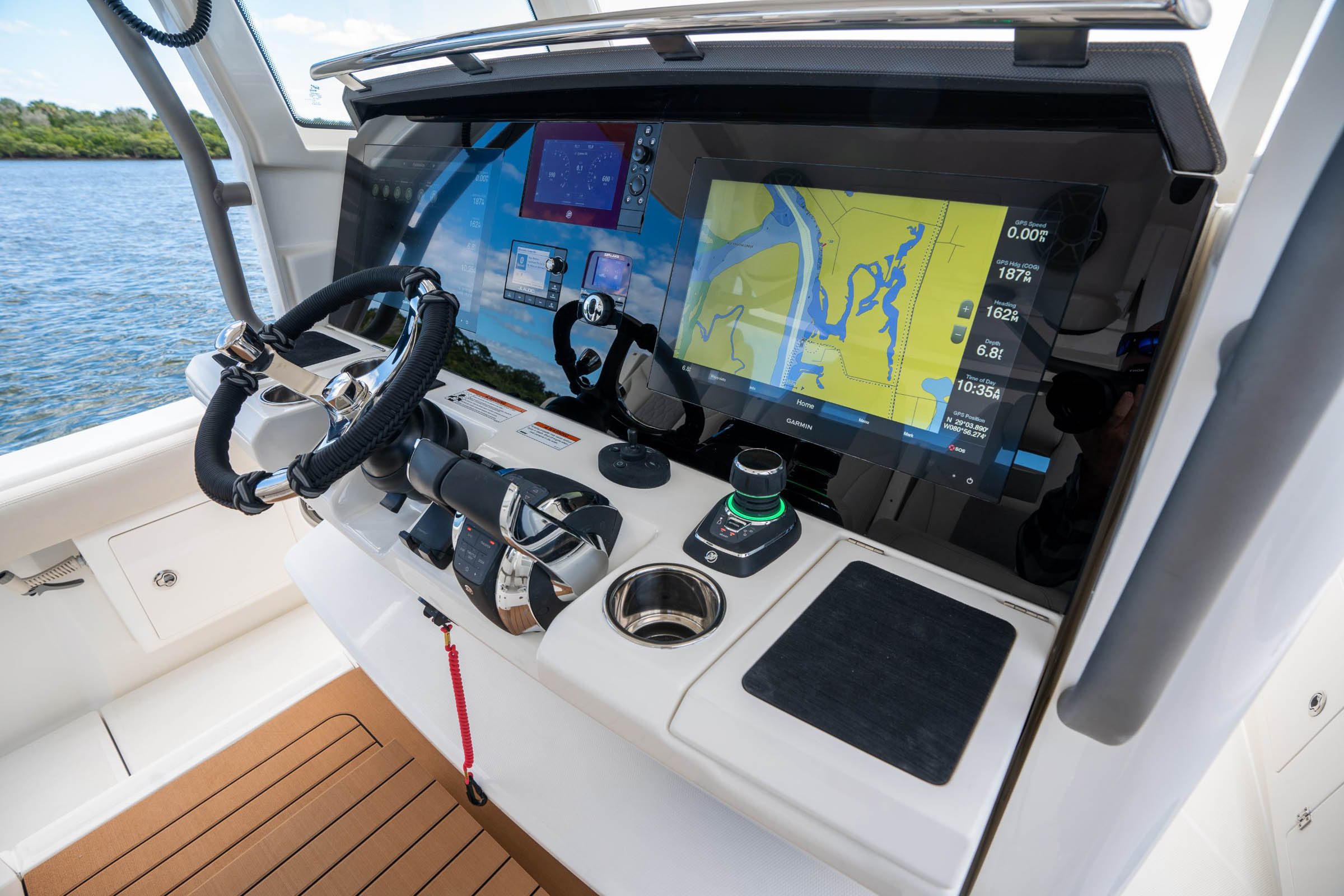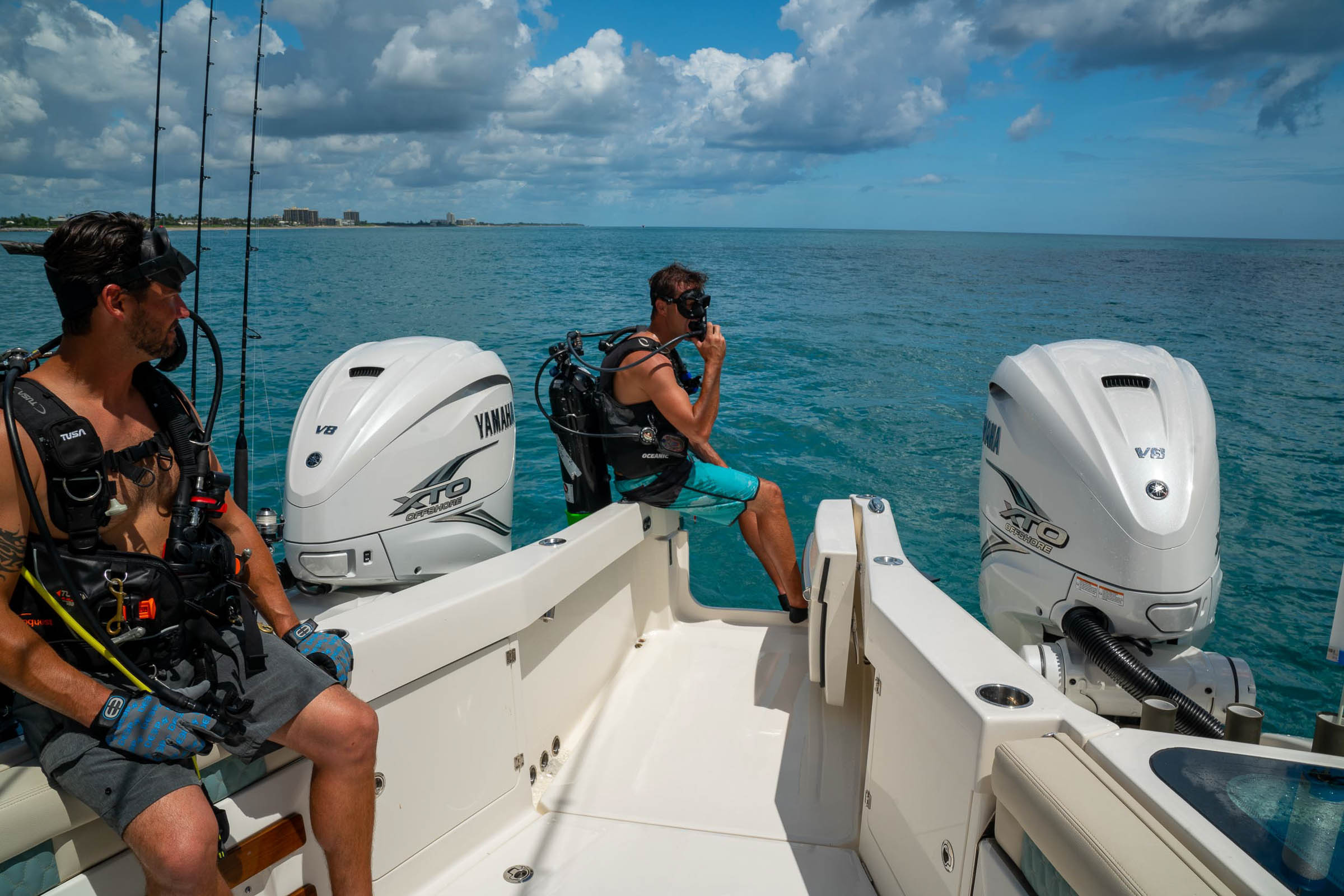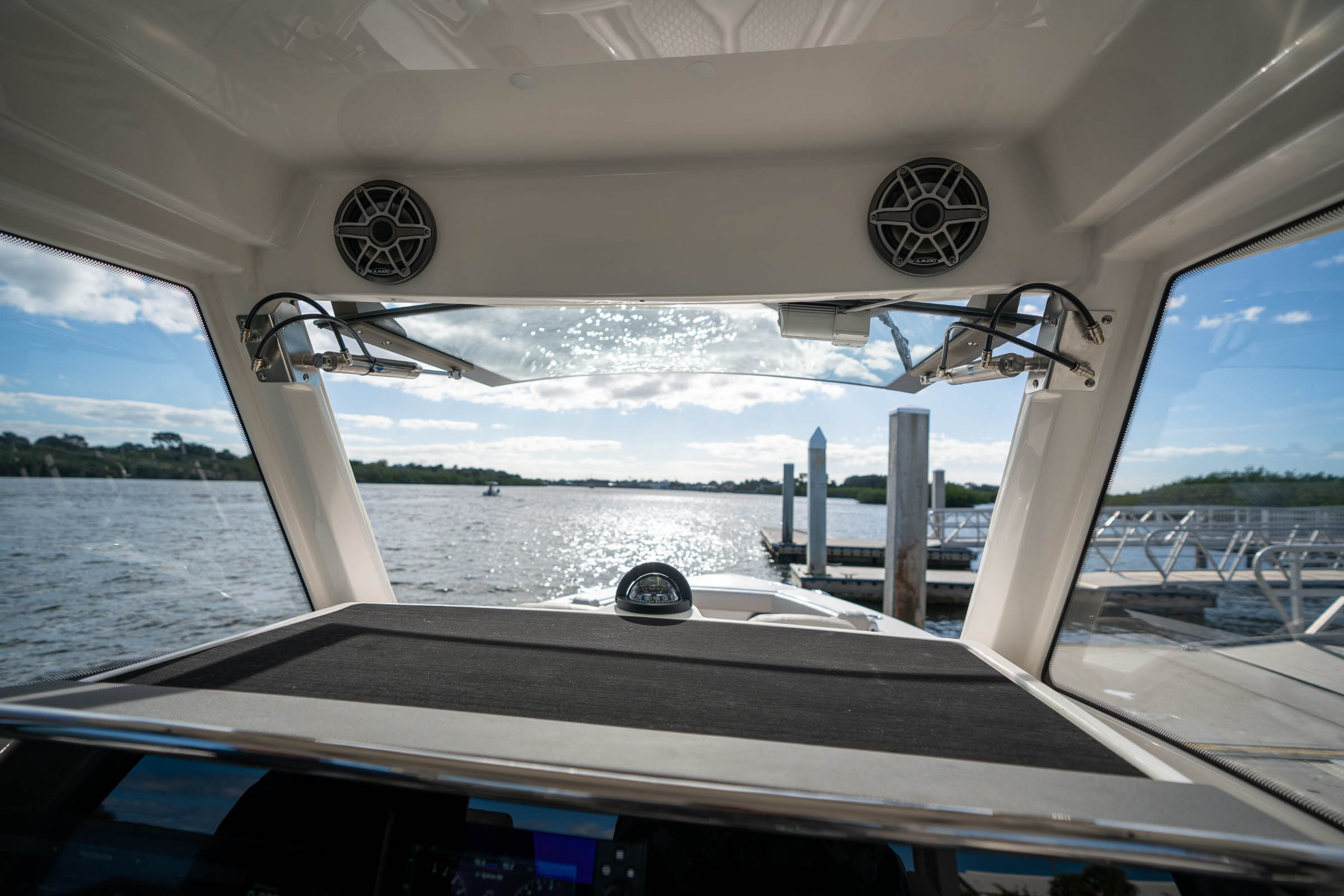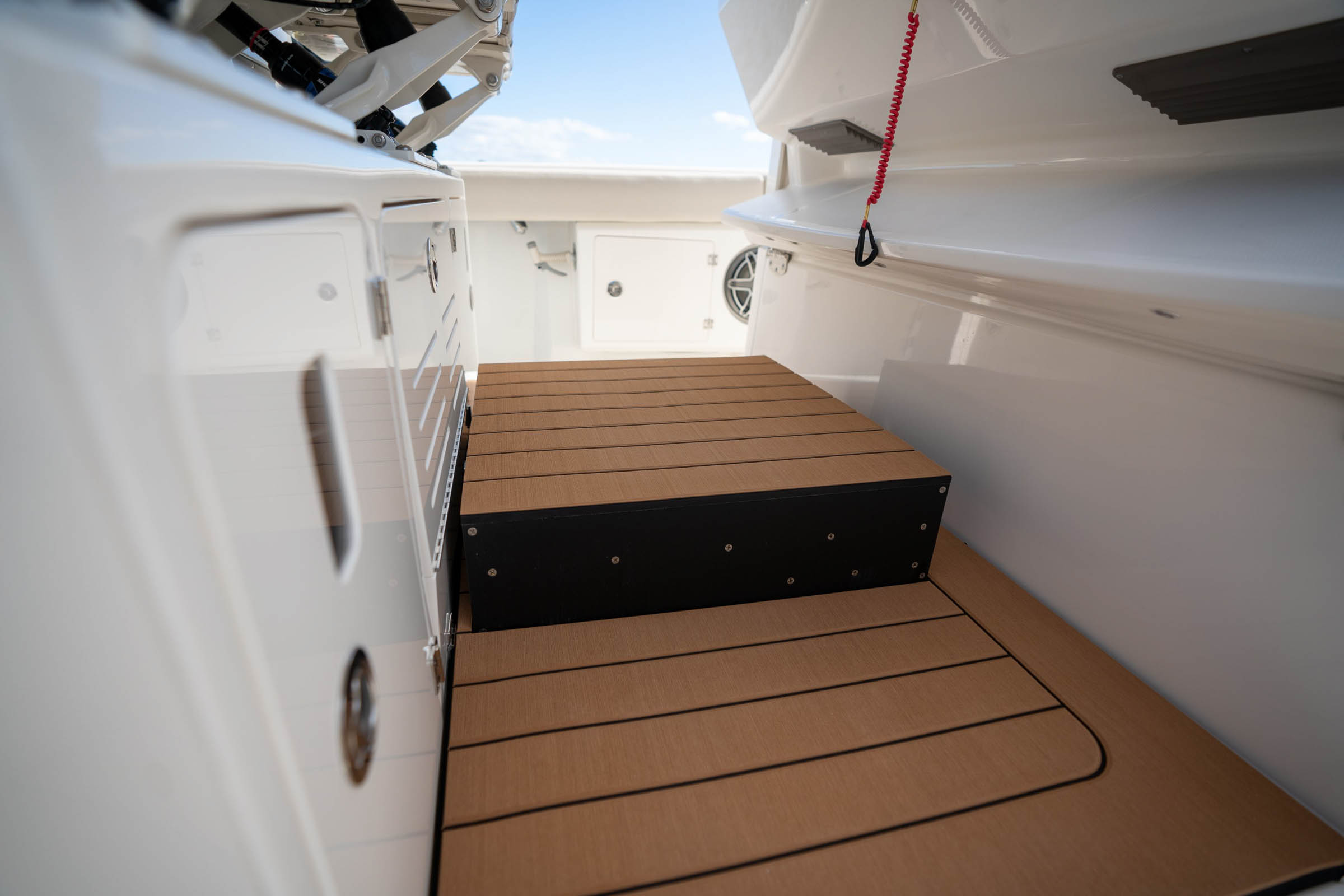 The multipurpose mezzanine galley with retractable sunshade covers all bases, and includes a freshwater sink, electric grill, bait rigging bin, sea chests, dual stainless-steel refrigerators and large center stowage drawers. After grilling up that fresh-fetched mahi mahi and filling the glasses with liquid cheer, quickly convert the aft workstation into a social zone by spreading out the cushions or sliding out the three-person bench for additional lower level seating. A portside pantograph door leads to a belowquarters with 6 feet, 4 inches of headroom which is cooled by a 6,000 BTU air-conditioning system, and features a convertible settee, dark wood  cabinetry, Corian countertop, illuminated glass vessel sink, microwave, a marine head with macerator, and rack to store a maximum of nine 7-foot rods upright.
Equipped with twin Yamaha 425 XTO outboards (Mercury packages are also available), the Solace 345 jumps from zero to 30 mph in 12 seconds, cruises near 40 mph and crushes it in the mid-50s turning 5,700 rpm with throttles pinned. For $650,000, the distinct, out-of-the-box build can be all yours.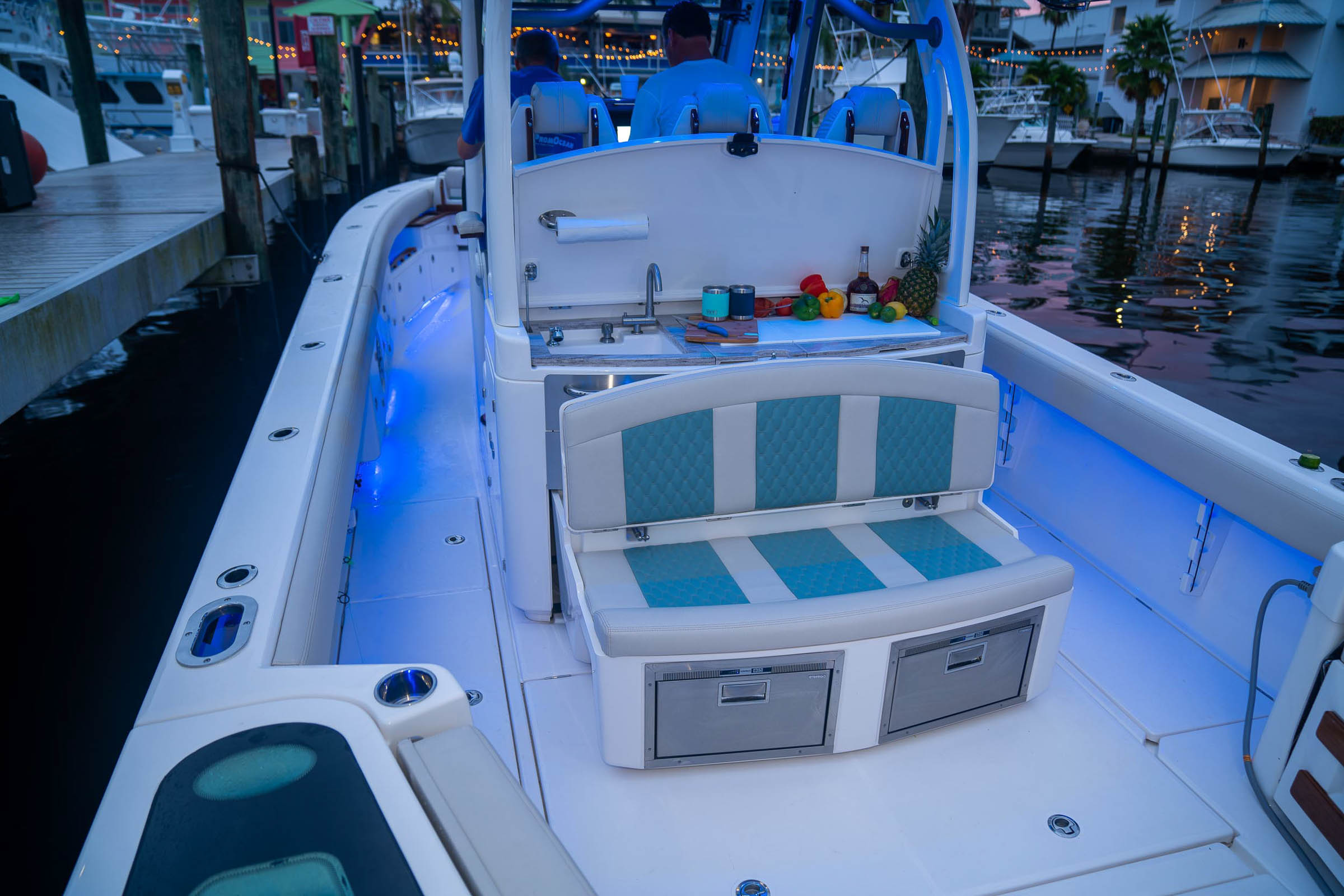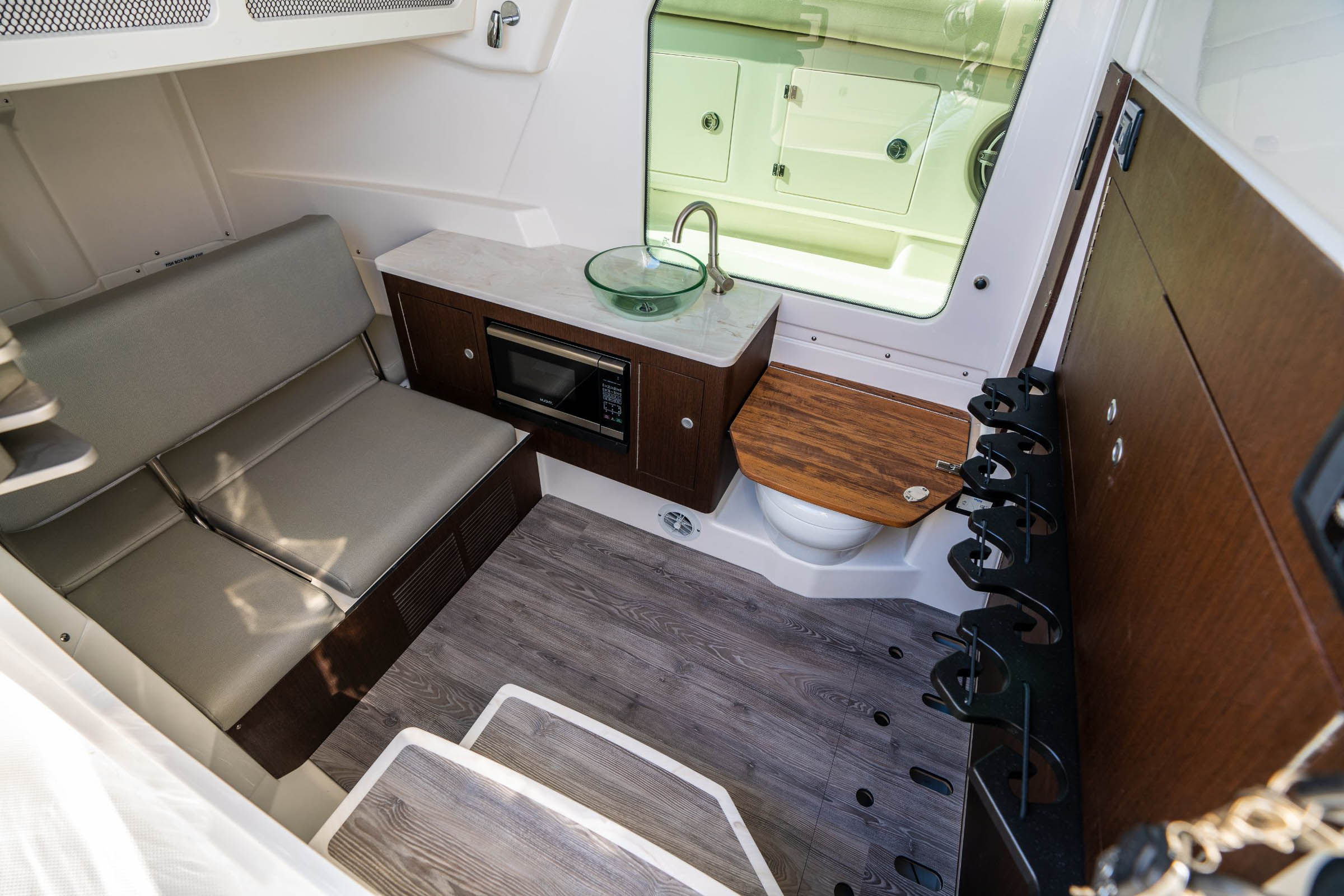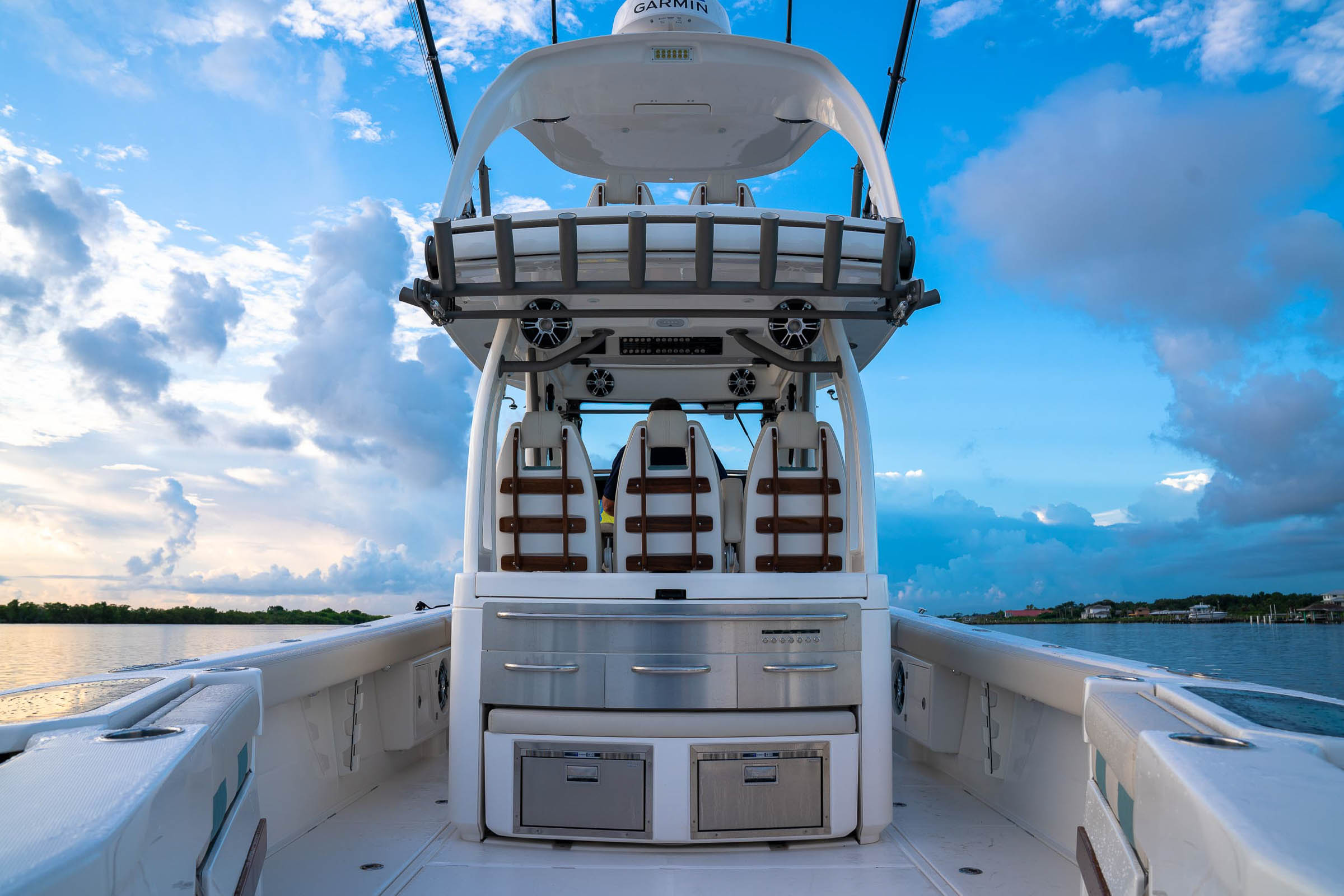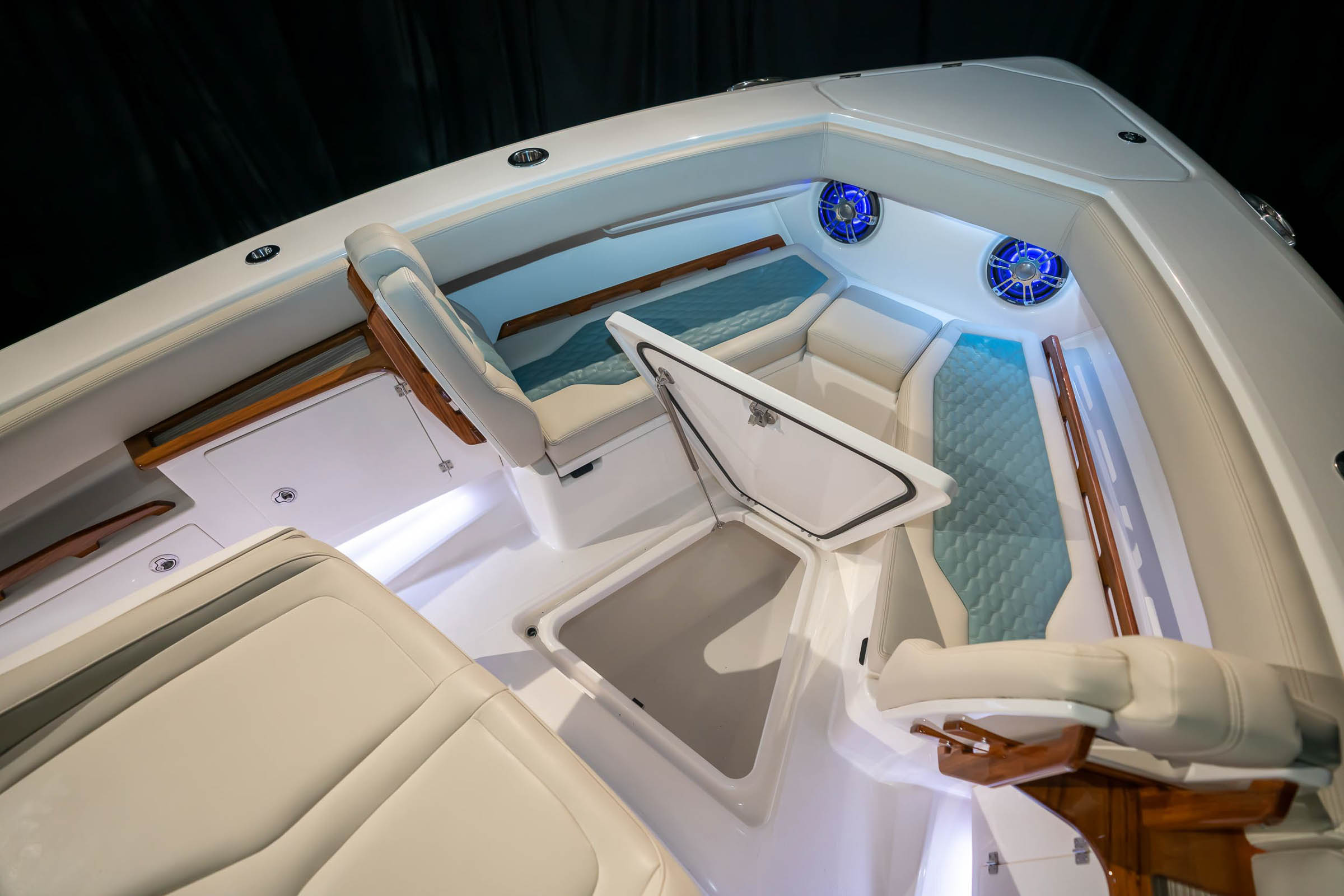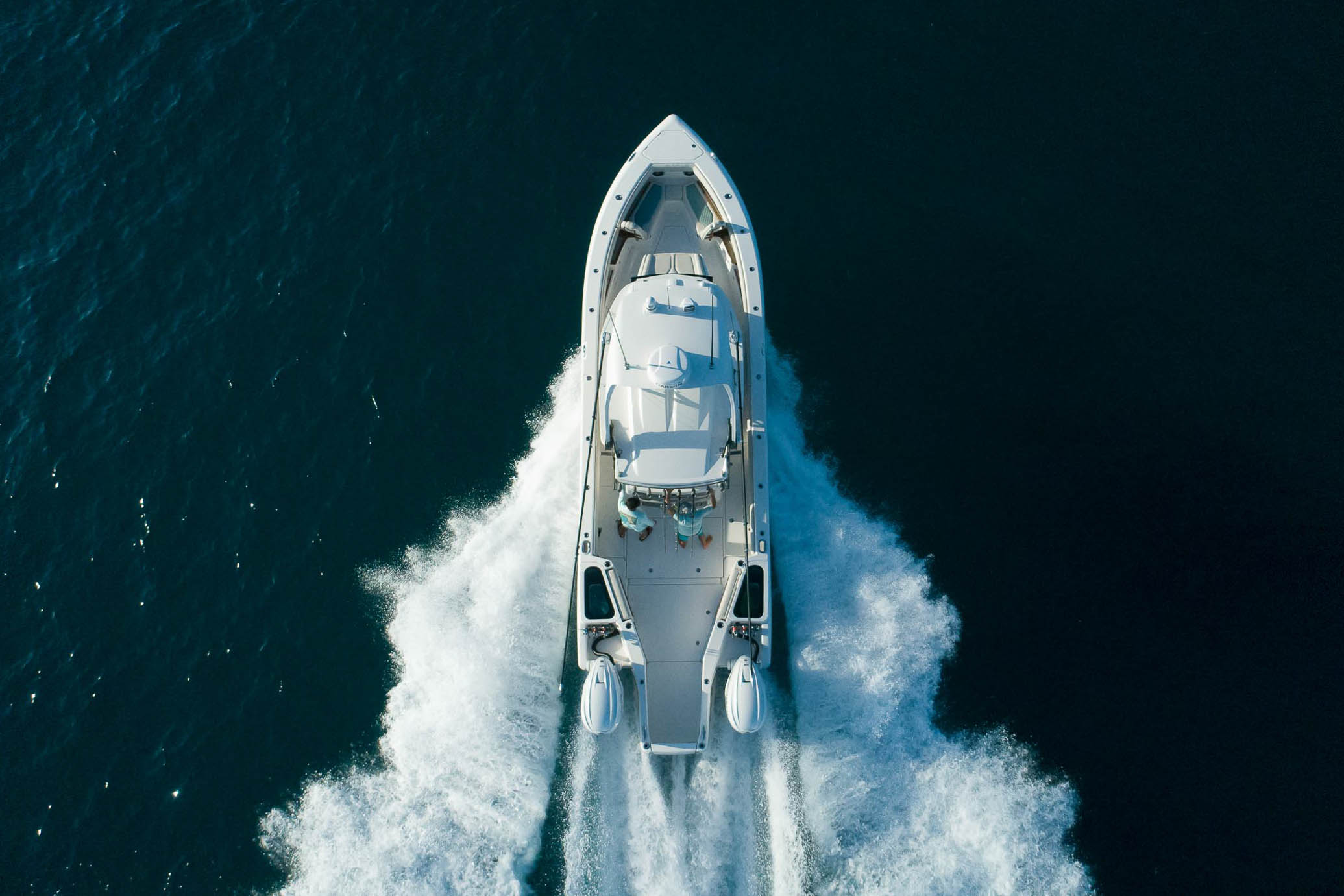 Solace 41CS: Robust and Radical
A special October evening at Atlantic Marine in Port Orange, Florida, set the stage for the Solace 41CS coming out party prior to the official reveal at the 2020 Fort Lauderdale show. Powered with triple Yamaha XTO 425s (or quad Mercury Racing 450s with power up to 1,800 hp) and priced at $1.2 million, the vacuum-infused, twin-step, ventilated hull with tracking chine rails consists of a carbon-fiber Innegra ™ and epoxy laminate incorporating CeraKote Mil-Spec treatment on all aluminum. The hard overcoat is known for being fade, chip and scratch resistant.
Don't be shocked if you feel a special magnetic bond to the 41CS, it's not related to this year's mystery injection into many upper right arms. Same as the 345, rare-earth encapsulated magnets have been specially designed and embedded into the fiberglass, seat cushions, cup holder bottoms, cutting boards etc. The attraction continues in the cabin... gone are the gliding cups in cabinets, and sliding on and off the V-berth cushions to reach the lower compartments is a cinch.
Fascinated with the fixtures' magnetic features, I was eager to hear about the R&D. Dougherty confessed, "I've always hated snaps. There is usually one broken, or they won't come undone or go back on. I'd been trying to get someone to reinvent the wheel my whole adult life. Finally I just did it myself. In place of an 18 cent snap, I went with a $40 magnet. The boats have over $2000 worth of magnets on them." He continued with, "Simple things like making sure the guys in production put the magnets in the right side up so they won't repel with the magnets on top. We had to devise a way for quality control to make sure they were installed right side up before building the products."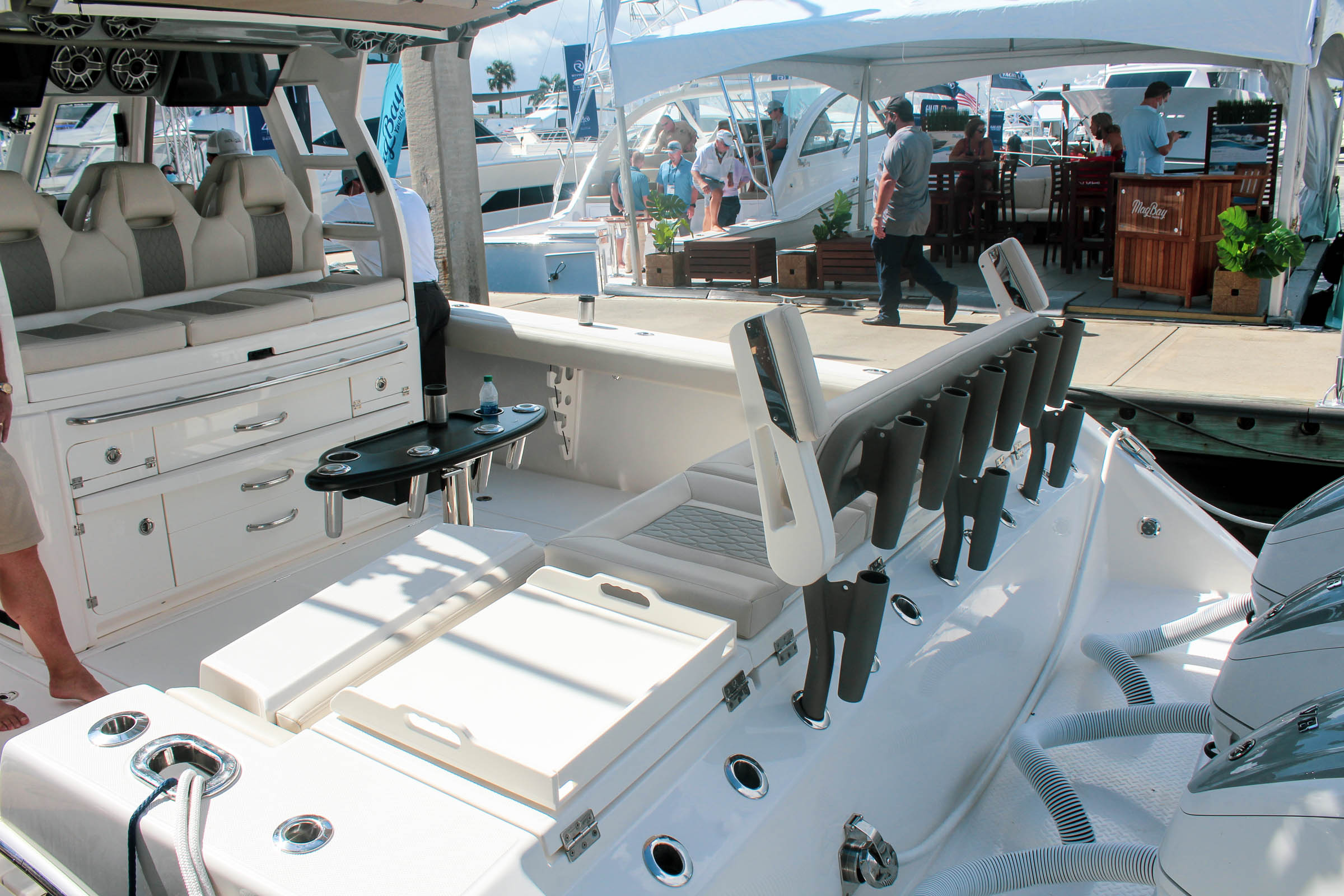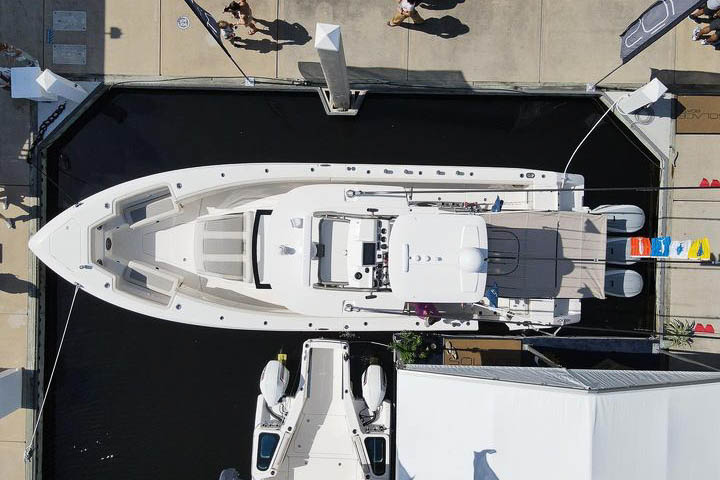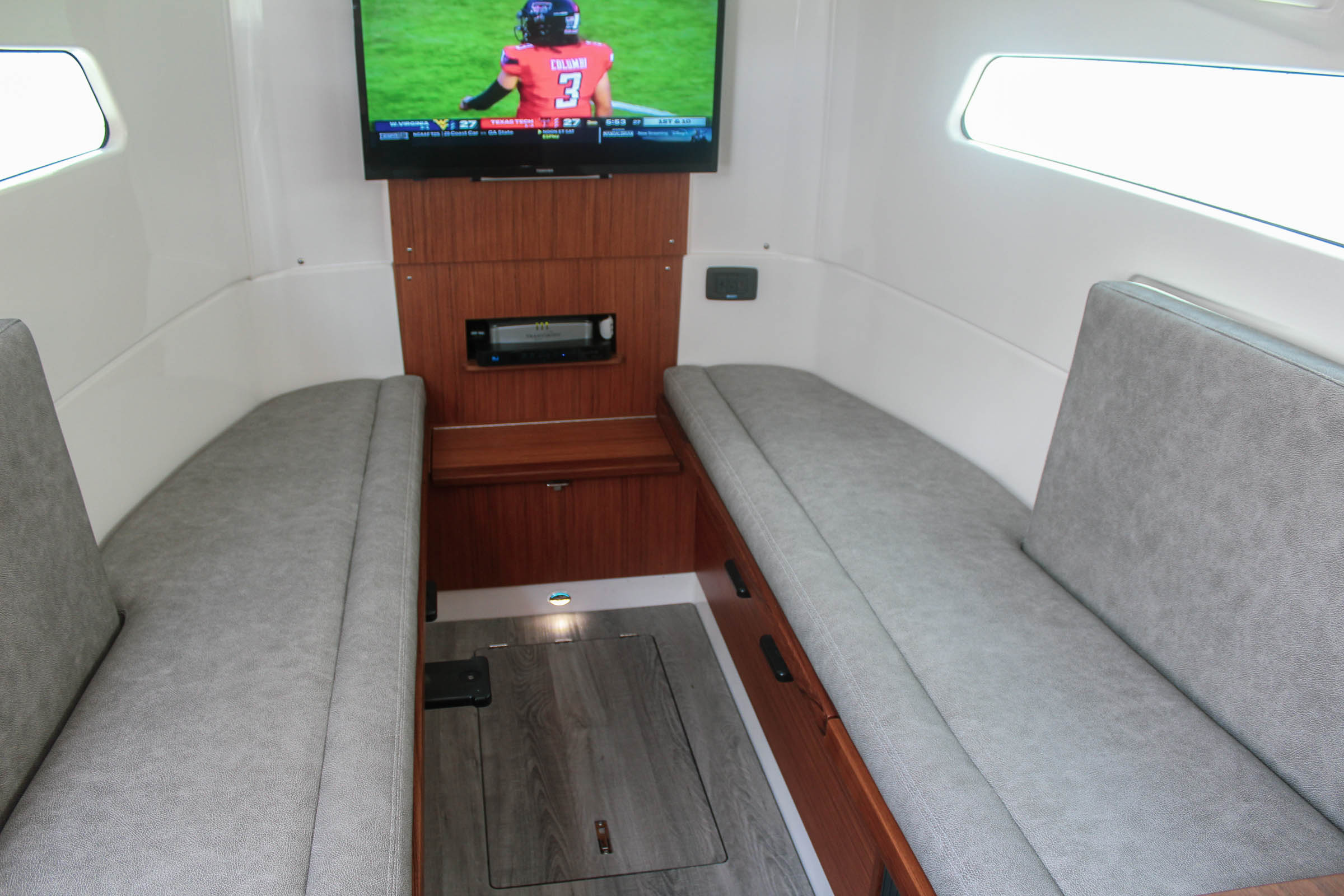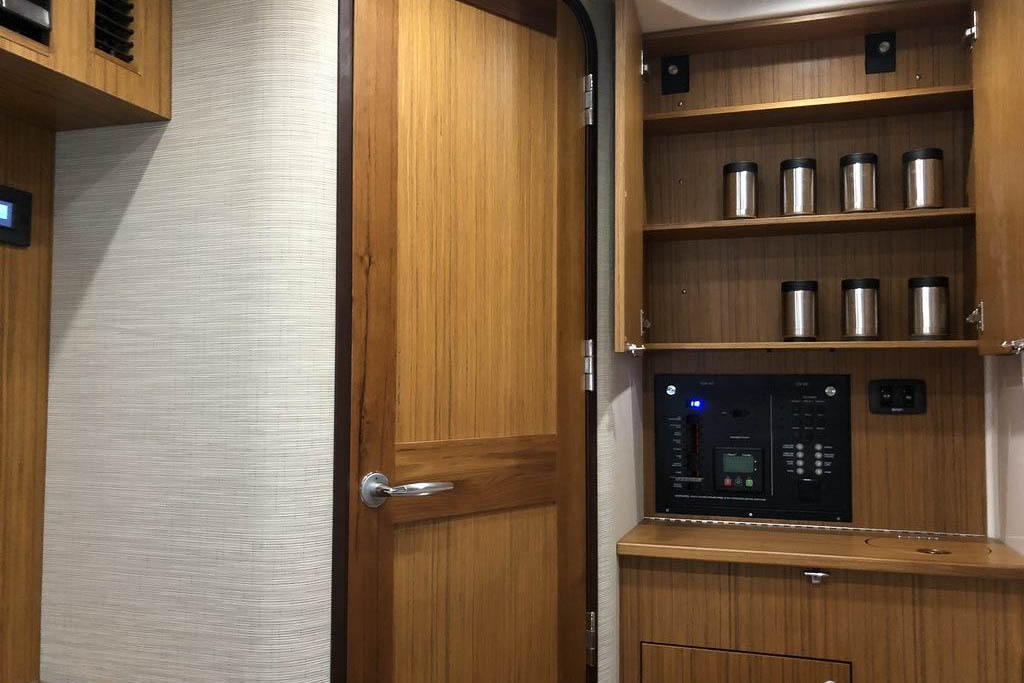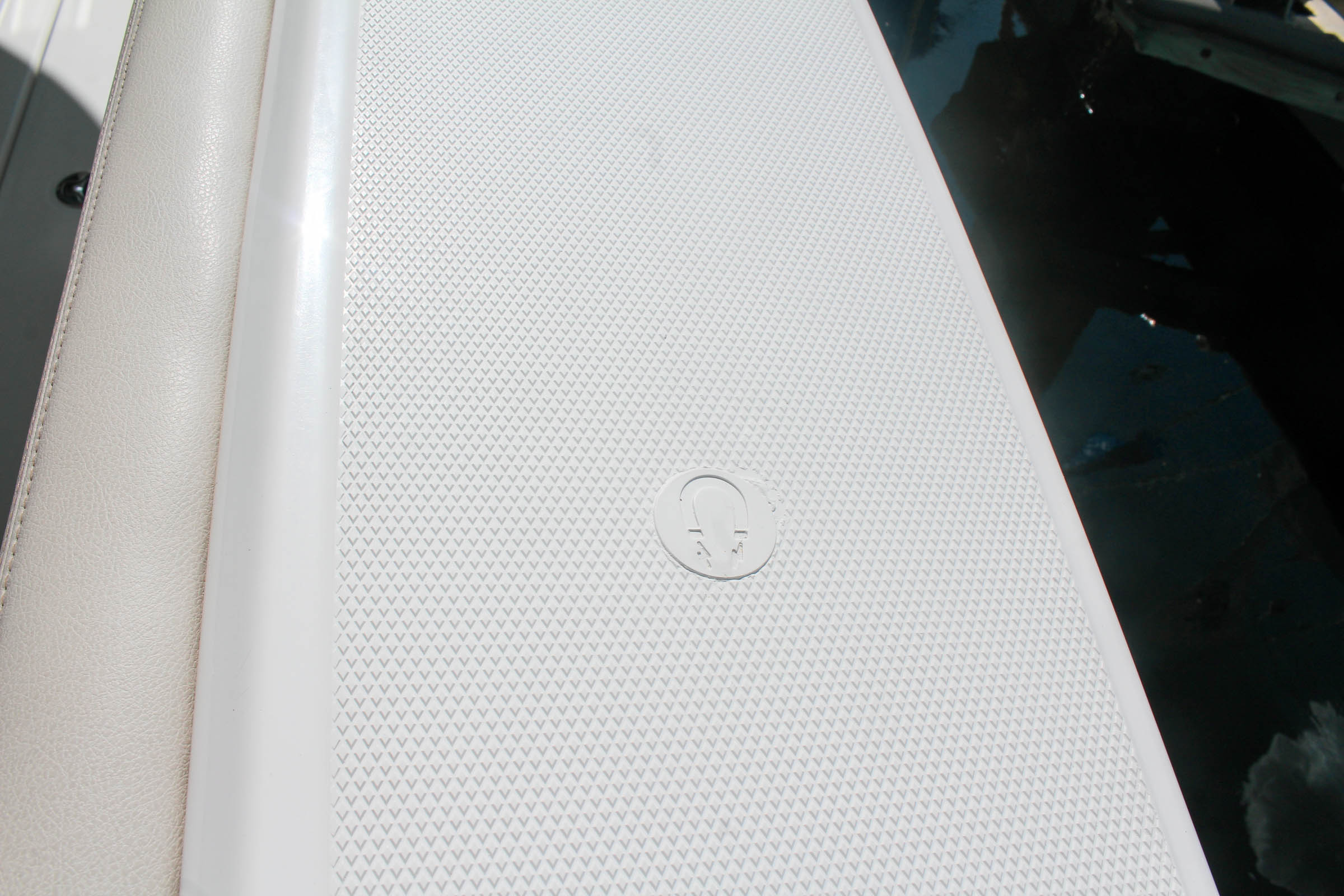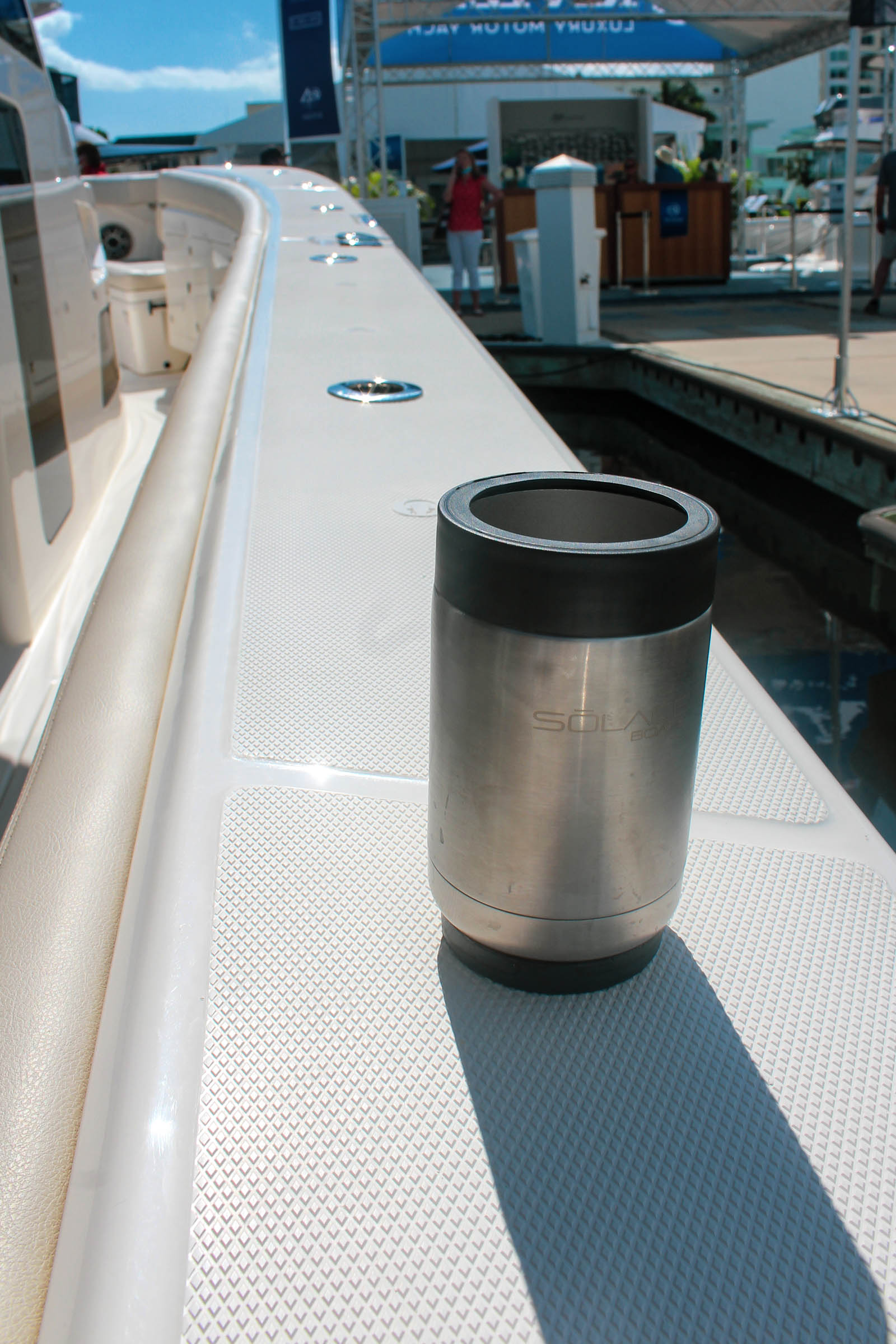 Much more than magnets puts the 41CS in a league of its own, and if you didn't do a happy dance over the positive and negative connections, you just might after seeing the swaying sunshade. With the push of a button raise it up for reeling 'em in time, lower it for mid-day UV ray protection, and be sure to illuminate the built-in LEDs for added evening ambiance. But best of all, get a move on because it's not a problem operating the 41CS with the sunshade extended out.
No matter the position of the sunshade, you can't miss the sunlight-viewable rear-facing LED screens, and expansive rear workstation concealed by another set of magnetic cushions. A sink, grill, cutting board and knife rack anchor the area, accompanied by three lower storage drawers and Yeti coolers on either side of the console. Built into the hardtop, ladder-size grab handles, better yet let's call them steps, take you to the second station. The optional tower is equipped with engine controls and joystick, and when you find yourself in front of that low-lying bridge, it can be folded down with gas-assisted shocks in under a minute for safe passage.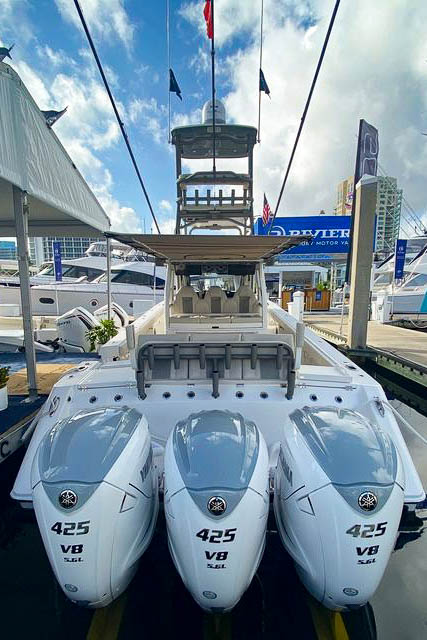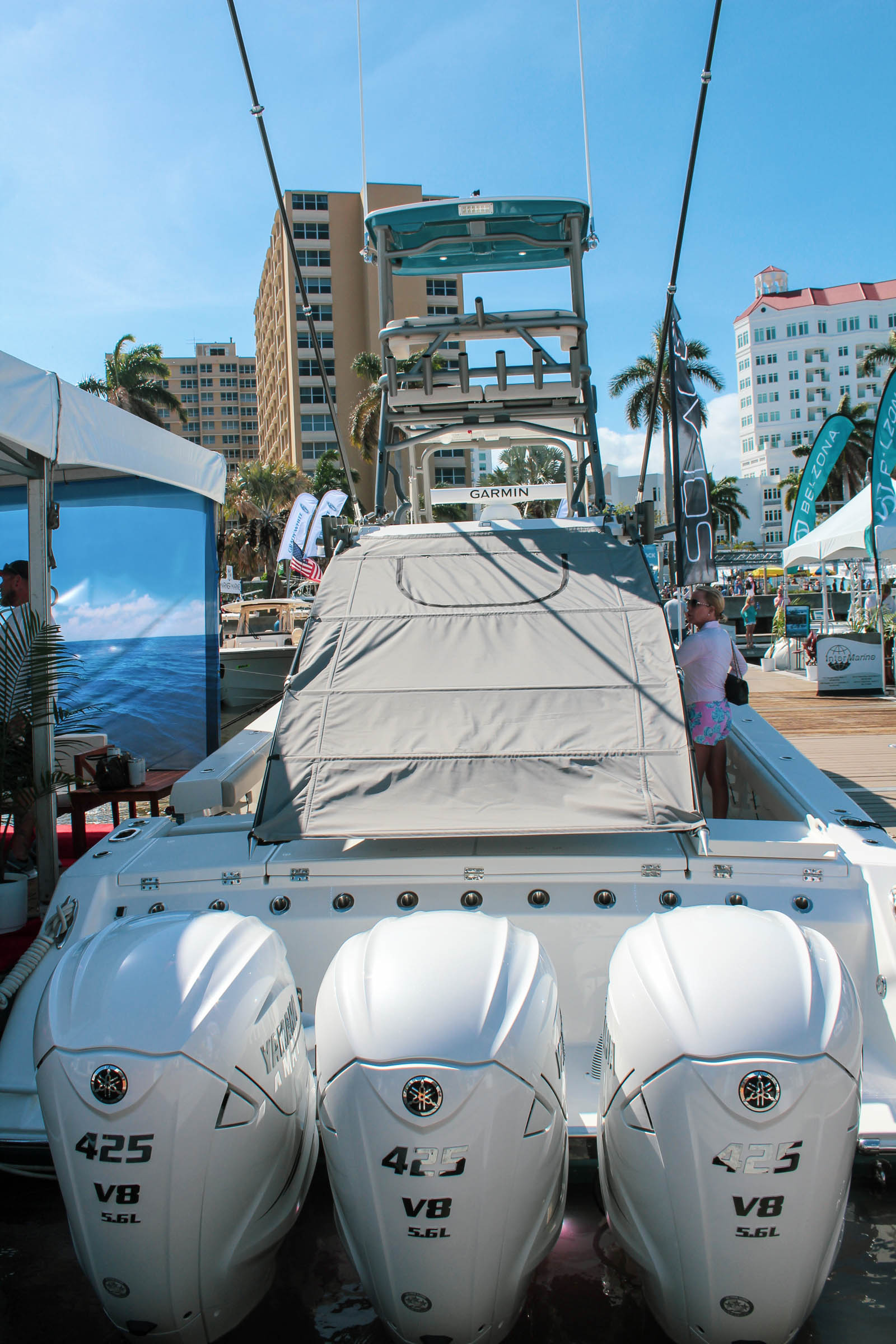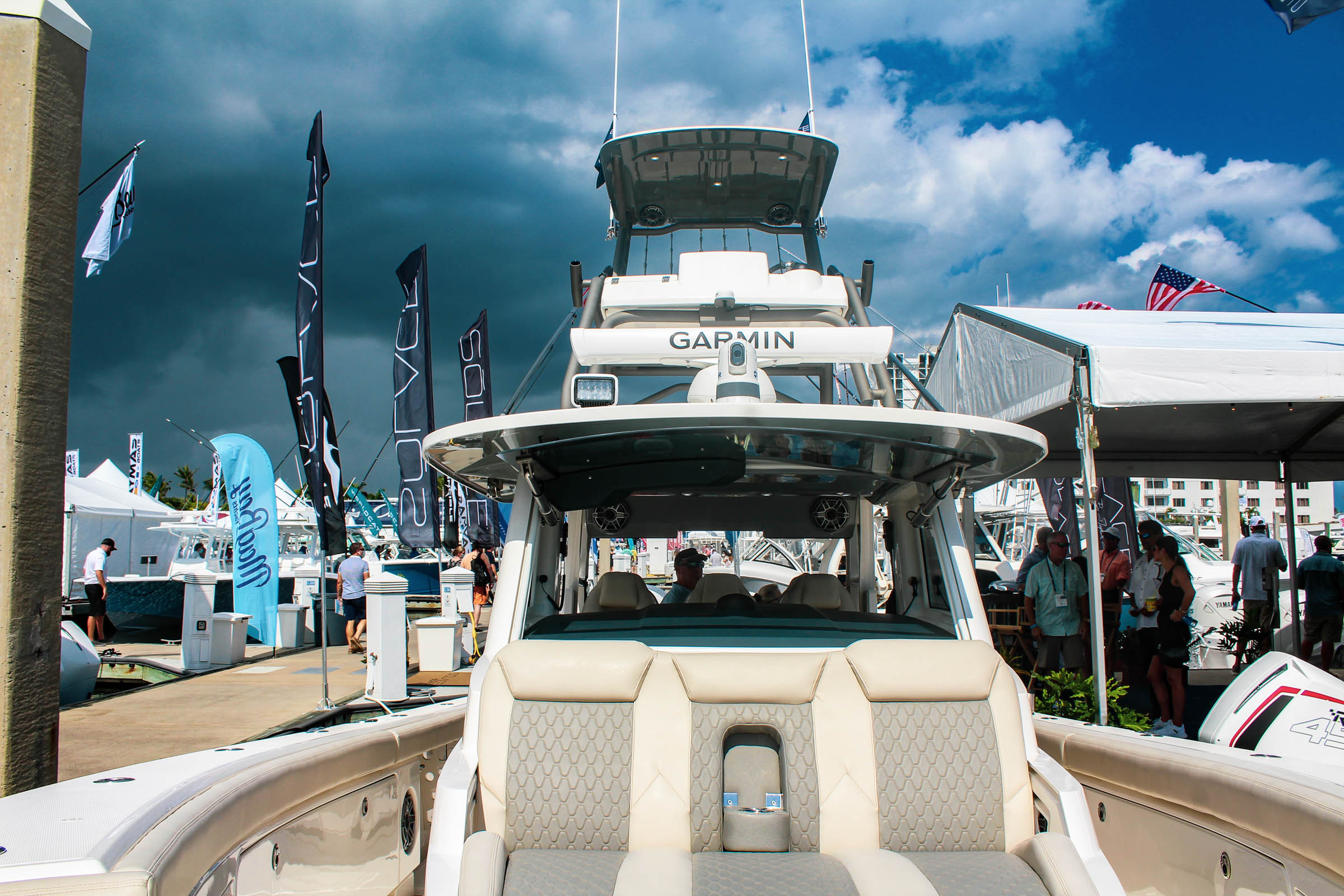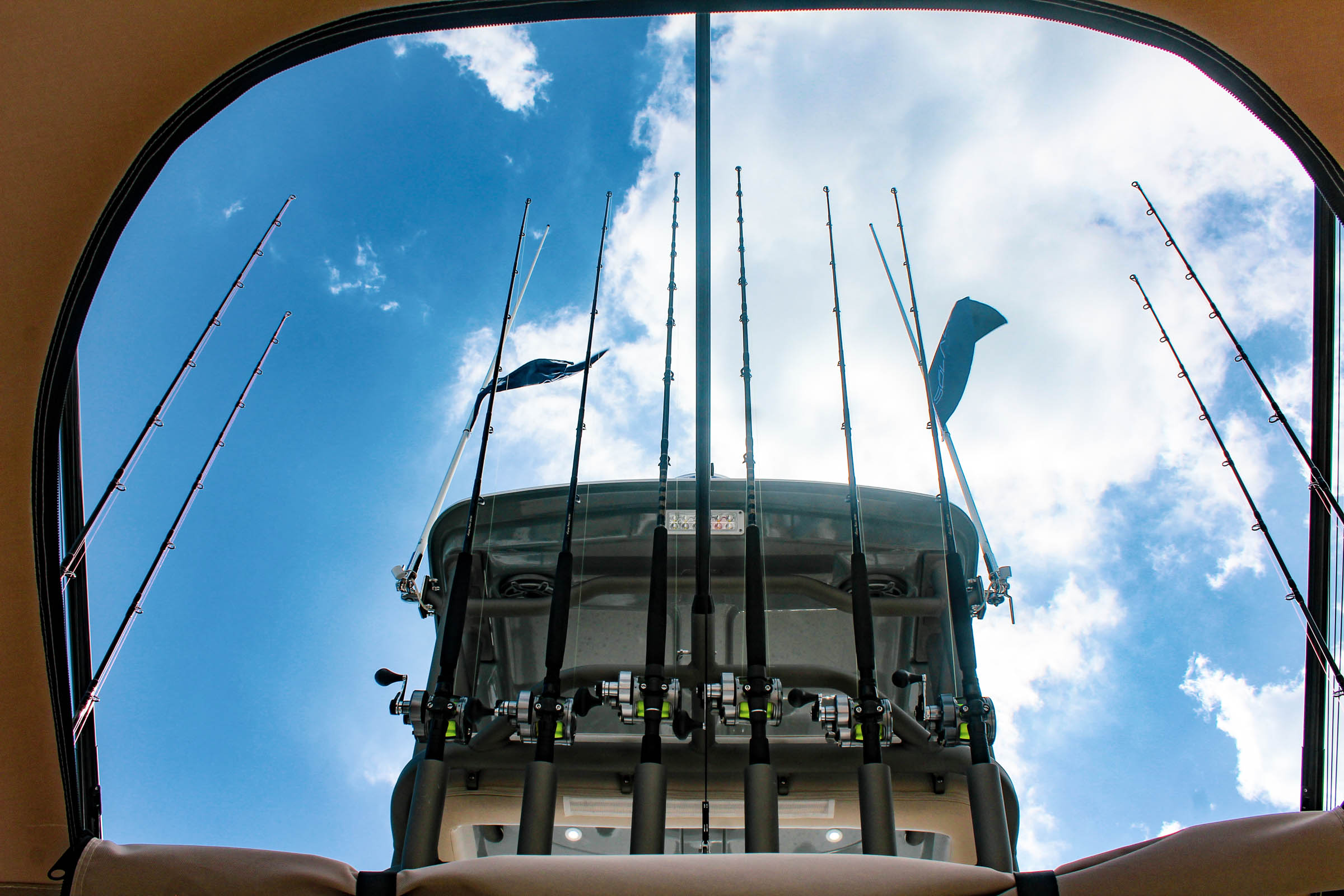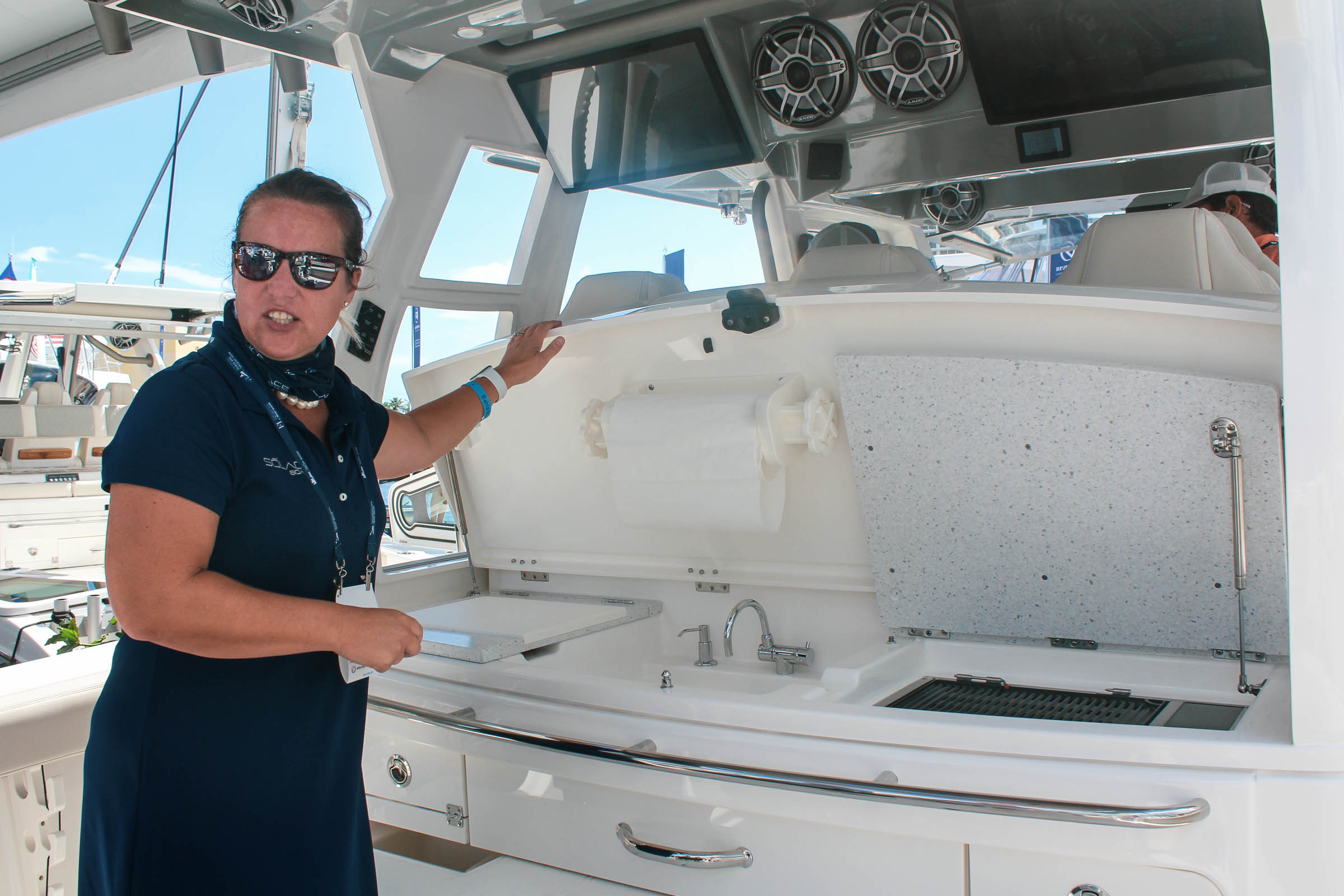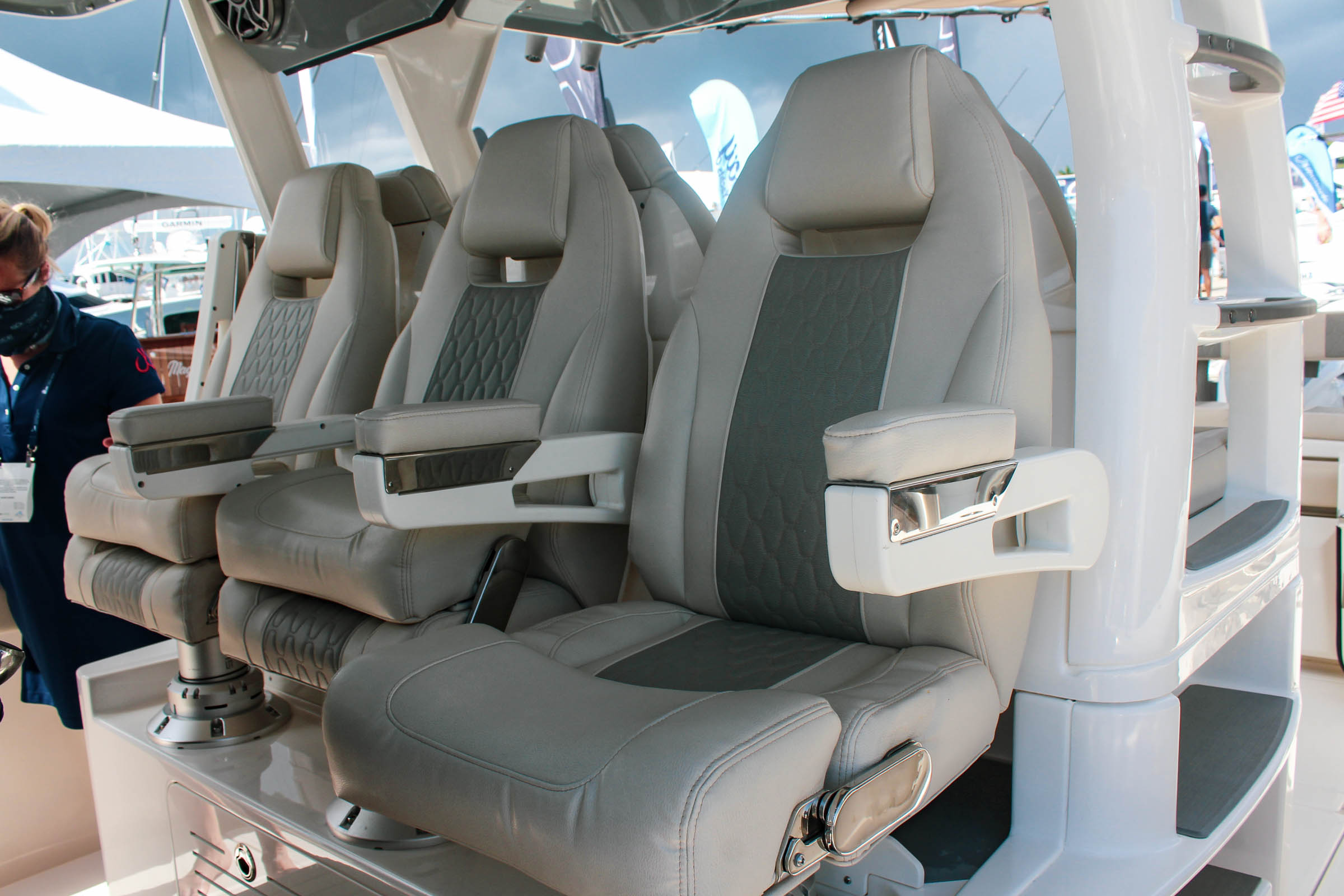 Under the pilot station seven fully-adjustable air-conditioning vents march across the top of the sleek flush glass helm housing twin 22-inch monitors. If the 16,000 BTU system isn't chilling enough for you, open the electric windshield the same as the 345 model. However, on the 41CS no one loses sight of the horizon because the entire shock-mitigating floor (not just the center) rises up to five inches. Magnets appear again, fabricated into the lower dash to keep those specially designed drink holders in place, and a hidden Garmin set inside the ride-side armrest gives the captain full control of the watercraft from a more "laid-back" position.
Scouting out the multi-purpose stern with 50-gallon livewells positioned on each side, shows two levels of seating for chillaxing, or remove the transom cushions and cleverly set them on the magnetic symbols along the gunwales for the big reveal – a 65-gallon fishbox constructed with specialized dividers to keep fishy products and frothy beverages from colliding.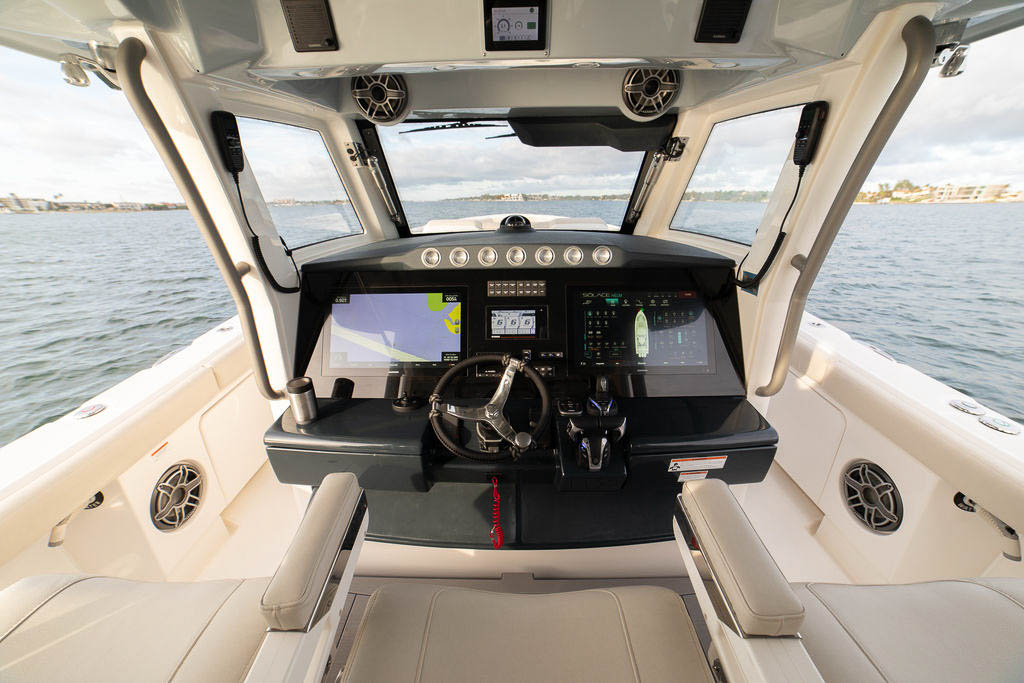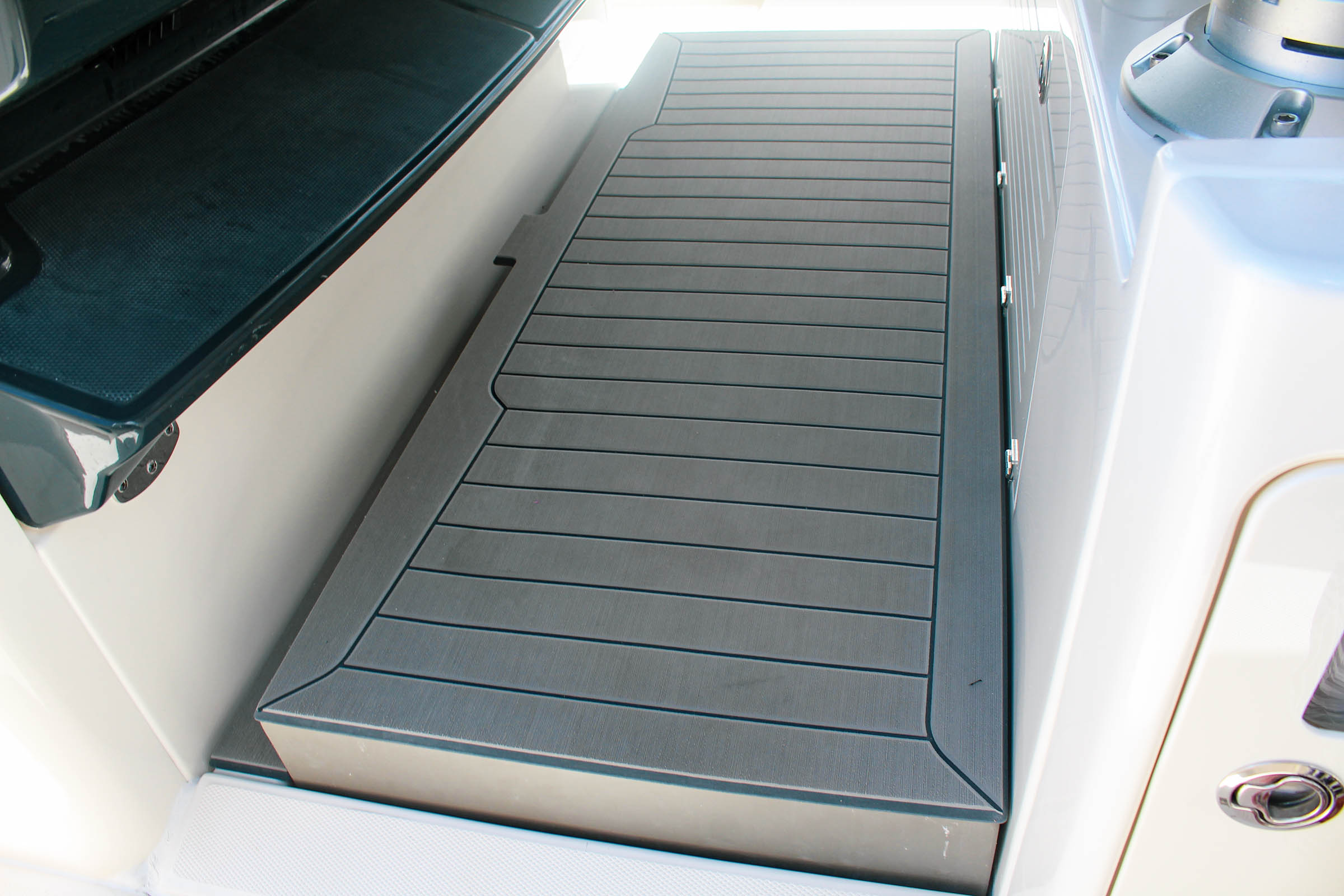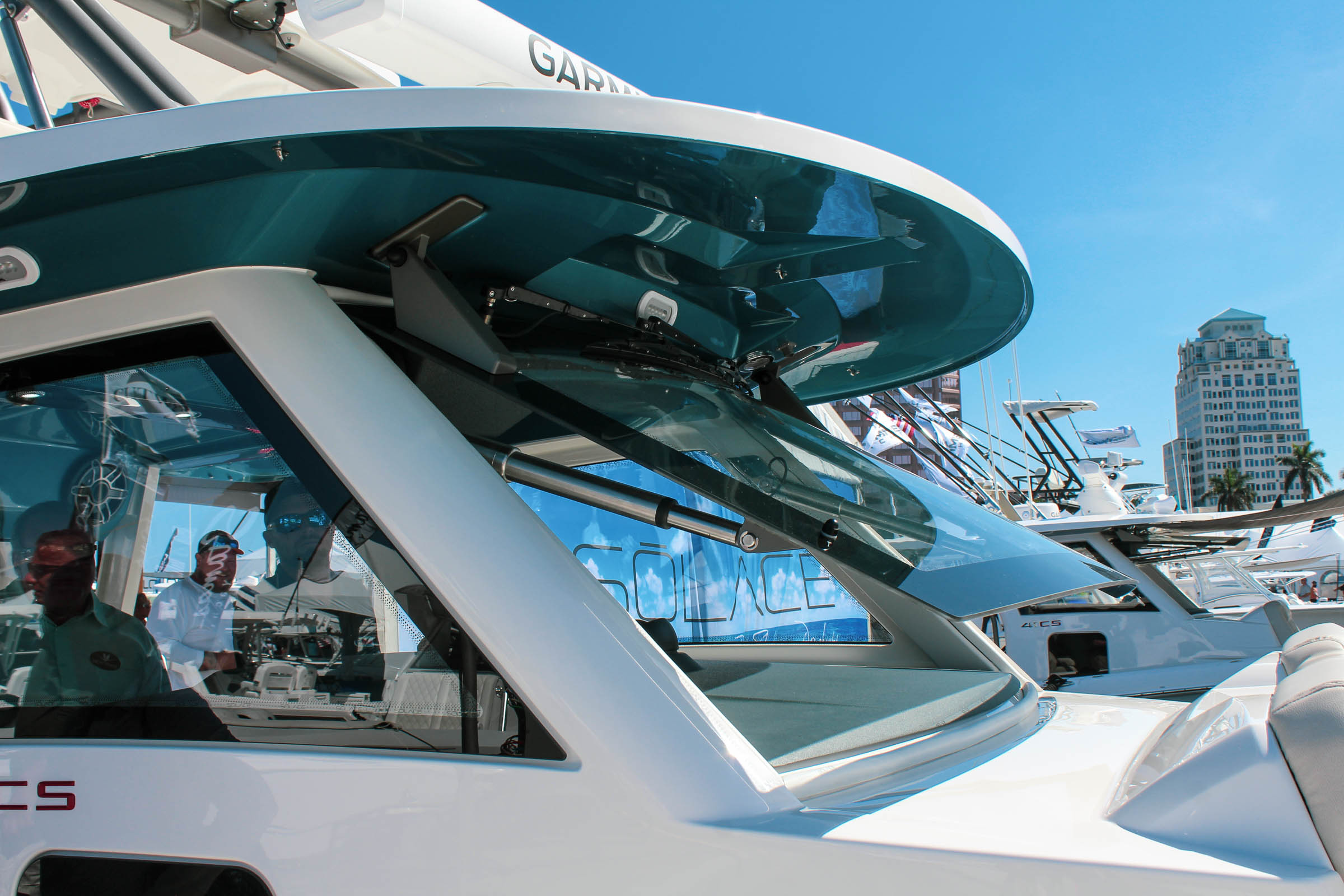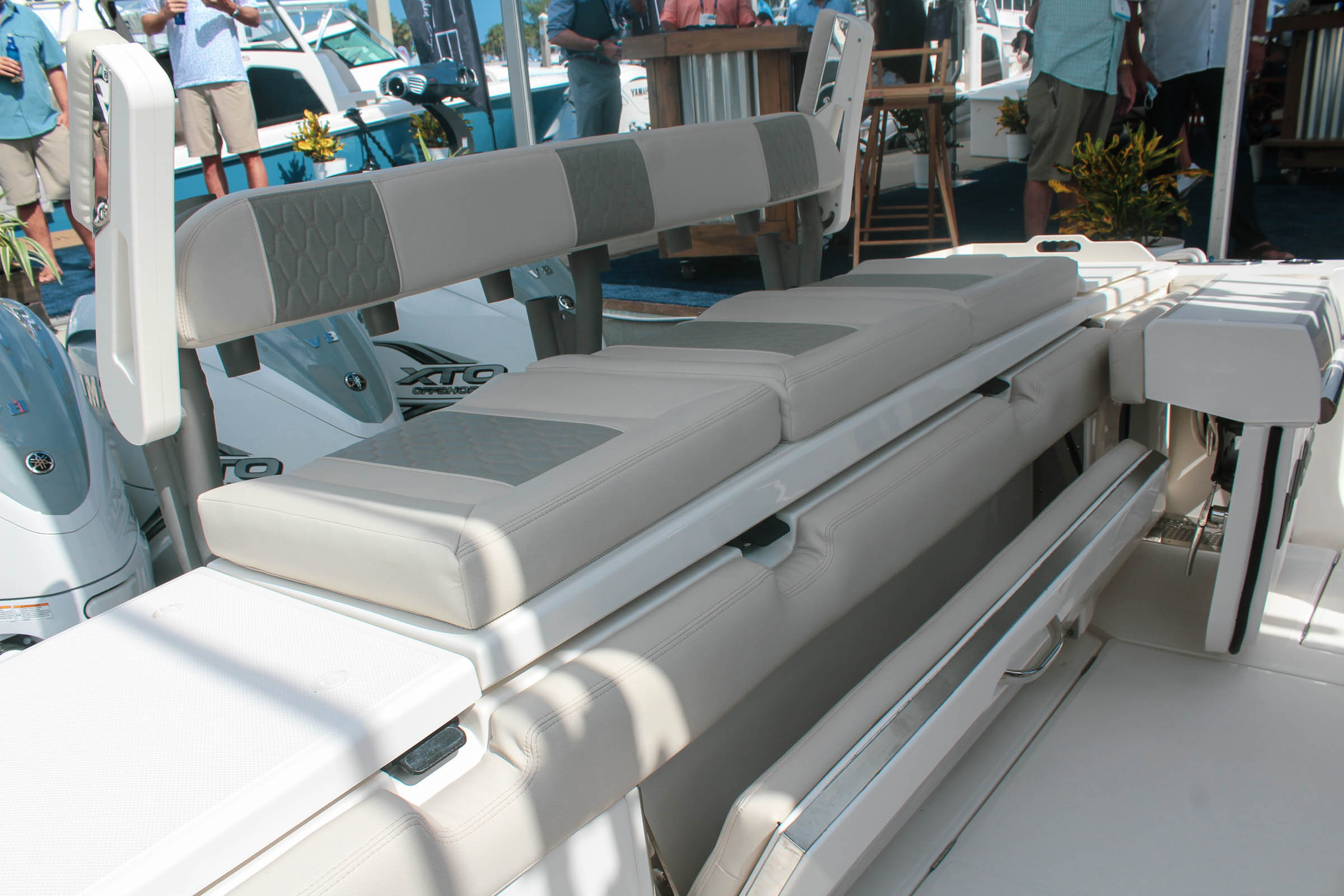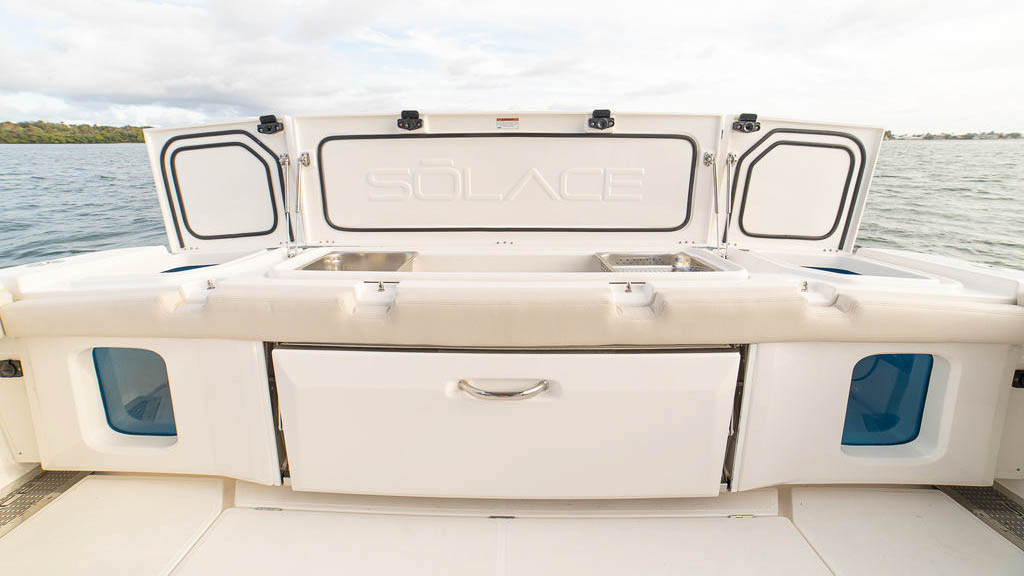 When the time comes to take a dip, steps away an over-sized ladder contained in its own compartment unfolds out next to the portside dive door, or continue forward for a nap or shower in the cabin below. You can't miss the hefty hinge connecting the pantograph door down into the spacious and well-thought-out cabin designed with a separate head and rainfall style shower. Craftiness is apparent all around including the steps themselves which flip up for additional storage.
At the bow, removable 35-gallon Frigid Rigid coolers under the seats free up space for the anglers, and for those favoring fun in the sun over fishing, the three-person density memory foam day bed is a great place to stretch out. There's designated fender storage for four inside the windlass anchor hatch, as well as separate compartments for trash, tackle storage and lines along the side gunwales. And no matter where you are on board, a premium JL Audio stereo pumps out 1900-watts of sound, and a Quick MC2 X7 (buyers can also install a Seakeeper) gyrostabilizer keeps you off the ground.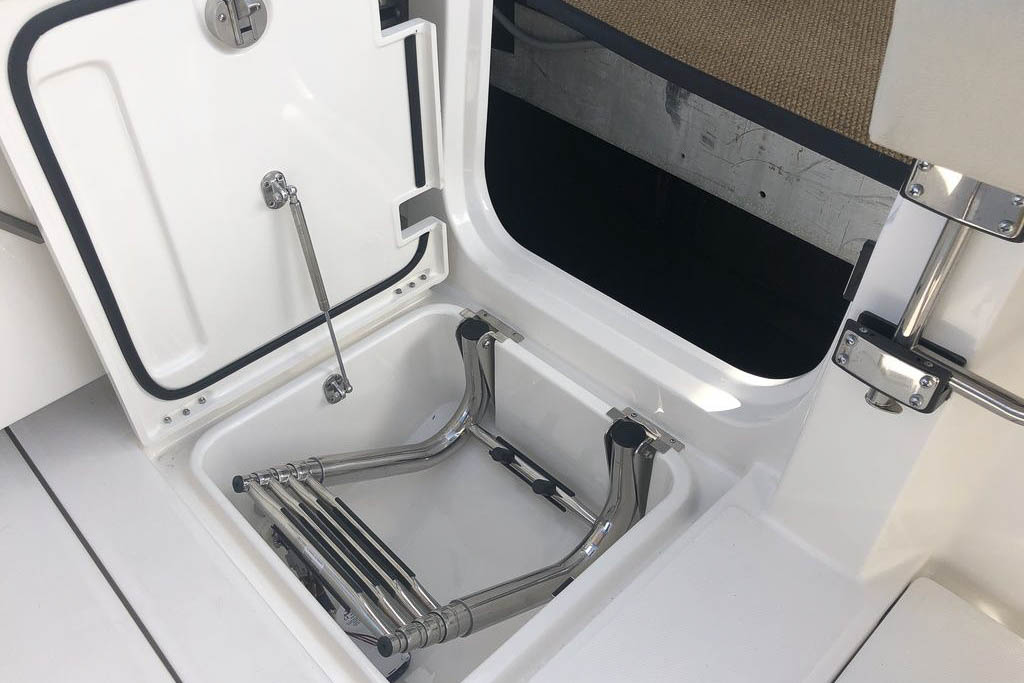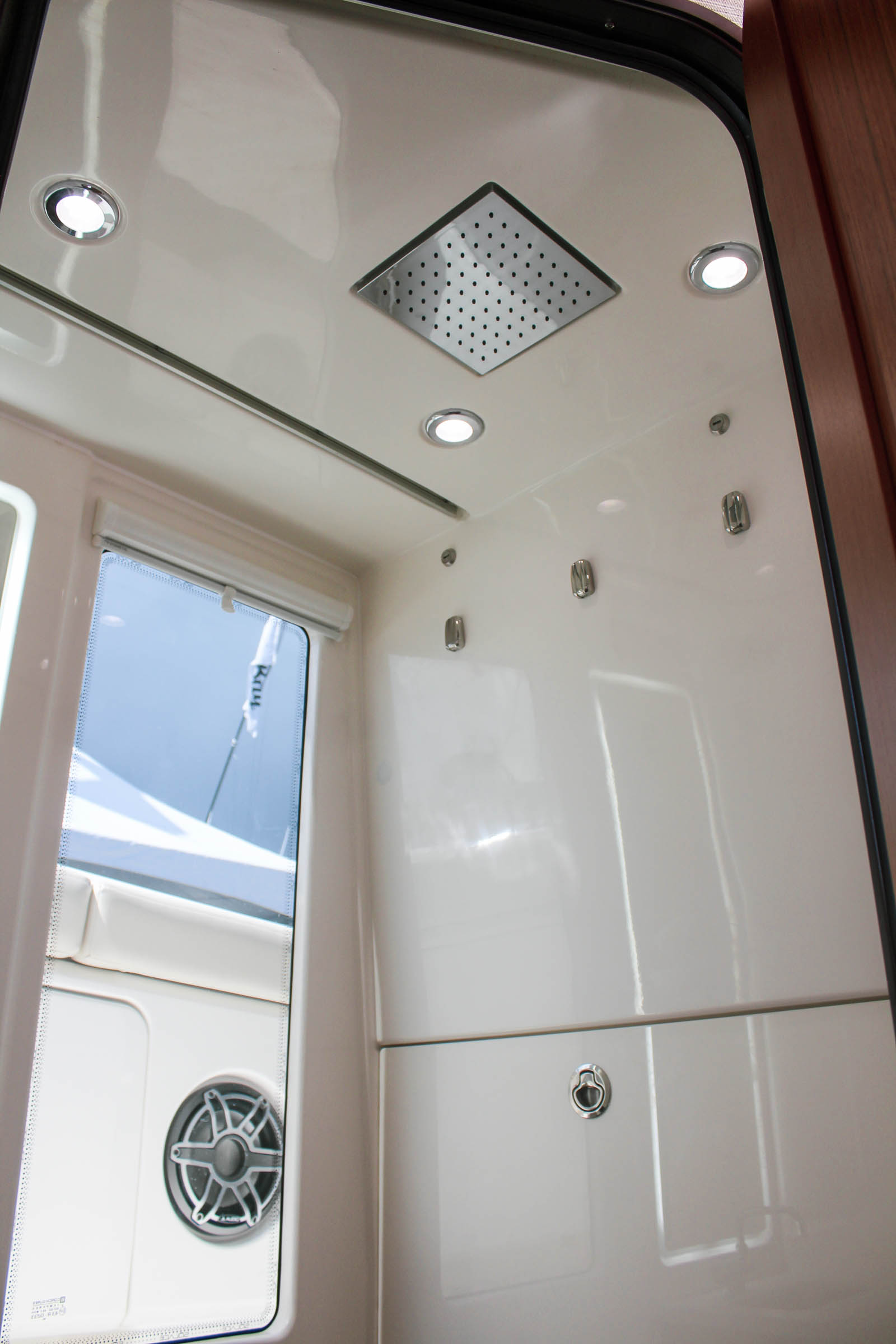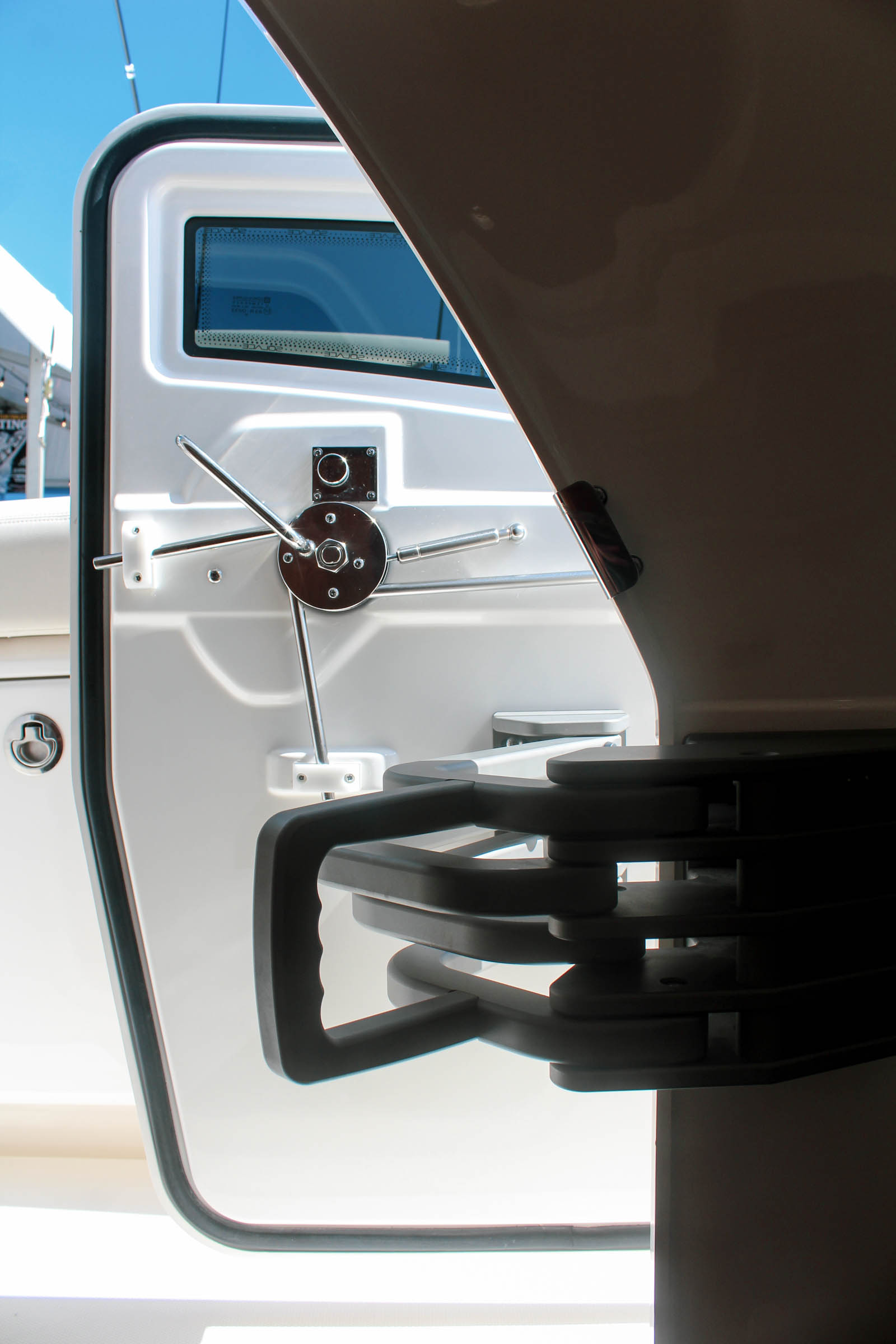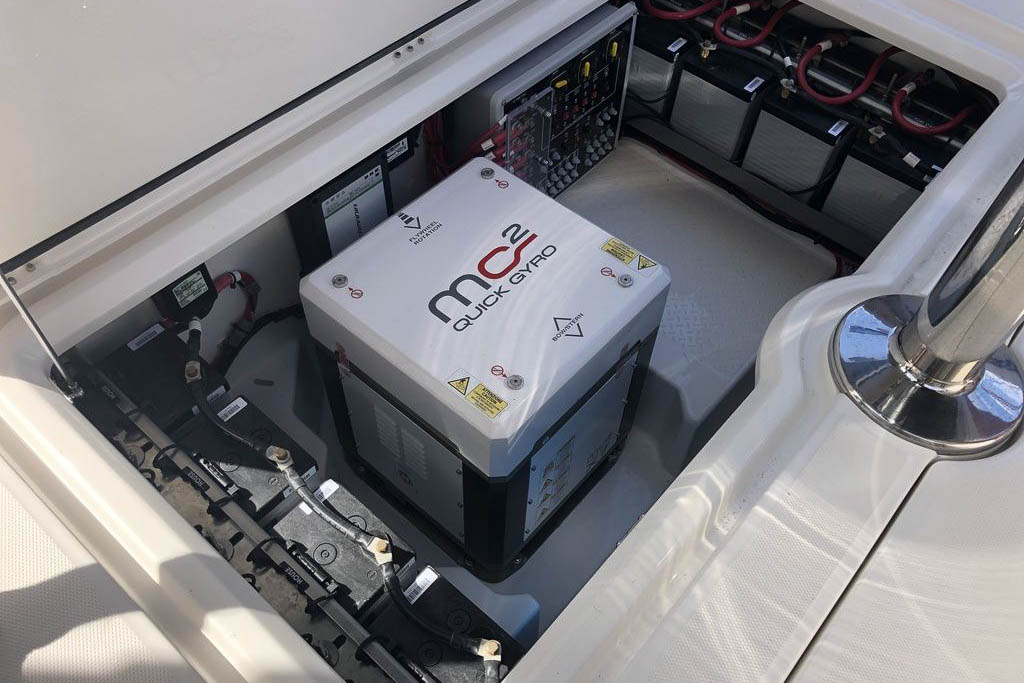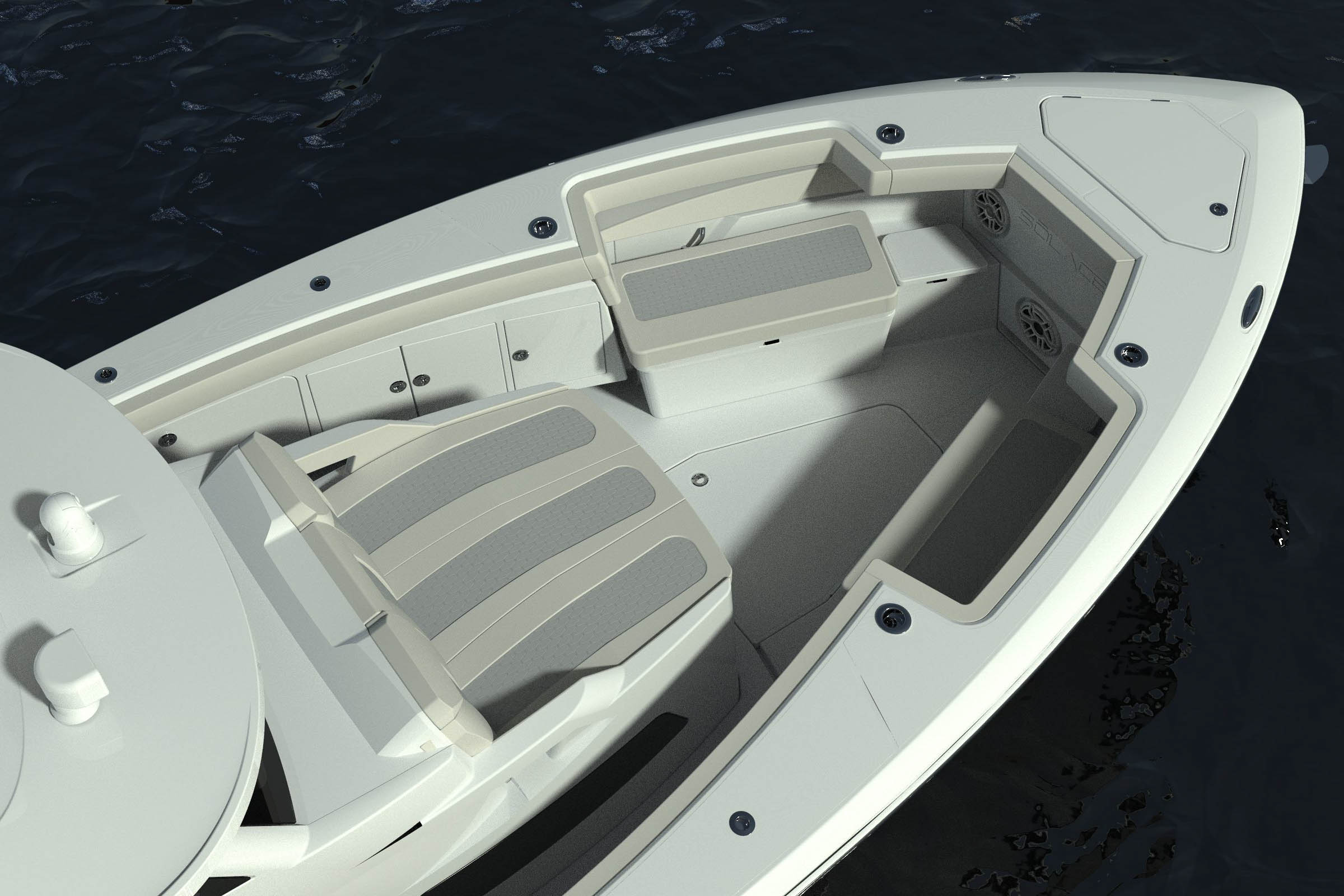 If you ask Siri or your search engine what Solace stands for, your answer will be: comforting or consoling. Keeping that in mind, Solace is soon upping the ante with a 48' comforting center console. The whopping showstopper with seven more feet of space is already in the works, and projected to be complete by late 2022.
THE BEST IS YET TO COME
after all...
The Dougherty Difference is what Solace is all about!