Story and photos by DinaRella / Additional photos courtesy of SeaVee
Hailing SeaVee as the wave crusher of Haulover Inlet— the hellacious portion of water connecting Biscayne Bay with the Atlantic – motivated me to hone in on its hull dynamics to see where the center console's special fighting powers to plow through the currents of that chaotic channel come from. During my honing, I discovered the Medley, Florida-based maker recently launched its biggest wave crusher to date, and as luck would have it, scored my own personal date to get to know the 450z one-on-one.
Before hopping on hull No. 1, my SeaVee DNA digging led me to Miami fisherman, Capt. Don McGee, for it is he who laid out the fundamentals when founding the company back in 1974. Two decades later, Ariel Pared walked through the door and was so enthralled to be included in the creation process of his center console; the avid angler would go on to purchase the company along with partners Moises Rodriquez and Ralph Torres. Today the trio follows in McGee's footsteps by first capturing customers' attention, and second, captivating them with superior-built boats.
Hooking customers on the hardware became an "ongoing problem" for SeaVee. Why? Owners' loyalty to the label is as hardcore and resolute as is, their commitment to reeling in the big kahunas… and they never leave. For this reason, we celebrate SeaVee's recent "big kahuna" release into the water world.
The fresh catch and largest model to date made its official debut on top of the Neptune Boat Lift at the entrance to the 2020 Fort Lauderdale International Boat Show (FLIBS). A year later it was déjà vu when the flagship 450z greeted me once again on the first dock of the 2021 show.
From my tour with Fulton Ivy from the sales team, followed by my picking-the-brain of renowned naval architect and director of design Robert Kaidy, I learned the 450z was the end result of more than two years of intense planning and R&D. Kaidy tells me, "SeaVee is a custom boat company that only sells direct and builds to order. Once you purchase one, you become part of the family, so when asked to expand after conducting focus groups with our customer base, there was just one thing to do… build a bigger boat!"
He continues with, "Our first priority was that it's got to fish right. We take fishing seriously. Competitively it must meet all requirements for the offshore tournament fishing guys. Next, we needed to alleviate fuel issues for our customers with properties in the Bahamas that were traveling back and forth."
Mated to four Mercury Racing 450 outboards for a top hop of 65 mph, the $1.25 million dollar 450z maxi center console checks all the "function boxes." It truly features every amenity possible for both those no holds barred offshore competitions, as well as, the fun in the sun missions with family and friends. Wondering about the "z" in the moniker? It stands for the new advanced high-tech, cross ventilated, twin-step cored hull fabrication found on vessels ranging from 32 feet to 45 feet. It also promises a clear view of the horizon eliminating bow rise when accelerating, and also when traveling at low speeds, due to its unique patented geometry resulting in a fixed running trim angle.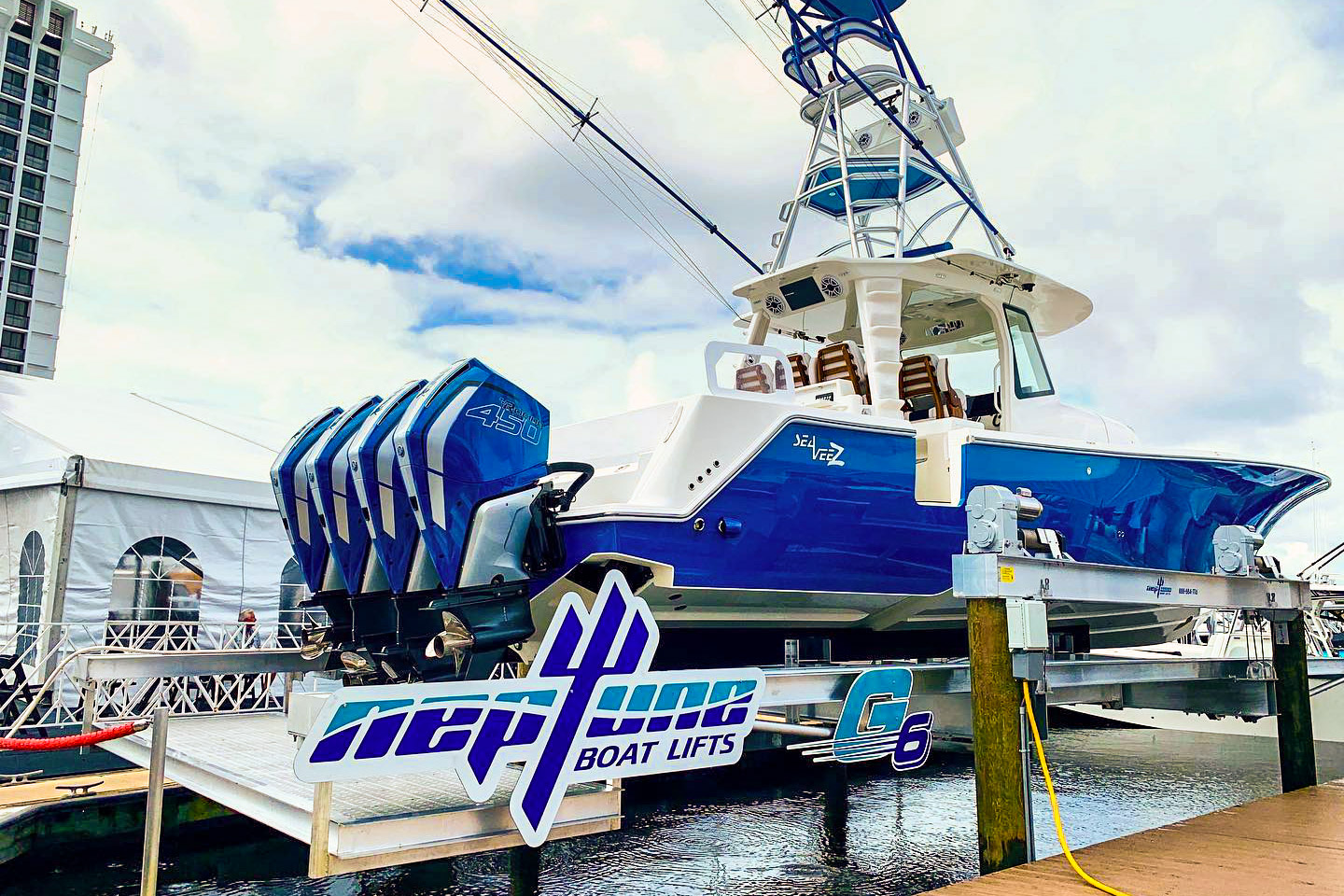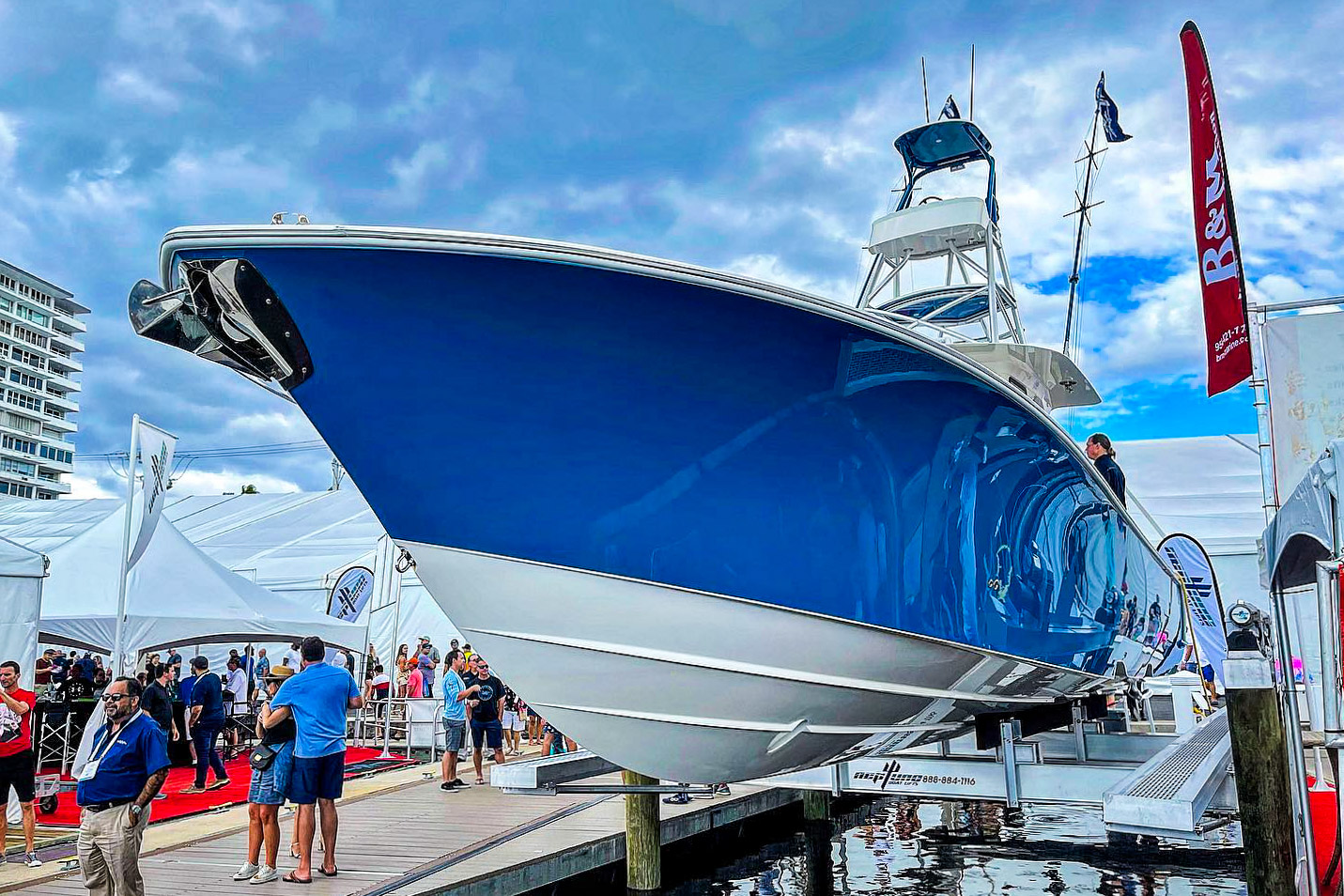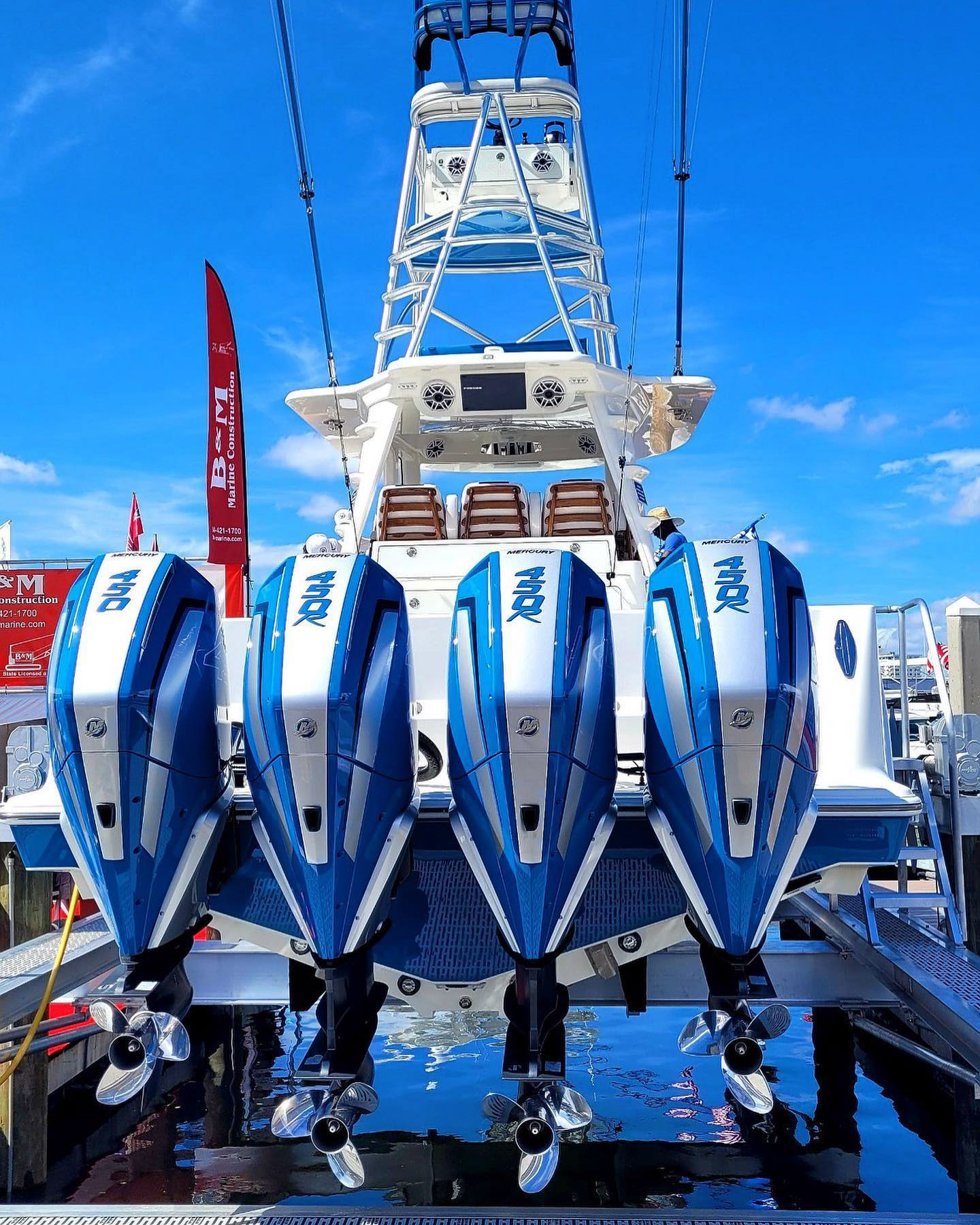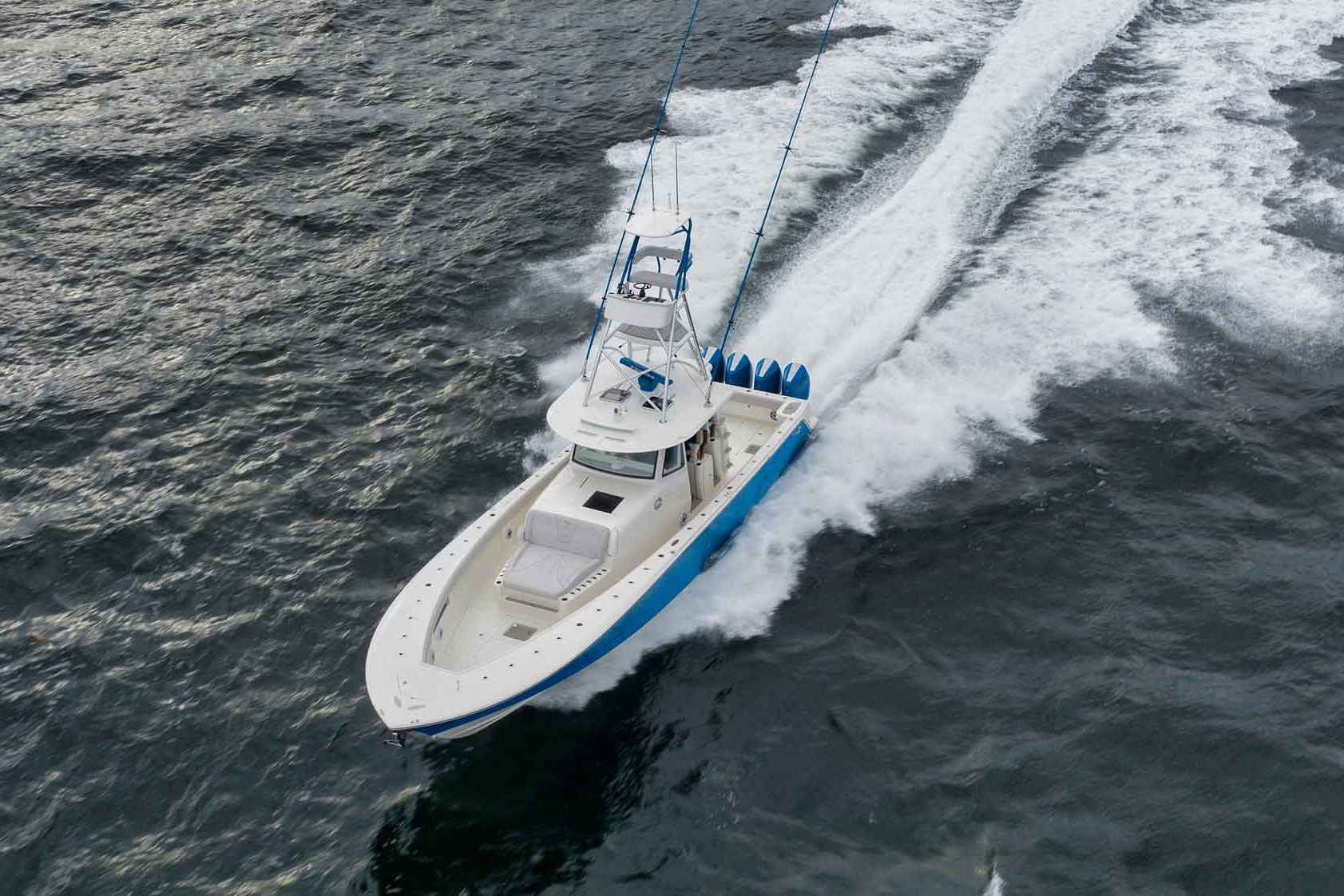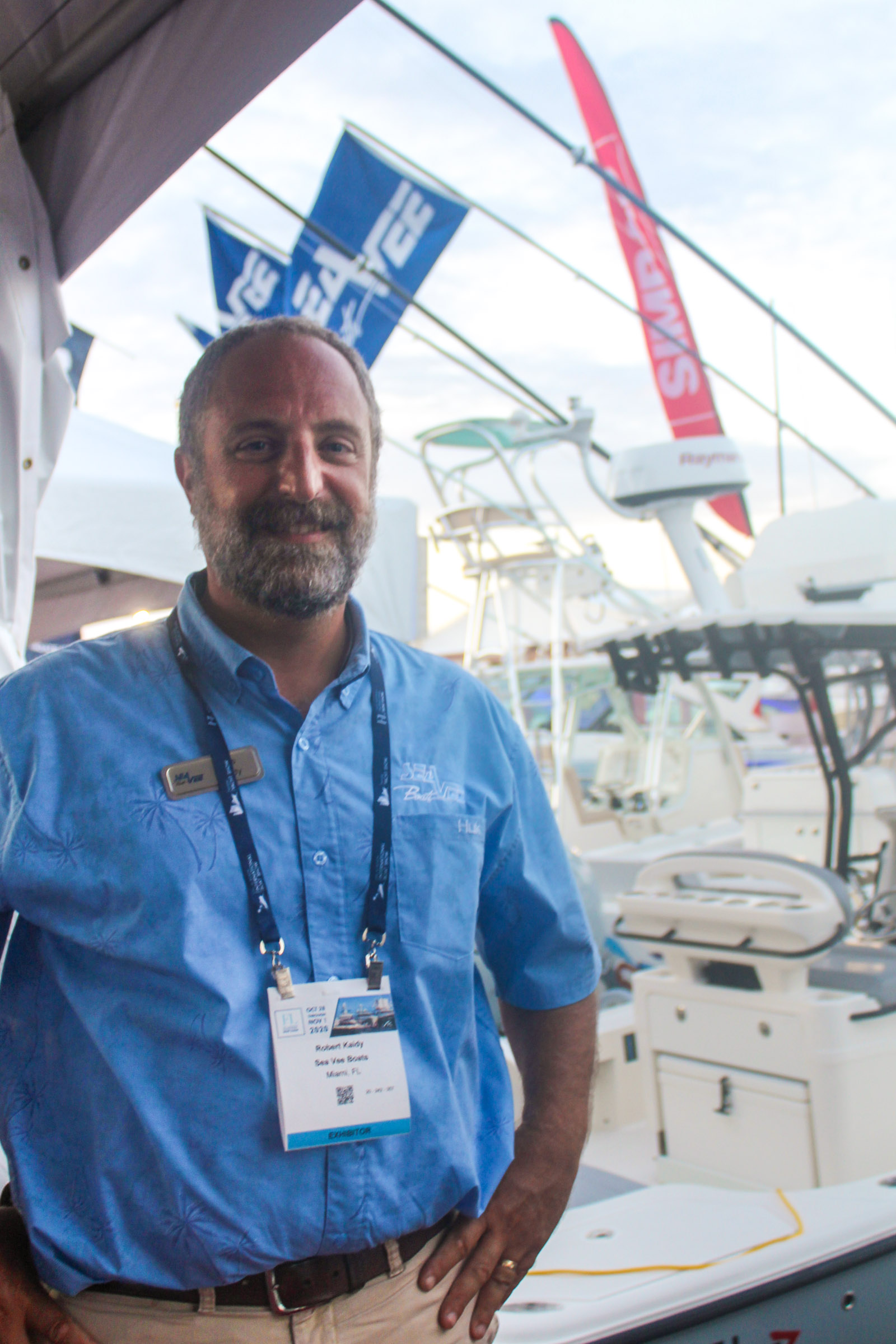 Fishability Features
The 450z ambitiously aims to please anglers of all types. Perfect for trolling; the z hull technology embraces 20-mph slow speed planing while maintaining a clean path to the rear. And with three gas tanks and 778-gallons of fuel onboard, the goal of round trips to the Bahamas to hook the big-game fish in crystal clear waters has been met.
The center console has the capacity to store live bait and rods like you can't believe. Twin 40-gallon livewells with clear windows anchor the aft, and their around-the-corner design is extremely well received on days when bringing the feisty ones back onboard. In deck are another pair of 40-gallon livewells, and if that won't suffice, the front cockpit sole holds an optional 60-gallon fifth one; all five are fed through a pressurized sea chest system. Multiple fishboxes with an overall capacity of 550 gallons are also part of the package.
A whopping amount of rod holders – 50 to be exact – include seven on each side of the front bow lounger. Holders for drift casting rods were integrated into the sides and high-speed trolling ones were placed furthest away from the boat.  Of the 15 vertical holders on the transom, the lower row is found below the line of sight on the outside for when the rocket launcher (most useful for when competitive sailfishing) is not in. Clusters were also positioned along the aft edges for flying several kites simultaneously, and at the end of the day can all be returned to their own designated fiberglass storage space overhead in the helm station.
Going above and beyond, specially fabricated inward-opening side doors (with integrated fold-down ladders) deliver yet another set of rod holders, something which the solid-infused models don't allow for. What's more, designed to service owners' diverse needs, the multi-piece doors give divers a straight shot to slide back up and fishermen fancy the spaciousness for gaffing their gladiator-in-size catches. In addition, built into the doors are super convenient cubbies for stashing lines or stuffing shoes.
The rod holders may be easy to eyeball but a tucked-away trait most instrumental in function – which may just keep you onboard and not overboard – happens to be the toe kicks along the entire length of the transom and underneath the livewells. Wedging your feet in tightly makes a major impact allowing you to stand perfectly straight, not bending over while fighting those playing hard to get.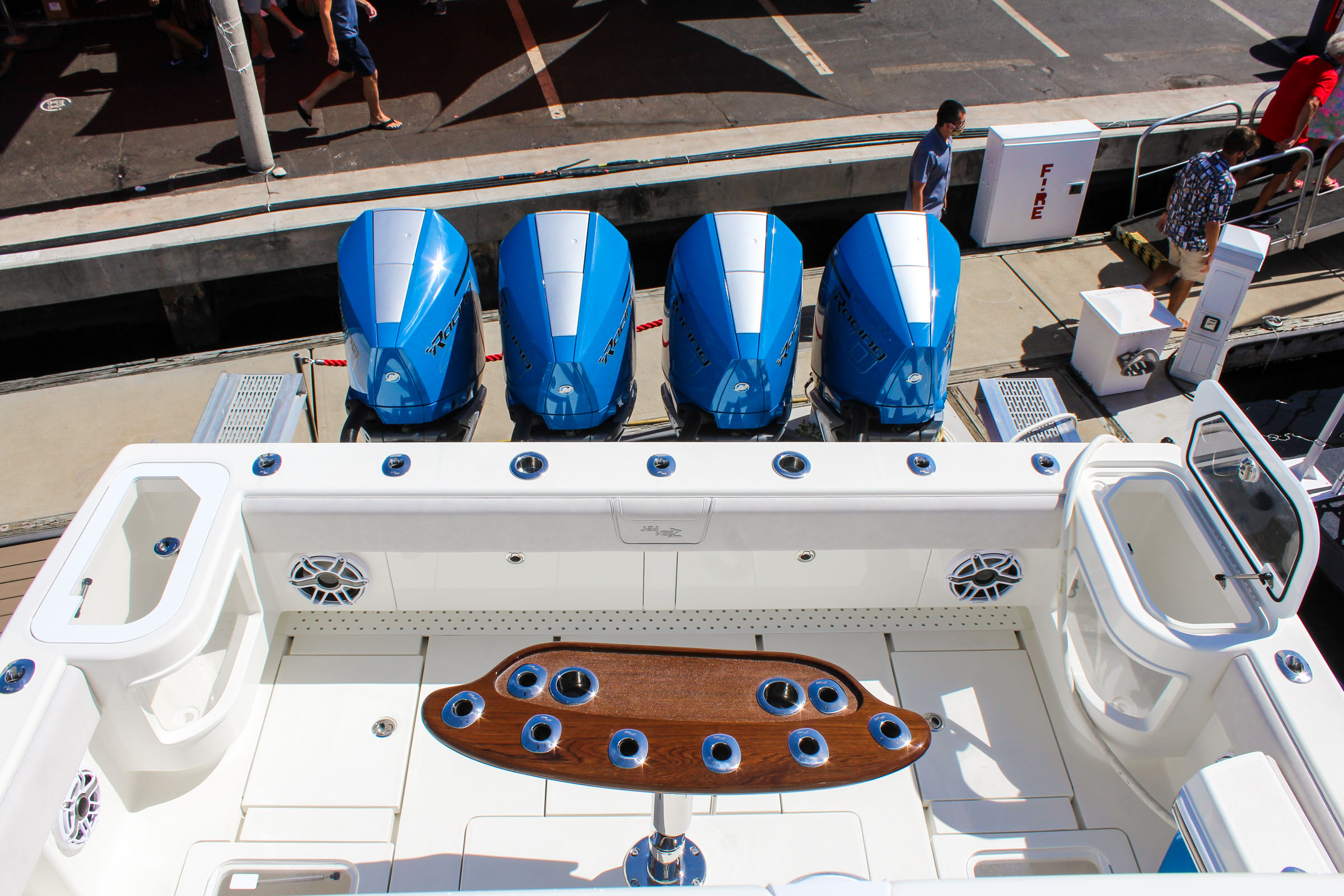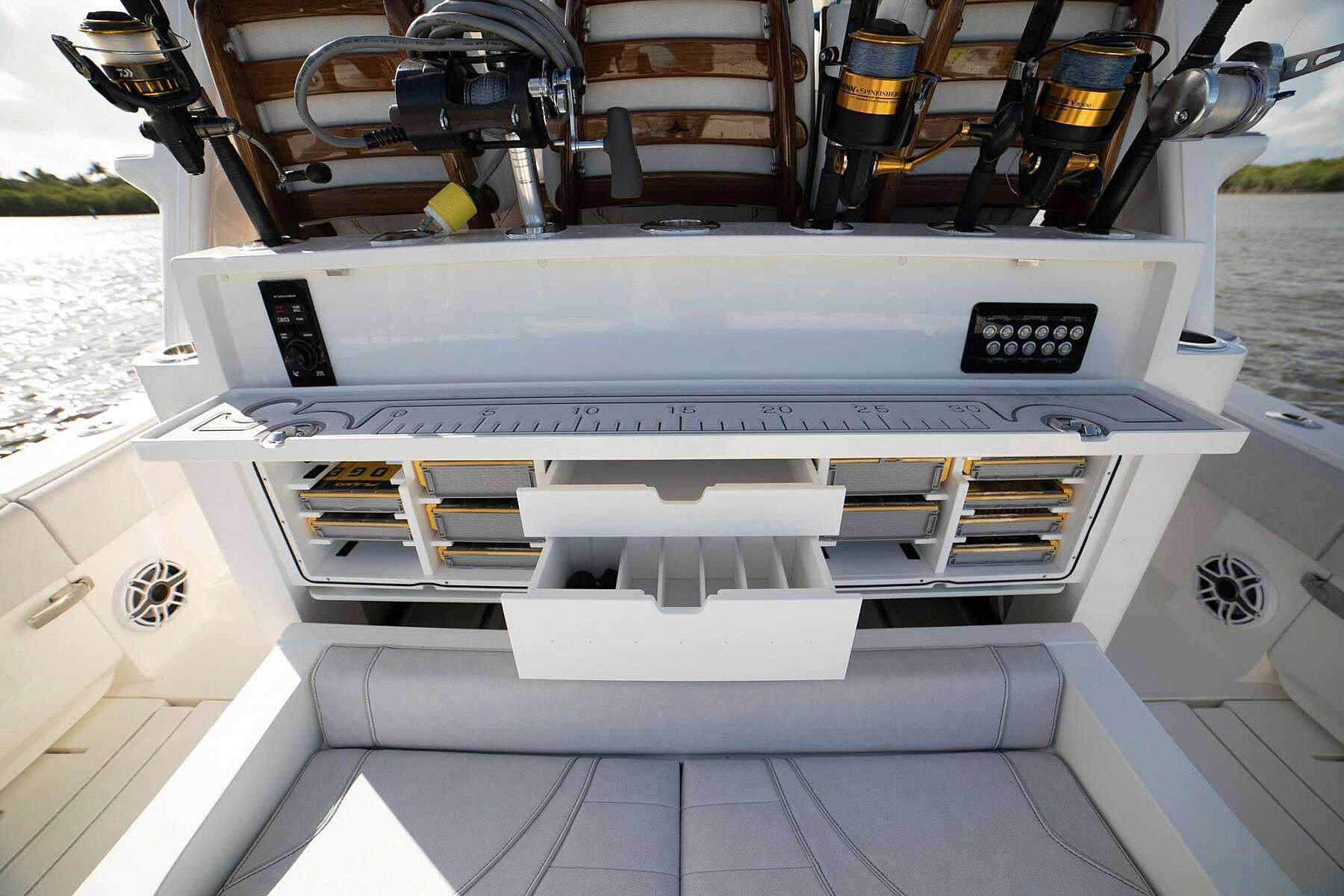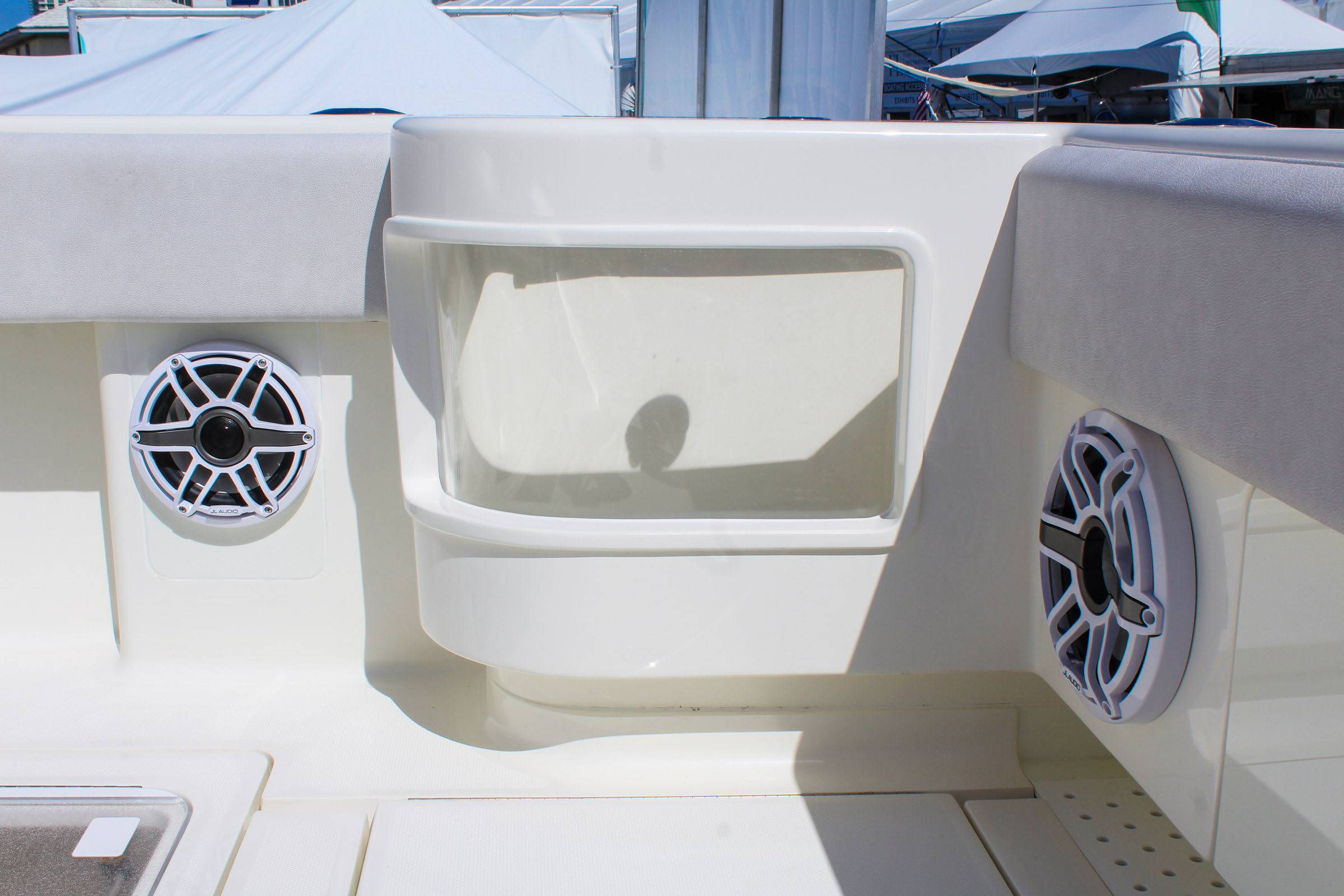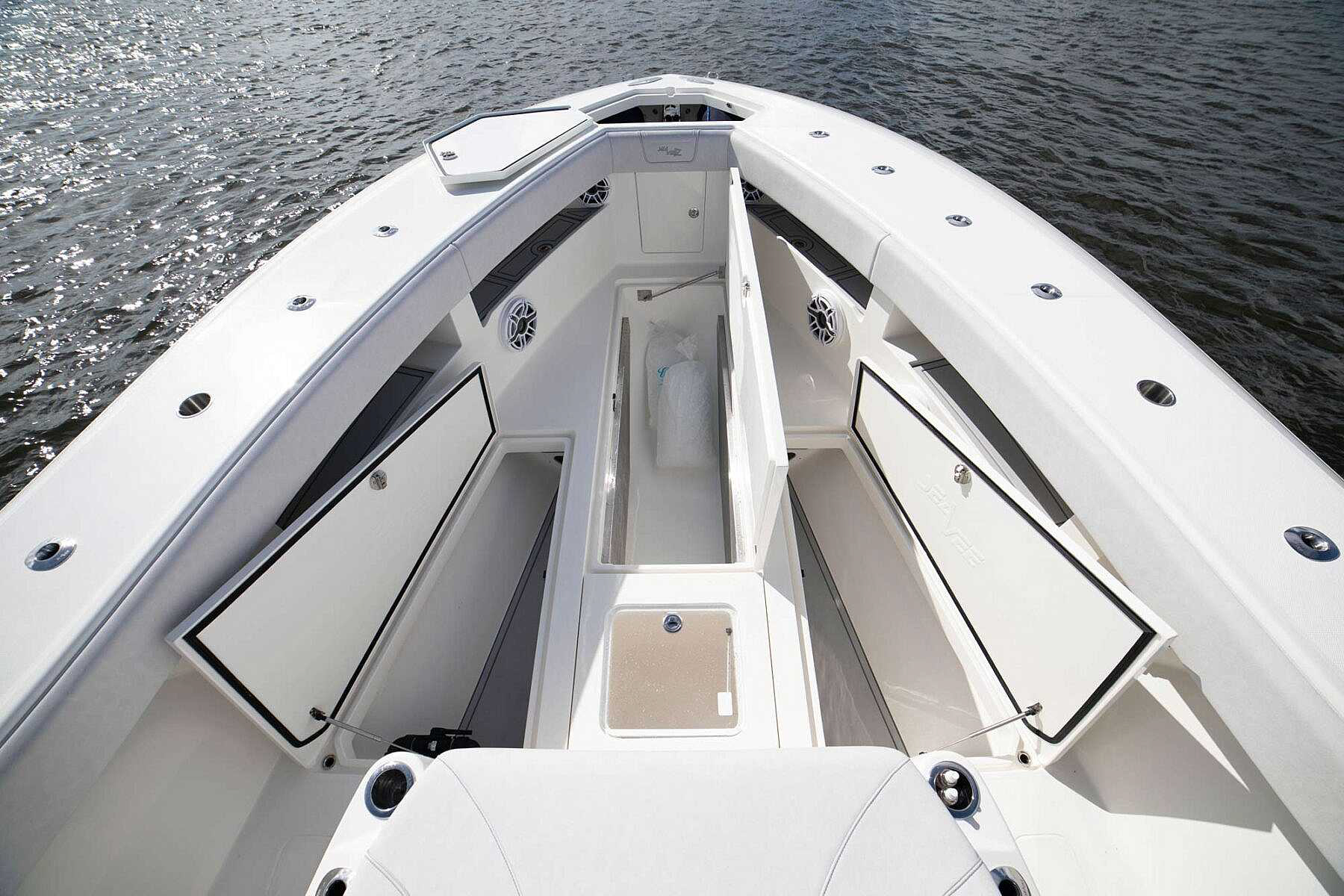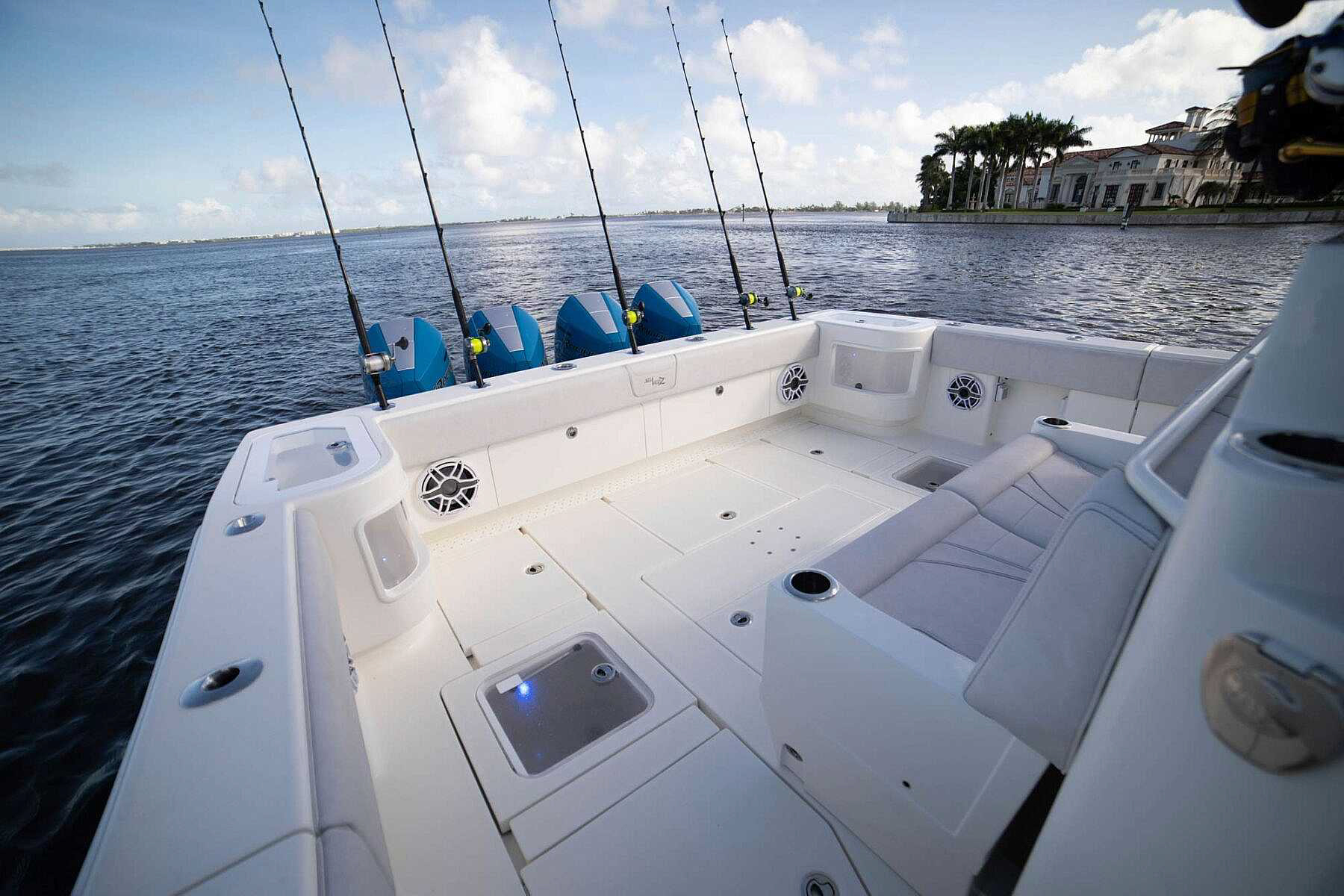 From the Tower on Down
Tower and center console goals were twofold: to provide greater wind protection and vastly improve visibility. Kaidy explains, "To accomplish this we had to clean up the deck and eliminate the piping coming down from the tower which blocks visibility." The port and starboard ladders are next-level genius. By extending the composite structure of the vessel all the way up, the seam-less back legs act as aft supports. Hands fit perfectly around ergonomically sculpted, curved recesses built into the inside ladder steps by applying a closed-mold infusing technology; feet fit perfectly into rounded indentations, sight unseen, providing safe passage up and down the SeaDek-padded steps.
But more than just the steps stand out on this complex sea creature. The entire helm structure resembles a work of marine art after countless hours of design led to the resin infusion of 22 inserts in just one hour's time. The true "piece de resistance" is without doubt, the new windshield born from an inventive process bonding two thin layers of molded safety glass (as opposed to the traditional tempered) to a marine inter layer. Glazing procedures afford the clear view, and slightly cambered arches thwart the glare, since there's no blinding reflection from the lack of pipework forward of the glass, nor aluminum from the corners.
Deemed as drive-centric, there is no cabin entrance or fourth front cockpit seat to throw things off balance, and the helm houses all reins in reaching distance. A billet rearview mirror (a simplistic replacement to the camera) and backlit button controls with large typeface come in handy for those with aging eyes.
A pair of 24-inch Furuno monitors is met with a 16-inch monitor in the center and can also be customized to include three 22-inch screens. To conserve precious space, and for practicality reasons, only critical systems were placed on the dash interface, leaving items turned on once a day like the livewells to the rear.
A layer of SeaDek matting on the lower edge greets shot-gun seated guests who relish in resting their feet up on the dash; toe kicks and footrests are present for when resuming a vertical stance. Wireless charging stations are built into the flat storage panel, and the recessed upper console keeps gear and goods out of the skipper's line of view. Air conditioning comforts all six guests relaxing on the individual Release Marine chairs dressed in Italian suede-like Alcantara. Invitees riding in the elevated aft row not only have a better visual perspective; they too enjoy their own AC vents.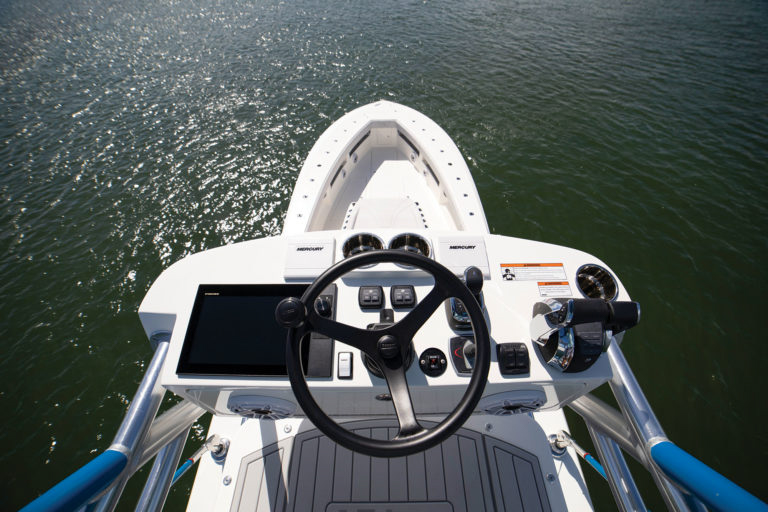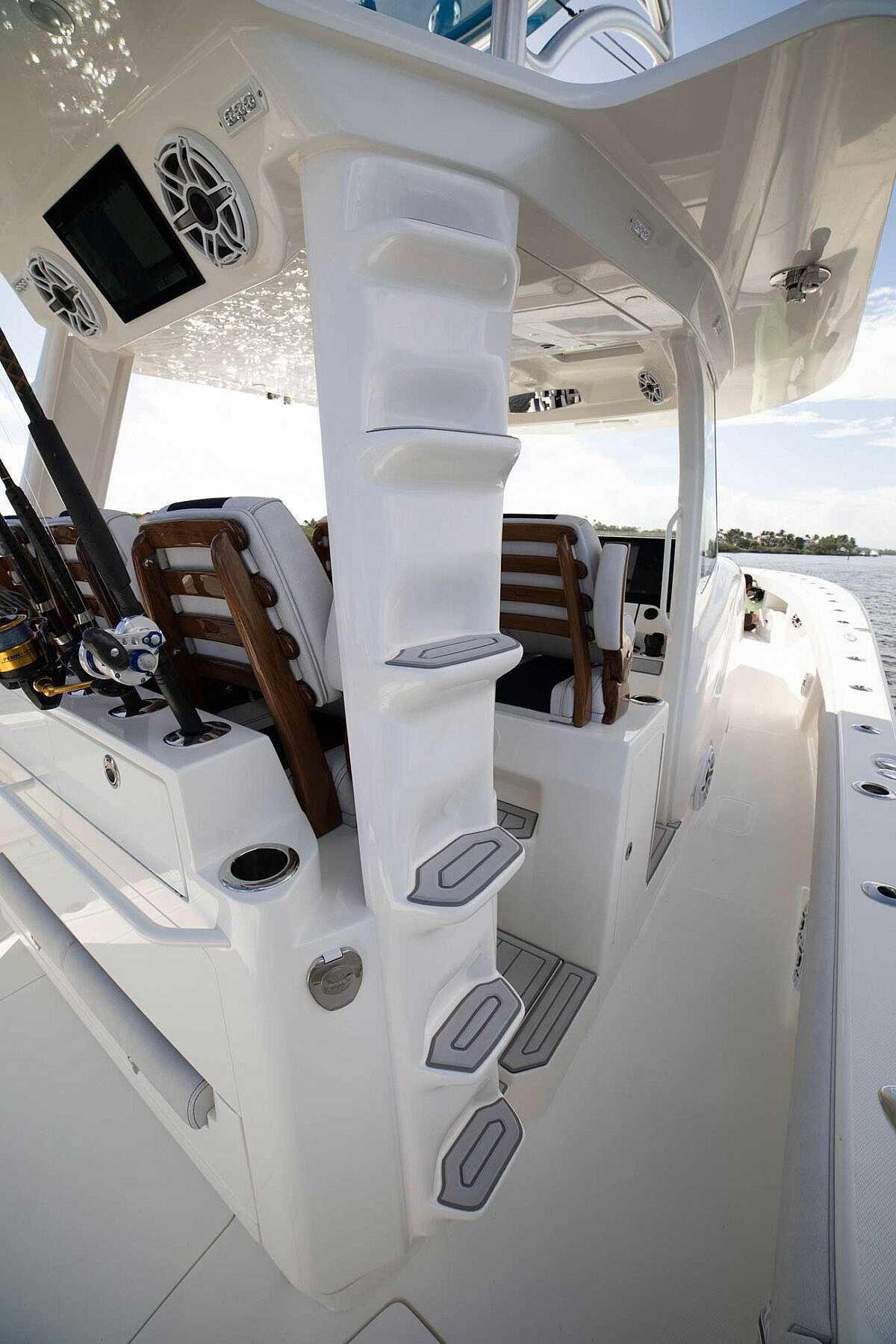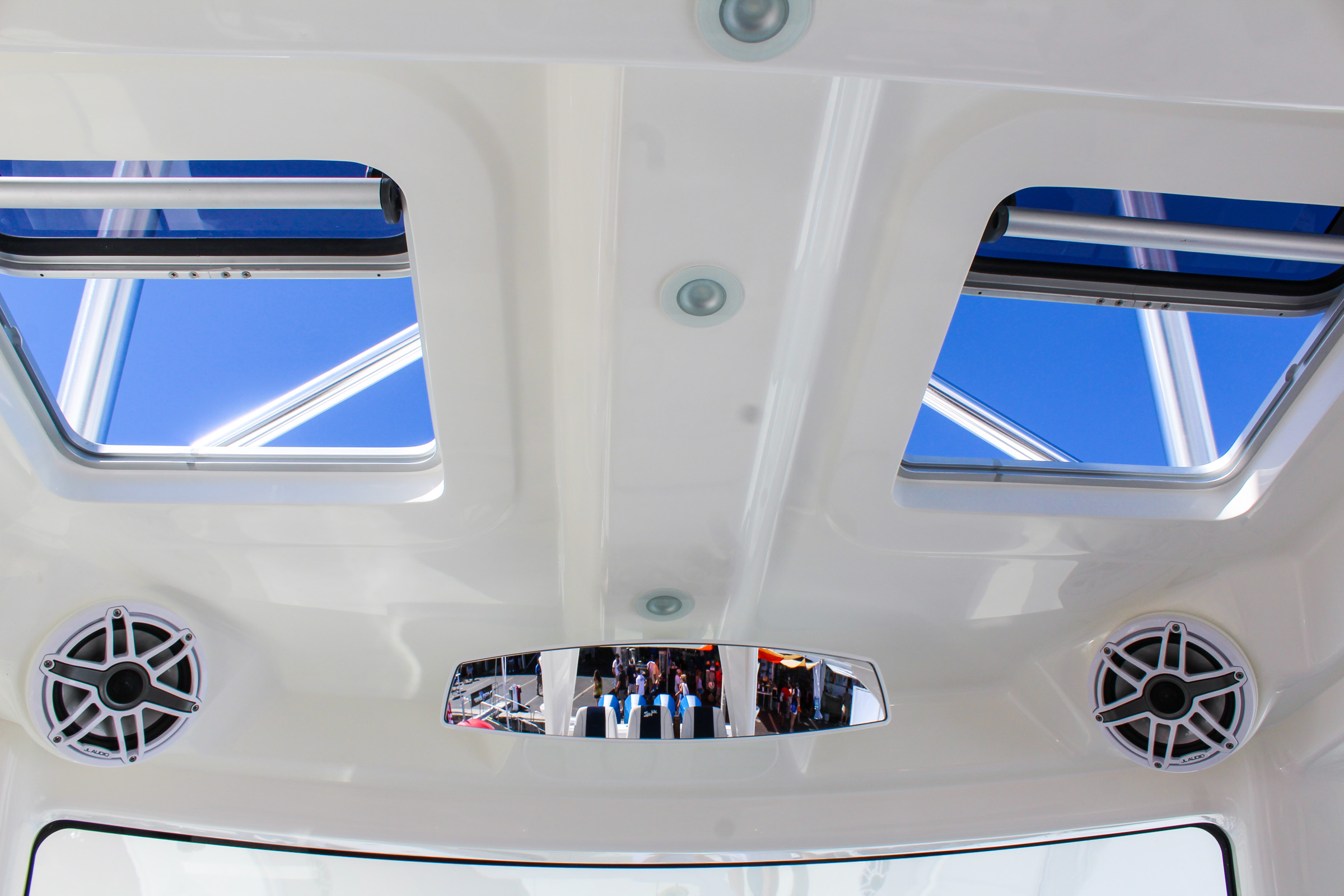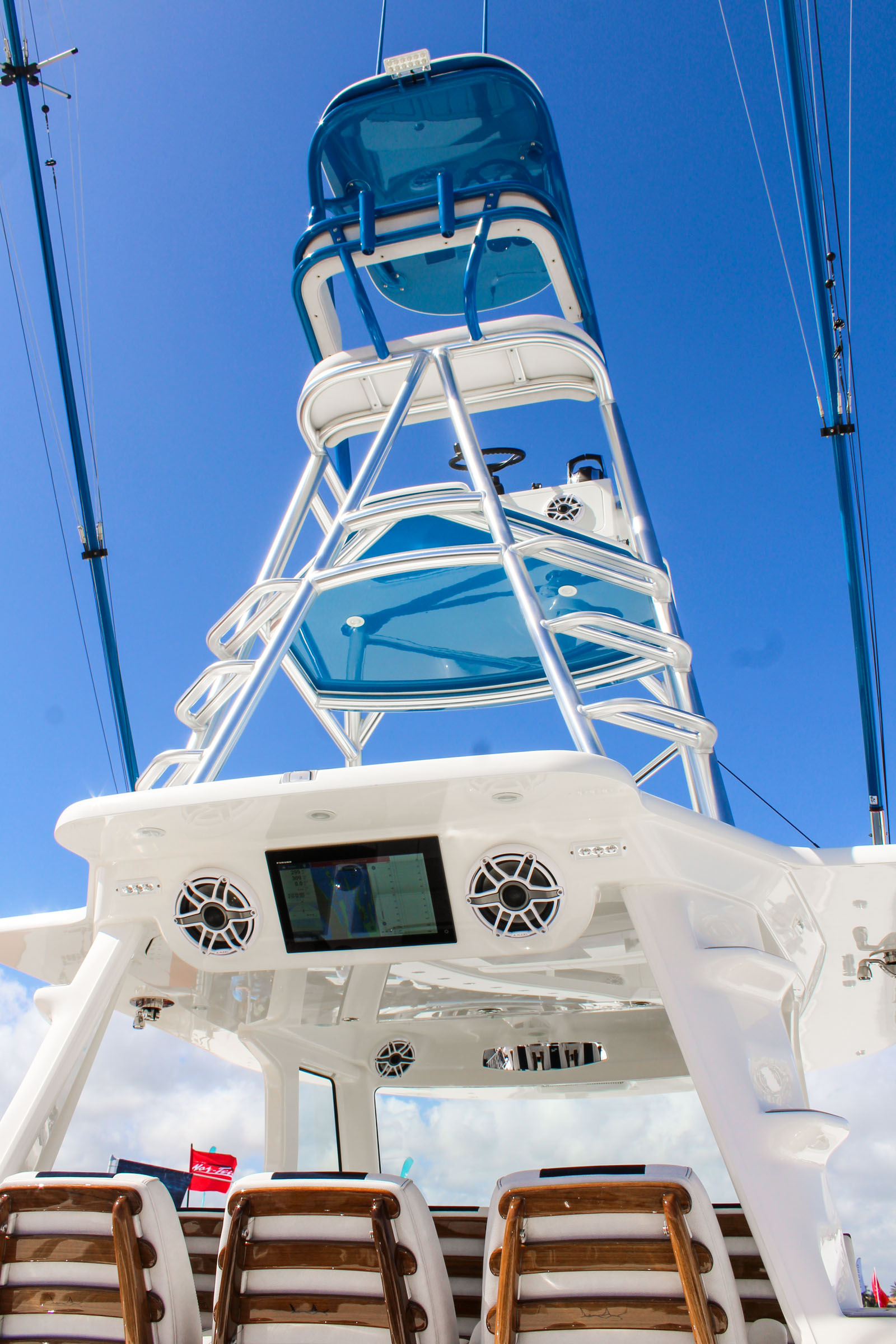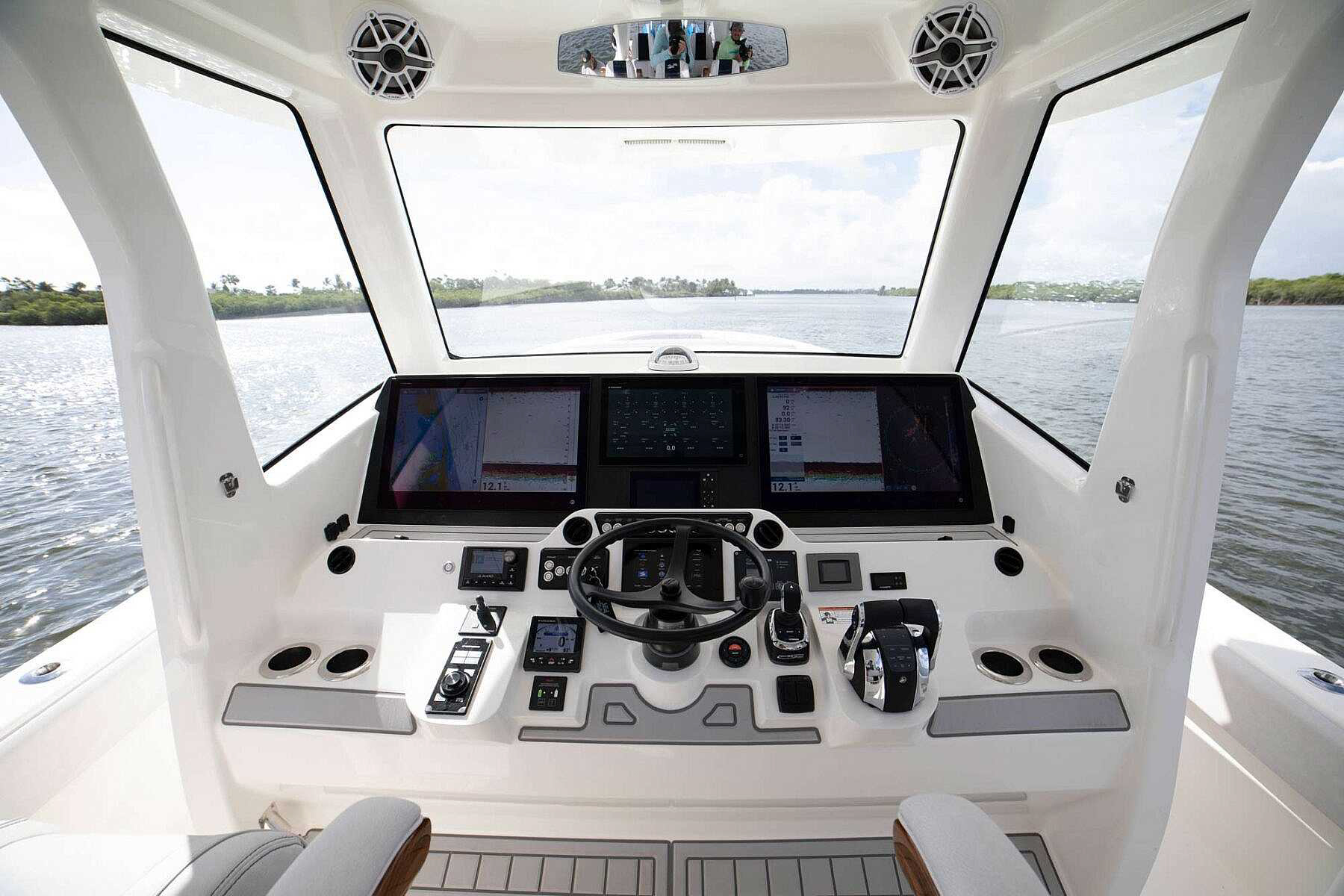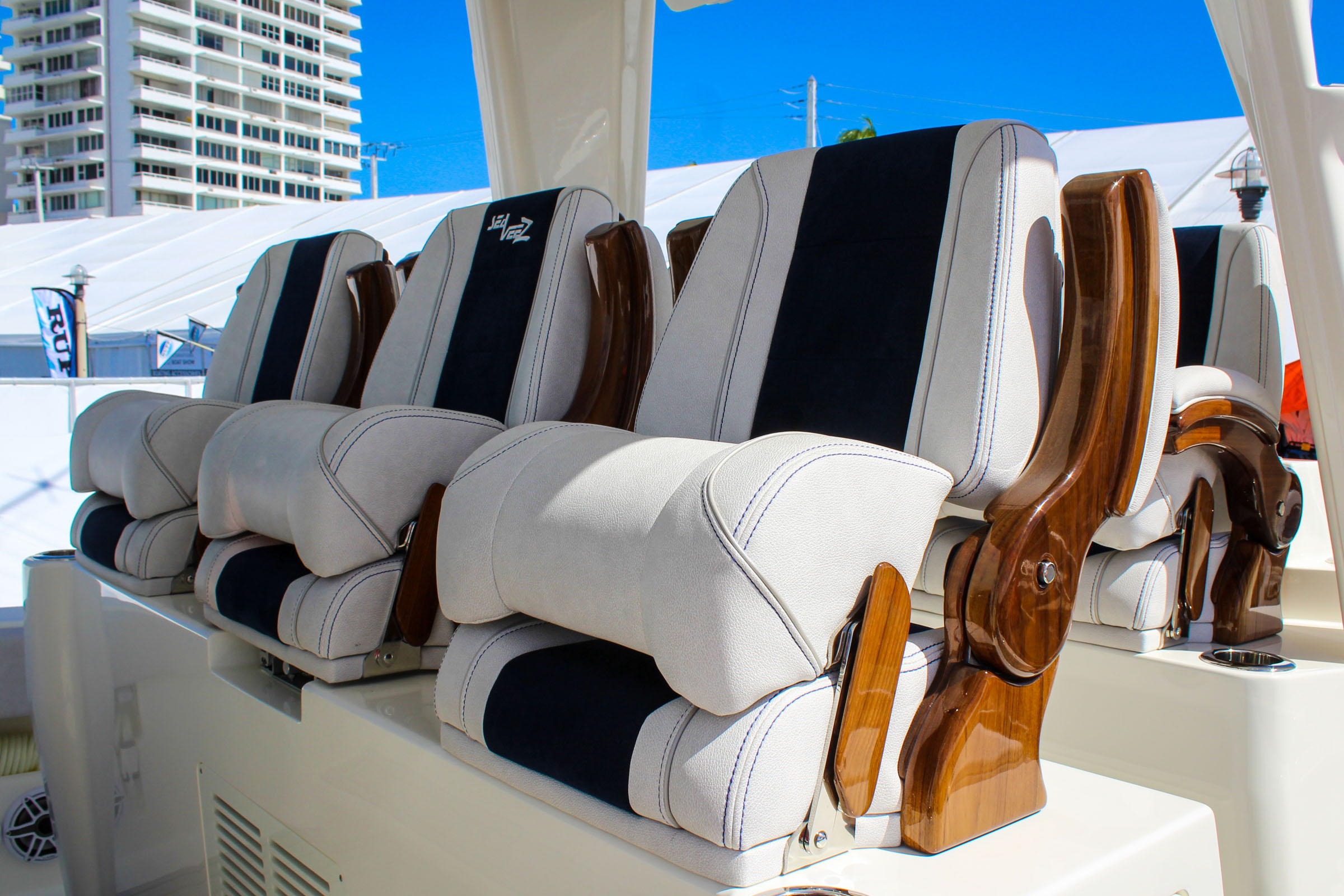 A lot can be said about the convenience, comfort and all around cleanness conveyed on the aft. Take for instance, the carefully thought out installation of all electrical connections and hydraulic pumps located in two easily accessible transom compartments making servicing and maintenance a snap. Likewise, all machinery room objects on the platform floor can be reached with ease including the Seakeeper 6 and standard 9 kW Onan diesel generator, capable of running the boat for three days.Appearance-wise no bolts are exposed on the transom which was brought as close to the engines as possible whereby eliminating the motorwell. It's a new level of clean… you can simply reach out and touch them.
And it's not often I write about the angle of mezzanine seats but on the 450z it's been designed with a negative five degree back set which prevents those seated from leaning too far forward. Magnetic cushions can be easily removed and made to disappear inside specially-outfitted stowage lockers for when it's time to access the electric-sliding cooler divided into two compartments for separating the chilled goodies, or get into the fold down rigging station and tackle boxes. A total of 14 Pleno Edge-Series waterproof boxes in small and deep sizes mean you never have to choose which tackle will tag along… bring it all. The rear-facing monitor is another big score among the fishermen.
The bow and the cabin are equally inviting and can be enjoyed by all. Gunwale sides are generous in width and two anglers can comfortably fish or swish by when moving forward to access the salt and freshwater washes, twin rod lockers and generously proportioned insulated fish box on the centerline. The front lounger with integrated armrests and corners for not rolling off is pure bliss to plunge back into. The lower height appeals to the ladies and little ones making them feel safe and protected; tooled-in footrests function as a stepping stool and keep feet from dangling.
Refreshing in look and yacht-like in character, the cabin makes any overnight journey more than pleasurable, even if the 450z is classified as a day boat. The area features a private head with standup shower to port; a galley equipped with stainless-steel sink, fridge and microwave; and a queen berth that converts to a U-shaped lounge with an electrically actuated high-low teak table to starboard.
Also to starboard is the Kaidy-crafted entry door leading into the cabin, which is a star in itself, as he tells me, "It was intended to be a showpiece of megayacht quality. We thought it would be great to be able to go in and out by simply hitting a button when your hands were full, and of course be water tight for efficiently shedding heavy green water when coming over the sides. We had to invent the door, and this did not happen overnight." The end result was a flush fiberglass door that opens and closes via a computer-activated helical drive system. It also detects any amount of pressure and stops midway when in motion.
Innovative craftsmanship is plentiful on the 450z. It's the true definition of a tournament-level sport fishing boat and then some. Combining the seamless physical dimensions (literally) and perfectly seamless – as in flawless – design details convey the versatility of SeaVee's biggest and best fish in the game!