Welcome to Luxury Center Consoles
---
Come explore the latest news and reviews on all the new Luxury Center Console Boats.
You will also find accessory, destination, event and industry profile features, plus much more.
Enjoy your stay.  Come back often.  New content is always being added!
Searching for hot off the press reviews for the latest center console boats on the planet?
You will find them here in our Features section.  Step on board and explore...
Just published...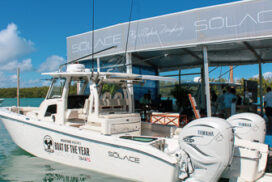 Story and select photos by DinaRella / Additional photos from Solace Boats In part one, we said Solace Boats – the newcomer with old school roots – leads the way in innovative and purposeful craftsmanship. What exactly did founder, CEO and boat-industry veteran Stephen Dougherty and his team do to make the Solace 345 and 41CS so sought-after? Take your pick, for example, Solace incorporated a hydraulically controlled windshield and similarly functioning stern sunshade; added magical (my word) magnetic technology all around; and then tossed in the massiveness of reinventing a newly configured outboard transom. Luxurycenterconsoles.com is not the only marine editorial outlet singing the Solace praise; the center consoles have been accumulating boating-industry accolades across the board since  arriving on the water. "It is a courageous design done with flawless execution," said Boating Magazine's editorial director, Kevin Falvey; Power & Motor Yacht crowned it ...
Read full story
Hunting for the latest product reviews on items you can't live without?
Check out our Product Reviews Section.
Come look and see what you need!
Newest Review...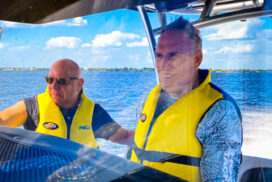 Story and photos be DinaRella / Additional images from PBS & G. Beebe When it comes to skillfulness and commanding one's pleasure craft, boat owners are like today's twisted teenagers... convinced they know it all! Nevertheless, whether it's understanding modern technology or applying astute tactics of operation, the aces among us continue making catastrophic calls resulting in harming high-priced hardware and worse, endangering the safety and lives of others. Rule number one is: CAREFUL, COMPETENT and CONFIDENT operation of your luxury center console, and by taking Tres Martin's Performance Boat School course as a refresher on the "how-tos" or as an intro into your state-of-the-art, outboard-powered bundle of joy... the valuable insight gained might just prevent that next unfortunate incident. And for any hot-shot stepping out of a triple-digit-hitting V-bottom or catamaran who is not familiar with handling center consoles, according to PBS founder Tres ...
Read full story
Center Console Boating Events are happening all around the globe, and all the time...
Keep track of what's coming up with our Calendar, and the events you may have missed in our Events Section.
Catch up here...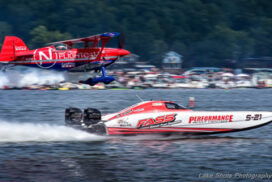 Story and select photos by DinaRella / Additional photos provided by Justin Wagner, Hamilton Marine Finance, Ben Robertson, Brian Correll Airshows & Lake Shots Photography Missing my connecting flight into St. Louis after a fab four-hour wait for Delta to Uber a backup flight attendant from Boston to Hartford left me Uber-pissed I missed opening day of the 33rd Lake of the Ozarks Shootout, but the drama stopped there! A packed powerboater program (regardless of Shootout participation); electrifying exhibits of raucous horsepower every which way eyes and ears veered; and the happy poolside party vibes from the tribes trying to stay cool and combat the Central Missouri triple digits, made up for my delay – the 2021 LOTO Shootout absolutely killed it on the slaughter meter of HOTNESS. Wednesday night's Shootout on the Strip got the Midwest powerboat phenomenon cranking with event sponsor Waves and ...
Read full story
Coming up Next!
61st Fort Lauderale International Boat Show
All day,

October 27, 2021

–

October 31, 2021


View Details

Planning your next get away?  Come explore some of the most beautiful boating destinations on the planet.
Detailed write ups and beautiful pictures are what you will find in our Destination Section.
Our Latest Destination Review...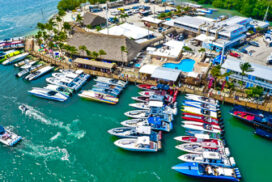 Story and photos by DinaRella / Aerial images courtesy of Florida Powerboat Club Key Largo is a world apart in form and fashion from its part-maddening, part-mystifying big brother, Miami; one radiates vivaciousness and the other vacation-ness. The good news is travelwise the two are a mere 45 minutes apart and any boaters center consoling around the Magic City's waterways seeking out a more relaxed vibe can easily dart down to the divine abode for a day trip, or even better, tack on an extended stay at our second highlighted property offering hotel accommodations and overnight dockage for your water baby. Adored by all, Key Largo, the northernmost island and longest key named for Cayo Largo, has been captivating hearts and souls of sun seekers and seamen in search of that trophy-sized tarpon long before Bogart and Bacall popularized the paradisiacal destination in the 1948 ...
Read full story
In our Profiles Section you will find:
Customer and Manufacturer Profiles.
The movers and shakers of the Center Console Boating industry, interviewed just for you.
Latest Profile Story...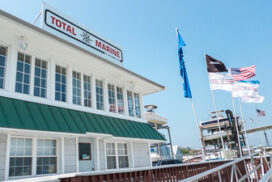 Story by DinaRella / Photos by DinaRella, Tom Caruso and Fountain Powerboats When it comes to "meeting the wants and exceeding the needs" of its East Coast boating customers – Total Marine is a paramount player in the maritime world. Established five decades ago by John Caruso in 1971, the family owned business runs a pre-owned brokerage service, and offers seasonal seafarers a full yachting facility with docking capacity for 45 vessels in the SONO district of South Norwalk, CT. For aquatic aficionados on the Atlantic shoreline south of Long Island Sound, there are two additional dealerships at the Jersey Shore and on the Chesapeake Bay in Maryland; and in 2018 a third location was opened at the home of the Fort Lauderdale International Boat Show inside the Bahia Mar Yachting Center. The prime Florida spot facilitates conducting sea trials year round and has become ...
Read full story