Welcome to Luxury Center Consoles
---
Come explore the latest news and reviews on all the new Luxury Center Console Boats.
You will also find accessory, destination, event and industry profile features, plus much more.
Enjoy your stay.  Come back often.  New content is always being added!
Searching for hot off the press reviews for the latest center console boats on the planet?
You will find them here in our Features section.  Step on board and explore...
Just published...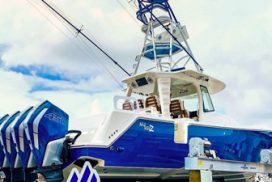 Story and photos by DinaRella / Additional photos courtesy of SeaVee Hailing SeaVee as the wave crusher of Haulover Inlet— the hellacious portion of water connecting Biscayne Bay with the Atlantic – motivated me to hone in on its hull dynamics to see where the center console's special fighting powers to plow through the currents of that chaotic channel come from. During my honing, I discovered the Medley, Florida-based maker recently launched its biggest wave crusher to date, and as luck would have it, scored my own personal date to get to know the 450z one-on-one. Before hopping on hull No. 1, my SeaVee DNA digging led me to Miami fisherman, Capt. Don McGee, for it is he who laid out the fundamentals when founding the company back in 1974. Two decades later, Ariel Pared walked through the door and was so enthralled to be ...
Read full story
Hunting for the latest product reviews on items you can't live without?
Check out our Product Reviews Section.
Come look and see what you need!
Newest Review...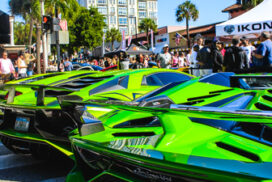 Story and photos by DinaRella / Additional photos from Six Speed Photography PART ONE On the sunny Sunday of Veterans Day weekend, the steel and chrome crowd geared up to go ga-ga over the 300-plus curated rare and dear drool-worthy gems at the fourth edition of the Exotics on Las Olas (ELO4) in the heart of downtown Fort Lauderdale. Another incentive for the motorsports masses to hit up the hotbed of horsepower was the chance for a quick chat with former Miami Dolphins wide receiver Floyd Rag; as the event producer and co-founder, the possibility of that happening was pretty big. Following the successful production of the uber-popular Supercar Saturday series for local dealer networks, including meet-ups at Rag's Lamborghini Broward Dealership, four years back he moved the showcase over to the palm tree-lined promenade of boutiques, bistros and bars on Las Olas to reach ...
Read full story
Center Console Boating Events are happening all around the globe, and all the time...
Keep track of what's coming up with our Calendar, and the events you may have missed in our Events Section.
Catch up here...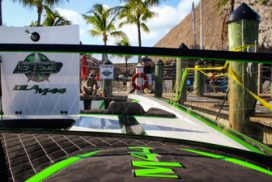 Story and select photos by DinaRella / Additional photos from Manatee Marine & Bryce Batzer South Florida "boat show time" became South Florida boat "show-off" time, a mere 72 hours after Miami's biggest marine extravaganza to date drew to a close. For round two, the Magic City emptied out and Florida Keys waterways filled for a pair of horsepower-induced happenings – the Florida Powerboat Club (FPC) Miami Boat Show Poker Run and Keys Island Runners (KIR) inaugural Rey Marino Memorial Fun Run and Raft-Up. Gilbert's Resort and Tiki Bar situated in the middle of it all, served as home base for the high-octane fest. Similar to last year's setup, the Mile Marker 108 hub hosted both the FPC luncheon and KIR sunset get together; and housed the in-water exhibitor demo fleet with Nor-Tech dealer Legend Marine and Plantation Boat Mart positioned at the entrance greeting ...
Read full story
Planning your next get away?  Come explore some of the most beautiful boating destinations on the planet.
Detailed write ups and beautiful pictures are what you will find in our Destination Section.
Our Latest Destination Review...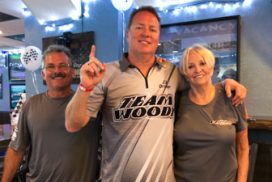 Story and photos by DinaRella / Additional photos provided from J.J. Turk Officially opening three years back on May 16th during the weekend festivities of the 2019 Thunder on Cocoa Beach Powerboat Race – JT's Social Bar on the second floor above the La Quinta Inn takes first place honors as the coolest sports-slash-social bar in Cocoa Beach, Florida. Owned by professional offshore racer J.J. Turk, and formerly known as Time Out, today the place resembles a piece of powerboat paradise planted on terra firma! Not only do the Turks own and operate the adjoining hotel, the hospitable hosts are too the owner-operators of the first-ever 30-foot Schiada; the 1980 model originally belonged to Leonard, "the Father of Schiada." Part two of this story continues on our high-performance affiliate website Riverdavesplace where we take a peek at the classic Schiada which the Turks have enjoyed ...
Read full story
In our Profiles Section you will find:
Customer and Manufacturer Profiles.
The movers and shakers of the Center Console Boating industry, interviewed just for you.
Latest Profile Story...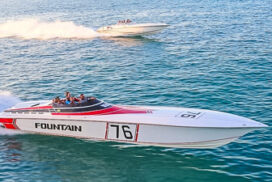 Story and select photos by DinaRella / Additional photos provided by Ben Robertson, Colleen Robertson, Inka Rodriguez, Nate Stuewer & Kevin Taylor Two aquatic kin came together connecting for a weekend on Key West waters making a splash in – old-school meets new-school Fountain style – that's the simplest synopsis of how the 2021 Florida Powerboat Club Poker Run and 40th Annual Offshore World Championships progressed in my powerboat playbook. Why old school? Because scoring a coveted triple-digit ride to the rocking FPC Saturday raft-up in the legendary 1993 Fountain competition series raceboat, let me feel first hand how Reggie Fountain's monster power, mono-hulls crushed their twin-hull offshore racing adversaries in the old days – and how the "Cat-Killer" call sign came to be. That's why! Equally unforgettable was my new-school Fountain commute down to the Southernmost City (on Wednesday prior to the tie-up), cranking ...
Read full story