Welcome to Luxury Center Consoles
---
Come explore the latest news and reviews on all the new Luxury Center Console Boats.
You will also find accessory, destination, event and industry profile features, plus much more.
Enjoy your stay.  Come back often.  New content is always being added!
Searching for hot off the press reviews for the latest center console boats on the planet?
You will find them here in our Features section.  Step on board and explore...
Just published...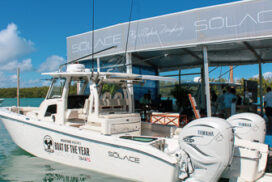 Story and select photos by DinaRella / Additional photos from Solace Boats In part one, we said Solace Boats – the newcomer with old school roots – leads the way in innovative and purposeful craftsmanship. What exactly did founder, CEO and boat-industry veteran Stephen Dougherty and his team do to make the Solace 345 and 41CS so sought-after? Take your pick, for example, Solace incorporated a hydraulically controlled windshield and similarly functioning stern sunshade; added magical (my word) magnetic technology all around; and then tossed in the massiveness of reinventing a newly configured outboard transom. Luxurycenterconsoles.com is not the only marine editorial outlet singing the Solace praise; the center consoles have been accumulating boating-industry accolades across the board since  arriving on the water. "It is a courageous design done with flawless execution," said Boating Magazine's editorial director, Kevin Falvey; Power & Motor Yacht crowned it ...
Read full story
Hunting for the latest product reviews on items you can't live without?
Check out our Product Reviews Section.
Come look and see what you need!
Newest Review...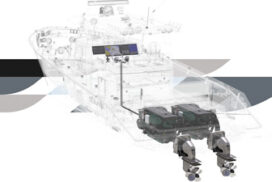 Story and select photos by DinaRella / Additional photos from SŌLACE Boats Prior to the 62nd edition of the famed Fort Lauderdale International Boat Show (FLIBS), Volvo Penta of the Americas and SŌLACE Boats teased the boating world via social media with the hashtag #expandyourboatingexperience. Pensive minds pondered, seafarers speculated, and then opening day the 27th of October arrived and the wait was over – the Volvo Penta diesels were let out from under the center engine hatch! Gracing the front slip on SŌLACE Boat's flagship 415CS was the first-ever fully integrated Volvo Penta propulsion system with twin D6-440 diesel Aquamatic DPI inboards. It gets better. Why stop with almighty diesels? This particular SŌLACE 415CS luxury center console also came equipped with Garmin's new 360 Surround View package. We'll explore the key elements of this stress-reducing docking system after divulging some details about the pair ...
Read full story
Center Console Boating Events are happening all around the globe, and all the time...
Keep track of what's coming up with our Calendar, and the events you may have missed in our Events Section.
Catch up here...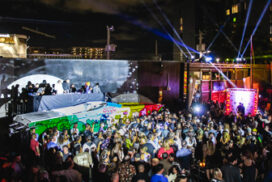 Story and photos by DinaRella Art Ain't the Only Part Tuesday's opening whistle blew signaling Art Basel Miami, the stateside spin-off of the premier international Swiss art show, was up and running reclaiming its reign on South Florida terrain following its 2020 Wu-flu abolition. For this go-around of Miami Art Week (which it's also called), judging from the onslaught of star-studded fashionista festivities and champagne-soaked soirees… it's a wonder the glitterati found time to do any purchasing of custom pieces and paintings at the 253 participating galleries. Apart from the art, a thriving six-day non-stop docket of diversion set the stage for ushering in the latest collections and directional trends at swanky promotional pop-ups and parties. Hedonistic hoopla causing a commotion this early December included: the Chanel drone light show and Jungle Plaza installation to celebrate the 100th anniversary of its iconic N°5 fragrance; Playboy's ...
Read full story
Coming up Next!
2022 Miami International Boat Show
All day,

February 16, 2022

–

February 20, 2022


View Details

Planning your next get away?  Come explore some of the most beautiful boating destinations on the planet.
Detailed write ups and beautiful pictures are what you will find in our Destination Section.
Our Latest Destination Review...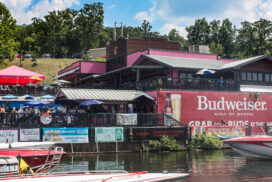 Story and photos by DinaRella The last time I hit the LOTO Shootout was in the early 2000s doing PR for AMF Offshore Racing, prior to the Day-Glo yellow turbine team securing its hefty "Day-Glo green" Geico-bankrolled sponsorship. Back then, when Shooters was home base for the horsepower happenings (until its 2008 demolition day when the hoopla headed over to Captain Ron's in Sunrise Beach for its 20th Anniversary), I never had the time to venture far from Mile Marker 21; but fast forwarding to 2021, this year's trip changed all that. A tri-fecta of boxes were ticked for some spirit sipping and pool dipping at Backwater Jacks Bar & Grill, Dog Days Bar & Grill and Redhead Lakeside Grill, and what I discovered – Osage Beach is just like '80s rockers Poison sang "Nothin' But A Good Time." Backwater Jack's Bar & Grill 4341 ...
Read full story
In our Profiles Section you will find:
Customer and Manufacturer Profiles.
The movers and shakers of the Center Console Boating industry, interviewed just for you.
Latest Profile Story...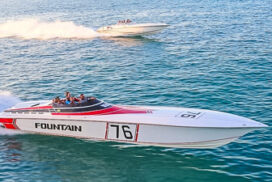 Story and select photos by DinaRella / Additional photos provided by Ben Robertson, Colleen Robertson, Inka Rodriguez, Nate Stuewer & Kevin Taylor Two aquatic kin came together connecting for a weekend on Key West waters making a splash in – old-school meets new-school Fountain style – that's the simplest synopsis of how the 2021 Florida Powerboat Club Poker Run and 40th Annual Offshore World Championships progressed in my powerboat playbook. Why old school? Because scoring a coveted triple-digit ride to the rocking FPC Saturday raft-up in the legendary 1993 Fountain competition series raceboat, let me feel first hand how Reggie Fountain's monster power, mono-hulls crushed their twin-hull offshore racing adversaries in the old days – and how the "Cat-Killer" call sign came to be. That's why! Equally unforgettable was my new-school Fountain commute down to the Southernmost City (on Wednesday prior to the tie-up), cranking ...
Read full story