Story and select photos by DinaRella / Additional photos courtesy of Cigarette
Designed with an on-board audio installation more thunderous than front row at an AC/DC concert, and select fabric stitching more immaculately crafted than Jackie Onassis' wardrobe -- the 42 Huntress Elite mirrors perfection and is a step above and beyond in presentation and performance. Inspired in honor of the legendary flagship's milestone golden anniversary -- the 2019 edition defines the Cigarette Racing Team Experience like no other.
Borderline addicted to the color green from birth, I would probably like a sailboat this shade, but not everyone shares my obsession. With the Huntress, after summoning me over with a kryptonite glow radiating off a canvas of world famous Cigarette paint. Trust me even if you're skeptical of this shade, she is a knock-out.
Her sculpted body measures 42 feet and she drinks 477-gallons of octane at full-tilt before requiring a re-fill. She weighs 18,900 pounds when dressed with quad Mercury Racing Verado 400R outboards on her transom. Add an additional motor and she's a solid 20,000 pounds with quintuples and eats up miles of ocean in a short time at high-end speeds around 80 mph.
Commanding your attention as you enter from the starboard is a recessed stainless steel handrail there to grab hold of if need be. Proceed a few steps forward and surprise... you are standing above a pop-up ladder tucked away underneath the floor hatch. Innovative use of space.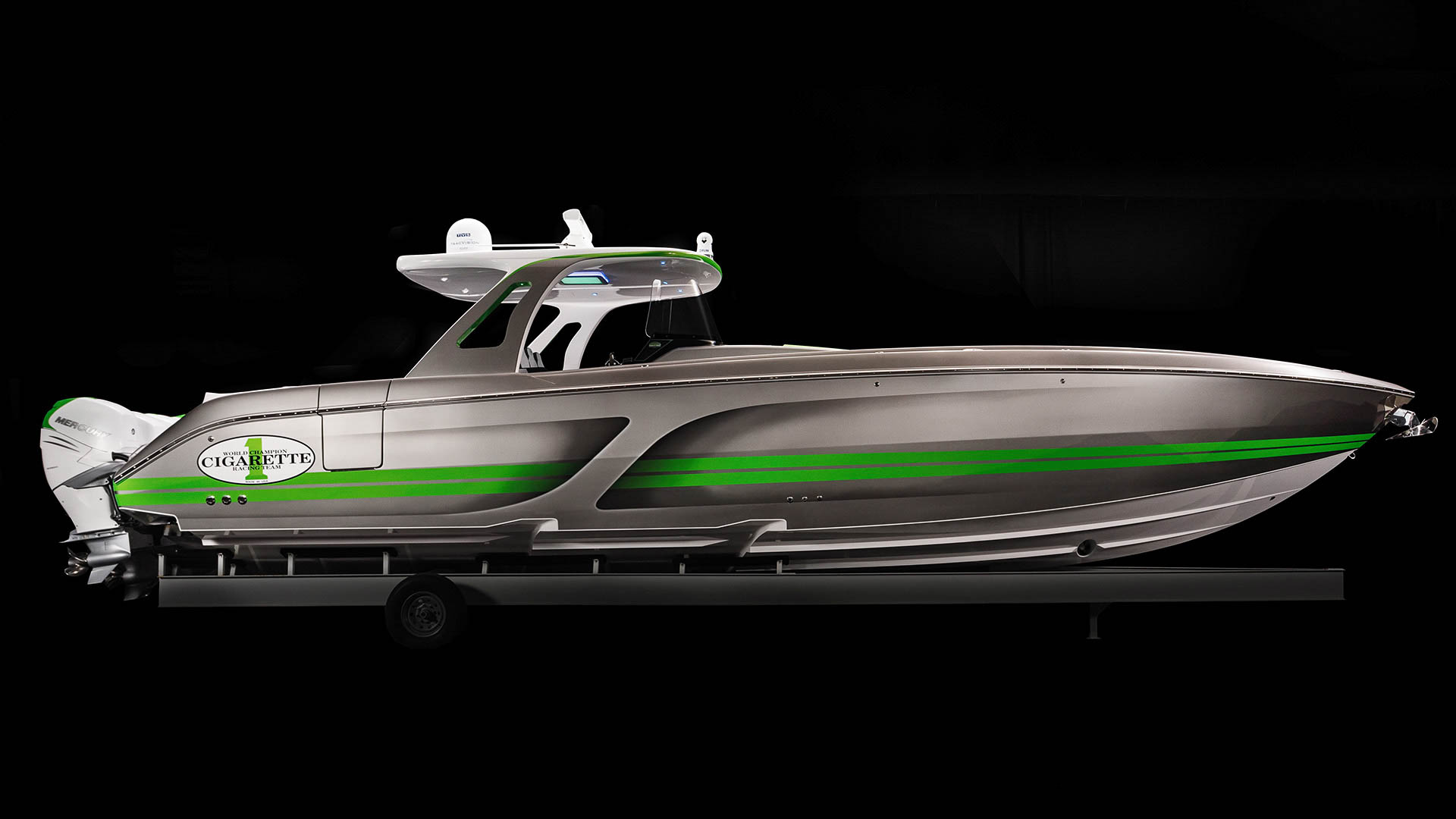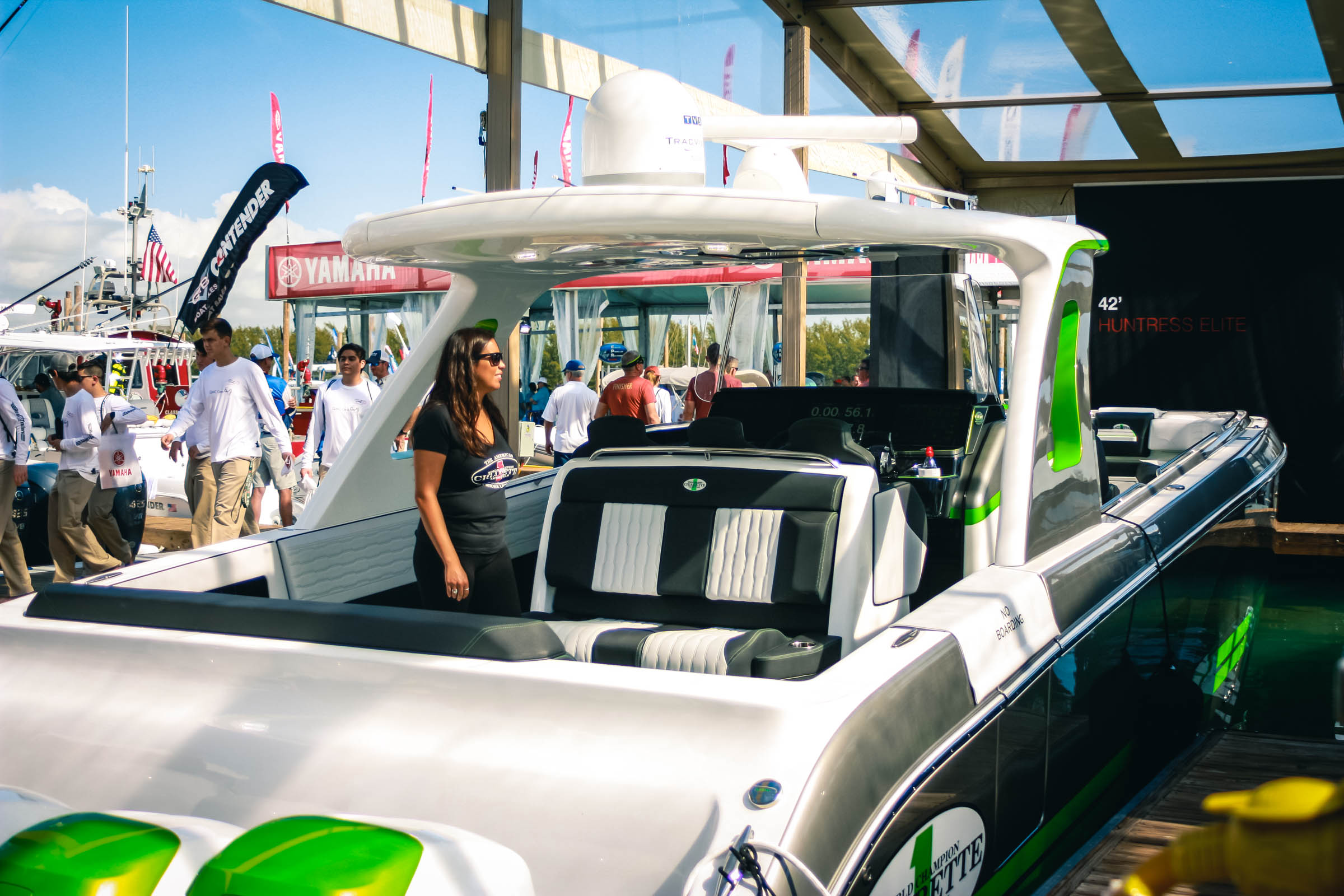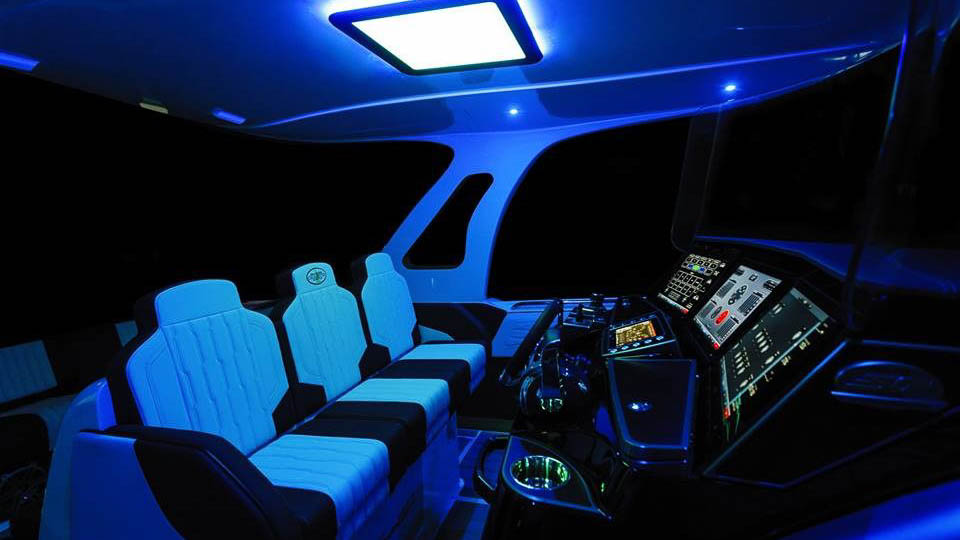 In the rear conversational zone invited passengers have access to a rear fresh water wash-off hose with 25-gallons of white and 9-gallons of black water. And who would have thought a built-in starboard aft trash pail would be such a big hit. Gone are the days of empty Evian bottles and Red Bull cans rolling aimlessly in all directions and a plastic bag of garbage propped up in the corner.
A pair of black and white aft-seats, an elongated port side sun chaise lounge which extends out and offers provisions for abundant storage in the near, and a set of aft-facing chairs behind the cockpit bolsters are wrapped in "Cigarette Cool" upholstery created to reflect 30 percent of heat.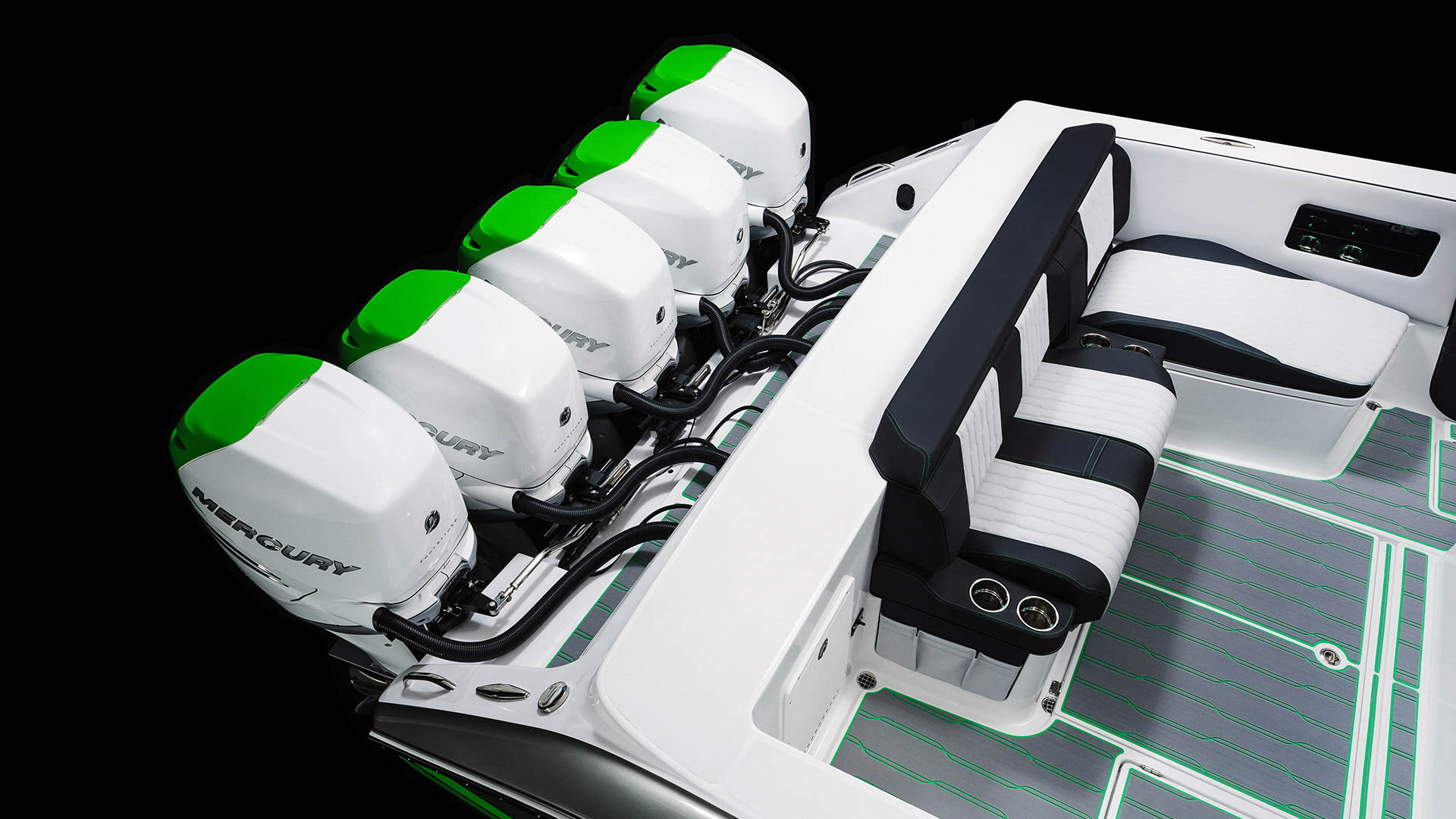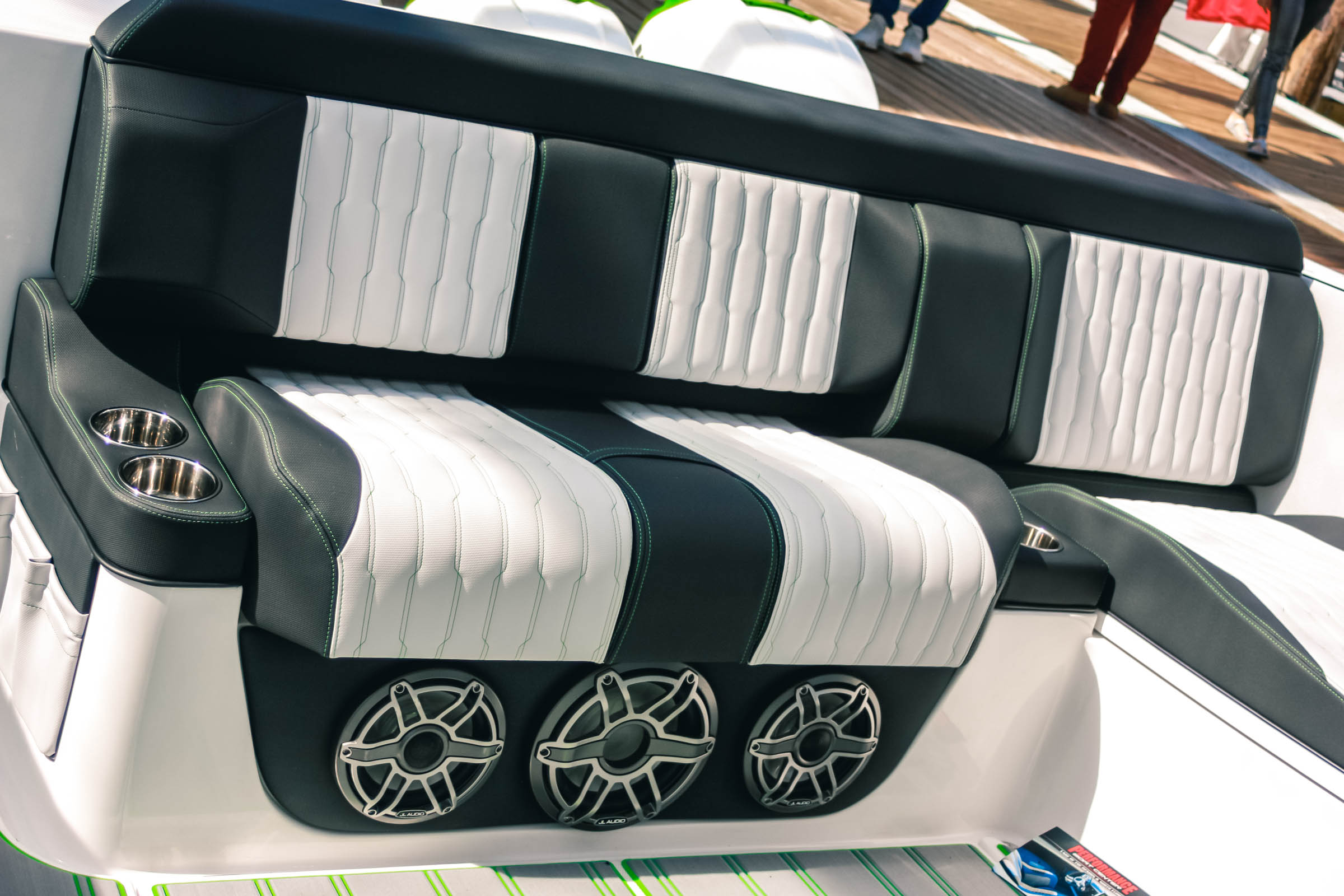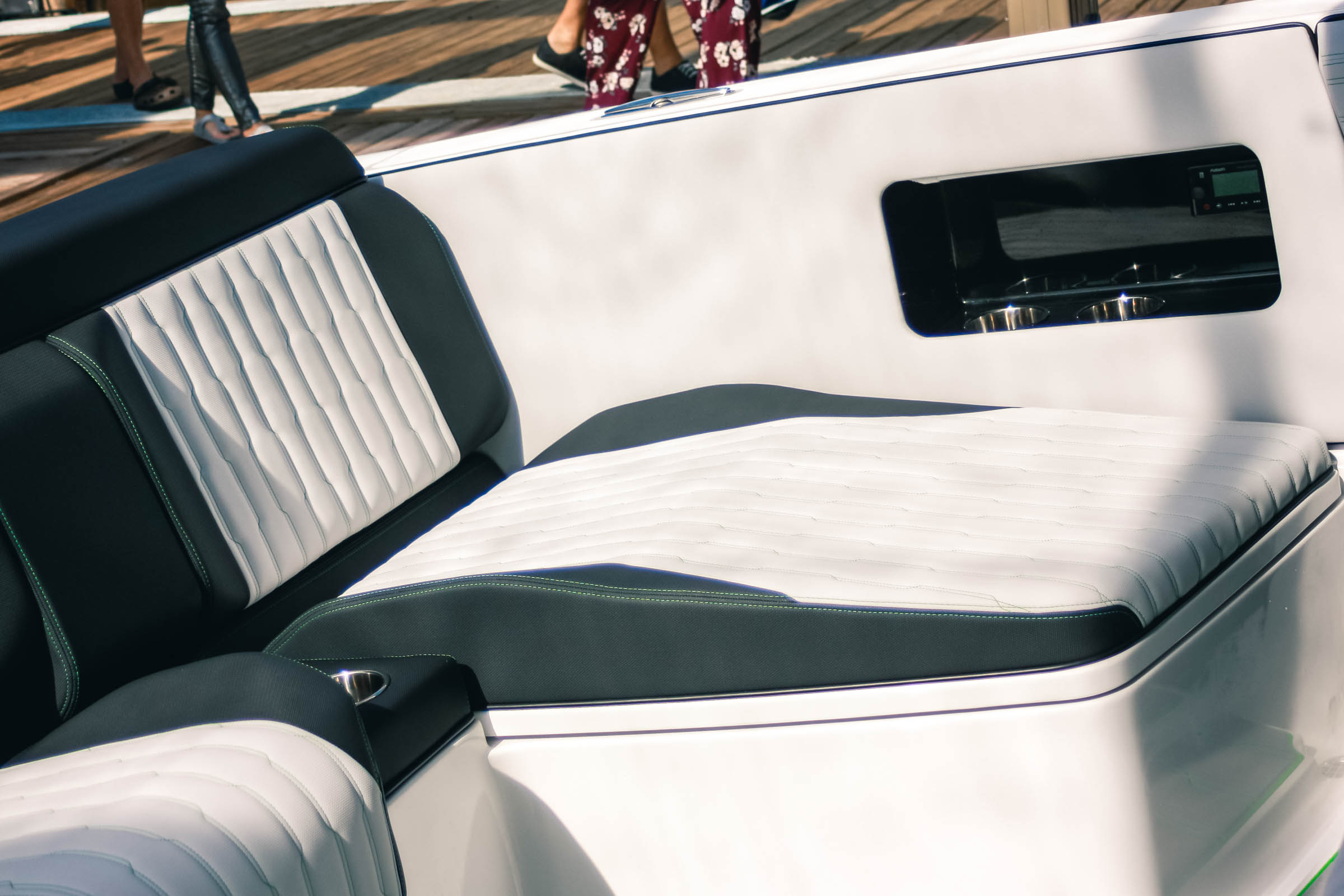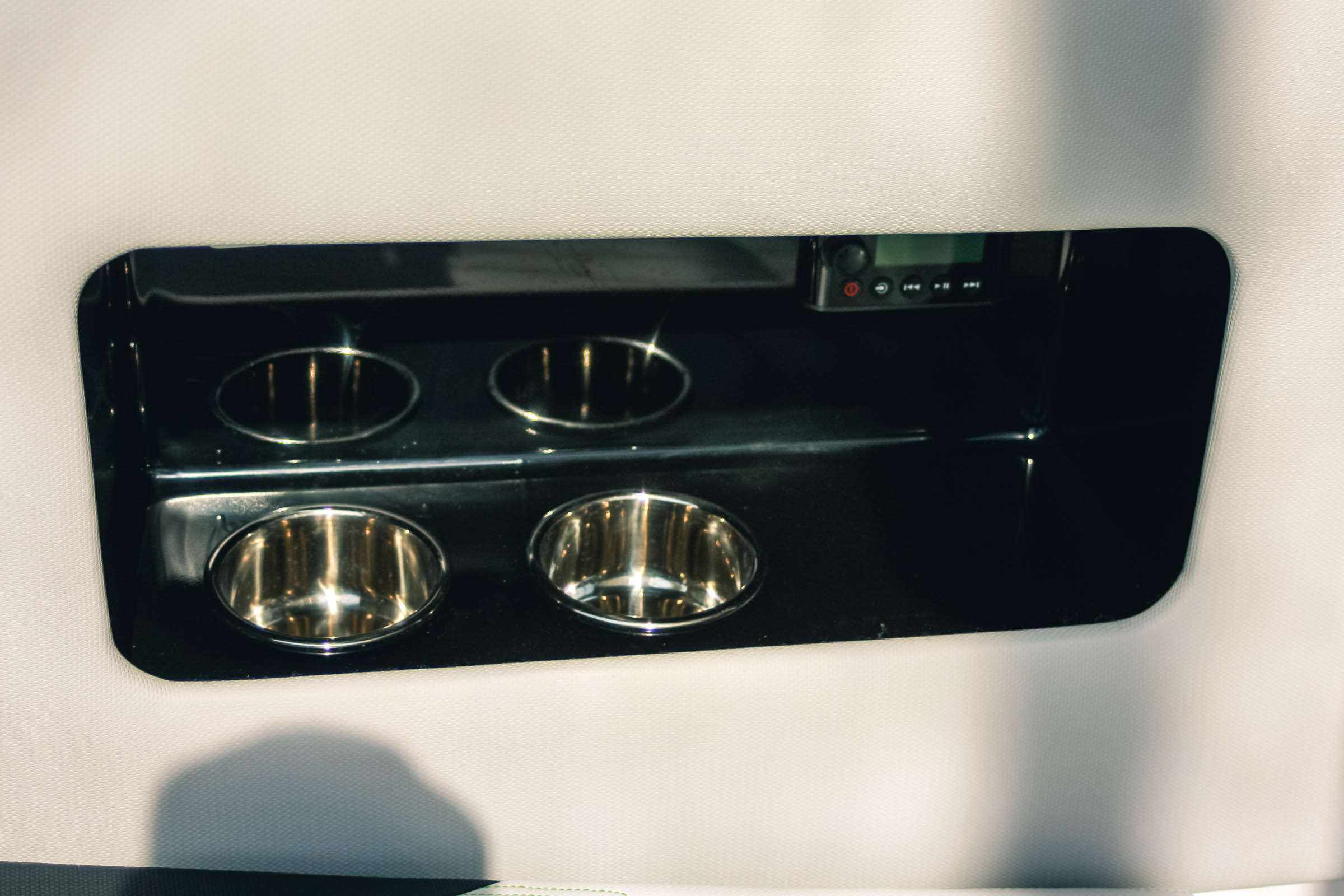 Impeccably-detailed Elite green stitching is showcased throughout the exterior (and interior). And lastly, to complement the back neighborhood of the Huntress is a motorized ATF SureShade sunbrella.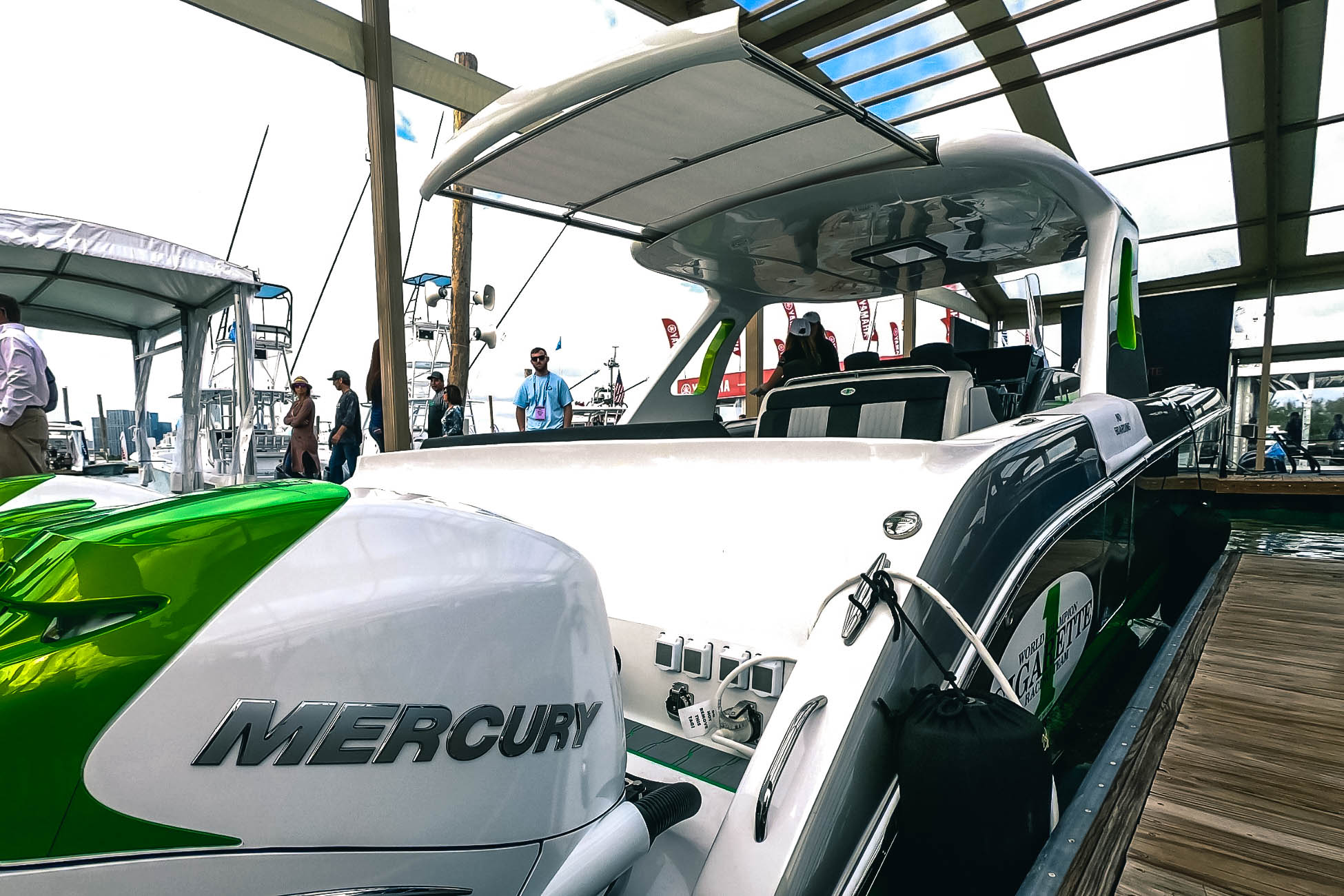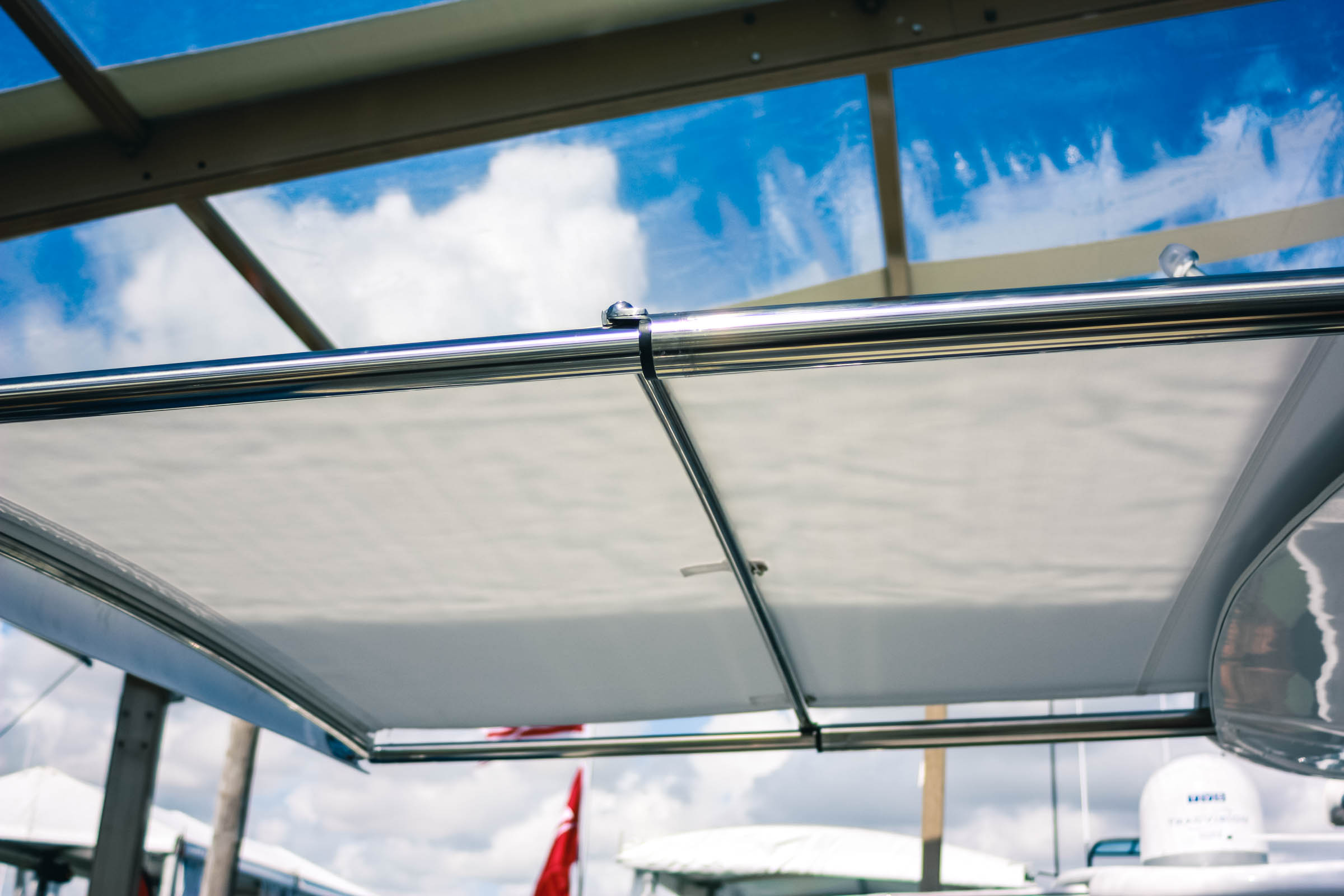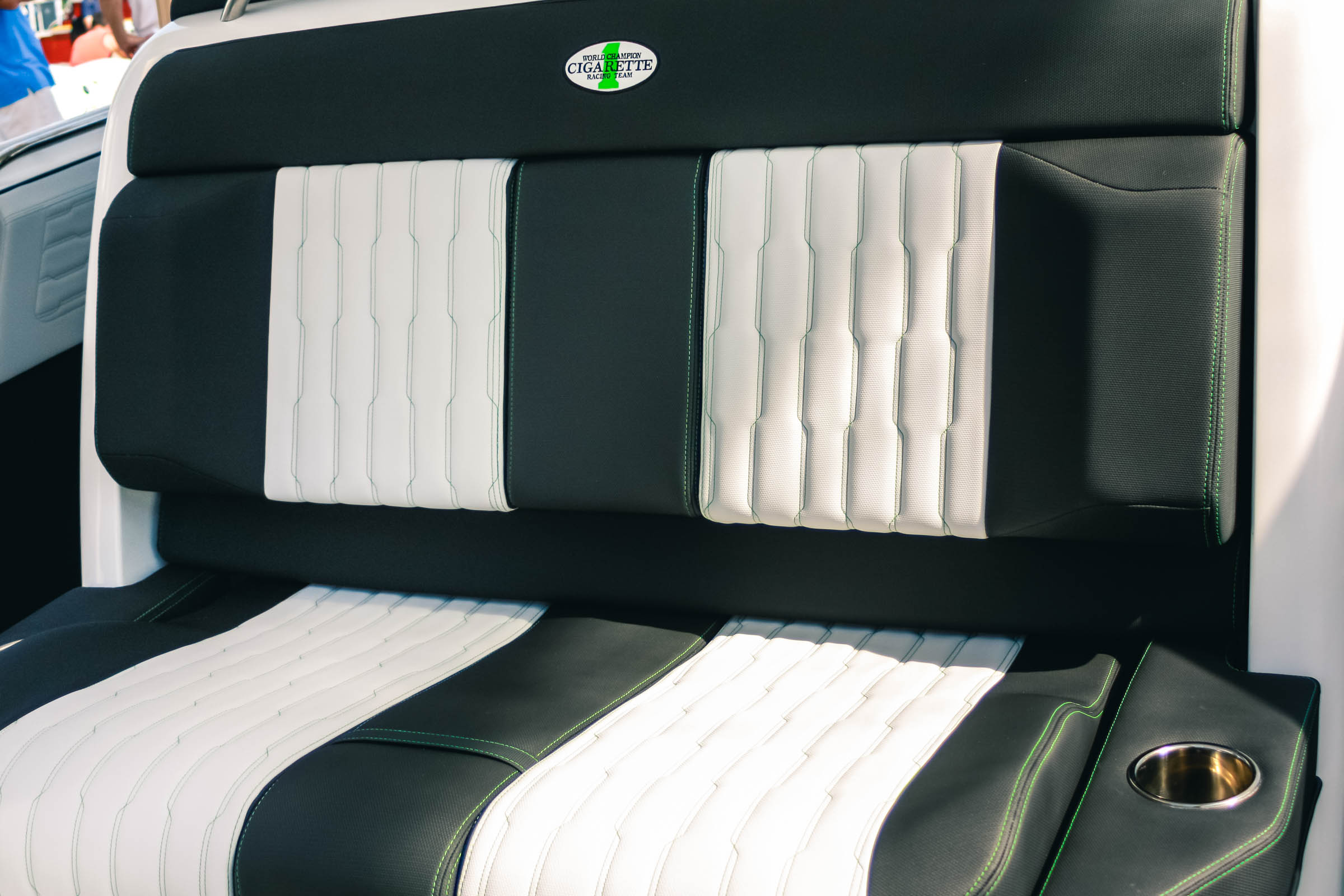 The Elite Package boasts of a billet-aluminum, CNC-tooled anodized command center with double-cut stainless steel and green trim accents to match. Present on the dash are: three 17" high definition Garmin 8617 touch screens, four Garmin programmable digital engine gauges and a bow thruster. Above is a Cigarette patented 180-degree panoramic hardtop impressing captain and company at the helm with its visibility provisions.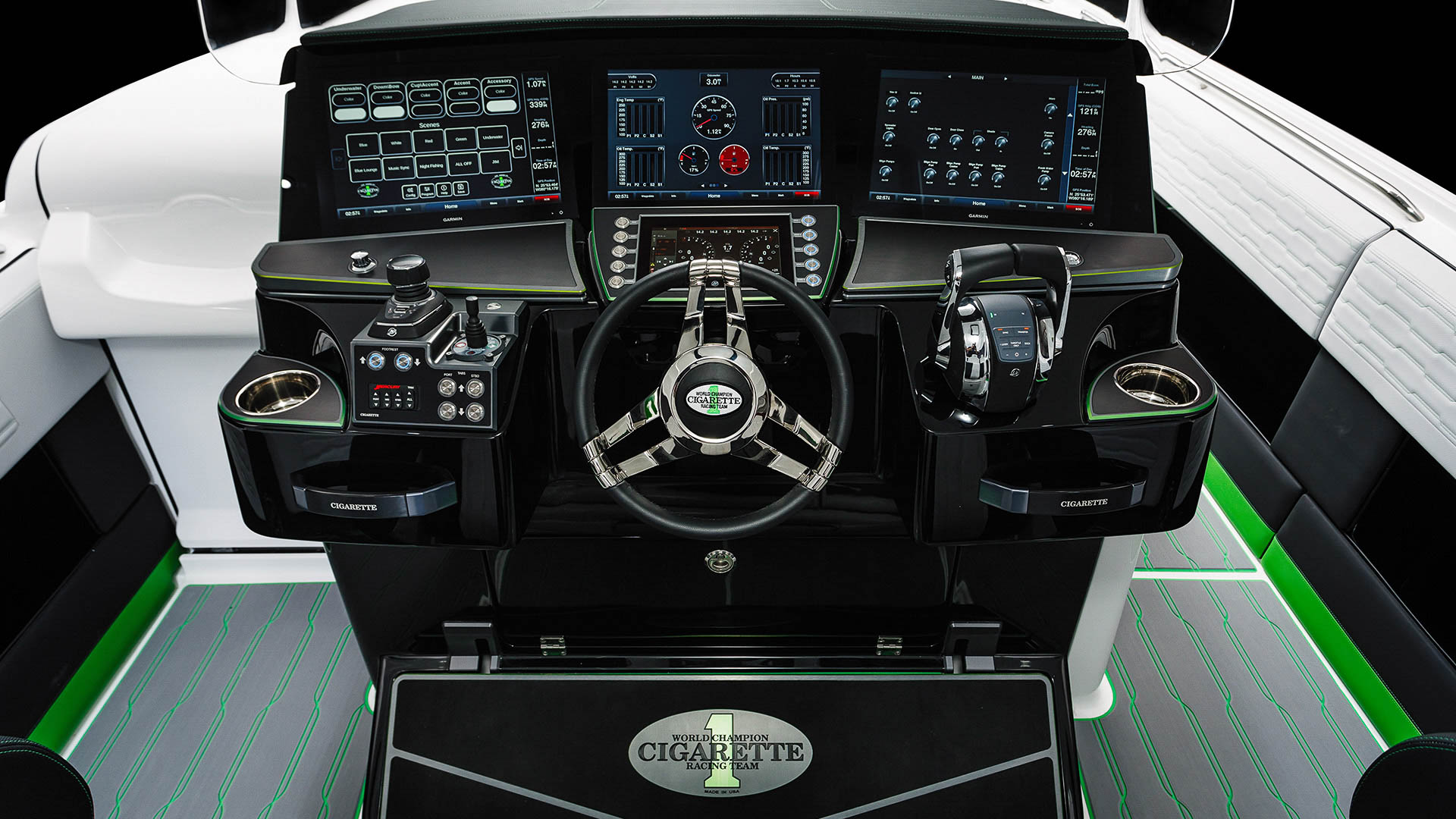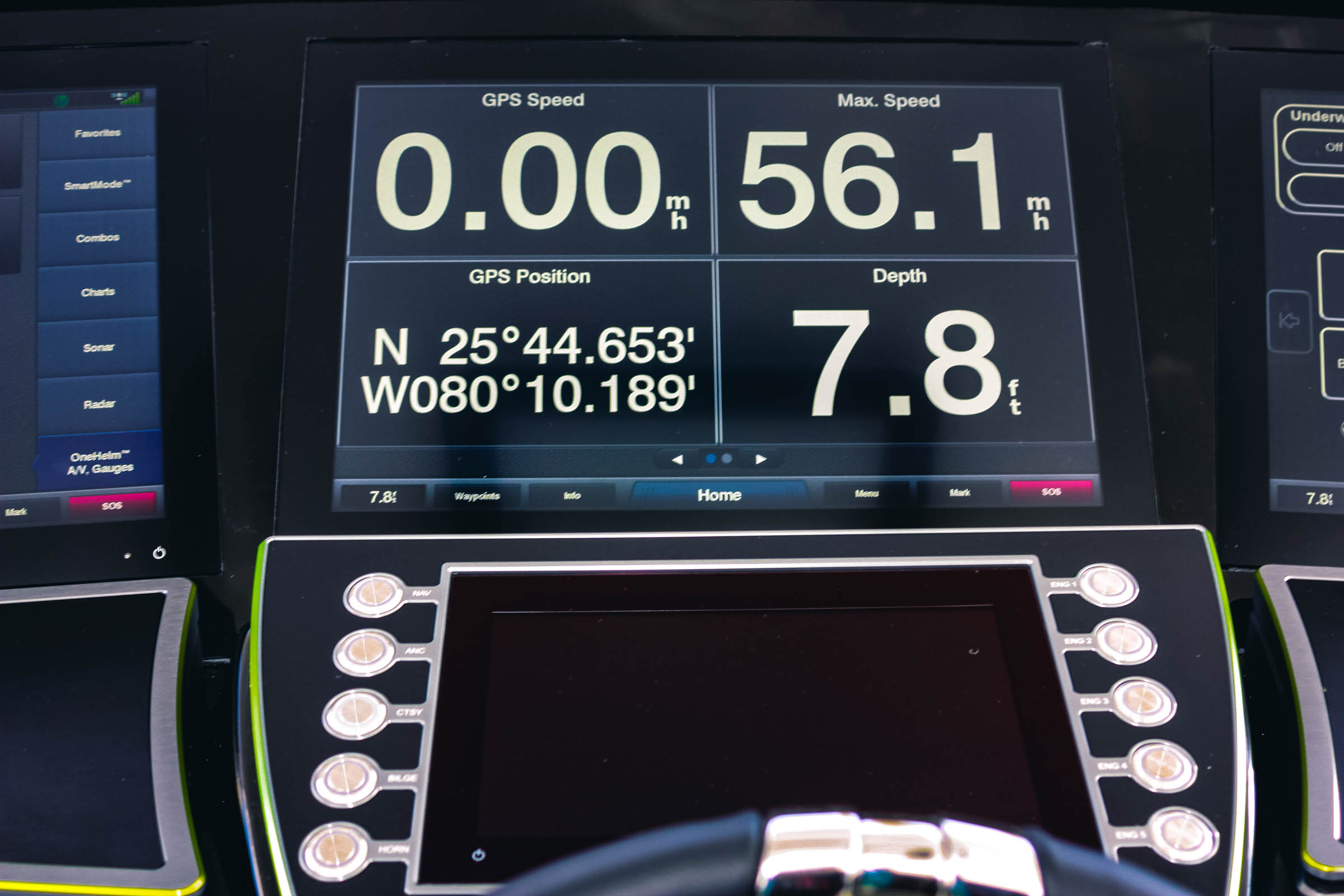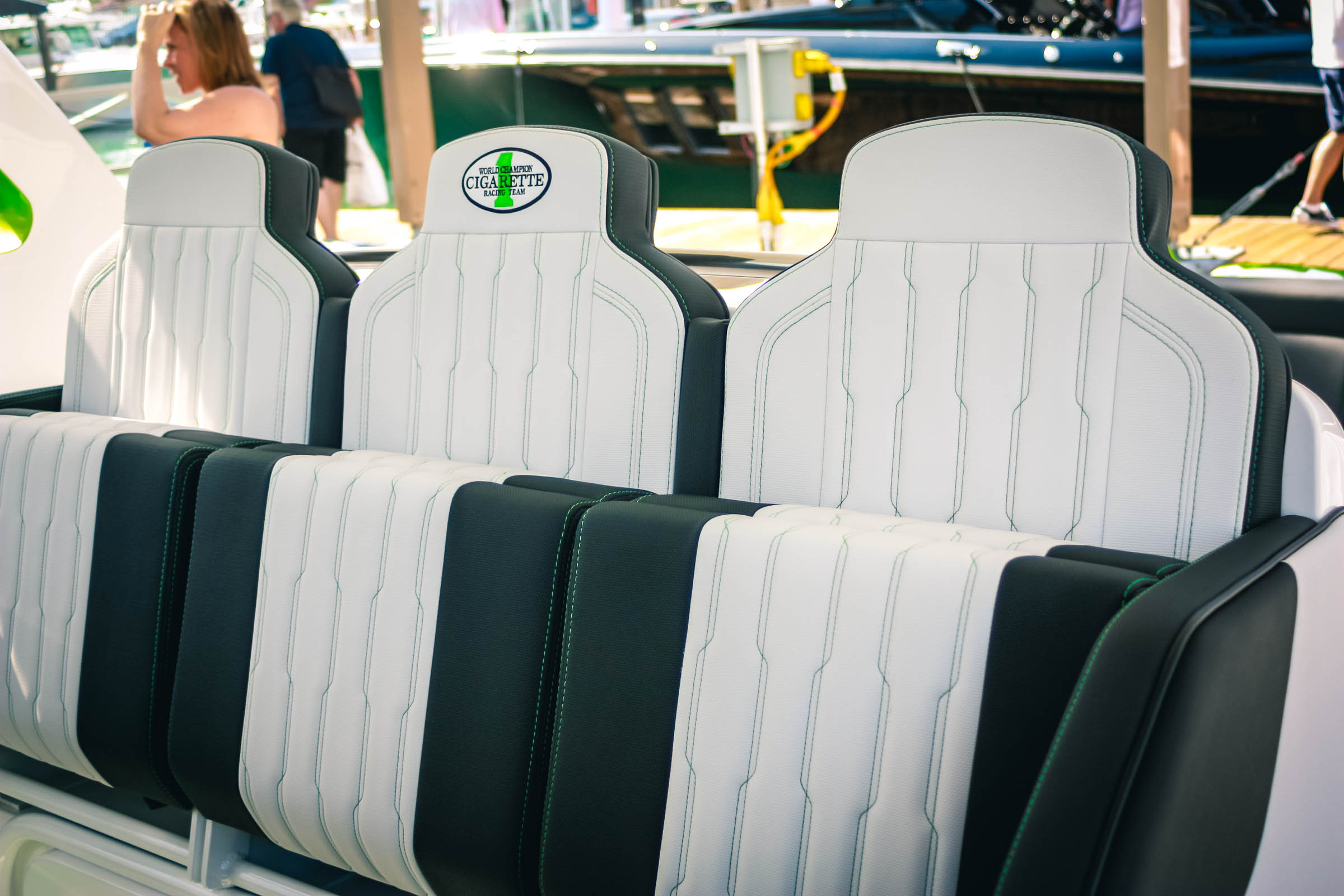 Internal LED strip lighting was placed inside all storage compartments and a power-adjustable footrest with dual actuators and inlaid padding pleasures your feet below. Bolsters have been ergonomically developed with pull-down and individual profile seating options. The C-Zone digital switching system and Wi-Fi connection makes it possible to control every function from the boat's helm and cabin screens or through one's mobile devices.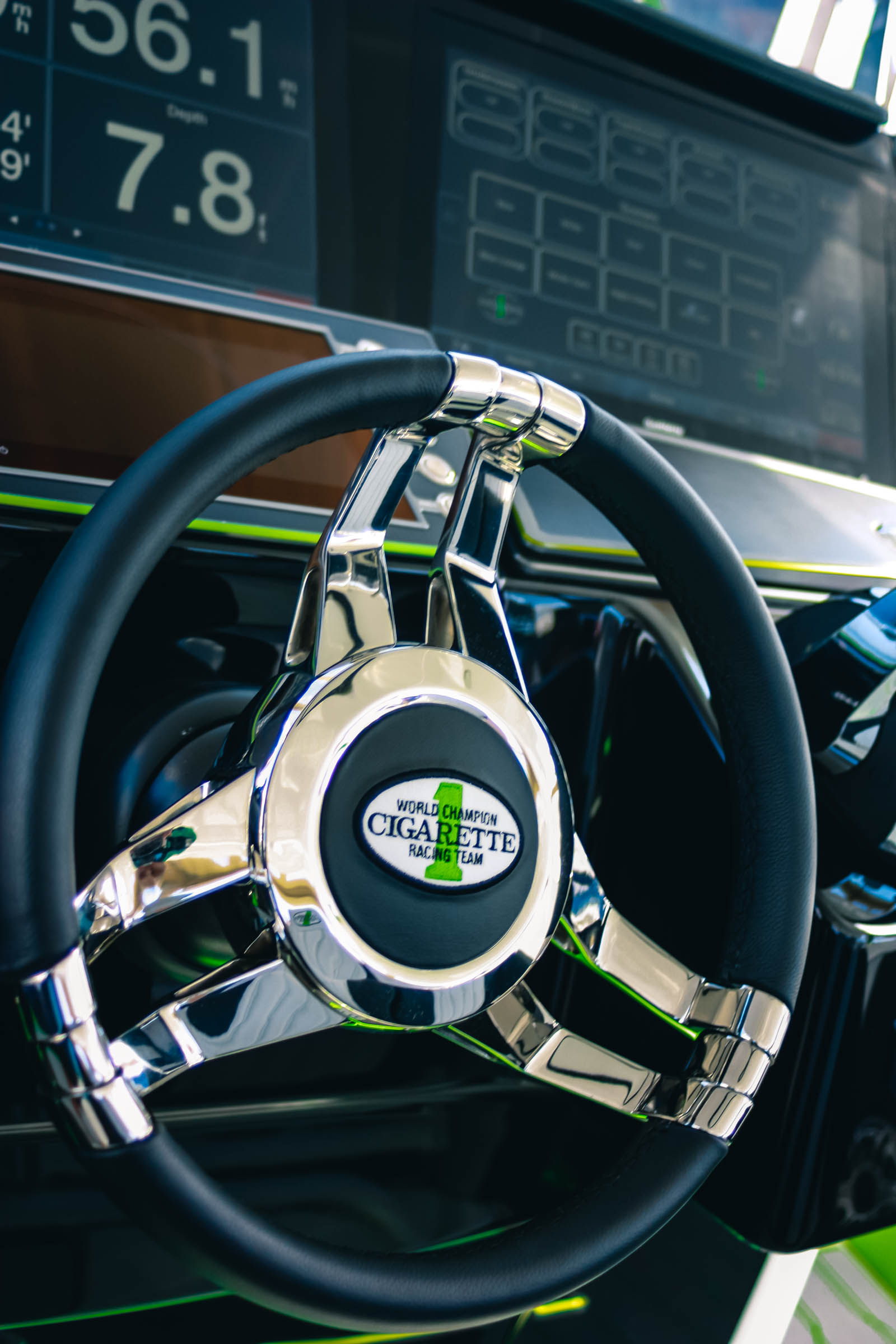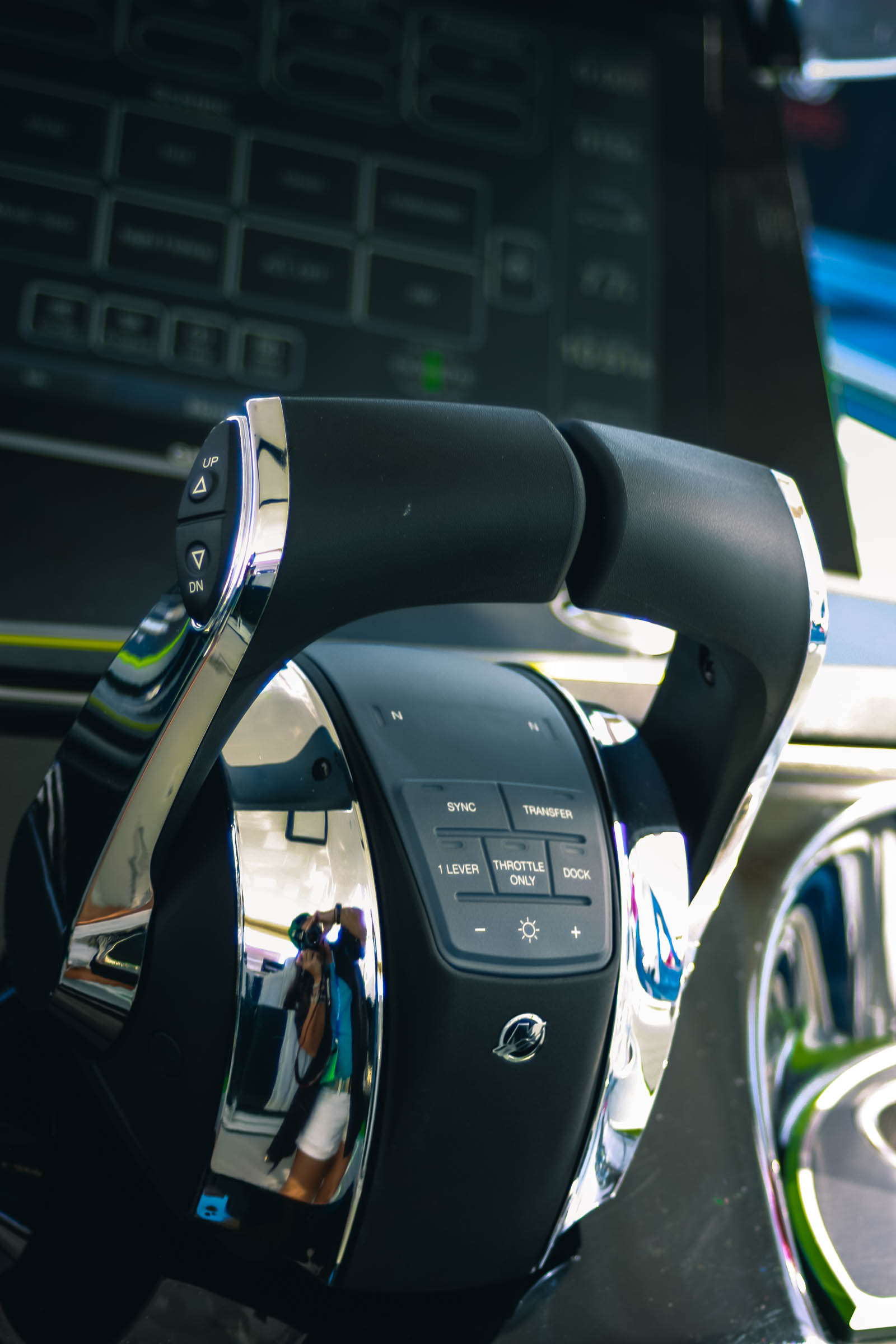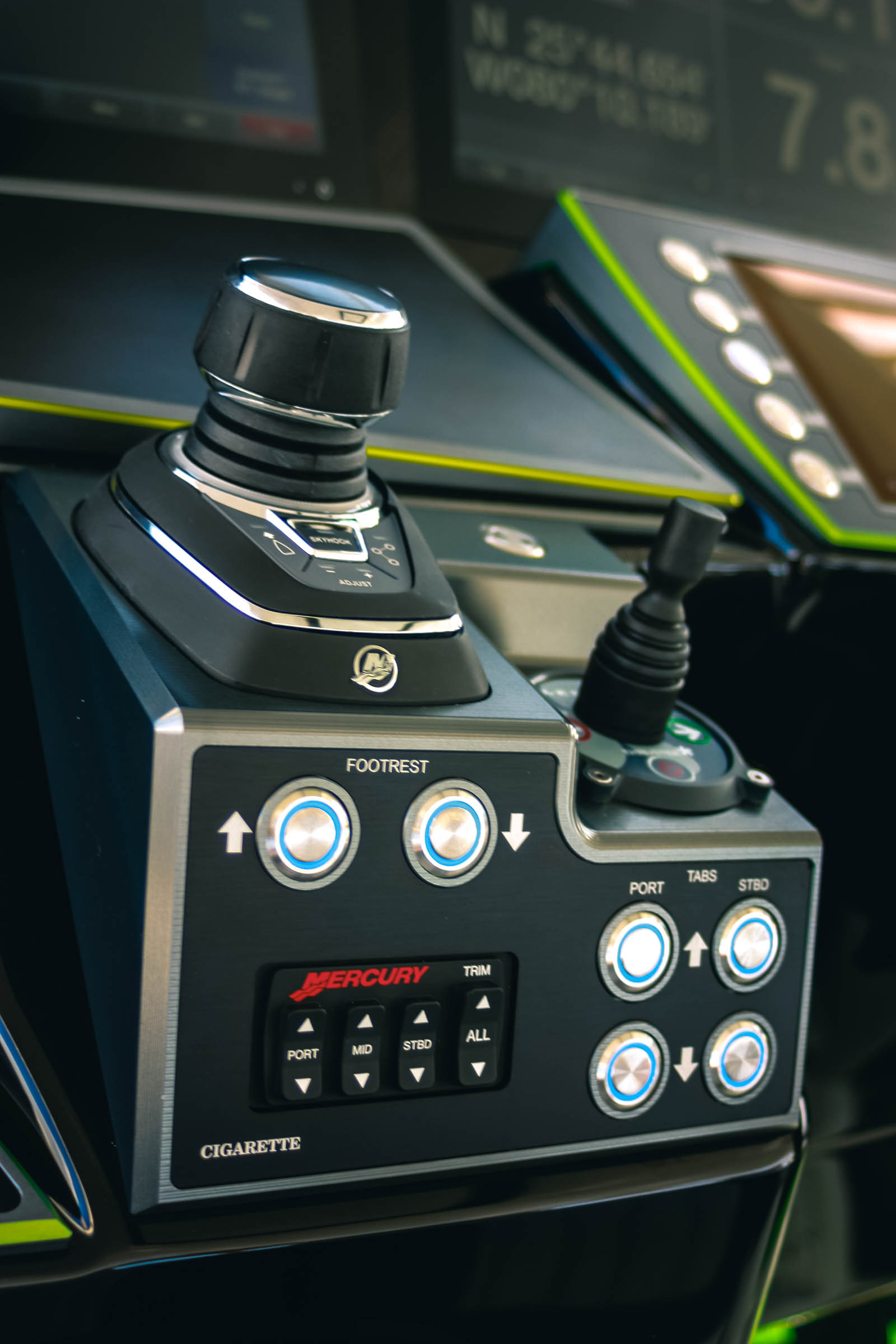 Intended to mimic a yacht, pathways on both sides of the vessel lead to a brilliant, carefully crafted bow packed with creature comforts to ogle over. Starting with elongated forward loungers, U-shaped seating and elevated backrests, as well as, a table which converts into a sundeck lounge.  And no need to look very far for a place to set down your liquid concoction of the day because multiple cup holders are at your disposal. A Lewmar windlass anchor with foot pedal controls is also included.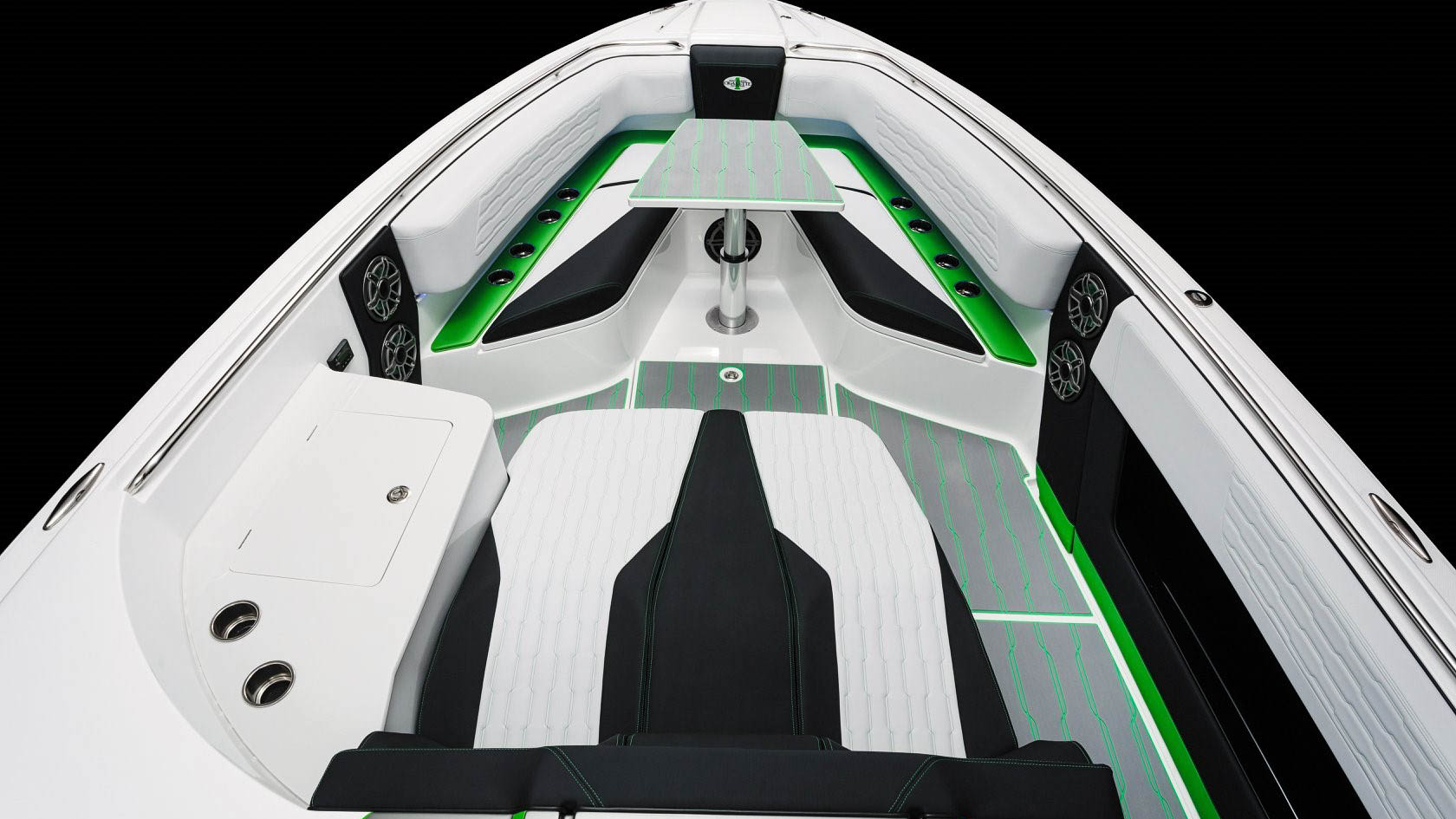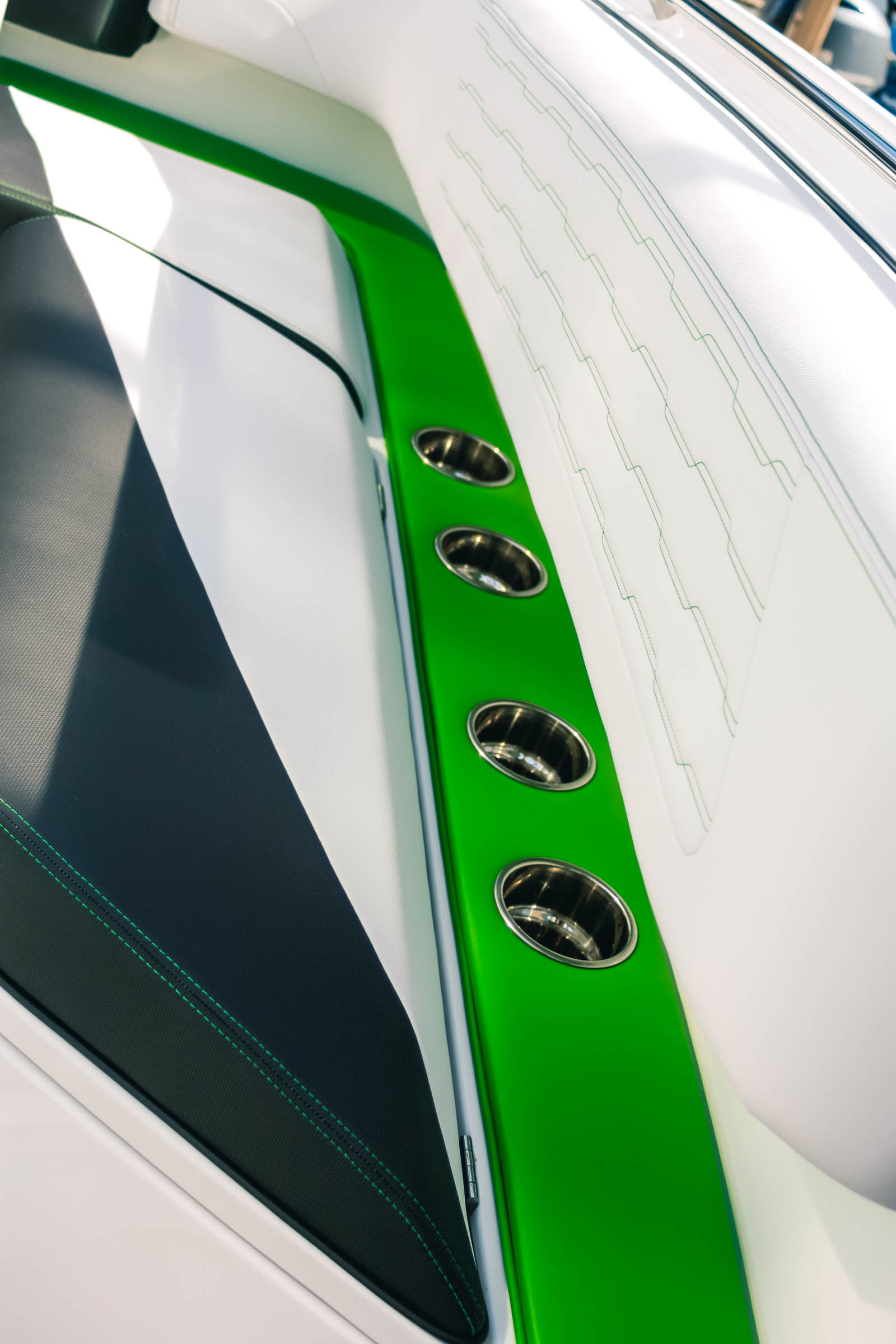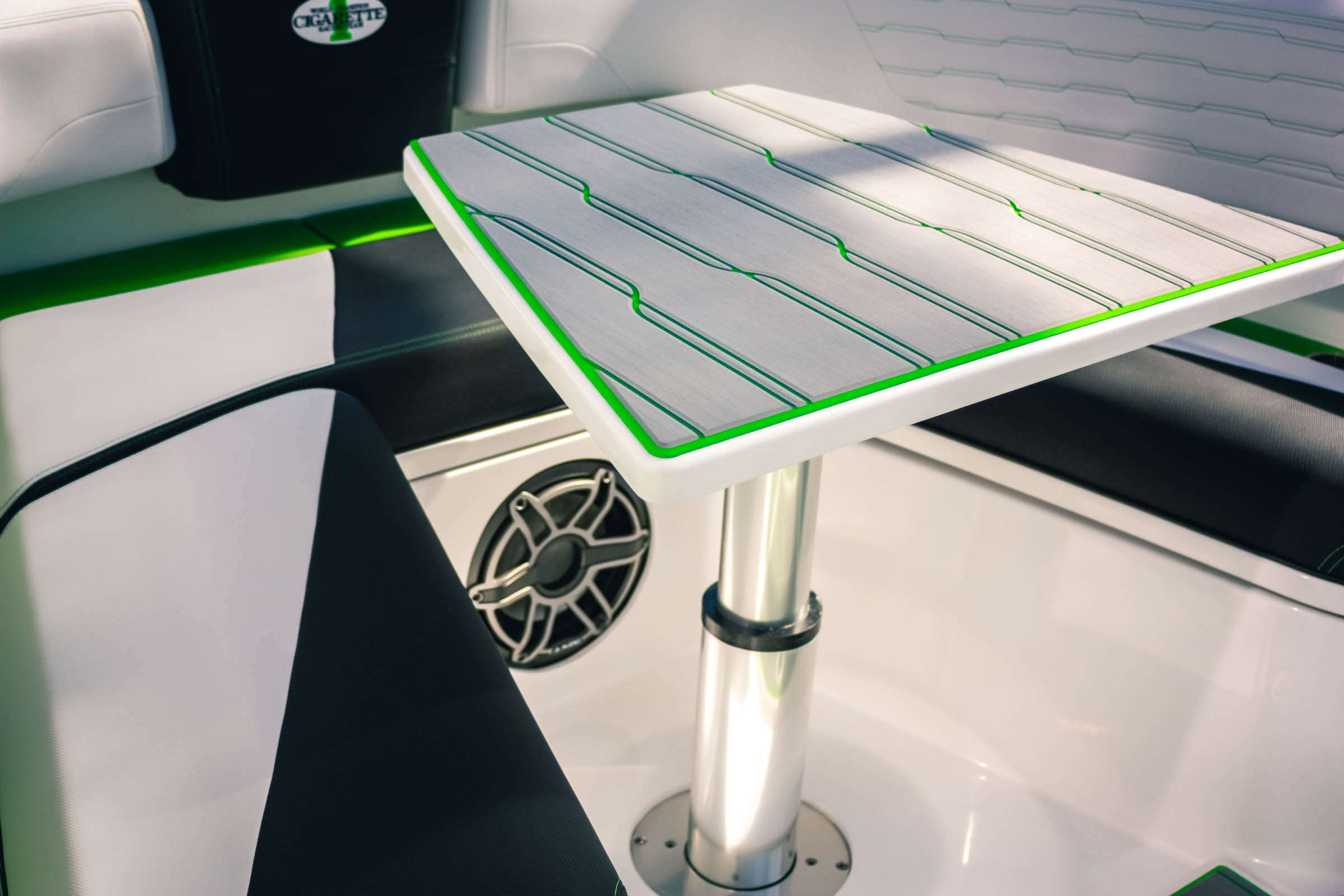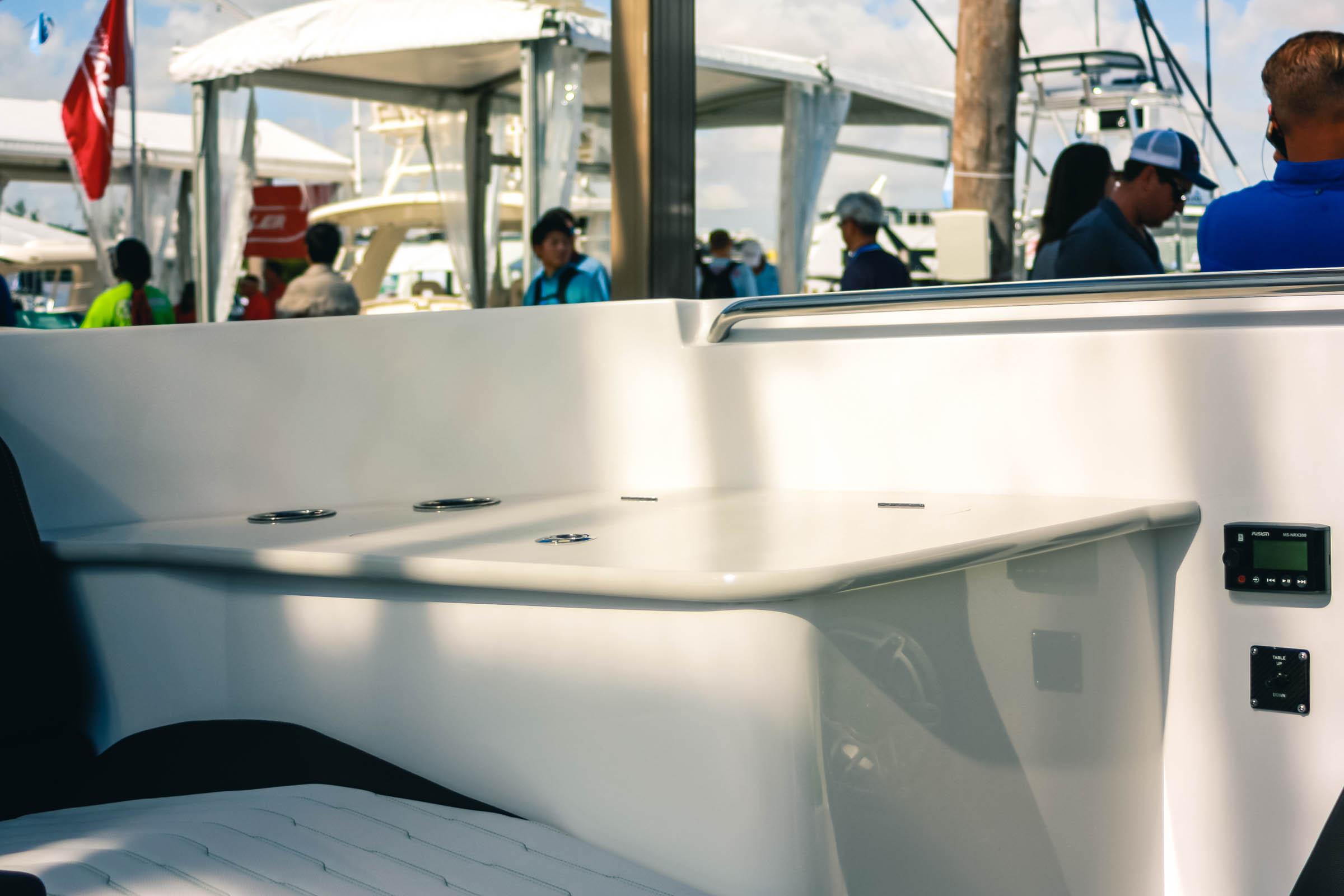 Port side entry ushers you down into a sleek metallic-finish, futuristic-feel cabin offering spacious seating, storage, a daybed, pull out counter top, refrigerator and television. A shower with a 6'4" depth is inclusive in the closed head. Air conditioning throughout (including the upper helm zone) and a 6.5 diesel generator are additional practicalities available to make life more enjoyable (when needed.)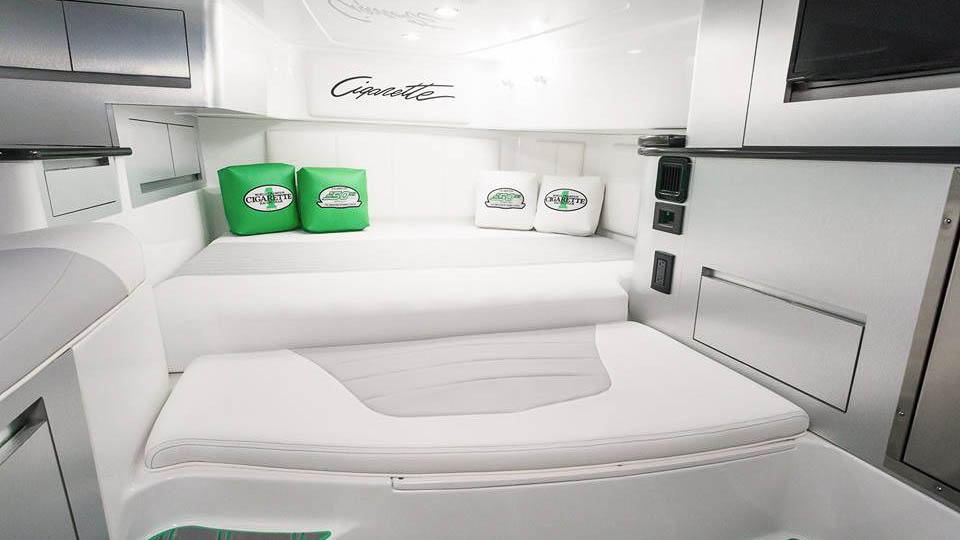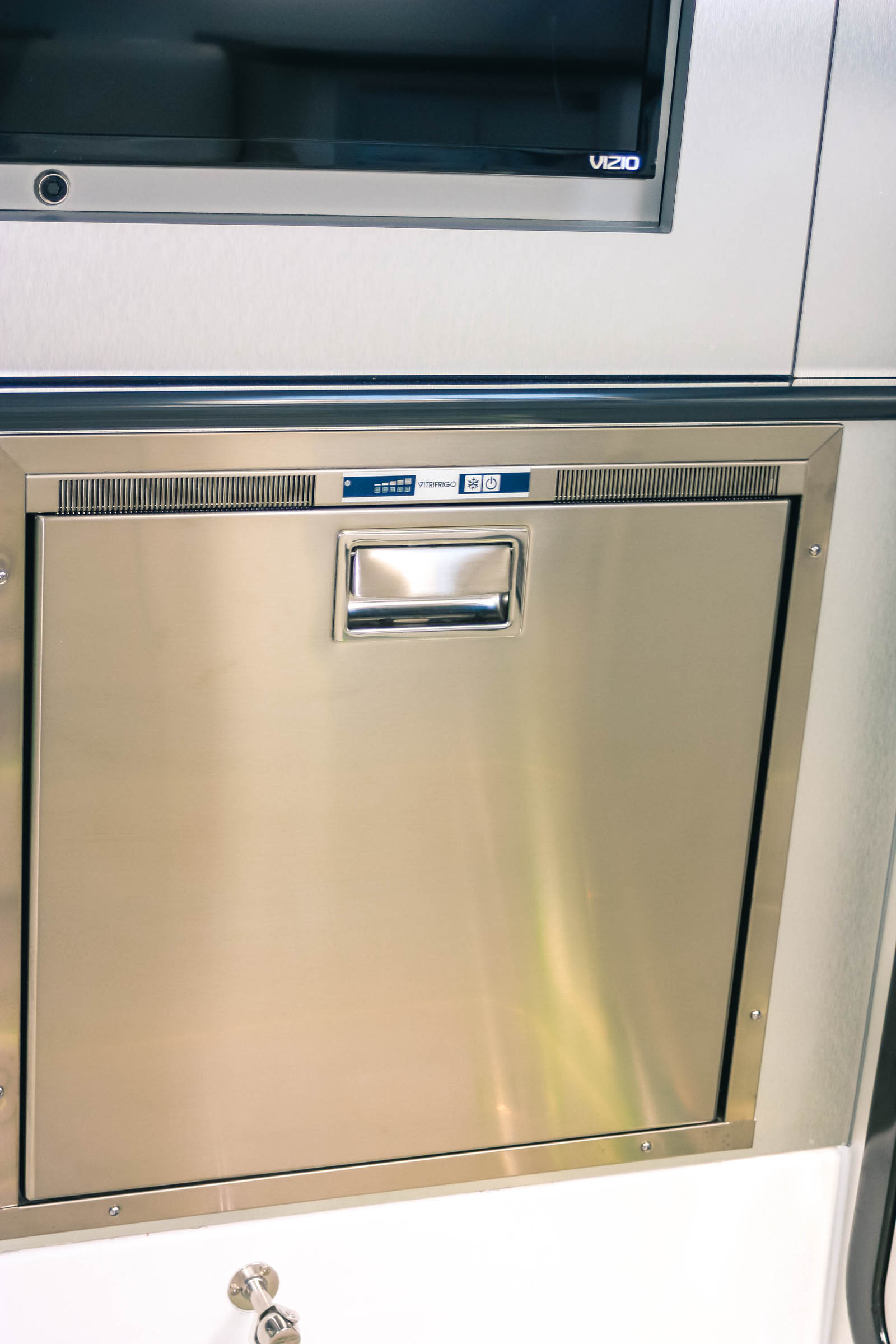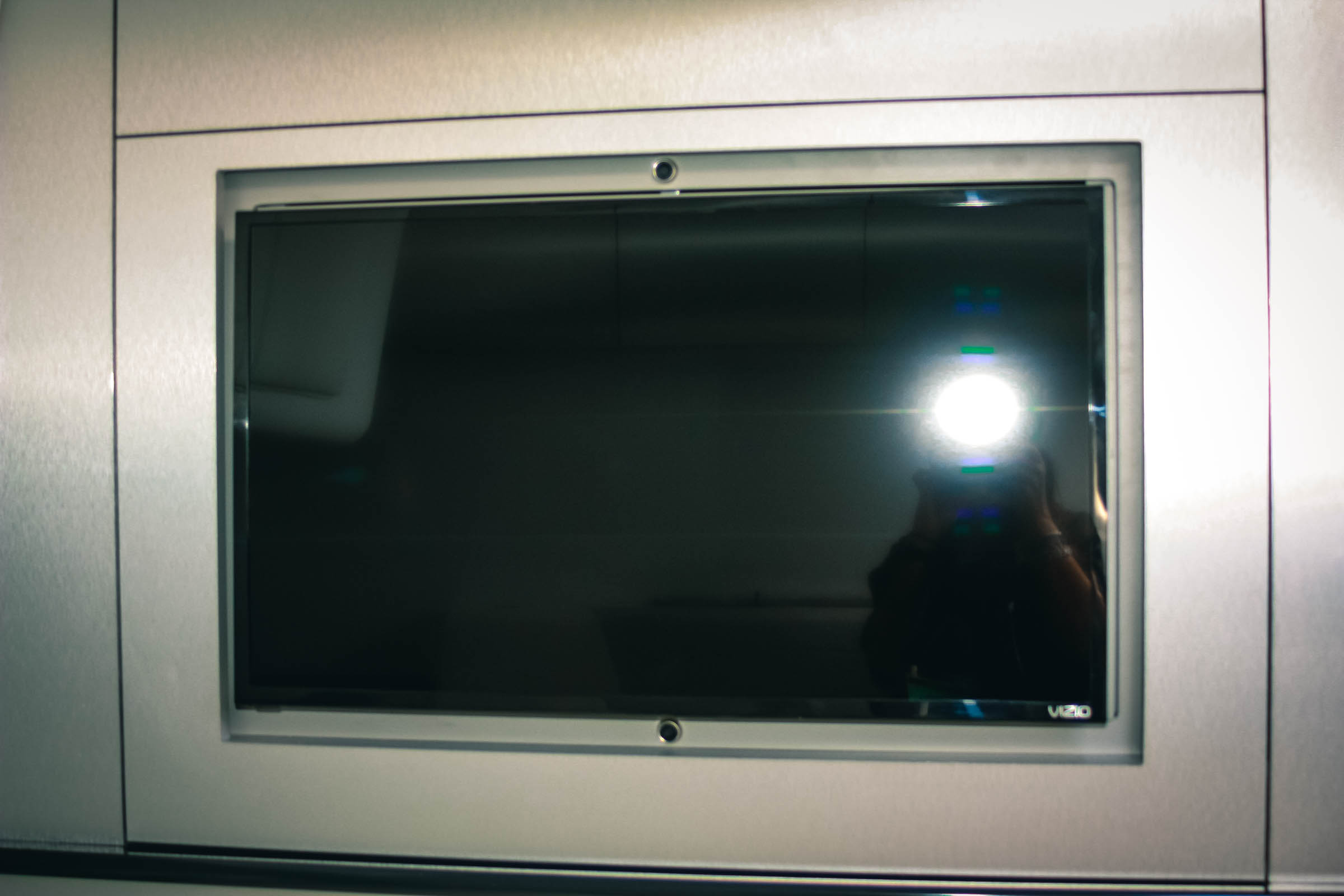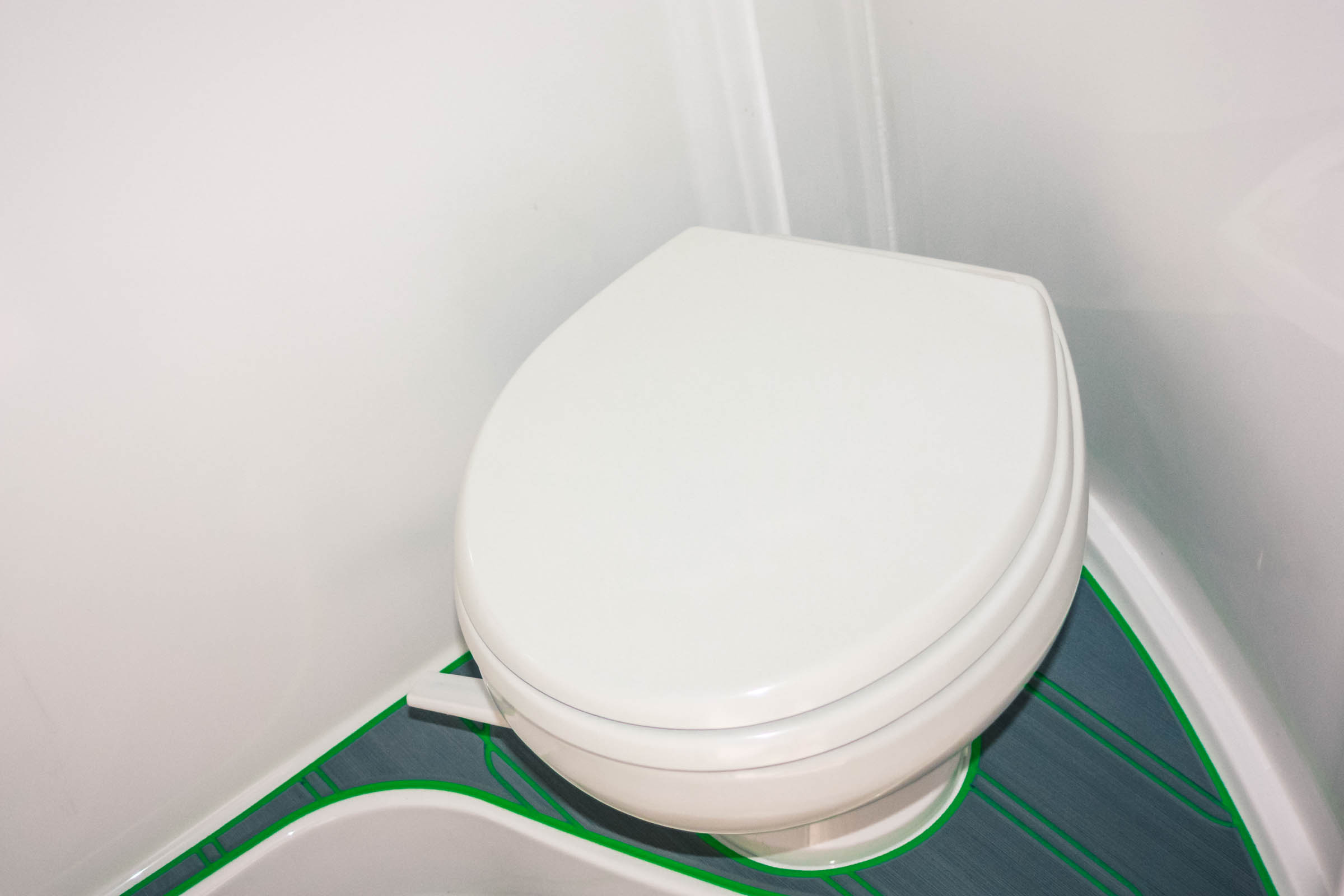 Since I started this tale comparing the center console's sound system to a live Angus Young guitar solo, let's discuss why! The Cigarette PURE Extreme JL Marine Audio enables tunes to be heard and enjoyed as composed without booming, screeching or distortion. With the expanded system of ten 8.8" speakers, two 12" subwoofers and two 10" subwoofers, residents in the next area code will be able to hear the Huntress roar.
A key element in constructing the Huntress was the 11'11" width of the beam which allows for hassle-free trailer transportation since the cut-off is 12 feet. With a mere one inch to spare, the seas are yours and Huntress owners have the flexibility to campaign their center consoles at their destinations of choice.
Dubbed entertainment-centric by the builder, the decks, cabin and cockpit do not disappoint. Power up the underwater LED lighting system and as dusk turns to darkness, the boat is so stunning even the fish dashing by are impressed.
Under the bright lights and big screen, the Huntress has been a driving force thrusting herself into battle in the Golden Age as a supervillian and metamorphosing into a super-heroine in the Bronze Age. But one thing was always constant... she has always been fictitious! Kudos to Cigarette Racing Team for capturing all the enduring qualities of a Huntress and turning her into a parallel non-fictional reality. In other words, thank you for bringing her to life!