Story and Photos by DinaRella.
Chances are you already know marine industry magnate Craig Barrie from his thirty plus years in the fast lane. Bullet points on his curriculum vitae include: championship offshore racer (think Coors Light Silver Bullet), owner of Hawk Power Marine and Dragon Powerboats, and probably his most visible role after joining Cigarette Racing Team back in 1984, was his move into the CEO's office serving as president from 1992-1999.
One weekday afternoon in the spring of 1993 is when I first met Barrie. I stopped by the Thunderboat Row headquarters to snap some 35mm photos of the factory for a research paper I was writing on Cigarette for my University of Miami marketing class. Three decades later as the props spin and high-performance boat production continues to evolve, so does Barrie. Today the clever and charismatic authority in offshore is a driving force in his latest role promoting an innovative new statement (or statements, to be more exact.) Read on!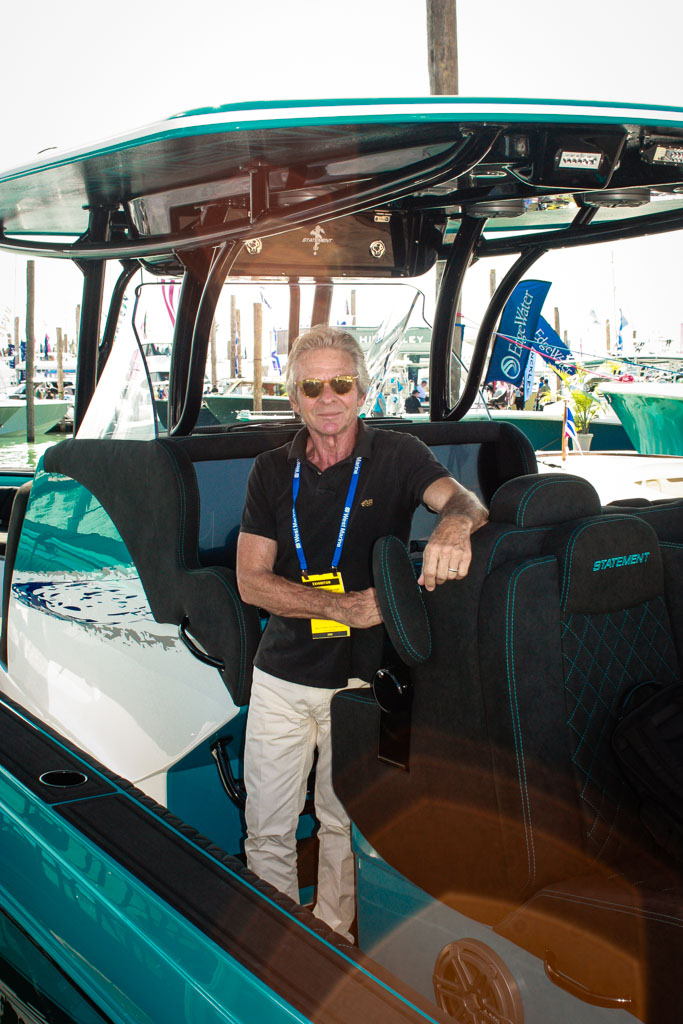 "It seems like ancient history, but in 1996 when I was with Cigarette we made a center console and everyone told me it would never sell and now it's the biggest market out there." These were Barrie's words to me during our Miami Boat Show interview. True, he was ahead of his time with that prediction, but these days he is confident as ever with his past premonition that center consoles are here to stay. Todd Werner and Nick Buis, owners of Statement Marine, thought so to and in 2013 made Barrie an offer to join the team and head-up the manufacturer's sales and marketing division.
Pushing all boundaries to the max in terms of modern style and performance, the reputable maker currently produces a 42 Ultimate (V-bottom), 50 Passion (catamaran), and a line of  35' and 38' SUV center consoles. Highlighted on the Statement Marine website are the bold words…"If you dream it, Statement can build it." A valid and compelling declaration indeed, the 40,000-square foot St. Petersburg, Florida, facility oversees construction of nearly all major components in-house and limits production to approximately 22 vessels per year.
Flawless in execution, two of the latest custom-built, performance-based center console models for 2019 were on display in Miami and Luxurycenterconsoles.com was there to check out the buzz behind the showstoppers. Both the 350 Open (red accents) and 380 Open (blue accents) were ordered through Pompano, Florida-based dealership FB Marine Group … and each will leave you breathless.
Behind many one-of-a-kind marine endeavors is an elder more-experienced asphalt sister. The 350 Open center console fits that facade and thus, is a custom "Lamborghini Performante" edition theme boat painted in accordance with the owner's new Lamborghini Huracán Performante. Just the name of the Lamborghini color-spec -- Grigio Astarte – sounds intriguing in its own right.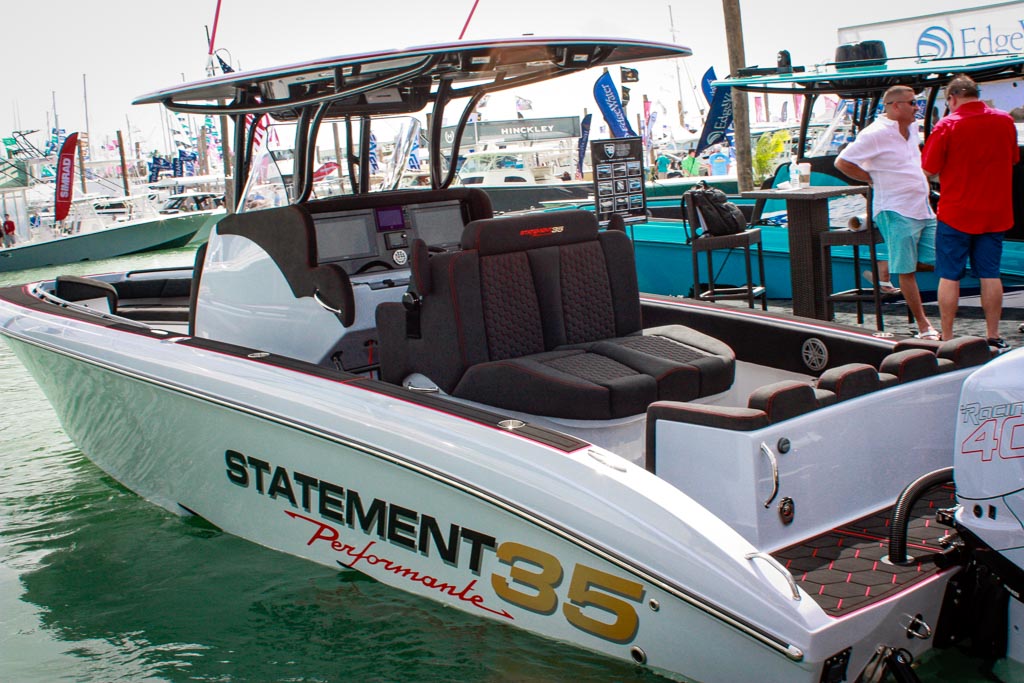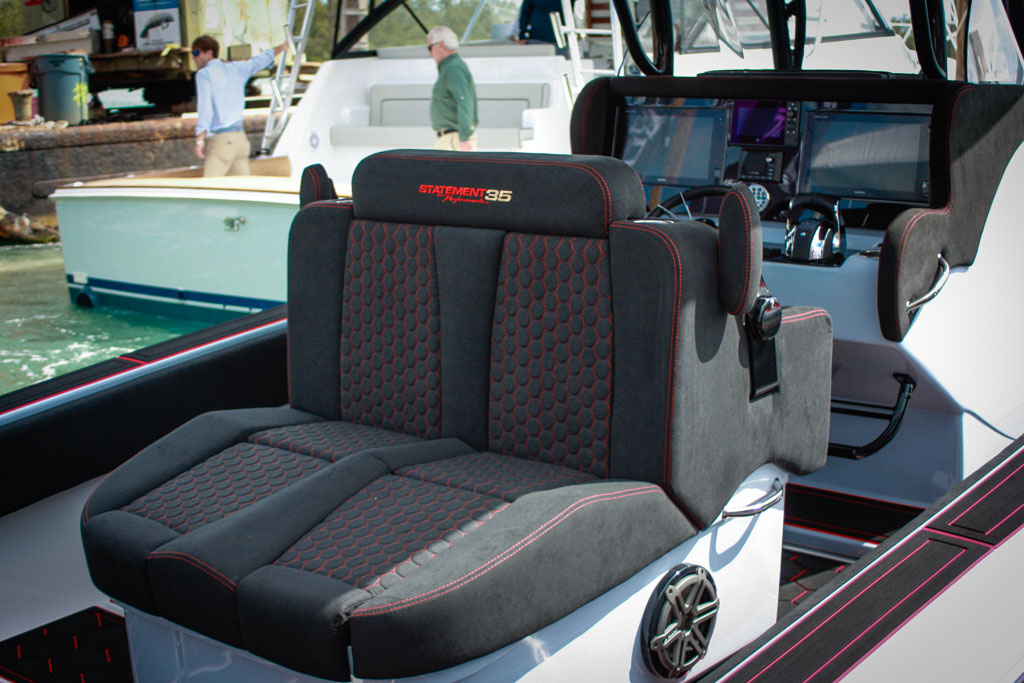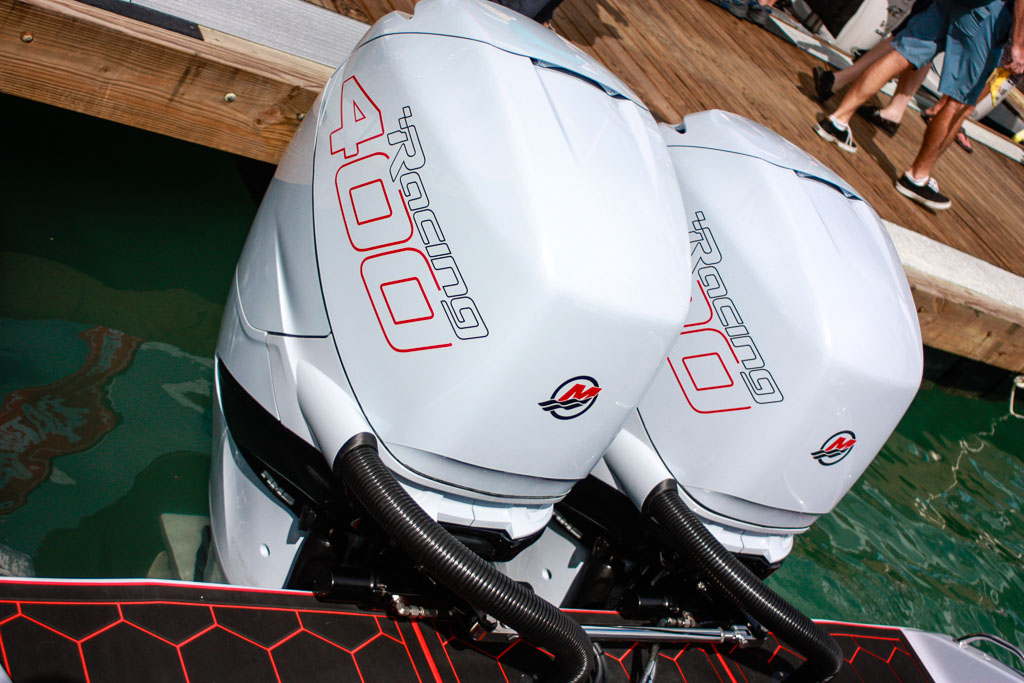 Built from a ten-foot beam and weighing 9,125 pounds (dry), the 350 Open holds 257-gallons of fuel and ascends to top speeds of 64-68 mph depending on the desired engine package. Available with twin or triple outboards, the price will set you back between $285,000 and $310,000 dollars.
When making the plunge to purchase a Statement, the well-designed piece of machinery represents an on-water visual reflection of who you are. As the website states, it's your dream. What does that imply for the customer? Special detailing begins as you customize a paint creation by choosing your preferred metallic and pearl finishes. The shade then extends to the transom thanks to a color-matched Mercury motor install.
Another task is selecting the color and stitching of the upholstery. The immensely- popular plush Alcantara pseudo-suede material will send chills down your spine. The texture and feel is smoother than Italian gelato melting in your mouth.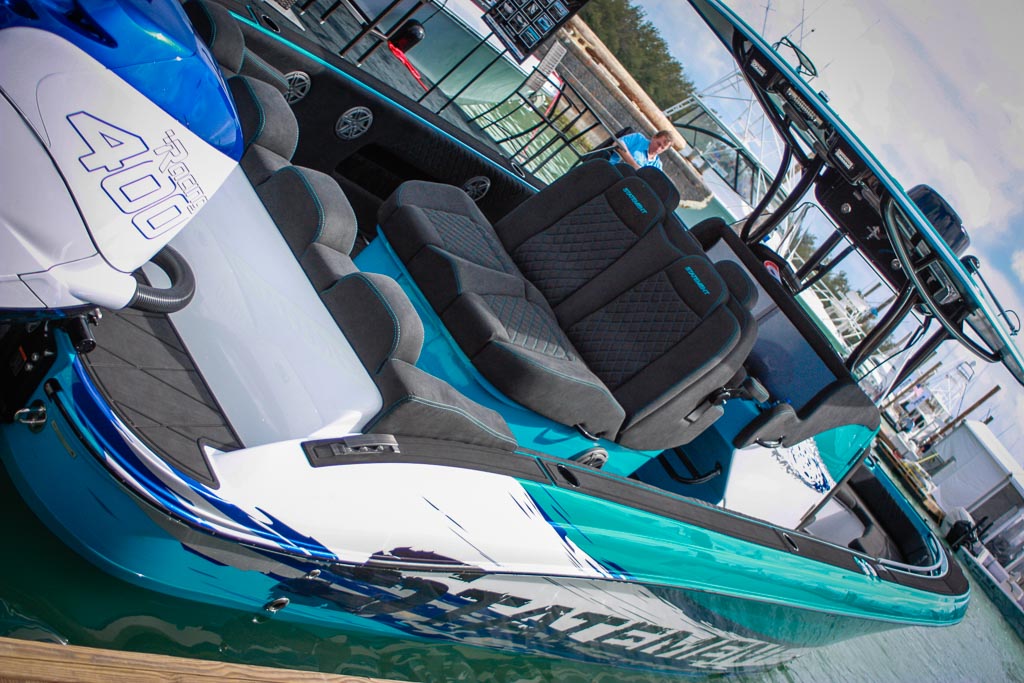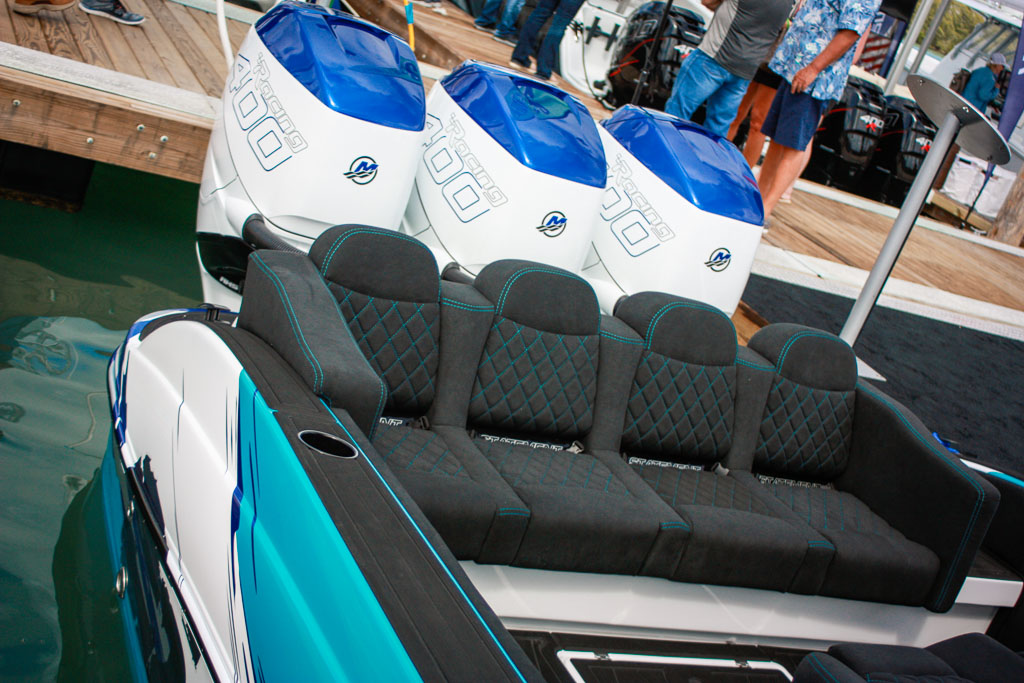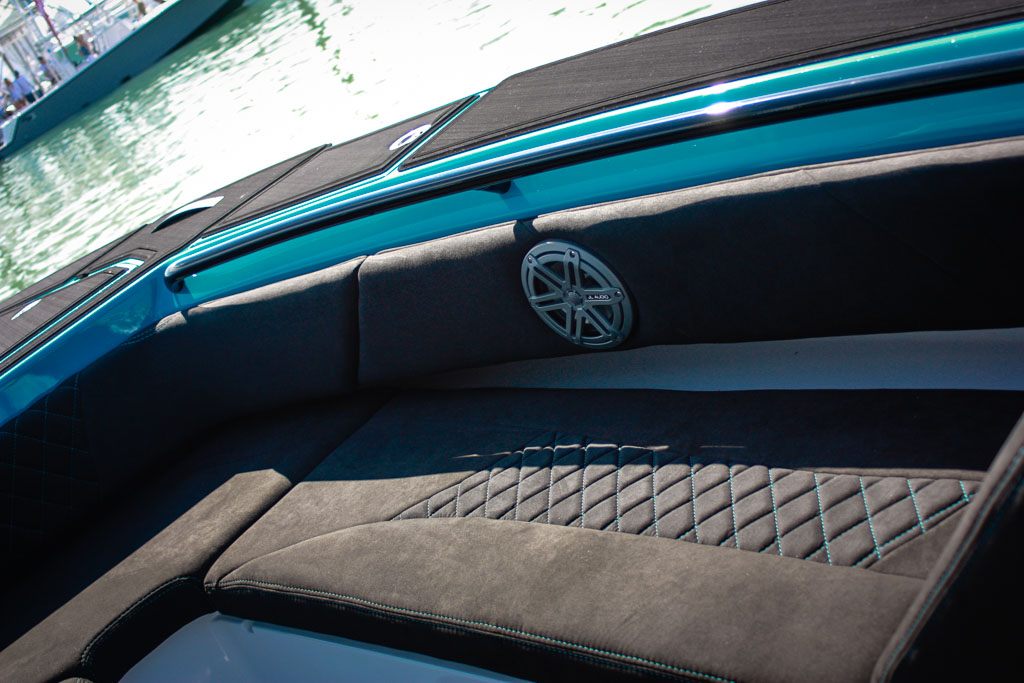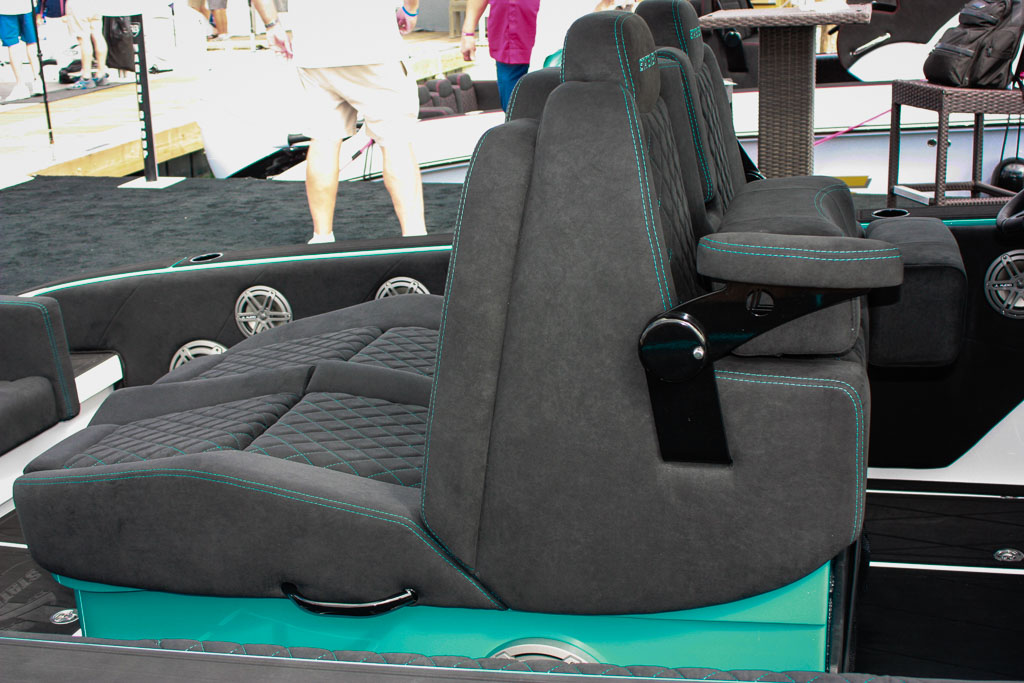 Statement Marine offers a "Command Center Helm" available in the port or center driver's position and features various electronics areas. Another well-thought out accommodation on the Statement is all controls and instruments are angled towards the captain. The "Sport Dash" is the second option if the two-person arrangement is desired. You will notice examples of each in the following photos.
The helm is fully computerized with complete digital instrumentation and the options can be tailored to the wants and needs of the client. Large Garmin screens showcase all motor and media information. A carbon fiber switch panel with illuminated rocker switches and breakers and in-dash latching storage compartment are additional features.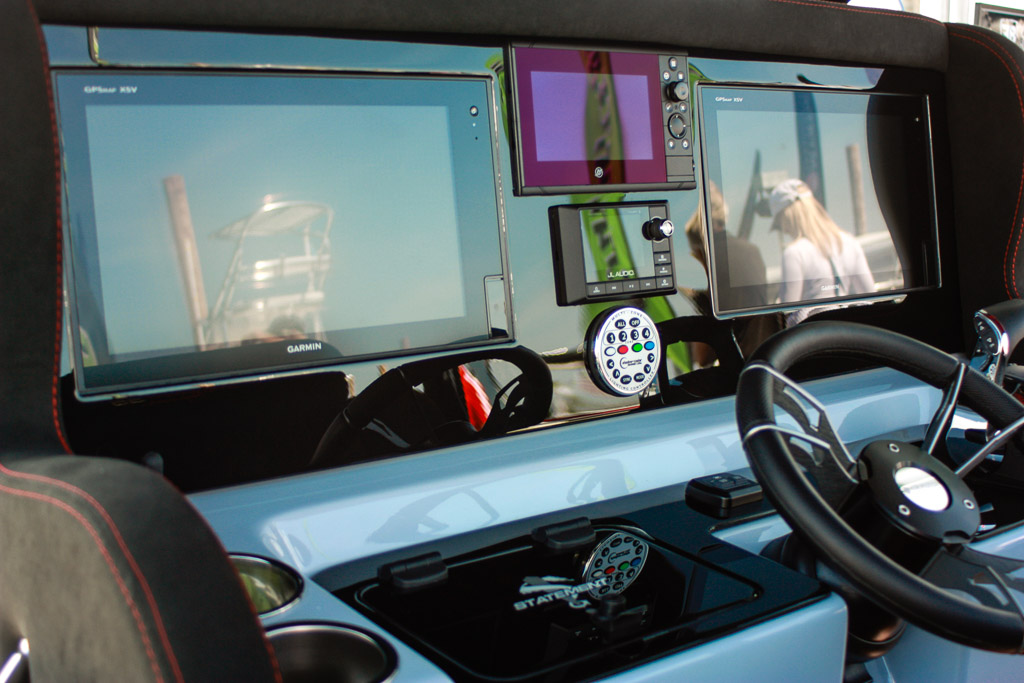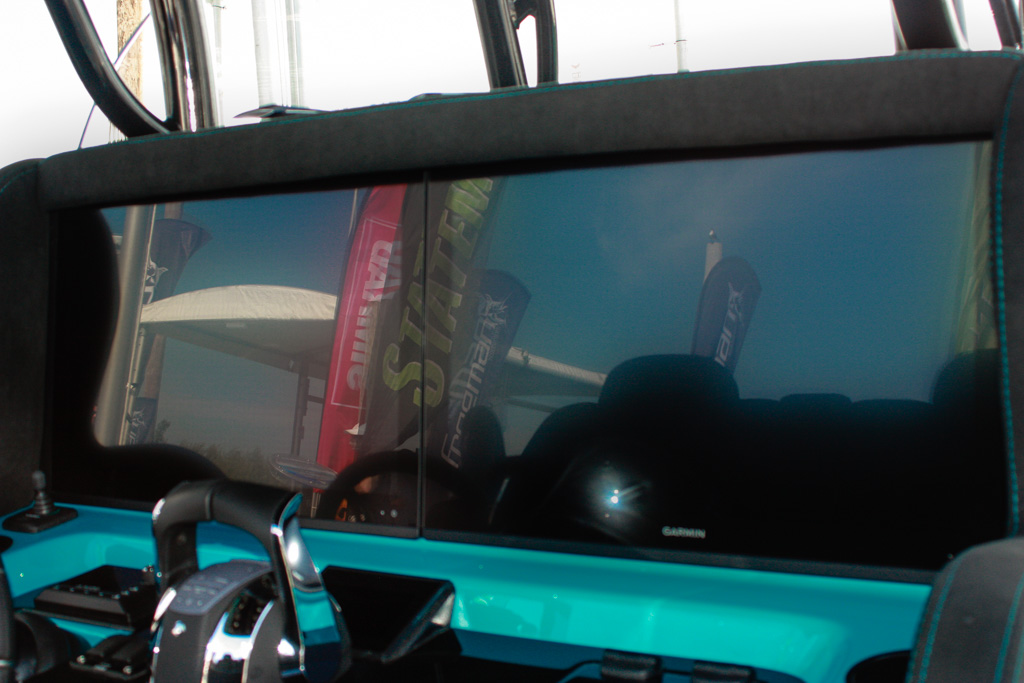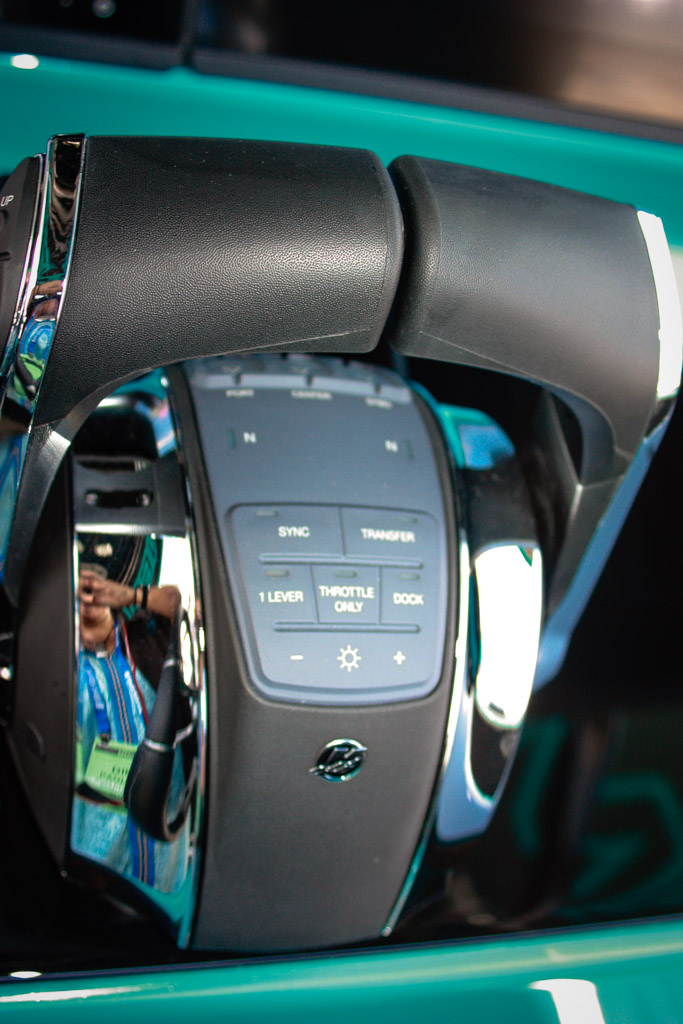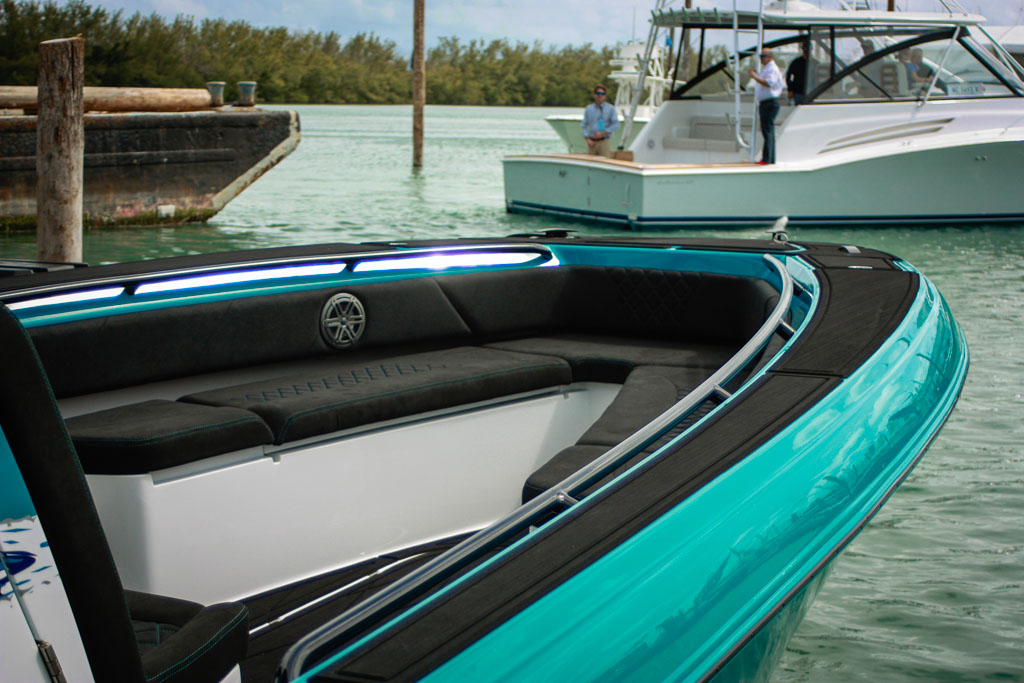 Comfortable and inviting, seating options are diverse to allow passengers to sprawl out along the frontal wraparound at the bow or on the forward facing lounges. It's hard to notice but concealed at the side of the two-seater forward lounges is the electronic wall unit that leads to the sliding-door for the head positioned below. When the button is activated the forward lounges slide towards the starboard side revealing steps and the head underneath. It was fascinating to see how the unit lifts up and sideways and reminded me of something from the Jetson's cartoon that would be found in George's futuristic utopia-house.
The enclosed head is complete with a porcelain bowl, pull-out faucet, sufficient amount of designated room for hanging towels and swimsuits, and ample space to rinse off with fresh water. The depth of the head is 6'4" and easily accommodates guests of all heights.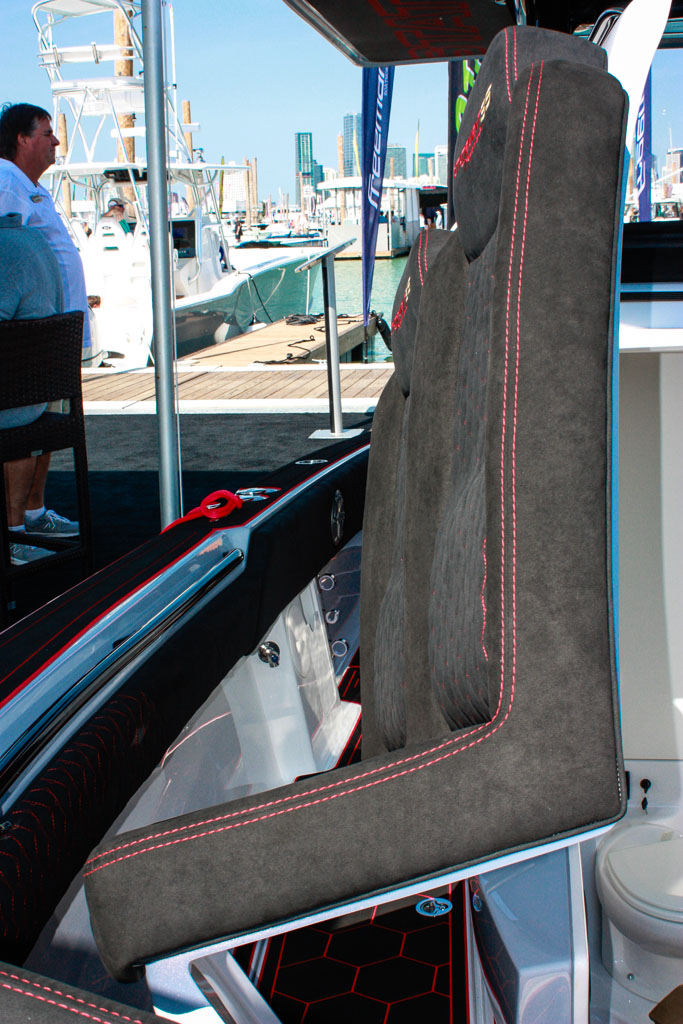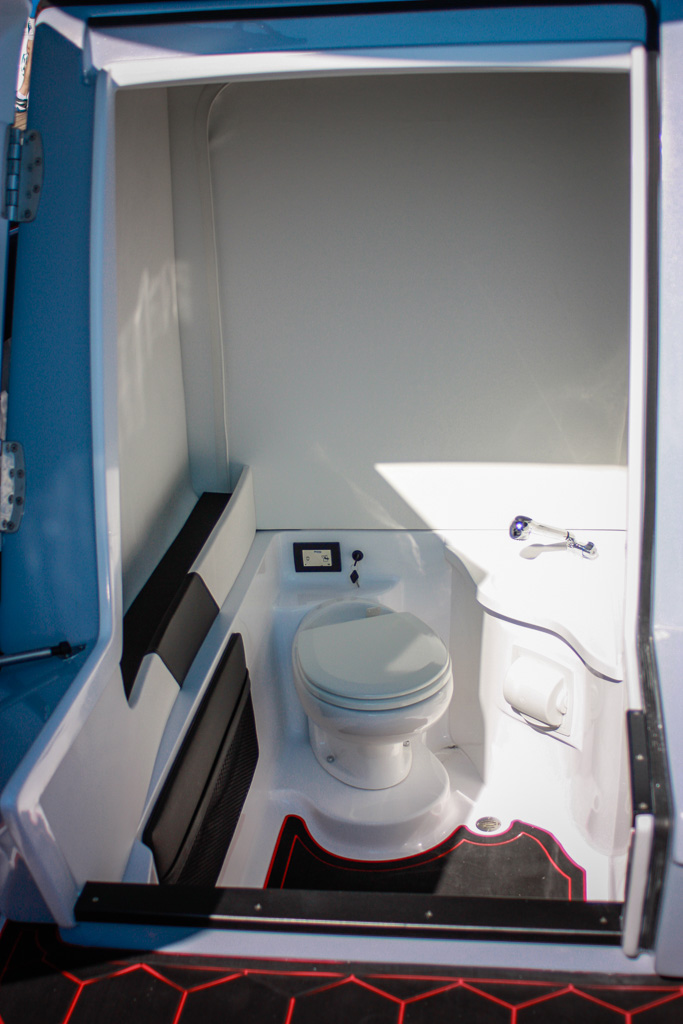 Back to the cockpit, drop-down bolsters were added to allow the option for operating the boat either seated or standing.  And complementing the sleek interior design and feel of this years models are the new aft-facing loungers behind the control station. A relaxing addition for glancing at the white rooster tail trails with your feet up, hat on and no worries in the world.
Heavy duty welded aluminum with oversized tubing, fiberglass top with radio box, rod holders, integrated LED navigation lights, forward and aft spreader lights, and overhead courtesy lights complete the 2019 builds.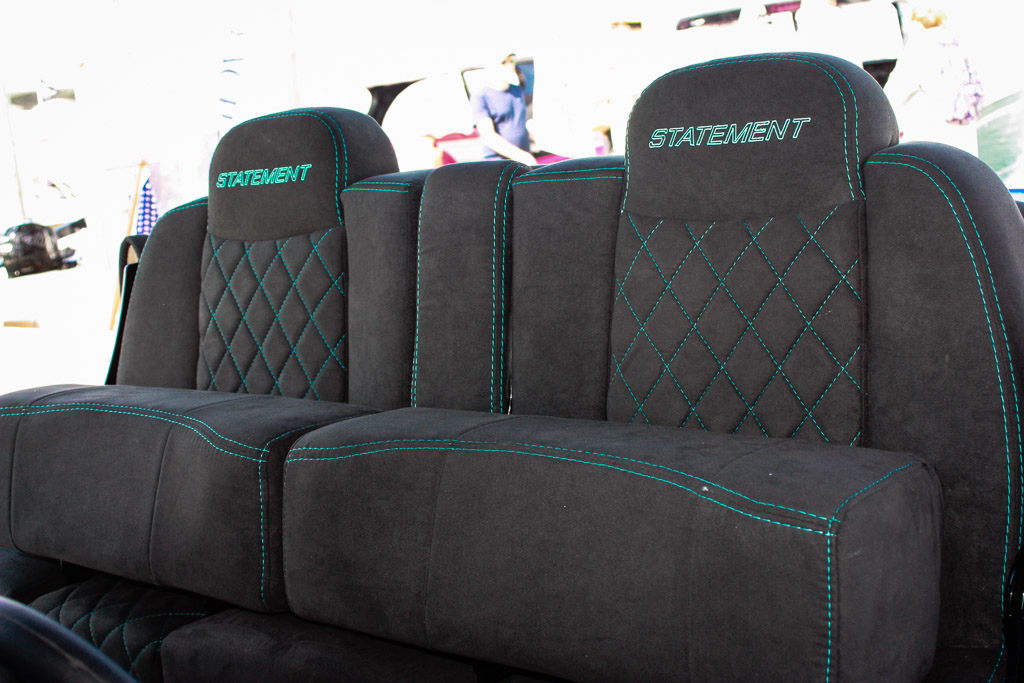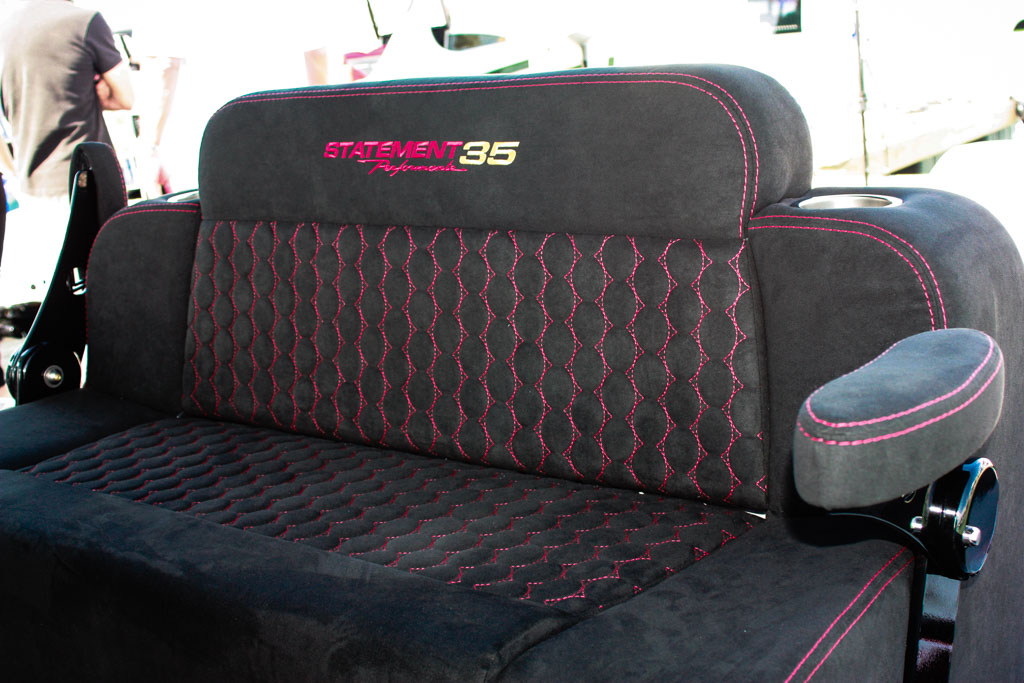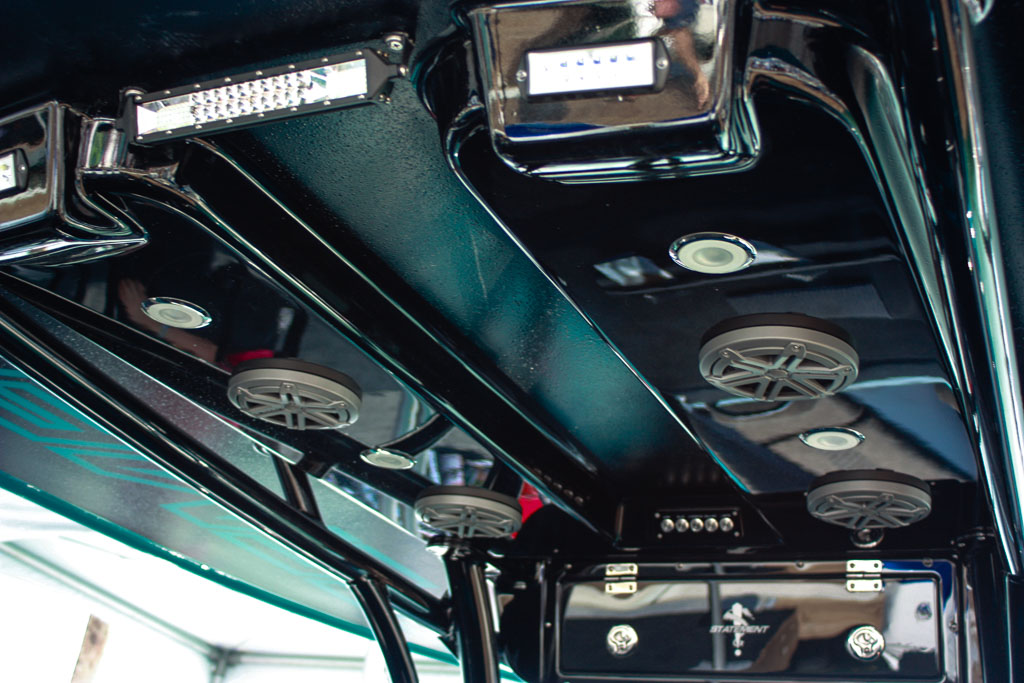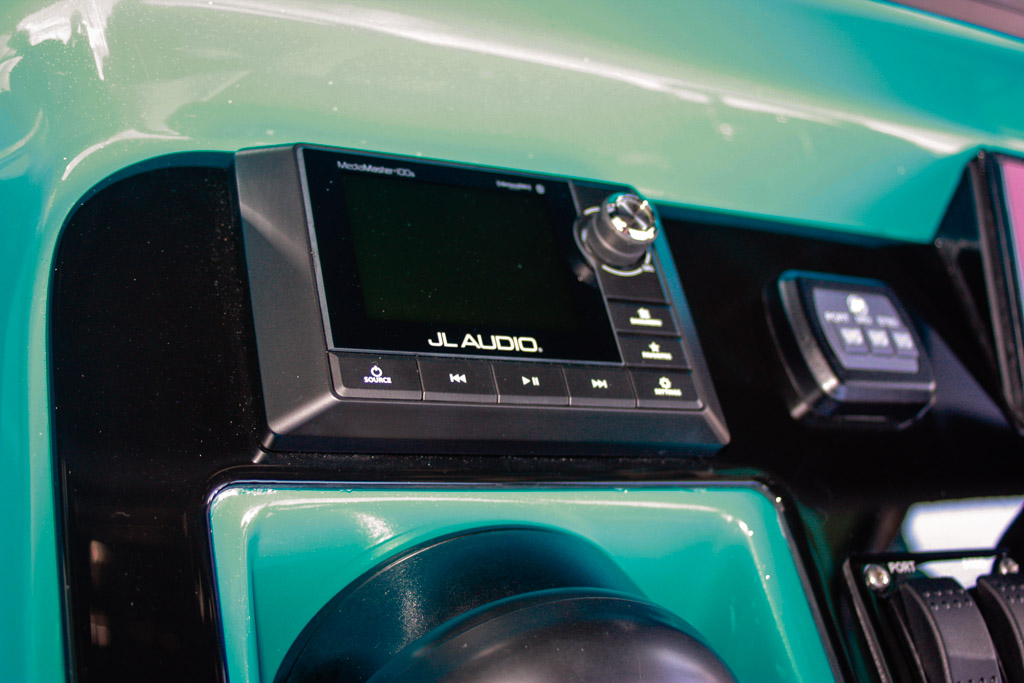 If your best days on the water are when you invite everyone you know, and want the option to pile over 14 compadres on board, then the 380 Open powered by triples or quads may suit your needs better than the 350 Open. Barrie noted, "The contemporary Porsche Miami Blue color-scheme seen here on the display model has been a big hit." Personally, I am also a big fan of the Porsche Miami blue and when on board it made me feel like I was on a Miami Vice episode and Barrie was "Sonny" Crockett pointing out the features.
Capable of hitting the mid 70s range, the 38-footer hollers when out in the open at full throttle. And feeling more lightweight and buoyant will be your bank account as $350,000 to $450,000 dollars will be required to take possession of this beautiful beast, but it's worth every penny.
Wondering about the black interior and marine mat flooring heating up on those sticky-hot summer days? I was walking about shoeless on each boat and there was no fire burning under my feet; and it was boiling hot during the Miami show this past February.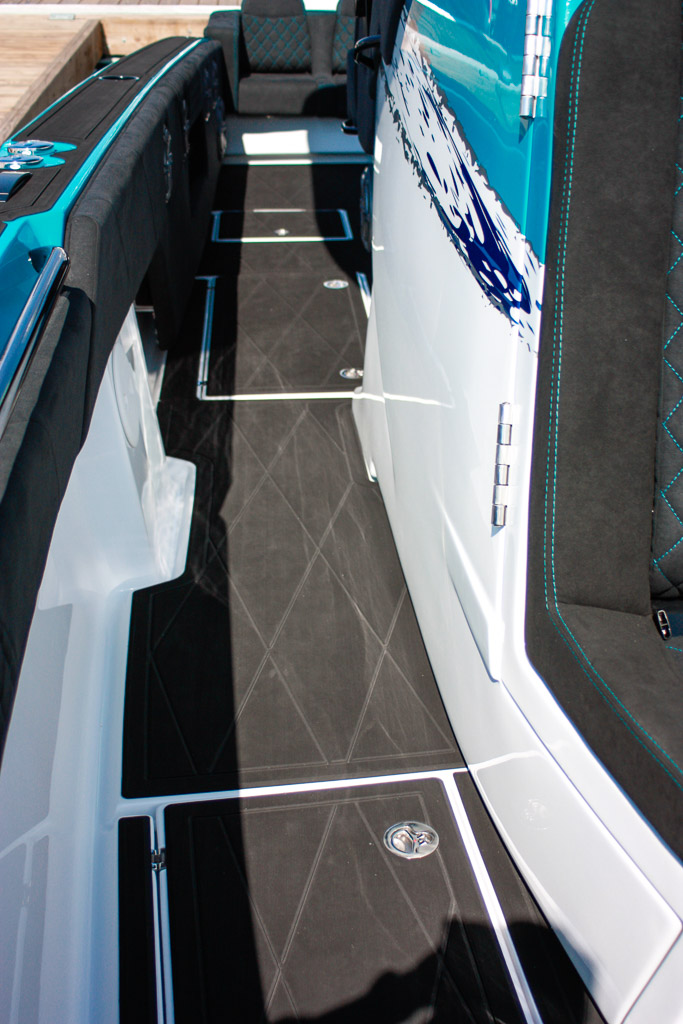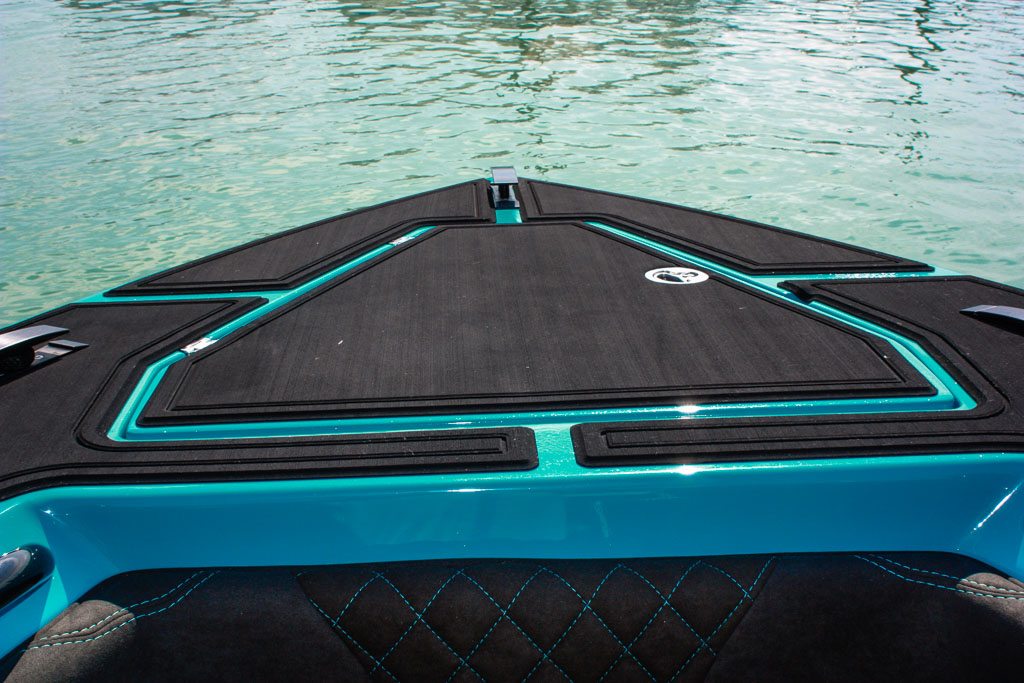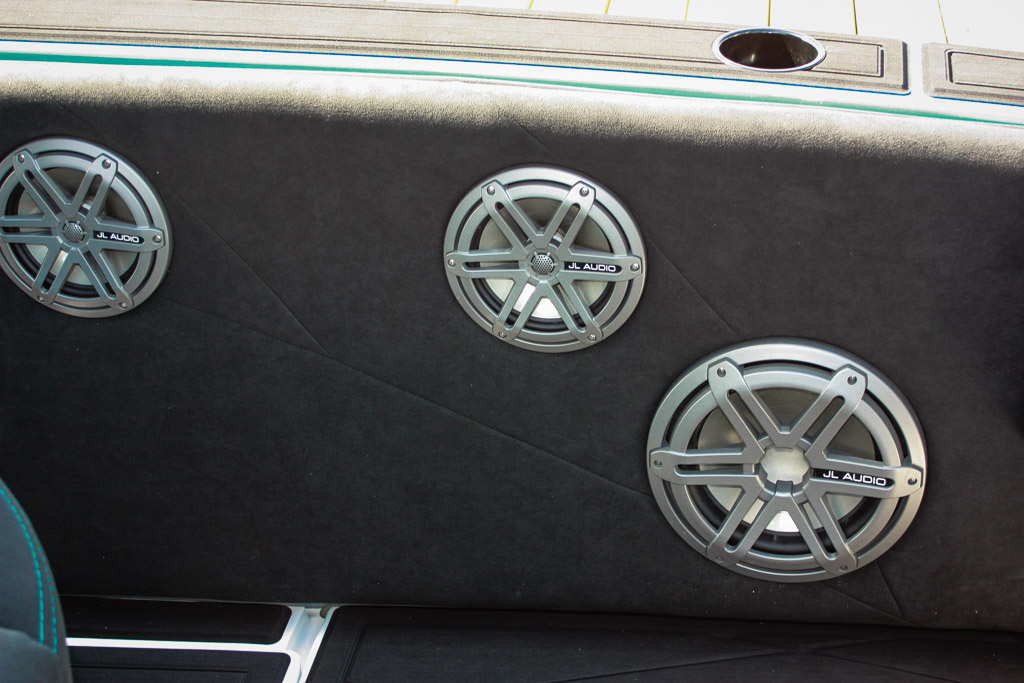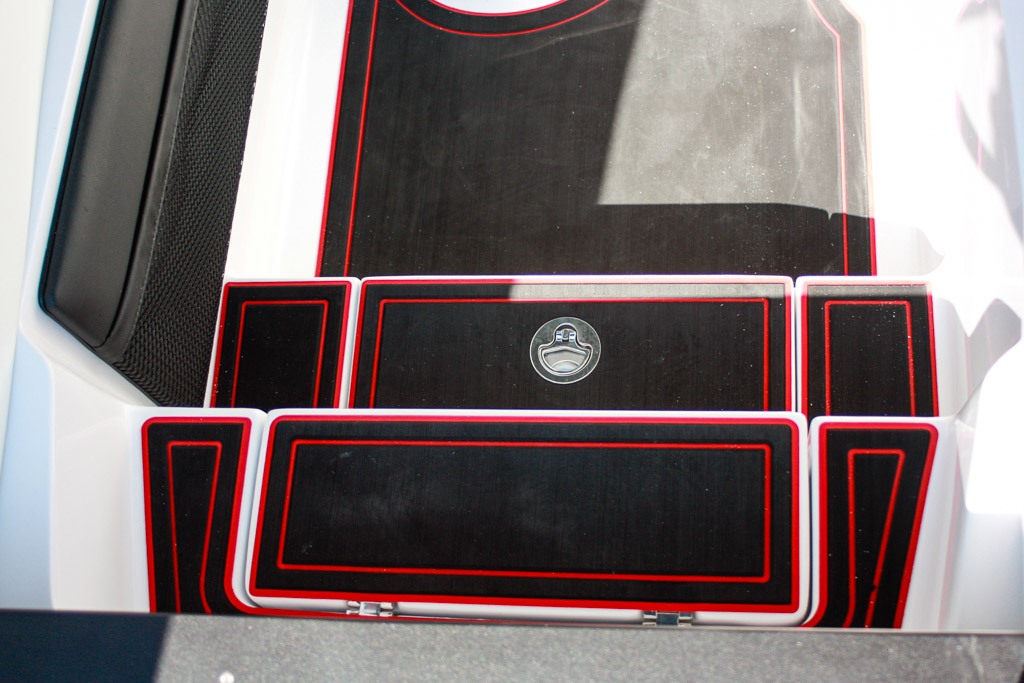 From its gorgeous visual appeal, stout engineering, and supremacy out handling the competition on the seas... it is you who will make the "Ultimate Statement" if the 350 Open or 380 Open becomes your next watercraft of choice!