Story by DinaRella / Photos courtesy of Valhalla Boatworks and Mercury Marine
 The Unearthing
To say I was excited for my one-on-one with hull No. 1 of the Valhalla V-46 would be an understatement, especially since I was at the Viking Yachts VIP Preview just north of Palm Beach where you can sense the opulence with your eyes closed. Pre-release praise of the artfully crafted center console created with a patented Michael Peters Yacht Design (MYPD) twin-stepped hull and decades long of Viking-DNA engineering worked to put the marine warrior on a pedestal; I was about to see why.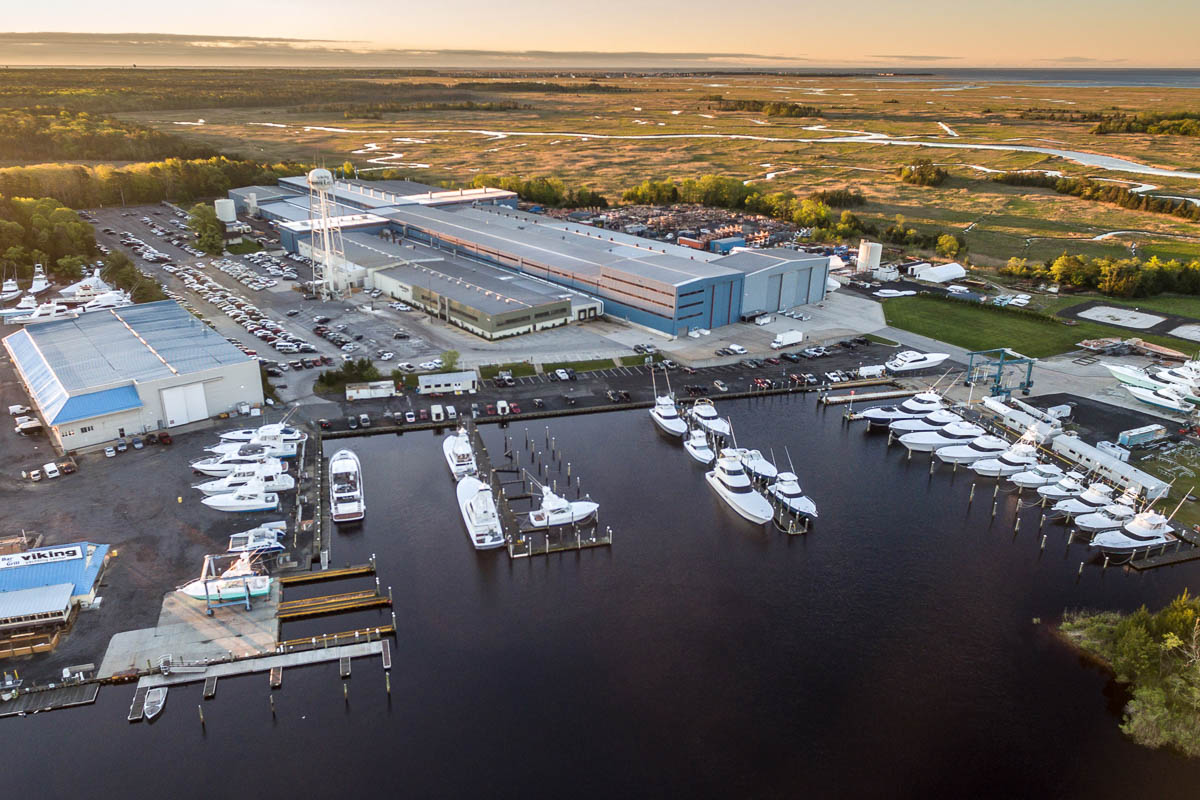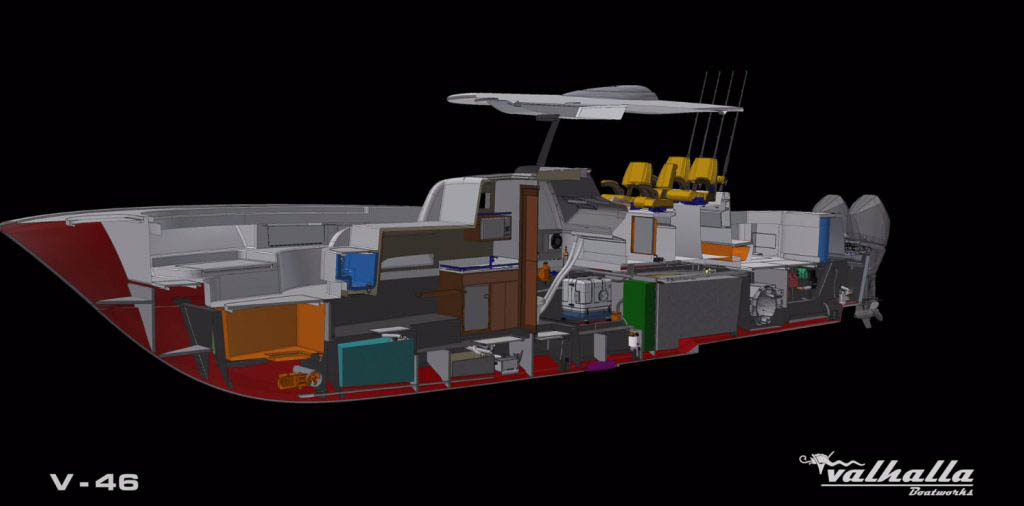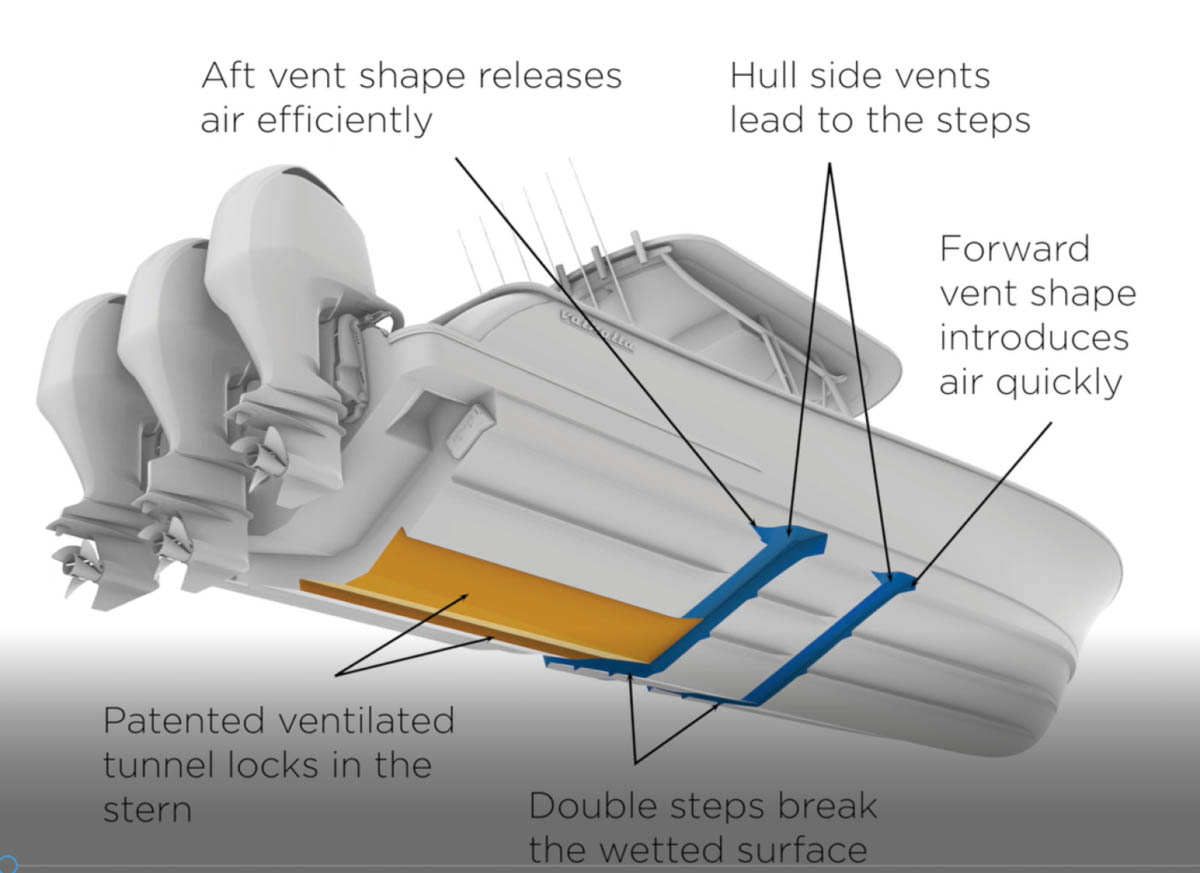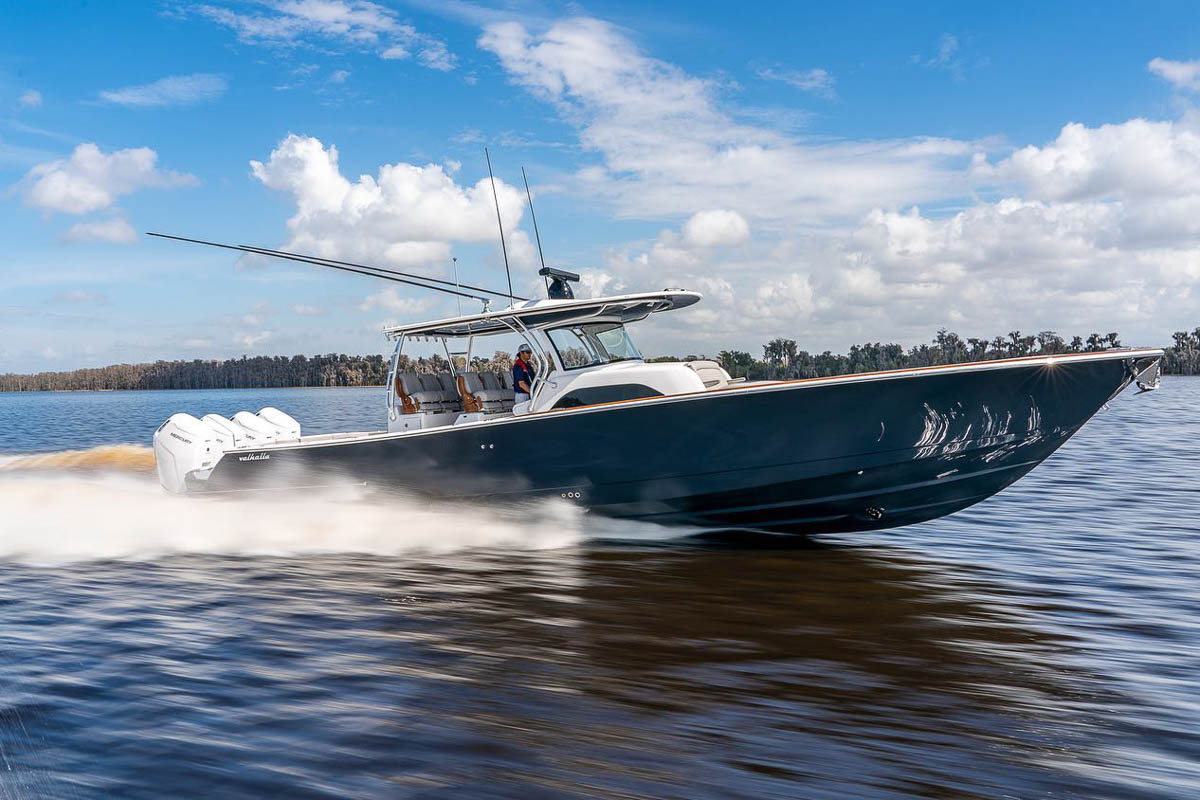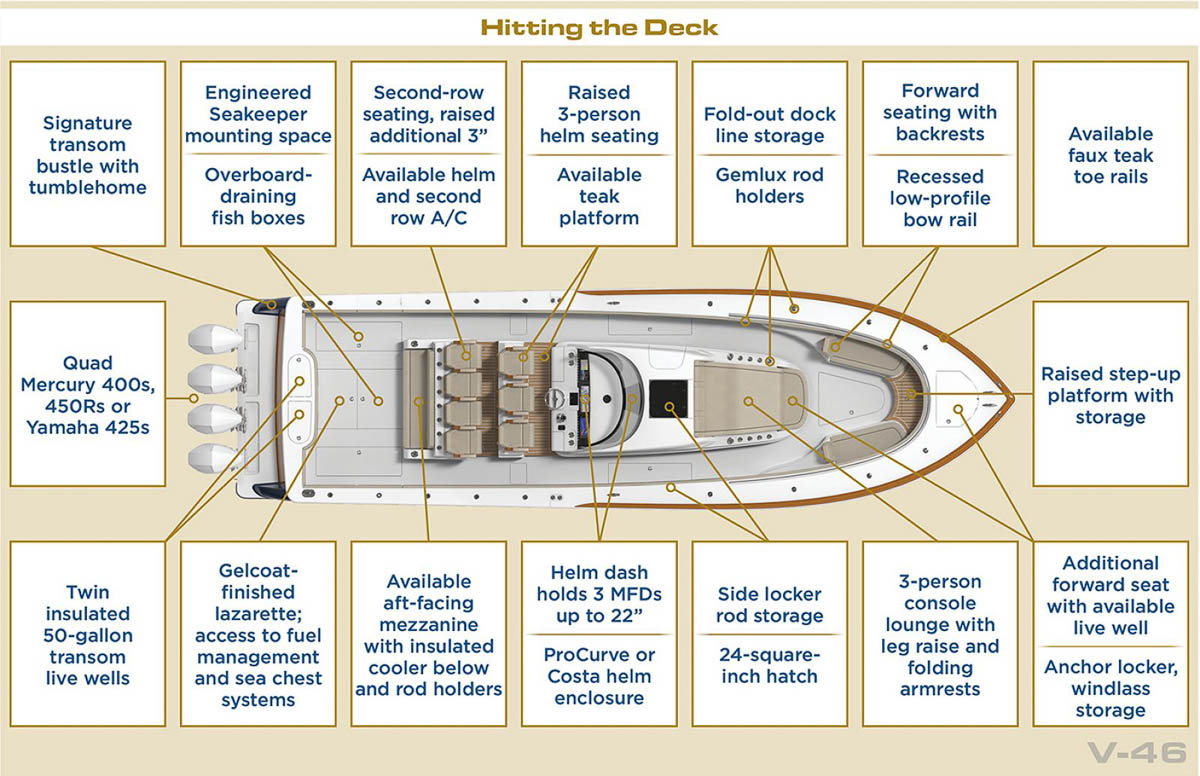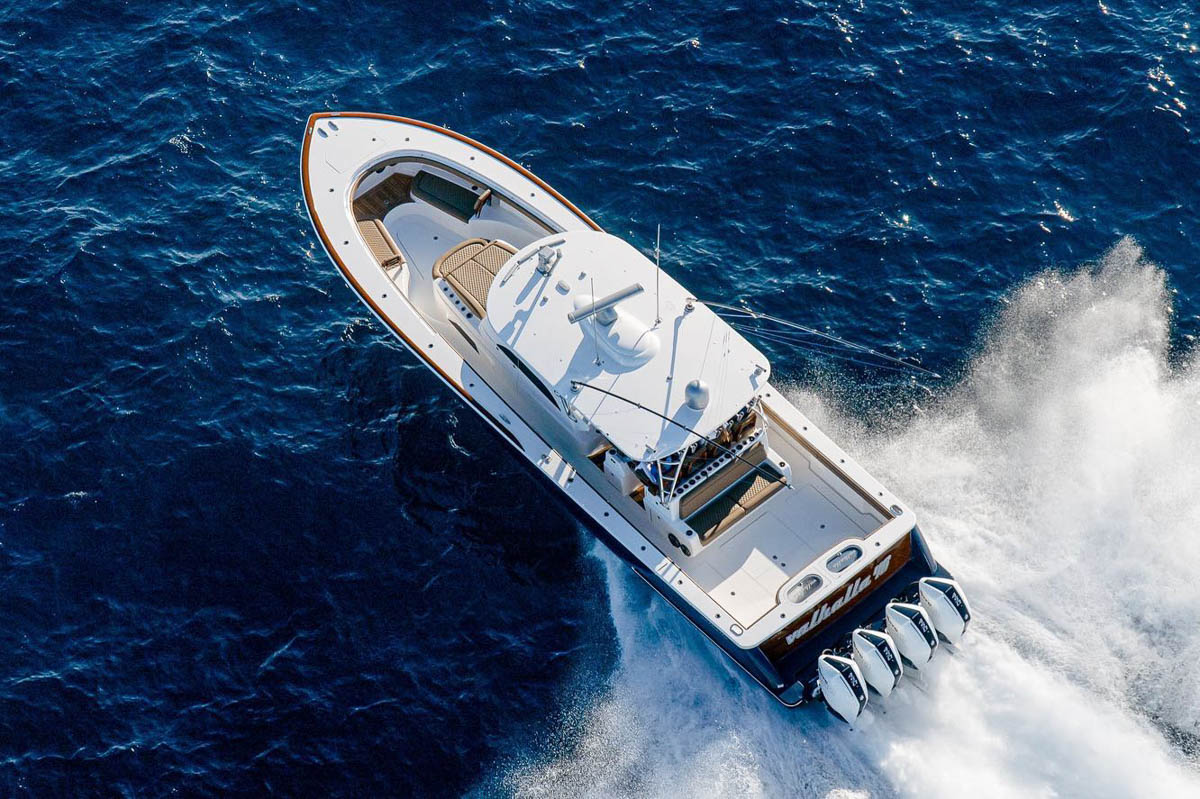 In true Viking raider spirit, upon boarding the V-46 sculpted with a gently sloping S-shaped sheer, double chine, and tumblehome transom bustle, I began my digging for details under the air-conditioned cockpit. First to catch my eye was the minimalist undertone of the recessed dash – sort of tech meets aesthetic! Gorgeous black acrylic paneling harbors three monitors including a larger 22-inch Garmin in the middle, and a row of flush-mounted, backlit-labeled Bocatech switches rest below.
Placed on the faux teak helm pod, an Edson 13" elite carbon 3-spoke (EC3) wheel decides which way to direct the V-46 during get up and go time. Engine controls and the Zipwake interceptor trim control panel place to starboard, and the compartment box with the speed control knobs and fuel-tank management selector switches allowing the operator to draw fuel from any of the three tanks carrying 700 gallons of gas, are to port.
Comfort is key all around whether your hope is to catch a big bass or a big buzz from your beverage. Functional living space is copious on the largest-of-the-lot 46-footer with Costa Marine seating for the skipper and two shotgun riders in the front of the cockpit. The four additional guests gathered in the second row benefit from comfortable designer seating selected during the build process from Release Marine or Llebroc. Taste senses are stimulated knowing that port and starboard coolers placed under the second row step offer easy access to thirst quenchers, and the vertically challenged will appreciate their "heightened" sense of vision thanks to a seven-inch boost from the raised helm platform. It is impossible to lose sight of the horizon on the V-46, a flip-down, raised step tucks away with a magnet under the captain's station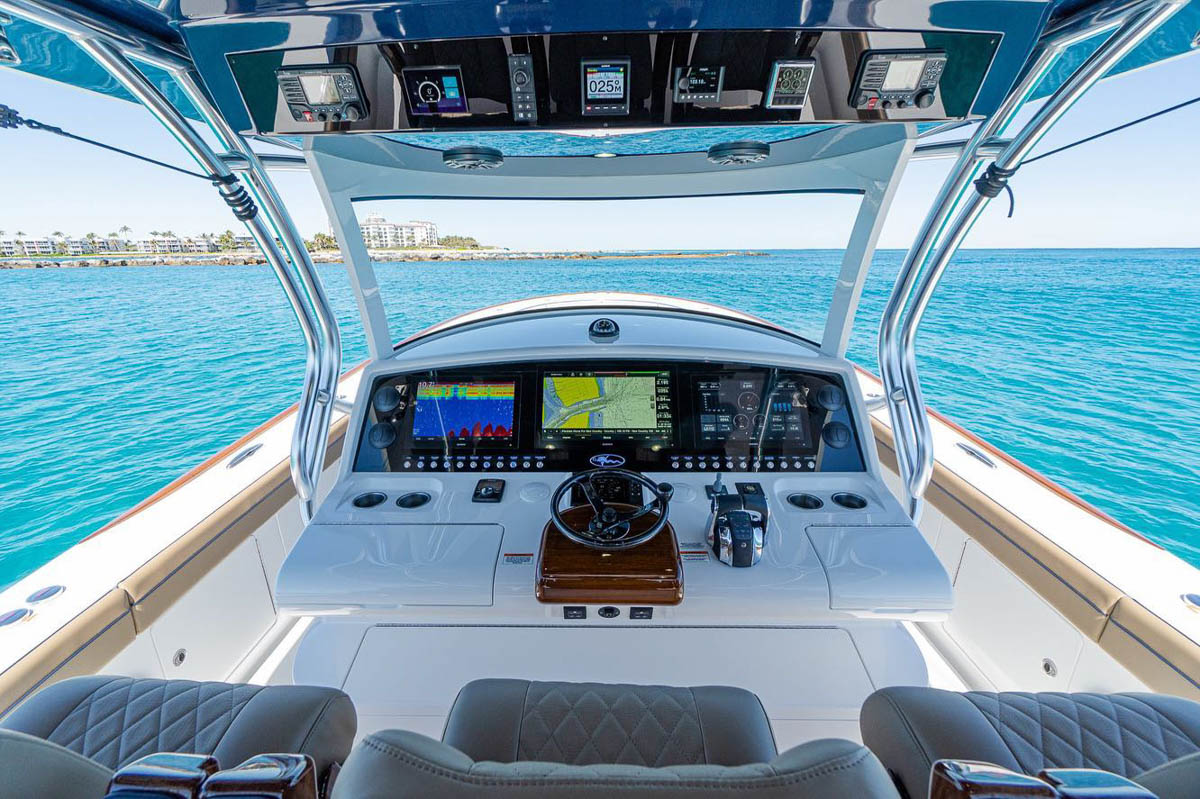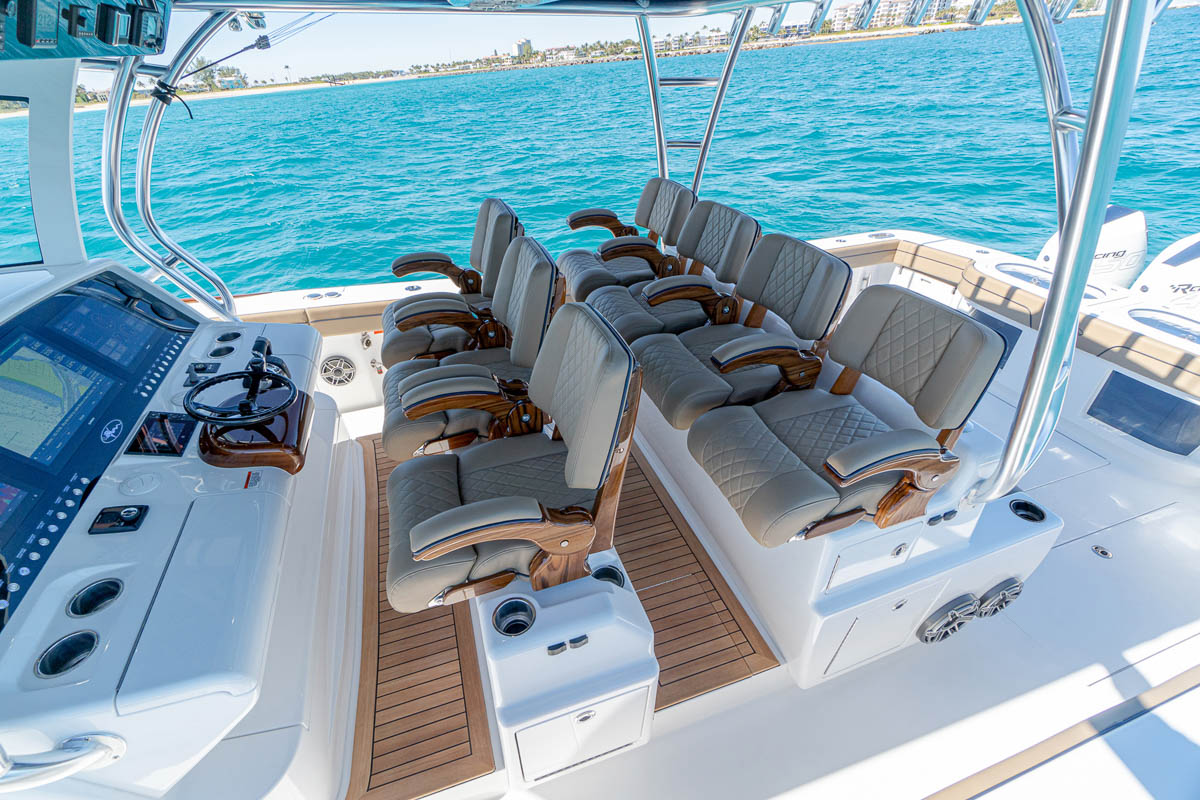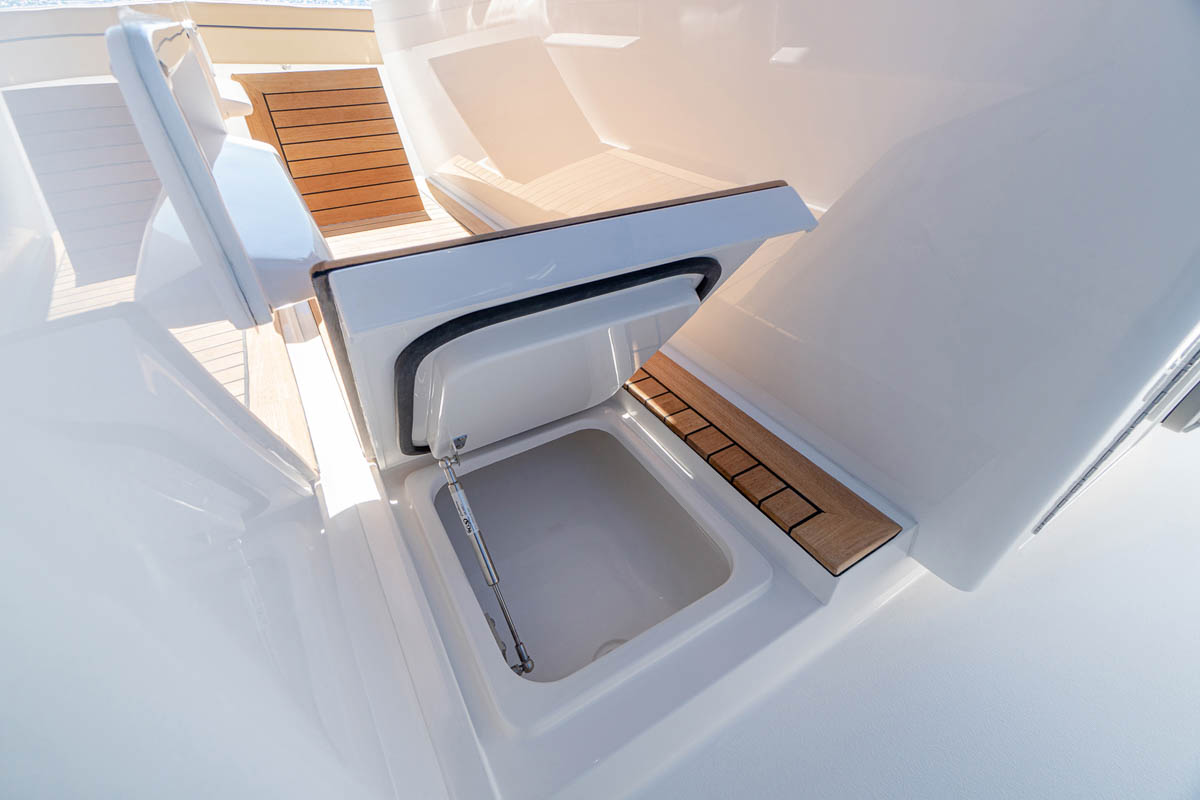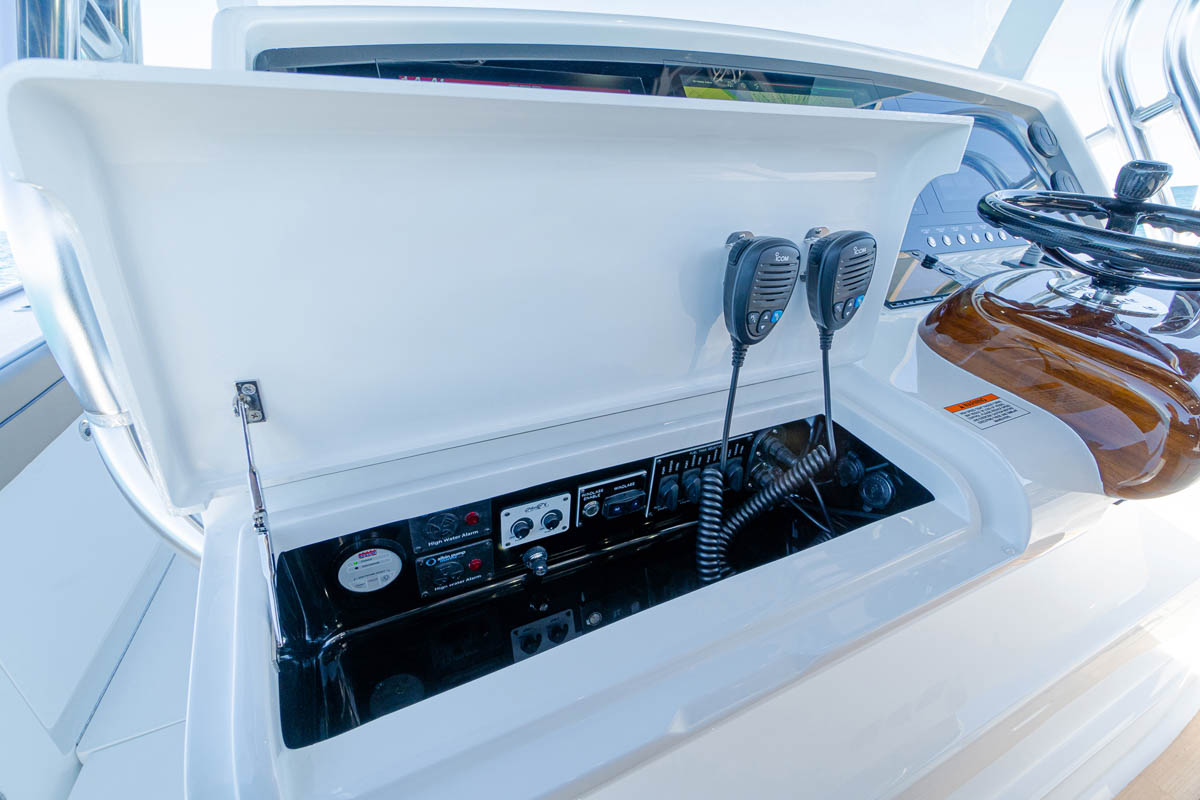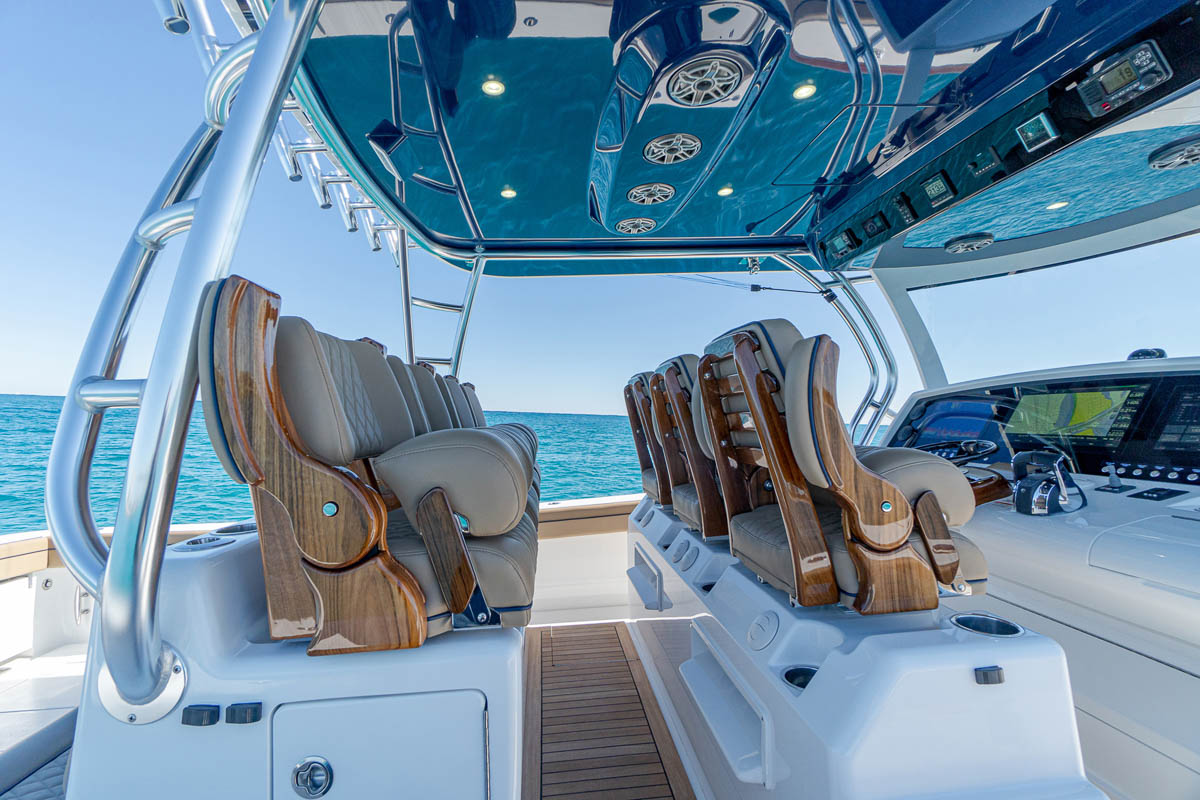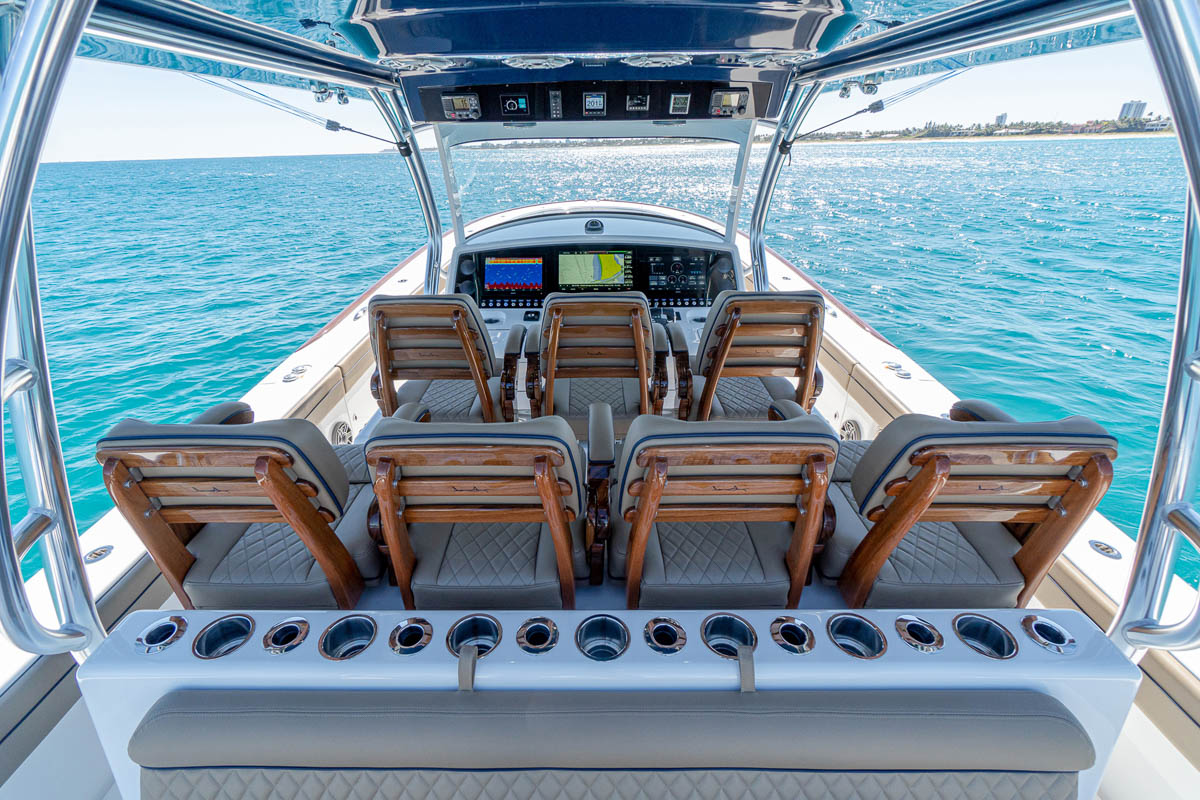 Three or four more mates can settle on the aft-facing mezzanine bench which doubles as a dual-lid freezer concealment for bait storage below. Behind the backrest is a full tackle station, fold-down rigging center, storage for 12 Plano 3700 series utility boxes and an ample-sized center drawer. Moving to the bow, a forward social zone is created with the multi-person lounger and inviting U-shaped seating with movable headrests, and when sunshine seekers need to sprawl out, the bow dinette disappears into a queen berth. For those seeking shelter from the sunbeams just a hop, skip and a jump away, the air-conditioned belowdeck berth awaits.
For myself, that hospitable gush of cool air welcoming me through the port side access door was further amplified by an even "cooler trending" see-through glass door feature that I so admire. What's better than "a room with a view"? Heading down the teak stair treads, I was met with a classy-not-cluttered, walnut-finish cabin featuring a forward dinette, U-shaped seating and flat screen TV, all positioned next to the galley fully equipped with fridge, freezer, microwave, stainless steel sink, two-burner recessed stove and Corian countertop. Aft of the galley then led to the private head with standup shower, freshwater sink and molded-in vanity. But in all honesty, the true meaning of "Viking heritage" was revealed beyond the next white door.
Closely resembling the layout on the larger model yachts, the V-46 fortified its superior status debuting its walk-in mechanical room where batteries, 8 kW diesel generator, distribution panel and charger, water heater and other automated helm accoutrements are safeguarded from salty and corrosive outdoor surroundings. Knowing machinery won't get lambasted and maintenance will hopefully be minimal, means more hours on deck to concentrate on those underwater finds for feeding time. And speaking of "finds," let's cut to the chase and find out about its angler attributes.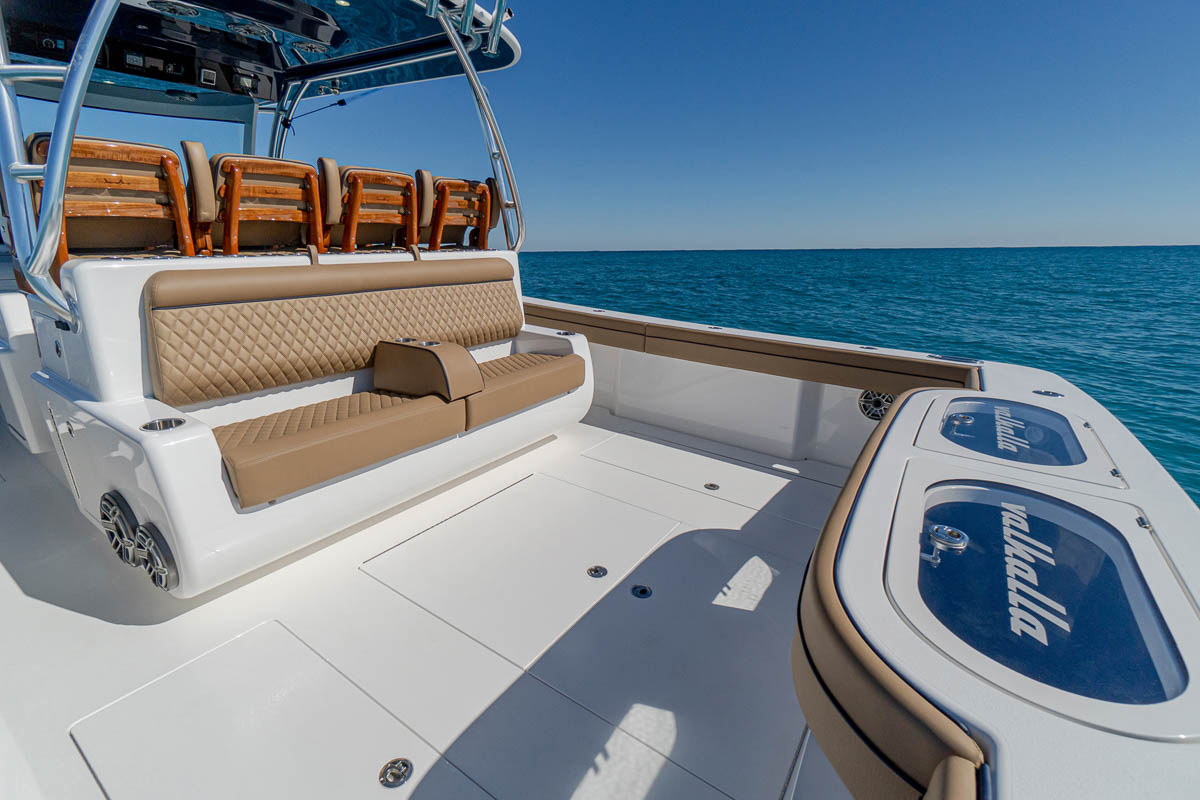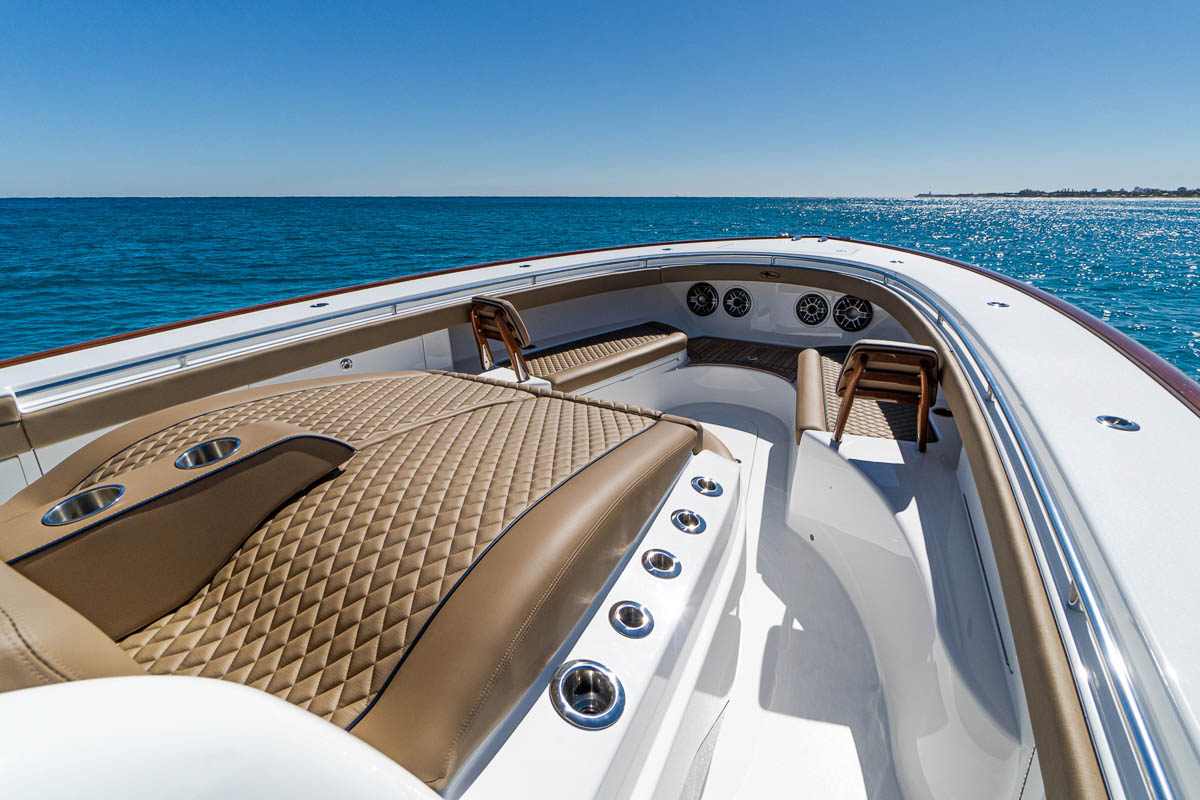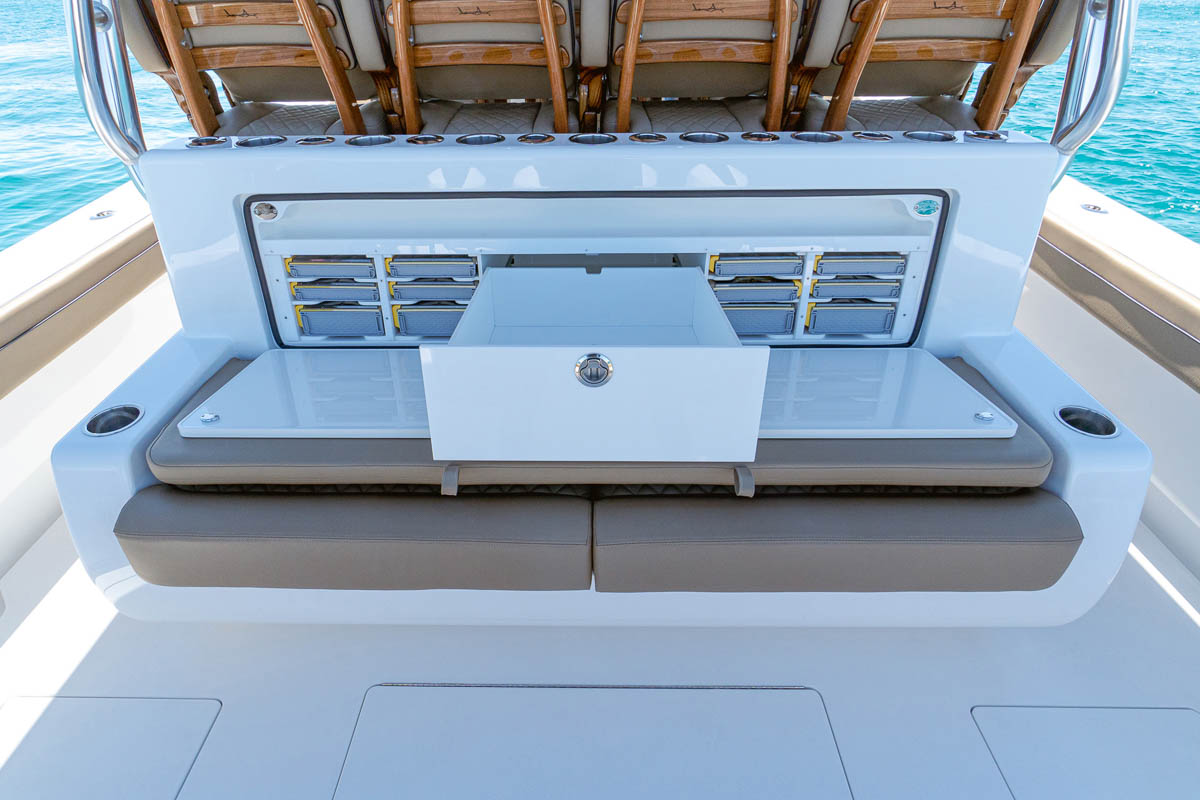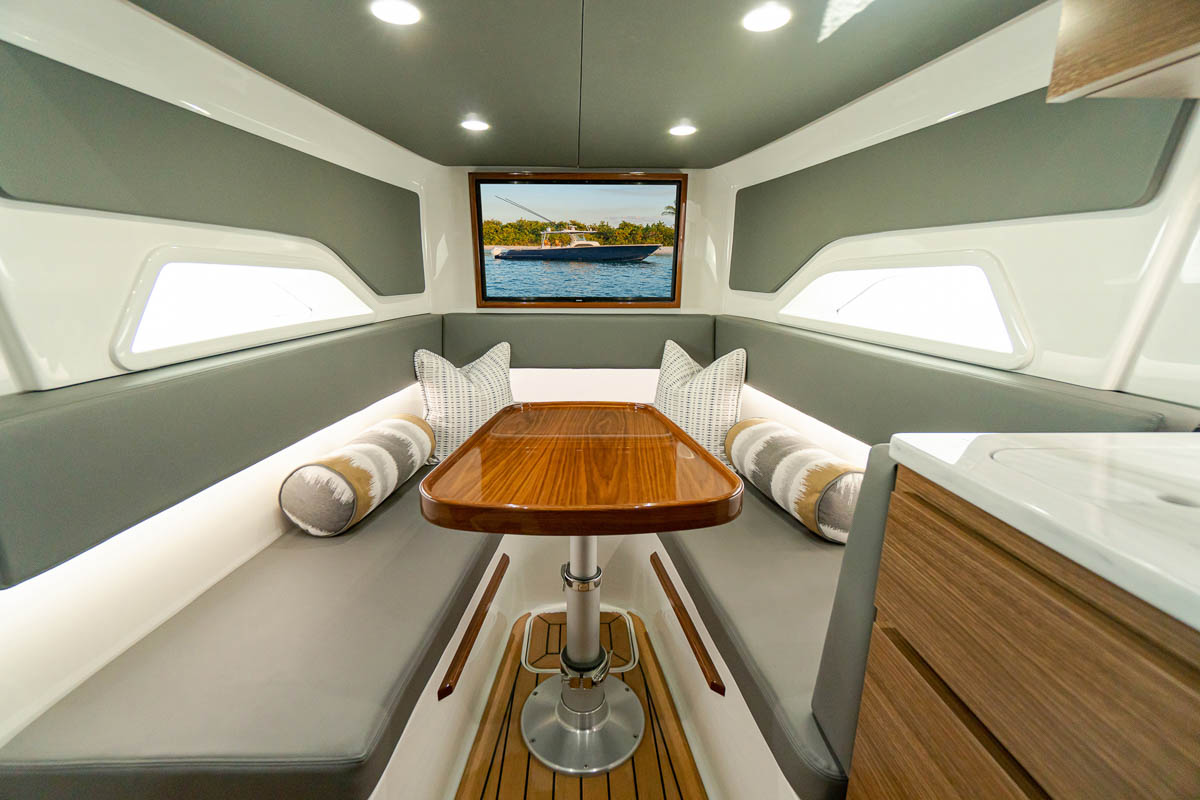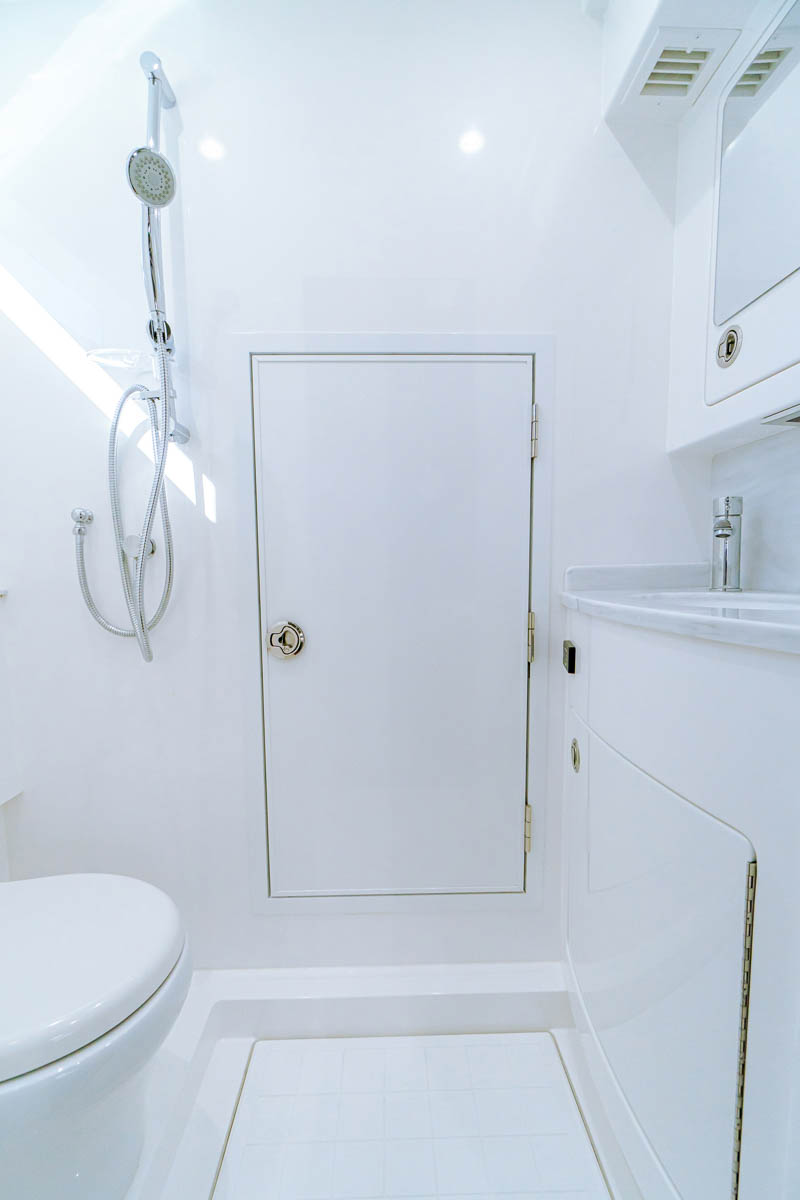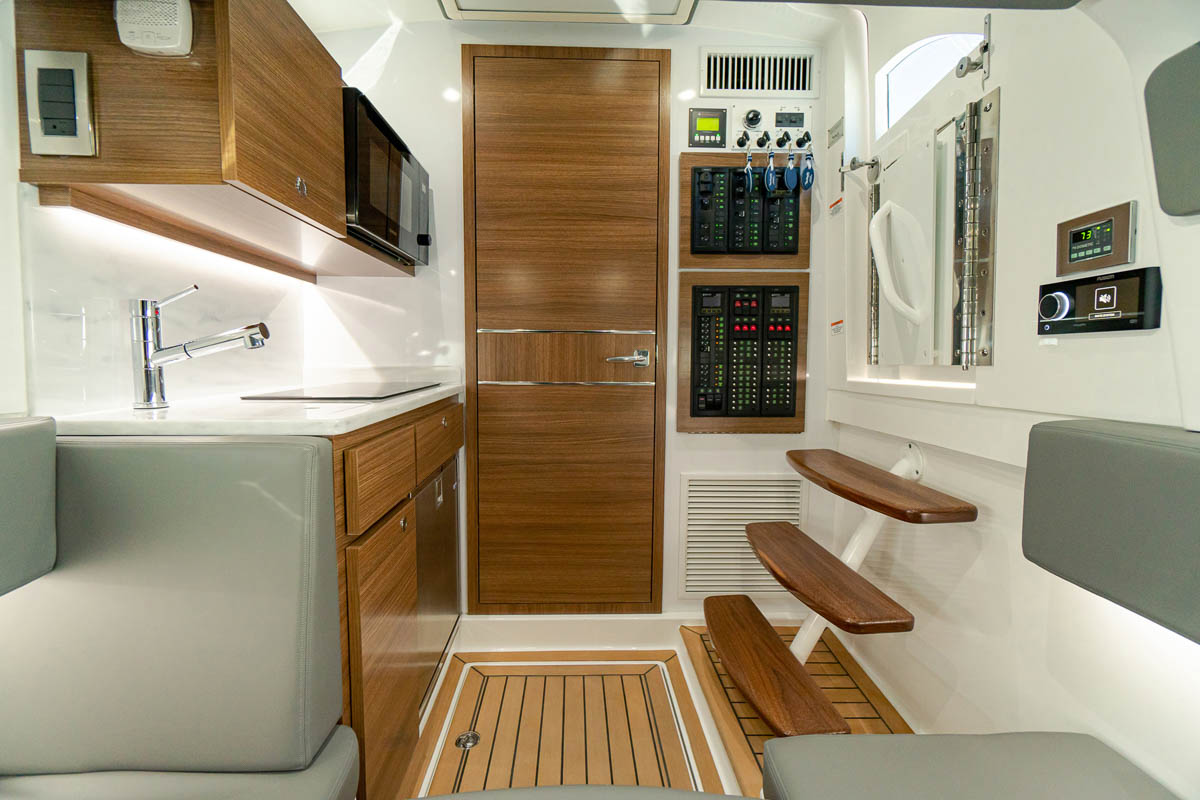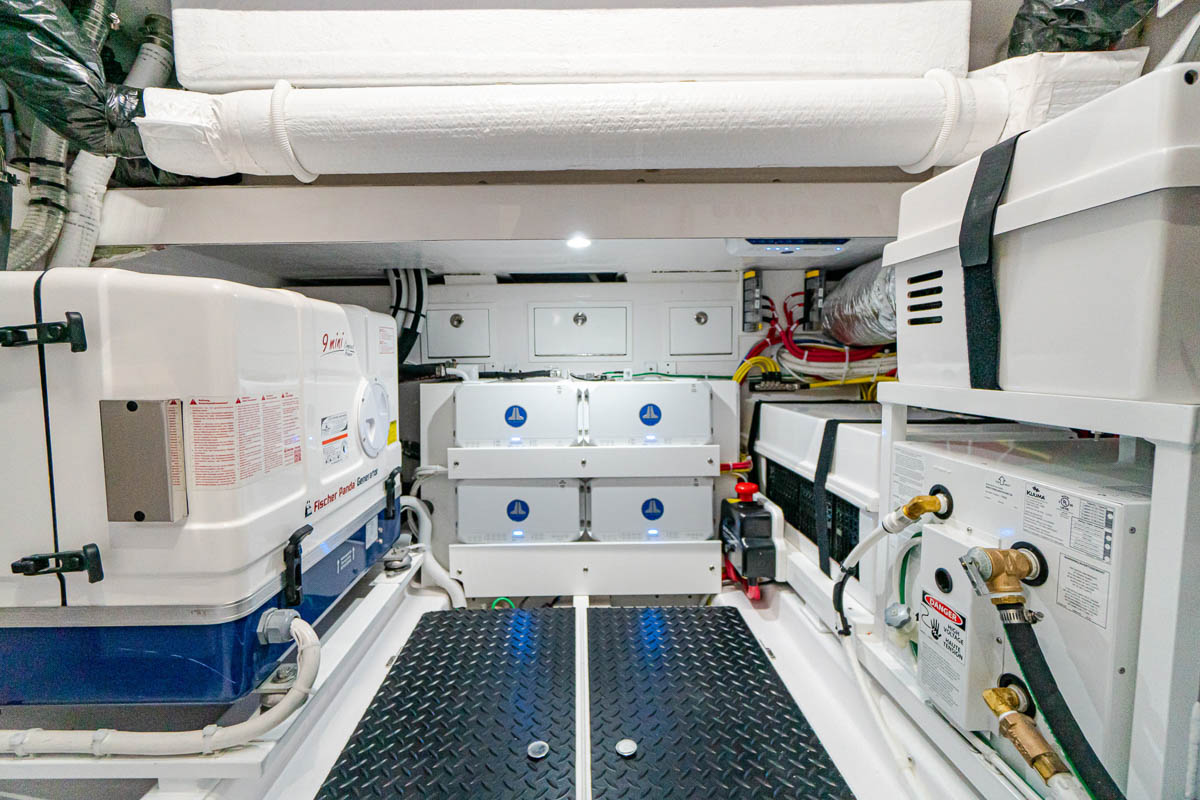 Fishing is indisputably the main mission with all four Valhalla center consoles, but the big boy V-46 is loaded to the gills guaranteeing every angler's wants and needs are met starting with the integrated overhead electronics pod above the helm, Lumitec Mirage spreader lights, overhead lights and a molded-in radar pod, as well as, endless rod holder storage on the hardtop rocket launcher, across the rear seating unit and ten more along the forward lounger. Customizable options include Gemlux outrigger bases and 22-foot Gemlux outriggers, Miya Epoch US-6 electric teaser reels and Lumitec Razor light bars. Six standard stainless-steel Gemlux rod holders line the cockpit coaming, and more can be added along the coamings forward. A Palm Beach Towers gap tower or fold-down marlin tower with removable sunshade are both additional possible enhancements.
Anchoring the transom area in the middle of the port and starboard flip-down seats are dual 54-gallon aquarium-style livewells constructed with acrylic lids and deep gutters for the pressurization of the wells. And by including two livewells, fishermen have the opportunity for dividing up different baits. Under the deck is a large designated bilge compartment and separate stall for the Seakeeper 6 (which can be swapped out  for another in-deck livewell if forgoing the gyrostabilizer). And to get an idea of how popular the Seakeeper is, Justin Healey from Viking's upper management and accounting team let me in on the tidbit of info that up to date all buyers are tired of the rock-n-roll and have opted for the install.
Deck fish box capacity is abundant if not insane with two 440-quart insulated in-deck fish boxes with dedicated macerator pumps and plumbed for overboard drainage, joined by a forward 540-quart box and two side lockers with 220-quarts. Even better is the fact that the two accompanying seven-feet-long rod lockers molded into the deck liner under the gunwales can be locked for storing all gear when necessary to step away from the vessel. Also at the bow, anglers encounter a centerline step-up platform which provides a convenient elevated position for casting moments and increased access to the anchor locker and ground tackle, furthermore the more-generous-than-the-competition beam of 13'4" is a welcome benefit during those "stacking the deck" days when more space is desired.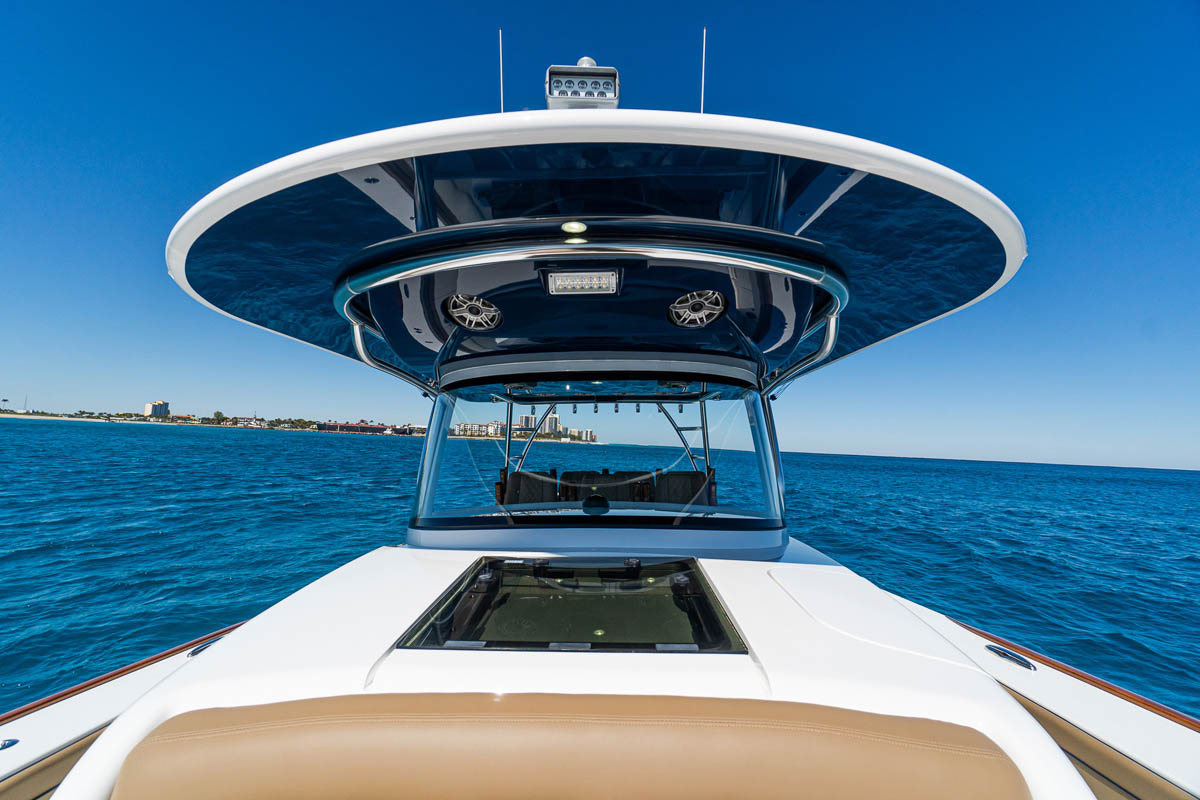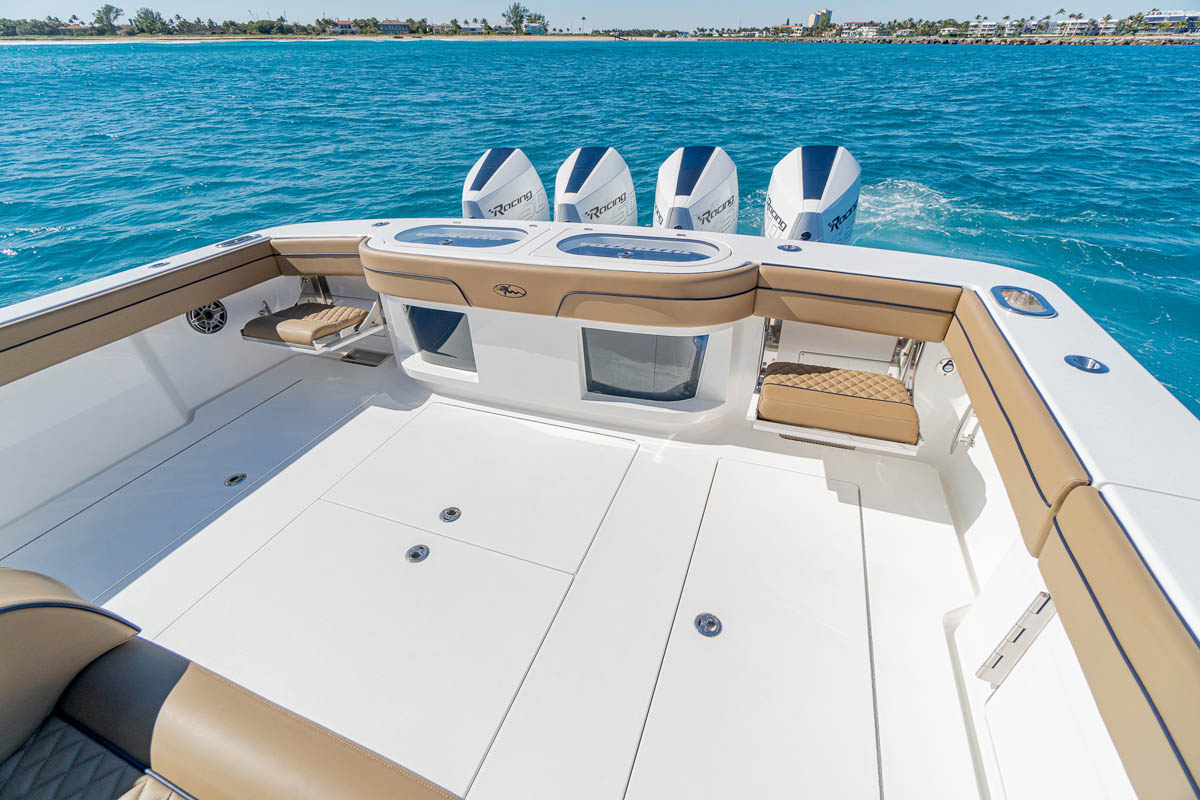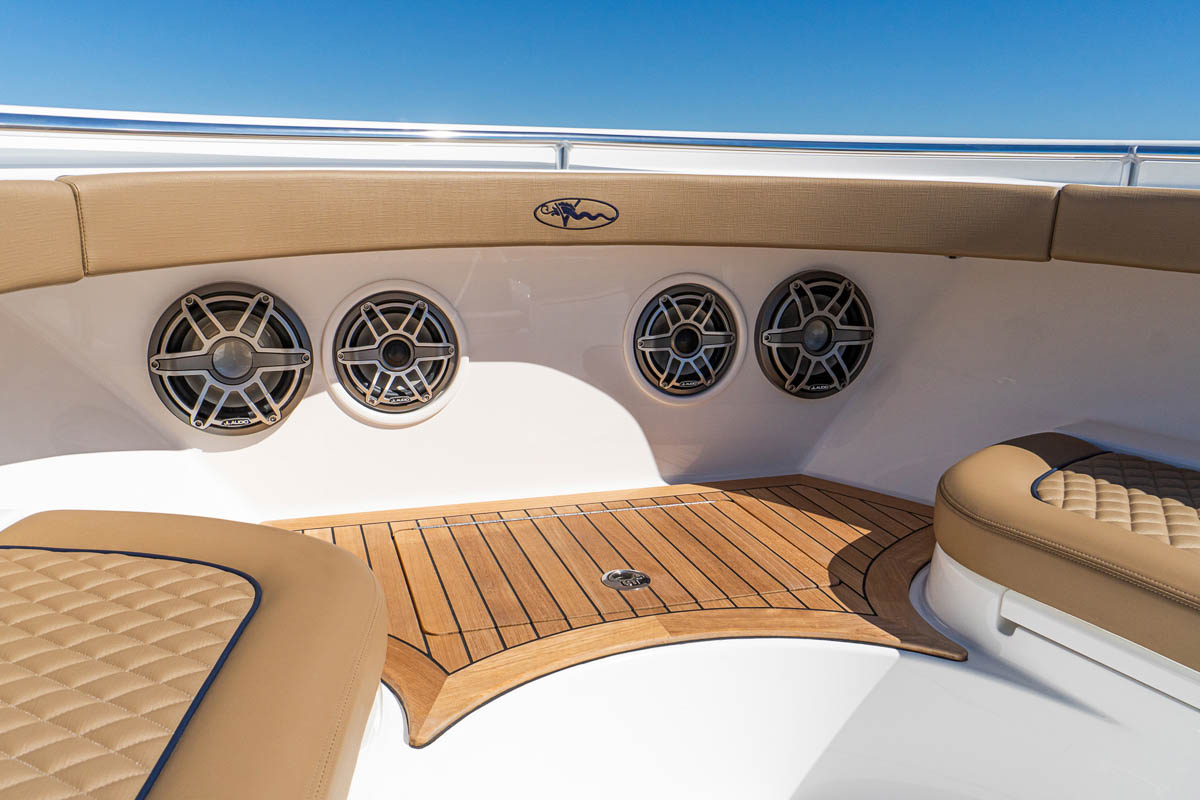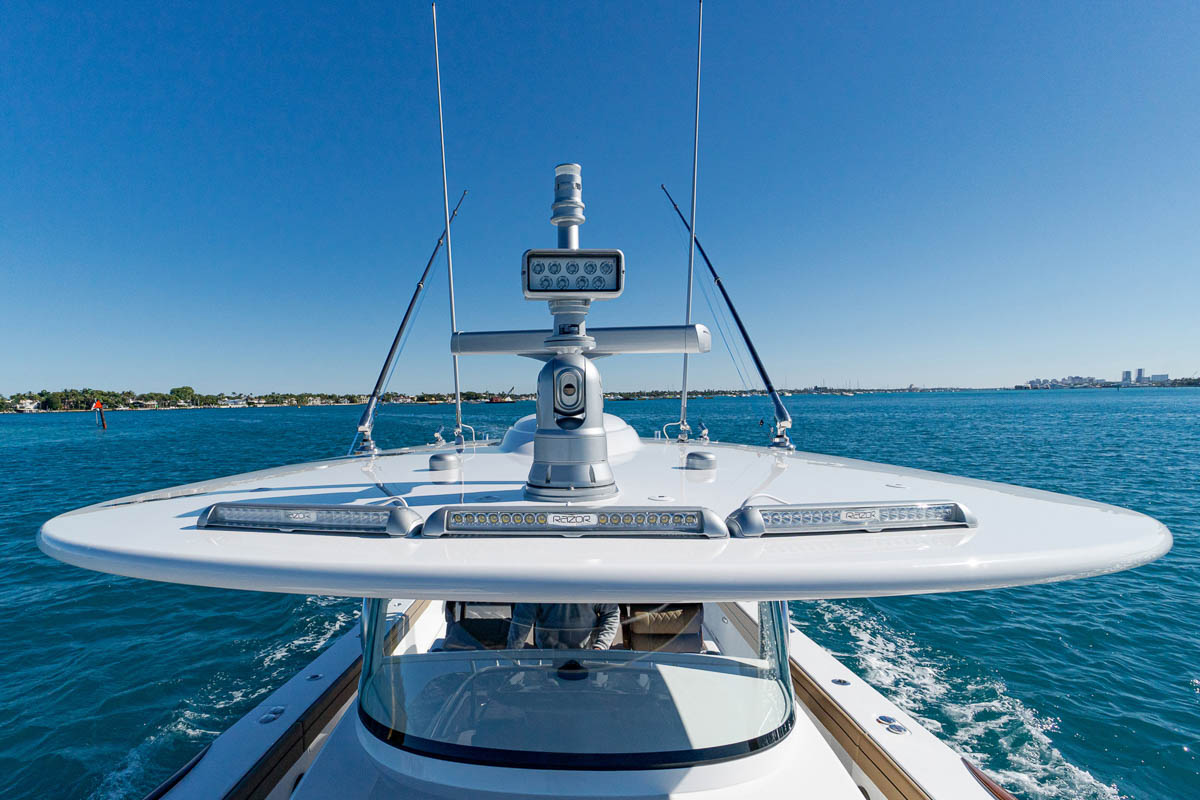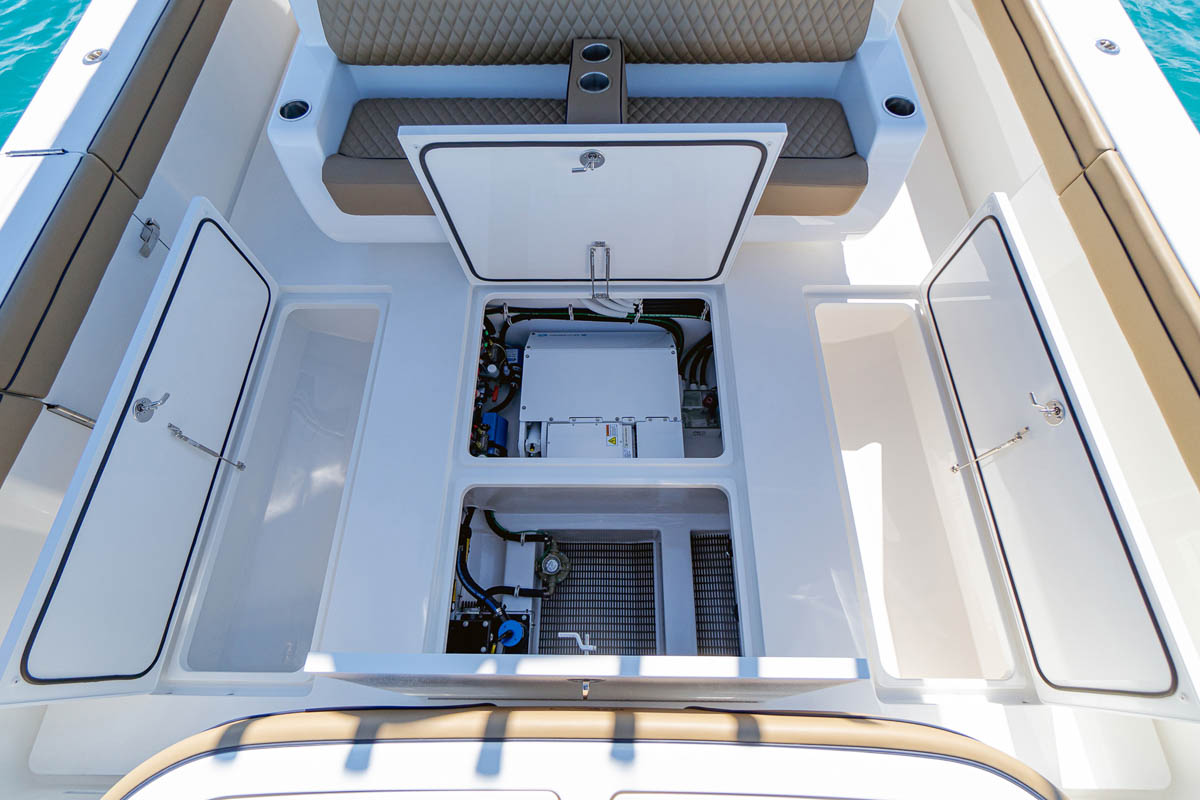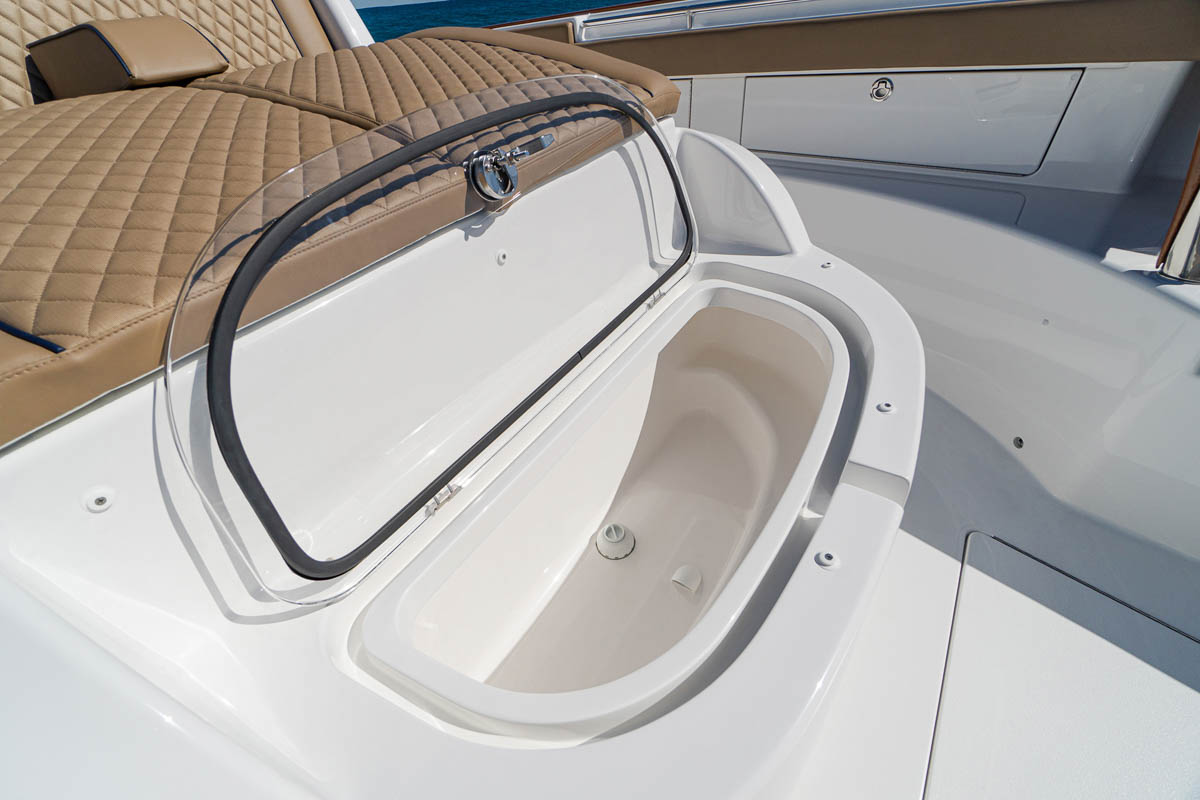 Apart from being a beastly fishing machine; also undeniable is the power this animal packs. Endowed with a Gorilla Glue-like grip and tight sports-car-esque precision maneuvering capabilities, the V-46 is engaging as hell to drive. Looking at the numbers game, the V-46 comes powered with quad Mercury V8 450Rs, Verado 400s or Yamaha 425s and will lighten your wallet by $1.2 million. According to Christopher Landry, director of communications and media, dialing-in duties doled out a zero to 20 dash in 5 seconds on route to a smooth 50 mph cruise at 5,000 rpm, before a smile-summoning WOT topper near 70 mph.
Without question, the Valhalla V-46 has lived up to its Old Norse nomenclature talked about at the start of the story. If you're a believer in the territorial-marking bedrock runestones or even just a Discovery Channel documentary disciple, then you will agree a rock should be raised in its honor;  solidifying its presence as a luxury center console, the inscription should spotlight its refined construction and splendor on the seas.
Skeptical of history? Hate TV? You saw the pictures in part one, now enjoy rare video footage  looking at the advanced technology applied from stage one CAD design to the finished mold. (Please note the DuckDuckGo search engine will not open the correct videos.) https://www.youtube.com/watch?v=ajUlLCZ_2bA  And if that's not enough, check this one out! https://www.youtube.com/watch?v=CBip7N4c8jk
Big Bad (as in good) Update:
Just minutes (and yes I mean minutes) before posting this story, it was "officially" announced that Valhalla Boatworks and Mercury Marine will offer Merc's new game-changing 7.6liter V12 600-hp Verado outboards in triple and quad configurations on the V-46. News broke at Mercury's iconic Lake X testing site even though keyboard commando clattering about the matter was at an all-time high prior to the tell-all on February 11 in St. Cloud, Florida.
Power is the party piece here! When the four-pack was put through the paces, it propelled the V-46 from zero to 20 in 4.8 seconds before a noble high-end finish near 75 mph. Hull No. 2 will shine brightly bearing the 2,400 hunk of horsepower at the Palm Beach International Boat Show for the world to see on March 25-28. Upcoming coverage and a separate feature on the ground-breaker will follow.