Story and photos by DinaRella / Additional photos by Florida Powerboat Club, Stephen Miles Design & M. Boyle
Let's be honest, technically a poker run is a boat show, the only exception is everyone's there not for the show but to show off their go-fast goods and glitterati of guests along for the ride. This winter of 2021, bon vivants in Key Largo were treated to a two-for-one with boats, babes and even a Sunday explosion of unbelievable baller-mobiles at Gilbert's Resort and Tiki Bar!
When I bumped into Stu Jones of the Florida Powerboat Club (FPC) under the Mystic tent at the Lauderdale show last November, the news-blast engulfing headlines was the Miami show had been 86'd compliments of the draconian rona-1984. From that Thursday morning on, thanks to his iconic cult-like following and rock-solid rep in the boating industry whether he wanted the job or not, suddenly running the 26th Annual FPC Miami Boat Show Poker Run was ramped up to running the whole high-performance Pow-wow and "The Stu Show" was born.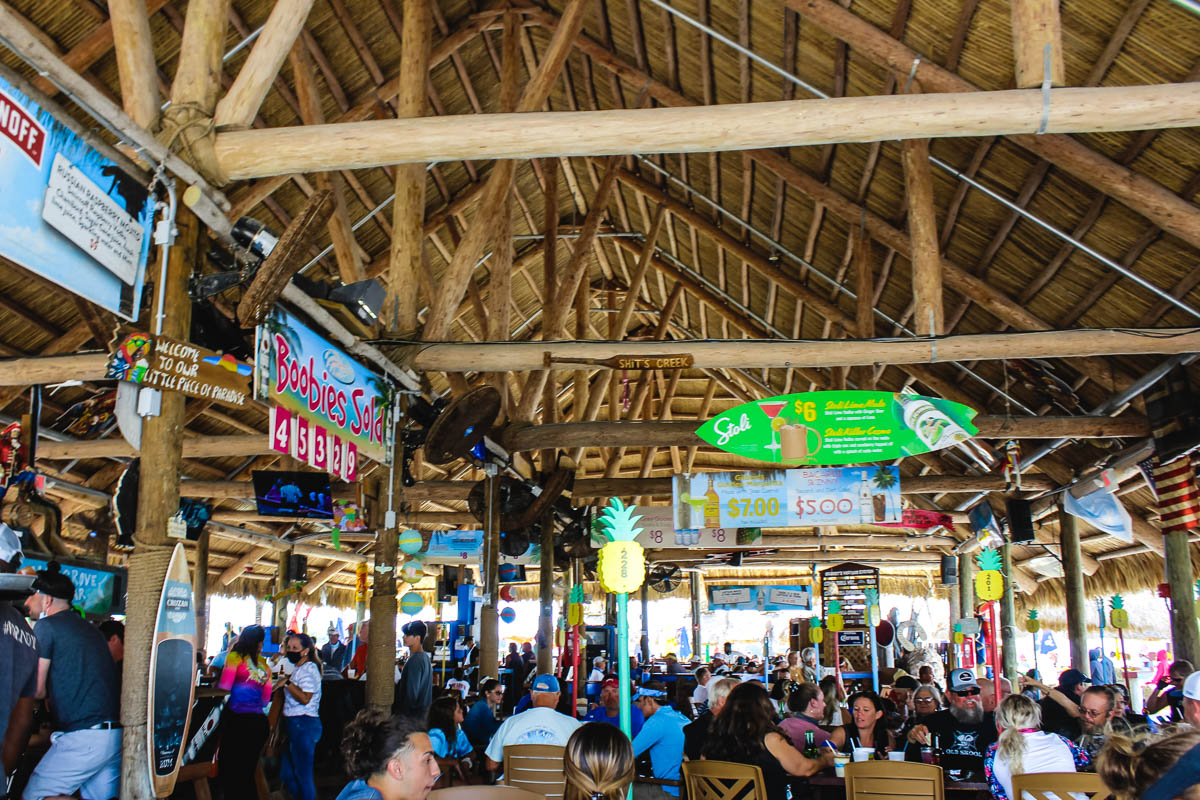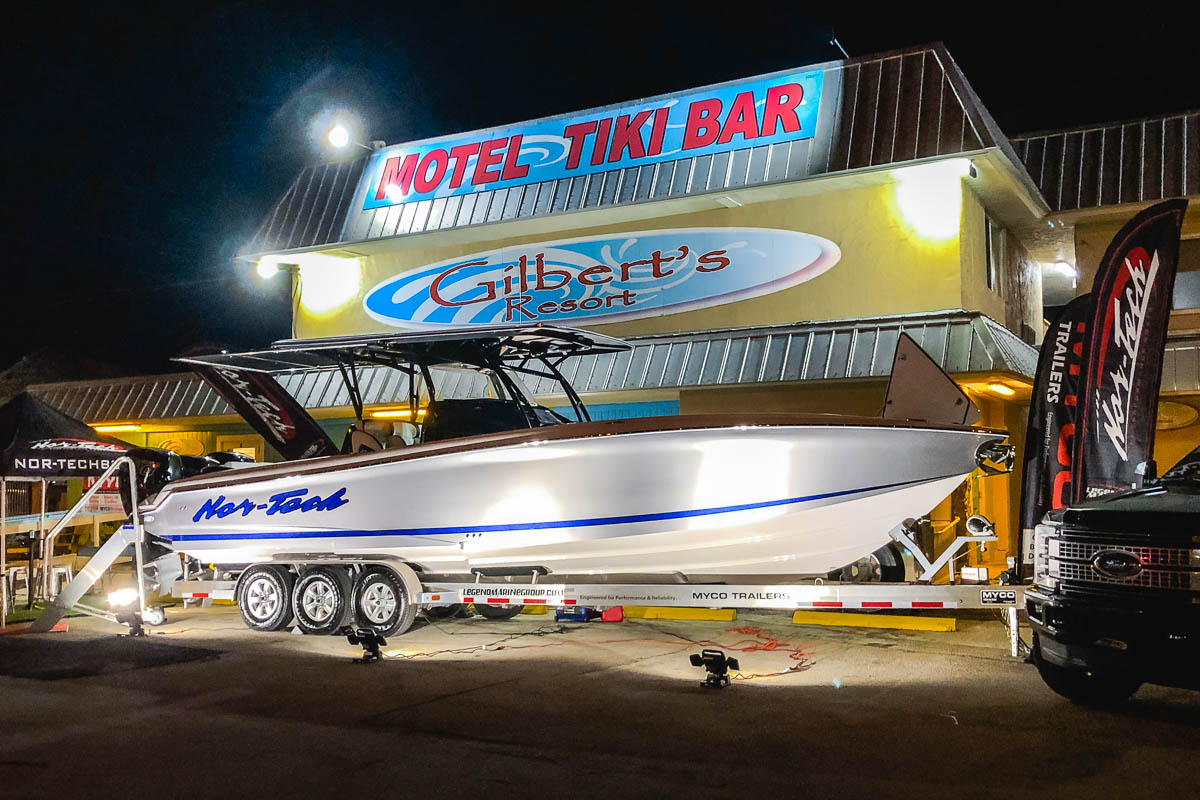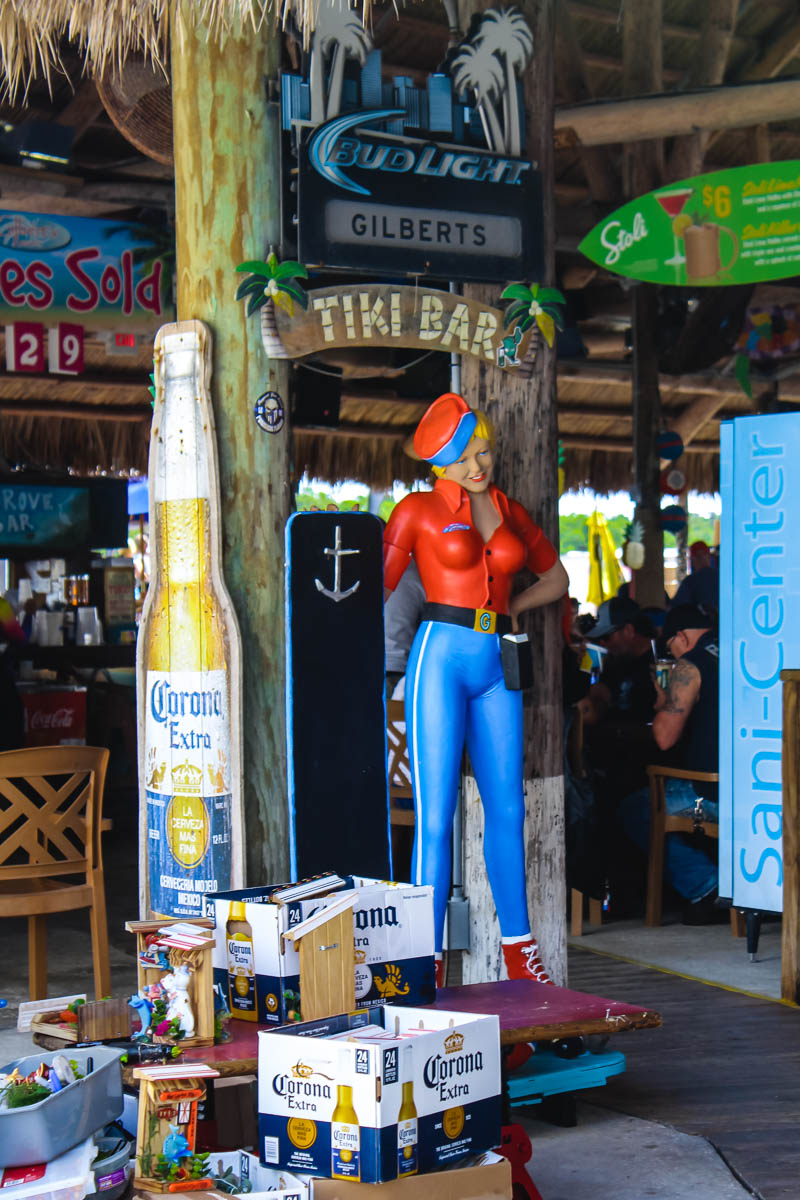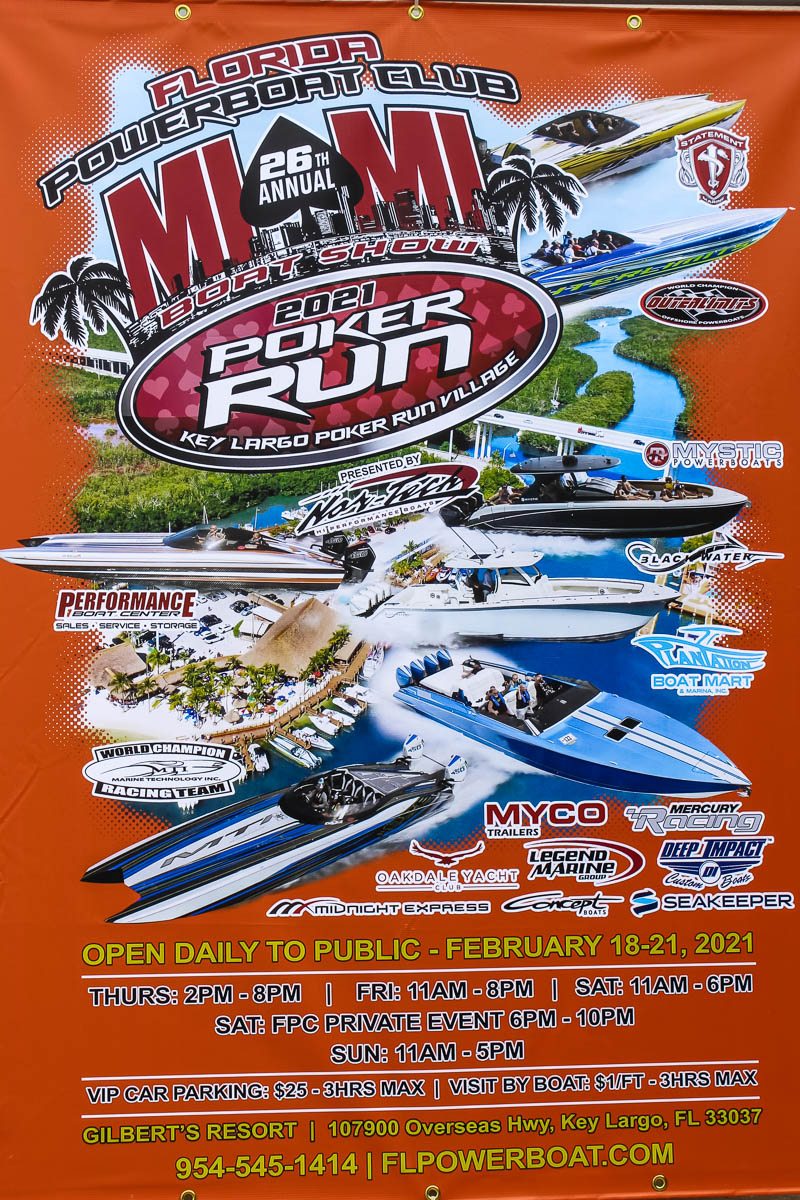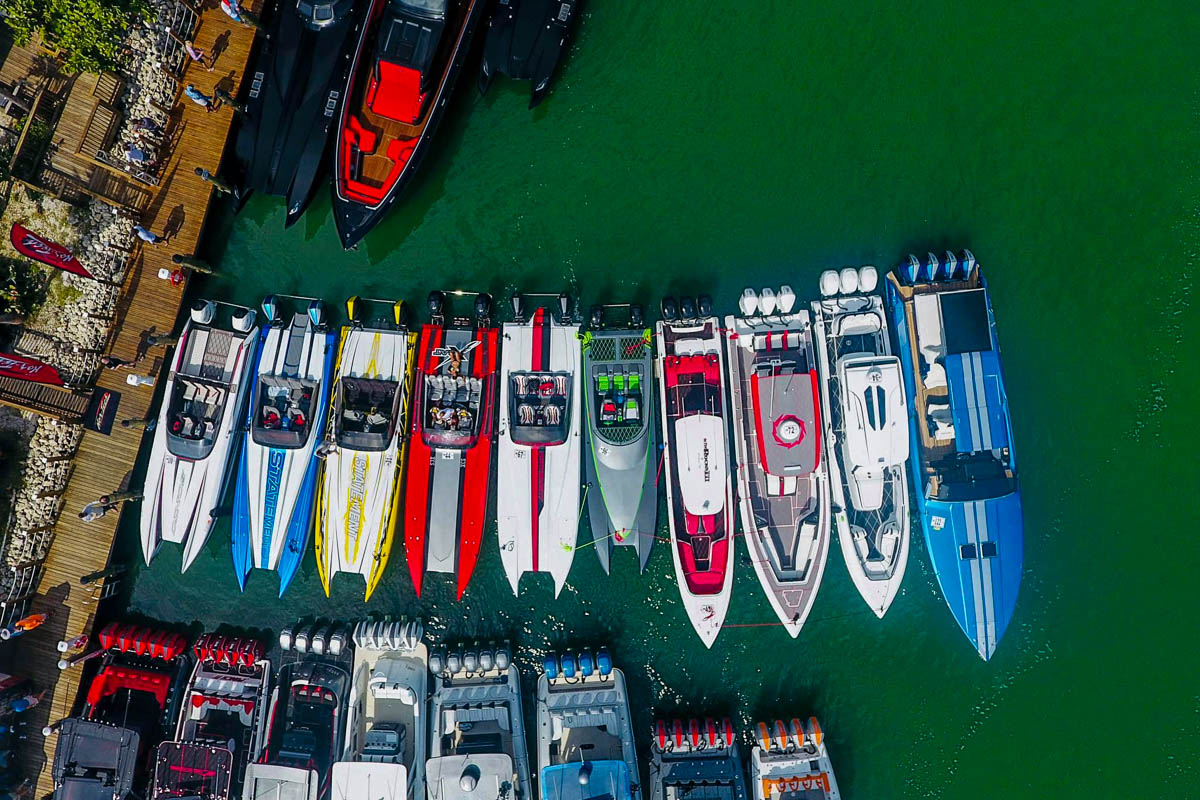 Fast forward a few months to the weekend of February 18. While America sat paralyzed under a sheet of icy snow and sans-electricity suffering Texans tucked themselves under their Giza Dream sheets to defeat the deep freeze, the victorious vacation seekers not plagued by polar vortex cancellations from the pseudo global warming farce, plowed their way out and high-tailed it down to sun-drenched South Florida where the happy-to-be-alive vibes flowed.
Stu and his crew stepped up to the plate packing the on-land exhibit village with on-hand sponsors such as: Latham Marine, Legend Marine, Livorsi Marine, MYCO Trailers, Neptune Boat Lifts, Plantation Boat Mart, SLT Collection and Total Dollar Insurance. Those and other industry notables were more than happy to be under the tents promoting their 2021 products and services while assisting current clients and establishing new connections.
But steps away along the promenade and under the thatched-roof, island-inspired tiki bar is where the party started come Thursday afternoon... when the onslaught of exotic, brag-worthy toys that blasted down from Miami pulled in on the poker run, plastering their powerhouses side-by-side by brand affiliation. Their spotlight time was short-lived though because weekend dockage was reserved for demos as Gilbert's geared up to flex its mini-boat show muscle.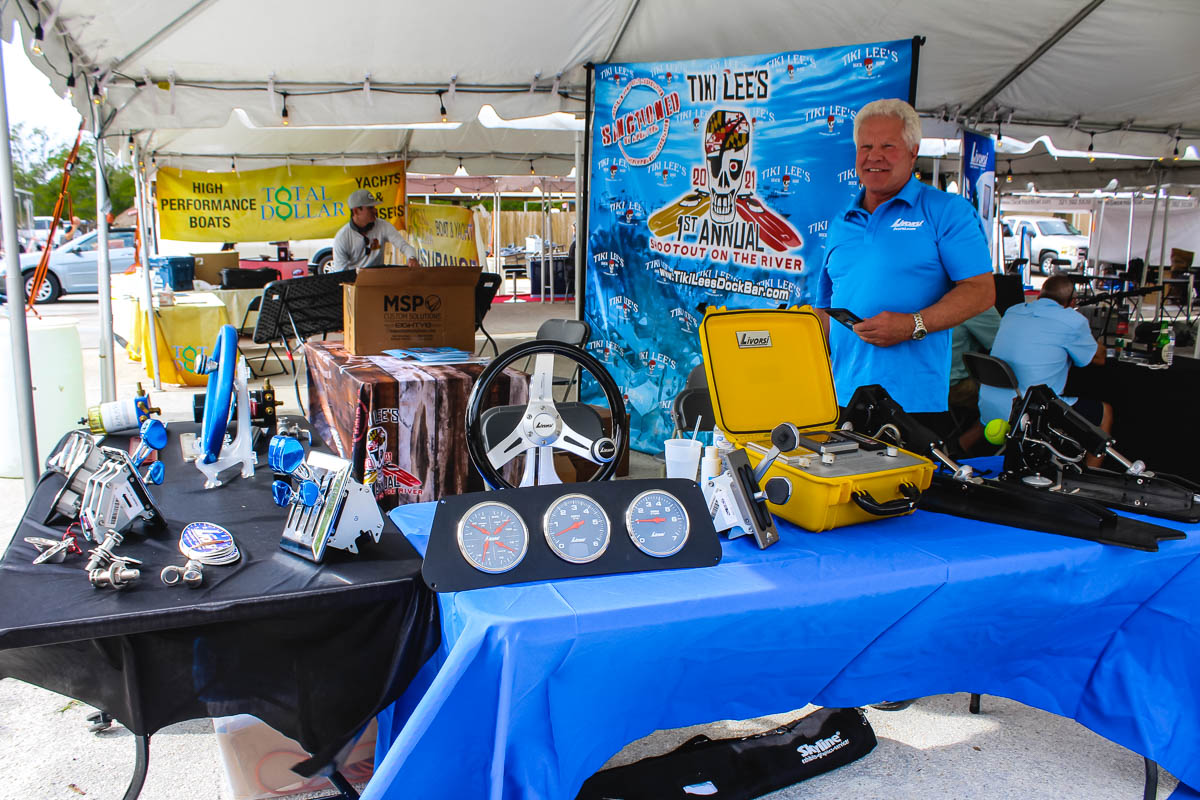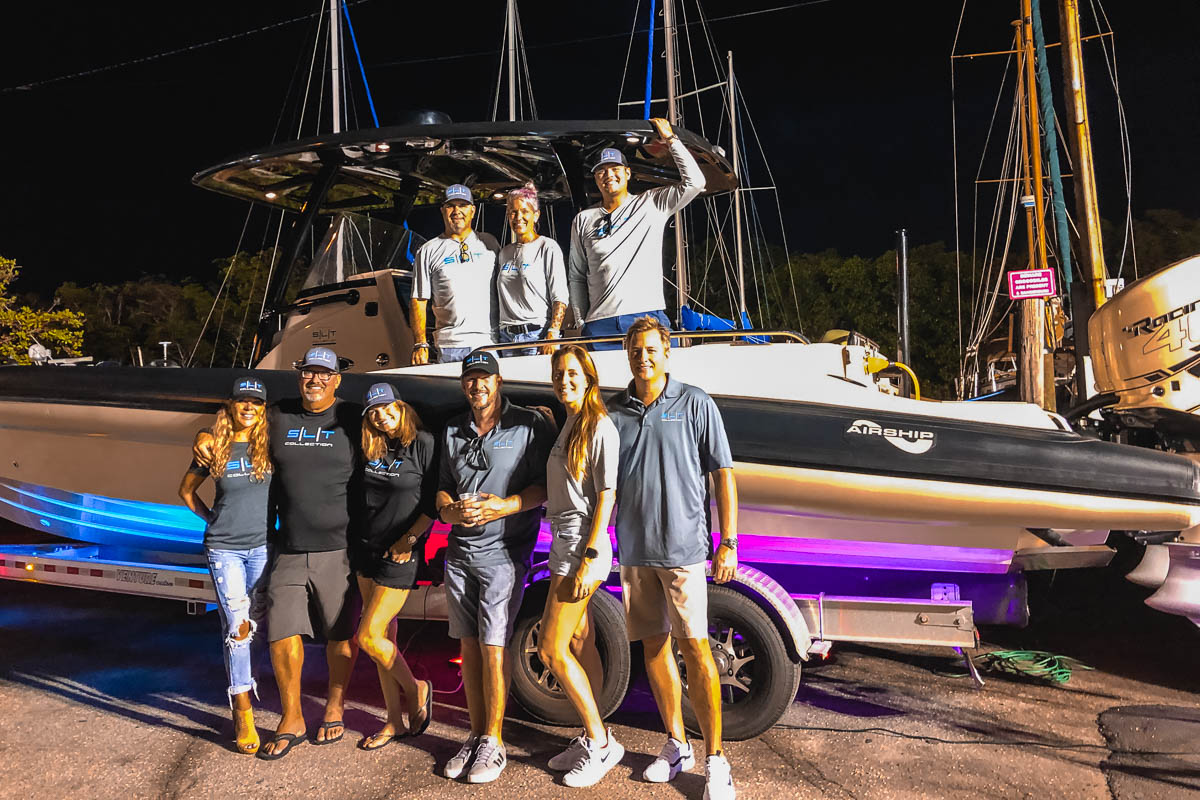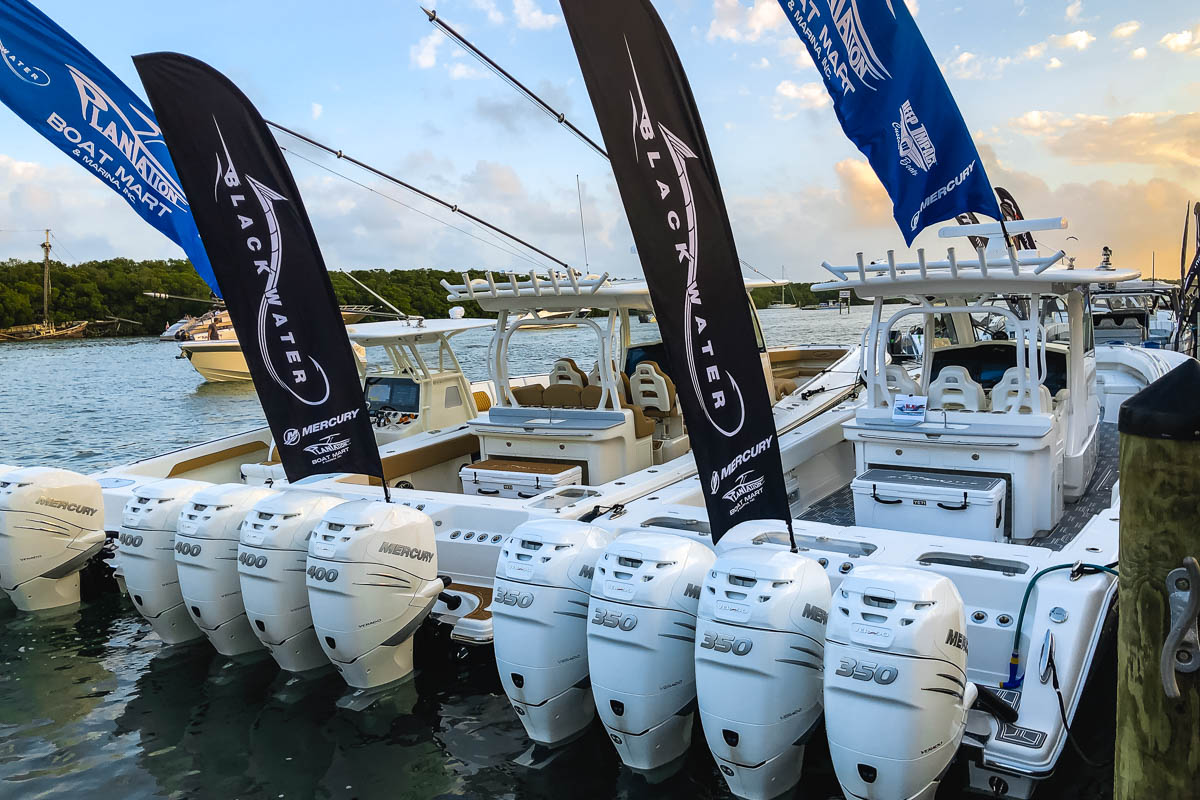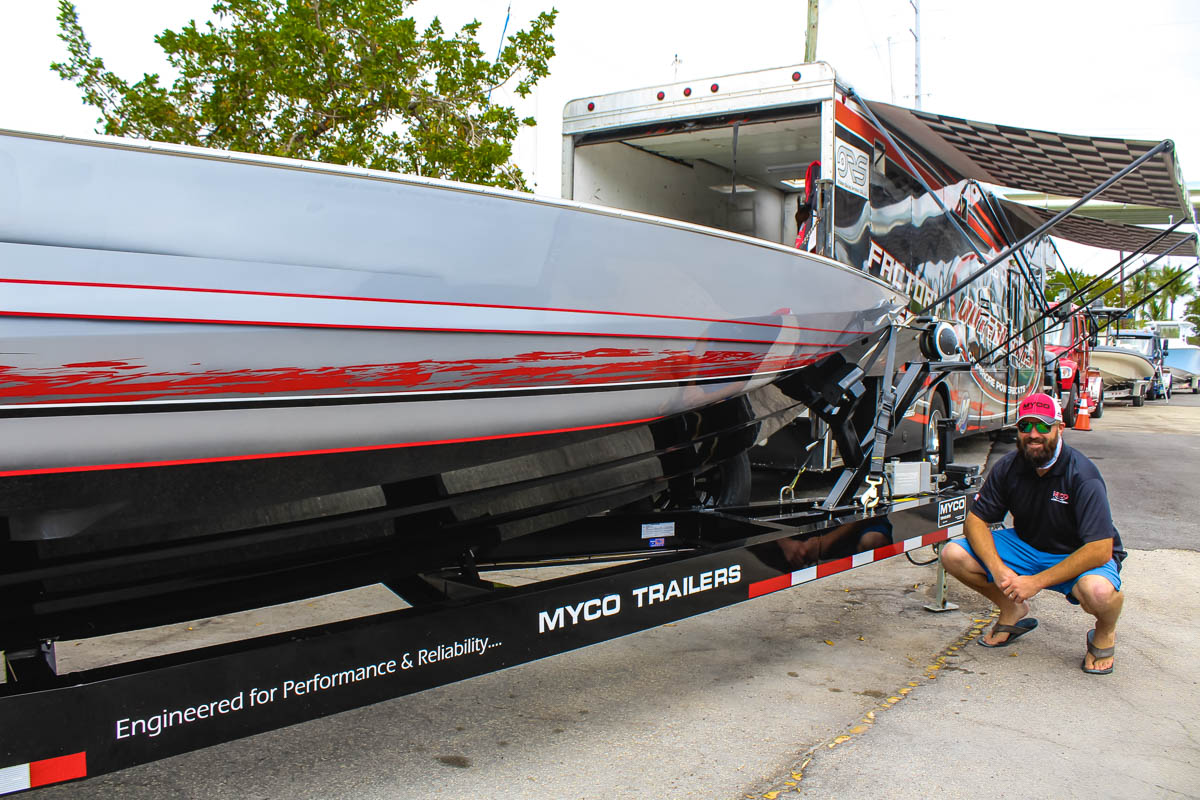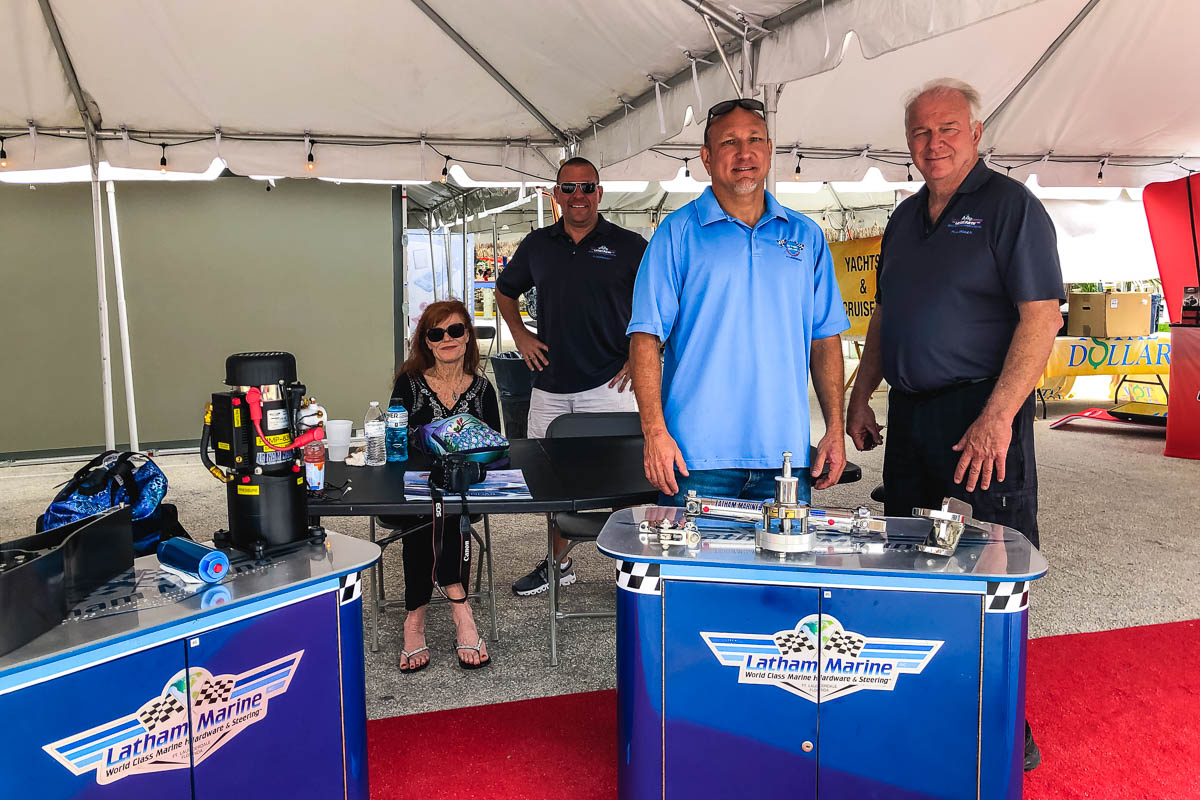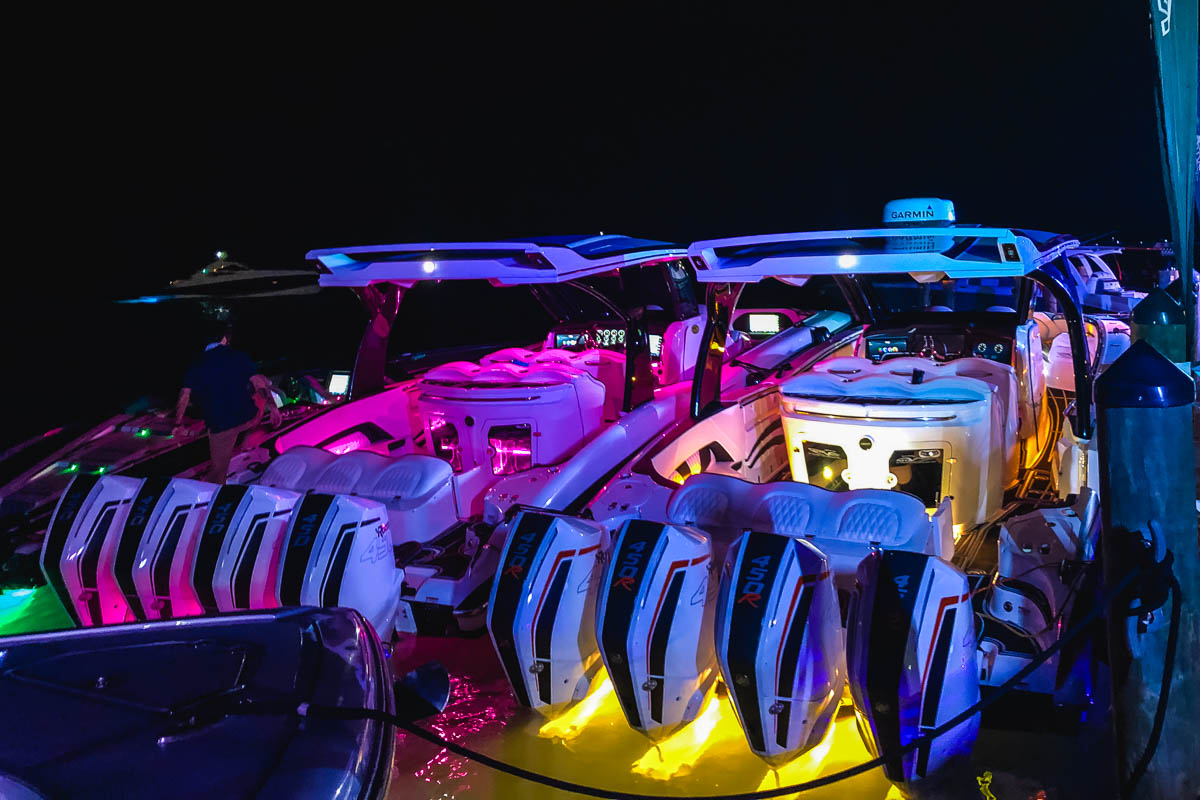 The collection of in-demand brands on display treating perspective purchasers to a test blast around the cays included: BlackWater Boats, Concept, Fountain, MTI, Mystic, Nor-Tech and Outerlimits, as well as Performance Boat Center's Cigarette, Sunsation and Wright Performance line-up. Apparently the center consoles, cats and V-bottoms on the frontline performed well enticing interested aficionados because it was confirmed more than a few buyers left Gilbert's as future owners. Nice!
As for the FPC members whose boats were benevolently booted from Gilbert's, those bad-boys were seen (and some heard) eating up coastline throughout the Keys. A bunch linked up with Keys Island Runners for the group's Islamorada sandbar raft-up party, while others zipped down to Marathon for a meal. Meanwhile, believe it or not, waking up to a hefty Saturday breeze and dip down to the mid-70 degree mark (which is actually cold for some), plenty of speedsters stayed stationary at the resort docks while their entourages leisurely ubered around town consuming the best crustaceans and libations that the Keys are famous for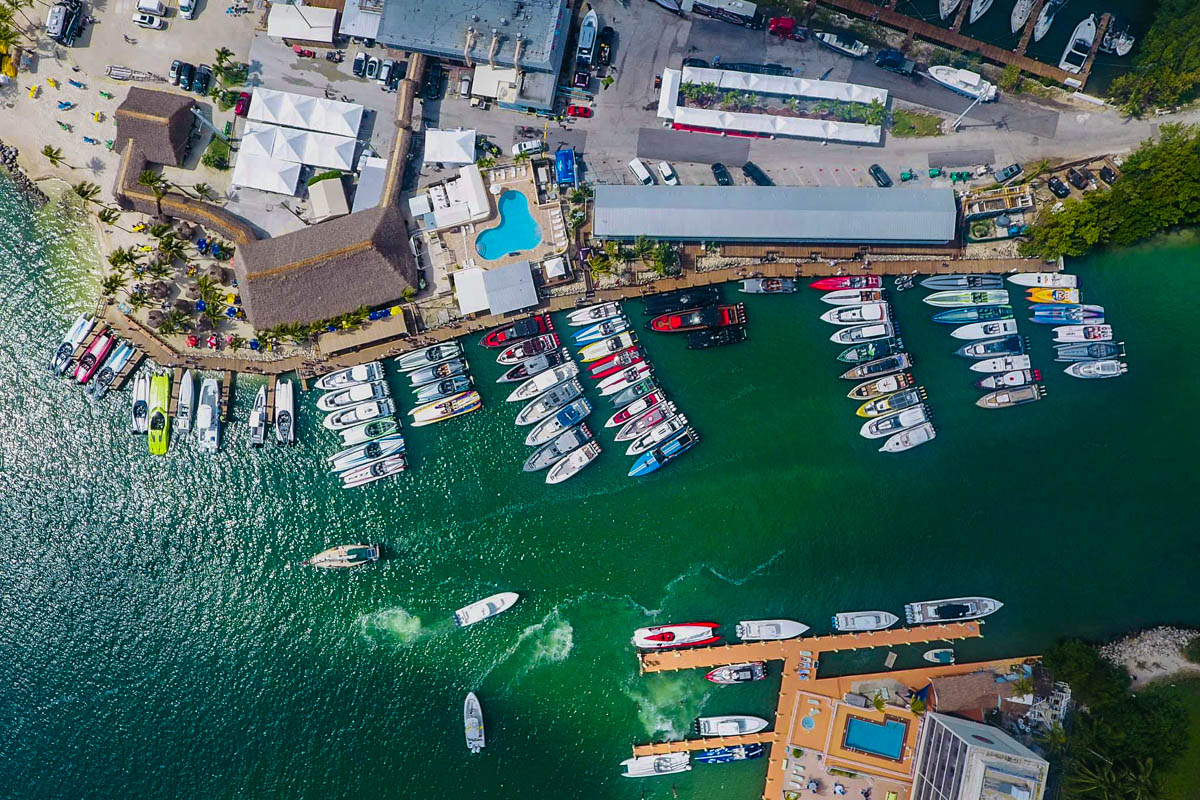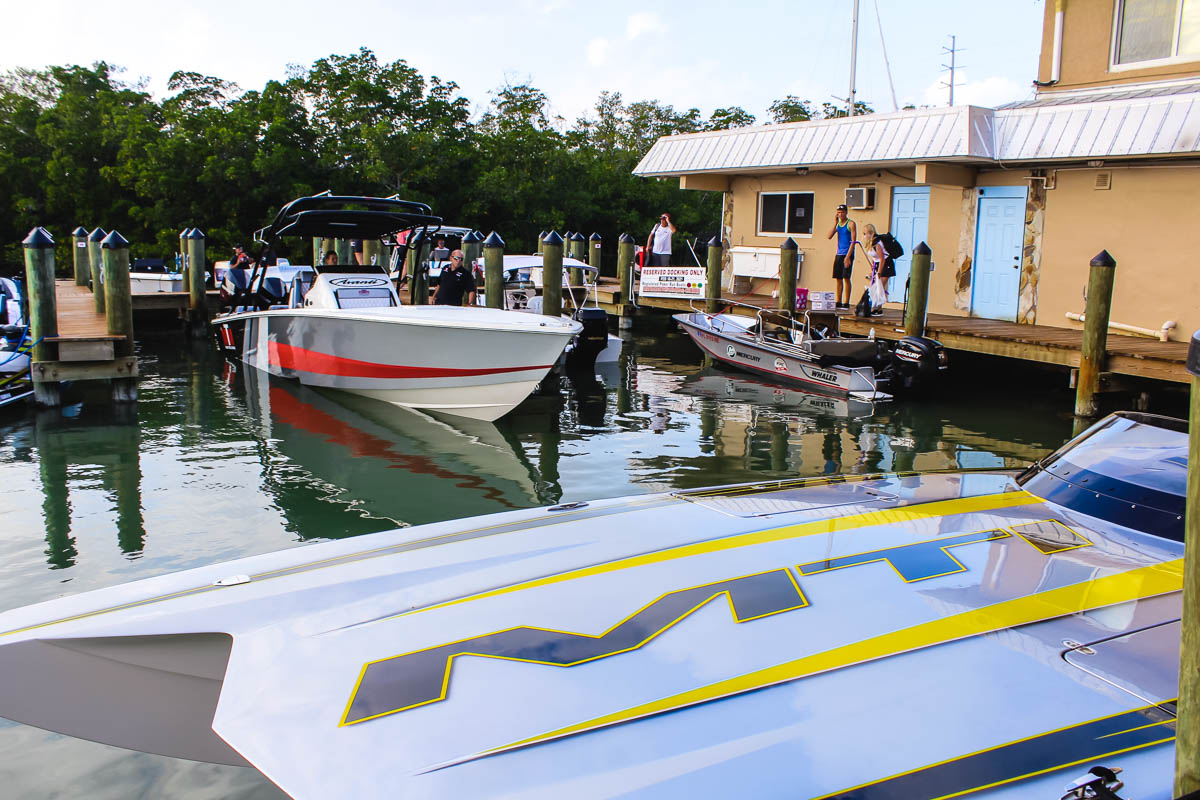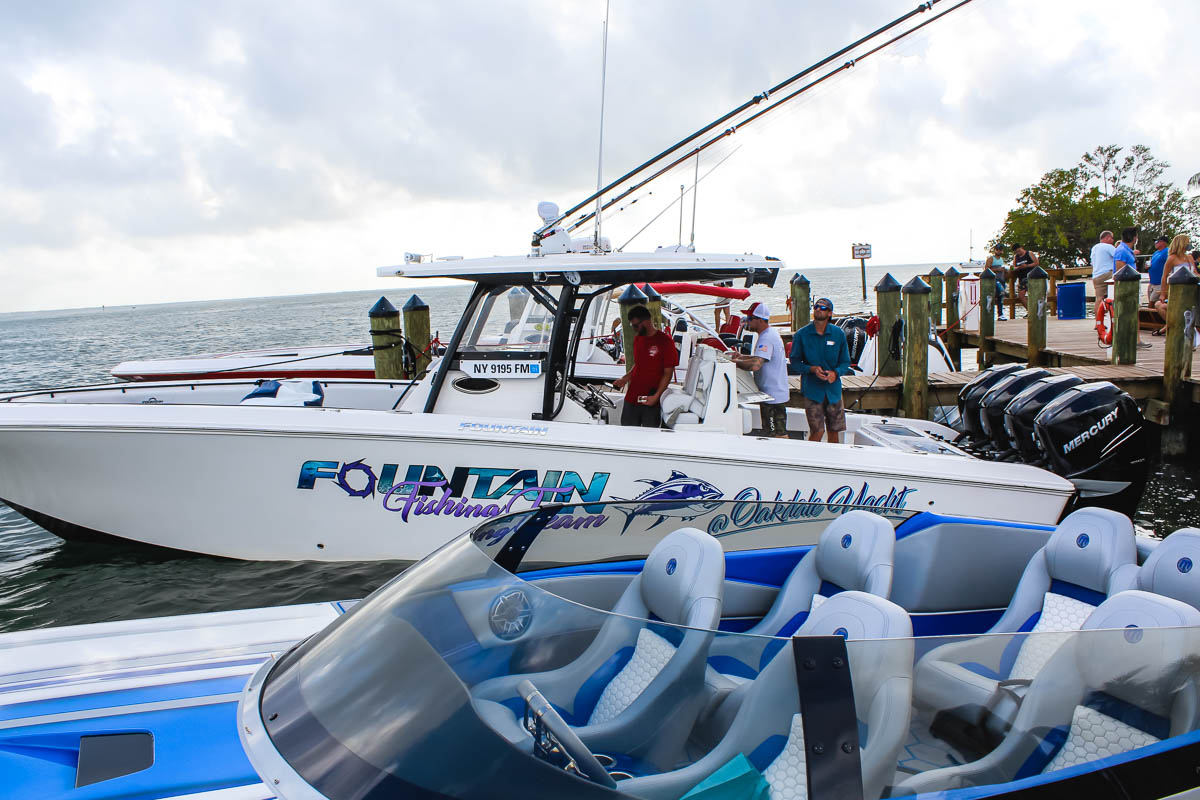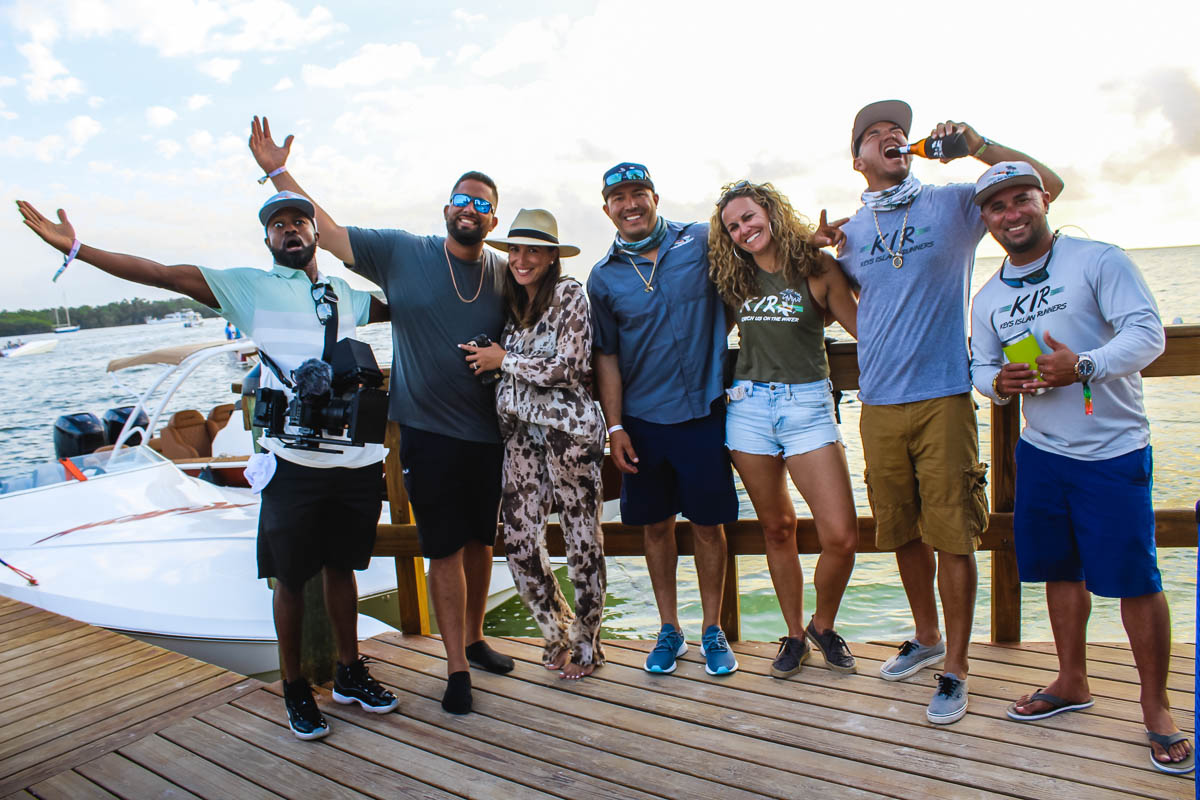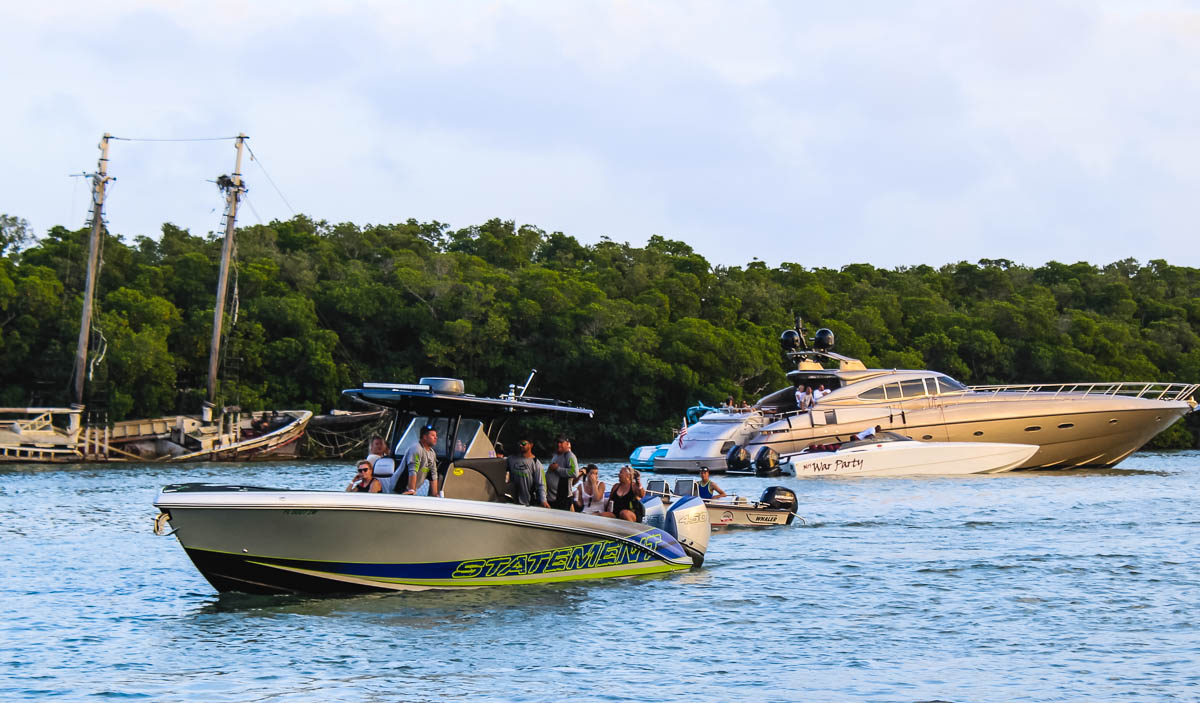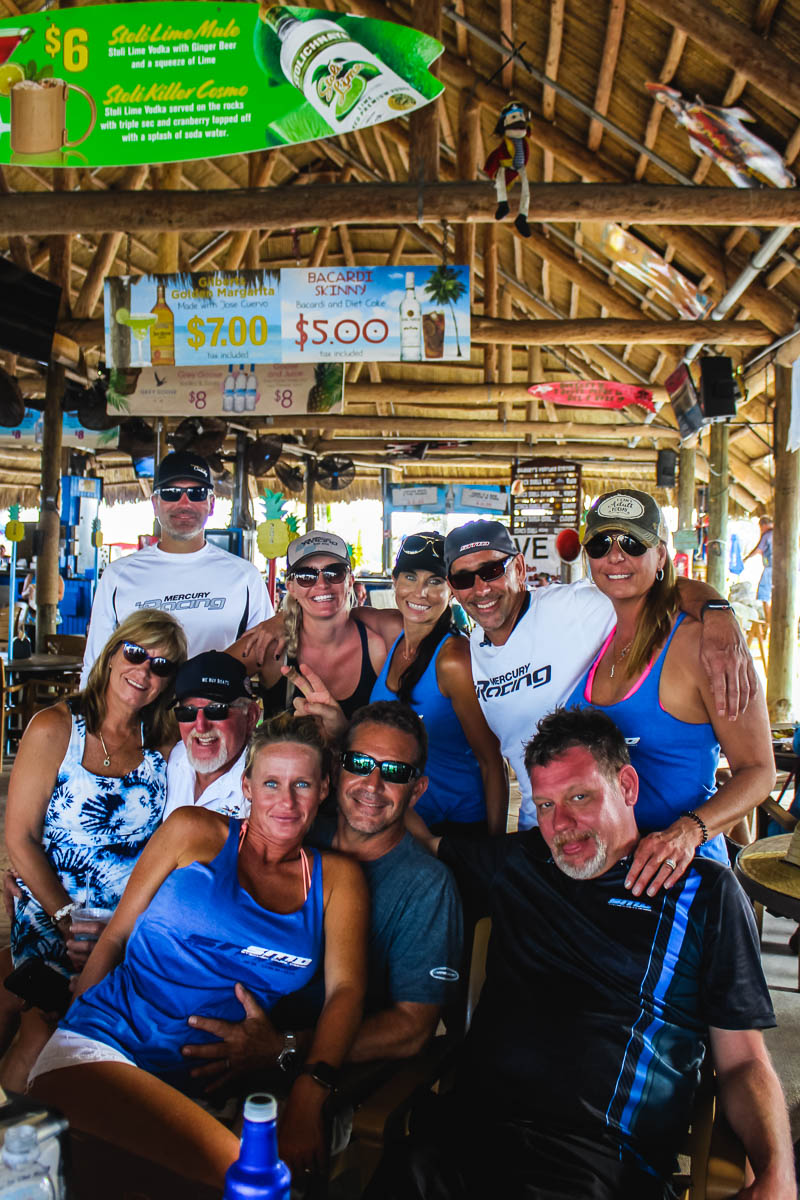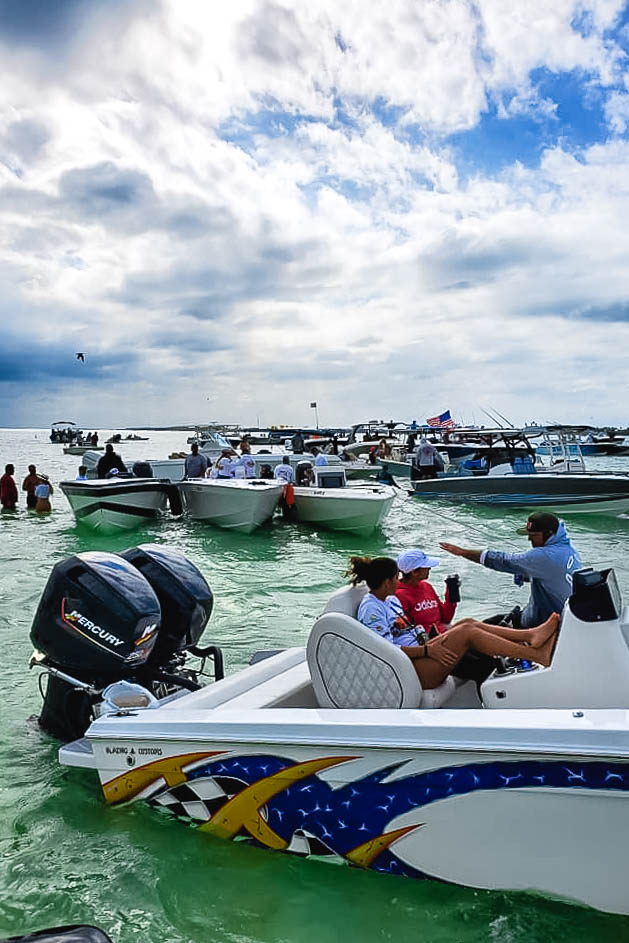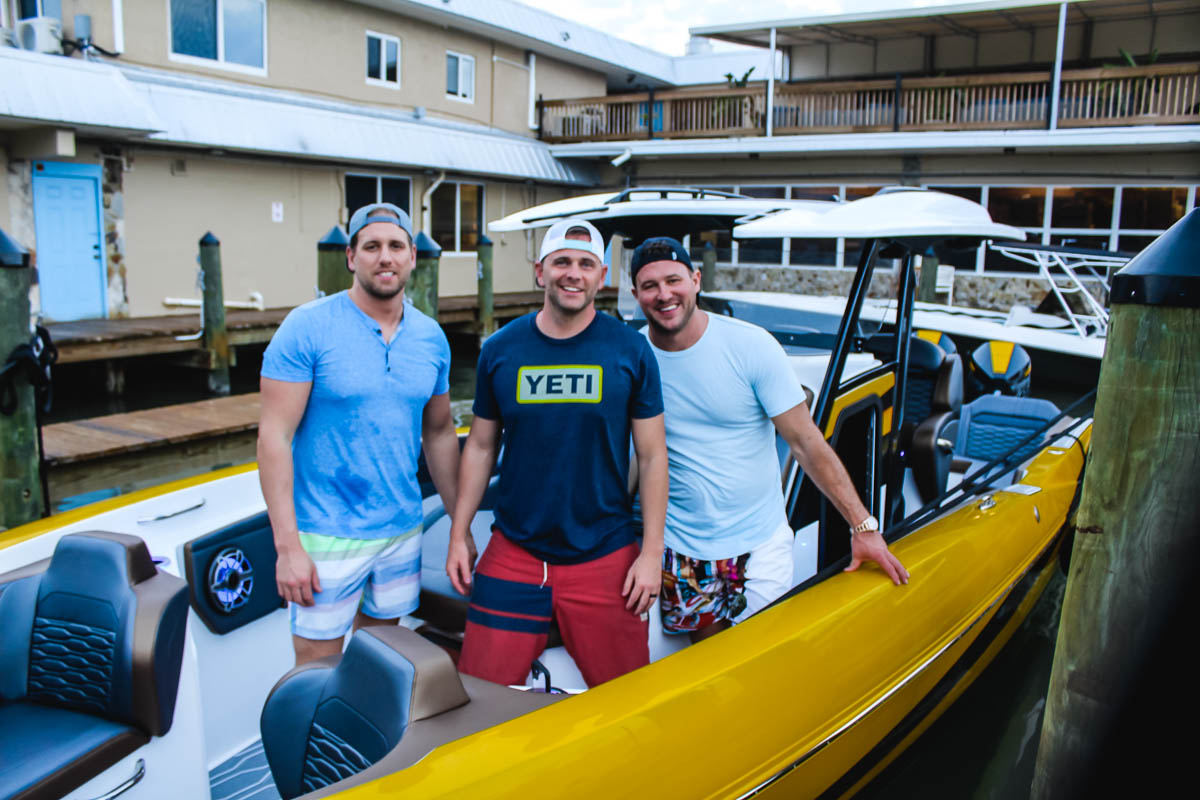 New Cargo in Key Largo
Of the 100-plus fun-run wonders churning up the waterways, the newest cargo debuting in Key Largo happened to be Nor-Tech's new beast, the 500 Sport luxury center console, and the latest bombastic Outerlimits V-bottom SL 52. The first is special because it pays homage to Nor-Tech's 30-year anniversary. Hull No.1 of the 500 Sport belongs to Jesse Neumann of Minnesota and arrived fresh out of beautification from Stephen Miles Design (SMD). Rigged with a five-pack of Merc Racing 450Rs, when gunning it wide-open through the mangroves and into awaiting wakes, the smooth-operating 50-footer's dramatic lines and sexy styling cues stand out like a shark in attack mode moving in on you as it hammers along.
The blue and white delight is not the only Nor-Tech getting prettied-up out in Owensboro, SMD will also be working its color magic on the second and third 500 Sport models. Hull No. 2 will make its way to Matt and Lori Schultz, and the third heads northbound to a first-time Nor-Techer out of Canada. Marvin Dufner of Midwest Boat Center is the man to take a bow for initiating the 500 Sport buying boom, for it is he that ordered and swiftly sold the first two. Brand loyalty is beyond extraordinary with Nor-Tech as demand continues to grow; the latest deposit to be handed over was for hull No. 10, and of the buyers, nine are stepping out of existing 450 Sport center consoles.
The next water wild child... made my weekend complete, enough said! I'll say it again but this time in italics because Enough Said is the name (AP style dictates italicizing titles) of the recently dipped Outerlimits SL 52 that I'd been waiting a while to see for strictly personal reasons of course... I love lime green and to pair it with silver was a fab combo. Kudos again goes out to the Kentucky crew at SMD who made the stand-up V-bottom look like a vision out of high-performance heaven.
Taking possession of the 140-mph go-fast gem with color-matched Mercury Racing 1350/1100 engines and no rub rails was Wisconsin native and well-known poker runner Don Verkuylen. Yes this is the same Don that owns the Super Veloce G7, Lamborghini-inspired 52-foot MTI catamaran. As for Enough Said, it was finished on Monday of the same week, and delivered to Grove Harbour Marina in Miami promptly before poker runners pulled out to play; and play it did, spanking the fleet flirting near 128 mph. As much as Don seems to gravitate toward green go-fast boats, he clearly likes to also operate Outerlimits Powerboats having done prior seat-time in a 39 Quattro and 43 Legacy.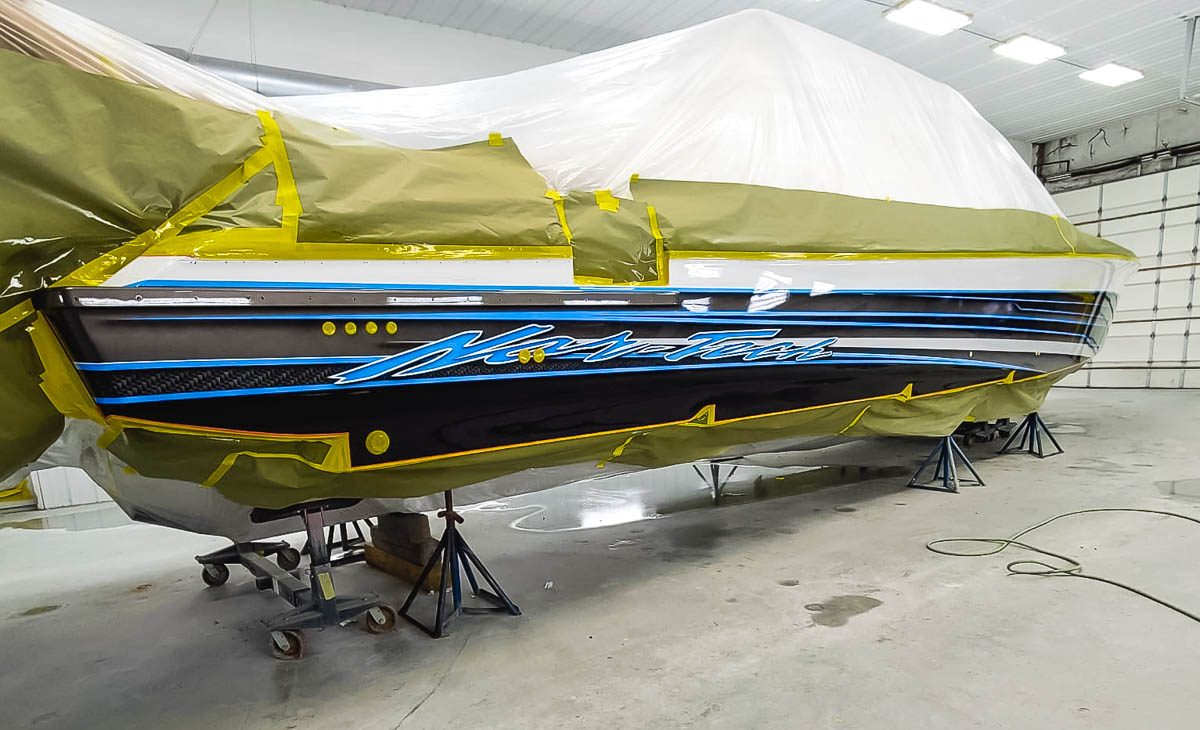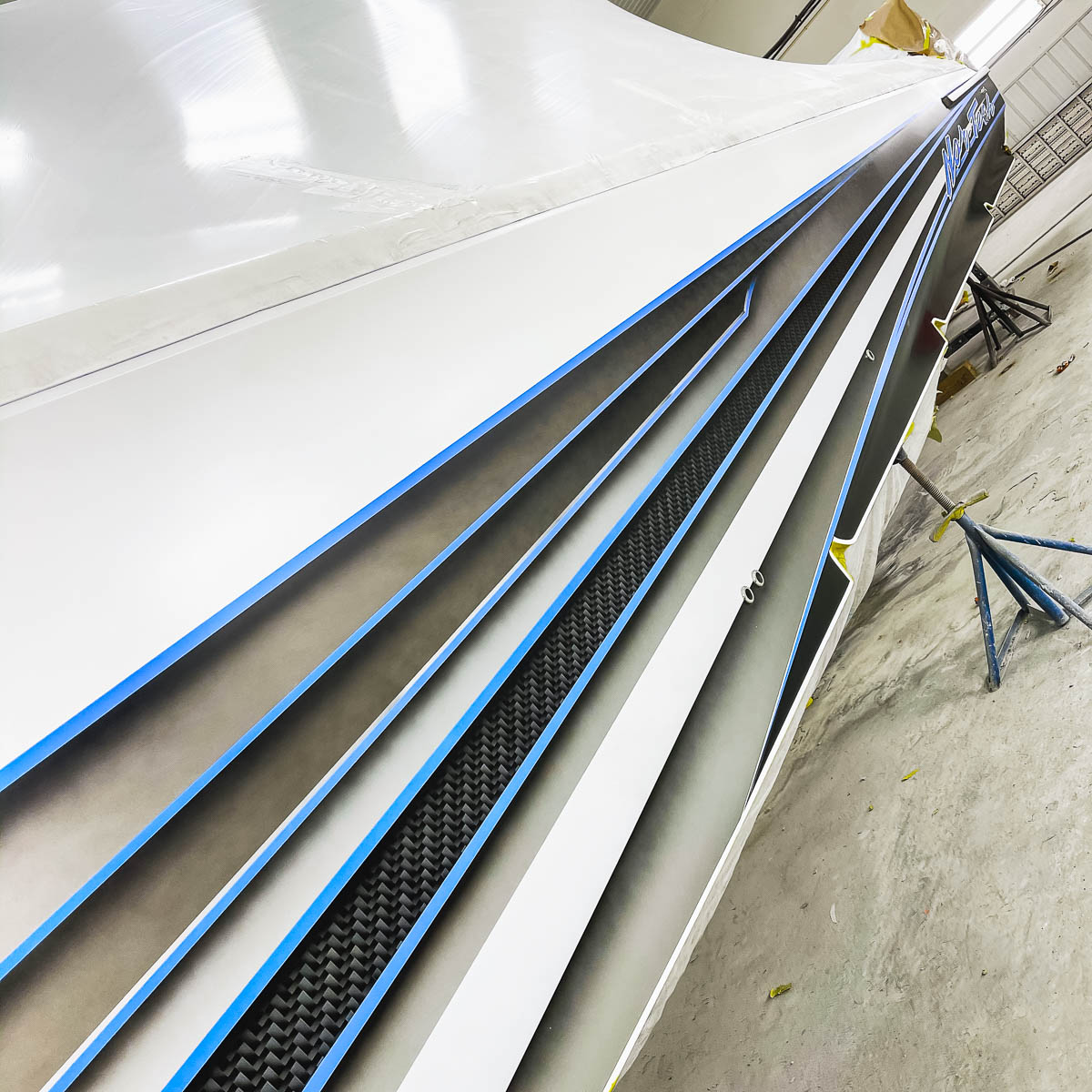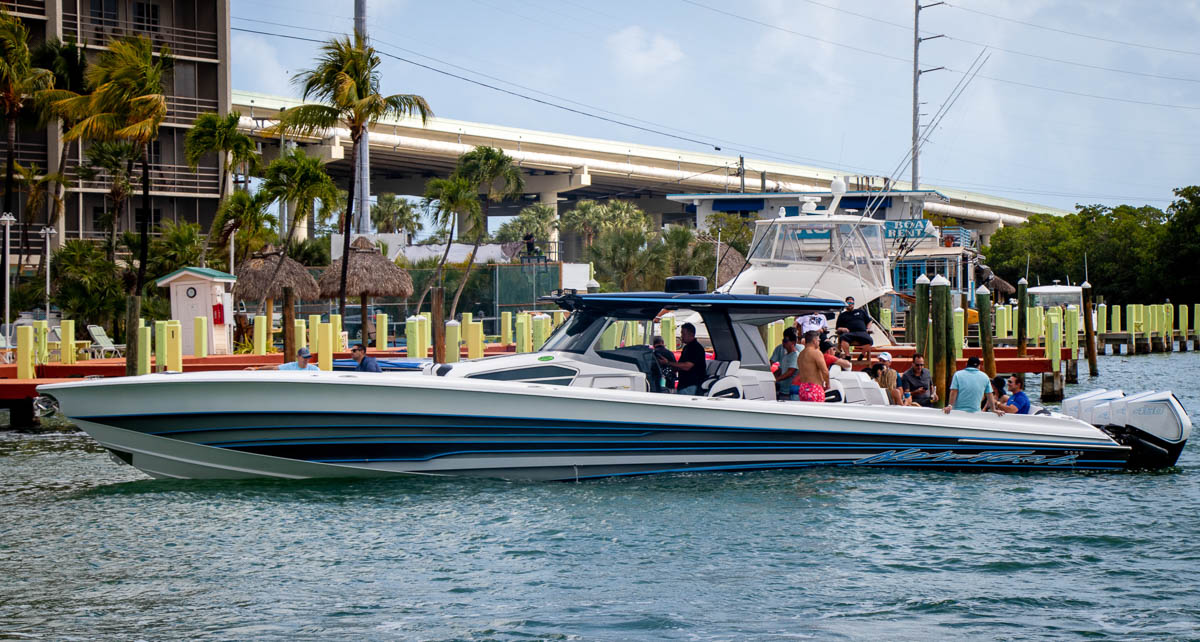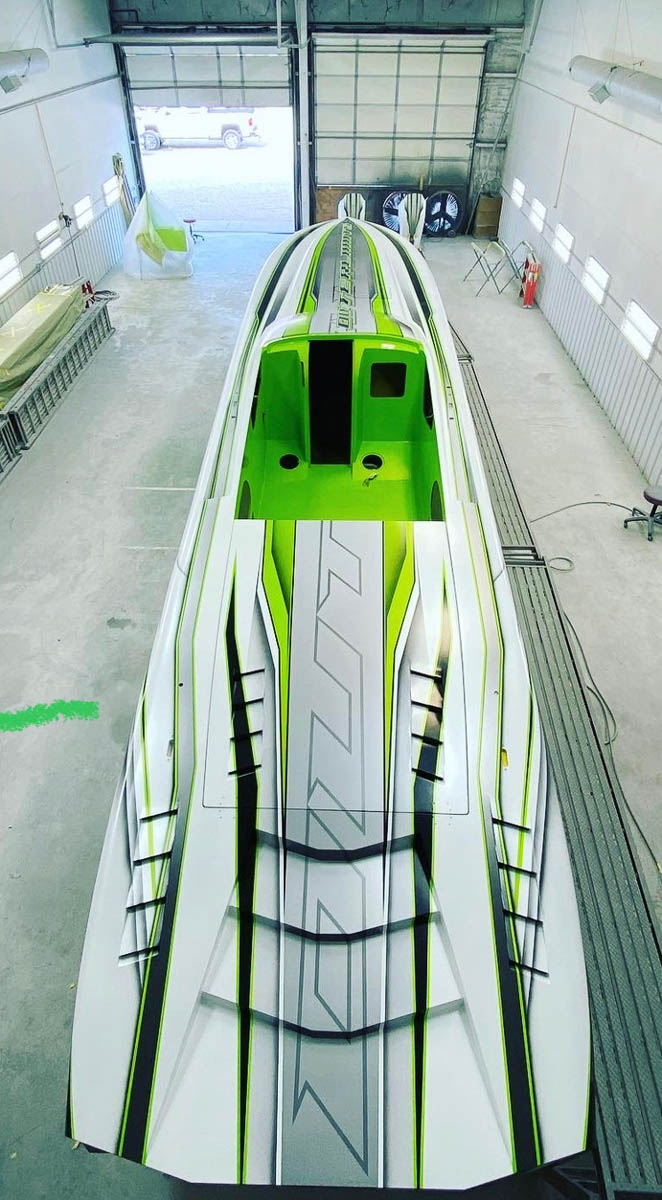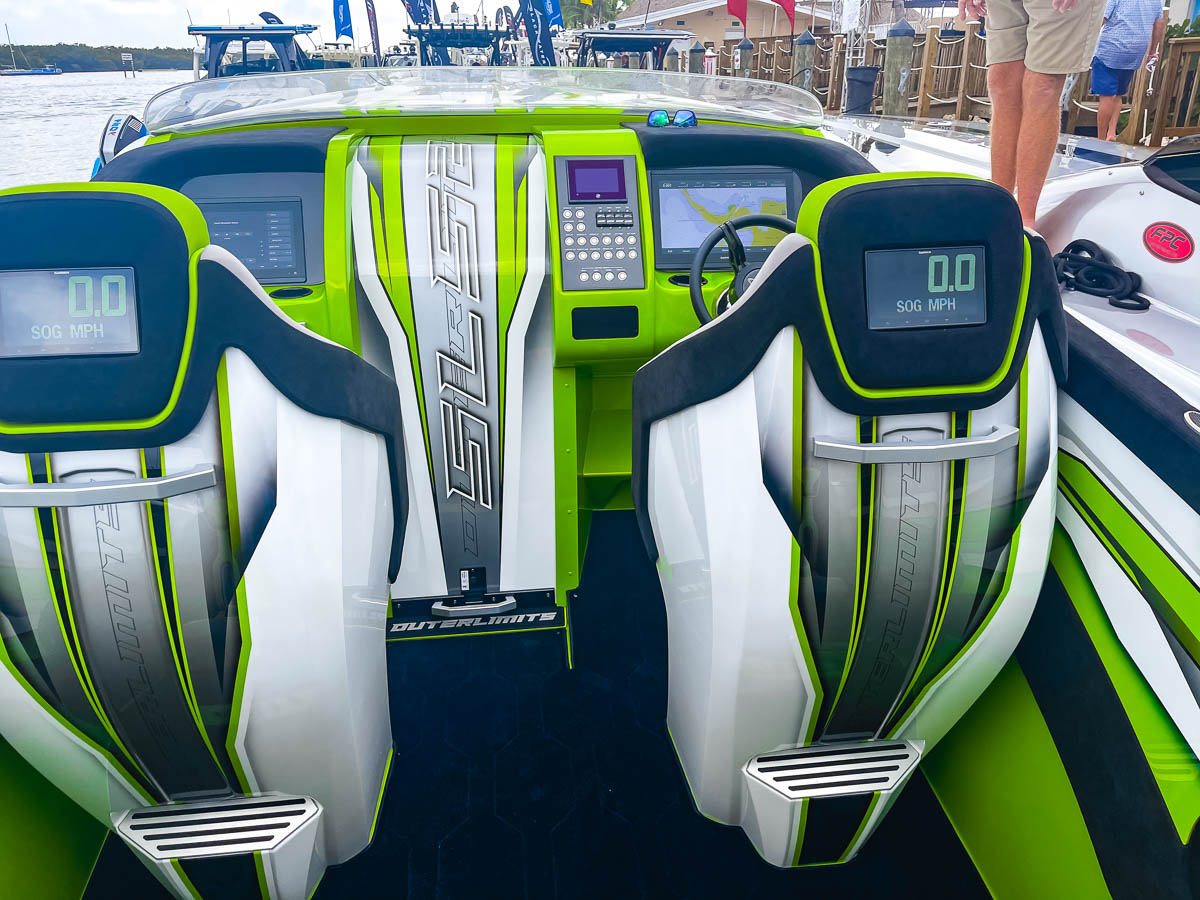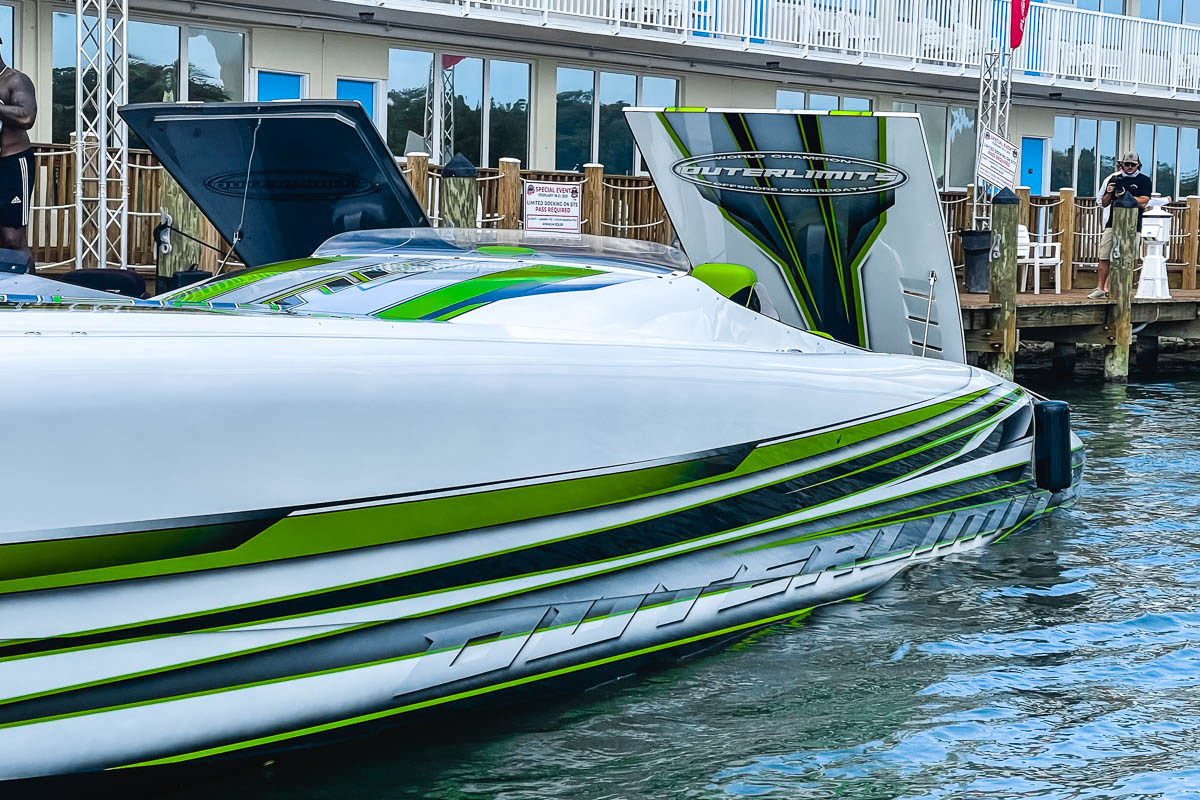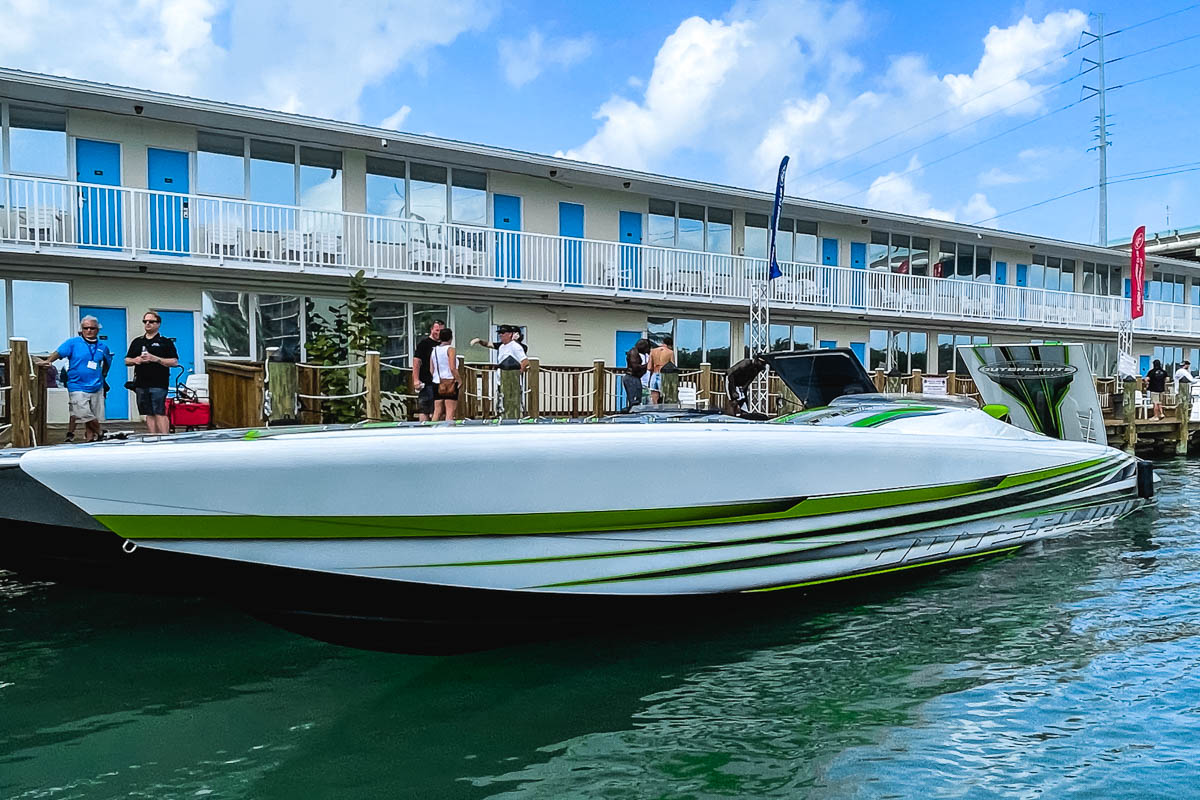 Since the word legacy popped up, here's the return of a tradition that will make you smile. For anyone who has not yet heard the news, the best gift of all is the Miami International Boat Show recently announced for 2022, the production is headed back to its long-standing South Beach spot at the newly pampered convention center; hence, the shit-show shuffle over to Key Biscayne is officially over. I suspect the fusion of a fun run and boat show into one is too over, but what a way to finish out this event and end this story. On Sunday, horsepower shifted to the shiny supercar finale. By 1 pm, barely a boat could be found among the procession of Ferraris, Lambos and Porsches, when our asphalt cousins cruised in to claim their territory. The only difference – adding that supercar rally smell of burnt rubber to the rambunctious revved up engines.
Please check back for a continuation of Key Largo stories from this weekend on: the Keys Island Runners group and the arrival of the new Phantom 32' speed skiff center console; a profile on Brad Carlson and his Sunsation 32 and his first FPC poker run; and an exclusive deck, dock & dine Key Largo destination feature.