Story by DinaRella / Photos by DinaRella, Mystic Powerboats, Slug Hefner and American Ethanol
Tucked between the tourist havens of Orlando and Daytona Beach, sits the less-touted town of DeLand – home base of Mystic Powerboats since 2005. Driving up I-95 from Palm Beach to DeLand for my tour with president, founder and fanatical boat designer John Cosker, I was more psyched to see the speedster sanctuary, than I ever was for Magic Kingdom with Mickey or spring break debauchery.
Mystic Powerboats wasn't always in DeLand though. Before venturing inland, in 1996 the original shop started with a Melbourne address followed by a move up to Port Orange near the Daytona inlet. Today stable growth from unwavering center console and catamaran demand with the longest backlog to date, has enabled a series of ongoing expansions including last year's purchase and transformation of the neighboring warehouse into Mystic's new design center, along with the this year's acquisition of an additional property which will house the new painting facility under the direction of Doug Harrell with DHD Designs.
Elatedly, Cosker expresses how well received the new showroom is, "Being able to welcome customers to spend the day with us has been instrumental. Clients are able to go through every aspect of personalization from marine matting, to patterns and preferences of stitching, to what color they want their interior and Mercury Racing "R" branding to be. It also eliminates the back and forth email communications and avoids potential misunderstandings."
As the flagship celebrates its milestone 25th anniversary, regardless of where home is... Mystic's impeccable and respectable reputation put it on the map and keeps it on the map. The dedicated staff of 65 (soon to be 75) including national sales manager Greg Weber and production manager Ryan Zvitski play a major role in the operations, as does Cosker's wife Robin who is so devoted she sacrificed her position at NASA to take on the bookkeeper role during the financial crisis of 2007.
Robin has since handed the spreadsheets back over to an accountant, and daughters Rachel and Kendall, have recently joined the team. "Rachel graduated from Stetson and is here full time handling the financial part of the business, while Kendall is involved more on the marketing side. It's great because it lets me focus more on sales and product development," reveals Cosker. From his smile, if I had to guess I'd say it was the "proud dad" type but knowing Cosker's background and connection to the sea, I could be wrong, seeing that the Connecticut-born boater's craving to create watercrafts dates back to his early childhood days.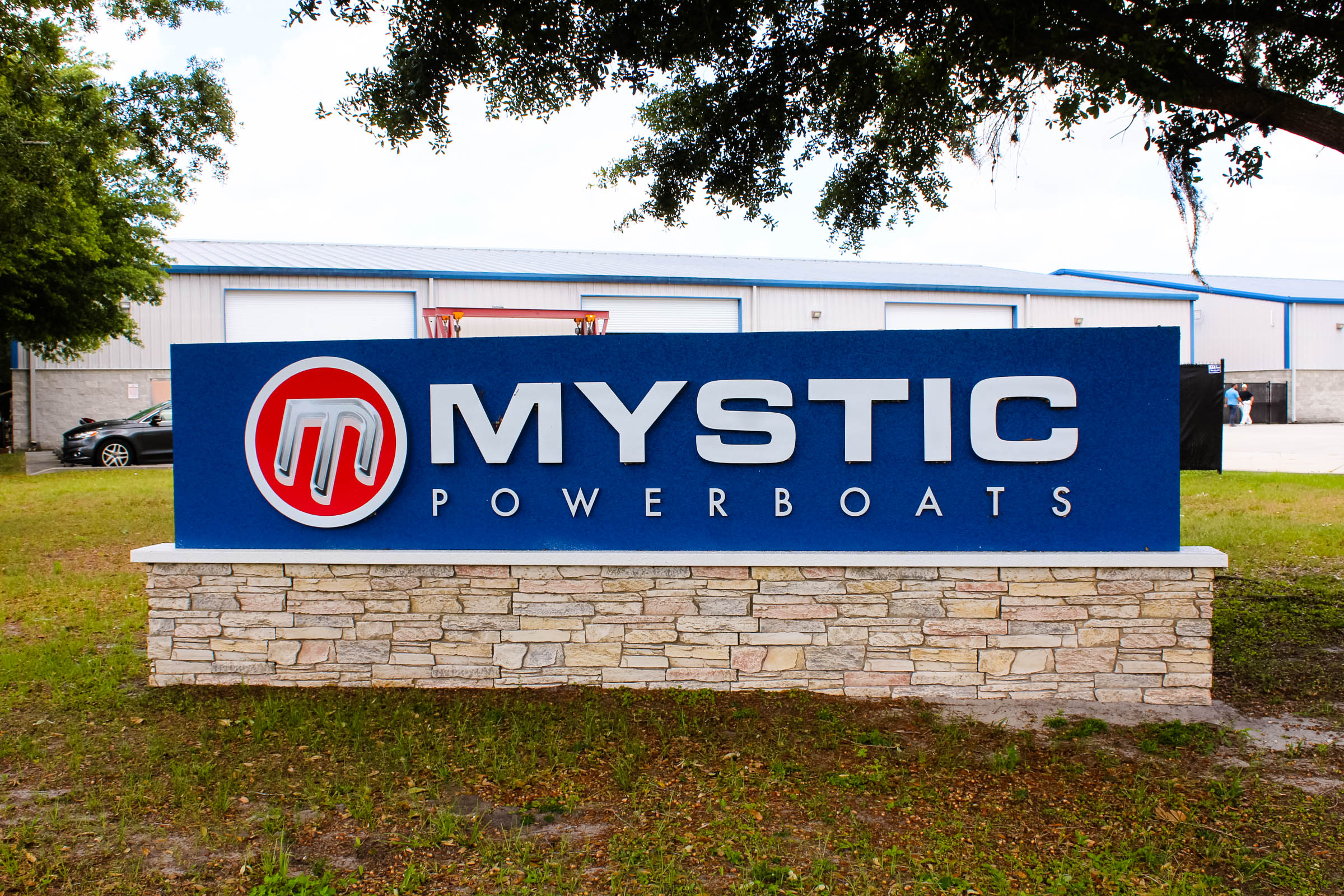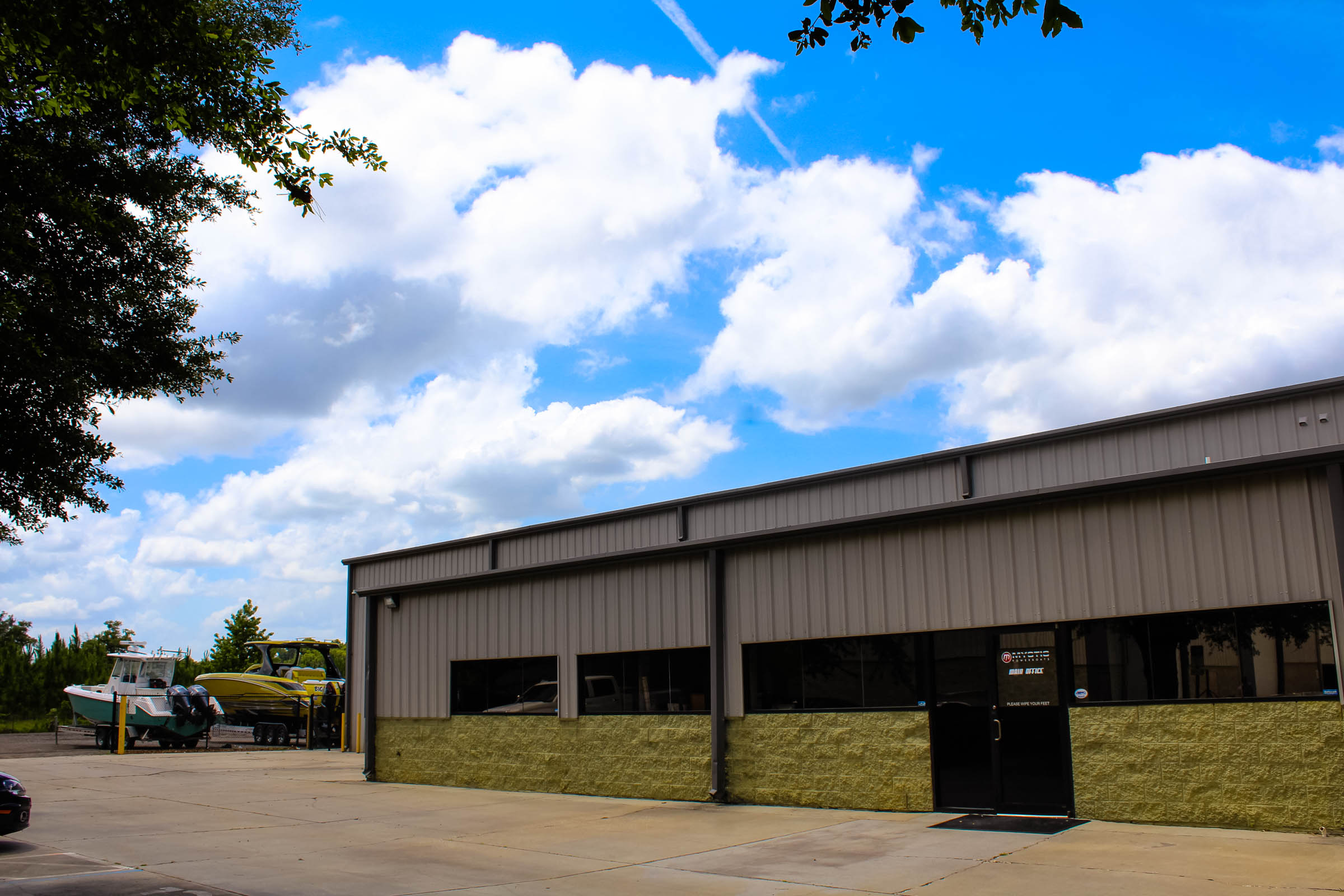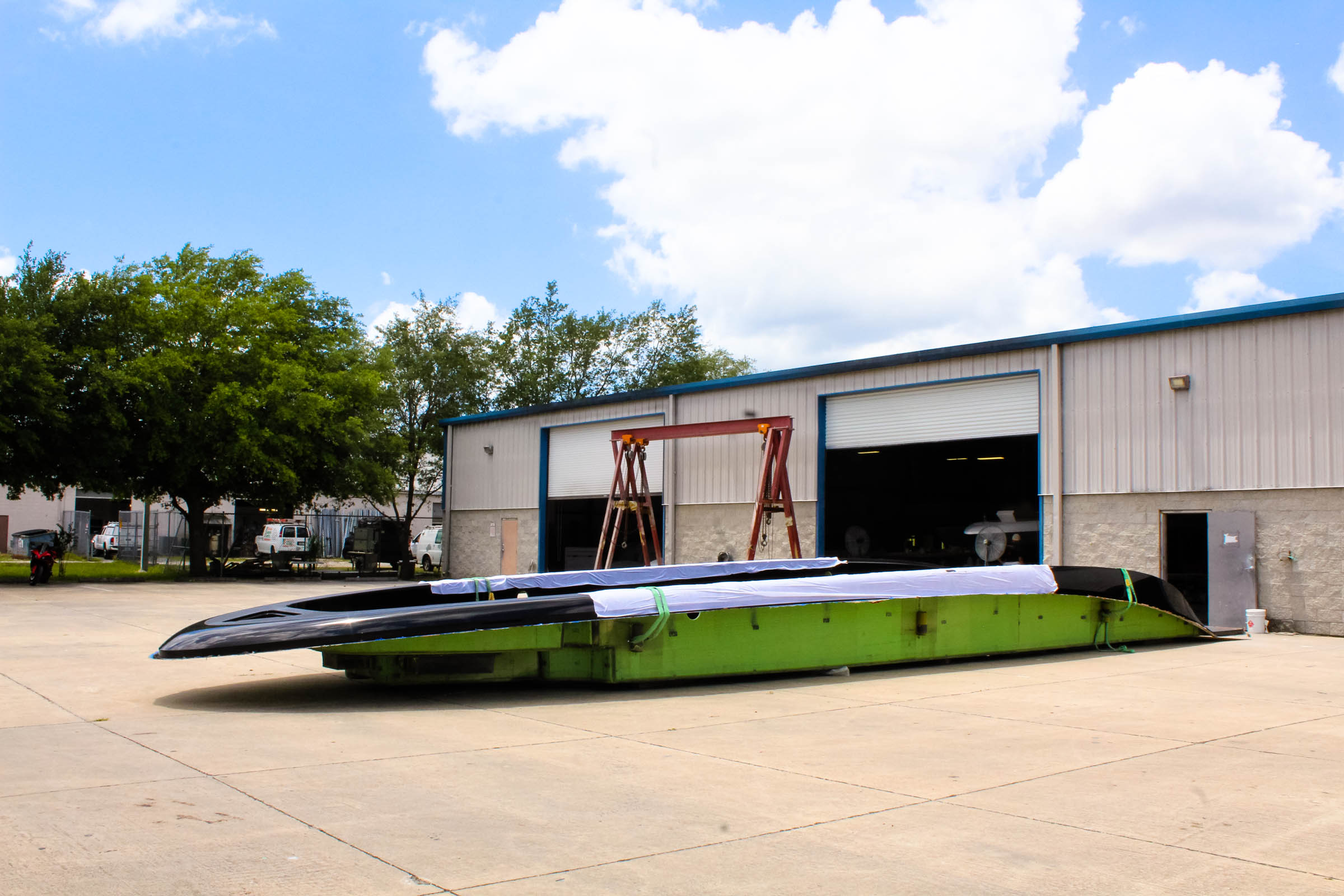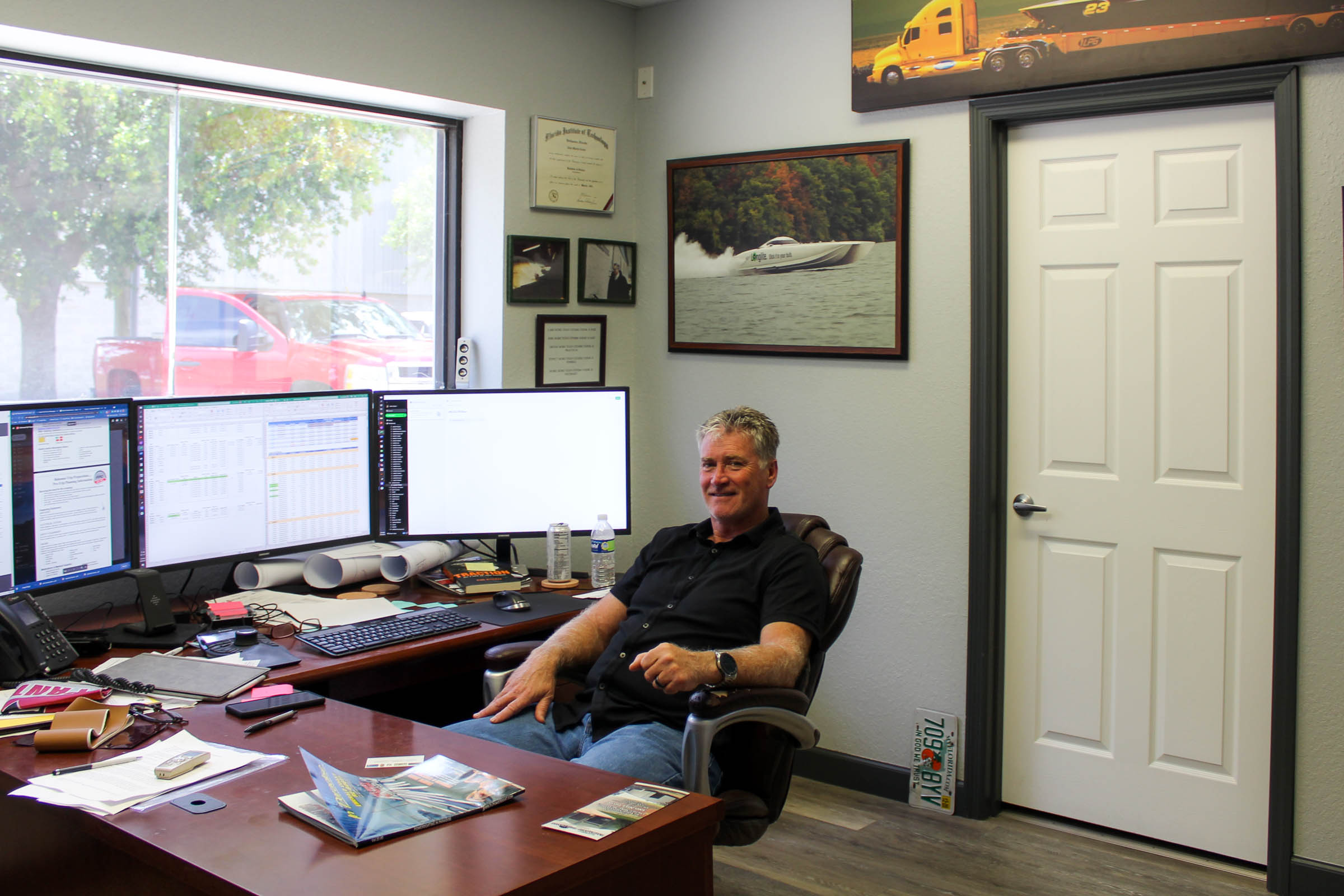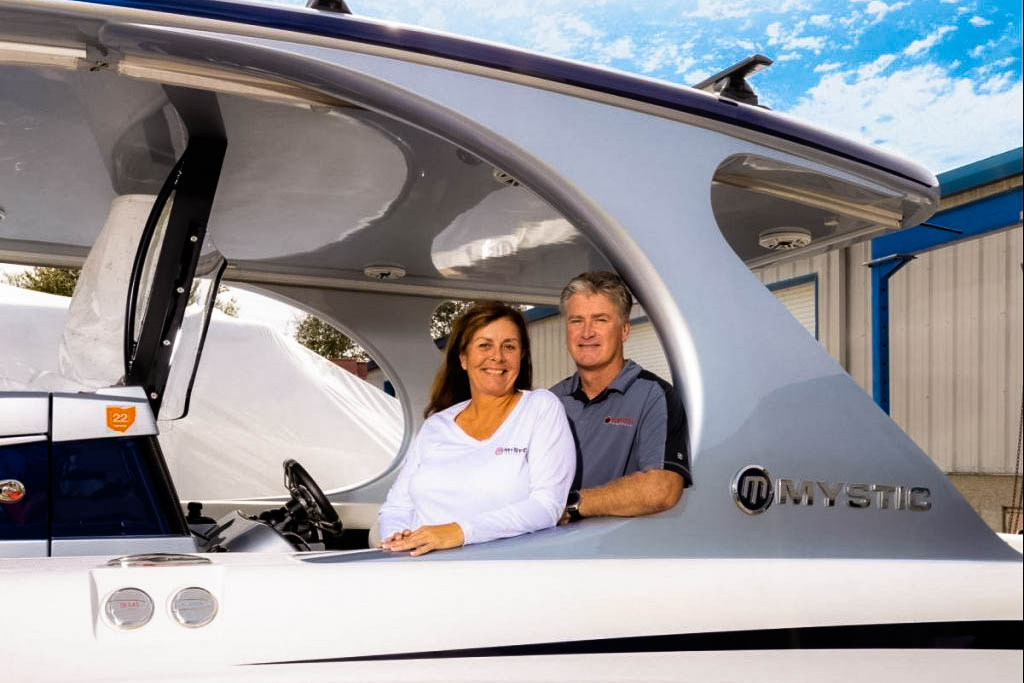 Full Speed Ahead From Age Eight
Having a dad who was an avid-slash-terrible seaman put young Johnny behind the helm to hold down the family ship long before GPS instruments entered the picture... and on one of those afternoons between the Connecticut shoreline and Cape Cod Bay, it happened! A 38' Formula flew by their Grady White; the eight year old was instantly hooked. Frequent visits to see Chris Cestaro at Ocean Performance fueled the fire more – the Old Saybrook landmark on the Boston Post Rd. mimicked a mini NE 188th St. with it sexy stock of Cigarettes and Outerlimits decorating the block.
The fixation on fastboats led Cosker to major in ocean engineering and high-speed small-craft design at Florida Technical University, and into a role at Rolla Propellers upon graduating in 1991. The Rolla gig lasted until his Gentry Transatlantic recruitment. Yes – that Tom Gentry! Sitting in his office three decades later, Cosker reminisces, "My design chair came from the Gentry Eagle raceboat that shattered the transatlantic crossing record, and above my computer was the American flag pennant that went across the world. One day Tom came in and sat at the monitors with me for a few hours. I'll never forget it." Cosker will also never forget Gentry's Key West crash in November of 1994; he was a spectator watching along with Tom's family from another boat.
All projects were halted after the accident, and the newcomer's position unexpectedly ended. His determination to design boats did not. President and founder of Mystic Powerboats would be the young gun's next job title, subsequently followed by an additional string of headings all starting with TOP GUN. The new race brand's marque C5000 – adapted with all the essential assets from the 43' Michael Peters designed Tencara that Cosker had been racing alongside Dave Callan in Callan Marine – forged its reputation smashing professional records "literally" driving the racing world ballistic, often with the engineer himself harnessed in the cockpit commanding the high-speed getaways.
Making Mystic Magic at LOTO
 The Mystic phenomenon further skyrocketed after Cosker's tried-and-true turbine 50-footer not only nabbed the 209-mph Top Gun honor at the 2007 LOTO Shootout, but also grabbed the attention of Dave Scott of Bud Select, Bud Light and Nauti-Marine fame. The accomplished "offshore racing influencer" commissioned the second C5000 (this time piston-powered) and that's all she wrote. Soon Mystics such as Aqua-Mania, Cintron and Miss Geico were leading the pack on the race courses, while the manufacturer continued its raging kilo "contest-turned conquest" wars. The head-shaking, mother of all passes cementing Mystic's stature and maybe eternal bragging rights for the Spirit of Qatar race team went down in 2014 when Sheik Hassan and the mighty Steve Curtis flew through the traps at an eyeball-opening 244 mph in their turbine-powered Al Adaa'am 96.
Making many non-racers in the mainstream go-fast arena giddy during this era was Mystic's equally monumental move from racing to retail. The company entered the pleasure boat market offering enticing options such as: a six-seat cockpit; the arrival of the open-canopy catamaran in 2012; and per customer demand, the introduction of a smaller more tamable C4400 model. However, at the same time demand for an entirely different kind of aquatic enchanter was escalating – and the inevitable became evitable. The world went wacko for outboards. And thus, with the financial revelation that to remain profitable in any industry trends trump tradition, Mystic shifted gears and branched out to high-performance luxury center consoles.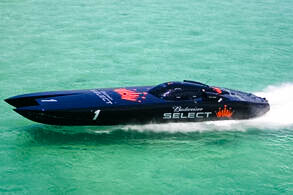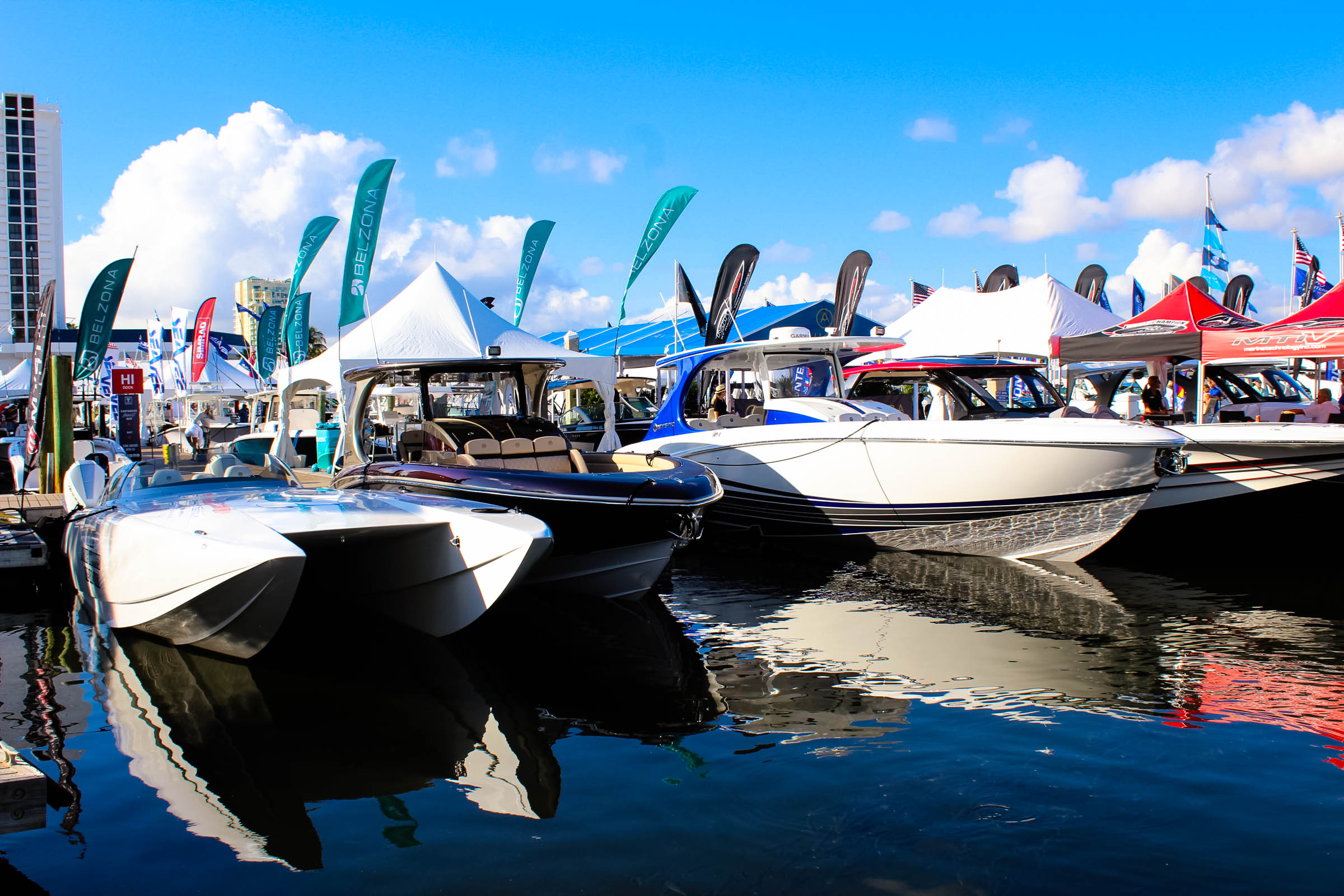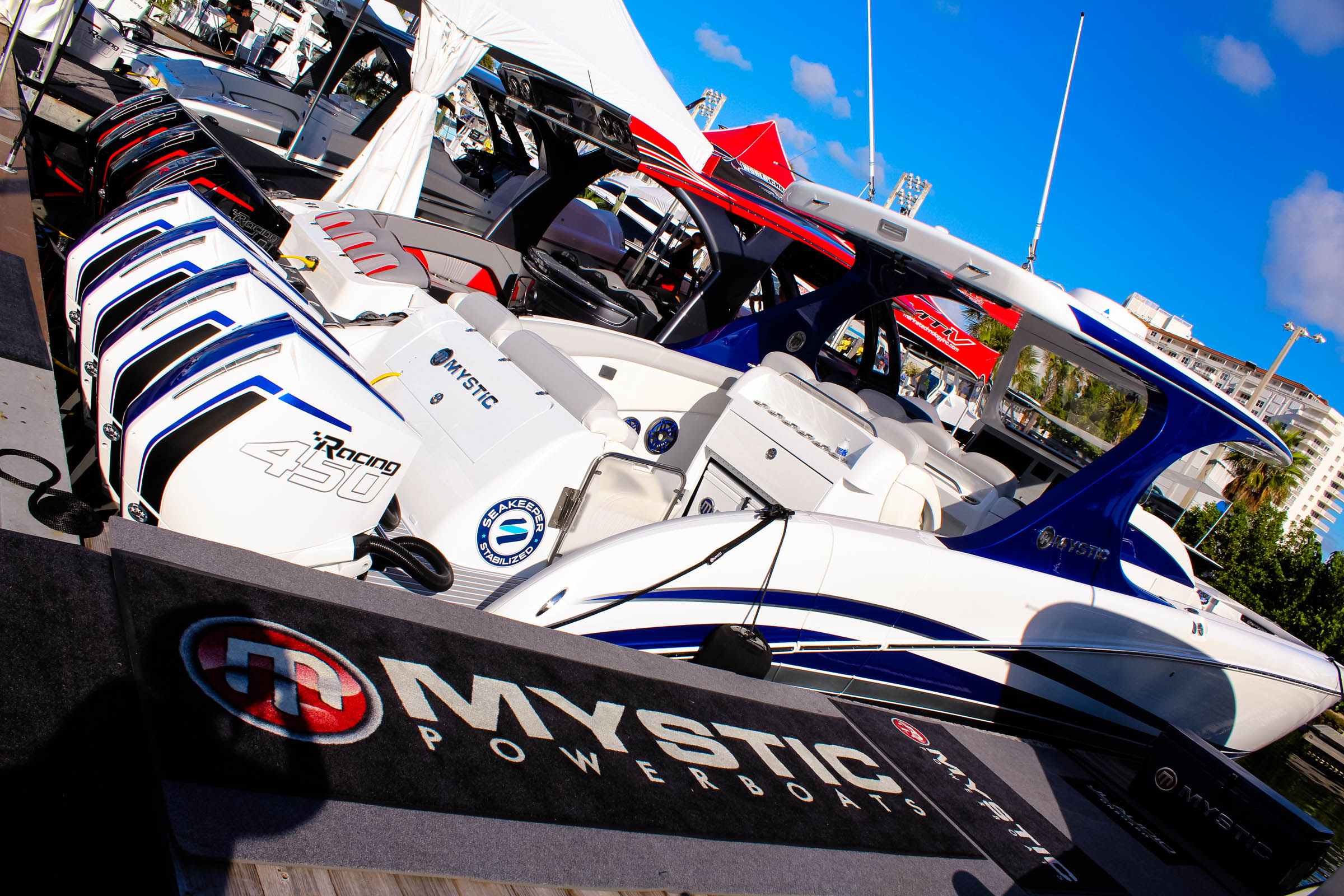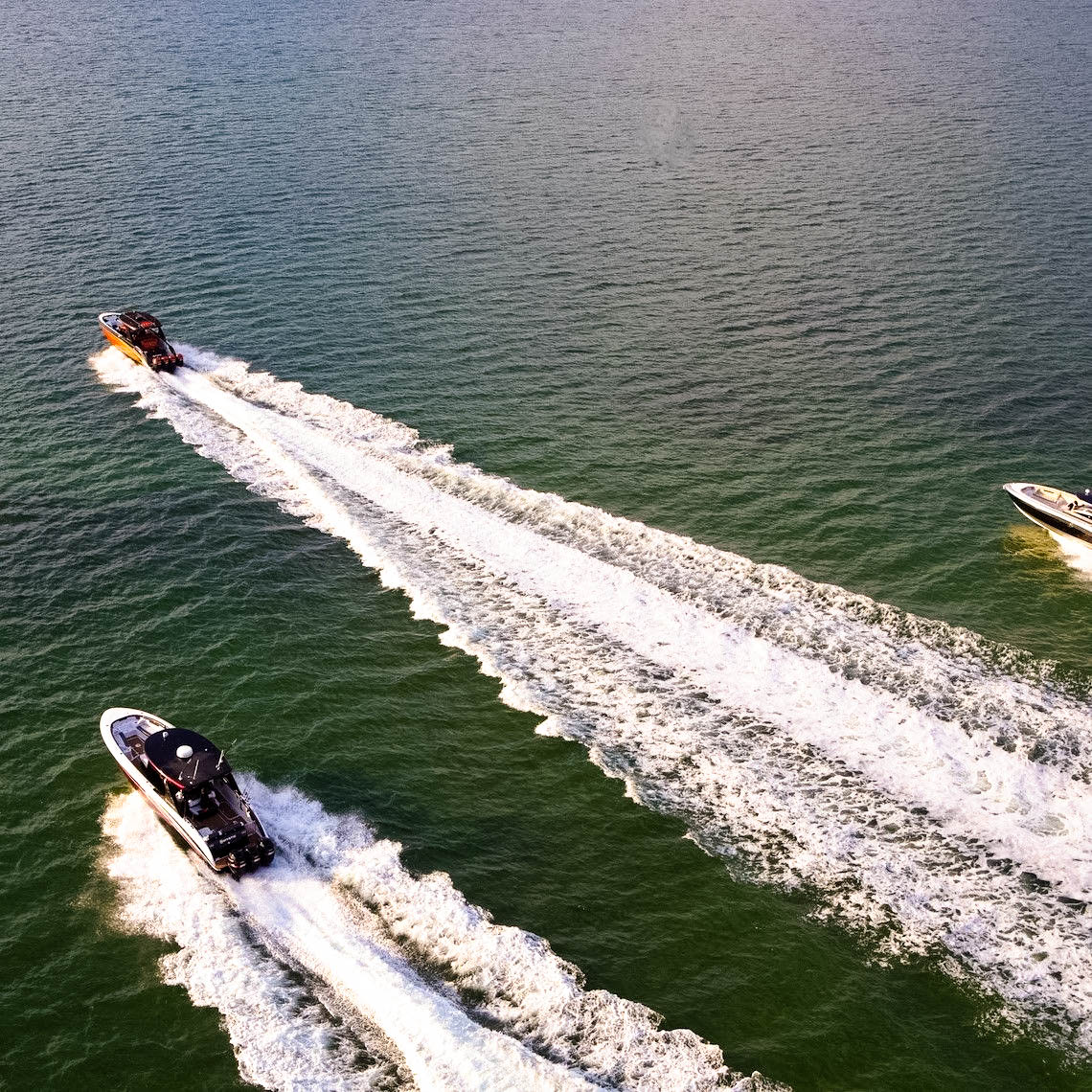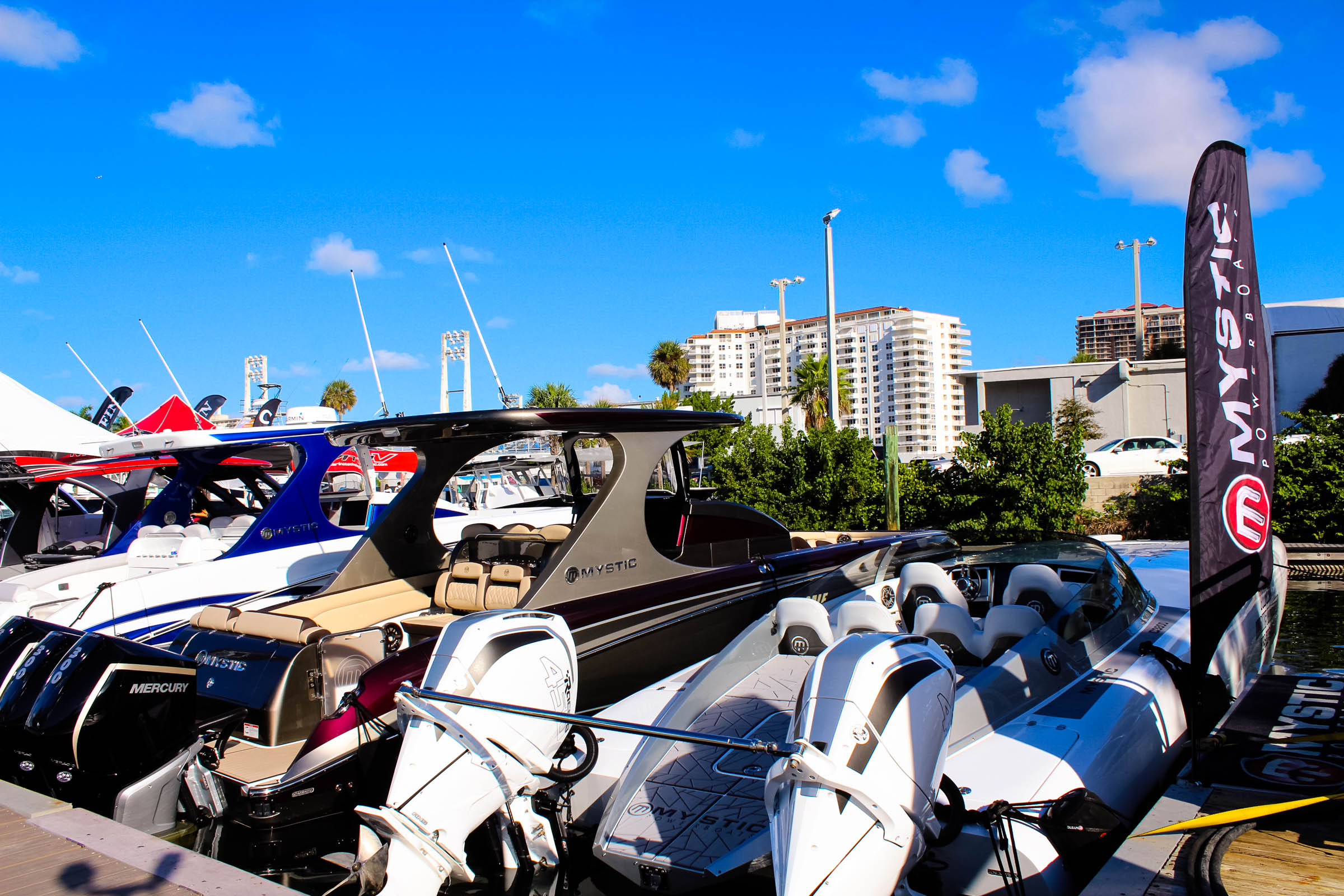 Center Console Sensations: M4200 and M3800
 Off to a solid start, the first 42-foot model M4200 sold 16 in 2018, eclipsed by an impressive 30 in 2019, to which I can confirm has since doubled after spying hull No. 64 this past May when I was inside the deck and hull lamination facility. To top that, deliveries date out past next April and all will don 450 outboards in celebrated parties of four. Mystic's success with the new center console line shouldn't come as a "Cosker shocker" though, because building them has been a professional pastime of his for sometime.
Blessed with an analytical mindset running 24 hours a day aka "boat brain" as Robin calls it; a thing for stepped hulls (known for reducing the wetted surface and decreasing drag); and decades of 3-D CAD-model experience – Cosker was in high  demand and repeatedly recruited as a freelance designer for multiple manufacturers including Deep Impact, Concept and Contender. "I had done a lot of stepped bottoms and understood boat building. I was not just a naval architect, which meant I could design something usable in a 3-D model that could be sent straight to tooling," discloses Cosker.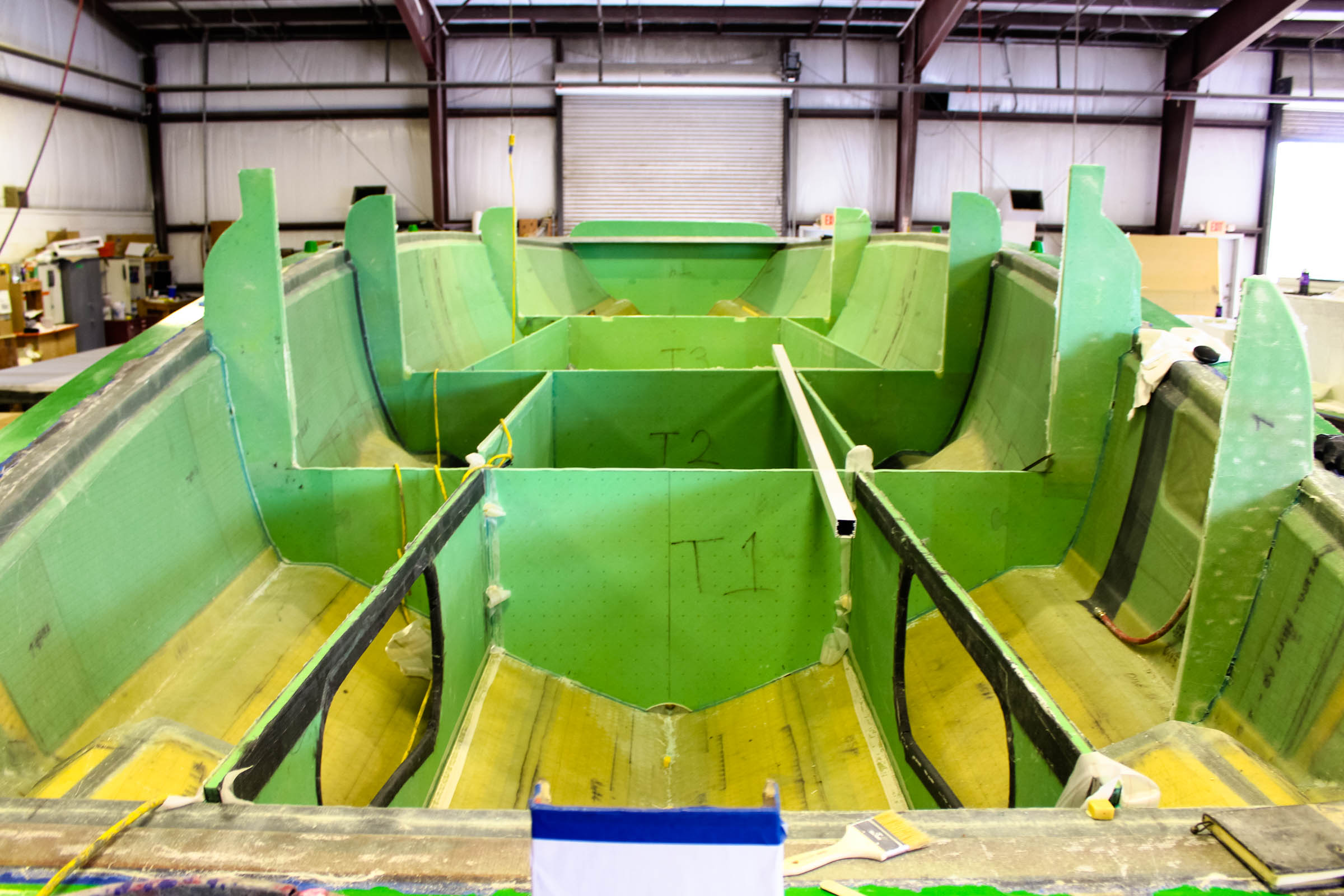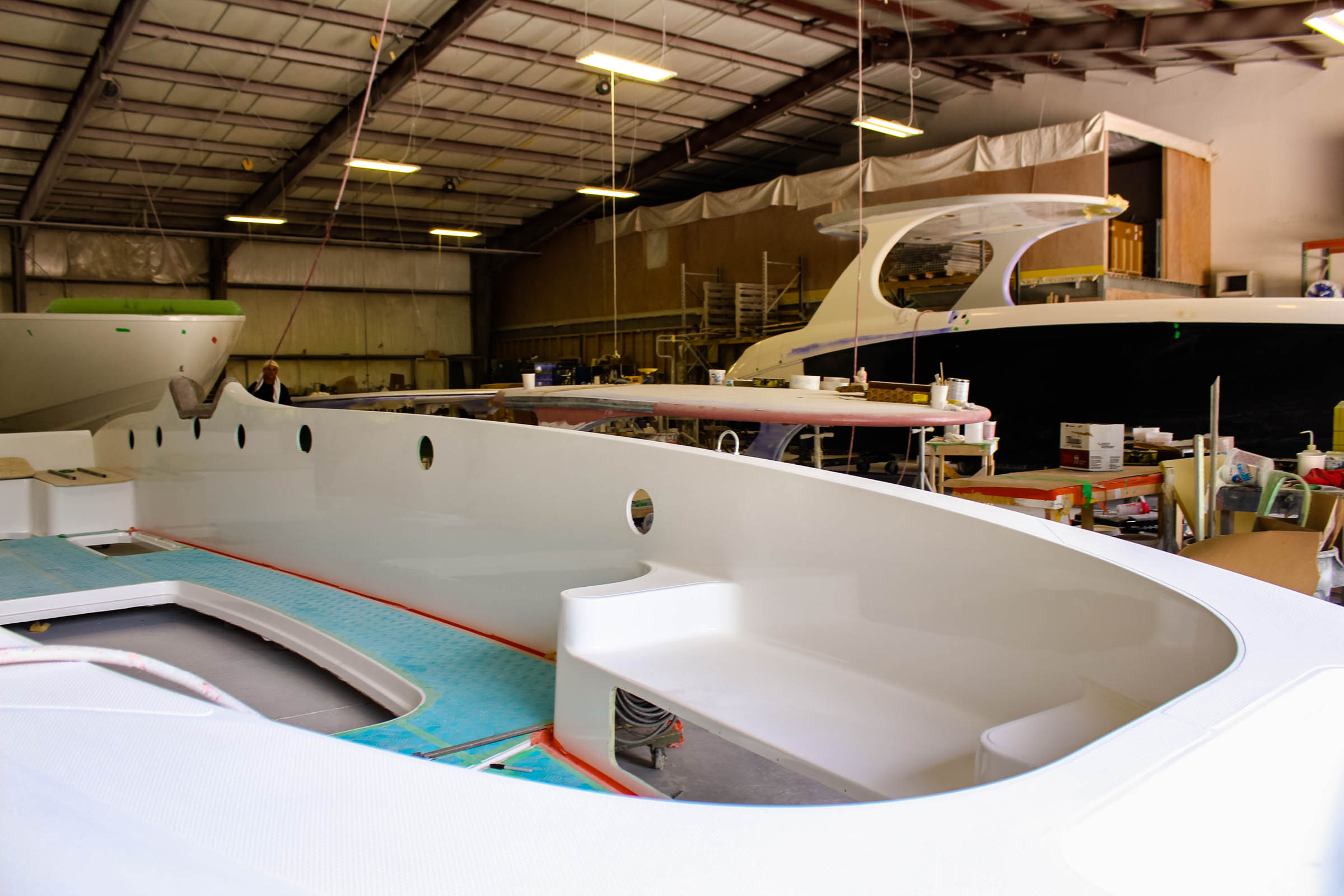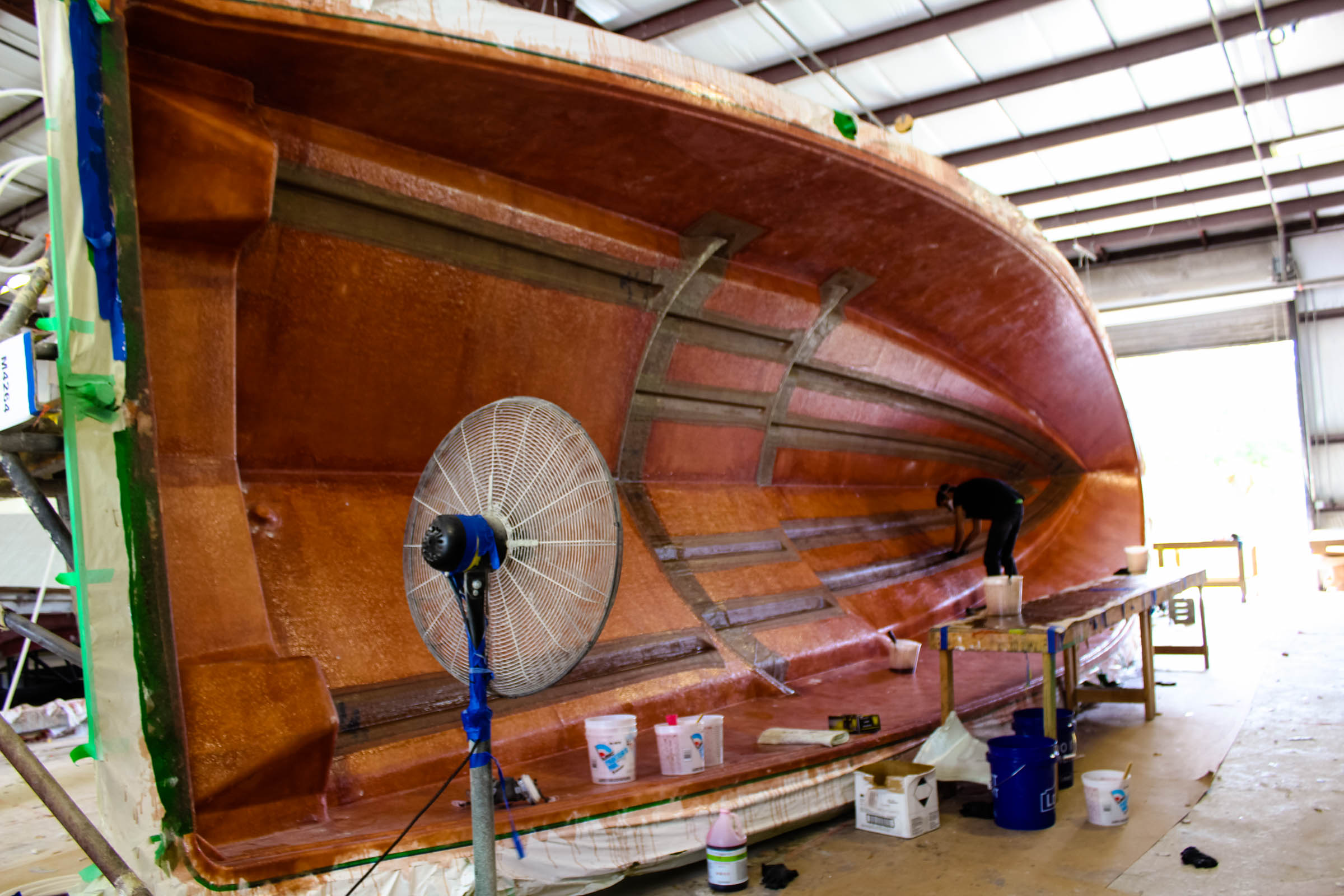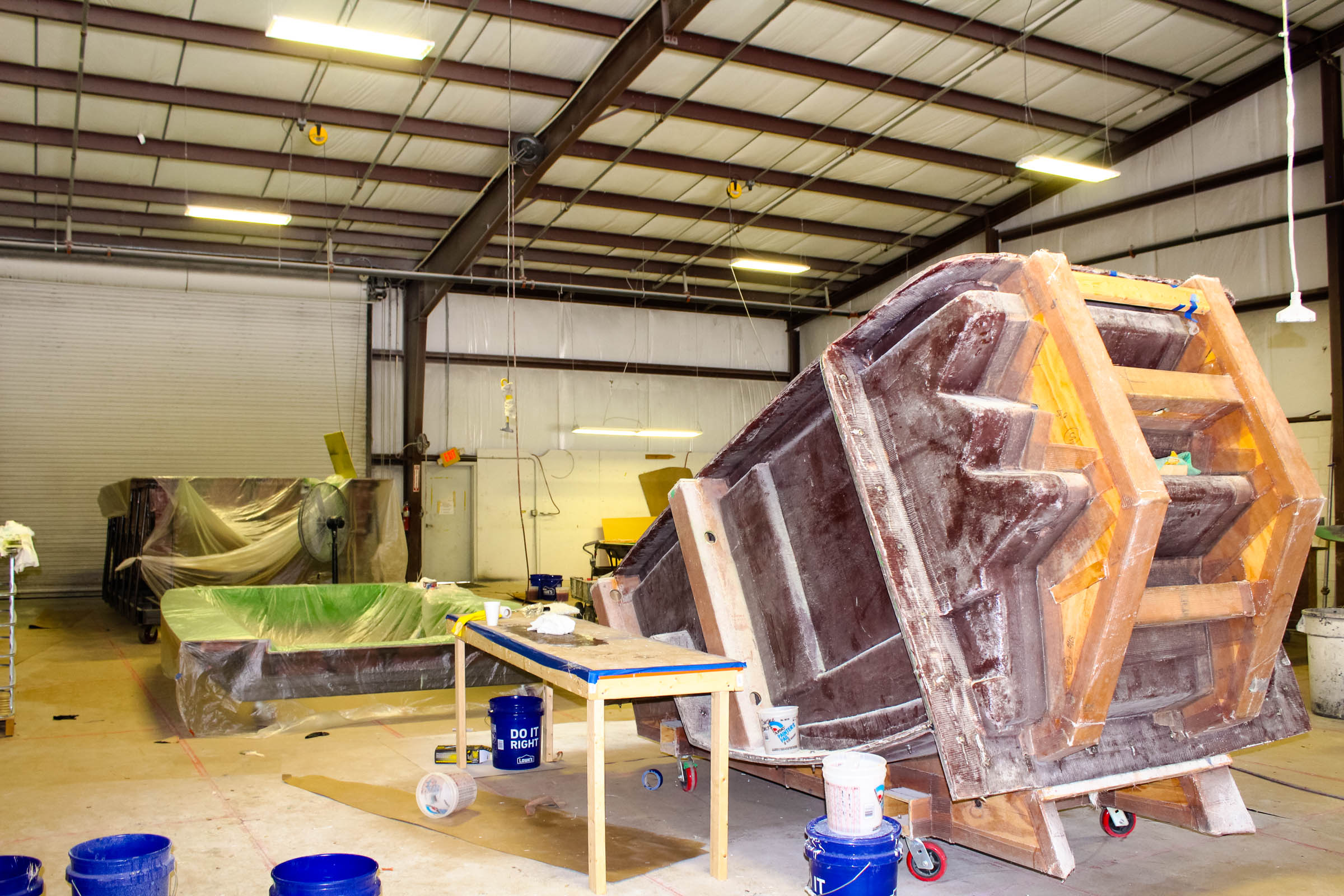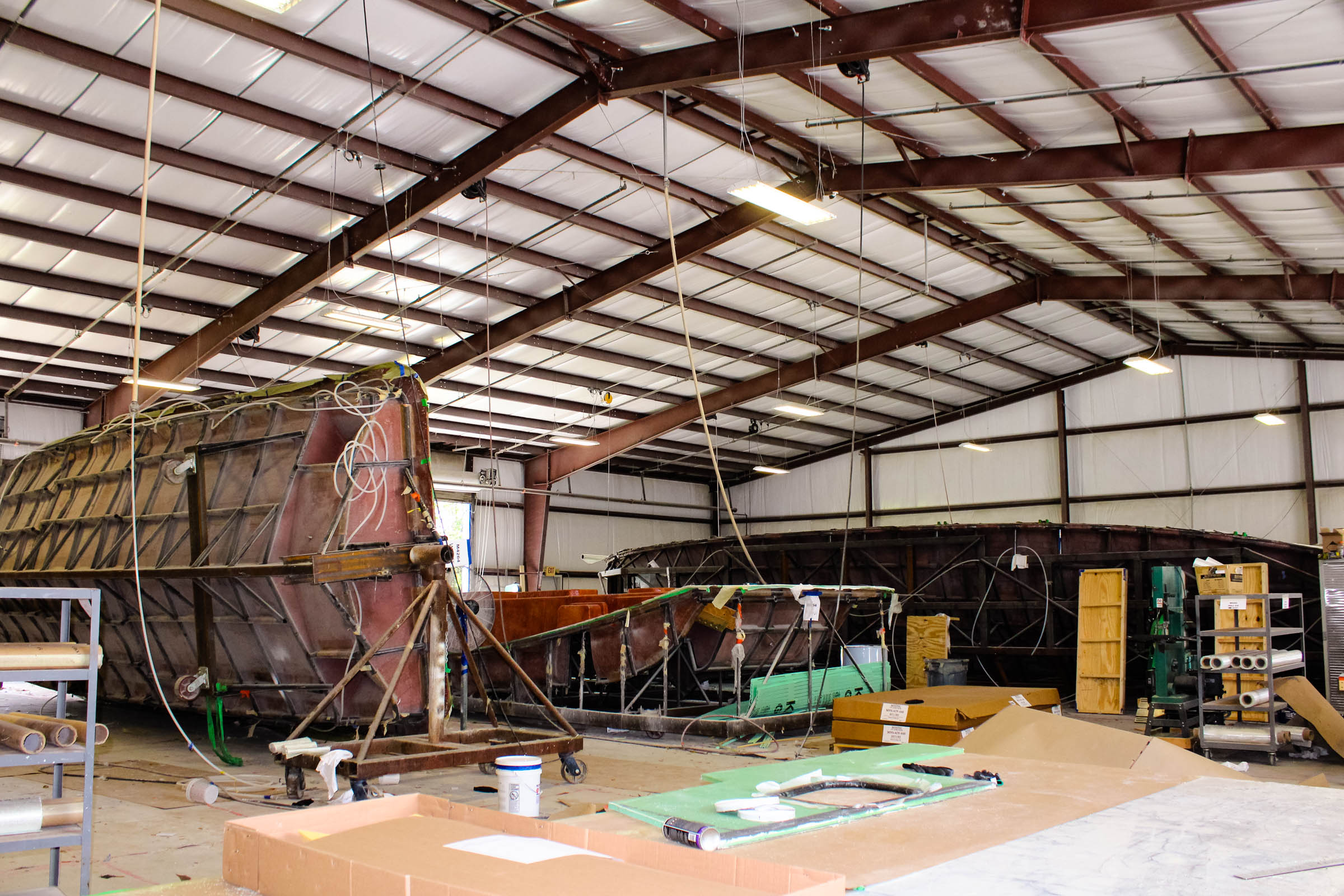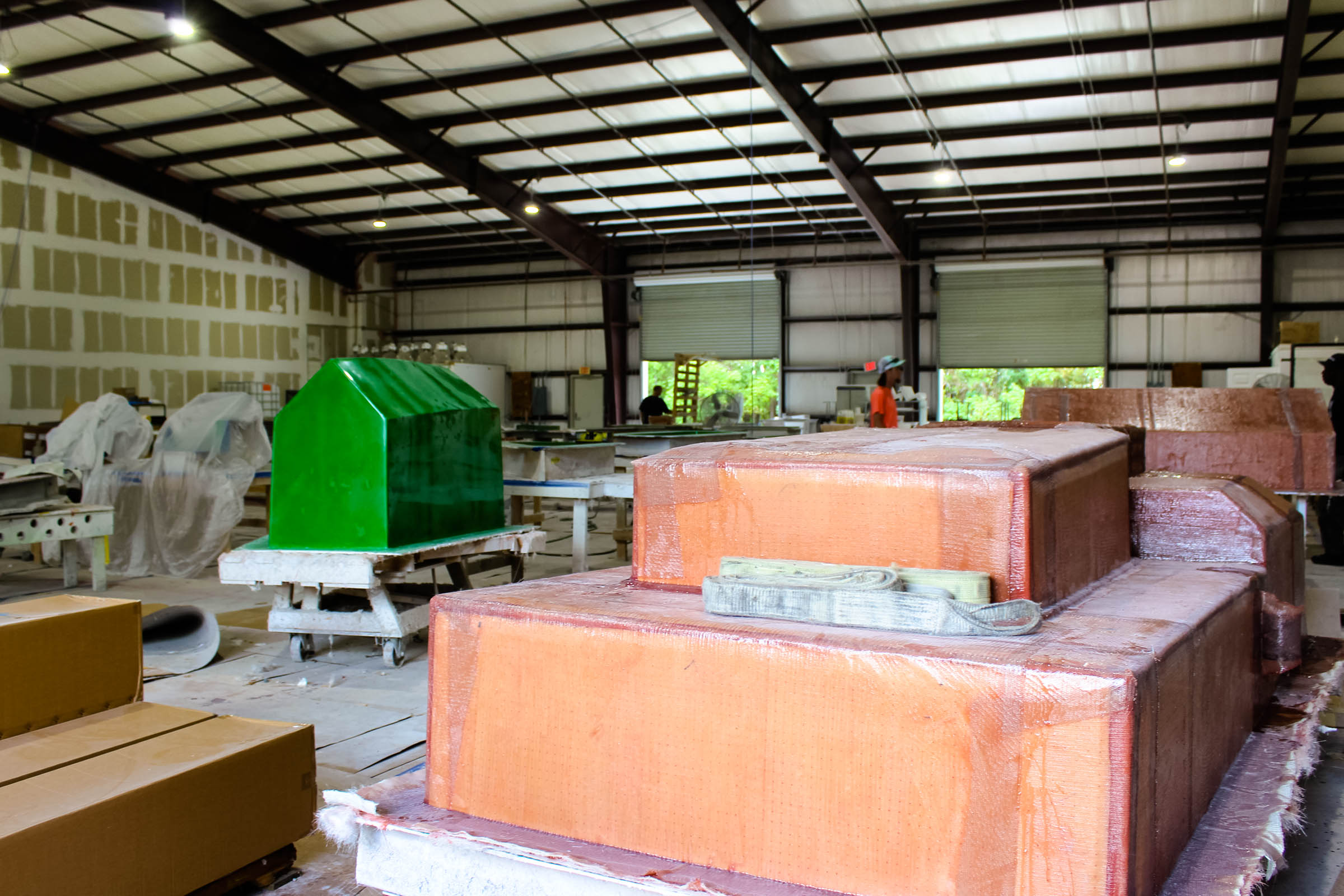 Next up, Mystic's stepped-hull superior added a smaller 38-footer to the center console corral using the 2018 Fort Lauderdale International Boat Show as the chosen launch pad to do its wooing. The 12,000-pound M3800 which has also surpassed production of hull No. 30 (yes, I eyed that one too) promises an incredibly dry ride and stable glide, and is proven to bounce off choppy-water peaks with its bulldog stance. Created with a 10'5" beam that measures three inches narrower than the M4200 and a 3" reduction in freeboard, a major attribute of its popularity is due to its maneuverability and convenience when towing. The roughly one hundred grand deduction in sticker price from big brother 42 ringing in around $825,000 doesn't hurt either.
Questioning Cosker as to what he recommends for power, without hesitation I am given the answer, "with triple 300s it jumps on plane fast, handles great, and runs 72 mph." But hey, if you have your own idea, like when a buyer wanted four Merc 300Rs, if feasible, Mystic makes it happen. Believe it or not, there's also a few fresh out of the factory flashing four packs of 450s and flying in the in the 90s. No matter what motor and model move you, Mystic's use of vacuum resin infusion technology makes certain your boat is going to be lighter and more responsive than the others. The process works by which, resin is injected or drawn through the fiberglass via an already vacuum-compacted mold lined with dry materials. Both hull and deck are infused to ensure the optimum resin-to-glass ratio, and the end effect is a stiffer stronger structure produced from the use of the epoxy and carbon fiber. What's more, the same carbon fiber construction is found throughout Mystic's fourth generation C4000, which we delve into now.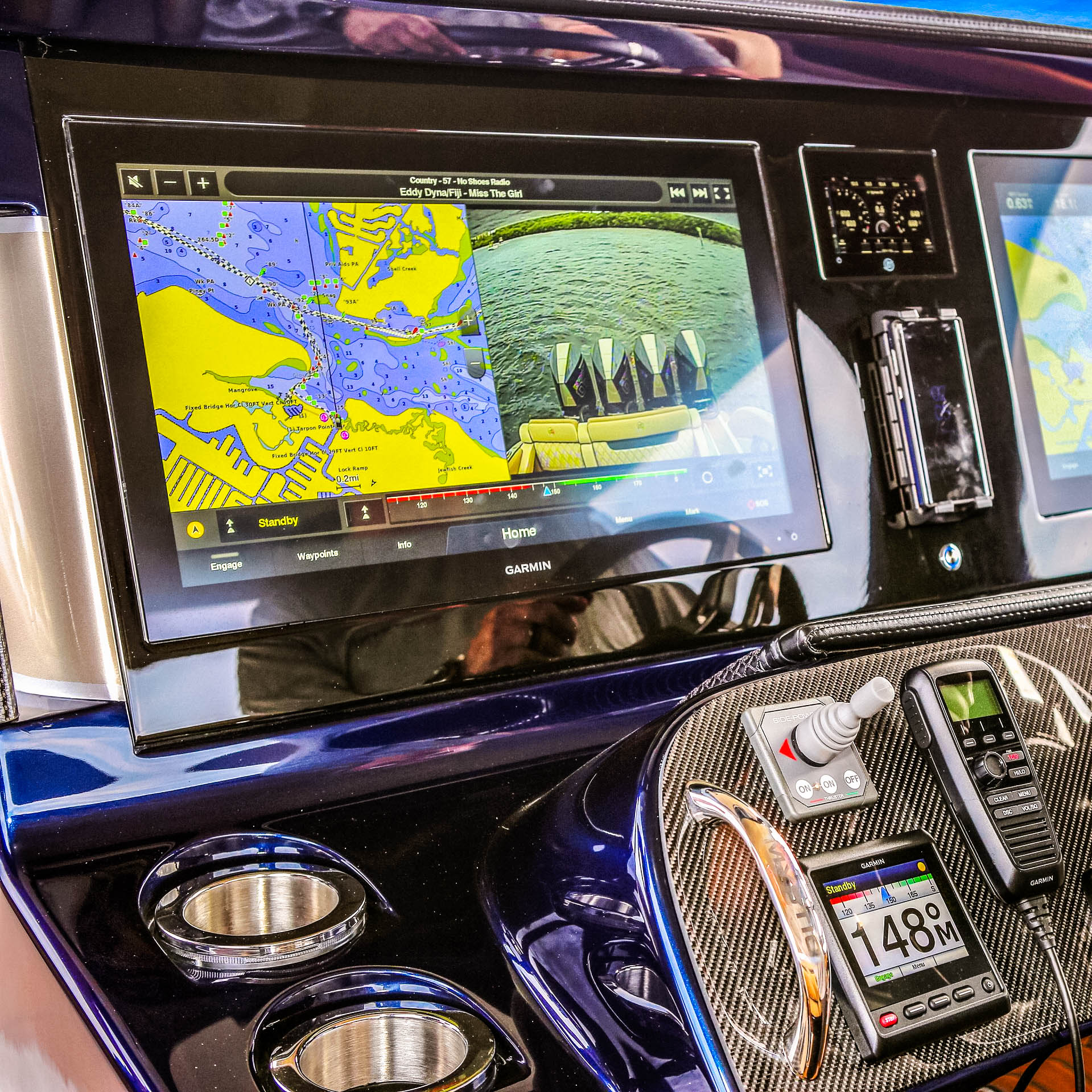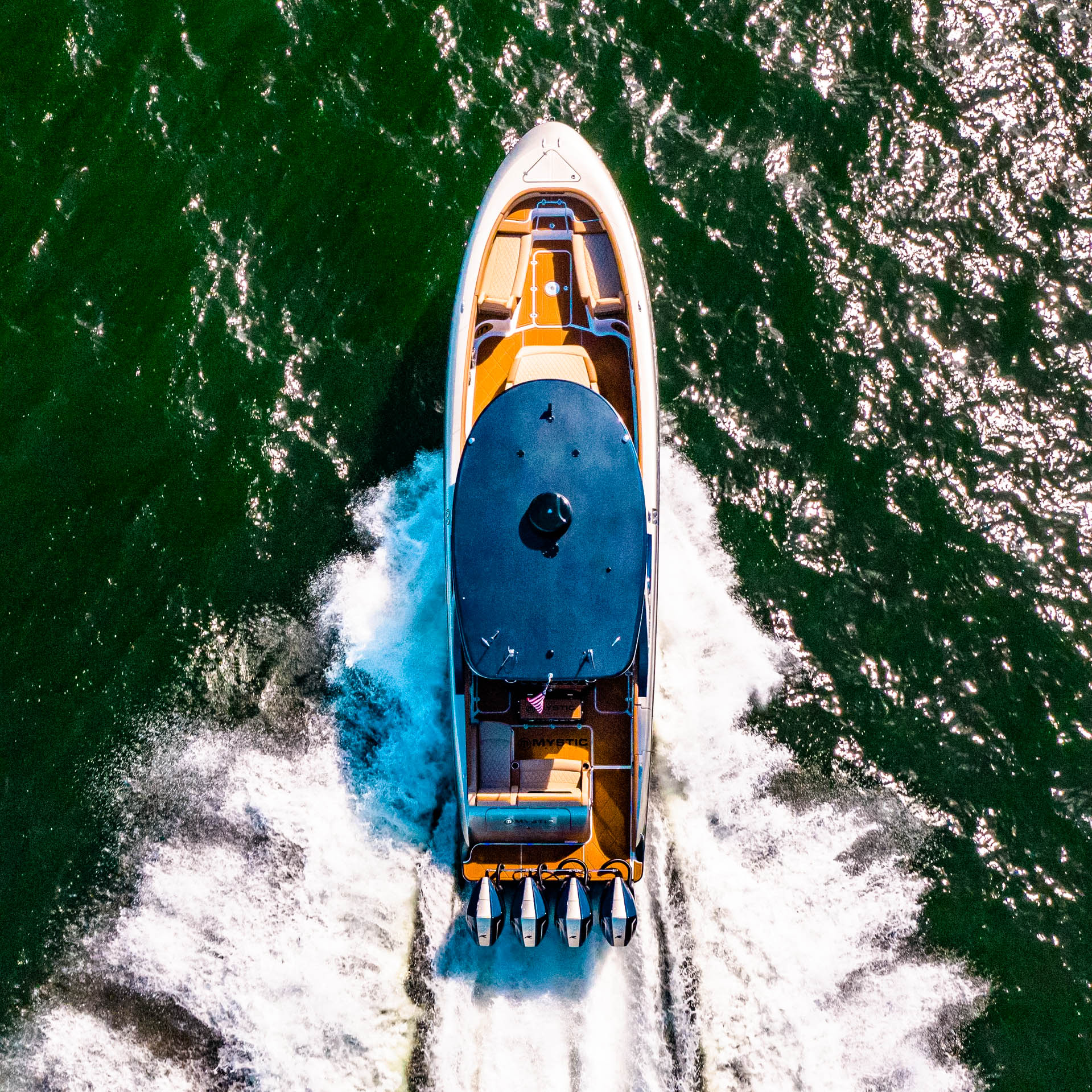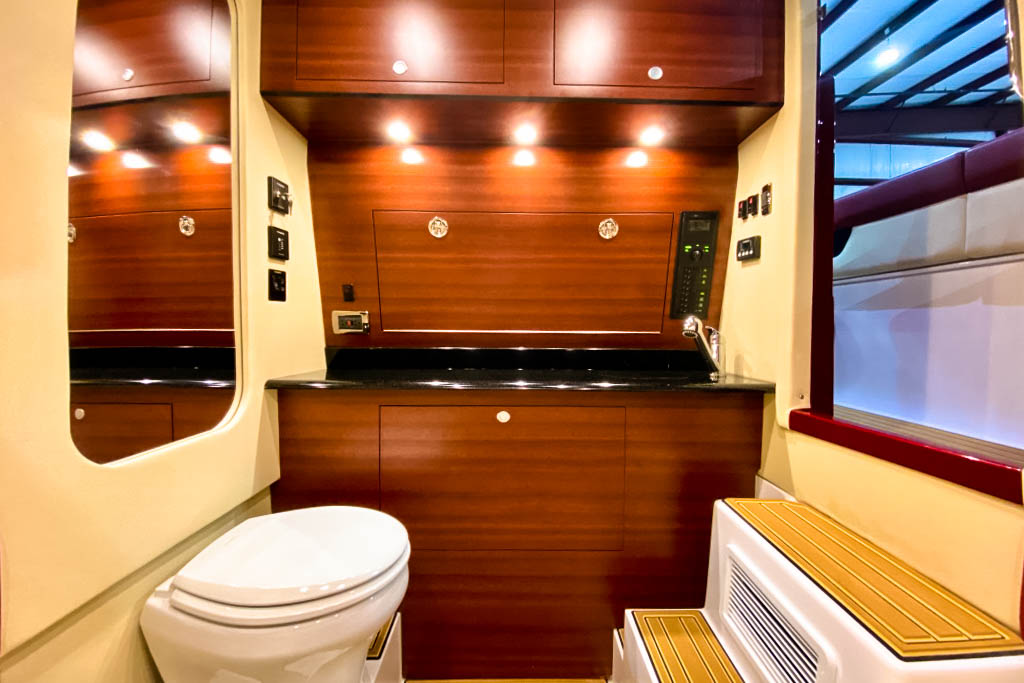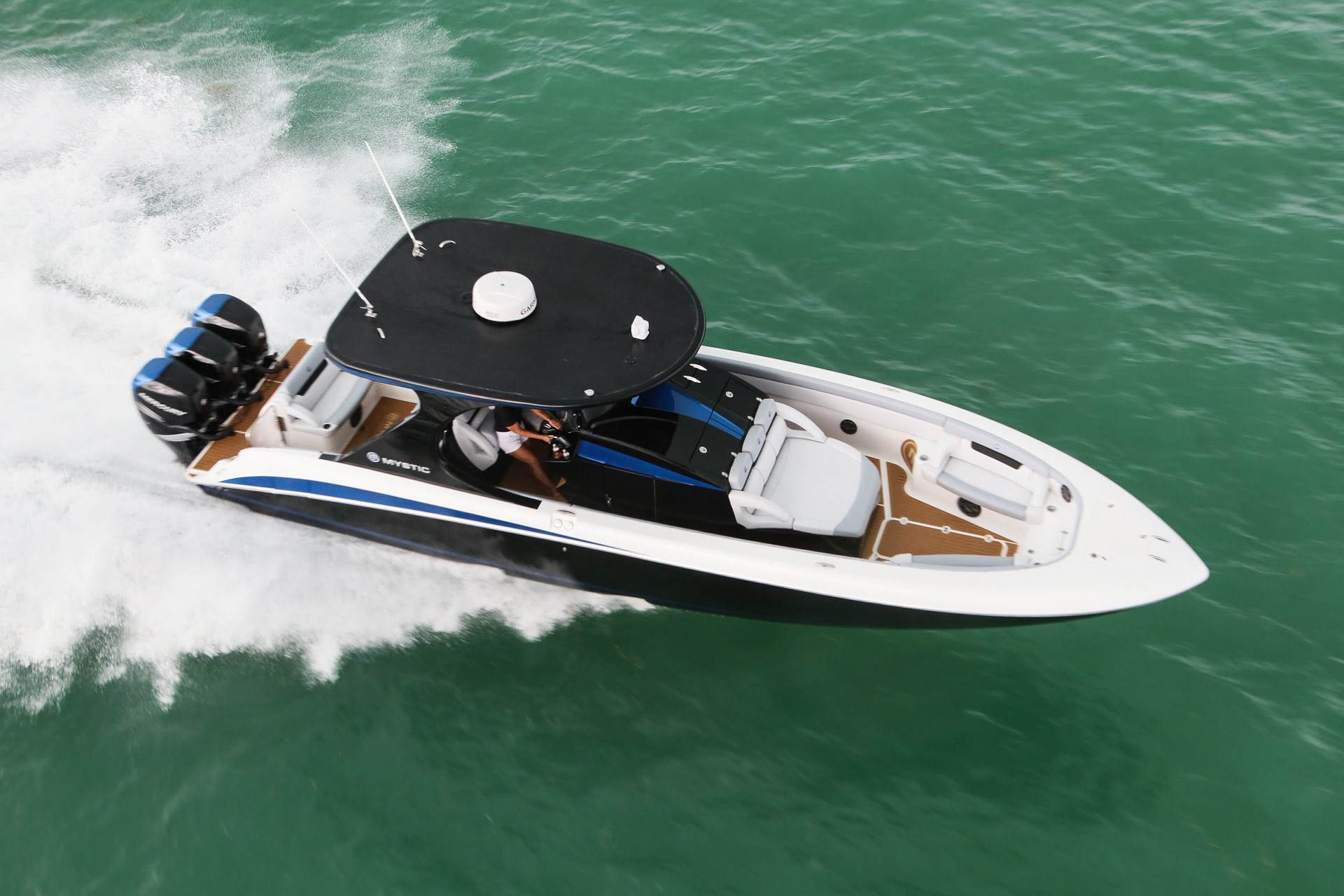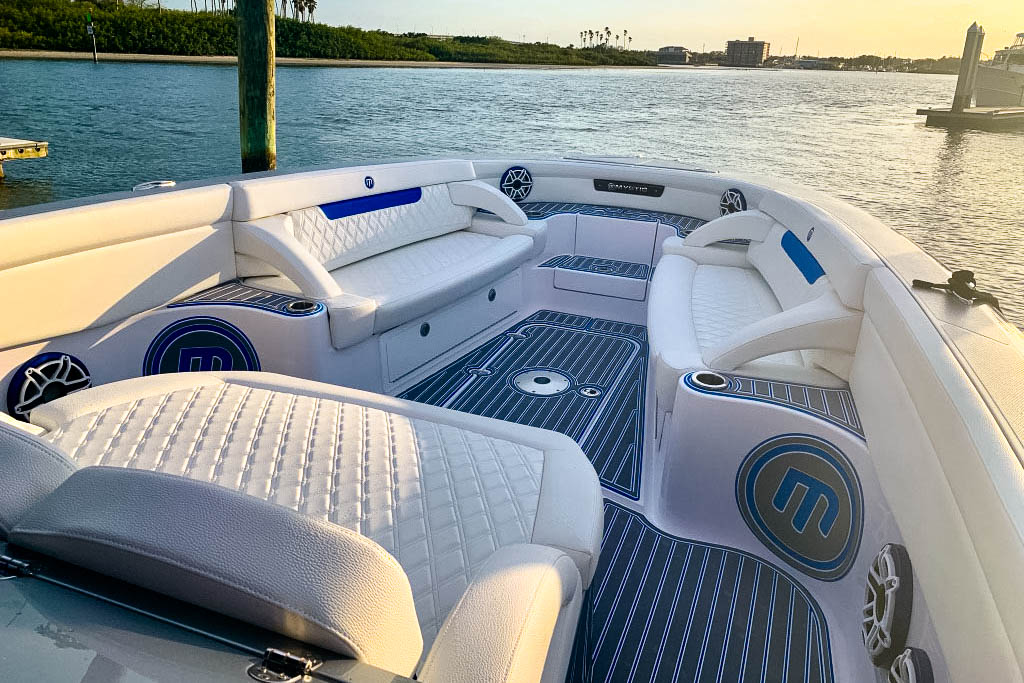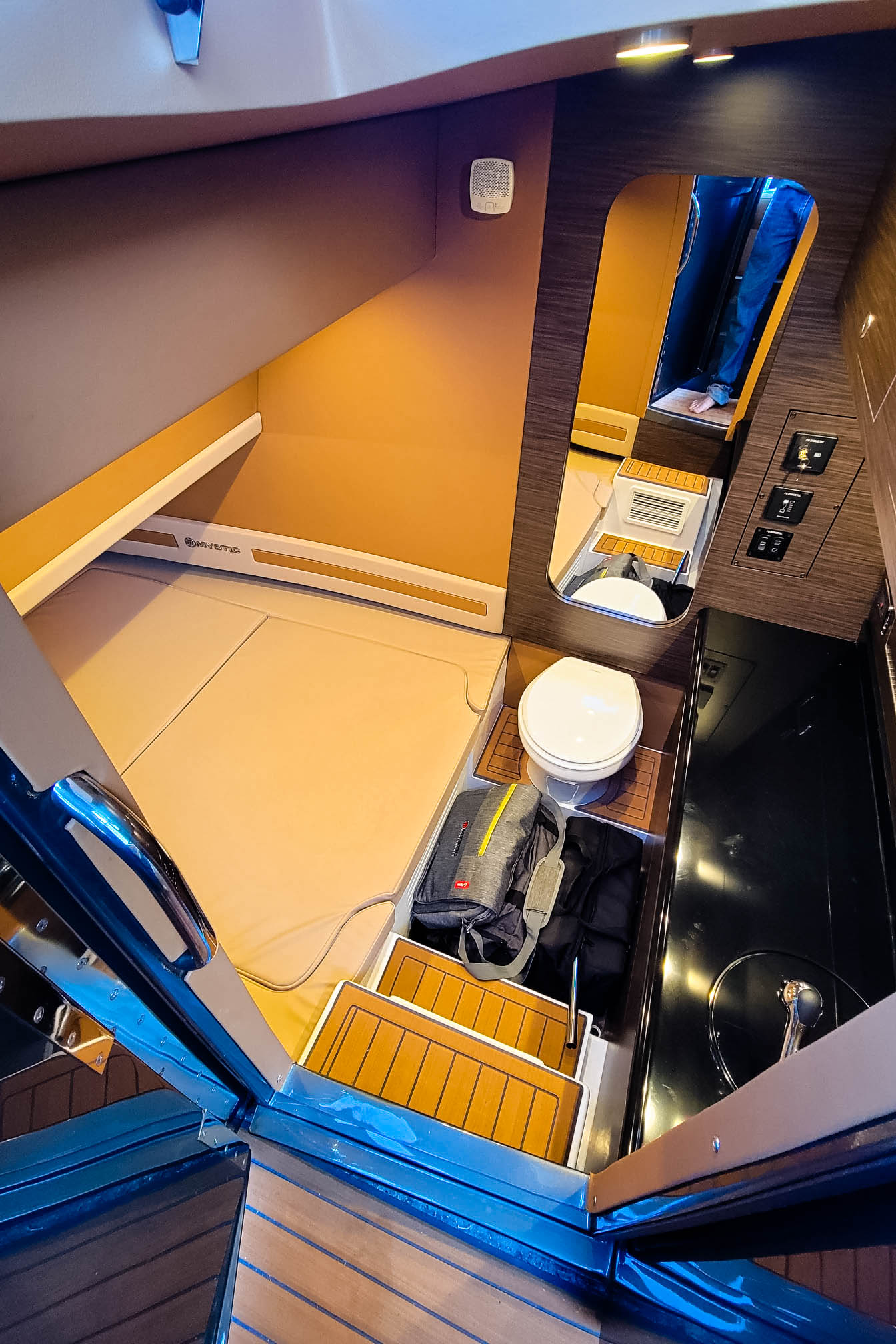 The Mystic Catamaran C4000
Keeping up with Mystic between 2015 and 2018 was like keeping up with today's mercurial crypto trading surges and purges. Wavering changes were both imminent and eminent as the coming-of-age outboards were shaking up the waters, examples being: the arrival of the 44-footer; the departure of the C5000 in the wake of 17 lightening-fast hulls pulled from the mold; and the debut of Mystic's first, long-awaited outboard-edition M3800, released with a visible amount of DNA from the C4400 initially built to handle heavy-duty stern drives.
Factory modifications on round one of the M3800 continued, and last year the 38-footer underwent a makeover. It gained two feet, lost a lot of weight, and took on the moniker C4000. The gentleman's catamaran, as it's also called, had a slow start but finally "got up to speed" as Cosker highlights, "We committed to being an outboard boat builder after cutting the back off the 44' mold and putting on a whole new transom and running surface. The first five hulls had no notch in the mold, and then we added three with a notch." Sadly, they never got off the ground (or water) running. He explains, "The first two builds were a test. Everyone loved the layout but they were not fast enough and only hitting near 102 mph. We actually went backwards and the second 40' went slower."
And then... voilà, the LIGHT at the end of the tunnel, explains Cosker, "Weight is everything so we changed five or six things and ended up pulling 1,100 pounds out. By the time we finished, the all-carbon-fiber C4000 with twin 450Rs weighed under 7,000 pounds and was running 120 mph," The last sentence says it all. Induction into the 120-mph club was the icing on the cake for Mystic since that numeric marker is somewhat of a set standard in society among the outboard-propelled, twin-hull tribe. But if it weren't for the influence of two special individuals there might not have been a sport cat C4000; it was close to being axed in order to keep up with the center console action.
First up is Cosker's older daughter Rachel who fancies the cats over the consoles, which have Kendall hooked. "At the Mystic Owners Rendezvous and Demo Day run, we put 100 miles on the cat in two hours. It was the first time Rachel had really driven a cat in the windy Cape Coral waters taking corners at 100 mph. We've been having a blast and are looking forward to doing a lot more family boating with it," jubilantly professes Cosker.
The second is Slug Hefner, the powerboat maven from Dirty Duck Racing. The LOTO staple has an insatiable appetite for Mystics and a knack for motivating Cosker. Hefner's affinity started with hull No. 17 of the C5000 series and he's had seven since, with another 42' center console on the way. Of that tally, the last two cats were thanks to a phone call Hefner made to Cosker informing him of the need for an outboard-powered mini-mi Dirty Duckster. Hearing he had plans to go with a Doug Wright was all the motivation Cosker needed as he confirms, "Moments later while in the shower, the idea came to me to cut the deck down on the 44 model. I drew it up on my home computer and sent it to Slug, to which he replied, 'let's do it.'" Hefner claimed the first C3801 out of the mold housing twin 400s and another after the 450s debuted. When the second 38' was back at Mystic getting prepped prior to the New Year's Day Memorial Run for Joey Gratton, while at the factory Hefner had a run in with the first all-carbon-fiber 40-footer. He knew he had to have one!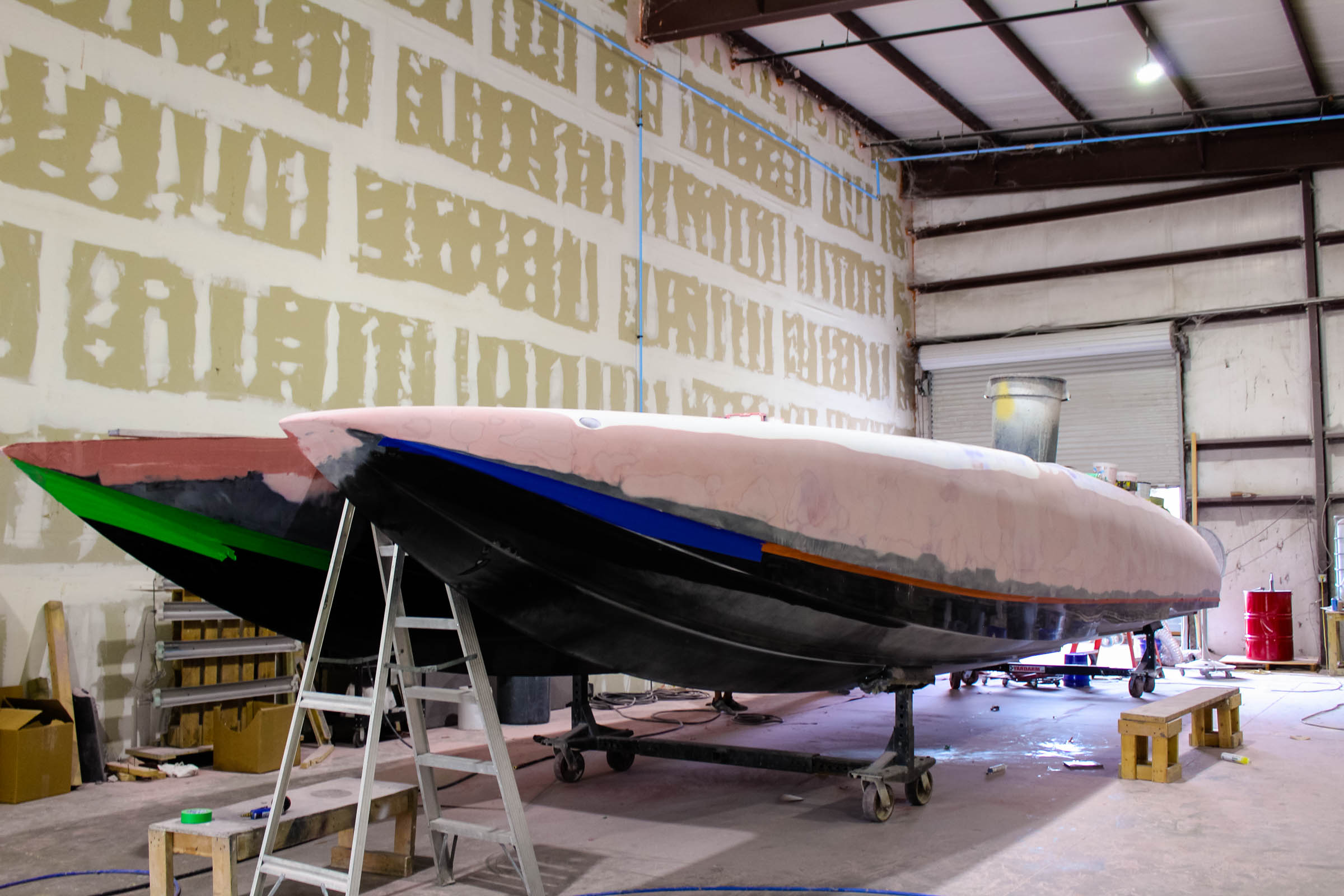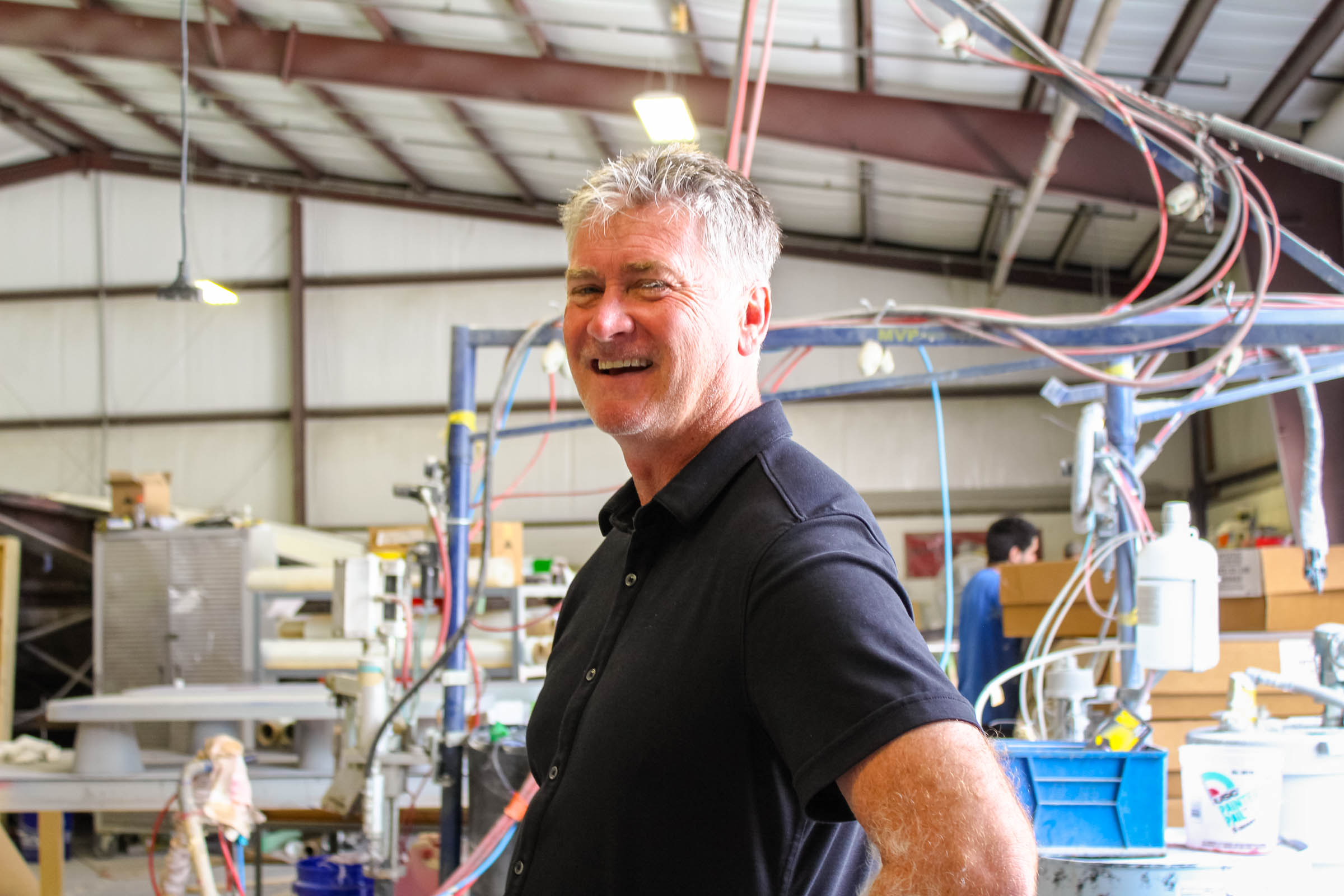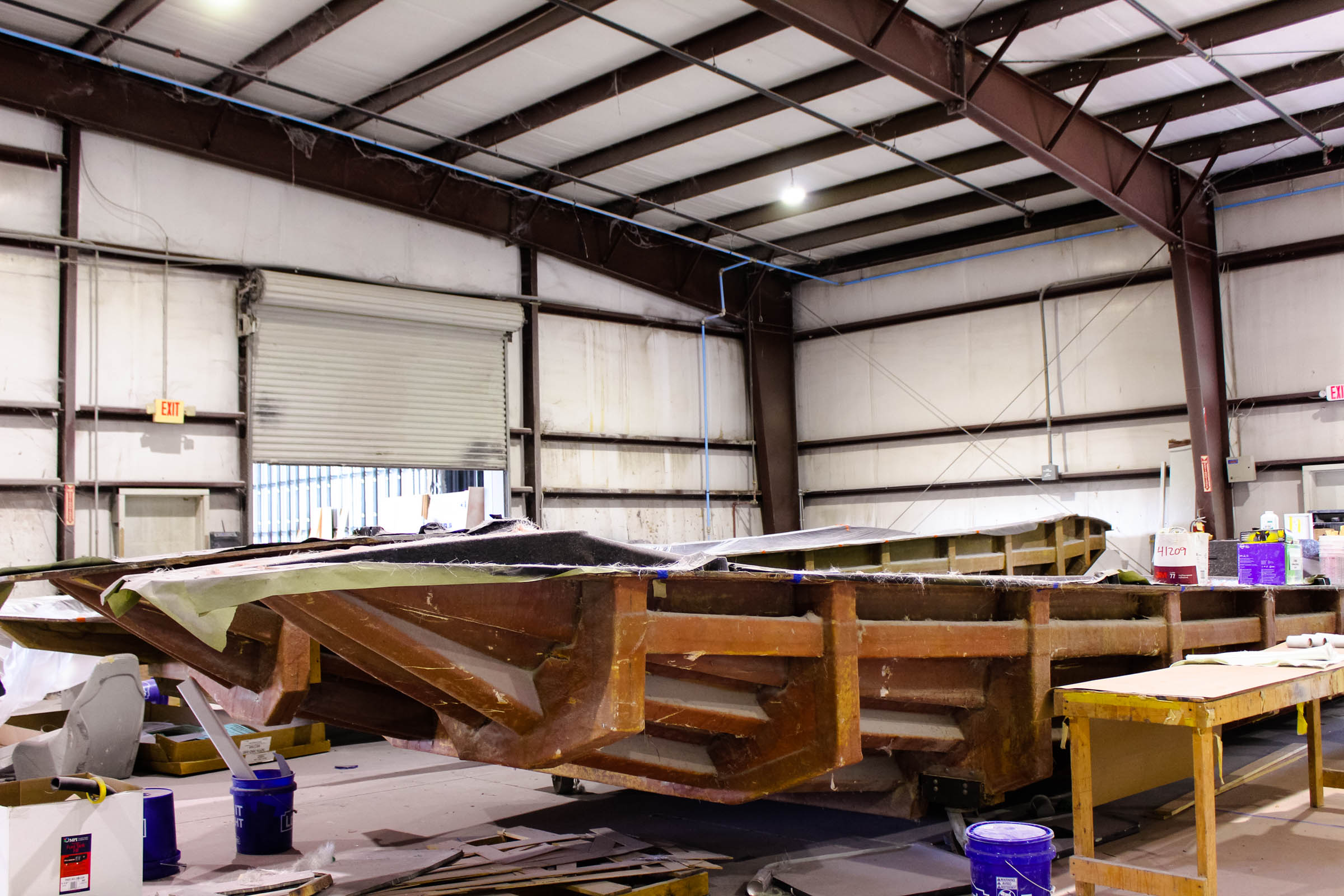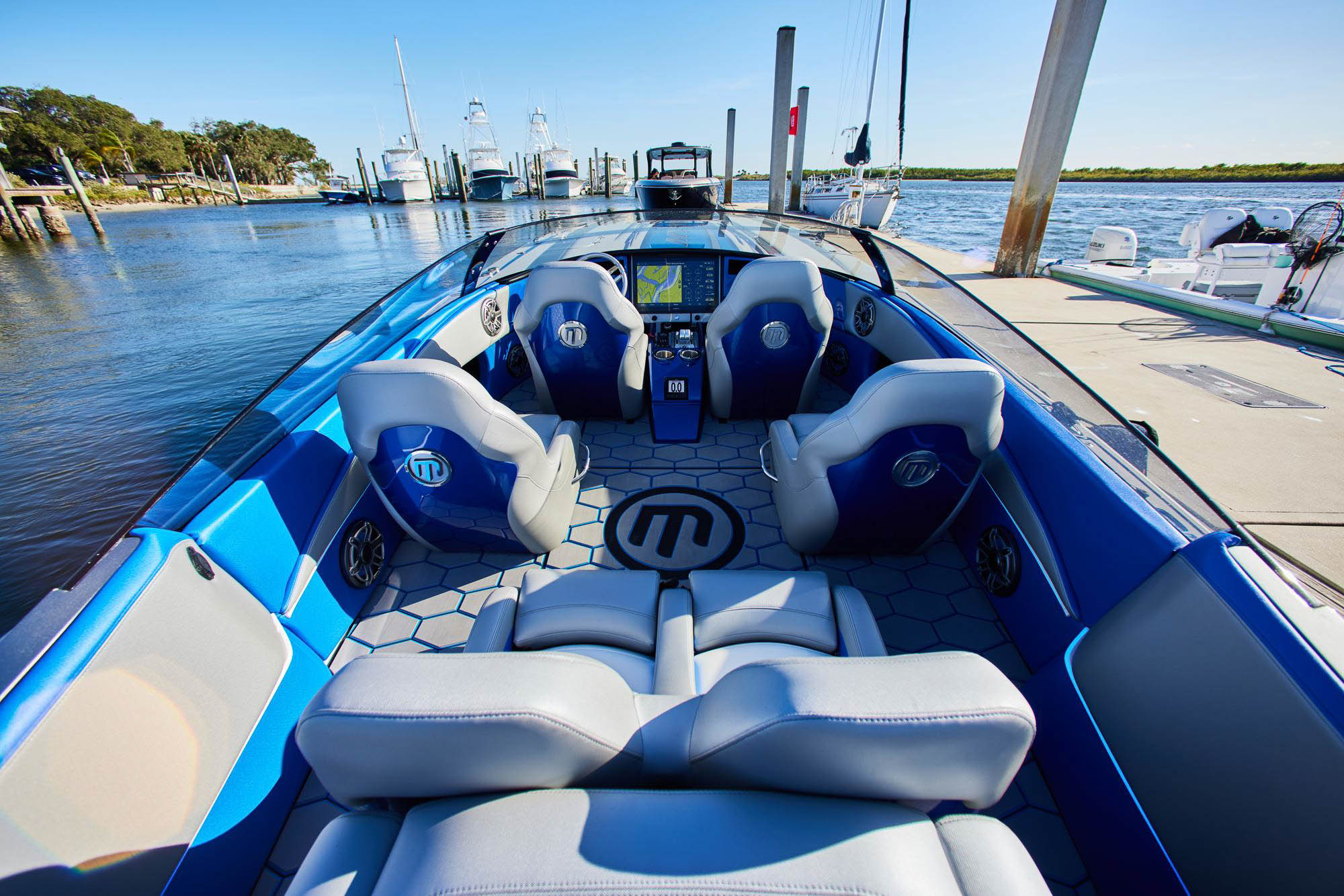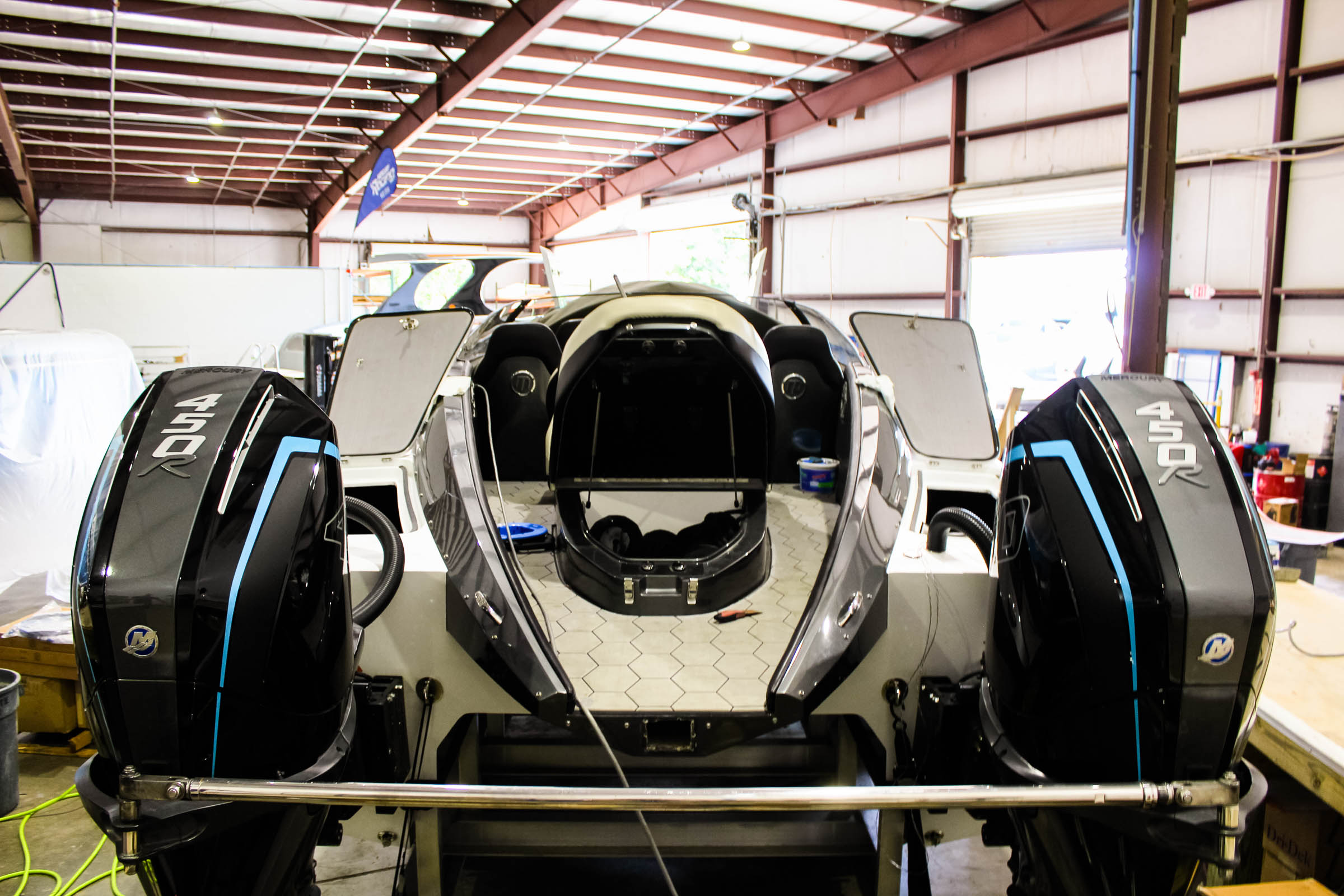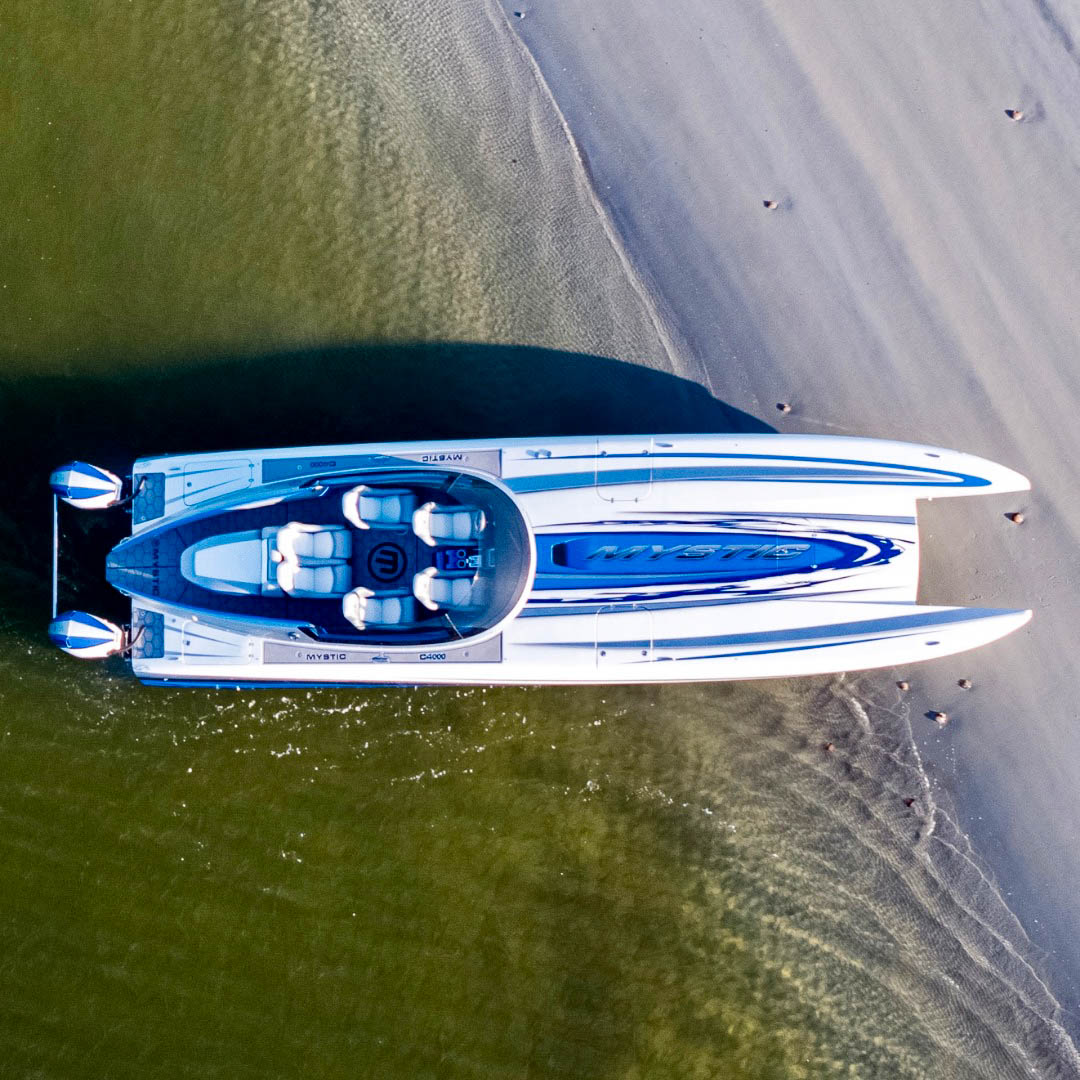 This past January Hefner welcomed his new 120-mile-per-hour duckcentric delight, and I caught up with man and machine at Super Cat Fest West back in April in Lake Havasu City. Standing proudly besides his latest #711 at the VIP welcome party Hefner seemed to be in high-performance heaven. "The layout makes it easy to spend a whole day aboard. You don't have to climb over anything to get into the water and there's so much space on board," he said. One glance at its one-of-a-kind cockpit confirms it is unlike any other kitty. The flexibility of styling with the open configuration and convertible lounge set up with either forward- or rear-facing seat placements is a game changer.
What he didn't need to tell me was about how well it handles in the rough stuff. I saw it perform live with my own eyes the next brutal wind-whipping day on the white-cap infested waters leading to the Pirates Resort get-together. The C4000 ripped through the ripples that grew to rollers like a beast. So, after 25 years in the game – no matter the hull, nor the ponies propelling it, Mystic Powerboats continues to get it right, giving customers the goods they need to enjoy life in the fast lane.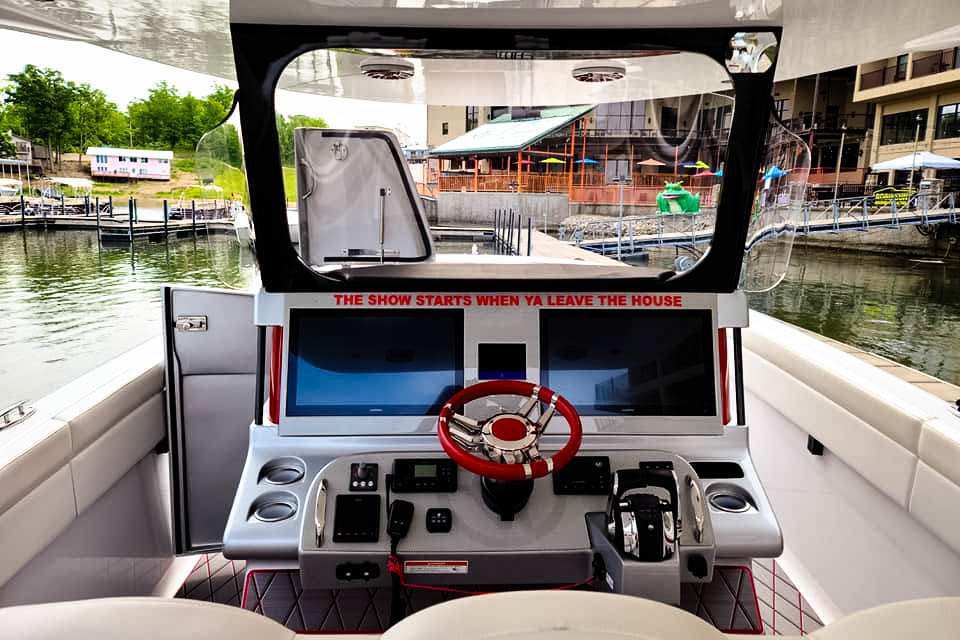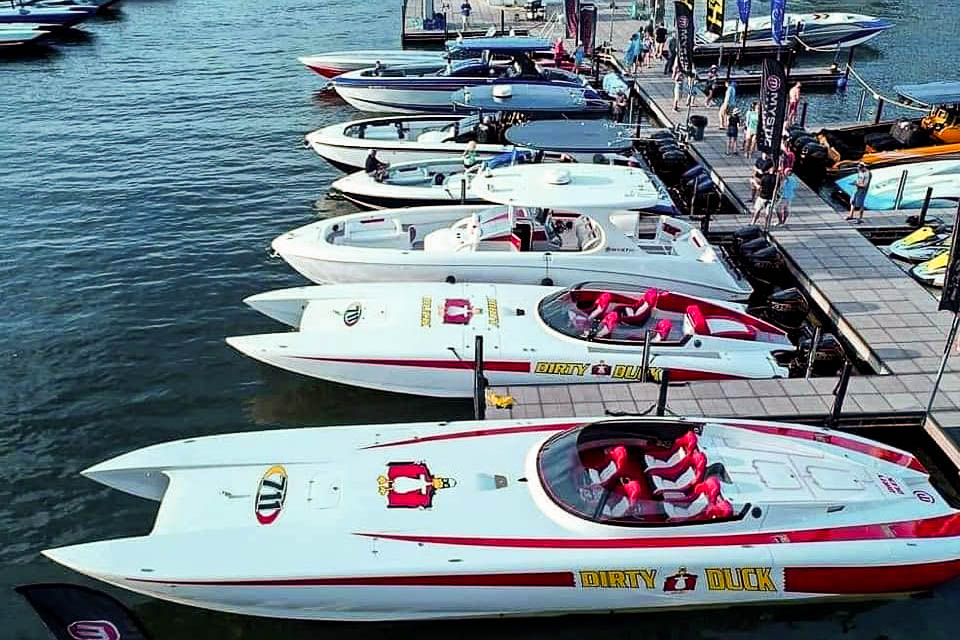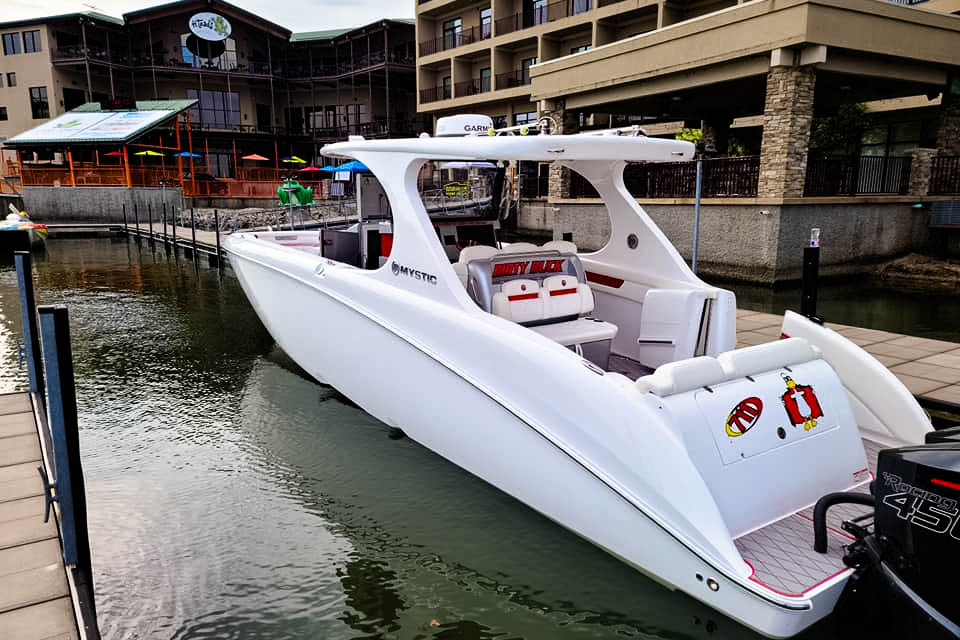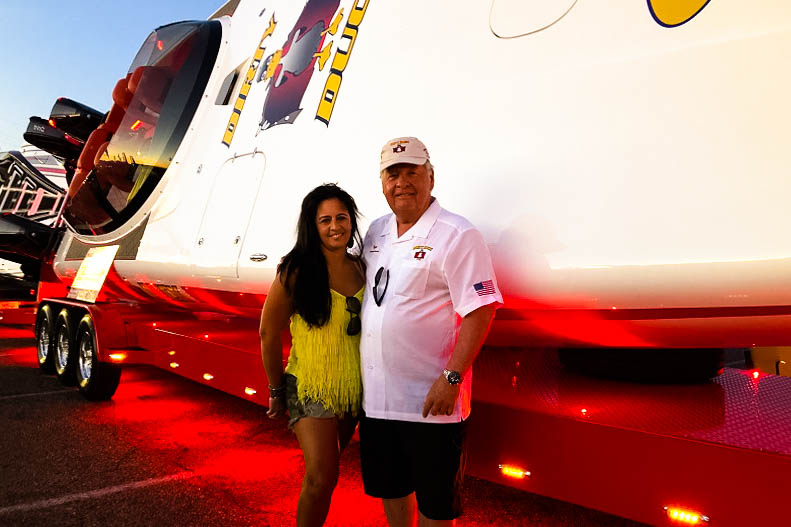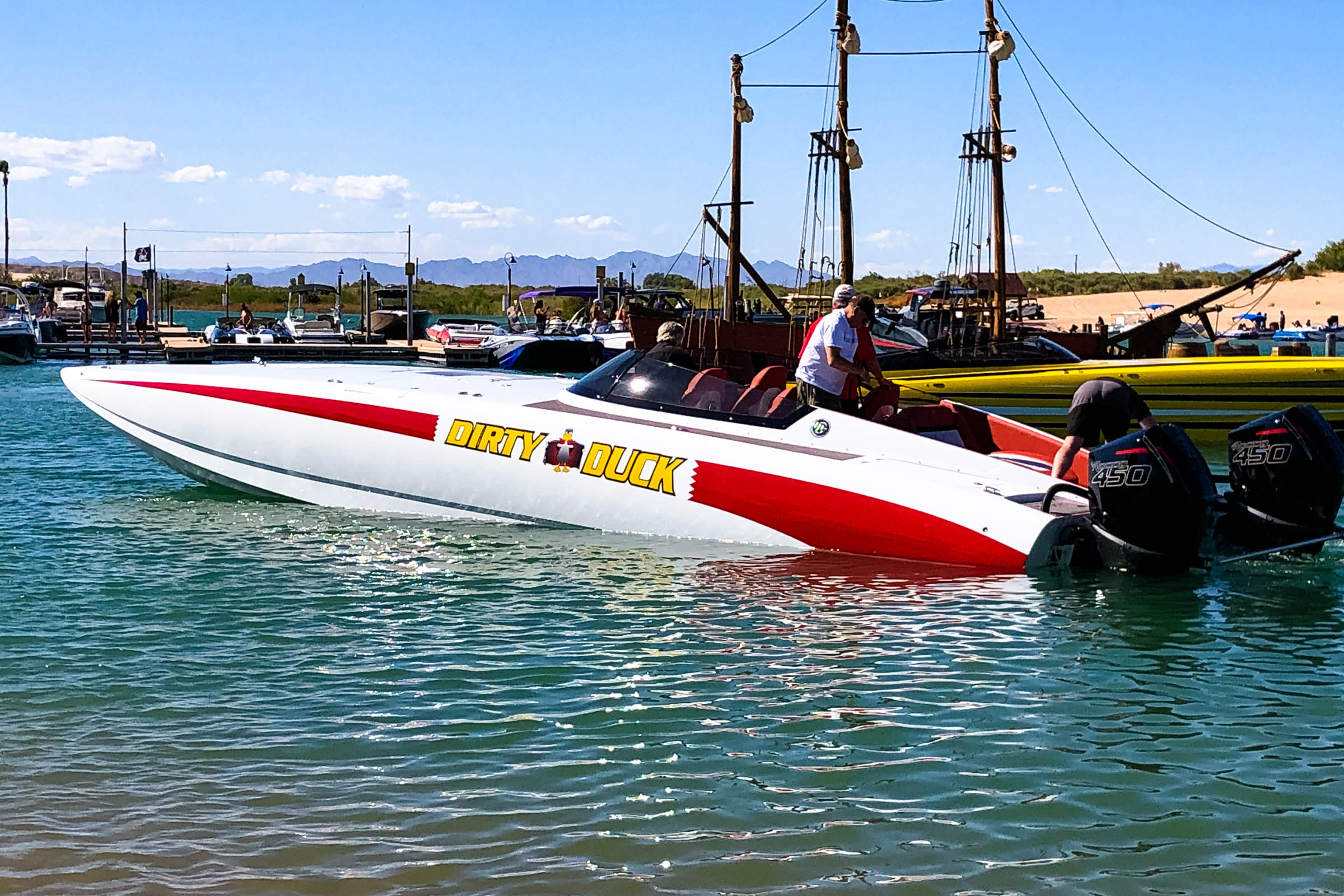 And speaking of life in the fast lane... Mystic's LOTO legacy also still lives on. For the last six years Cosker has ran Don Onken's 51' Mystic American Ethanol. This August will be no different when he returns to up his always-above-200-mph winning streak to a hopeful seven-peat. If the time has come for you to live life in the fast lane in a Mystic, give them a ring at 386-736-2247 or reach out to mysticpowerboats.com to learn more. You'll be glad you did! In closing, luxurycenterconsoles.com would like to thank John Cosker for welcoming us to visit Mystic Powerboats and we wish him the best of luck in LOTO.