Story by DinaRella / Photos by DinaRella, Wajer, SACS & Hierbas
Celebrating the end of summer season in Ibiza has always been sort of special. Smiles spiral up, temps and traffic spiral down; and the cool cats come out to play and powerboat in paradise. To make this past September of 2019 even better, Luxurycenterconsoles.com was on the White Isle scoping out European hardware and honing in on the hot-spots  to drop the lines each day.
The majority of vacationing thrill-seekers arrive sans speedster, and rely on renting their joyride from one of the diverse charter agencies in the harbor marina. A second highly sought out location to lease a boat is in Santa Eulalia, the third largest town, twenty minutes to the north. Palm tree lined esplanades, a magnificent marina with fully-equipped facilities, shops, restaurants and an overall laid-back feel and appeal make it a favorite of locals and newcomers alike.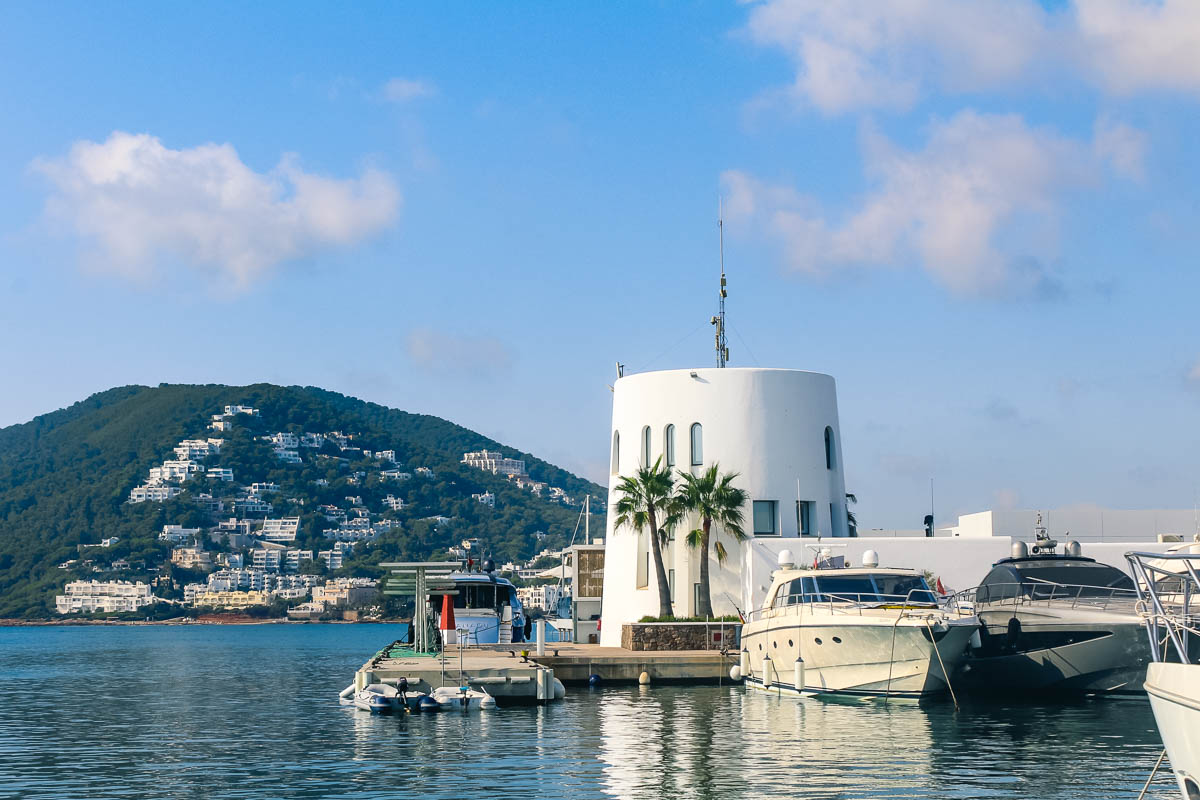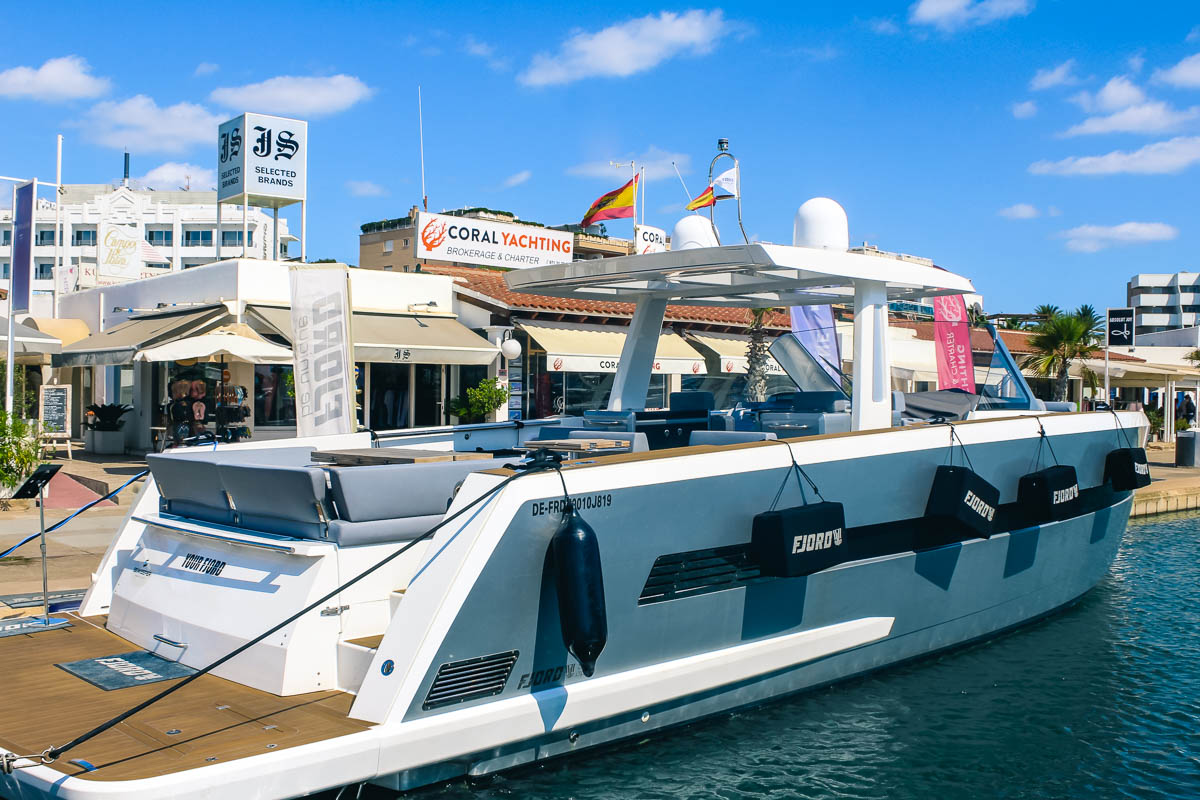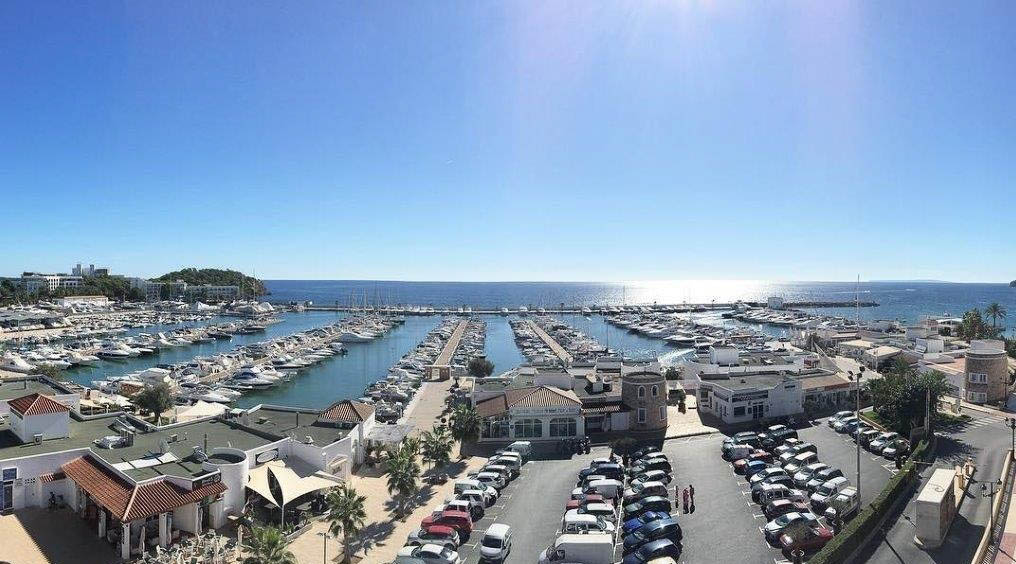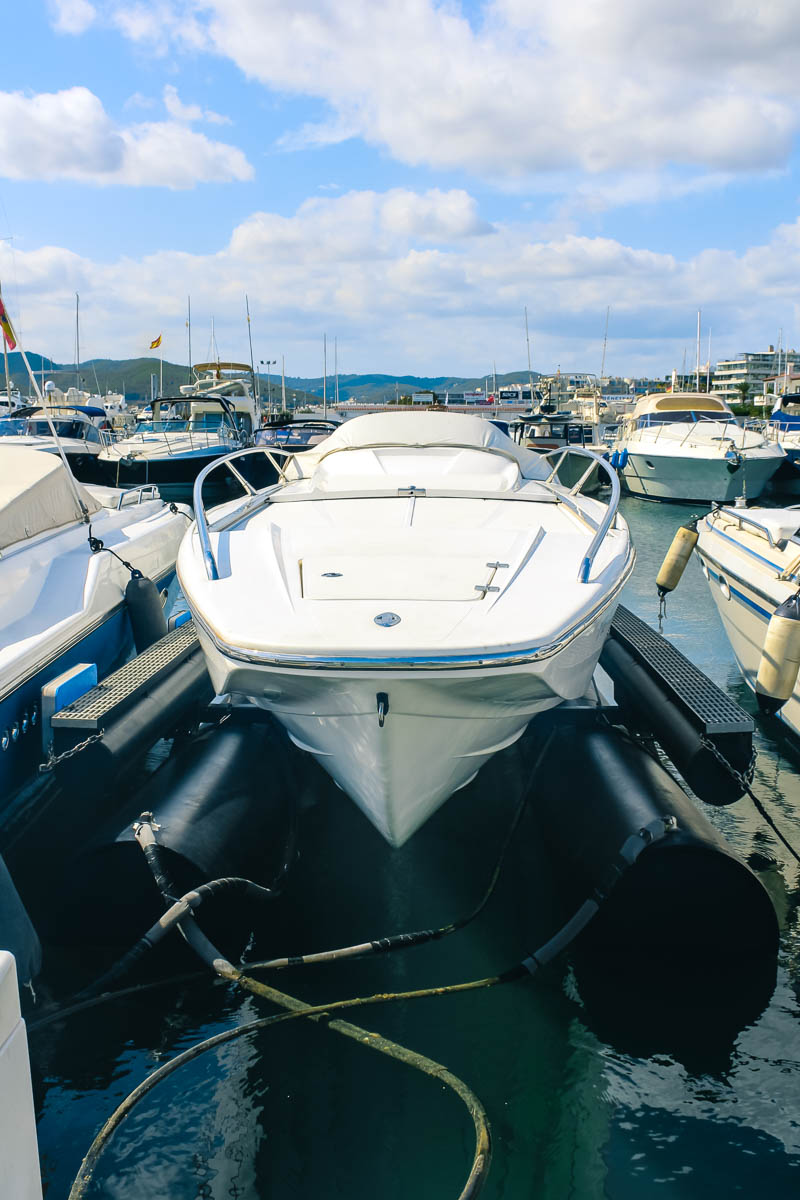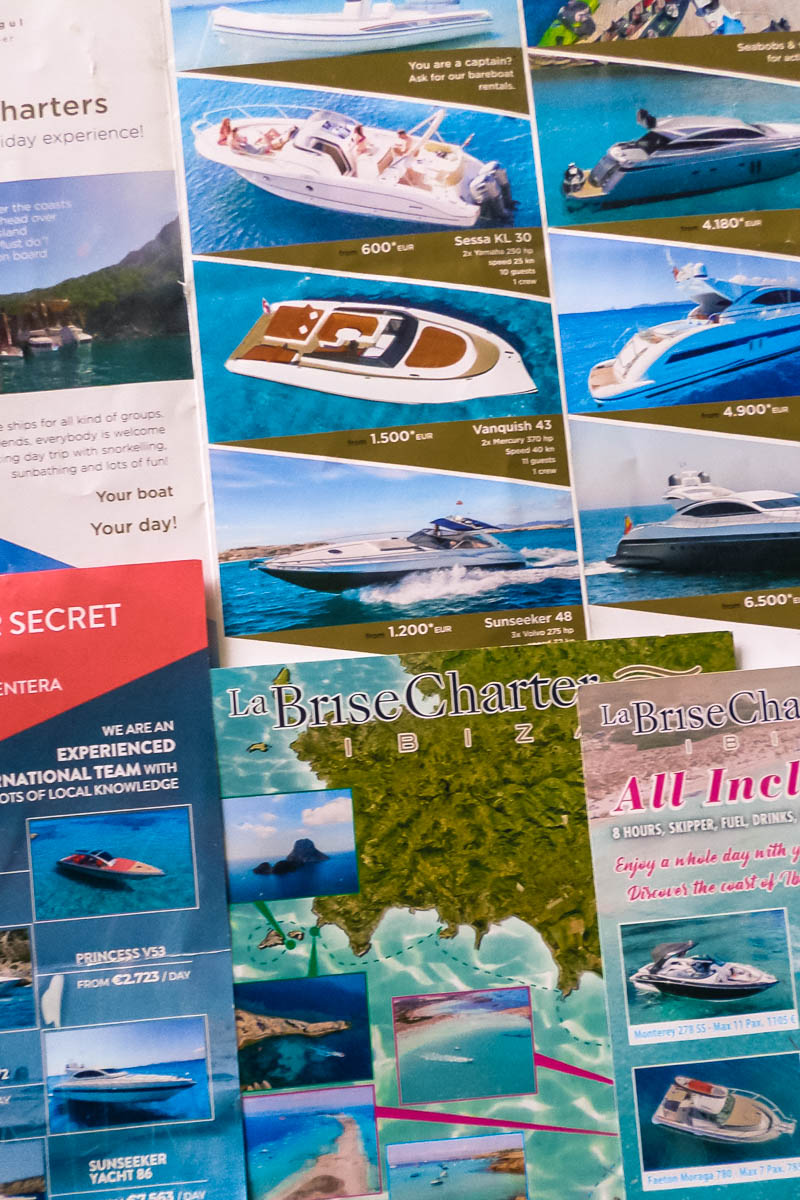 The million dollar question comes next...what lean, clean, tooled-up machines are out there mashing up the Med?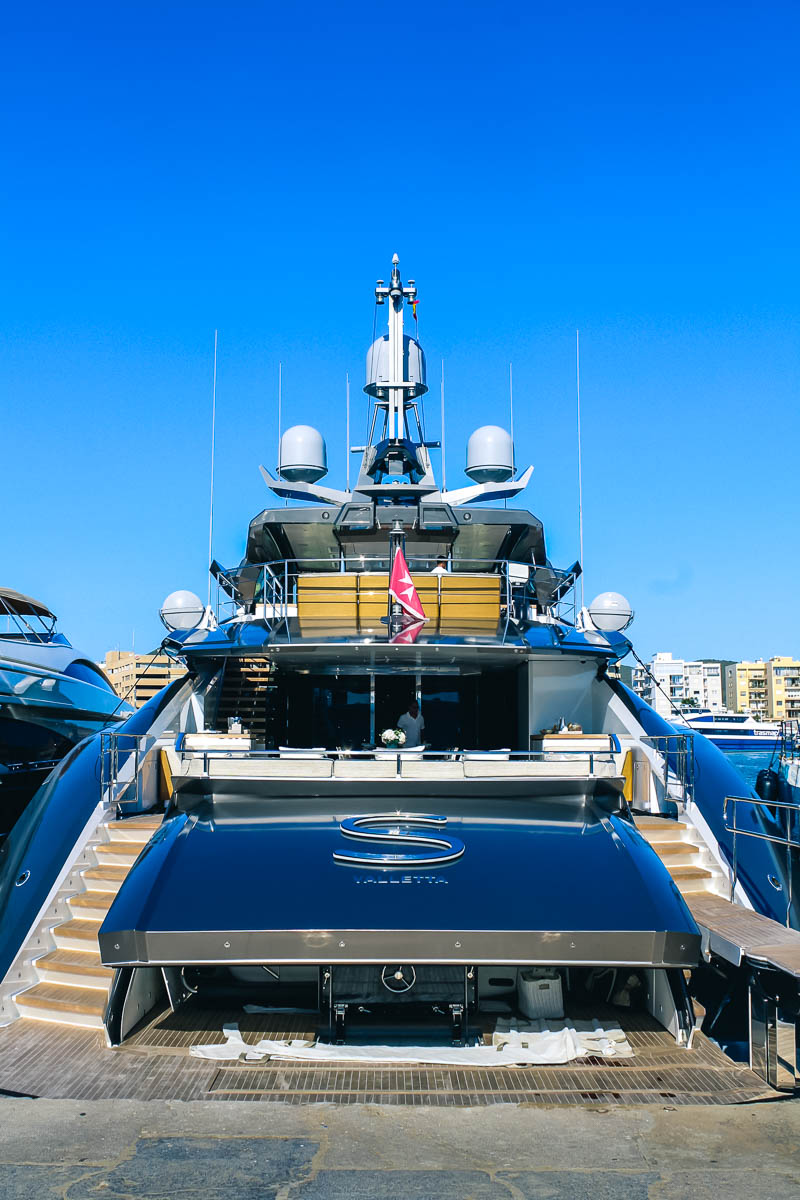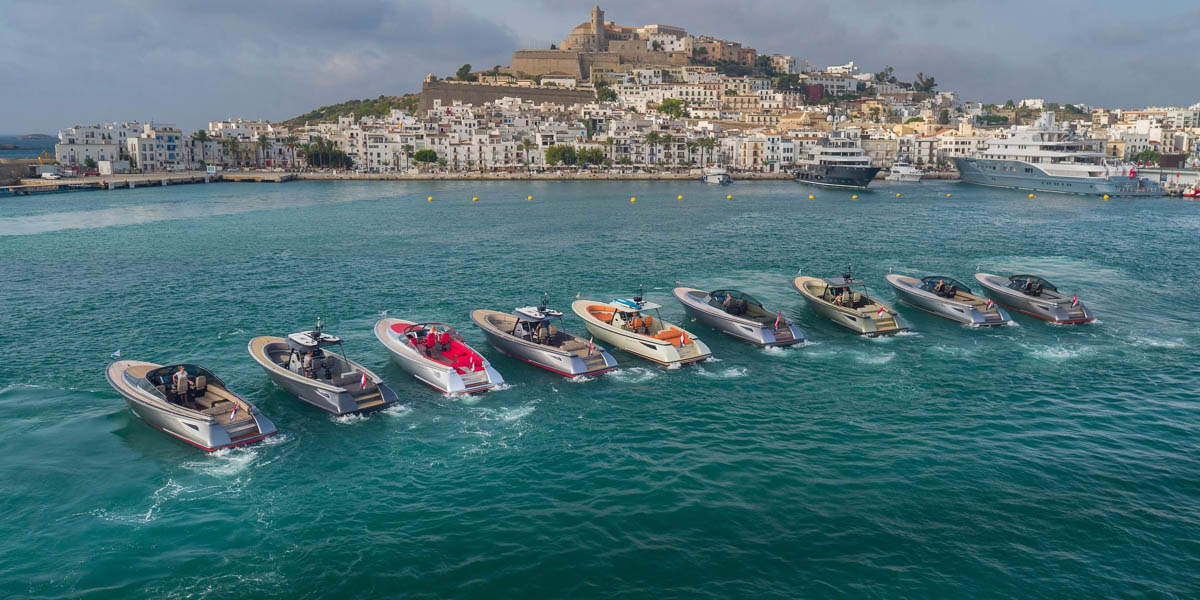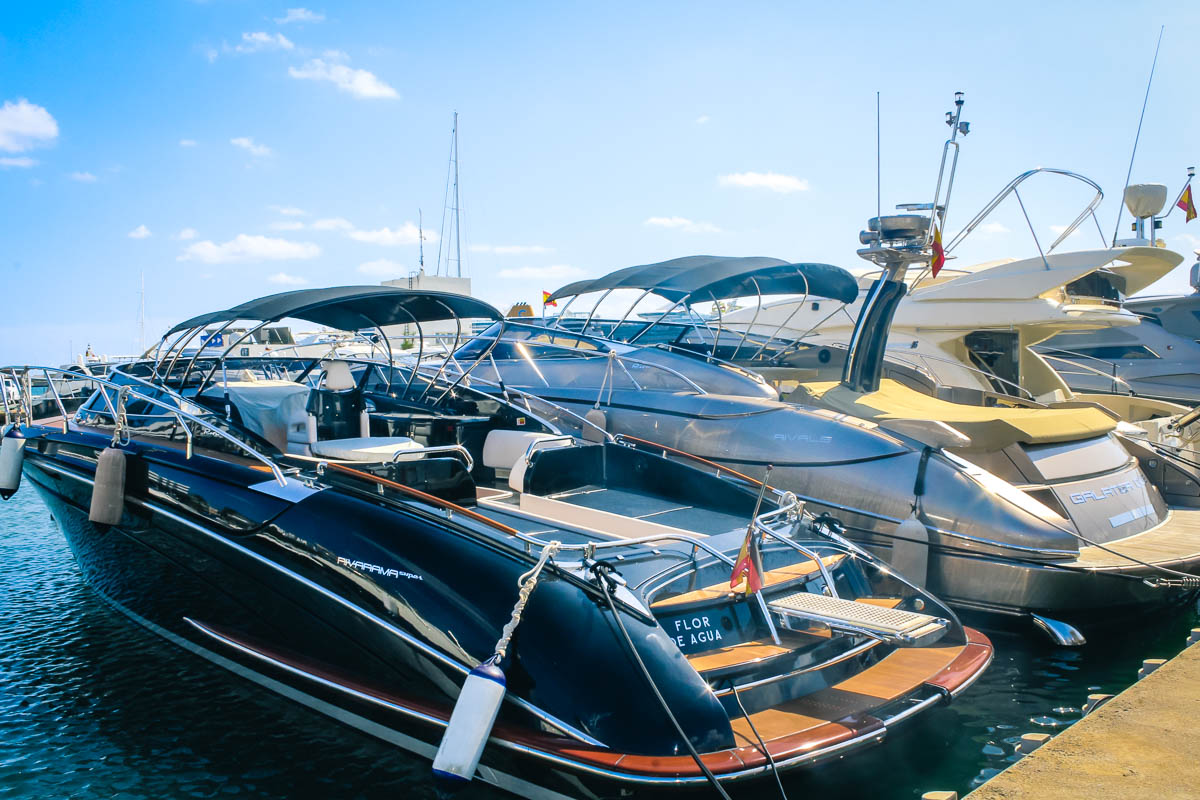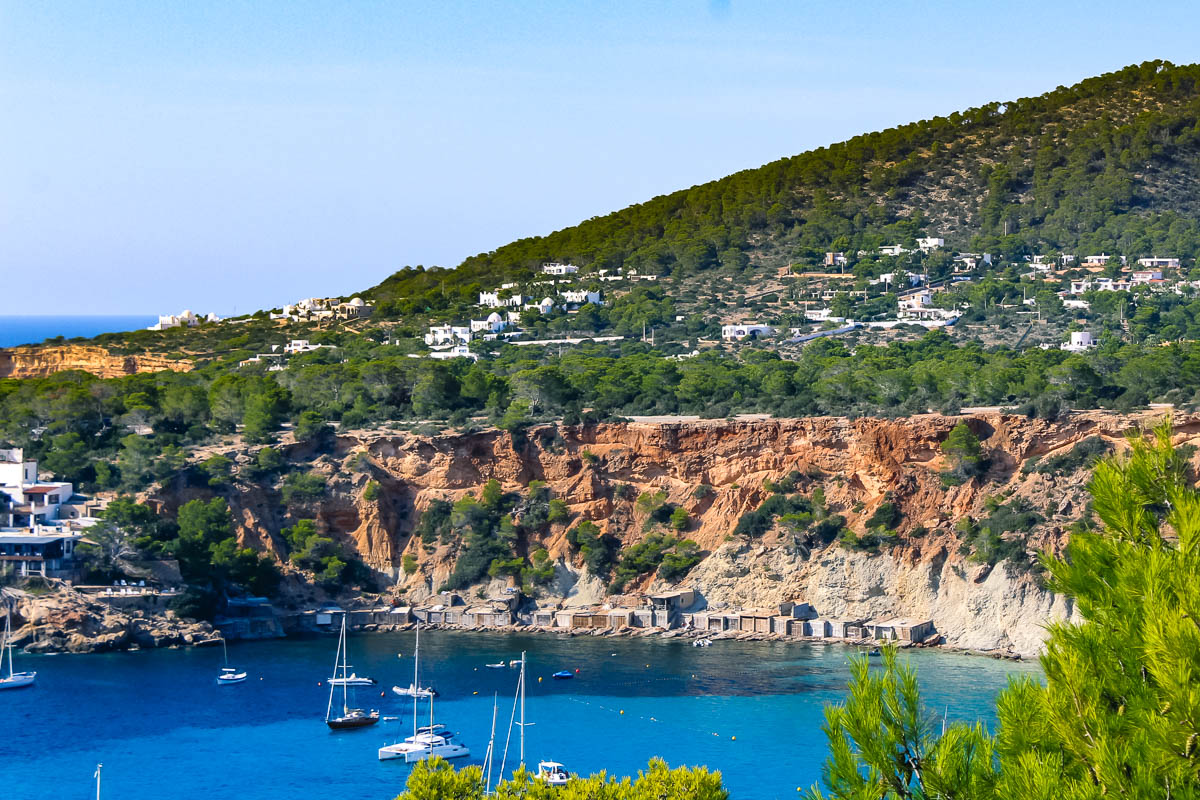 Wajer Yachts and SACS Marine Making Waves
Straight-up, I can tell you scoring a Skater with Mercury Racing 1350/1550 stern drives, or a Mystic M4200 packed with more ponies than pretty faces, is not in the cards across the pond. With that said, two of the most ubiquitous European head-turners having conquered the coastline are the Netherlands's Wajer (pronounced Va-her) Yachts and Italy's SACS Marine.
From the half a dozen Wajer models in production, the 38-footer is the quintessential, standout Ibiza day boat, reason being - it goes the fastest of the six. Modern and minimalist to the eye, its coupled with a solid internal hull composite, a classy and inviting contemporary interior, and a pair of Volvo Pentas that vary in power, according to the purchaser.
Going gung-ho with the dual Volvo D6-DP 435 hp six-cylinder diesel engine set-up in combination with the IPS600 dual pod propulsion system will push the Wajer 38 to 52 mph at WOT. The joy-stick controls turn out increased momentum over conventional propeller shafts, and as a result, make it a breeze to operate and inevitably afford precise steering capabilities.
Along the sides, highly functional spray rails have been dynamically integrated into the hull design and work together with the flared bow to keep the cockpit dry in the big stuff. Furthermore, an additional convertible top shelters up to nine passengers in adverse conditions. It's the owner's call on the frame, choosing between a wooden or a carbon fiber finish.
In 2015, a new star in the Wajer Yachts family came to light. The Wajer 38 S was unveiled giving the original an open deck and central cockpit command station with lower head. The watersports-driven showstopper ramped up space for socializing and roaming about on board, increased stowage facilities for aquatic toys, towels and totes, and even more paramount, improved pilot's visibility.
Deciding on the twin Volvo Penta IPS350 D4-310 hp four-cylinder diesel engines install, the Wajer 38 S speedo flicks just past 53 mph. One of the best times in Ibiza to be out running in any of the Wajers is during the company's annual Ibiza Wajer Owners Challenge -- a summer event similar to the DCB Performance Boats Regatta and MTI Owner Fun Runs. When introduced, the asking price was around $541,000, and at present there is an office stateside in Fort Lauderdale, Florida.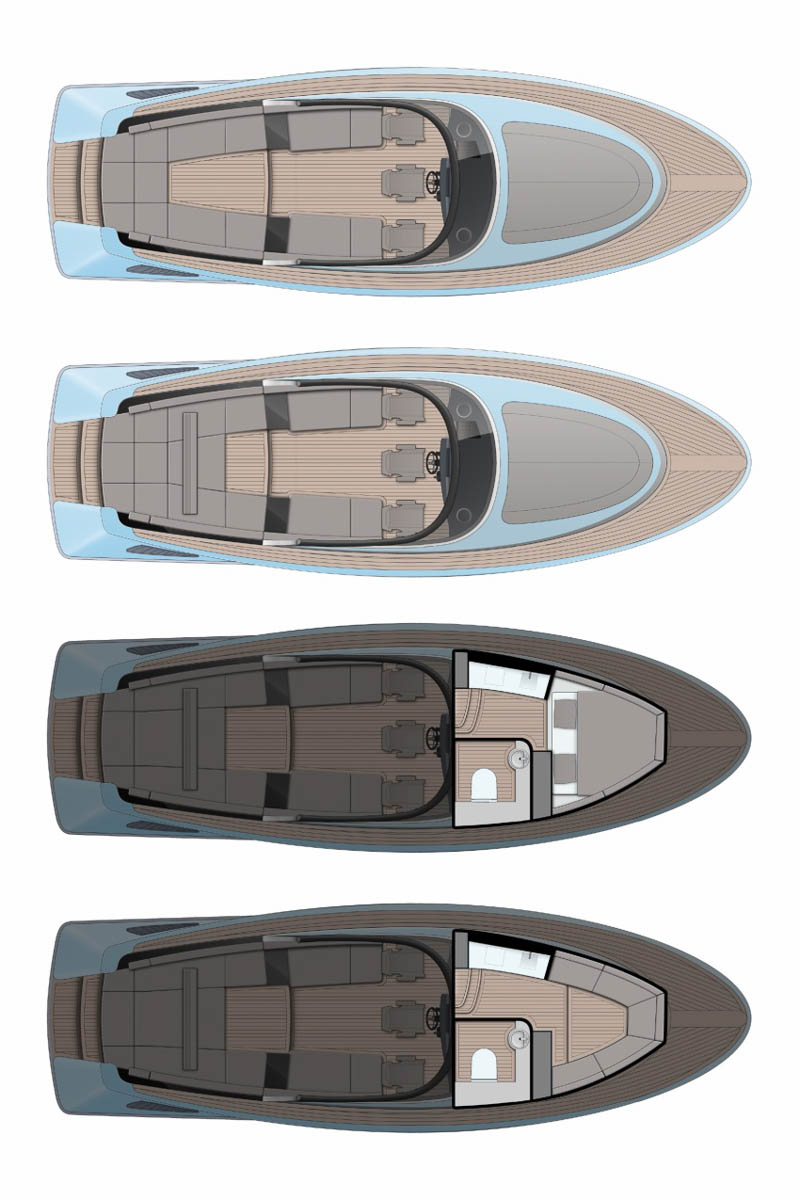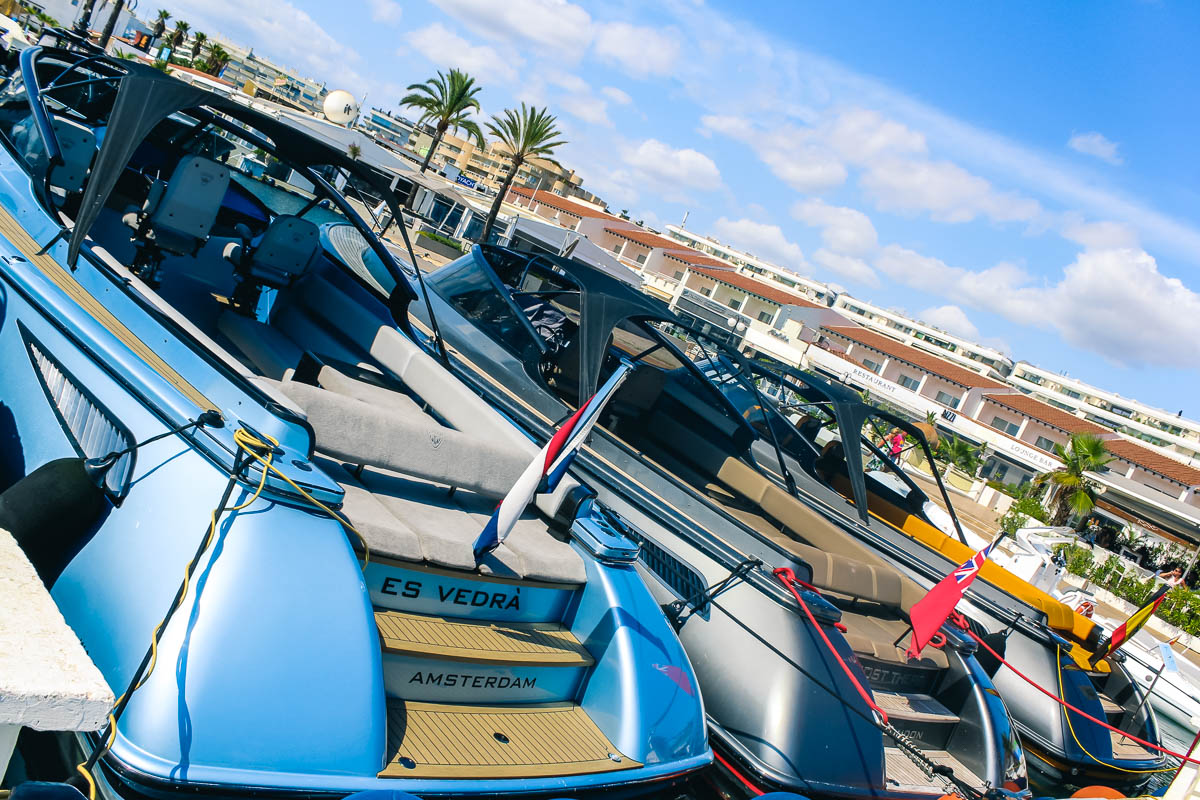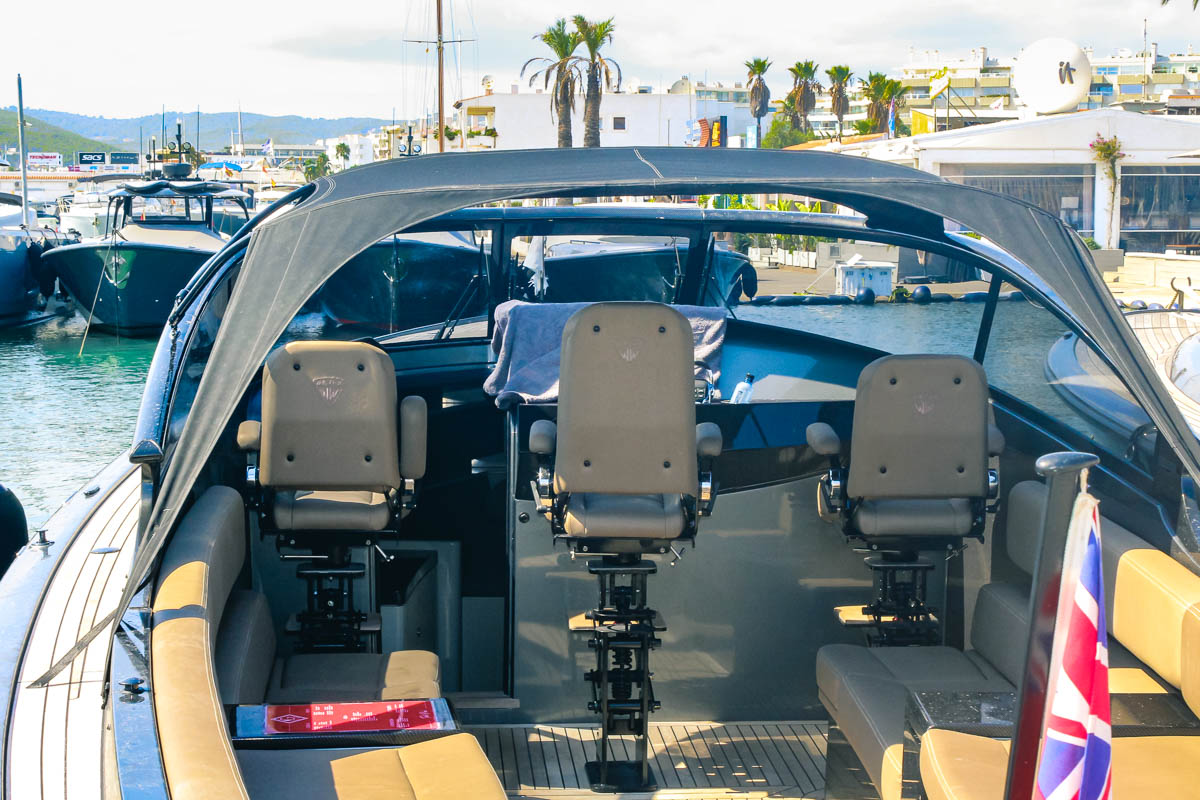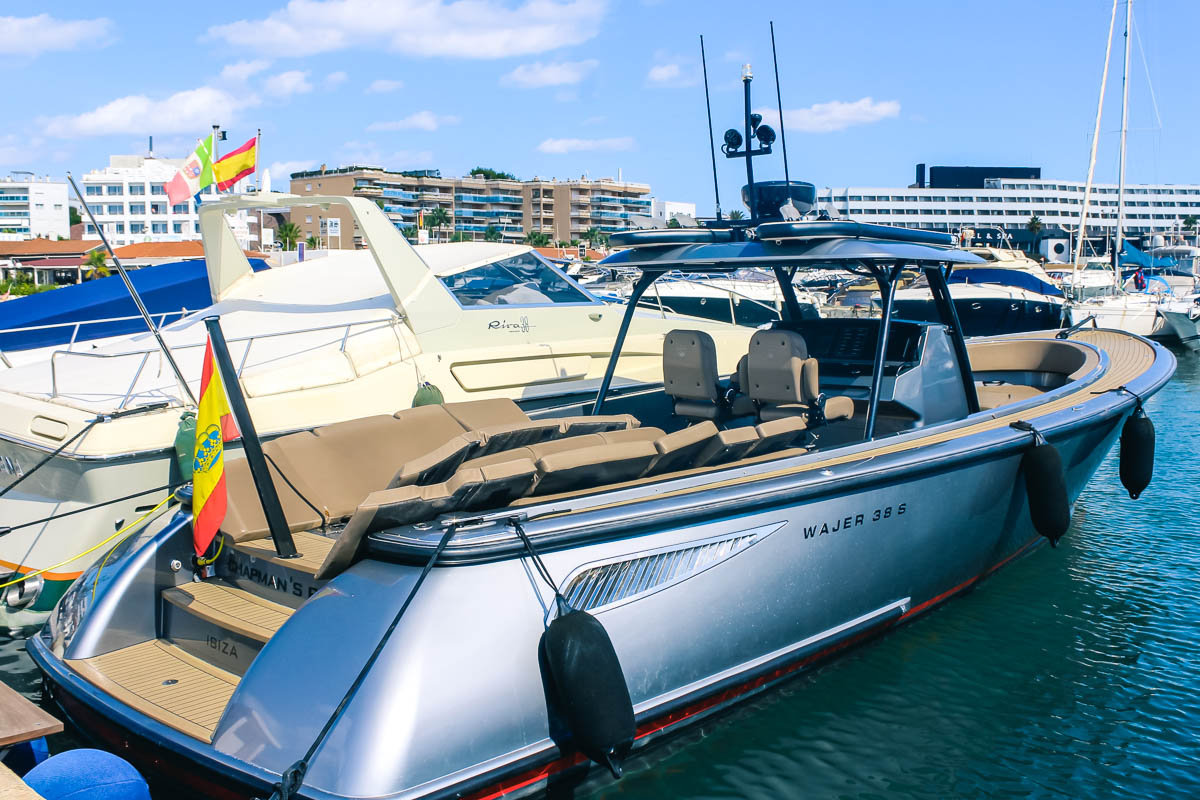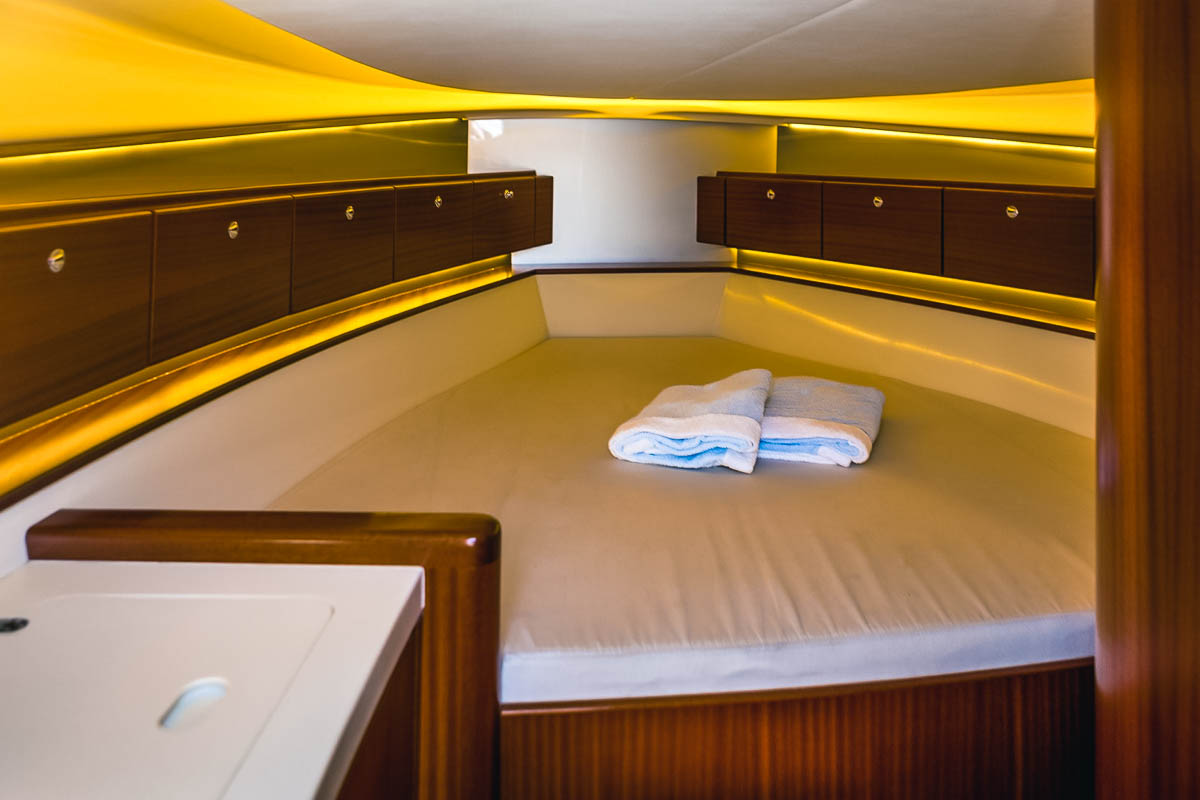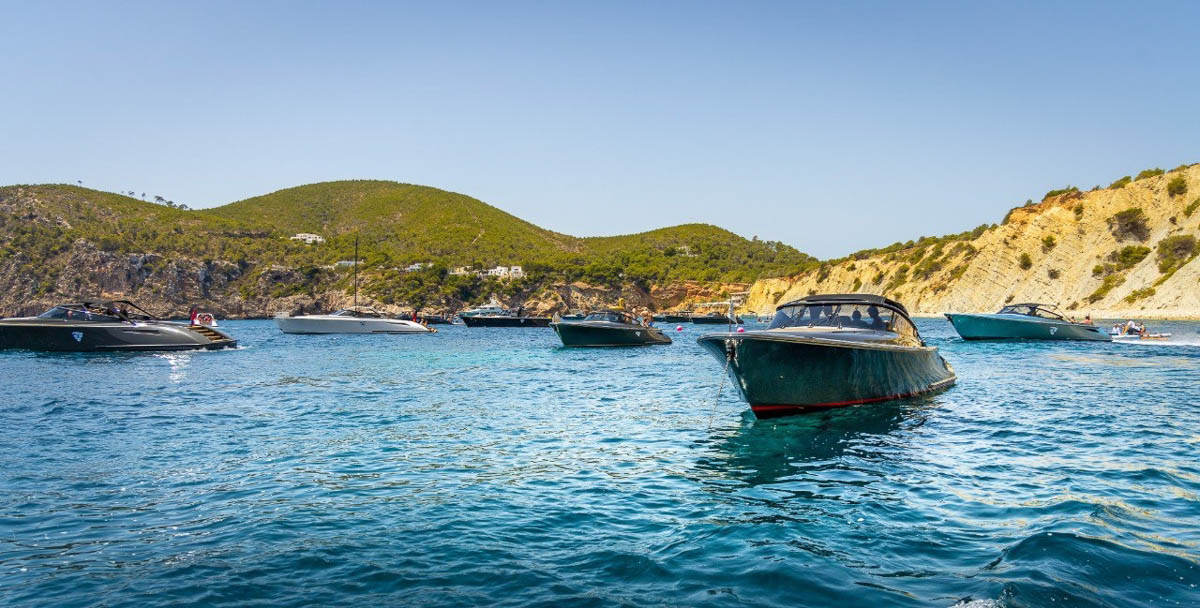 If the Wajers didn't woo you, maybe a Rebel will. It's the SACS Marine revolutionized version of a maxi-RIB (Rigid Inflatable Boat) crossover craft -- famous for reelin' round the rollers in a war-like machine, while at the same time feeling like you're styling on a proper pleasure cruiser.
Being an Italian boat manufacturer with roots near Milan speaks volumes as to the brand's international claim to fame. No country's DNA is in the same ballpark as Italy when it comes to custom performance collections (Azimut, Ferretti, Ducati, Ferrari, Maserati, shall I go on...), and first-class quality and design across the board from lighting to upholstery to marble, etc. Damn, Italians even make faux-suede Alcantara feel like the real deal!
So, it's no surprise SACS Marine adheres to the utmost stringent construction standards. The Rebel 47 takes its moniker quite seriously "rebelling" against all classifications. Its unsinkable outer layer of tubing is shaped by autoCAD to ensure a perfect fit, and is then covered in plastic, followed by Hypalon neoprene. In place of being inflated with air, the tubes are filled with closed-cell polyurethane foam.
Yacht design mastermind Christian Grande is the source behind the unconventional Rebel, and he takes his inspiration and cues from sports accessories, and luxury residential and automotive components. The first Rebel 47 out of the SACS Marine shipyard was an asymmetrically engineered Limousine model created with a large wrap-around windshield covering three-quarters of the cockpit, a galley to the port side and seating to the starboard, and an interior cabin with beds for four, and a private head.
The traditional styling of the Limousine model flew out the window when the Rebel 47 Open was splashed. Versatile, symmetrical and performance orientated, there is no doubt the Open was designed with added emotion. Engineering includes a mounted hard top with curved stainless steel supports that allows the above skylight to open via a centrally controlled unit, and further aft on the teak platform, hydraulic steps can be raised up to the dock for boarding, and lowered for easy access into the sea for swimming and snorkeling. A toy garage under the sundeck is another indispensable addition.
Engine-wise, several alternatives exist and are all generally "fueled by" the need for speed, low noise vibrations and reduced gas consumption. Dual Volvo Penta D6 400 hp stern drives will keep a tight reign on the Rebel 47 advancing only to 42 mph with throttles forward. Upping the horses to twin Cummins QSB 6.71 550 hp inboards with Arneson Surface Drives bring the Rebel flying to a formidable 57 mph. Cummins all the way would be my choice! Due to exchange rates, VAT and powering preferences, owning a Rebel 47 Open will run you anywhere from $550,000 to $772,000. Ahh, the price we pay for power!
A mini-me version -- the Rebel 40 -- was let loose in France at the 2018 Cannes Yacht Festival and mirrors the Rebel 47 with double beds, a tidy saloon and head with shower. Connecting to the sea as effortlessly as its bigger brother, the Rebel 40 hits 46 mph when fitted with twin Volvo Penta V8-430-CE/DPS stern drives.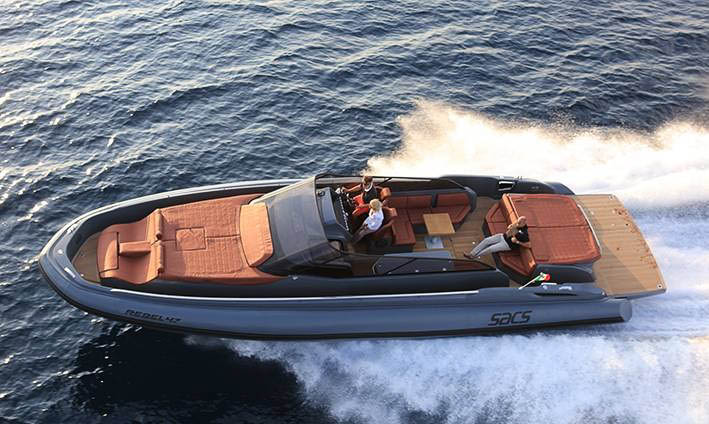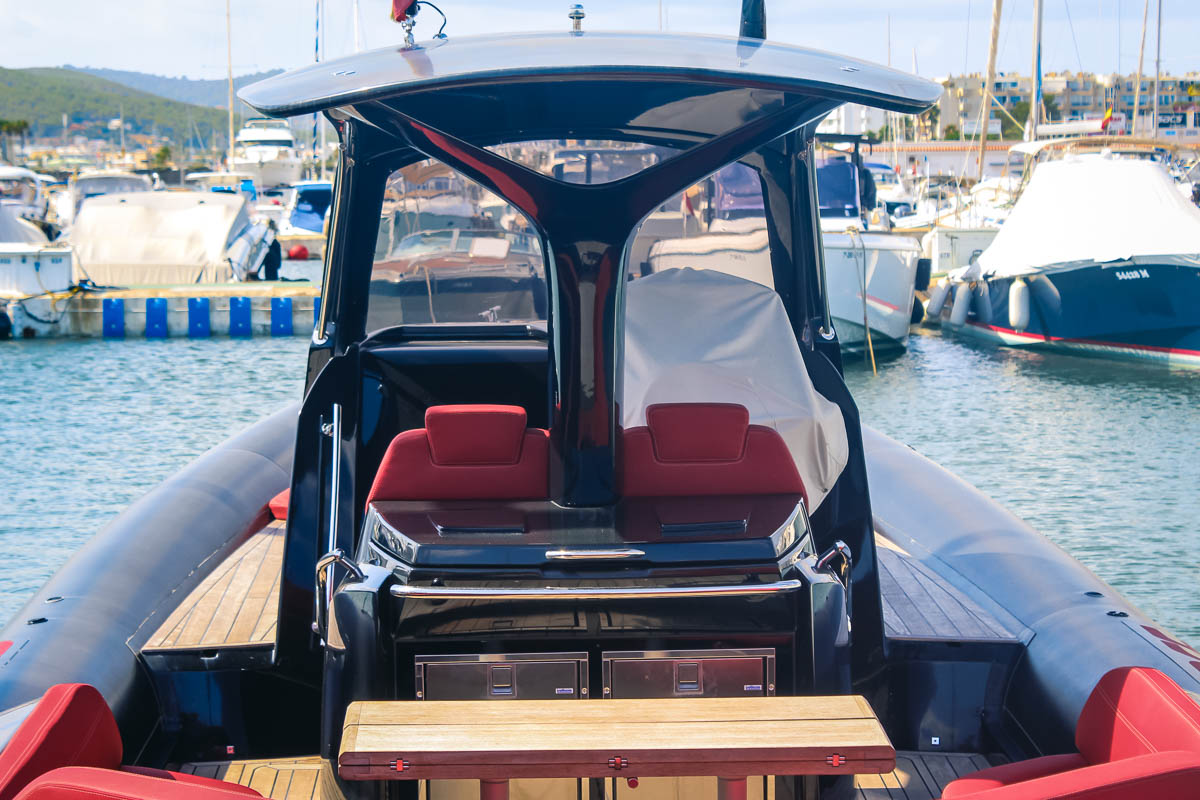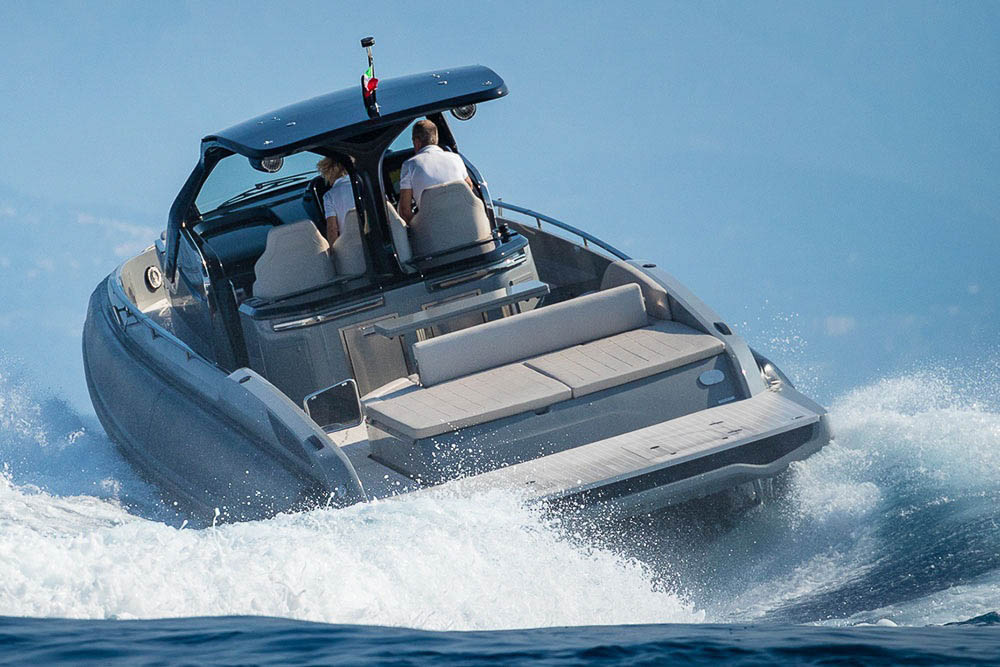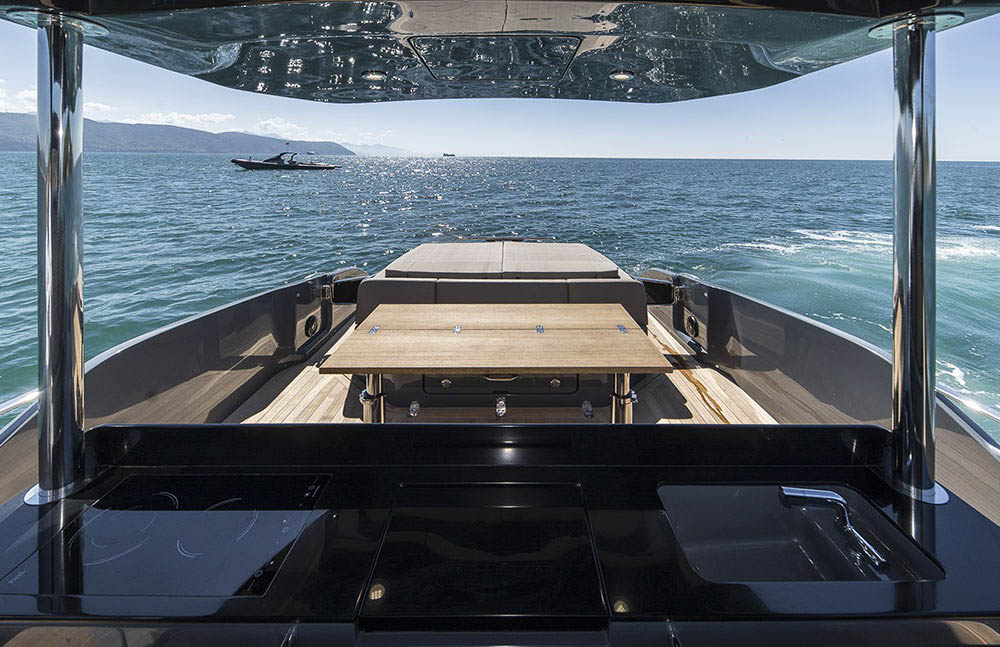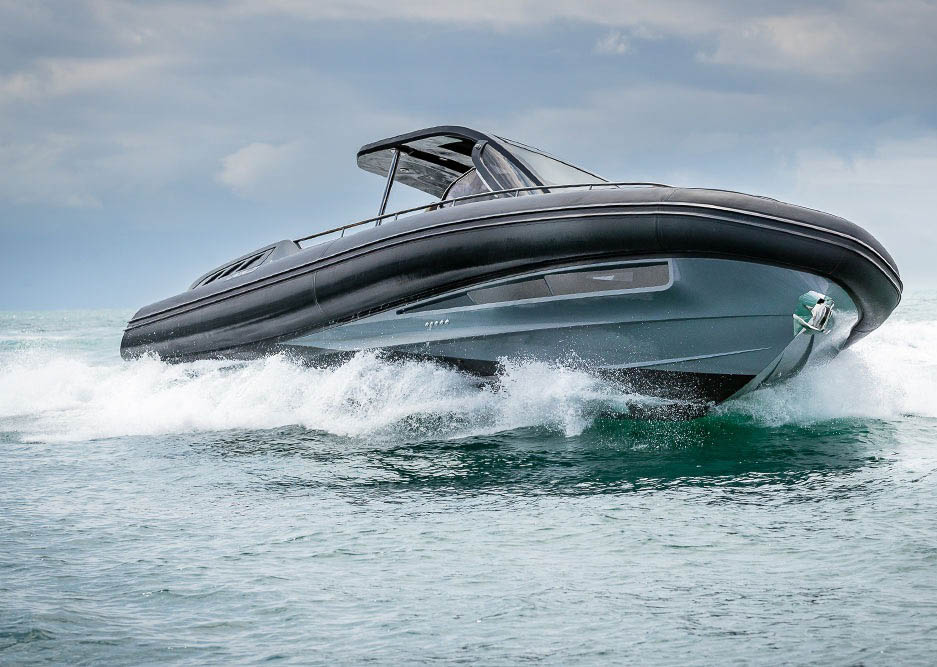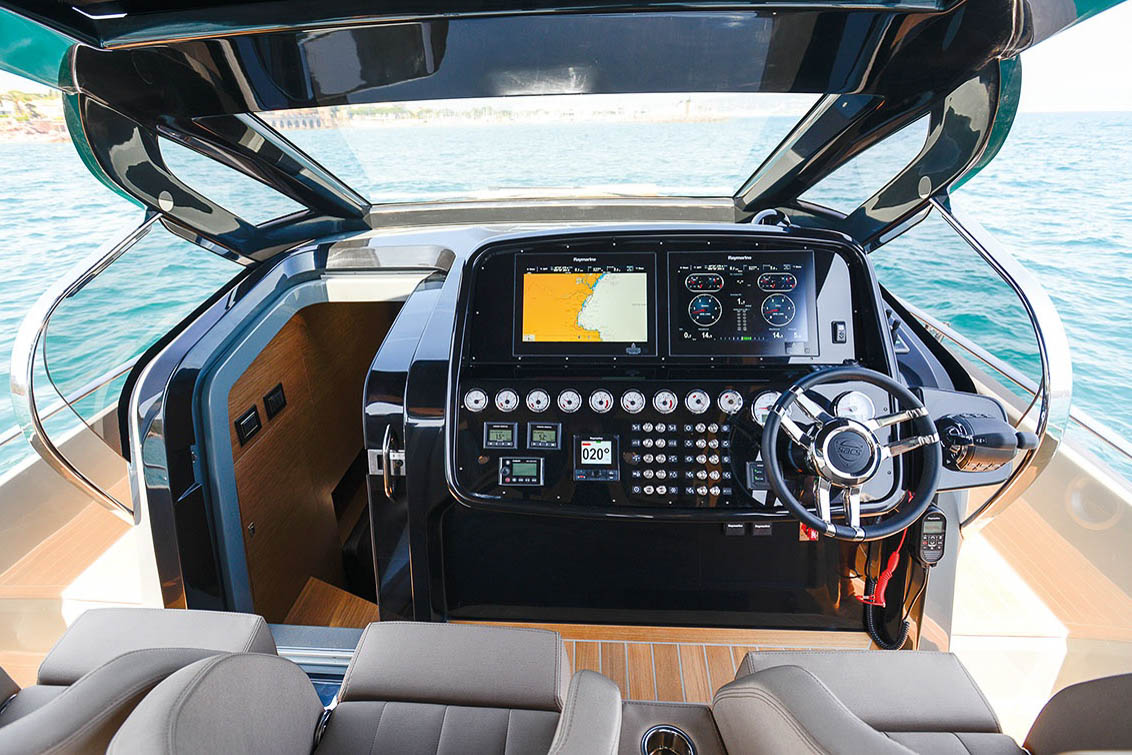 Other prominent and well-represented powerboat makers having exploded onto the Ibicencan market controlling the quays and bays are: Vanquish, Fraucher, Fjord and Pirelli, nonetheless; hands down the most predominate showing is Sunseeker. From the 50 to 75-foot Manhattans and Predators to the 100-foot-plus clubbers, the Brit beauties reign supreme in the Balearics. And no matter what style "boat you float", it's crucial to know where to "float that boat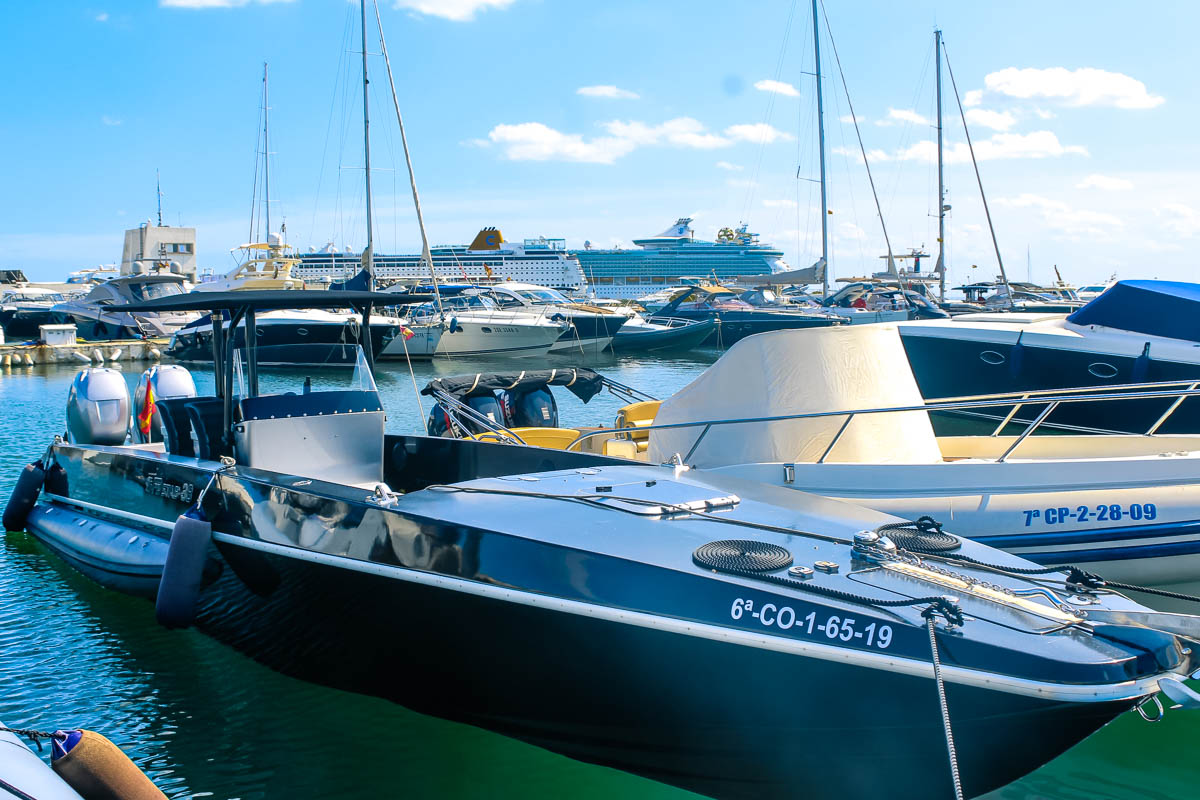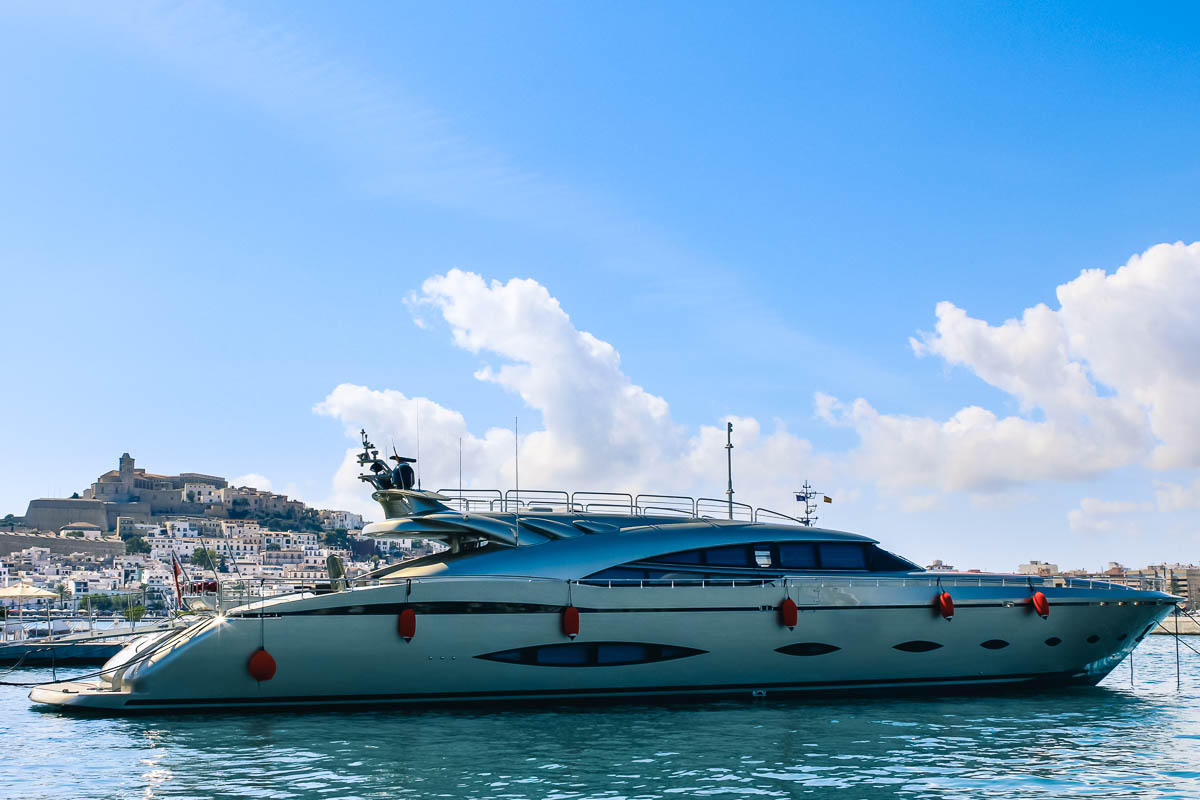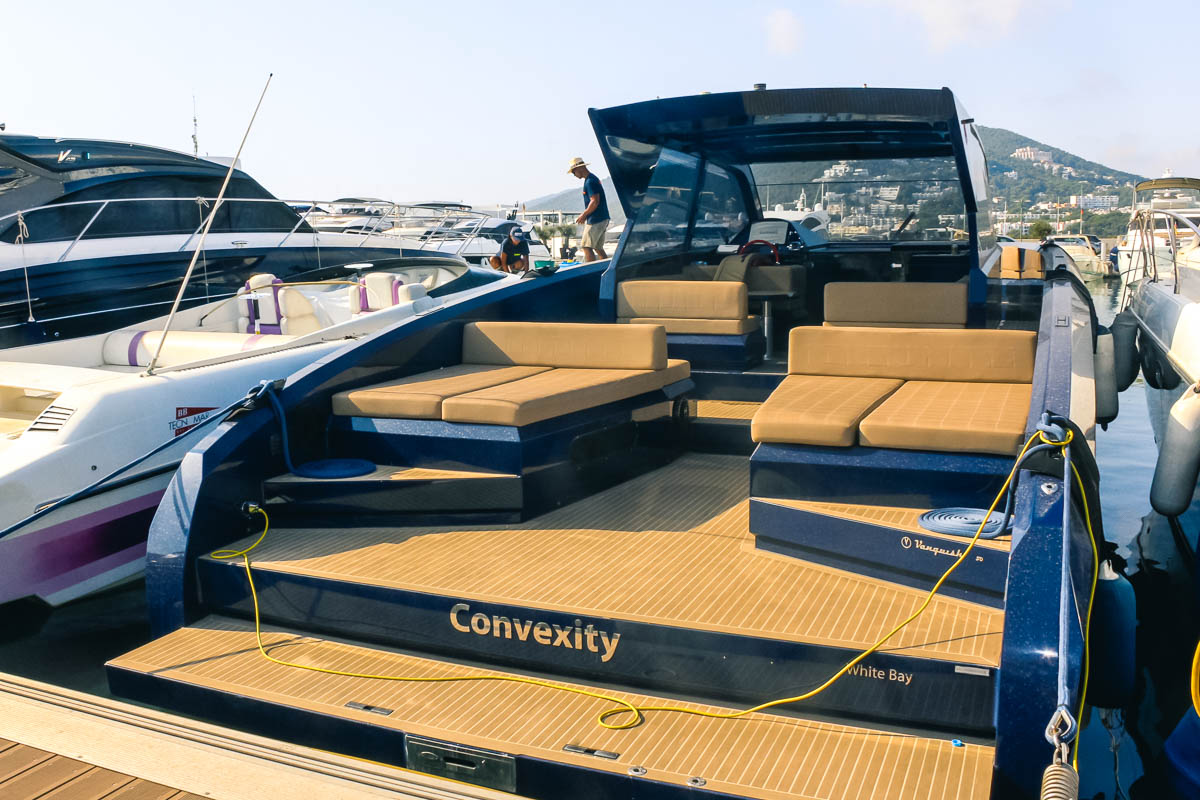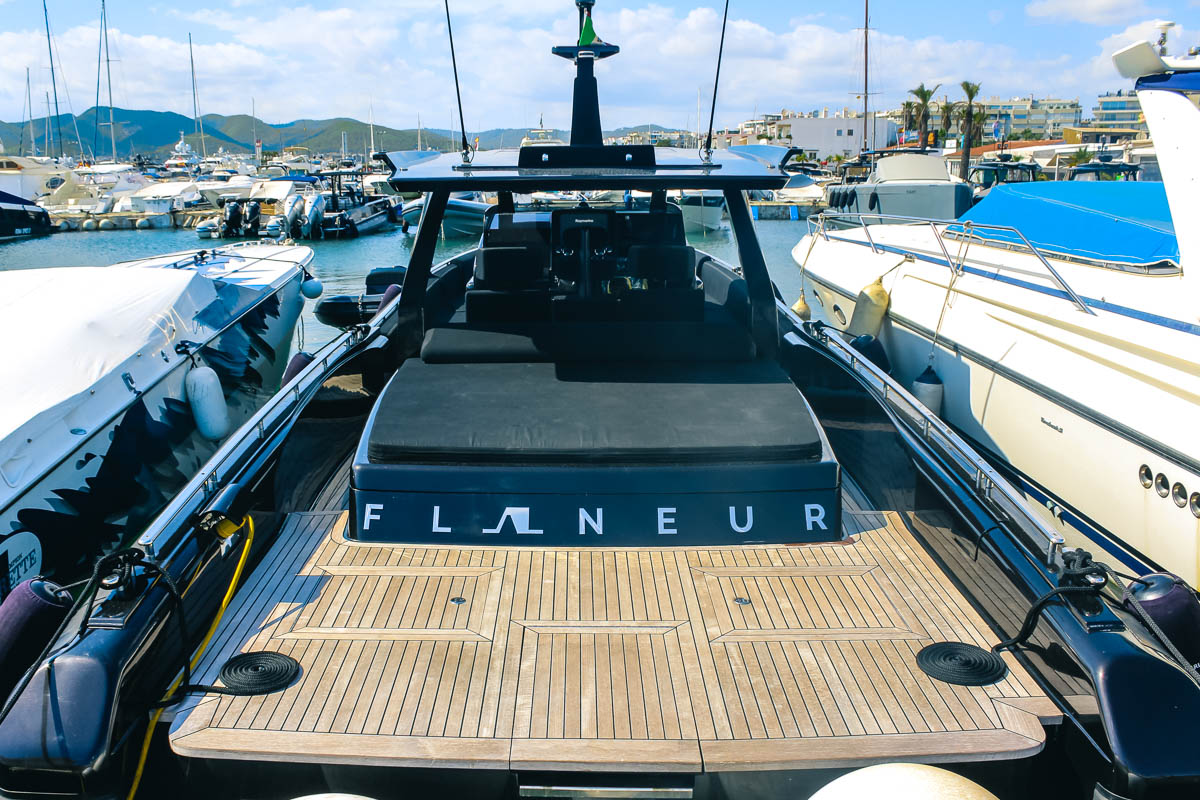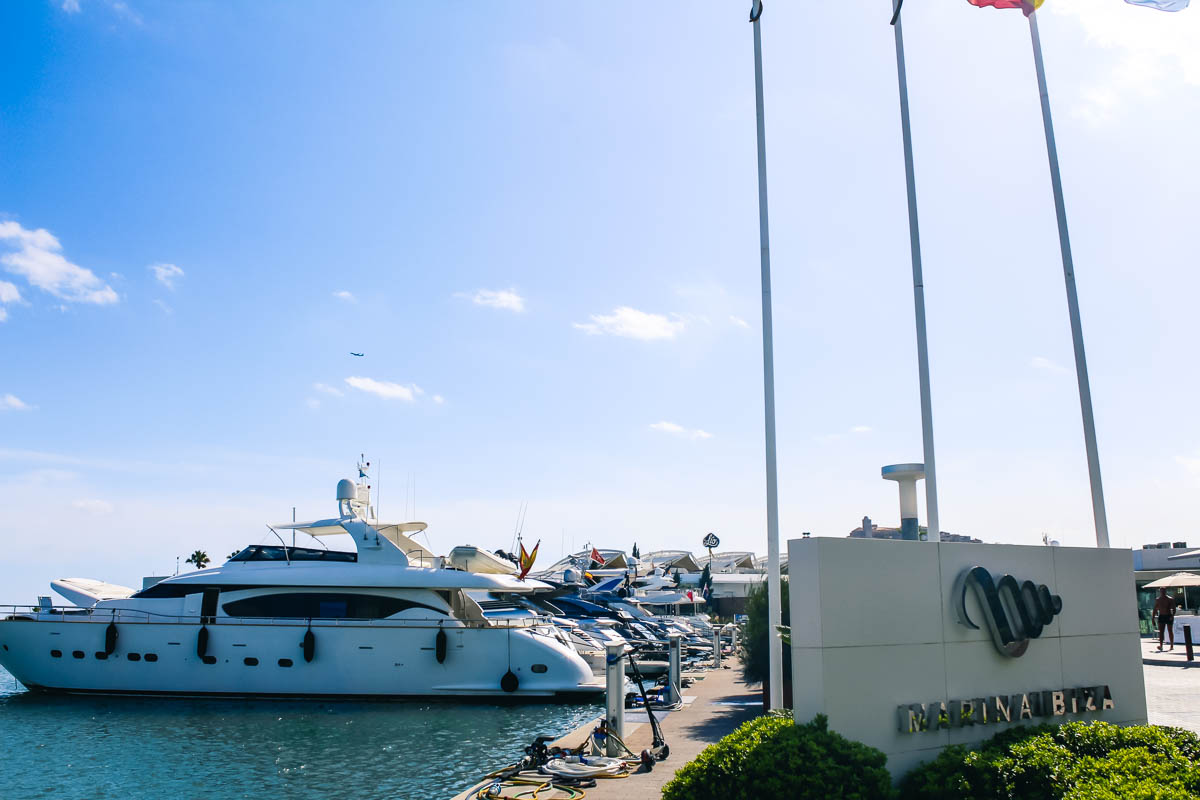 Coves and Cocktails
Day one on a boat should always lead to Formentera, Ibiza's little sister island just a few miles away. It's not to be missed! The long winding stretches of pristine beaches share a backdrop of sand dunes and pines trees inland married with Caribbean-hued, blue-green bath waters. If little ones are on boar, please keep in mind here sun-worshipers enjoy basking all bodily parts, often tearing off both tops and bottoms -- whether worthy of the free show or not.
Besides baring it all, Formentera is more notably recognized for Ses Illetes, one of the most famous beaches in all of Europe. Upon laying anchor, a myriad of bars and restaurants such as Juan y Andrea and Beso Beach will come to your rescue in an inflatable scooping up the crew for an afternoon full of fresh seafood specialties and endless bottles of vino and chilled Hierbas (pronounced year-bass) Ibicencas. It's the "magic digestive fluid" only produced in Ibiza thanks to a uniquely perfect combination of natural elements and rich herbal flavors.
A second day on the seas must include the legendary Ibiza coastline of Ses Salines, a special beach named after the salt mines around the corner. A guaranteed good time will be had at any of the chiringuitos (beach bars), especially Sa Trinxa and the Jockey Club. Not far off is Cala Jondal and home to the fashionable Blue Marlin Beach Club where the glitterati lay anchor.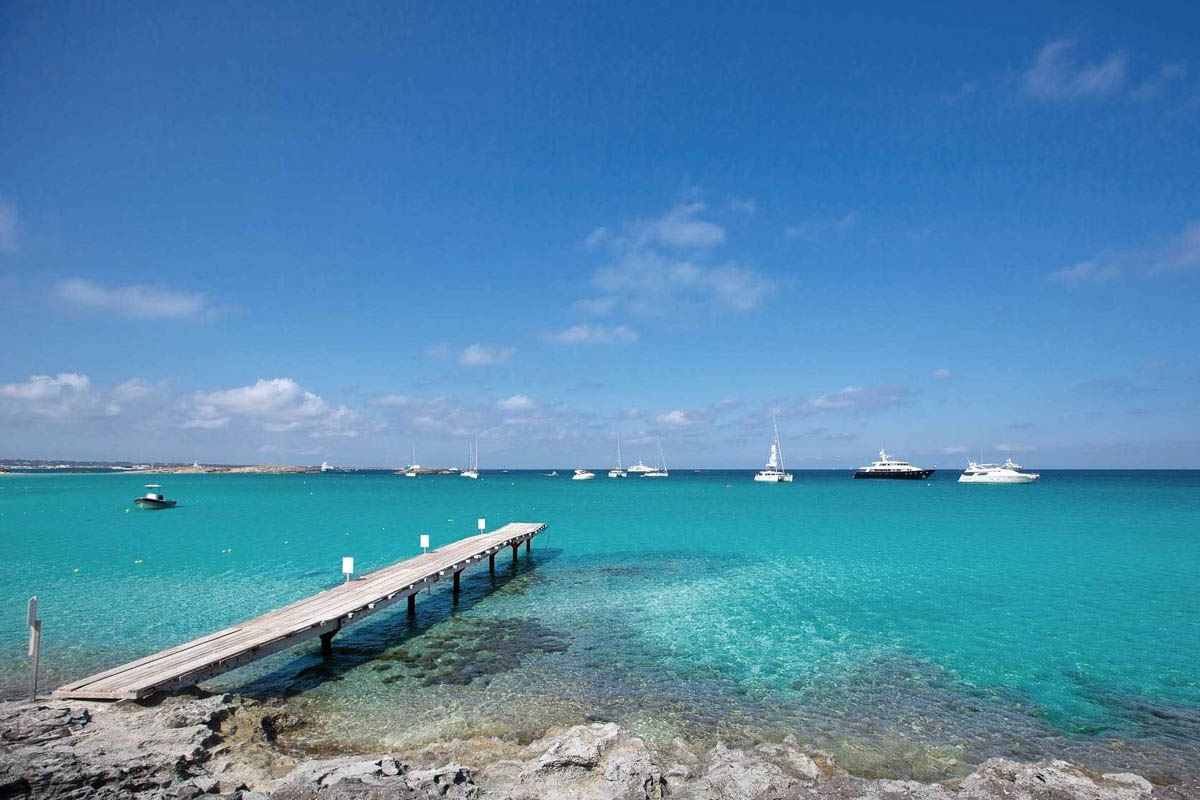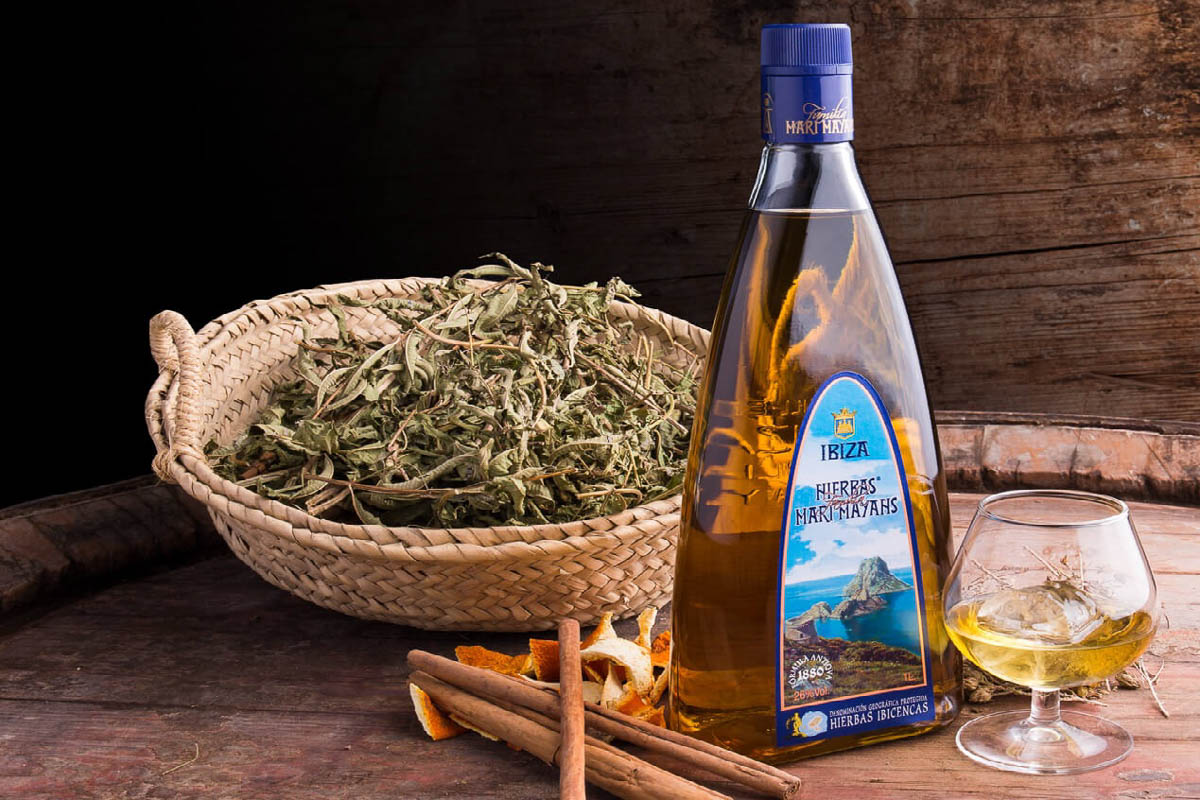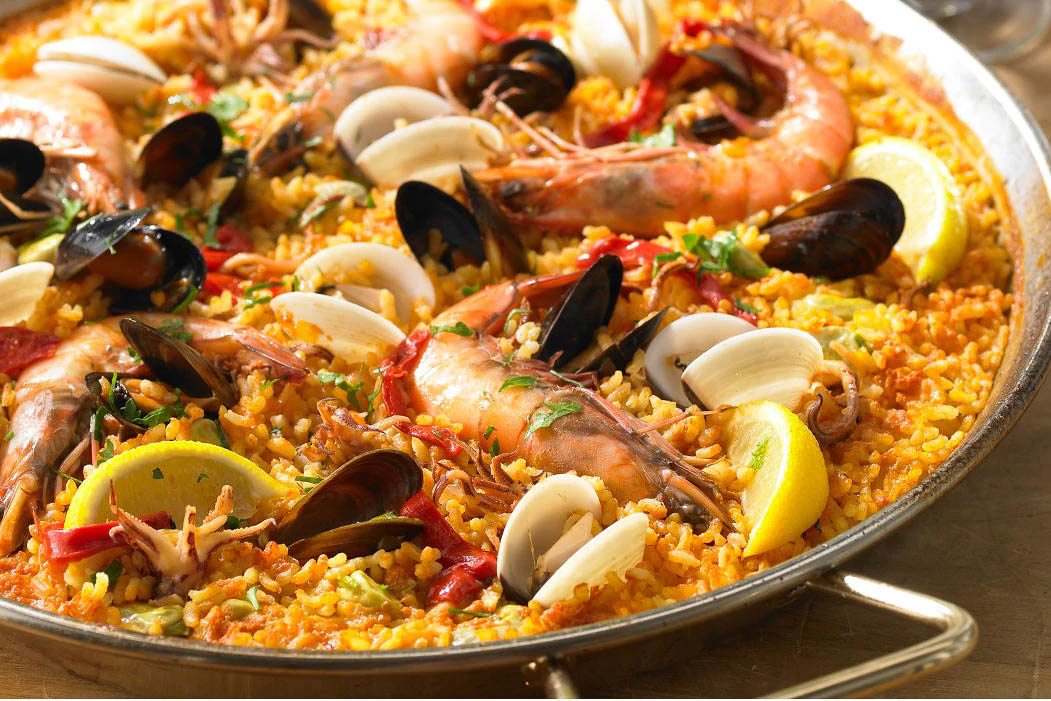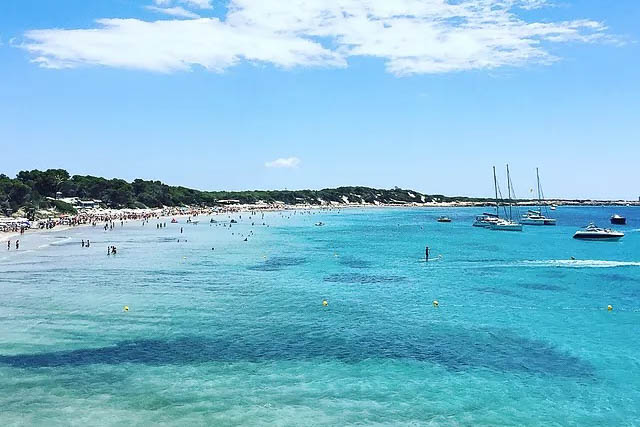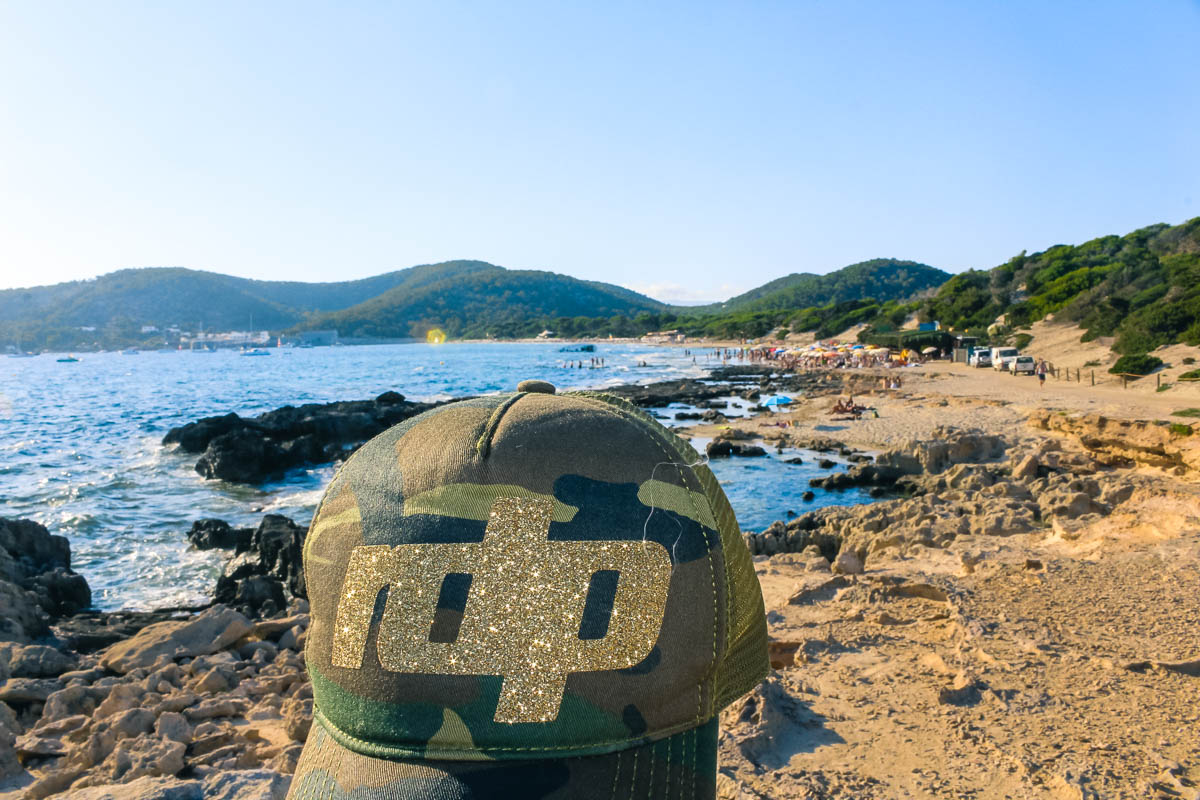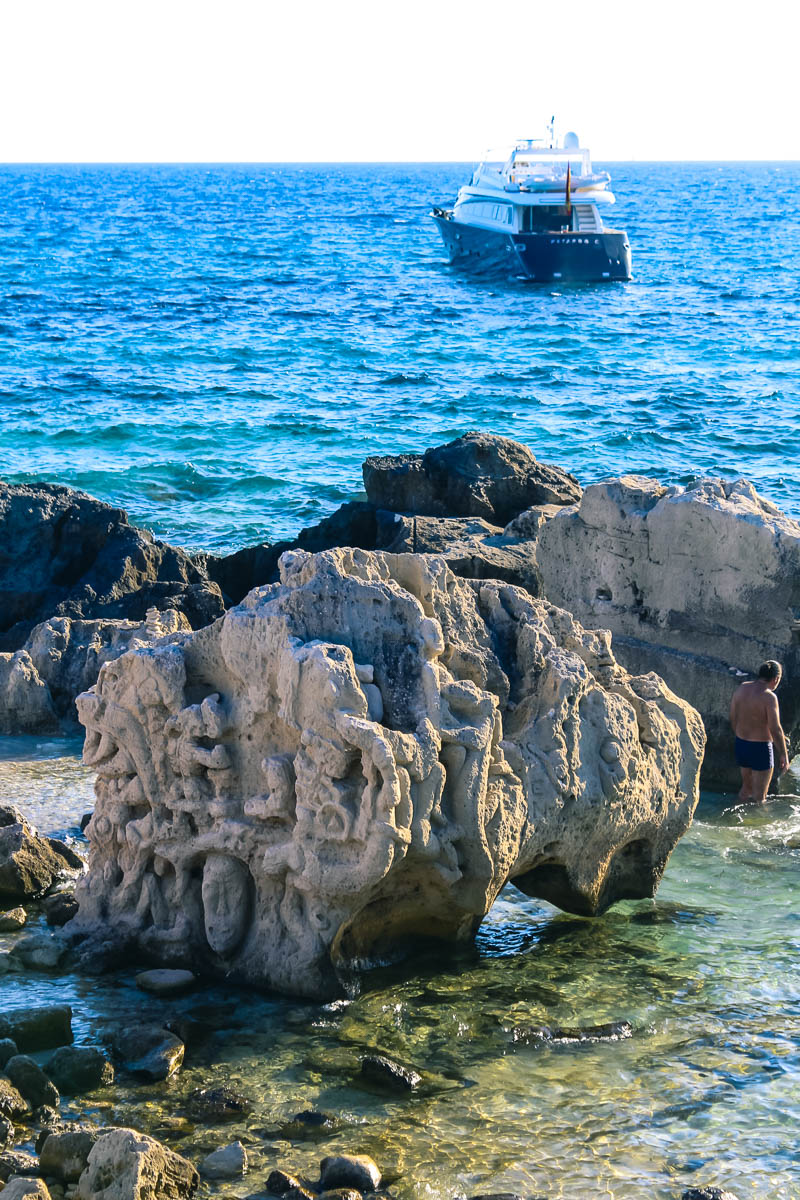 Cala d'Hort comes next for that mystical view of the rock Es Vedra -- the unproven and profusely debated third most magnetic place on earth, after the North Pole and Bermuda Triangle. Deemed an urban myth by many, captains take a firm stand that freaky things happen to their navigational and radar instruments when in the near.
Early evening sundown should be spent at the Sunset Ashram in Cala Conta before heading over to the coast of San Antonio to experience the famous Café del Mar and neighboring Café Mambo sunset soirees to wrap up the day.