What town often recognized for its picturesque red lighthouse, sits 90 miles north of Miami, Florida, and is still un-chartered territory (or waters) for scores of powerboaters? Hint... it's also the fifth largest planet.
Welcome to Jupiter! (Perhaps the title to the piece gave away the answer!)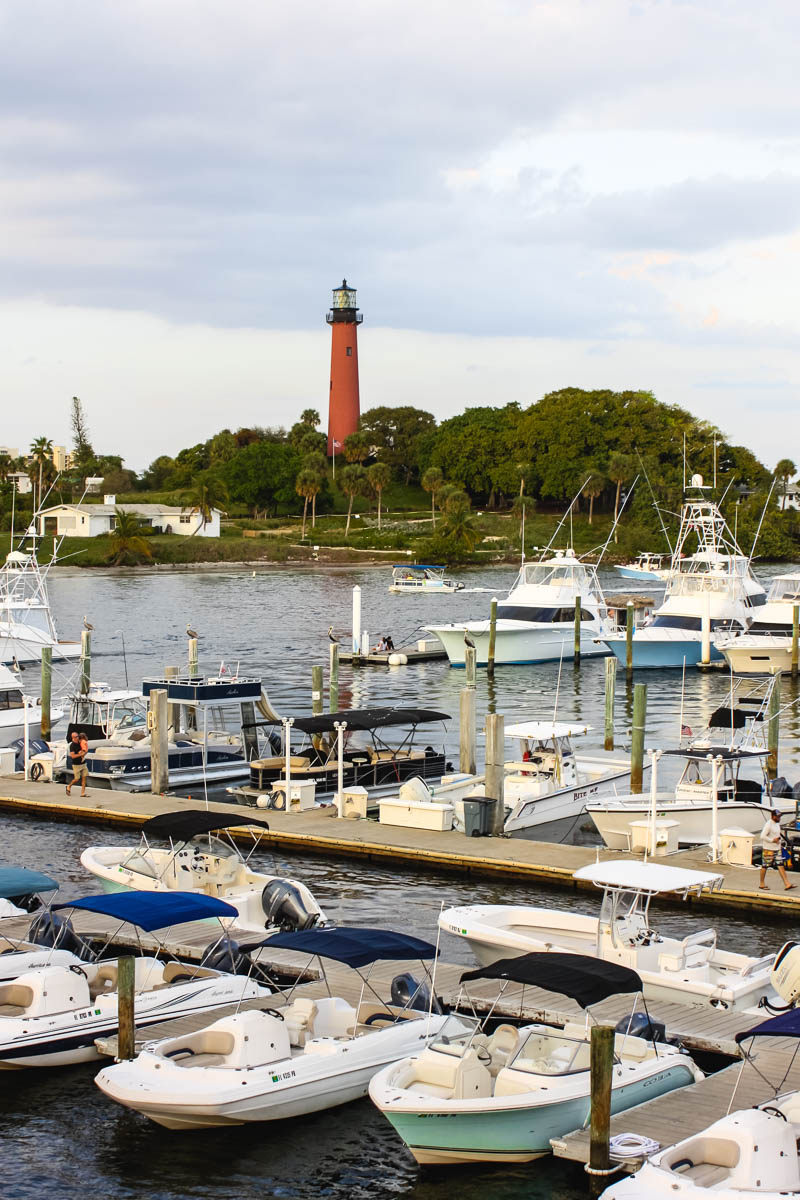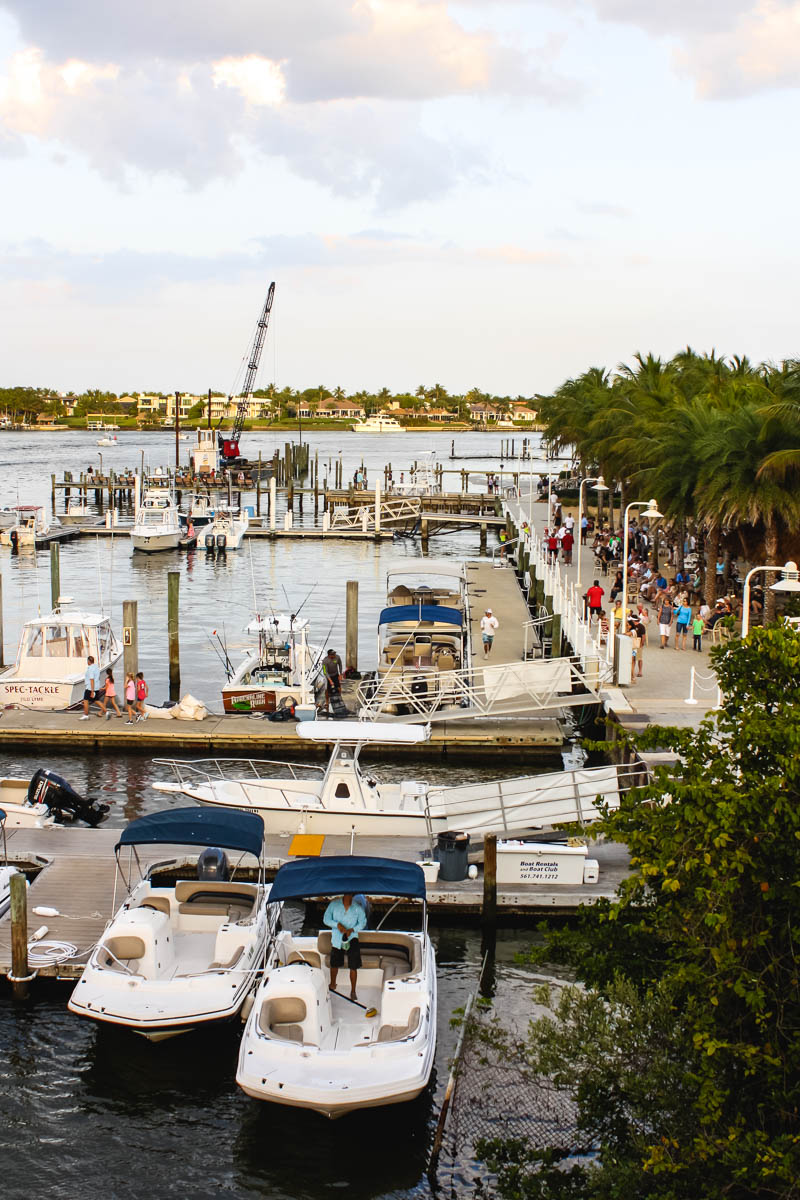 Time to exhale, Jeopardy geography is behind you and luxurycenterconsoles invites you to check out three Jupiter charms -- The Square Grouper Tiki Bar, Guanabanas and Dive Bar, all of which provide waterfront dockage for your ocean-darling while you bask in the sun for a day of divine harbor-side dining and indulging. Is there a better way to become better acquainted with Jupiter?
Square Grouper Tiki Bar
1111 Love Street Jupiter (561) 406-6417
It's been given two thumbs up from "keep it country" music superstar Alan Jackson and island escapism legend Jimmy Buffett who recorded their "It's Five O'clock Somewhere" video at the Square Grouper Tiki Bar. Having officially opened its tiki doors on Super Bowl Sunday back in 2003, this is the laidback landmark where you come for the sights and stick around for the soul. Location, location, location!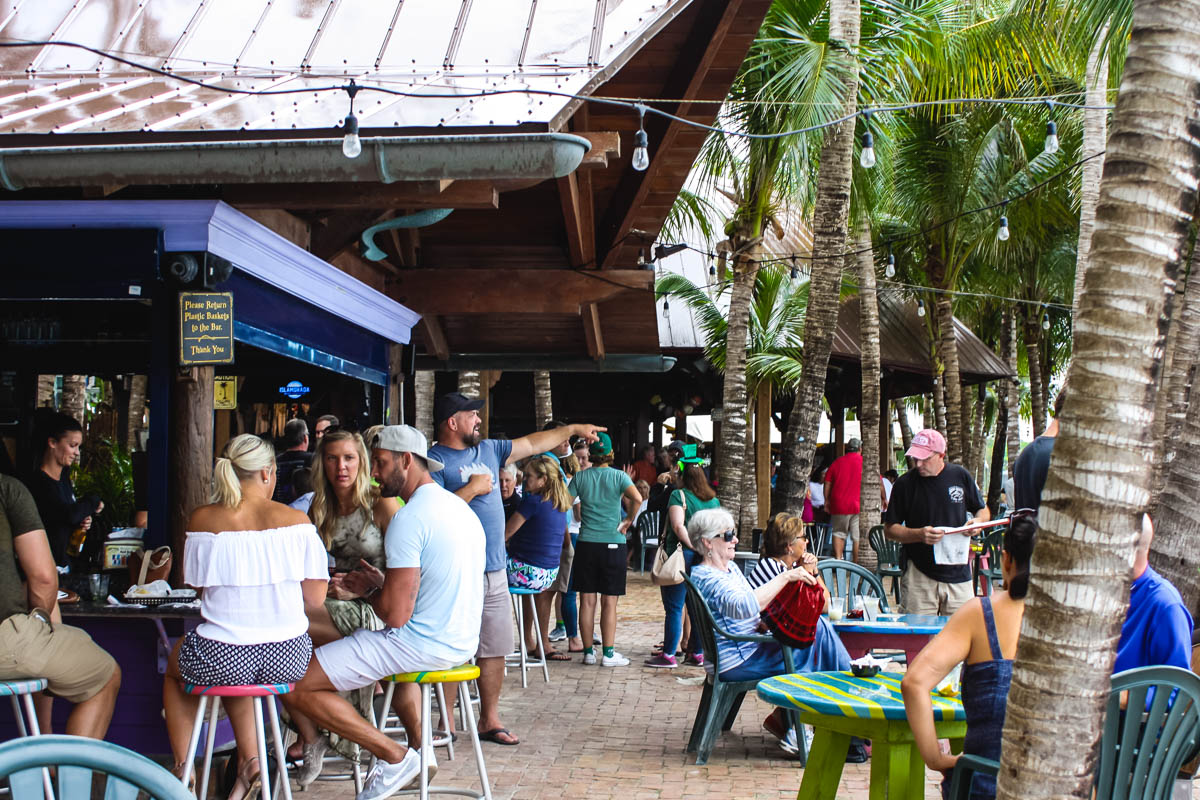 To enjoy the full majesty of the Jupiter Inlet jewel head over during the day and lounge around until the palm trees light up and the live bands start up. No matter your social status everyone from pirates to princesses order at the counter, it's that type of joint with a beach bar vibe, tables in the sand and a classic Florida flare in the air.
 Beer drinkers have no fear you will find your brewski of choice, and for tropical drink devotees, a maritime mojito or frozen banana cream pie concoction should get the job done. An uncomplicated menu includes bites such as mahi mahi tacos, bbq pork sliders, a field of greens salad, the "pluck it" chicken sandwich and not to be overlooked... the classic paradise cheeseburger.
 Featuring live music seven days a week, please be aware the only drawback is no one under the age of 21 is allowed to enter (including children accompanied by an adult) because it is a bar. For boaters continuing their journey further north, a second Square Grouper opened a few years back at the Fort Pierce Inlet.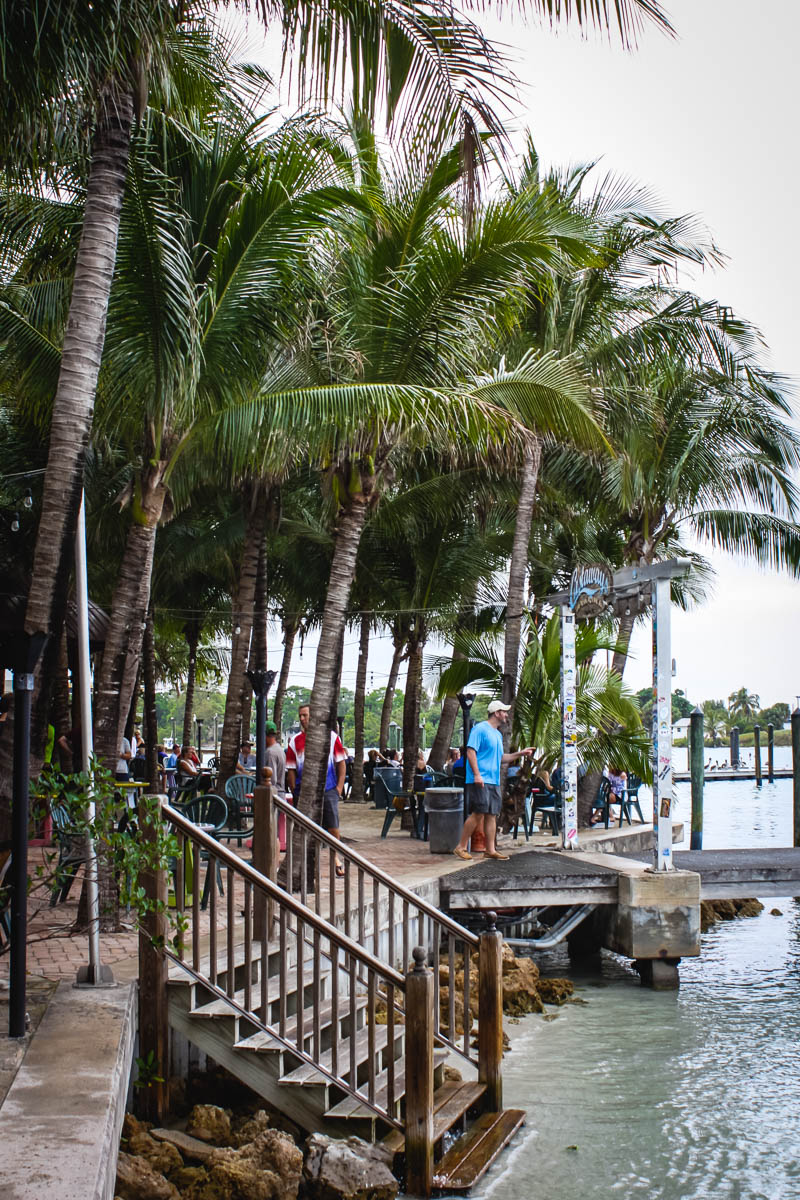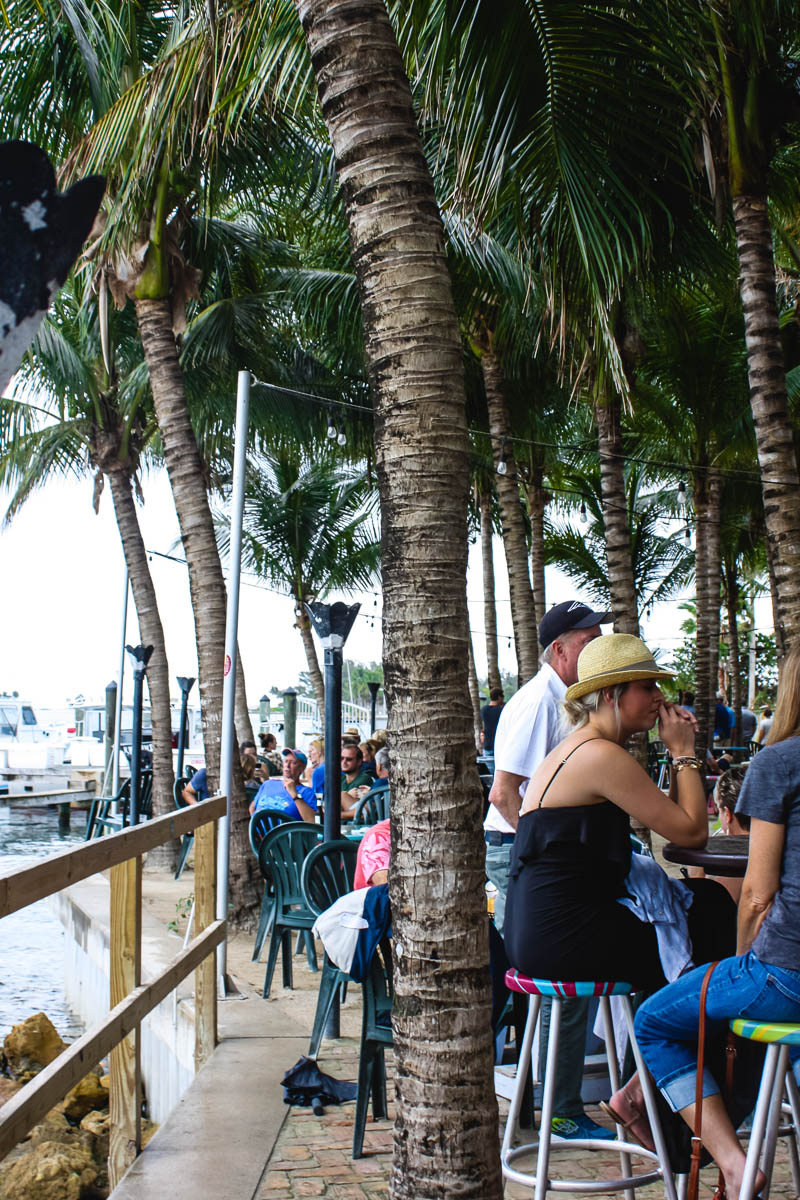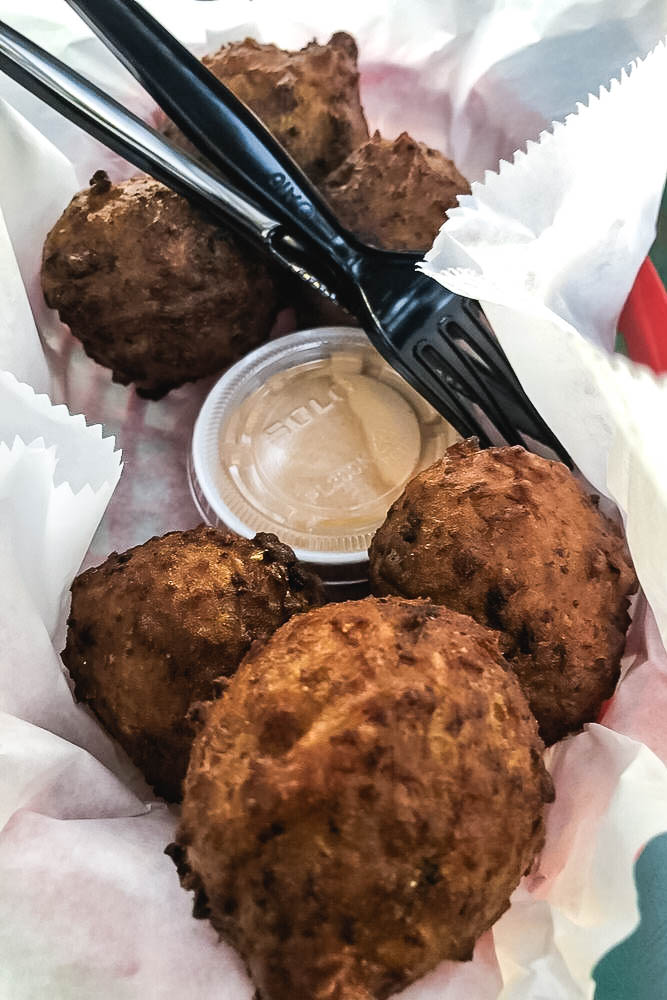 Guanabanas Restaurant
960 N Highway A1A, Jupiter (561) 747-8878
Have you ever had the impression or felt like you were tossed off the boat and winded up in the middle of the Amazon Jungle at a lush tropical river-café? If you responded no, you're in for a treat because the Guanabana drinking and dining experience exudes thick, leafy paradise. And even better, it offers plenty of dockage space.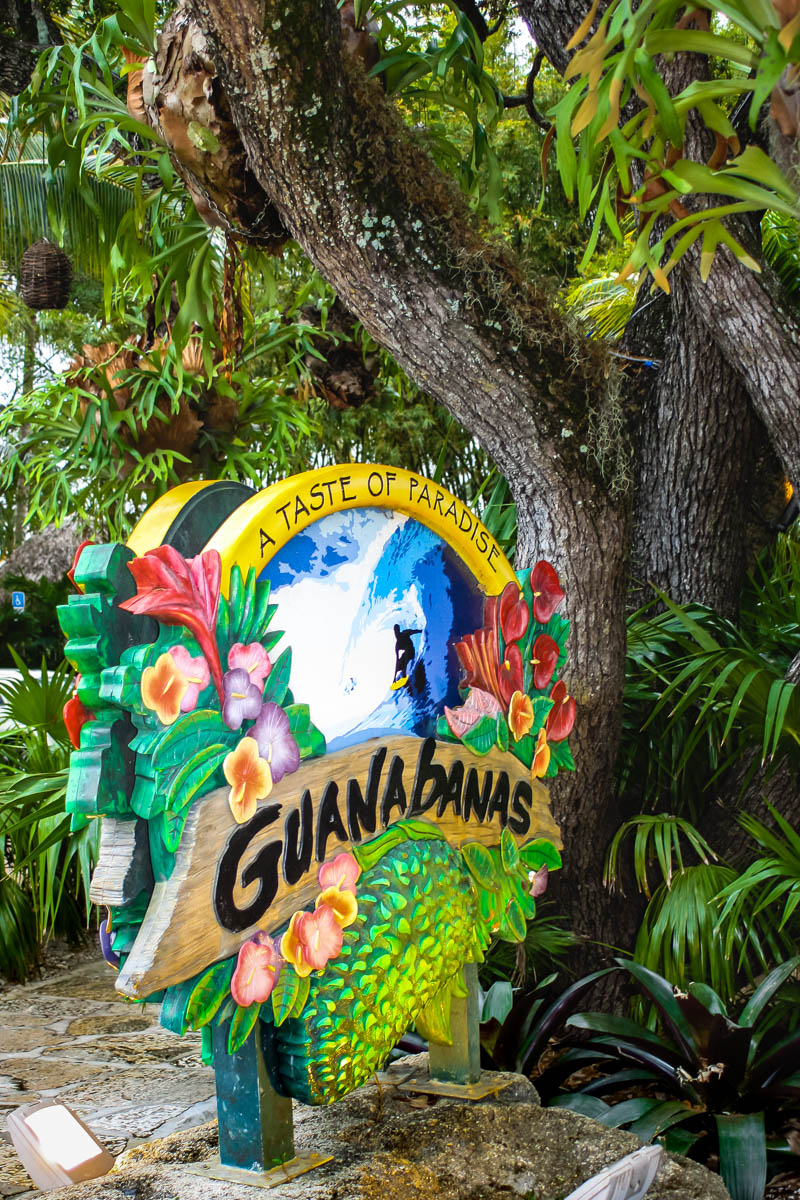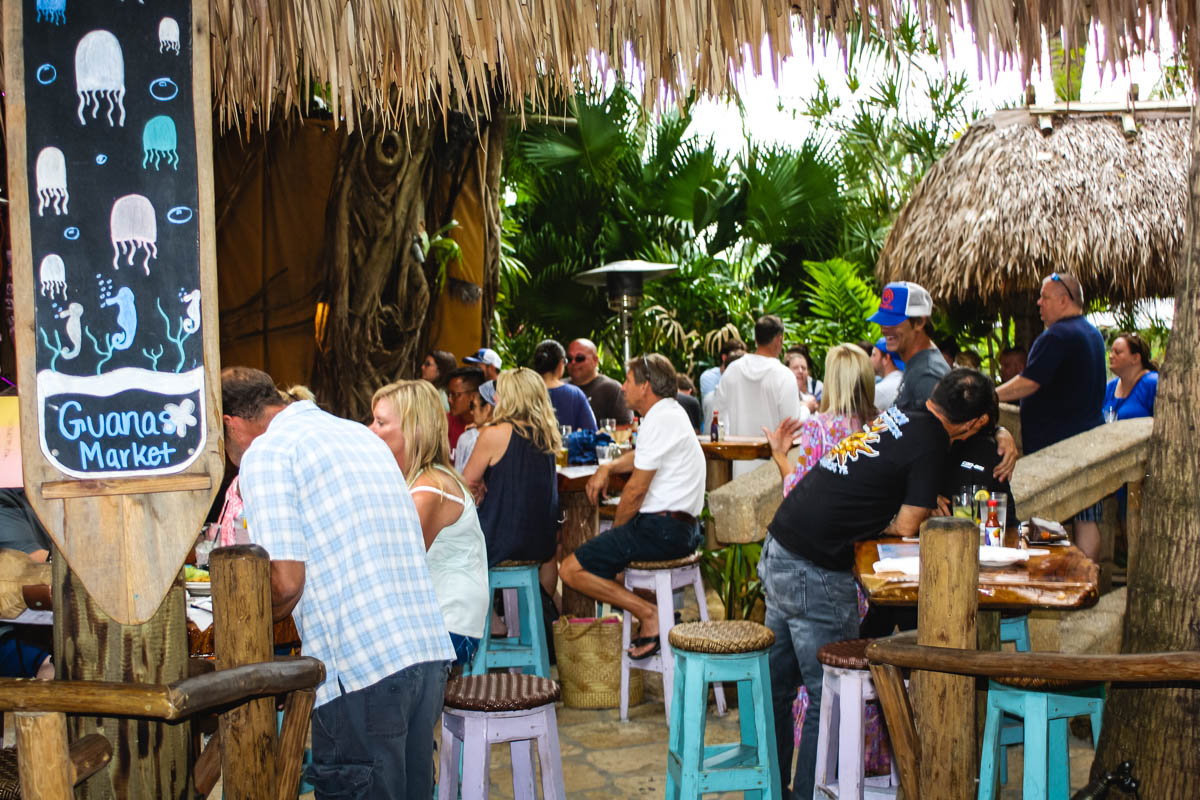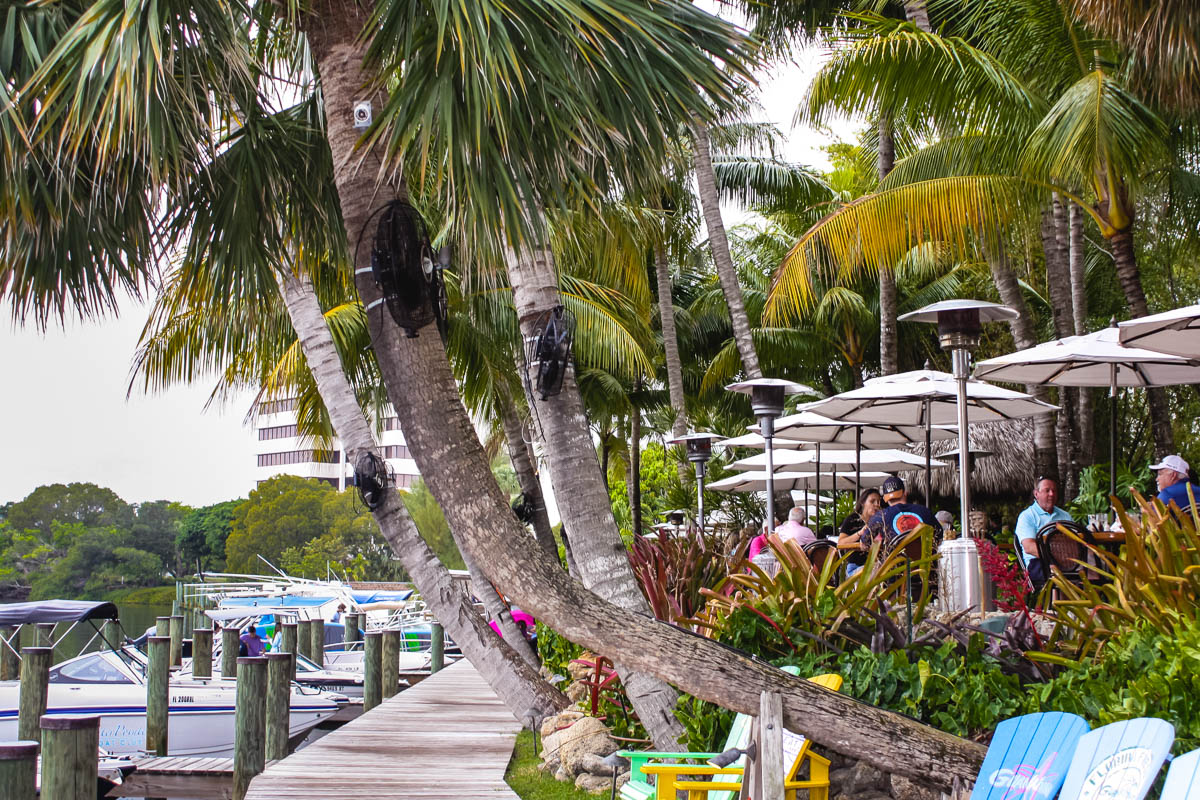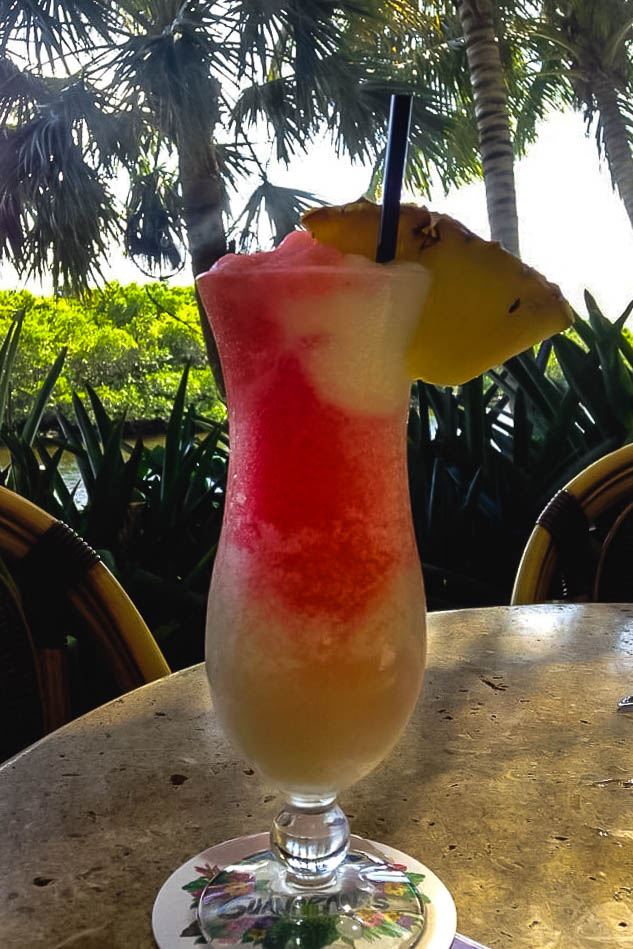 The island-themed, outdoor garden on the scenic Intracoastal overlooking Burt Reynolds Park (side note: the actor was a life-time resident of Jupiter.) is just a hop, skip and (long) jump down the road from the Square Grouper. Technically you could tick off both to-do boxes on the same day
Stomachs longing to be stuffed with seafood will be soothed by a variety of tropical-style appetizers, a taco bar and daily catches partnered with enticing tequila lime and macadamia coconut marinades. The on-dry-land section of the menu fulfills meat lovers' wishes with burgers, a rib eye and more.
You could come just for the rum! Guanabanas has the most international selection in all of Palm Beach County. Connoisseurs just might think they are in Havana or San Juan with Abuelo, El Dorado and the 25-year Flor de Cana bottles ready to be poured or emptied if your crew is overly thirsty.
The outdoor-only venue lends itself to sun and shade admirers with seating options for both, and you are so close to the water you can almost reach out and touch it. Yet, do beware should an overhead storm settle in, you'd best tote your Totes umbrella with... or run for refuge in the cabin of your console.
Happy hour specials run every Monday through Friday from 3:00 p.m. to 6:00 p.m., and breakfast (indulge in the citrus or coffee-dusted French toast) and brunch are served on the weekends from 8:30 a.m. onwards. Energetic and attentive service will leave you planning your next return before you even say sayonara.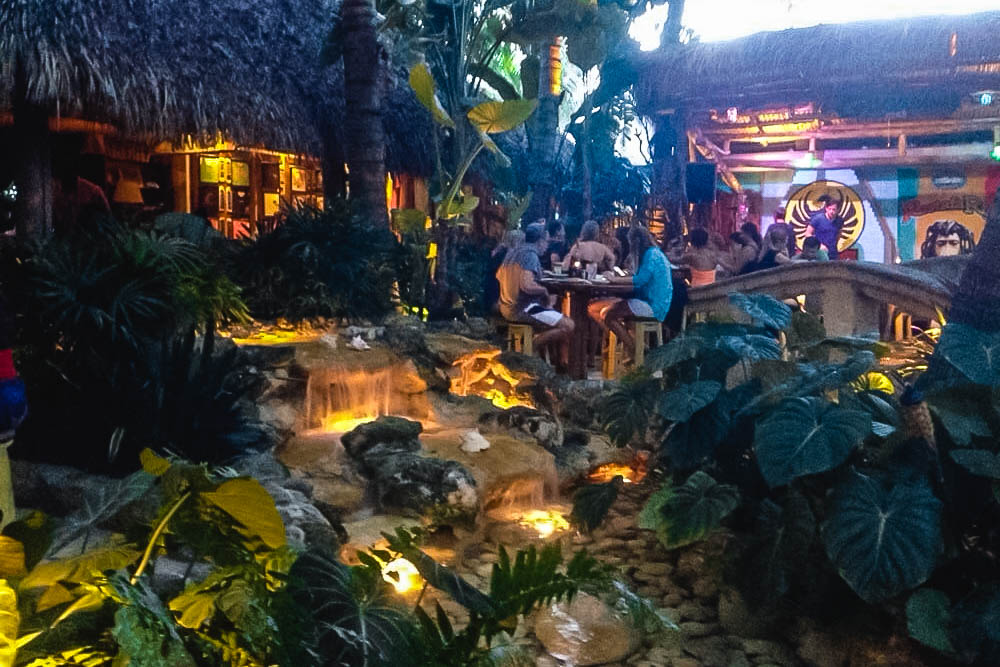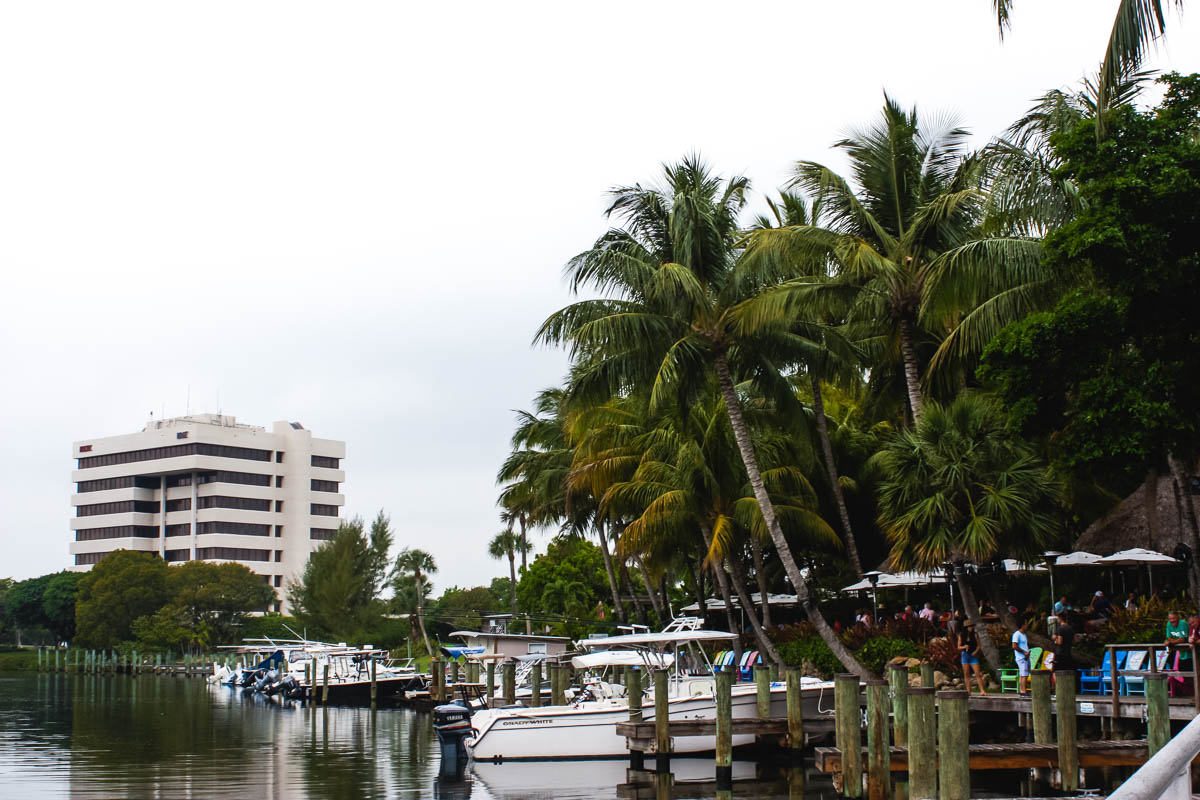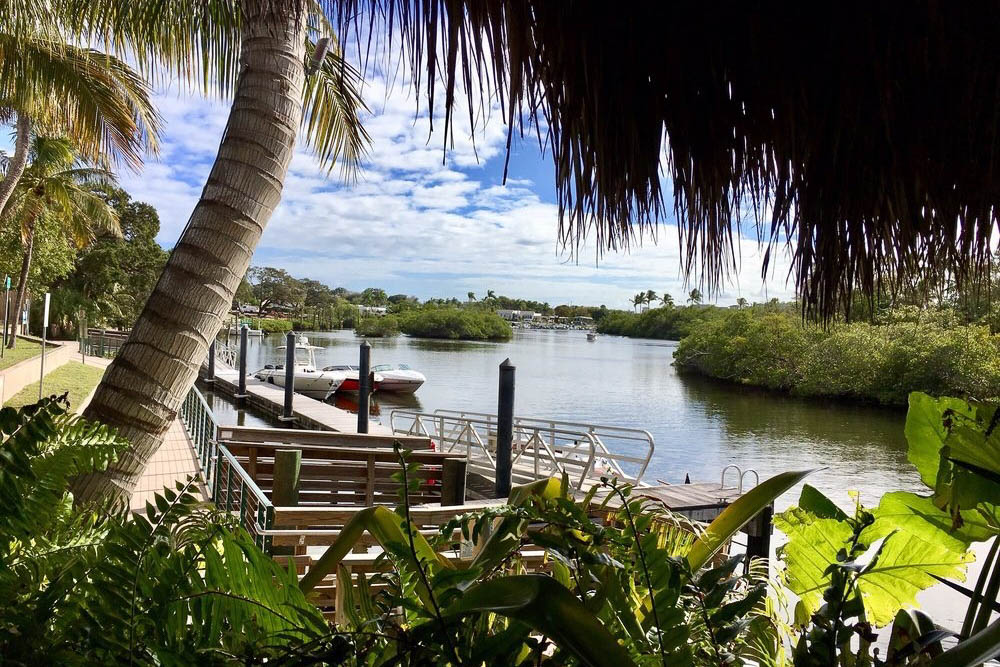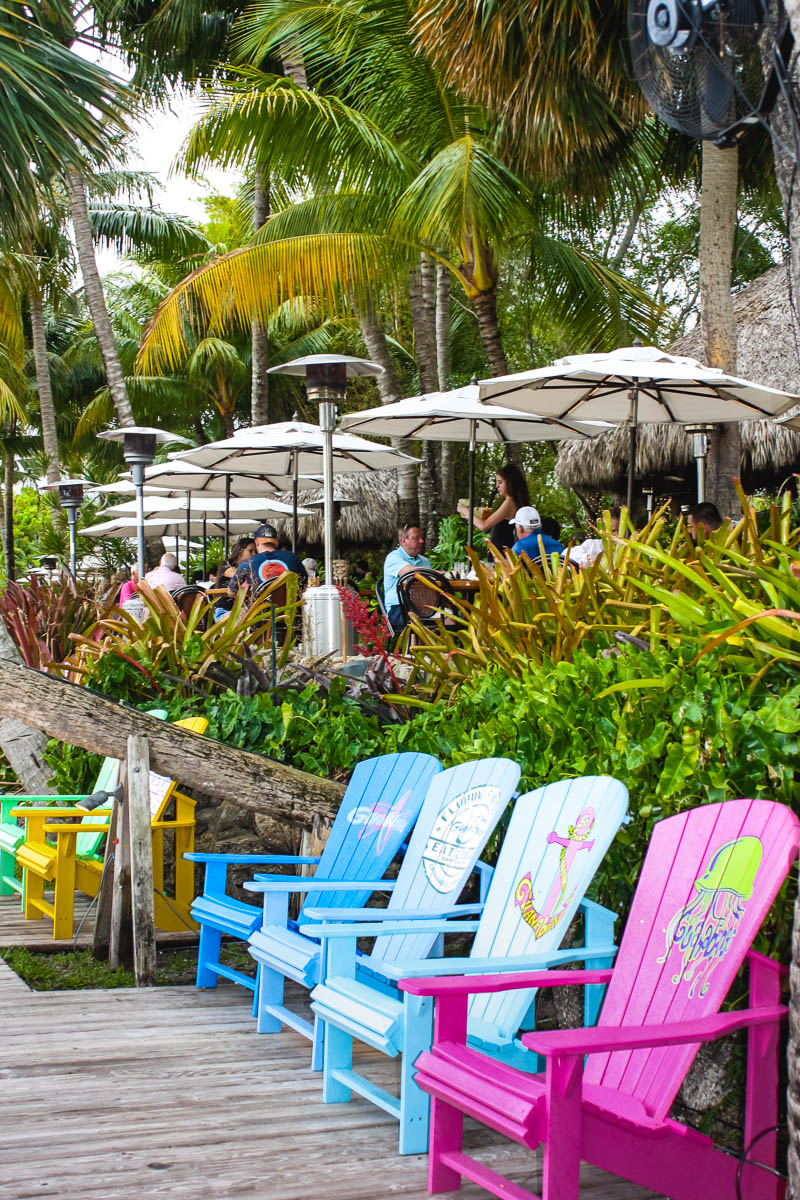 Dive Bar
318 South U.S. Hwy. Jupiter  (561) 747-4767
Don't let the name fool you, cash-only and cowboy-style.. the Dive Bar is not. This slice of South Florida heaven welcomes waterway arrivals and goes so far as to list the restaurant's longitude and latitude coordinates on the menu. Tucked inside the classy Jupiter Yacht Club Marina along the town's Riverwalk, Dive Bar cooks up Asian-American cuisine with an open-air bar and al fresco dining patio. But that's not all. The establishment has taken the term dive to new depths.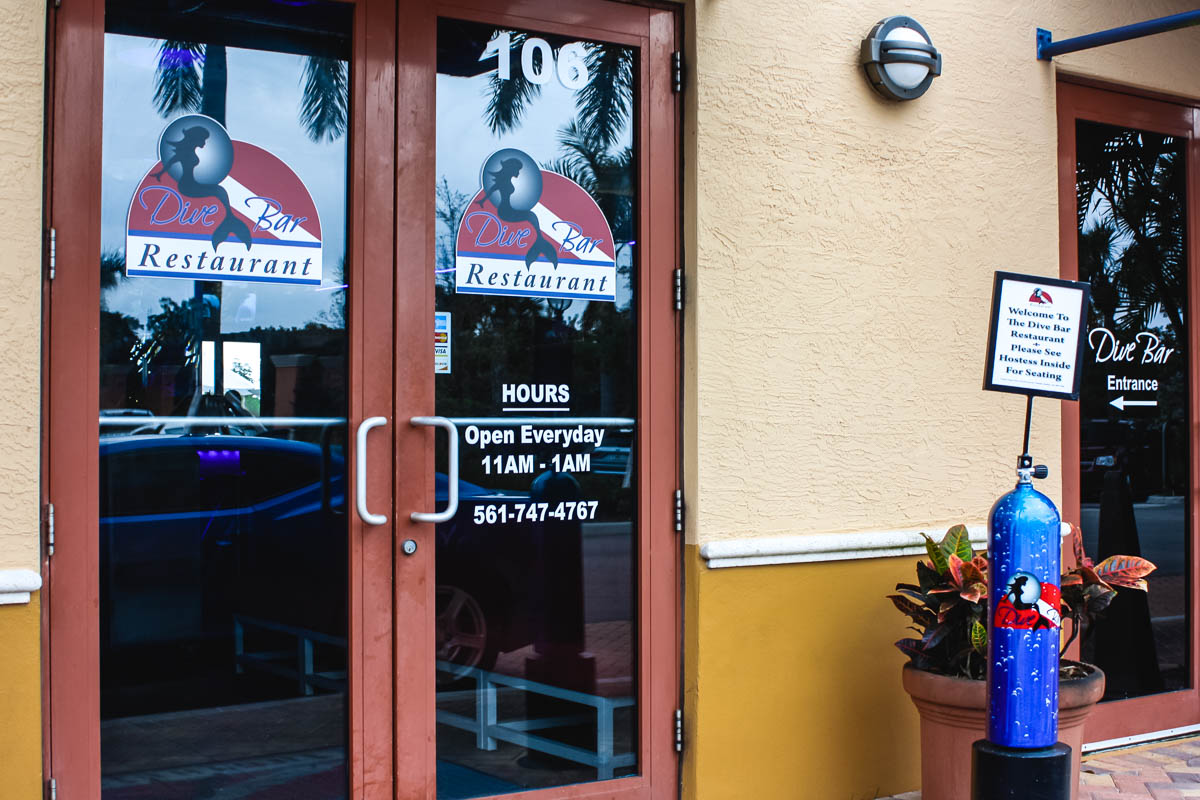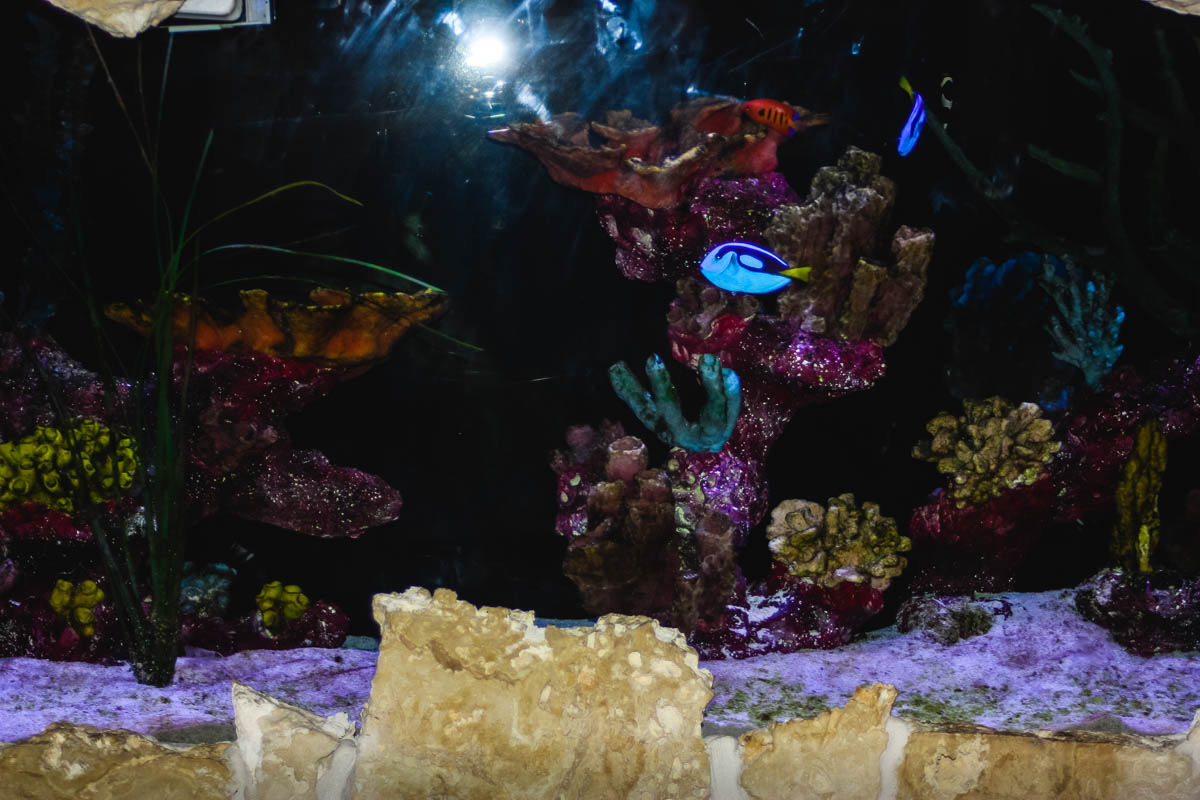 Dive Bar is home to a 2,000-gallon fish tank, a coral rock wall featuring six 300-gallon saltwater aquariums and multiple wide screen televisions running underwater video footage. The layout is designed to educate guests about Florida's fragile reef system and the importance of keeping the water clean, and provides an opportunity to observe the local sea life up close.
A raw bar, oysters Rockefeller and kimchee beef tips are popular starters before moving on to a bento box, bacon wrapped scallops over lemon risotto, or perhaps "not your mama's" grilled cheese. Foodies have also been known to go great distances for a New England lobster roll a la Dive Bar. A wide selection of sushi, soups and salads are also available as long as you promise to save some space for the brownie cookie ice cream pie dessert before departing.
Dive Bar welcomes patrons seven days a week from 11:00 a.m. to 1:00 a.m. and its Decompression Stop weeknight happy hour menu will save you half-off on certain draft beers, wines and well liquors.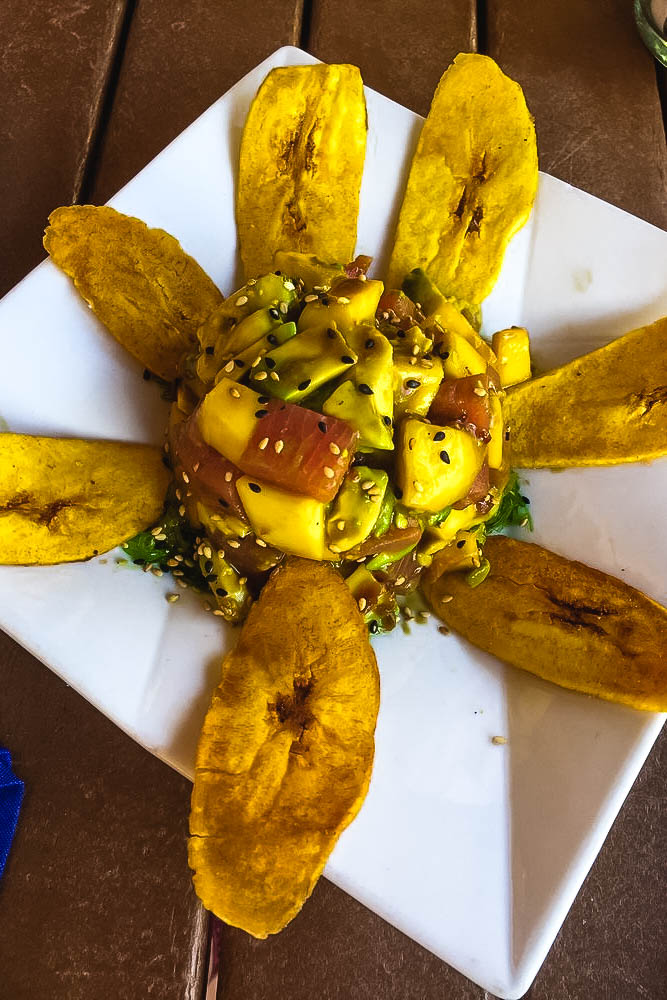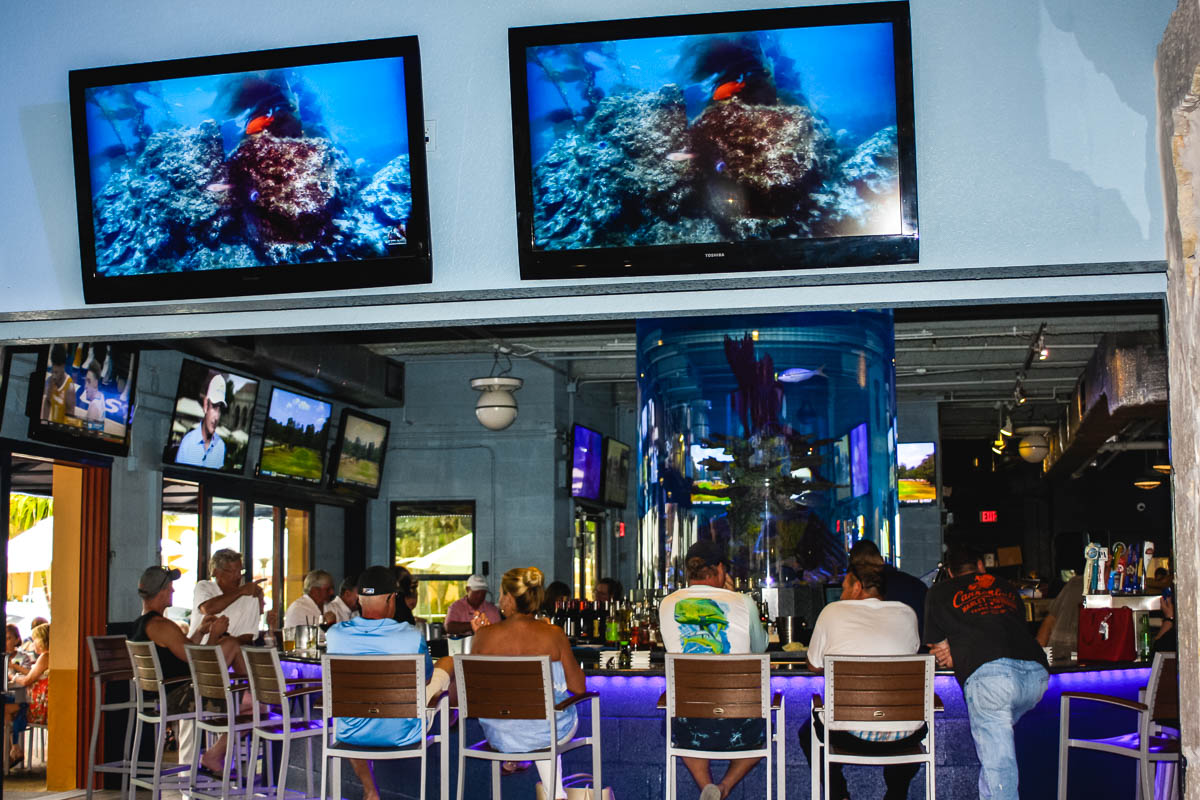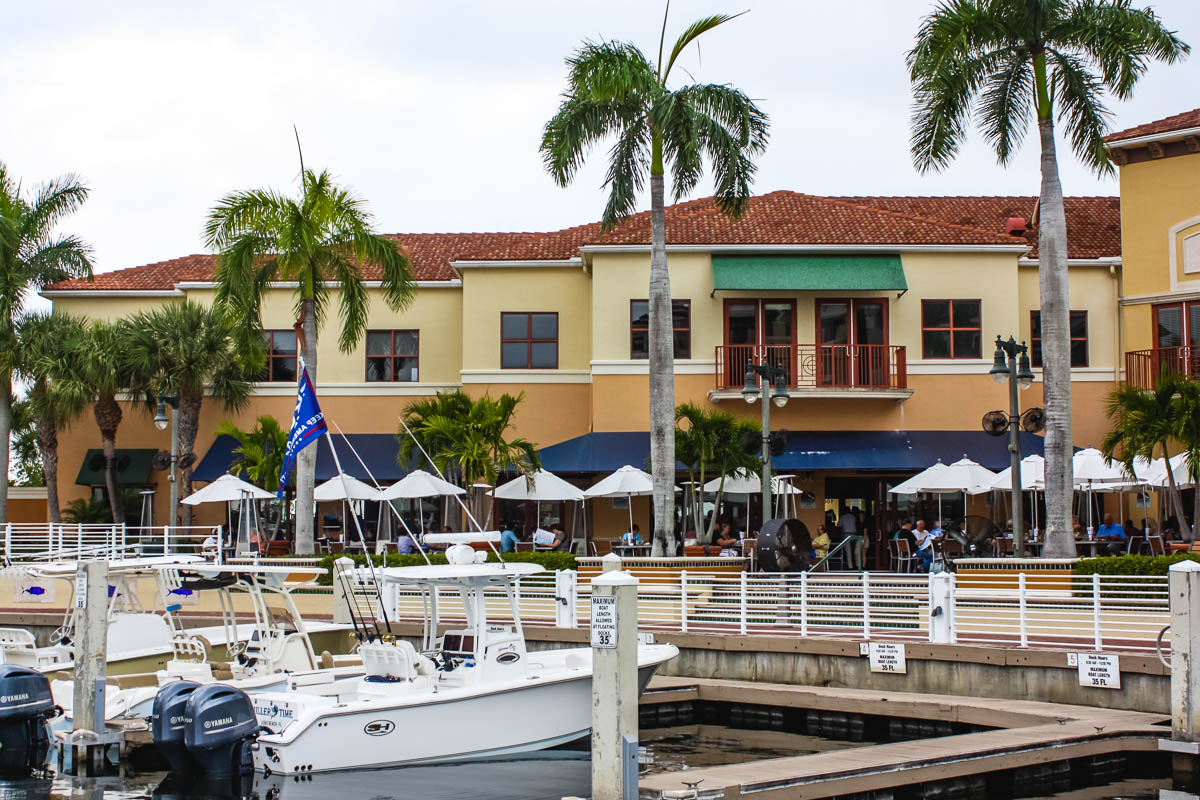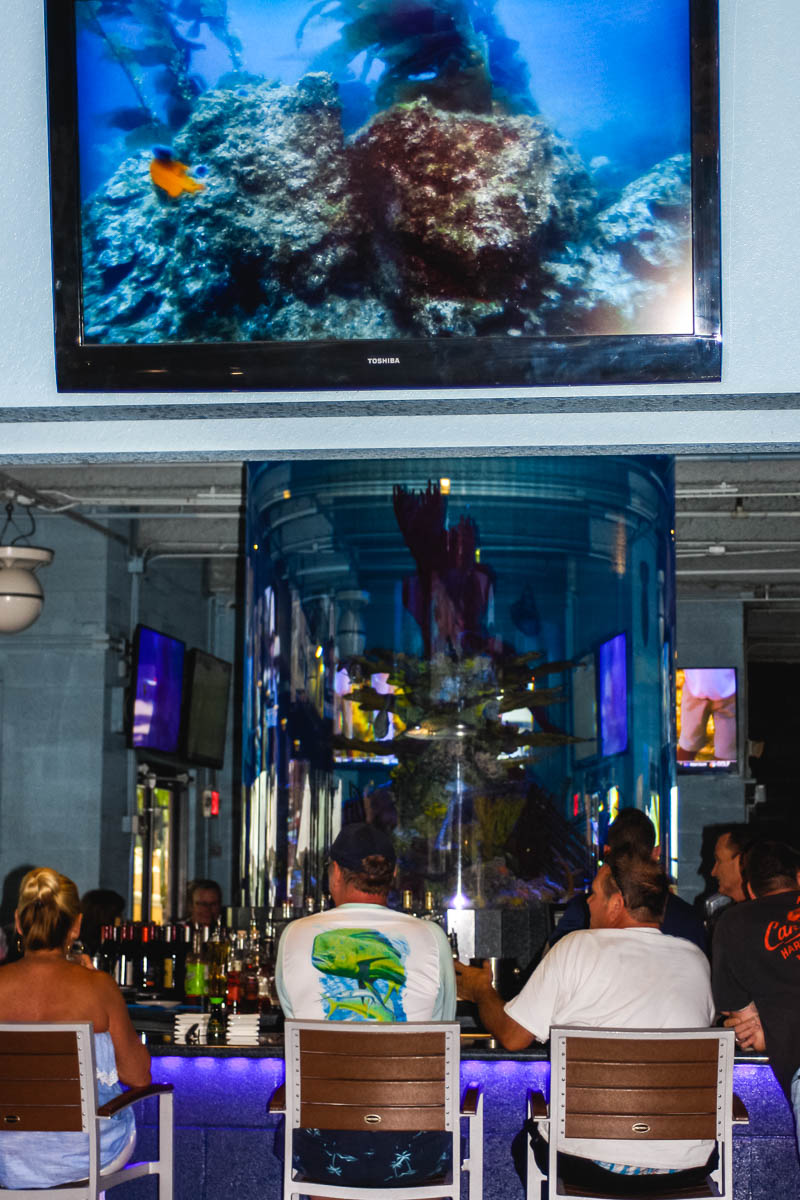 Located inside all three Jupiter hot-spots are gift shop kiosks with an array of apparel and goodies for purchase, so diners with any left over "dough", have no fear a farewell present (or presents) is always near.