Story and Photos by DinaRella
"Create your own personalized formula for fun on the water" is the Midnight Express mantra and what the successful manufacturer wants you, its new owner to envision... and ultimately possess once assembly and fabrication have run their course.
The Midnight Express headquarters located in North Miami, Florida, has been family owned and operated since its acquisition in 2006 and you too... become an integral part of la famiglia after closing the deal and adding a Midnight Express to your toy-stable.
Presently run by brothers Eric and Harris Glaser, the two young entrepreneurs and the entire company take the two terms: customization and collaboration, to an unimaginable level. During the construction phase, engineers document each step sending pictures and videos of all development stages to its customers, and what's more... all Midnight Express owners are granted full factory access throughout the build process.
But before splurging on your dream center console, you must first prioritize a set of goals. We're not talking professional goals you rehearse in your head for that Indeed.com CEO interview you landed -- these are your "sea goals" and should be well thought out.
What do you want and expect from your boat? Is cruising for ten hours on the same tank of fuel at 40 mph a goal or... do you want to feed her some more throttle, spool up the quad outboards and cross the 75-plus mph threshold?
Is maximizing seating a priority to fit all your college comradesor boating buddies for your weekend waterfront beer-guzzling and bar-hopping adventures (minus the designated captain of course), or is it more your style to spend your on-water days with the children, whereas you'd prefer less cushions and to capitalize on an aft summer kitchen complete with a custom refrigerator and prepping station to whip up your own delicacies?
Are there benefits to branding your personal business logo on the seats, choosing upholstery cross-stitching that resembles the colors of your heritage country flag, or matching the metal-flake to your Maserati or favorite sport's team color ensemble or insignia? The world is yours and the end result is entirely as you see fit.
And now... the story you've been waiting for!
It was a dismal soggy March afternoon when I arrived at the riverfront hot-spot Guanabanas in North Palm Beach County. I was there for the piece I was writing on where to dock and dine your center console in Jupiter.
From a distance I couldn't even tell the make, but there was an ocean warrior safeguarding the dock below the jungle-like café and her perfect powder-blue paint and quads on the transom jumped out at me. Putting my mango margarita and coconut shrimp order on hold, I went dashing down the dock at the same pace Clark Griswold rushed through the parking lot to get to the Wally World entrance gate on National Lampoon's Vacation. I needed to see it up-close before the rains caused further complications.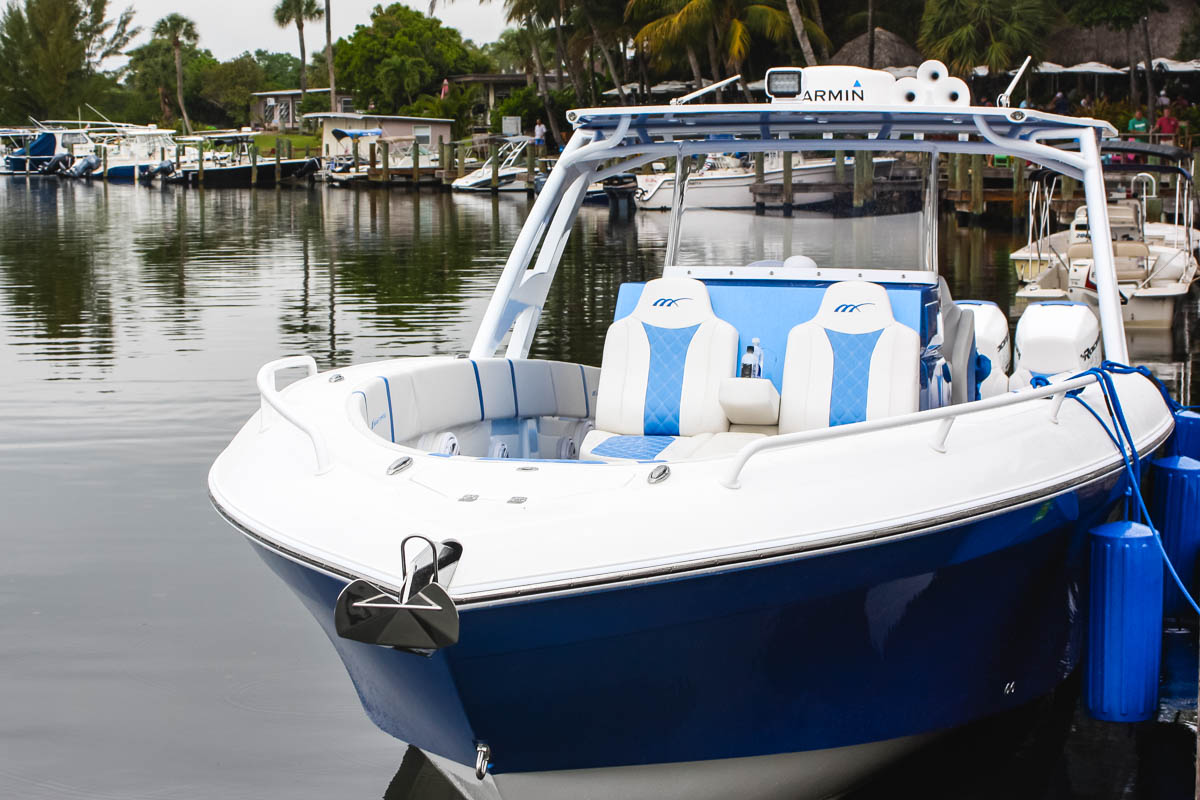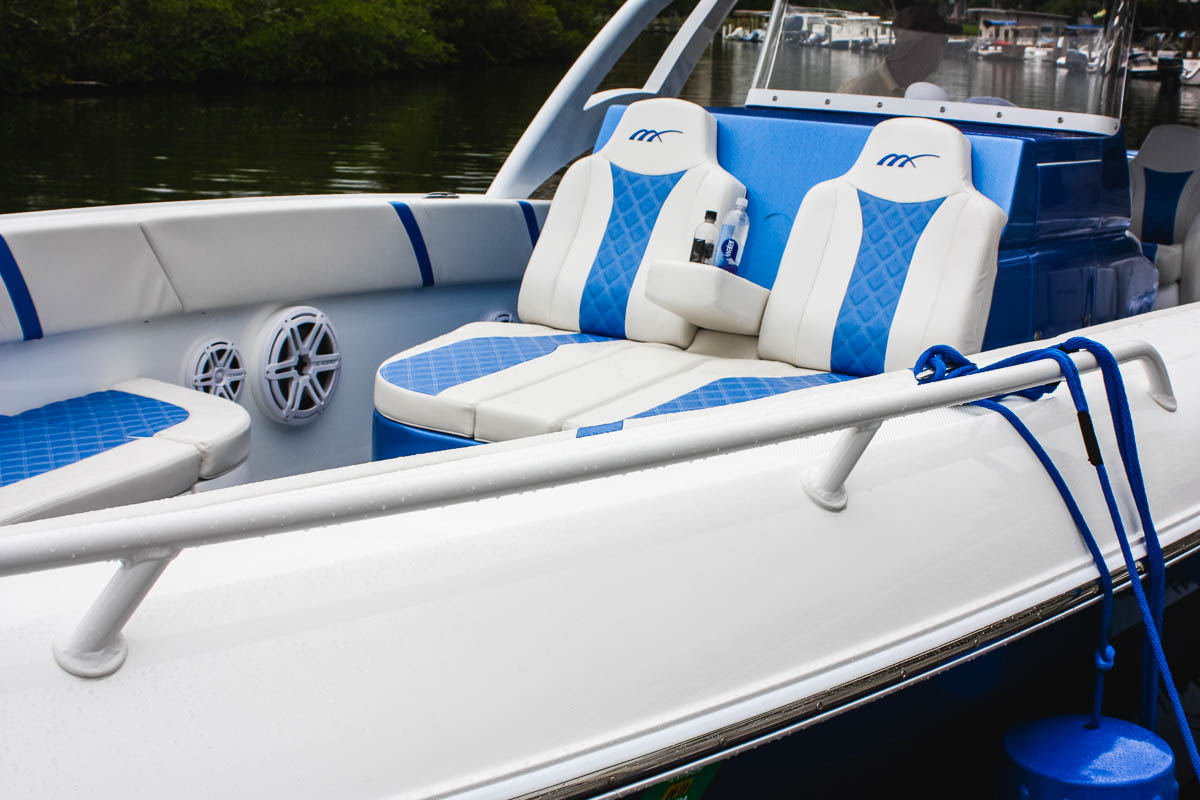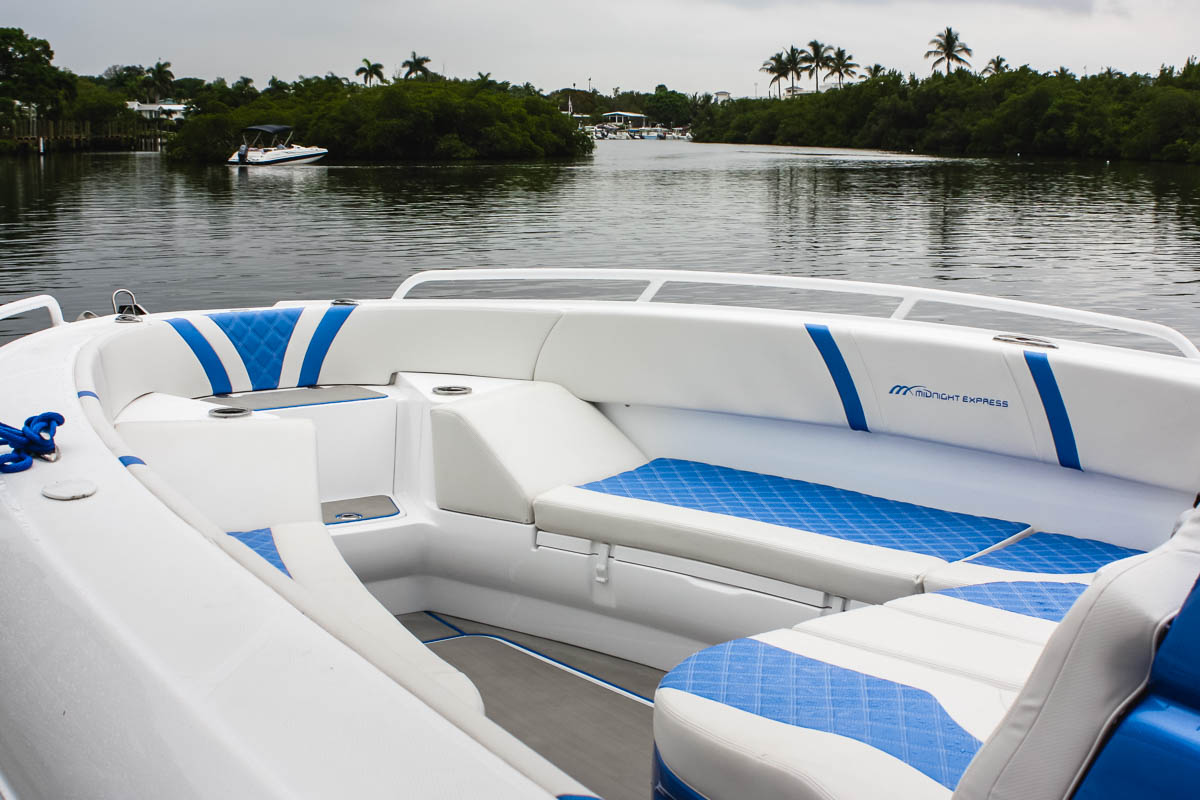 The well-trademarked  beauty with top-shelf craftsmanship details was a Midnight Express, and like an unrehearsed magic trick balancing my camera under my umbrella, I began snapping pictures and yapping with the captain.
His name was Dave Parchesco and we talked so long about the boat that by the time I went back up to the restaurant, I considered him a new friend. He was a former Cigarette Racing Team staff member during the Aronow era. I could have talked to him forever. (Maybe he welcomed the rains picking up.)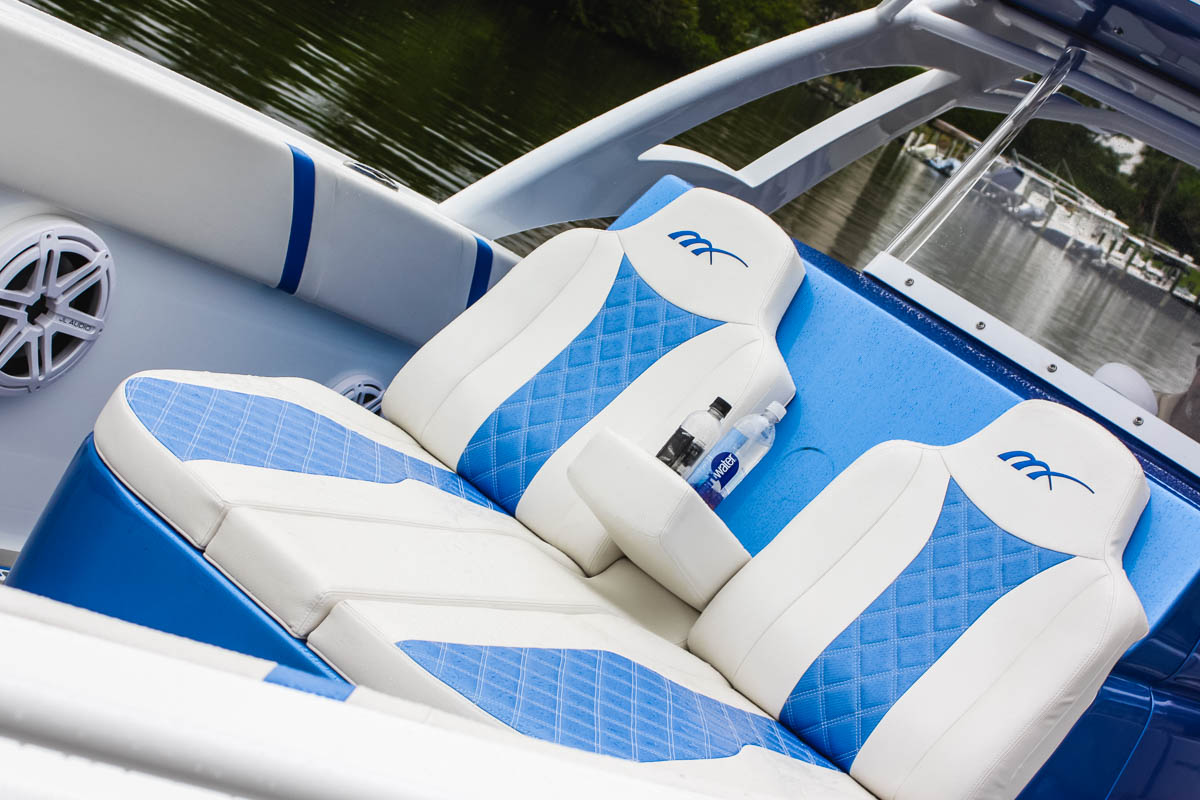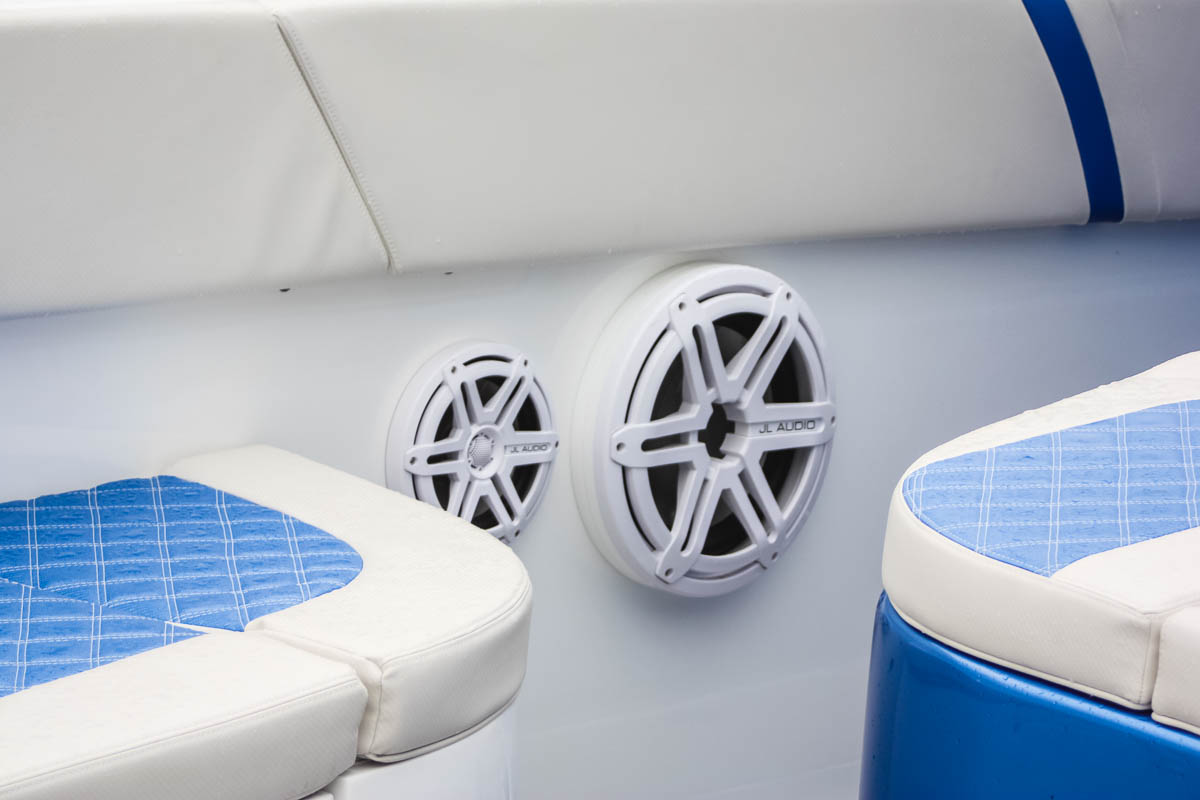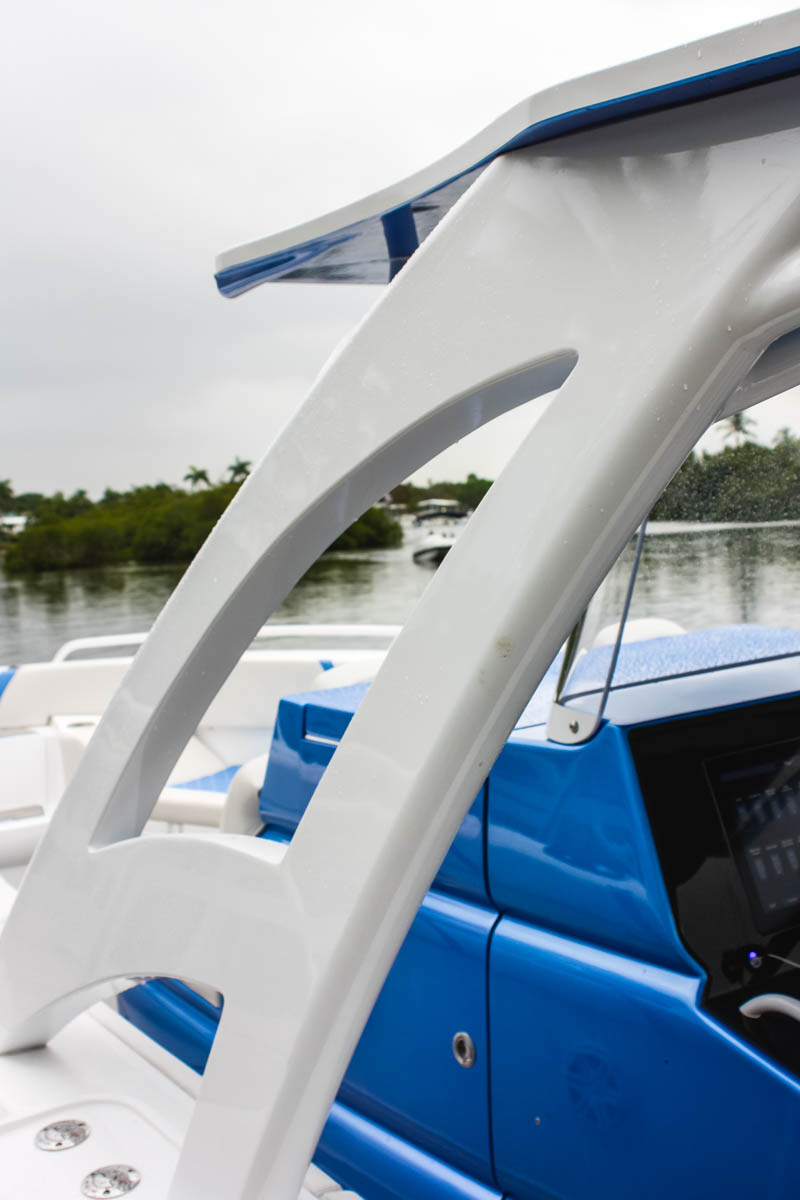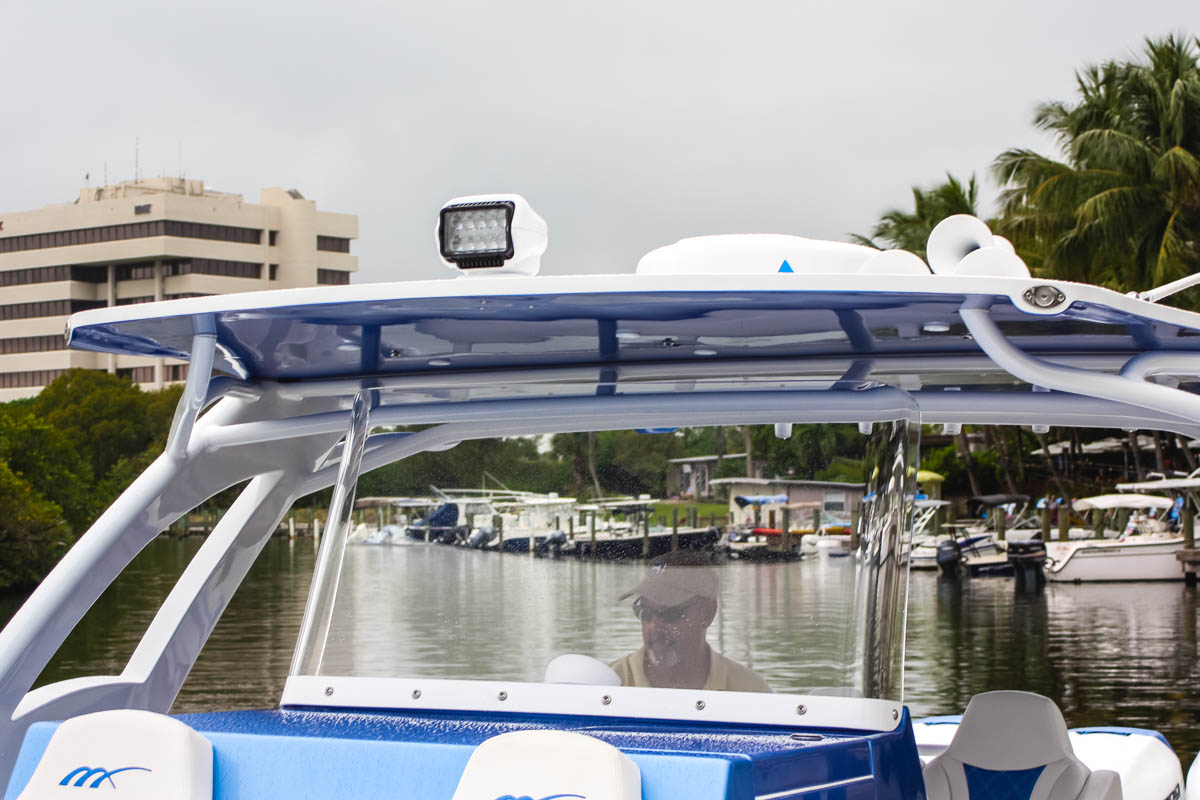 Dave was designated captain for the day running the boat while the owner enjoyed a hassle-free day with his family. He told me it was a 37' Open  with only 23 hours, and performed spectacularly with ten people and provisions aboard, plus a full load of fuel. Hitting over 70 mph was effortless and a few more mph were attainable if the need was there. (That's always nice to hear for the speed-junkies among us.)
During our chat I noticed one operational design flaw that deserves mentioning (before customizing your creation) and relates to the helm station layout. When I asked Dave about flipping the triple bolster cushions upward in order to be able to pilot the boat from a stand-up stance, he lifted one of the seat pillows up to show me that it is not possible to make the bolsters disappear so to speak.
Depending on the weather, the waves, the crew, the daily agenda, and yes even the height of the captain, all are determinants or deciding factors about running the boat standing or sitting and this was clearly not an option with this specific vessel.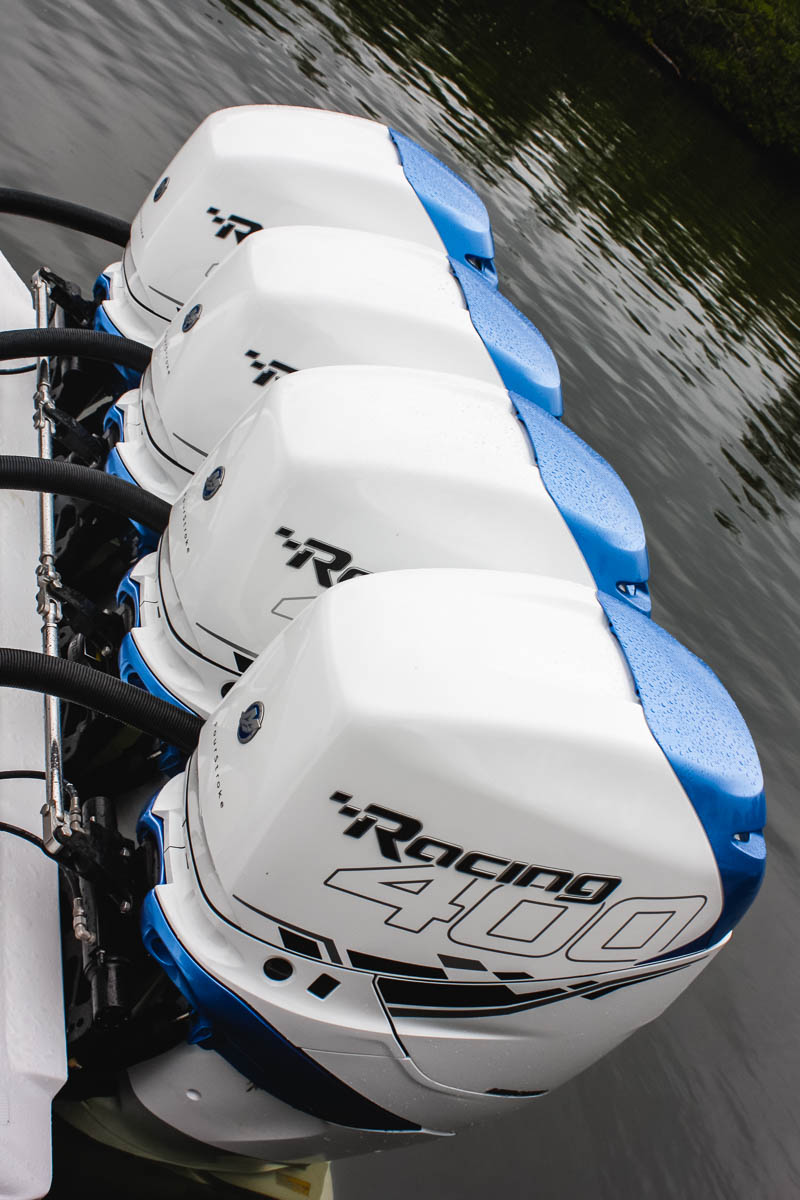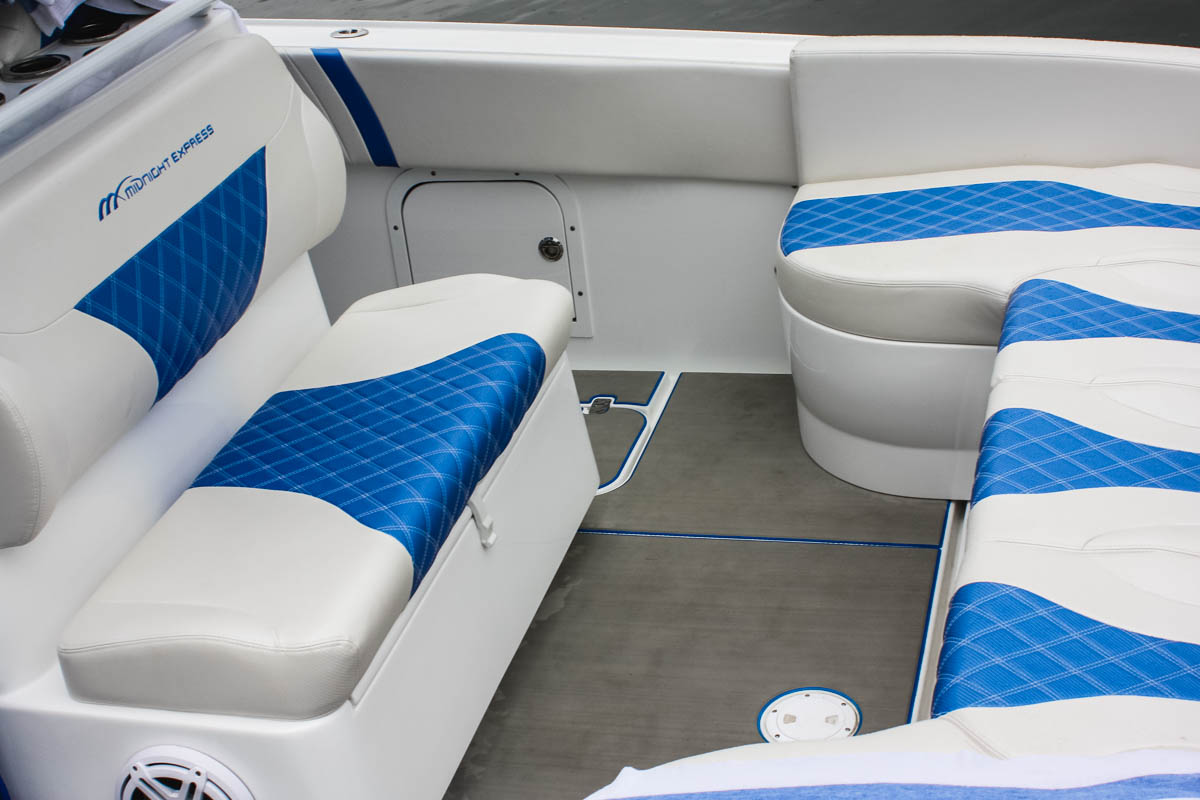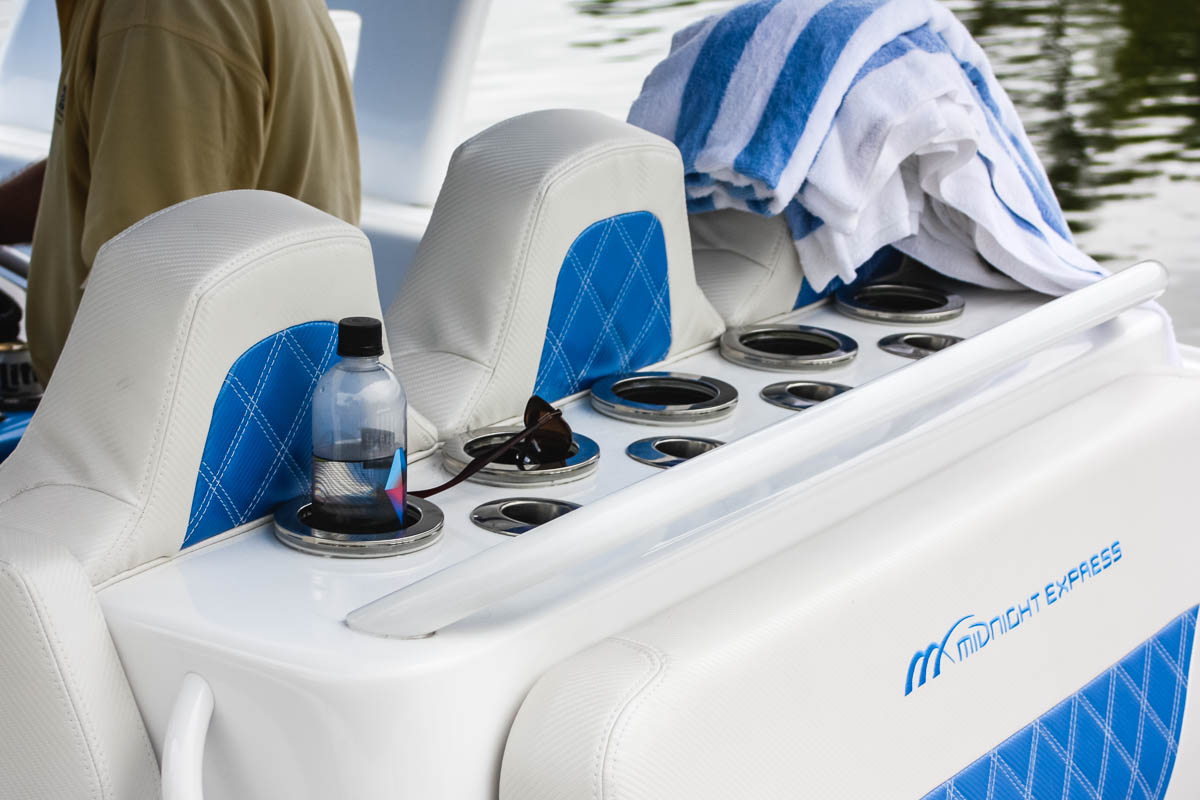 Part two of the problem was not so much the bolster situation, it was the distance between the bolsters and steering wheel. Dave then showed me the two different positions to grab hold of when steering and neither one was optimal for an ergonomic and comfortable journey. Safety could also weigh in here in choppy conditions.
If the operator is standing and the steering wheel is tilted downward which is the case normally, then it was a very tight squeeze and if the steering wheel was pushed up, and the operator was standing, it was not an advantageous scenario for steering because you practically need to stretch your body over the dash to now reach the steering wheel and have a firm grasp.
Again, this is one of those pre-boat purchase goals I was urging you to jot down. Please consider the helm station and in which positions you and other operators you will campaign your center console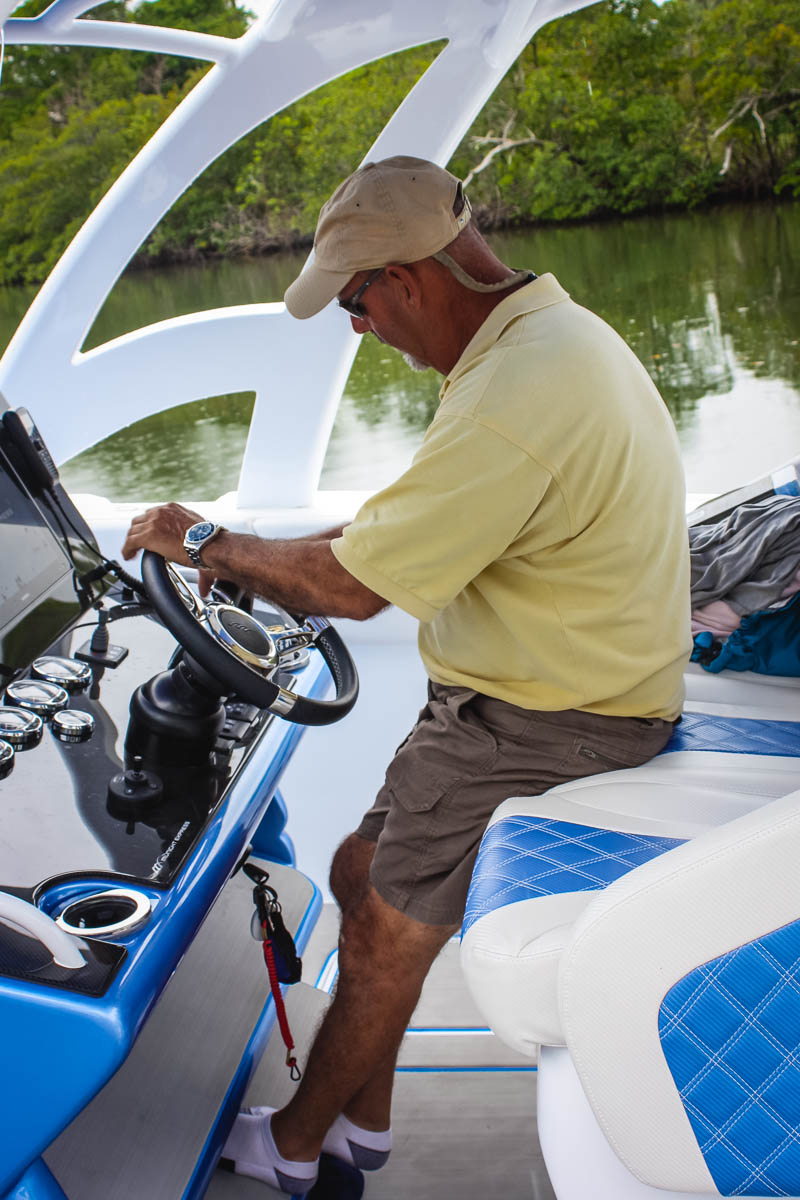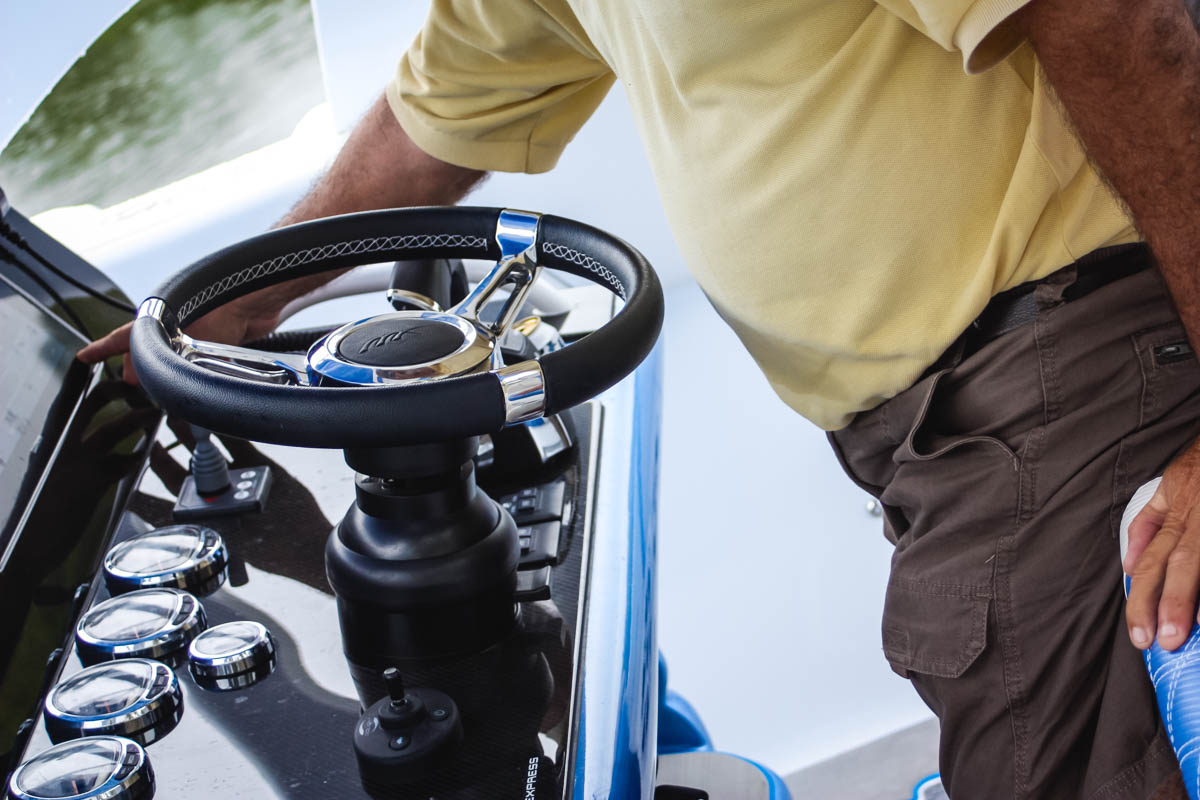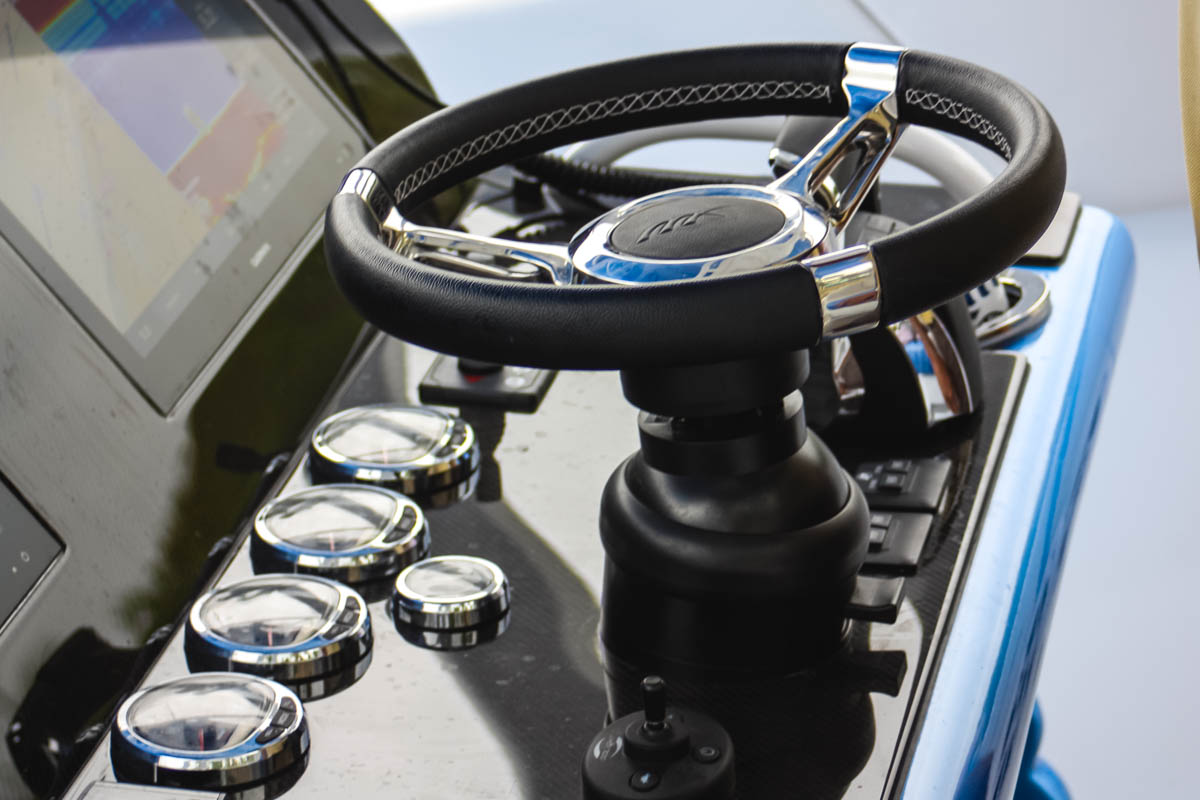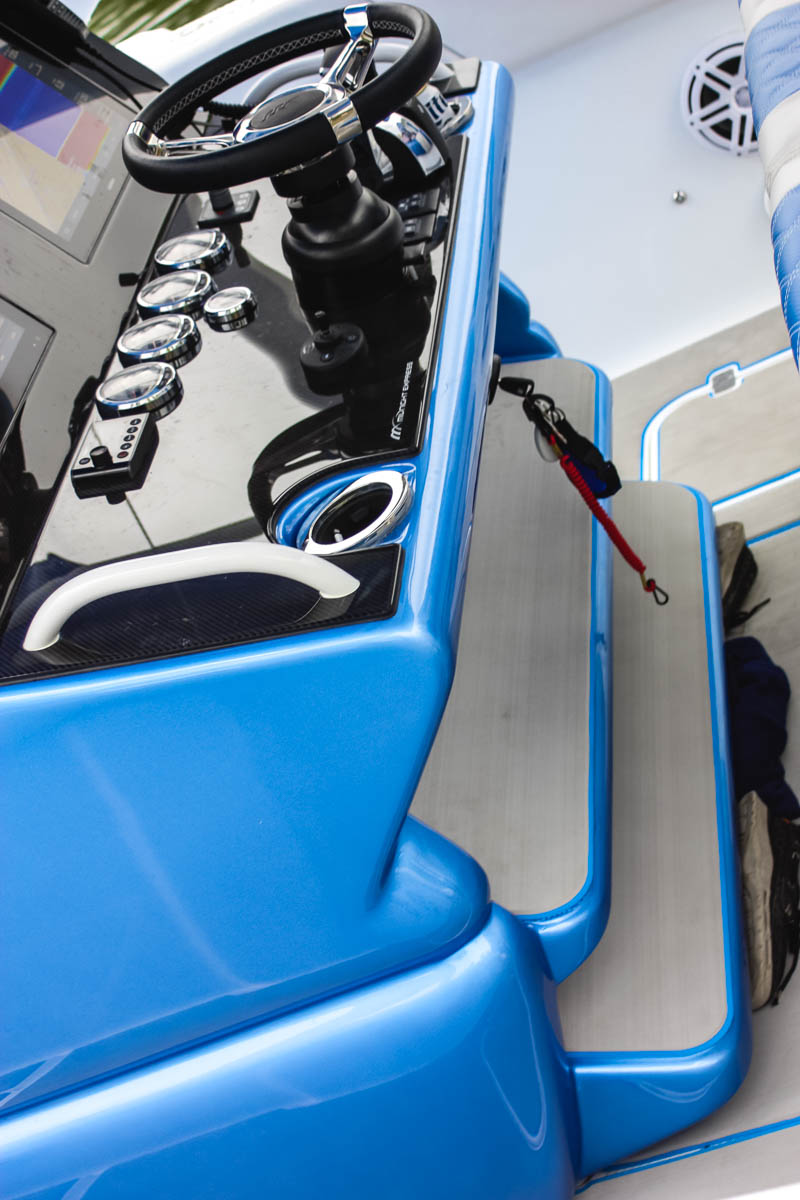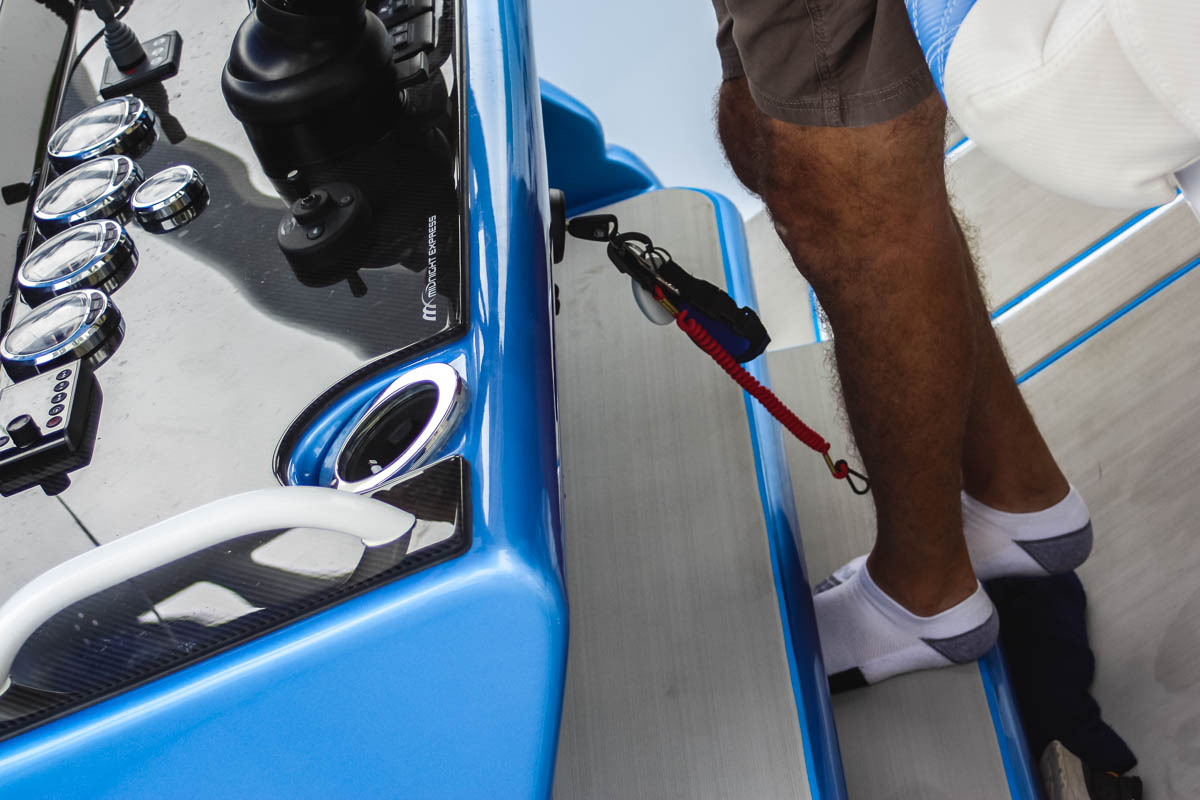 Midnight Express and its extensive open and cuddy center console lines from the smaller 34' to the radical 60' Pied-A-Mer (French for home on the sea) will be in the spotlight in the future on LuxuryCenterConsoles.com, but one special factor not all those in the nautical community are aware of and deserves mentioning is -- Midnight Express has partnered for some time now with the United States government supplying many vessels for the Navy and Coast Guard fleets. Your next day out on the waters, take a better look around coming in and out of the harbor cuts and you may just discover a flotilla of Midnight Expresses protecting you and yours.
If the United States military has faith in them, you can too! Go ahead, buy one...