Story and photos be DinaRella / Additional images from PBS & G. Beebe
When it comes to skillfulness and commanding one's pleasure craft, boat owners are like today's twisted teenagers... convinced they know it all! Nevertheless, whether it's understanding modern technology or applying astute tactics of operation, the aces among us continue making catastrophic calls resulting in harming high-priced hardware and worse, endangering the safety and lives of others.
Rule number one is: CAREFUL, COMPETENT and CONFIDENT operation of your luxury center console, and by taking Tres Martin's Performance Boat School course as a refresher on the "how-tos" or as an intro into your state-of-the-art, outboard-powered bundle of joy... the valuable insight gained might just prevent that next unfortunate incident.
And for any hot-shot stepping out of a triple-digit-hitting V-bottom or catamaran who is not familiar with handling center consoles, according to PBS founder Tres Martin, two of the most instrumental curriculum components you will be glad you had pertain to, "a comprehensive analysis examining the center console's higher center of gravity; and secondly, the weight distribution configurations which operators needs to be cognizant of when coming into turns at fast speeds due to constant fluctuations as guests shift around the boat."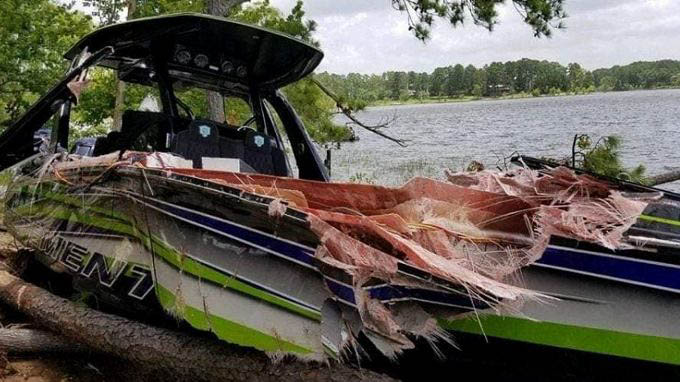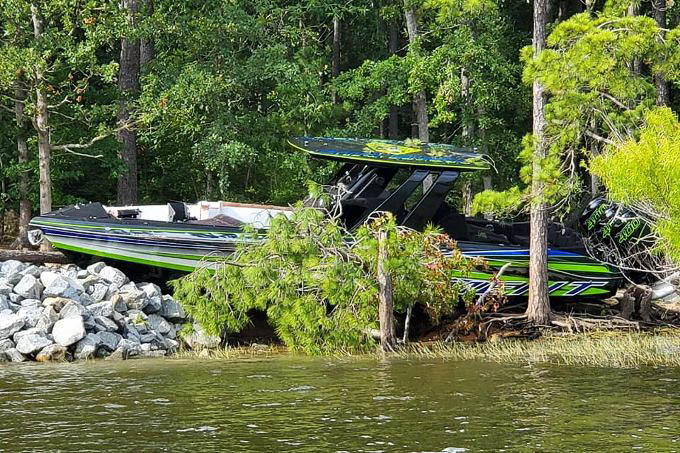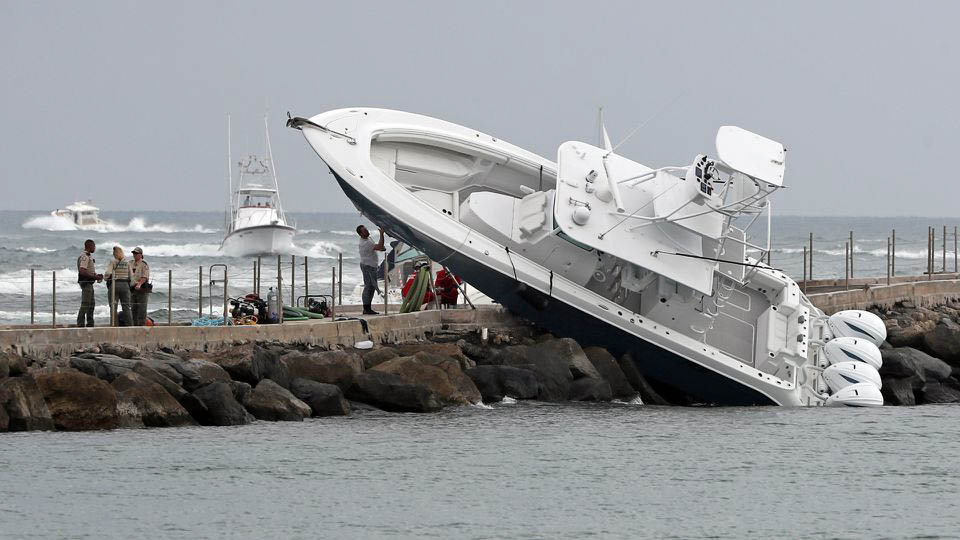 Martin and Schoenwald
Enrolling in the hands-on program under the direction and guidance of Tres Martin and/or Brad Schoenwald is like having Michael Schumacher or Mario Andretti as a coach in your new Ferrari preparing you for the curvaceous and constricted Monaco Grand Prix circuit. Simply stated, there are no other industry professionals more qualified for the task, and you'd have to be living under the sea to not be familiar with the duo's nautical know-how.
Tres Martin is the son of Ralph Martin Jr., proprietor of the famed Fort Lauderdale Everglades Marina back in the heyday of offshore. Starting as a teenager Martin moved up the ranks at Everglades from a role in the maintenance department to a certified marine tech to a manager; determined to attract more high-performance geared clientele, he was then given the green light to open the race shop division. During this period Martin developed a passion for hydro dynamic theories, naval architectural design and product integration, and was contracted to assist with the build process of a series of professional offshore boats, which unsurprisingly led to cockpit seat time campaigning them.
Martin began carving his winning reputation running two high-profile Apaches in the late 80s, doing an Indian water dance in the 41' RAZZ and 47' Little Caesars Pizza. Partnering with Reggie Fountain followed and Martin and the King brought to life a 45- and 47-foot under the famous INXS moniker. To this day, diehard aficionados assert the bigger INXS was one of the loudest speedboats ever to exist. Apparently it was also lighting fast with Martin scoring more than a few black and white checkered flags from the throttleman's seat. Raising national and world championship trophies continued but this time it was after Cigarette Racing Team client Todd Klindworth noticed Martin's skills and invited him to build a 38' Cigarette for Team VIRGIN, which of course naturally progressed into another racing joint venture in various boats.
During this era in the early 2000s Martin began to notice a staggering increase in accidents stemming from technological developments related to modern hull design. As a noble industry professional, in his heart he wanted to do his part, and by utilizing his knowledge and expertise Tres Martin's Performance Boat School was founded in late 2003. Then a few years after the school was established, lifelong boater and retired U.S. Coast Guard Brad Schoenwald came on board teaming up with Martin as a co-instructor.
Schoenwald's savvy seafaring smarts are backed by an impressive decades-long curriculum vitae of professional distinctions. He's served on USCG cutters from Alaska to Guam where he held command positions as an Executive Officer and Officer in Charge. Additionally he is Deck Watch Officer qualified, a National Motor Life Boat School and Coxswain graduate, holds a 100 Ton Masters license, and travels the world as a USCG cruise ship inspector. Together the duo is a force to be reckoned with; Schoenwald's military and naval background complements Martin's professional rigging and racing credentials.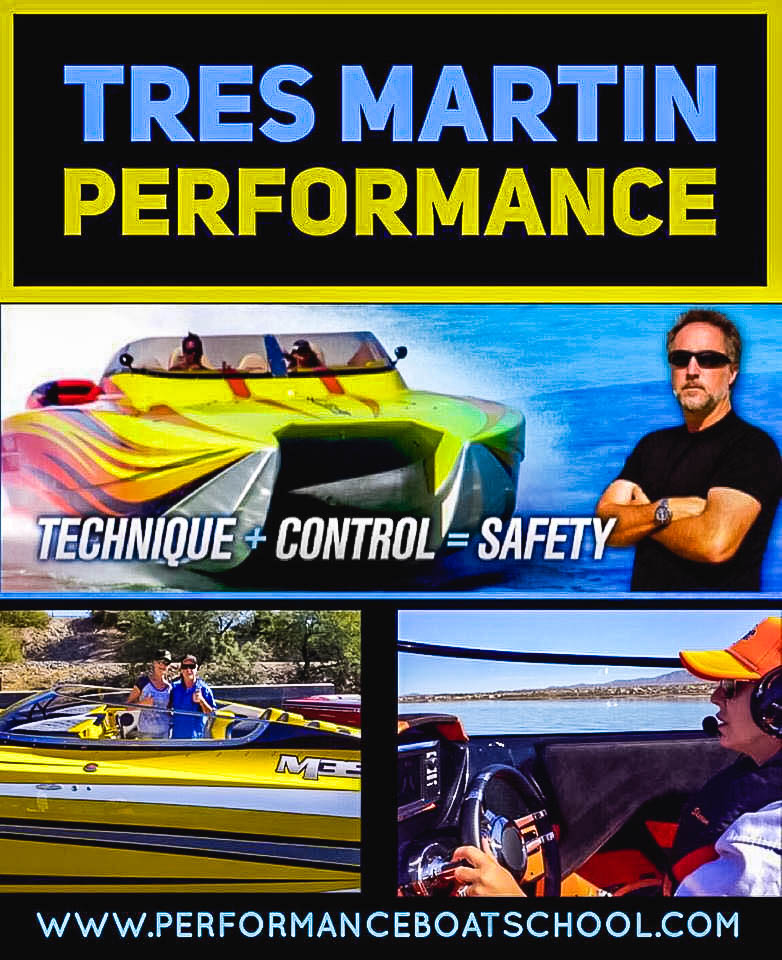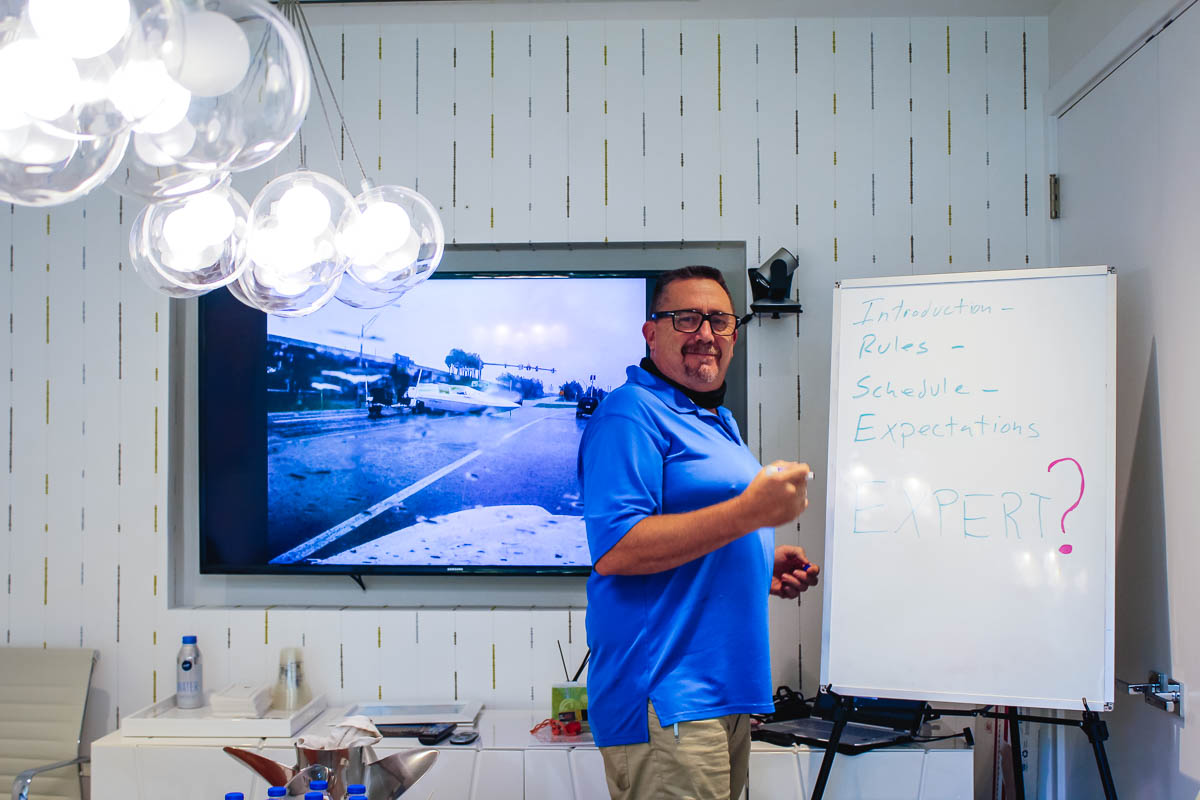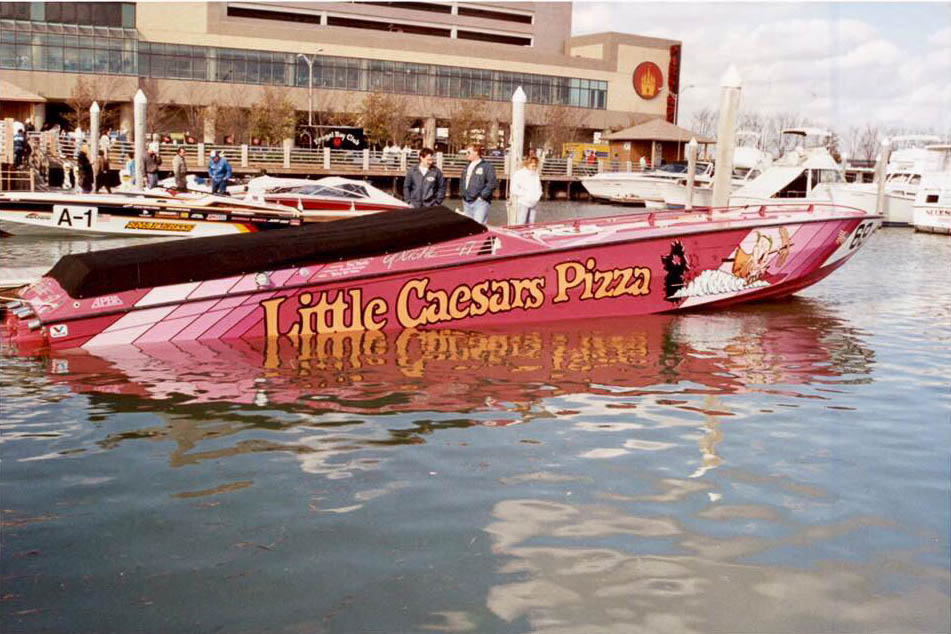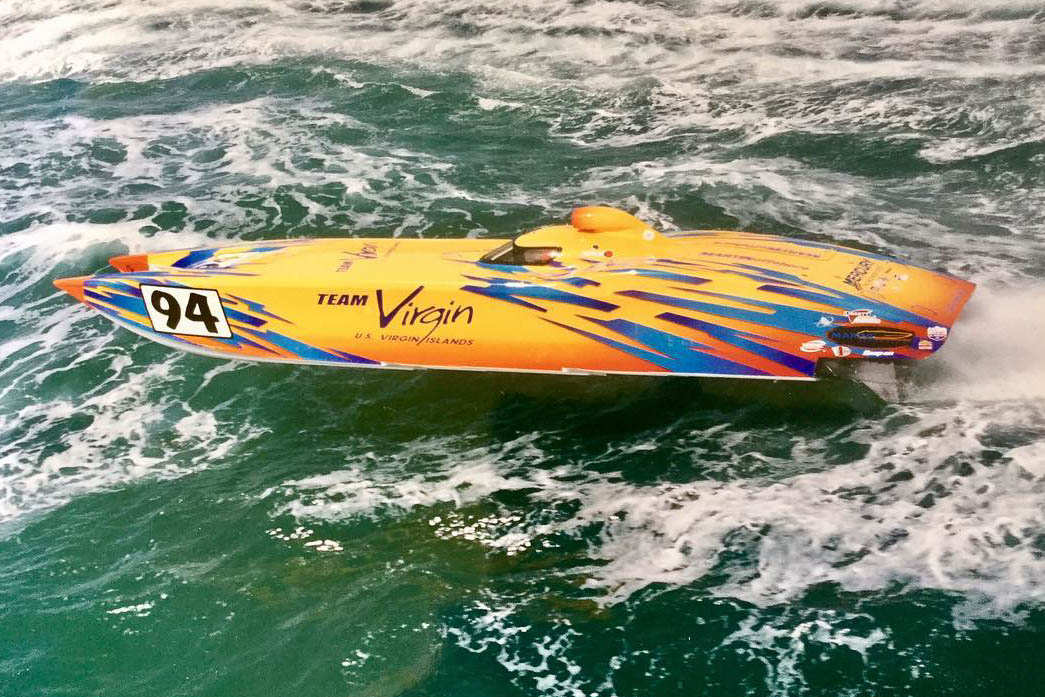 Back to "Boat" School
 Not so long ago, I attended PBS to see how much I also didn't know. Delivered in a relaxed, laid-back setting, the eight-hour-plus class started with an explanation detailing the day's 11 module program, proceeded by an in-depth dialogue into safety measures including: the importance of knowing your insurance plan's coverages and exclusions; the necessity of maintaining a boat service and documentation logbook; and an alcohol lecture so to speak, laying out the implications of innocently cracking open just one adult beverage and how it affects one's coordination and capabilities to react to adverse situations during vessel operation.
A thorough pre-check unit with pointers on: the pros and cons of varied PFDs preceded a concise unit on propellers covered inboard and outboard rotation, the effects of rake, pitch and diameter, and how to spot characteristics of flexural fatigue. Moving forward, we delved into the development and modernization of the V-bottom hull and dynamics of the stepped hull, before shifting to the specifics of drive and trim settings which piggybacked into situational awareness, turning techniques and tab positioning – this is the part, even though you think you might know it all (please don't kill the messenger), you don't.
In this block, the Q&A on commanding center consoles in different conditions was most beneficial. Examples of various scenarios were given and class participants were asked to respond to: piloting maneuvers in rough seas; when to come off or give it more throttle; which situations call for positive or negative trim adjustments; steps to bring the bow down; and lastly, preventative measures to avoid the infamous trip and stuffs.
General concerns about the lack of discernment in properly trimming a vessel were addressed and discussed at length, and informative feedback examining the rights and wrongs and do's from don'ts was extremely well received. On a side note, ironically I recently received an email from BoatUS (the nation's largest organization of recreational boaters with 700,000 members) recapping video viewership throughout the past year. The "How to Trim Your Boat" clip ranked as the No. 1 most-watched tutorial. I mention this since it further validates what clearly is a weakness for many.
Maybe it's time to ask... Do you know all the tricks of the trade with your trim tabs?  For proper handling skills moving forward, "Operators need to be advised what is actually factually correct because what we often see is that today's seasoned boaters were improperly taught when first starting out and though no fault of their own, became accustomed to erroneous routines and procedures," noted Schoenwald.
After wrapping up the program with a finale sector on trailering and docking practices, a brief overall review was given before our compulsory written exams were handed out – and it was time to discover all that we now knew! Upon successful completion of the full course, PBS participants are awarded a certificate of acknowledgement; the documentation is recognized by major insurance companies in the United States and owners are often entitled to a discounted rate on their policy.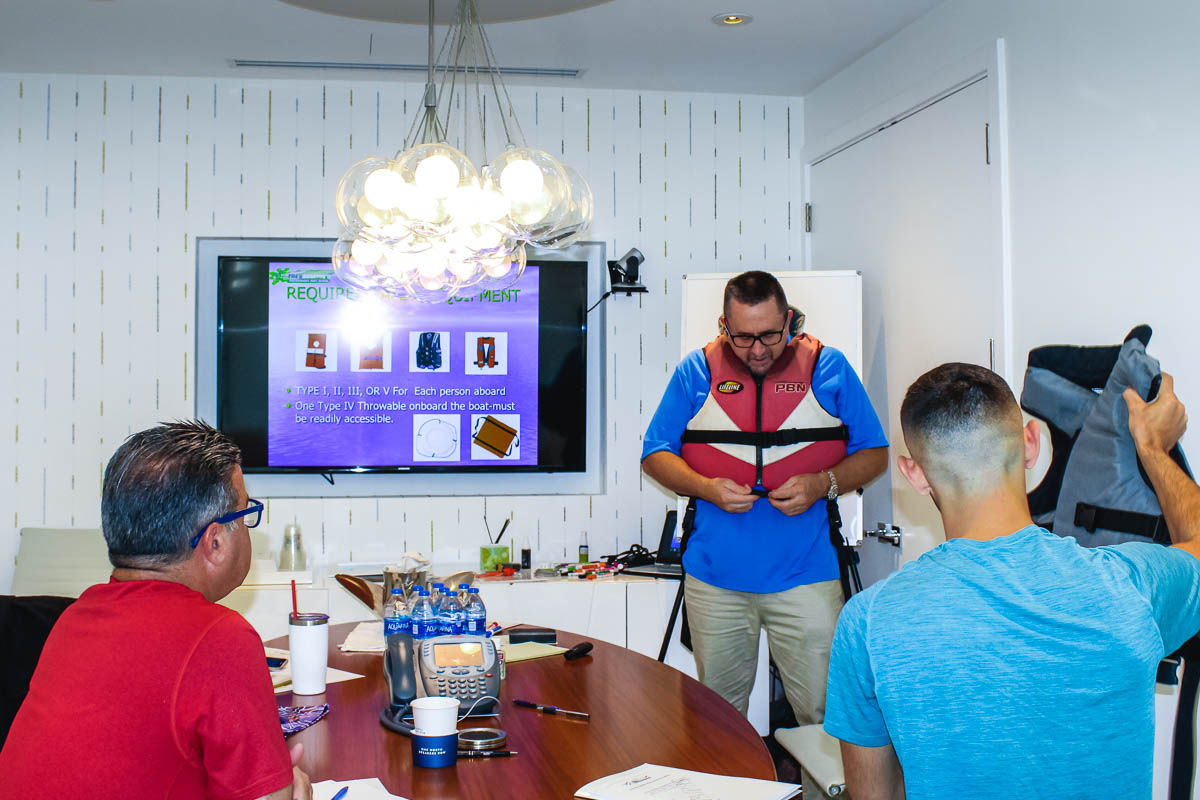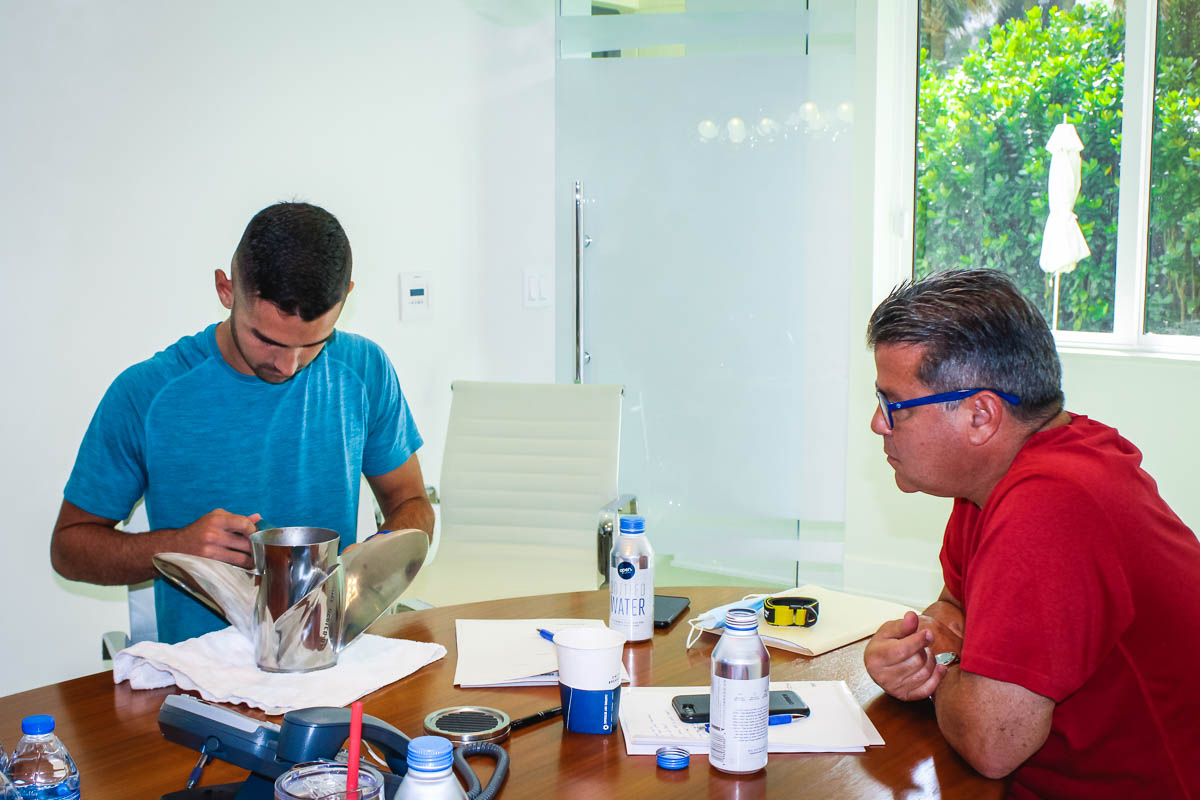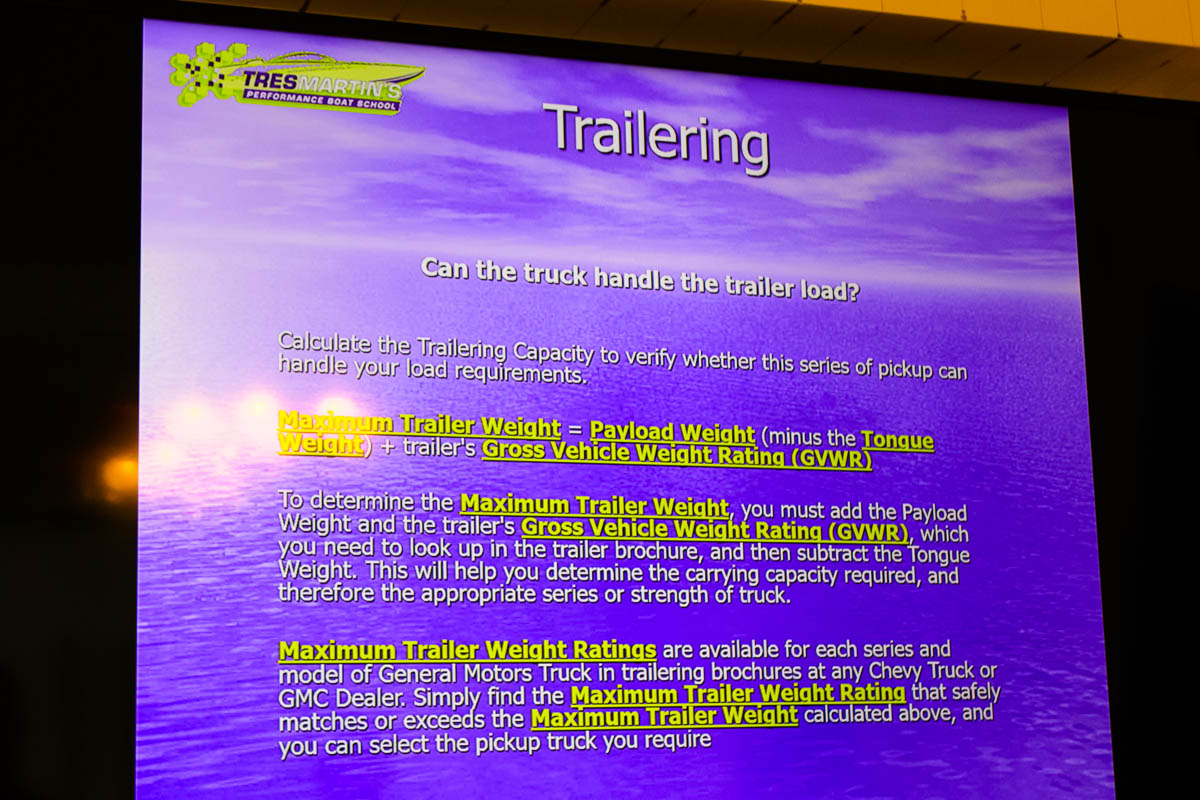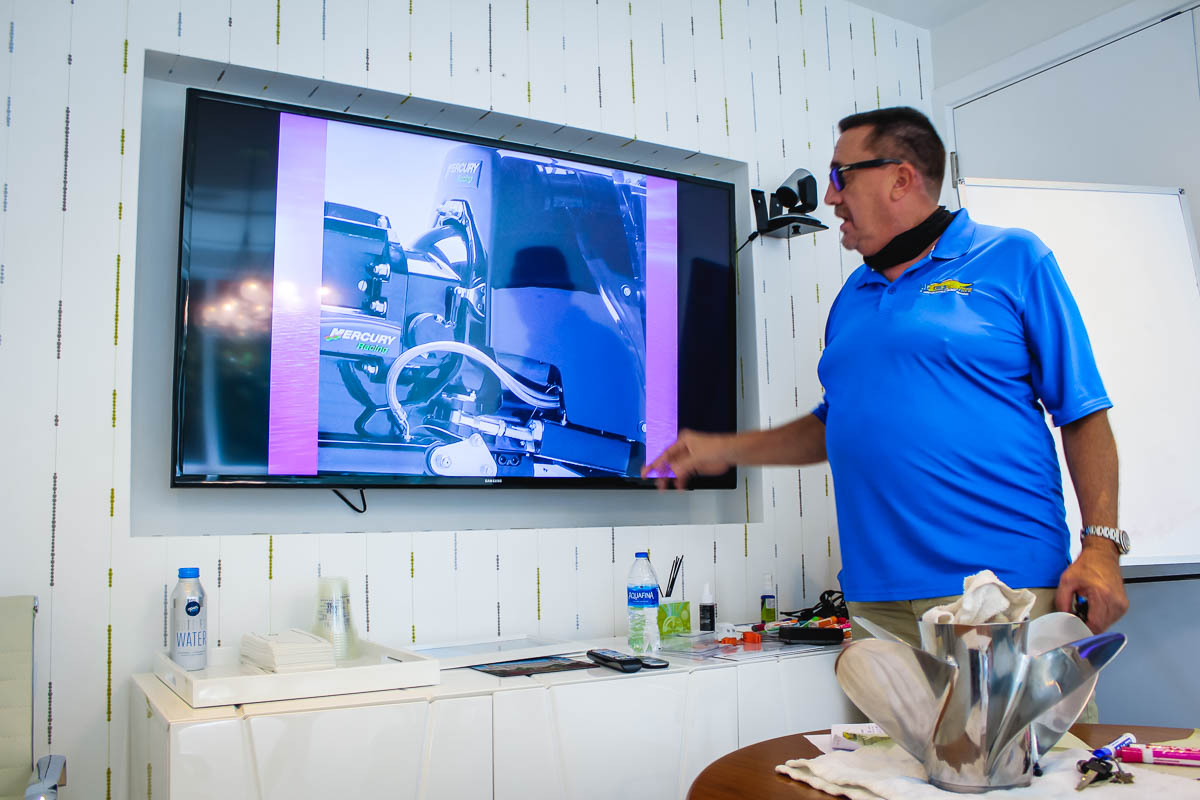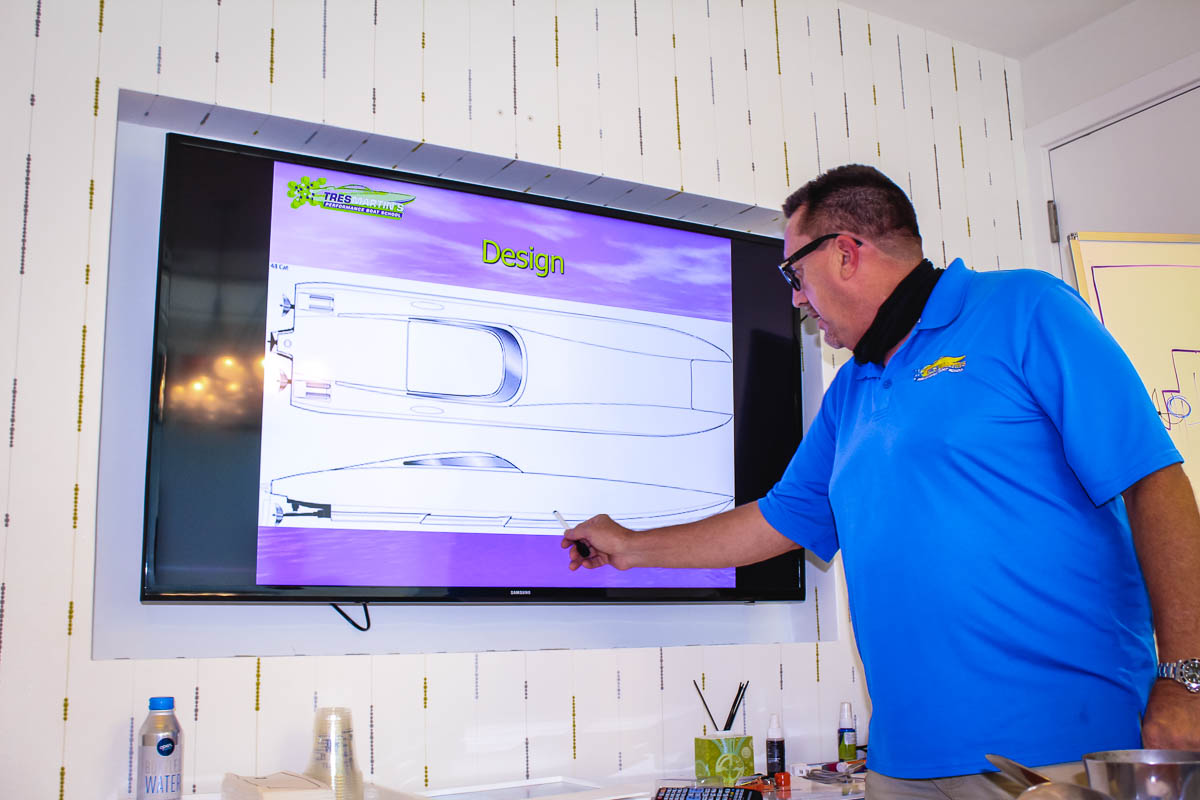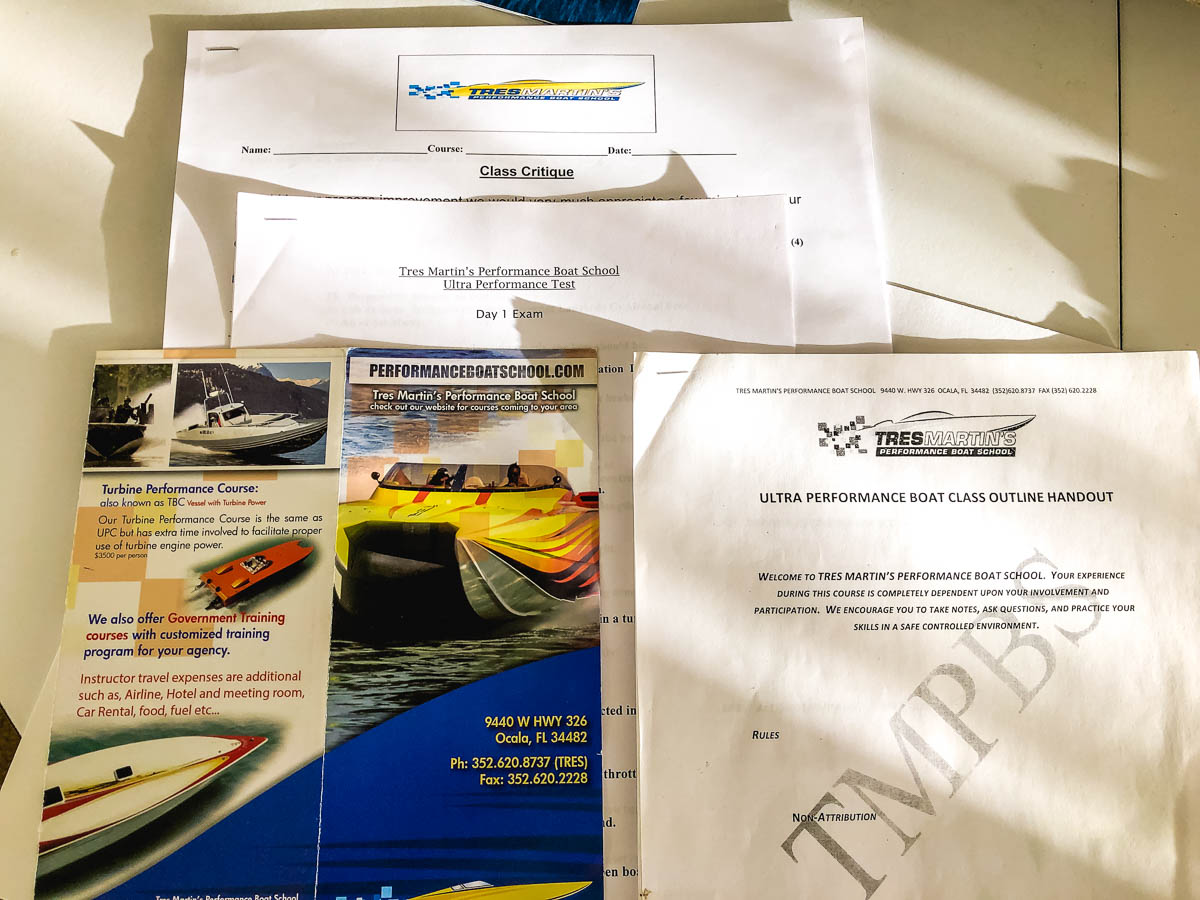 Waterway Wisdom 
Performance Boat School's hands-on session applying the criterion and guidelines from part one are put into play during the skill-based training. A meticulous safety pre-check and inspection starts things off while the vessel remains on the trailer or lift, and then it's into the h20 at which point hoses, pumps, switches and valves in every compartment from the bow to stern are unequivocally inspected.
Depending on who is leading the class, Martin or Schoenwald discuss all onboard amenities ensuring you know how to operate and understand all limitations of each system like the air conditioning, bow thruster and gyroscopic stabilizer. Upon firing up the outboards and heading out at idle speed, there's an explicative tutorial on the touchscreens and tech components, and an explanation into every knob turned, switch flicked, and gauge to be monitored.
Ready, willing and able for Coast Guard-esque drills and directives, participants are then prepped to swap spots with the instructor and take over driving duties, while being coached on steering strategies; reading the water; understanding the Intracoastal Waterway's explicit "red right returning" reminder that red buoys are kept to the starboard when coming from the open sea into port, and green buoys are kept to the port side; and how to react when crossing with another vessel.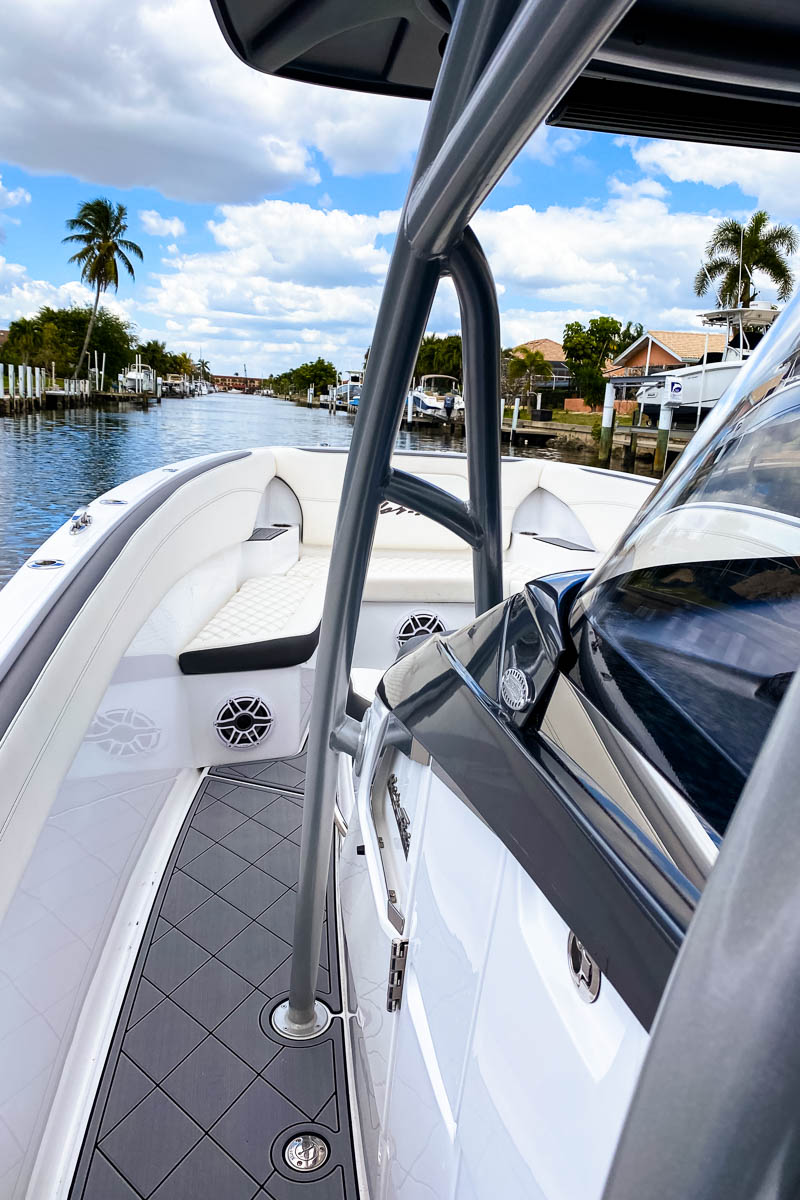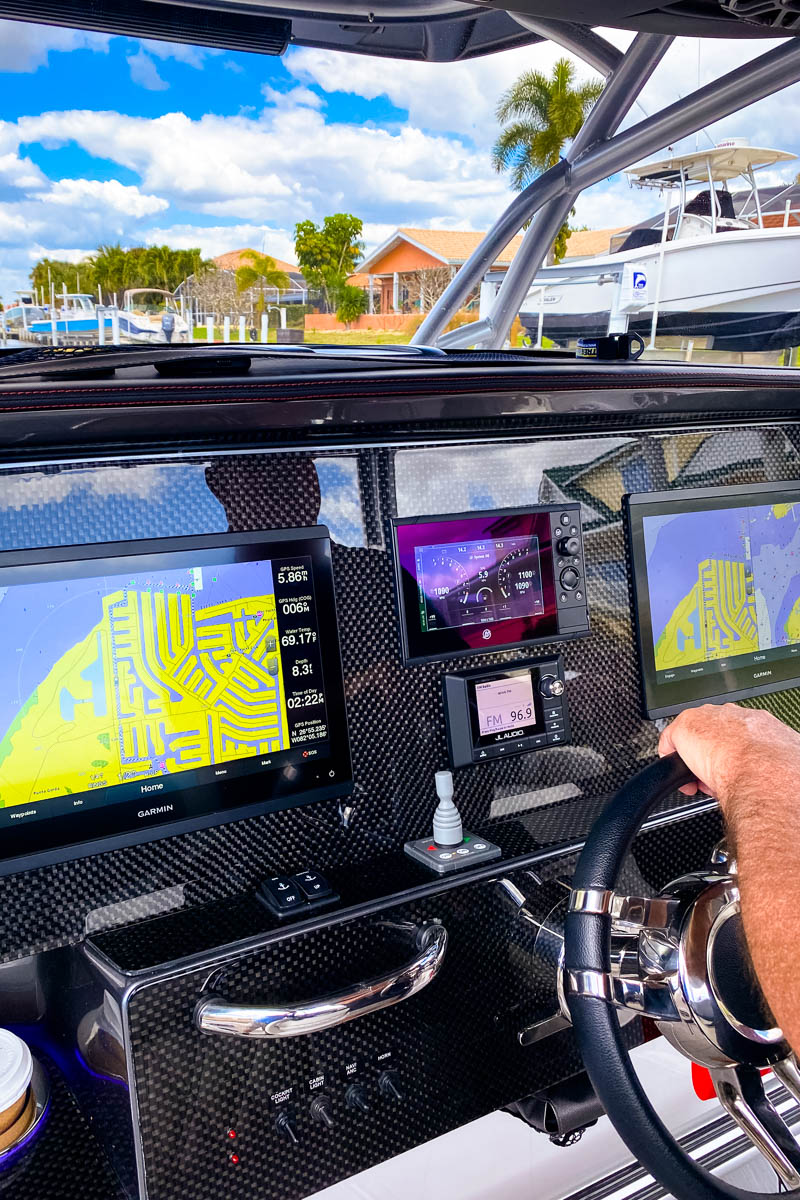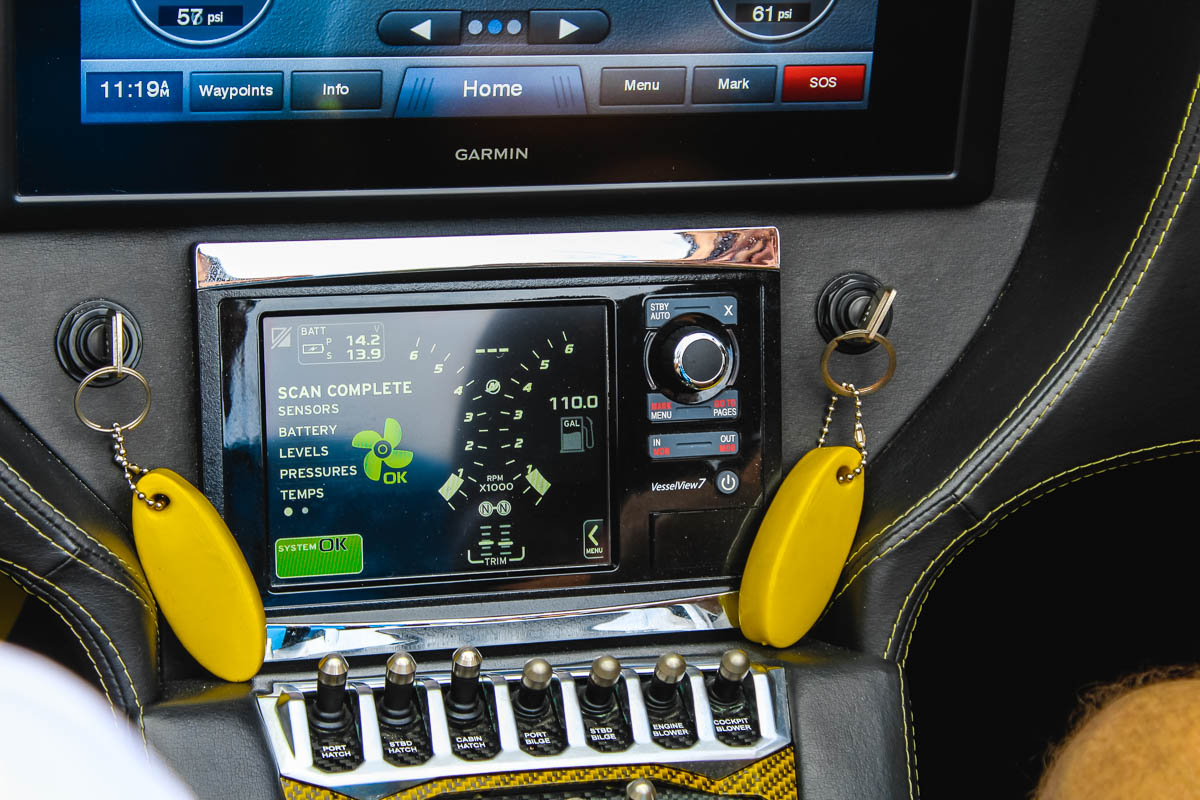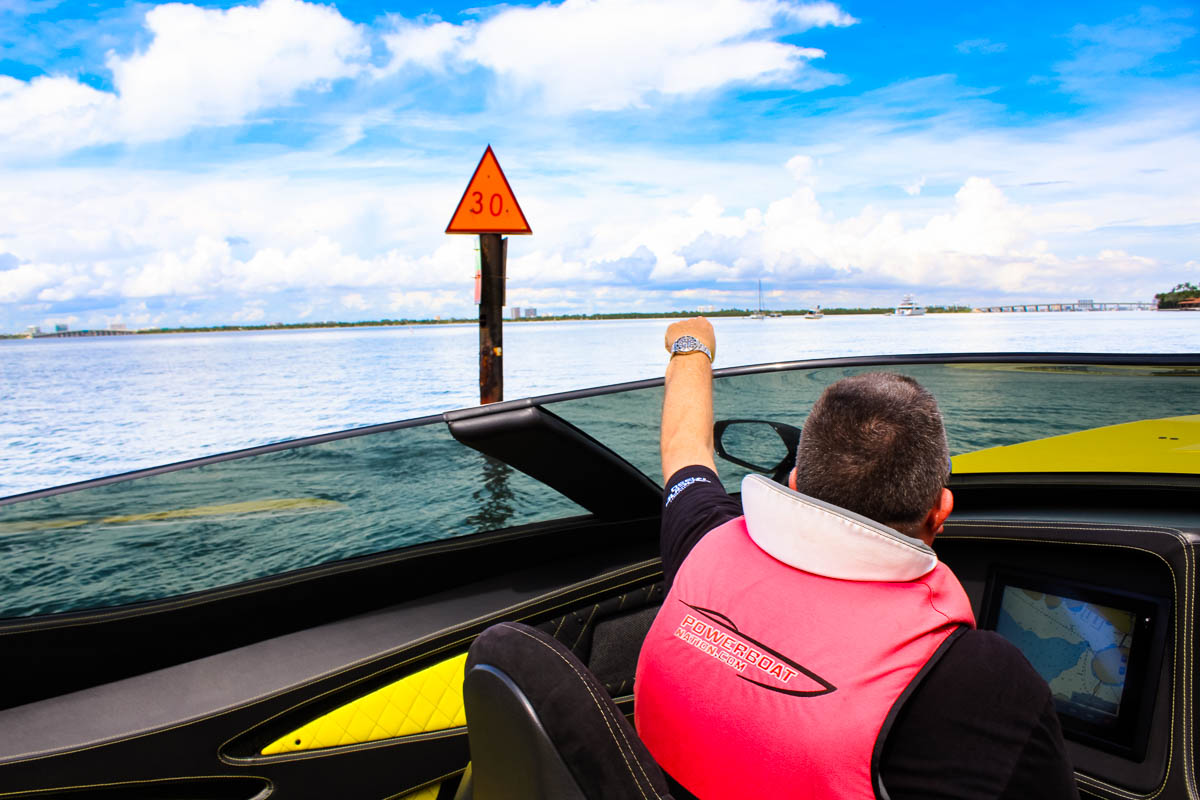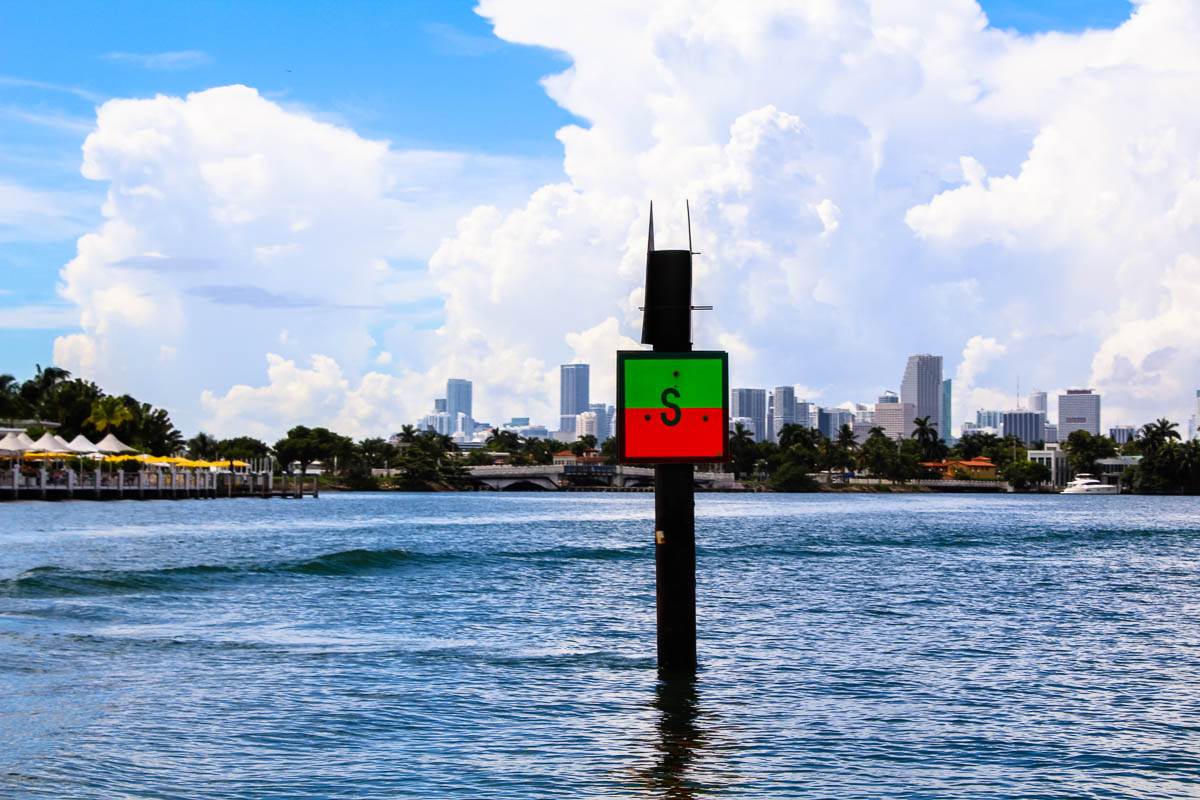 Driving the boat is fun, but working the guns is double the fun – and the moment everyone covertly counts down the minutes until. During the training, taking over the throttles was gradual and began like teamwork with the instructor's hand placed over that of the operator in order to get the feel of things. Two criteria determine at what point the "hand off and hand over" of the helm giving up stick and steering control happens: one's level of experience and weather conditions. Schoenwald stressed, "While I do not dominate, I must be confident the person is in complete control. It's really most critical with the big horsepower boats when the tendency is to over throttle."
And while close quarter maneuvering is not quite as exhilarating as leaping into action in the big stuff or blasting around bays showing off your refined center console choreography skills... "going in reverse" and not wrecking your marine merchandise or bumping into someone else's is nonetheless a vital element. Hence upon return to the marina before the course drew to a close, a lengthy amount of time was spent on docking procedures until class participants felt 100 percent confident in their abilities.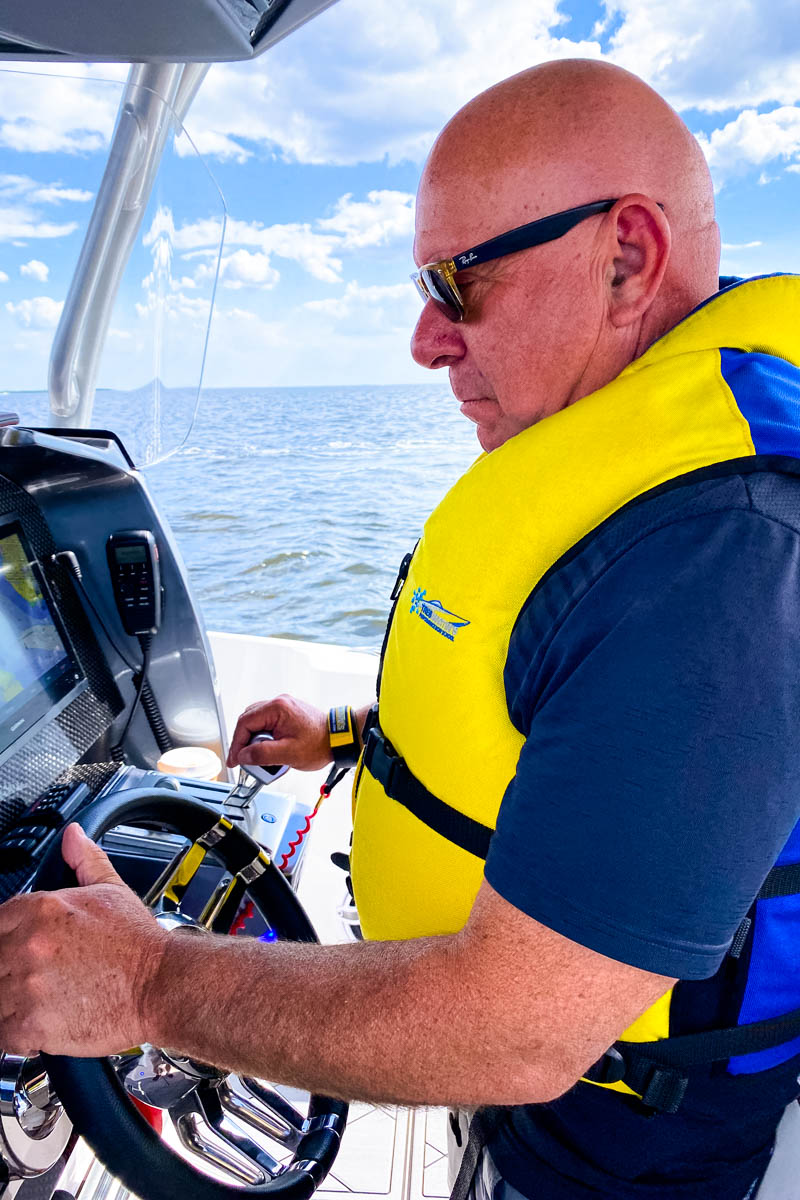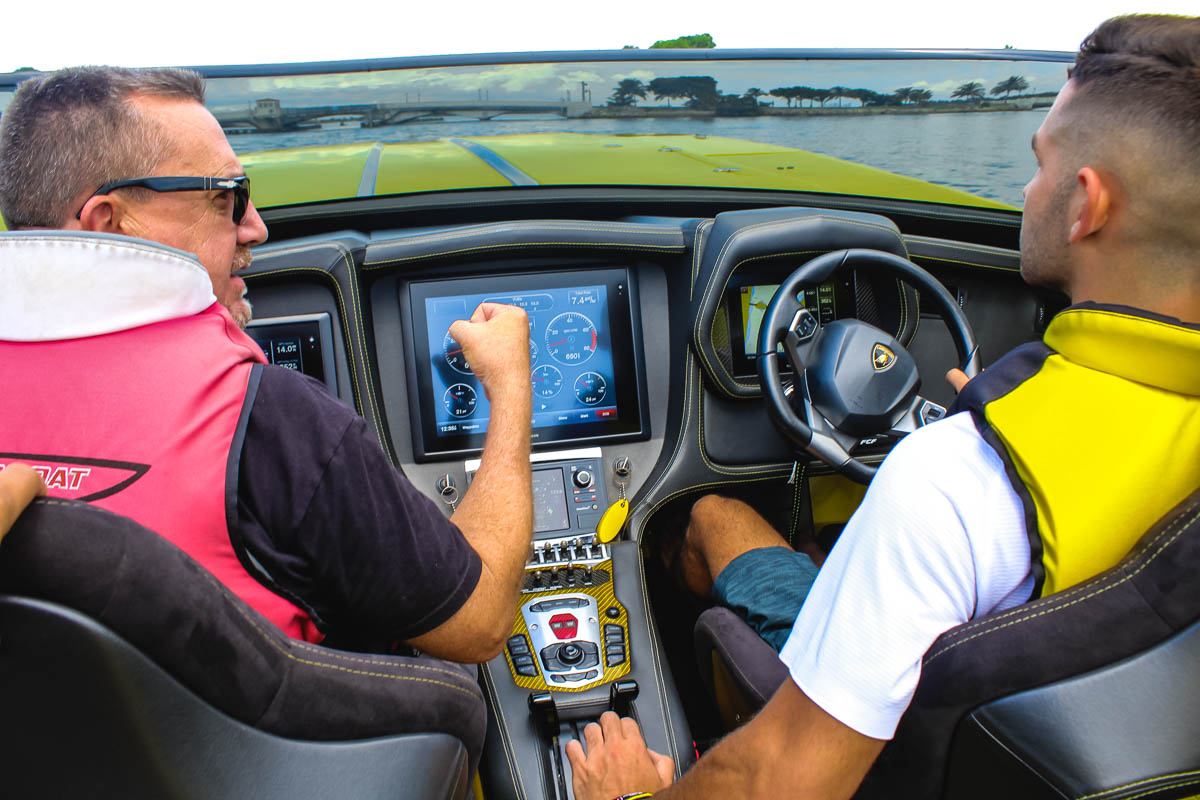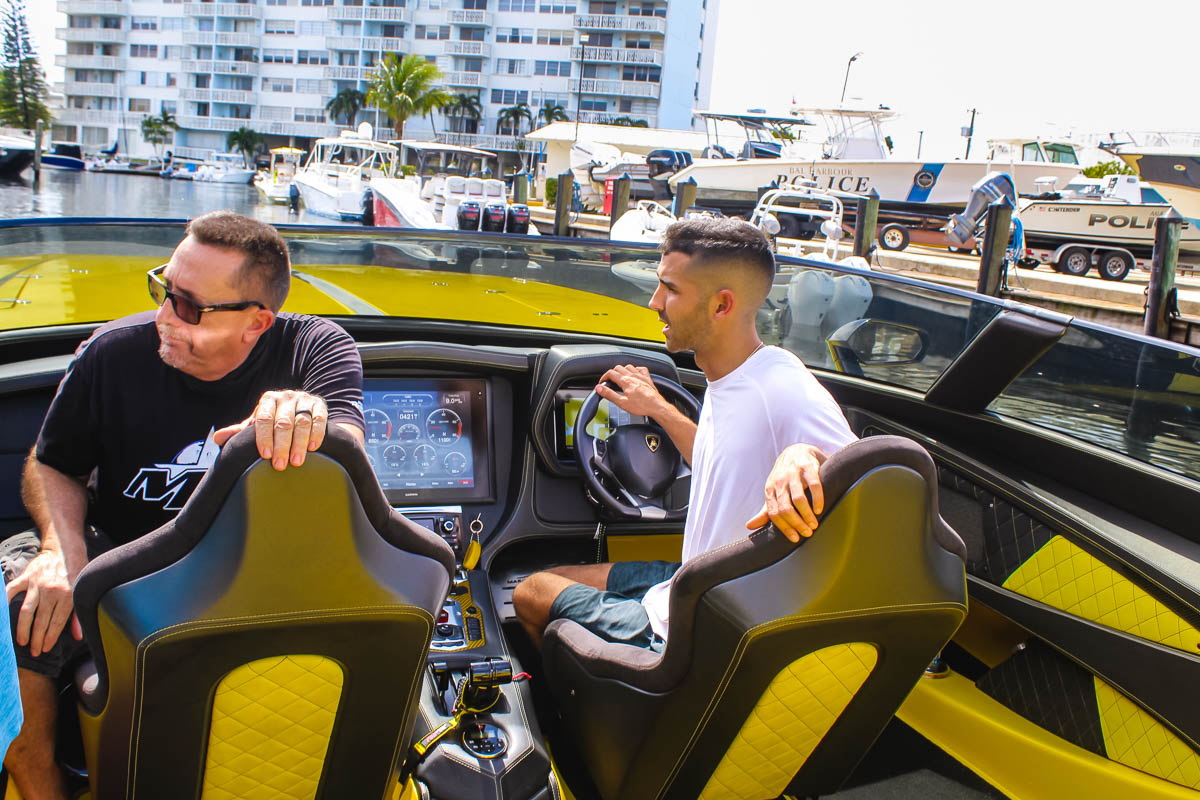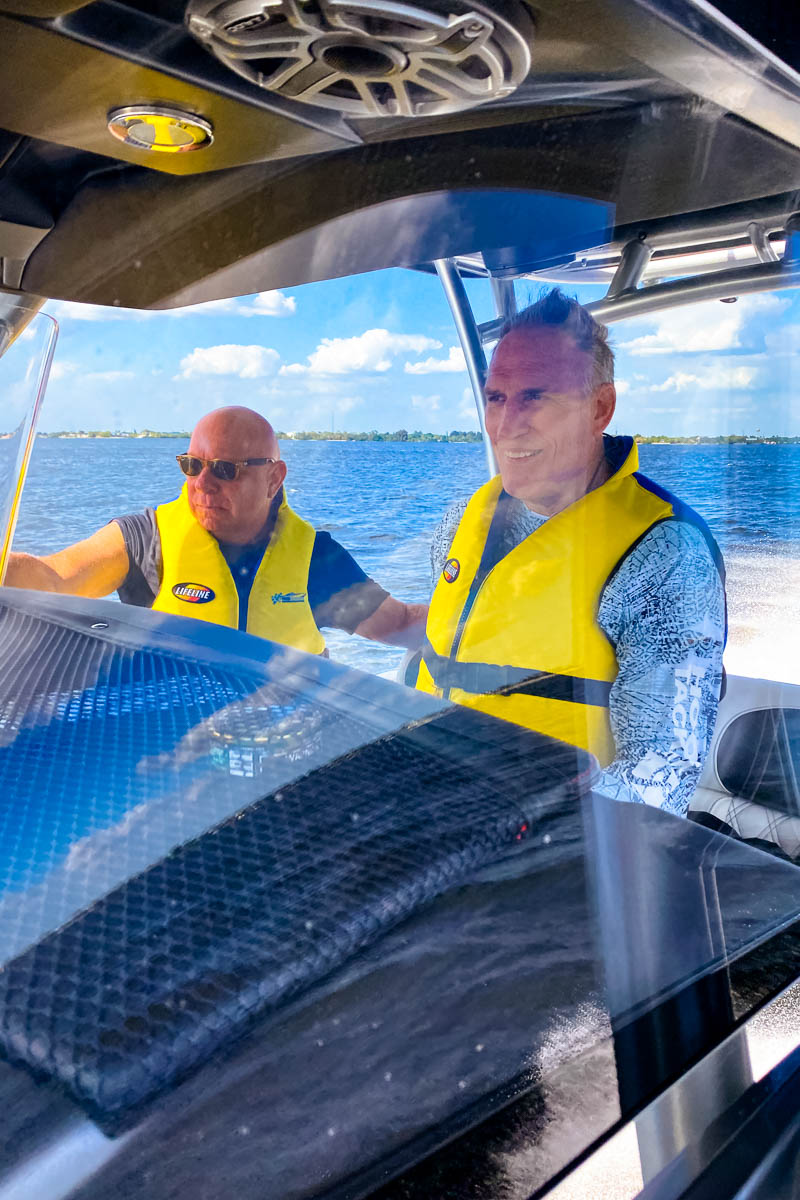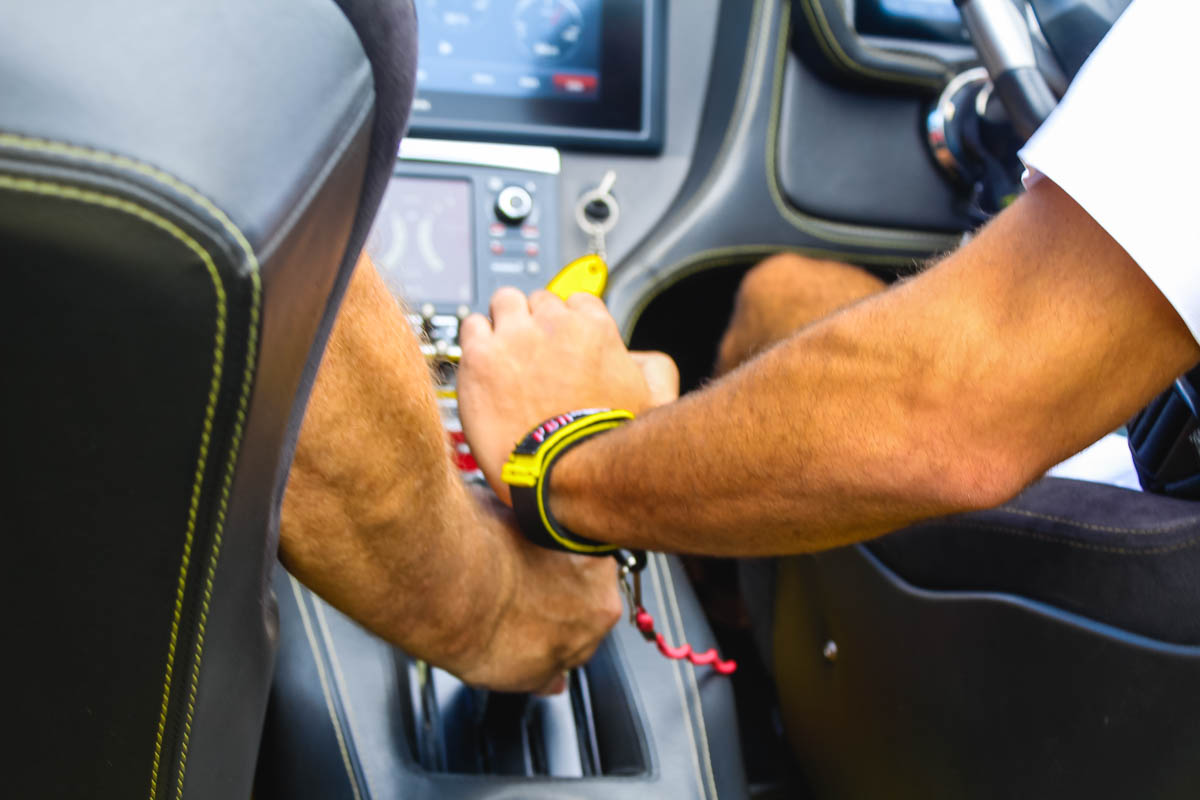 "The Fine Details" Finish
 The two-day instructional class ranges between $2,200 to $3,100 (for the ultimate performance catamaran option) and covers the classroom module and on-water portion, usually scheduled for the next day or whenever convenient for the client(s). Since you'll be extracting roughly the same amount of coin that you'd spend (if not more) on a poker run, sinful Sin City escapade, or bulk ammo replenishment... I'd think a few grand is money well spent if it boosts safety and security for yourself, your riders and the half a million dollar or more hull at hand, under your command. More importantly it's that extra piece of mind for passengers entrusting you with their lives, since it only takes a split second to spiral out of control.
From trimming tips and analyzing drips, to avoiding future flips, Martin and Schoenwald magically remove the mystery of your luxury center console to allow it to communicate with you, while at the same time helping you to respond back with ease, rather than error. In closing, I leave you with a final quote from each gentleman about the benefits of PBS!
---
Martin:
"Technology is continually advancing, and transferring old habitudes is not
possible because things simply do not work the same. Taking the course gives
you foresight into understanding how the modern hull functions, and prepares
you to properly operate your present day vessel, as well as, keeps you up to
speed going forward with future purchases."
Schoenwald:
"Upon completion of the program you increase your human performance and
are equipped to: better observe and identify potential threats, decide proper
actions, and properly respond to any potential threats. This heightened
sense of awareness and safekeeping is invaluable."
---
For further details on enrolling in a class, please visit performanceboatschool.com or call Tres Martin at 352-266-1457.
It's also great to know the school offers a variety of tailored courses for beginners, sport yacht piloting and government special operations protocols.
(Note: Photos in this story are from various trainings including a recent March 2021 class Martin gave with Robert Esposito and Robinson Bidwell in Punta Gorda, Florida, on their new Nor-Tech 340 Sport with triple Mercury Marine 400s; in addition t an ultimate performance catamaran course given by Schoenwald in Miami with Sam and Matt Gabriel on their family's Lamborghini-themed 48' MTI Raging Bull.)