Story and photos by DinaRella / Additional photos from Neptune Boat Lifts, LLC
You don't have to own a powerboat or even a personal watercraft to know the Neptune name. If you found yourself attending the Fort Lauderdale or Miami Yacht Show in recent years then a quick scroll back through your Instagram might already show you standing under one of the 50,000-pound Neptune Boat Lifts at the entrance gates where the beasts hoist up 44,000 pound, million dollar luxury center console HCB Sueños.
Boat show welcoming corridors aside, American-made Neptune Boat Lifts can be spotted on waterfront real estate around the nation and beyond. The lifts were created under the direction of a trio of marine professionals – Jimmie Harrison (chairman), David Humphreys (president) and Randy Whitesides (CEO) – all of whom agreed over a decade ago that the existing models and materials being used were inadequate for modern day boat designs and the harsh marine environment.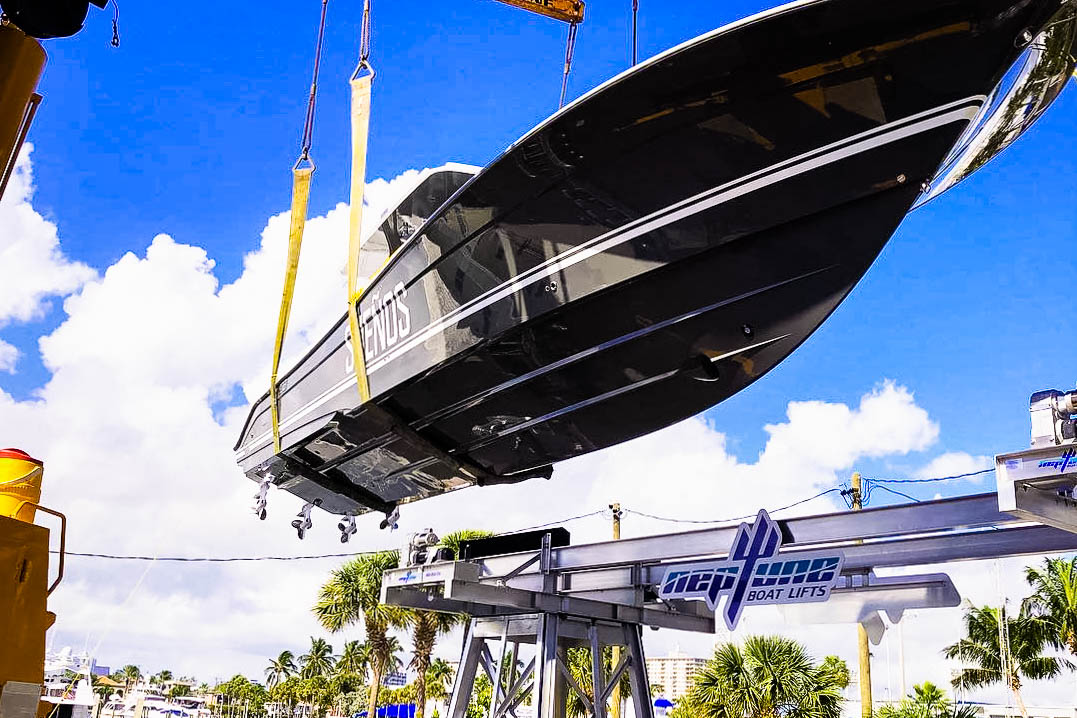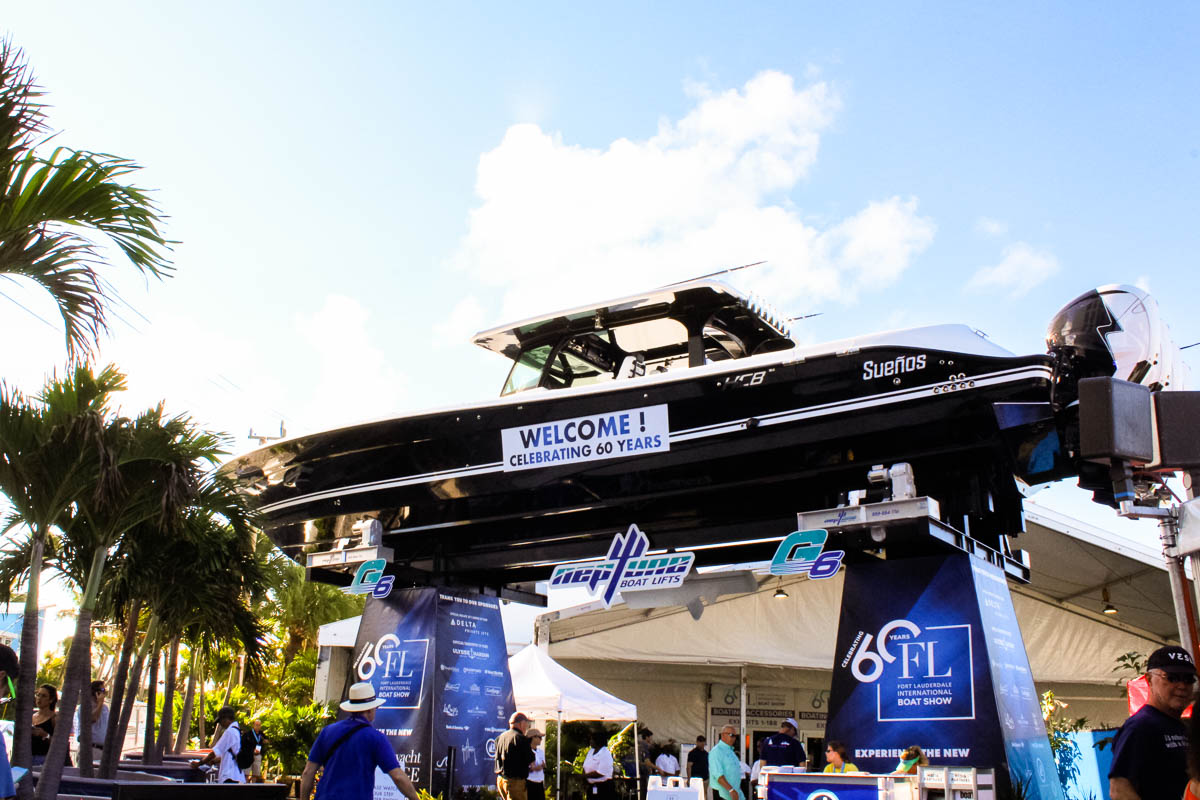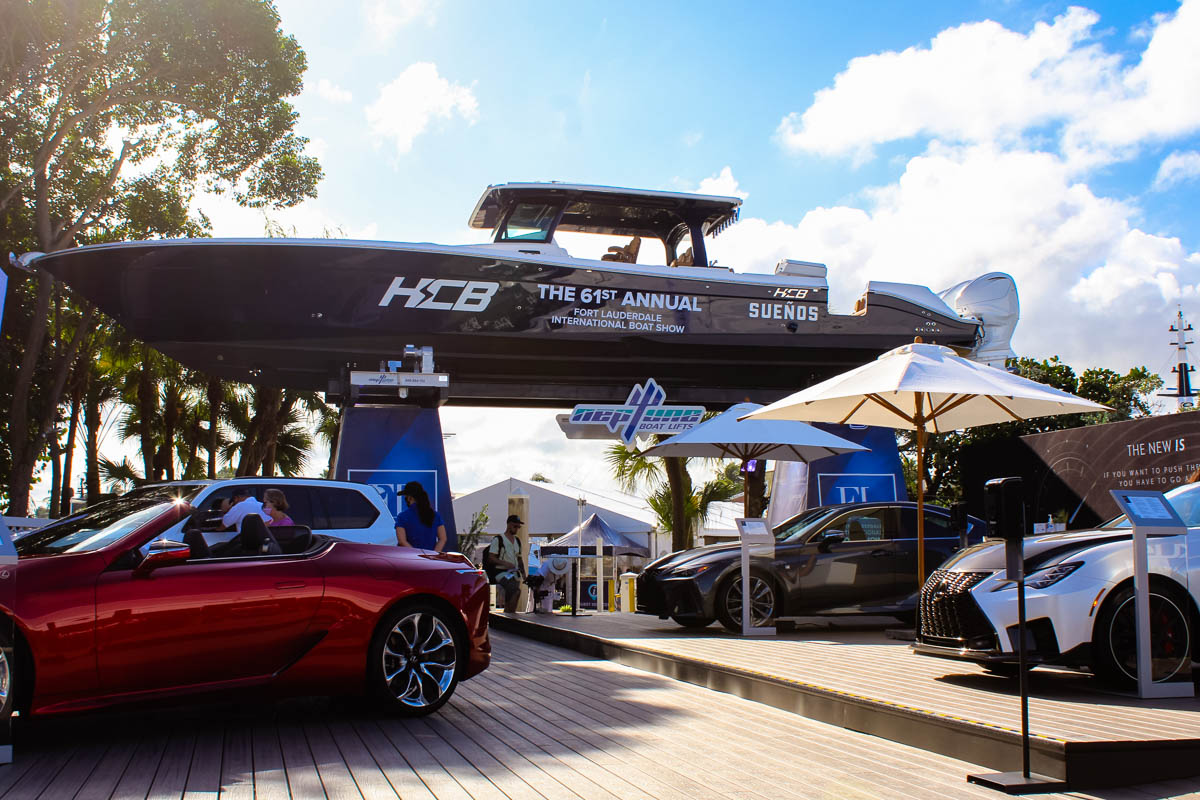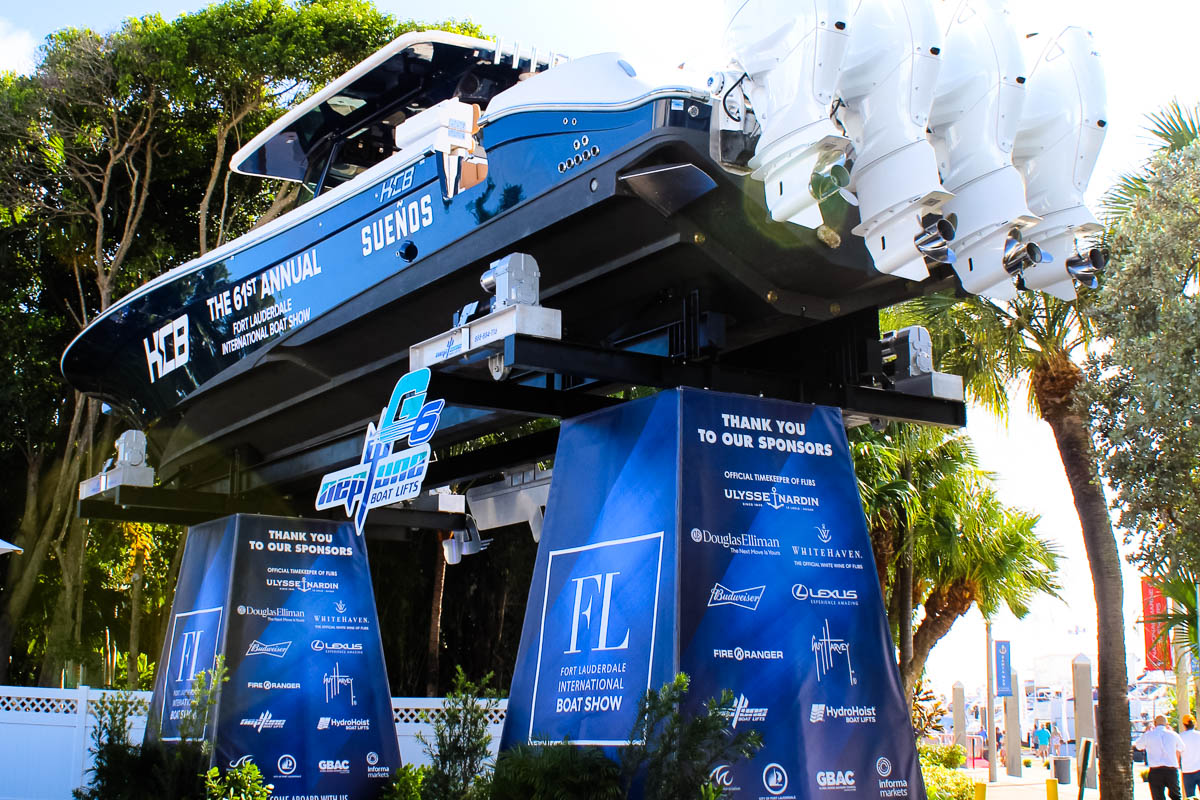 Harrison, the owner of Frank and Jimmie's Propeller Shops (and part-time Super Stock class racing partner alongside Gary Ballough in FJ Props) and Whitesides, a successful entrepreneur, began collaborating in 2007 after analyzing the market and determining the dire need for modifications and improvements from the cranks and cranes to the corroding cables linked to the lifts of days past. Harrison and Whitesides then discovered that Humphreys, the former president of Hi-Tide Boat Lifts, shared the same vision. He came on board shortly thereafter, and together the three put their plan into action launching Neptune Boat Lifts.
The founding principle behind Neptune Boat Lifts was to design and engineer the finest marine lifts and offer world class customer service to marine contractors and customers. Starting with a fresh slate, each lift was to provide reliable operation and have a high degree of resistance to saltwater, high winds and frequent use. Additionally, the lifts were designed for long term ease of maintenance and repair.
Today, an experienced network of over 150 marine contractors and dealers around the world oversee installations, and supervisors are sent to work directly with local contractors should the network not have an installer in the region. Apart from top-notch service on site, Neptune has a remarkable sales team. Being friends with Harrison from our mutual offshore racing circle and chatting about Neptune on occasion, I was aware of the company and its solid reputation but never the knew the details until the Miami show when meeting Dave Marsicano, a former-customer-turned-advocate traveling the nation as a manufacturer's representative.
It was clear Marsicano was genuinely sold on the product seeing that two decades of his 36-year career in marina management were spent in the municipal field installing rental lifts, and he was more than familiar with the competition. He ultimately concluded, "Neptune Boat Lifts were and are the best. They are the Cadillac or Ferrari of boat lifts."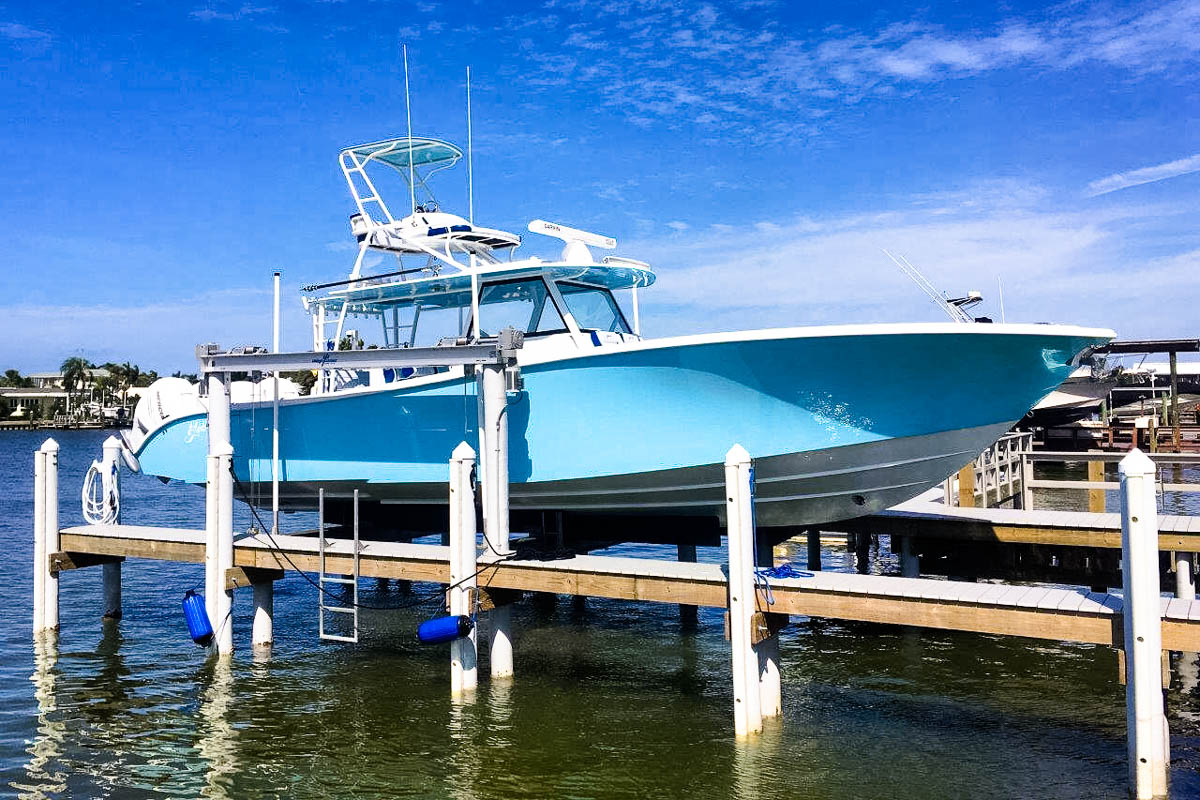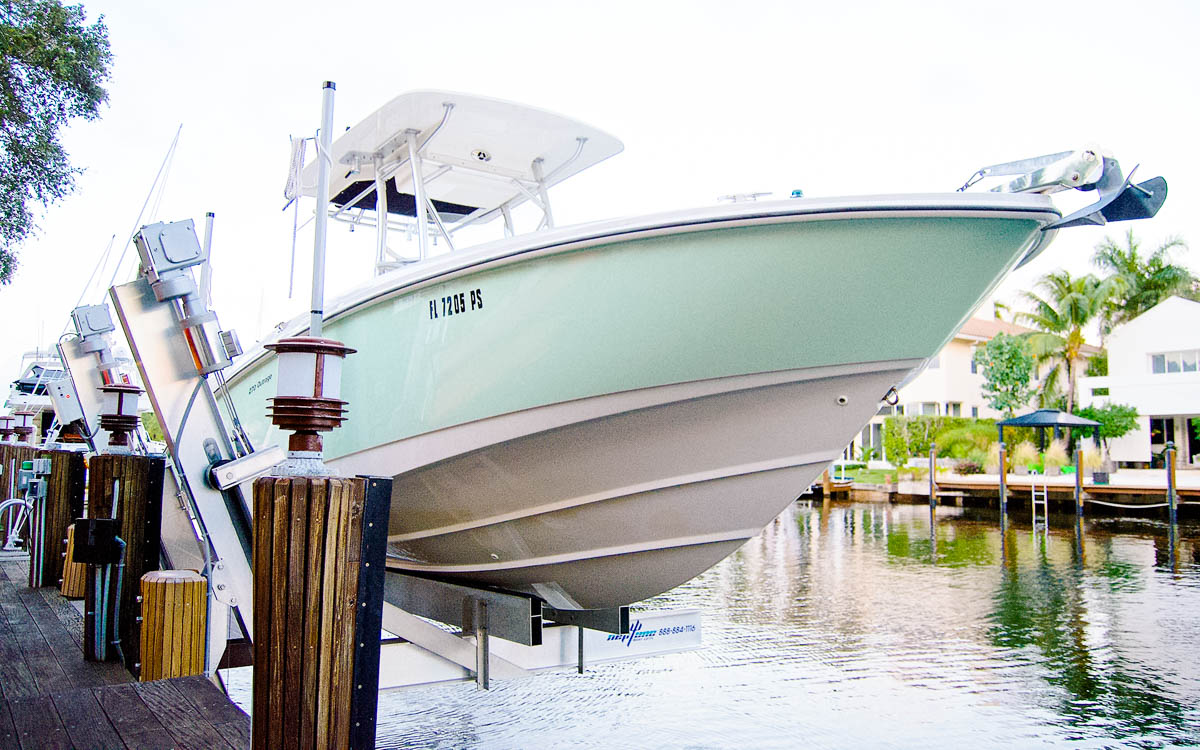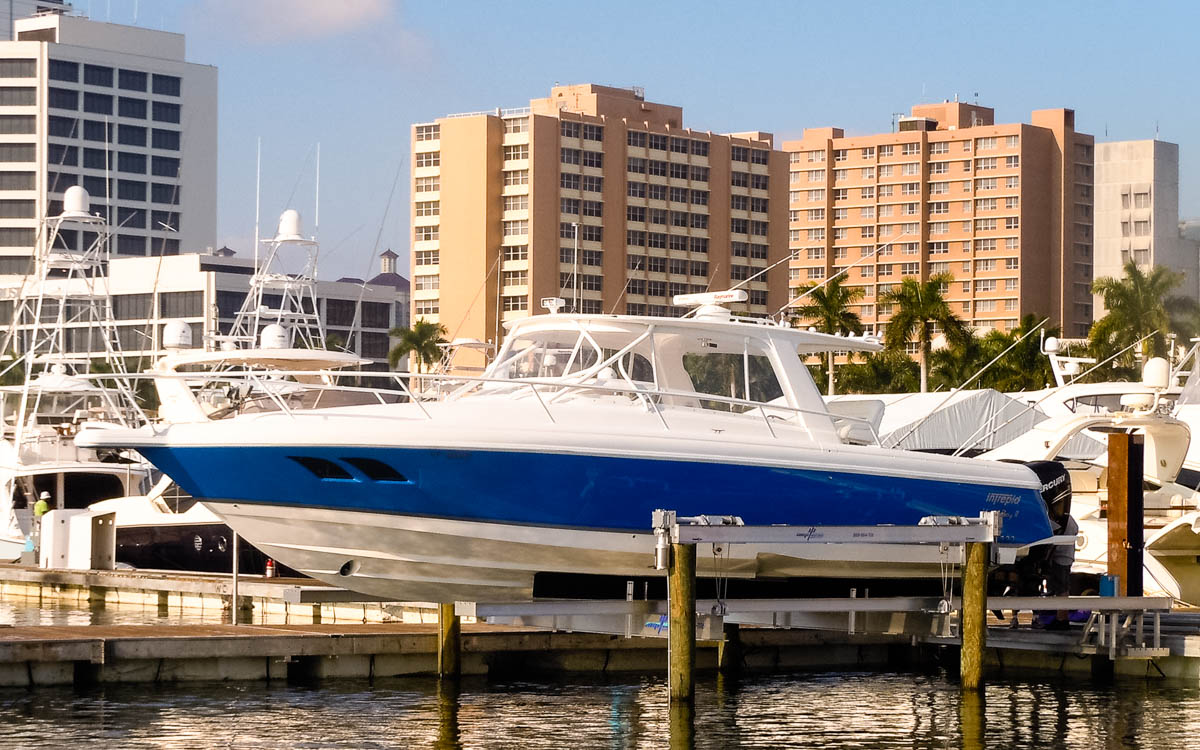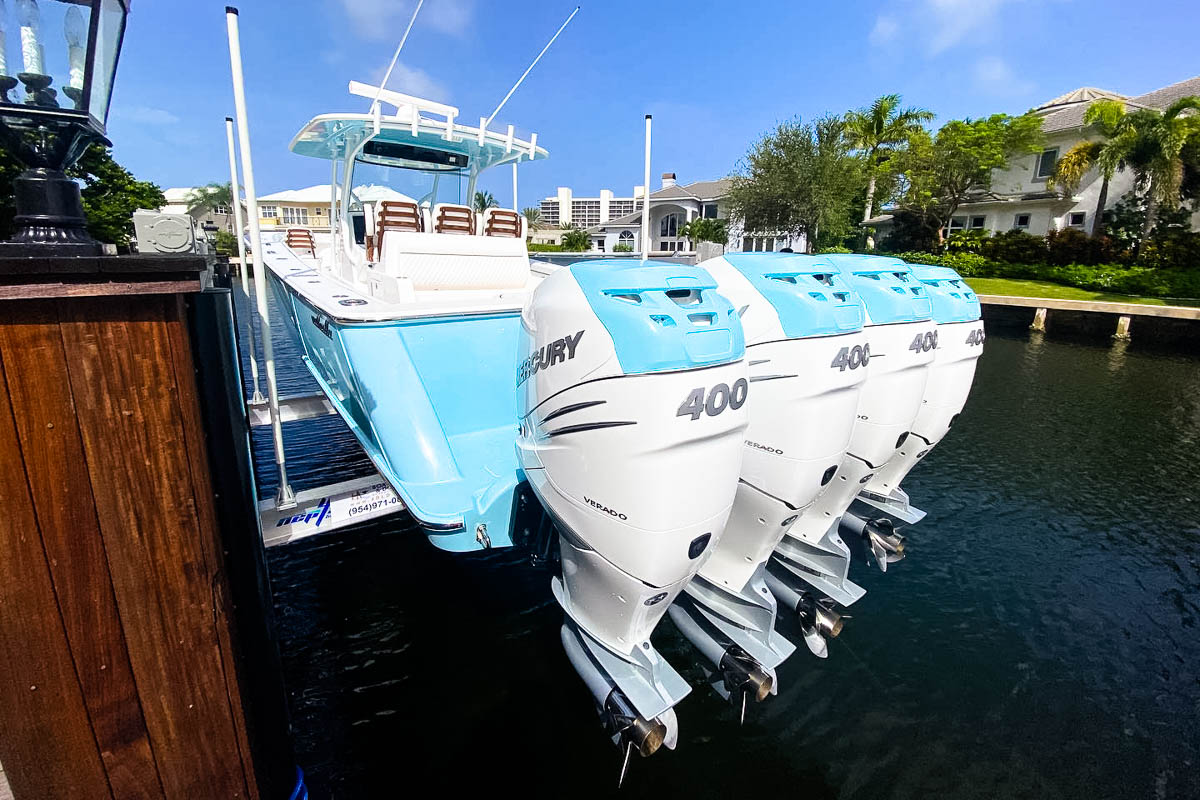 Taking Marsicano's words and sentiment to heart, over the upcoming science-fiction filled months of 2020 I sat home reading up on Neptune, and by November had my questions penned for the Fort Lauderdale show. Luck was on my side early Thursday morning when I hit up the Neptune display in conjunction with SeaVee Boats and its flagship 450Z and had the pleasure of meeting CEO Randy Whitesides. The wizard of mechanical and engineering knowledge dedicated an hour of his valuable "boat show time" to talk to me about the lifts' components and functioning techniques.
4-Post versus 8-Post versus the Elevator Lift
Whitesides confirmed that for center console owners the lift of choice is the Neptune 4-Post or cradle lift as its called. Engineered for capacities ranging from 4,500- to 30,000-pounds, the 4-Post model is ideal for open locations without boat traffic interference, and in spots with sufficient room for navigating between pilings. And while the 4-Post Boat Lift is more than stable and able for hoisting high-end center consoles up to the 30,000 crossover weight, for ballers rolling in the dough with a big boy in their toy stable, another option is the hefty 8-Post Yacht Lift, capable of raising robust sea chariots up to 300,000 pounds.
For residents on narrow canals or waterfront homeowners with limited clearance space requiring side access, the elevator boat lift has your name on it. It comes mounted on an angle or horizontally, is engineered accordingly to operate on tracks, and raises and lowers the vessel to a floating water level. Secured by pilings or a seawall, this choice is immensely popular since no outside posts are required.
The elevator lift can handle crafts from 3,000 to 72,000 pounds and comes with a H2 high-speed direct drive (the gear box). Since it's not permissible to use aluminum with the cables due to the two dissimilar metals which would lead to accelerated corrosion, coupled by increased deterioration from the salt water, Neptune includes a SEArmor™ corrosion resistant protection package with hard coat anodizing and Teflon finishing (what you see as the dark coating in the photos). In helping me to understand the process, Whitesides vigilantly illustrated, "The coating protects the top ridge, and the grooves are there to guard the cables because if the stainless steel cables over-wrap they will become brittle and crack." Continuing with the engineering discussion, another of my Sharpie-scribbled hieroglyphics pertained to the role Myco Trailers play with Neptune Boat Lifts? "Myco builds the support lift systems for us, you can think of them as 'trailers without wheels' to set the  boats on. It's a perfect fit especially for the exotics, the catamarans and the pro-series racing boats with big engines, because it allows the crafts to keep the shapes of the hulls," said Whitesides.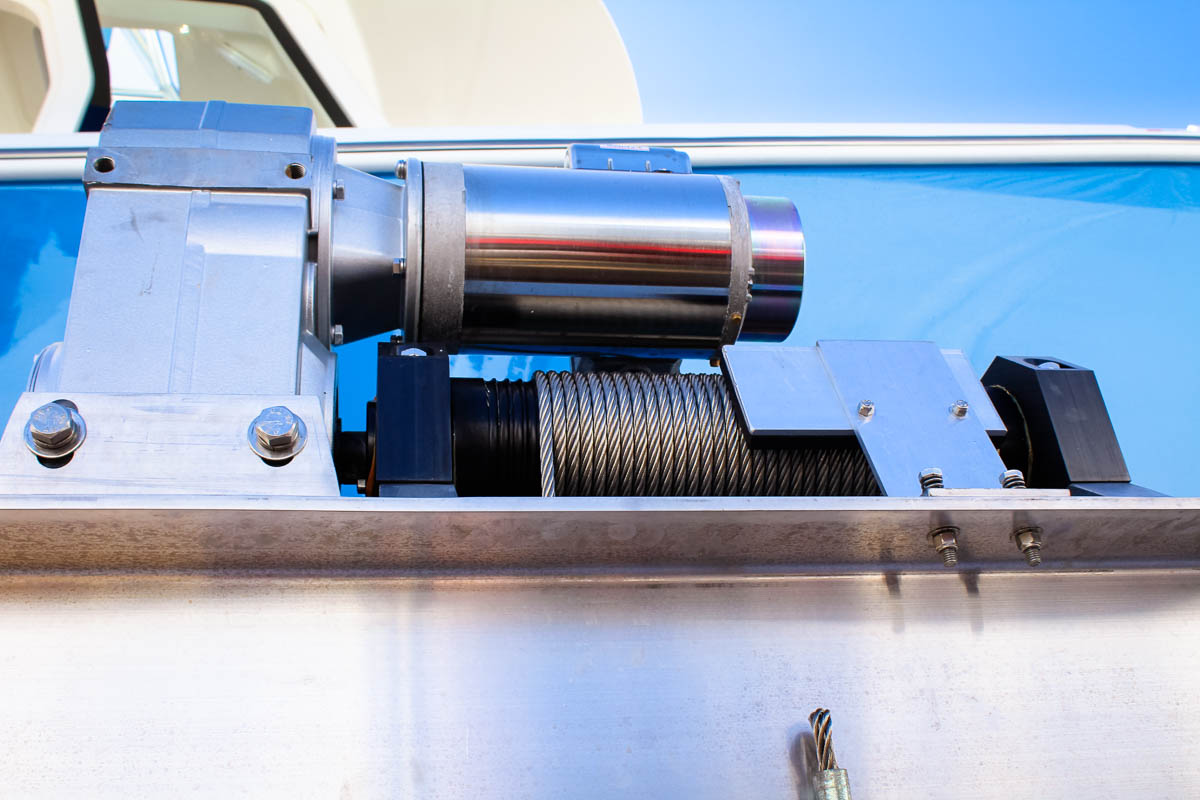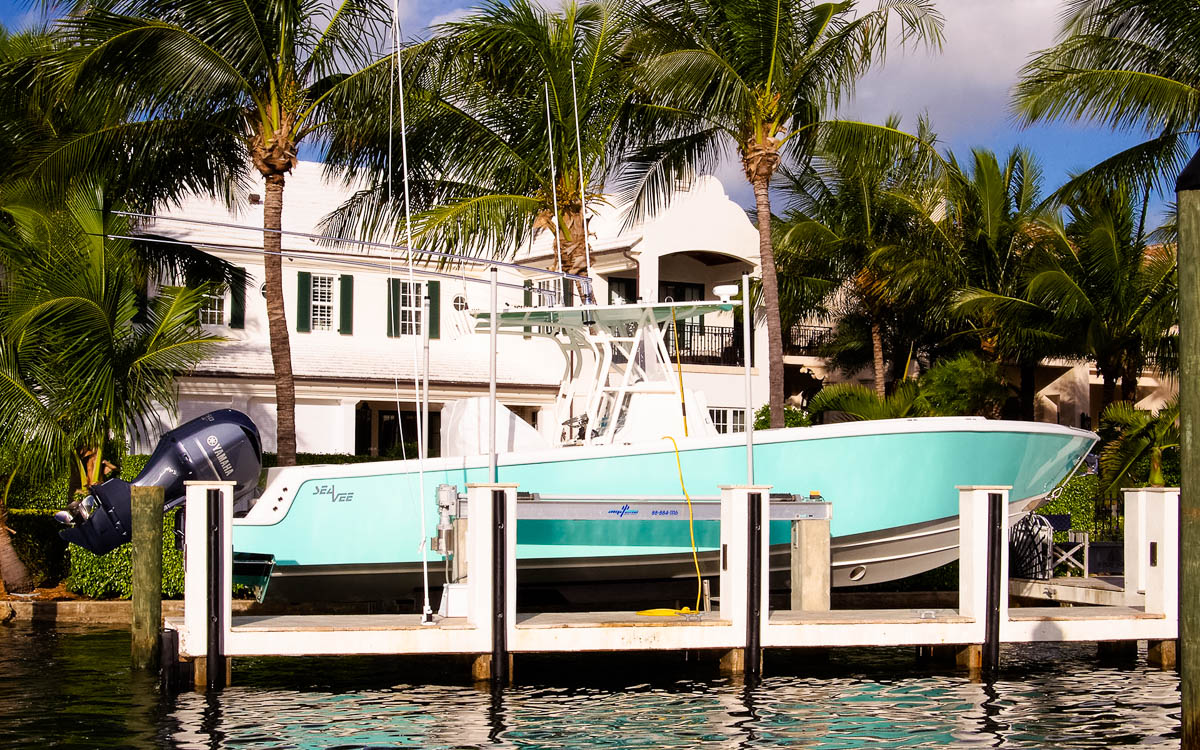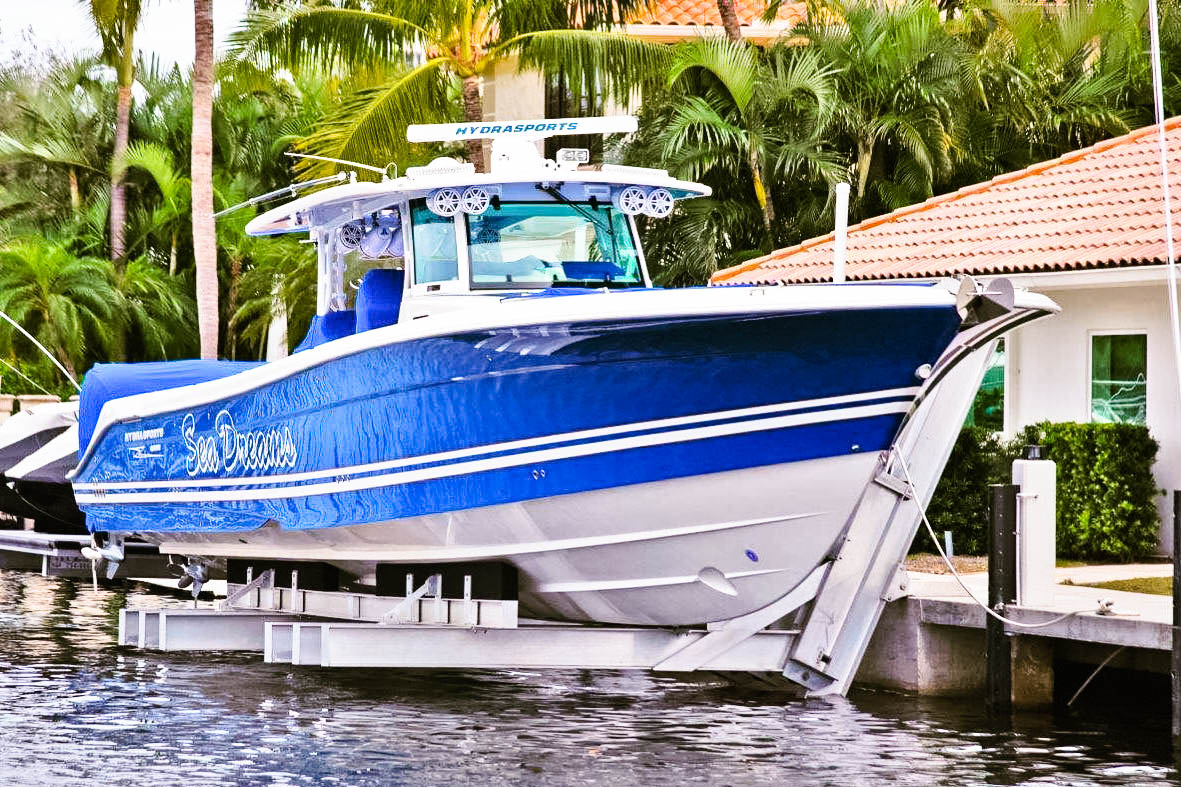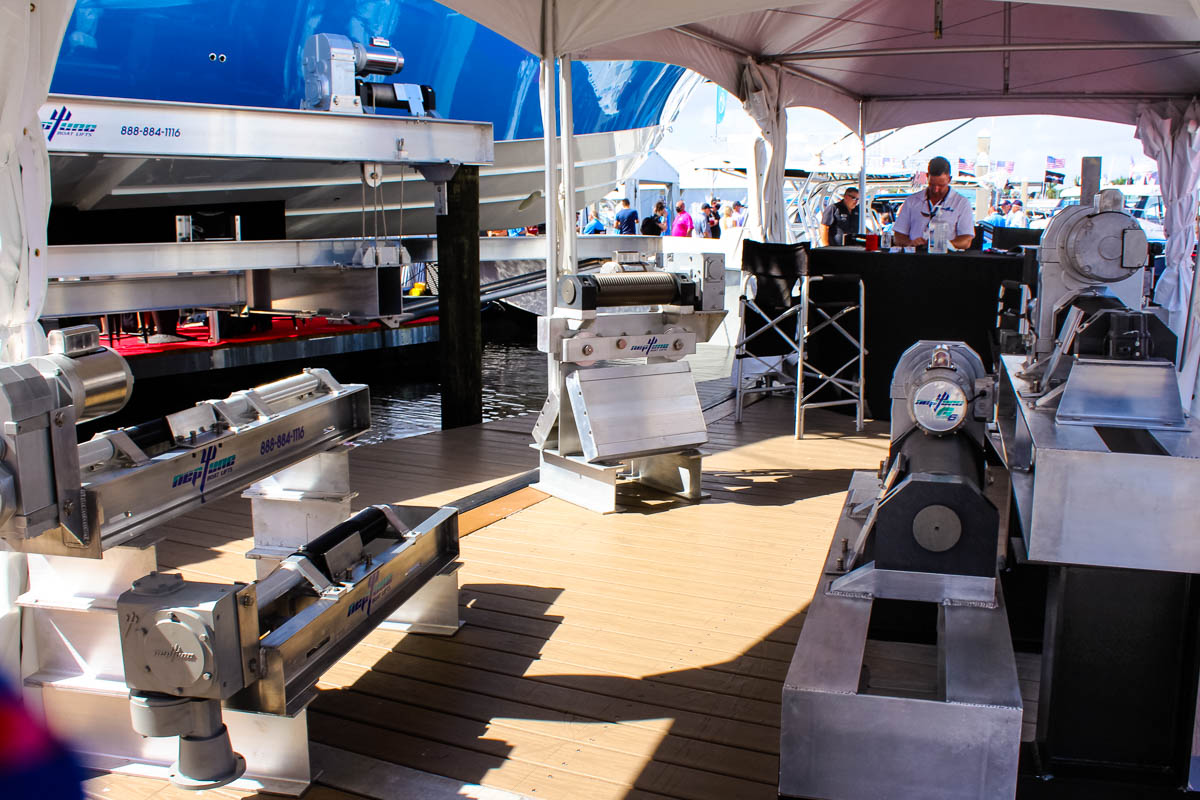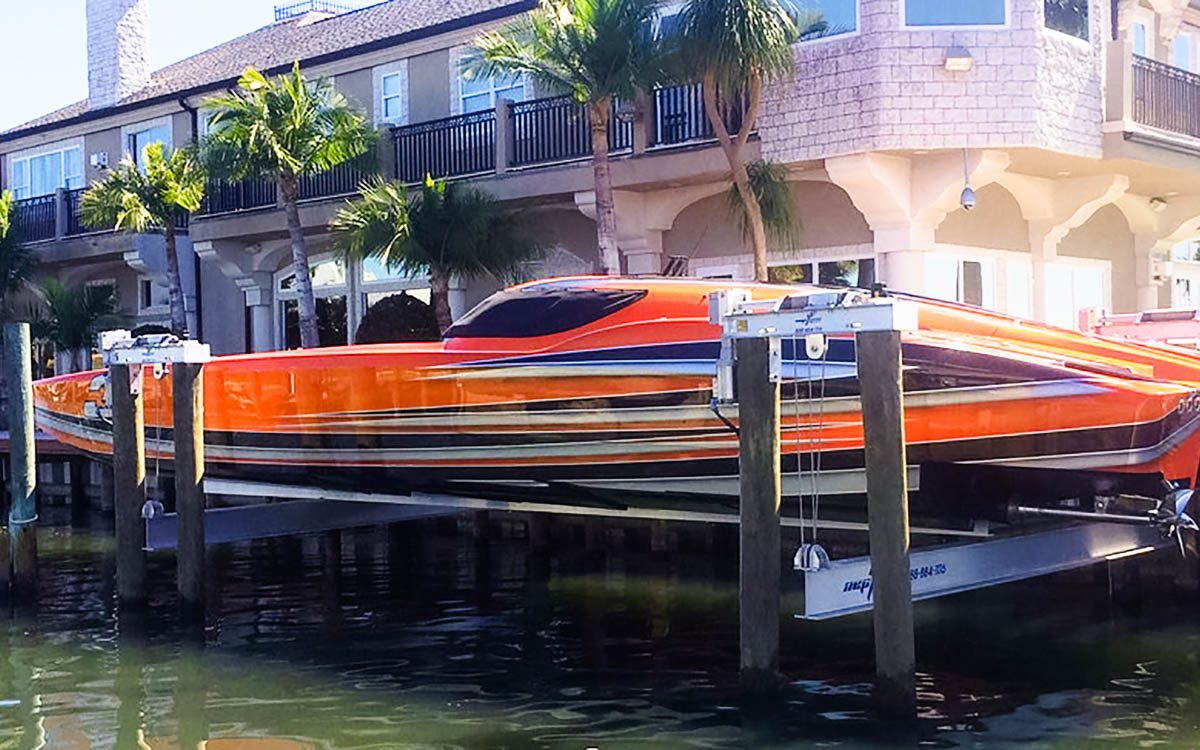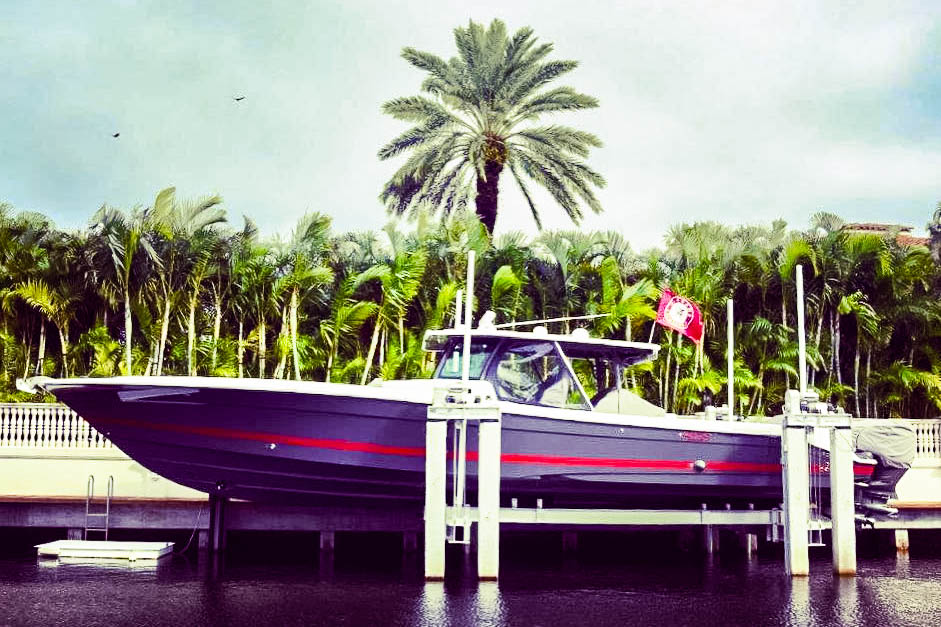 Maintenance and Lift Characteristics
Did lift maintenance and warranties cross your mind? It's really a cinch and entails monthly inspections to ensure cables are properly wrapped on the grooved winder, in addition to a bi-annual lubrication service. With the elevator lifts, zincs should also be inspected on a monthly basis and as a reminder all four leads of the electrical supply should be disconnected when the lift is not in use. Installation contractors are trained to complete the inspections and services, however any handy MacGyver-esque owner could surely rise to the occasion if so desired.
Let's dive into an alternate but related discussion, and look at the bonanza of beneficial factors from keeping your hull high and dry. To start, the reduction in maintenance requirements means more financial savings and less headaches keeping up with safeguarding duties, not to mention; anytime the engines need to be serviced, lower units dropped, or issues develop with the props, it's like you're already in the shop, but this time the wrongs can be righted by stepping out the back door.
Shafts and propellers remain free from corrosion.
Waterline stains are non-existent.
Absence of structural damage from banging and clanking debris against the sides.
Barnacles and algae can't take up residence underneath the boat.
Safe from storm surge slamming and pounding, hurricane force winds and tidal flows.
Free from bathing in a sea of environmental toxins, oils and gases.
Flick the power breaker off and you have another layer of protection against thieves.
As for quality assurance, Neptune Boat Lifts are backed by a 10-year warranty on the structure, 5-year warranty on the gearboxes and a 2-year on electrical components, additionally, all aluminum and stainless steel construction components are welded and not bolted on. The Neptune factory in Fort Lauderdale, Florida, manufactures the lifts and all critical stainless components (steel cables, shackles, etc.) are sourced locally in the United States. The company follows extensive quality control procedures the Neptune Advantage summed up below by the following five characteristics provides reassurance to customers.
1- Hurricane-safe and sustain 90-mph (150-kmh) force winds.
2- Uses marine and aviation anti-corrosion procedures including anodizing, coating, and anti seize technologies in the construction process.
3- Stress tested on in-house equipment to evaluate motors, gearboxes and drive systems.
4- Advanced materials – include multi-limit safety systems, custom carved bunking for stepped hulls, 100% testing of stainless cable, and a number of antifriction innovations.
5- No dockside engineering. Lifts are designed and engineered in-house and then independently evaluated and certified by structural engineers.
G6 SuperFast Direct Drive System
By now you probably spotted the G6 insignia in the photos or heard the buzz about the patent-pending, all-aluminum Neptune hoist and its notable 40 percent higher efficiency rate. Taking the boating world by storm and selling like hotcakes since its 2018 Lauderdale debut, the G6 can best be described in two words... game changer. As evidenced by its name, the G6 SuperFast Direct Drive is just that, super fast. Vessels are raised (and lowered) at a rate of 86 inches per minute and lighter weighing watercrafts at a rate of 123 inches per minute.
The idea behind developing the G6 was primarily for safety reasons to protect boats from damage produced by rapidly rising water and spur-of-the-moment swells that arise while in the middle of raising the craft, whether it be from an unwanted four-foot, monster-power wake from the Hatteras or Bertram passing by, or a gusty dose of wind-battered chop rolling in on open waters, either way no matter the cause... getting the boat up and out of harm's way is critical.
The boss explained the G6's secret to success for me, "When the competition moved from a G1 to G2 with a 3600 rpm motor, this in itself caused issues tearing up the gear boxes because any qualified engineer understands doubling the speed of the motor is not optimal. Technically it will perform twice as fast, but it is not the right thing to do. With the G6, we made the motor bigger and the back-end has a stainless steel disc brake, so when it stops, the brake engages preventing the lift from sliding down, which in part produces a higher efficiency tempo."
The cost differential between the already-fast G3 and the G6 is roughly a few thousand dollar bump up, however consulting with a Neptune specialist to determine individual needs is always best because for many the G3 is more than adequate. To give an example on pricing out a 20,000-pound vessel... going with the standard G3 lift is $12,400 versus the G6 that climbs to $14,600 plus the pilings. If you have your eye on an elevator lift, figure saying farewell to about $16,000 and remember no posts are needed. During my quality time spent with the Neptune crew, I also learned a simple estimation tool used across the competition: Plan on spending one dollar per pound to arrive at the final cost which includes the pilings and installation. I like it! Thanks Mr. Whitesides...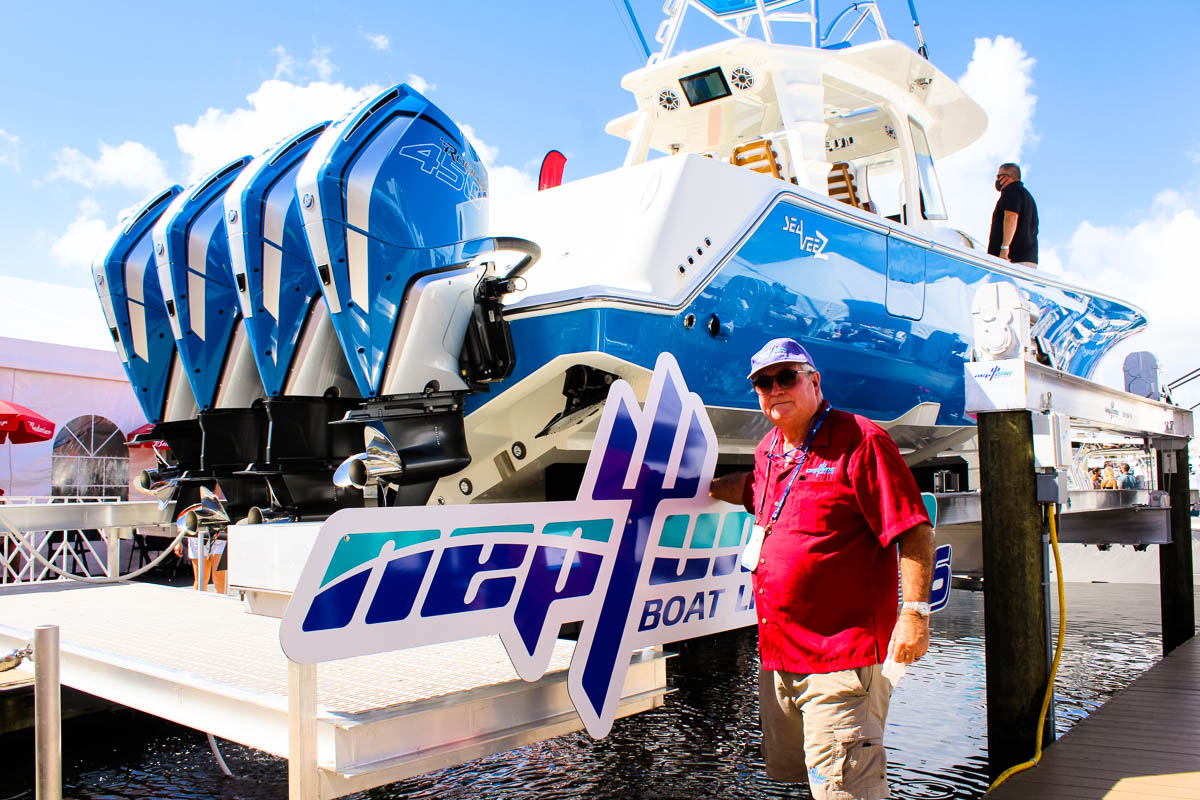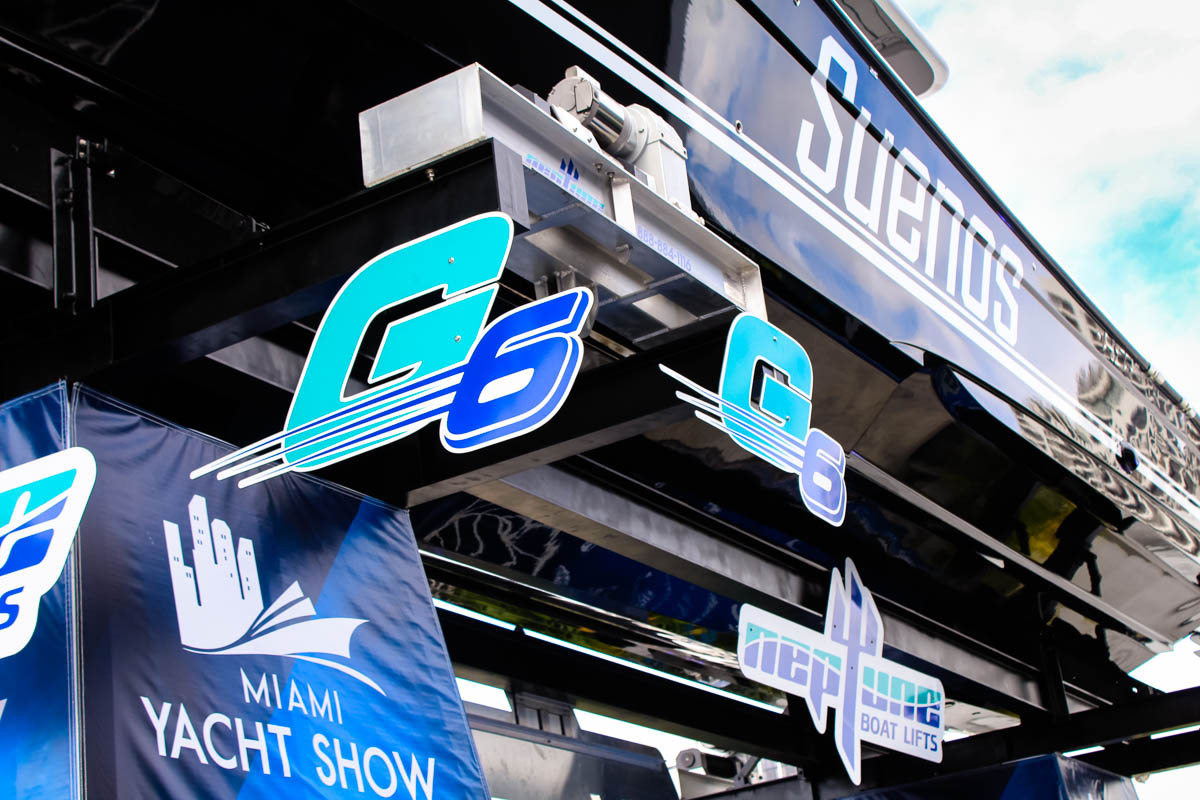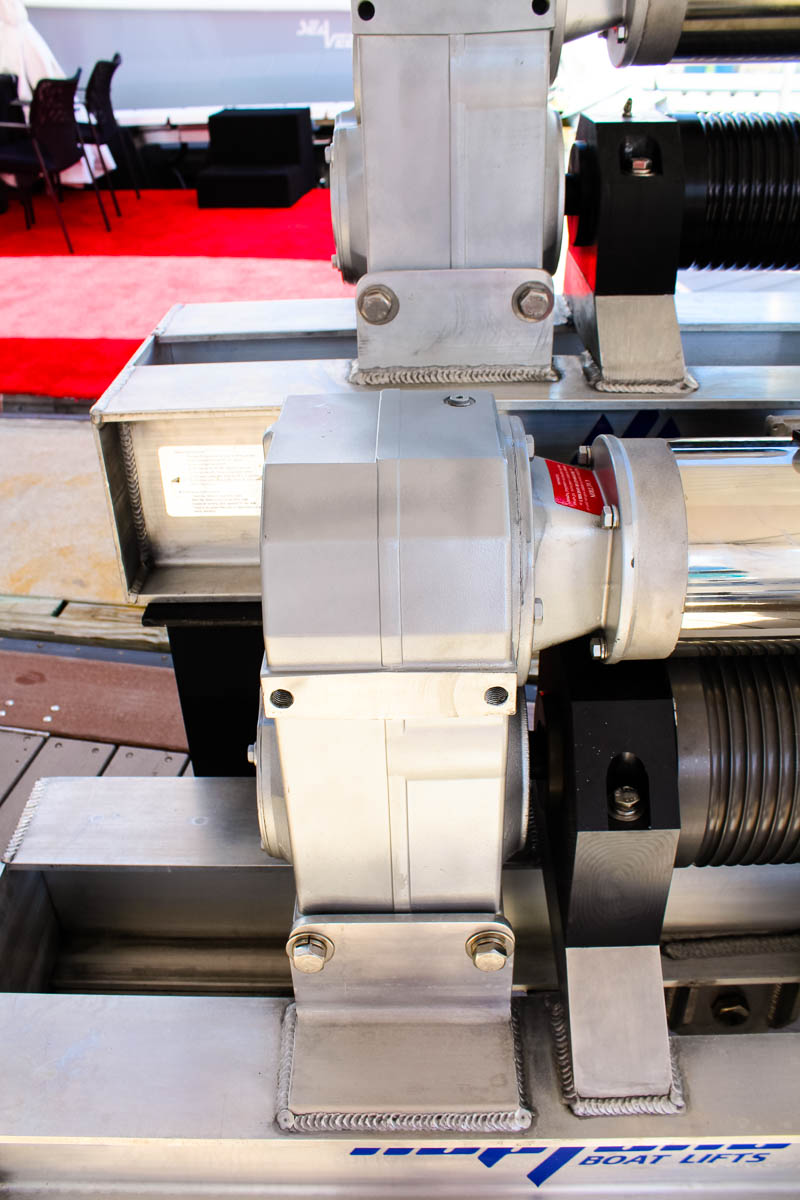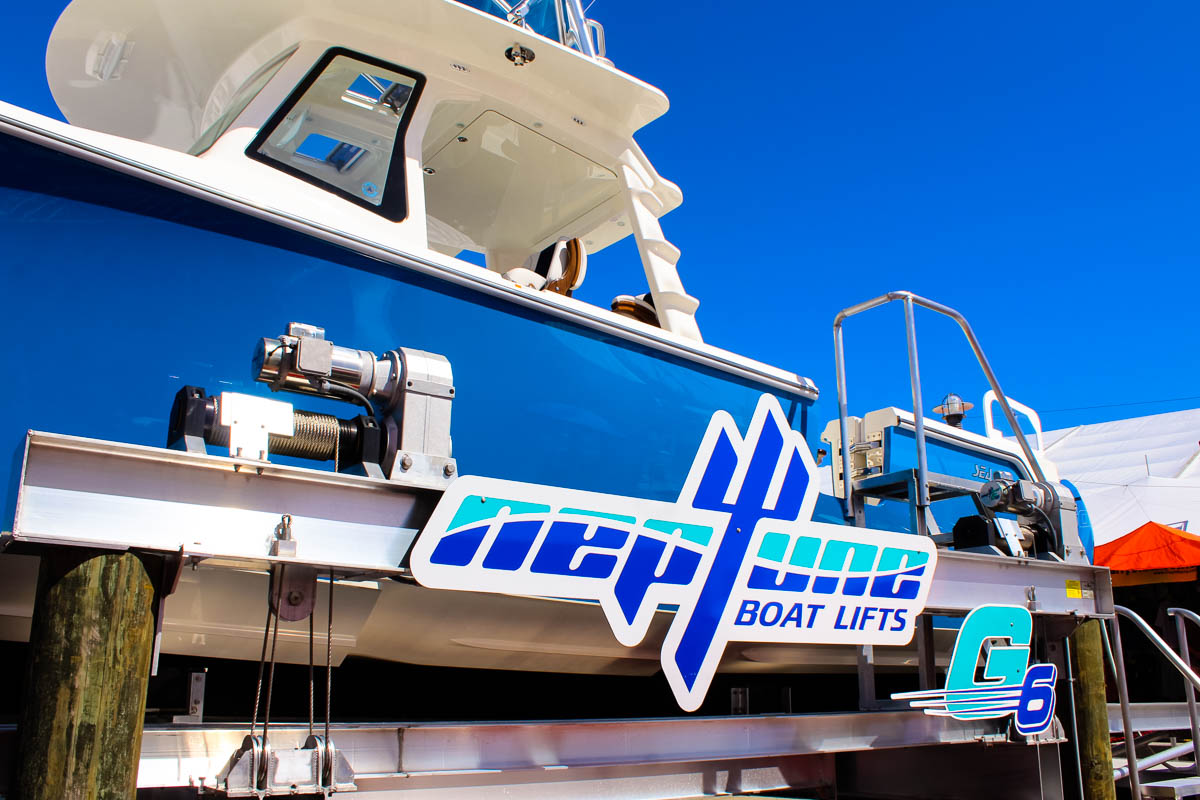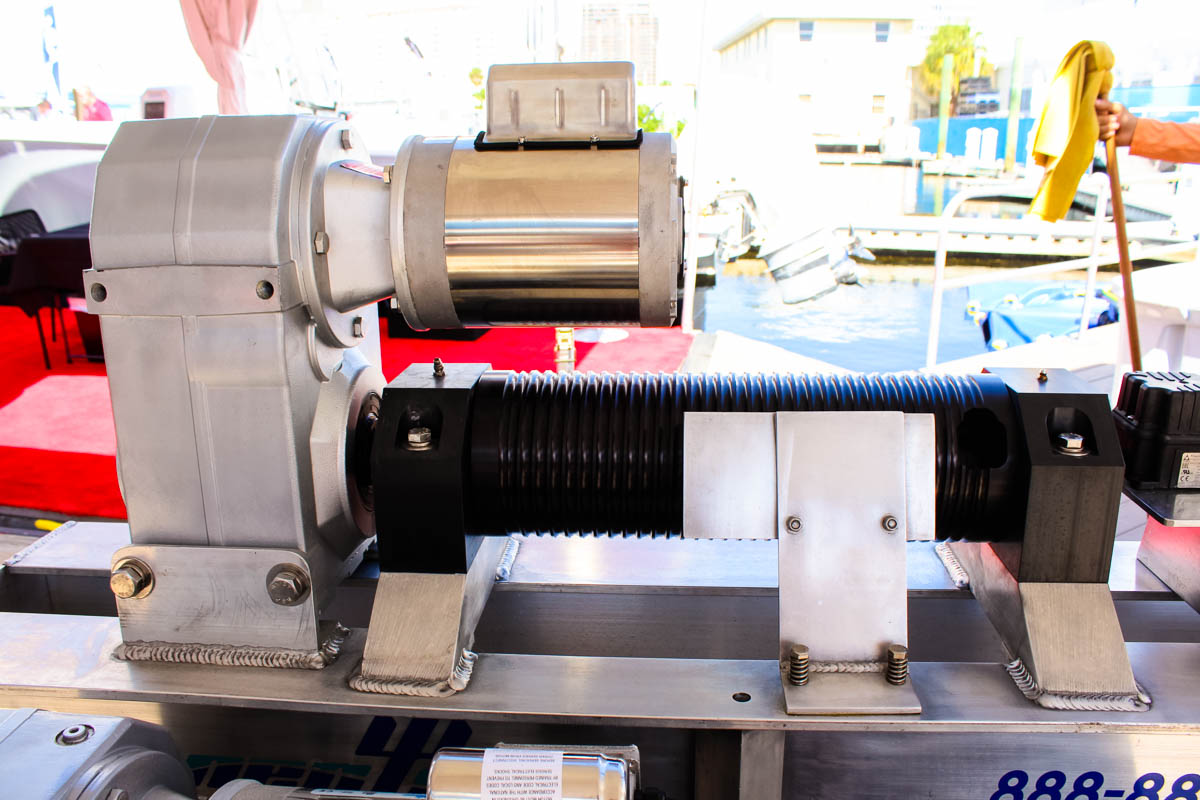 According to history you can't go wrong by investing in a Neptune, just ask the Romans! They claimed Neptune, the god of the sea controlled the wind and storms, commanding both fear and respect. Neptu stood for "the moist one" with absolute power over the water, just like the Neptune Boat Lift -- a powerful product to protect your sea treasure!
For further information check out neptuneboatlifts.com or give them a shout at 888-884-1116. In closing, here's a short and sweet video put together by Kurt Edwins, the new director of sales and marketing, documenting how the 53' HCB Sueños was strategically lifted onto the Neptune Boat Lift at this year's 2020 Fort Lauderdale International Boat Show: www.youtube.com/watch?v=Gdq1nbz3NUw&feature=youtu.be&fbclid=IwAR0KfQ_SnVNOsHc_vxVrhhF3BjBnI47aa4geg-X8IBtTS_KXZWuJcA4vhyQ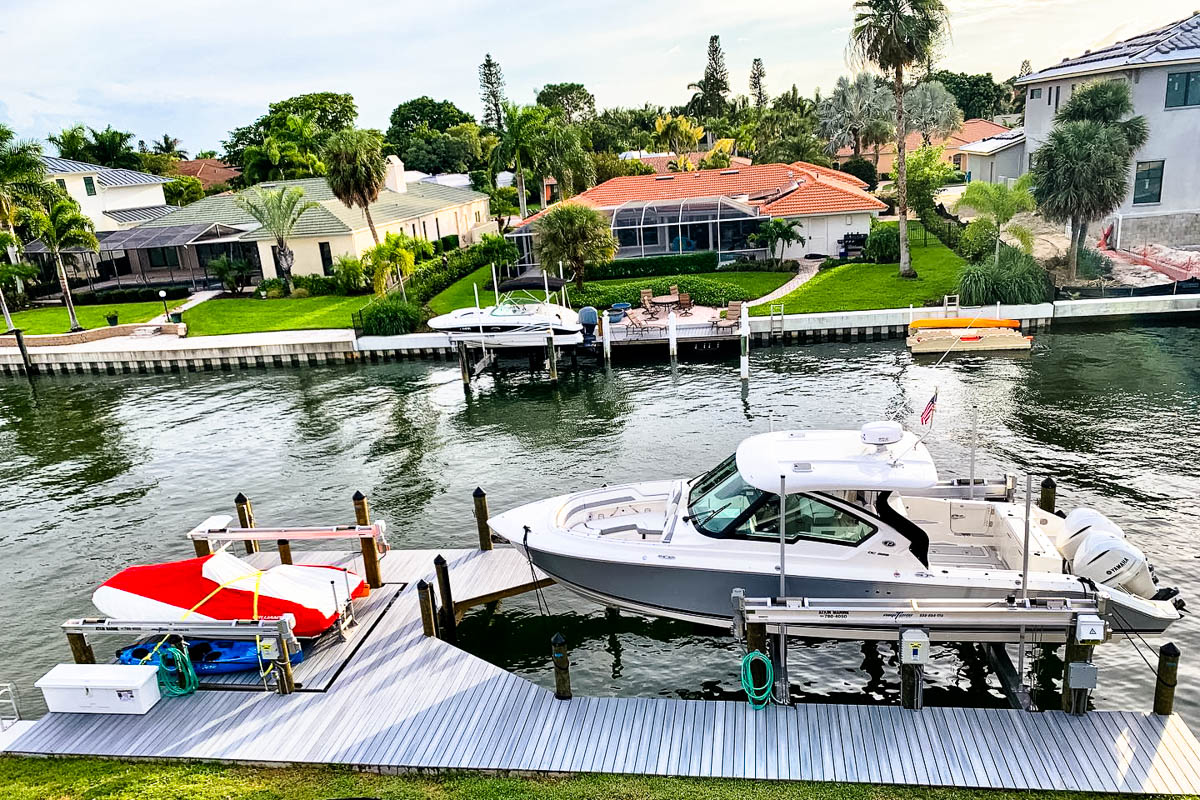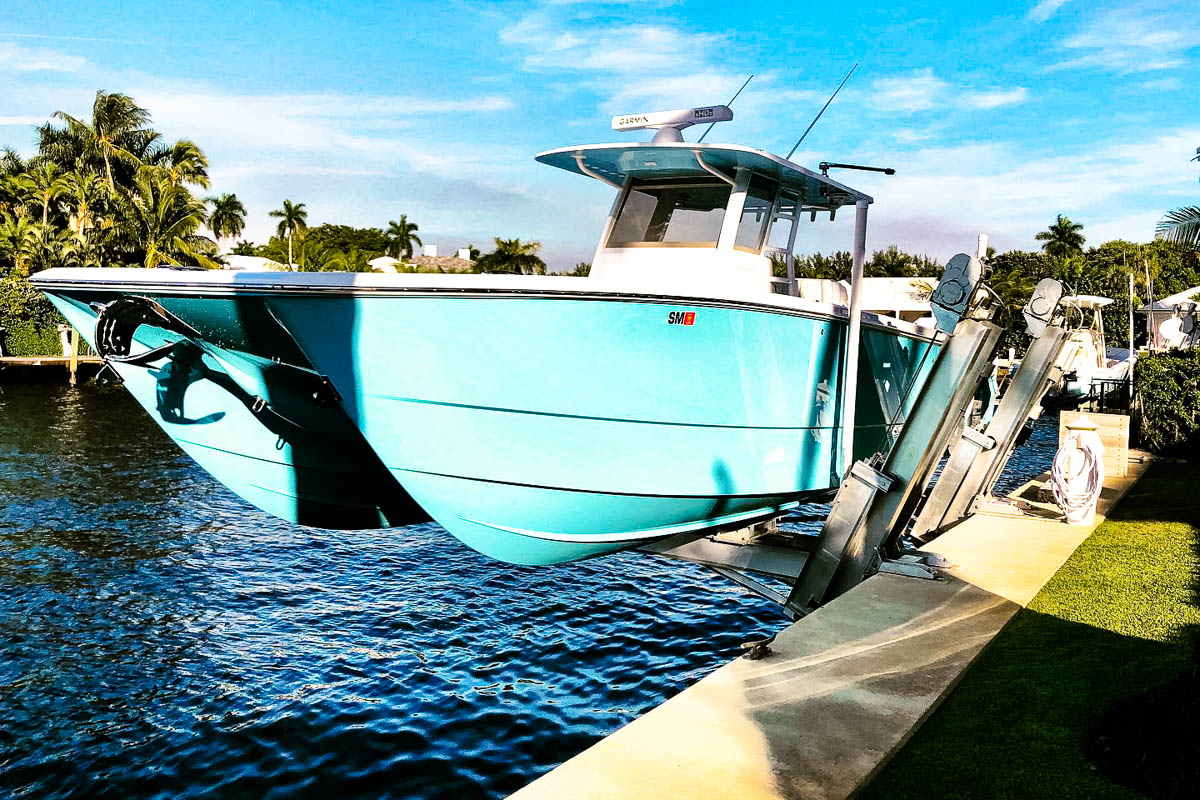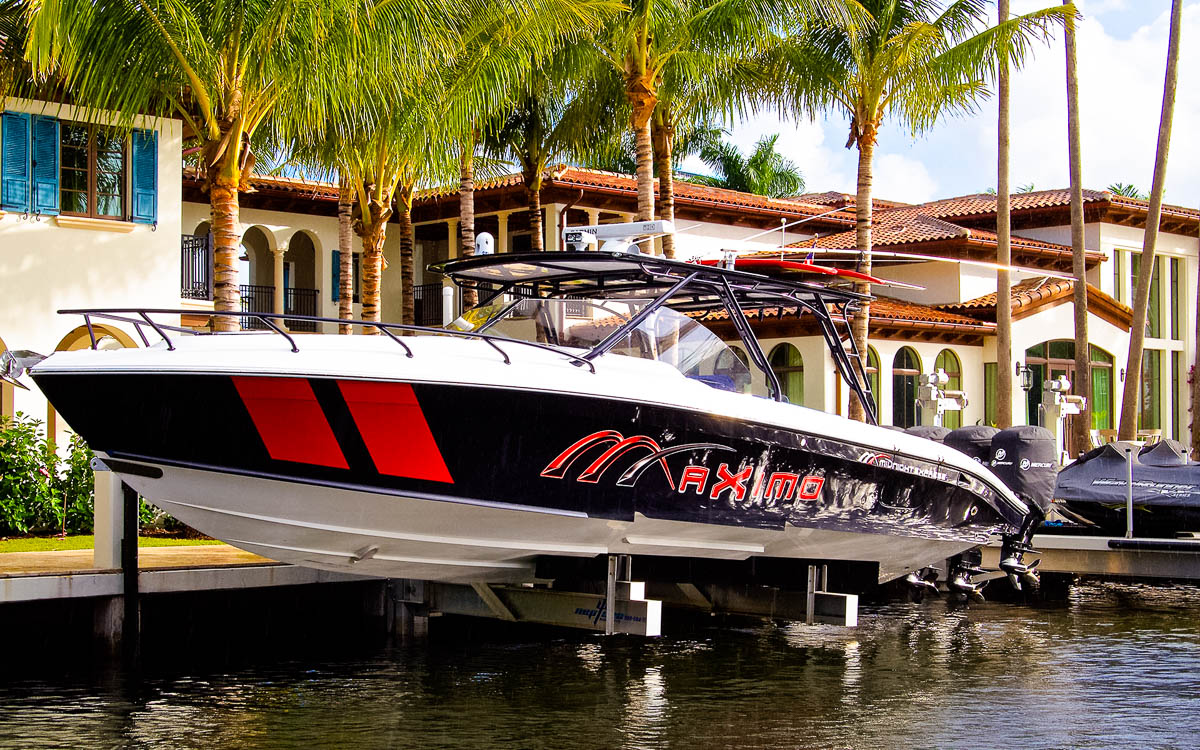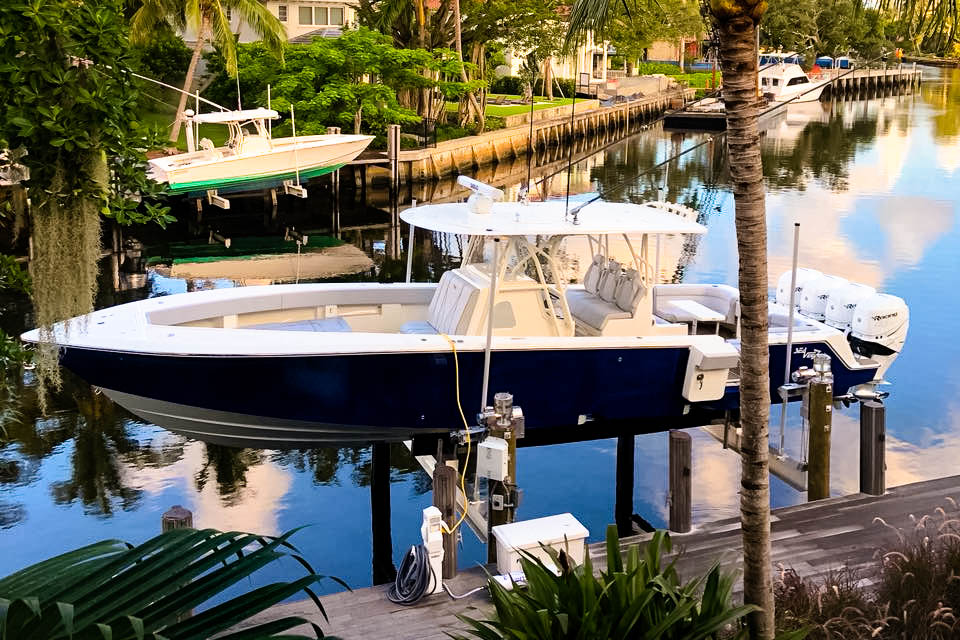 Company Update
It has come to my attention while in the middle of finishing this piece that Neptune Boat Lifts, LLC was part of a recent merger, such that last month CEO Randy Whitesides retired and the company's second partner Jimmie Harrison has also moved on. A December press release from president David Humphreys highlighted the good things to come, "We are excited to join ShoreMaster and HydroHoist, two industry-leading brands. We are confident in the future growth and expansion of the boating industry and this merger places our brands, our teams, our dealers as well as our products at the forefront of this growth. This ensures our continued growth and success. This merger allows us to continue our global expansion as well as offer our Authorized Neptune Boat Lifts Dealers an expanded line-up of industry-leading boat and yacht lifts. With several products yet to be announced, our dealers will capitalize on the expansion of our product line as we continue to support our dealer network with new and innovative product offerings."
Our team at Luxurycenterconsoles wishes the best of luck to all three marine market flagships involved and we look forward to bringing our readers future updates and stories on the comprehensive nautical product line!