Story and select photos by DinaRella / Additional photos provided by Justin Wagner, Hamilton Marine Finance, Ben Robertson, Brian Correll Airshows & Lake Shots Photography
Missing my connecting flight into St. Louis after a fab four-hour wait for Delta to Uber a backup flight attendant from Boston to Hartford left me Uber-pissed I missed opening day of the 33rd Lake of the Ozarks Shootout, but the drama stopped there! A packed powerboater program (regardless of Shootout participation); electrifying exhibits of raucous horsepower every which way eyes and ears veered; and the happy poolside party vibes from the tribes trying to stay cool and combat the Central Missouri triple digits, made up for my delay – the 2021 LOTO Shootout absolutely killed it on the slaughter meter of HOTNESS.
Wednesday night's Shootout on the Strip got the Midwest powerboat phenomenon cranking with event sponsor Waves and Wheels Marine Audio reveal of owner Todd Crossley's 41' Apache Scalp Hunter, moved forward by a pair of refreshed JC Performance engines and Mercury Racing No. 6 drives. Minds were blown from the crowd's reaction to the multi-year project revamping the legendary 1987 six-pack bolster seat Apache completed in unison with Maryland Offshore Performance Boat Center and Graphix1 Paint.
Another show-stealer from Justin Wagner's camp was the outrageous red and green Skater 438 right at home on its 90-degree tilt trailer sporting a newly upgraded Bluave Marine Audio system. The Skater and trailer combo was featured on riverdavesplace.com during its Lake Havasu debut at Supercat Fest West.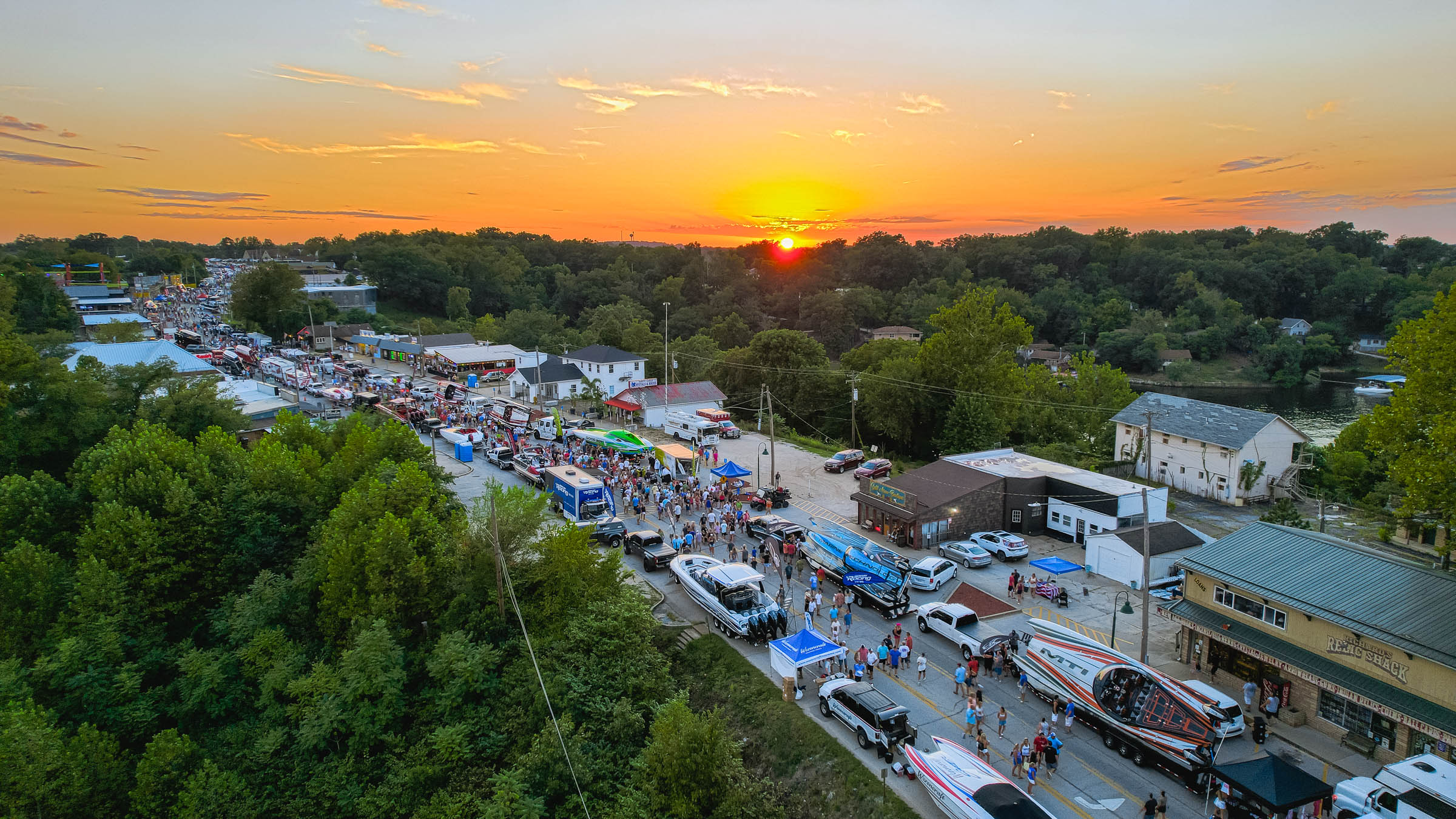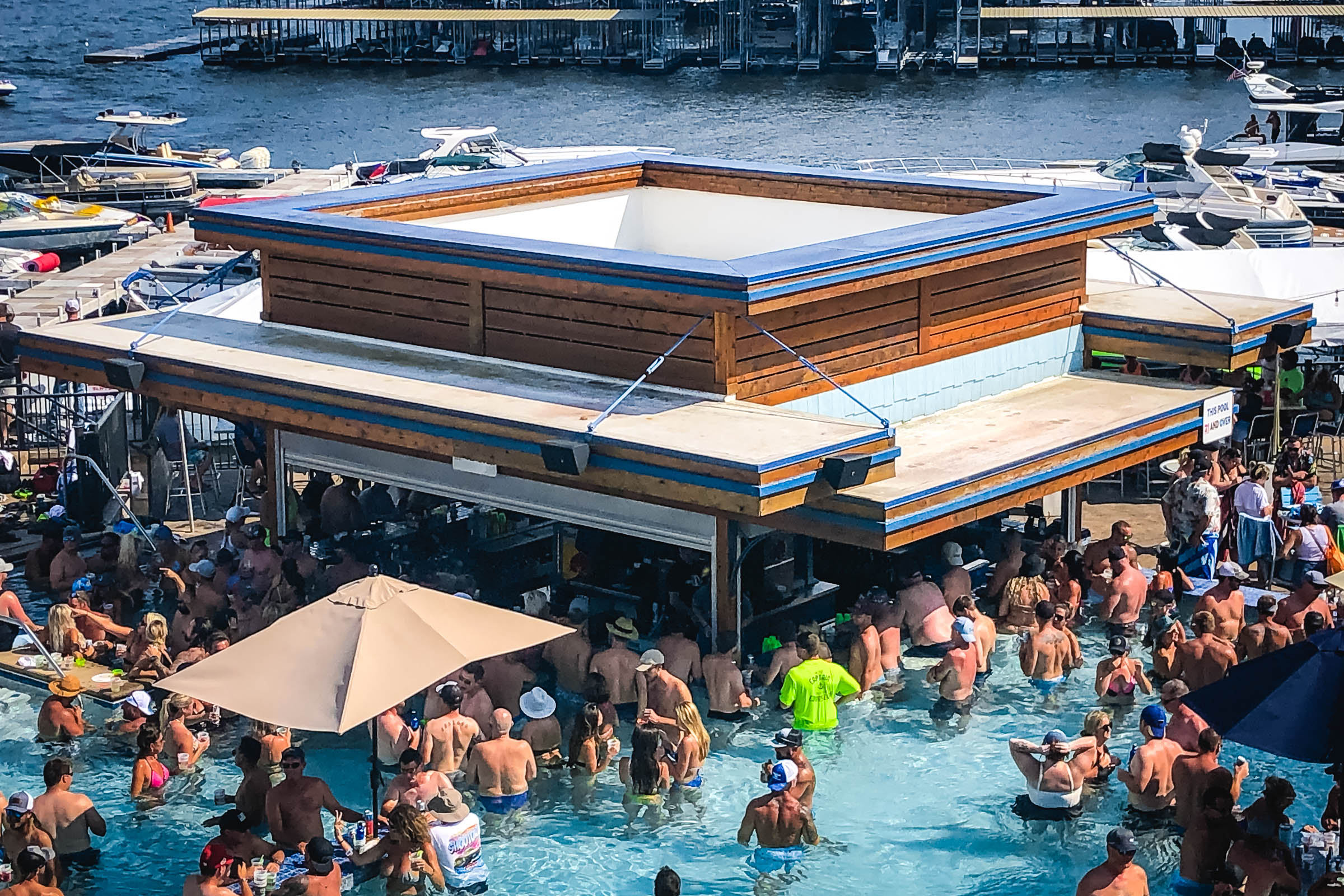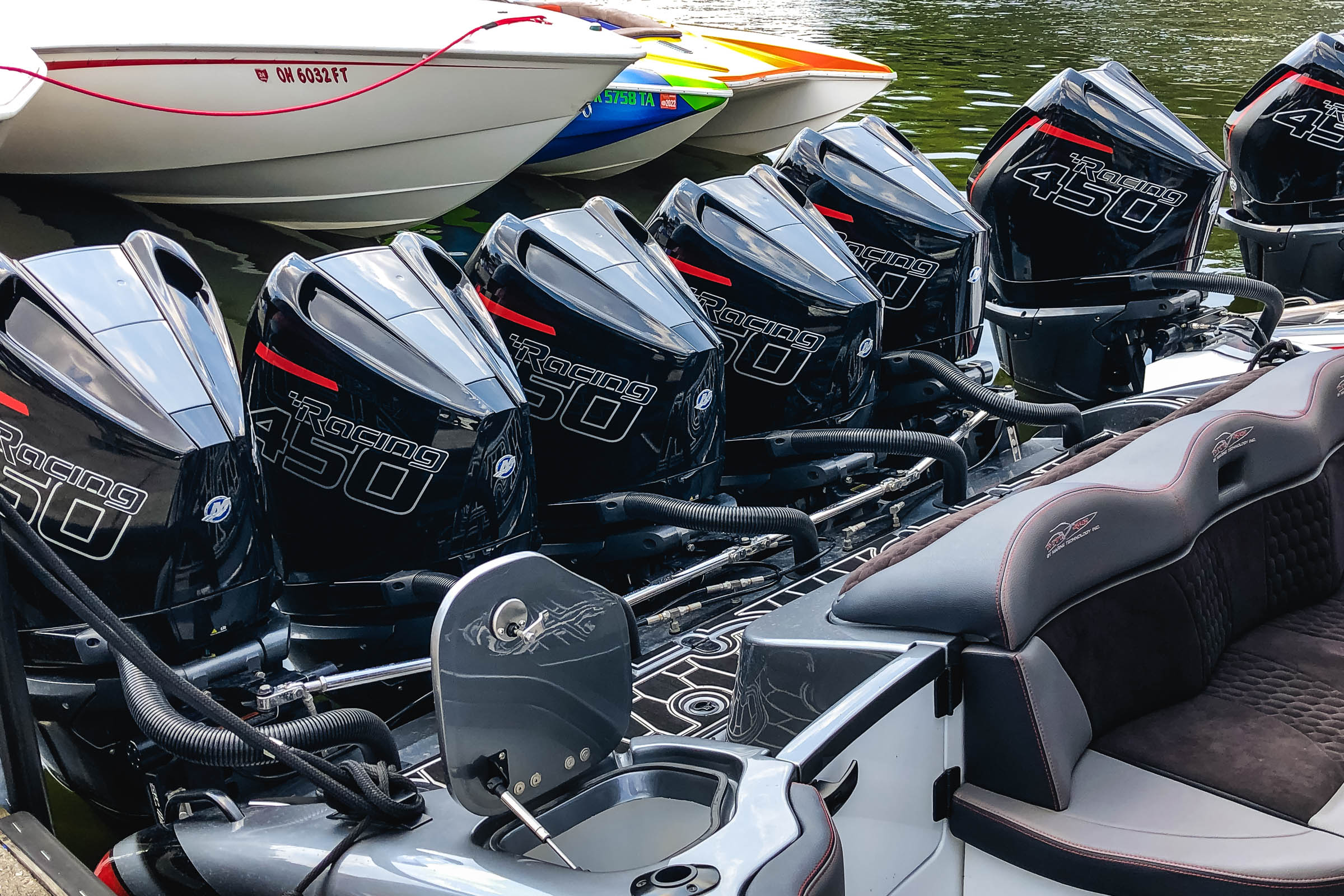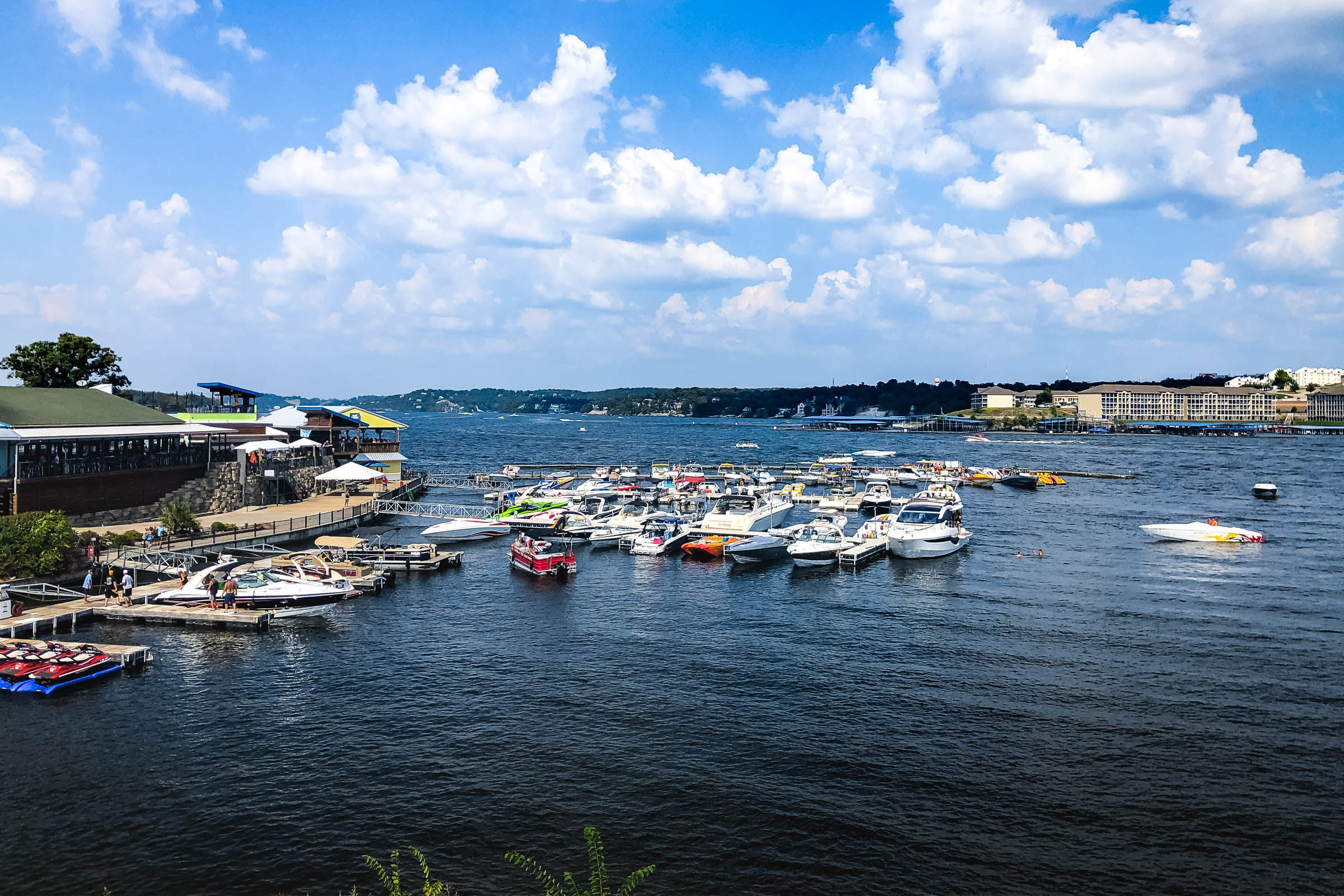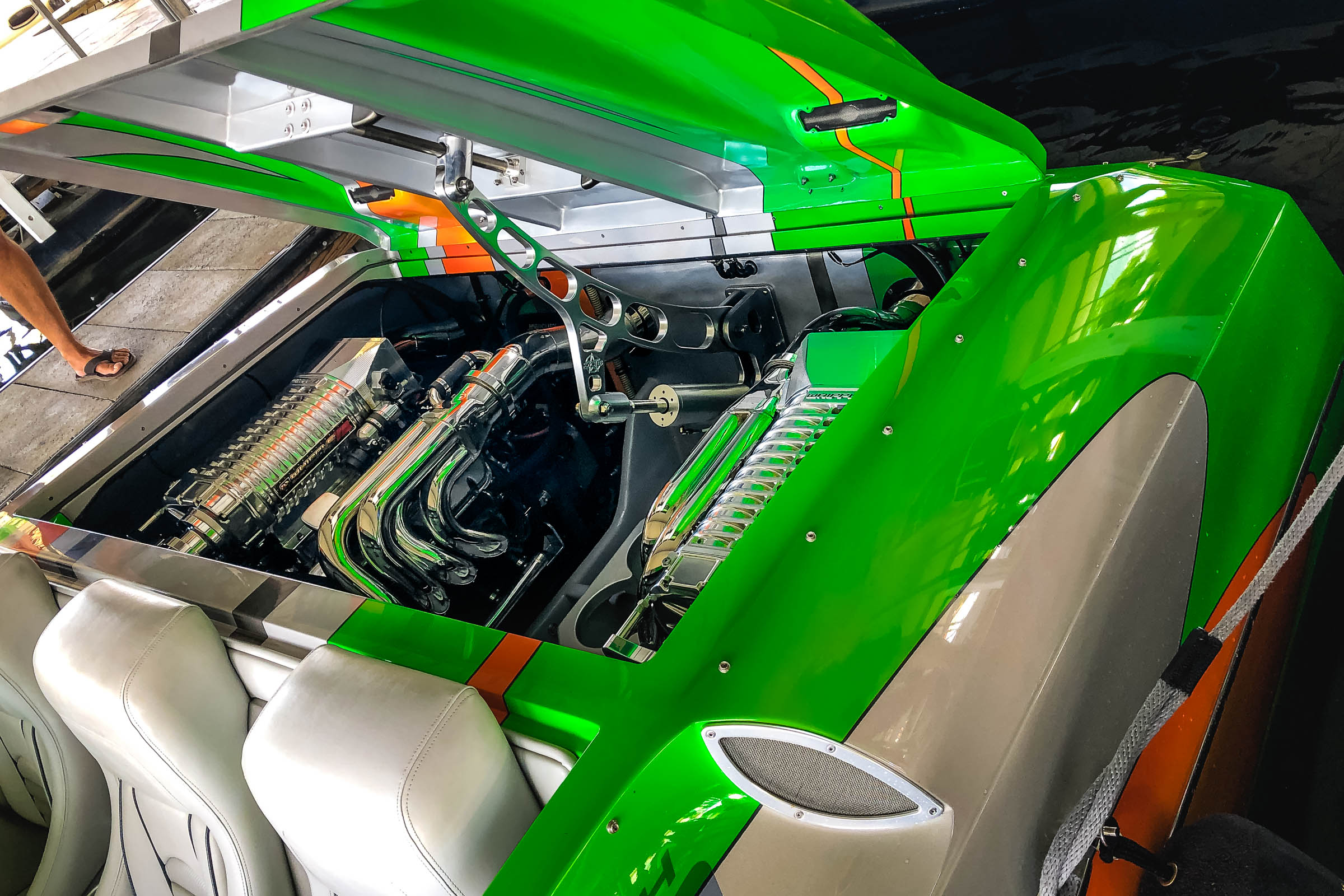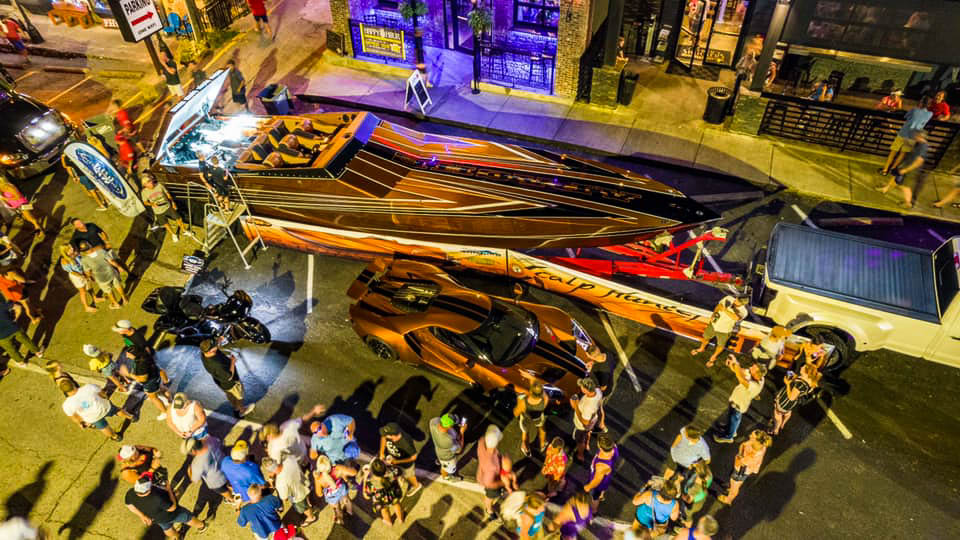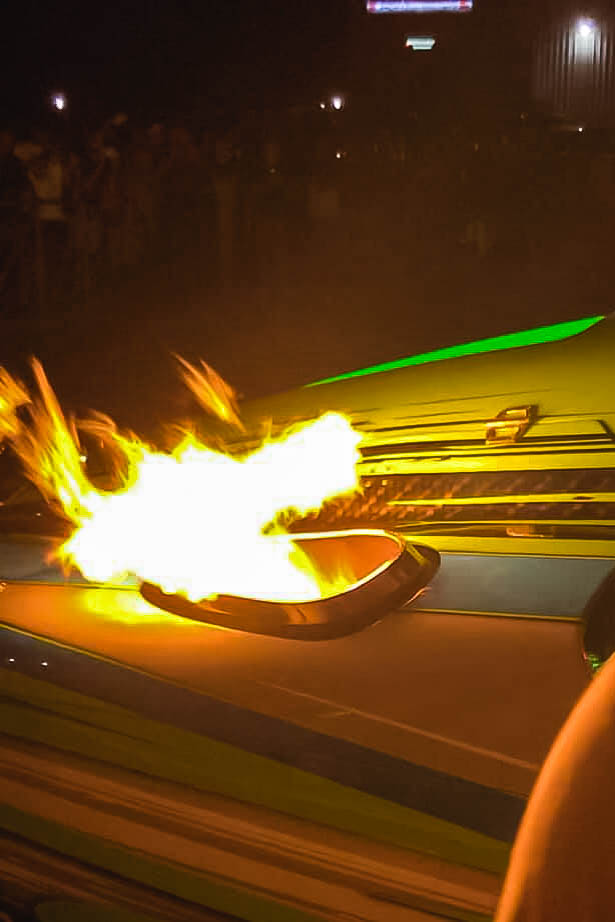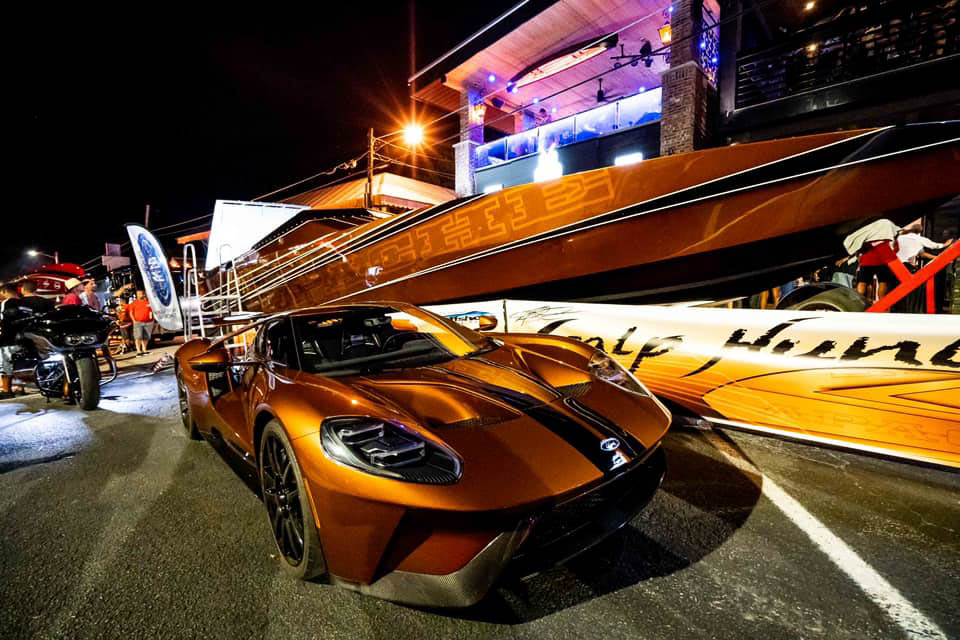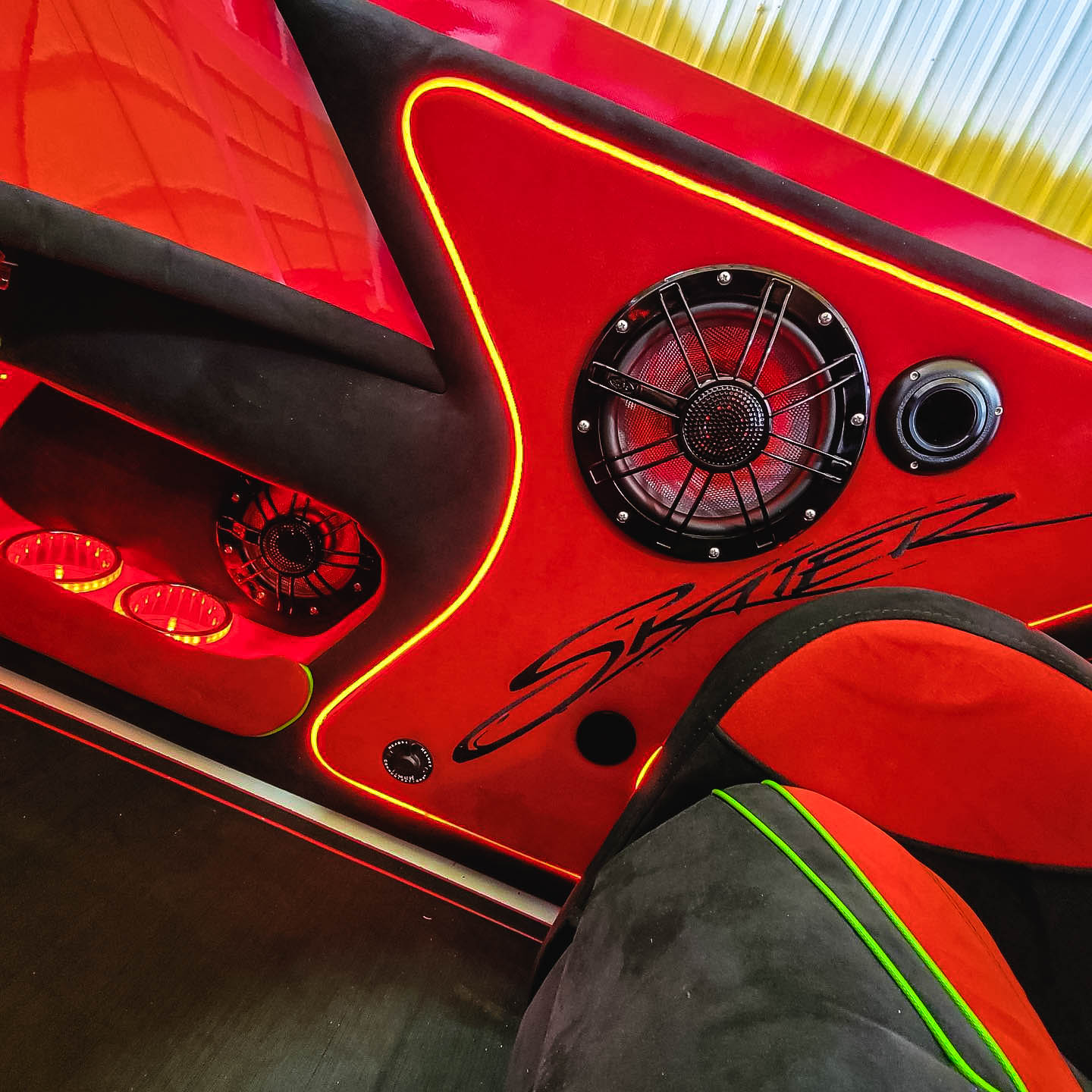 Oohs and ahhs carried into Thursday, landside at the Dyno Car Truck & Bike Show and waterside between the impromptu raft-ups and manufacturer meet-ups. Numerous performance boaters also participated in the Wishing On A Ride event fulfilling the wishes of ill children with blasts around the lake on their boats. Then it was time! As the piercing sun settled and day turned to night, Performance Boat Center, the Osage Beach epicenter of eye-watering extreme machines packed in the peeps and powerhouses for its annual bash of epic – and I emphasize epic proportions.
It was a fiery night for sure from the inferno of longtime boating buddies and seasoned Shootout-ers being reunited to the sparking-slash-sparkling fireworks above the Mercury Racing rig, with bangs with booms intense enough to damage the indoor lighting fixtures according to PBC co-owner Brett Manire. Meanwhile, a certain pair of flame-flicking T53 turbines did their thing turning up the harbor heat.
Responsible for the torching was the Mystic Good Boy Vodka. After the owner Alex Pratt's charitable 2020 touchdown, this year he appeared in a 2010 model C5000 twin-hull thriller purchased from none other than New York powerboater Chris Cox. Rigged by the Hydroflat team in Louisiana, the green-glowing attention-grabber caused more of a commotion than his 48' MTI last fall in Key West; undeniably, the Good Boy Vodka promotion made the commotion all the more flavorful while it continually flowed throughout the weekend.
For early risers, the next day was dedicated to dashing through the dark blue chop in the Poly Lift Boat Lifts sponsored poker run presented by Sunrise True Value Hardware and Lakefront Living Realty, organized to benefit an impressive 32 charities and eight lake area fire departments. Outerlimits owners also had the option to join a flotilla of nearly 30 brothers which rallied for a separate morning sprint organized by committed customer Michael "Doc" Janssen. As for the hardware-less hordes...they horsed around all over town from the Backwater Jacks bar stools to the Dog Days pool stools, some eager to catch a glimpse of the pony power trotting by, and others happy to just hold a cold one in hand.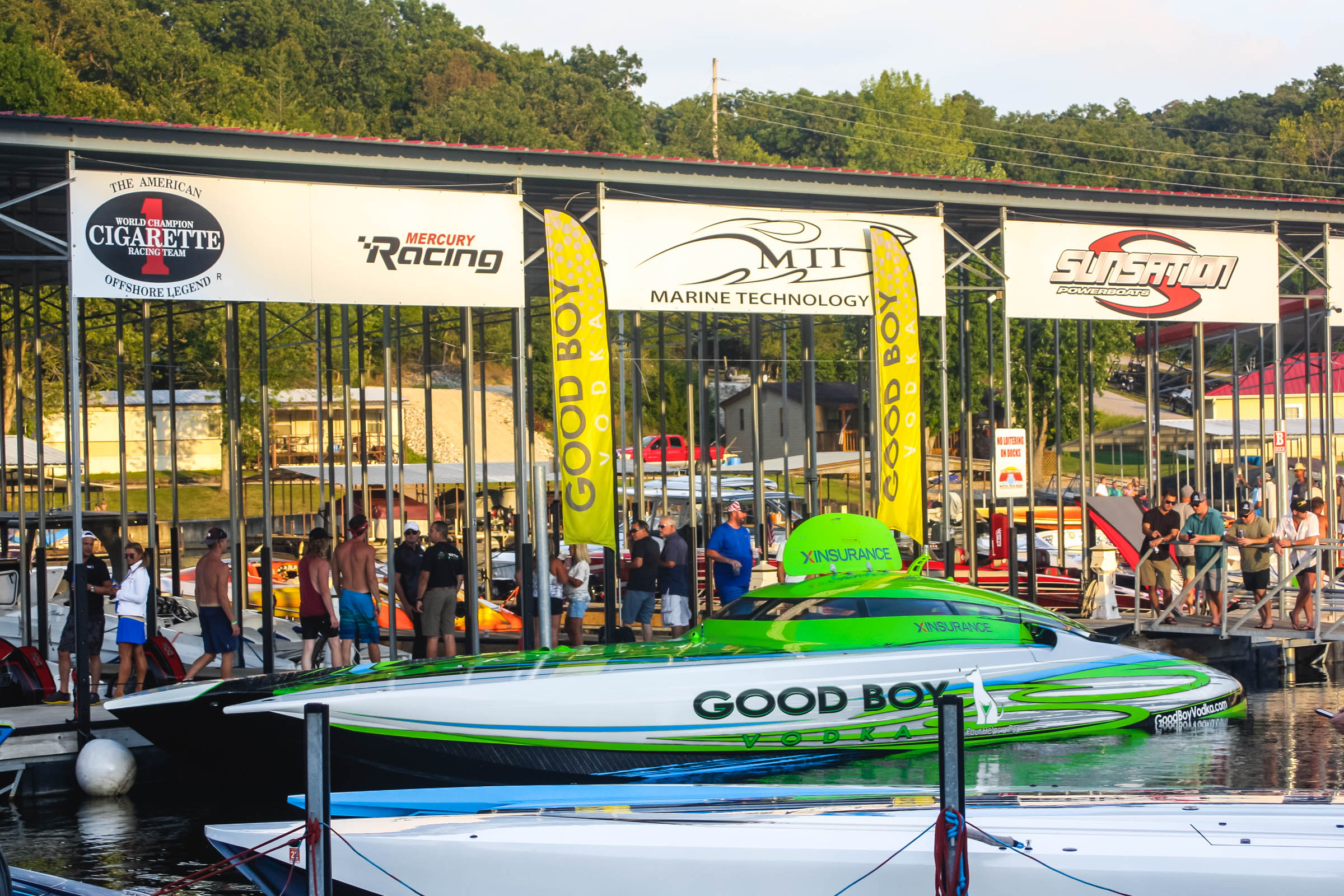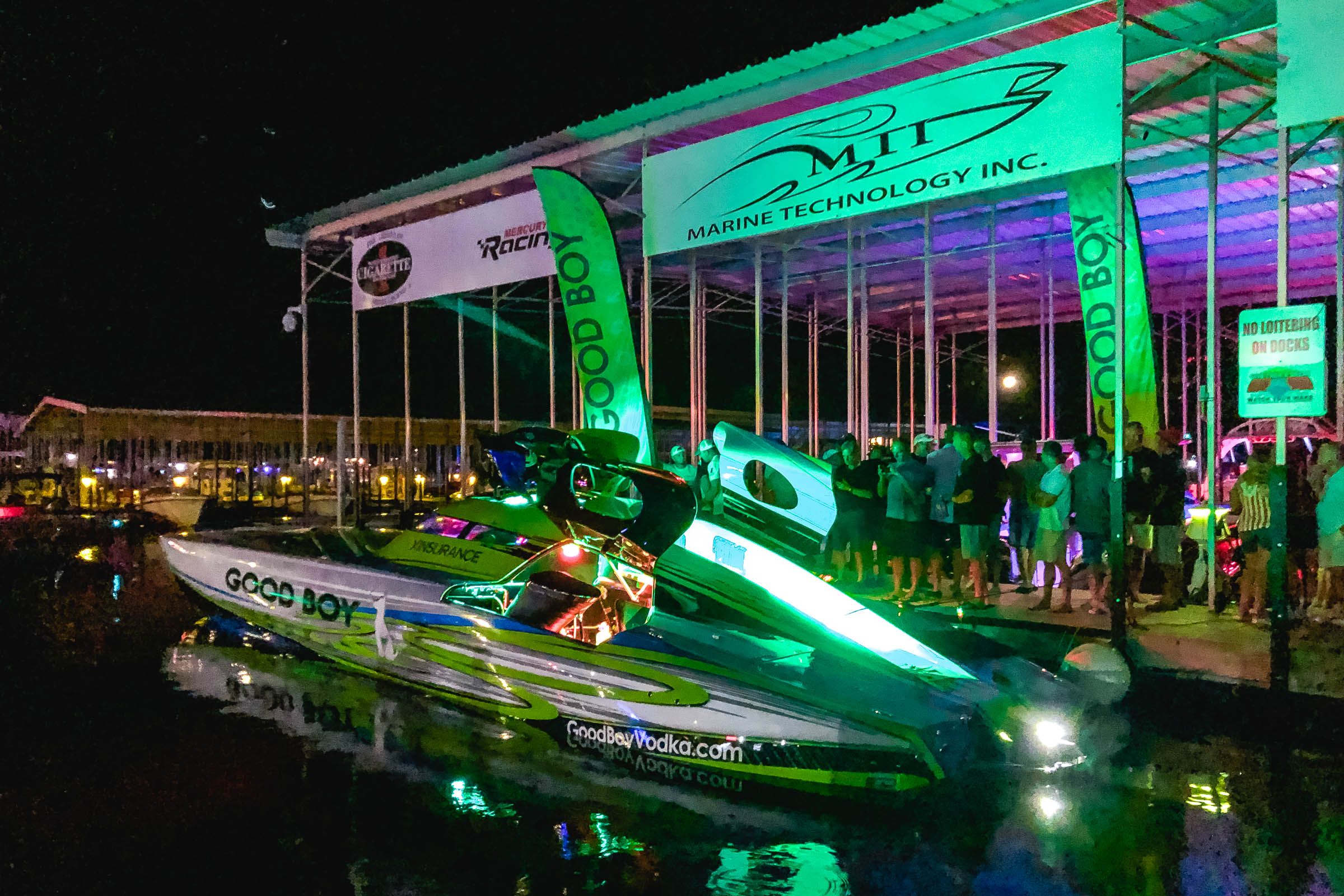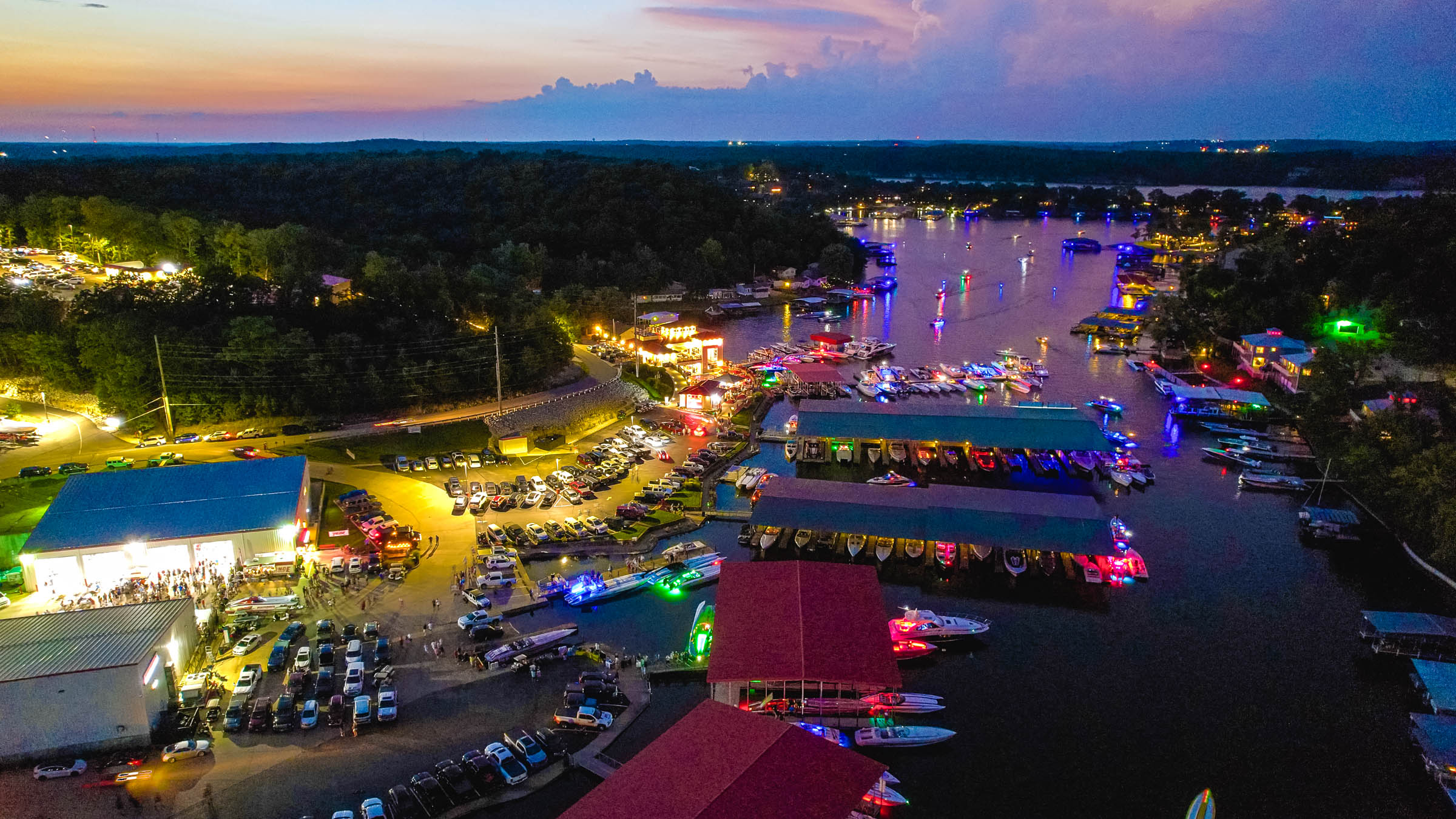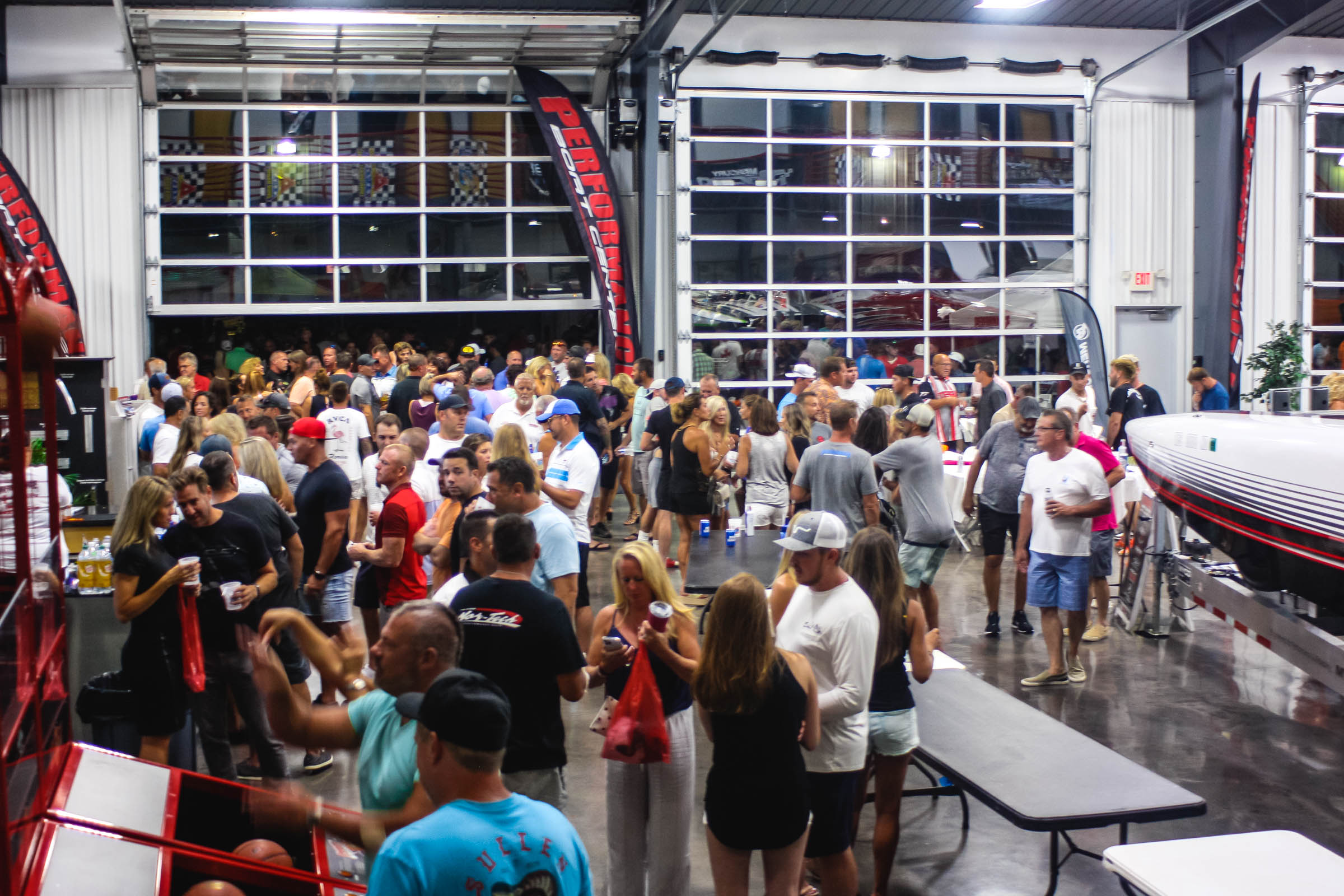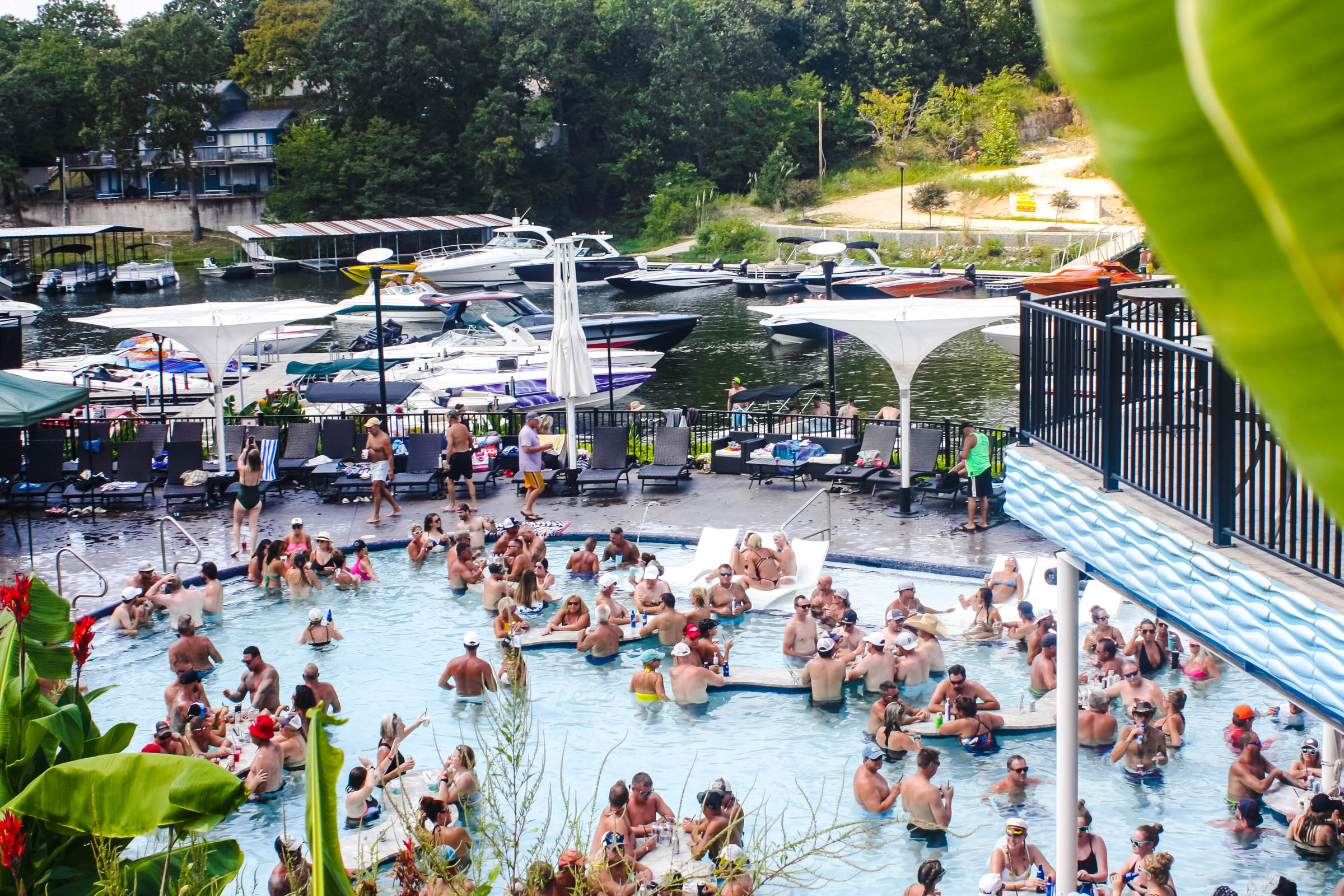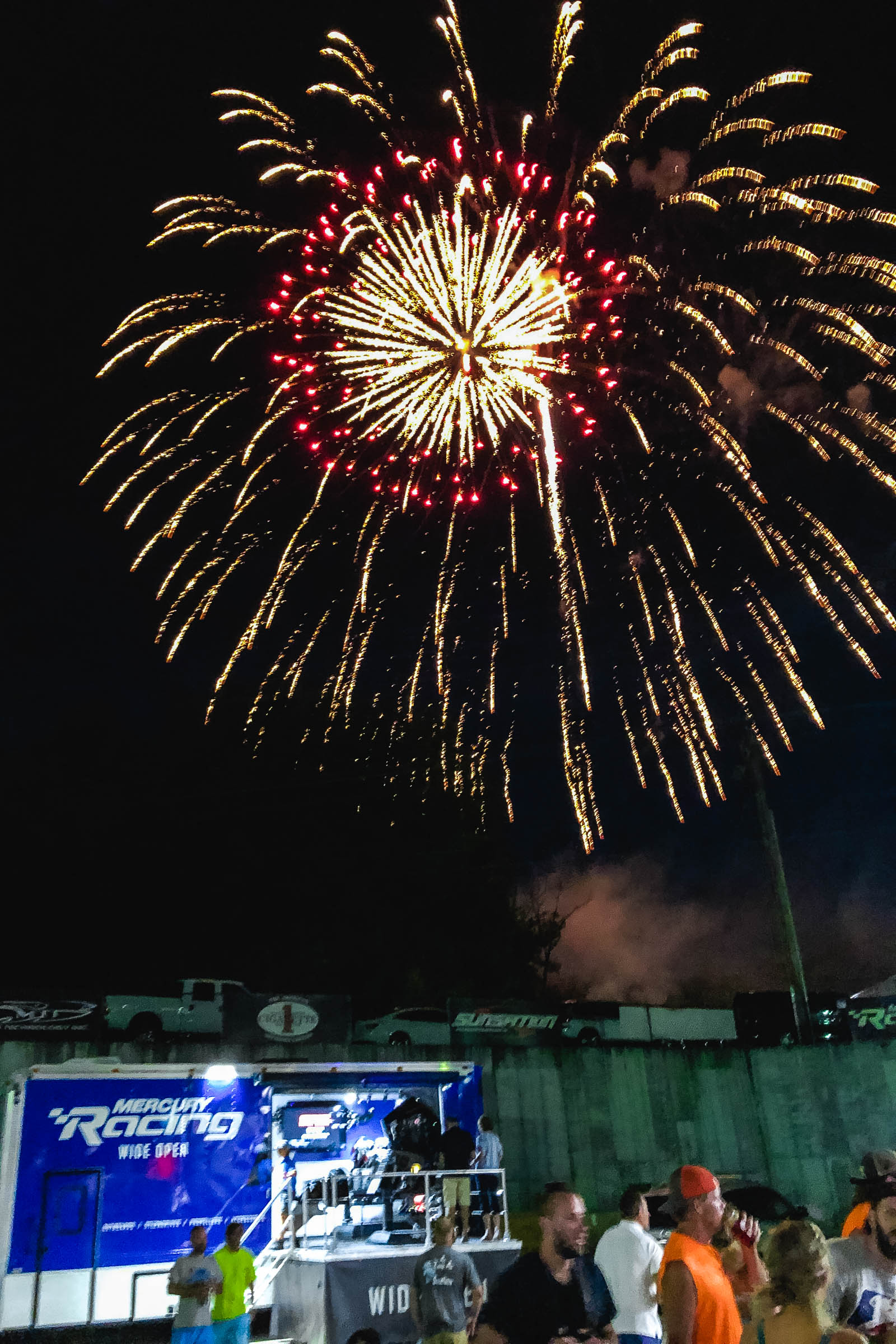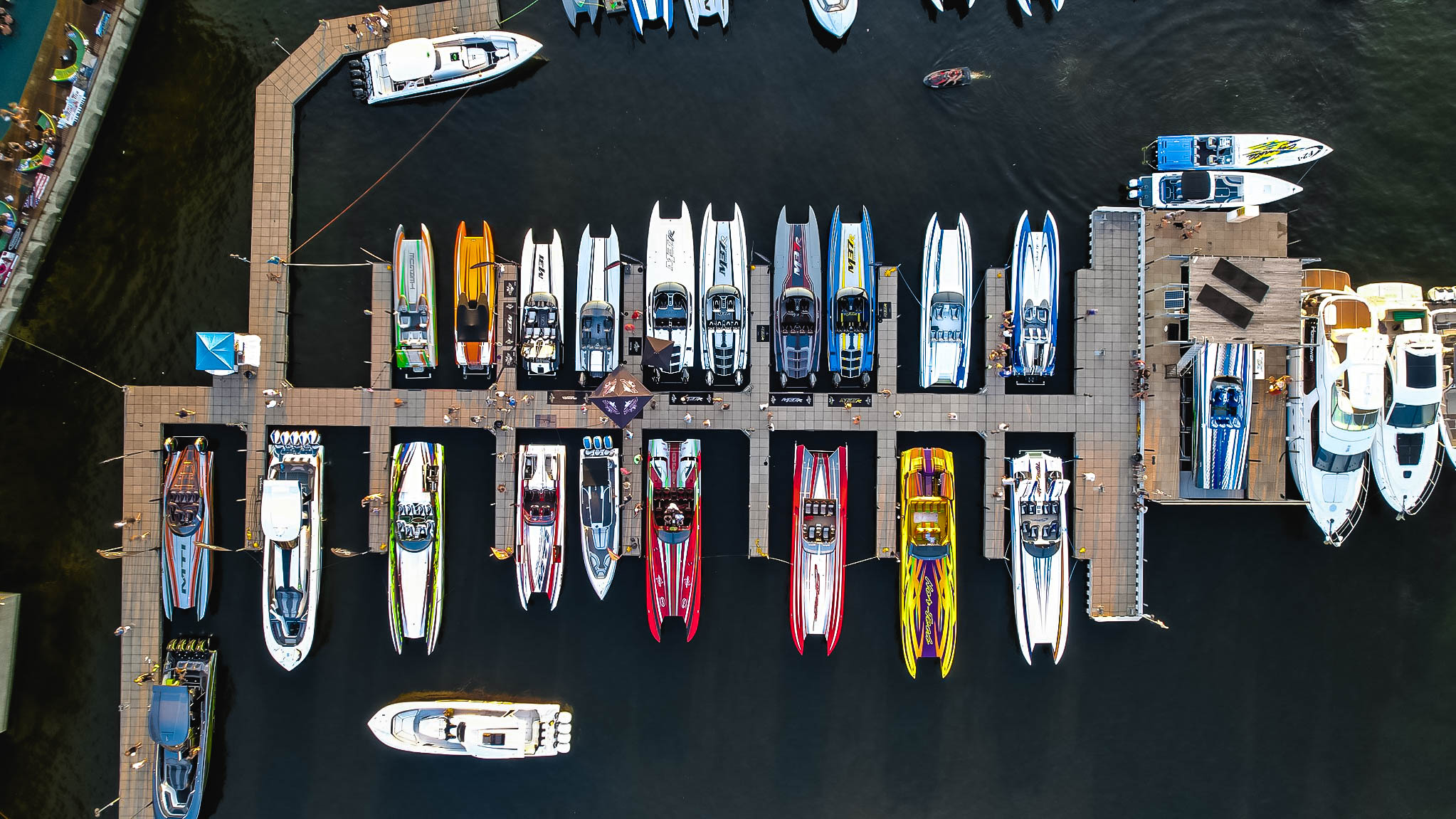 Post poker run, the good times kept on coming (or going), except the mayhem migrated over to Mile Marker 7 aka Camden on the Lake. The celebration started on a serious note with a silent auction (followed by the Saturday night Super Cat 4 Kids dinner and live auction) and later advanced to live music and prancing around the patio, accompanied by another nighttime fireworks show and more flowing libations to keep spirits high.
Dockside the LED-heavy lighting aesthetic beaming off the hardware looked incredible. It had the place blinking like a basement gamer's high-tech keyboard gone wild… only to be outshined by a wilder display of bright lights down the road at Shady Gators. Who knew British electronic mega DJ Paul Oakenfold would make a LOTO stage appearance for partiers longing to go later into the night, not in need of shut eye before the Shootout.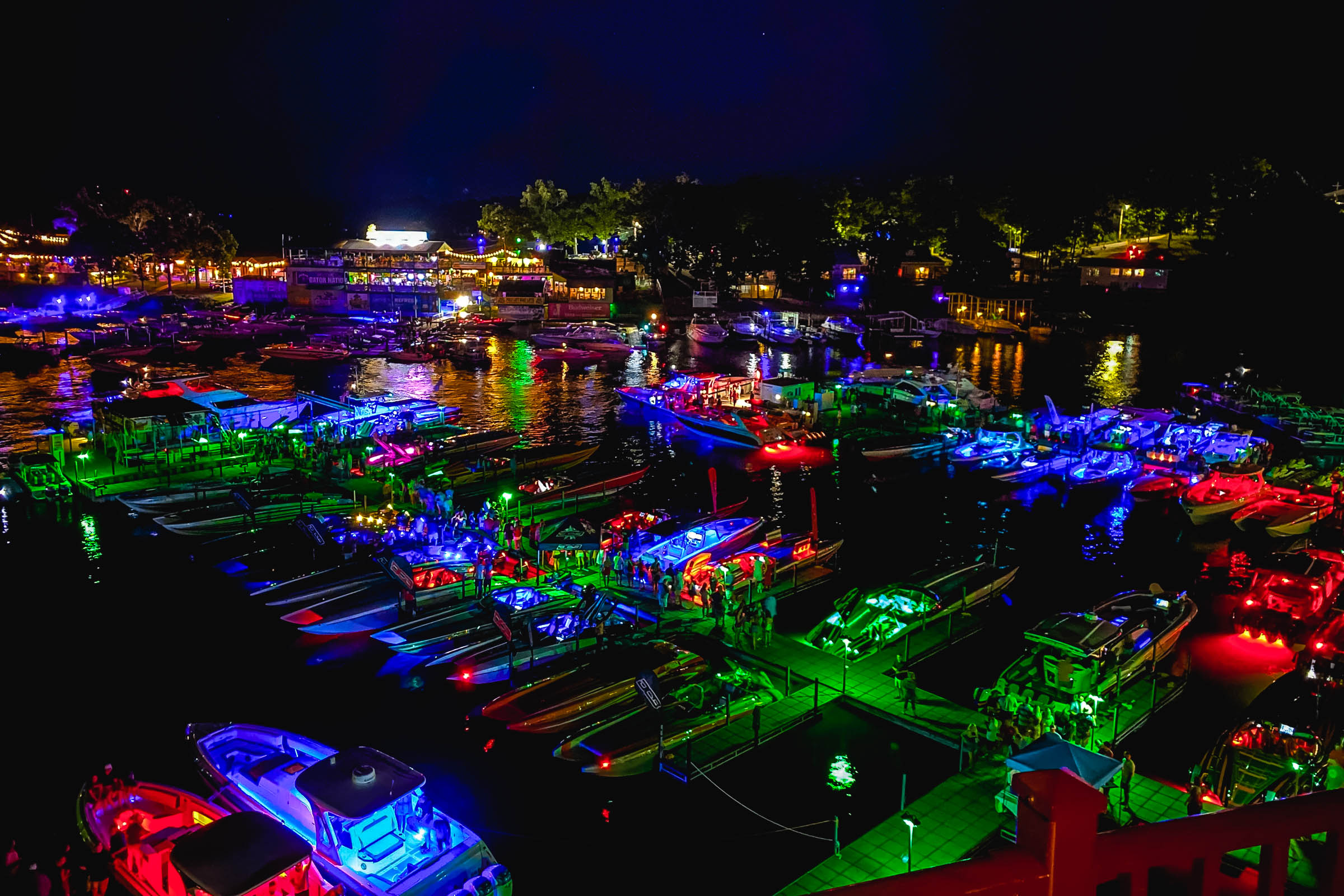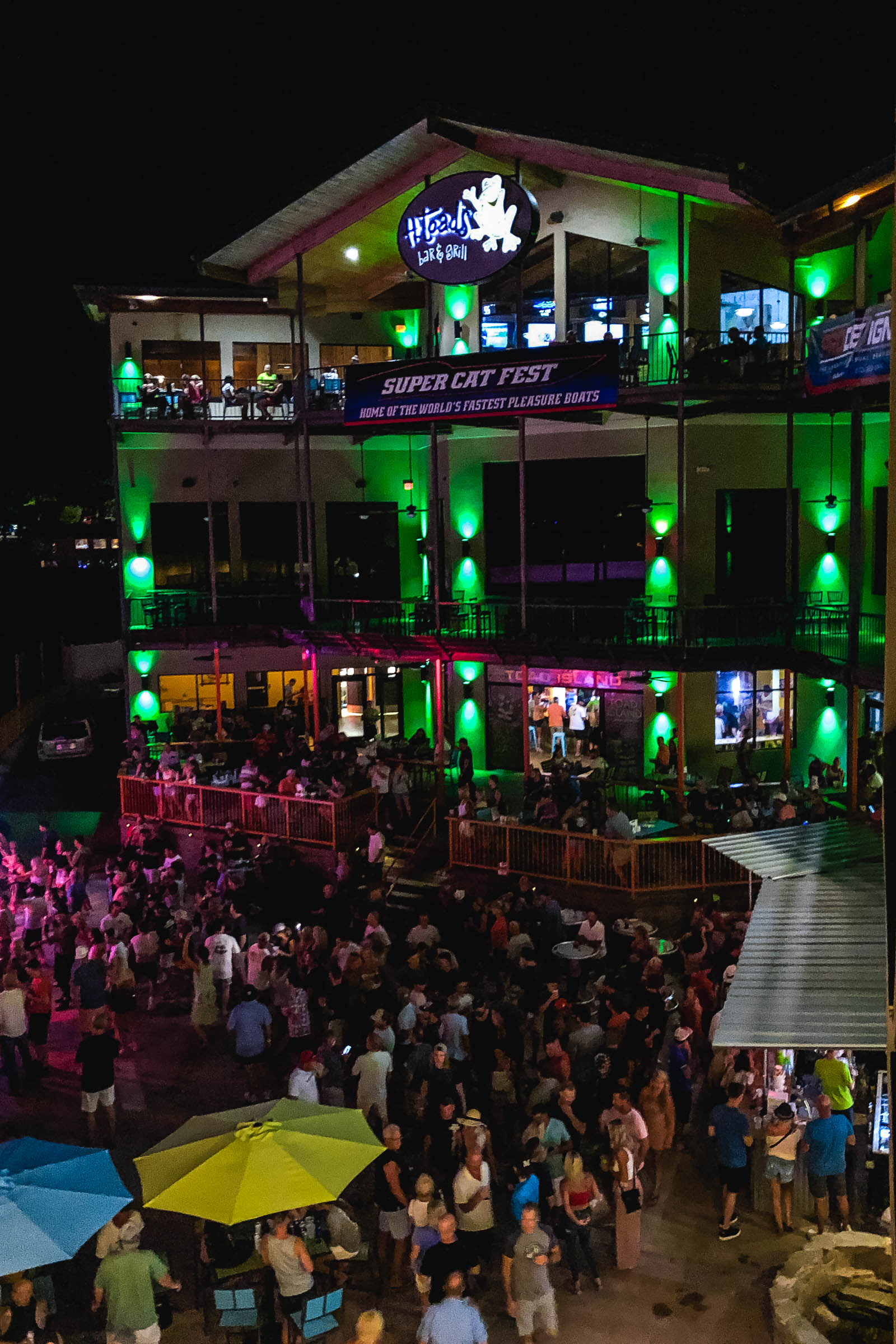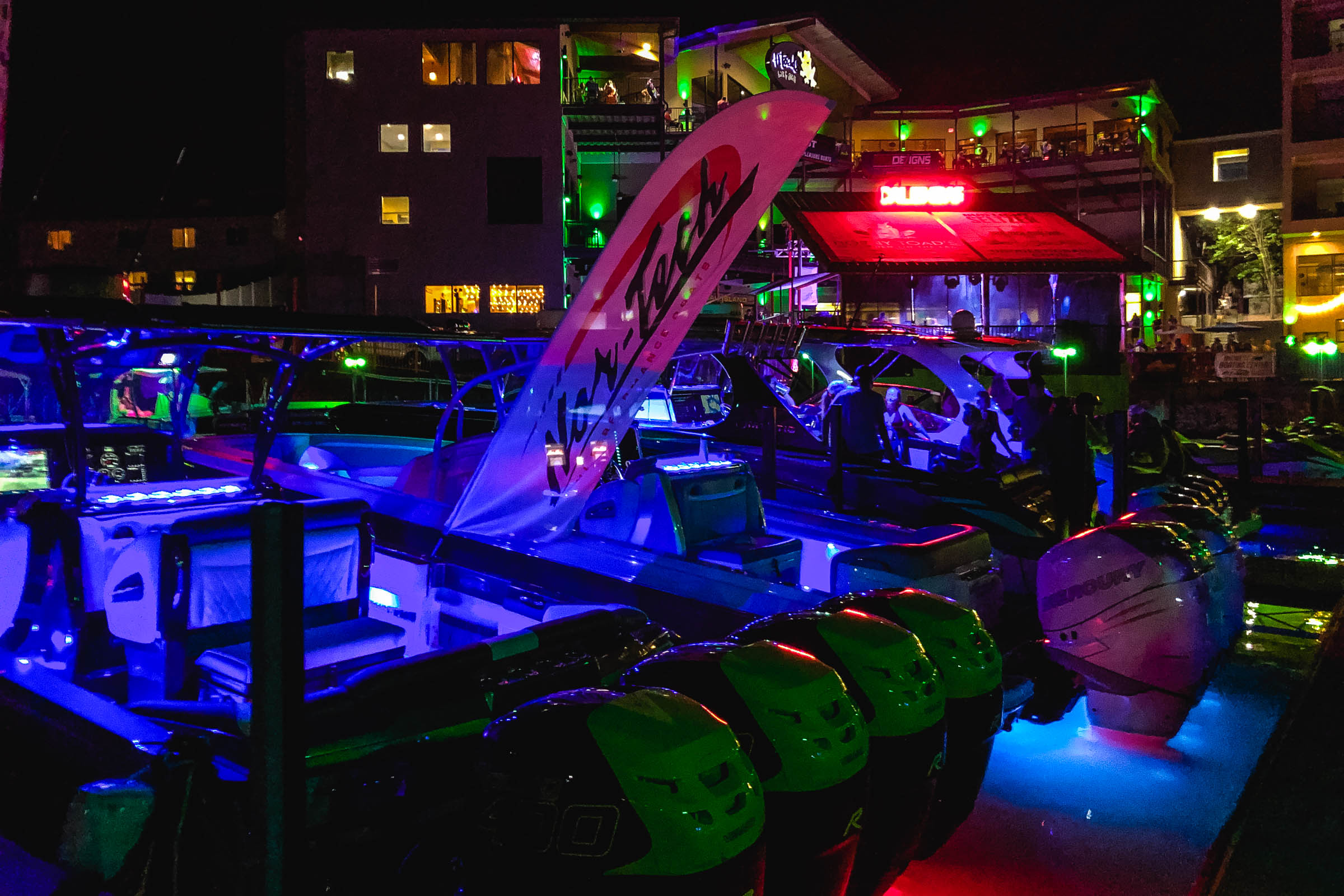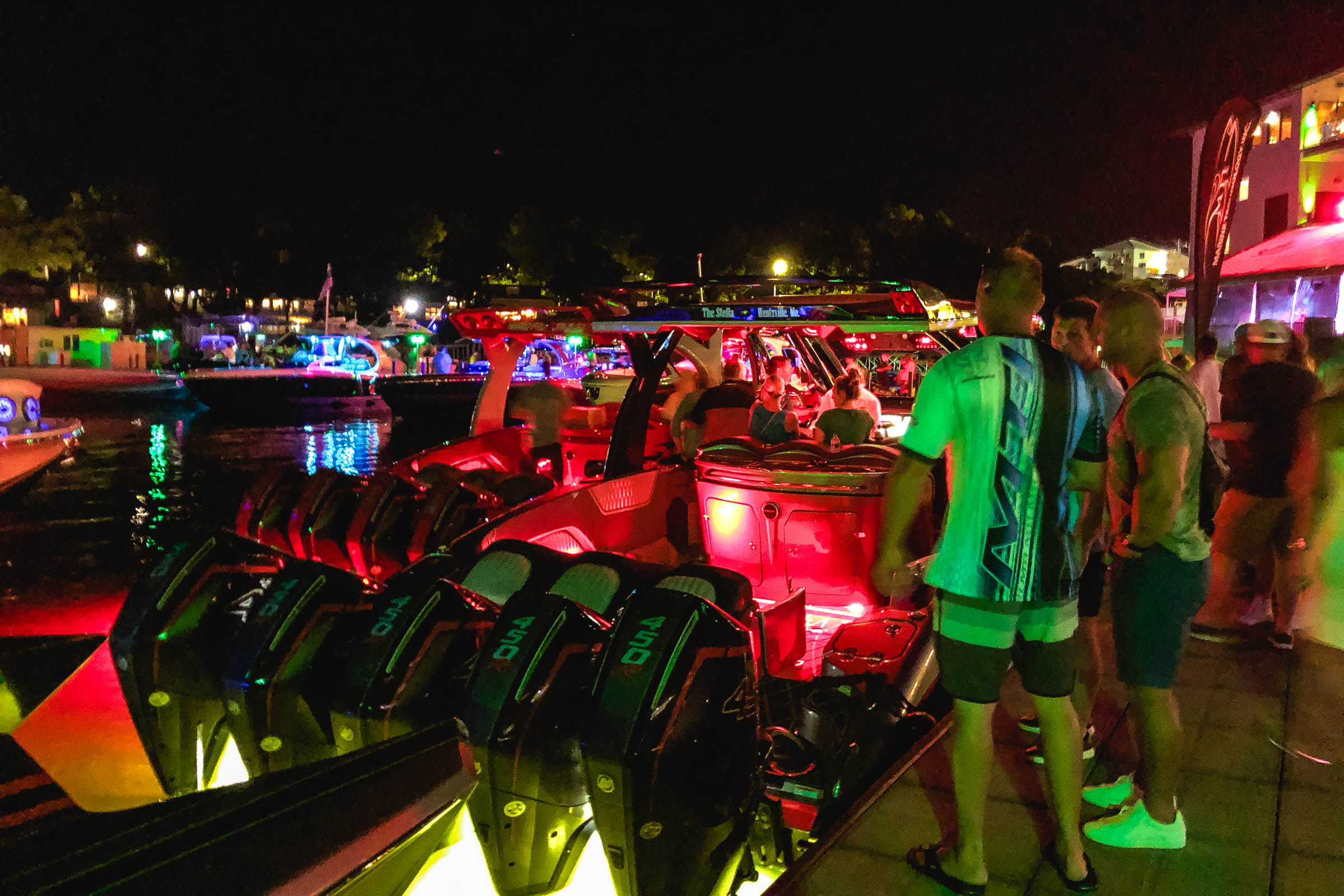 An Overly Heated Shootout
On Saturday, the crowds were coaxed from Camden and afar to Captain Ron's Bar and Grill in Sunrise Beach to watch a record-breaking number of registrants take their shots at the three-quarter-mile liquid dash. Of the 95 combatants and their 253 attempts (up from 189 during last year's bad weather affair), many were first-timers, while others were hoping to up their already-established speeds despite the extreme heat and humidity playing havoc on hardware.  Final results for all classes can be found at: shootoutresults.com.
Joining fan favorite catamarans Performance Boat Center/ FASS Diesel and American Ethanol on hopping Dock 6 was the smaller albeit equally admired Bruce 22 from Canadian-based Vision Marine. Propelled by a fully electric powertrain E-Motion ™ 180 outboard engine, the environmentally friendly craft famed for focusing on power, speed and performance did just that almost doubling its 2019 speed record from 31 to 49 miles per hour with COO Patrick Bobby performing piloting duties. The electric-powered class first debuted at the Shootout when yachtsman and professional writer Randy Vance hit 25 mph in Calypso back in 2018, and judging from all the current attention, it shows a promising future.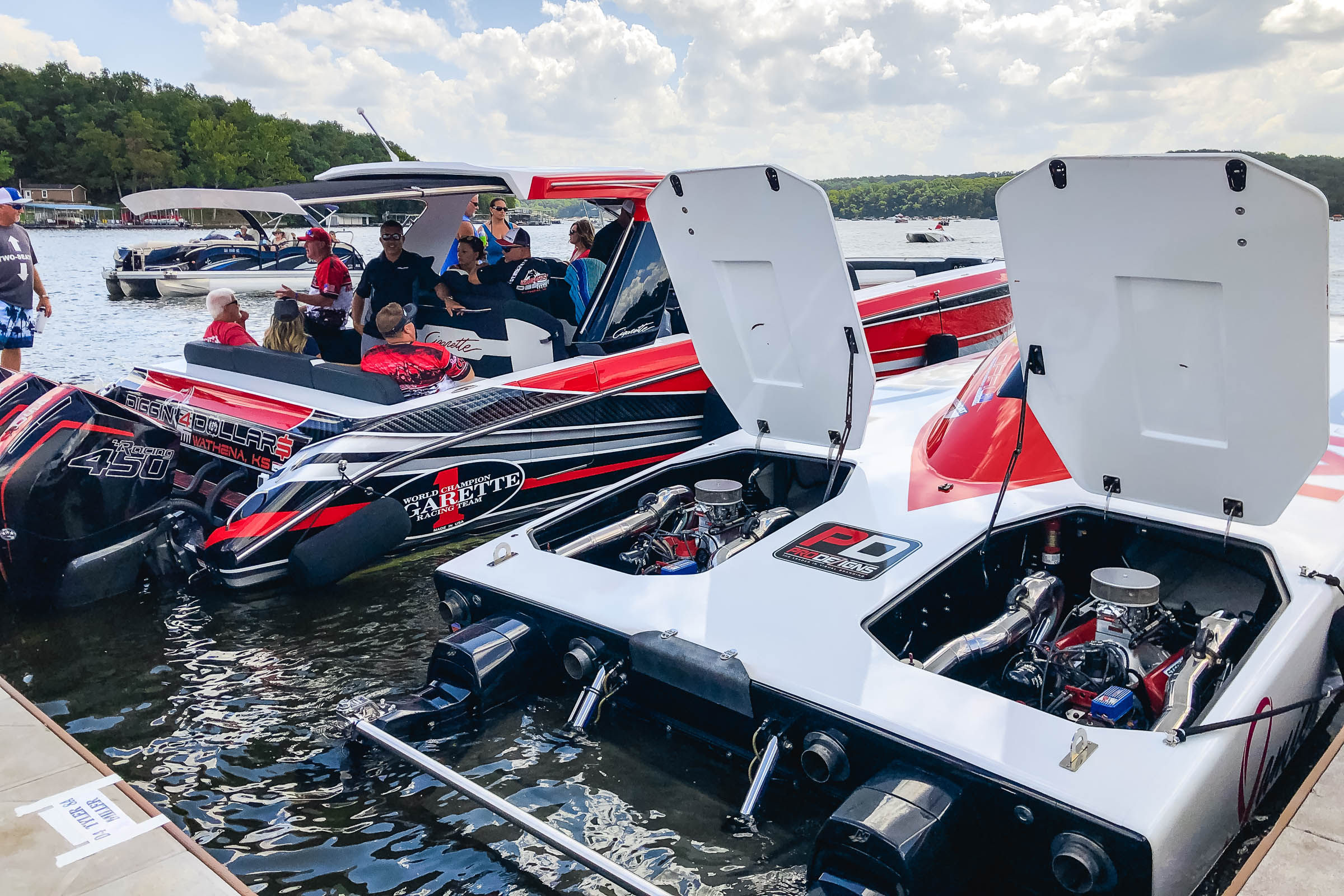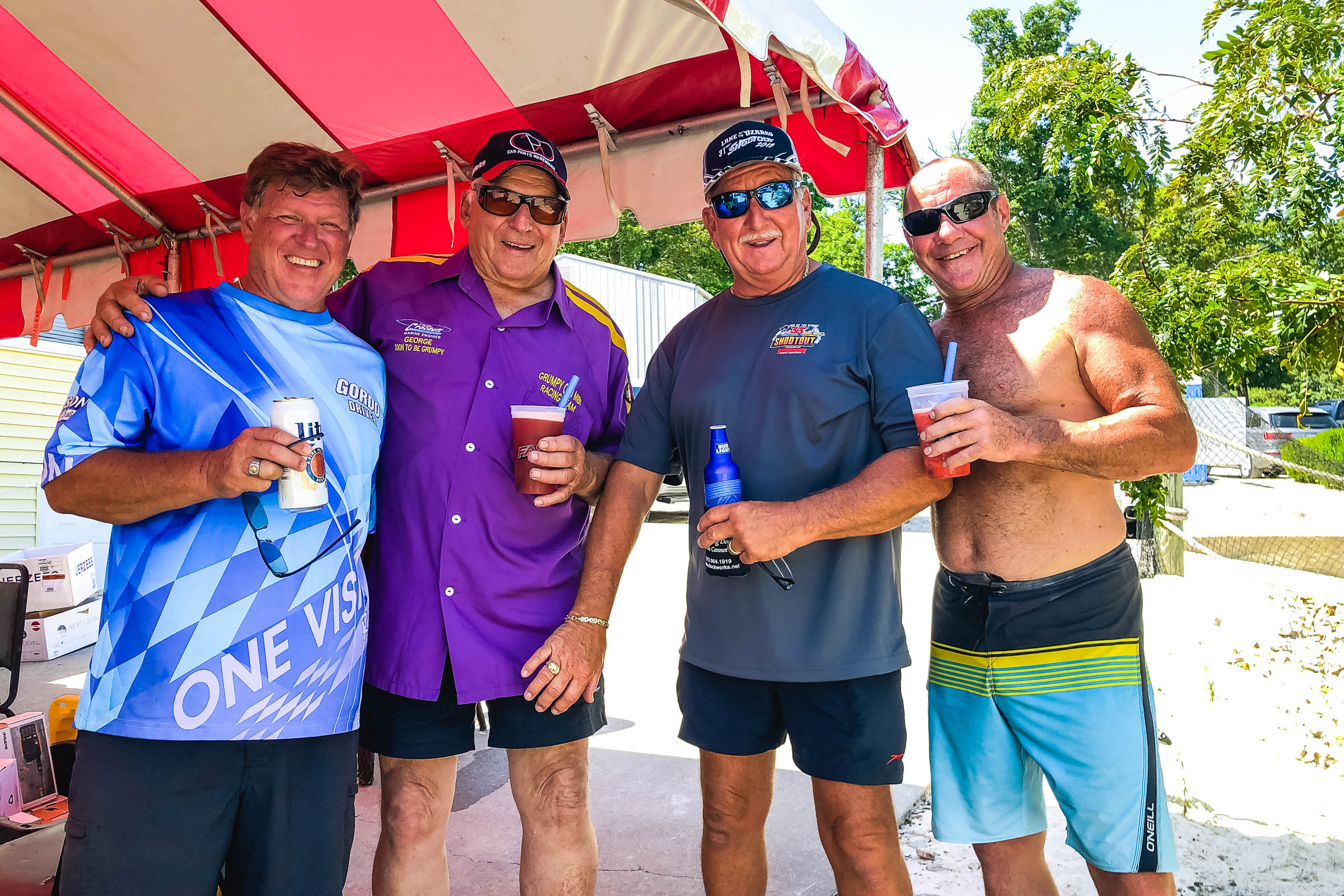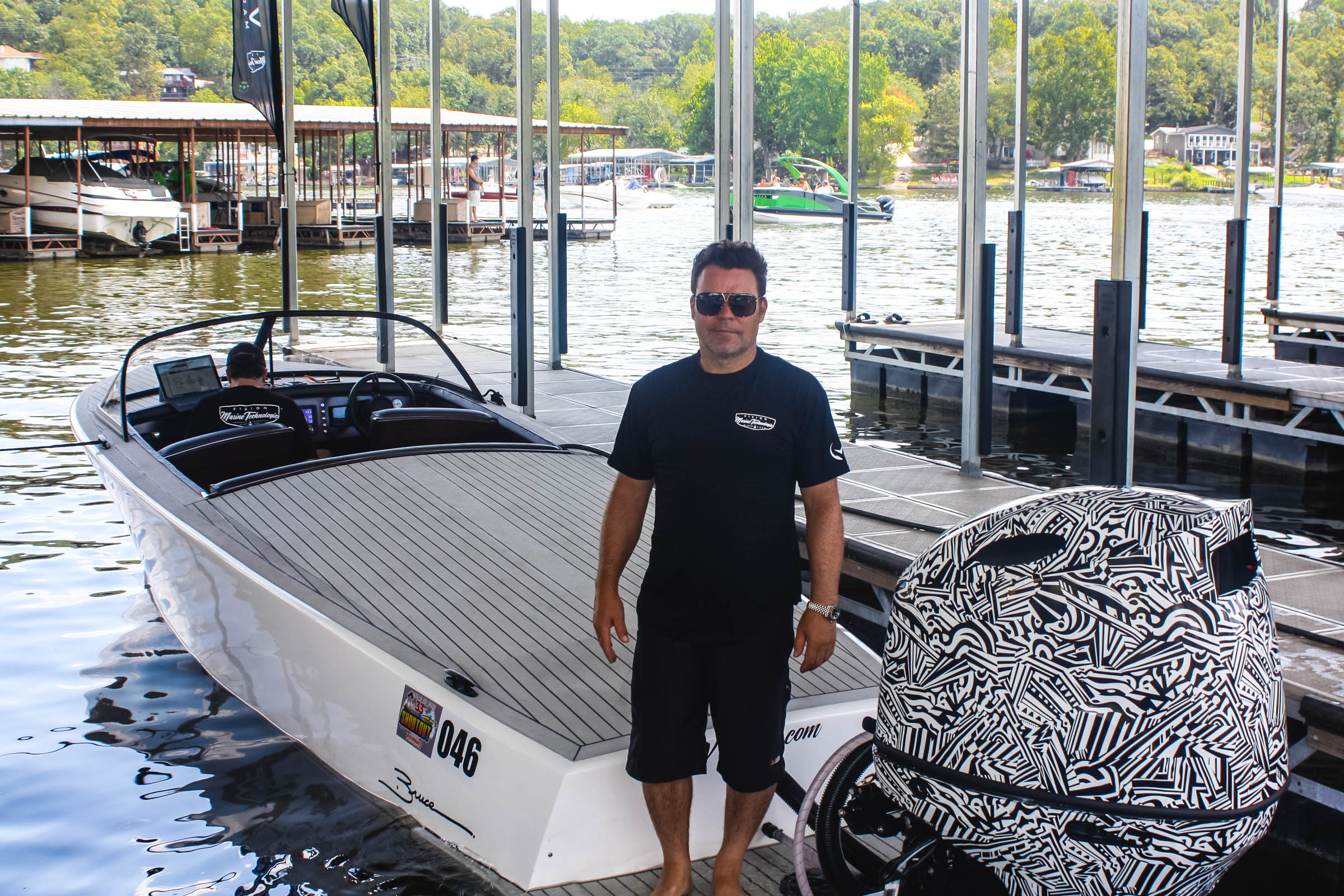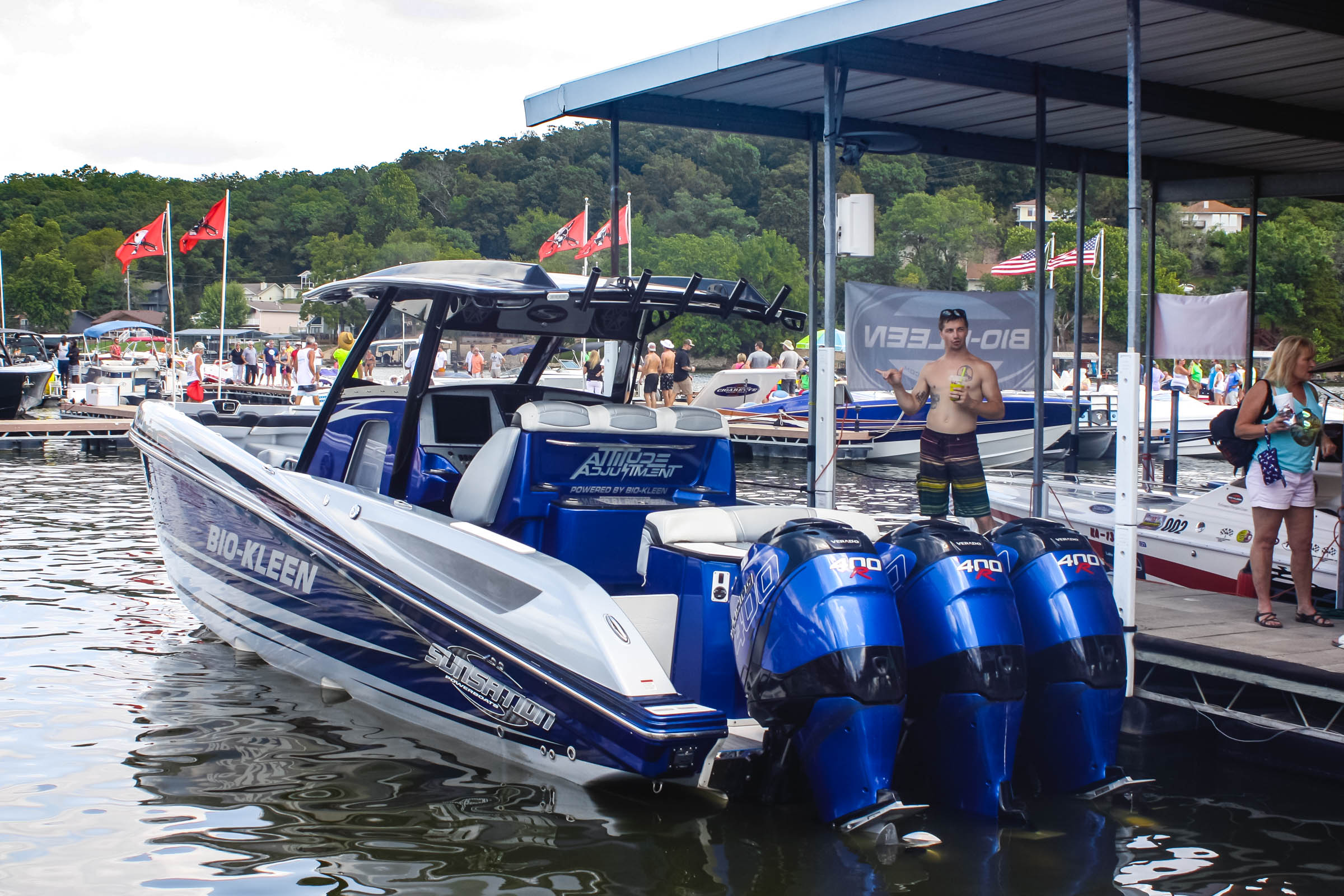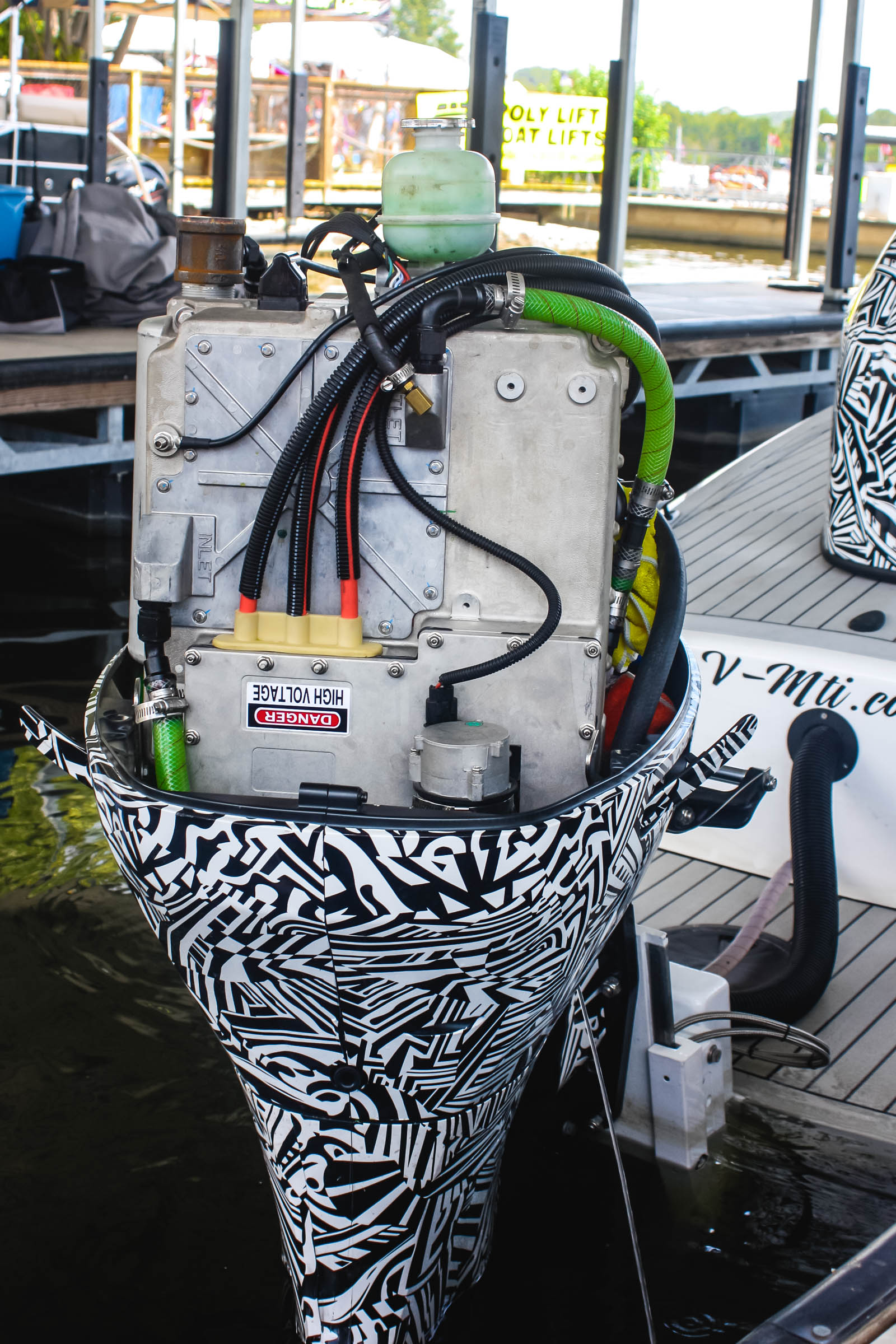 Less environmentally appeasing, yet certainly pleasing to the massive spectator fleet and those of us viewing on the big screens, was witnessing Ben Robertson – the skillful racer who set the former 2014 APBA-sanctioned kilo record at 171 mph next to Reggie Fountain – lay down a 152-mph pass in Swedish powerboater Christian Dahlberg's 42-footer bearing Big Thunder Marine badges on both sides in support of Fred Ross and Iconic Marine Group's biggest brand.
Bumping into Robertson lunching Saturday afternoon in post-run relaxation mode, he credited Marine Design's TrimSync device in which he engaged two presets – launchin' and haulin' ass – to ignite the dual-calibration Mercury Racing 1550/1330 powered Lightening. Fountain himself also took notice from North Carolina, reaching out by phone to Robertson to let him know he was pleased with the man and machine's performance.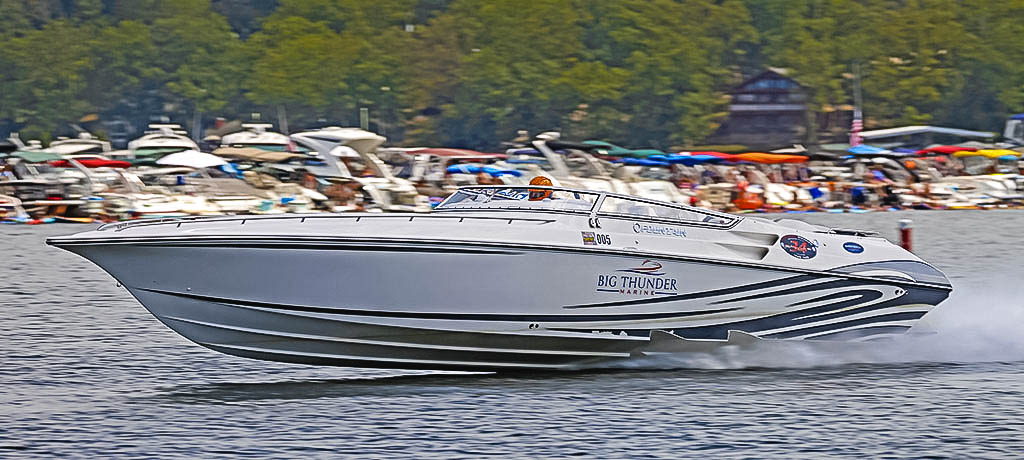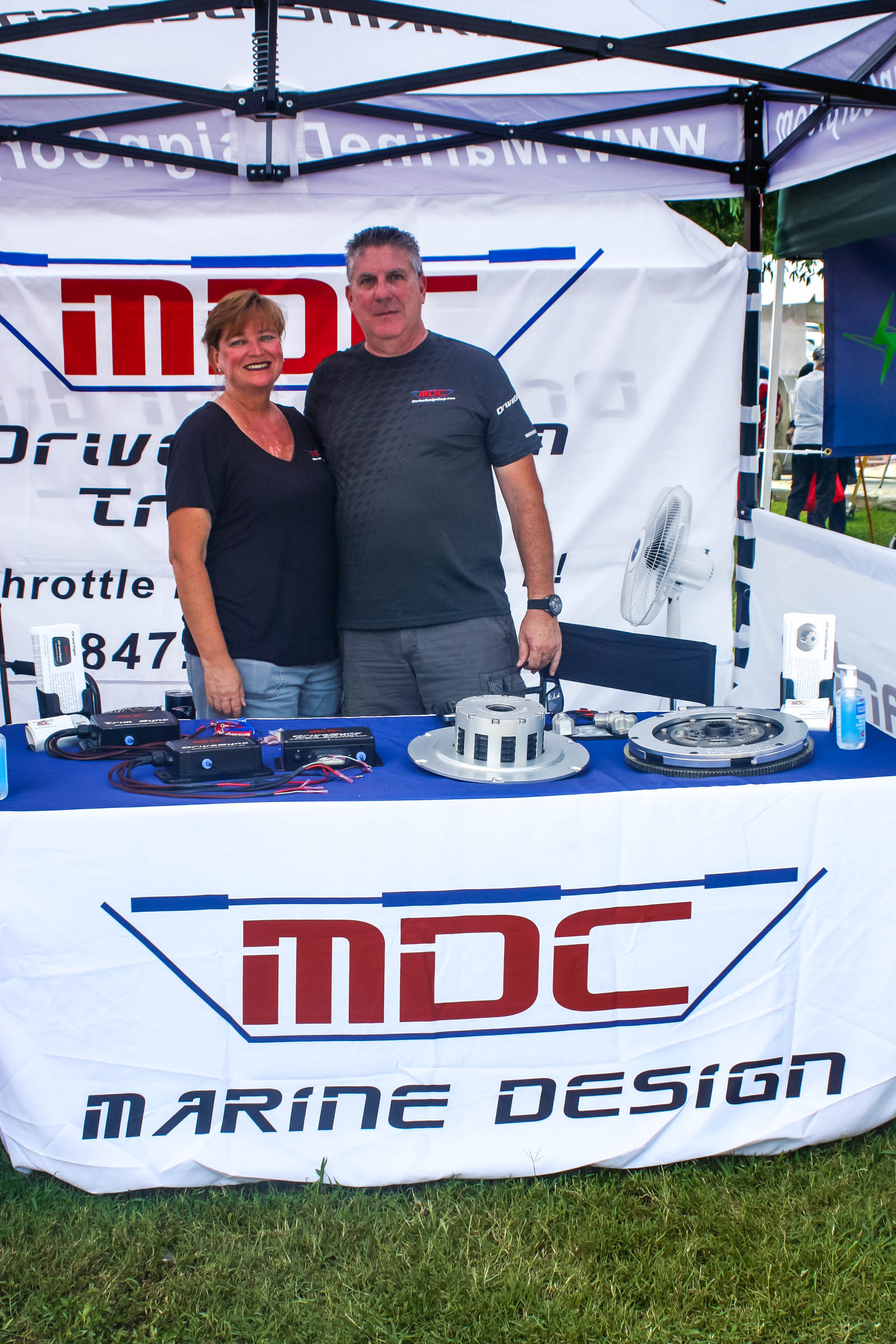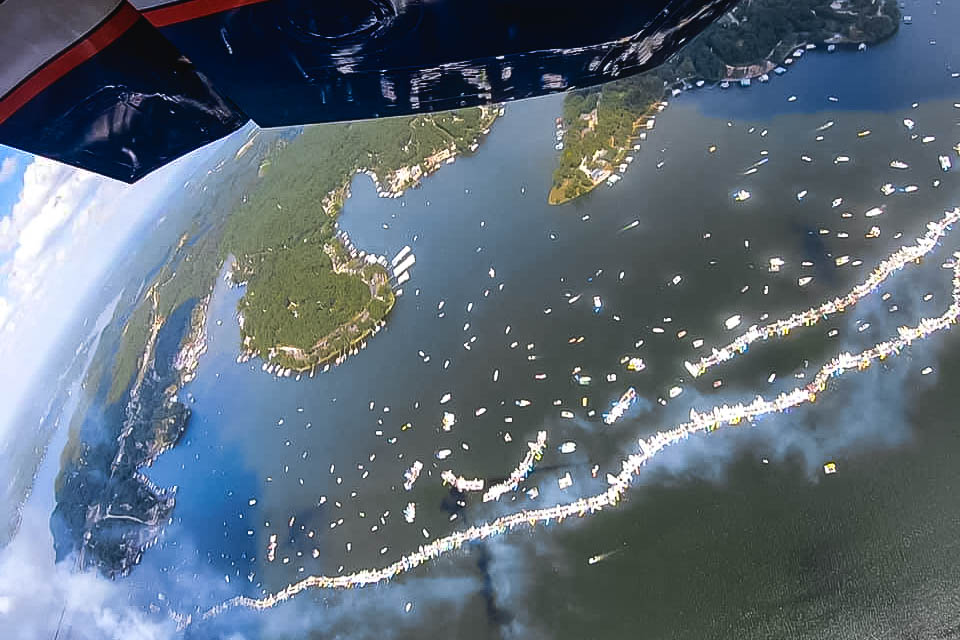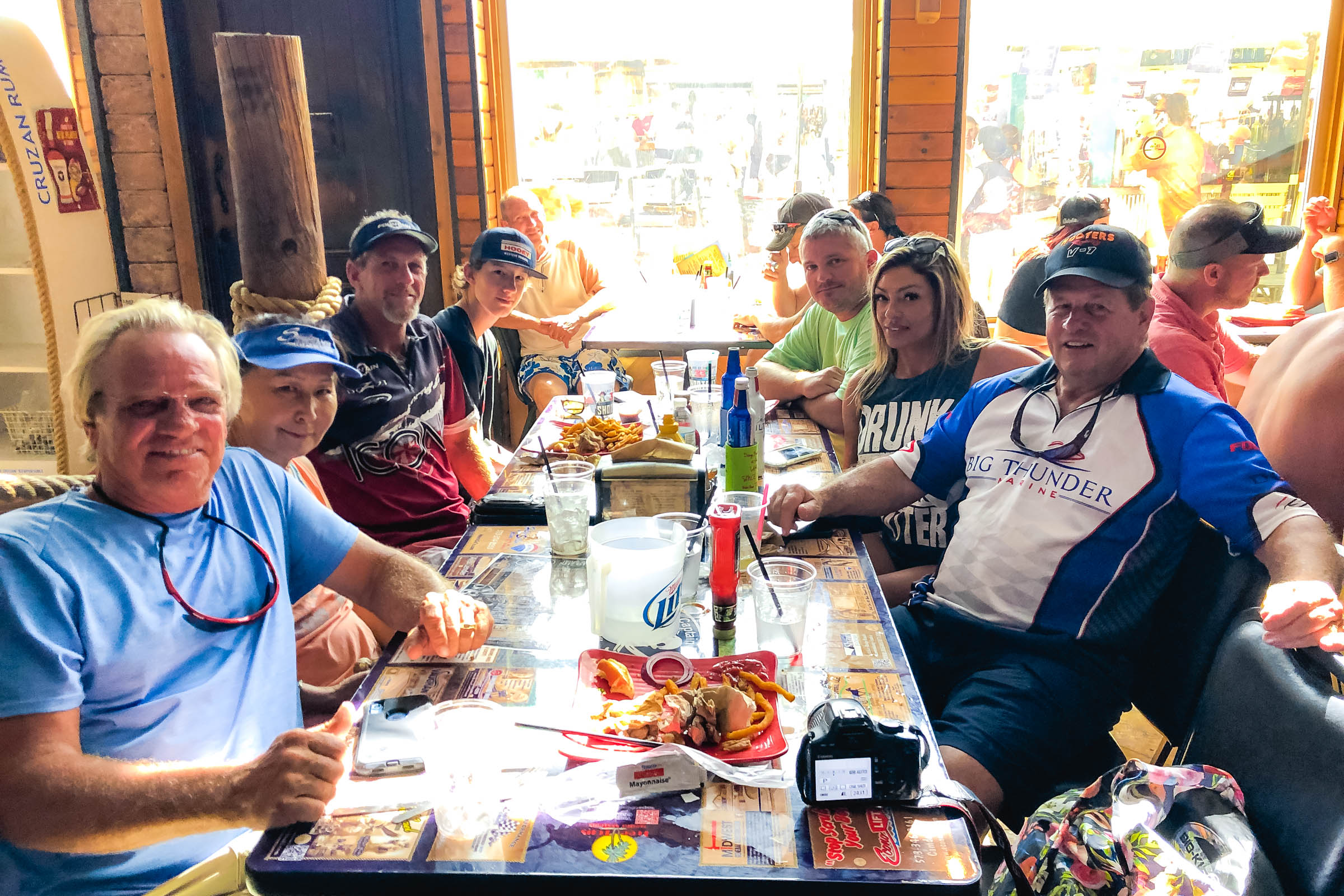 Not only were eyeballs fixated on the soaring speedsters, the Brian Correll Airshow added another layer of sky-high thrills with its acrobatic stunt plane maneuvers. And in some instances… not so high aerials like the heart-pumping pass made in unison with Super Stock-class racing partners Myrick Coil and Rusty Williams in the 32-foot Doug Wright Performance Boat Center/FASS Diesel.
Also taking flight, but this time flying the Top Gun bragging rights banner for the seventh year running was Don Onken's yellow and black feline beast American Ethanol. Five runs, each faster than the next, produced day one top speeds of 175, 180 and 184, then after an early Sunday pass at 190 mph… it happened! At 12:50 p.m. the quadruple ethanol-powered turbines rocketed up to 193 mph under the command of Mystic Powerboats founder John Cosker and Tony Battiato.
Cosker – whose fastest record to date in the Mystic stands at 204 mph – knows the 12,000-hp cat all too well, having cinched the Top Gun title for the last six years (now seven) behind the sticks. Lamentably issues with the starting-box alignment, radio communications and the brutal heat kept the kitty out of the 200-plus club this time around. What's more, its closest capable turbine contender Good Boy Vodka threw a prop on Friday and had to be towed back to Performance Boat Center.
Triumphant bragging rights extend beyond Top Gun titles and go out to the entire 2021 LOTO Shootout staff, production coordinators, sponsors and the vast amount of volunteers for putting on a top-shelf affair. I have a'LOTO love for this massive Midwest Mecca of marine madness and not many other high-performance powerboating experiences can compare.