Story by DinaRella / Photos by DinaRella, MTI, Shoot2Thrill and Yachtworld.
PLAY BIG! Two small yet mighty and powerful catch words Marine Technology Inc. (MTI) used to entice and excite the boating world with its largest luxury center console launch to date. The Wentzville, Missouri- based manufacturer synonymous for its flotilla of stupefying offshore catamarans that have been dominating the professional racing circuits since the early 2000s and dazzling poker run extravaganzas around the nation, has done it again with its MTI V-57 (available in both a pleasure and fishing model known as the XSF.)
The first production-built version of the V-57 debuted at the Miami International Boat Show in February of 2017, following its original pre-production premier eleven months prior in March at the 2016 Dubai Boat Show. Once getting to know this aquatic masterpiece its easy to see the carefully integrated design and styling cues that have been adapted from its equally-admired, mini-me sister-ship, the V-42.
Its no secret the 57-footer wears a bold million dollar plus price tag which fluctuates according to engine set-up. When housed with a four-pack of Mercury Marine 400R Verados, the 19,000 - 22,500 pounds of hardware soars to 65 mph. Replace those outboards with four Seven Marine 627 powerplants and the increased speed capabilities peak in the mid 70s, impressing not only the boating world, but even MTI principal, Randy Scism. (Remember, maximum speeds depend on the number of people and fuel on board, sea conditions and the engine package.)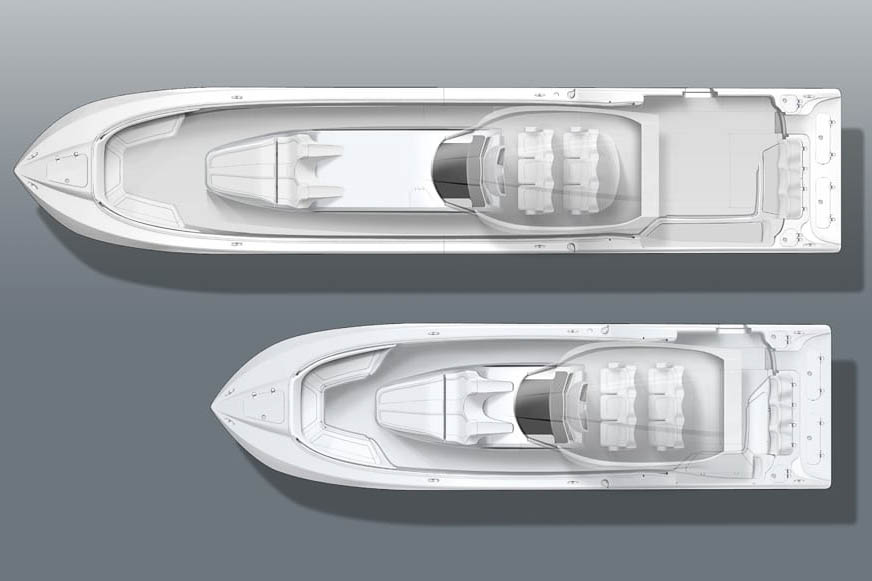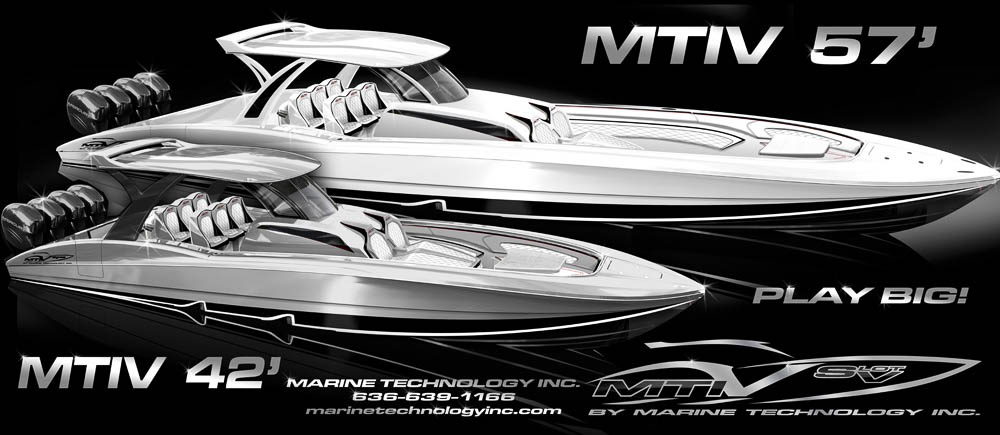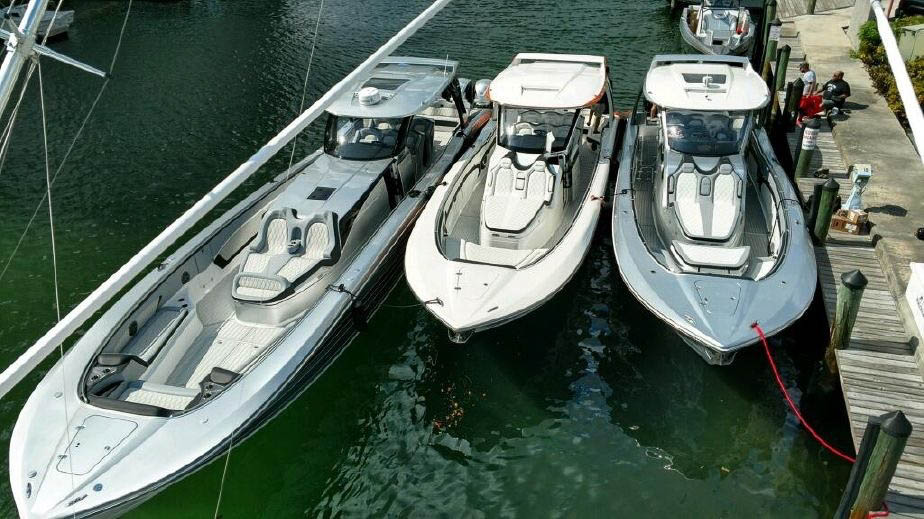 LuxuryCenterConsoles.com had the privilege to explore the XSF fishing model at the 2019 Miami International Boat Show and it was the pilot station that immediately caught my eye. Instrumentation and placement of controls was well thought out with a sort of double dashboard that positions the steering wheel and throttle controls in close proximity to the operator. Three screens take up the backdrop with the largest 24" Garmin in the middle with two smaller 17" monitors on each side.
All paneling is carbon fiber and black leather padding was selected for the top of the dash in order to prevent back reflection. Compartments under the seats are available to place phones, keys and other items and the multilevel footrests make it easy for passengers of all heights to be able to see out of the windshield.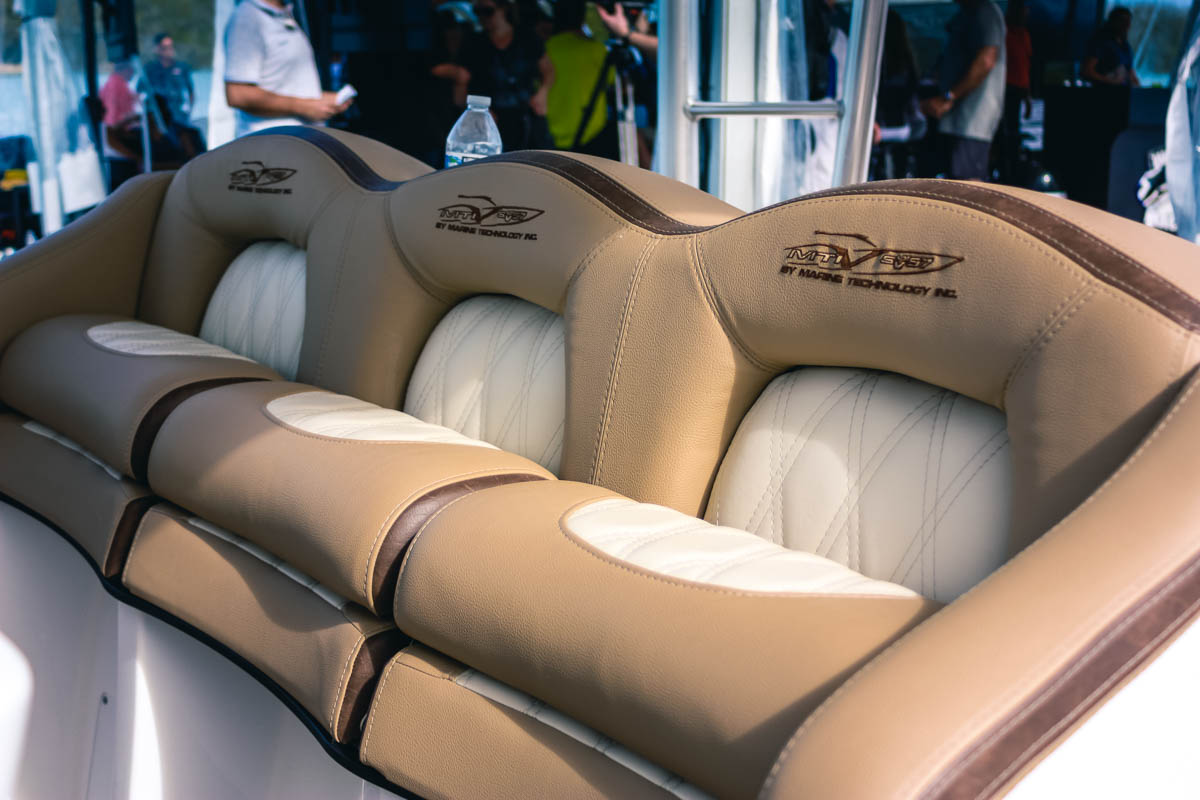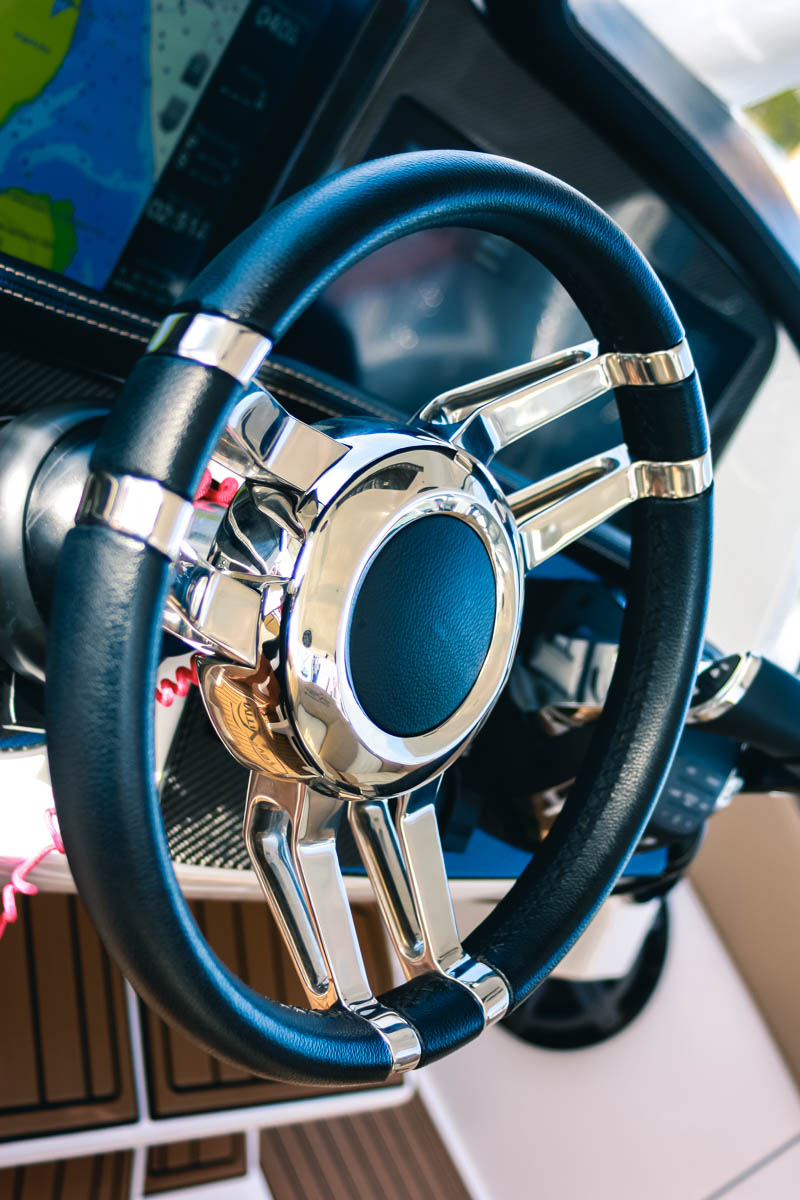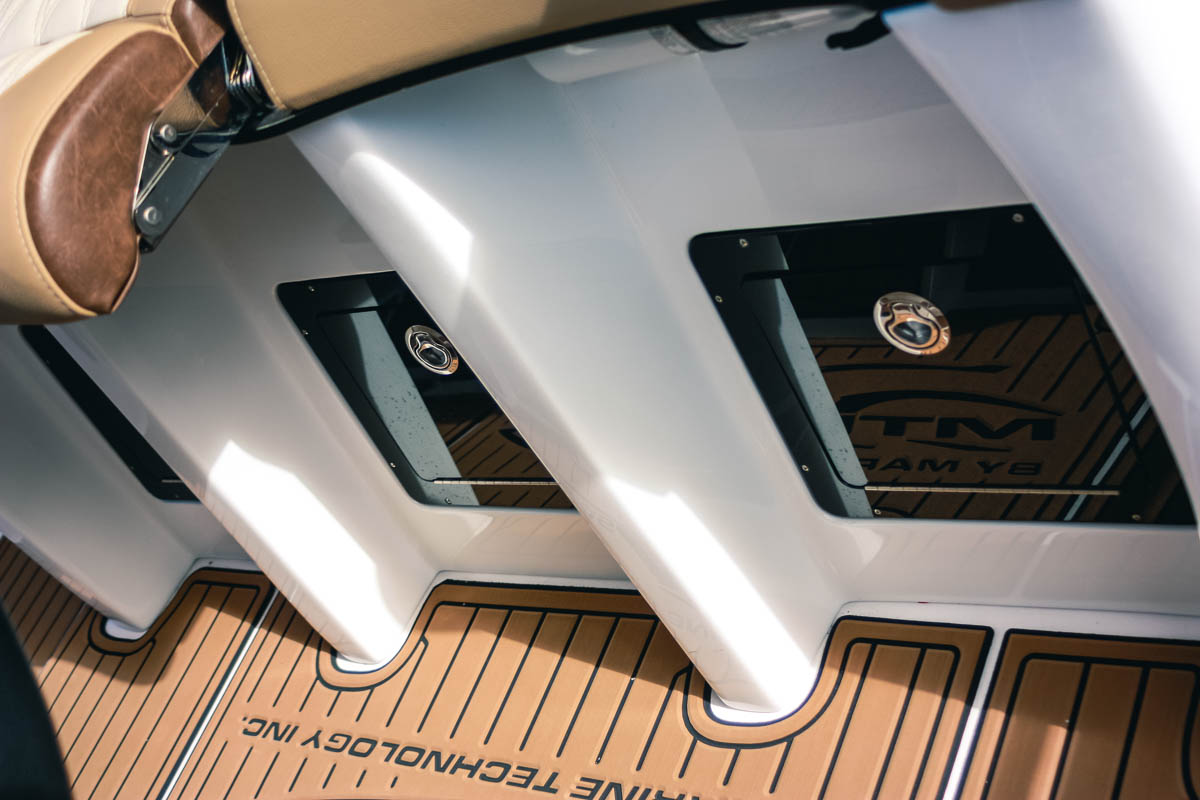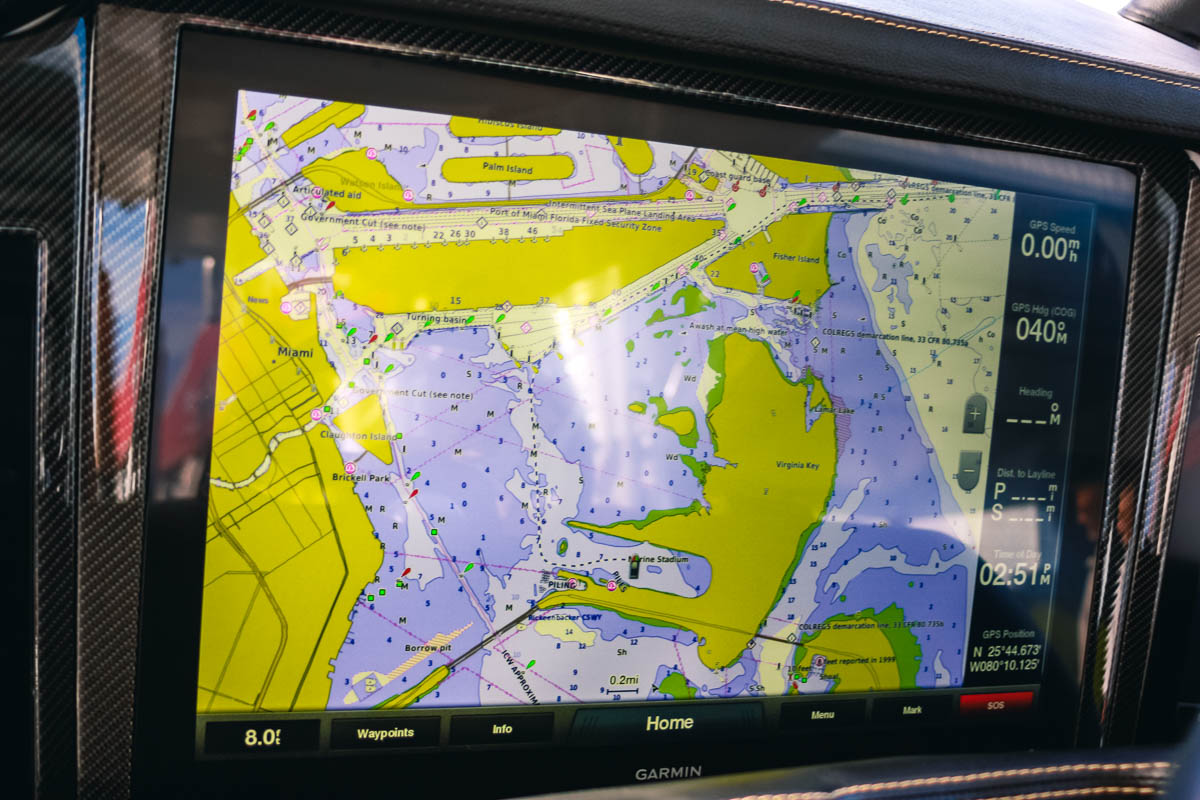 Taking priority center stage on the visibly wide aft are dual 48 gallon livewells, a classy rocket launcher and a rear-facing bench with speakers underneath and a cooler behind it that can be opened either in the middle or on the sides. Recreational fishermen, tournament anglers and the captain will all appreciate the rear wing camera that records all happenings behind the stern of the vessel without being forced to turn back around.
Tilt-out storage compartments have been integrated into the gunwales of the vessel and include two garbage pails and further forward are individual lockers designated for fenders and another set with clips to store the lines. And lets not to overlook one of the most beneficial additions to any center console -- the wind blocking side panel doors which protect all rear riders from the gusts and gales.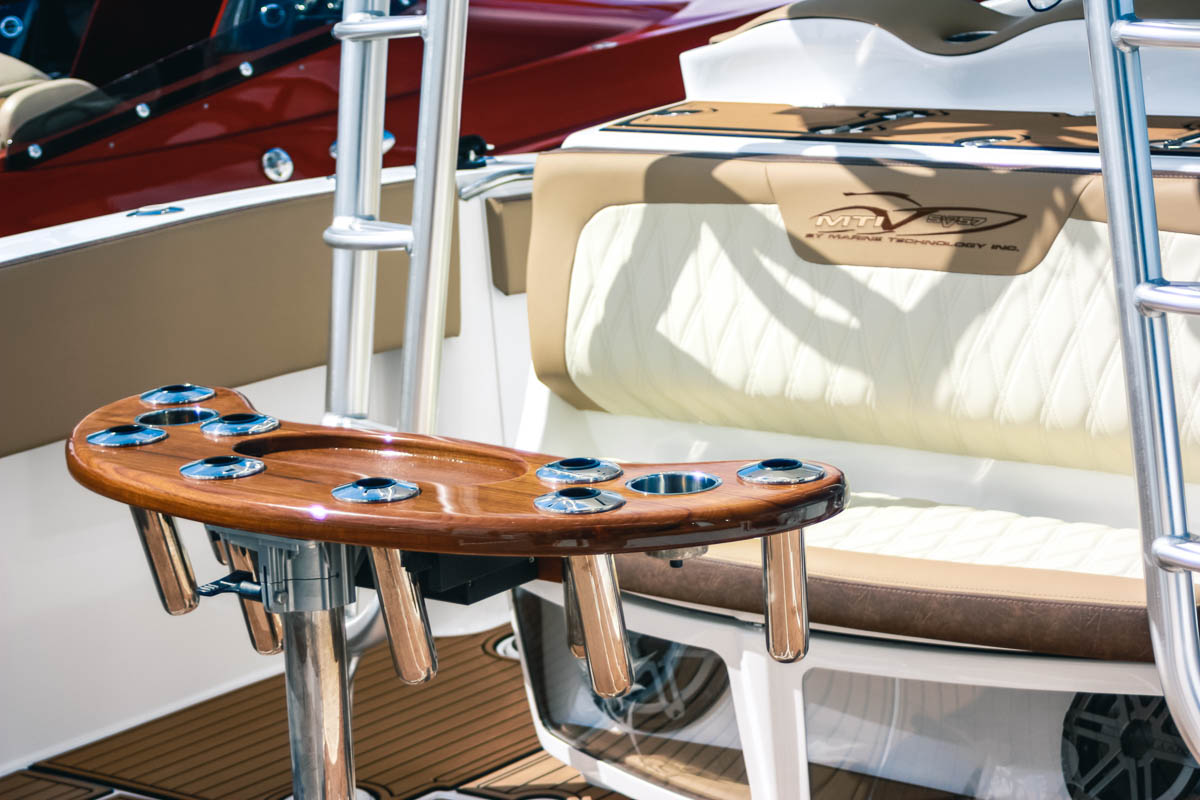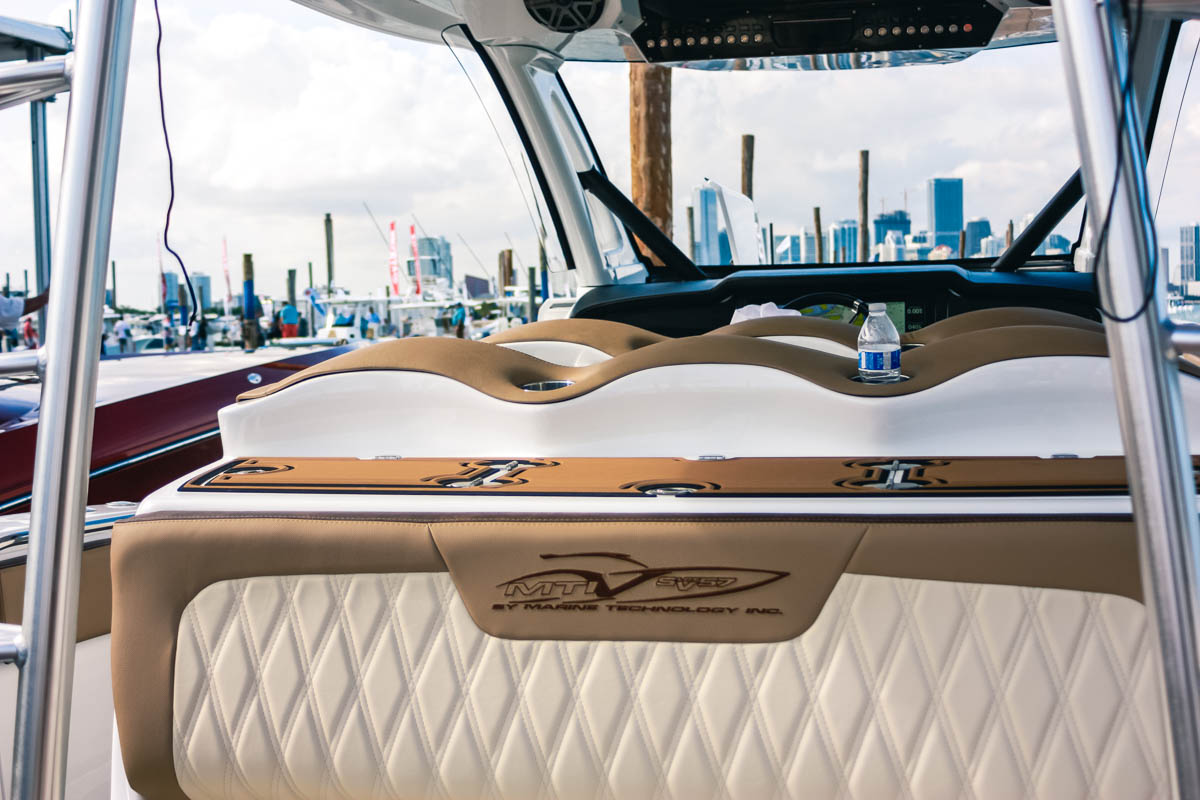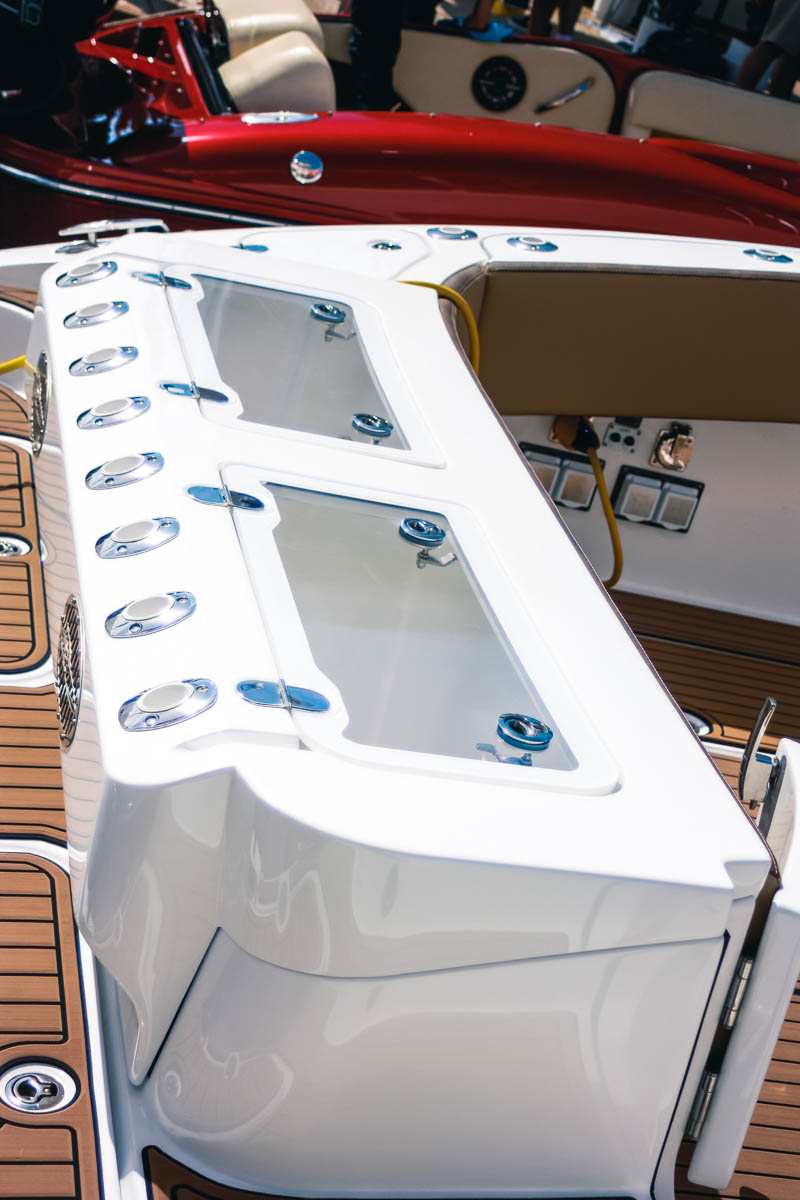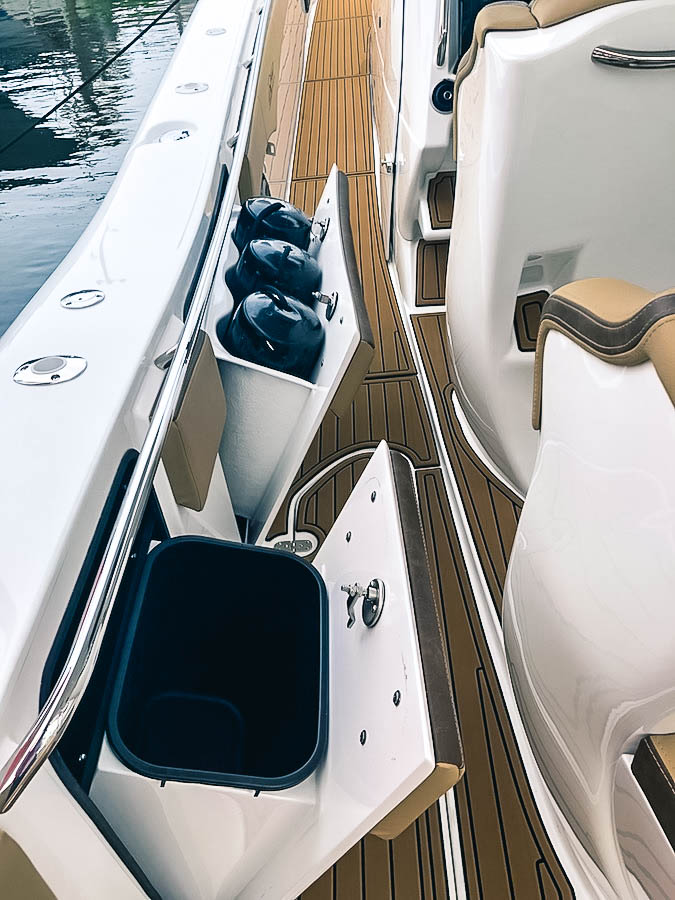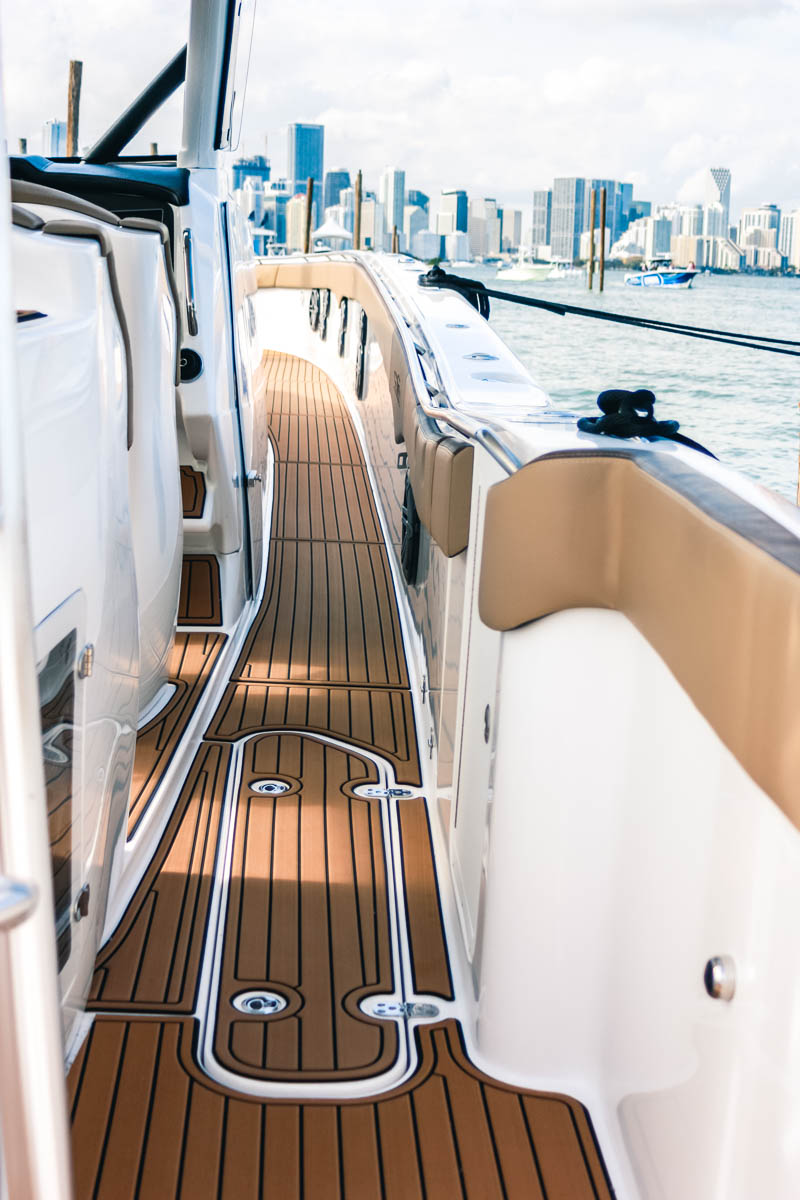 A port side entry door leads to a full cabin that includes a smart TV and wrap around couch with a queen-sized berth directly behind it. Granite counter tops, tile flooring and a pull out drawer refrigerator and freezer all compliment the airbrushed fiberglass decor, chosen instead of real wood for easier cleaning and maintenance. There is also a stand up enclosed head and inside wall panel with access to all controls on the right hand side when walking down the cabin steps.
On the bow, an inviting double-sized sun lounger lifts open on its side and offers a jumbo-sized storage facility for lifejackets, supplies or the beach bags from the ladies on board. Other notable elements include a set of front steps to help when exiting off onto higher docks and front speakers on hydraulics enabling the pods to lift up electronically from the dashboard control panel.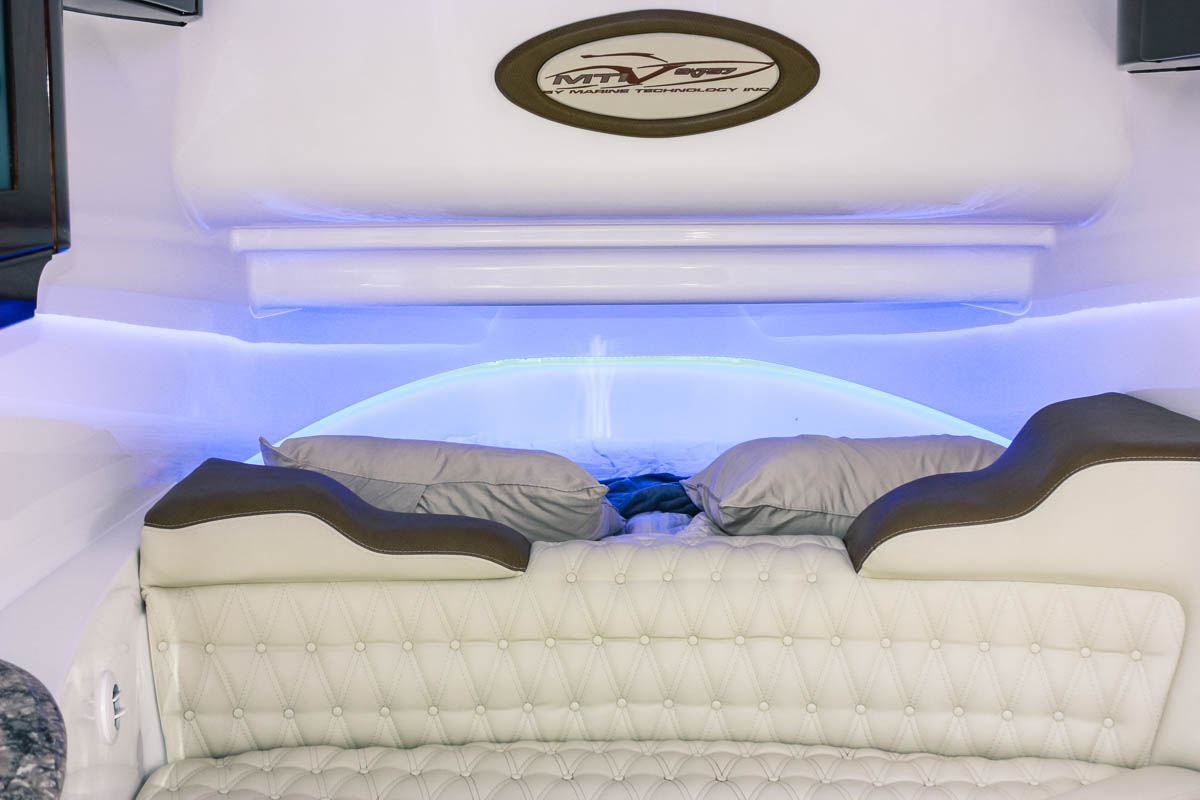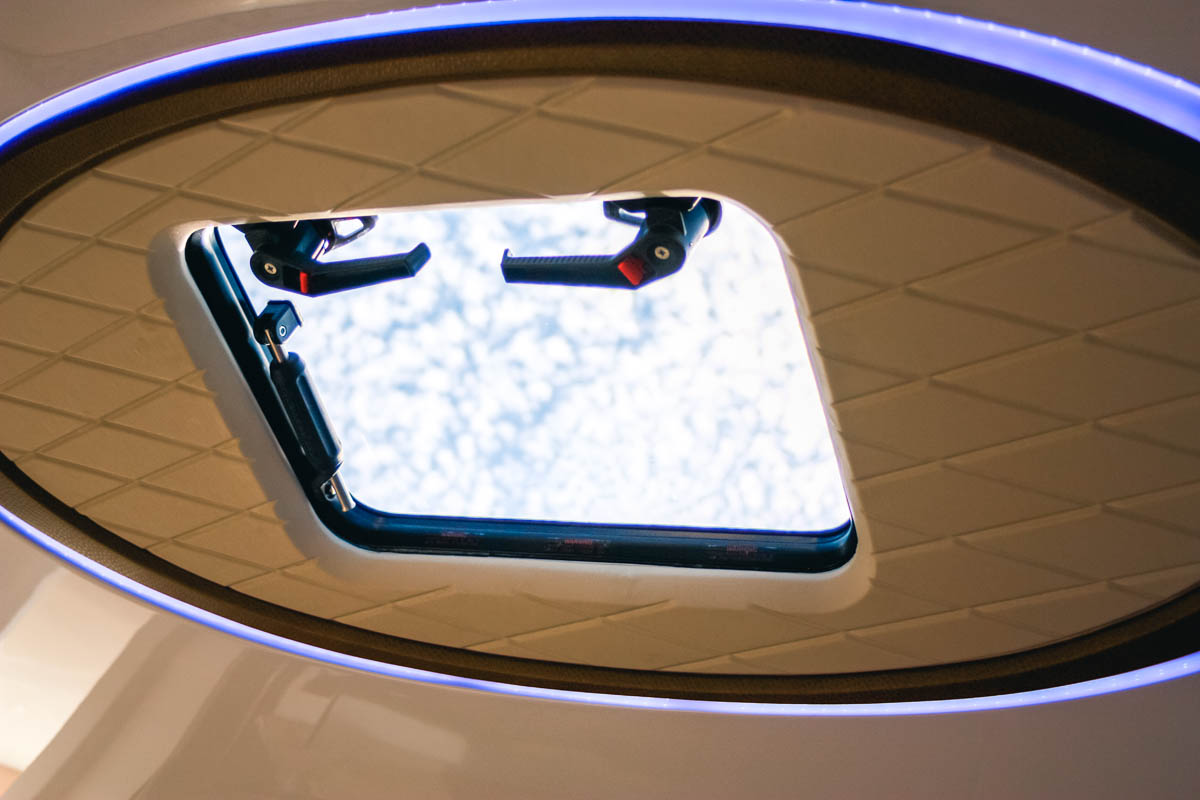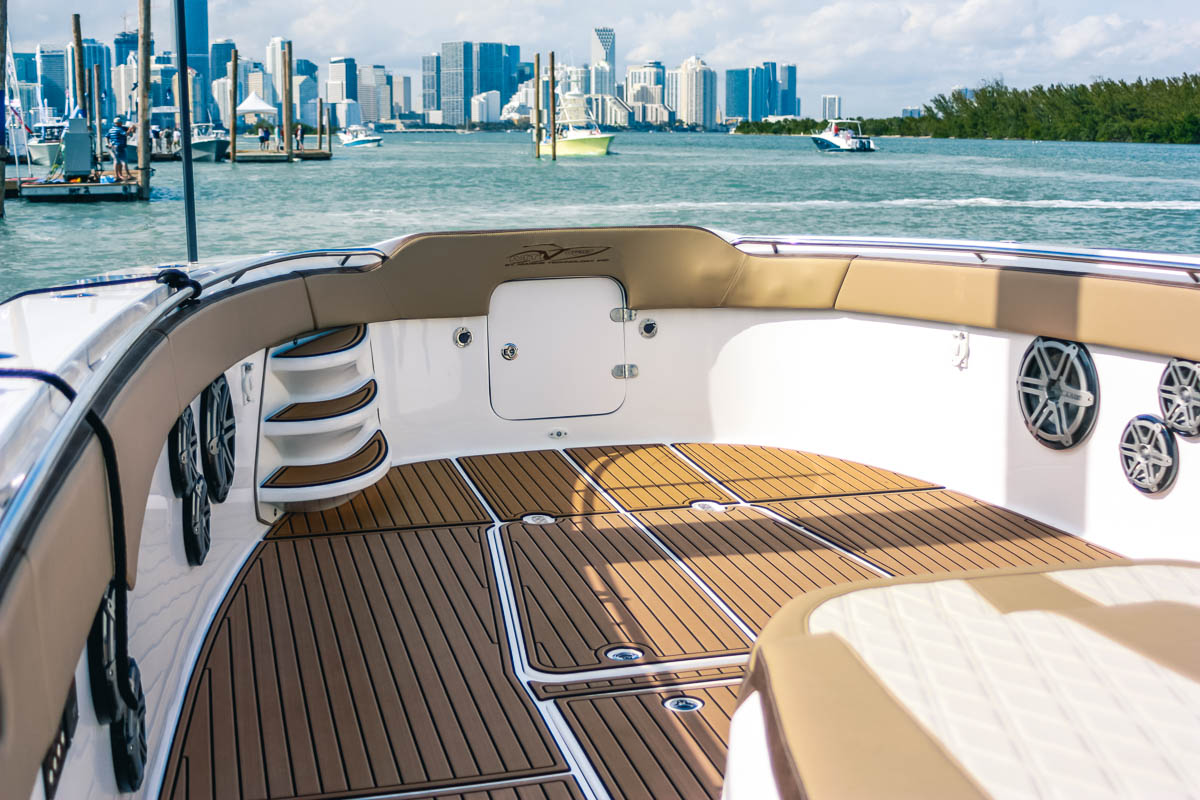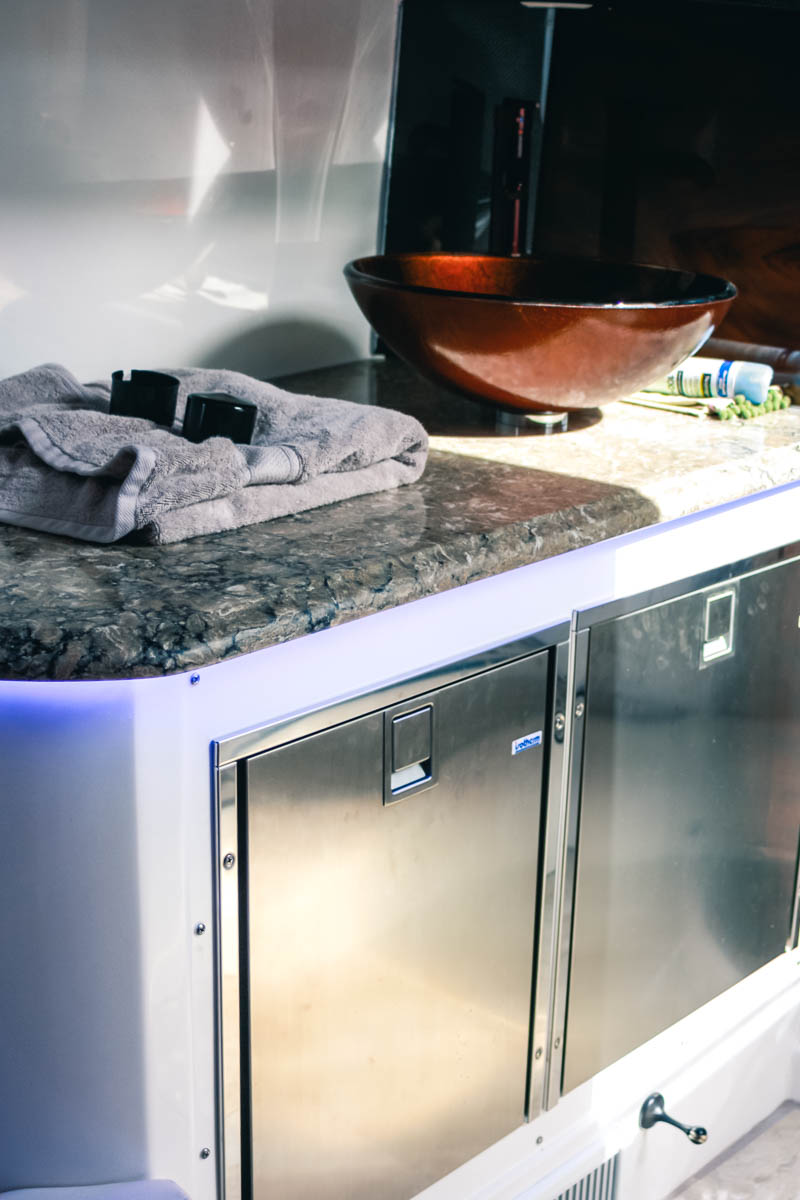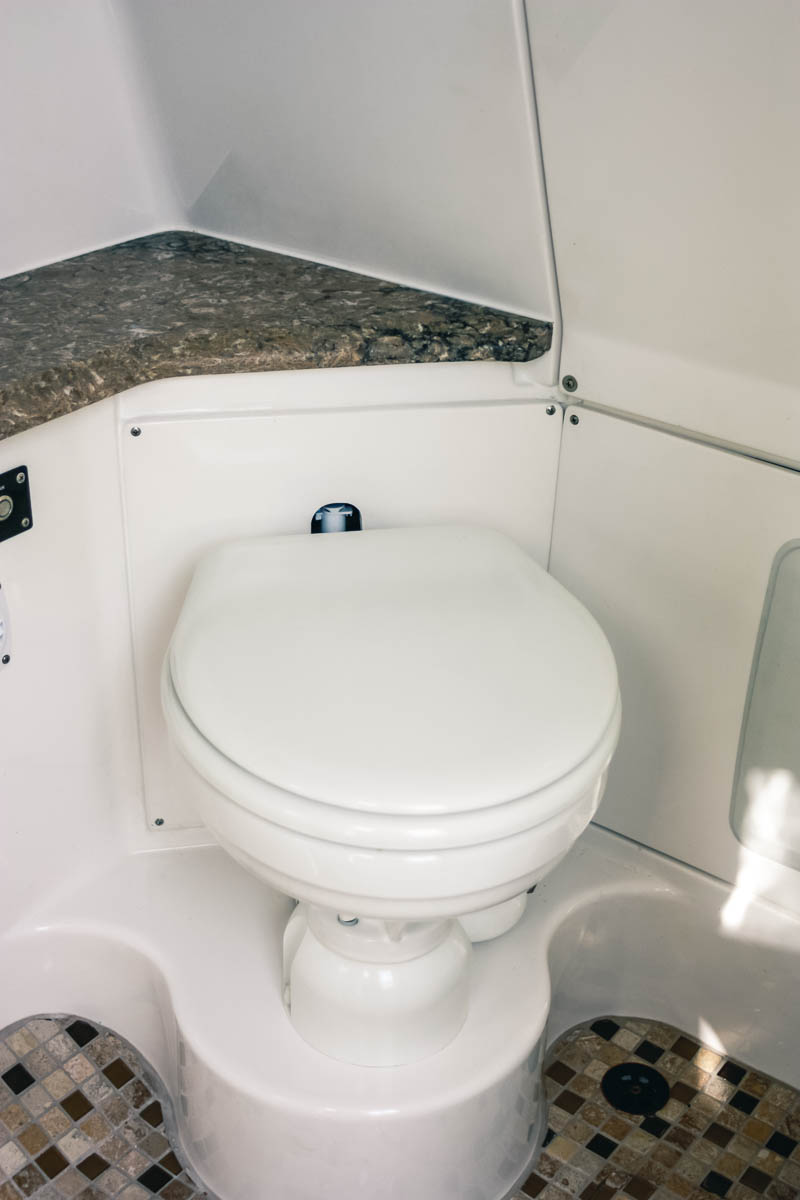 To give you a better idea of the differences in variety, what follows below are a few shots of the non-fishing version. The V-57 model includes a back row of seats or optional L-shaped bench and countertop behind the second set of bolsters. Moving to the front, in place of the steps, additional forward seating with movable backrests delights bow riders.
Console wind deflectors, synthetic teak flooring, skylights above, underwater lighting below and the enormously popular bow shade are additional offerings that can be tailored to your personal preferences.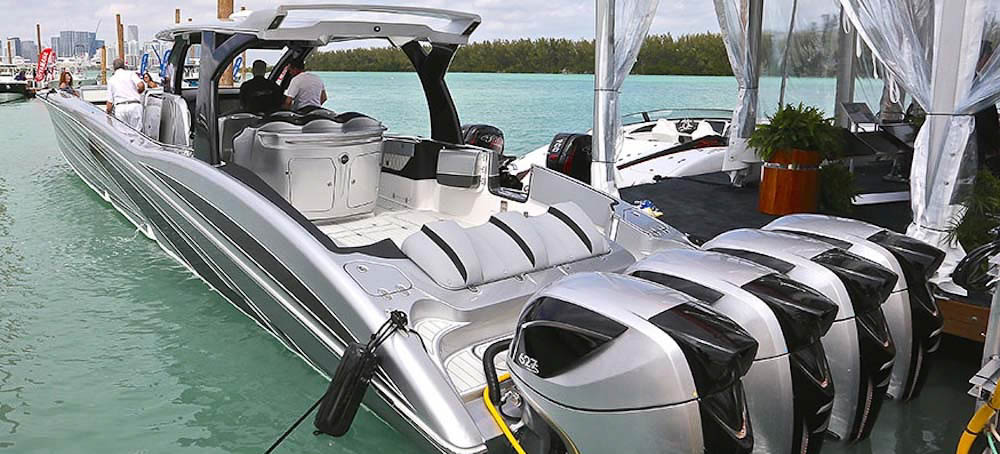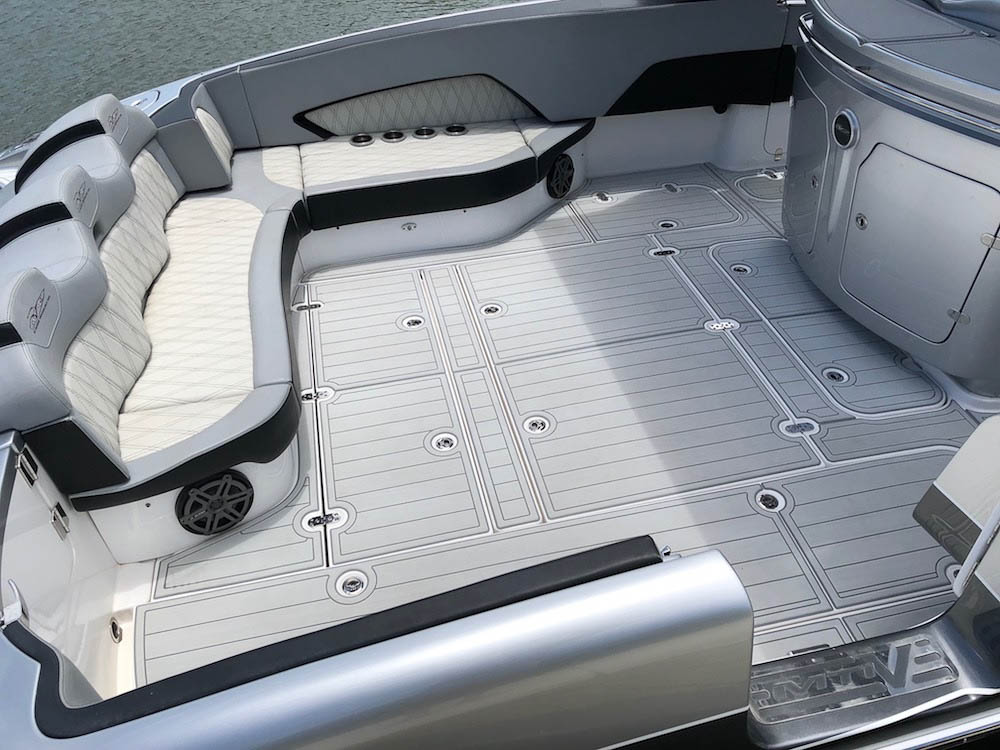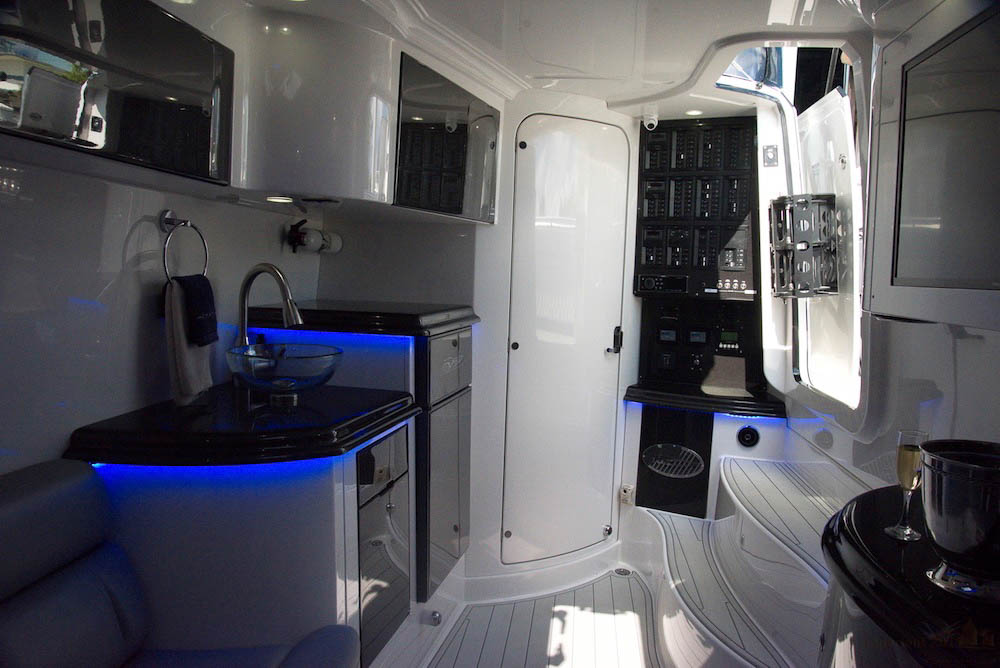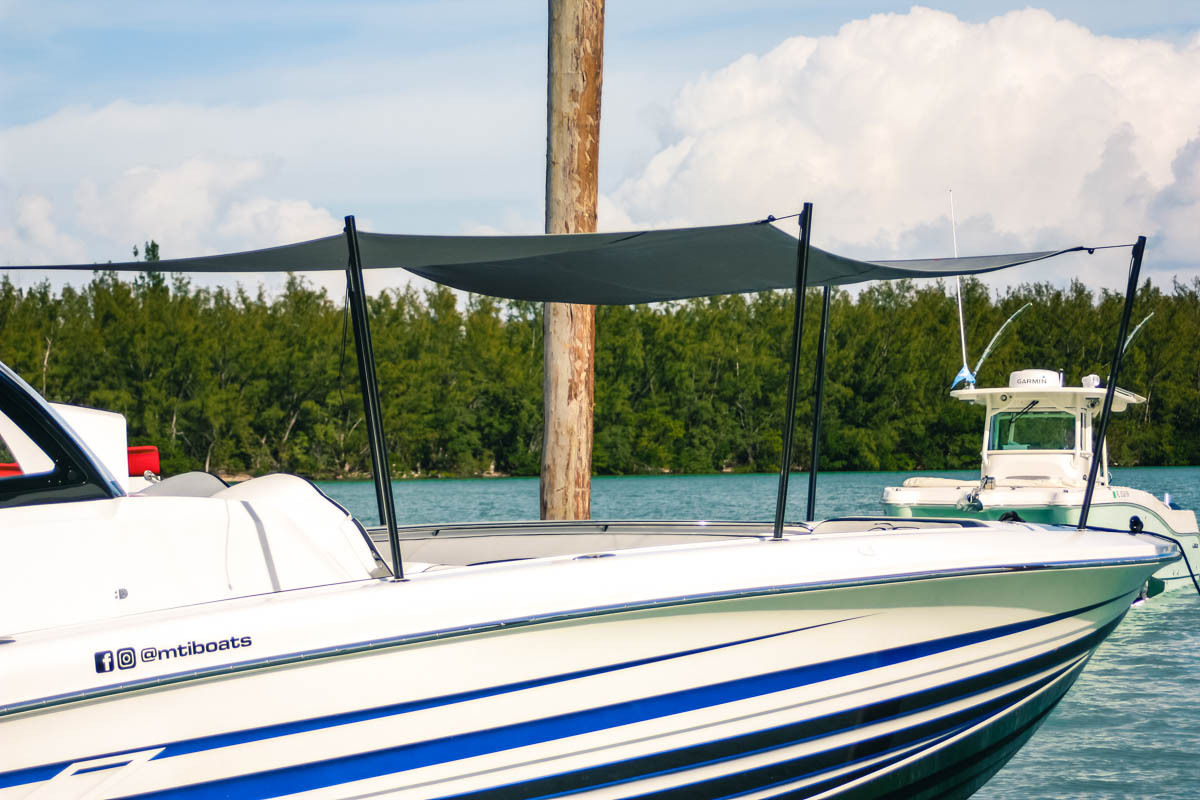 While the list of customizable options is endless when purchasing an MTI V-57, what needs to be highlighted for boaters who are in the market for a luxury center console and are possibly crossing over not from a high-performance powerboat but from a sport fish or motor yacht and may not be aware of is... the foundation that MTI was built upon.
The quality and superiority of the BUILD and the RIDE go hand-in-hand with all MTI V-bottoms and twin-hulls and its due to owner Randy Scism's perspicacious expertise.
Scism has been capturing world championship offshore titles for the last twenty years and he brings a multitude of design, engineering and on-water competitive racing skills to the board from his tenure as general manager and UIM Class 1 throttleman of the Dubai-based Victory team.
Upon returning back home from across the pond, Scism founded MTI in the early 2000s and soon after MTI became an established manufacturer on the racing roosters with teams including: Drambuie on Ice, Budweiser and Reliable Carriers. In more recent times outfits such as: Spirit of Qatar, Miss GEICO, Wake Effects, FB Marine Group, Team CRC, Performance Boat Center and Pro Floors Racing have all been contenders slicing and dicing through the professional waterways seizing victories both in the United States and Internationally. Scism himself has been the long-time-commander of the sticks in CMS Offshore Racing alongside owner and driver Bob Bull.
I have not gone off on a racing tangent, I promise I haven't! This digression ties into a connection with the center consoles because Scism and his qualified set of employees see to it that rigorous guidelines and stringent fabrication techniques are applied in all facets of building the MTIS. The company applies the same technology put forth in its professional offshore line of race boats which makes them as lightweight, yet as strong as can be.
How? Glad you asked...
The structure of the boats resemble a sandwich placing two layers of fiberglass around an epoxy foam core which is post cured and the entire laminate is vacuum bagged to achieve the proper resin to glass ratio. Materials are just as important as construction methods that is why vacuum-infused epoxy resin has been chosen because once hardened it becomes more stable and robust over time. Additionally, all components are fabricated in house.
The patented Slot-V hull is another game changer ultimately controlling how the MTI handles. When a boat is running hard it is in a sense glued to the water, yet MTI has found a solution to detach it from the water. The MTI runs smoother along the surface while effortlessly keeping its course because twin keels similar to the shape of a catamaran were used.
This method of development yields precise and impeccable turning and straight and predictable handling maneuvers. The step design also ventilates the hull thus trapping a boundary layer of air under the hull and between the twin keels.
You could say the V-57 rides on rails and is a center console with deep roots in race boat construction. If you're still not convinced the V-57 is the next boat for your toy stable; how about that annual MTI Owners Fun Run through the Florida Keys with 50 plus like-minded individuals? That alone is reason enough to buy one...