Story by DinaRella / Images by Mercury Racing and Tommy Leigh
Mercedes has revolutionized the world of high-performance engine ingenuity with three letters -- AMG. AUFRECHT (A) and MELCHER (M), the two-man team with a hunch, hope and a gift for "German" engineering began their motorsport mission in a village north of Stuttgart, called GROßASPACH (G). The culmination: AMG came to fruition and the 300 SE would become the first in a chain of enigmatic end results. AMG has since transformed the luxury brand to the status of a myth, and today the Mercedes-AMG headquarters in Affalterbach continues to up the ante, striving to obtain maximum output and torque in all AMG models from coupes to cabrios.
Shifting paths from the speedway to the waterway, Mercury Racing has followed suit on the seas. (And yes this story is about boat engines and not Benzes.) The Wisconsin-based engine innovator holds the same celebrated position powering performance boats as AMG does with autos; and above all, with its latest outboard hero. This time, the moniker appointed to the magic motor continuing to make history as I write this piece, was three numbers in place of letters. SAY HELLO TO THE 450!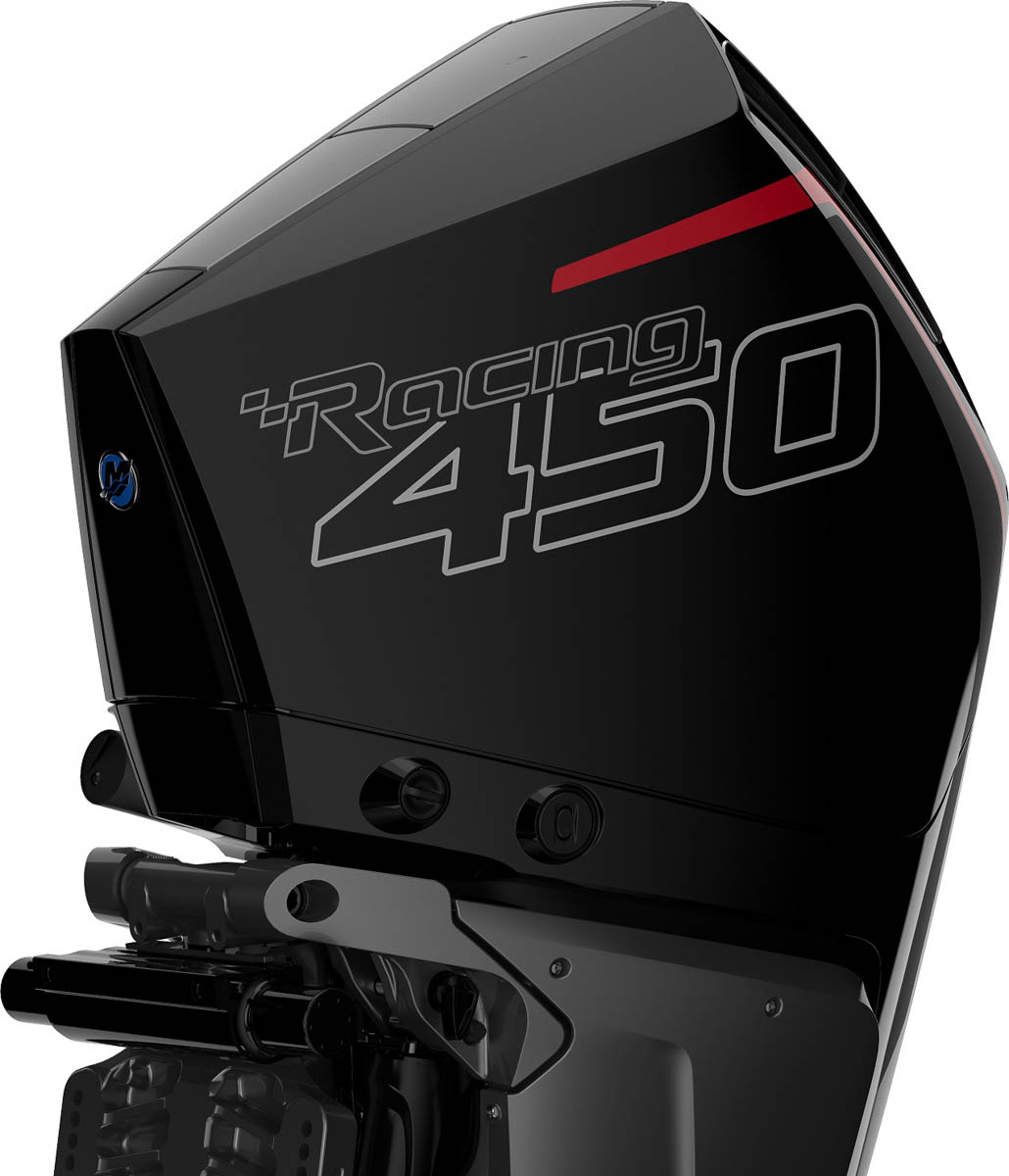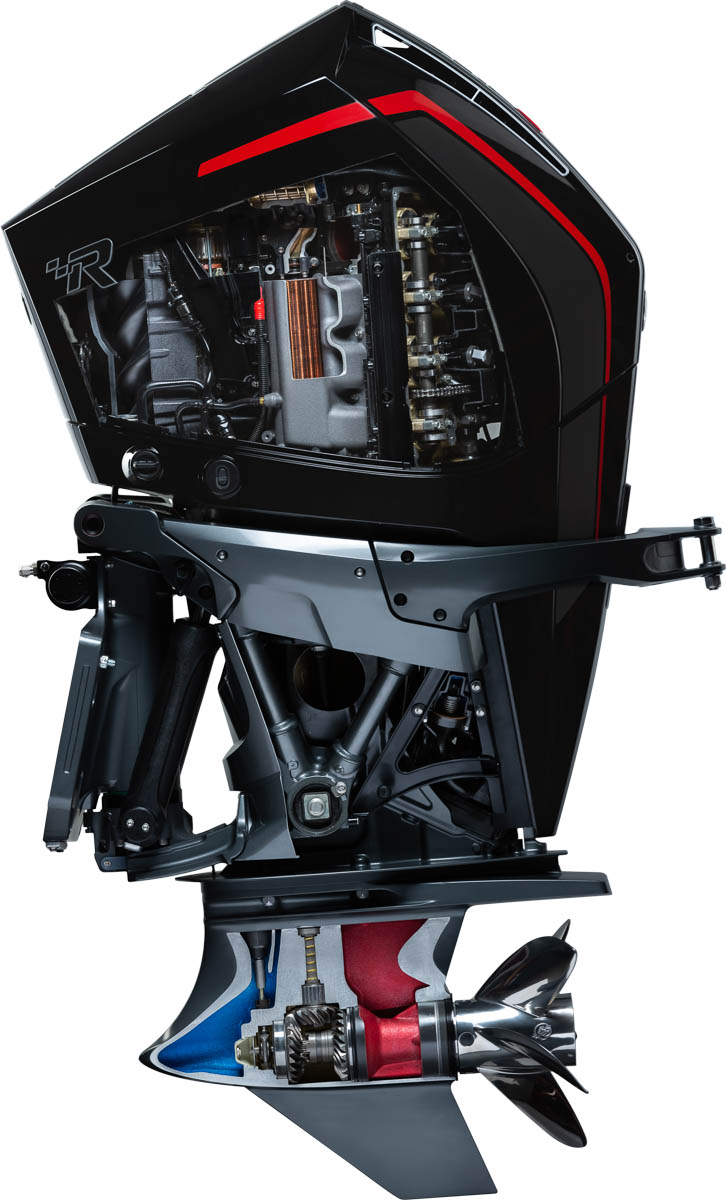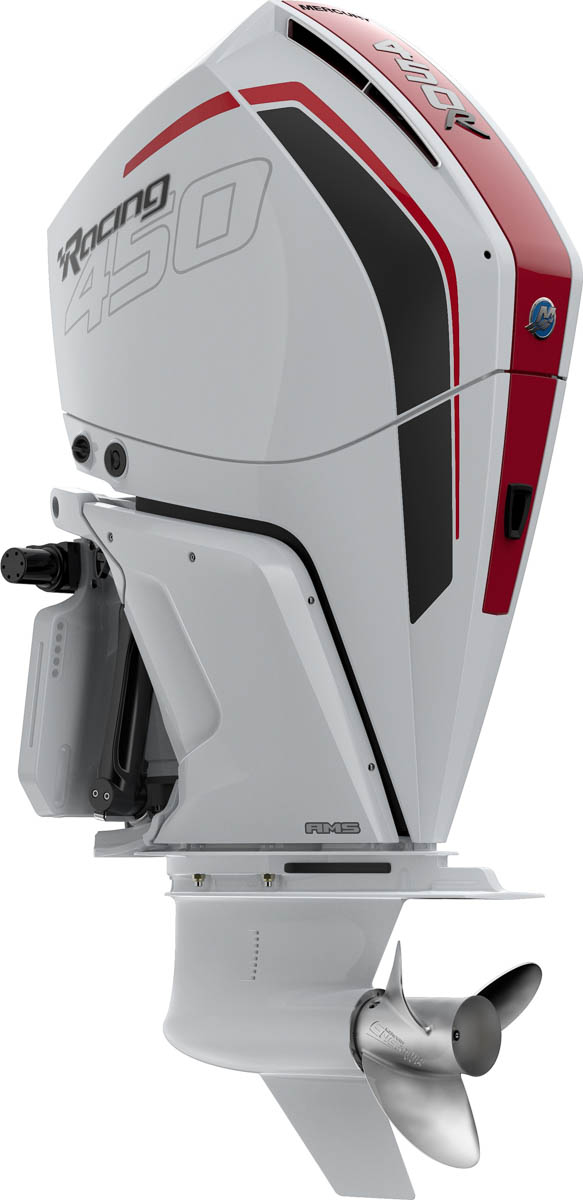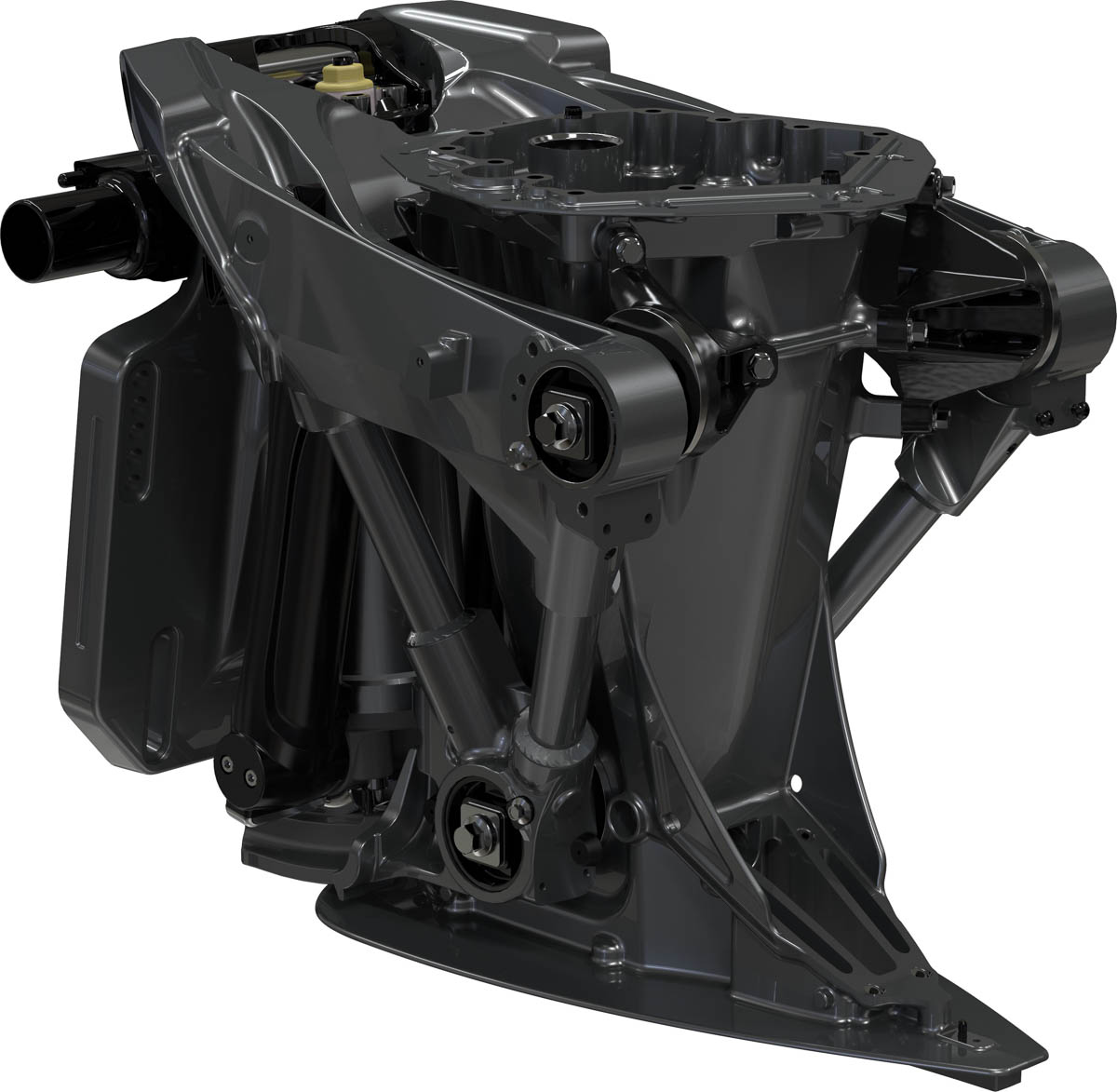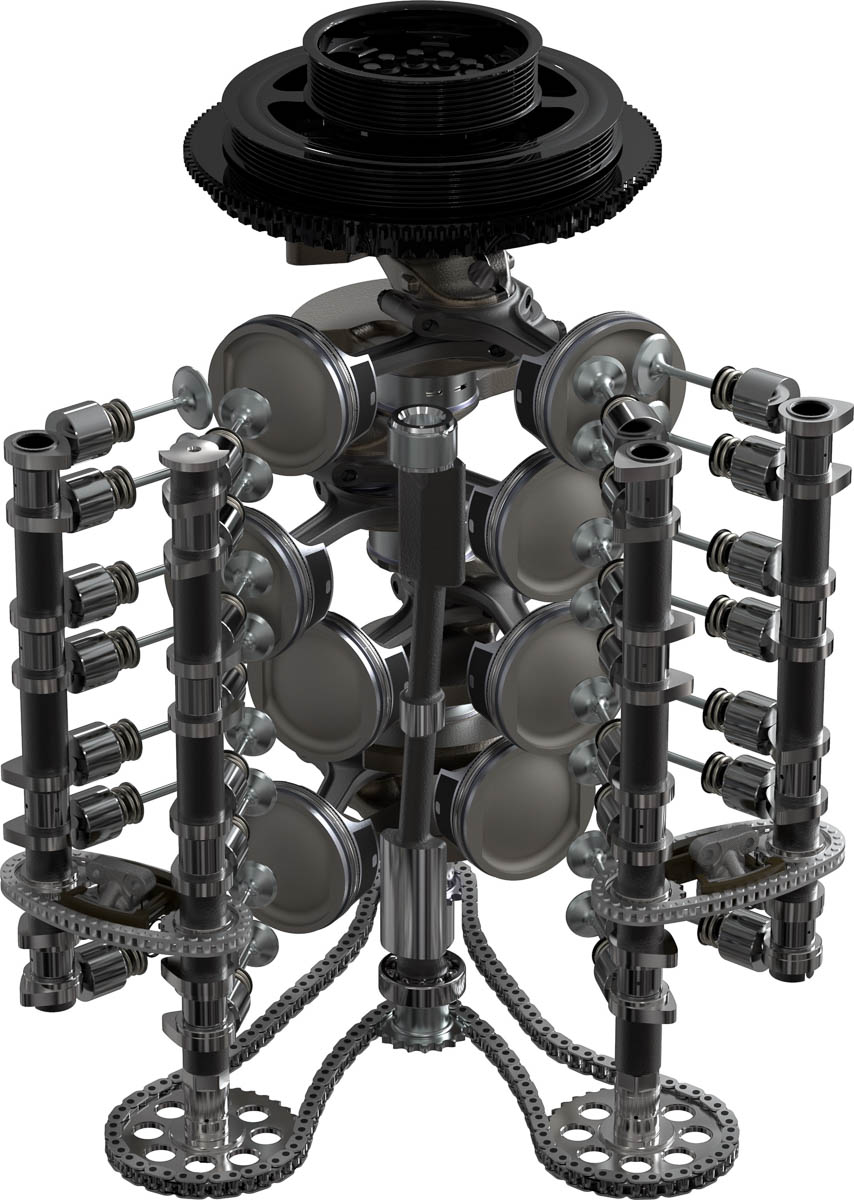 Inducing smiles across the miles and transforming transoms from Nashville to Naples and beyond, the supercharged 4.6-liter four-stroke V8 Mercury Racing 450R with a 1.60:1 gear ratio is the McDaddy of outboards. It supersedes the overwhelmingly sought-out older sibling, the supercharged 2.6-liter inline six-cylinder Verado 400R, which first "came onboard" in 2015 and was priced in the mid-to-upper $30,000 range.
After three years in the making, the 450R was first let loose on  ten marque wave shaping warriors during Mercury's not-so-secret and utterly over-the-top Tennessee media release back in June. The multi-day affair commenced the Monday after Father's Day, making all boater-daddies (and even the non-daddies) delirious with deference and delight.
In an era where all facets of society have shifted to online virtual reality platform launches, the spectacularly coordinated "450R meet-and-greet' proved once again seeing is believing. The ushering in of the grandes dames began during the premiere evening undraping extravaganza, which was preceded the Tuesday test rides when all ten pairings of 450s strutted their stuff hammering around Old Hickory Lake on the Cumberland River.
The hands-on event let the lean mean marine motors speak for themselves. And speak they did -- with torque. The powerful force build into the 450R left jaws dropping and eyes popping, simply blowing the media reps away by their performance specs (not literally.)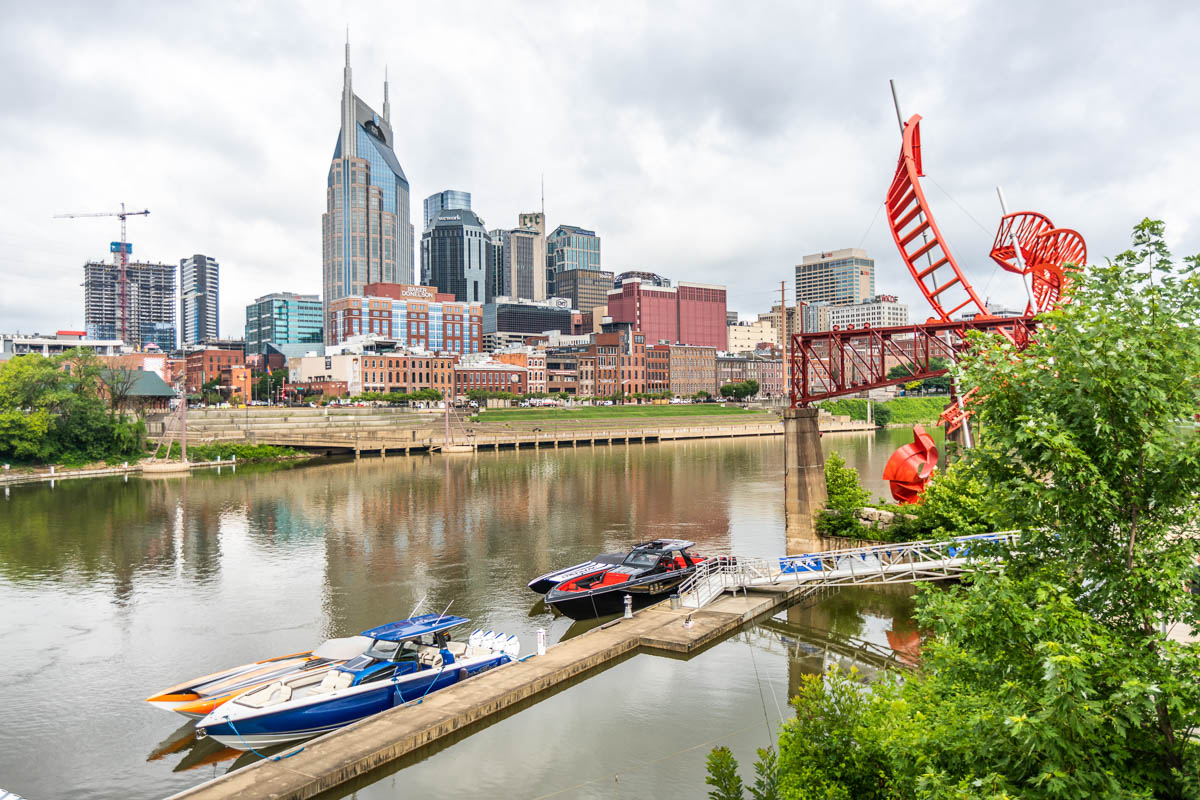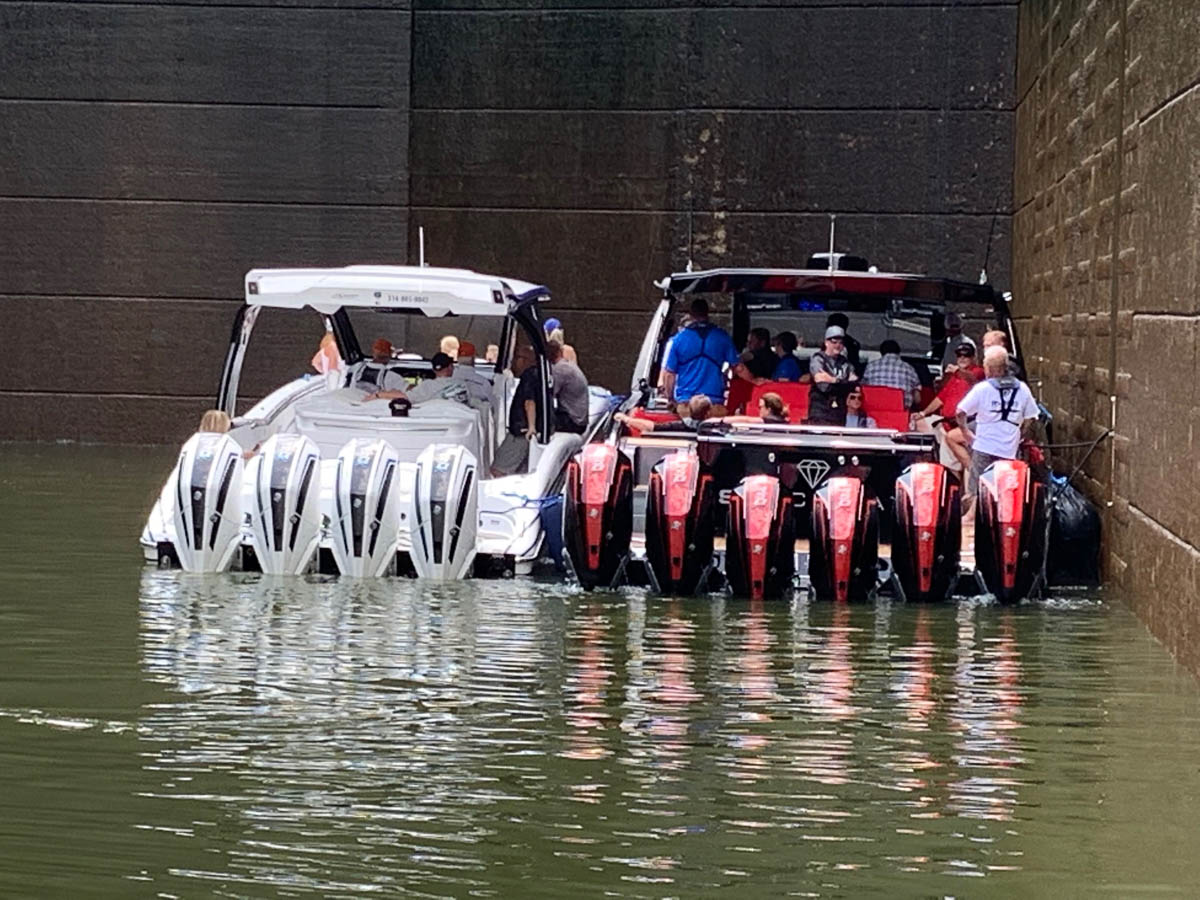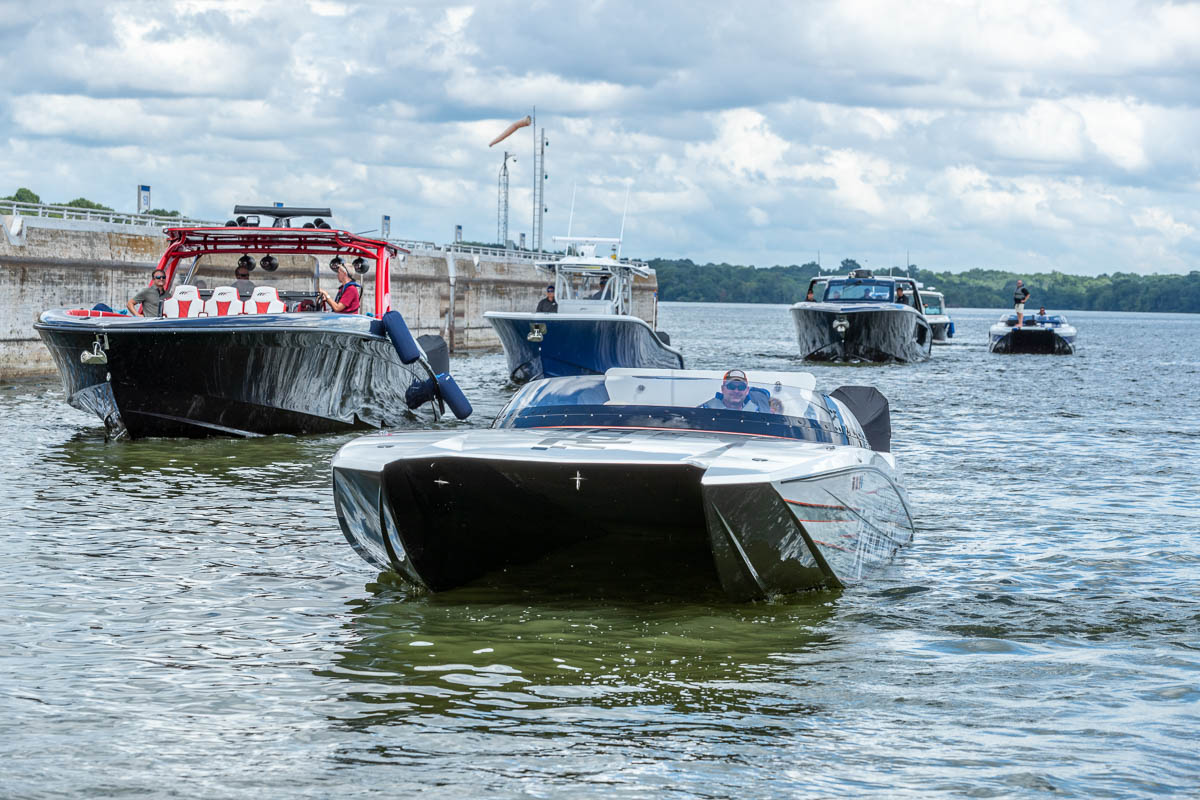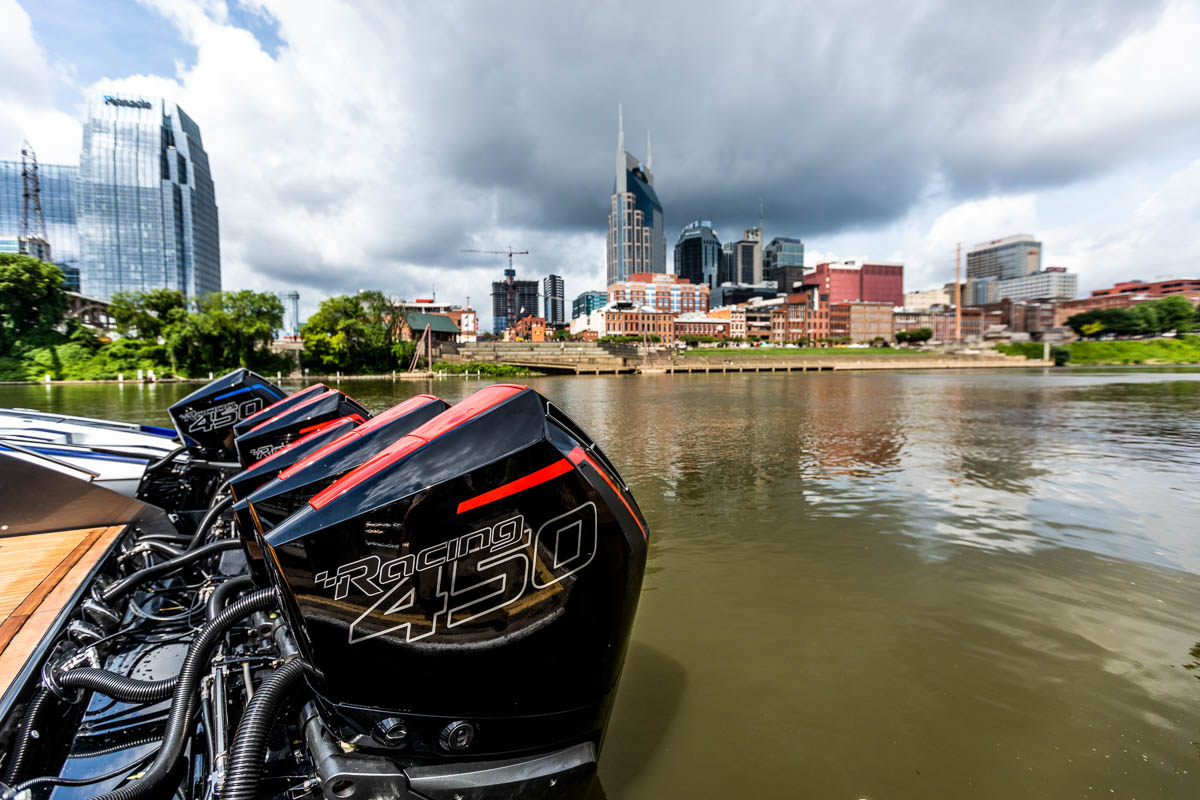 Emitting 40 percent more torque than the 400R-hp outboard, the 450R's convincing and commanding vigor, coupled with its impressive linear running capabilities from "get-up and go" until full-throttle is second to none. "The wide-open throttle (WOT) operating range extends from 5800- 6400 rpm, allowing for a full complement of Mercury Racing's propellers to optimize acceleration, efficiency and top speed," stated Rick Mackie, Mercury Racing's Senior Marketing and Communications Manager.
The number 89 play another significant role with the 450R. The outboards runs on 89-octane fuel allowing for easy on-the-water fill-ups at the gas docks. Weight was another greatly talked-up trait. At 689 pounds (313 Kg), Mercury Racing affirms it is 300 pounds less than its competitors, and nearly the same as the Mercury Racing 400R.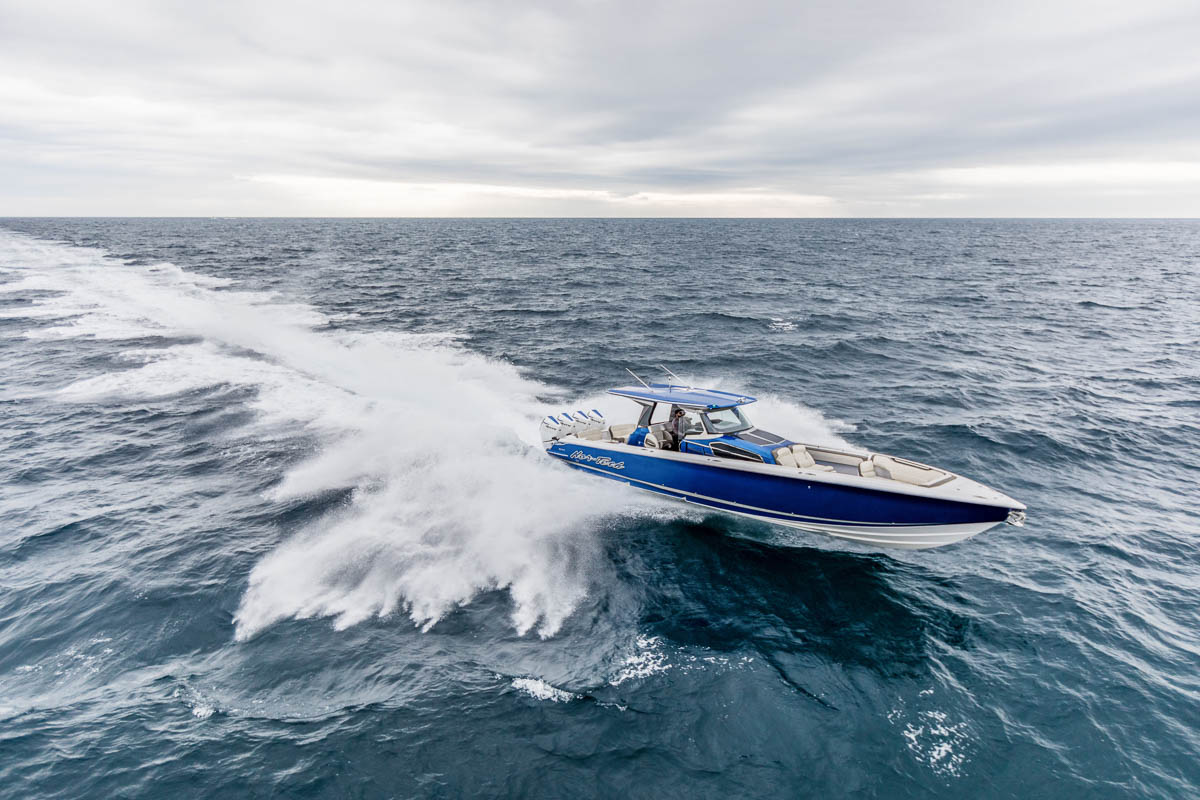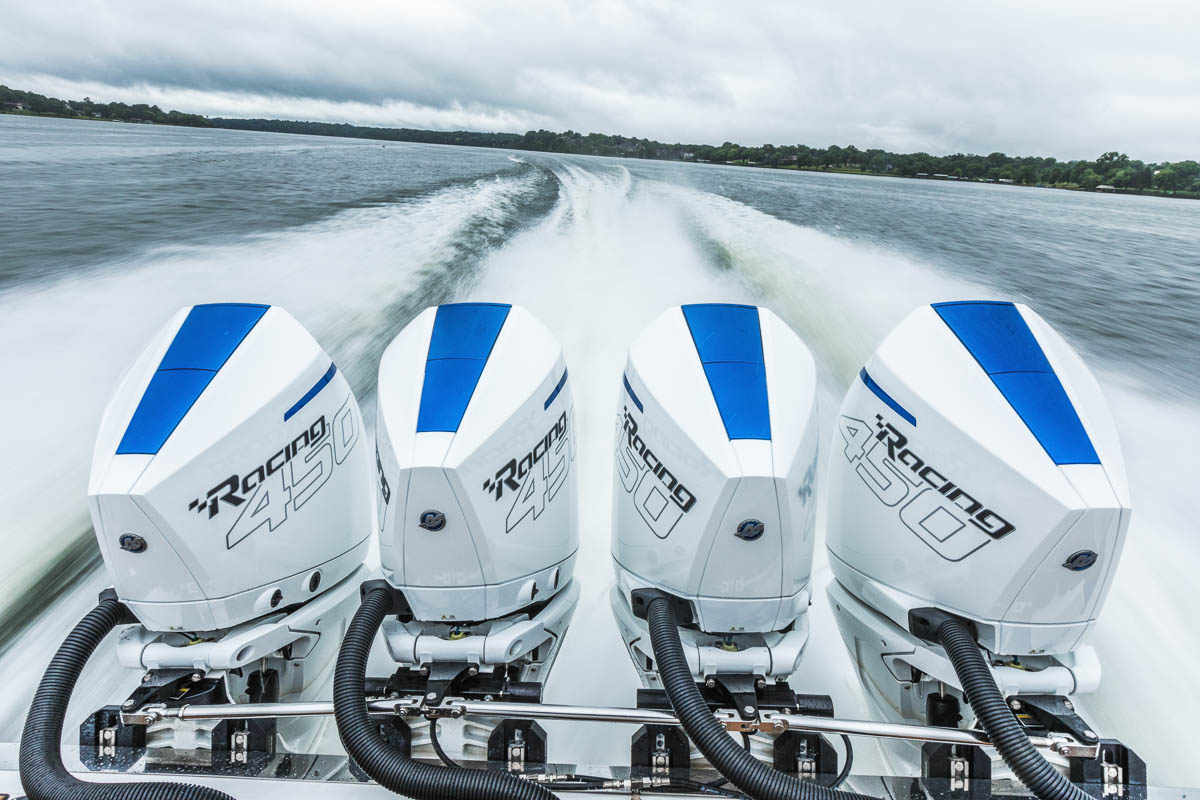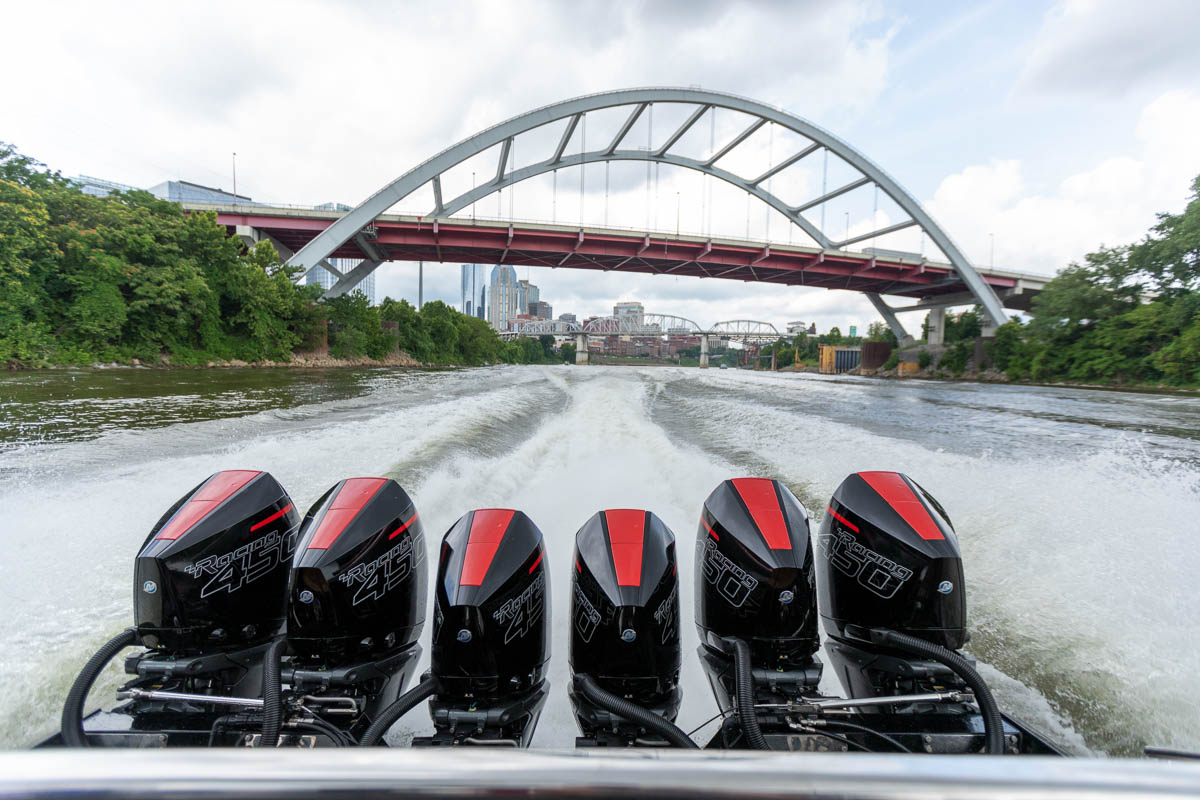 The 450R is designed with heavy-duty, stainless-steel guide plates, stiffened engine mounts that help to improve stability when running at high speeds, and it also has a new 115-amp alternator to power today's demanding marine electronic set-ups and thunderous sound systems. Mercury Marine General Manager, Stuart Halley dubbed it, "raw performance in a premiere package."
Design cues and architecture are inherited from the 300R series. The proprietary 64-degree aluminum block is topped with aluminum cylinder heads with a Mercury Racing Quad Cam Four Valve (QC4) design and double overhead camshafts (DOHC). The valve train features a high-performance intake cam profile and race-spec Inconel exhaust valves. The camshafts are chain-driven and run in an oil bath so there is no timing belt to maintain.
Superior products and optimal performance functions are paramount with the Mercury Racing name and for this reason, the 450R comes with a standard three-year limited factory warranty, and can be upped to an extended five-year including Mercury Product Protection, if so desired. Additionally, with two to six powerhouses mounted to the transom, center console captains will enjoy using the Zero Effort Digital Controls from a single lever in the cockpit, as well as Joystick Piloting with Skyhook and Integrated Auto Piloting.
Cowlings can be ordered in Cold Fusion White and finished with Devil Red Eye cowl accent panels, while Mercury Phantom Black models are paired with Graphite Grey panels. Devil Red Eye, Graphite Grey and Carbon Fiber accent panel kits are also readily available to custom match motors to a desired boat color scheme. Industry -exclusive Top Cowl Service Doors pop open to facilitate checking engine oil without the need to remove the actual cowl, as well as an integrated latch and handle for carrying the cowl helps when they must be removed for service.
Thrills and thrift rarely operate together in the same sentence. The price of these bad boys fluctuates between $54,000 to $64,000 based on features including the SportMaster surfacing gearcase or fully submerged 5.44 HD gearcase and rigging specifications.  And for those not ready to make the big jump just yet, not to worry, naturally aspirated 250R and 300R V-8 outboards and supercharged inline six-cylinder Verado 400R are still being produced at this time.