Story and photos by DinaRella
Bah-boom… the South Florida boat show scene is ba ba ba back. And the proof was in the nautical fineness that filled every inch of the Fort Lauderdale International Boat Show (FLIBS), manifesting itself in examples such as – the Fountain 38 SC recently made famous for sledgehammering through the seas "sealing the century deal" at 103 mph; the chic million-dollar-plus 2022 model 460 Flyer from the mastermind Norwegians at Nor-Tech; and that king-size boat show comeback from Cigarette Racing Team which did not go unseen or unheard, turning up the volume bringing the powerboat party to the pier.
But this 62nd edition of the world's largest in-water show stretching 90 acres and three million square feet was booming with something more – buyers outnumbered the admirers. No matter the mandatory mad money to be forked over, the predominant two words on signs and heard through the grapevine were: JUST SOLD.
More than a few boatbuilders boasted, "It was our best show ever!" The buying frenzy is not new news nonetheless, we've been reporting on it since last autumn. The downside to the disappearing inventory however, is meeting demand due to global supply chain impediments magnified by the destructive America-last agenda of the current lunatics in power; for this reason, deliveries are being pushed into 2023 and beyond.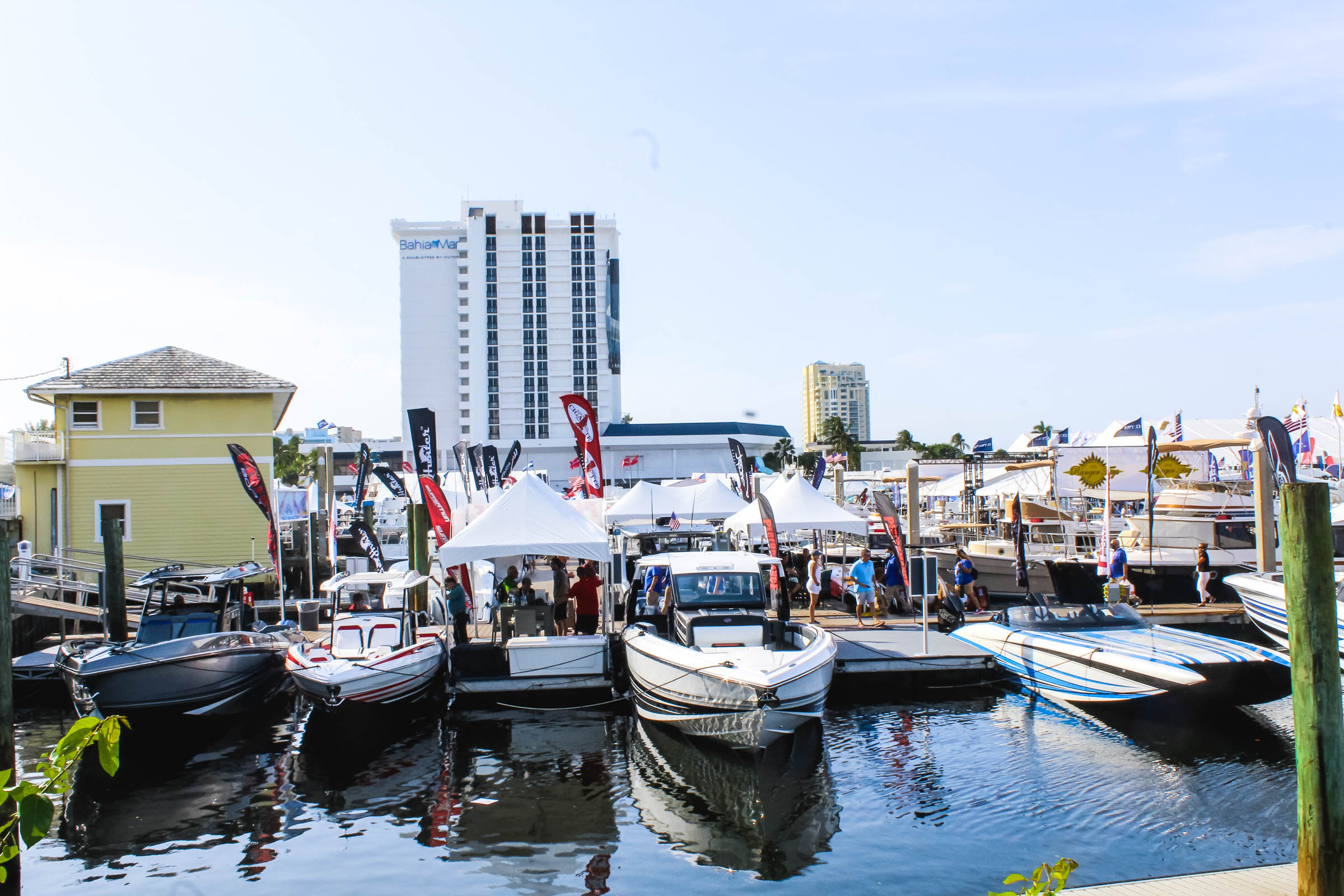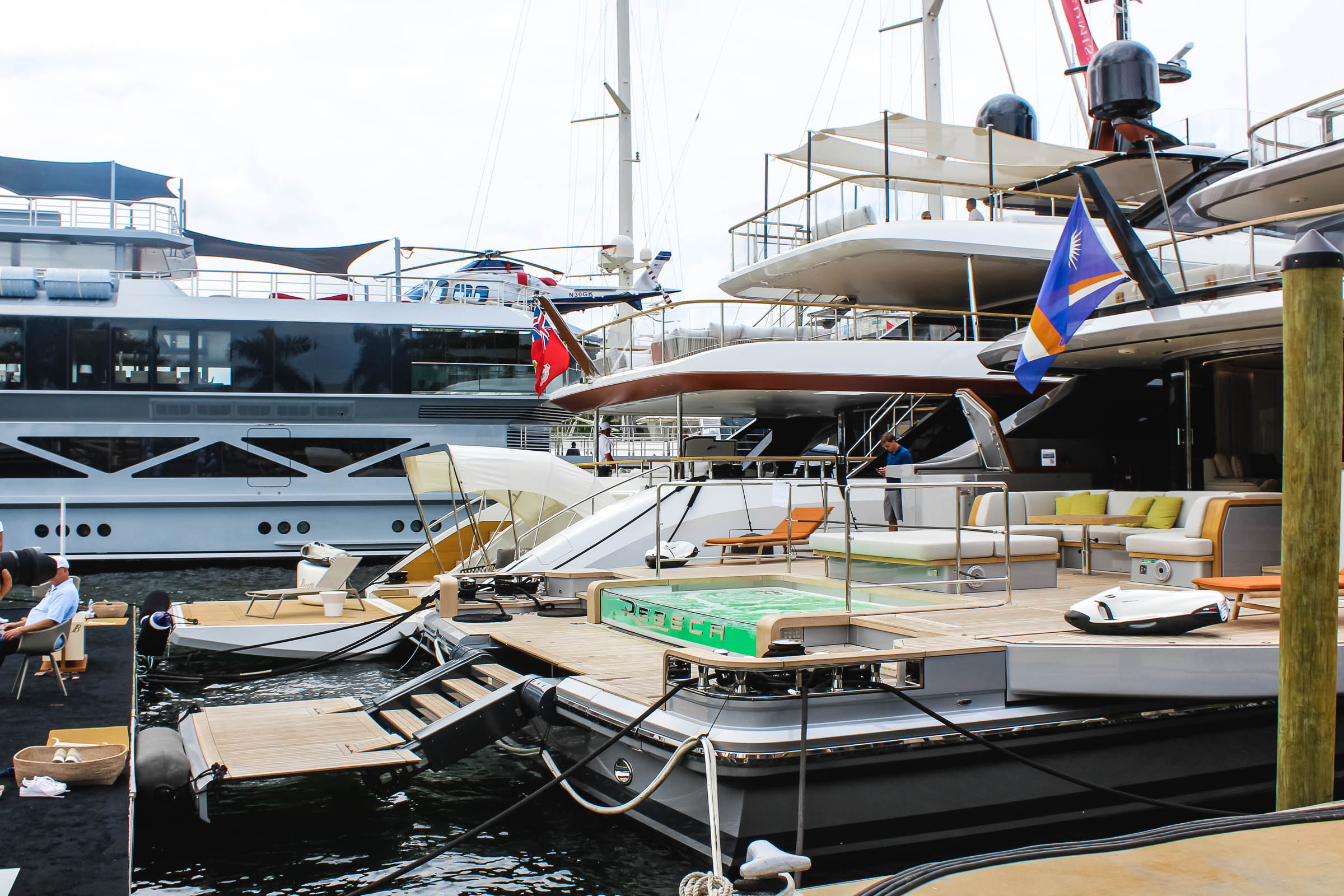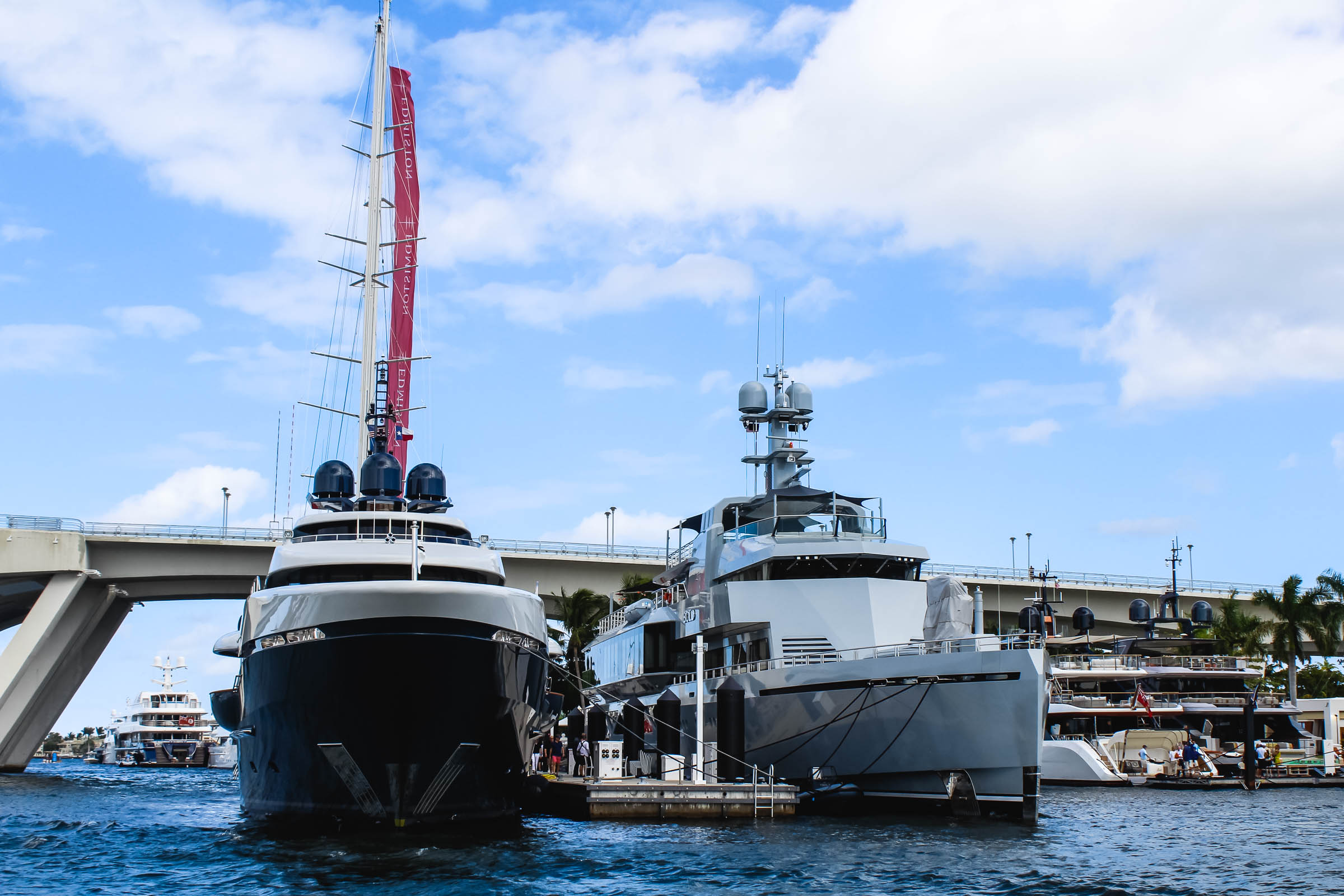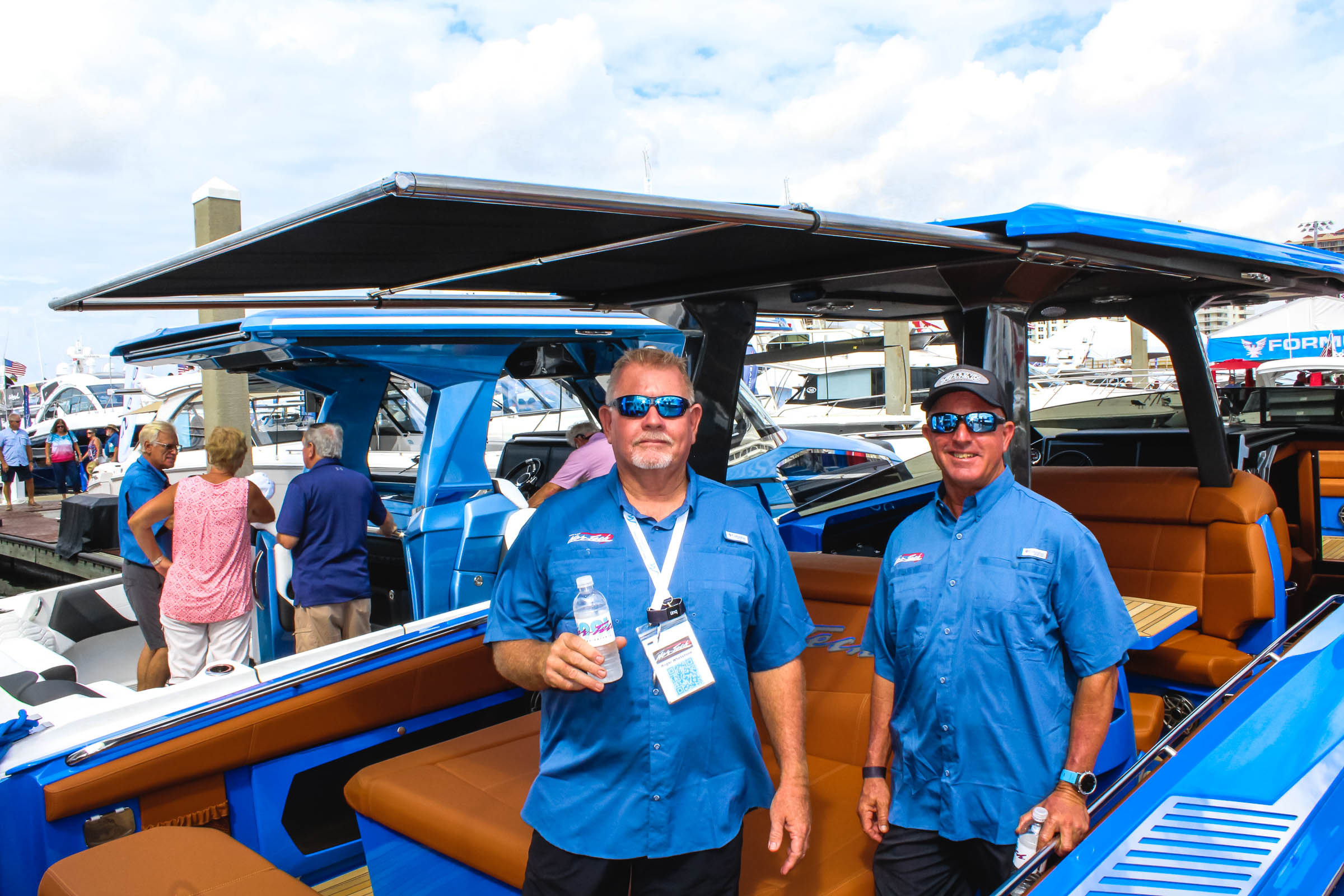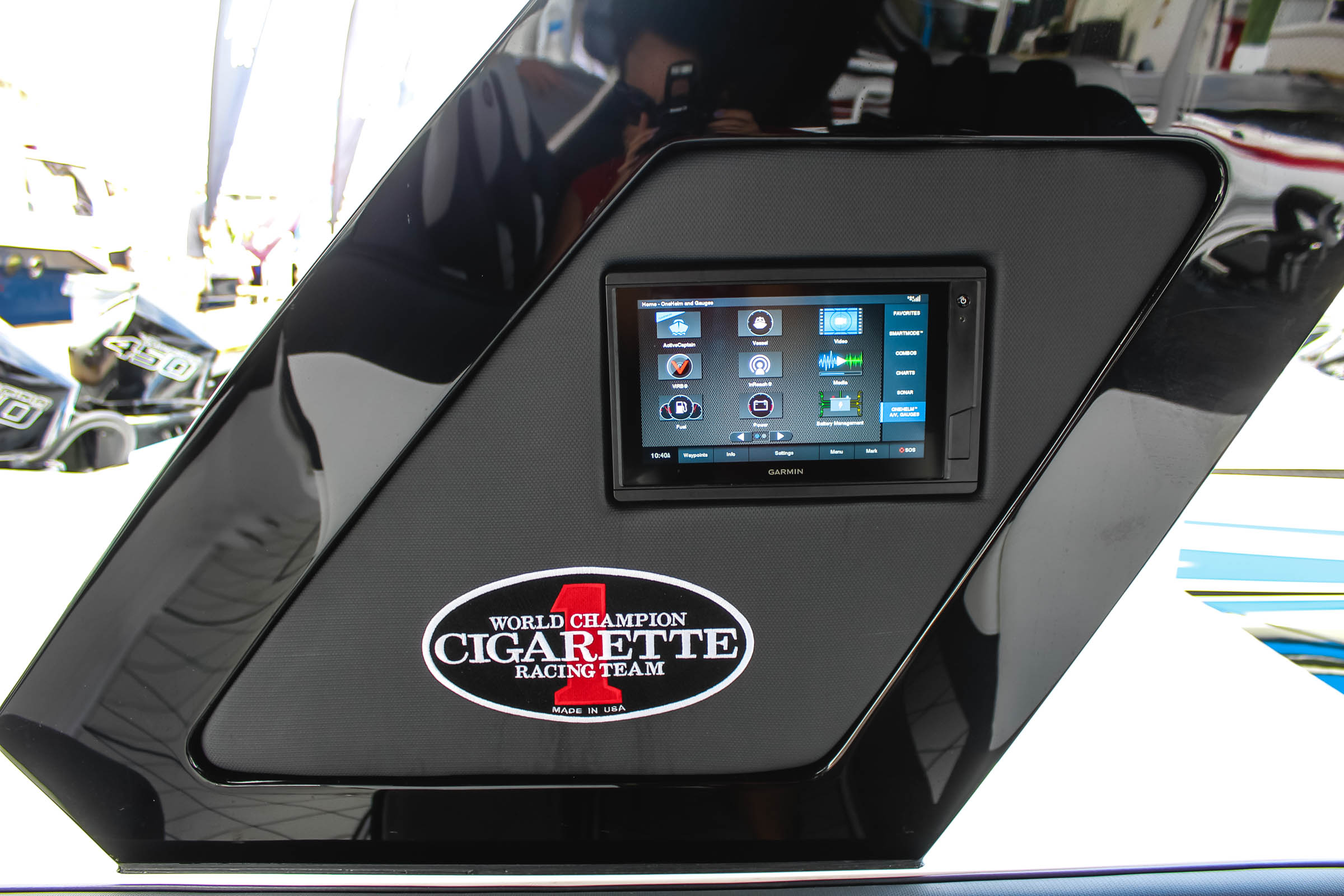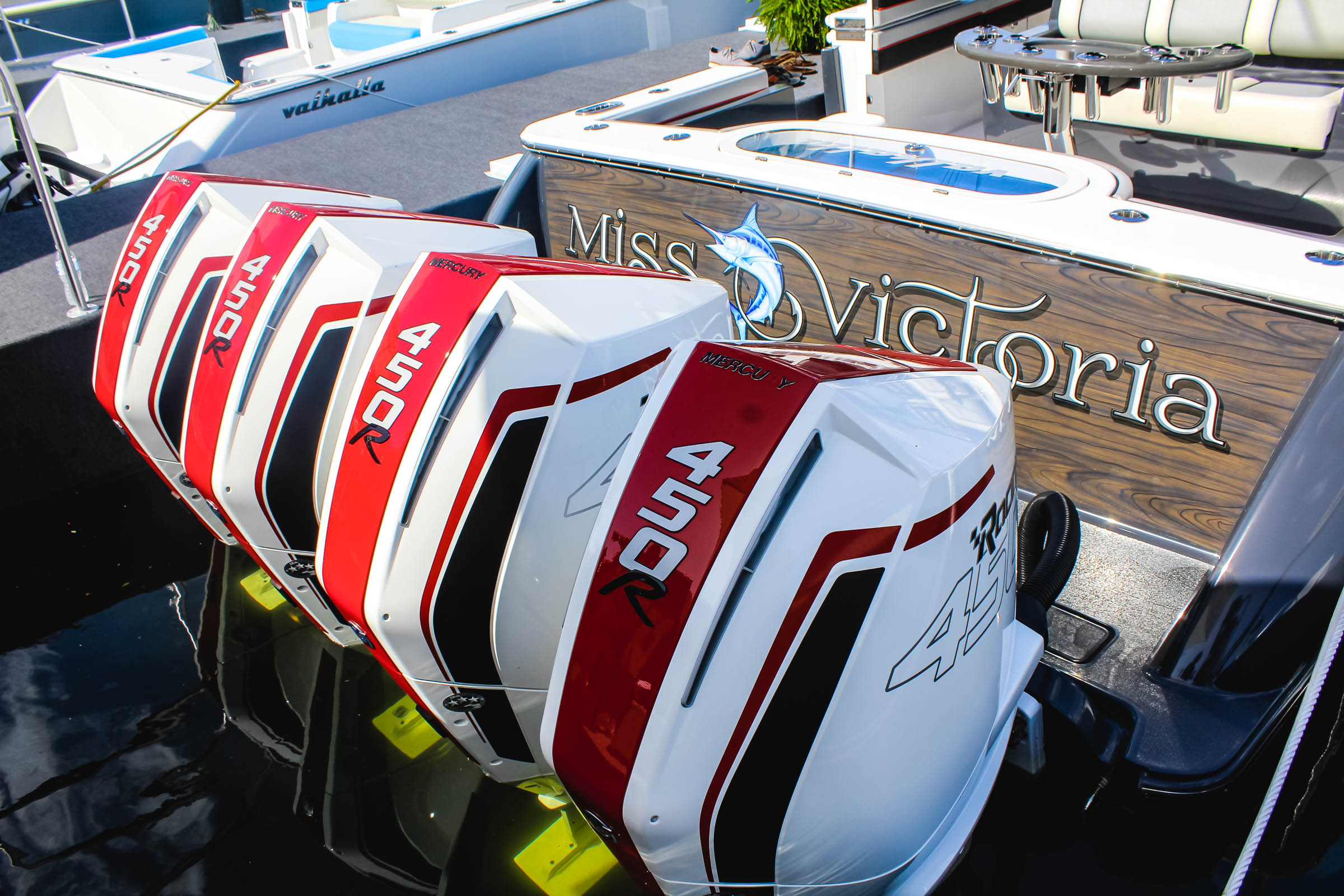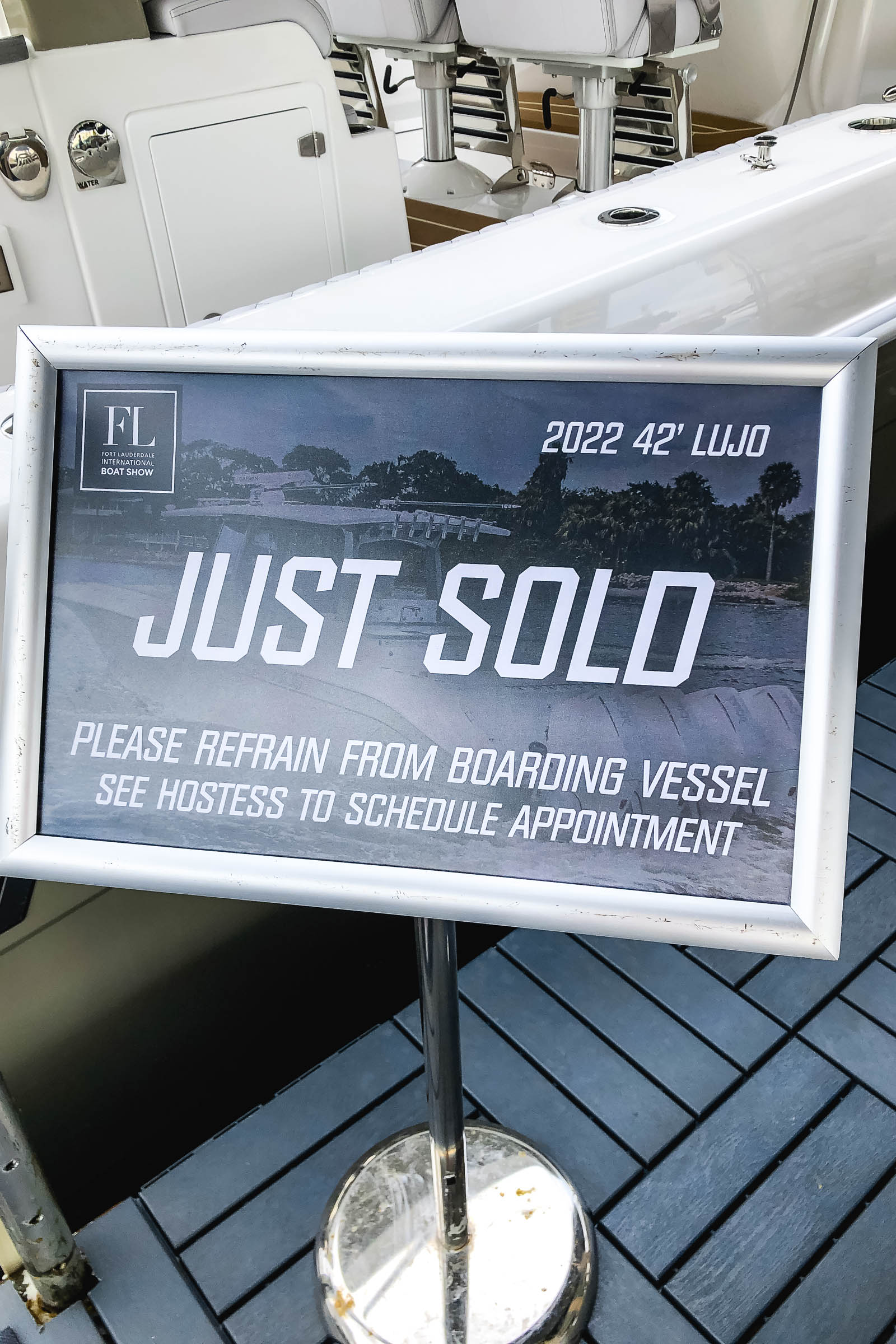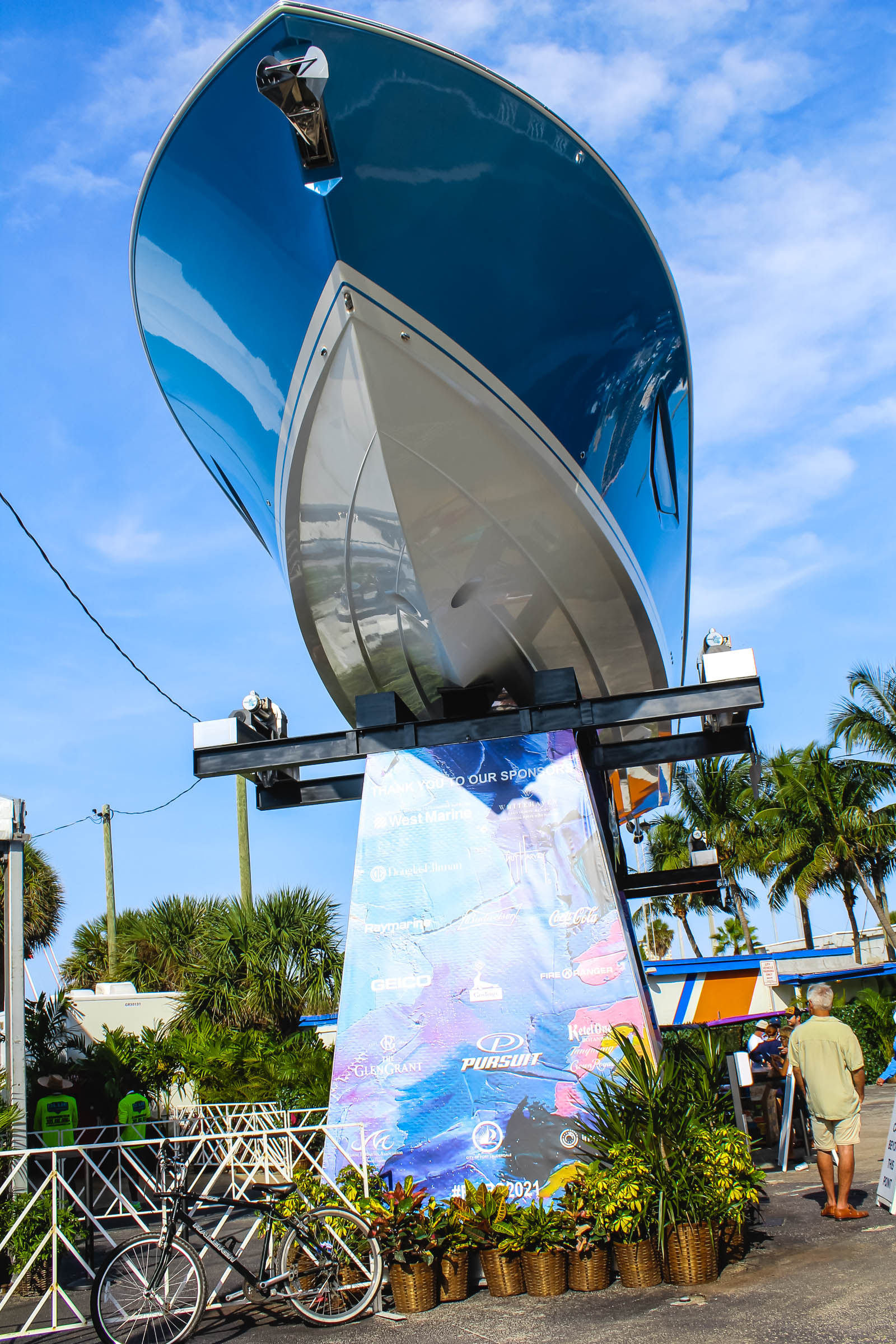 My first conversation of the show was with Joe Schaldenbrand, owner of Sunsation Powerboats, who explained their timeline, which echoes that of the competition in the luxury center console and high-performance powerboat market. "Performance Boat Center takes two of our 32CCX models a month, as well as every 34CCX and 40CCX. Right now production slots are backlogged up to two years out, but a lot revolves around forecasting and motor configurations due to the difficulty getting the 450s. For example, if you want a 34CCX with twin 450s, it's four months or so, whereas if you want triples you'll be waiting a year out from January."
Fortunately for the 100,000-plus plethora of people packing the show, no wait whatsoever was required for a face-to-face sizing up… of which, from that sizzling stock, in-depth features will follow starting with: the Boston Whaler 420 Outrage Anniversary Edition, Caymas 401, HCB Lujo 42, MTI 50V, Pursuit S 428, and Scout 530 LXF. Until then, we've highlighted a few charmers here that made a big splash throughout the five day affair.
Maybe it was love at first sight, or my passion for purple, or perhaps both that pulled me into Concept Boats on day one. Renowned offshore racer and boatbuilder John Cosker (of Mystic Powerboats fame) designed the Concept hull which is already dripping in racing DNA, but this time it was the sparkling blue and purple pastels beaming off the 4400 Sport Cabin that allured me in; discovering the unique design components of the side console cockpit is what allured me on for a peek.
Eric Avila, Concept's vice president filled in the blanks before I could even ask, "The boat has it all, starting with a new GPS positioned at the bow to keep front-riding passengers aware and informed; a separate room to accommodate overnighters or to be used as an additional storage space; a private head and shower; and integrated flush-mount LED strips up above on the hardtop." However, most impressive on the 80-mph powerhouse was the side cabin layout – the generous amount of space created between the helm and stern seats is almost too good to be true. This model 4400 SC was built by request for a new owner from South Carolina, but a cuddy cabin and a sport cabin with conventional center console are two additional configurable options for the 4400 SC.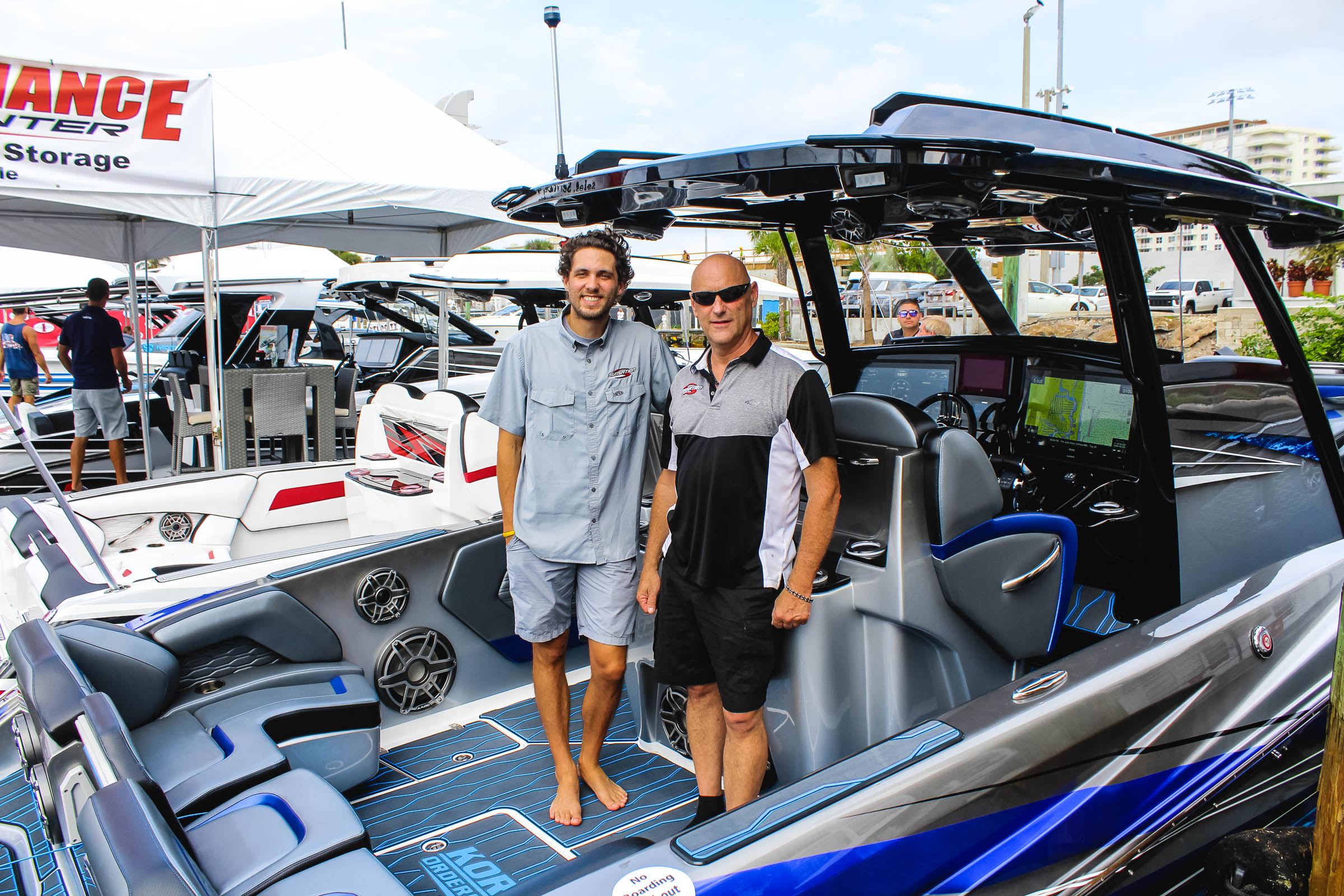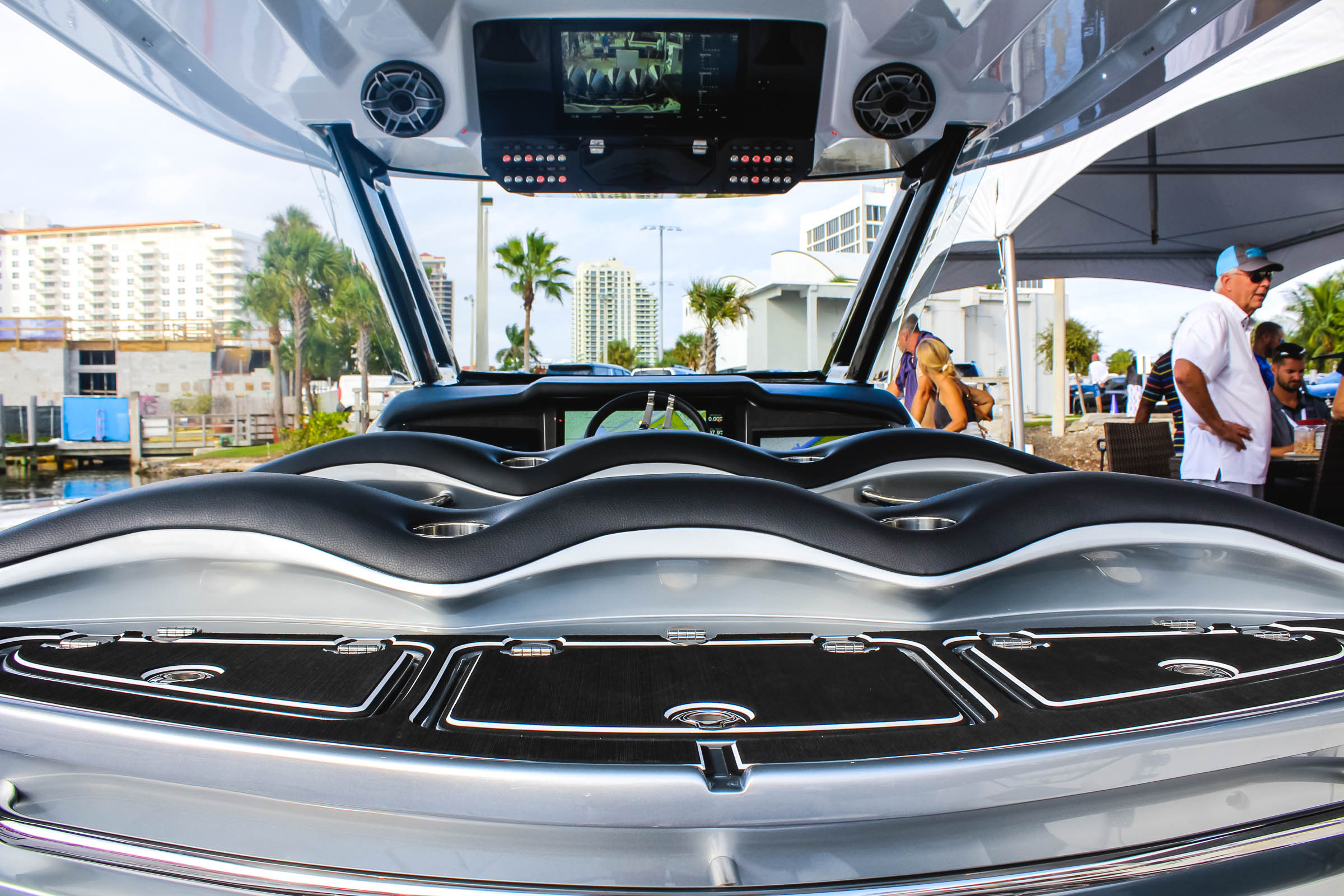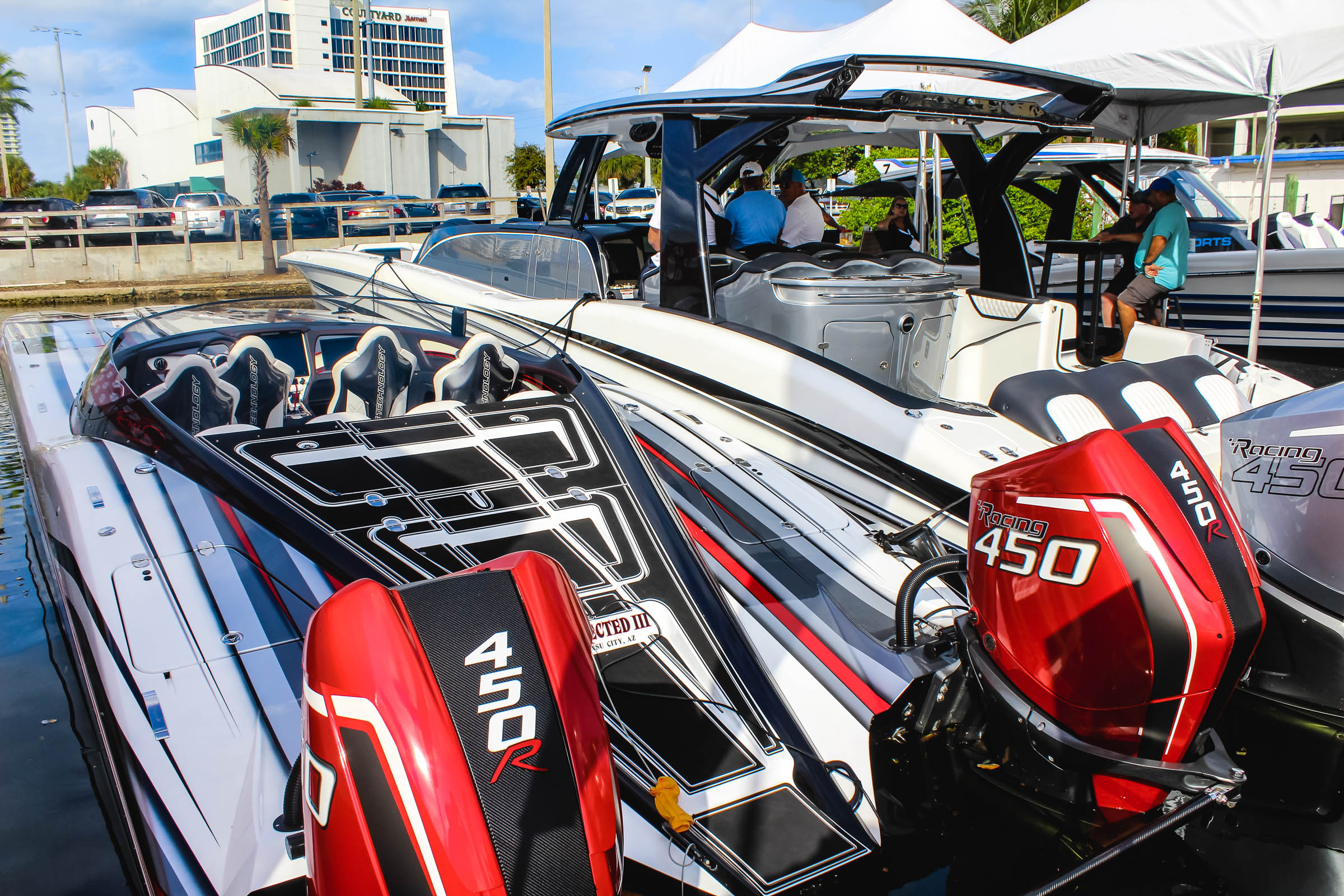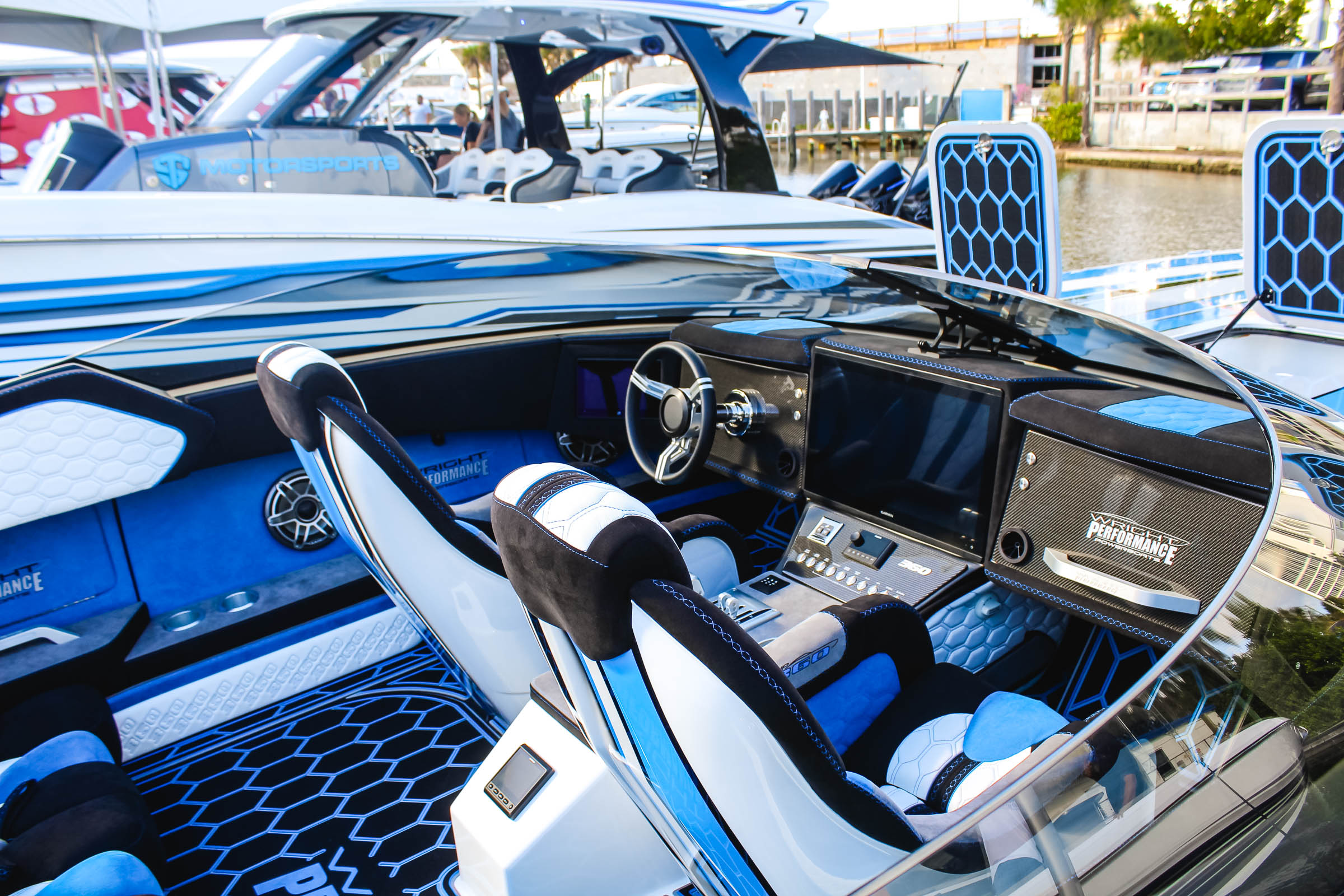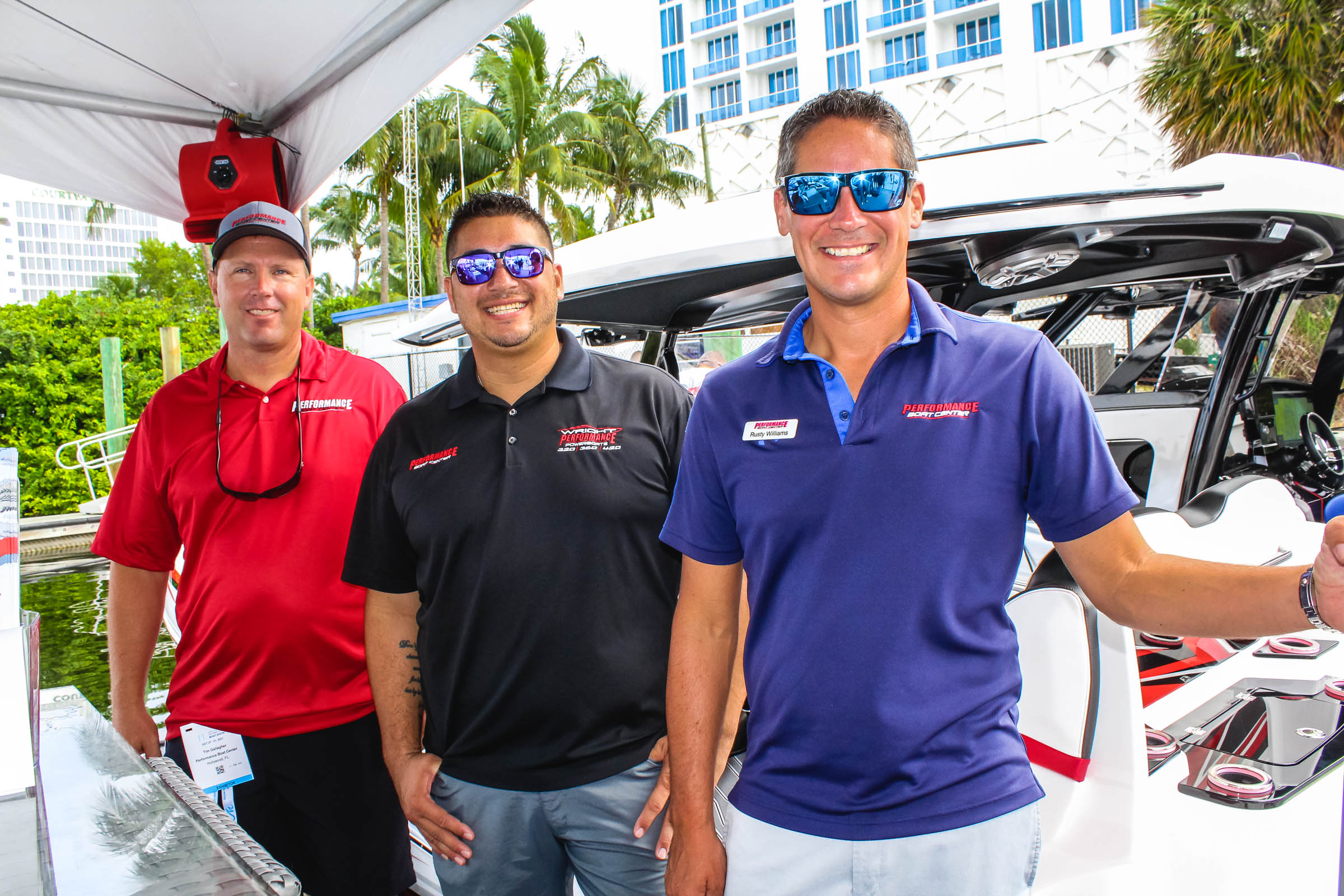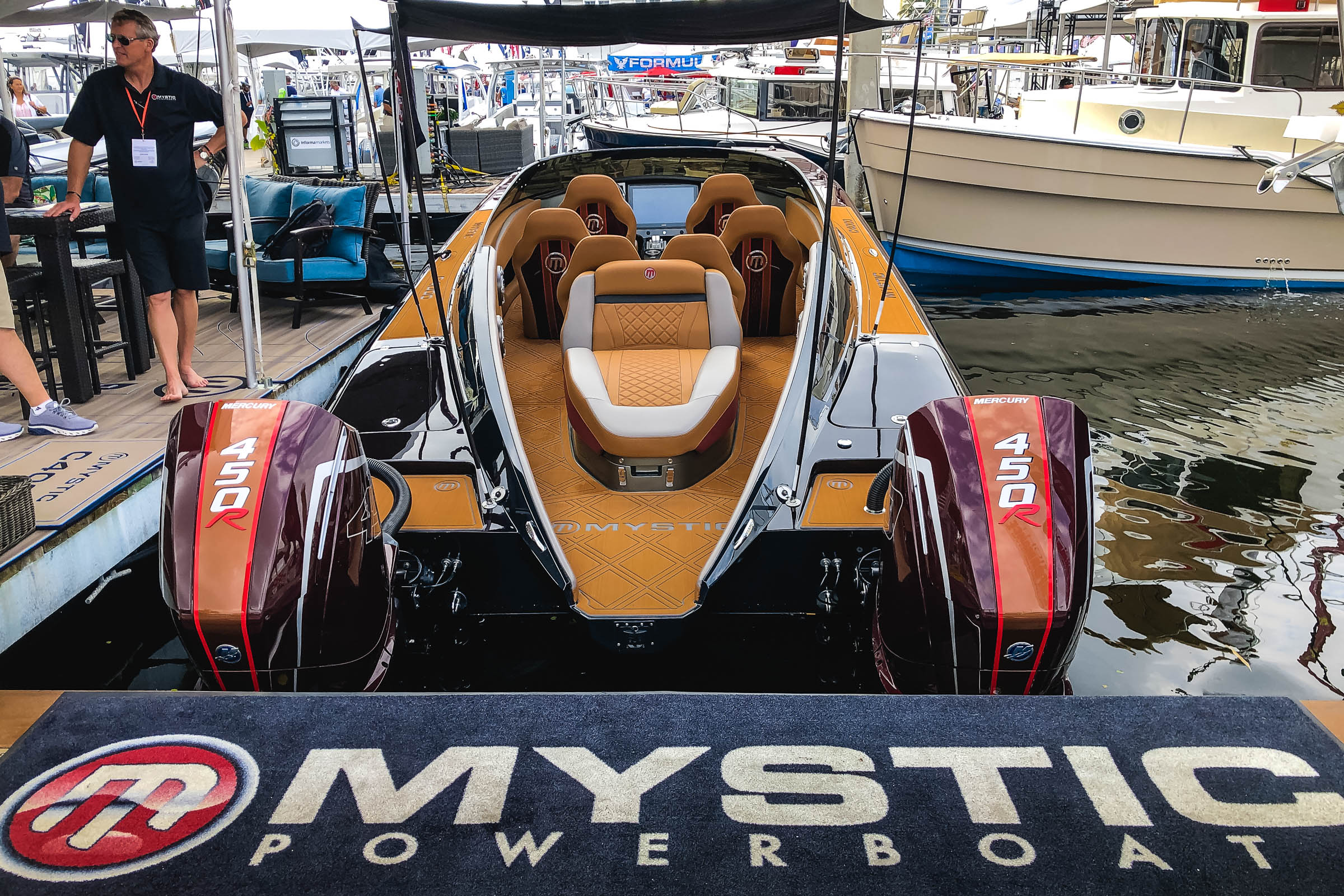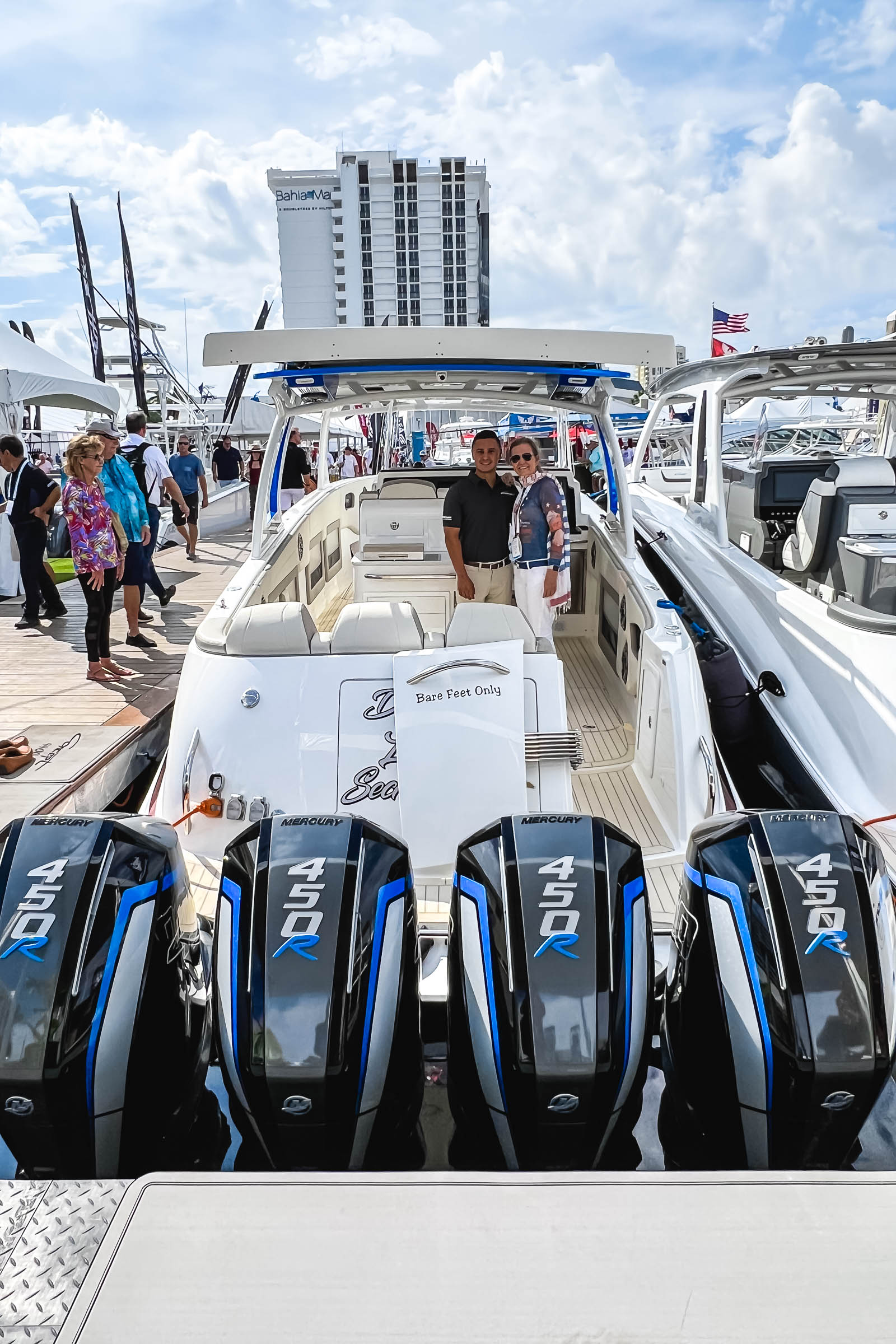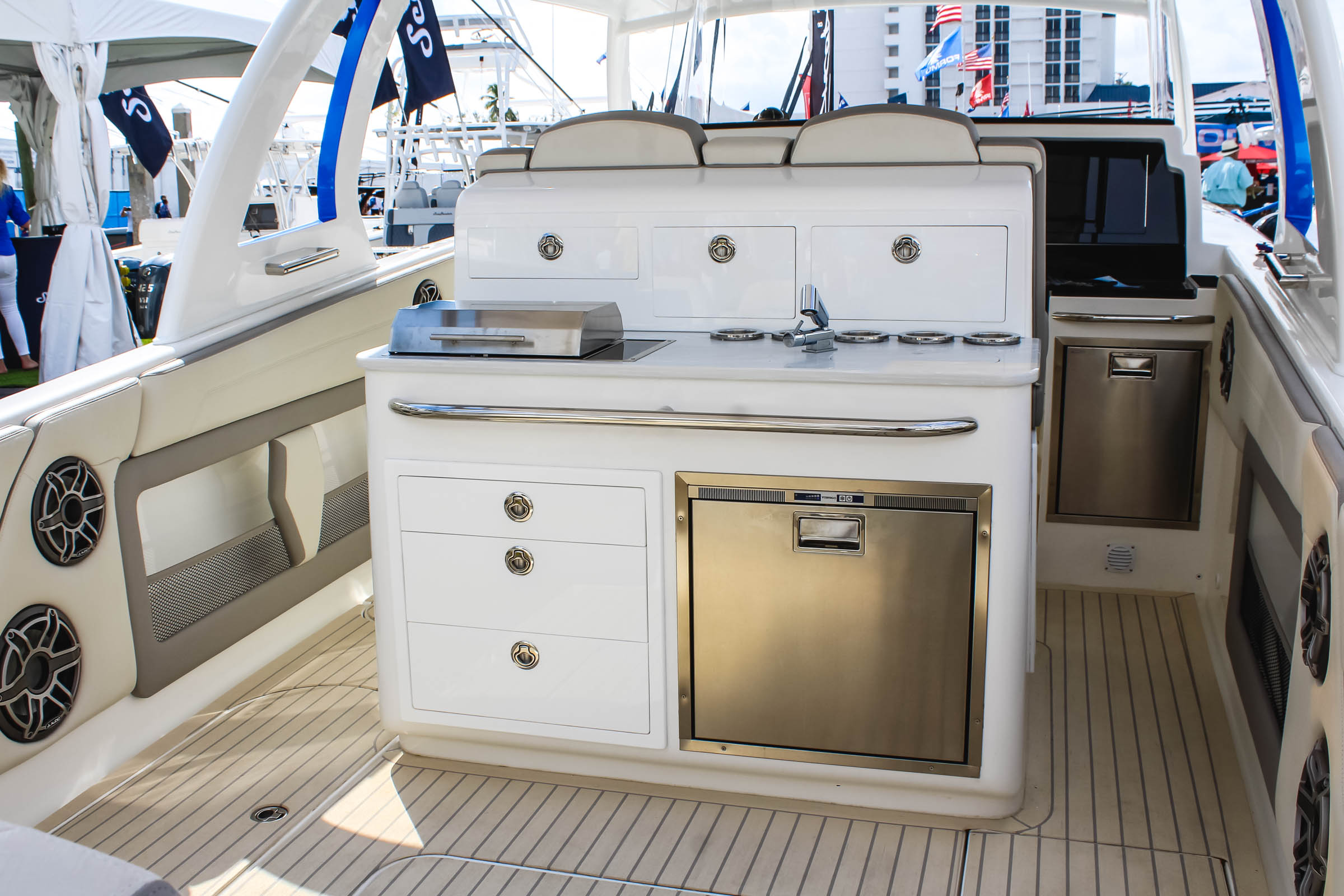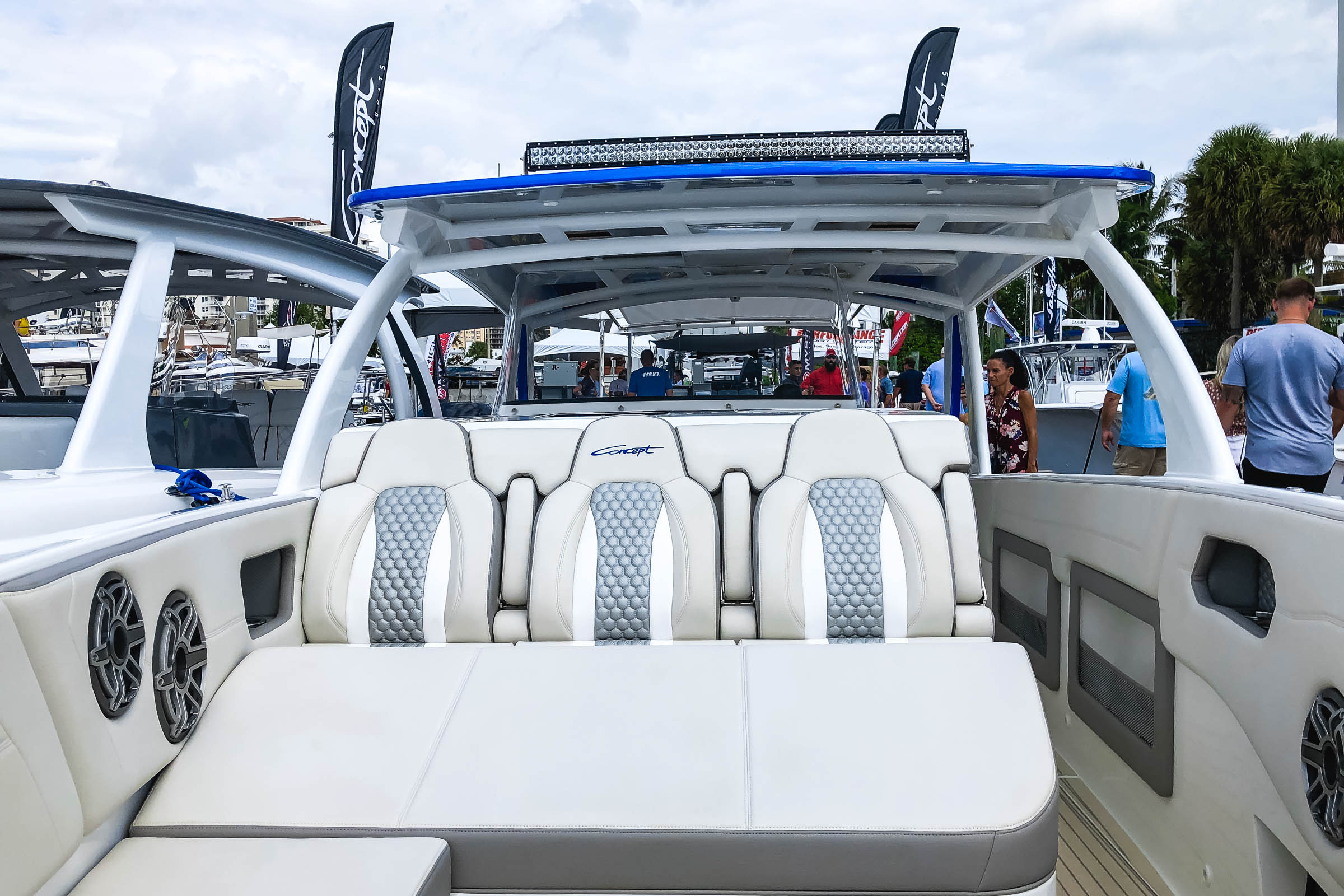 Always epic, was the Iconic Marine Group (IMG) showcase with its Fountain showstoppers starting with the most recent 32-foot NX to join its larger 39' and 43' counterparts. Priced at $414,000, it's already out the door running 68 mph with twin Mercury Marine 400-hp outboards. The smallest offering in the series is positioned to conquer the middle market with its customizable options appealing to those seeking Sunday Funday sunshine at the sandbar, as well as those out to fetch some fish with the fellas.
Need more speed? Hailed as the unofficial fastest center console on the planet and docked within an arms length of the NX was the one-and-only 2022 stock model 38 SC. Just prior to the show the team from Grander Marine in Orange Beach, Alabama achieved their 100-plus mph mission when the quad 450R outboard-powered beast marked and maintained a top flight of 103 mph tearing up the Gulf Coast crests with zest.
Not far from Fountain, Deep Impact's trio of revamped beauties beckoned me in next. After catching up with company owner Mark Fischer about the recent partnership with Plantation Boat Mart in Tavernier in the Florida Keys, we then delved into the boats' enhancements modifications. "Deep Impact came in and filled the void from HCB and it's been a match made in heaven. To have the ability to help customers by having a marina in the Keys has been great. Dennis (De La Torre) and I are very like-minded and get along very well. Putting our knowledge together has made us be able to make better boats," said Fischer, in an elated tone.
"Better boats you say"? Expanding on that statement, Fischer continued with, "You will notice on the 2022 models, the top was modified to increase wind deflection, we moved the switches around to get more space, and then mounted the speakers differently for improved sound quality. Additionally, we modified the forward cabin and added the full back seat." Upgrades are not the only news I dashed off with… molds for a Deep Impact 499 are in the process of being finished, the biggest model to date will host a five-pack of 450s and is slated for debut by the end of next year.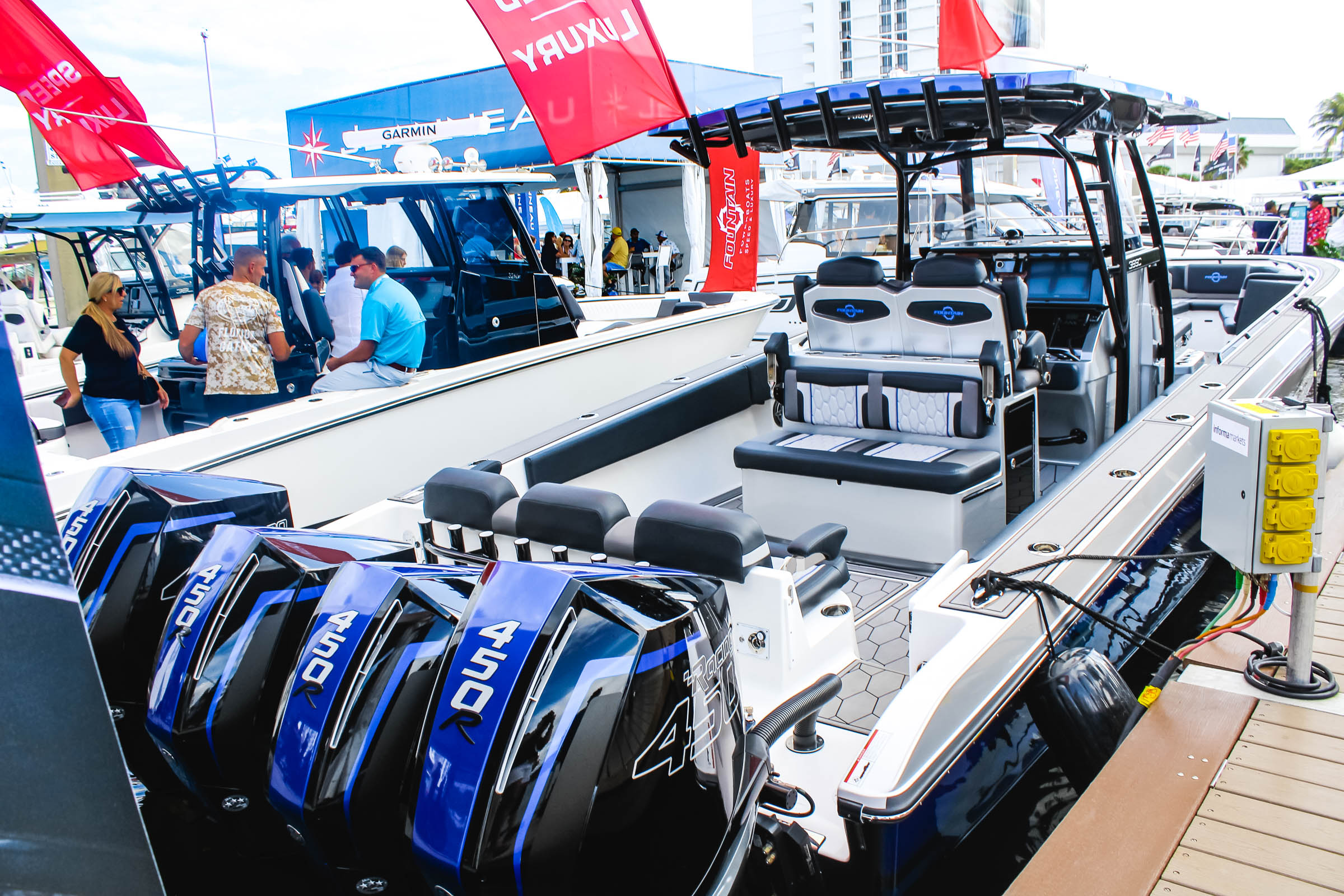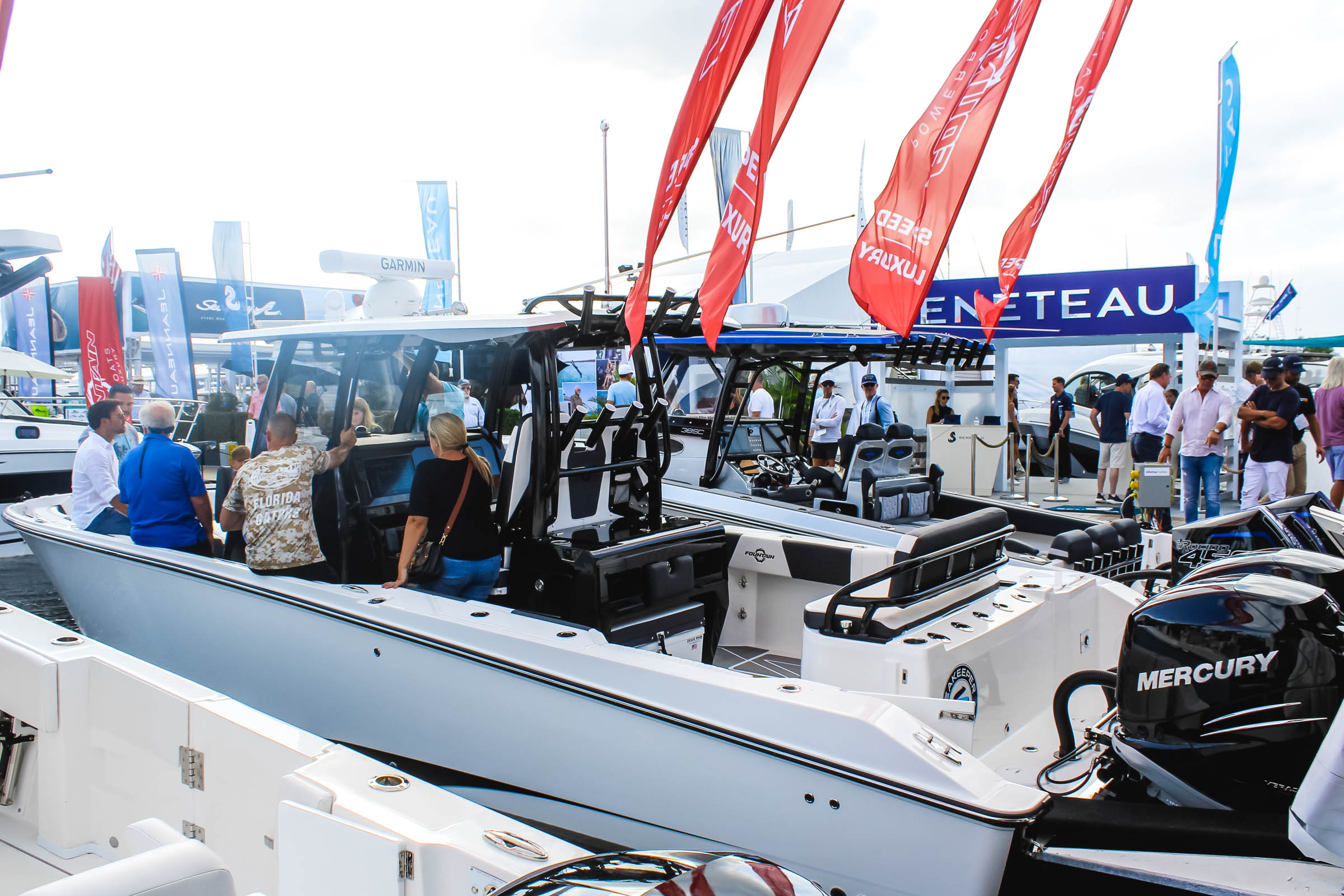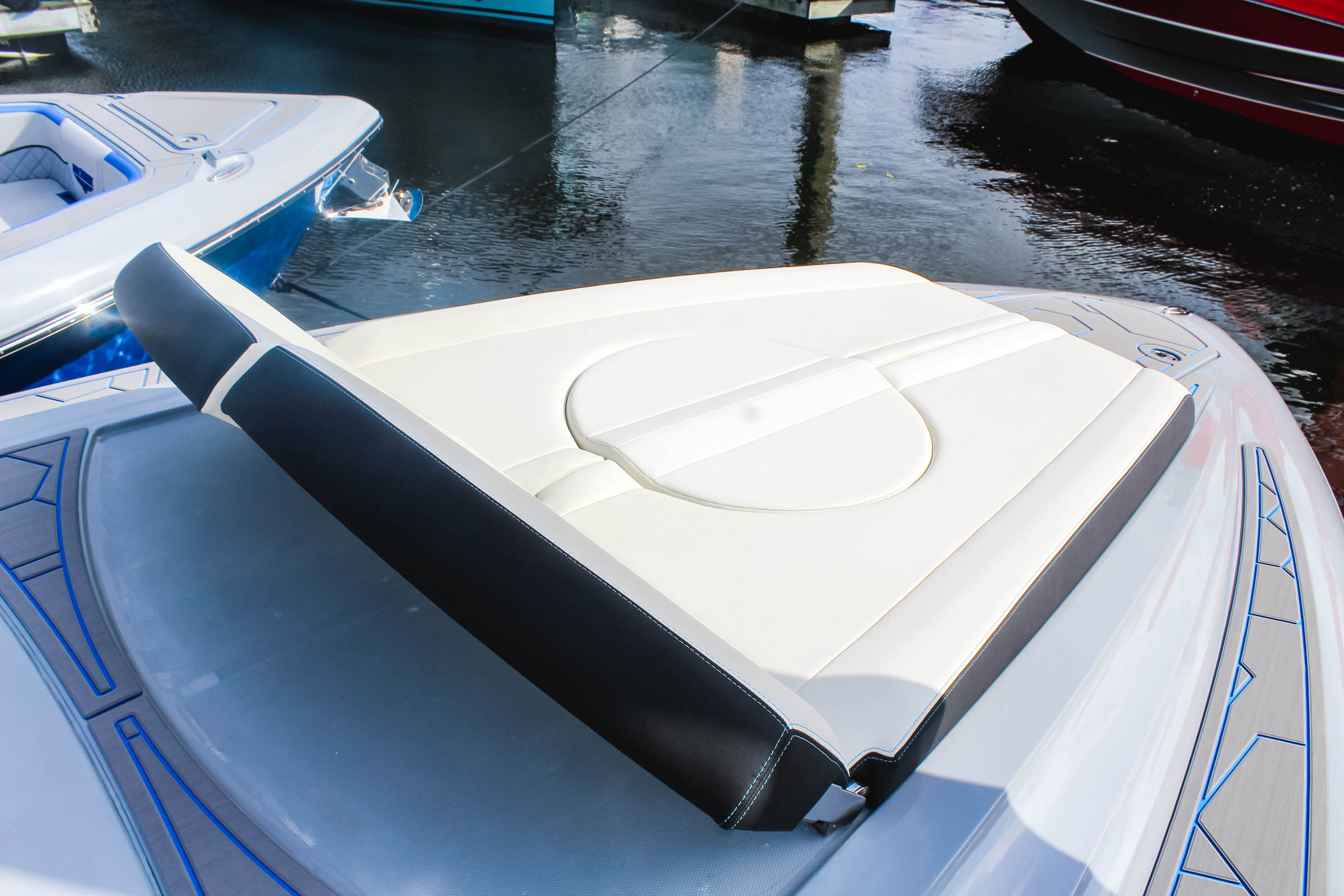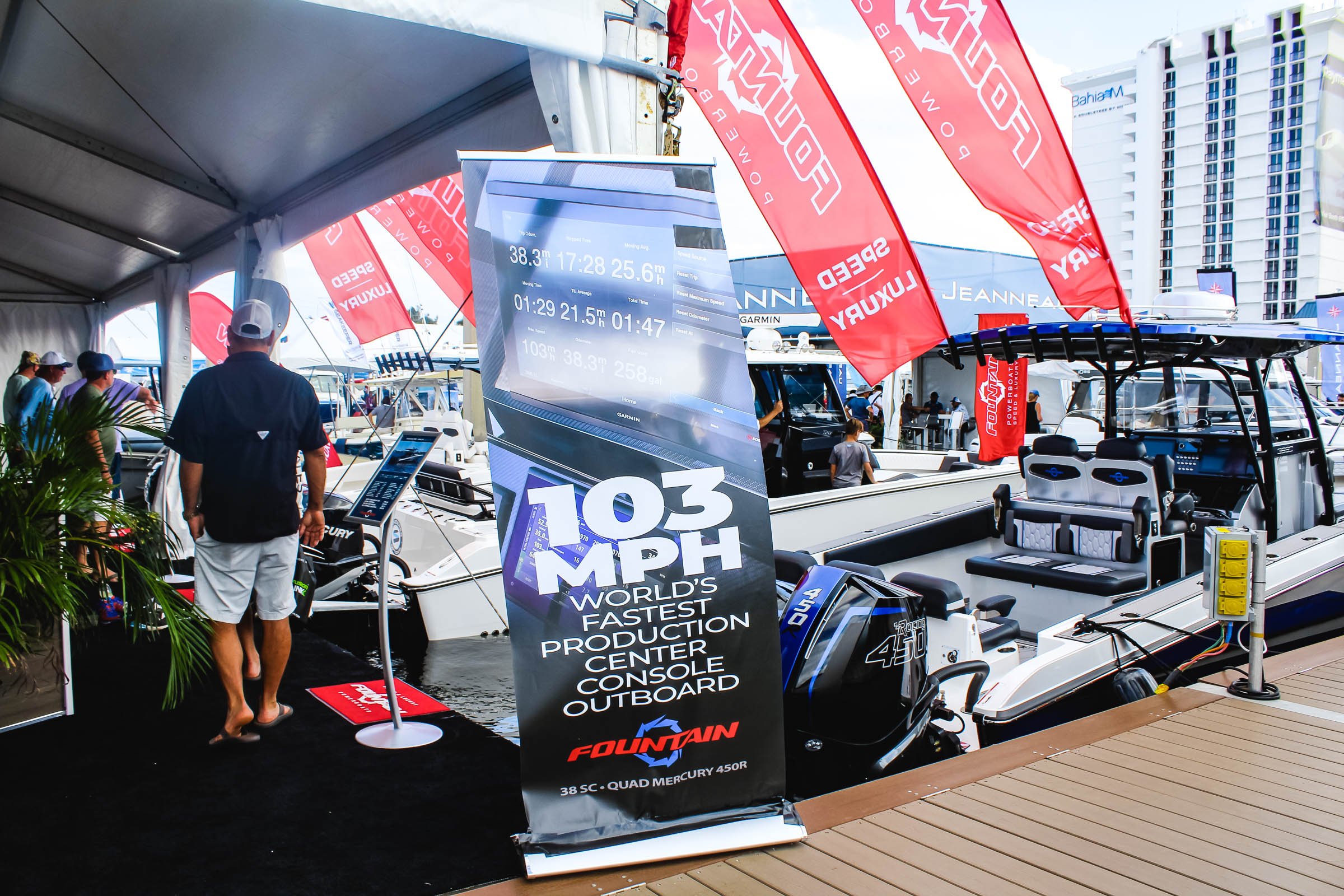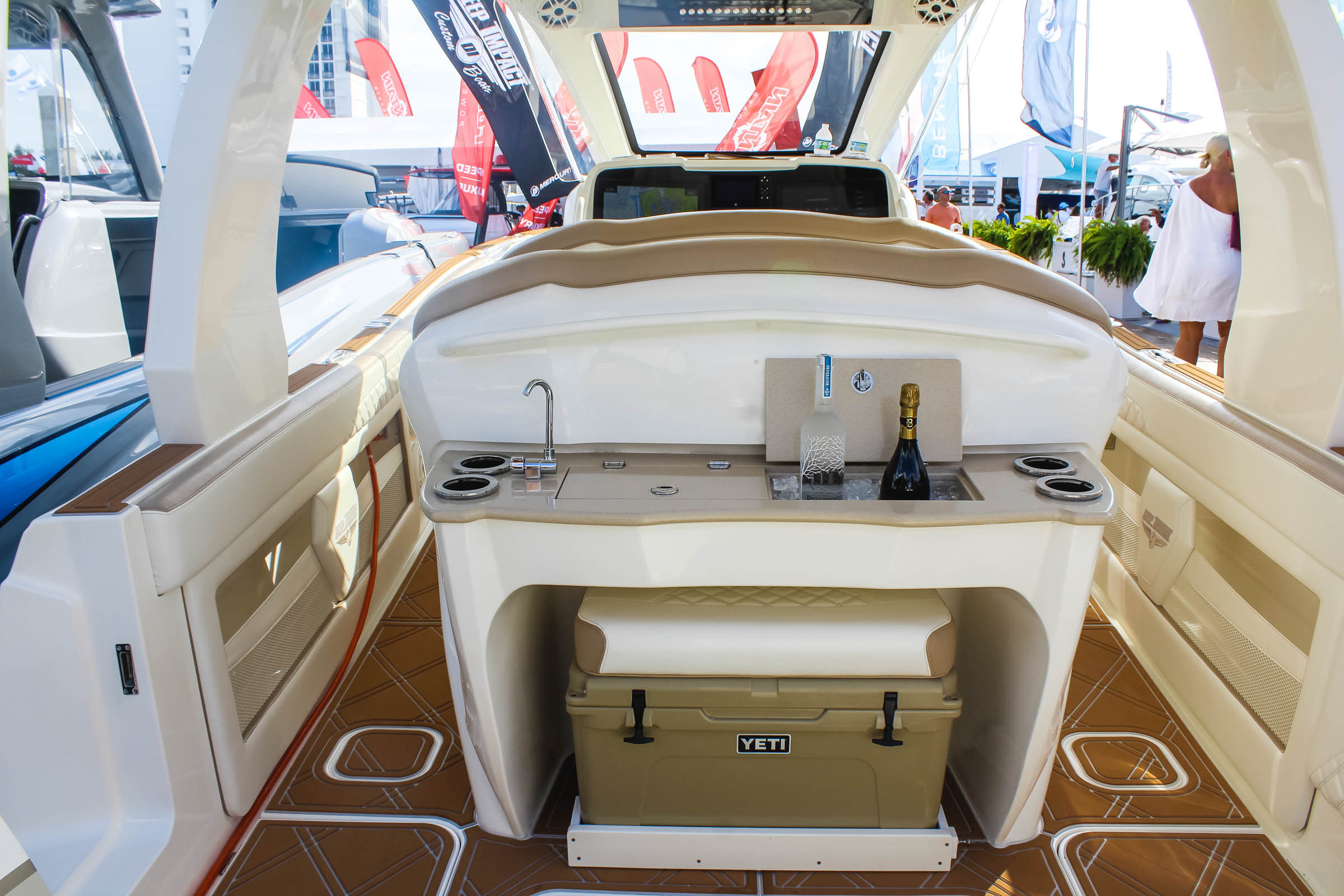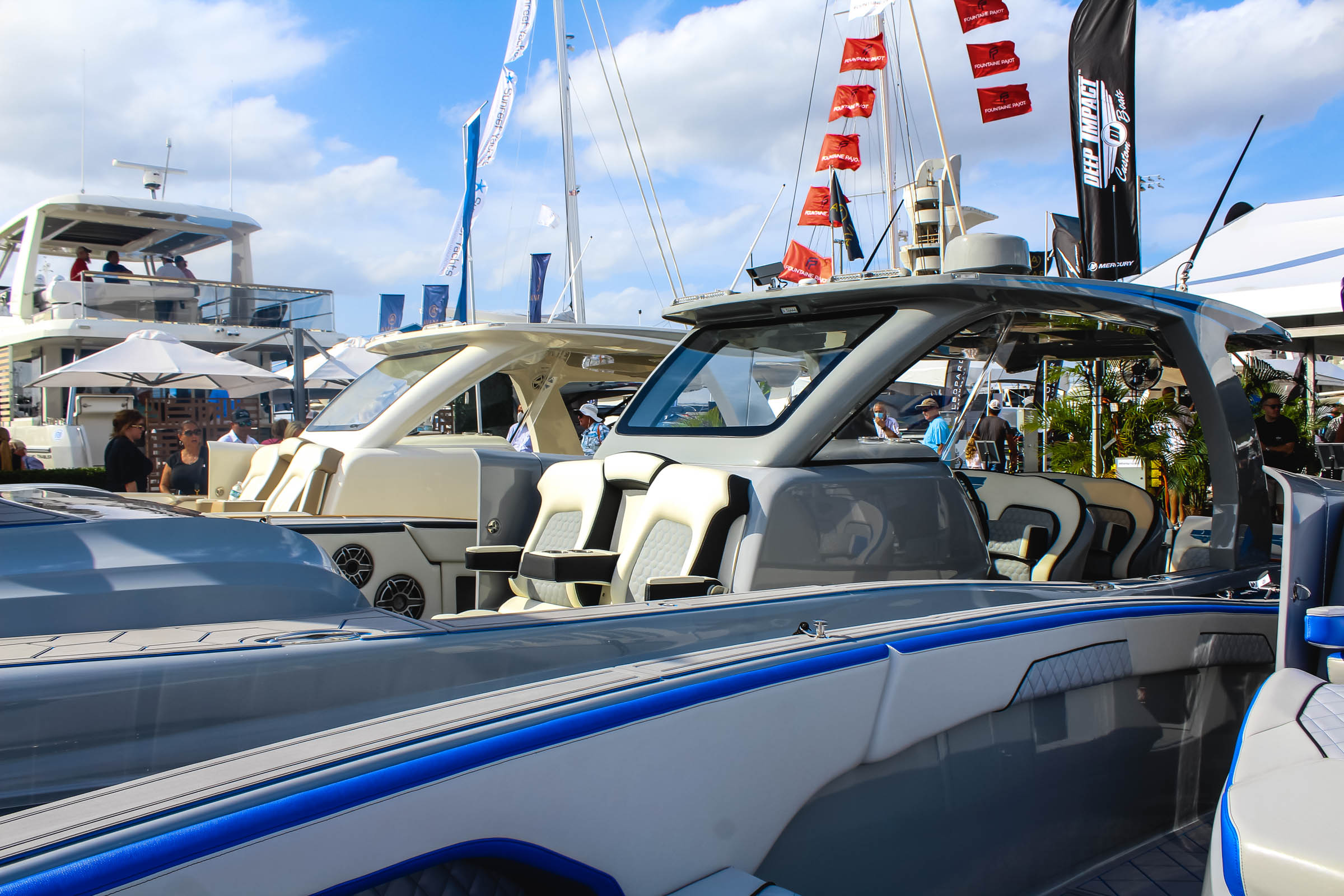 On the other hand, our next manufacturer Nor-Tech, knows all too well about bedecking transoms with multiple motors. And nope, you're not looking at the 460 Flyer pictures from last year; the Cape Coral crew did it again… in a blue hue. The day-boat friendly edition lures you onboard with its inviting new open bow layout, features scores of stern space, and a slightly more compact mid-cabin. A foursome of 450s has it flying to the mid 80s, and unlike the previous three, the hardtop of hull No.4 does not retract.
Opposite the Flyer grabbing the first two slips on H-I Dock greeting passers-by on the pavement and pier, were a pair of second-seat 390 Sport and 450 Sport center consoles from Legends Marine Group. As avid poker runners, Greg and Jennifer Bishop know precisely what speed-seekers want from their watercraft, and is the reason Legends goes the extra mile with their collection which includes items such as the tri-color paint palette "eyebrows" on the transoms (thanks Jennifer for teaching me this word) mated to the custom cowlings, power Sunshades, larger T-tops, and slide-out second row seating/coolers.
Like the Bishops, Alden Thornton has a good idea about what Nor-Techers need. His specialty however is the Superfish sitting on the other side of the spectrum; it's also the primary reason for my water-taxi trek under the 17th Street Causeway Bridge to the Broward County Convention Center to take part in some interrogating. "The 2022 model 392 offers rear-facing Garmins, a full control tuna tower and outriggers, front and back sunshades and a Rhodan trolling motor on the bow," explained Thornton.
The trolling motor seemed to ignite a special spark and since I'm no angler, inquiring as to it benefits was necessary, to which he replied, "The Rhodan holds the boat in place and allows you to stay right over the same spot. It increases your ability to catch the fish quicker. This is not the case when anchored." During snapper season this past August, Thornton gleefully informed me that his team was done by 8 a.m. No wonder he's such a fan!
From trolling motors to Mercury monstrosities, the latest, greatest, grandiose 600s motors which made their original debut six months prior at the Palm Beach International Boat Show, continued stealing the spotlight taking over transoms on a variety of the larger luxury center consoles, cruisers and yachts. An aisle away from Nor-Tech, I caught sight of a pair and headed in that direction. Ironically, it led to a mini-photo session with a friendly six-foot-five father and his daughter, both of whom kindly posed for the camera as to get a better impression of just how gargantuan these gentle giants actually are.
As for the boat they're perched upon – meet the Windy SR44 – designed from five decades of Scandinavian seafaring heritage and represented by Nautical Ventures. The $1.4 million dollar customizable luxury vessel, also available with Volvo Penta IPS drives, comes equipped with two cabins to accommodate four guests overnight and is loaded beyond the imagination with amenities. Unfortunately boarding was not permitted when I passed by.
Back at the main Bahia Mar headquarters, another indoor exhibit deserving praise is Fast-Flag (yourlastflag.com). I first met the exceptional couple, Tom and Patty Hamami, at the Miami Show inside the Intrepid Powerboats booth where their original display was. And since then, over the course of the last two unreal-slash-surreal years of having our freedom and liberties stripped before our very eyes, I've been a firsthand witness  (multiple times) to the explosive positive patriotic reaction to their products from customers proudly seeking to raise Old Glory in the "Land of the Free and Home of the Brave."
Designed for boats and beyond, Fast-Flag is continually expanding its solid welded marine grade aluminum flags. The latest selection of flags added to the product line include: state flags, an international collection, a rear-facing camera with flag, and dock posts with a flag. For further details, we recommend this past story on Fast-Flag: https://www.luxurycenterconsoles.com/intrepid-powerboats-fast-flag-where-luxury-and-liberty-unite/.
New maritime ventures are as equally exciting as new products, hence; another positive takeaway was bumping into Kim Sweers from FB Marine Group — and hearing about the success of her new platform Boat Boss. Dedicated to showcasing a lifestyle on the water via 30-minute podcasts with top players in the business, sports and entertainment world, Sweers videos can be viewed on Youtube and Facebook.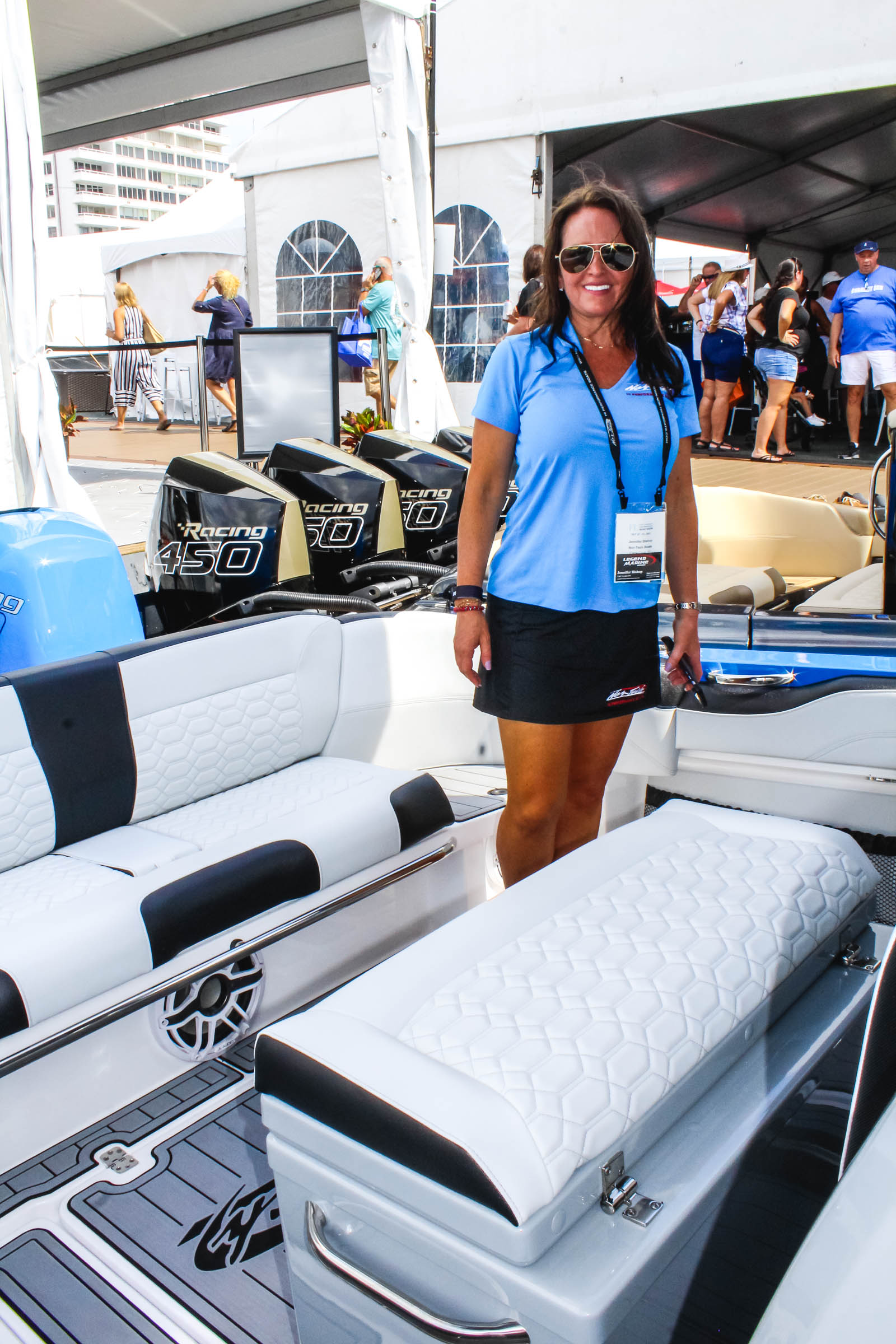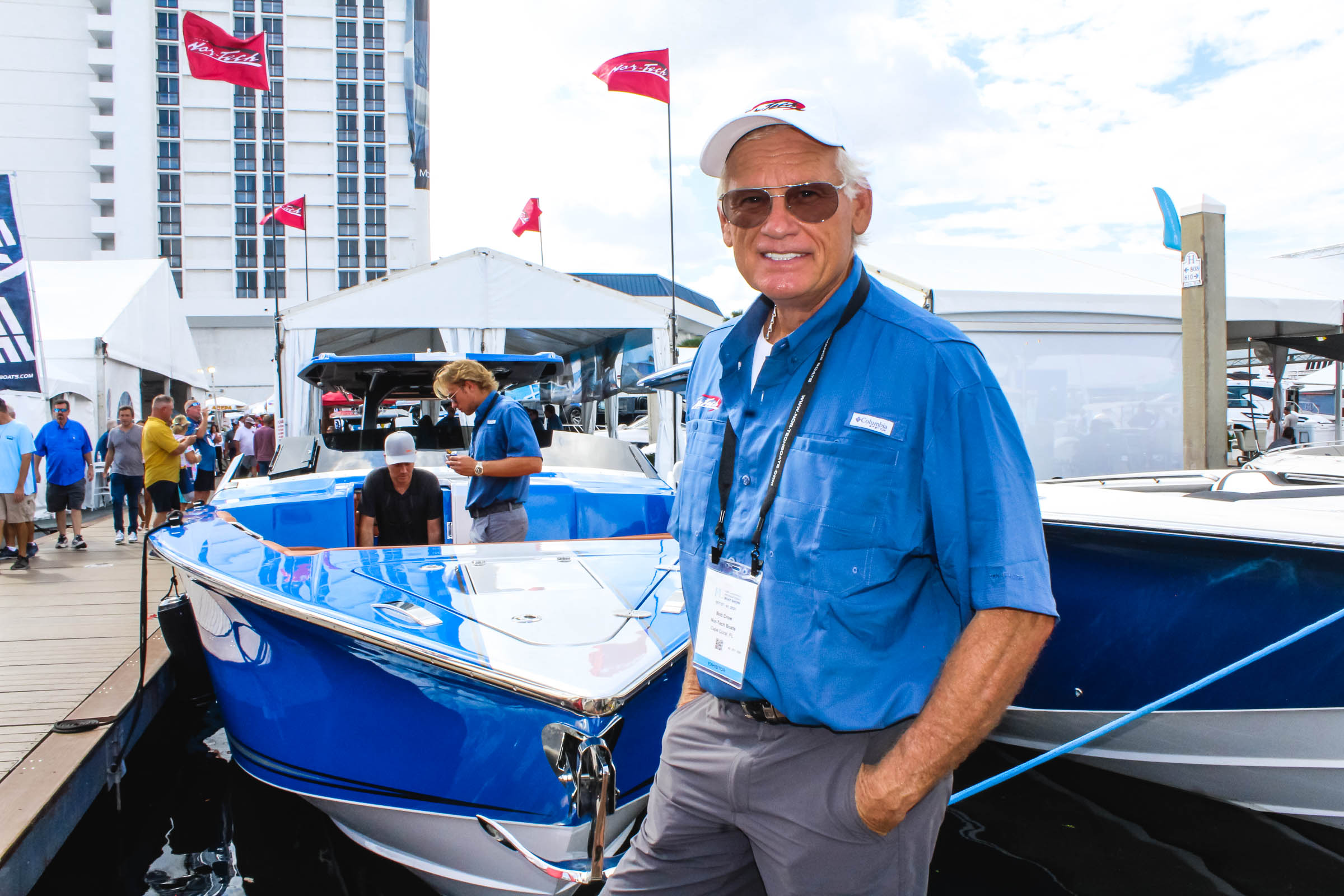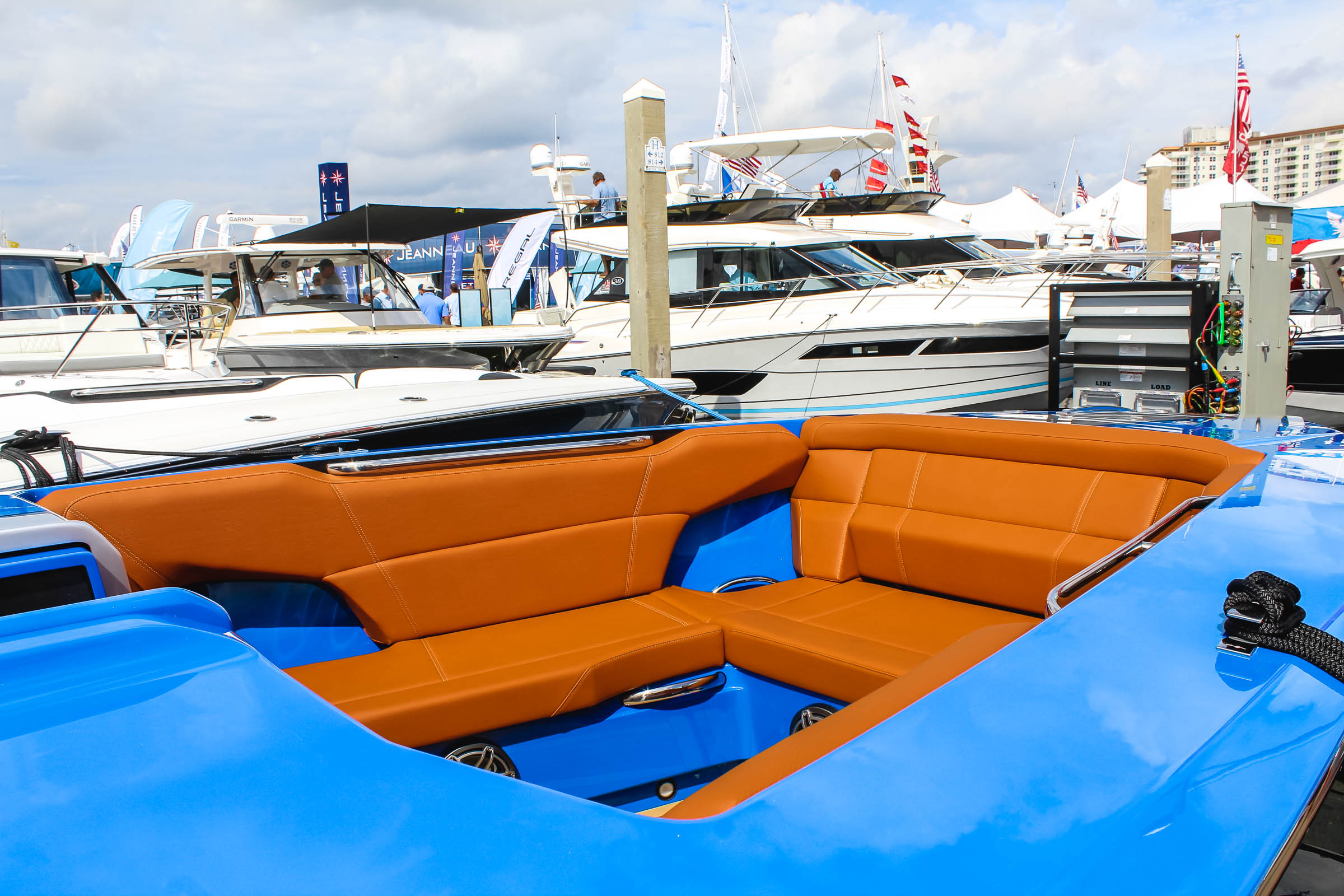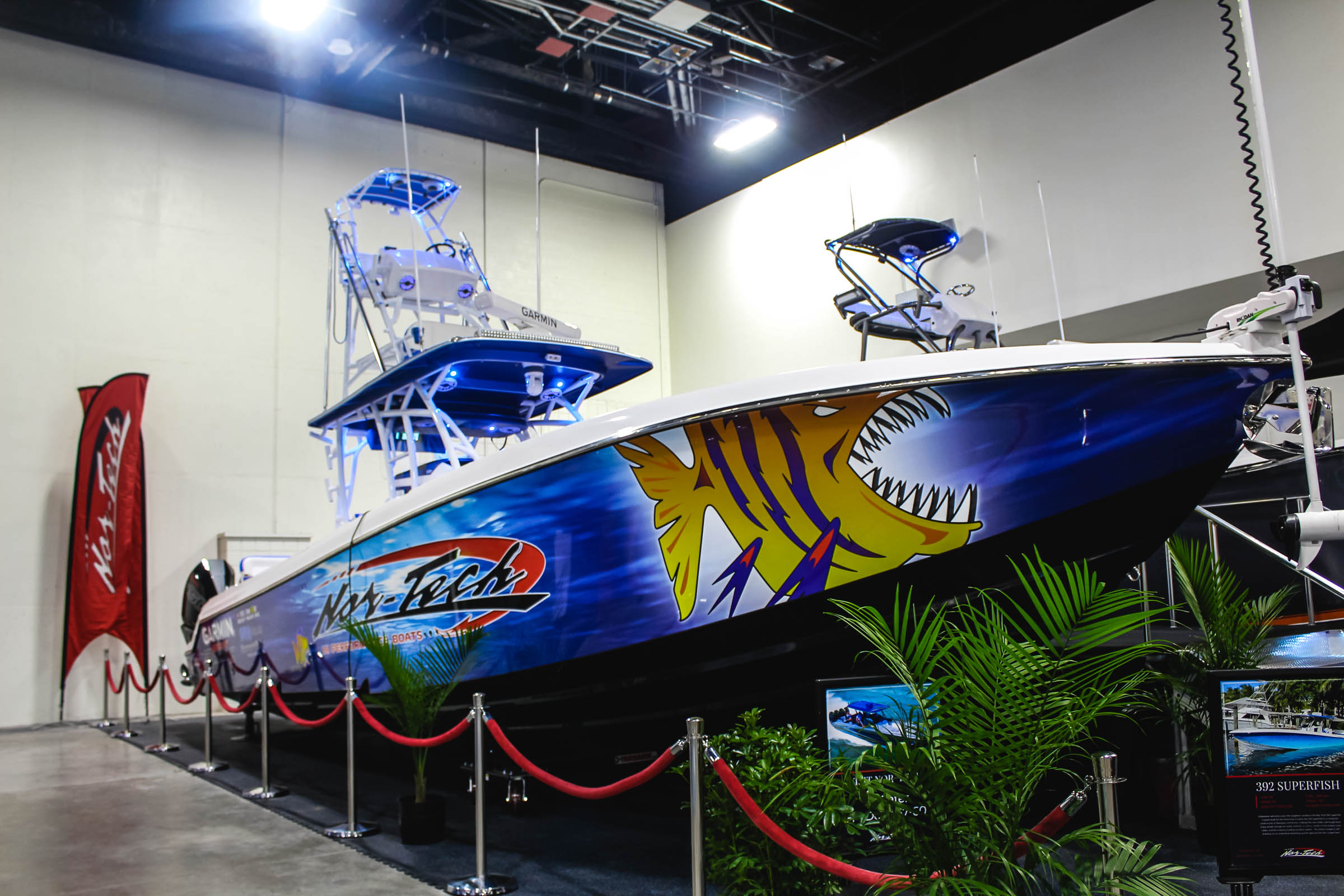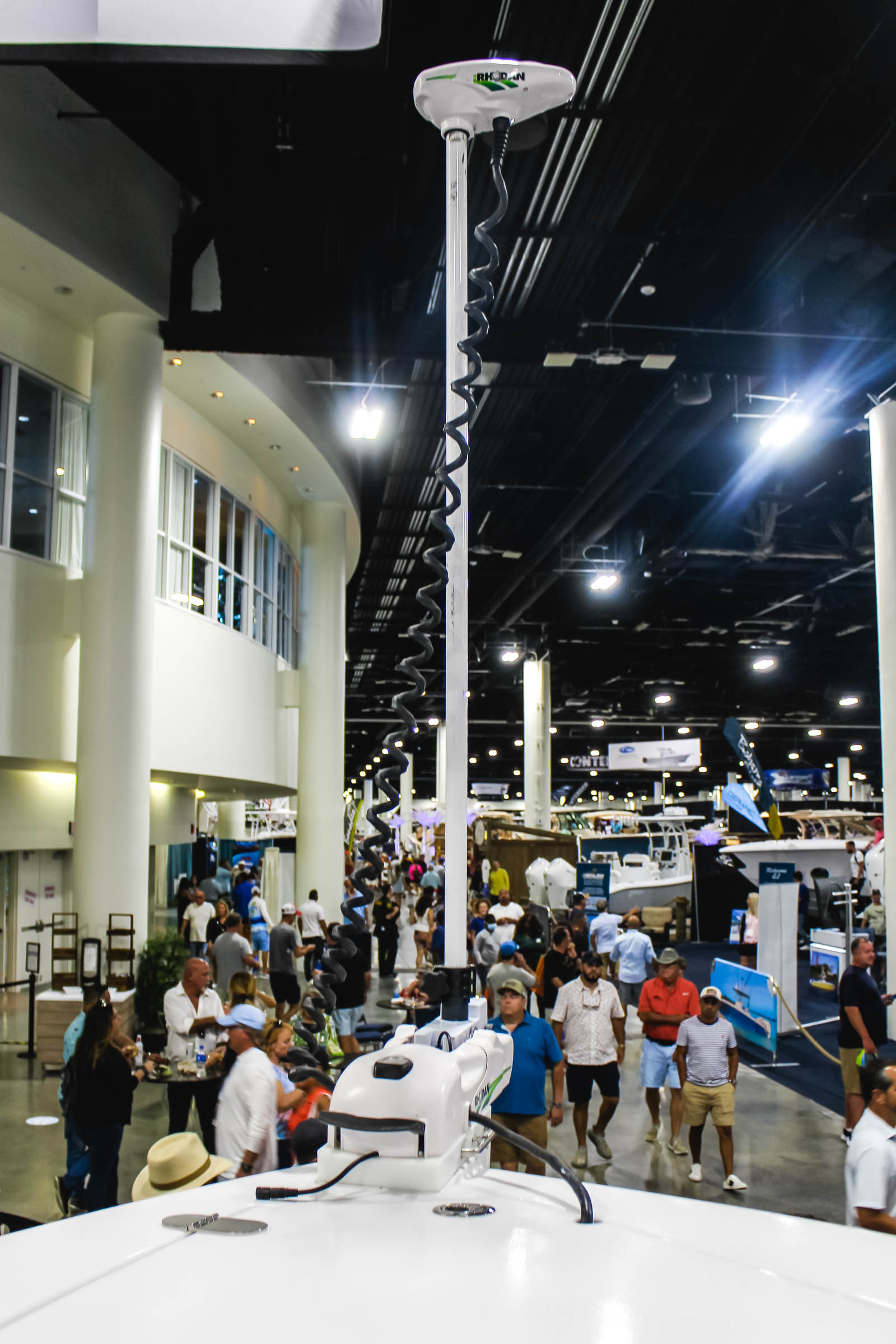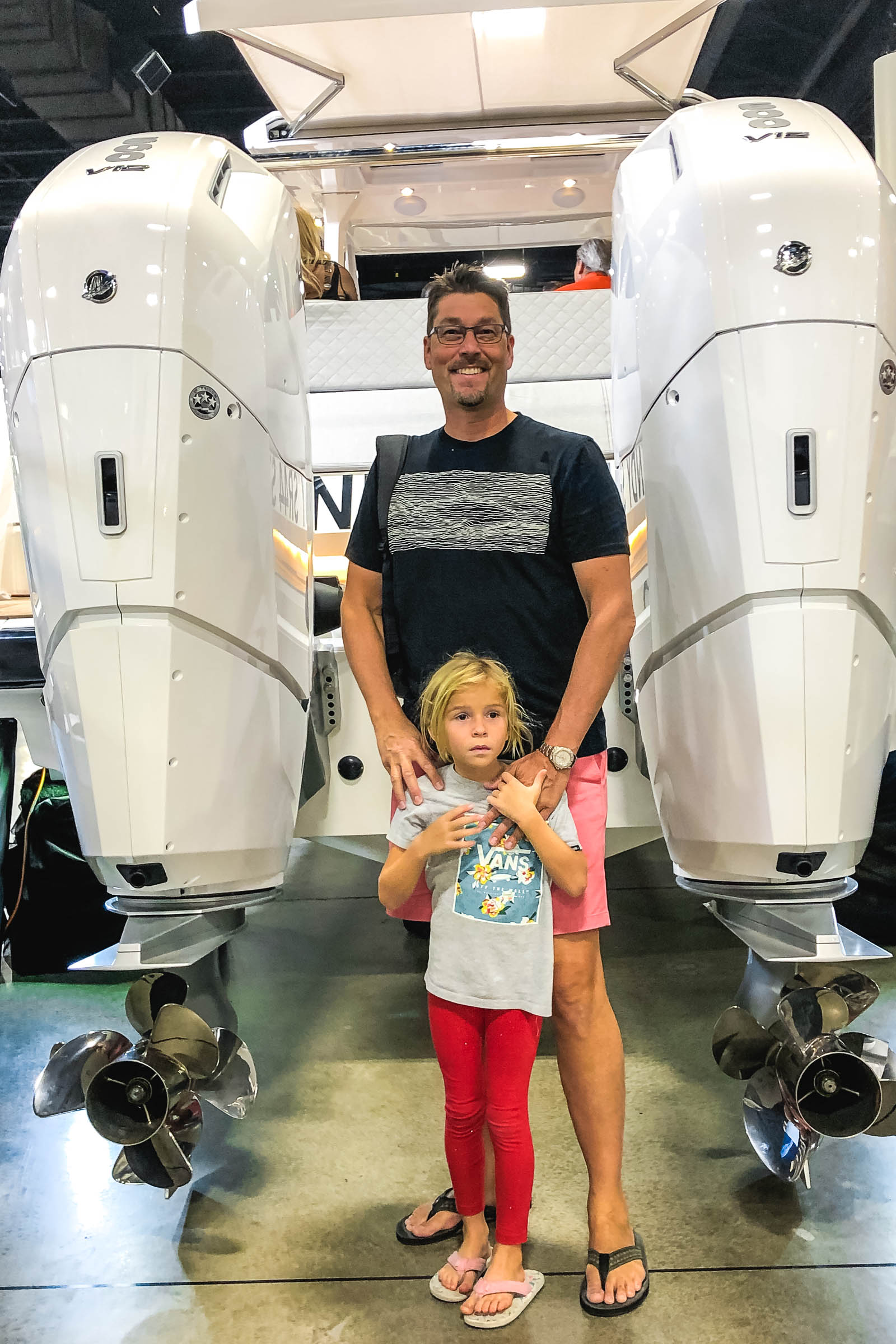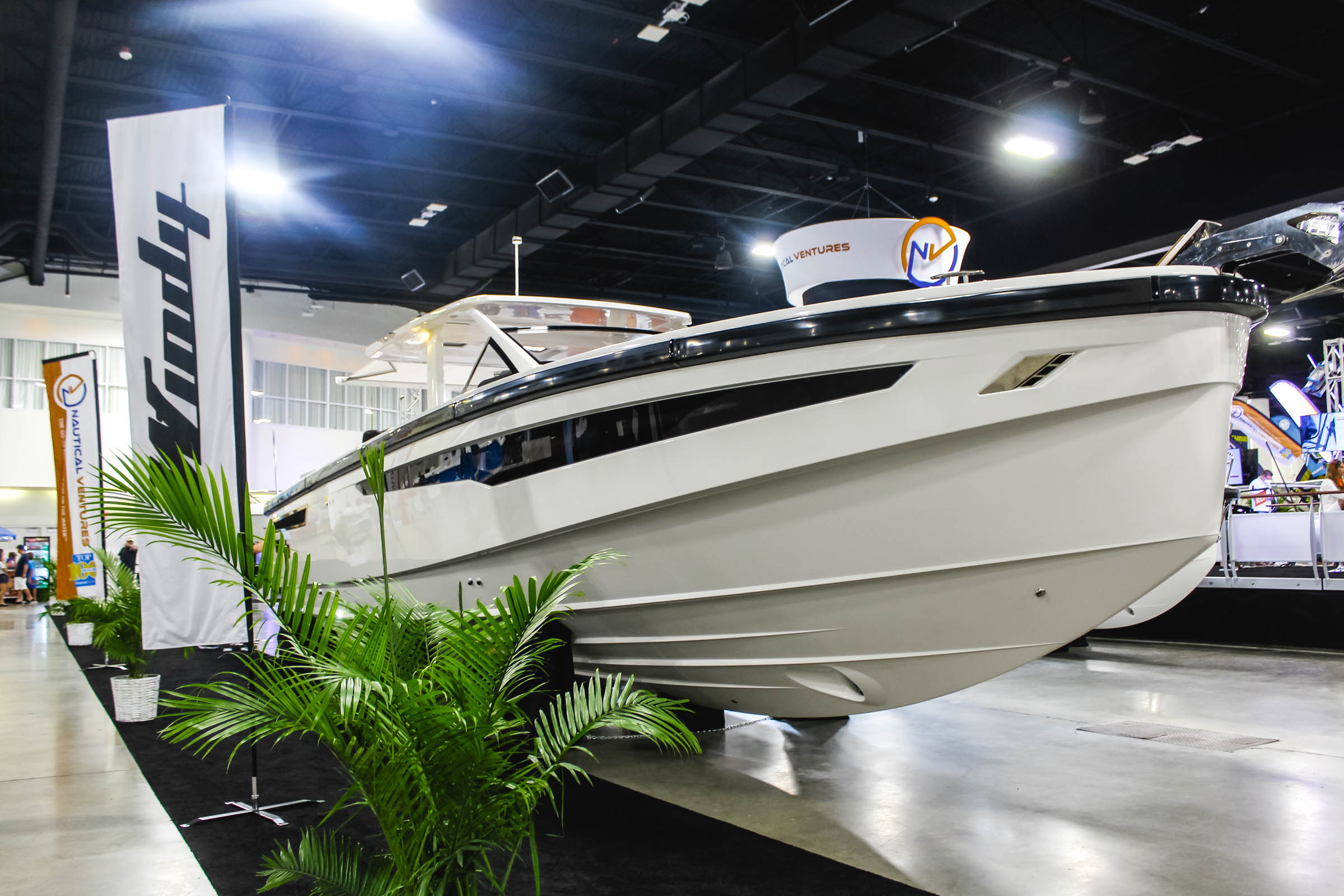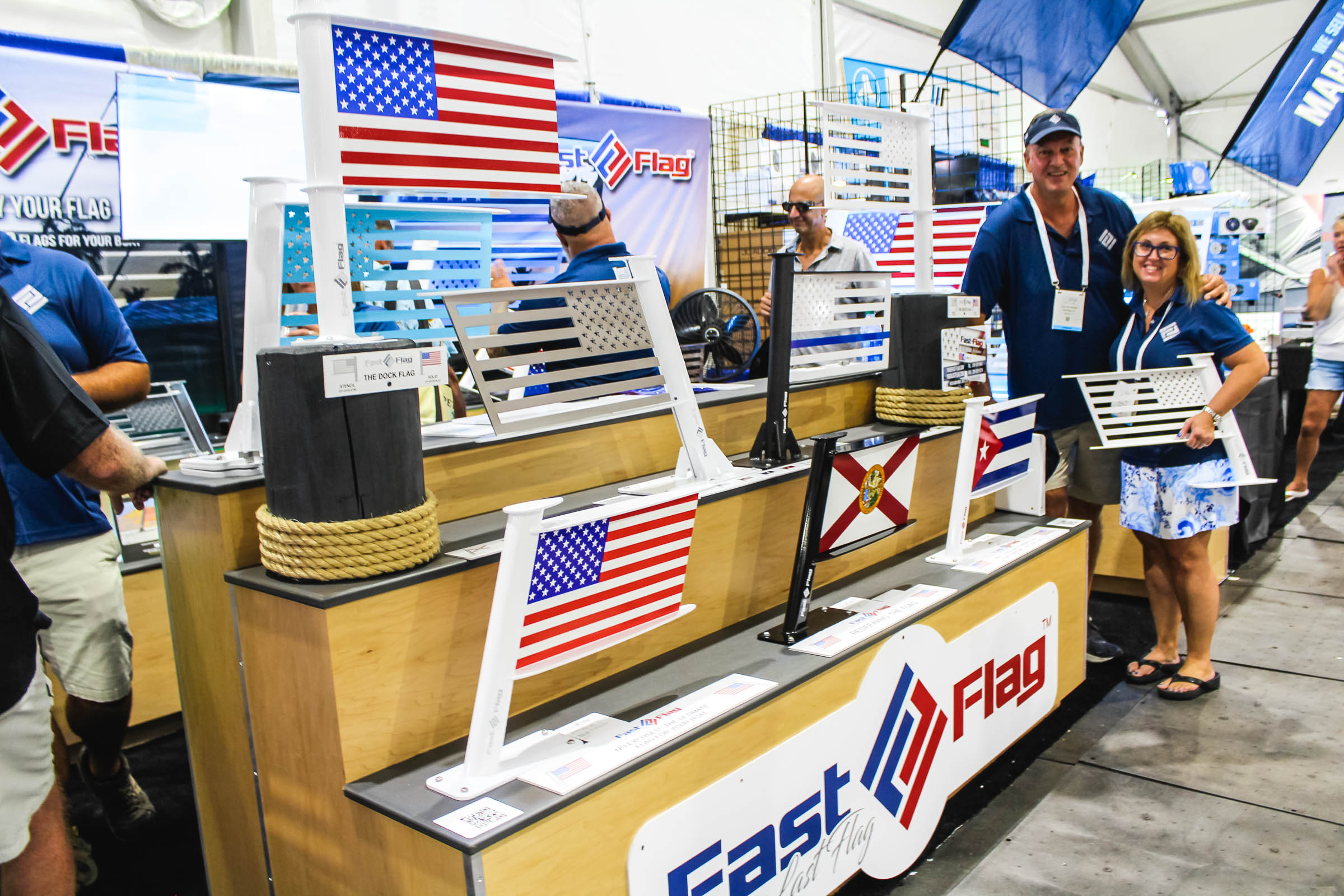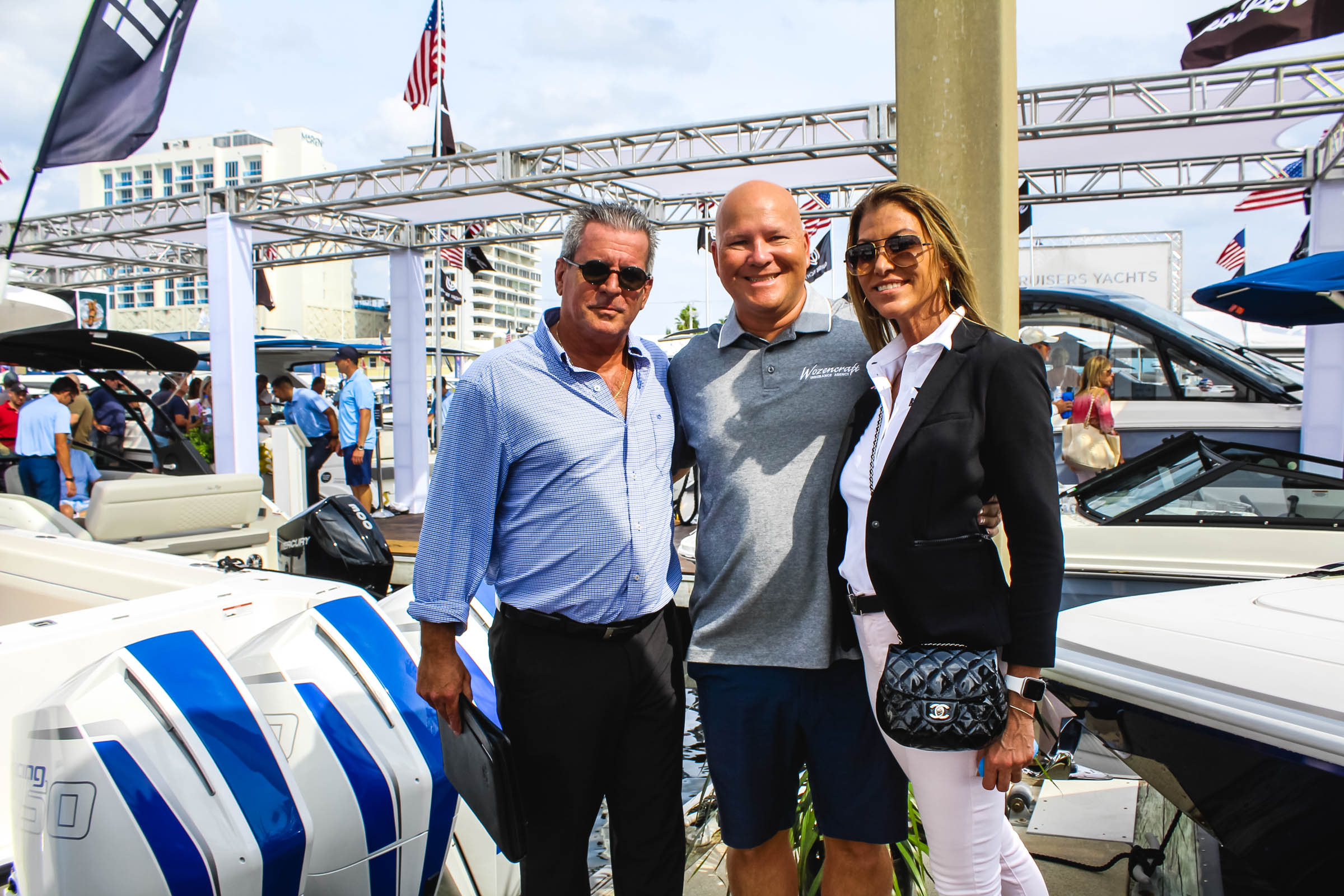 And in wrapping things up, we celebrate the 2021 FLIBS homecoming of a high-performance hero. Following more than a few years' hiatus, Cigarette Racing Team returned with a vengeance to the 954 aquatic engagement. Beside the horsepower on hand, every time I passed by, the overall vibe from the Cigarette tribe felt like a South Beach party. I swear I even heard that luscious 515 start up at one point!
One familiar face roaming around that powerboat party was engine builder Tommy Hofstetter of Chief Marine Group. Hofstetter who partnered with Gabriel Pacheco, recently acquired the full-scale marina at the former Smugglers Cove Resort and Marina in Islamorada and proudly carries the Cigarette line.
Aspiring to go global in big, bold, bad-ass fashion, the brand also busted out its #GetOnBoard social media campaign calling for owners and ogling admirers to tag their pictures for a chance to win prizes up to $5,000. Cigarette continued to up the ante a week later as title sponsor of the Florida Powerboat Club Key West Poker Run and Race World Offshore World Championship. I can't wait to see what the cards hold for 2022… at this juncture in the game, it's anyone's guess!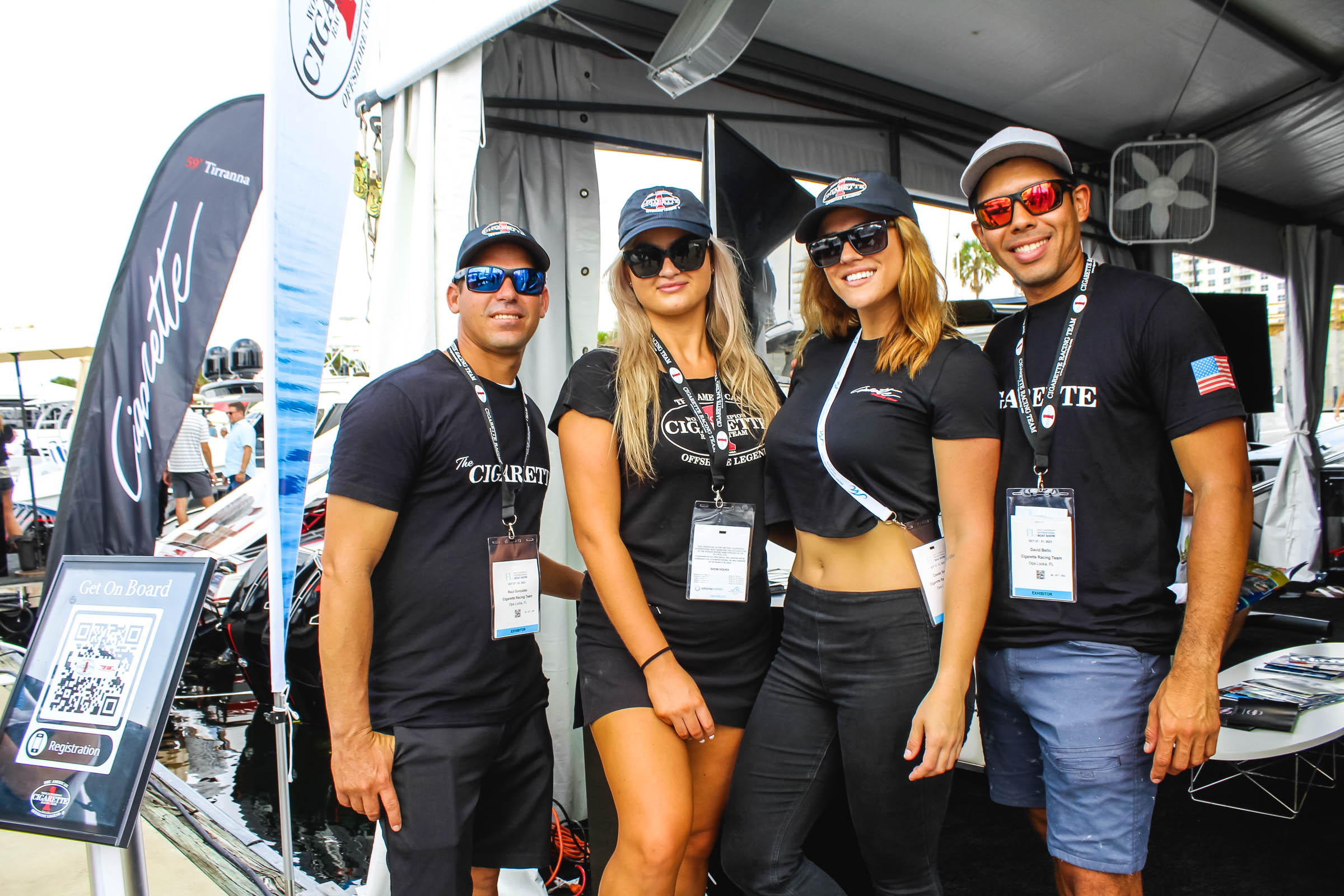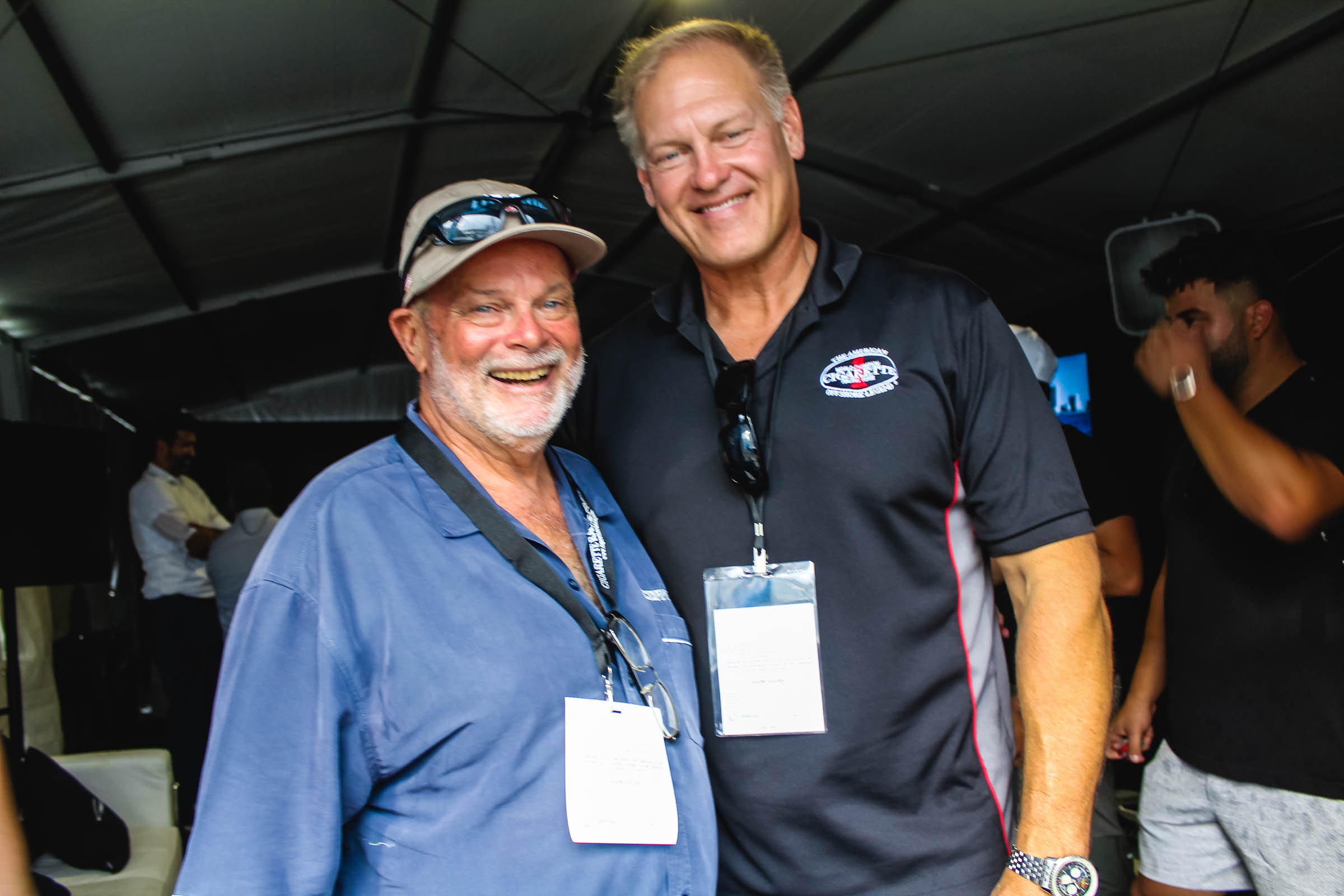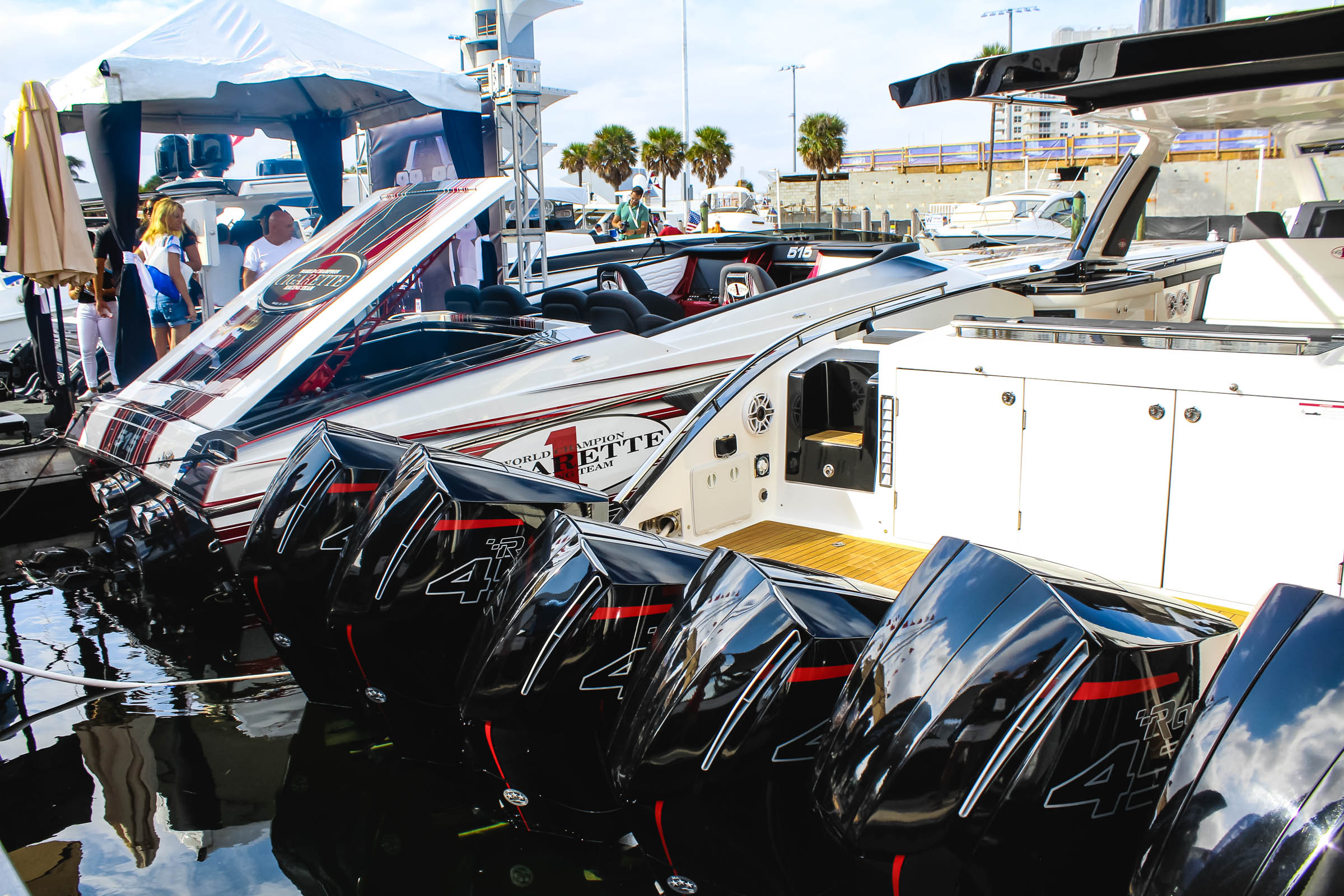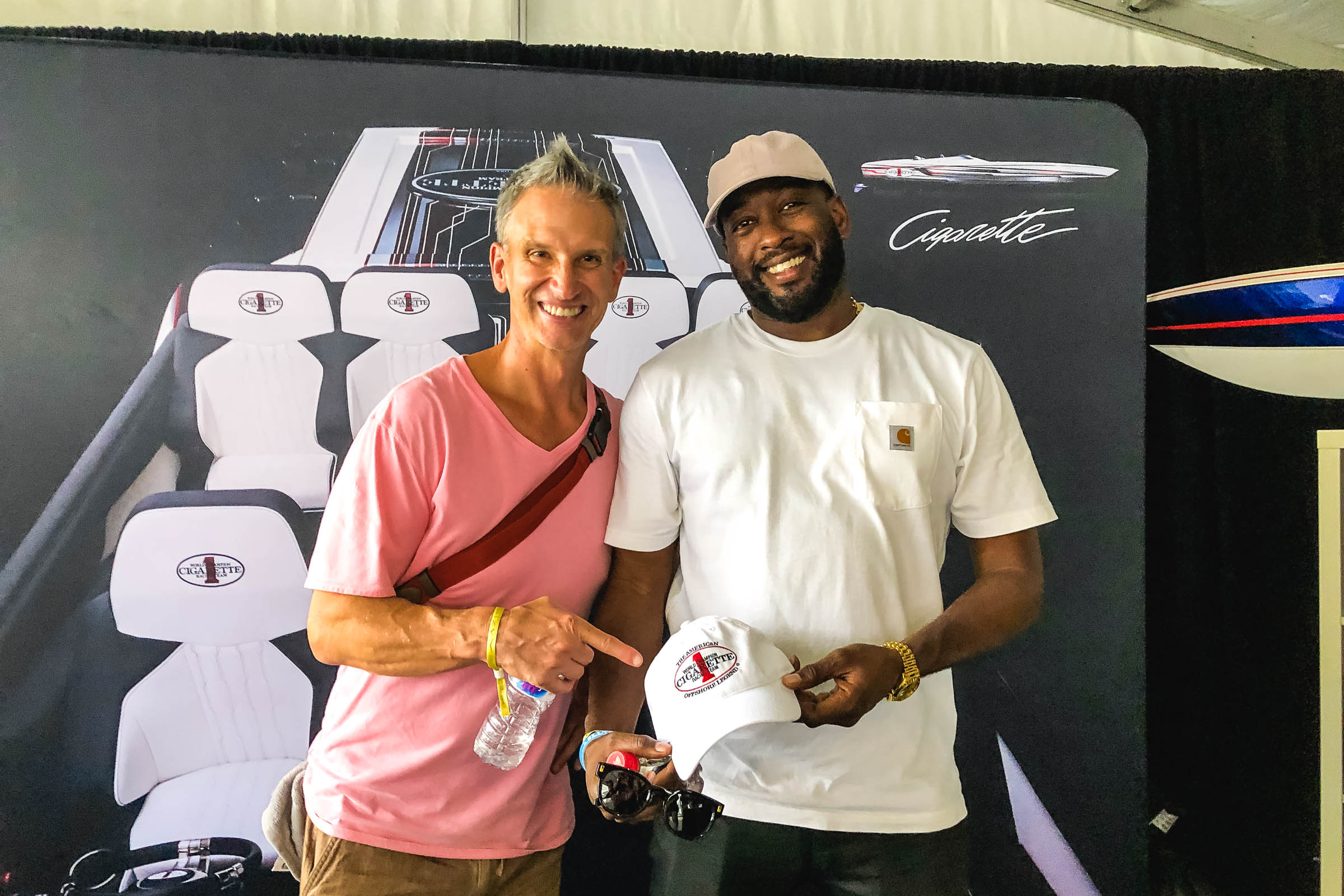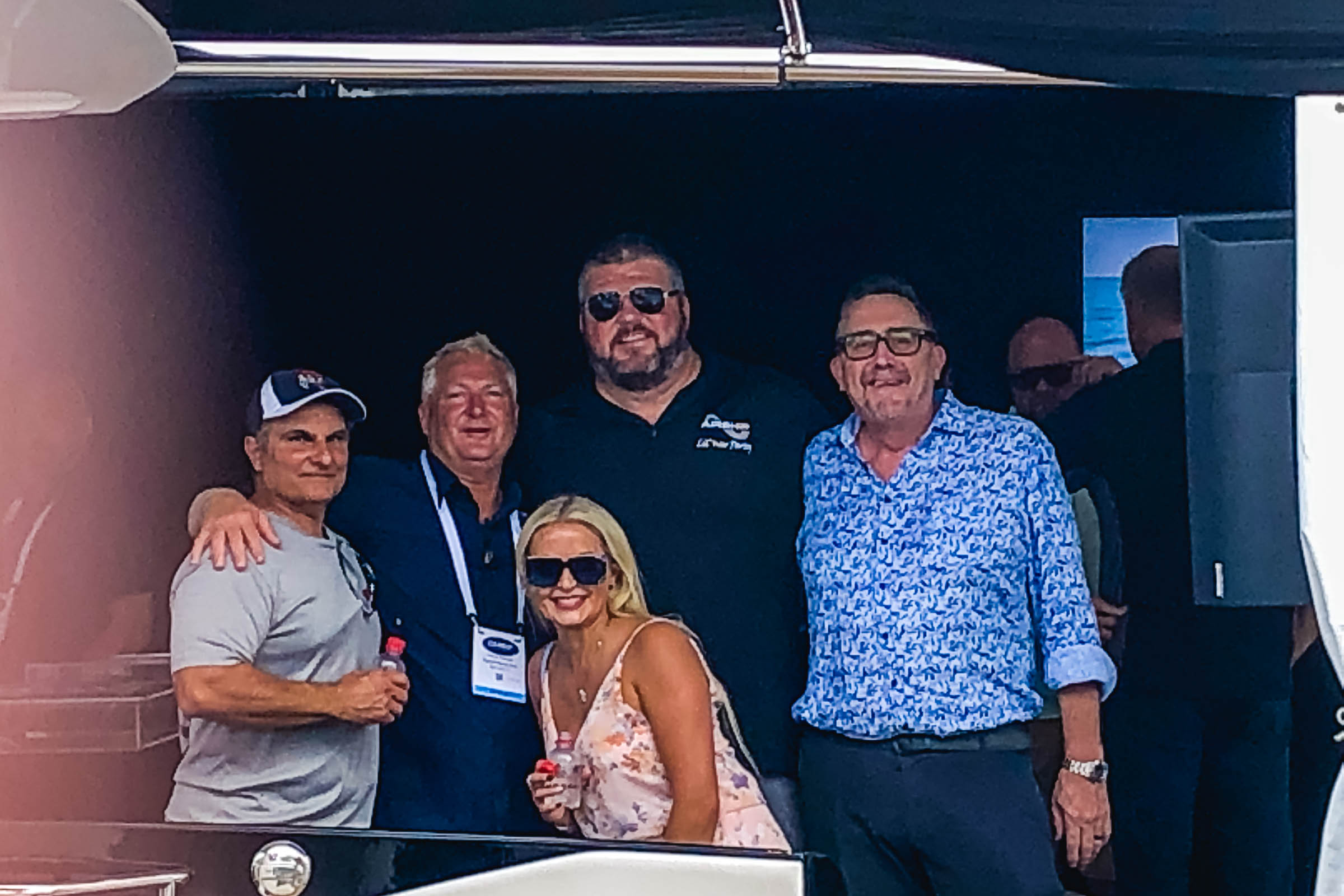 Next up, the return of the Miami International Boat Show to South Beach! Two months and counting…