Story by DinaRella / Photos by DinaRella and Intrepid.
Smack dab in the middle of Intrepid Powerboat's 32-foot to 37-foot center console line comes the all-new customizable 345 Nomad. This model is truly everything a powerboater and angler could ever dream-up in a center console and actually came to fruition due to feedback and tips from the manufacturer's loyal customer base. During the Palm Beach International Boat Show in March, Alex Rizo the vice president of sales at Intrepid invited LuxuryCenterConsoles.com on board to check out the highlights of the 345 Nomad.
Similar to the boat model's namesake -- Nomad, I too am an explorer and wander the world every chance I get racking up memories and... stacking up countless excess luggage fees galore. I have become fixated on maximizing storage space options and alternatives whenever possible, and I was blown away by both the designated and departmentalized usage of every nook and cranny on this water wayfarer.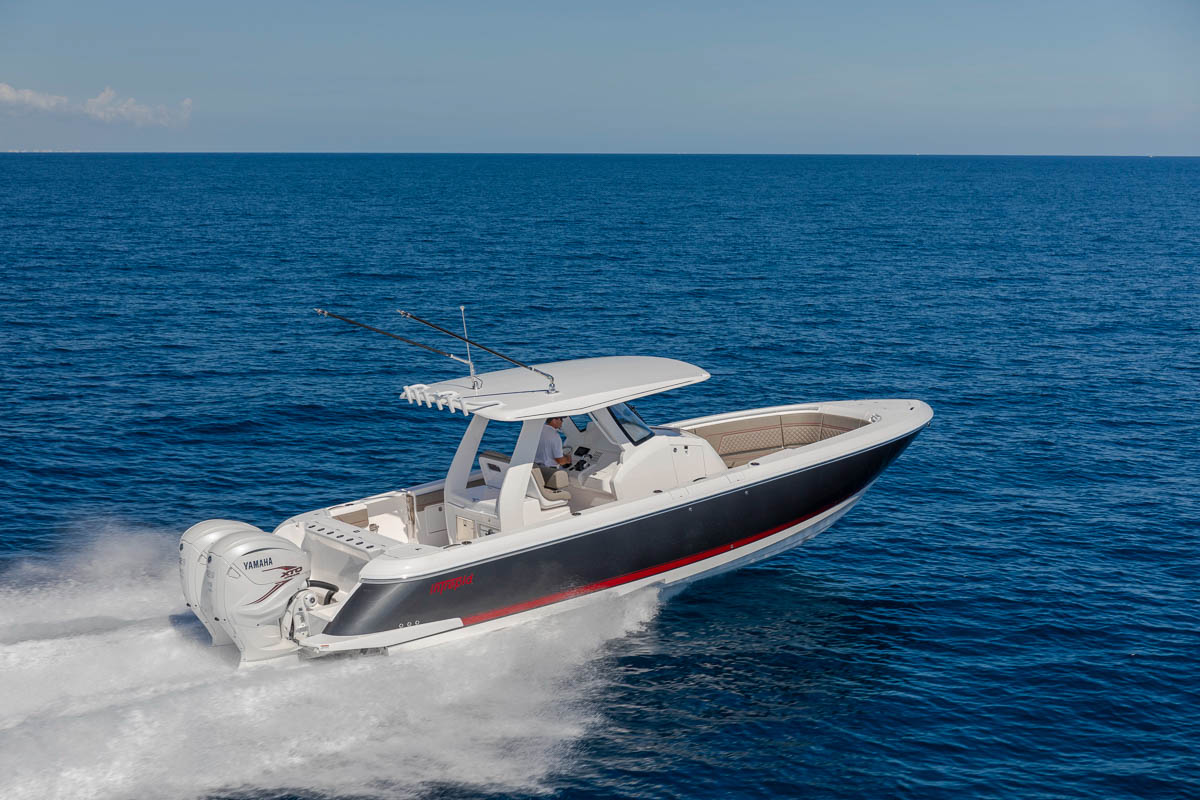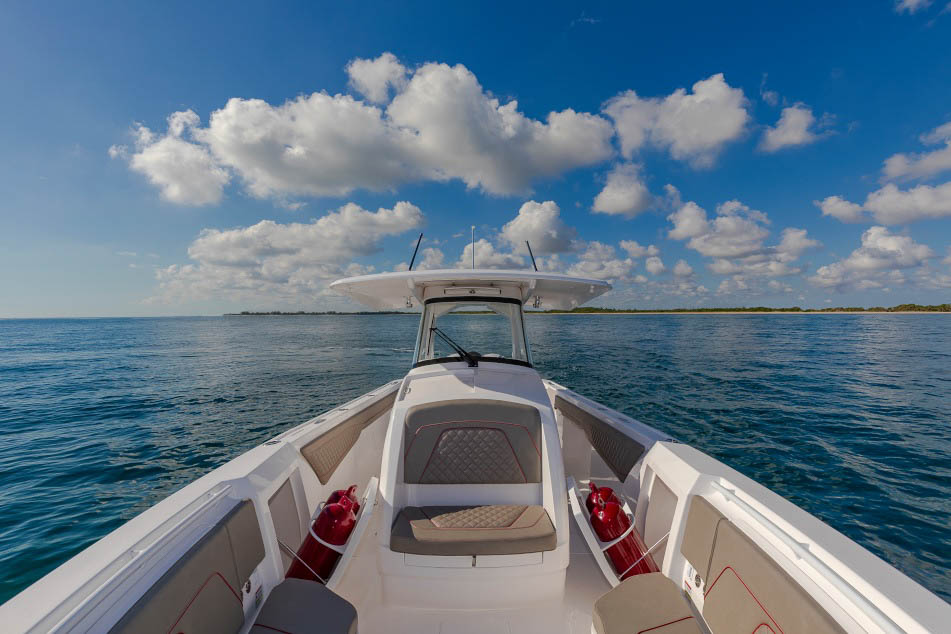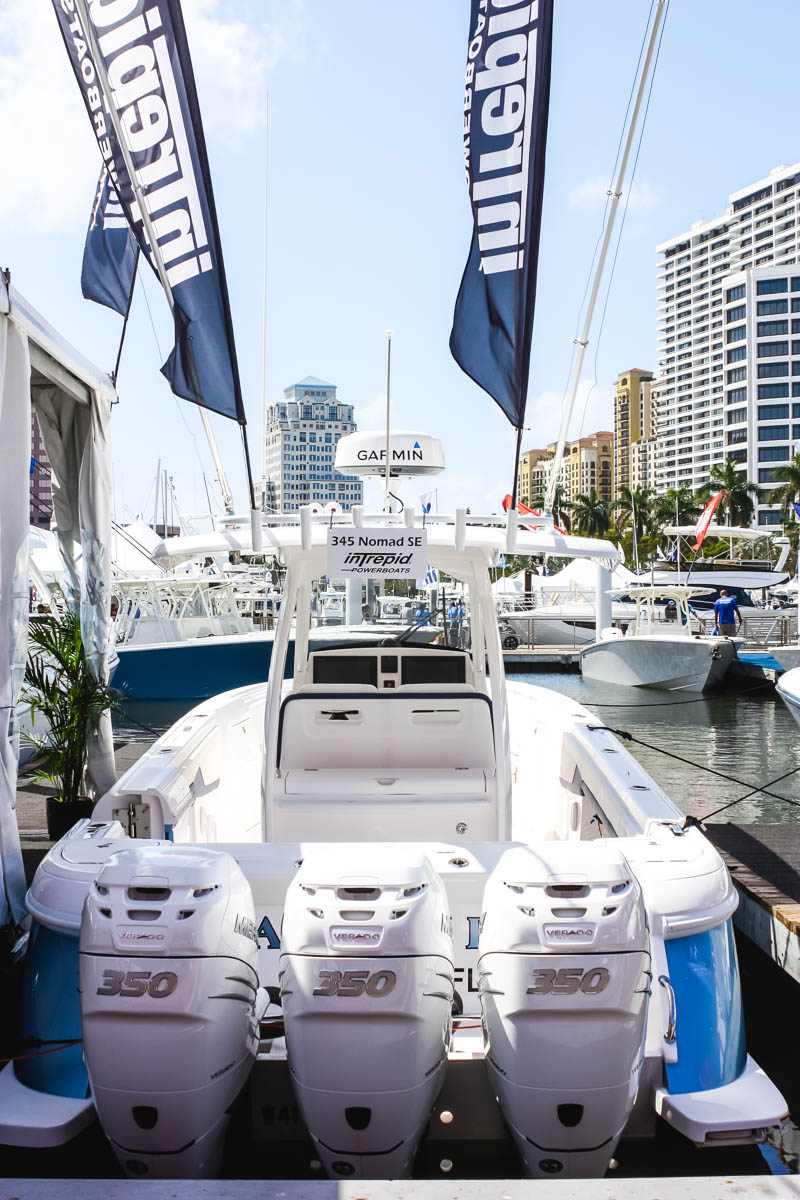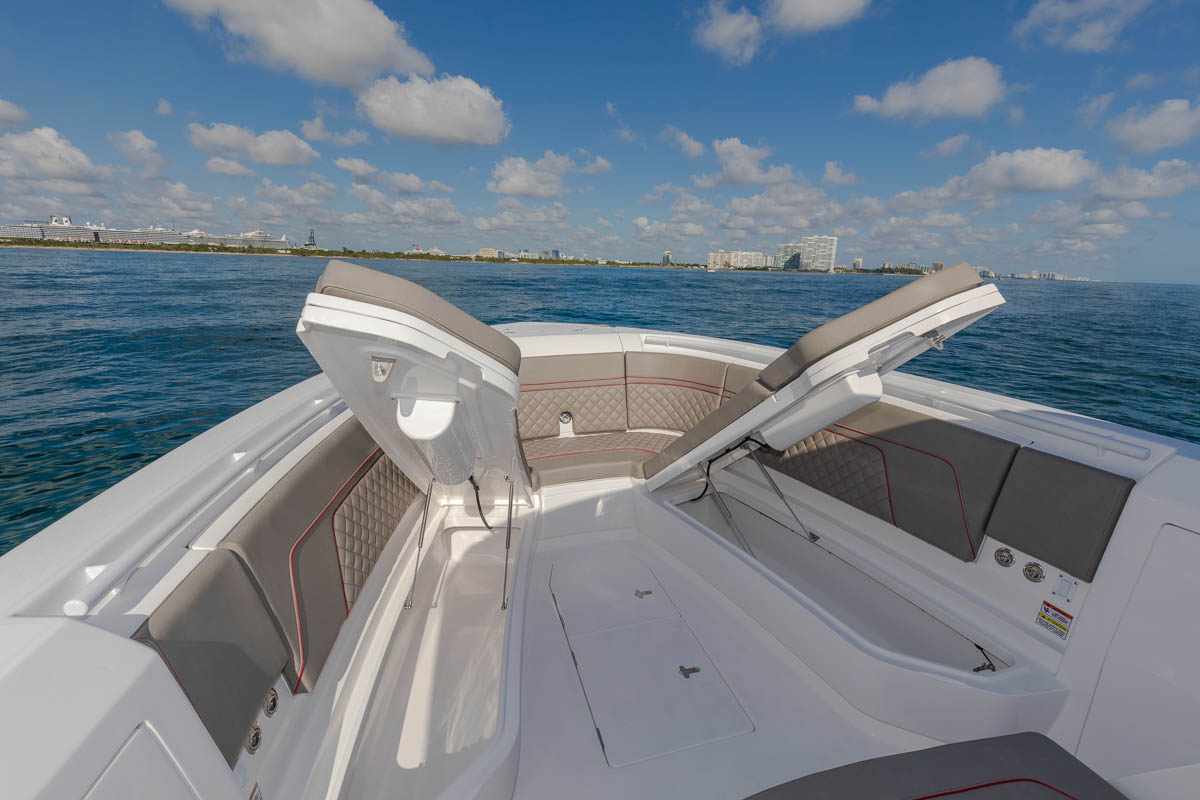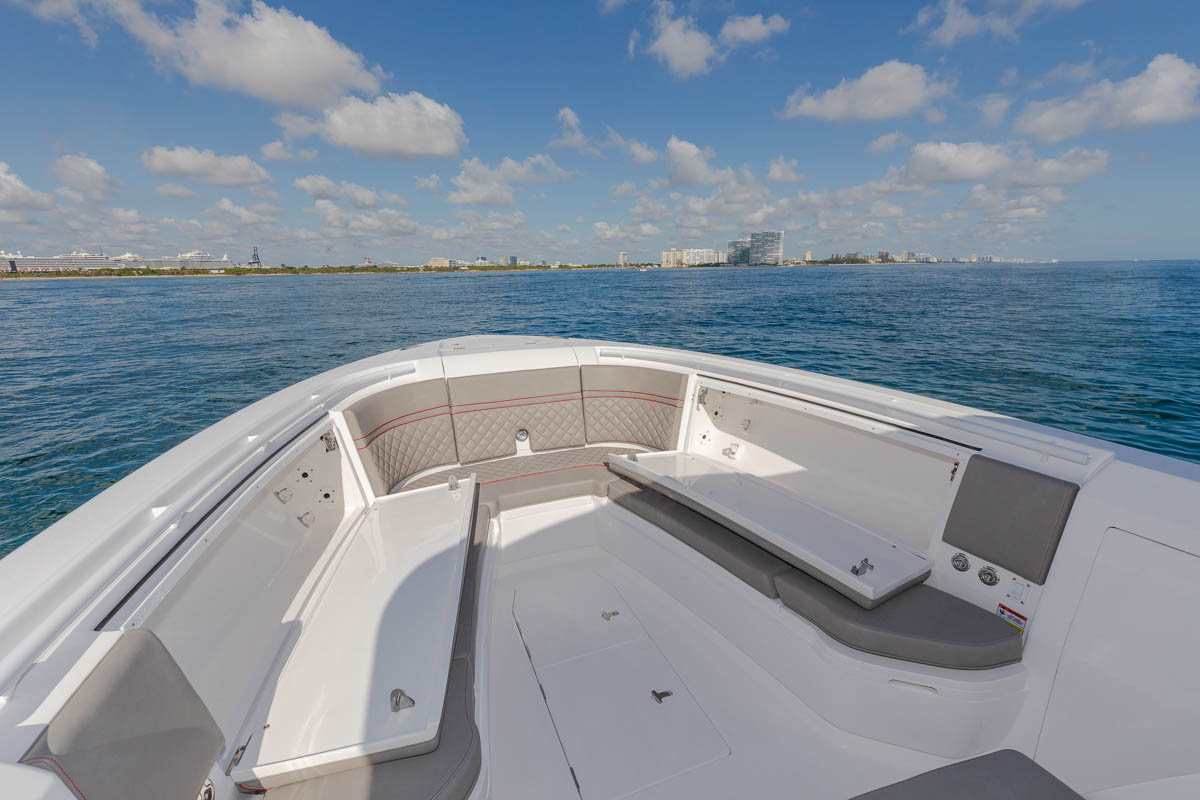 Forward thinking and functional design elements don't necessarily jump right out at you because they are neatly concealed into the structure of the center console. Starting out up front, the bow storage area is immense and it can easily accommodate luggage for a weekend retreat, fishing gear for the whole crew or the kids jumbo donut and pizza shaped inflatable floats.
Hidden rod lockers for all the poles are installed behind the bow backrests, and underneath each side of the U-shaped forward lounge seats are more storage compartments that become visible when the seats are lifted upwards. The icing on the cake is the electric actuated button that lifts up the backrests on each side, allowing seated guests the luxury of looking forward when sunning or cruising.
Two additional storage hatches can be found in the center of the floor, and underneath the forward facing double chaise lounge is an insulated cooler to delight those thirsty souls who do not feel the need to move very far for their Nestea or Corona. And as a trait of the newly designed hull, widened freeboard space makes those riding in the frontal region feel more secure when the operator is working the throttles.
Two large side compartments have been allocated to store four fenders (two on each side.) Speaking from personal experience, as a general rule who ever is on board and has his or her hands free is usually elected to become part of the fender crew while the pilot concentrates on docking.
More so than often, this could be someone not familiar with the boat who can be seen scrambling to unlock a hatch and dig them out as the boat embraces for a slight run-in with the dock or another vessel. The 345 Nomad eliminates this hassle and has placed the fenders front and center right where they need to be.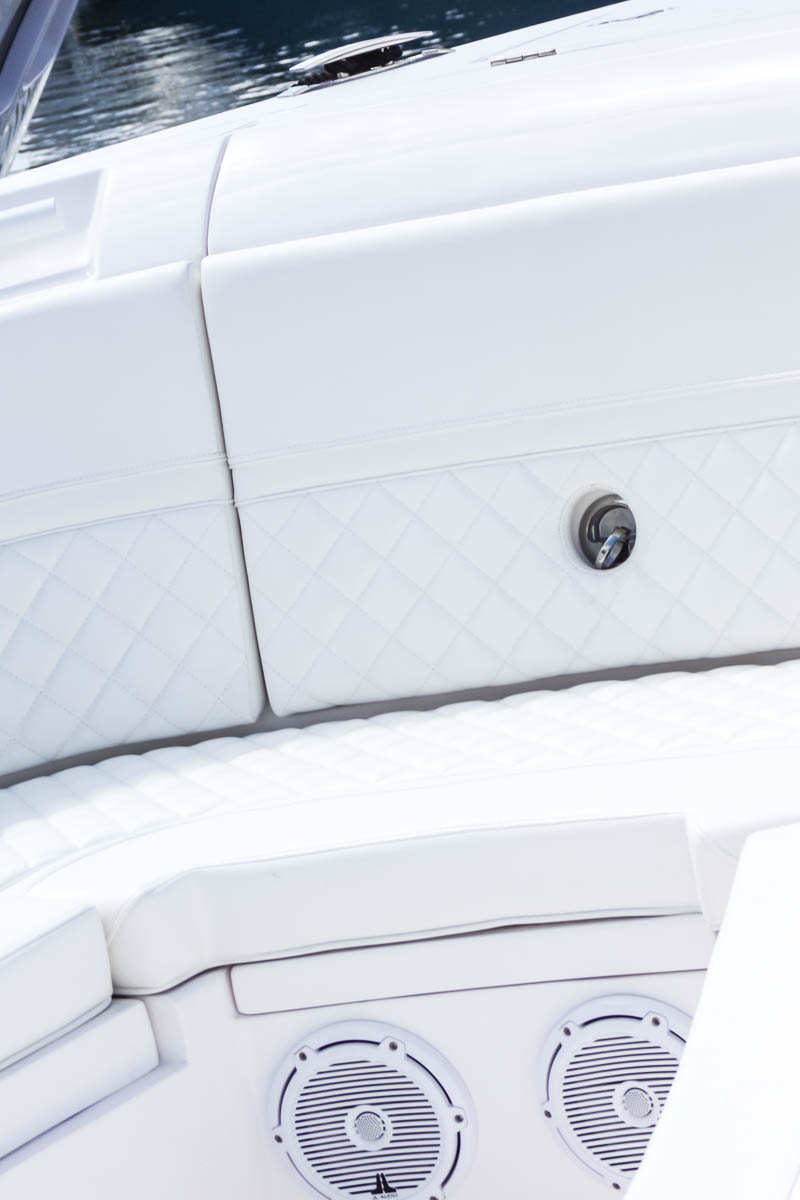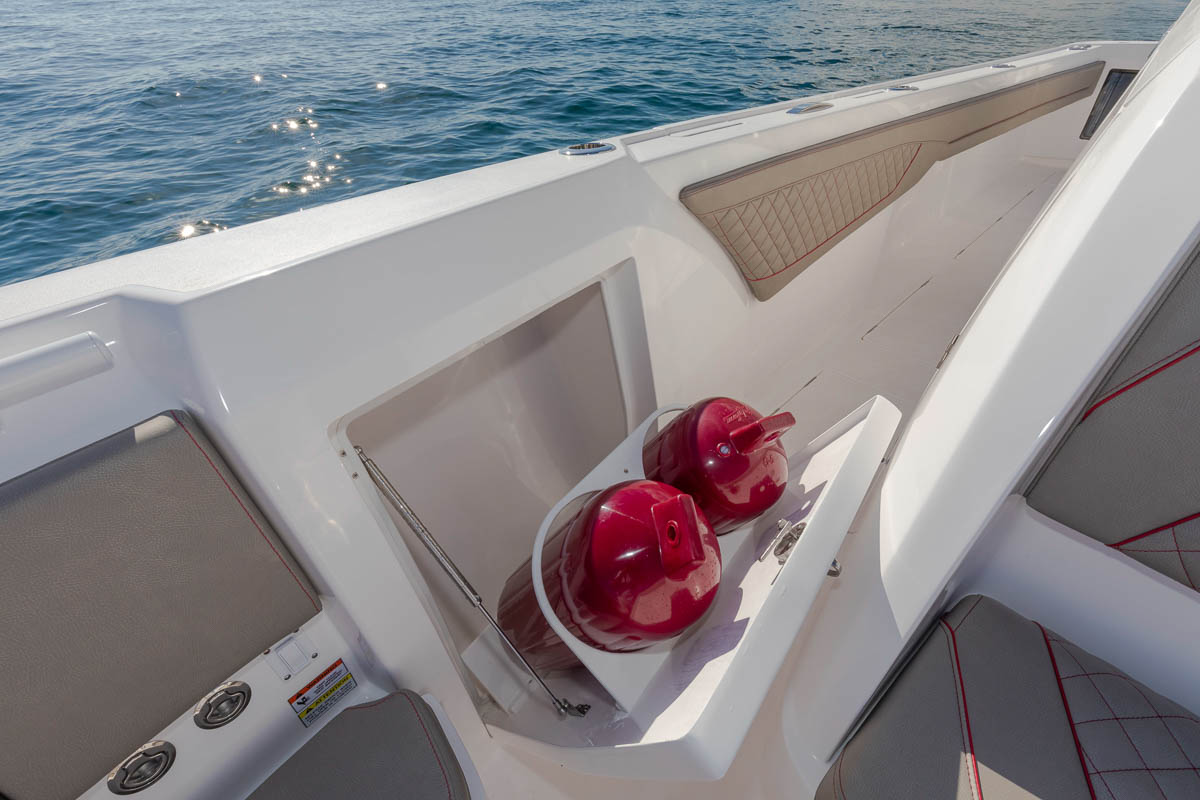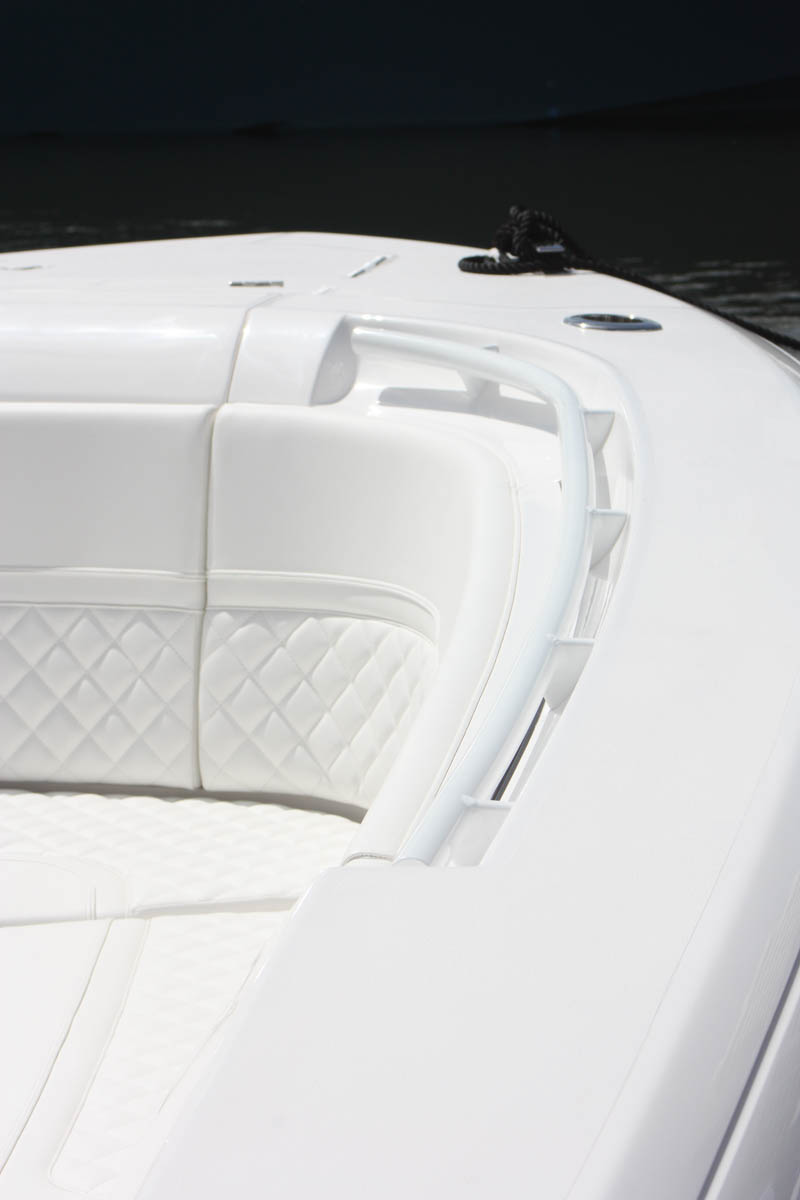 Apart from offering a safer ride, better fuel economy and higher speeds have also been noted. This is due to the single step hull layout which includes a 45-degree bow entry and wider strakes supporting the 350 gallons of fuel and 30 gallons of water which work to ventilate the bottom of the boat, create lift and bring the boat on plane faster.
Another welcomed facet is the simplistic starboard side entry console where you just slide open the top and release the door. This is in place of the previous forward door entry via an electronic button found on the older aluminum models. A head with pull out shower and sink, additional storage cabinets and access to the service and maintenance electronics systems all fit nicely down below.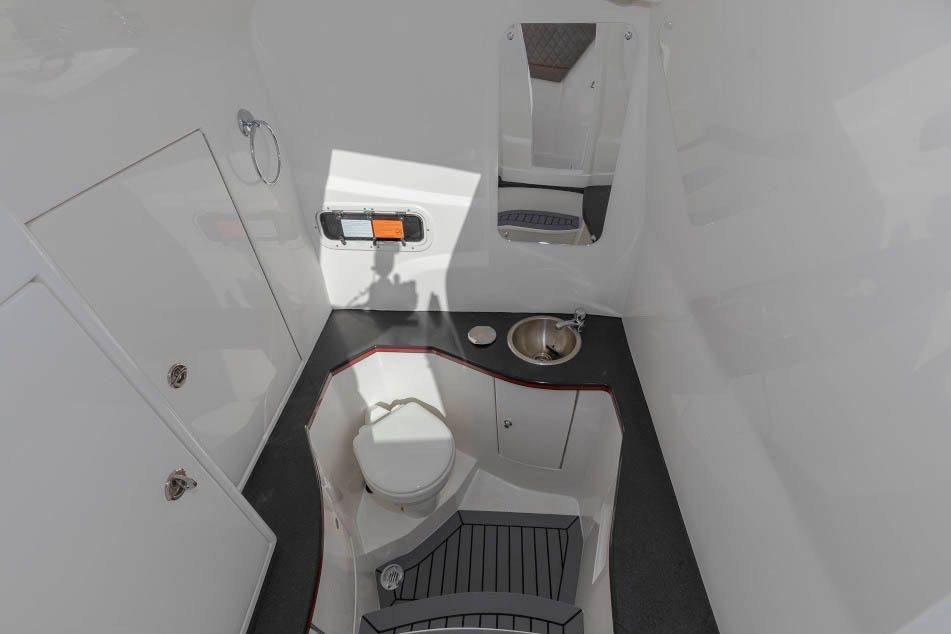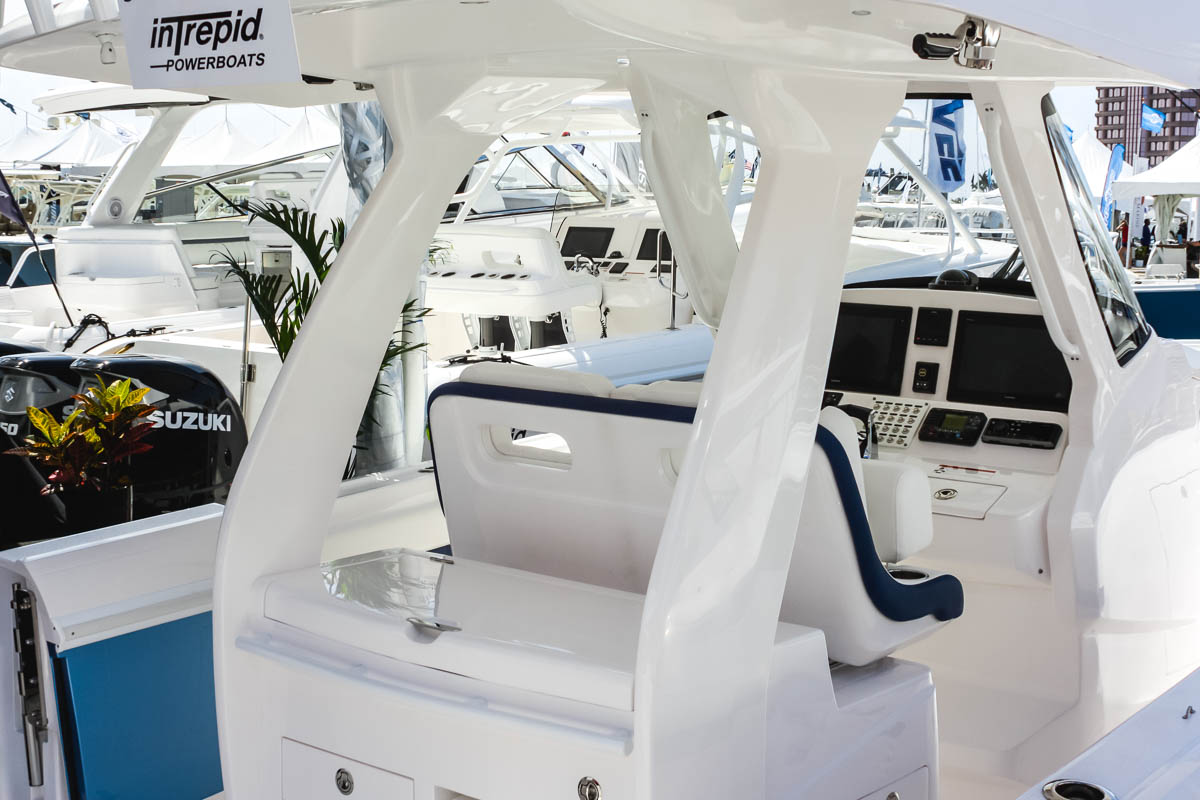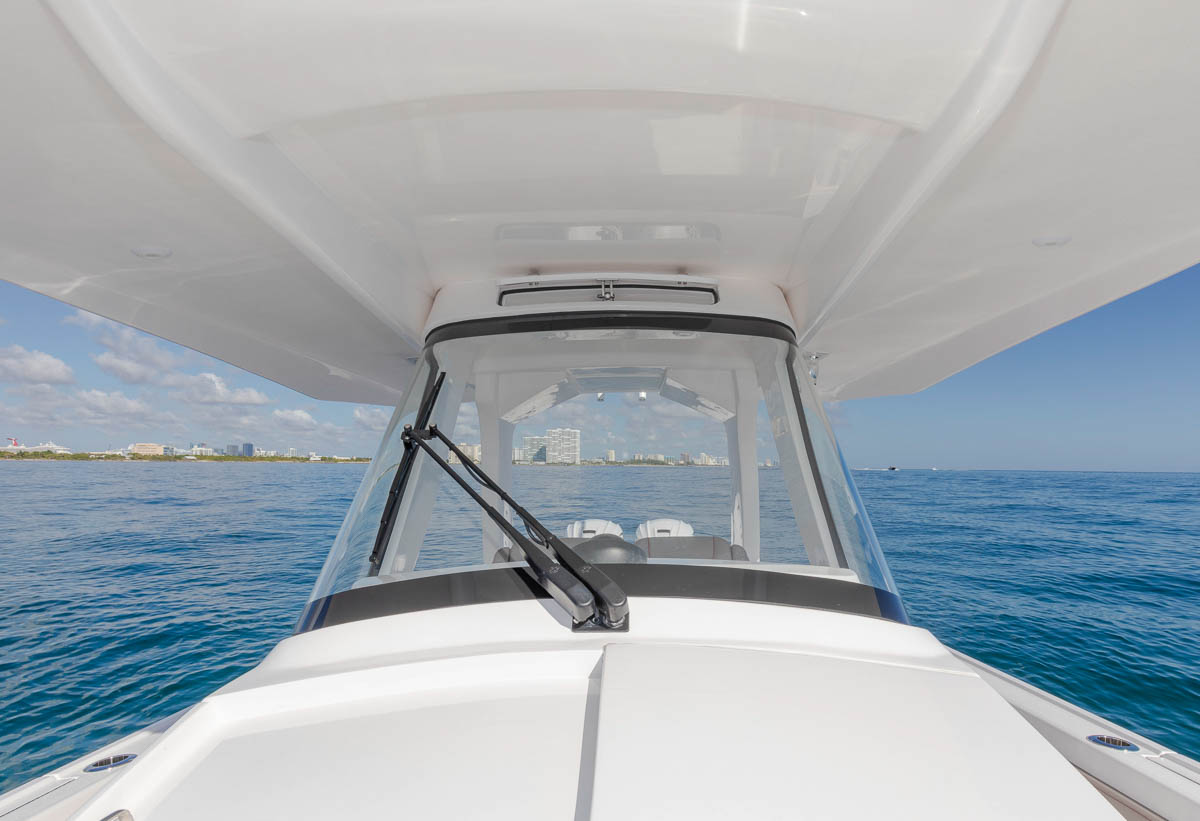 In the helm, a full-height wrap-around glass windshield protects from the elements, and an electronic windshield wiper and washer make those rainy days more manageable. Bolster seat options are customizable and can include integrated footrests and electric forward and backward seating controls, as well as many other variables.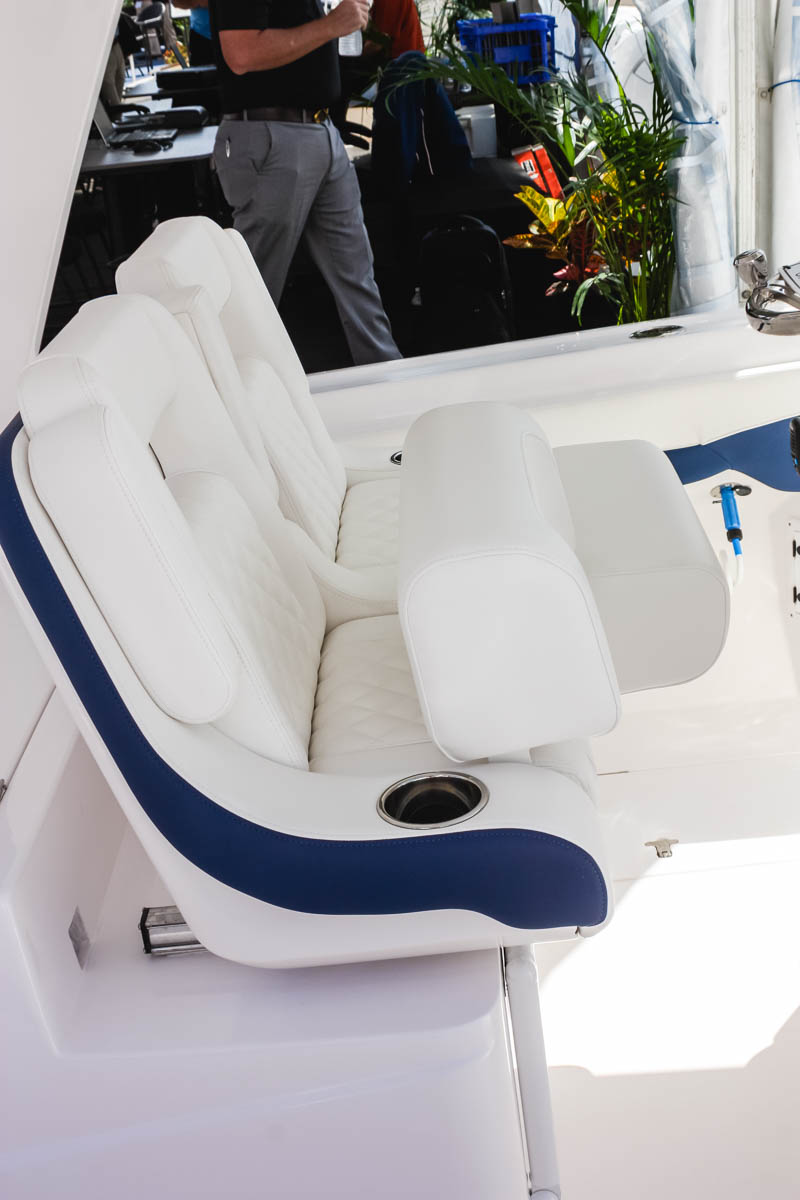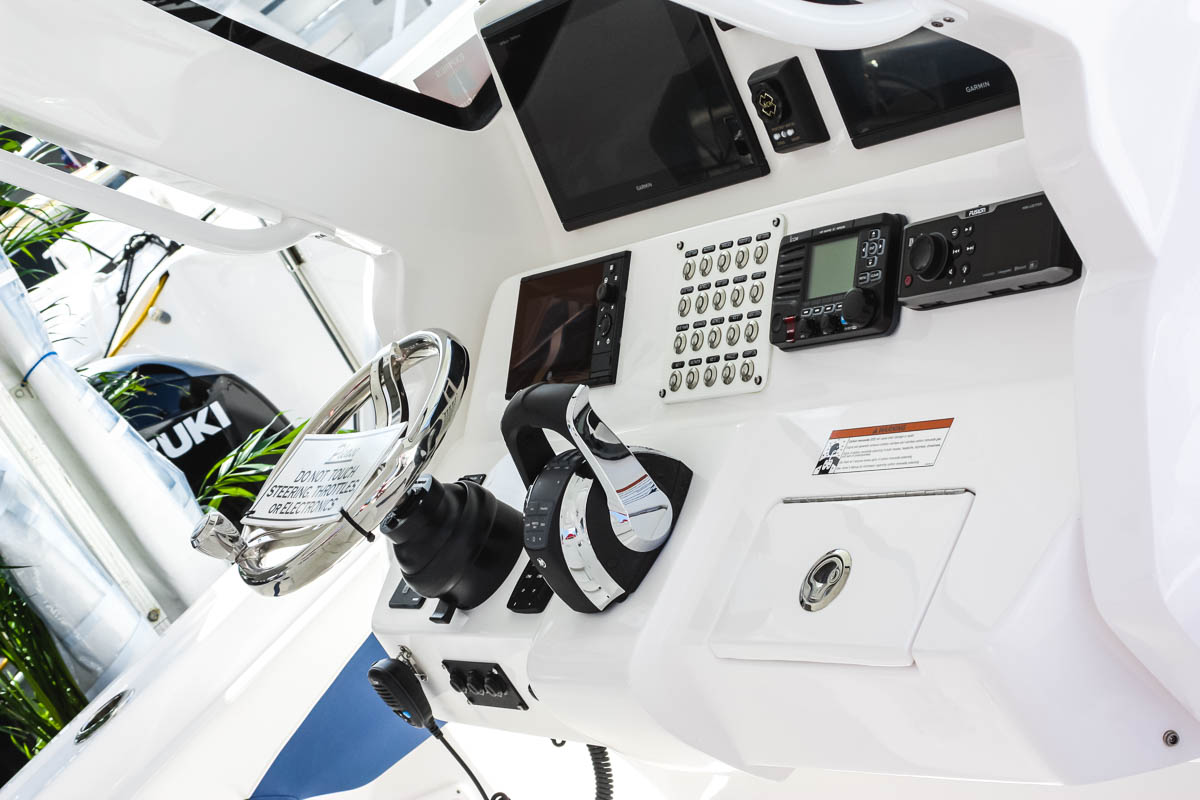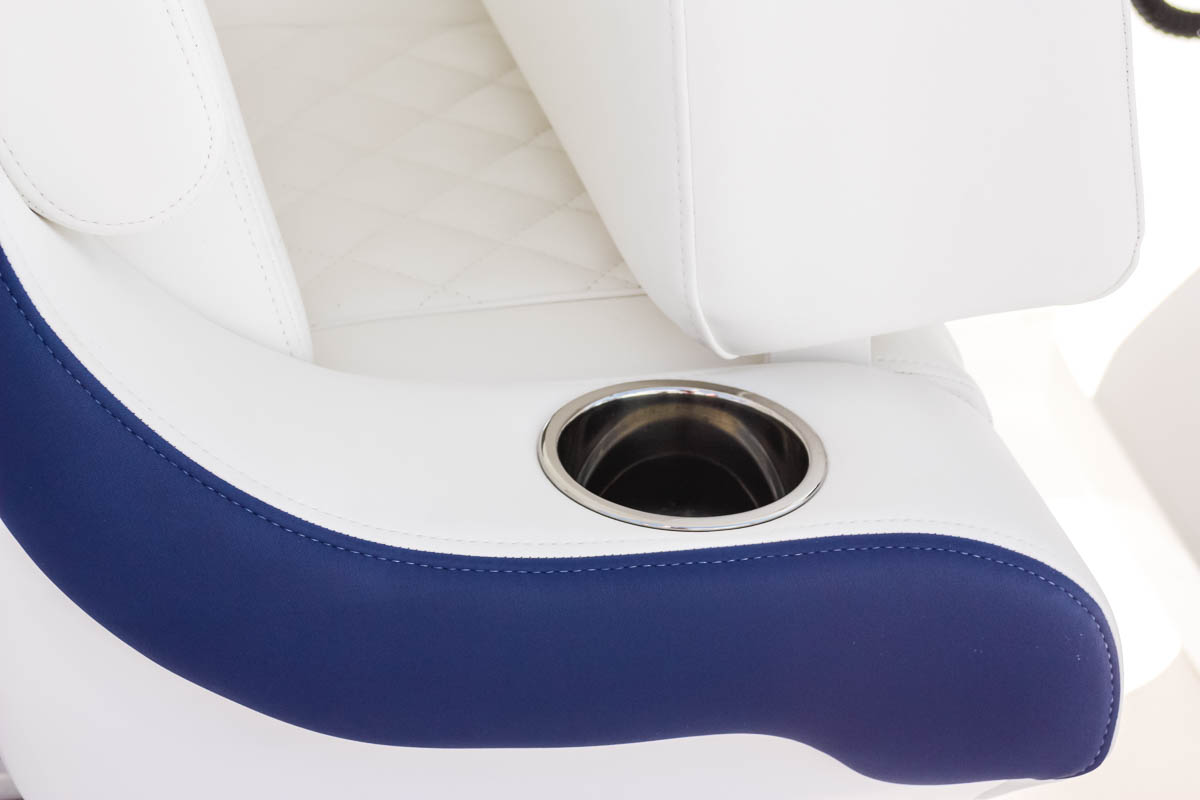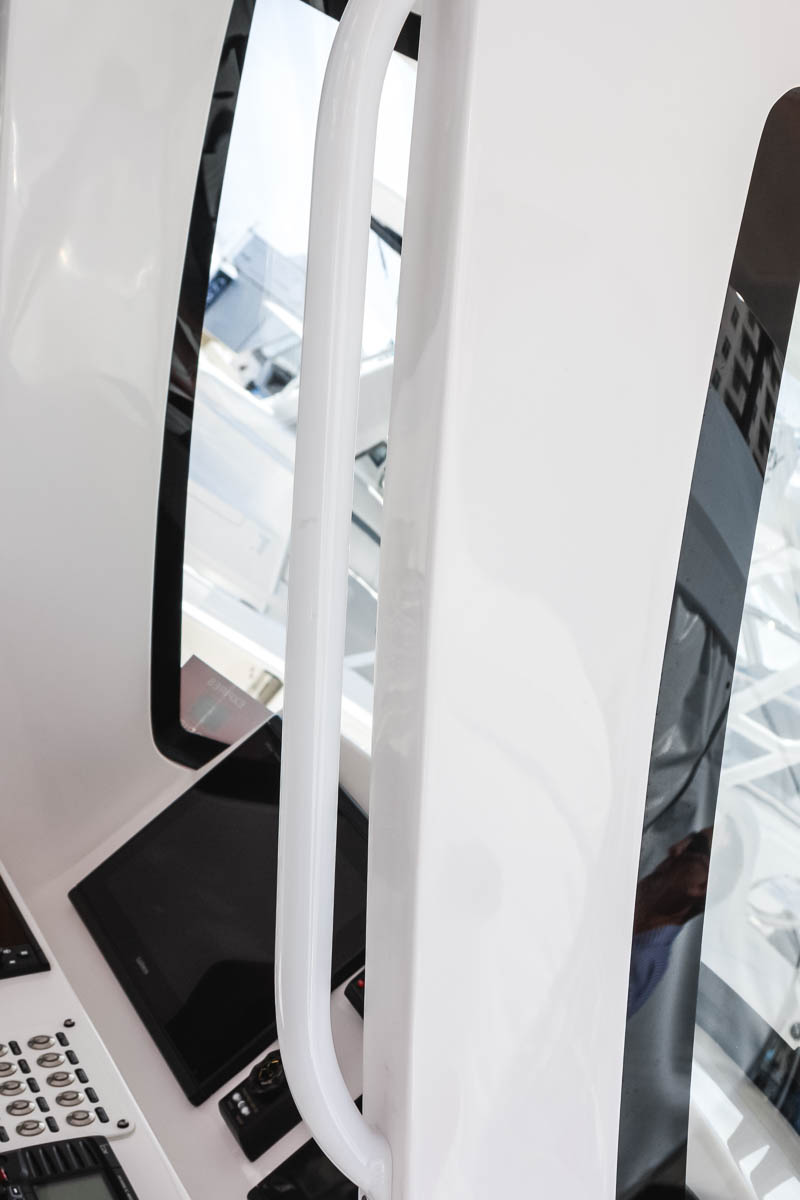 Port side entry leads to a clean and spacious stern equipped with an integrated side dive door that takes up zero cockpit space due to how it rotates over the gunwale, a feature Intrepid is famous for. When the folded ladder is deployed it simply lifts up and slides over to facilitate entering the water. Further forward in front of the dive door is a tackle drawer fitted into the side gunwale.
The new edition boasts of a full length folding bench seat in the stern that tucks away to provide anglers their much needed rear fishing space. This feature came as a shock to me when Alex first pointed it out as you do not expect to see an ample-sized beautiful aft seat pop out at you. Above deck 39-gallon livewells with windows grace each corner of the transom, in addition to a 50-gallon baitwell on the center sole of the craft.
Other aft amenities which can be tailored to your personal design style include an integrated sink, grill, cutting board, ice maker, Frigid Rigid cooler, and as you might have guessed more storage units.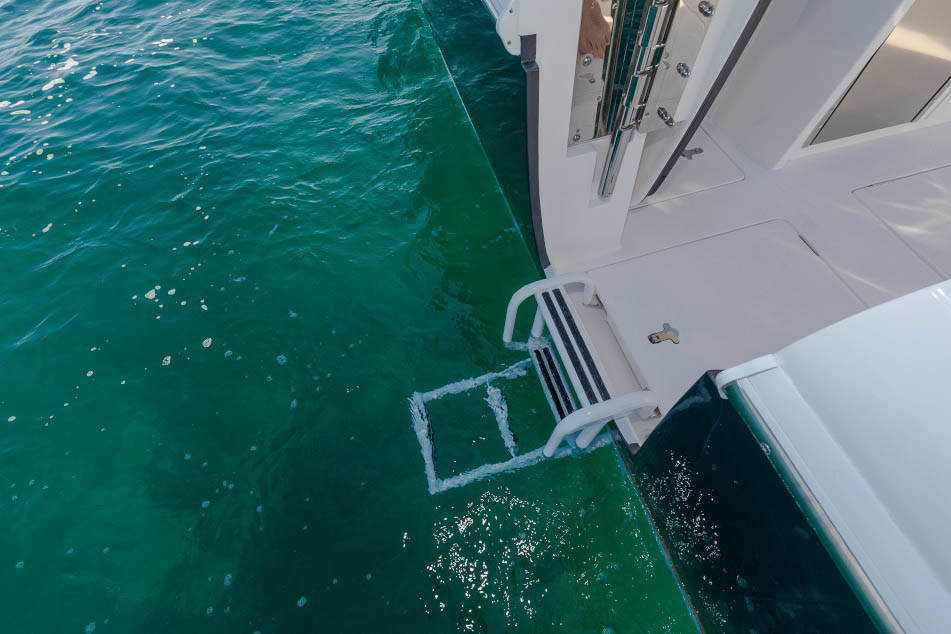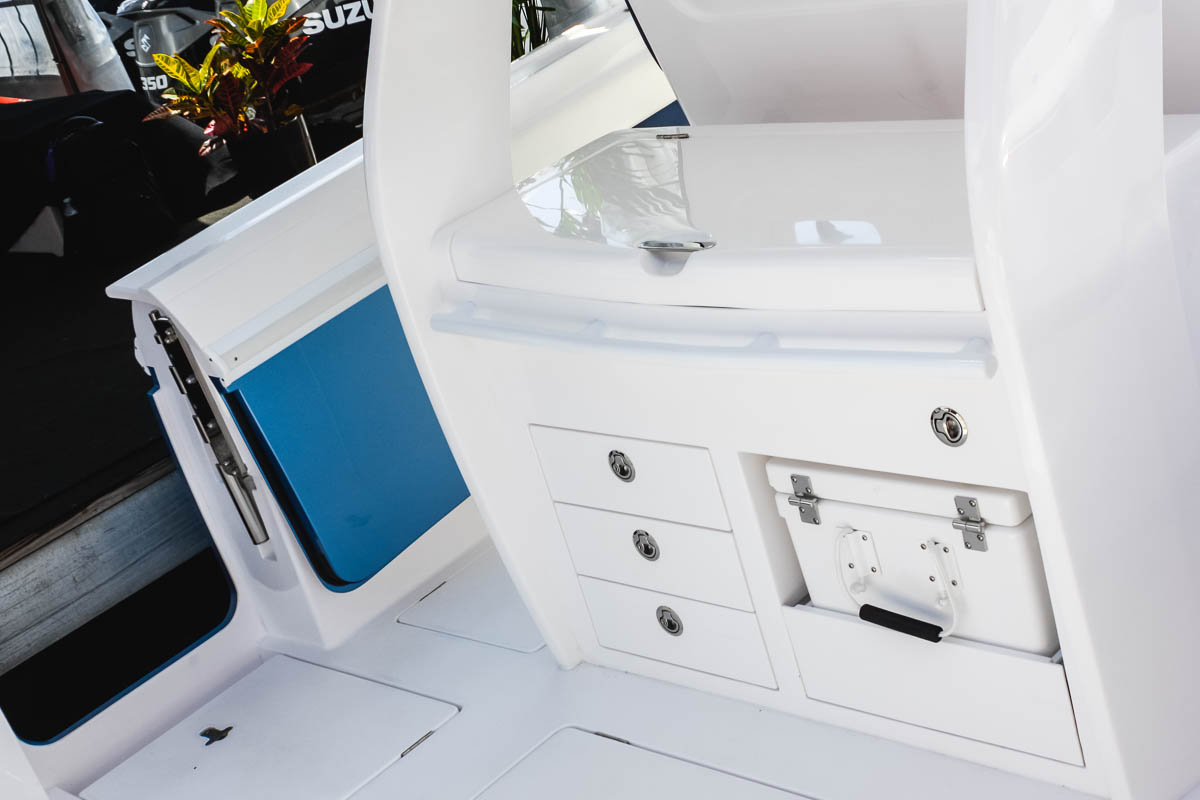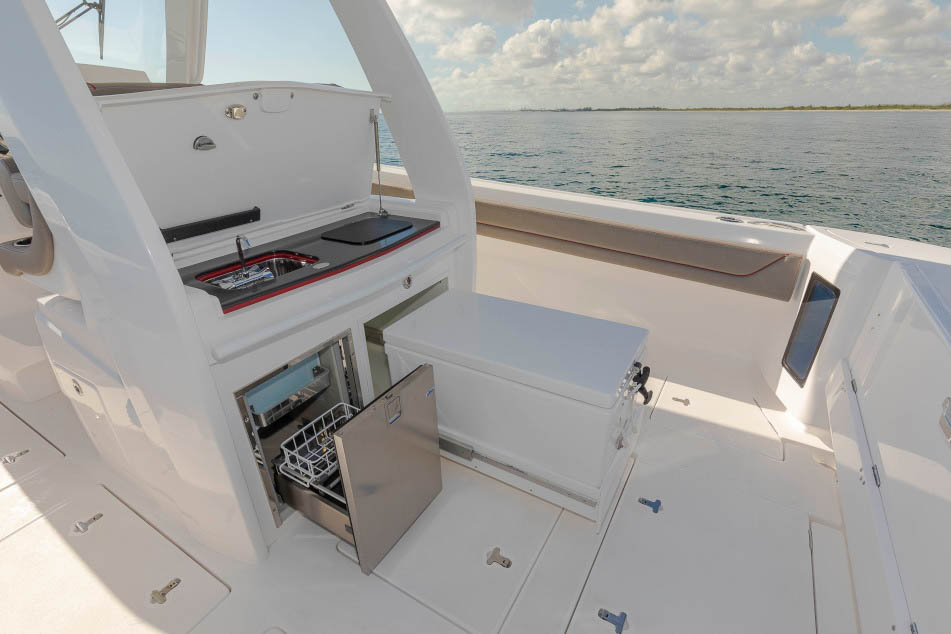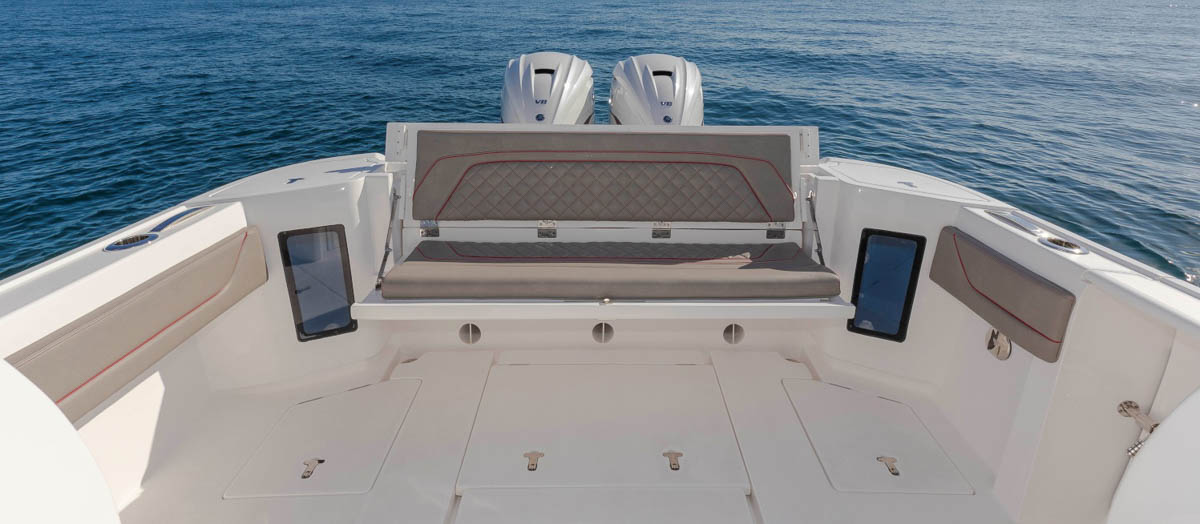 A set of twins or triples from any of the following engine builders such as: Evinrude, Suzuki, Yamaha, Seven Marine and Mercury Marine will push the Intrepid to 62 mph with the two engine set-up and up to around 68 mph with a trio on the transom. Again these speeds can fluctuate depending on the amount of fuel and riders on board at the given test time.
Depending on the buyer's preferences for power and custom configurations, pricing for the 2019 models with twin outboards starts at $375,000 and upgrading to triples puts the price around $425,000. There are also two different layouts to choose from including the SE (side entry) with the hard glass that we discussed in this feature or the FE (forward entry) with the traditional T-top offering.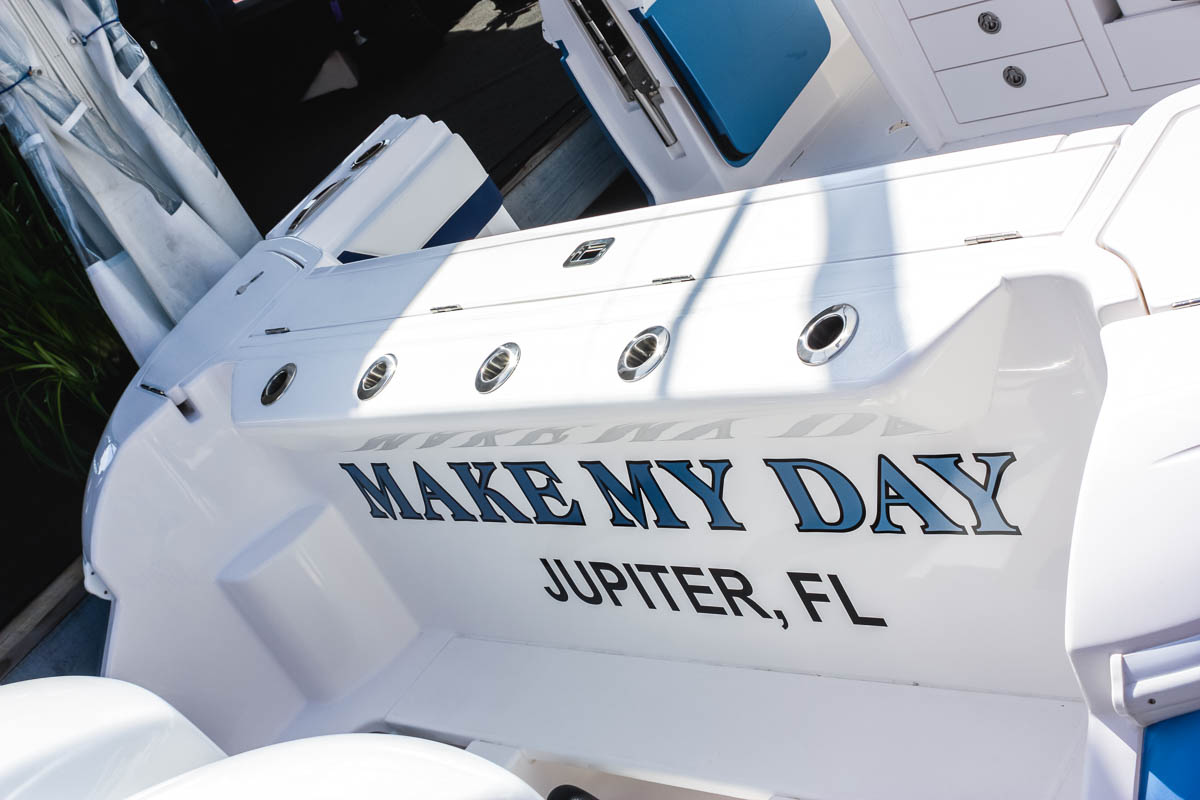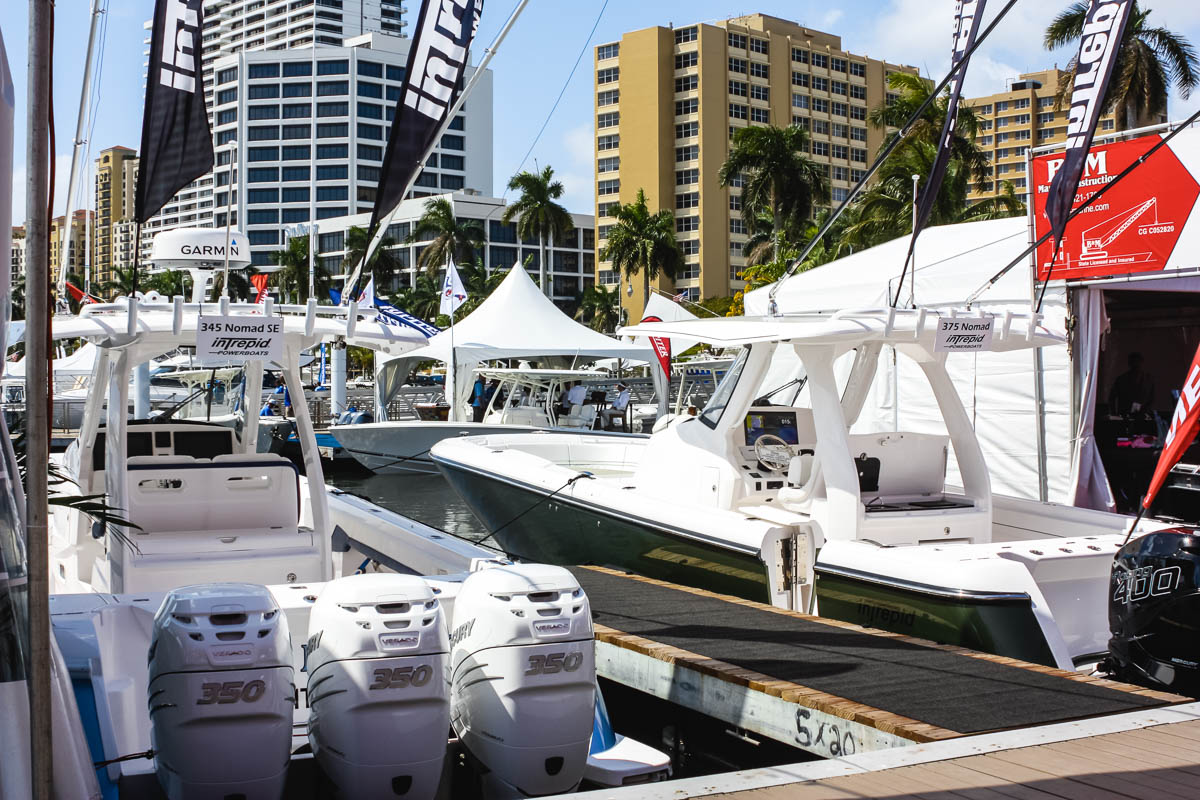 Summing up the 345 Nomad -- it delivers on safety, storage and speed, and can easily put a smile on an angler's face even before his first catch of the day. Celebrities including Major League Baseball star Alex Rodriguez and pop music singers Enrique Iglesias and Gloria Estefan are proud Intrepid owners, and you could be next!