Story and Images by DinaRella
The Chesapeake Bay has more waterfront watering holes than there are days of summer! The current count stands near 92. Little did I know before arriving to Baltimore to cover the Rockin' The Harbor Poker Run, I would hit-up four of the 92 all on the same steamy Saturday for a new installment of our "'Deck, Dock and Dine" lifestyle series on LuxuryCenterConsoles.com.
As a disclaimer, not on the original agenda was the fourth beachside destination that served as a  welcome retreat from the pounding 6-footers pushing the Nor-Tech in all directions, as we did our best to outrun a tempest chasing us overhead.
Pulling up on each dock, everyone I met embodied a genuine keenness to please and Baltimore boaters and even the people watchers had a friendly flair about them. What surprised me most about Maryland's summertime coastal eateries and drinkeries (my new contribution to the urban dictionary) were the innovative crab-inspired renditions including a $22 colossal crab pretzel on the menus, and secondly how each location's policies permits pooches to come inside with their owners. Luckily I am a big fan of crafty crab dishes and  also canines, so no complaints on my end.
The Jetty Restaurant and Dock Bar
201 Wells Cove Rd. Grasonville, MD 21638  (410) 827-4959
 An outstanding layout overlooking Kent Narrows, and surrounded by water on three sides of the Eastern Shore... from the moment you make your barefoot way off the Mystic or MTI center console, there is much to adore as you pass through the door of the Jetty Restaurant and Dock Bar. I suggest you start your stay with a frozen Miami Vice or Landshark lager from any of the attentive servers or bar staff.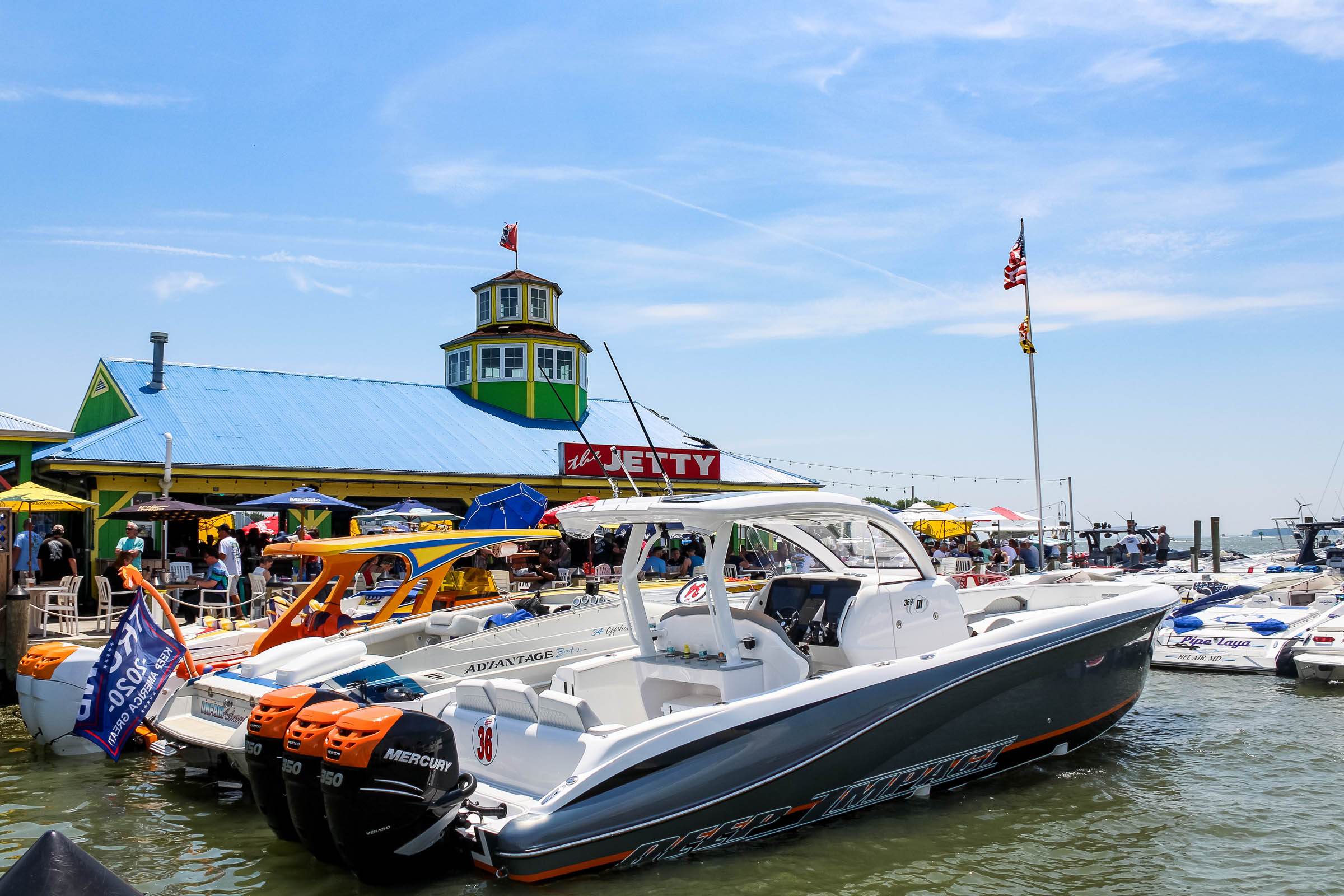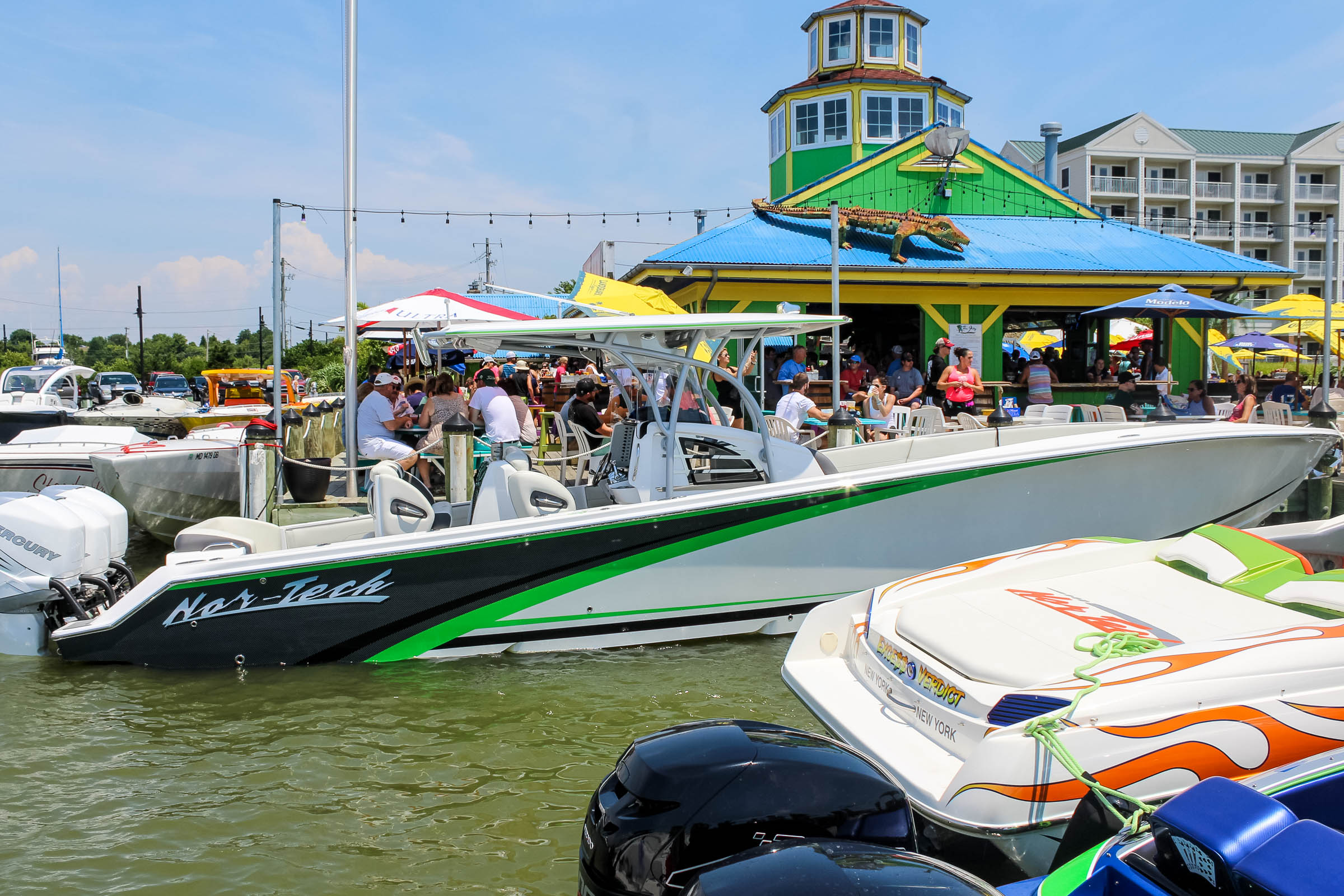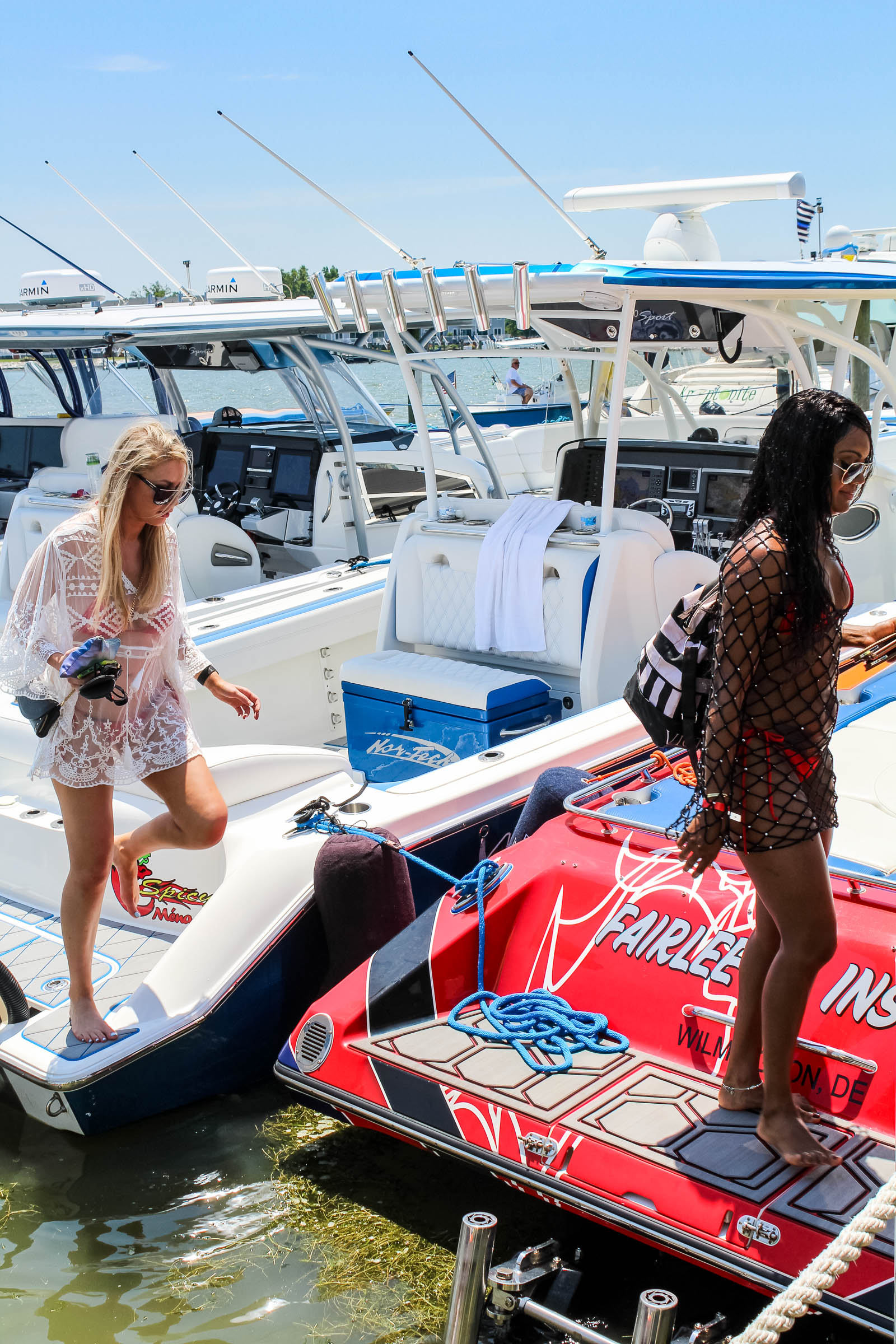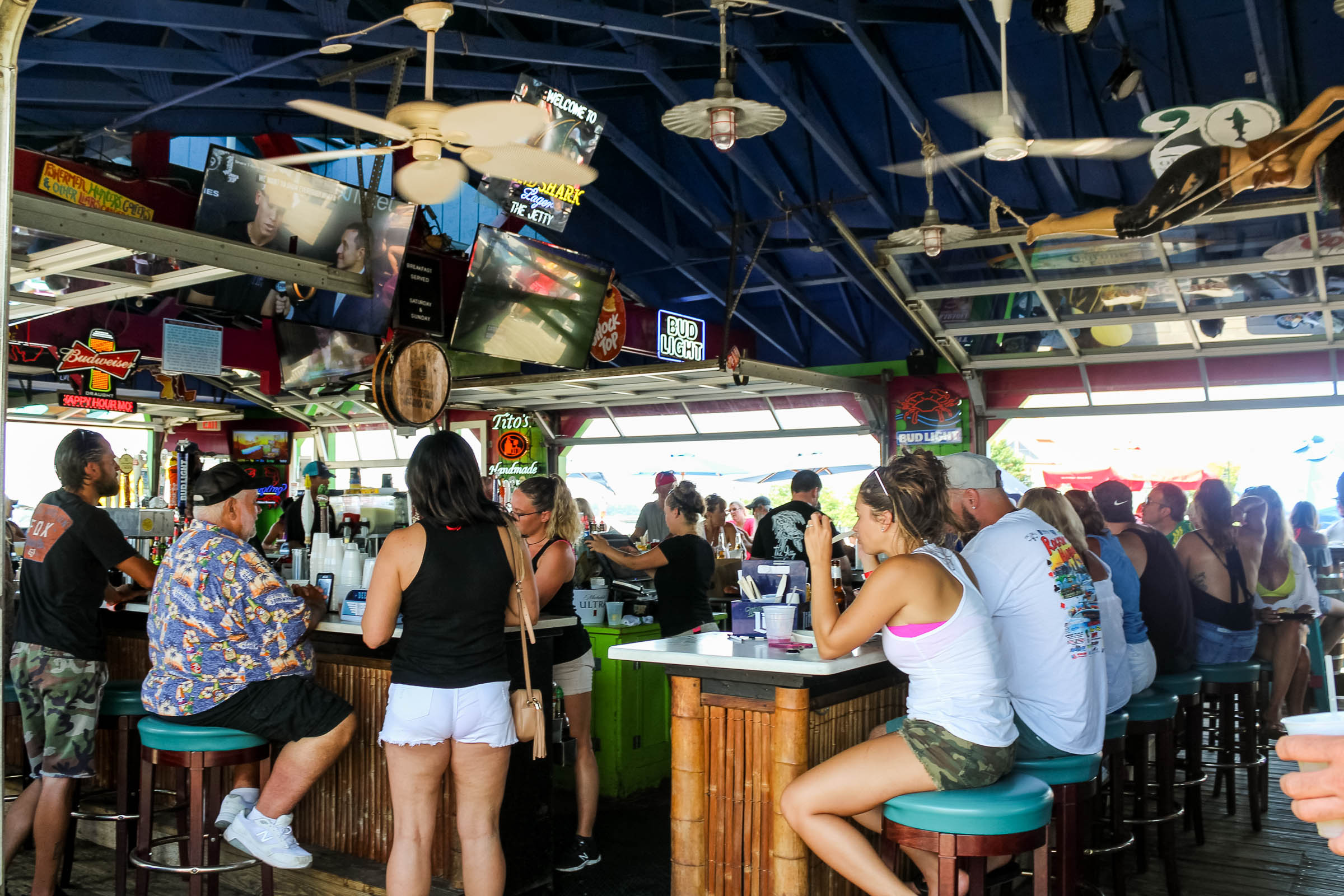 Whether your seaside adventures led you here on a busy, breezy bay day, you rallied a crew to hear one of their local live bands, or was simply ready to give it a shot belting out your own personalized twist of Axel Rose's Sweet Child of Mine on mid-week karaoke nigh -- a rocking good-time is guaranteed. The Jetty Restaurant and Dock Bar's laid-back Key West dig your feet in the sand aura, coupled  with its inviting facade of pastel painted fixtures and vibrant green and yellow walls, would even make singer, Jimmy Buffet feel right at home.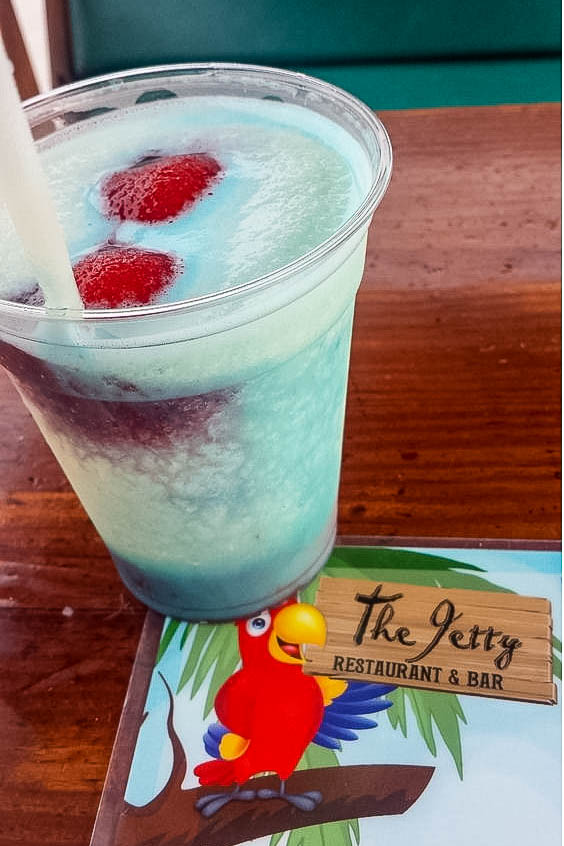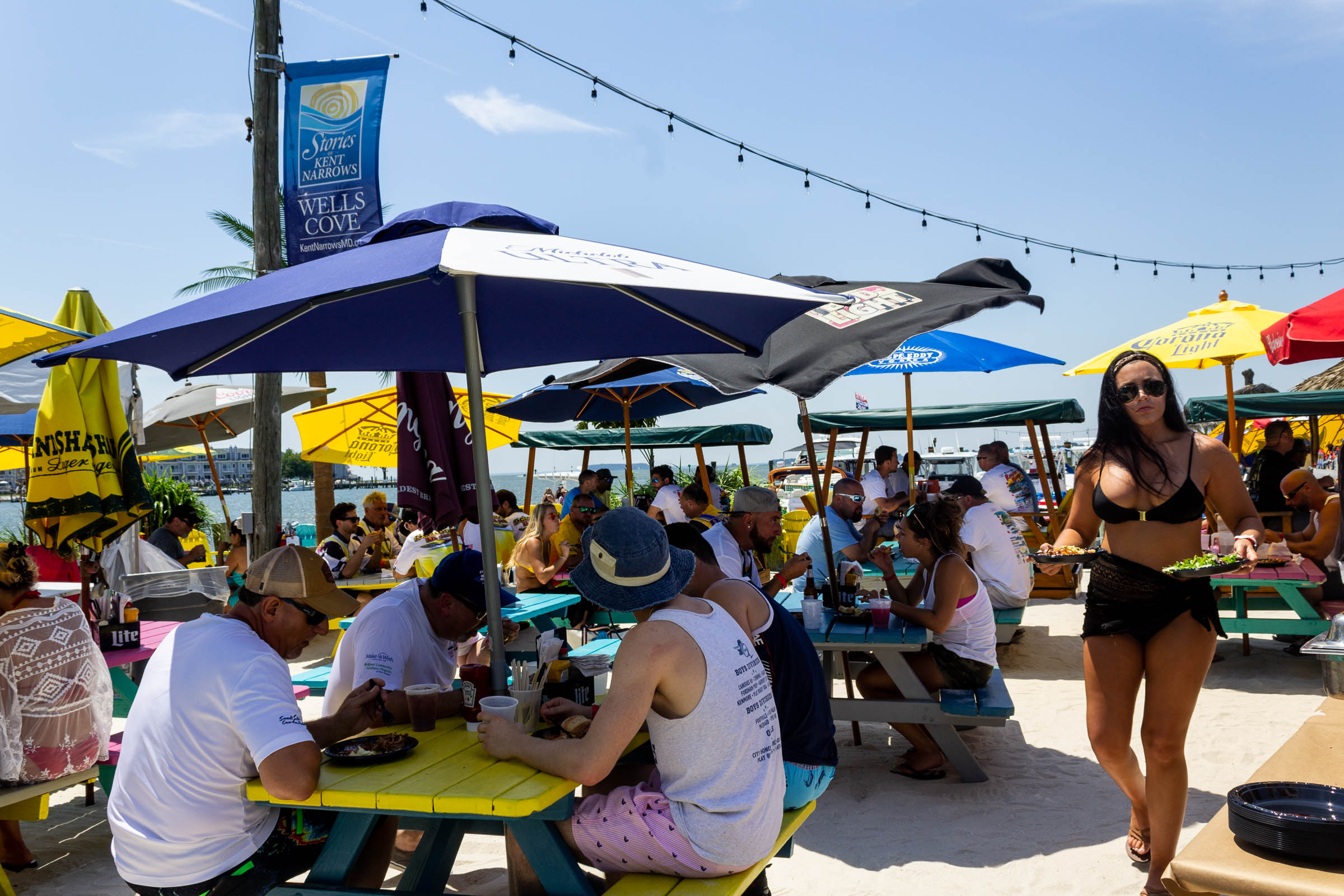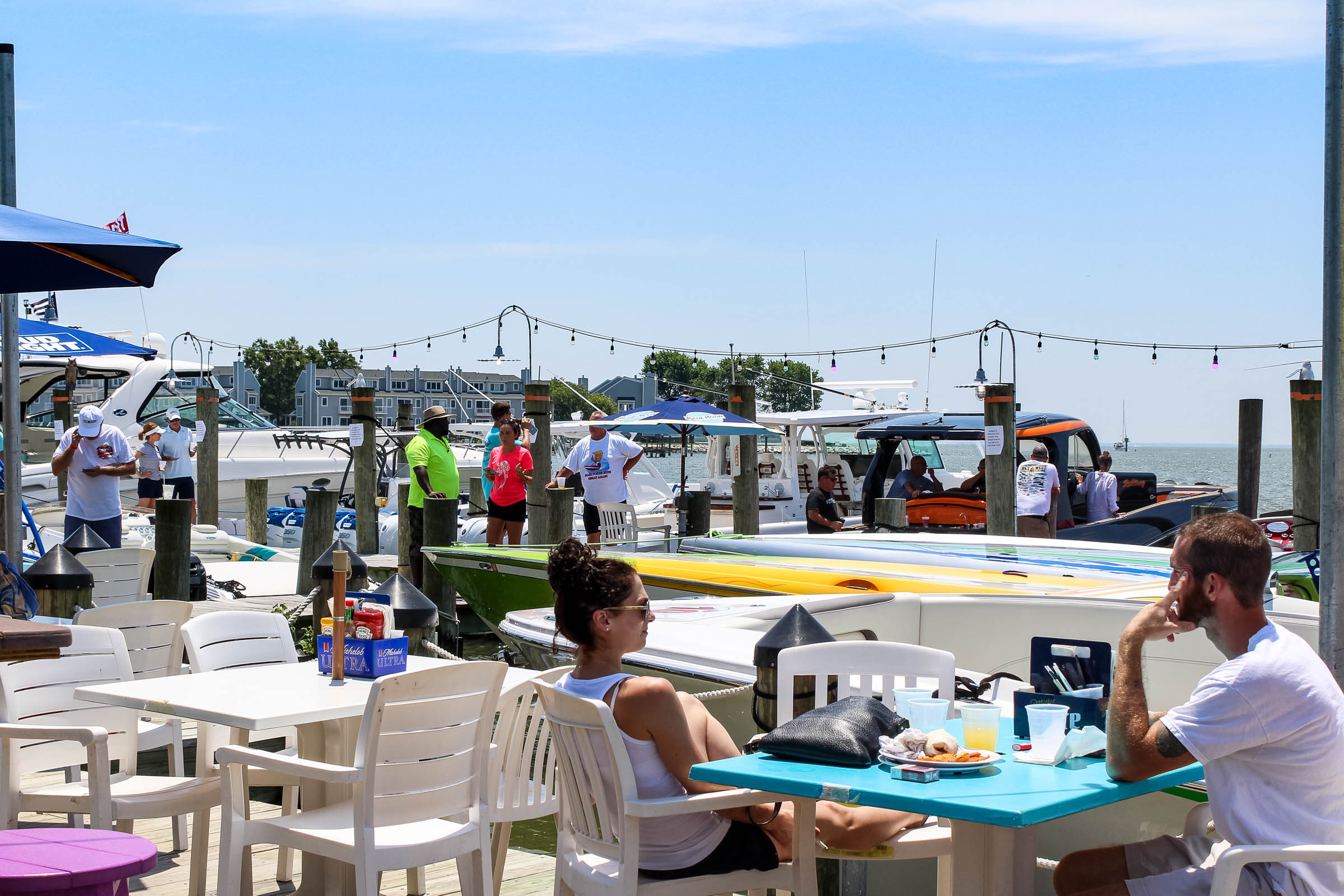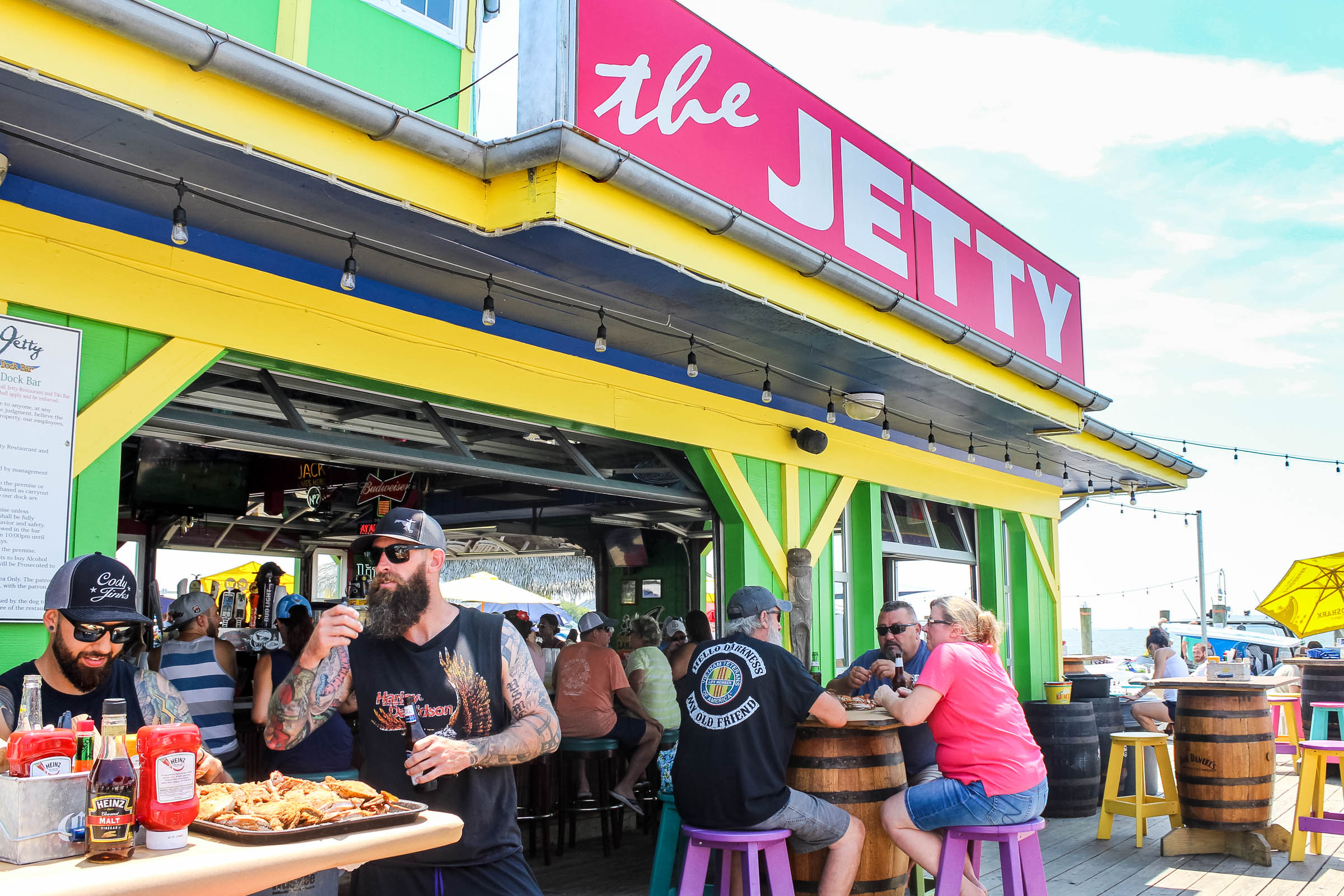 As far as food goes, crab lovers can indulge in a full menu of options from an order of crab fries or crab cakes, to a mango crab tower or platter of extra large meaty blue crabs. If the shelled crustaceans were not on your edible plan, a wide range of non-nautical items such as: wraps, soups, salads, pastas and prime rib will fill you up. While happy hour happens weekdays from 3-8 p.m., if you're feeling extra thirsty, on Mondays it runs until 11:00 p.m. Doggies will bark in delight to know they are welcome and also have a few treats to choose from on the menu.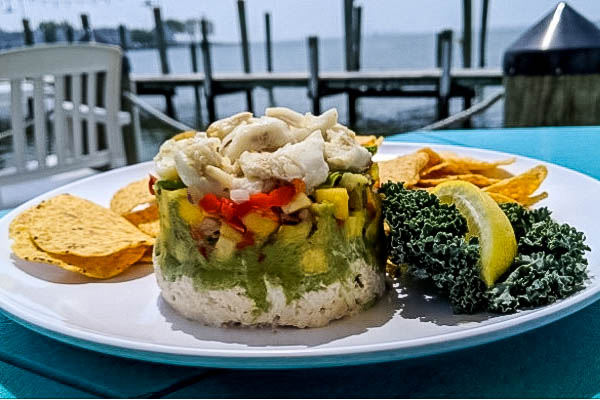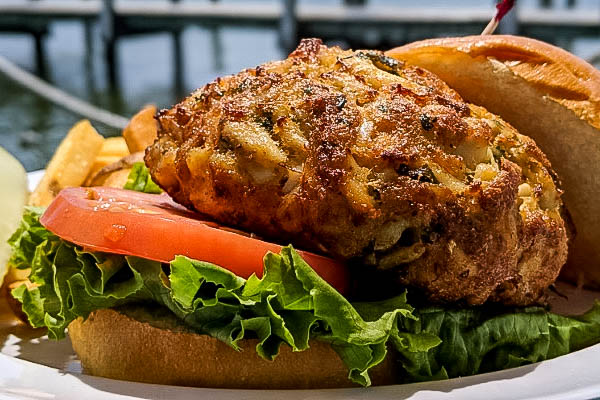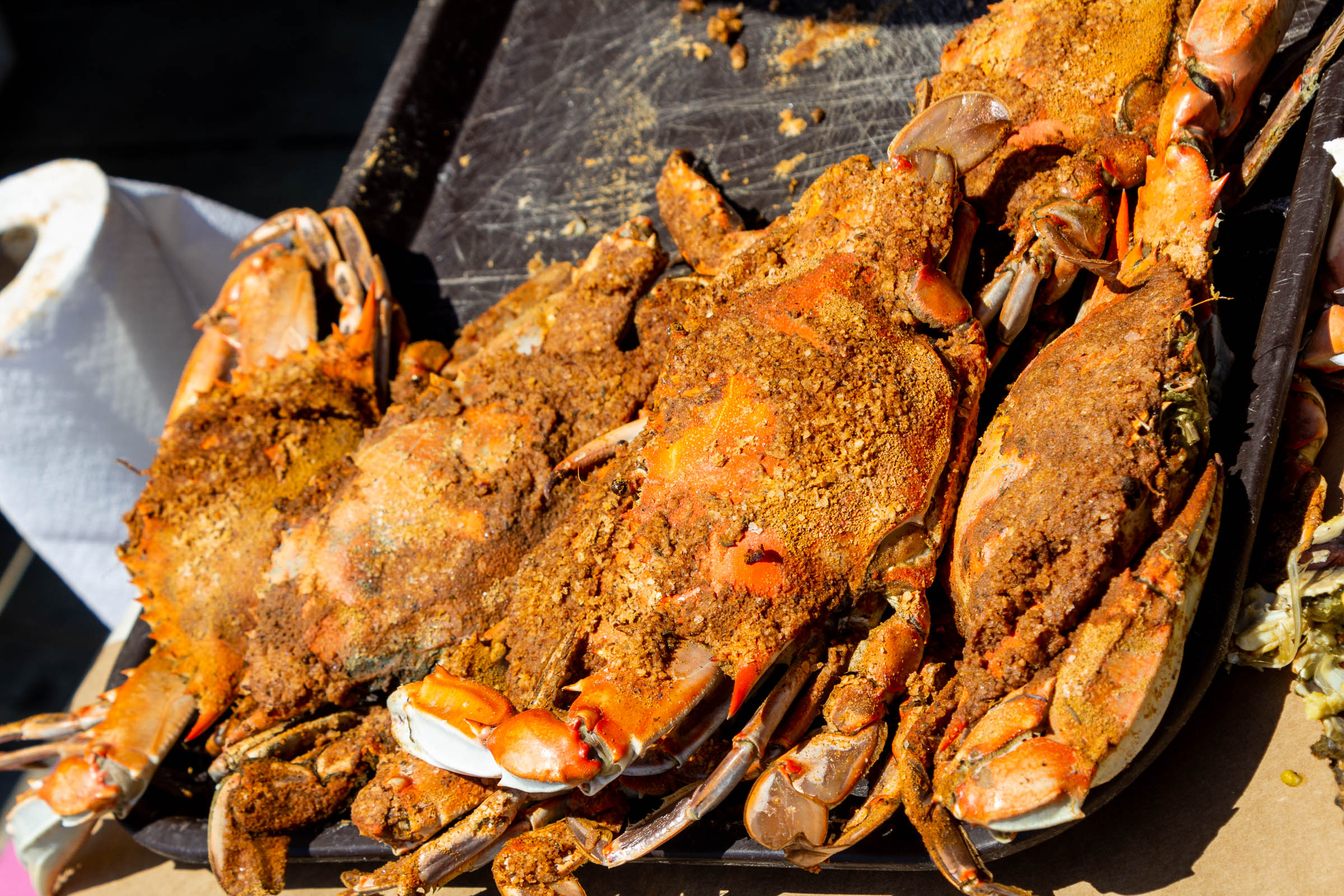 Red Eye's Dock Bar
428 Kent Narrow Way N, Grasonville, MD 21638 (410) 827-3937
If you're not a local Chesapeake Bay boater, you may just stumble upon Red Eye's Dock Bar during a random tank top-up at the neighboring marina's gas pump on the same Tiki-face painted pier; or just maybe you heard about the past party-time escapades from the upbeat, two-storied complex of  merriment which includes four bars, multiple television screens and expansive indoor and outdoor seating  (and dancing) options.
Prior to the seasonal opening of its doors in early May, the Kent Narrow's waterside sanctuary recently introduced a revamped healthier-fare menu including lip-smacking selections such as a Greek watermelon salad, ahi tuna tacos and salmon poke. Wings, quesadillas and burgers still exist for those not concerned with the digits on the scale the next morning.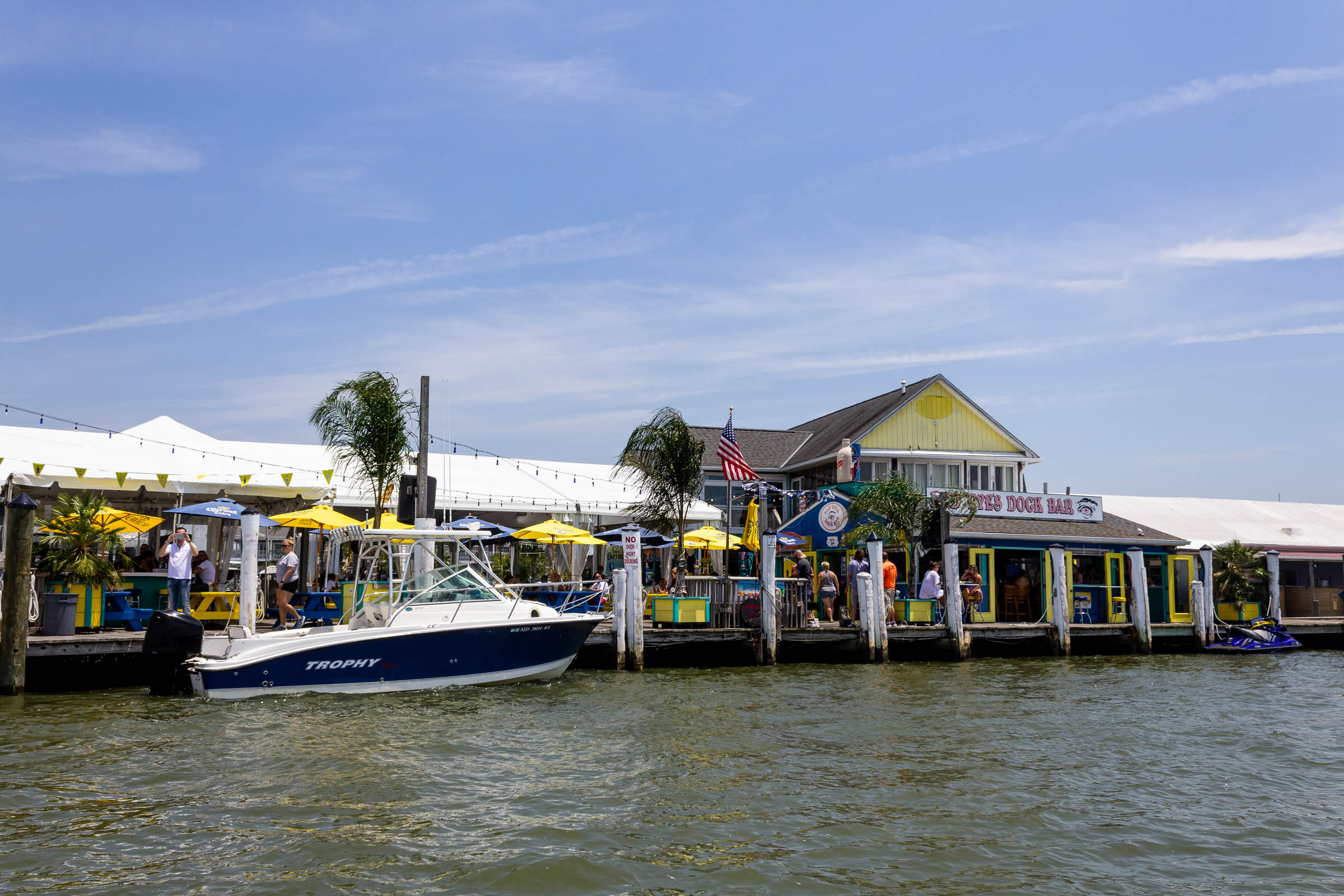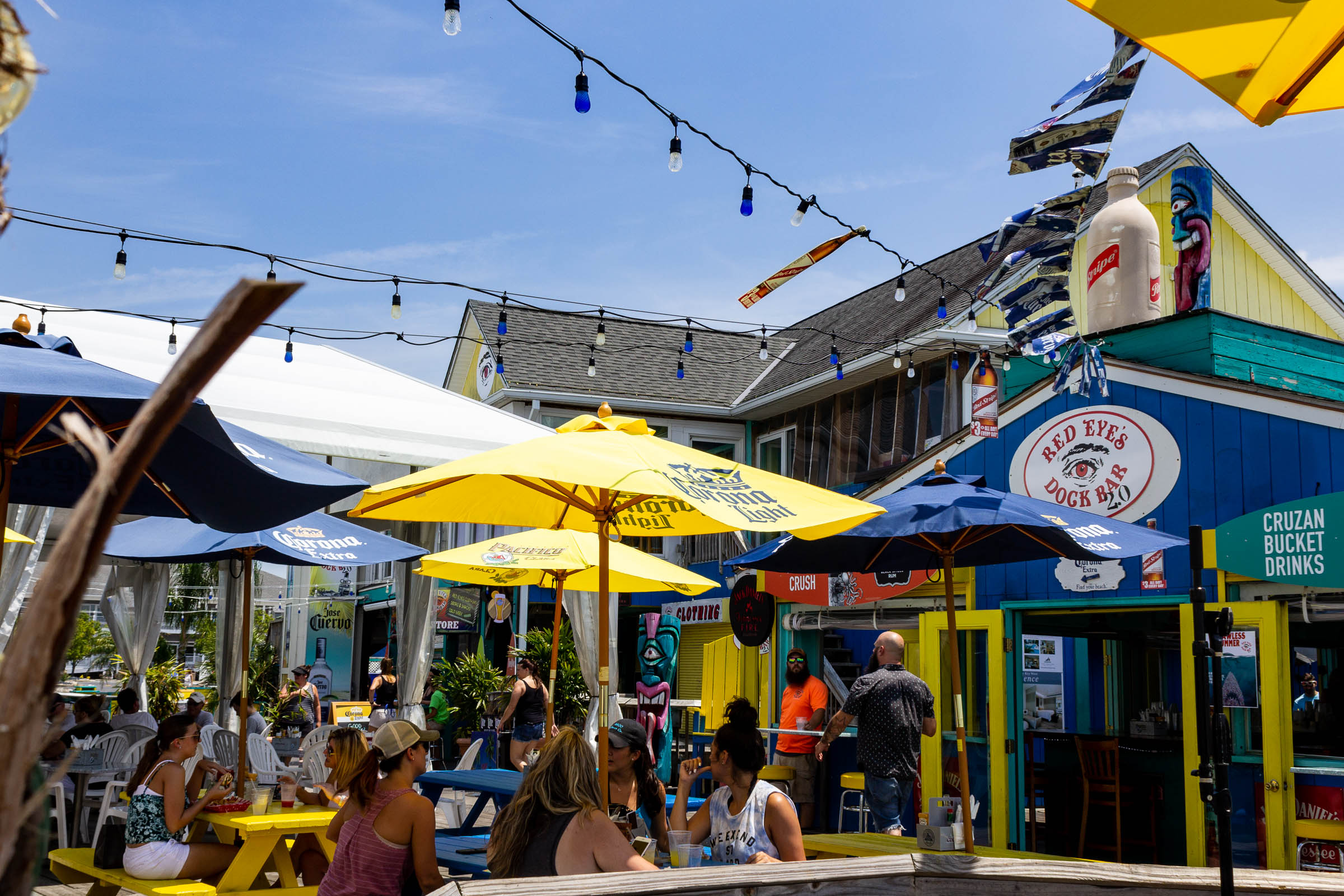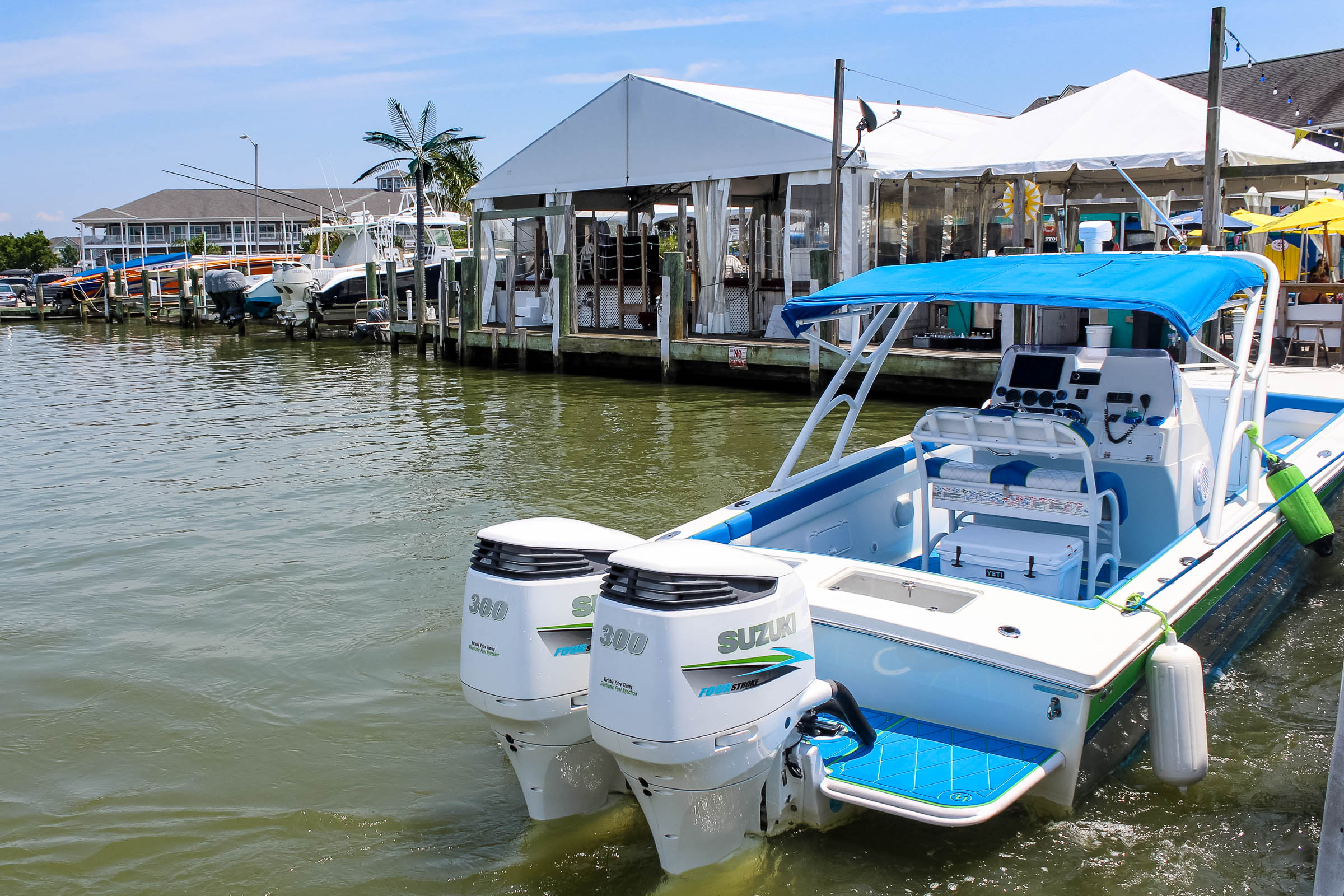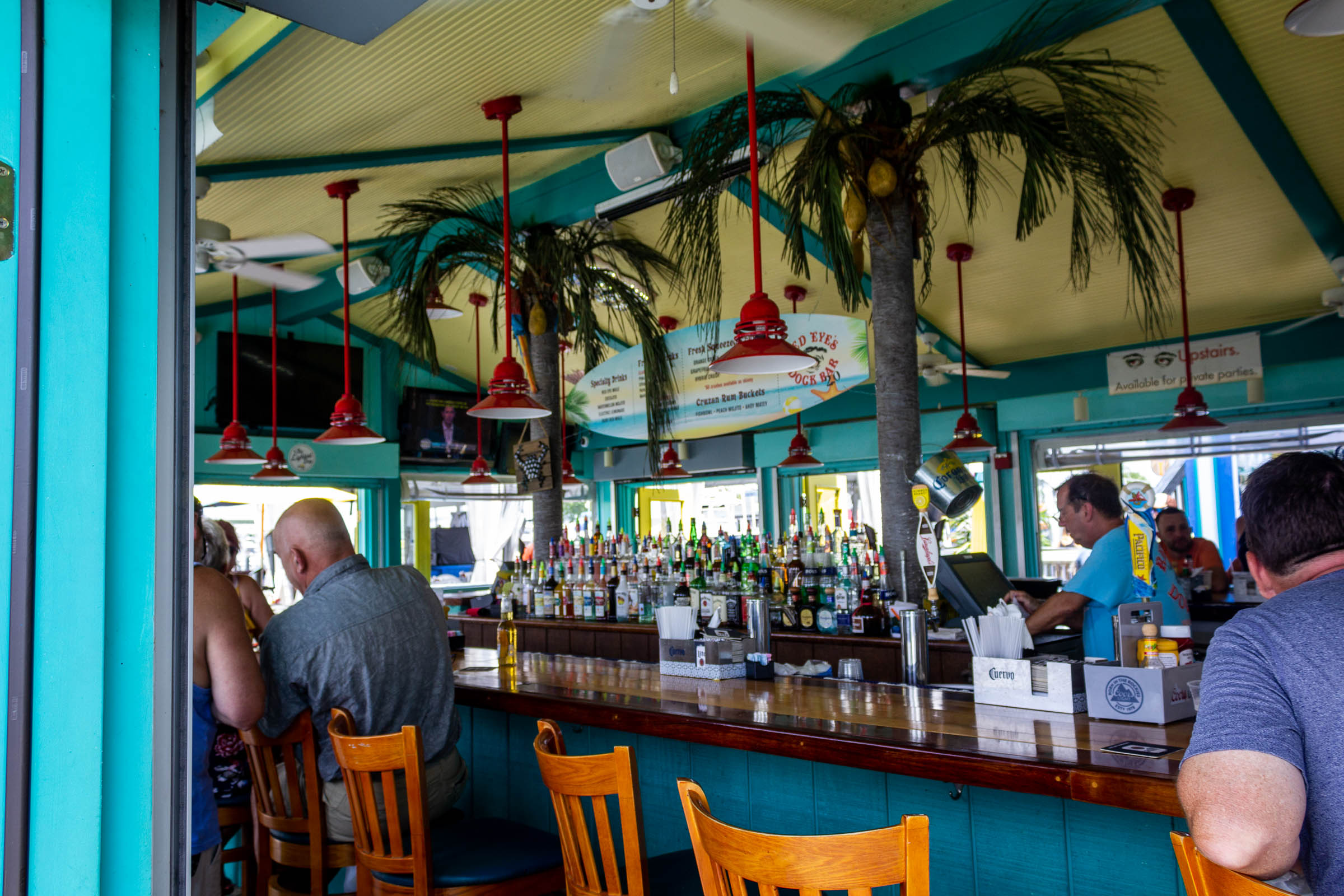 Your four-legged friend Fido will for sure wag his tail when he sees a trio of meals available for him as well. To quench your thirst, try a bucket of peach mojitos to share, a frozen tropical colada or a draft beer. If you arrive between 3 and 7 p.m. during the week, enjoy $1 off drinks and $8 appetizers.
Depending on each day's specific summer line up, patrons may find themselves as judges of a weekend bikini contest, or dancing to any given genre of live music from a range of reggae, rock, country or 80s retro party bands performing on a huge outdoor stage. Check what's on the entertainment schedule before coming if you're boating gang is picky about tunes.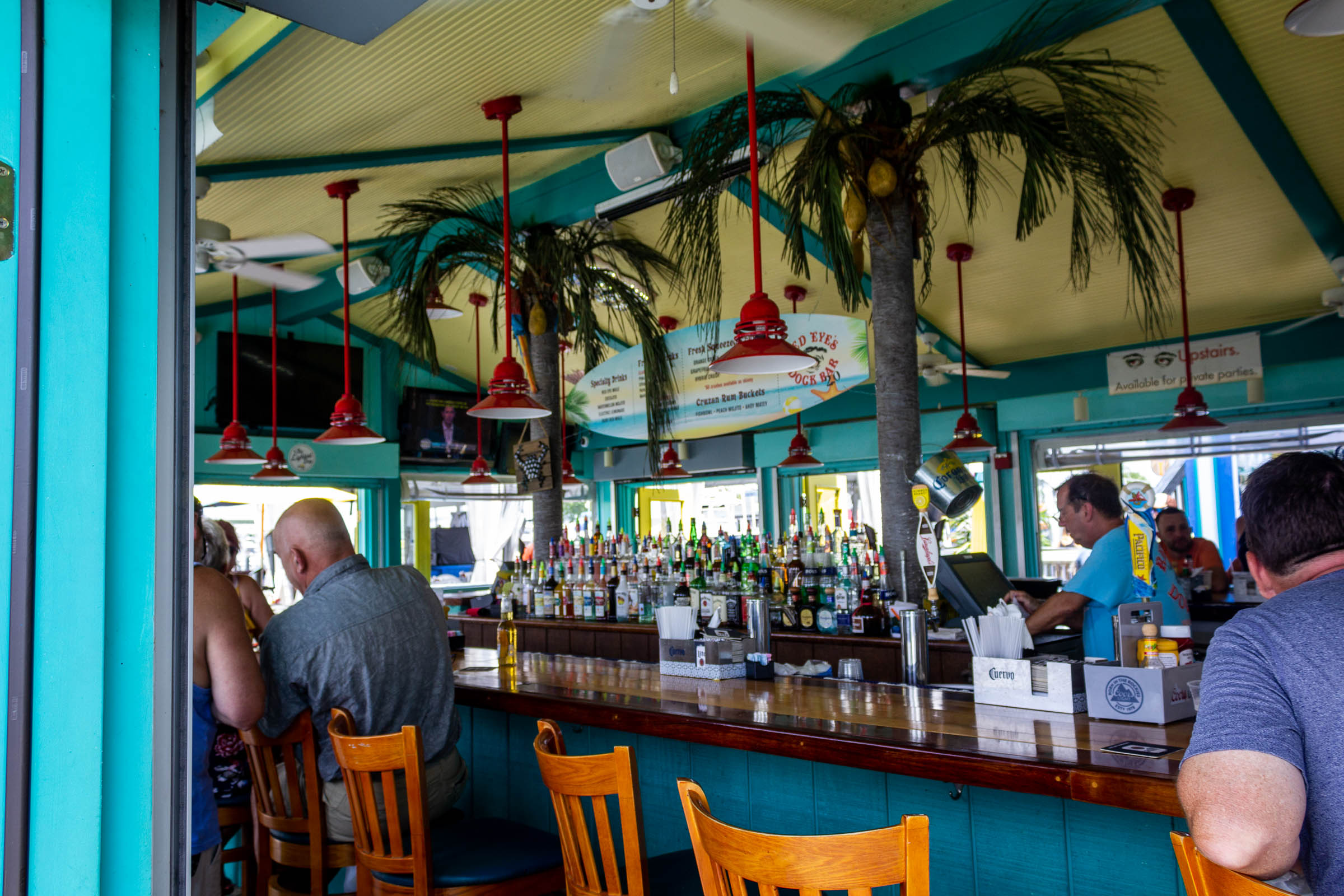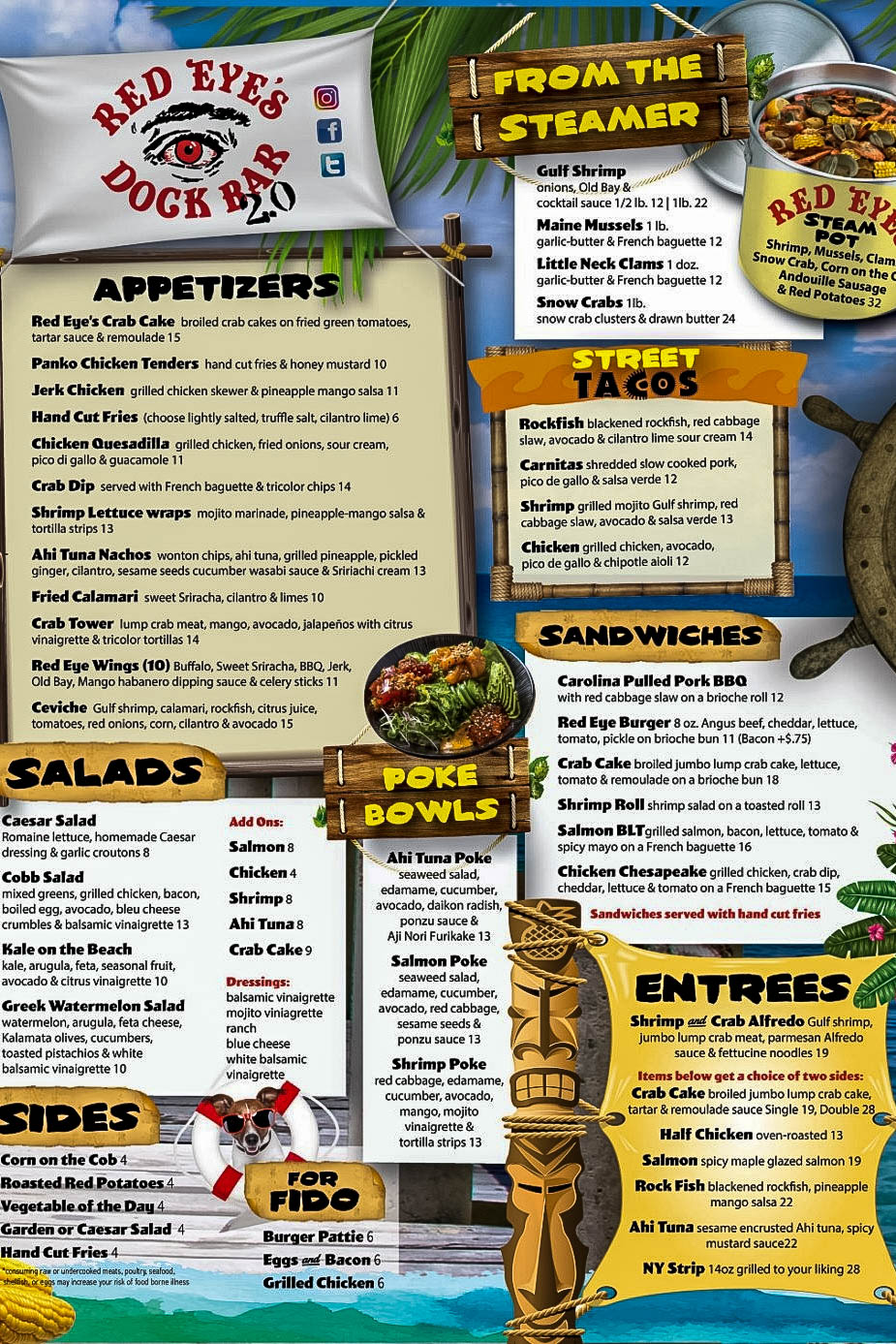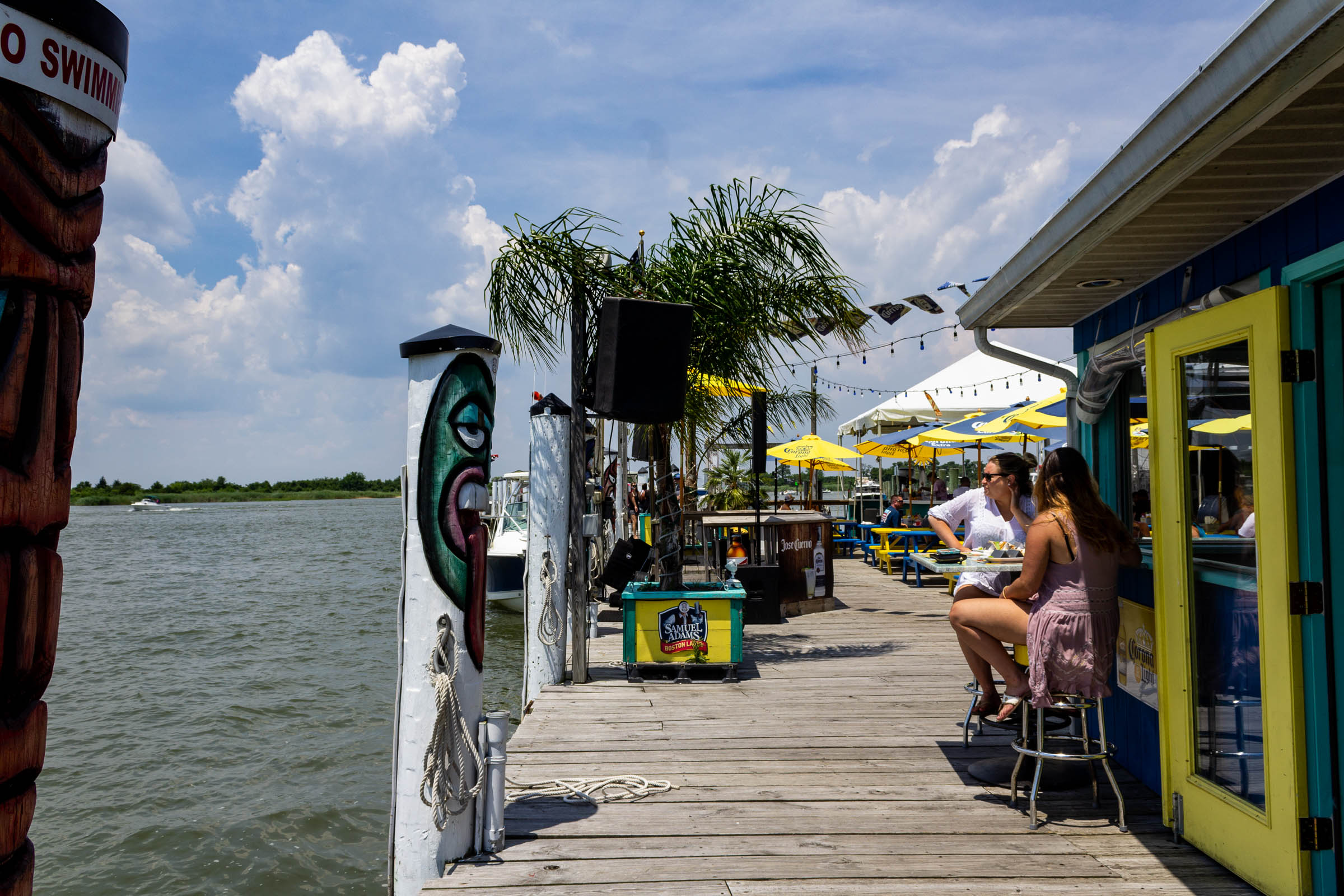 Tiki Lee's Dock Bar
4309 Shore Road, Sparrows Point, MD 21219  (443) 594-8454
There is much to love about Tiki Lee's Dock Bar -- string lights, an explosion of palm trees, more free dock space than many harbors, a swimming area suitable for both kids and adults, and bean-bag toss games in the sand along the waterside and outdoor bar. Now add the jumbo Red Stripe umbrellas and for a moment you may even fantasize you're in Jamaica mo'n!
Named as a tribute to the founder's father who was an avid outdoorsman, the new Sparrows Point high-energy go-to spot Tiki Lee's Dock Bar is open seven days a week and on weekends until midnight. Plenty of TVs to catch all the sports games, activities to entertain the young ones, veterans working the door doing security and super "cool" individually air-conditioned ladies bathrooms are nice additional finishing touches.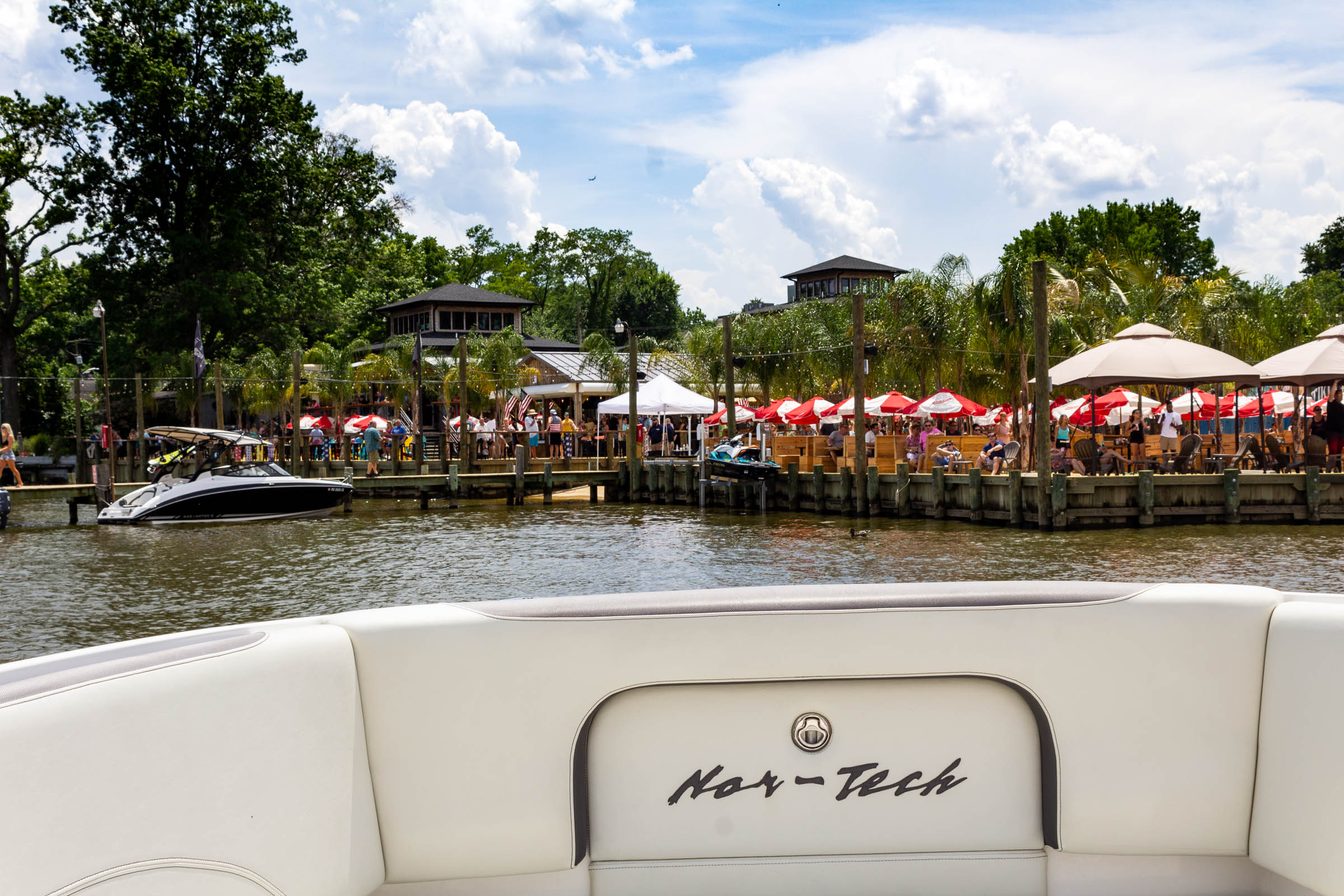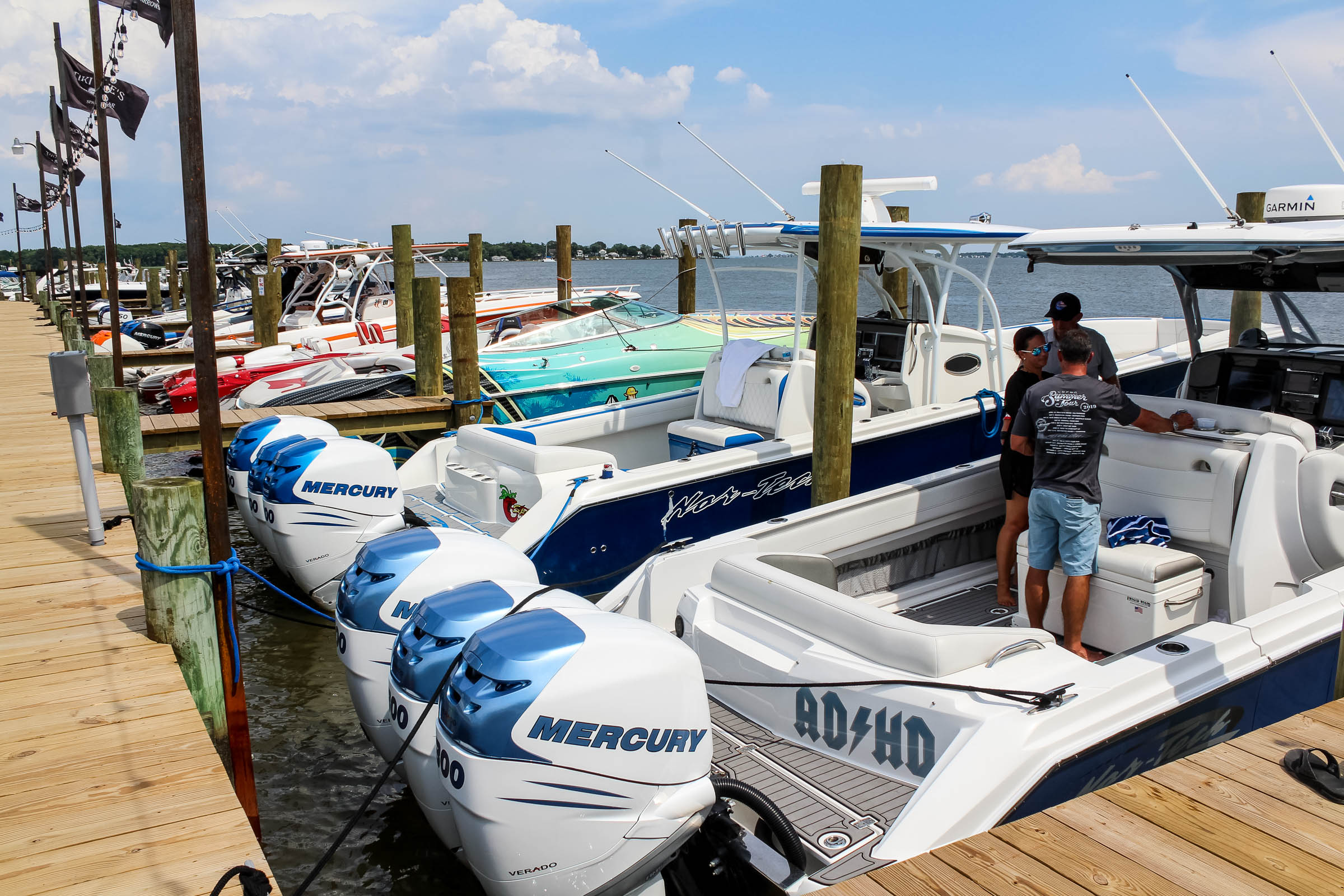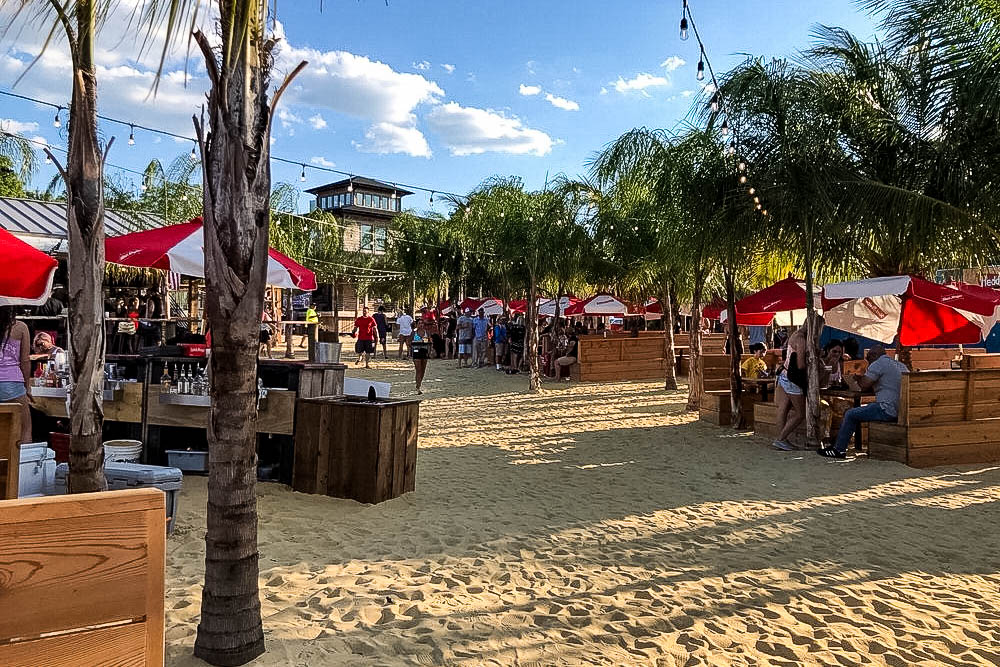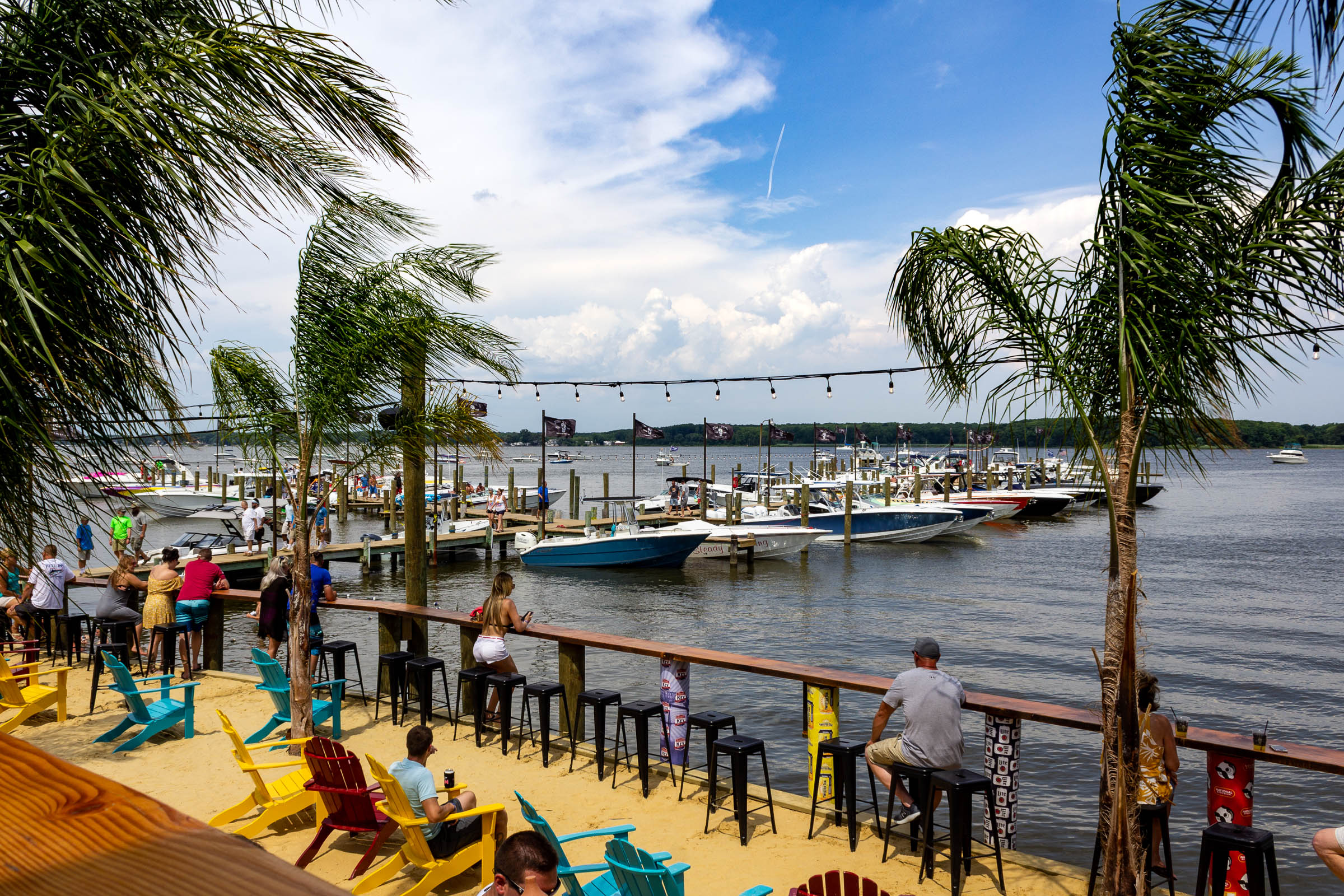 The aquatic oasis with tables in the sand cranks out simple fare from truffle fries, tacos and pizza to jerk chicken and popular crab pretzels. Wine, watermelon crushes and oyster shots will work wonders to wash down your meal, and for those needing to slip into that Brazilin bikini, you can even opt for one of Tiki Lee's low calorie cocktails. Bring the family and friends to gobble down a plate of $.50 oysters during happy hour from 4 to 7 p.m. every Monday to Friday.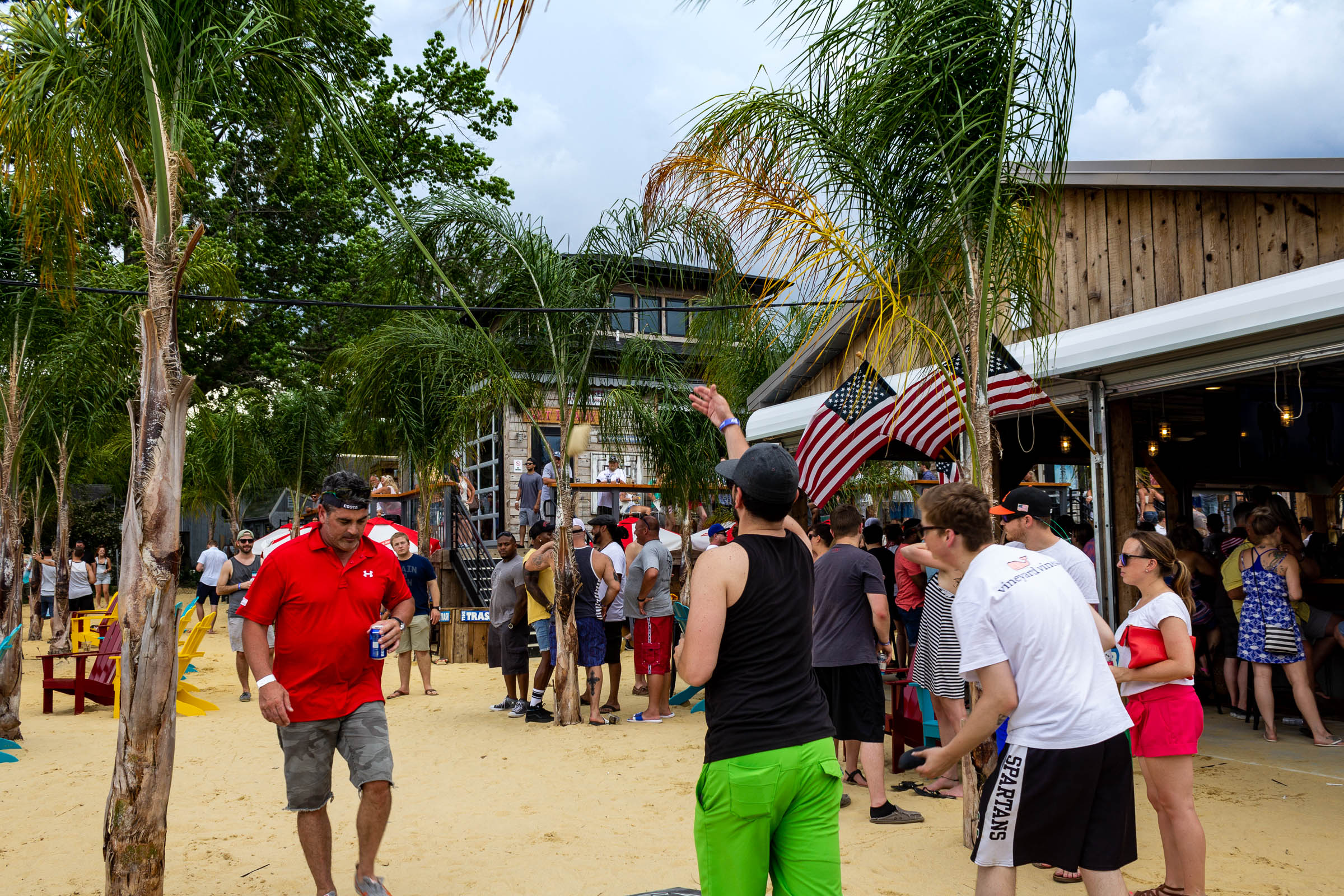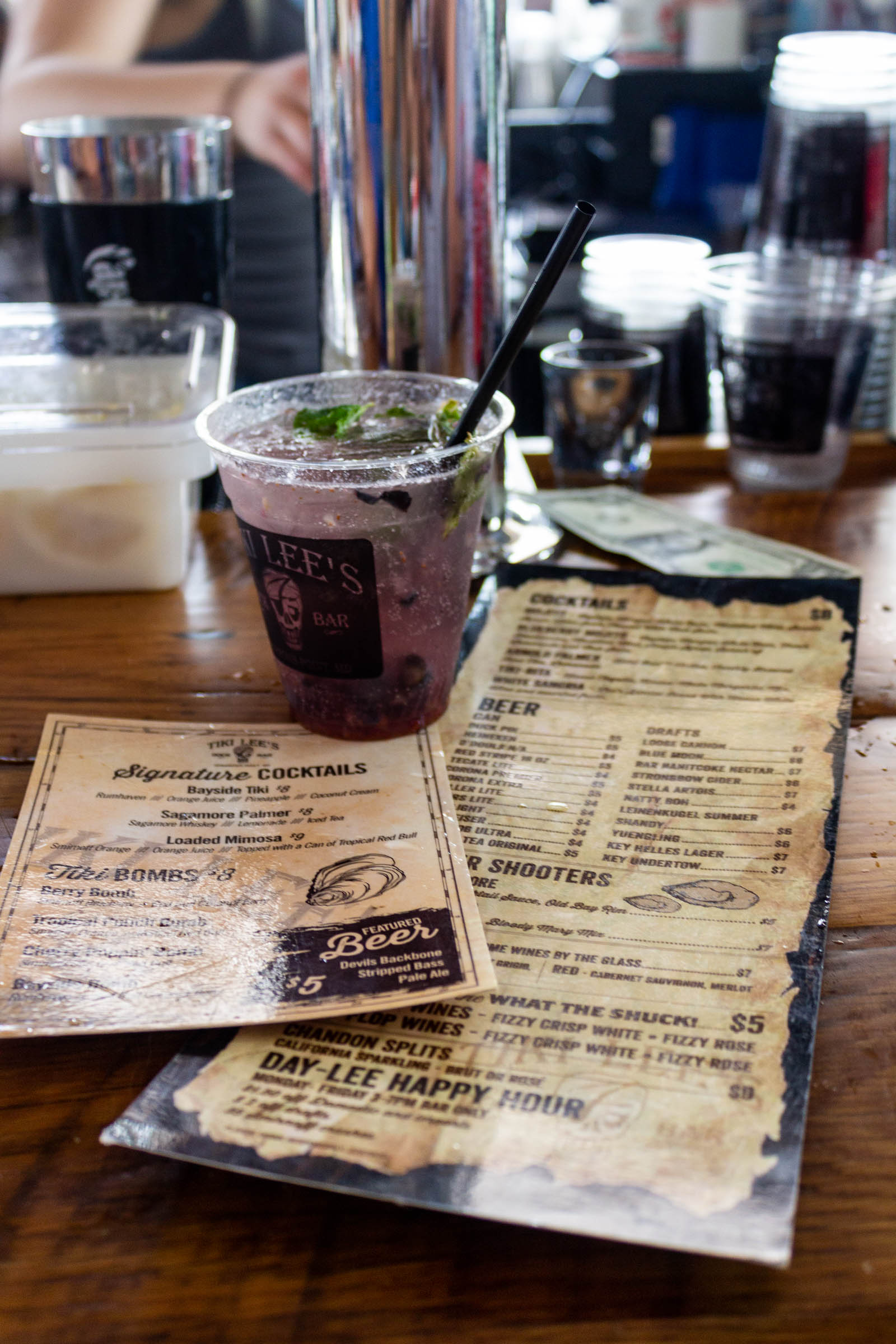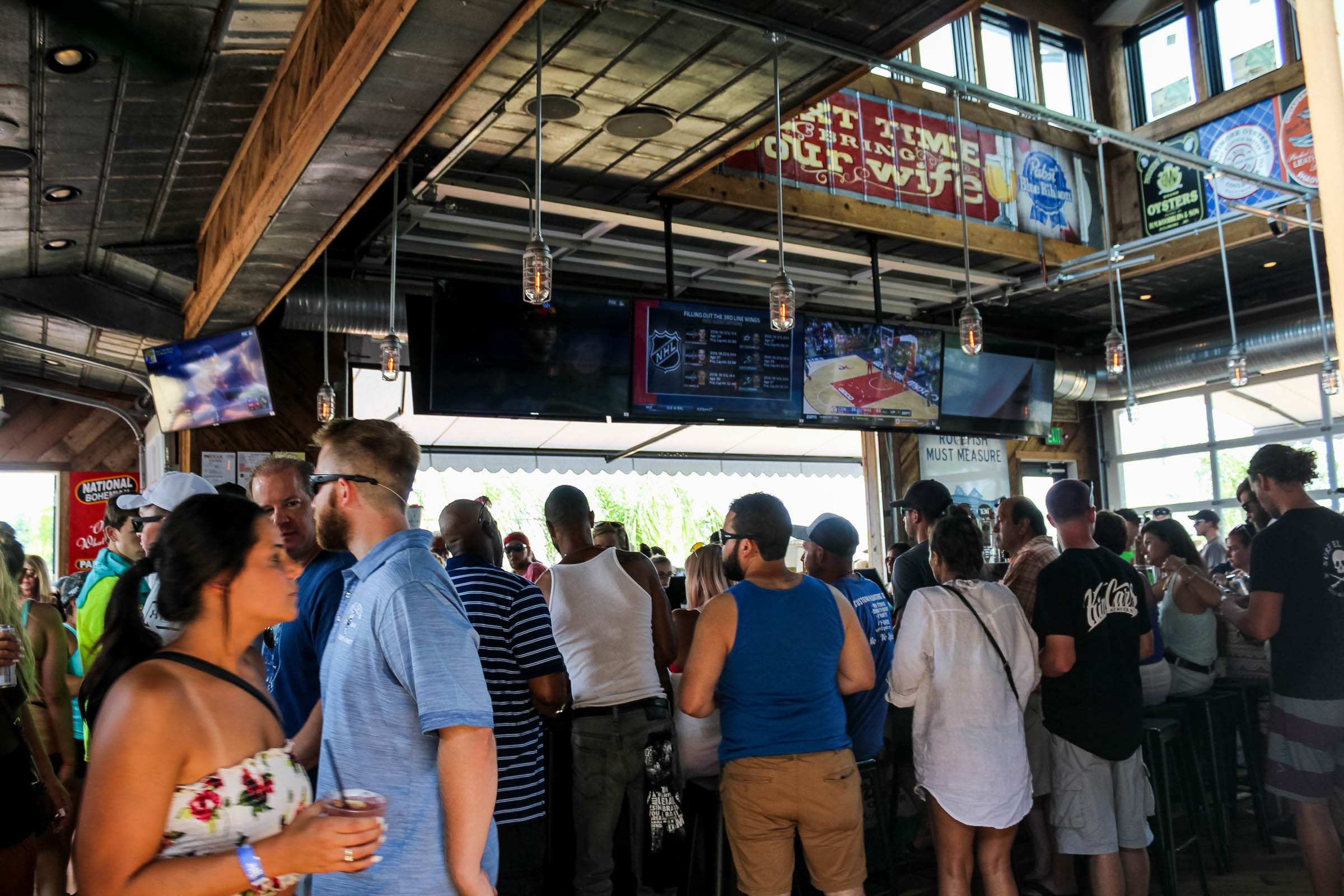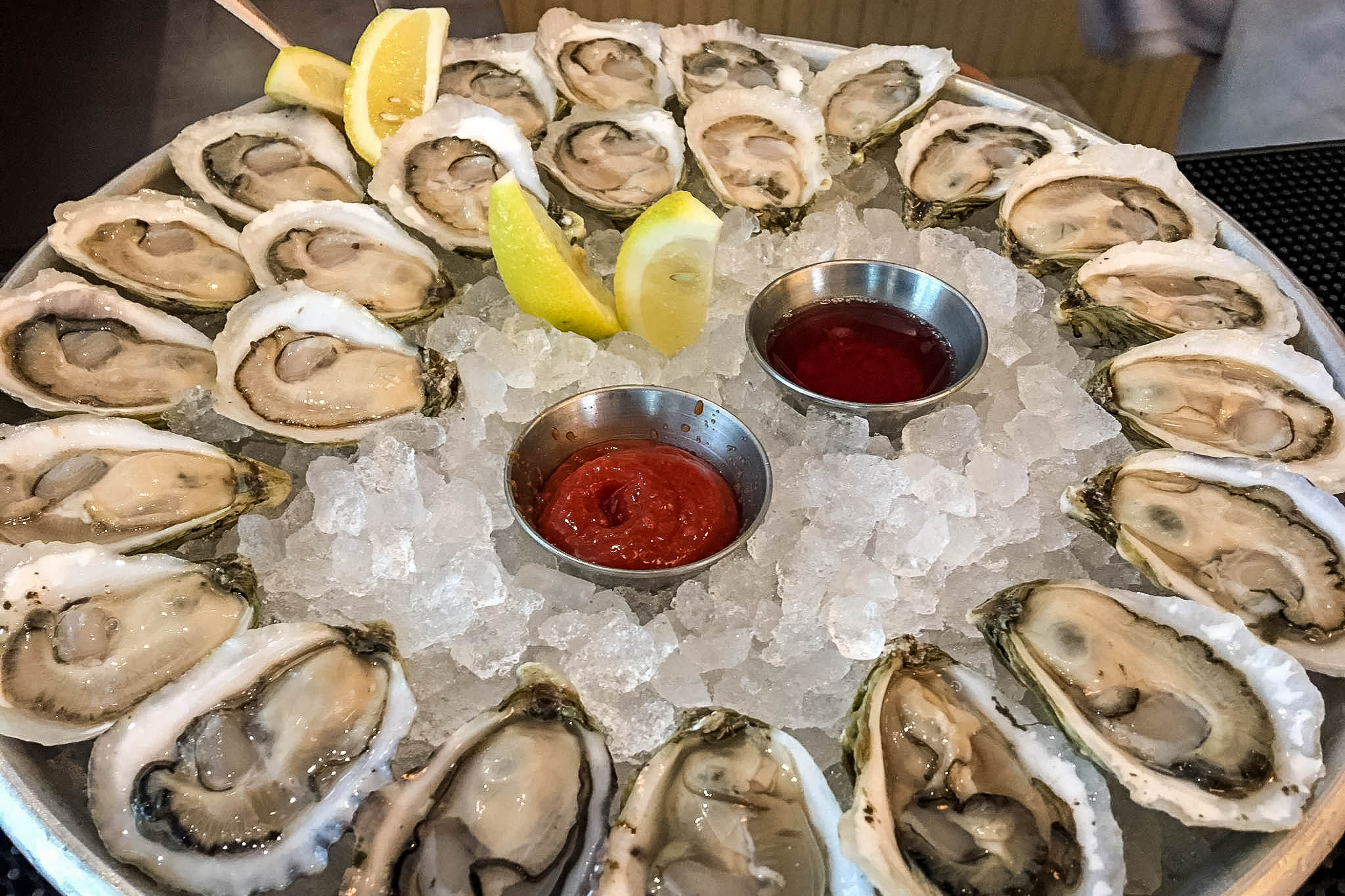 The Shanty Beach Bar
21085 Tolchester Beach Rd. Chestertown, MD 21620  (410) 778-1400
 At first sight, as we idled in through the low-hovering gray clouds and dark waters, my initial impression was -- I just touched down on an uninhabited hunk of land somewhere off the Cuban coast. As we got closer, dock slips in a rather protected marina, a lovely little beach, and a swimming pool came into view. And then behind the pool, there it was... another beach bar. Suddenly life was good, and soon I had a famous Shanty Beach Bar frozen mudslide in hand and straw in mouth.
The summer joint is only open from Friday afternoon at 3:30 p.m. until Sunday at 5 p.m., but that still leaves plenty of time to catch a great sunset, take a swim and enjoy a chilled out Friday night. Looking for more action, swing by for one of the Saturday night lives shows presented by the National Recording Artists for the Summer Concert Series.