Story and photos by DinaRella
Art Ain't the Only Part
Tuesday's opening whistle blew signaling Art Basel Miami, the stateside spin-off of the premier international Swiss art show, was up and running reclaiming its reign on South Florida terrain following its 2020 Wu-flu abolition. For this go-around of Miami Art Week (which it's also called), judging from the onslaught of star-studded fashionista festivities and champagne-soaked soirees… it's a wonder the glitterati found time to do any purchasing of custom pieces and paintings at the 253 participating galleries.
Apart from the art, a thriving six-day non-stop docket of diversion set the stage for ushering in the latest collections and directional trends at swanky promotional pop-ups and parties. Hedonistic hoopla causing a commotion this early December included: the Chanel drone light show and Jungle Plaza installation to celebrate the 100th anniversary of its iconic N°5 fragrance; Playboy's surrealist bash for its BIGBUNNY luxury lifestyle label launch at Casa Tua; and the over-the-top AMEX kick-off campaign introducing the company's reimagined card at its beachside Platinum Studio oasis of dining, wellness and entertainment.
But speed-seeking showgoers should fear not, the Basel-esque experience embraces more than perfume, Playboy fantasies and plastic cards – it too is a place where high-performance meets high society. During initial blastoff, the automotive industry and aviation designers were to thank for blurring the lines between art and speed on the streets and in the air; Cigarette Racing Team (CRT) just upped the ante adding the sea component! New owner John Ruiz and his team including son Alex who bears the CEO title, have taken the helm globally reshaping the Cigarette mantra making artistic waves with its aquatic architecture.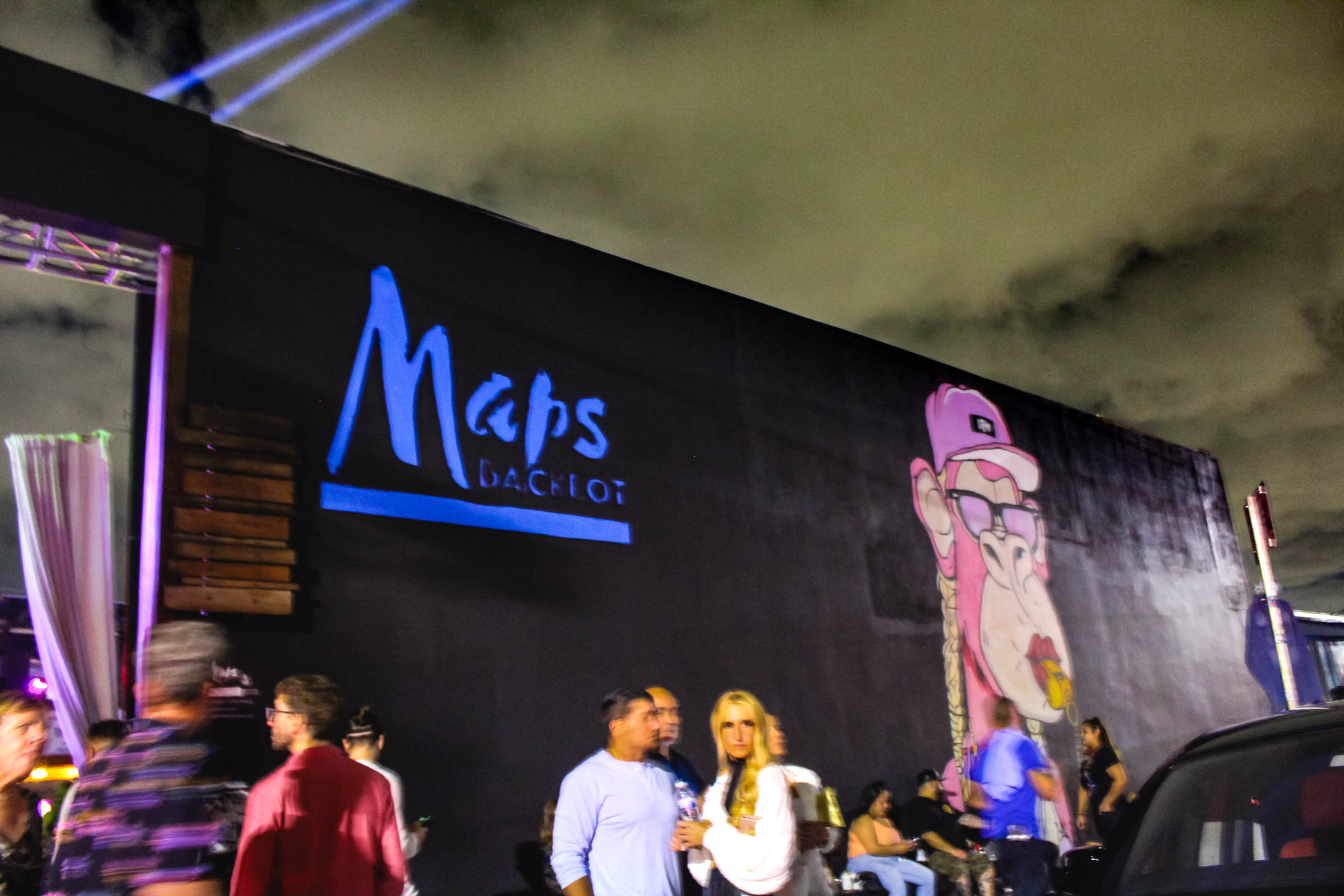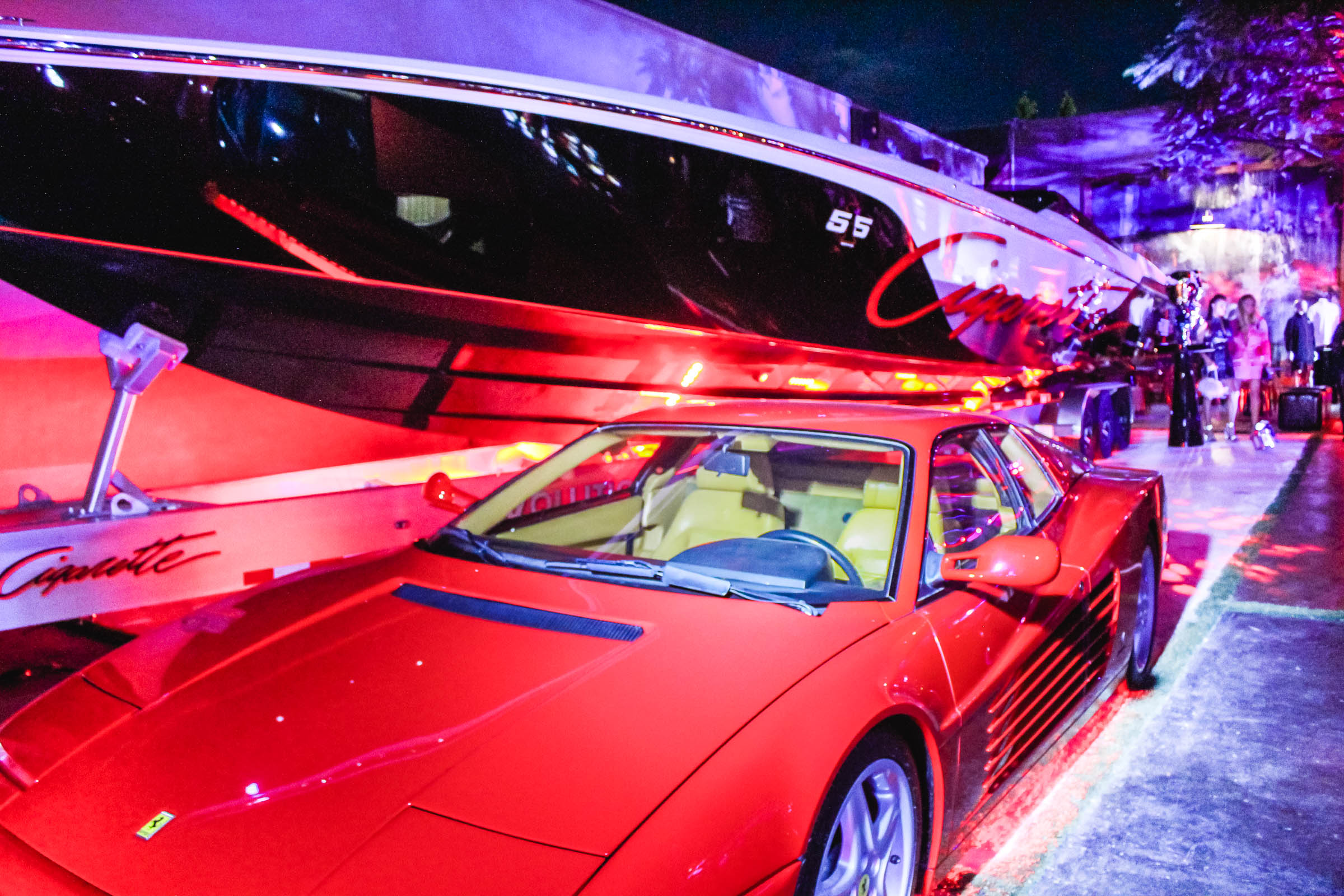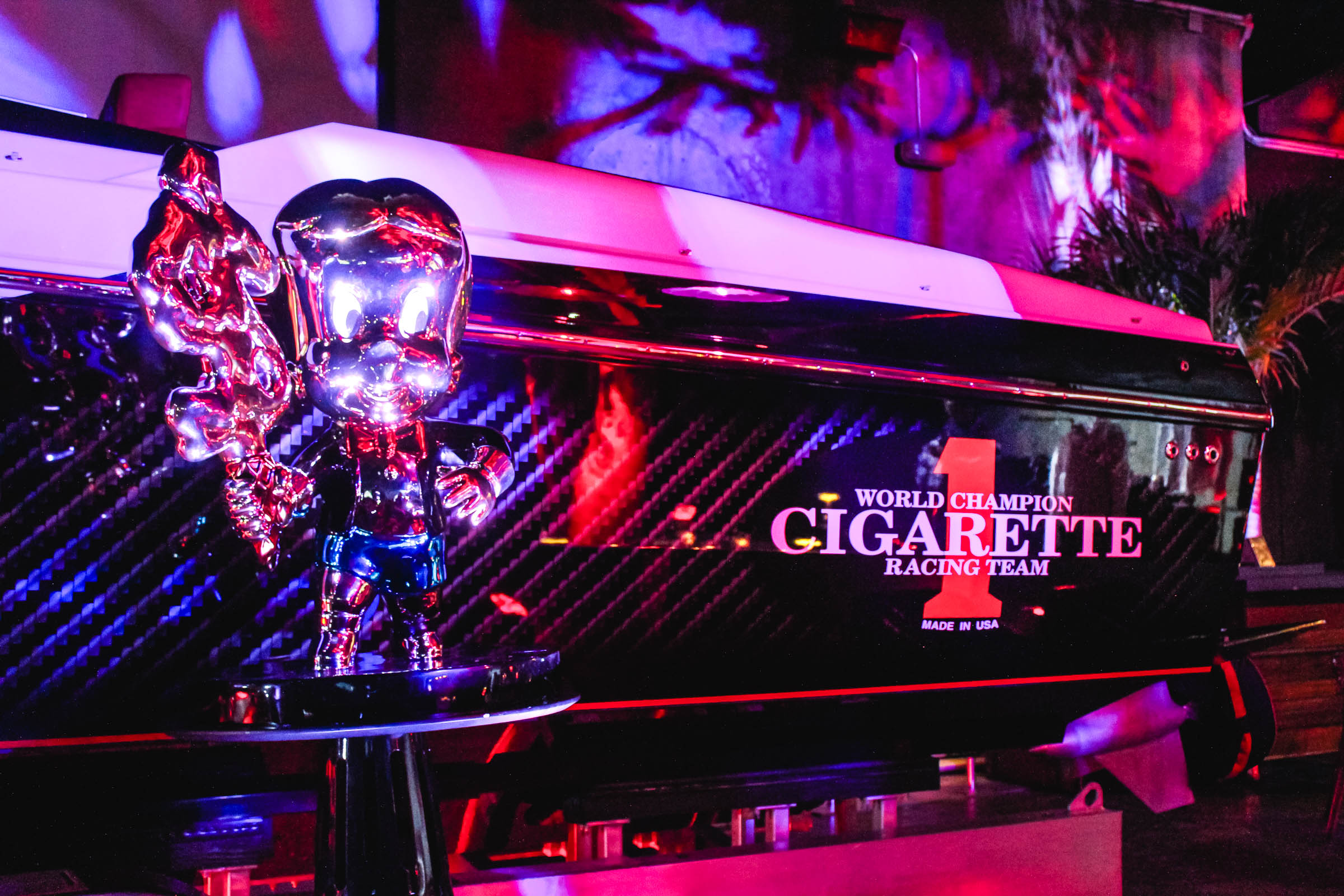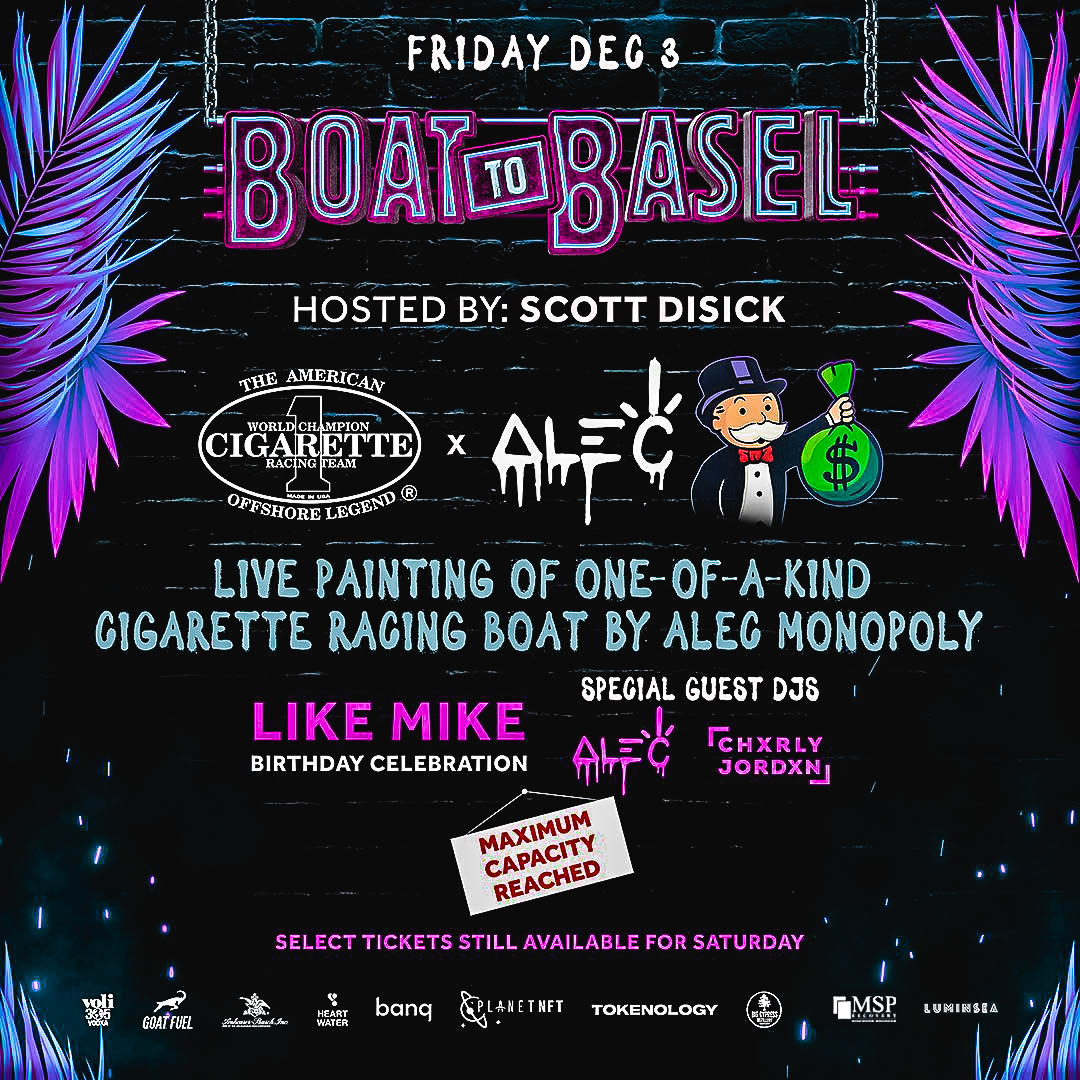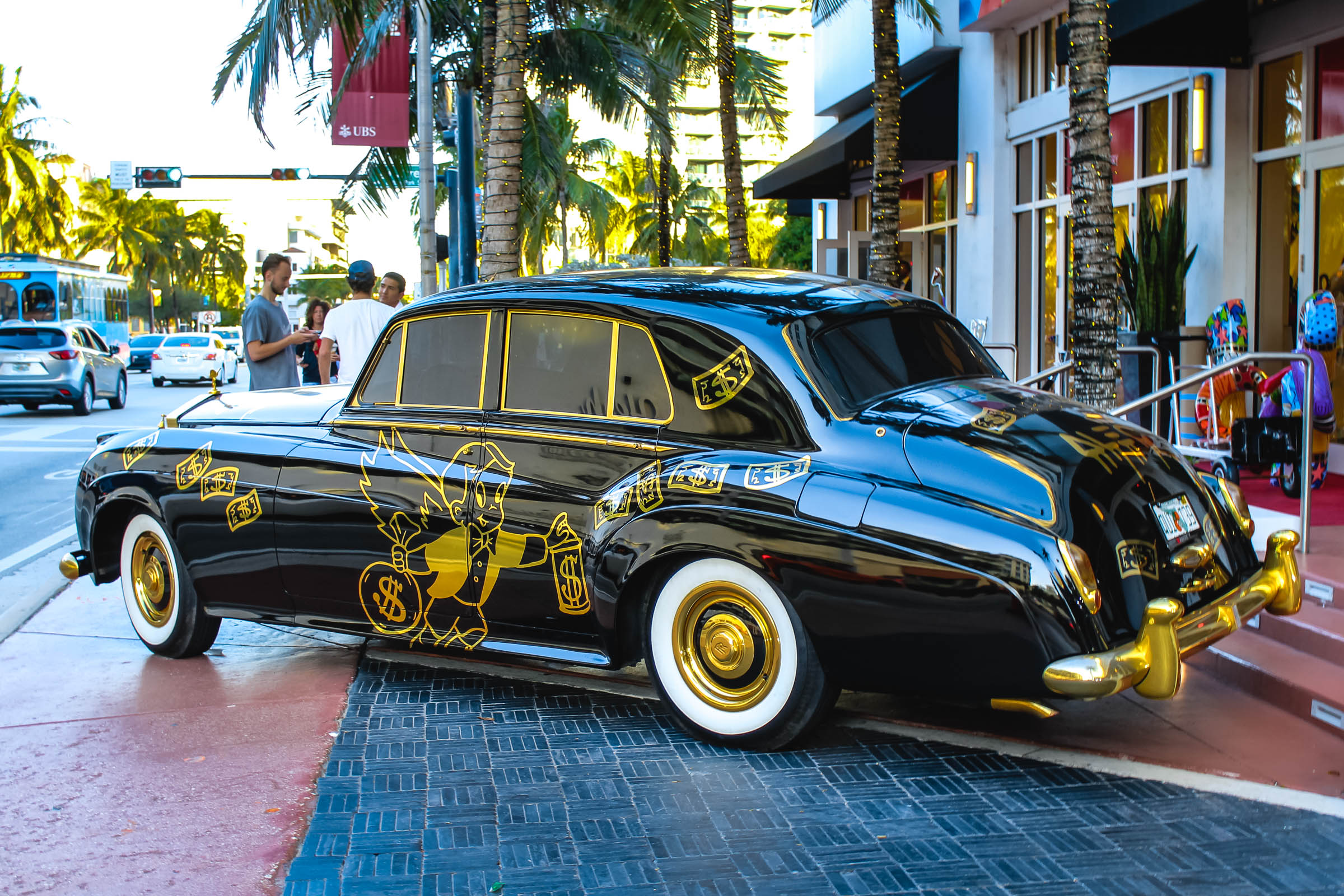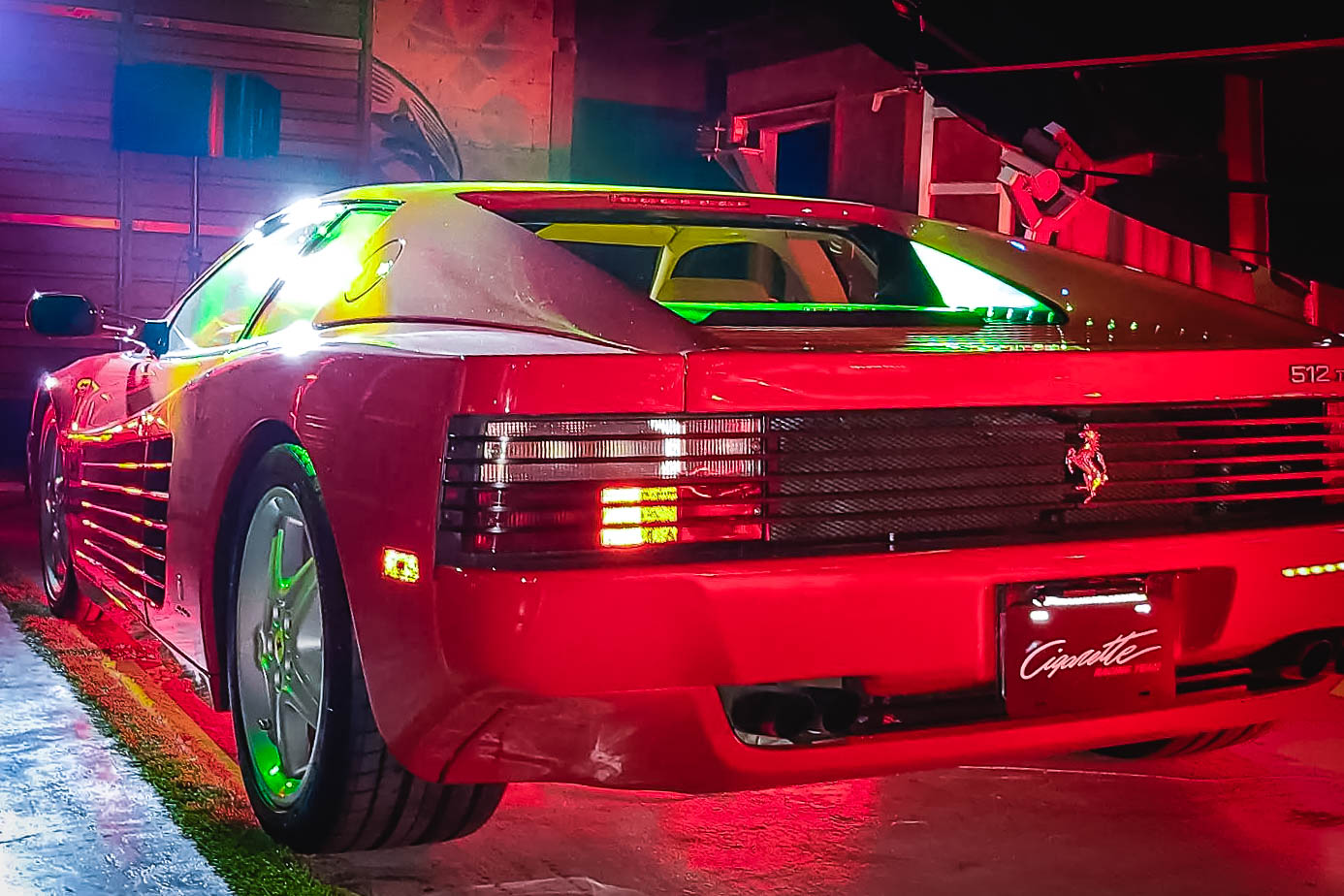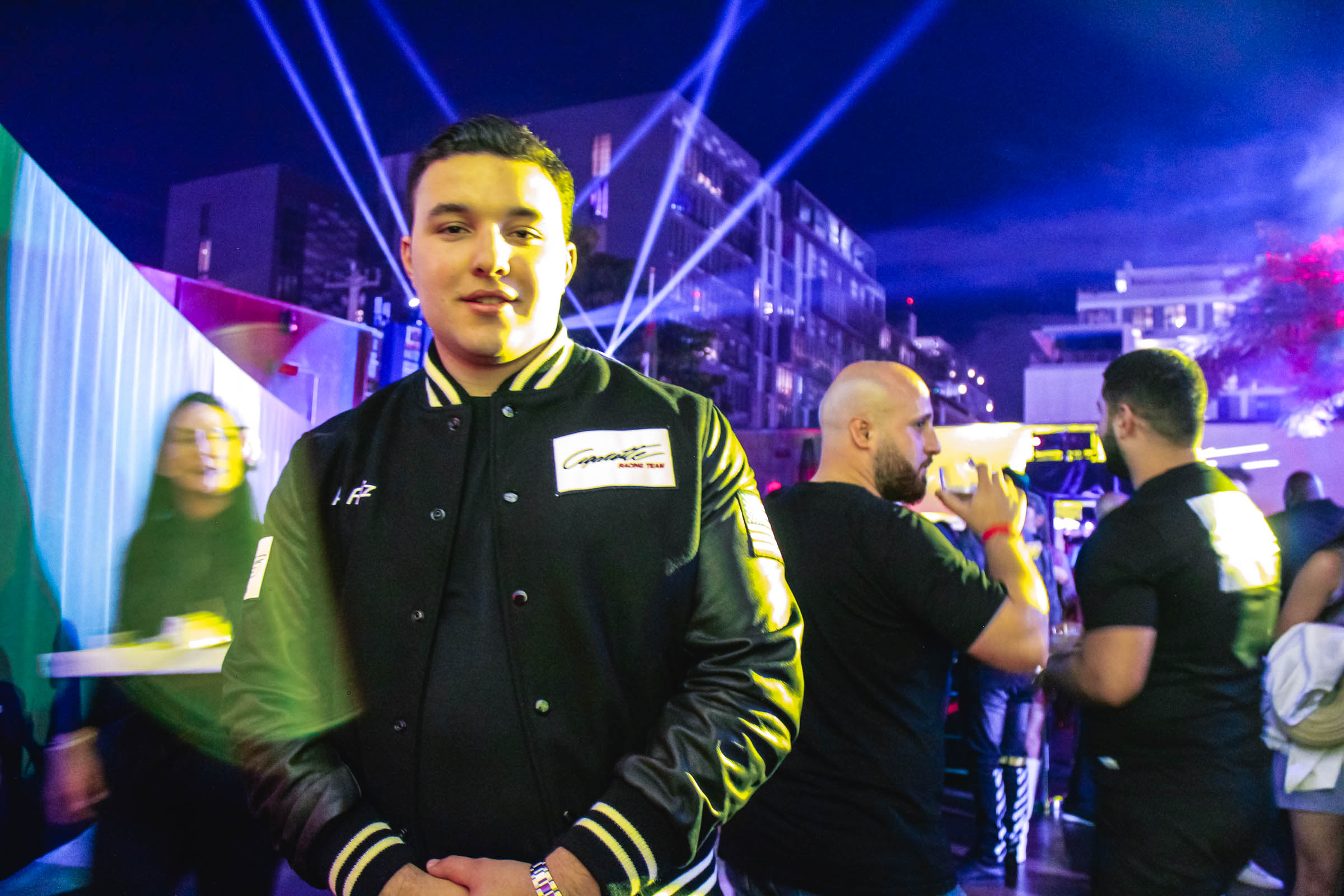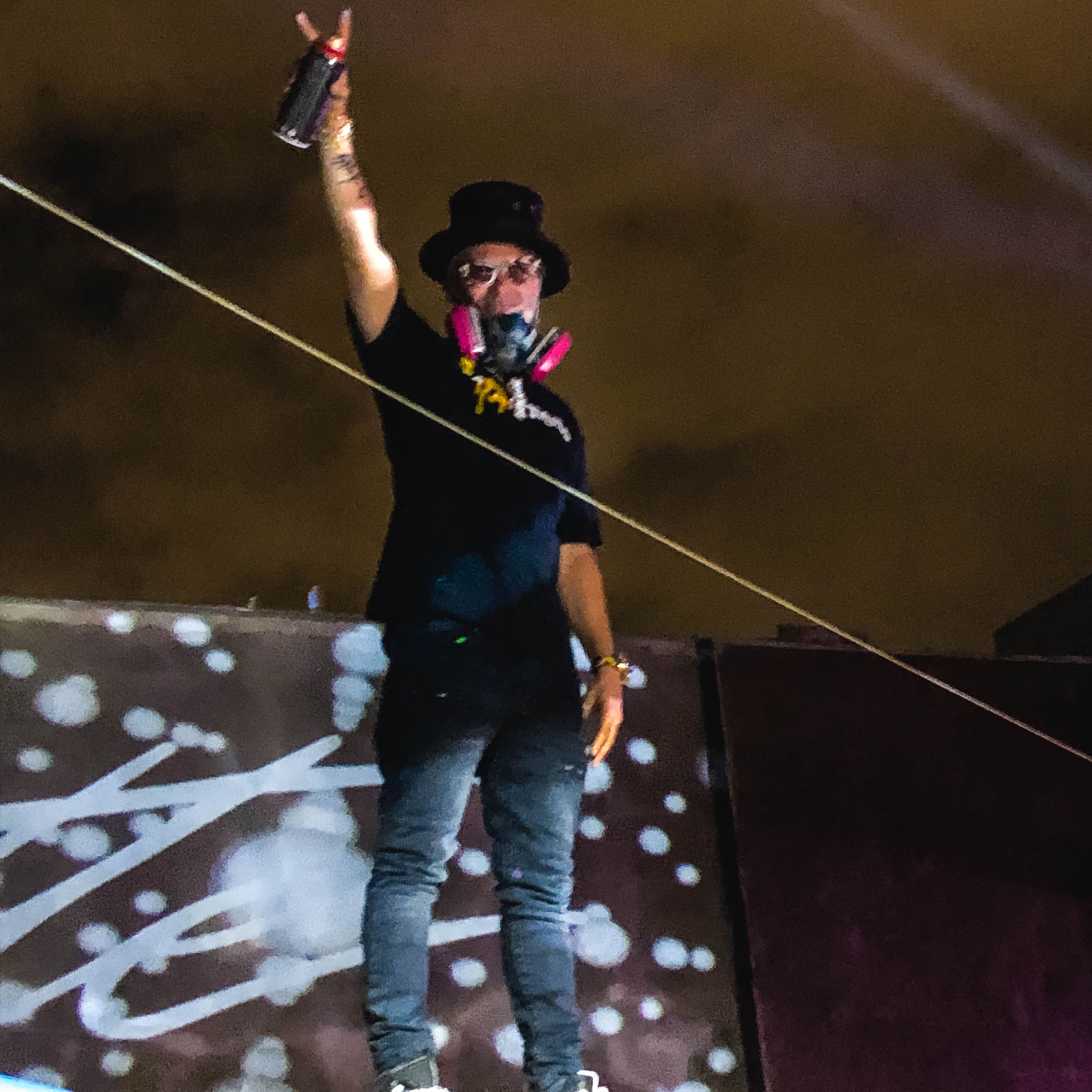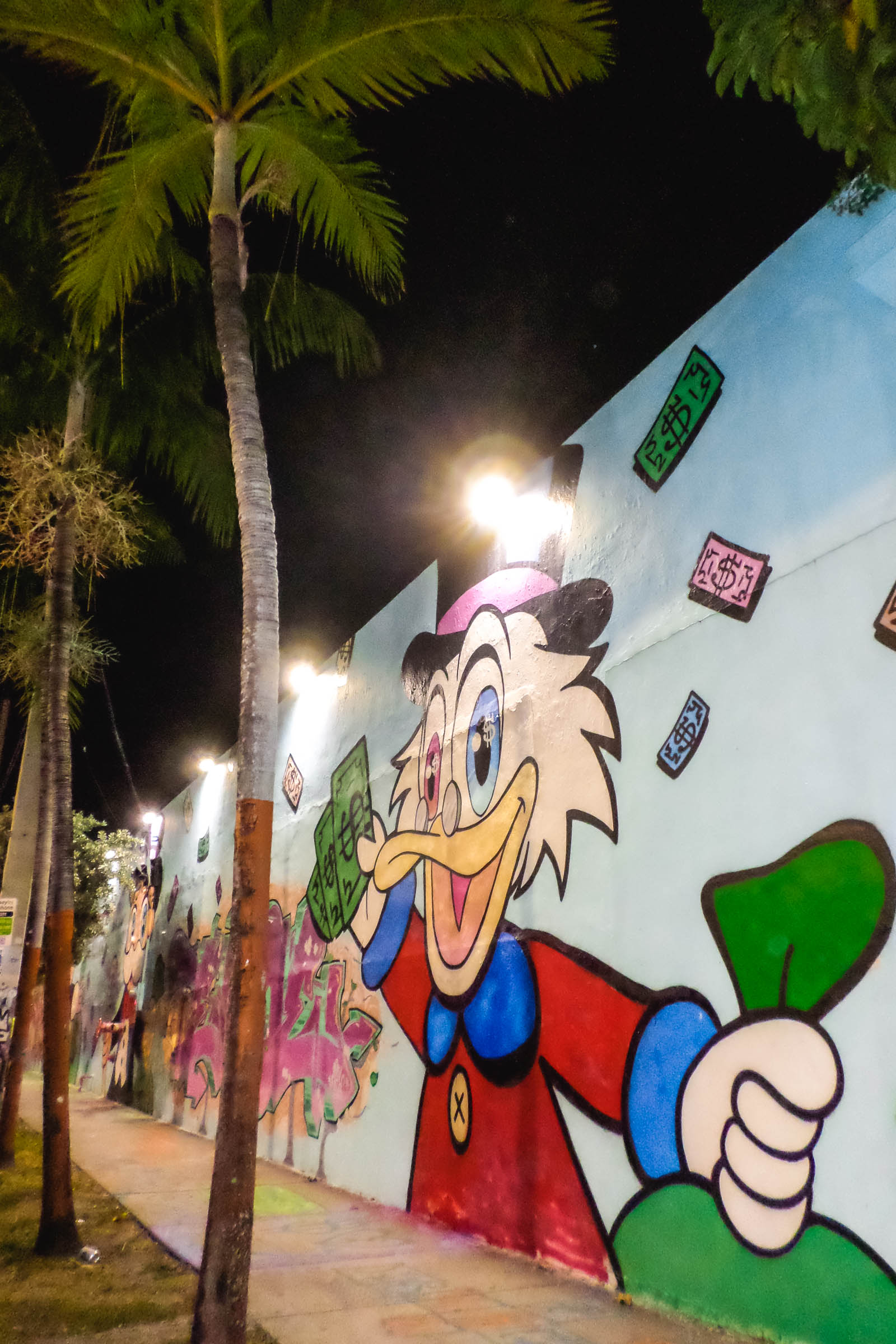 CRT stepped on board the Basel "life in the fast lane" bandwagon at MAPS Backlot for a live action painting session of a 35' Cafe Racer by celebrated contemporary graffiti artist Alec Monopoly. The private-party invite called the Friday night fete Boat to Basel; I called it, "One of the most fabulous parties I've been to at one of the hottest anointed joints in the heart of the Wynwood Arts District."
Upon entering, eyes were met with mesmerizing purple projecting lights illuminating through the tropical interior flora, and beaming off the corner showcase of new apparel launching in 2022; and ears were met with pulsating beats and base as Vegas Dj Charly Jordan worked the turntables high above the concealed Cafe Racer, carefully cloaked in black. What's more, for the electronic music lovers at MAPS (that's me), Belgian superstar DJ Like Mike was taking over the decks later in the night.
The open bar was my next attention-getter, and came accompanied by a circulating catering team so cordial their smiles grew bolder when reaching for seconds, oh hell even thirds. Unlimited and tastefully inviting Voli 305 non-GMO vodka cocktails cascaded my way for the next few hours, until mixing it up with a mango passion Goat Fuel energy drink and a purple metal Heart-branded bottle of water to help me with my high-heel jaunt to the next haunt to meet up with my Baseling buddies. Walking around in awe exploring the ins and outs of the venue, ultimately lead me to the Tamara de Lempicka exhibition in the rocking back VIP room where everybody was somebody special!
As the party vibe intensified and the "it-crowd" kept pouring in, my purpose shifted from pondering over the paintings to soaring around to see who I knew (or did not know). It didn't take long before bumping into extended CRT family member Phil Lipshiptz, Cigarette dealer from Lip-Ship Performance, and a few tables away I found a friendly party of five fresh faces. Inquiring as to who had what size and style Cigy, from our exchange it became clear the answer was no one, but rather the boys were NY Giants super fans in Miami for the Dolphins game. Then in the middle of getting politely schooled on current Giant's stats, the entire crowd's attention catapulted toward the DJ on stage as a video of what's to come started rolling on the big screen.
"We're expanding the legendary brand into communities where boating has never gone before. We are bringing new products to the market including a Cigarette jet-ski and electric hypercar. We are committed to taking the Cigarette experience across the entire globe so that everyone can take part," is how it commenced. A further detail-lacking pro-racing disclosure is how it terminated, "This new family and its leadership is making waves, taking Cigarette to new heights and that means bringing powerboat racing back to Miami Beach."
During my navigational footslag to the front for a better view, I befriended Calliope and Gracey along the way. With penetrating stares, together, the two tall, lovely 22-year-olds and I watched media personality Scott Disick take to the mic voicing his love for Cigarette and rejoicing over his longtime painter pal Alec Monopoly, who was about to put the powerboat maker on the Art Basel map. And in an instant, the cloaking came down and play time turned to spray time.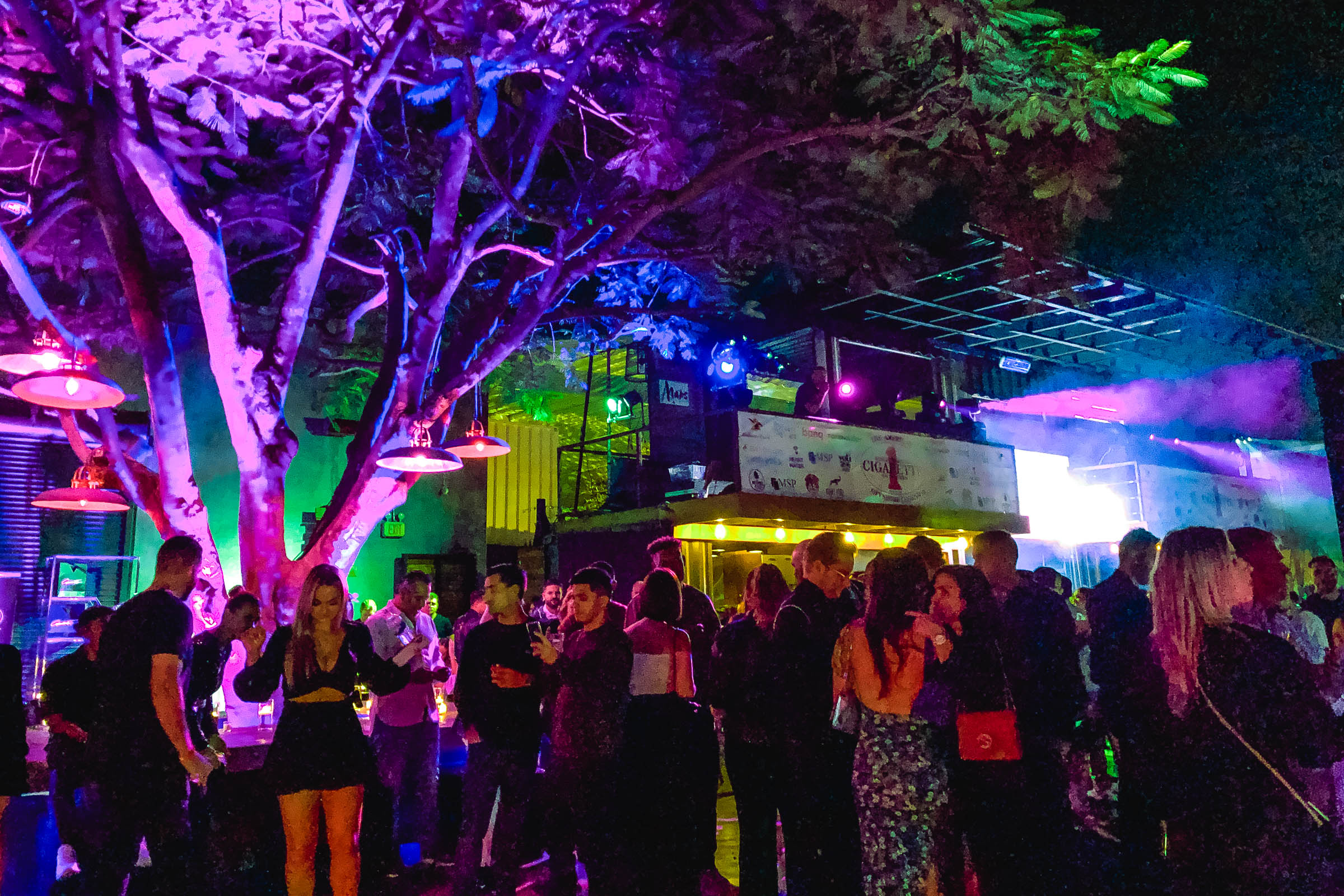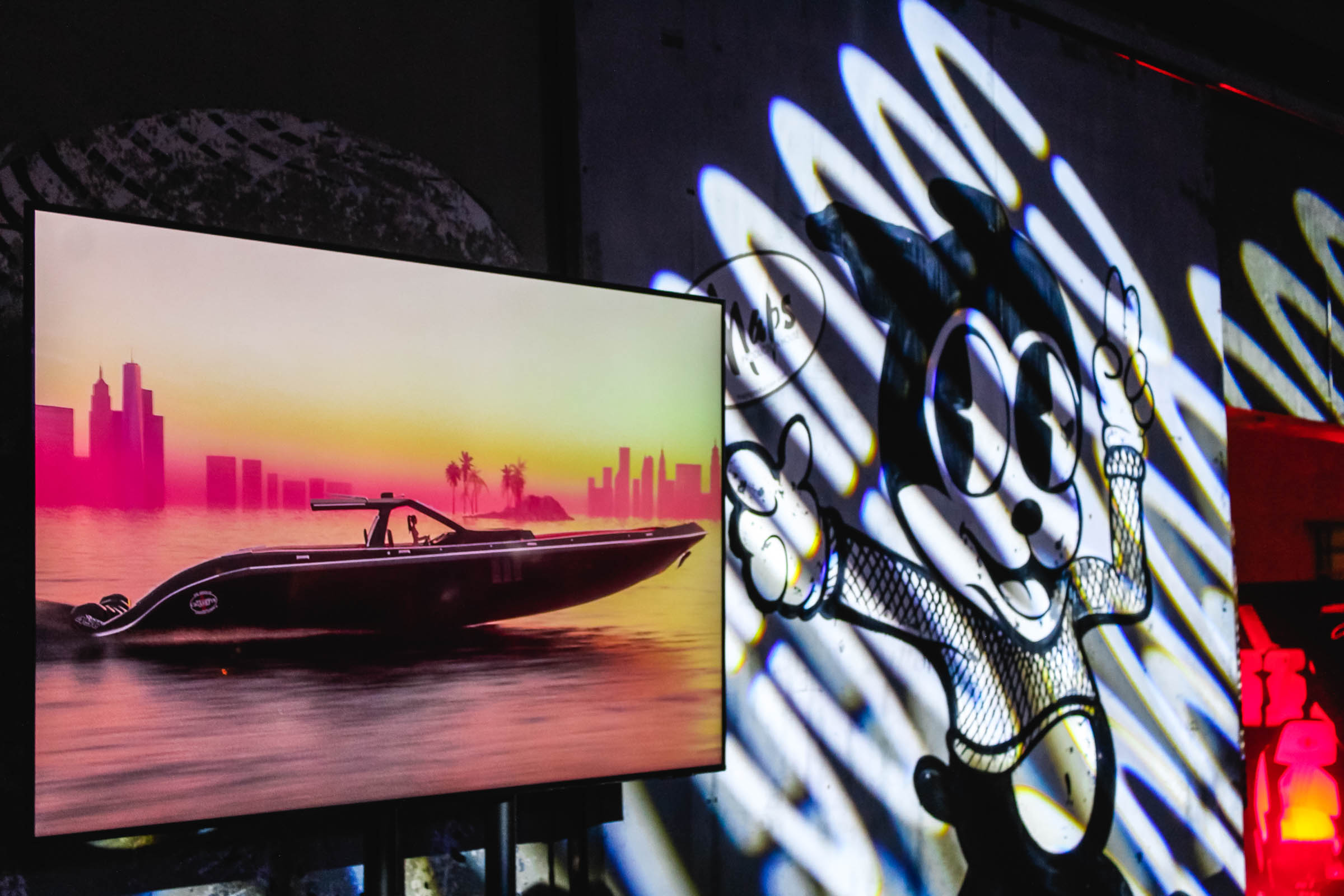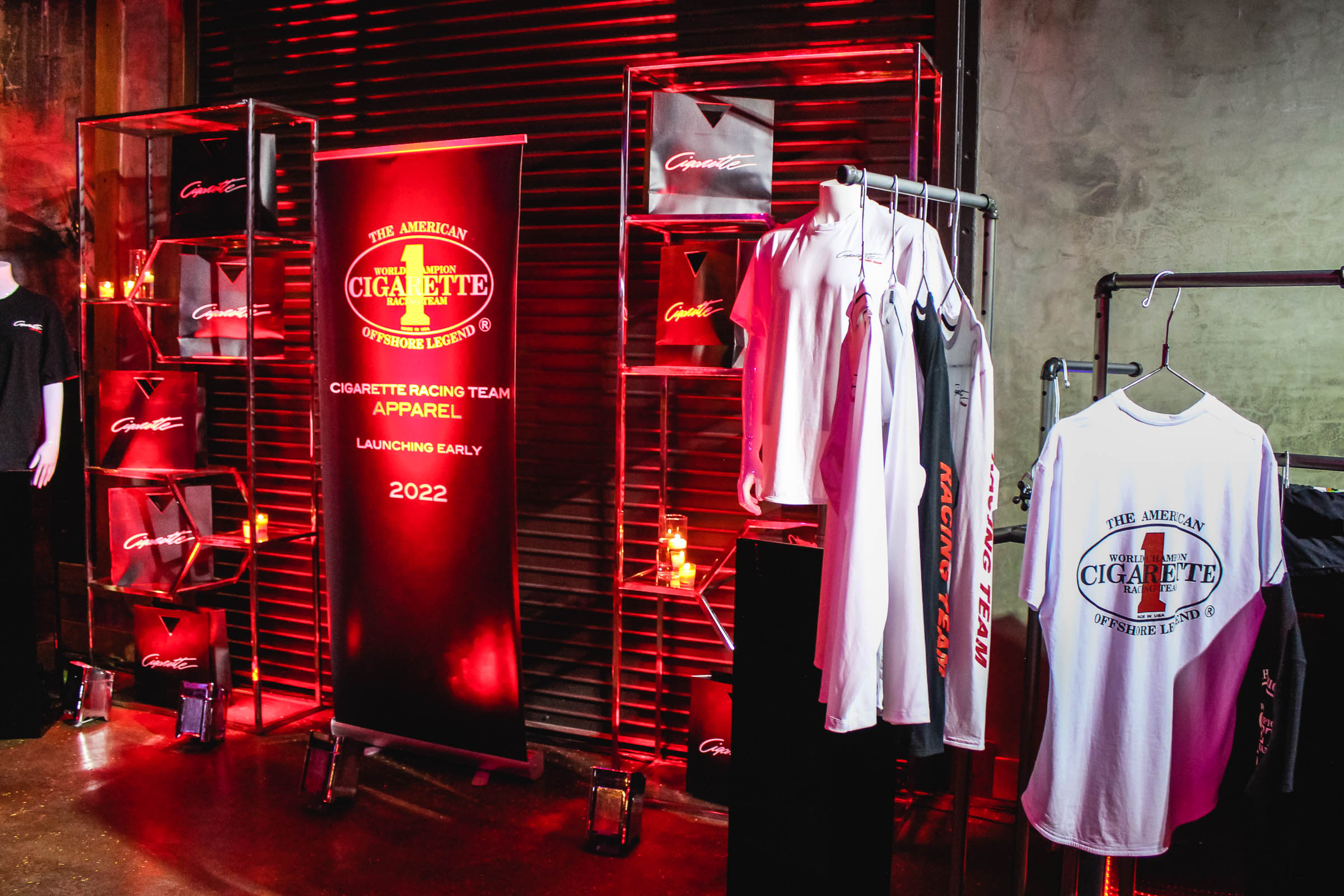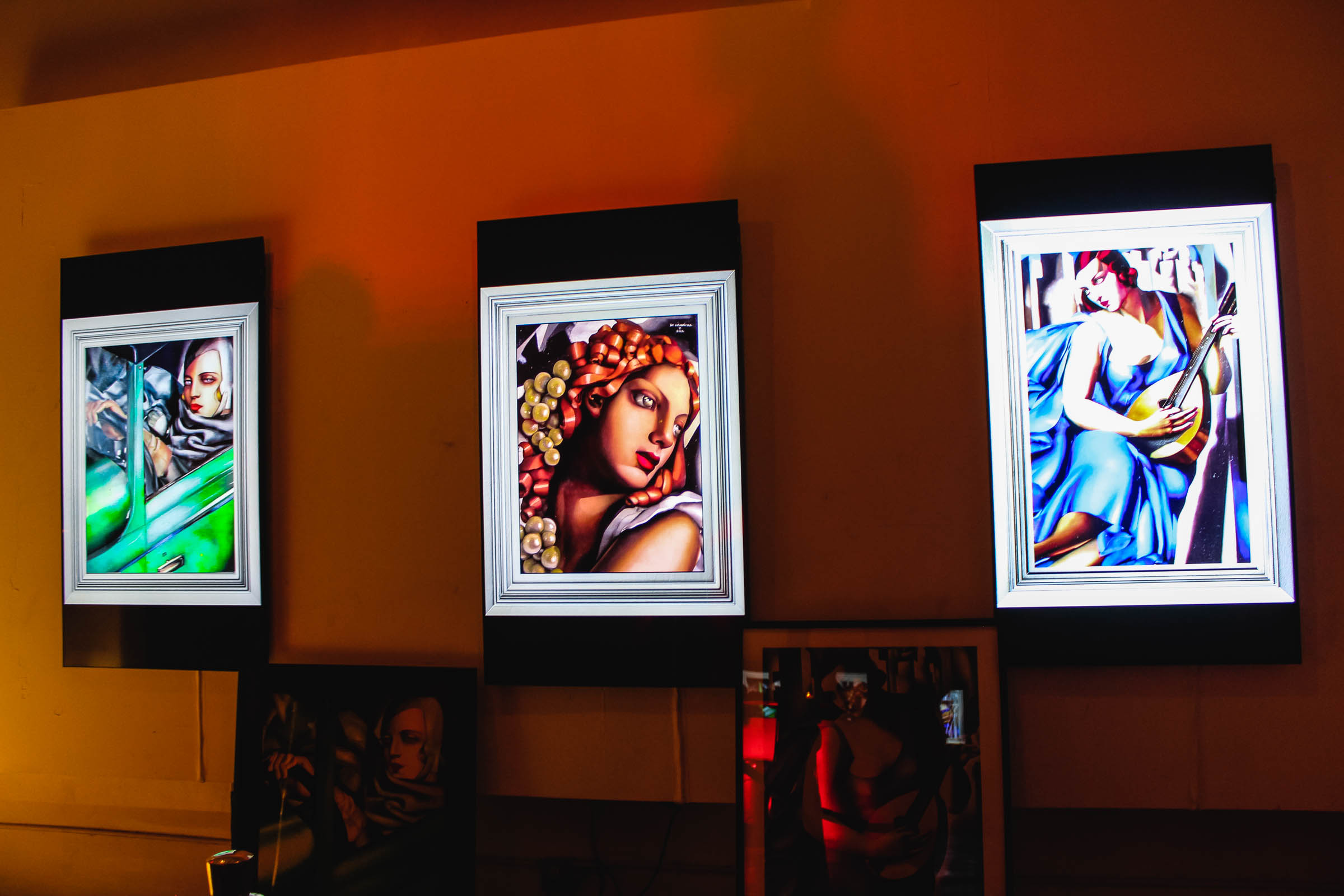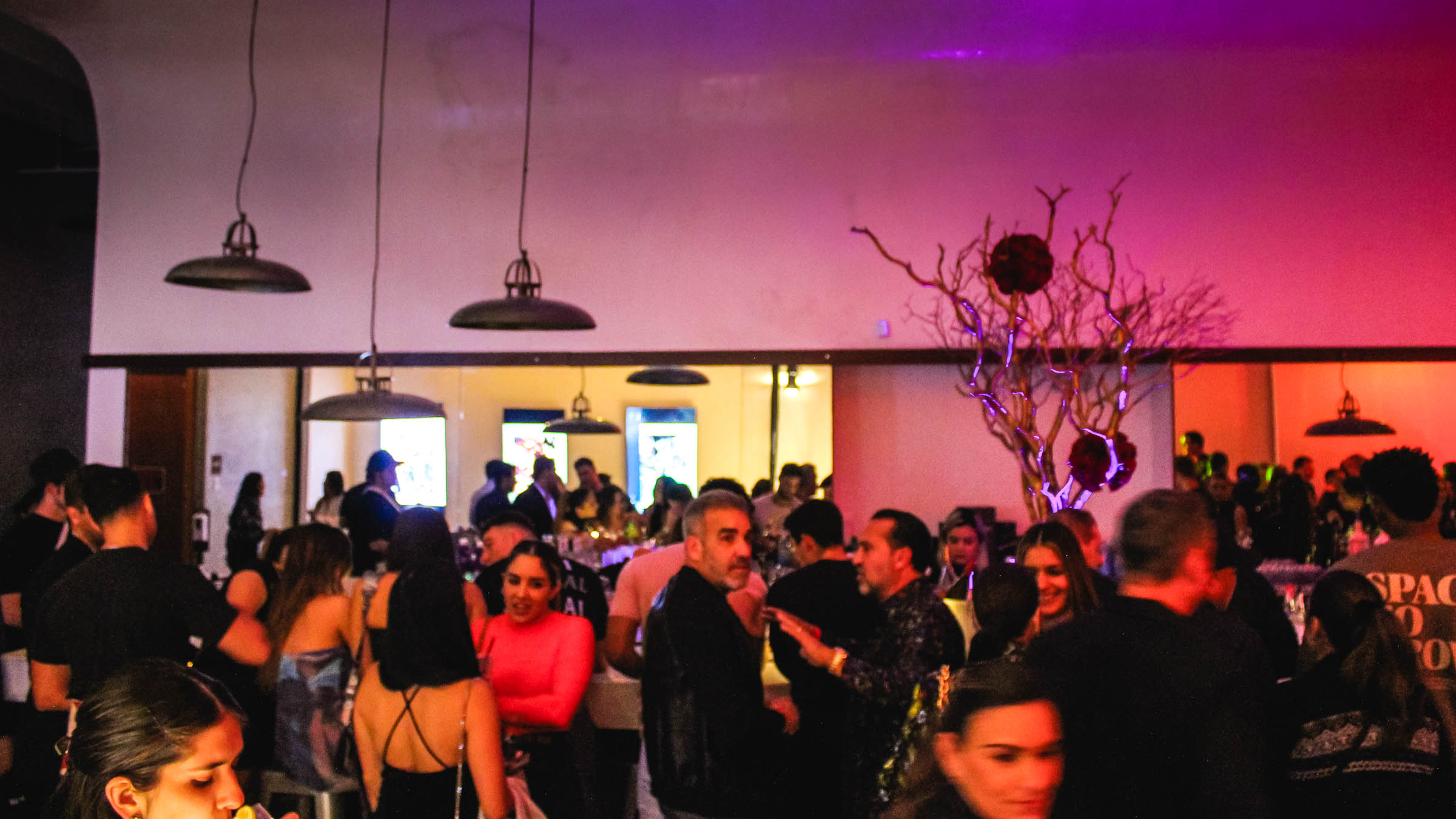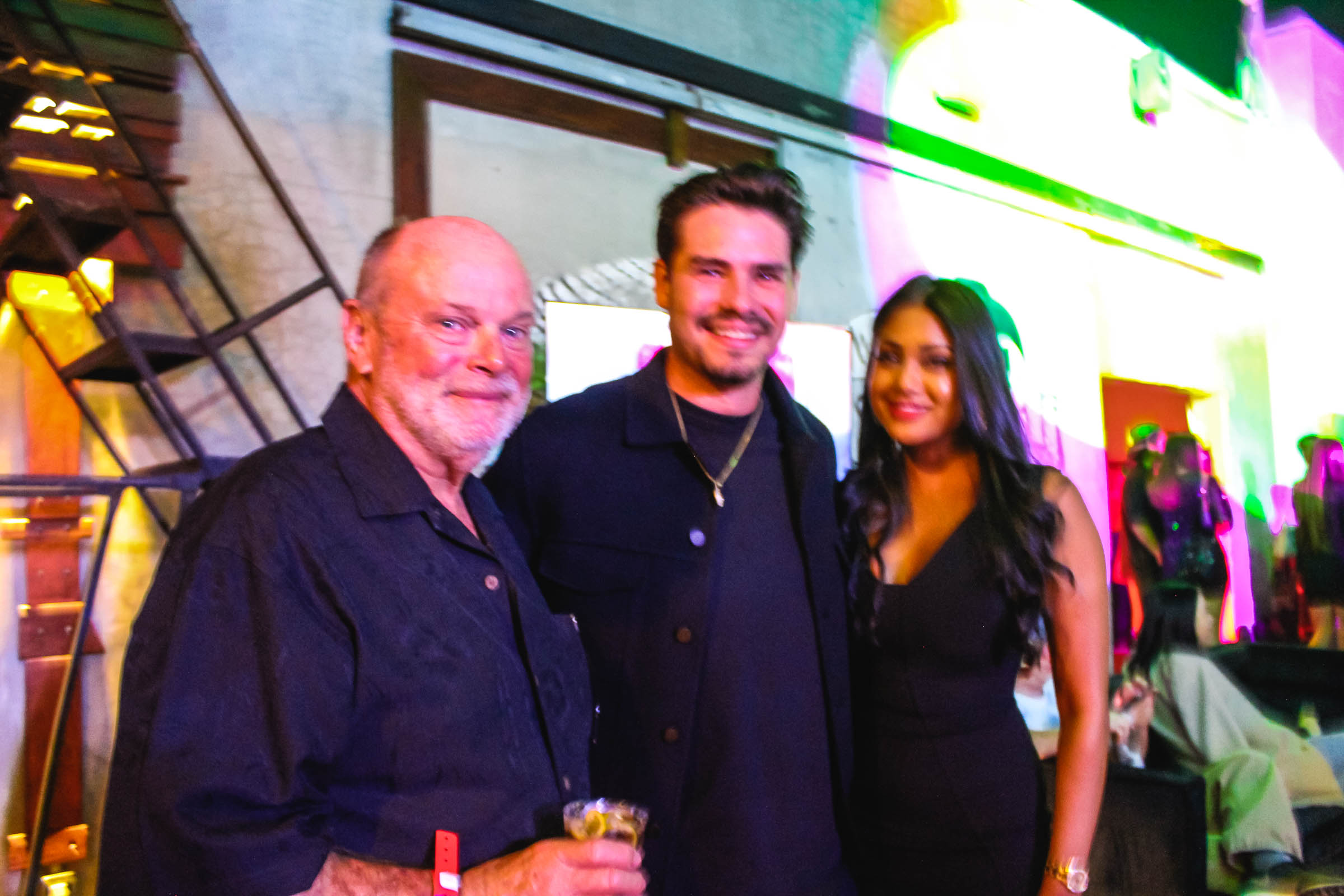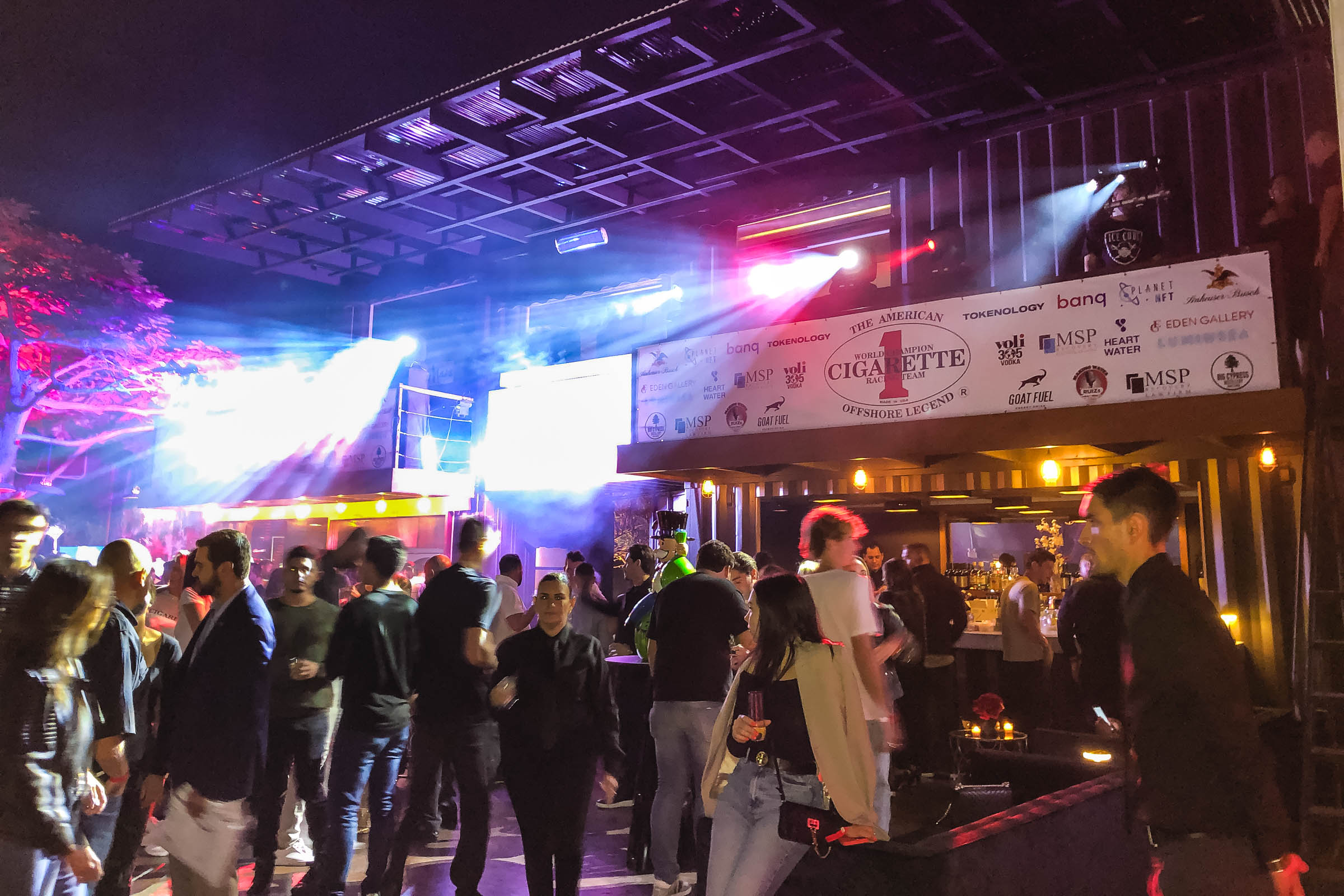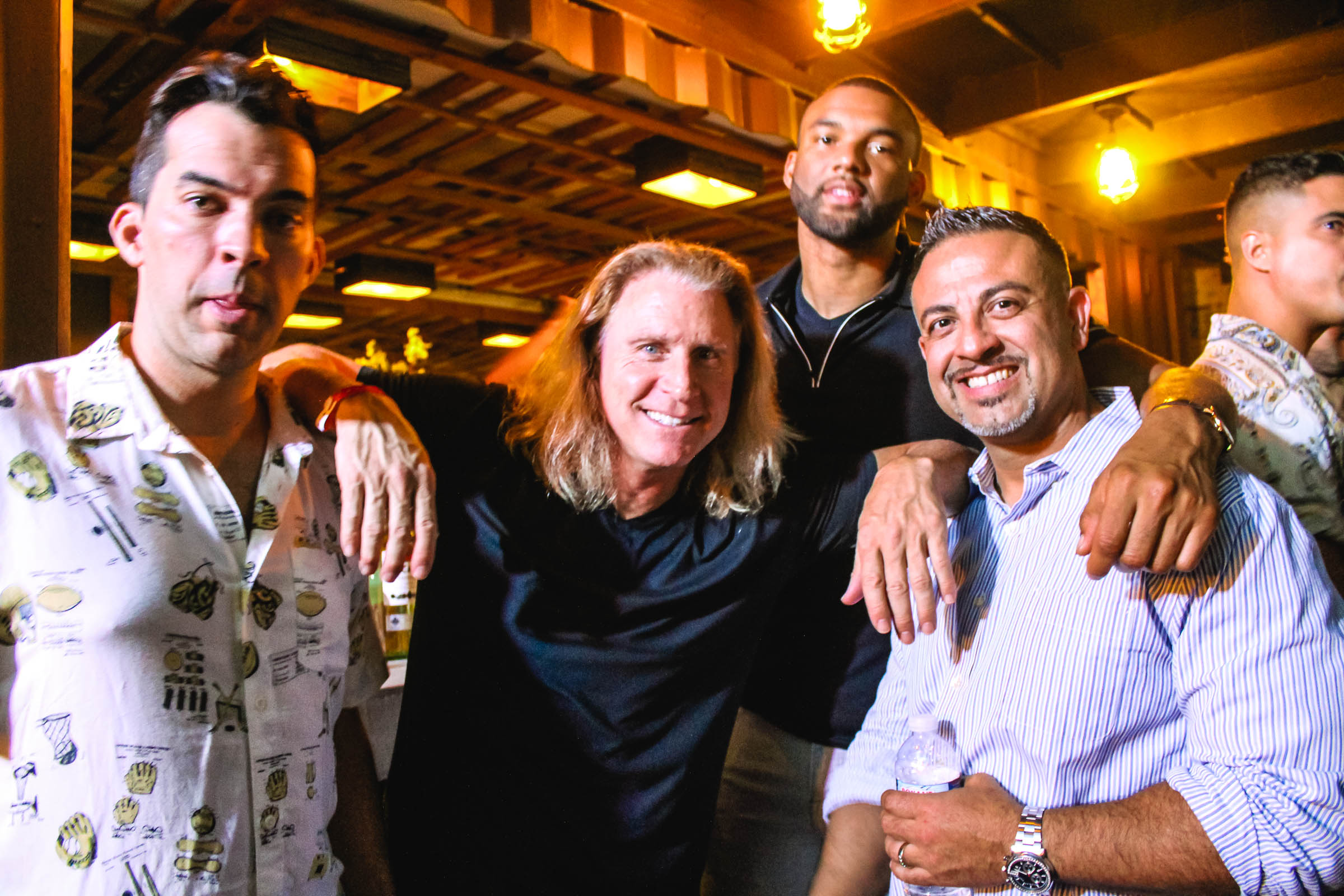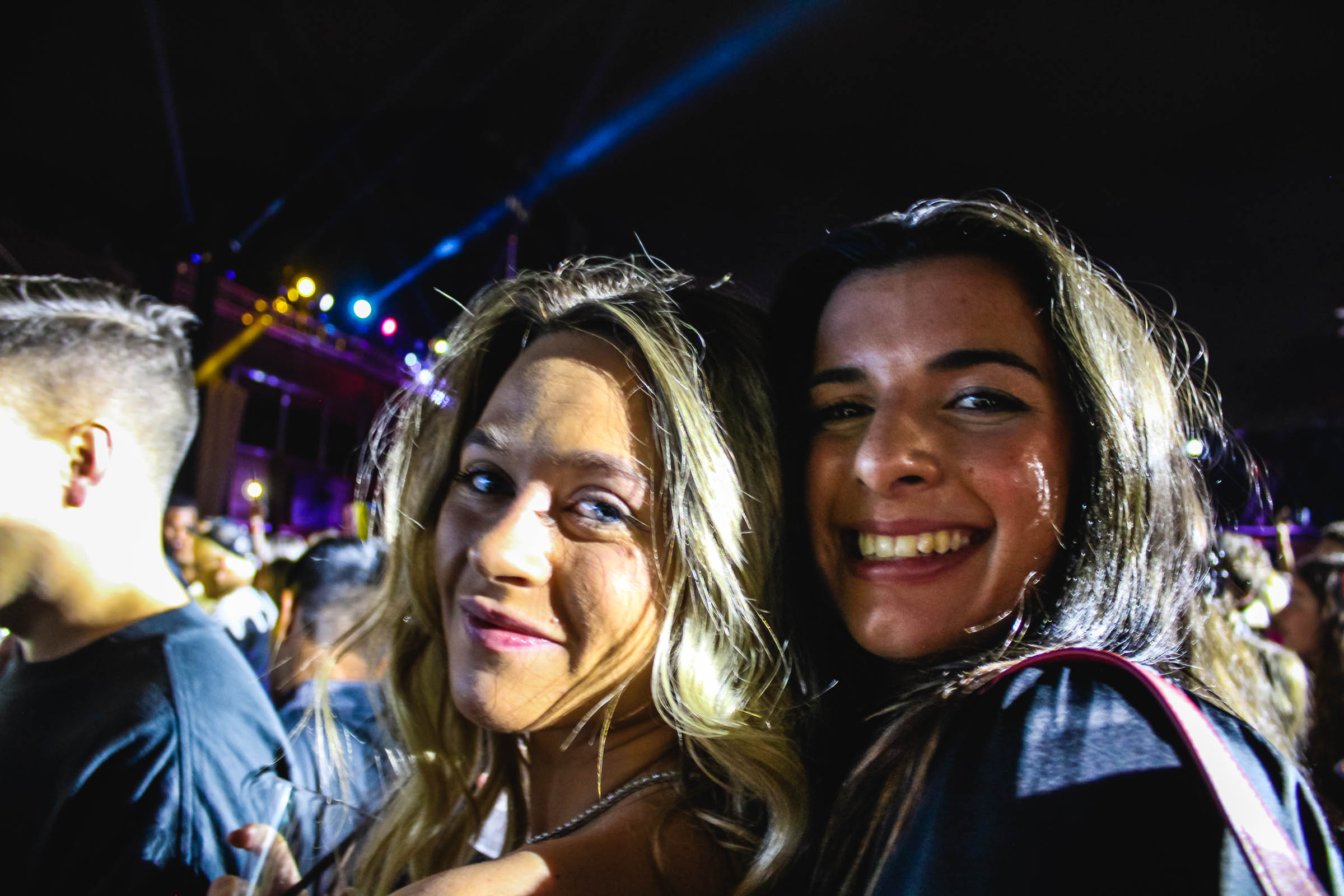 A Stroke of Genius Promotes the Powerboat
 Behind the velvet ropes, bedazzled fire dancers whirled and twirled, as video cameras honed in on every shake of a can and animated stroke of Monopoly slathering up the starboard hull, visibly swirling the lines of speed with renderings of the suited-up Uncle Pennybags from the Parker Brothers' classic board game and his fictional friend Richie Rich from Harvey Comics universe.
As revealed by his creative last name, Monopoly's claim to fame painting the mustachioed mascot was originally to disparage deregulation and banking bailouts; inviting viewers to scrutinize ideas of celebrity, money and fame by depicting the superstar way of life is his other pop culture forte. The native New Yorker's easily recognizable and lighthearted works can be spotted on urban street walls from Miami to Mexico, in numerous gallery halls, and even sprawls across hoods of sophisticated, high stature rides.
A provocateur of dialogue, Monopoly graffitiing up a seven-figure fastboat in the name of art, triggered an array of debate – consenting connoisseurs and artistically well-versed viewed it as a one-of-a-kind object, while critics chastised Cigarette for "doing this to one of its own." Fortunately for the non-aficionados who were unable to grasp the significance of this global publicity plug… well, all they had to do was a 180-degree spin for their enticing horsepower fix.
Positioned steps away from the entrance was the jaw-dropping twin-turbo 515, recently on display dockside at the Fort Lauderdale International Boat Show (FLIBS) and days later crushing waves at the Key West Worlds; Cigarette was title sponsor of the Florida Powerboat Club Poker Run and Race World Offshore professional series. A sexy red Ferrari Testarossa propped up alongside the 515 did its part to make the high-performance visual all the more alluring.
Getting back to the artsy powerboat… what exactly does the future hold? In a post-party text message, Cigarette brand manager Carlos Ruga explained Monopoly will be painting the port side, and then the interior will be done over and new Mercury drives will be installed. Upon completion, the Cafe Racer will be sold as both a work of art and a running boat. So while the world awaits the final pièce de résistance, to all the naysayers out there, just keep in mind – in opening day Art Miami news, the headline read "Mysterious British Graffiti Artist Banksy's Spray-Painted 'Charlie Brown' Piece Pulls in $4 Million!"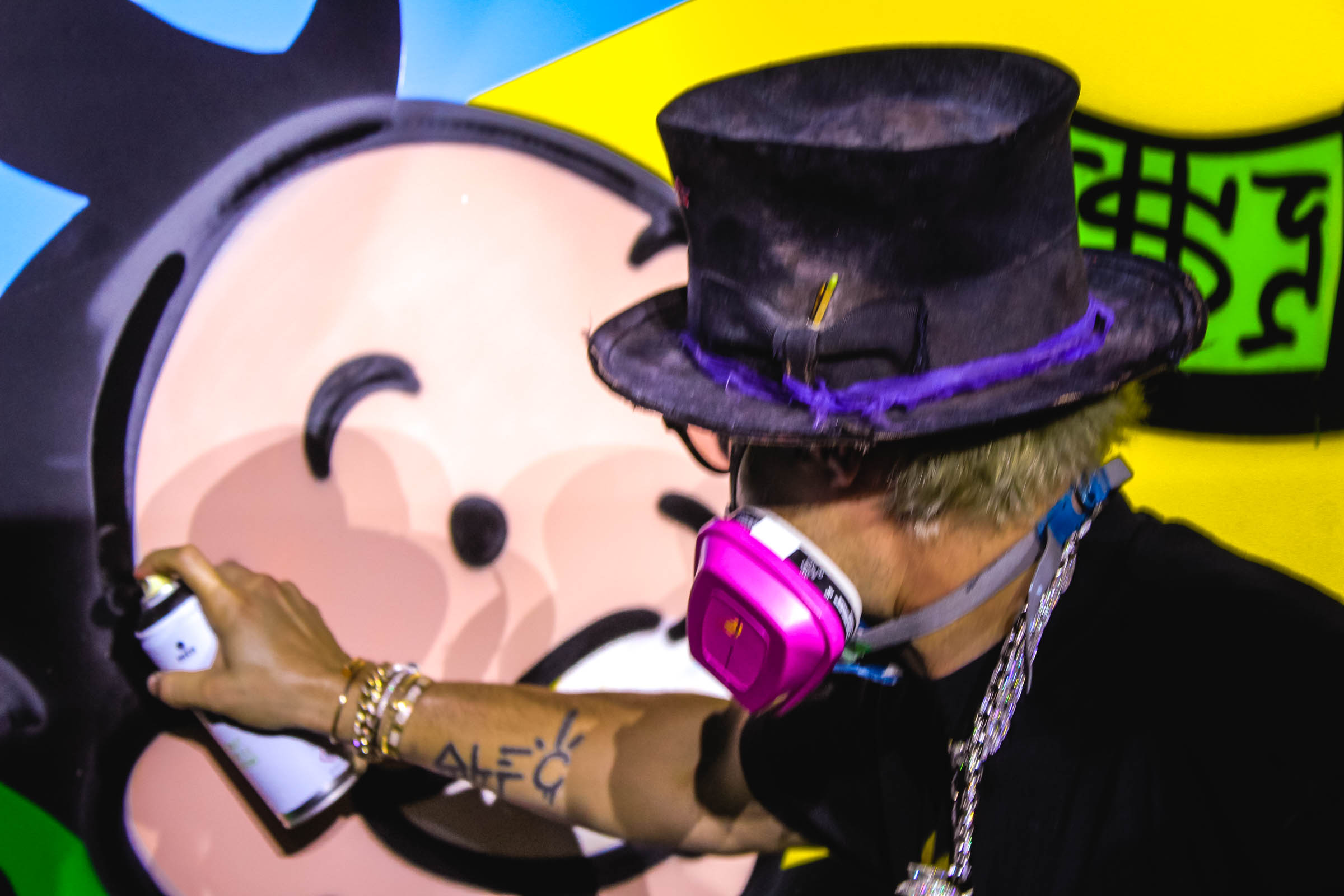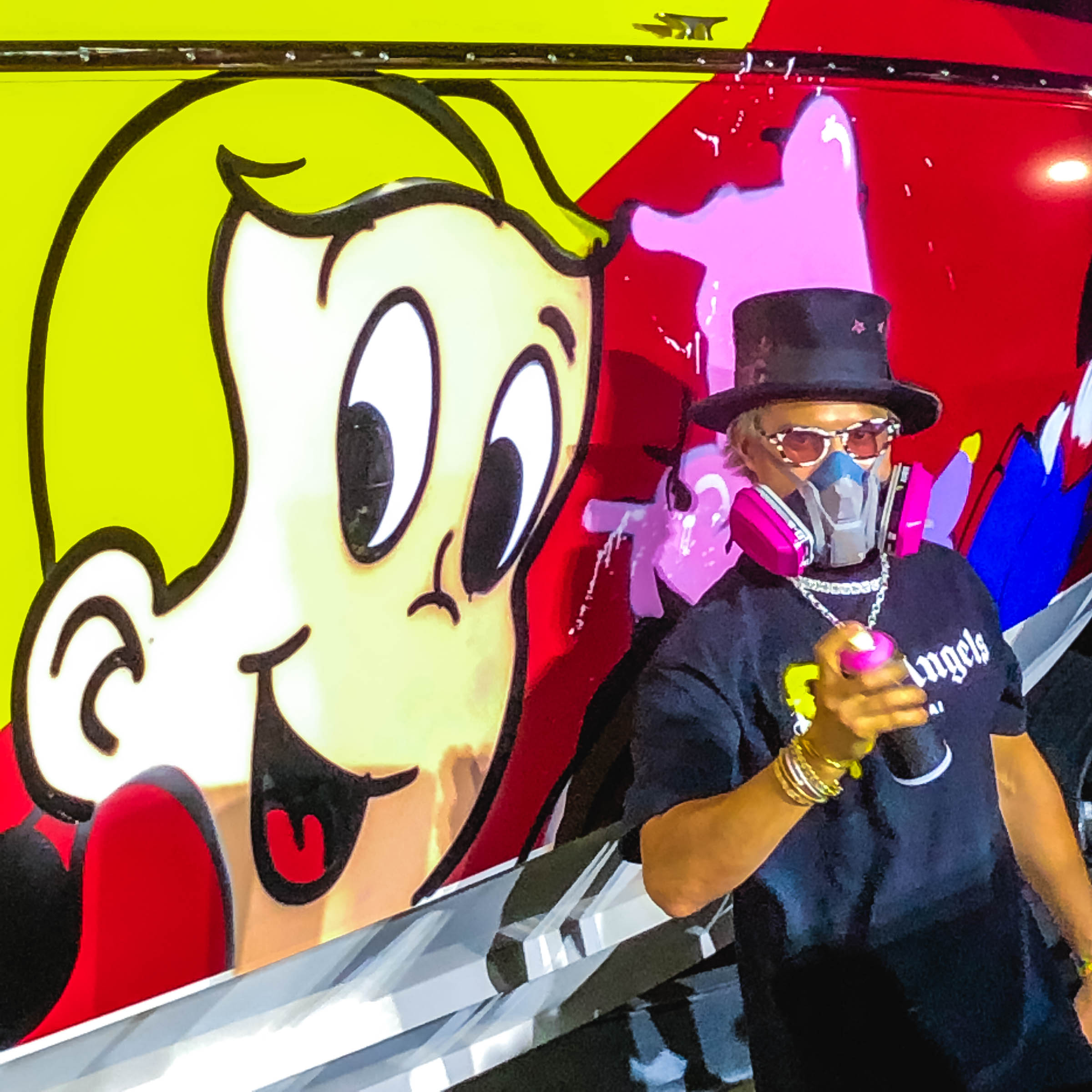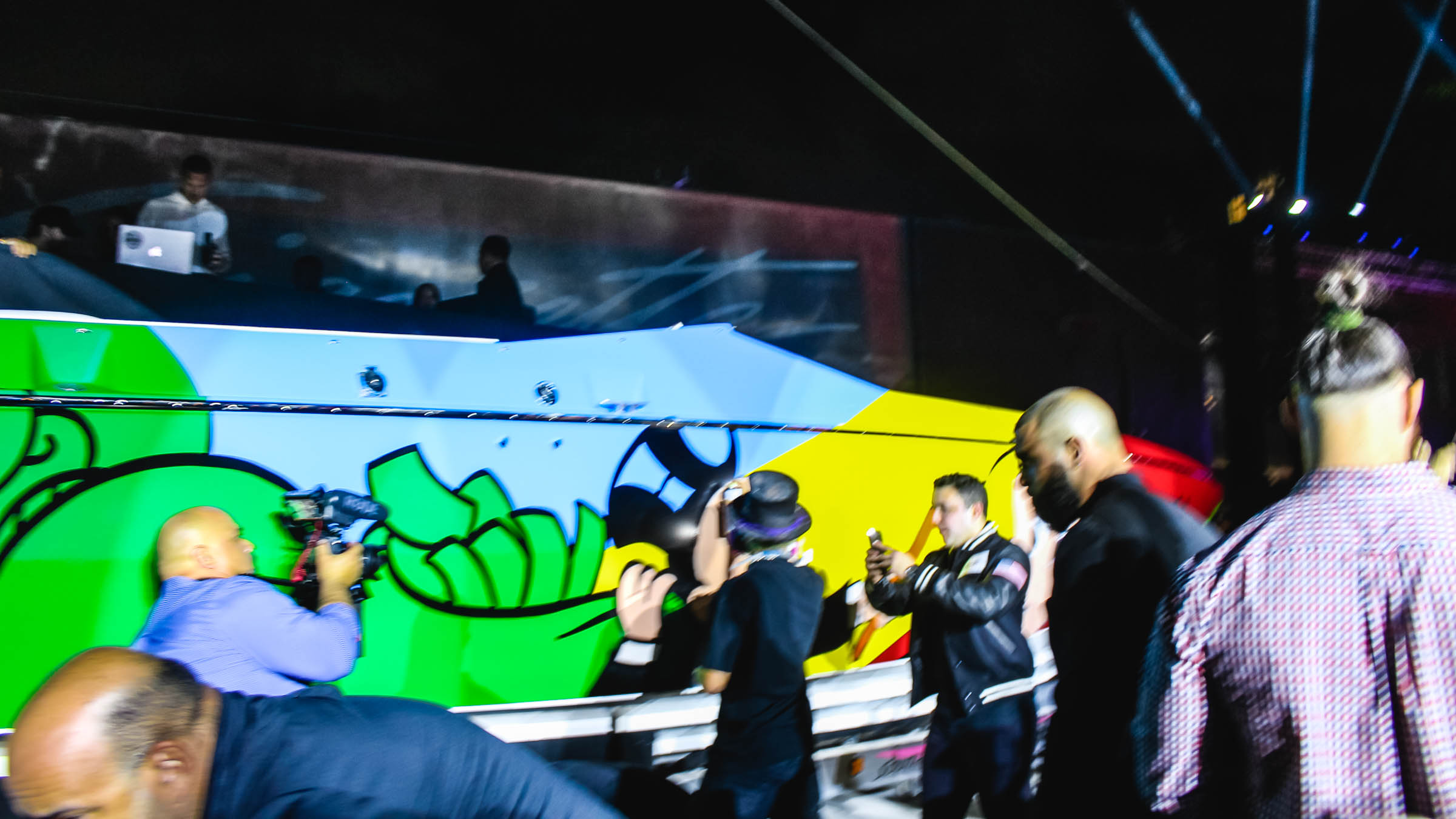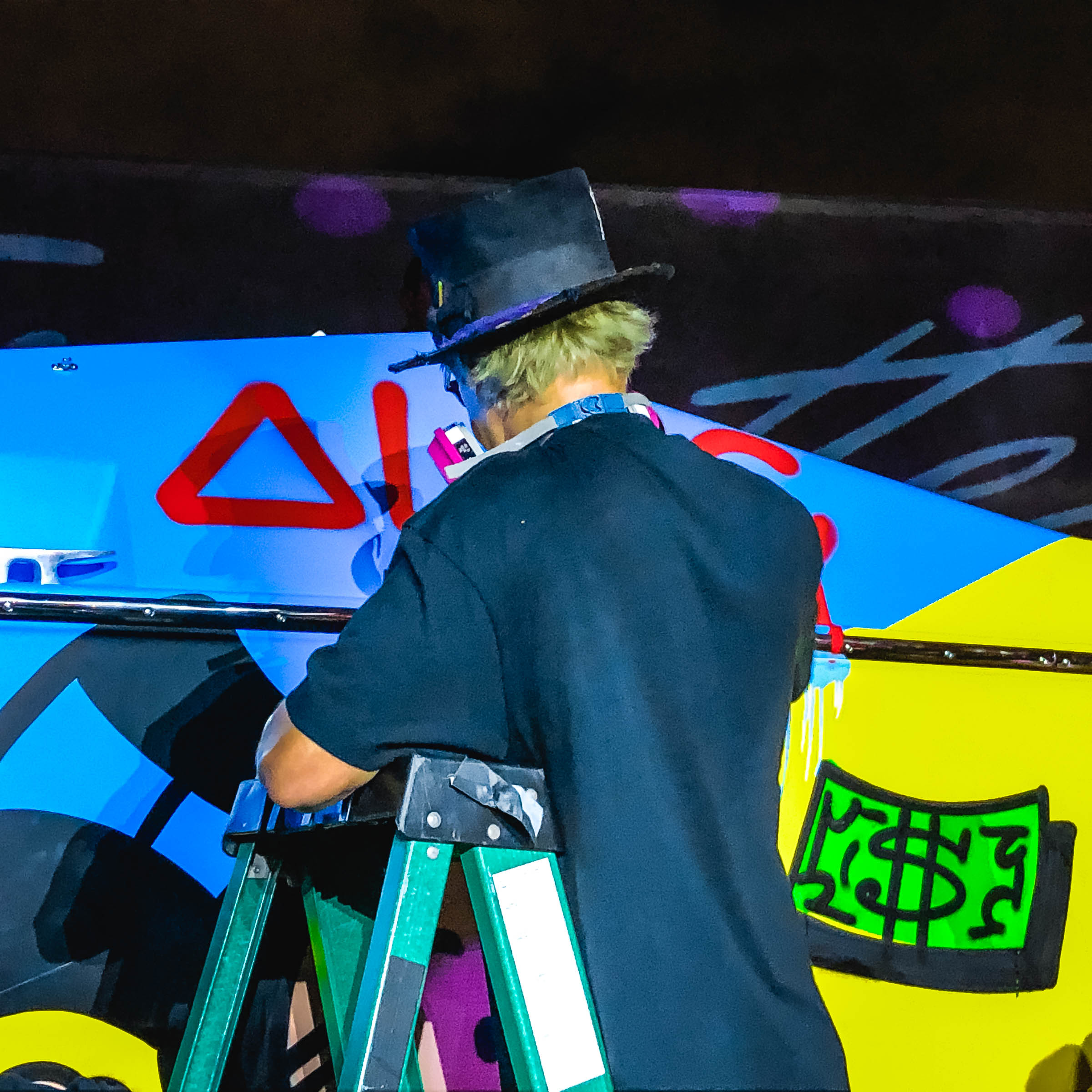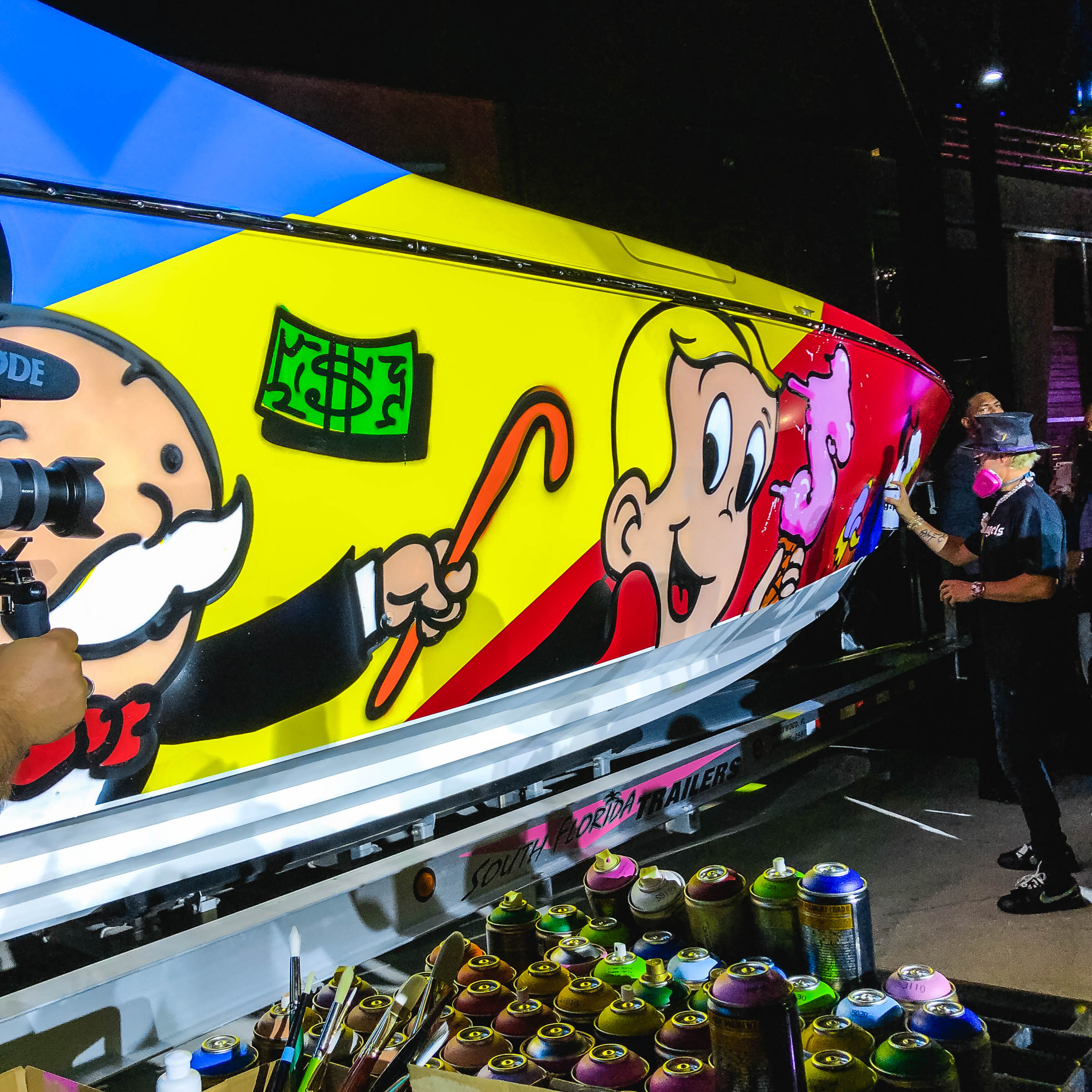 Cigarette Deluge into NFT Waters
Want more? Less than 12 hours after Boat to Basel, Cigarette was back at MAPS Backlot using the Art Basel 2021 landscape to dive deeper into uncharted waters, taking the NFT plunge which inundated Miami with interactive platforms, panels and promotions. First, let me shed some light on what is a NFT. Don't worry, I didn't know either!
The biggest buzzword reshaping Art Basel 2021 was not – the $120,000 ripe fruit duct-taped to a wall that bombarded your social media, as the universe went bonkers. No that was so Basel 2019. This year it was the "non-fungible token," you know that uhm "digital thing" that everyone struggles to explain, which represents a unique moment in the real-world of art, music, sport highlights, videogames and more.
During the lead up to Art Basel, these NFT digital works authenticated by blockchain technology, and often bought and sold online with cryptocurrency, have advanced into blue-chip "high investment, financially sound" territory. That's how insane this has become – NFTs have conquered the zeitgeist of culture and the art society. But why the hype to own something anyone can screenshot or download? The authenticated version of the actual digital asset becomes all yours.
Cementing its newfound prominence, more than 4,500 unique NFTs were populated during Art Basel; seven of those came from the Cigarette auction presented by Tokenology and created by Marvel artist, Digger Mesch and the team at Dreamcatcher Animation. The NFTs showcased the power and speed of the watercrafts complete with the sounds of the engines, by combining digital art with real-life racing experiences and rewards, and to increase bidding with extra accompanying entitlements, one option included a private day on an actual 59' super center console Tirranna.
Judging from the weekend's endeavors, it goes without saying… the Ruiz family's goal is advancing Cigarette Racing Team to that of a forward-thinking enterprise. We will never know whether Don Aronow, the brand's creator and King of Offshore, would be turning in his grave, or yearning to keep this new fire and NFT digital spark burning – but in the words popularized by Andy Warhol, "Art is anything you can get away with."