Story and Photos by DinaRella.
It wasn't hard to track down Sunsation Powerboat's president and owner Wayne Schaldenbrand during his youngest childhood years -- he was either at the Chris Craft factory on days he accompanied his grandfather to work, or doing some hands-on laboring by stripping and bleaching his family's pleasure boat hulls.
An array of model-boat construction endeavors then followed, and by his 16th birthday, he could proudly say he had designed his first performance boat. In 1982 the young mariner with boating in his blood took an even greater leap and founded Sunsation Powerboats. It was started in a 20x20 garage and his two brothers were along for the ride to help.
Today over a quarter of a century later the Algonac, Michigan-based company is run by Schaldenbrand, his brother Joe and partners Kyle Miller and Jared Morris. The dedicated team continue to astound the high-performance boating world upping the ante with each new model it introduces, dating back to the early 2000s with its brainchild -- the Sunsation F-4 43-footer V-bottom.
By 2013 just six years back, Sunsation Powerboats debuted its first center console to the market, but only after consulting with the iconic king of offshore boat building and racing, Mr. Reggie Fountain. The 34 CCX won the hearts of all and soon after welcomed a smaller sibling, the equally admired and in-demand 32 CCX. The head-turning machines carry the Center Console Extreme (CCX) title thanks to the line's expansive cabin space layout.
But it gets better. The most ambitious from the breed of center consoles is its latest conception since engineering consultant Tres Martin stepped up to the drawing board with a re-work of the recent Sunsation 39 CCX. CAD test and designs confirmed that an additional foot of boat length would provide the perfect center of gravity for the extended hull length and the new deck configuration.
Another benefit in conjunction with the aerodynamically instrumented hardtop is the significant improvement in overall handling and solidity without adversely affecting the boat's maximum speed potential.  And so... the beast that is the 40 CCX was born! This is the boat that will make you stop in your tracks if you see it on the docks, or pound the throttles of your current ride to eyeball it in aquatic action.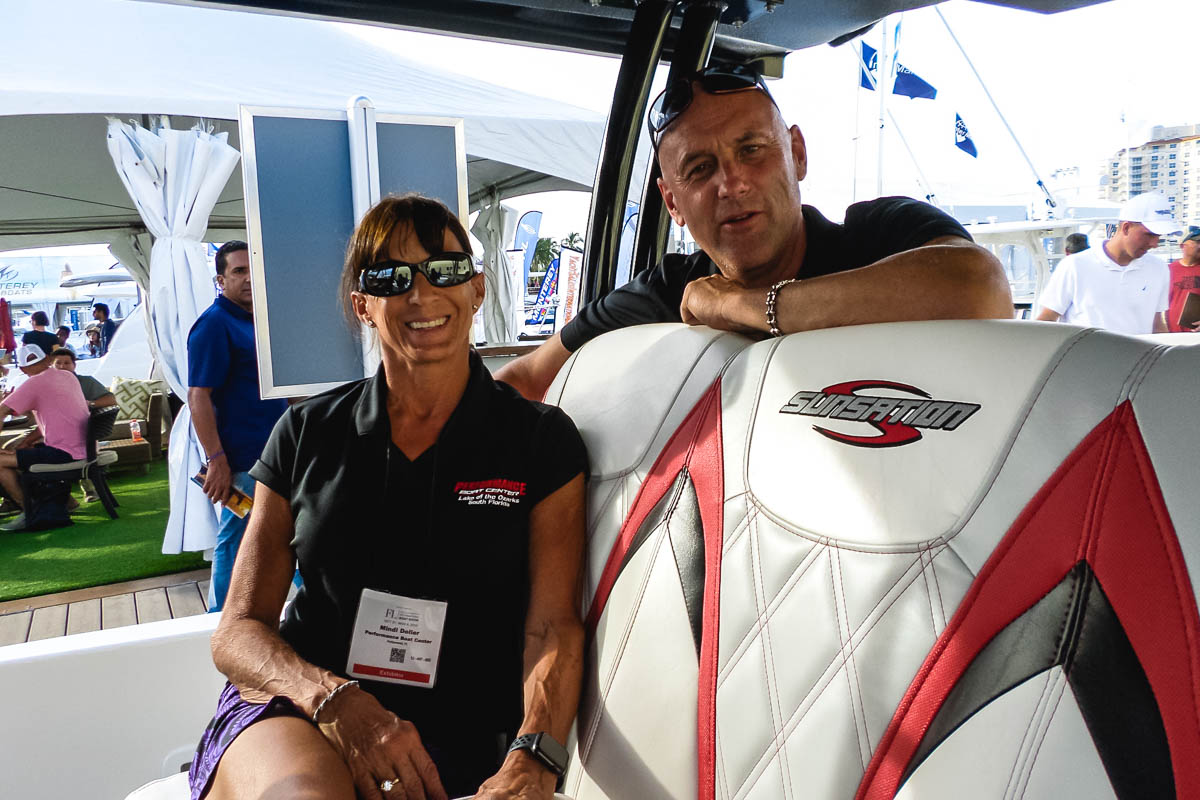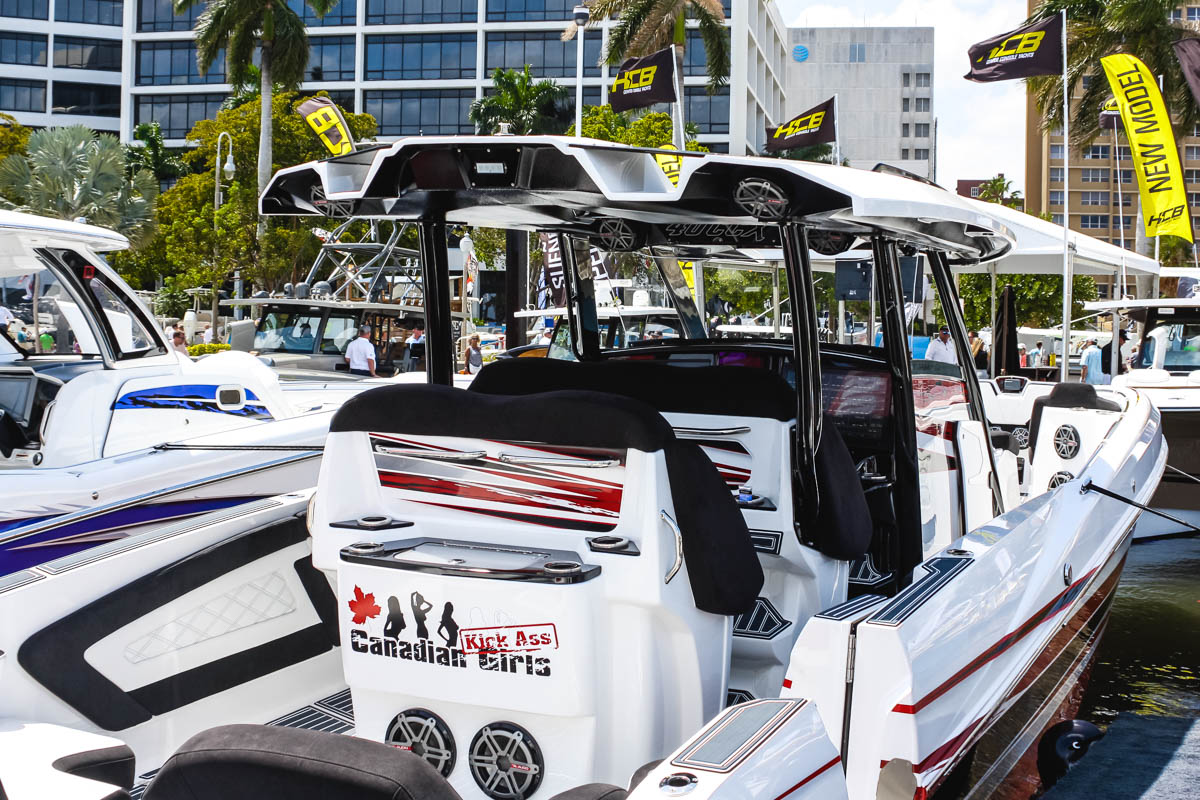 Performance Boat Center (headquartered in Osage Beach, Missouri, with a second location in Hollywood, Florida,) was kind enough to invite me on board its 40 CCX at the marine dealership's in-water display during the Palm Beach International Boat Show for a tour from sales associate Rusty Williams.
A four-pack of Mercury Marine 400-hp Verado outboards on the transom and a vivacious red-and-black paint scheme sweeping up the sides from stem to stern from the graphics gurus at Mitcher T Custom Paint greeted me as I slipped off my shoes and entered through the integrated starboard dive door.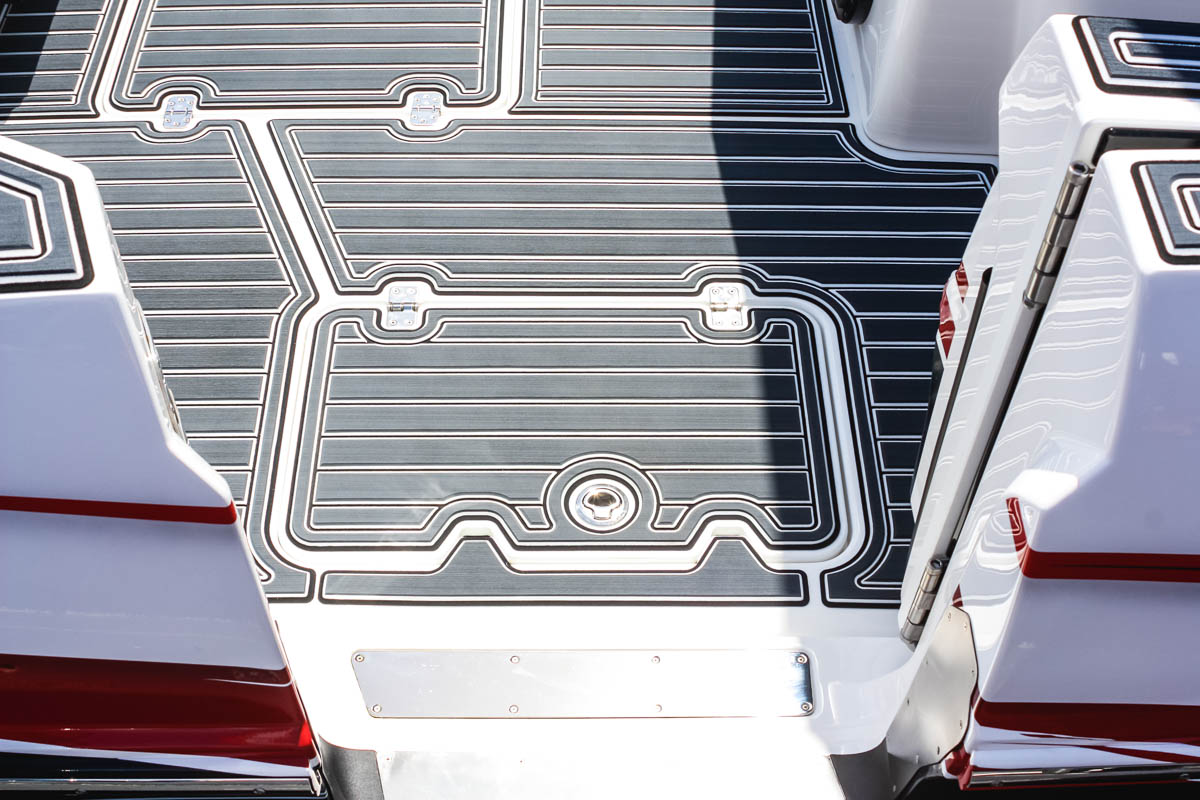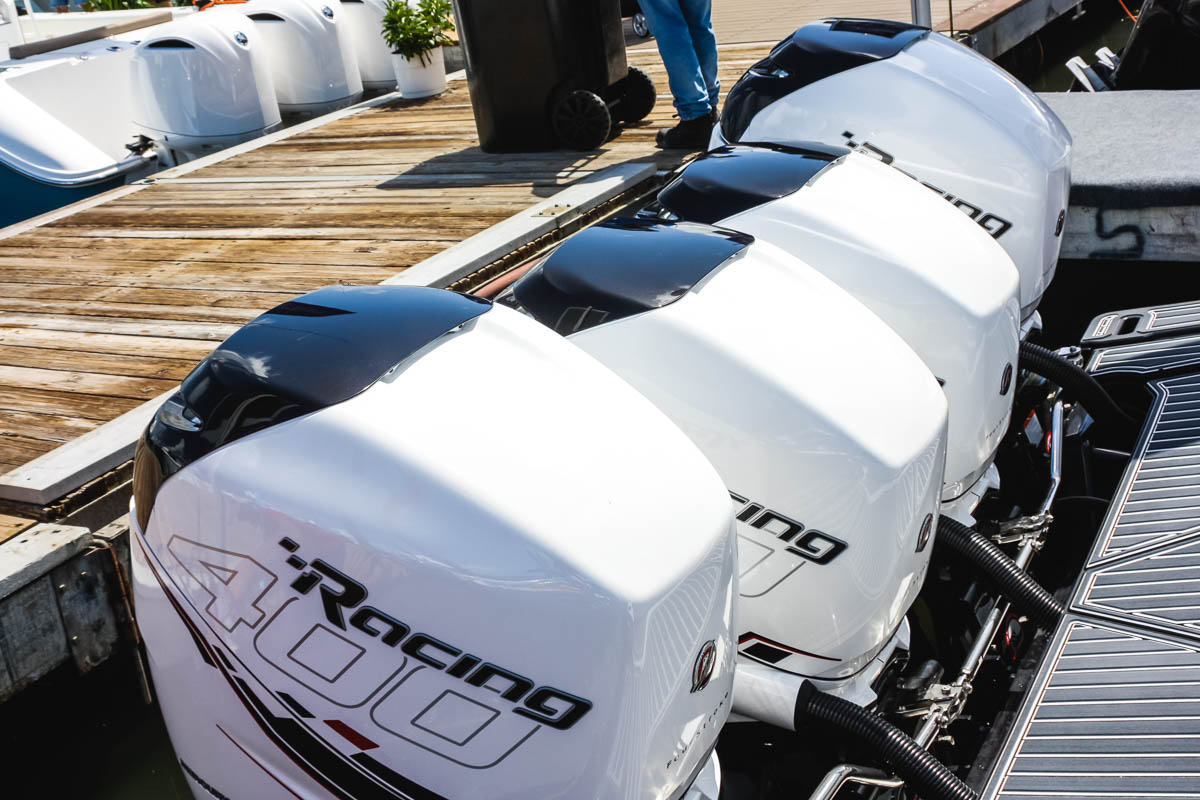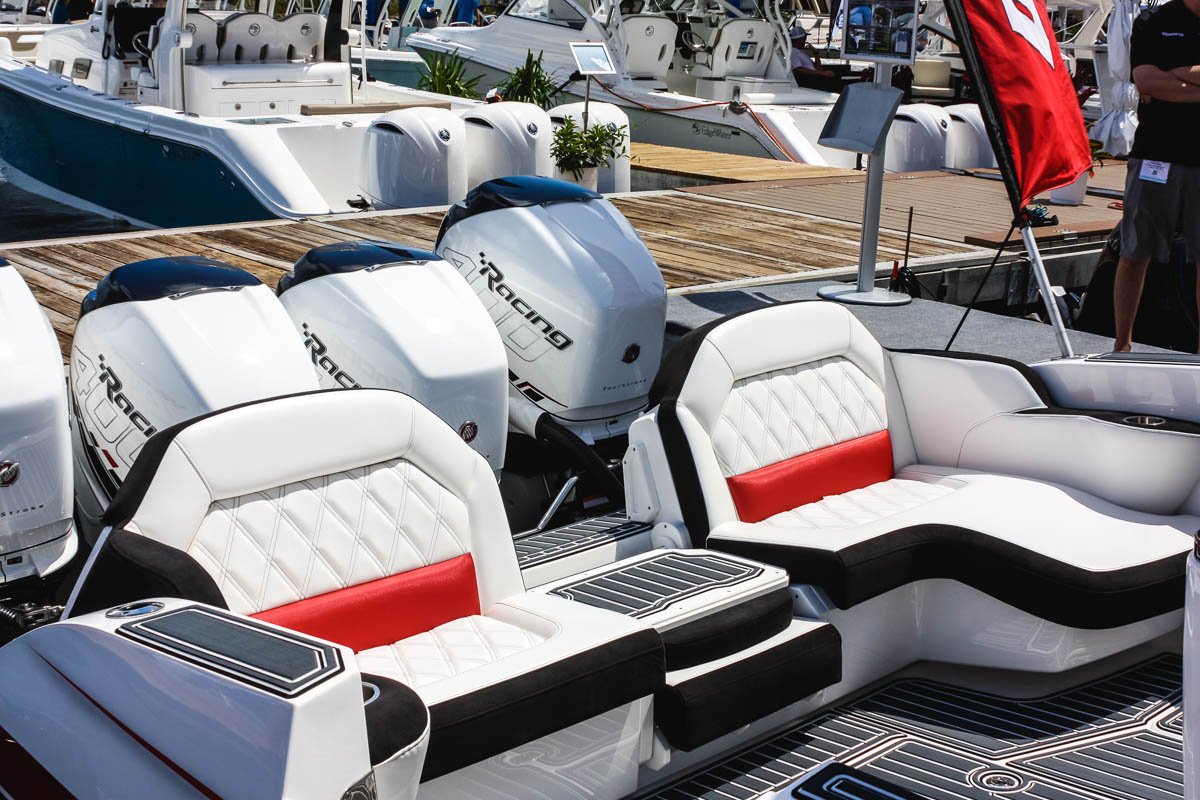 When writing these features for LuxuryCenterConsoles.com, my job is to highlight the special characteristics that make each watercraft distinct to help our members better access which boat is best suited for him or her. With that said, immediately three unique features on the 40 CCX grabbed my attention.
First off, I spotted the middle step in between the rear transom seats that magically flips down and conveniently doubles back as the middle seat. The thought process behind this installation is that many times when rafted up alongside other boats it is not possible to get back on the boat from the side, thus with this inventive technique you can scoot back up without hassle.
Additional aft attributes to sweeten the deal include generous storage facilities under each seat, an insulated rear cooler, and gorgeous suede-like Alcantara clad gunwales that run along the port and starboard passageways. The inviting Alcantara decor continued into the cabin where it covered the inside walls of the console.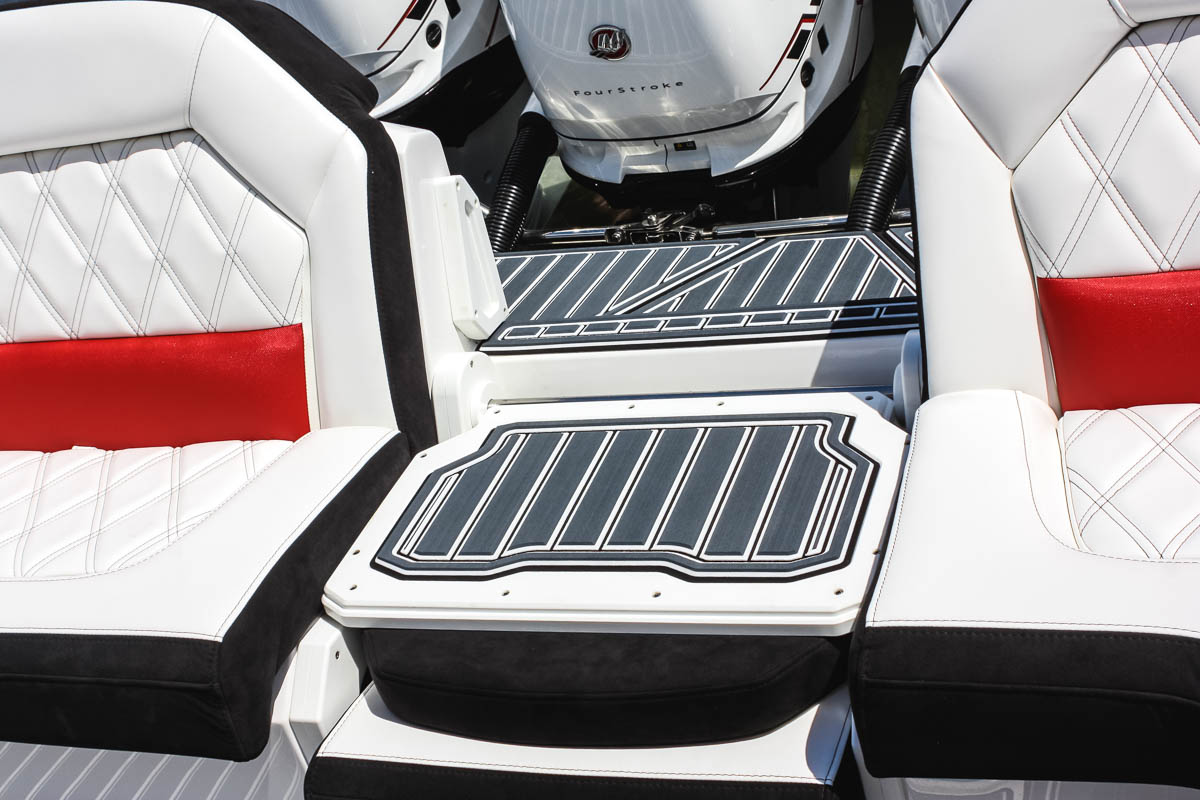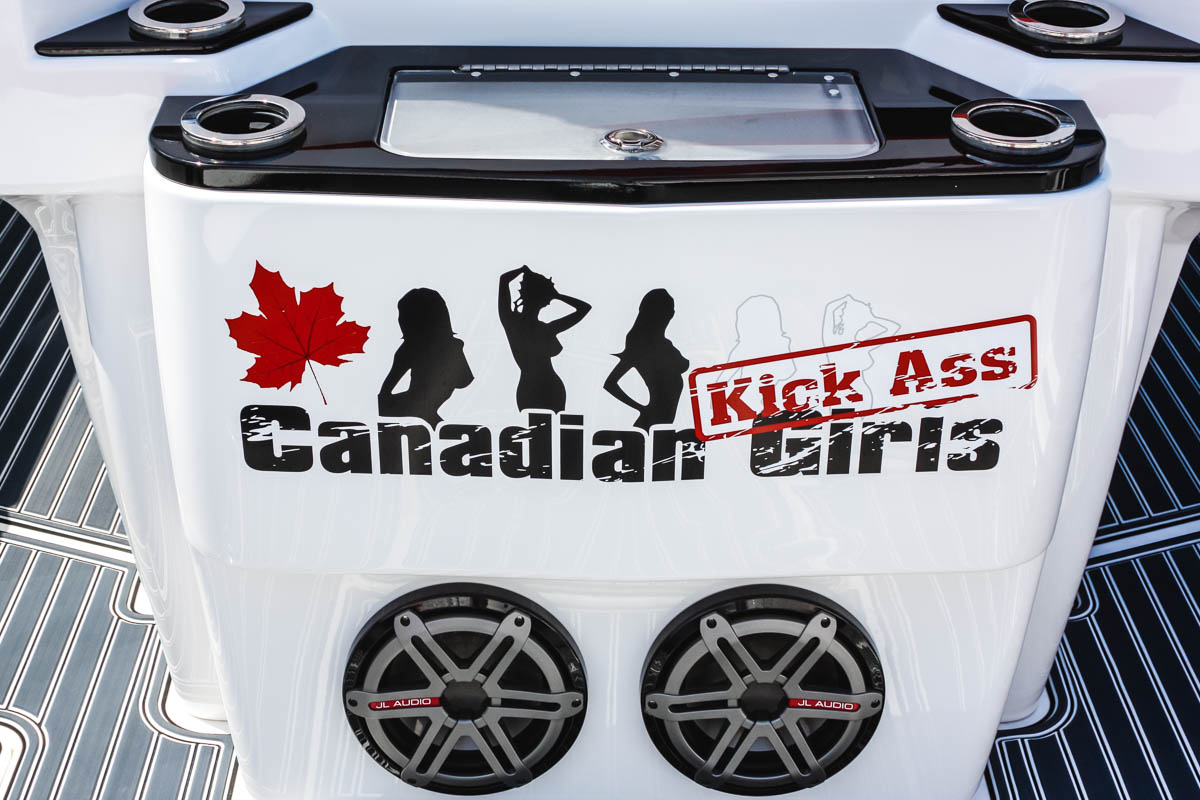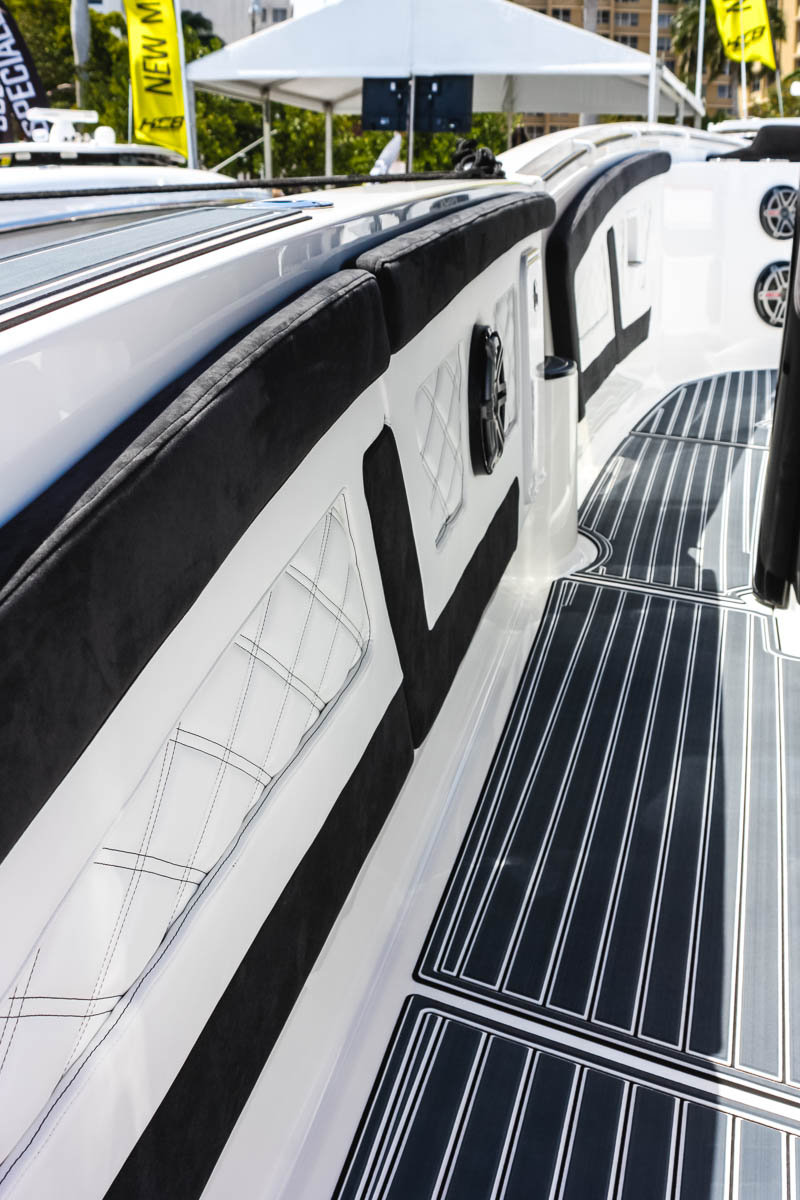 The second special feature in the roomy and spacious cabin didn't jump right out at me. Just as I was about to inquire... where is the head? I noticed the covered cushion I was admiring was actually positioned on top of the head. It was so well concealed and thick in consistency, it added an extra touch of glass and is a remarkable use of space.
Apart from the head seat, the cabin benches are effortlessly converted into a two-person bed when the filler cushions are added. An abundance of storage facilities are evident as soon as you venture down the steps, and air-conditioning and a generator are optional add-ons to make life down below more enjoyable if so desired.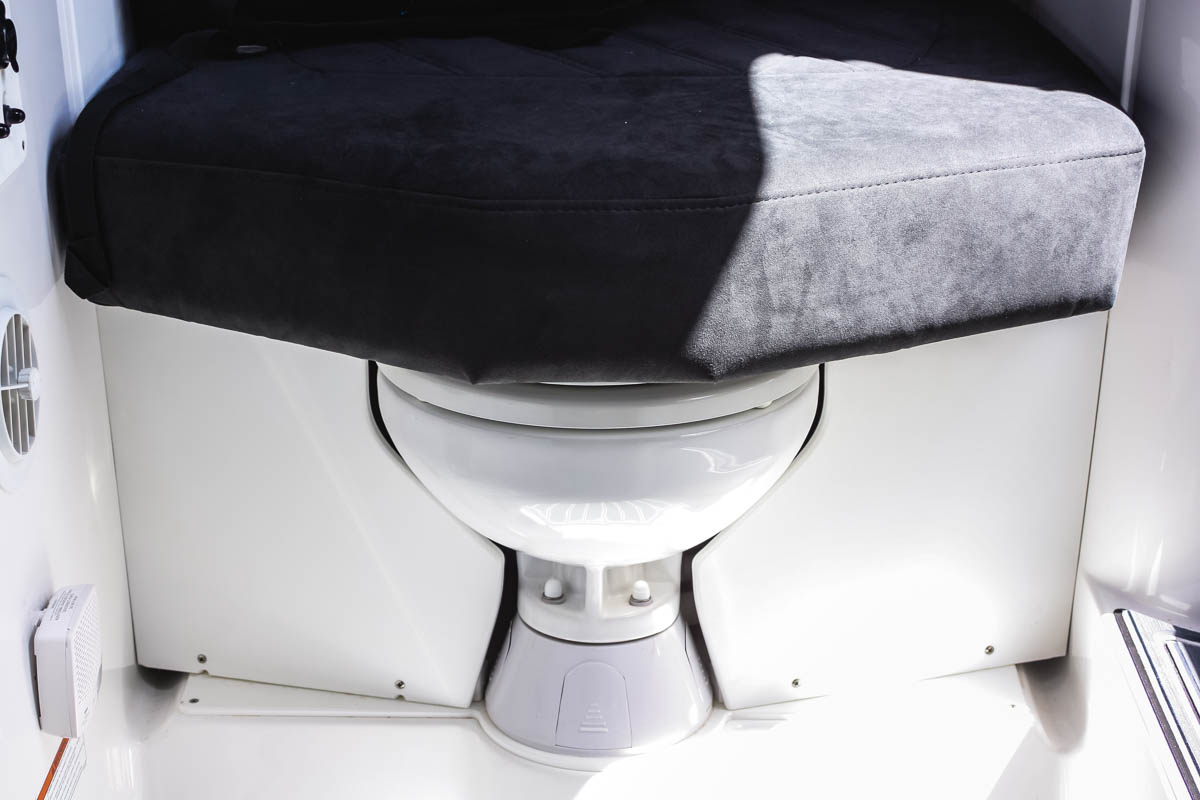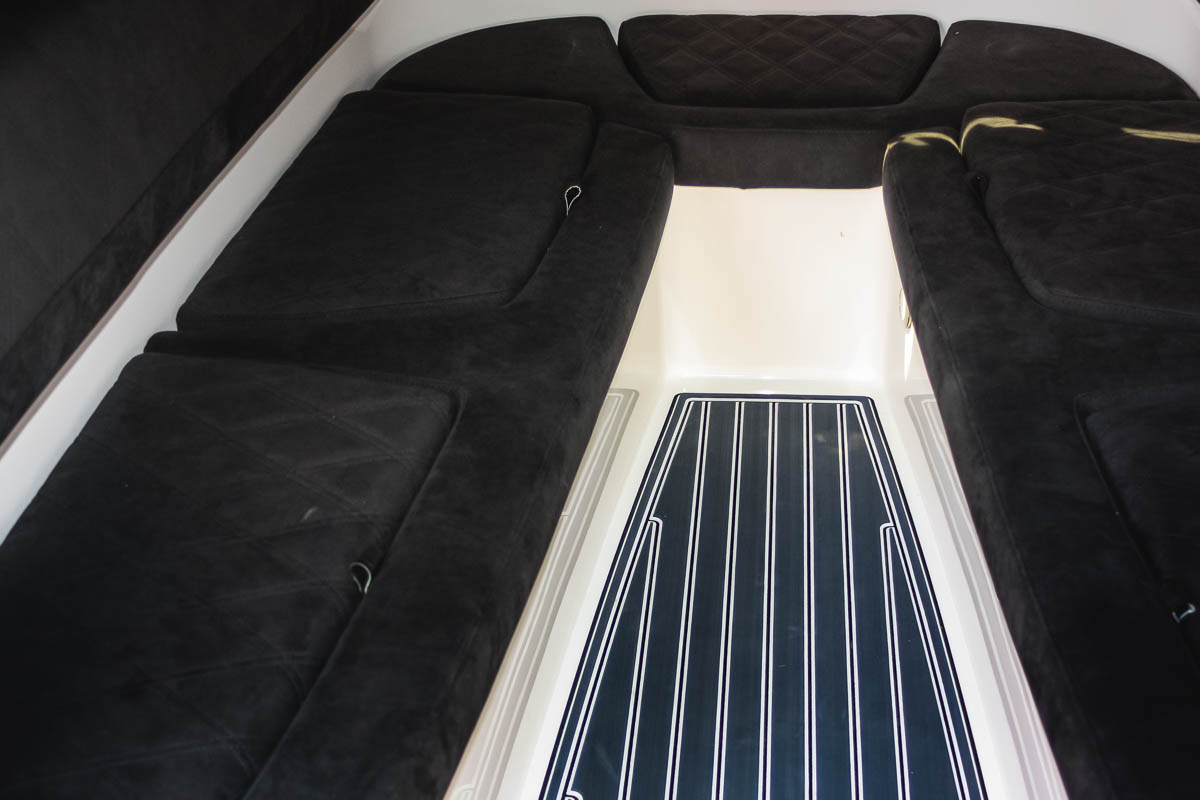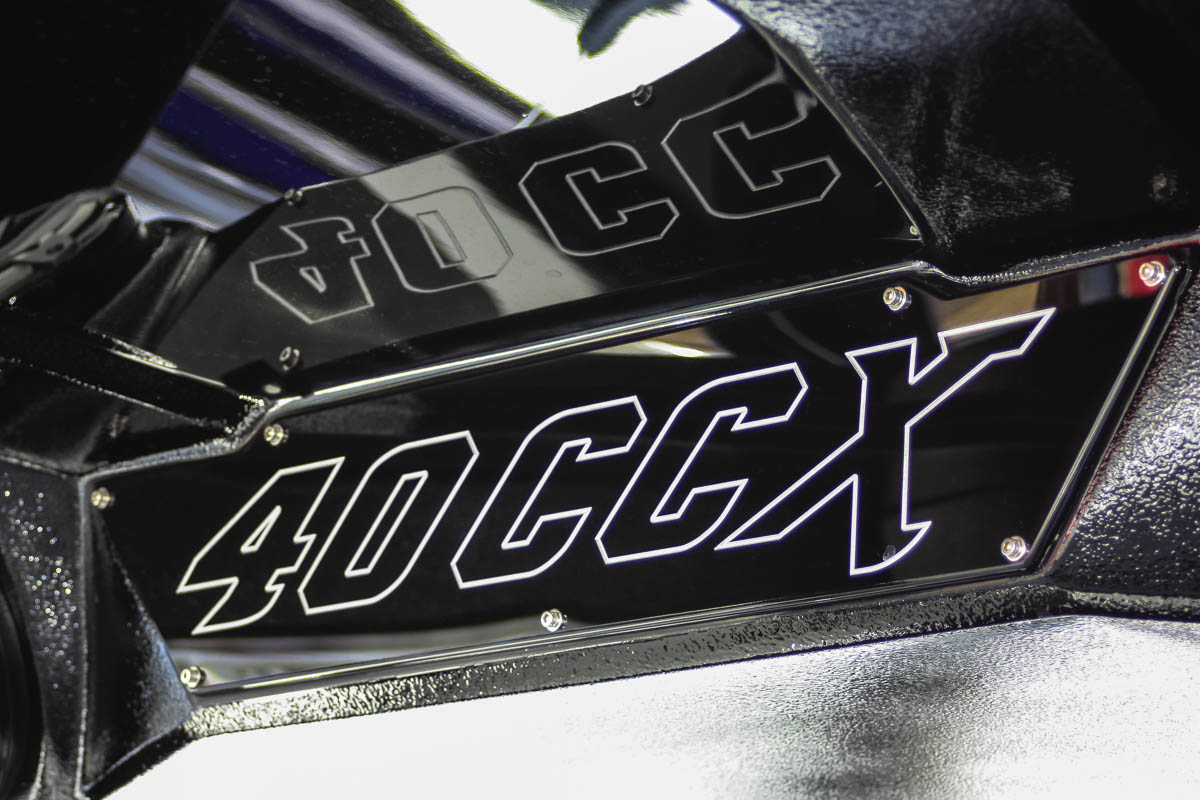 Back up top, the pilot and his passengers behind the helm reap the rewards of reduced wind and water spray thanks to the element-blocking doors on each side. I should point out these are not commonly found on many other manufacturers' center consoles and really benefit those in the back of the boat during get-up and go time.
Large 22-inch Garmins fit perfectly on the dashboard, manual flip-down bolster seats with tons more storage below the front row, as well as an integrated garbage pail complemented the helm on which I toured. The second row of bolsters with dual level footrests and additional USB ports is another feature that customers can select.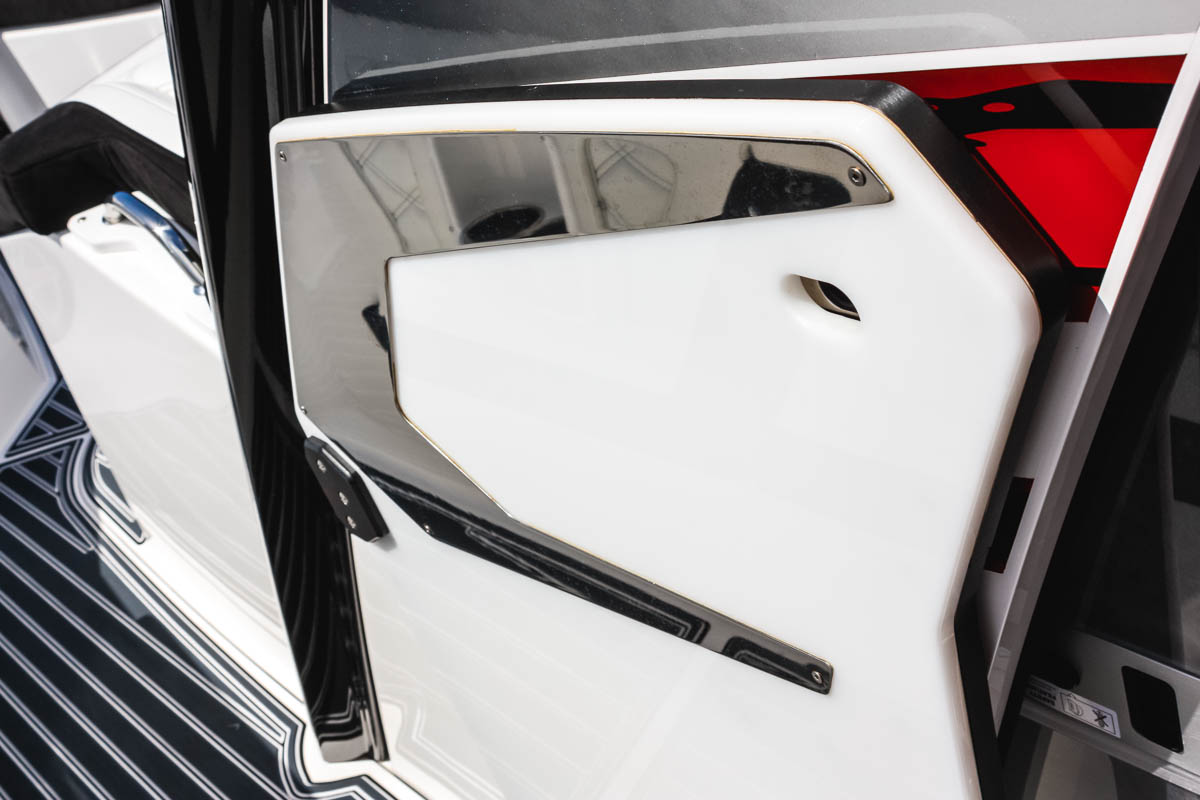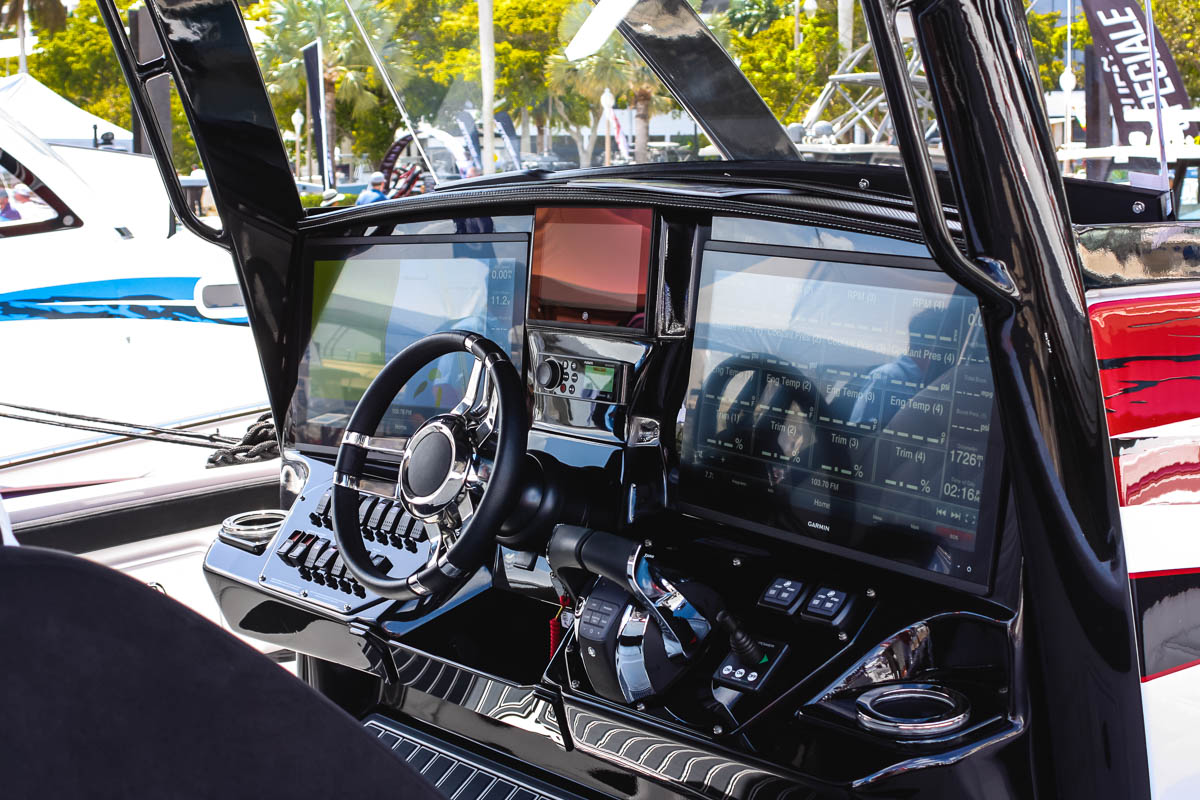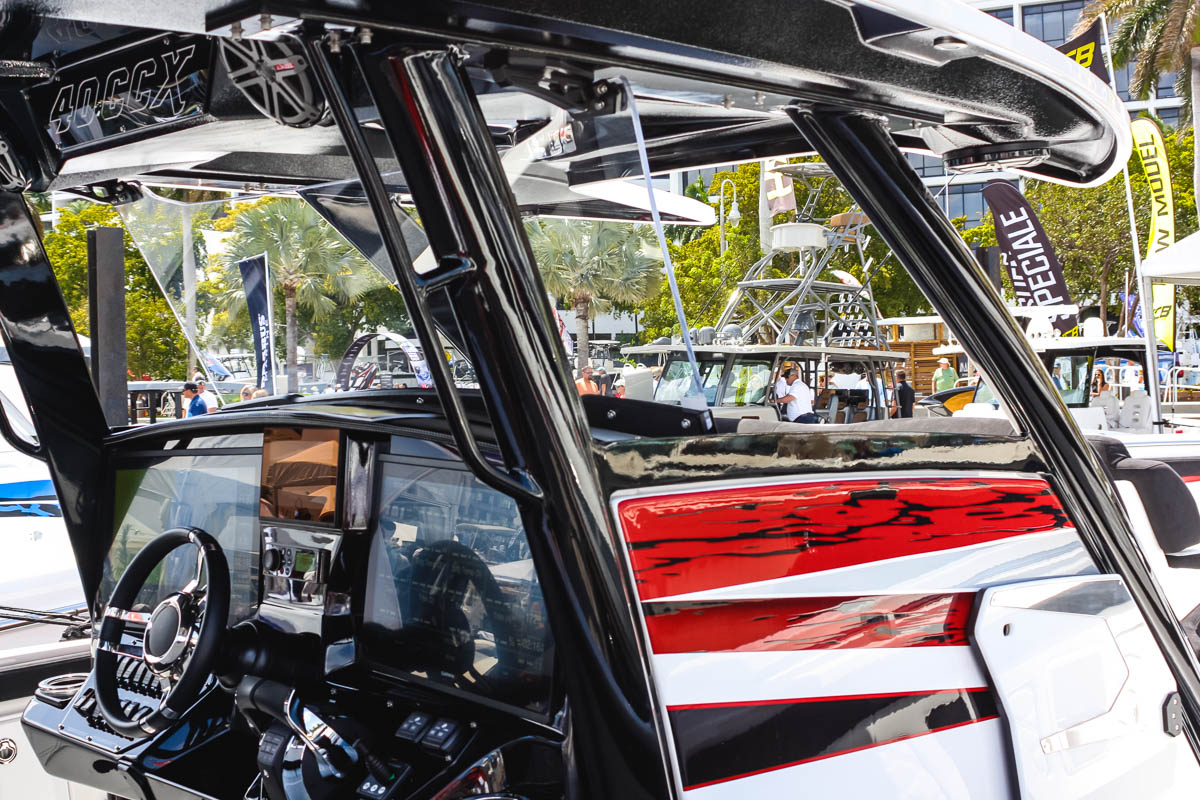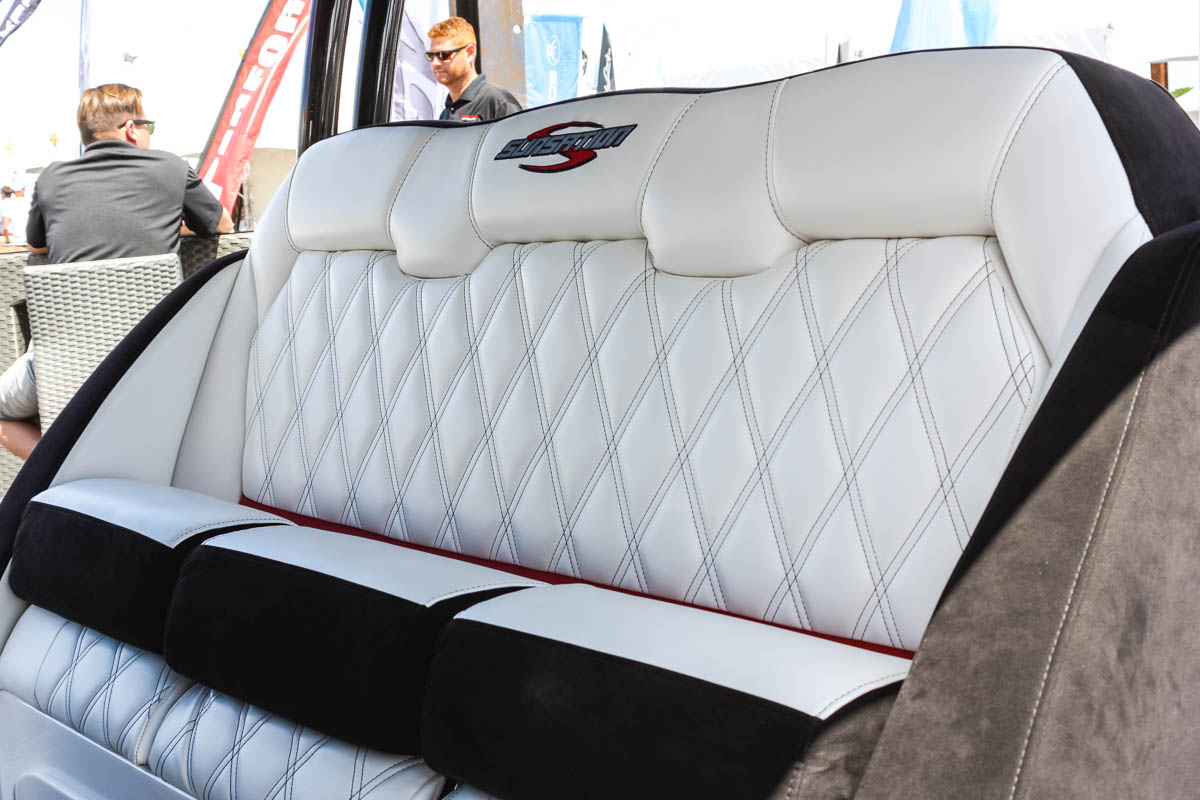 The team at Sunsation Powerboats should take a "bow" for its fabulous frontal bow, which has been designed to include another set of USB outlets and a stereo control unit on the extreme front next to the windlass anchor department.
And next up...  my third and favorite component. We all have that one family member or friend that must bake themselves darker than a chocolate lava cake when boating. In my family, it is my dad and since Sunsation Powerboats R&D division created an upper hardtop sun-deck, this is where I could find my dad.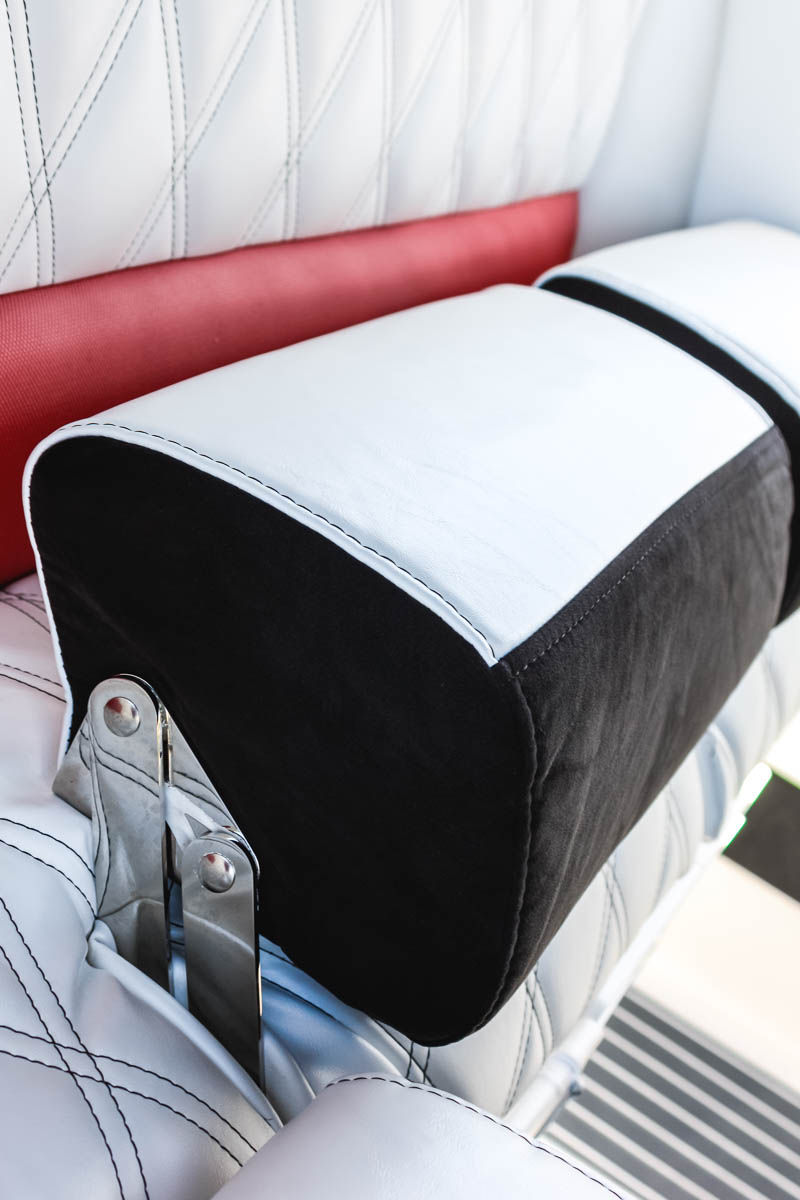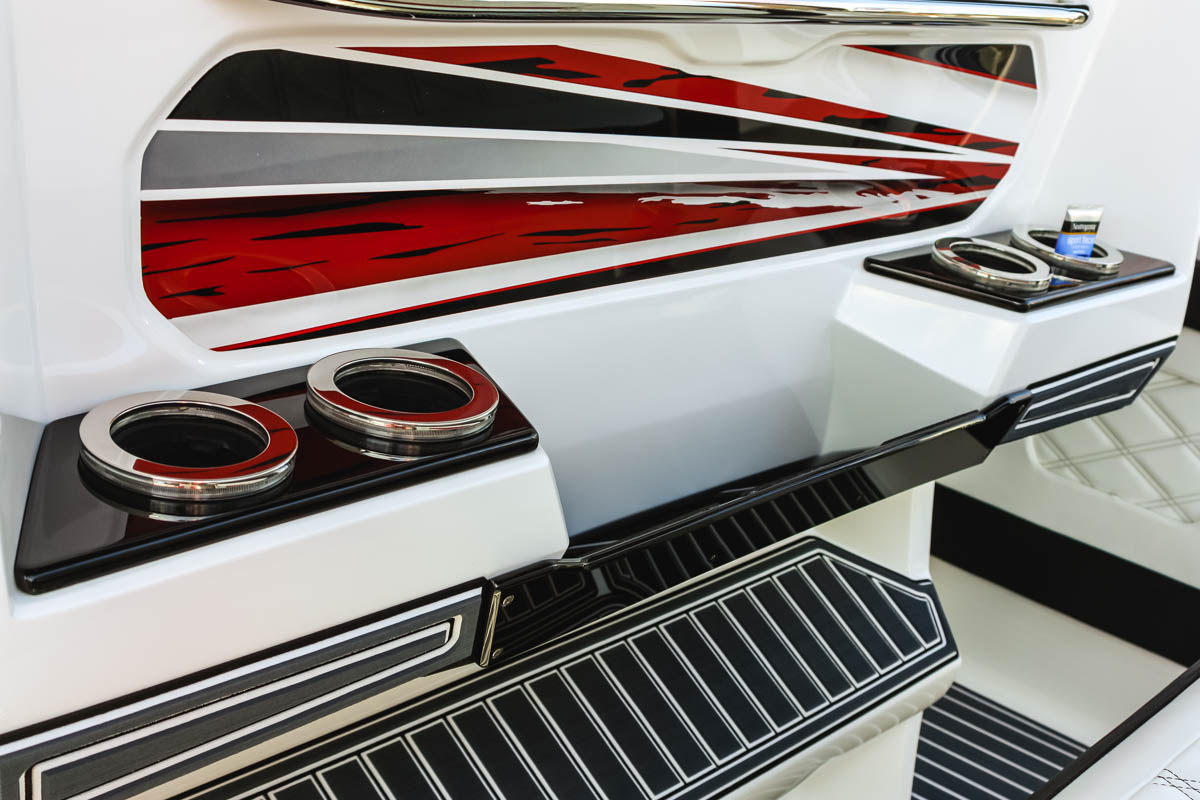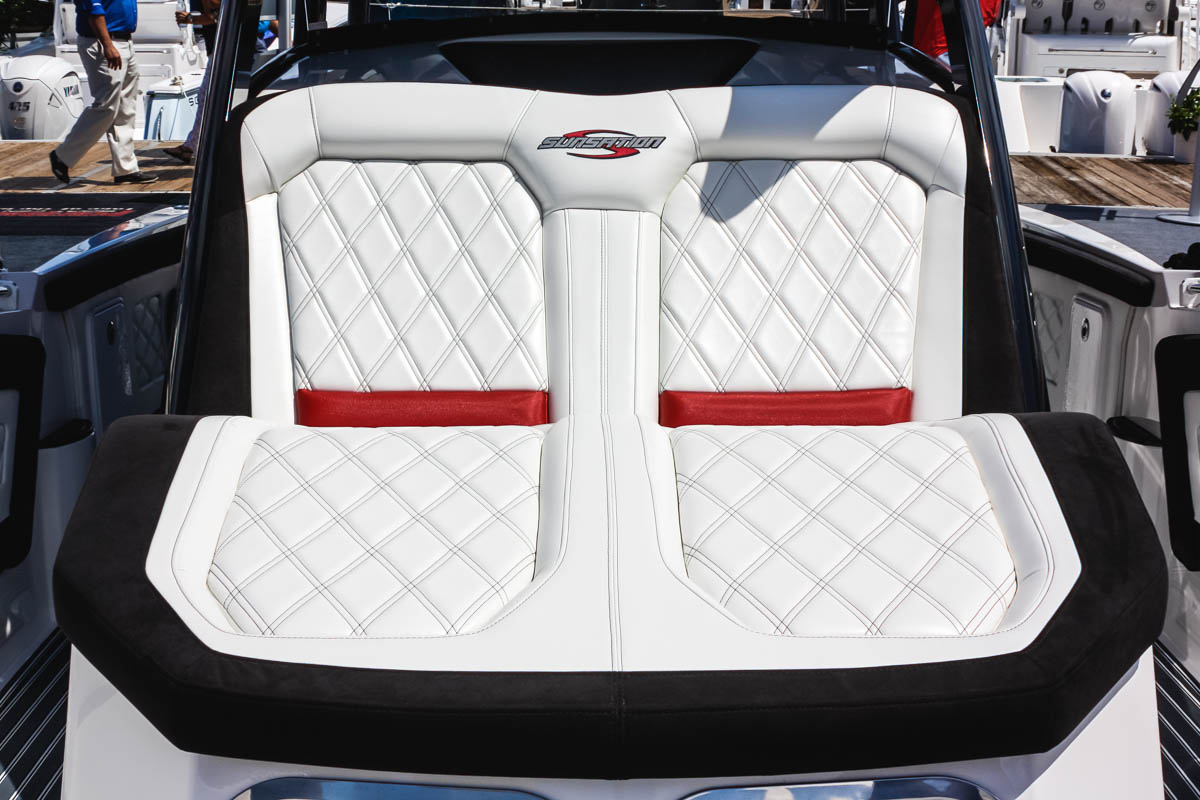 It is covered with Sunsation branded SeaDek matting for the sun-worshippers that desire to get a little closer to that great ball of fire, and in addition four cup holders and large black handrails are also strategically placed. Wondering how to get up there? I was, and Rusty simply stepped up on the back of the forward loungers and hopped on.
This 40-foot showstopper starts at $450,000 and fully loaded you will need to reach into your wallet for $550,000. Optional powerplants to be added on the transom can either be a set of three or four Mercury Marine 350-hp or 400-hp Verado outboards. The 40 CCX is an absolutely gratifying wave-crushing device to operate, and has been hitting it out of the park with acceleration numbers topping out at over 75 mph when tested with a trio of 400s.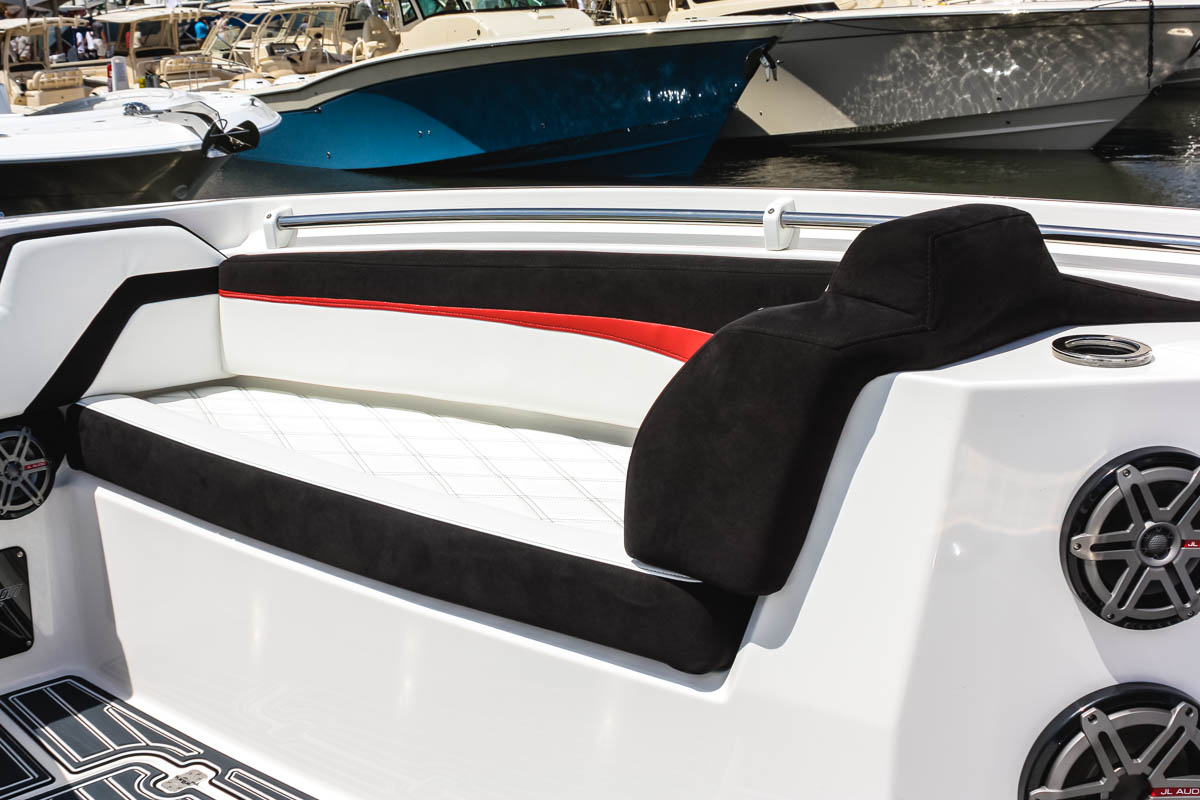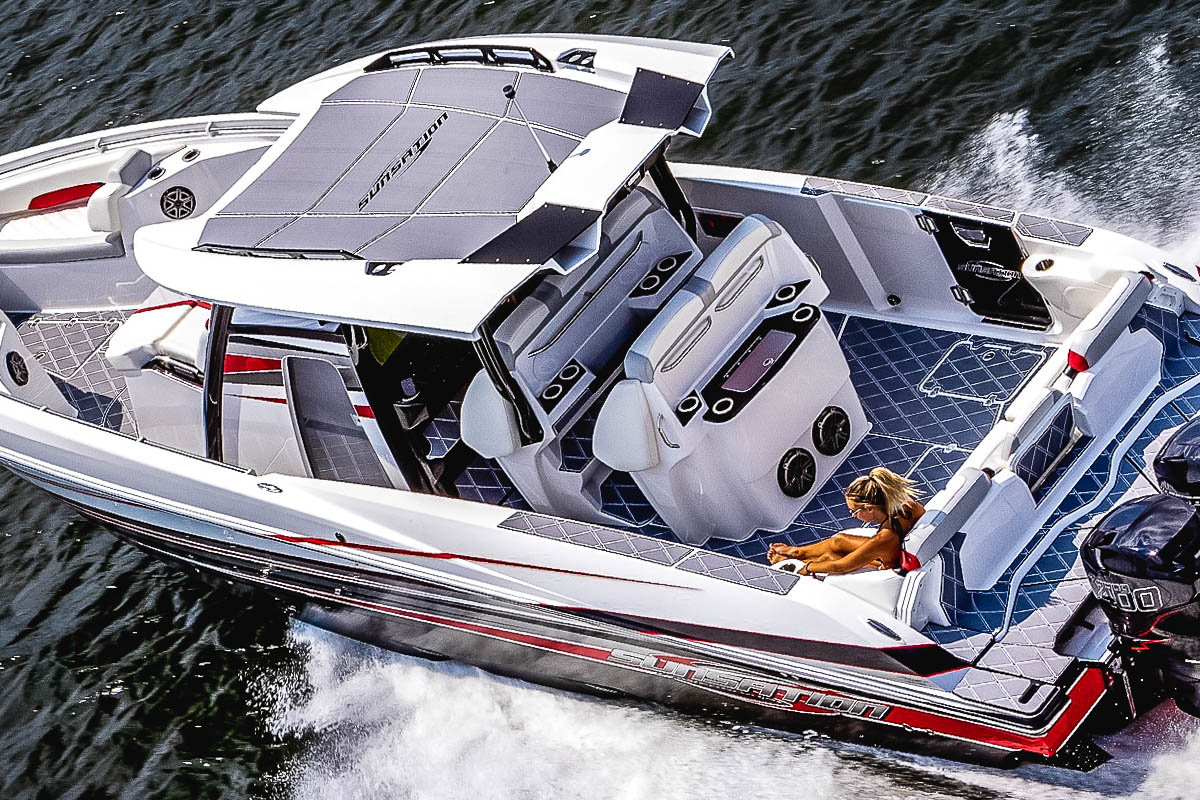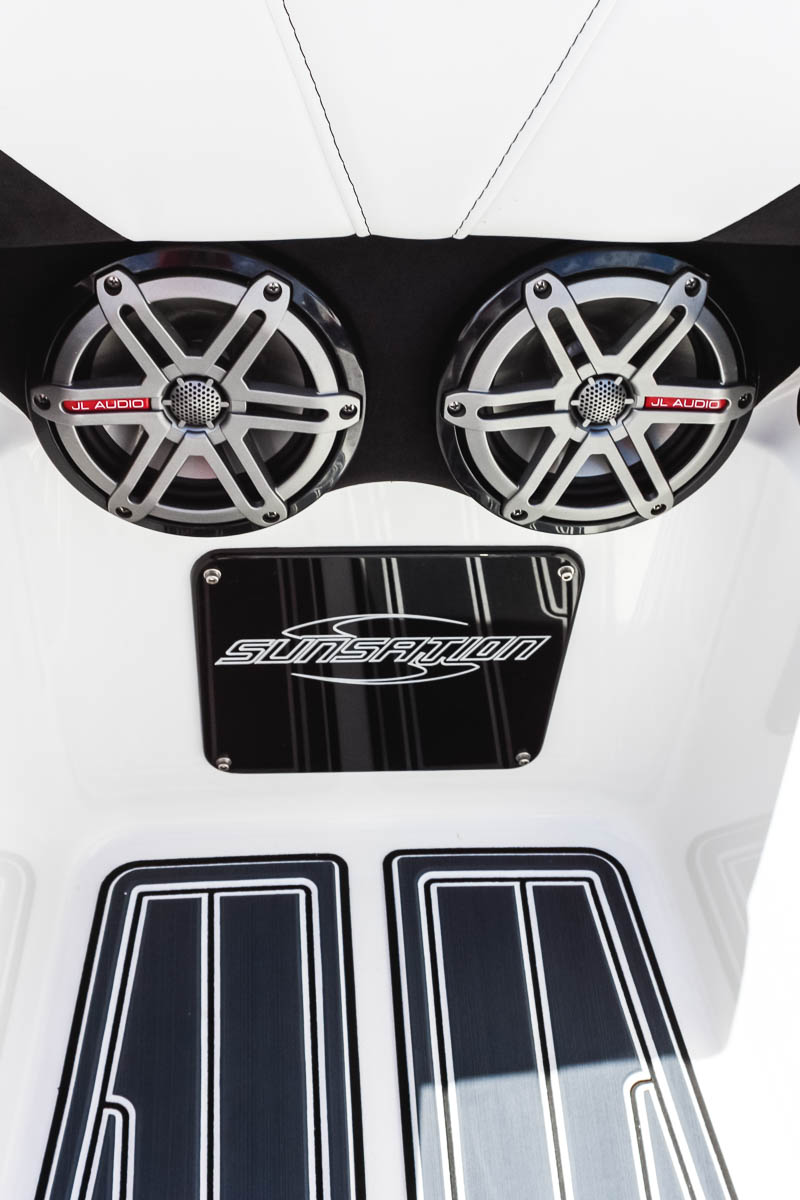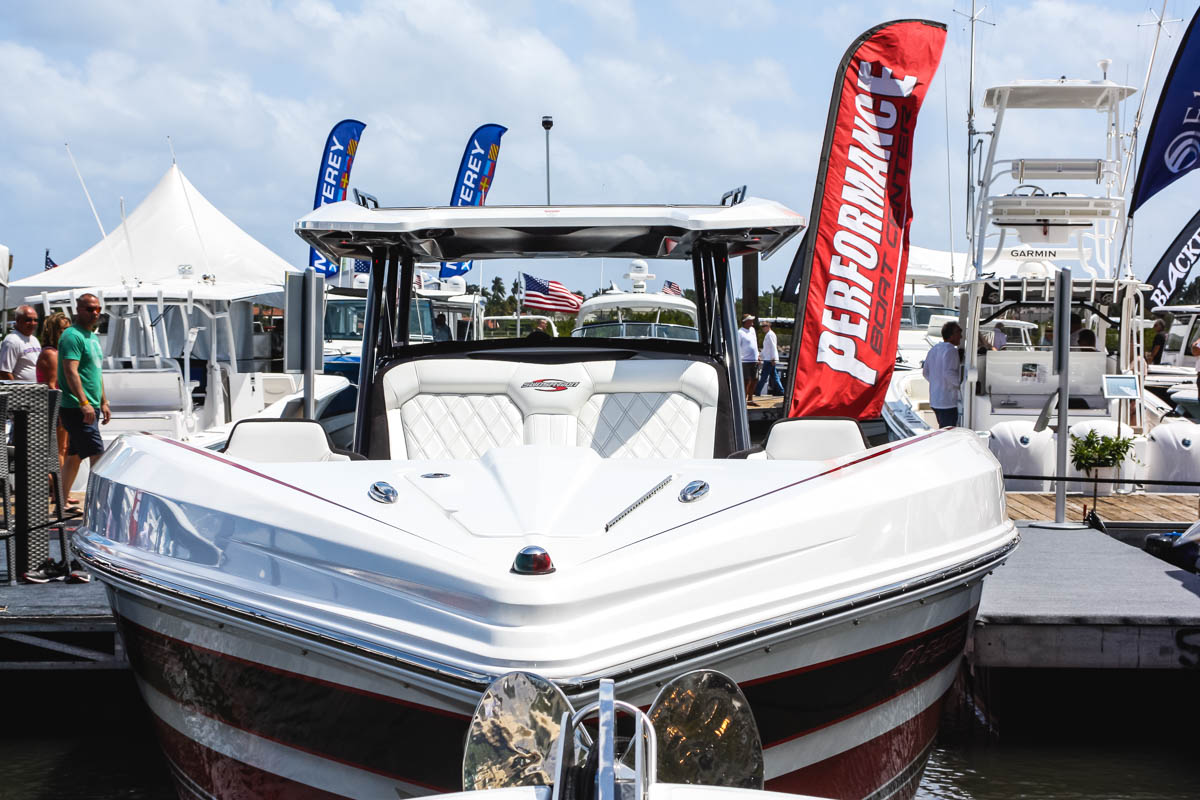 I can not stress enough how much bang you get for your buck with this boat...it's like buying a Nissan 370Z, but driving away from the dealership in a Porsche 911; and Sunsation Powerboats guarantees you a SUNsational overall experience as a new and satisfied owner of the 40 CCX.