Story and photos by DinaRella
Unless it's a dedicated boat show media preview day, rarely are the many roaming marine industry authors lucky enough to grab the attention of the "big guy" from any of the big boat manufacturers for more than a few minutes – so imagine my euphoria when the owner of Caymas Boats and champion boat racer, Earl Bentz, stepped on board to walk me through the 401 CC during its Fort Lauderdale Boat Show coming out party. But to grasp how grand this angling object of desire is, it helps to have a bit of insight into Bentz's head and heart for hooking fish,  from his bass boat initiation in the '70s to his vessel building progression over the last four decades.
The Tennessee native with deeper childhood roots in Charleston, South Carolina, founded Caymas Boats four years back, but has been surrounded by fast moving watercrafts since age 16 when joining the Mercury Racing Team back in 1973. The racer rounded out his eight years on the team with nine national and two world champion titles before switching over to assume an array of professional titles at Hydra-Sports in Nashville, beginning in the research and design department and ending in the vice president's position. From there, he opened his first two boat companies Stratos and Javelin. Stratos soared to the top of the fiberglass fishing boat industry and was eventually sold to Outboard Marine Corporation (OMC).
Building basass boats became Bentz's passion. Triton, the premium line of saltwater and freshwater fishing crafts came next and was recognized as the leading producer of wood-free boats in America. In 2005, it was purchased by Brunswick Corporation, though Bentz remained as the CEO until 2018 when he launched Caymas Boats. Not only did the boat designer bring 40 years of expertise to the Ashland City-based company 20 minutes west of Nashville, several Triton R&D team members were also reunited.
Today the staff of more than 300 Caymas employees takes its role serious by completing a five point promise to every customer which includes: superior customer service; a lifetime warranty on the hull; an innovative build giving you the best money can buy; and top-shelf fit and finish. Before every watercraft leaves the factory it must pass a mandatory 86-point checklist to ensure no detail has been over looked, that is, before being "looked over" by thousands roaming around the boat shows.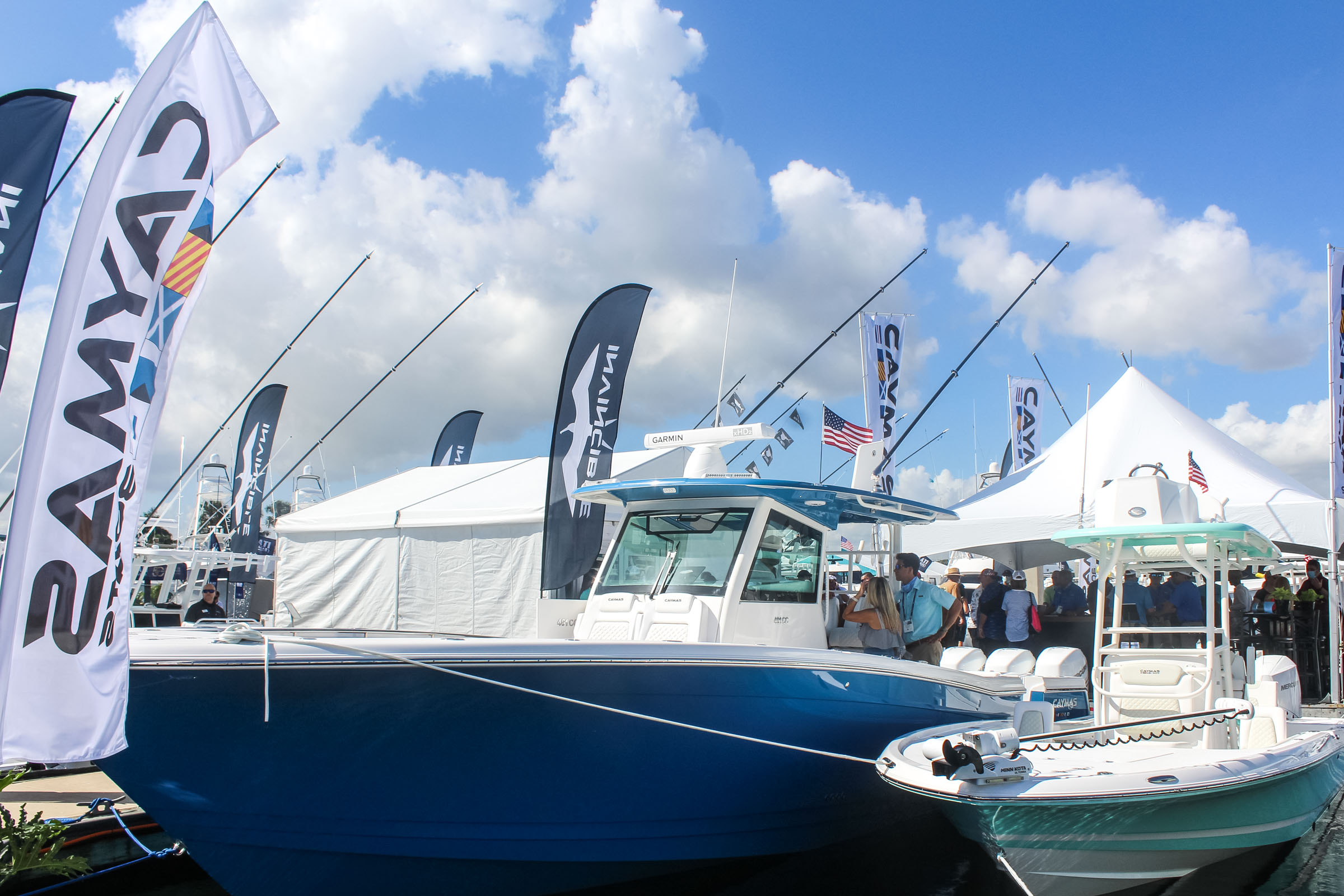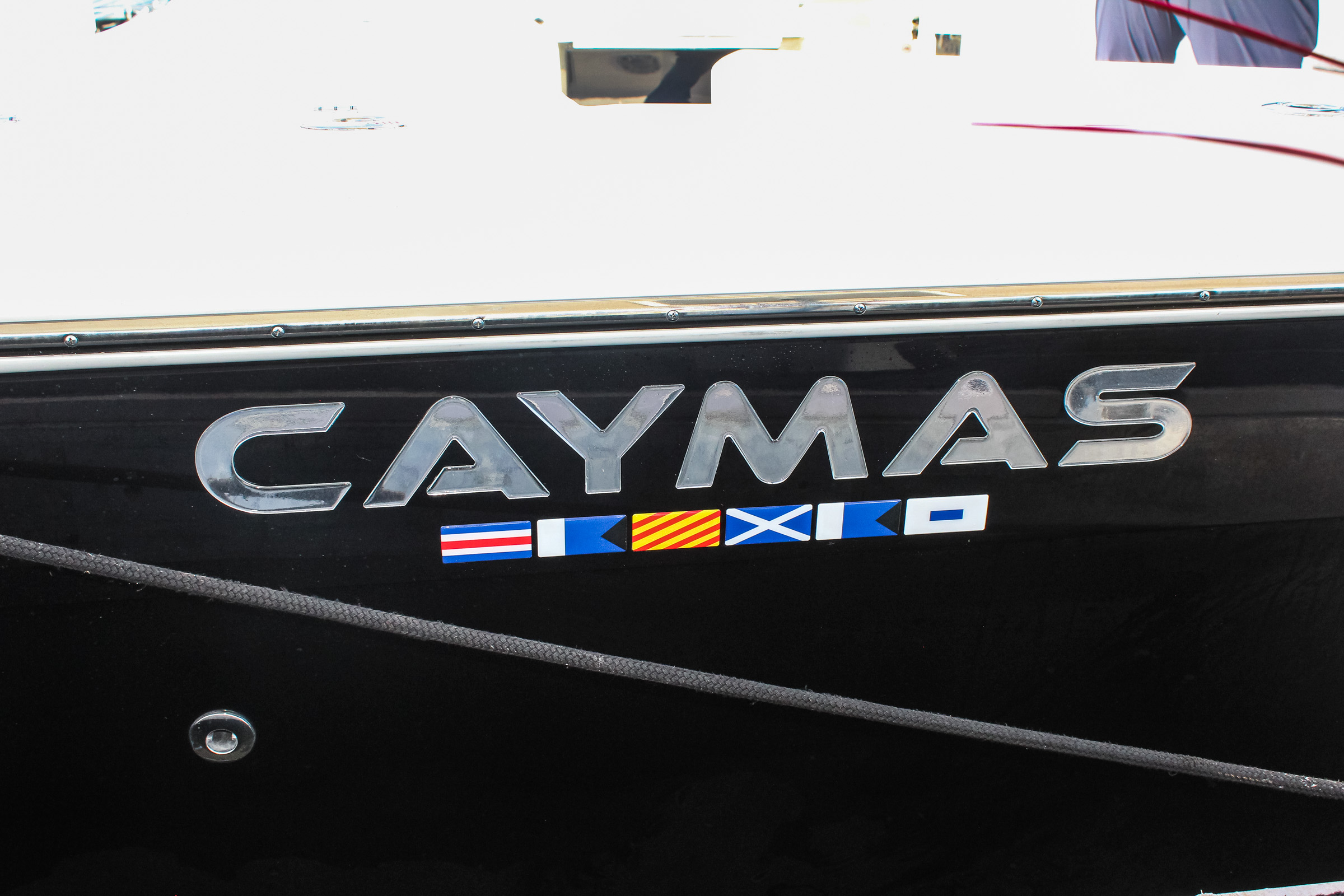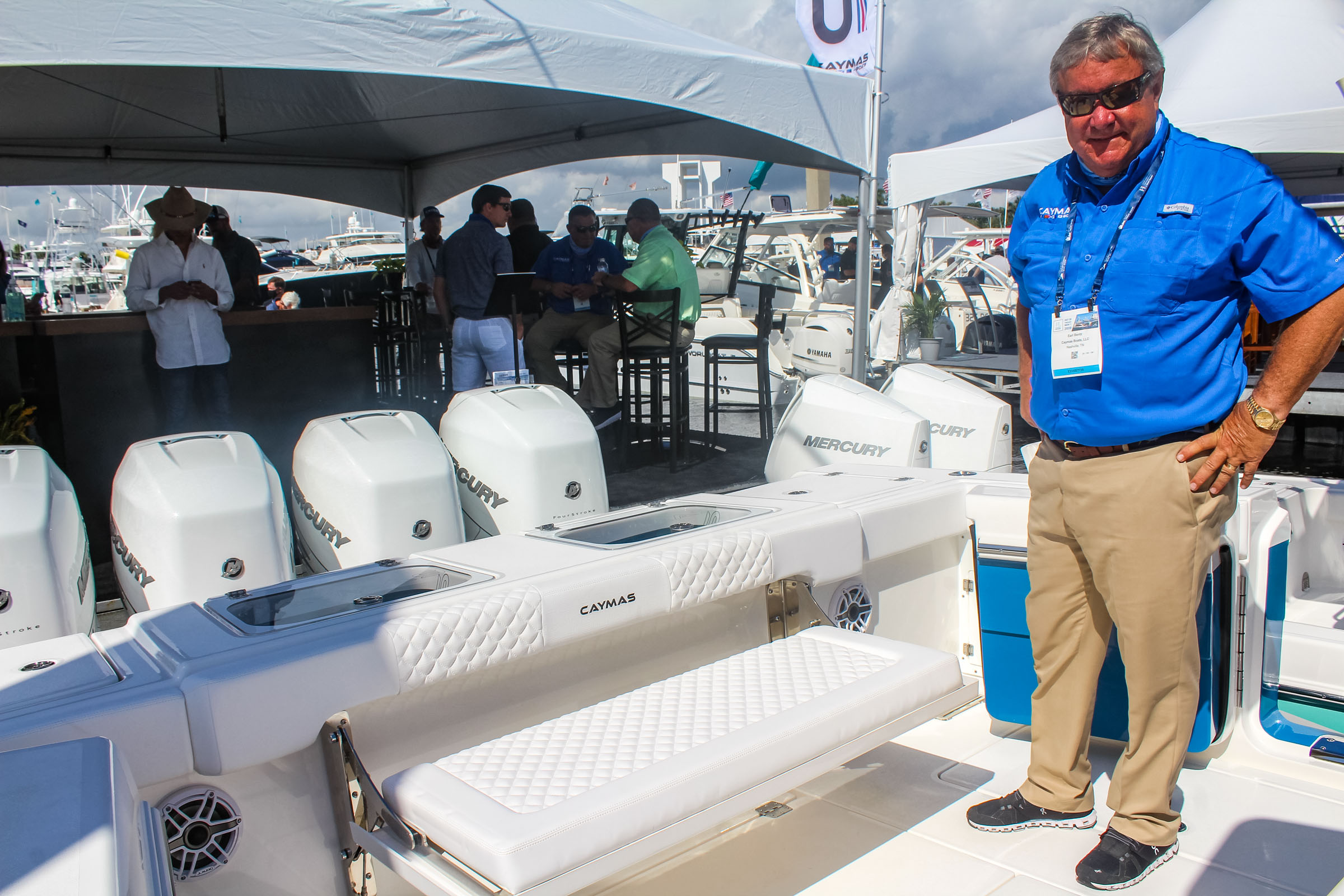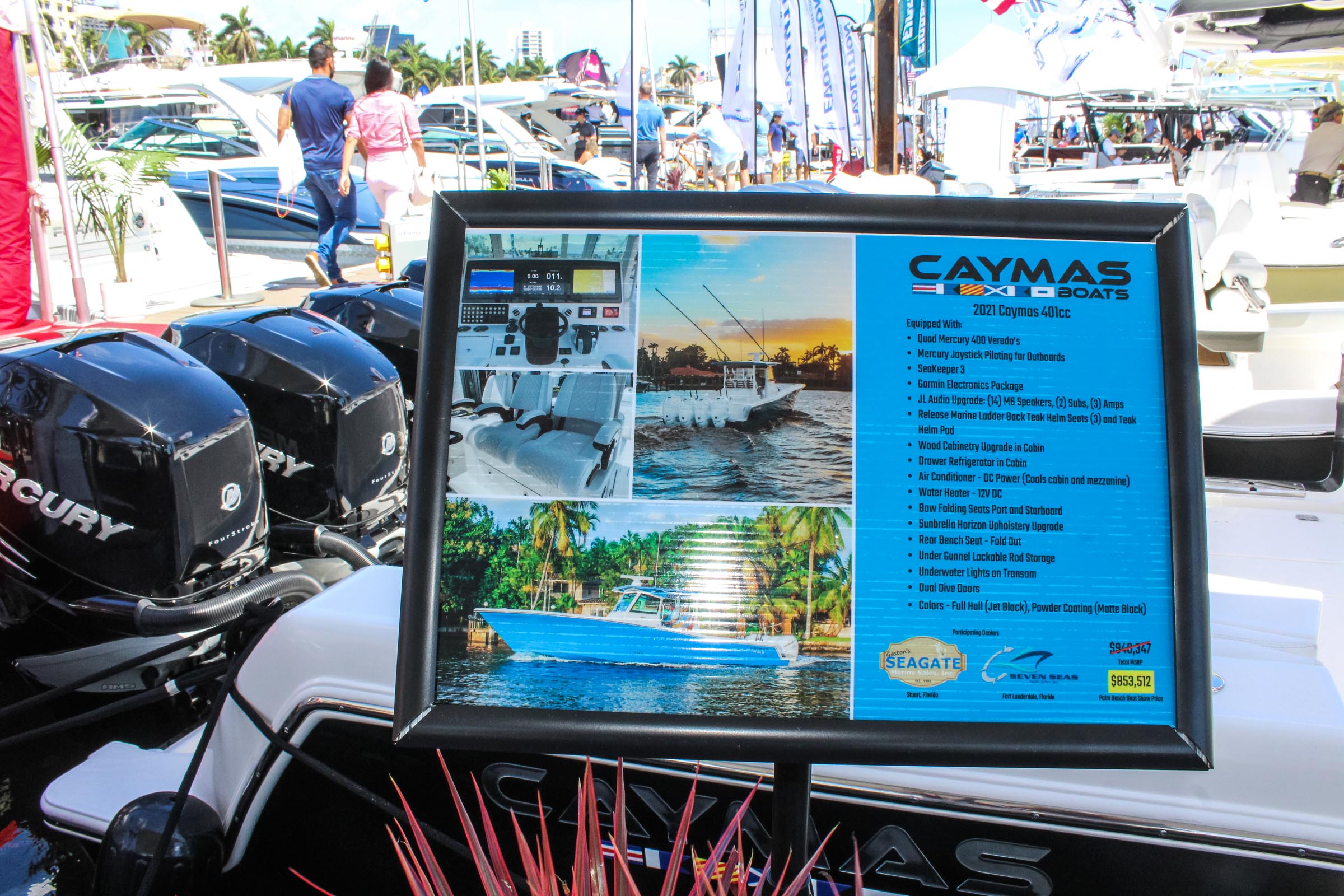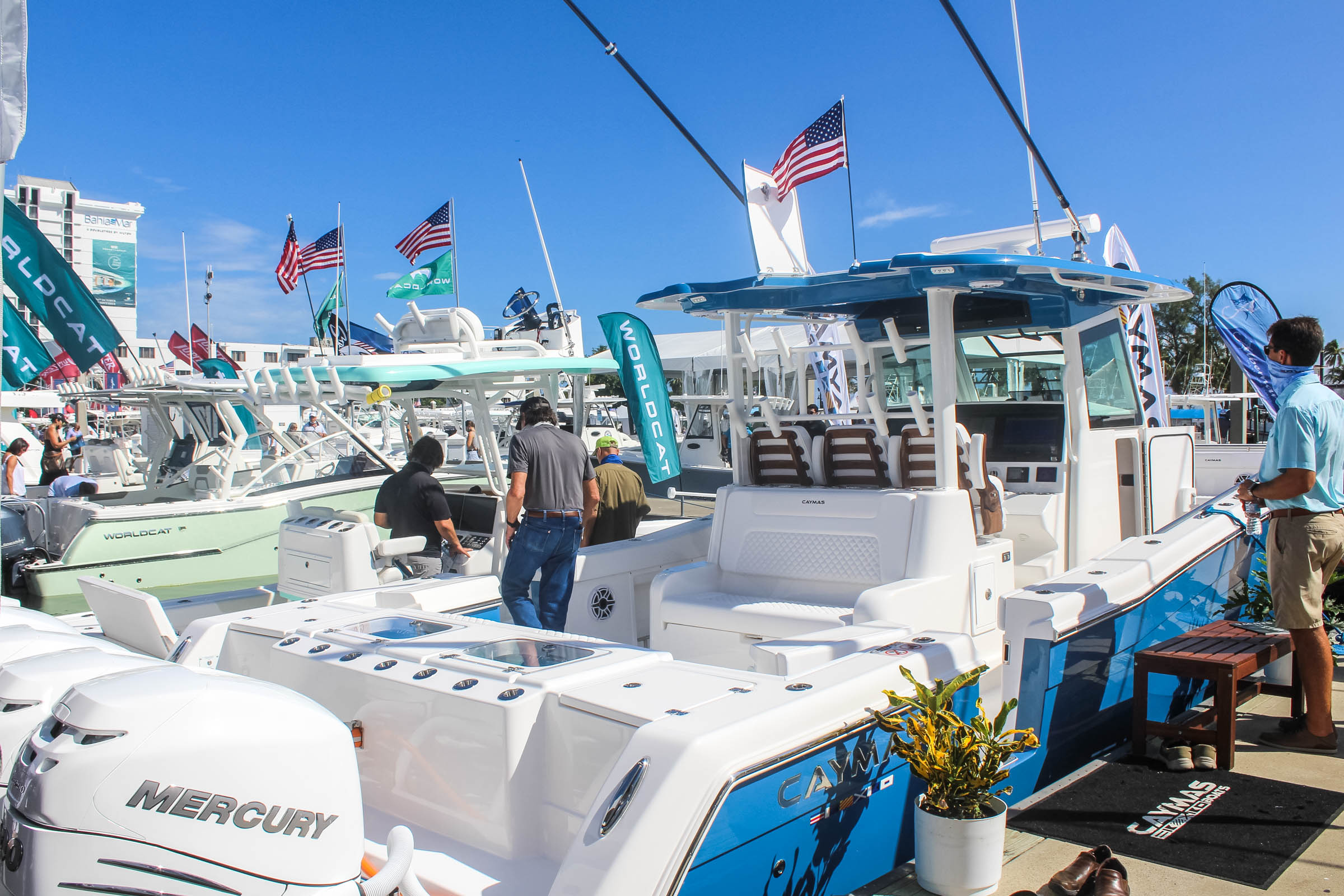 Caymas Boats 401 CC
Is there a better way to debut your biggest model to date – than with an opening day sale and the future owner doesn't even ask the price when giving the deposit? That's how solid of a reputation the all-new Caymas Boats flagship has right out the door! It's no secret sticker price starts at $699,000…  so now it's time to check out what Bentz and the Caymas team concocted on this beautiful blue and white 14,000-pound sea creature.
We start with what you can't see but sure can feel, and that's the revolutionary drag reducing hull created by Michael Peters. When away from the calm bays battling through high rollers and outer sea slop, the ride is smooth and dry due to the patented Stepped Vee Ventilated Tunnel (SVVT) hull (on all Caymas saltwater models). Increases in speed and enhanced fuel economy are two additional benefits derived from operating a SVVT hull.
Powering up is by quad (or triple) Mercury or Yamaha engines up to 1,800 hp, and looking at test numbers with a four pack of Mercury Verado 400s clamped to the back, the 401 CC was cruising comfortably at 45 mph and bruising the waters running wide open at 70 mph. But no matter the mph, with a fuel capacity of 560 gallons, blasting off to that far away fishing or funday family spot now becomes a non-refueling attainable reality.
Whether hopping on through the port or starboard access door, the spacious stern with a fold-up transom bench and twin 45-gallon livewells served by a premium Hooker Electric pump system and sea chest confirms it's time to talk fish – and that's just how Bentz began. "I'm an avid live bait fisherman between Florida and Tennessee," said the smiling Southerner before further delving into his fondness for reeling in cobia and yellowfin. Bentz's fancy for the sport truly shined through as he enthusiastically explained just how loaded to the gills the 401 CC is with 30 rod holders from bow to stern and 450 gallons of insulated storage on board spread among five independent macerated fish boxes.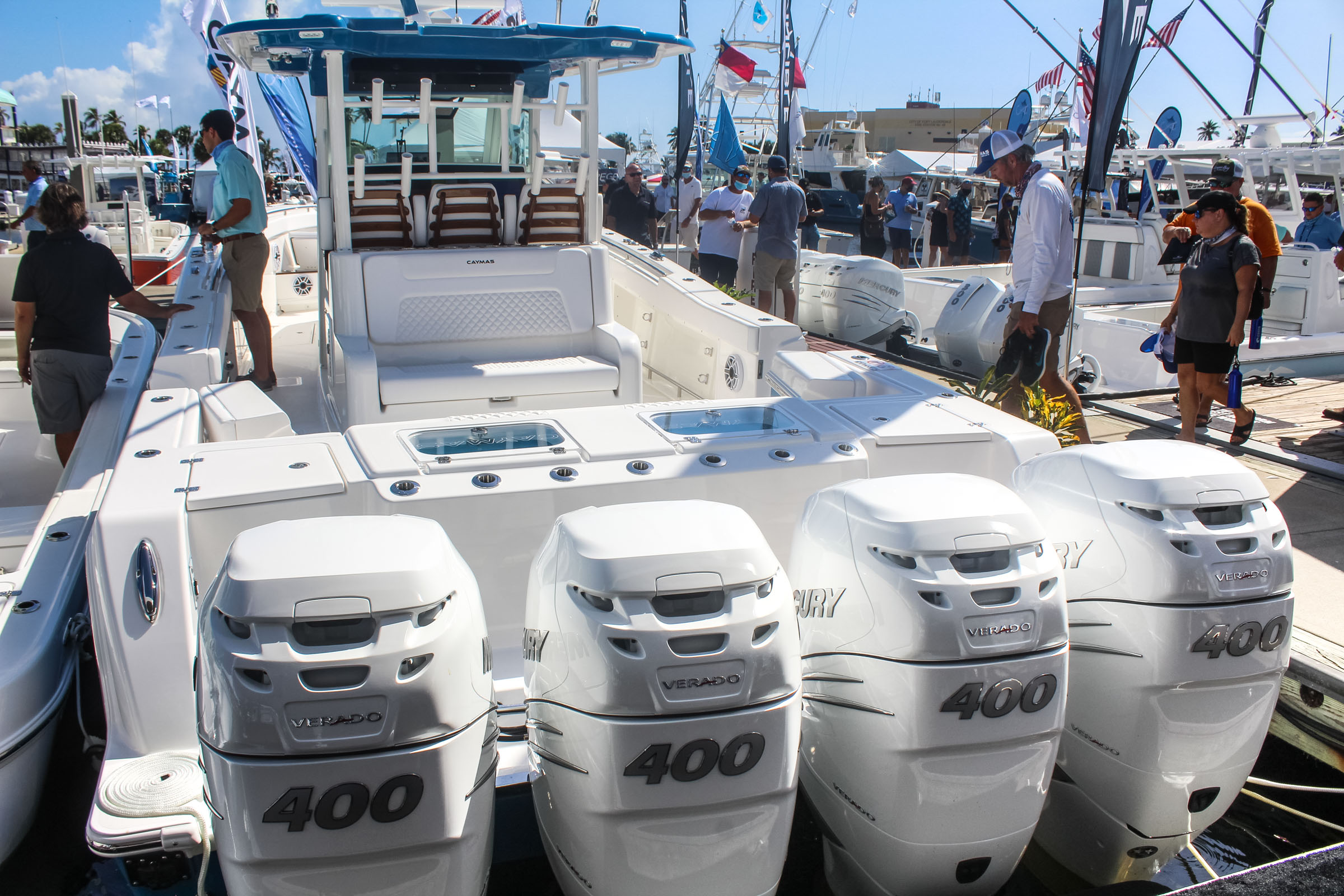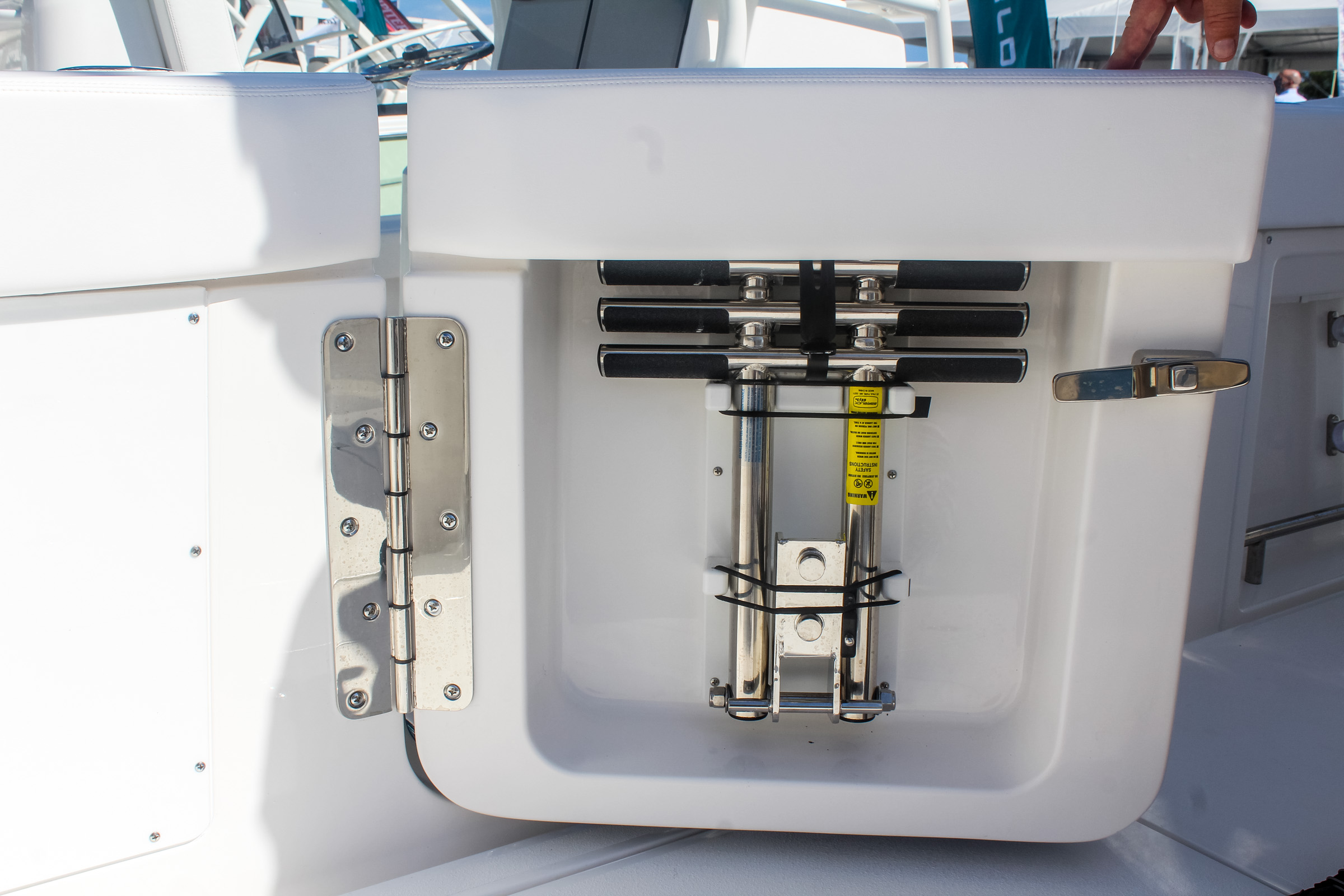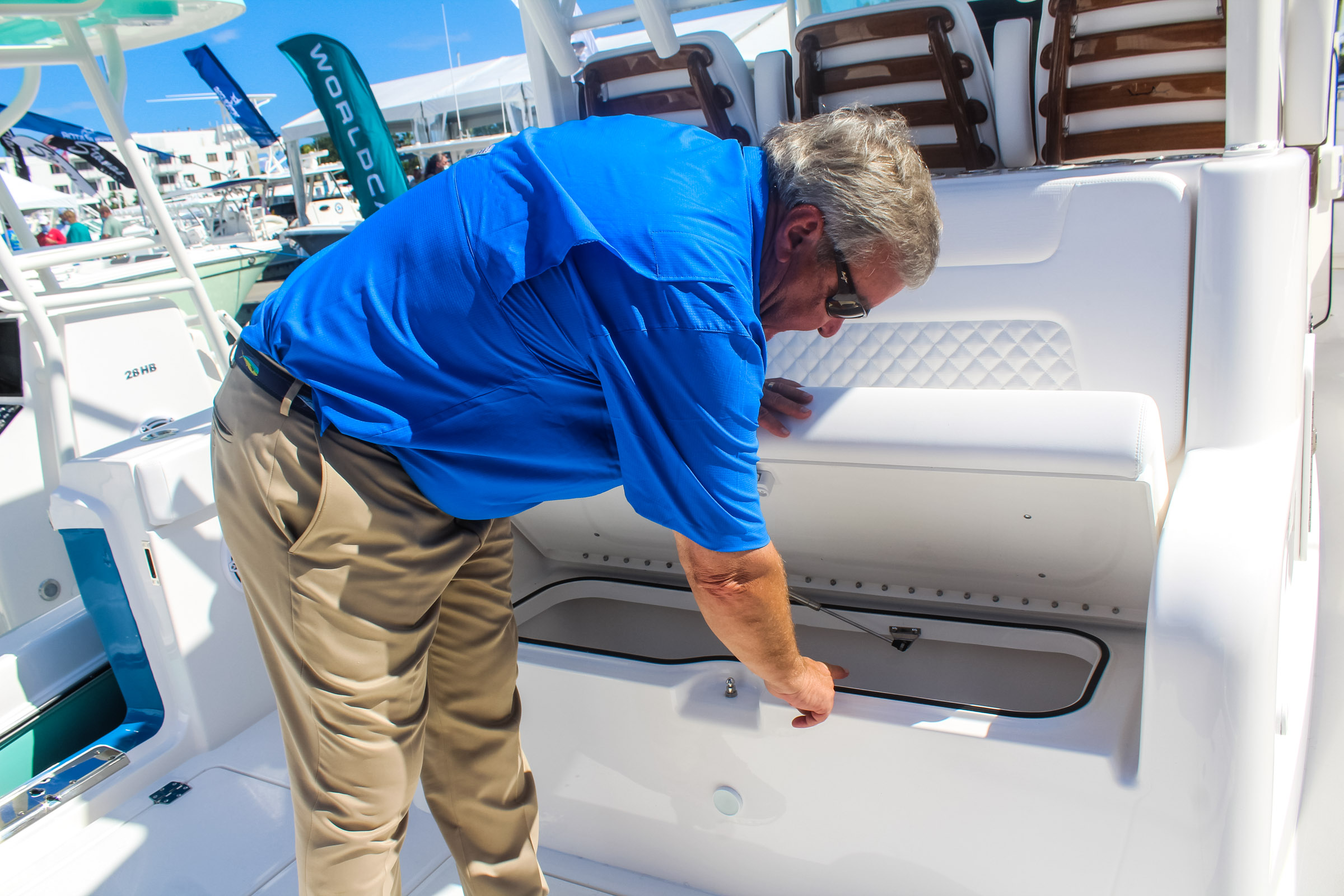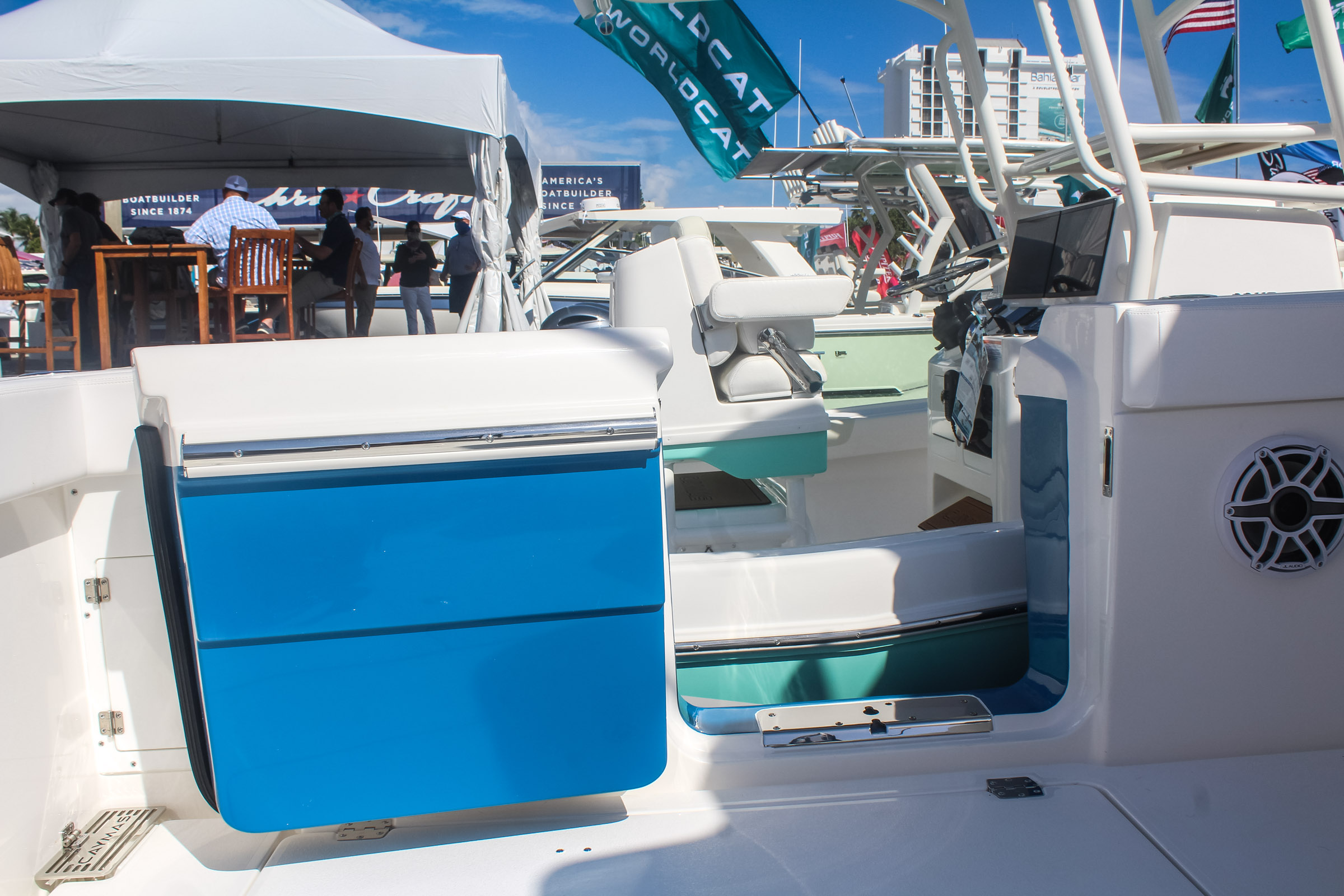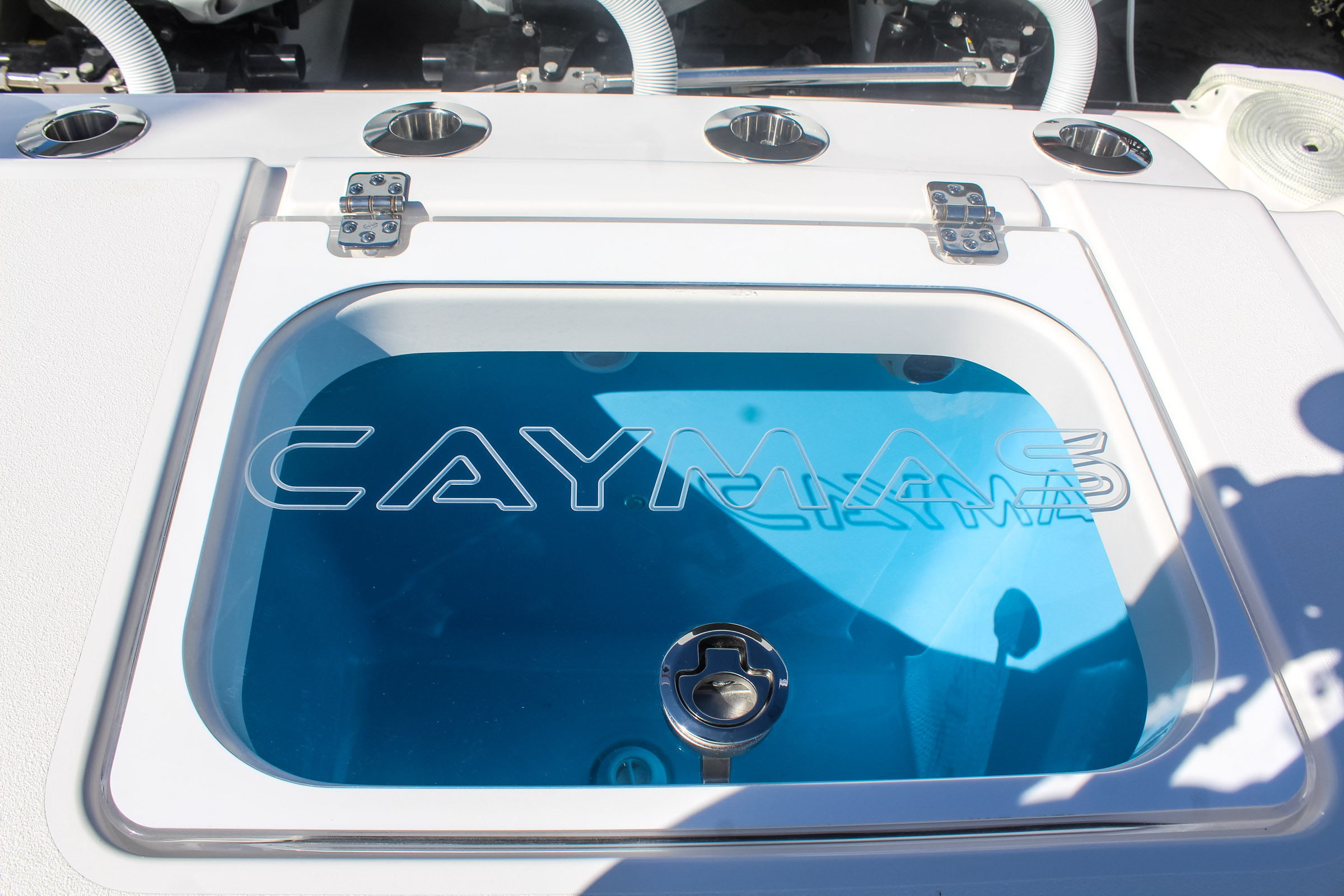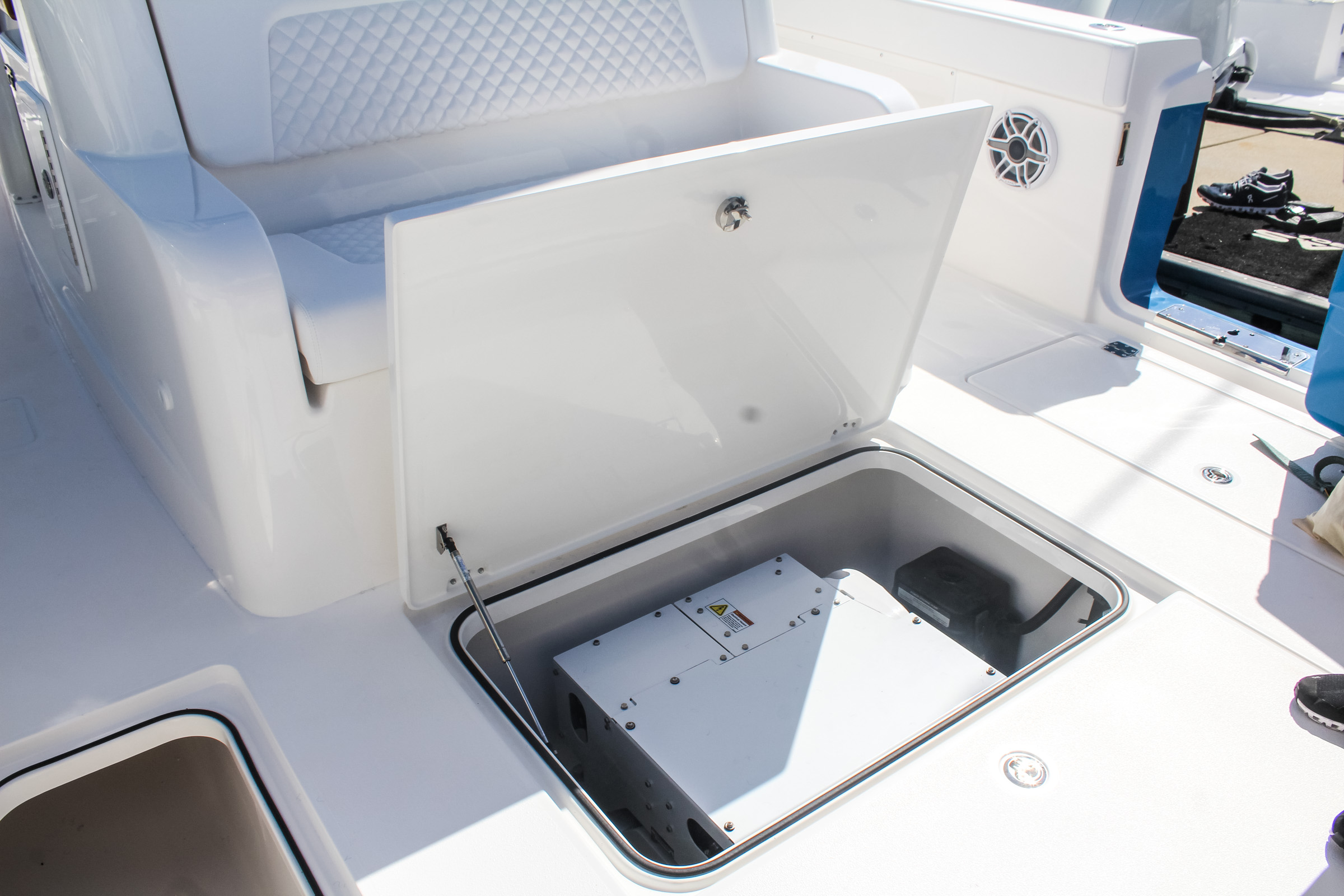 In addition to its fishability, superb visibility from the helm station's long and narrow frames and integrated powder coated aluminum supports, serves as another strong selling point in terms of safety for the captain when maneuvering the vessel from its Edson polished stainless comfort grip wheel with a tilt and power knob. The dash accommodates dual 22" or triple 17" Garmin monitors and immediately grabbing my attention was the faux teak Rybo helm pod which paired perfectly to the teak flooring and stair treads.
Secondly, was the trio of adjustable Release Marine chairs and sleek to the eye and sturdy to the touch custom stitching from Sunbrella Horizon marine upholstery on the equally inviting rear facing mezzanine bench with cooler below. Tackle storage is abound to the sides, and up above a hatch in the hardtop provides an opening and passage to the optional second station without compromising traditional rod holder placement.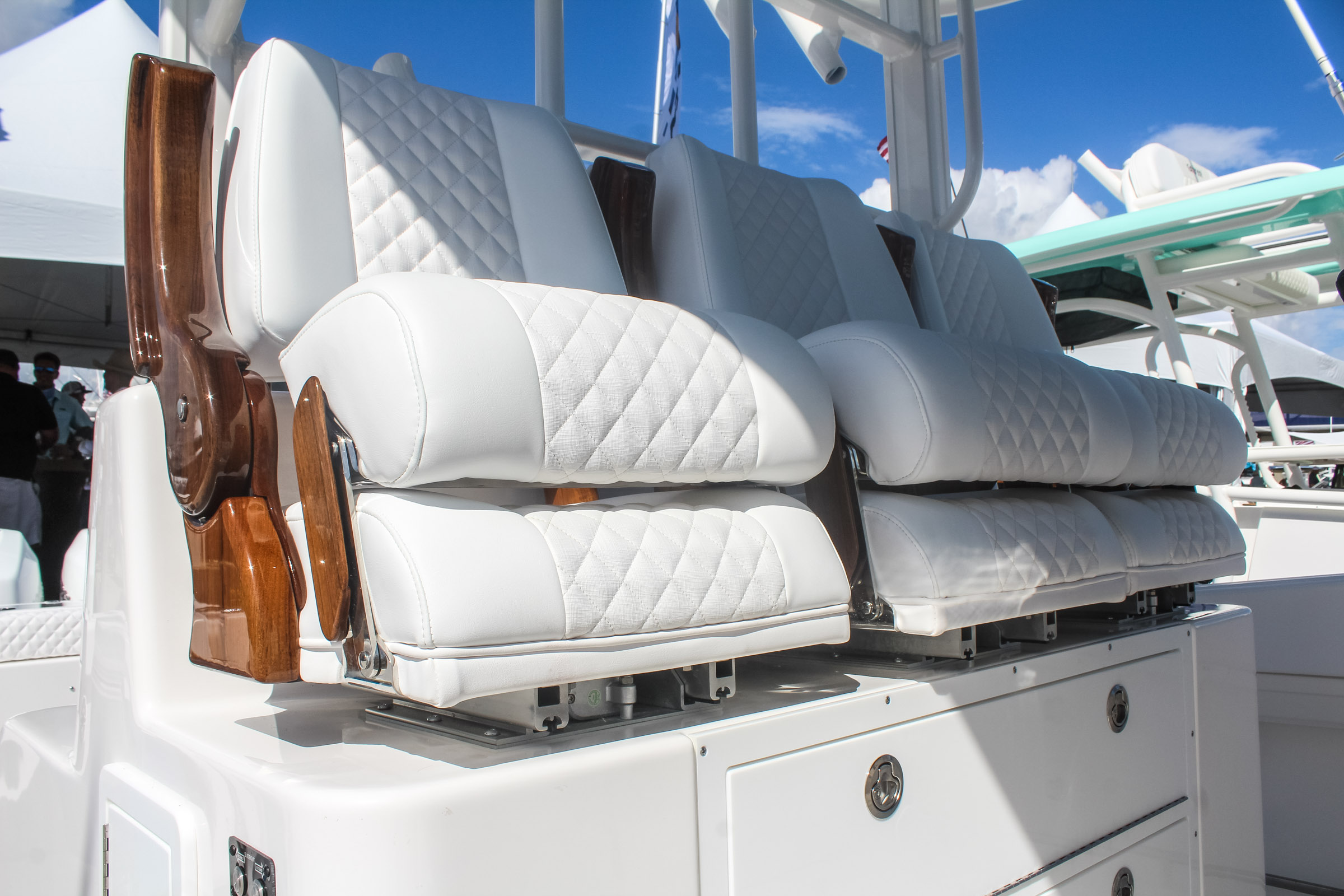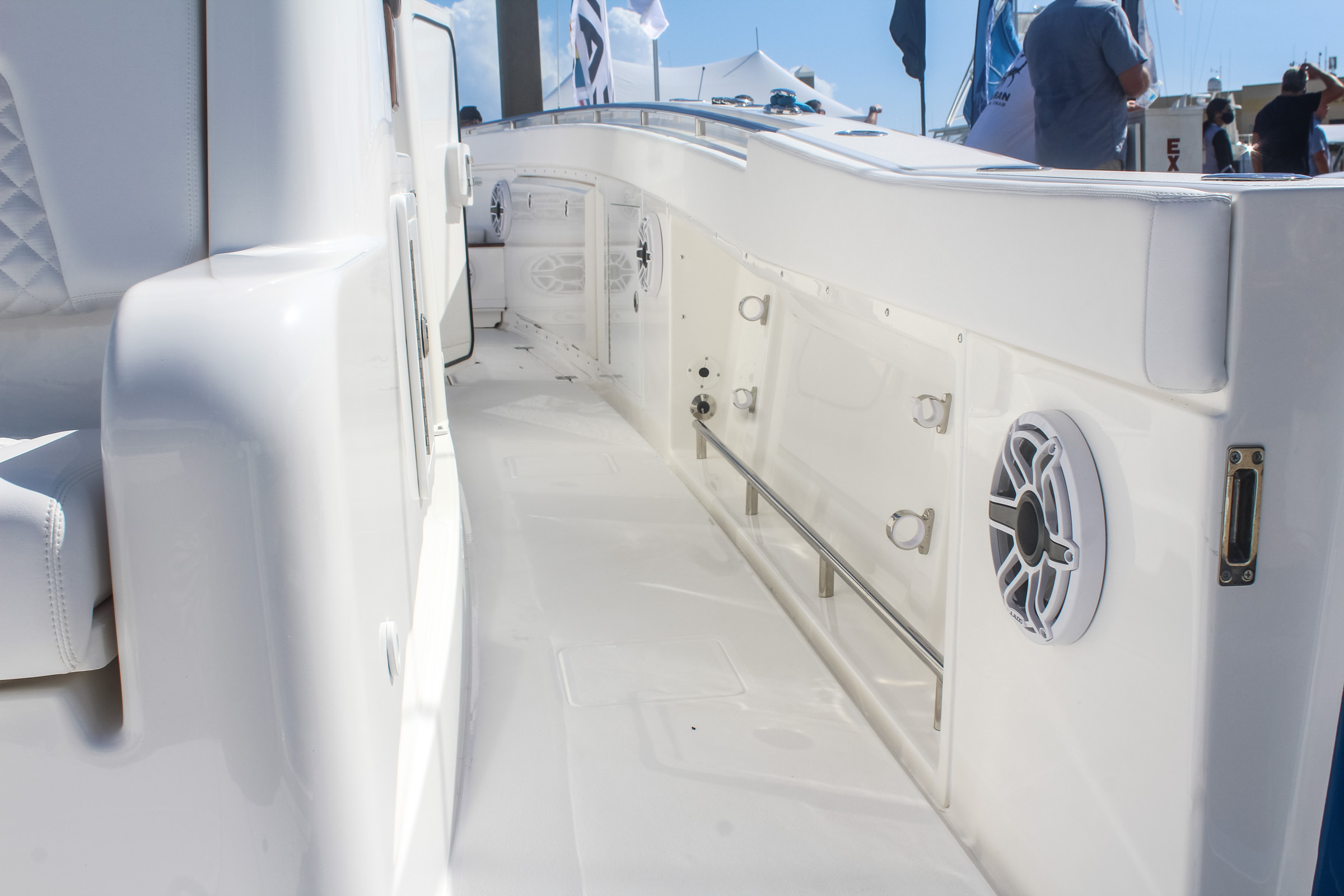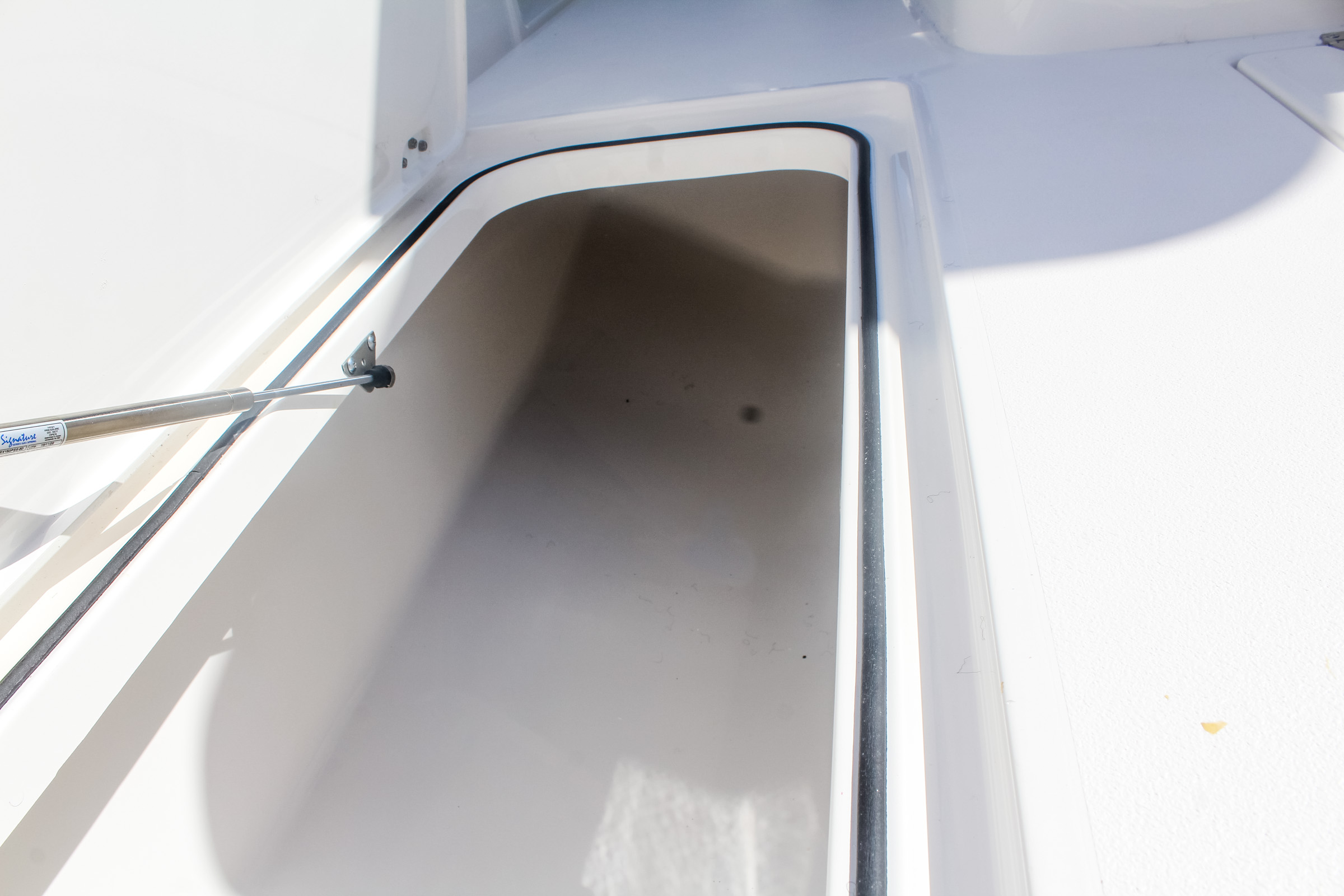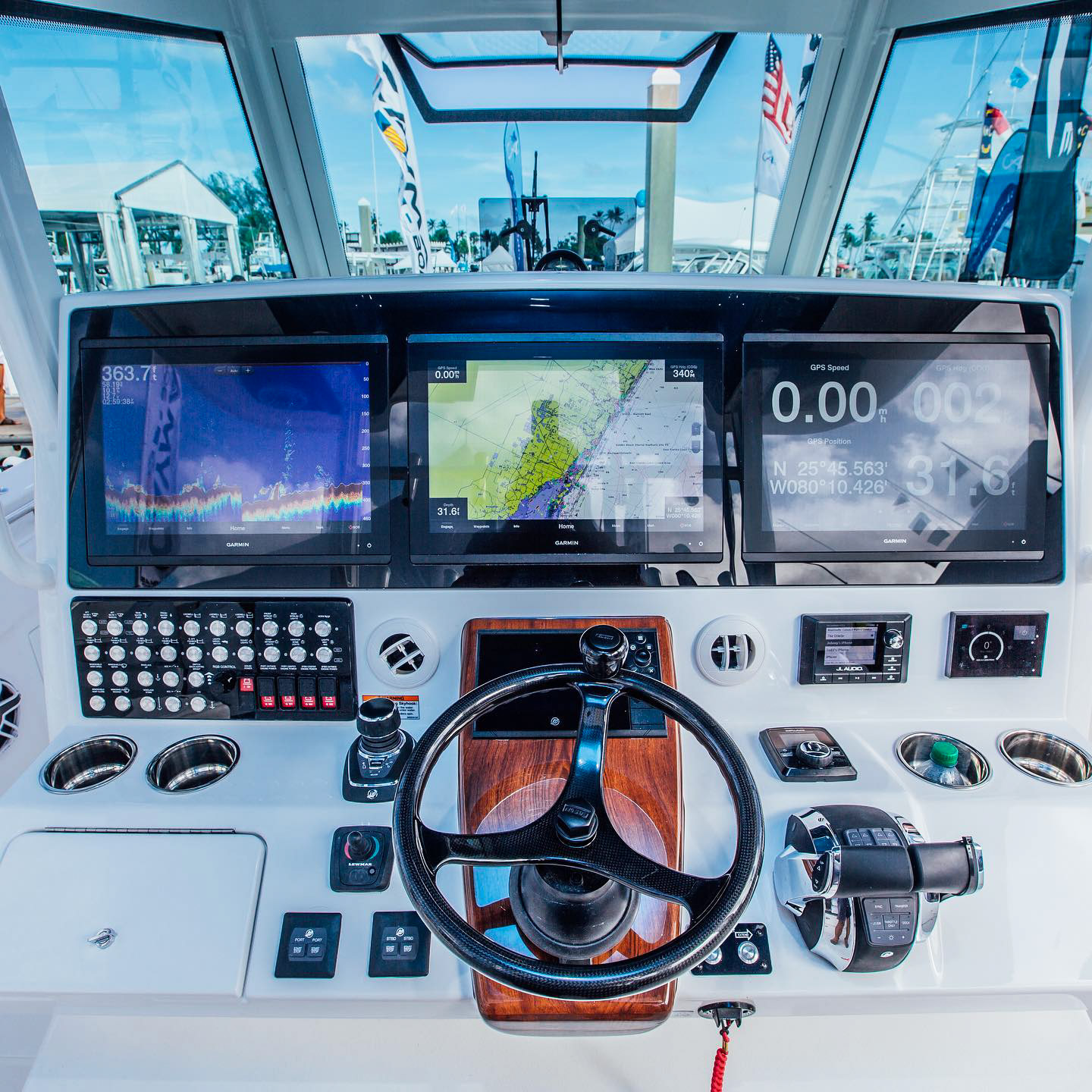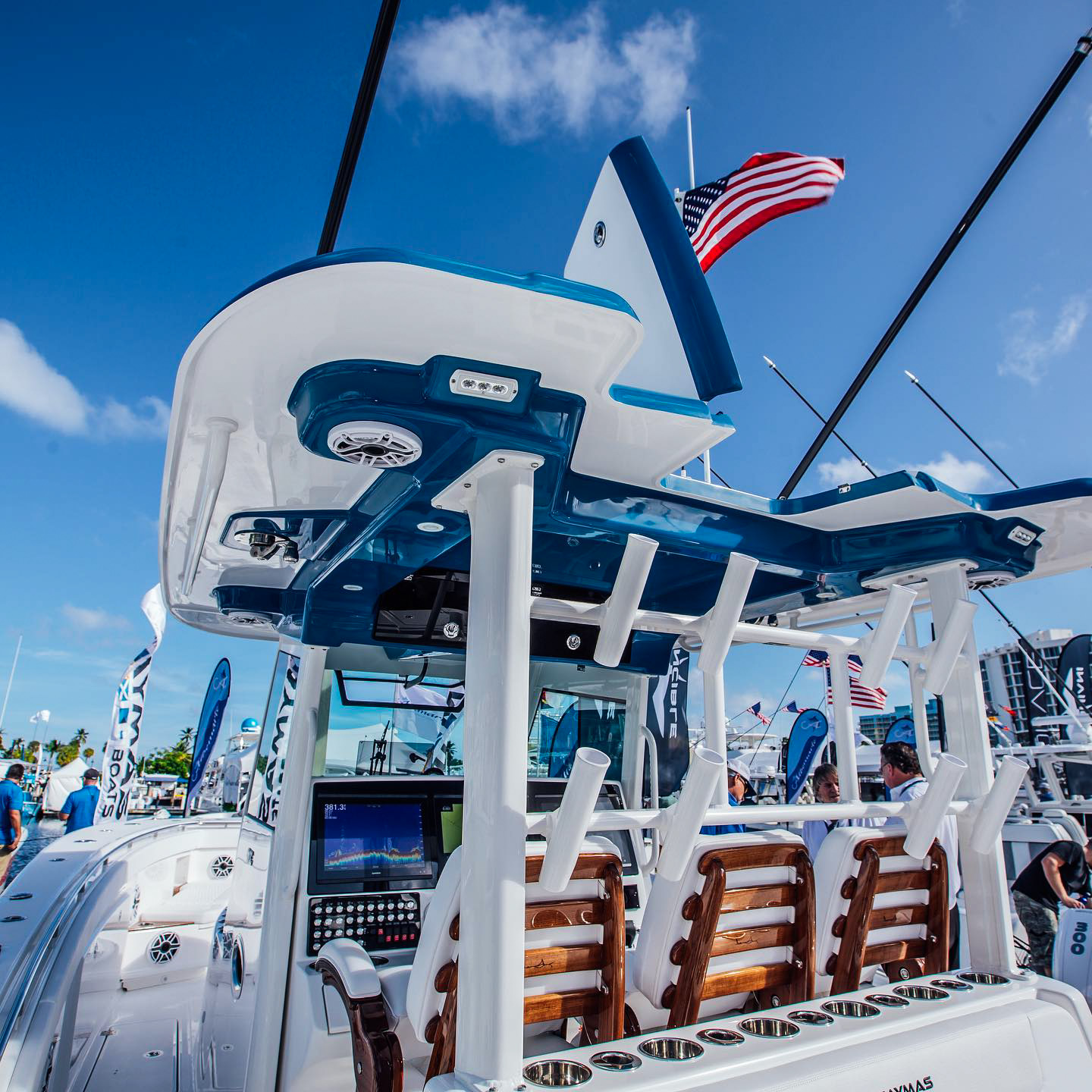 For those moments when disembarking, another amenity popular with the anglers is the lockable rod storage running along each side; separate partitions storing a trash can and fire extinguisher to port and more tackle storage and a second fire extinguisher to starboard are also positioned in the passageway gunwales. When it's time to come in from under the sun, down the steps to the right sits a small gallery and large sleeping berth, and to the left is a private electric porcelain head and fiberglass sink vanity with a retractable handheld wand.
Back up top, for the best possible utilization of space the forward chaise contains a 15-gallon insulated cooler and 75 gallons of additional stowage space, as well as two cup holders and ten rod holders. Headrests on the port and starboard bow folding seats can be raised or lowered with the touch of a button, and further forward an anchor locker and fender storage box with LED lights can be found. A JL Marine MM100 audio system with 10 speakers and 2 subwoofers keep the beats and base pumping, while a Seakeeper 3, diesel generator and air conditioning at the helm and in the cabin are options to increase the fun factor on the 401 CC.
In more ongoing and exciting Caymas Boats news, following the reveal of the 401 CC, Chief Marine Group which recently acquired Smuggler's Cove Marina and its adjacent property at Mile Marker 85 in Islamorada, Florida, has recently taken on the boat line and luxurycenterconsoles looks forward to bringing you more details on the future progression of this partnership.