Miami is never without a story to tell, and in today's male-gaze driven society, this February the tropical megalopolis delivered with two heavy hitters -- hosting Super Bowl LIV and the Progressive Miami International Boat Show (MIBS).
From boats to booty-shakers, the city brings on the blingalicous hardware, and as soon as the Super "Ballers" cleared out and the racket from the racy halftime Hips Don't Lie Latina flaunt lifted; the seafaring specialists hit town for the President's Day weekend marine extravaganza.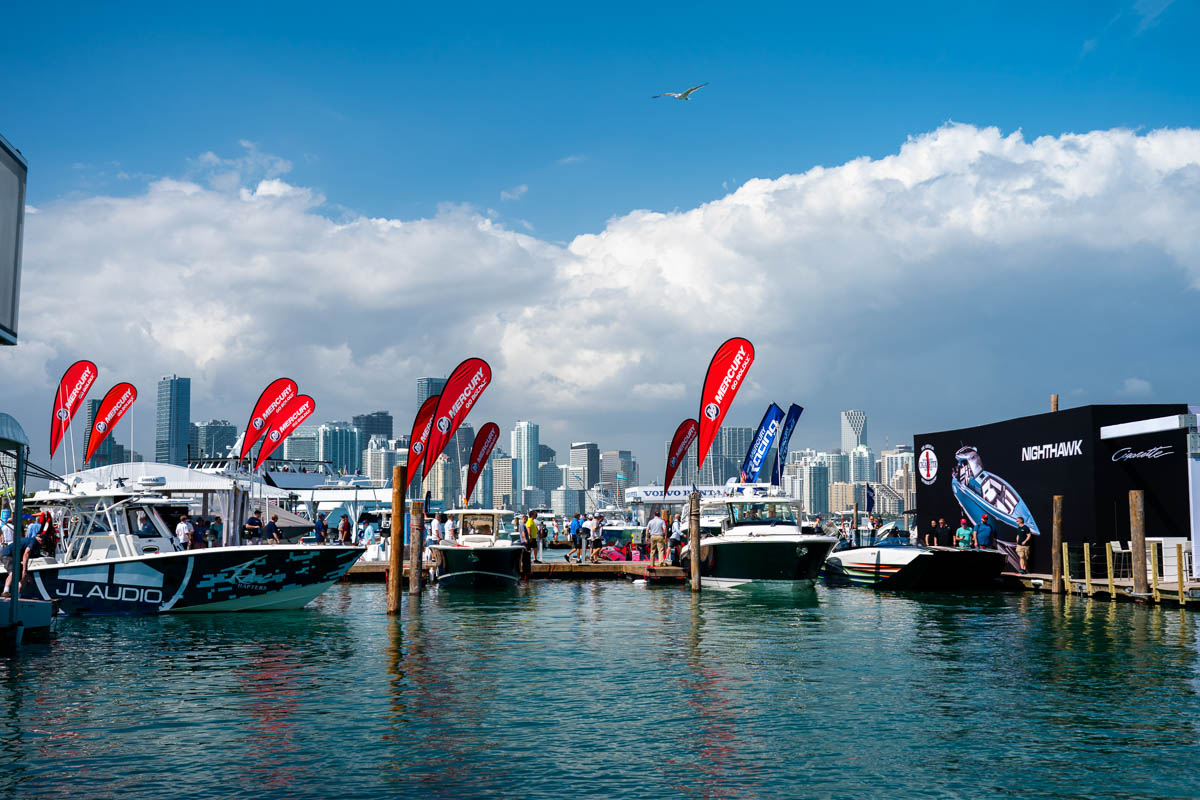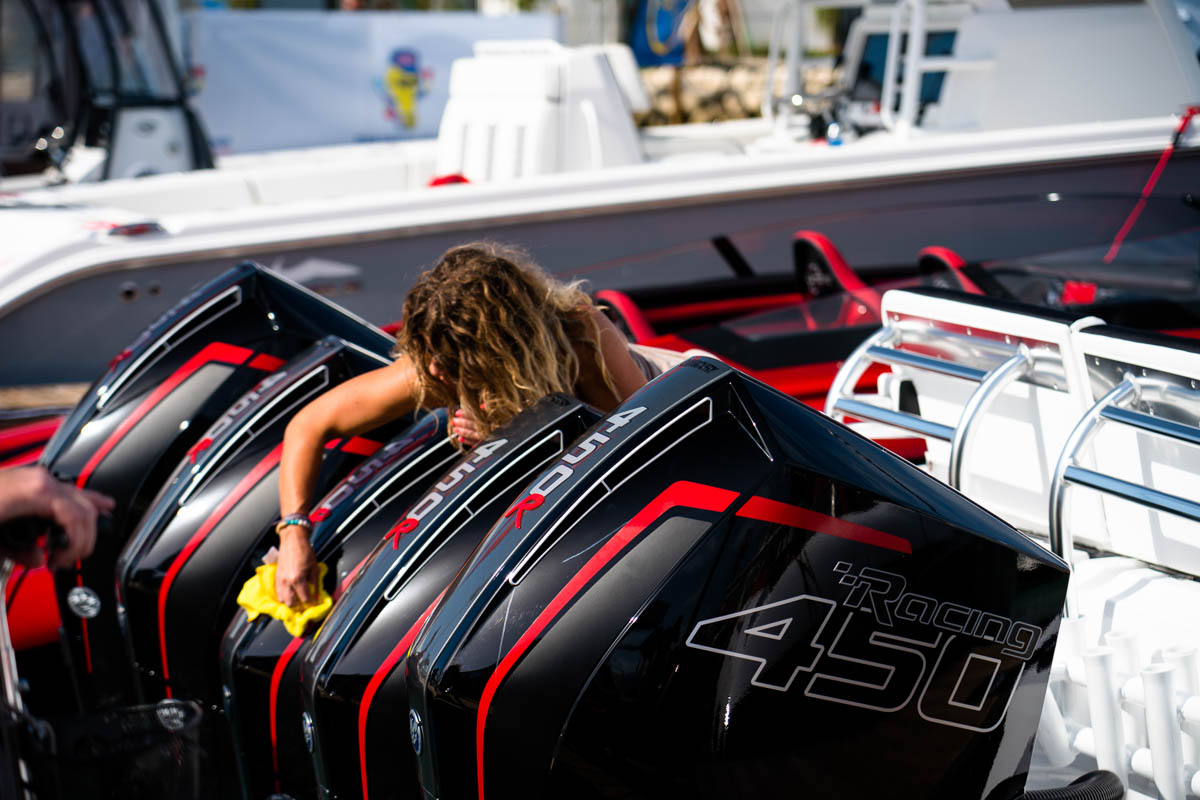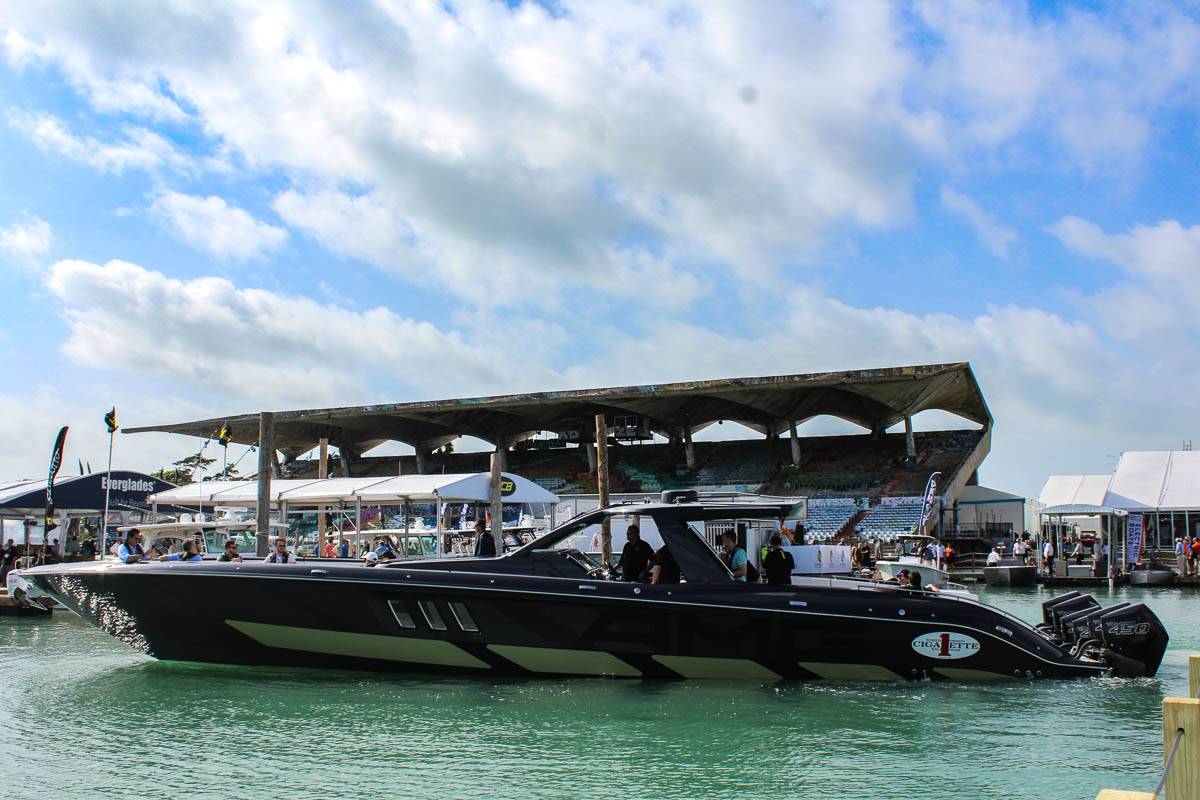 The deluge of furiously-fast headliners decorating the Miami Marine Stadium Park & Basin during the five-day affair is the stuff dreams are made of and an engine nerd's paradise. The nightmarish commuting chaos getting to and from Key Biscayne that even your Waze app couldn't rescue you from, even proved maneuverable. I was back and forth to the show each day in under an hour –an impressive statistic in its own right
Once inside, its game-on at the pop-up marina of seemingly endless piers pieced together to house the latest state-of-the-art exotics, where one can even score a test ride from the selection of 2020 inventory on the sea-trial docks. In similar fashion to the Fort Lauderdale Show, super center consoles and outboard powerplant packages were the norm, but a watchful eye could still spy the sterndrives.
Jumping right in, the Opa-Locka-based Cigarette Racing Team seemed a righteous place to start. As the long-standing adage states – legends are not born, they are created –and once again Cigarette Racing Team had the final word unveiling its uber-over-the-top HyperLux Console  41' Nighthawk, 42'Auroris and flagship 59'Tirranna.
A shorter length, beam and freeboard project a more aggressive and distinguished stance on the 41' Nighthawk, whereas, its slightly bigger sister the 42' Auroris gives way to a wider beam and an increased 60 percent taller freeboard. Also, a smoother ride with less body swaying and beverage spillage is noticeable if adding the optional Seakeeper down below.
"The new center console models are getting away from the fishing profile and going the luxury martini cruiser route with an upgraded classy esthetic, resulting in bringing the caliber of the boat way up." Revered marine industry mogul Phil Lipschutz of Lip-Ship Performance, spoke these words of wisdom when he saw me gazing in amazement at the new series.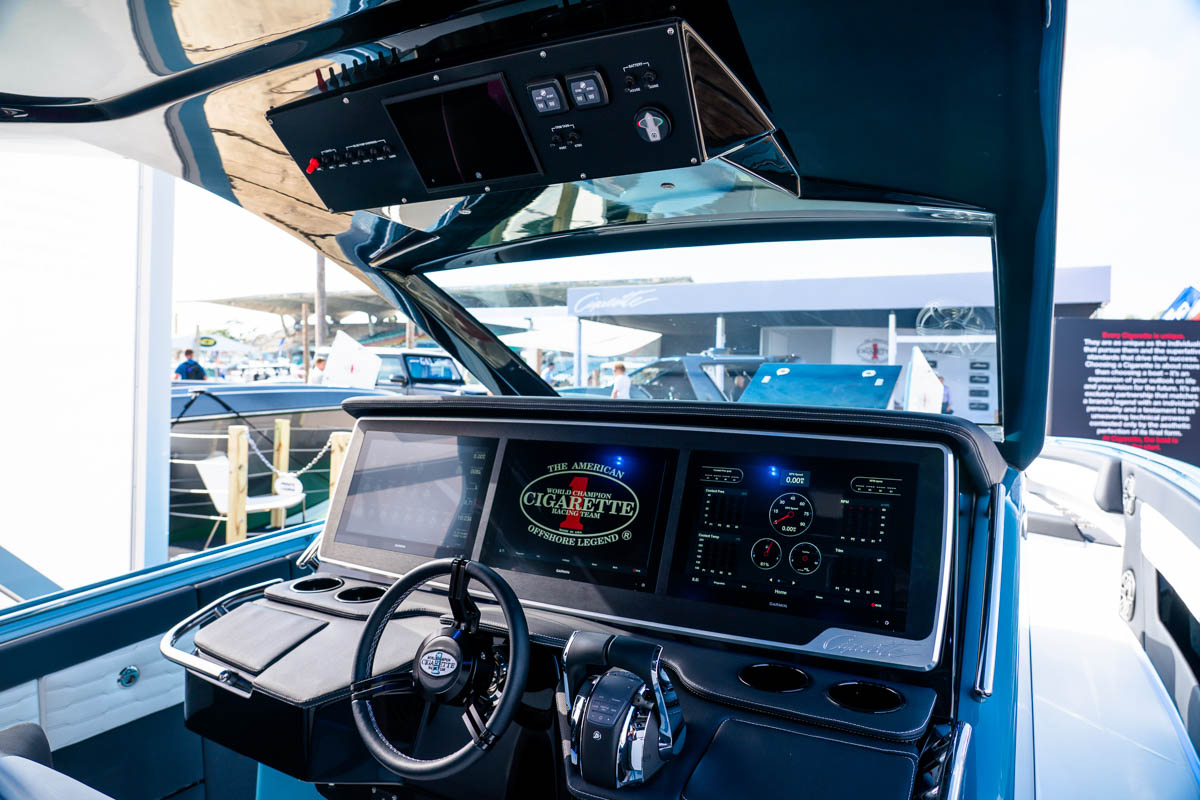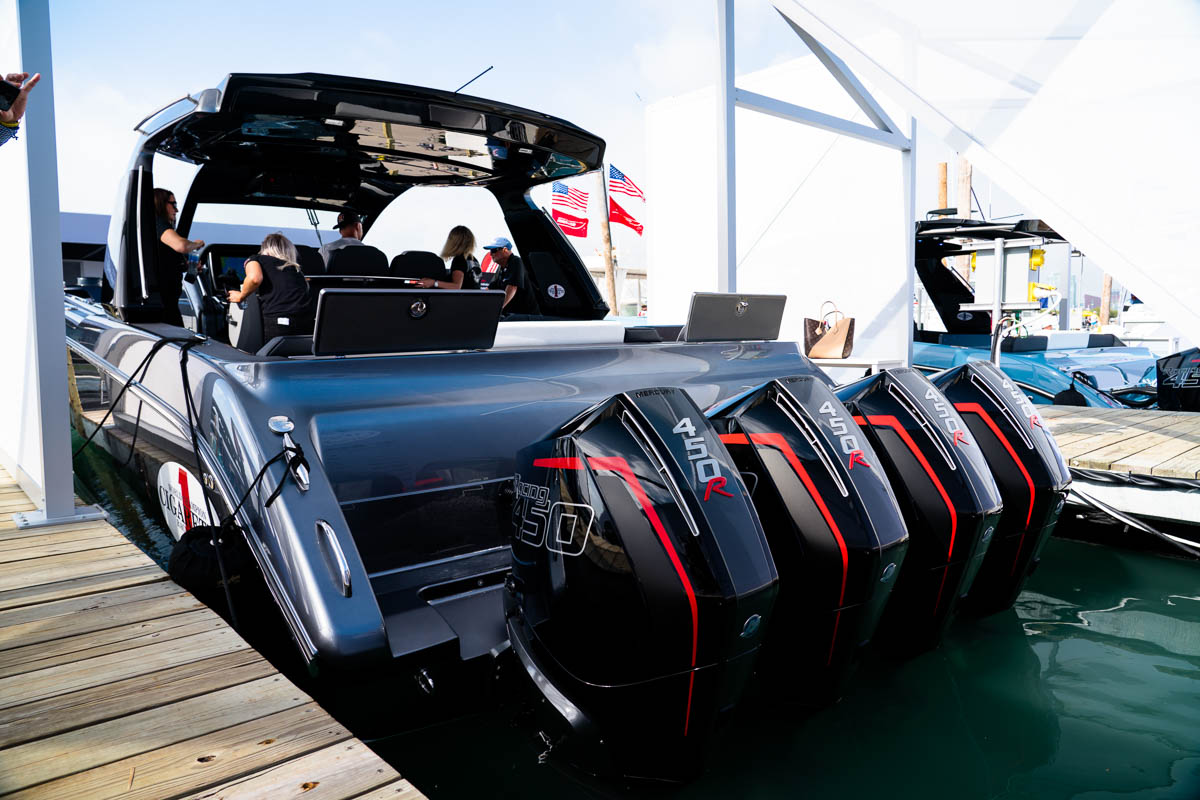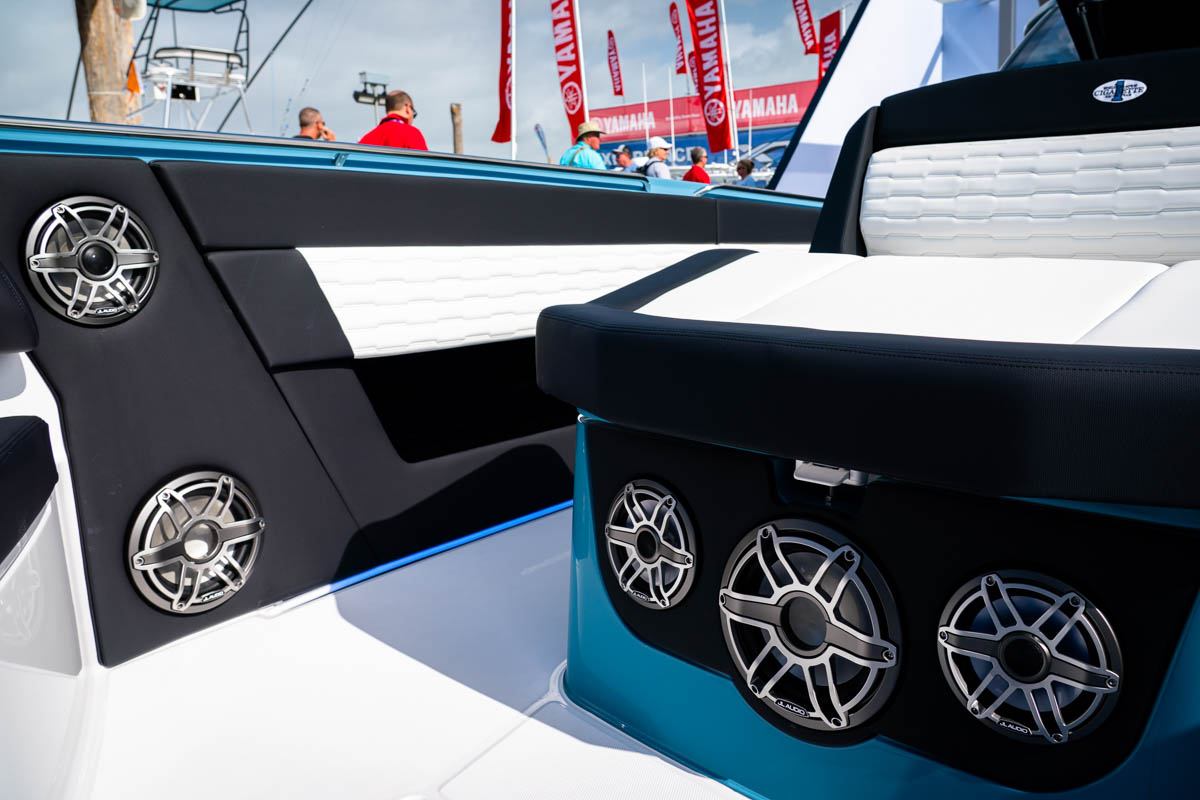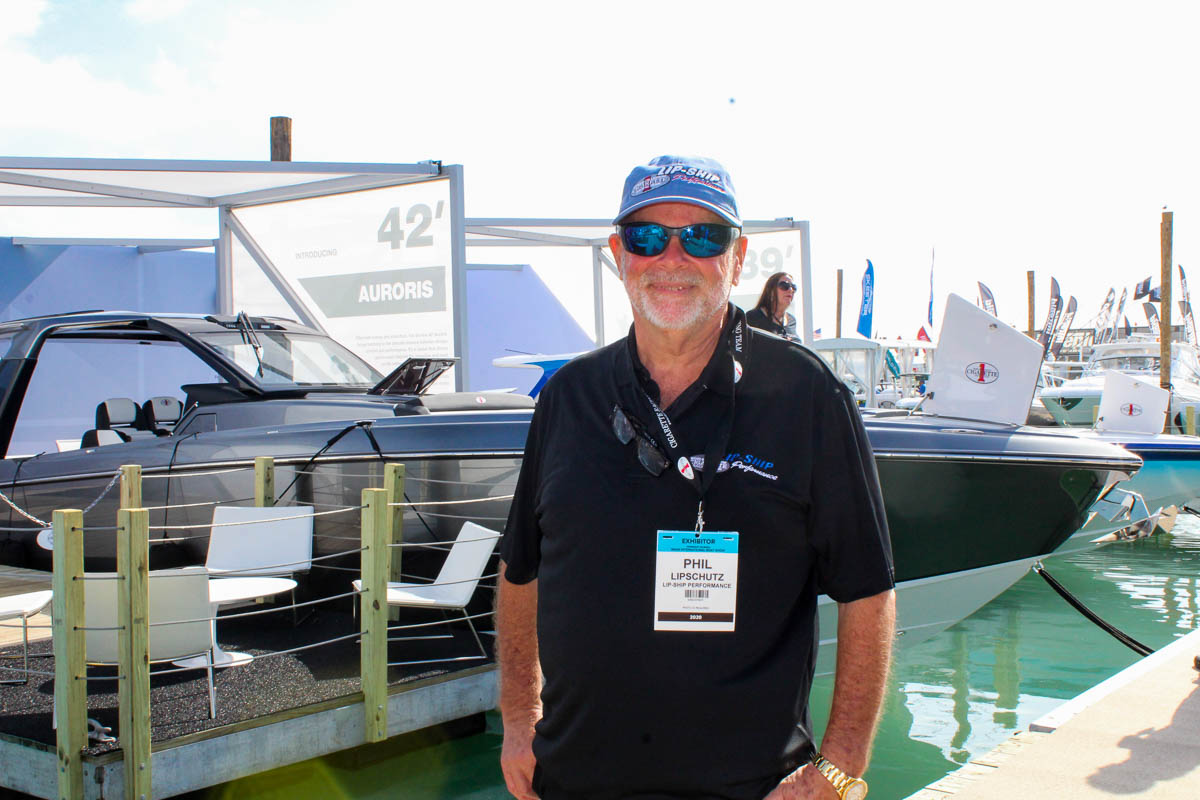 He continued by pointing out,  "The stronger carbon-fiber cockpits on the HyperLux Console models are wrapped into the hulls sides which in turn stiffen up the boats and produce much less wind, whereas the past models had unattached acrylic windshields. Speed is also on point, the 41' Nighthawk ran 88 mph with quads, and the 42' Auroris hit over 80 mph, also with a four-pack but had the wrong props. We just ran out of time, after the show closes testing will resume, and that number will rise."
And on a side note, I've also heard a little Cigy-secret that a sleek black sheep named  Cigarette Racing Team 515, (think 50' Marauder but long, long, longer) made its way into the HyperLux "non console" Series. Still glued to Pier 3, I needed to see something, anything high-performance, and Outerlimits answered my prayer, proving big things come in small packages with their two in-water treats.
Partnering next to the SC46 Hurry Up!!! was Liquid Prozac - the first V-bottom SL 44 powered with twin naturally aspirated quad-cam four-valve-per-cylinder (QV4v) Mercury Racing 860 engines. Texas powerboat enthusiast Cass Shewbart is the proud owner of this smile-inducing 1,720 horsepower dose of adult medicine.
Claims and critiques of under-powering Liquid Prozac from the all to often "boat-less" skeptics were quickly shut-down after nailing speeds of 122 mph during the initial splashing. Works for me! A two-year warranty and the magnificence of running 89-octane, certainly sweeten the 860 package making it a dope engine deal.
Another leader in the industry, Iconic Marine Group (IMG) ushered in a fare share of stares and sales with its flotilla of Fountains and Donzis, but it was the 34 twin-hull Thunder Cat tucked into the Mercury Racing demo slip a few jetties s over from its main event tent, that won me over. Fountain's latest answer to the company's original 32-footer, the 2020 Valentine's Day red heartthrob comes dressed with twin black 450Rs, a gauge-less dash and crafty and accommodating cockpit configuration including four bucket seats and a rear bench for three.
In doing the math, that makes six plus pilot ride the red devil; and all weekend long it was none other than offshore racing authority Billy Moore with his hands on the sticks and steering wheel, no doubt giving testers the ride of their life. (Many signed up for slot times ahead of the show.)
So confident in its good taste, IMG has even carried the red and black scheme to its Fountain center console line by branching out into the luxury performance market with its Bluewater 34 SC (Sport Console). Only time will tell how Fountain-faithfuls will react to this fresh addition to its primarily fish-heavy line.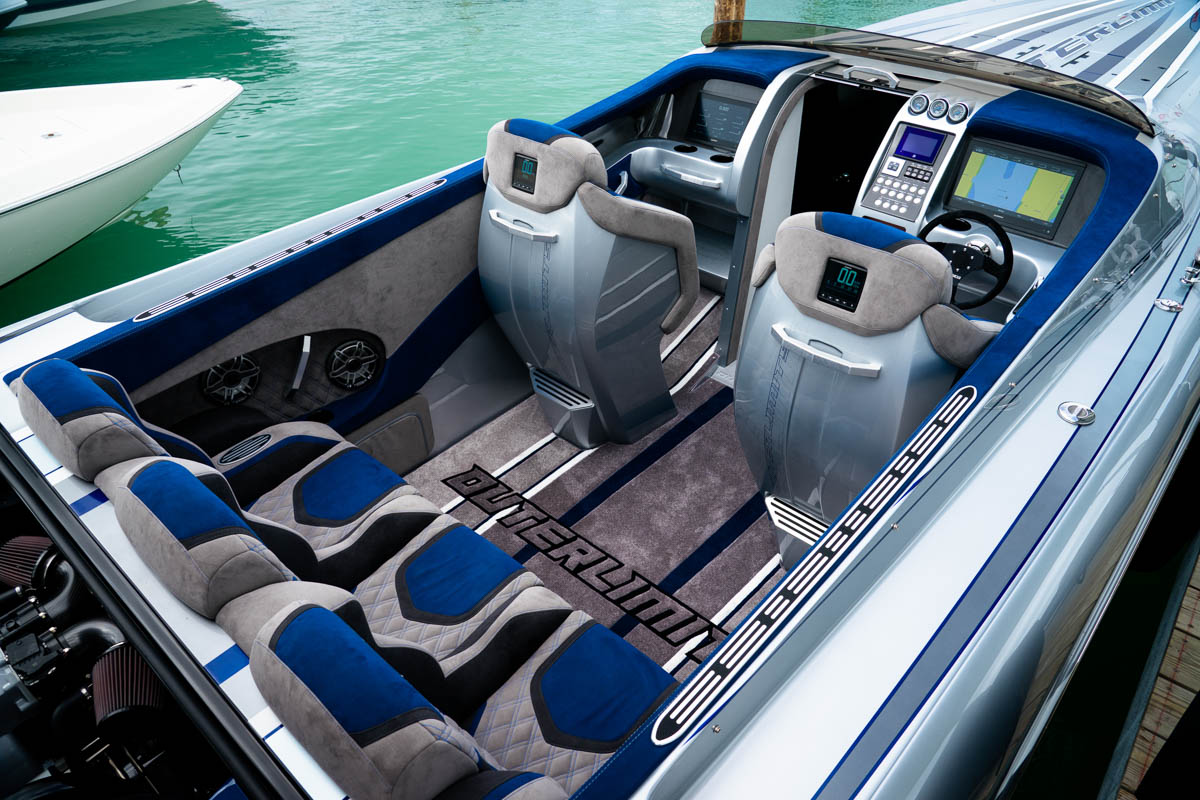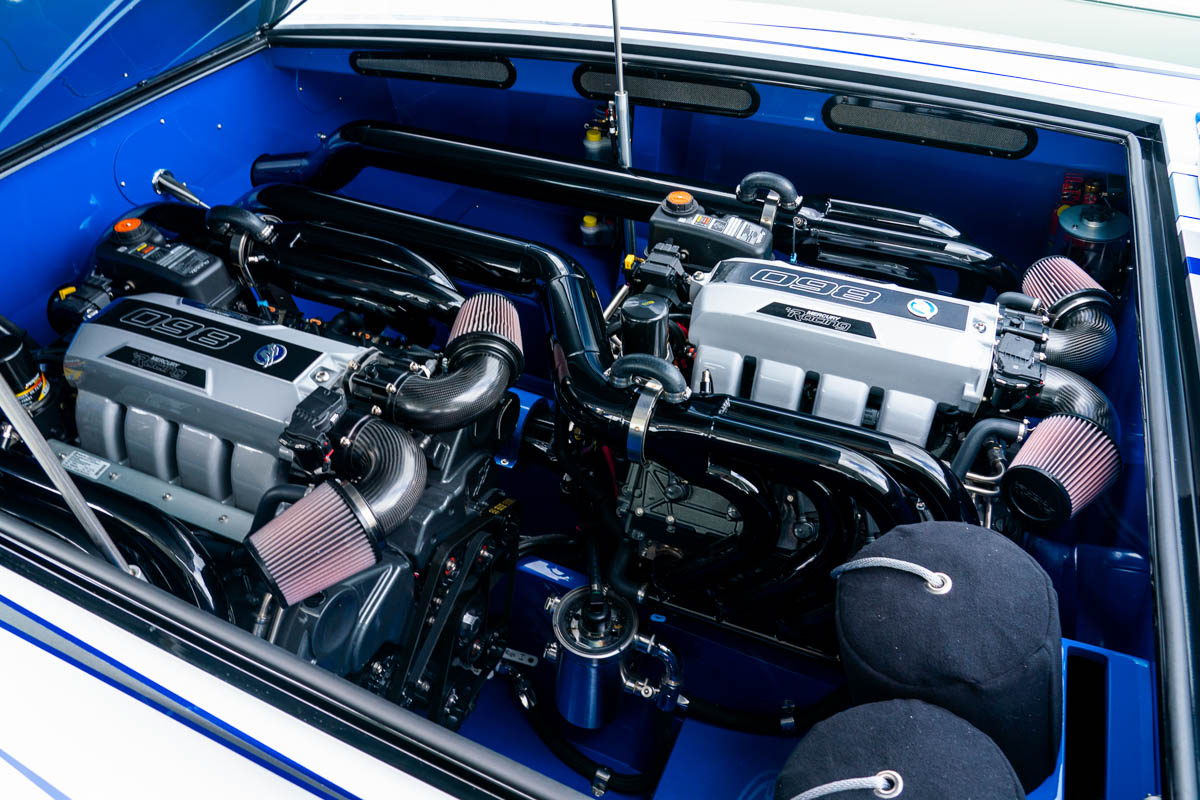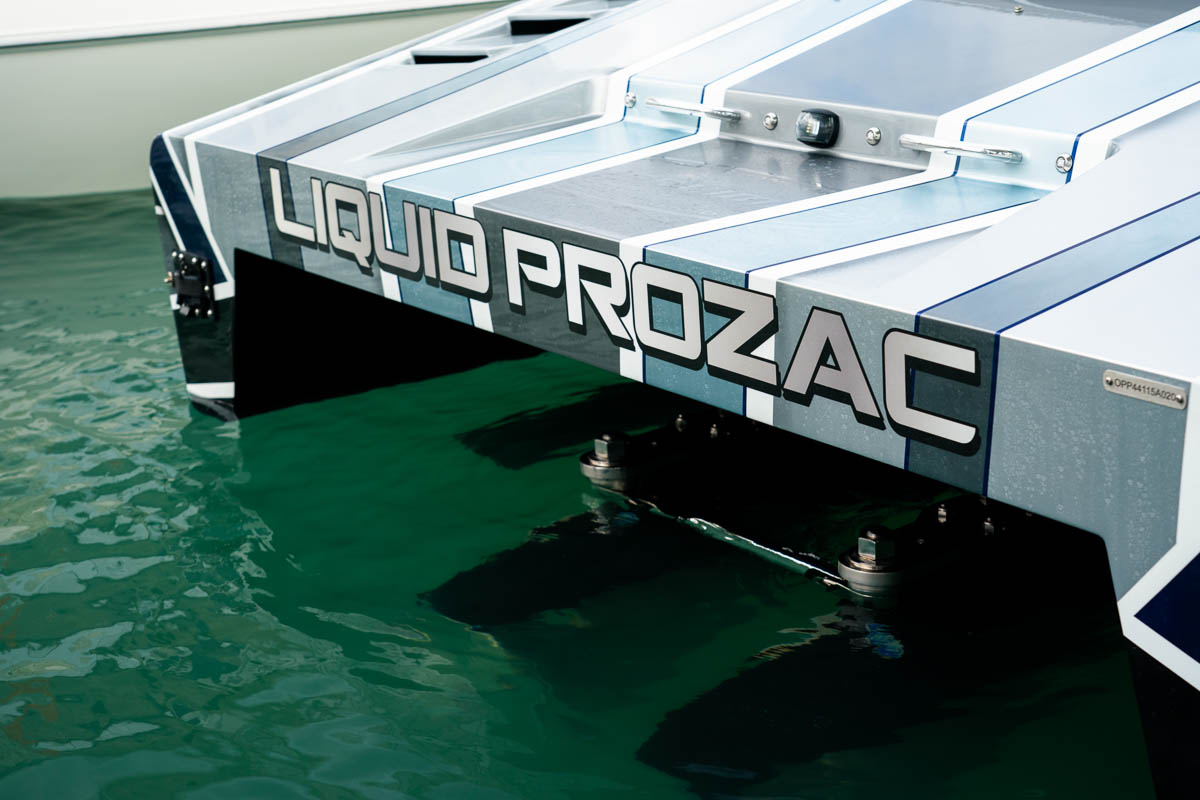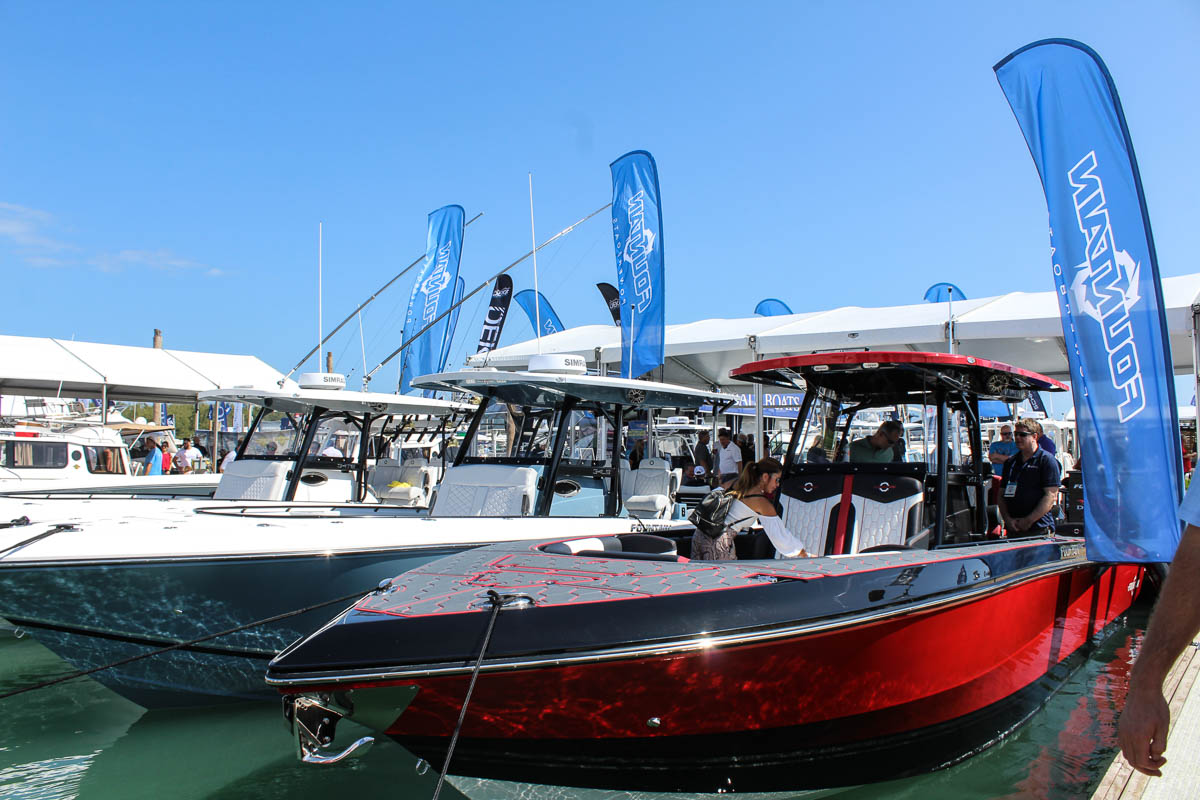 With so many MTI banners blowing back and forth just one quay away, in my attempt to bolt over, I became sidetracked just one booth away at Hustler to inspect the first-ever 29 Shotgun.
Paul LoGiudice, vice president of sales, explained the 29 Shotgun's strongest selling point is space. In counting cockpit seating for nine, I had to agree. Maybe their taking cues from the Fountain cat, I thought (or not.)?  Here Hustler has incorporated the 39 Shotgun cockpit into the smaller 29 by mainly pushing it back and also eliminating the engine compartment. Preliminary testing in chilly New York waters with twin 400Rs had the 29 Shotgun discharging up to 80 mph.
Smack dab in reach out and grab distance from the 29 Shotgun, sat the MTI-V 57 in all its glory stacked with five phat 450Rs. Showcasing seven speedsters and calling slips 392-399 home for the weekend, I hustled over to the MTI mecca to devote some quality time to oohing and aahing over the plush silver MTI-V 42. And let's not forget the cats!
A mix of purr-fect kitties kept the consoles company including the biggest feline of the pack, a 48-footer with dual Mercury Racing 1350/1100 motors; and marked for customer John Caldwell. Next was hull No. 2 of the new 390X model which RDP presented in its November Key West Worlds story. Weighing in at 6,000 pounds and holding 150 gallons of fuel, the 390X has been referred to as the "pumped-up steroid version" of the 340X. With over 13 sold since its launch, it makes one wonder about the 340X? But worry not; the MTI 340X sport cat was another powerhouse on display causing just as much ruckus among showgoers.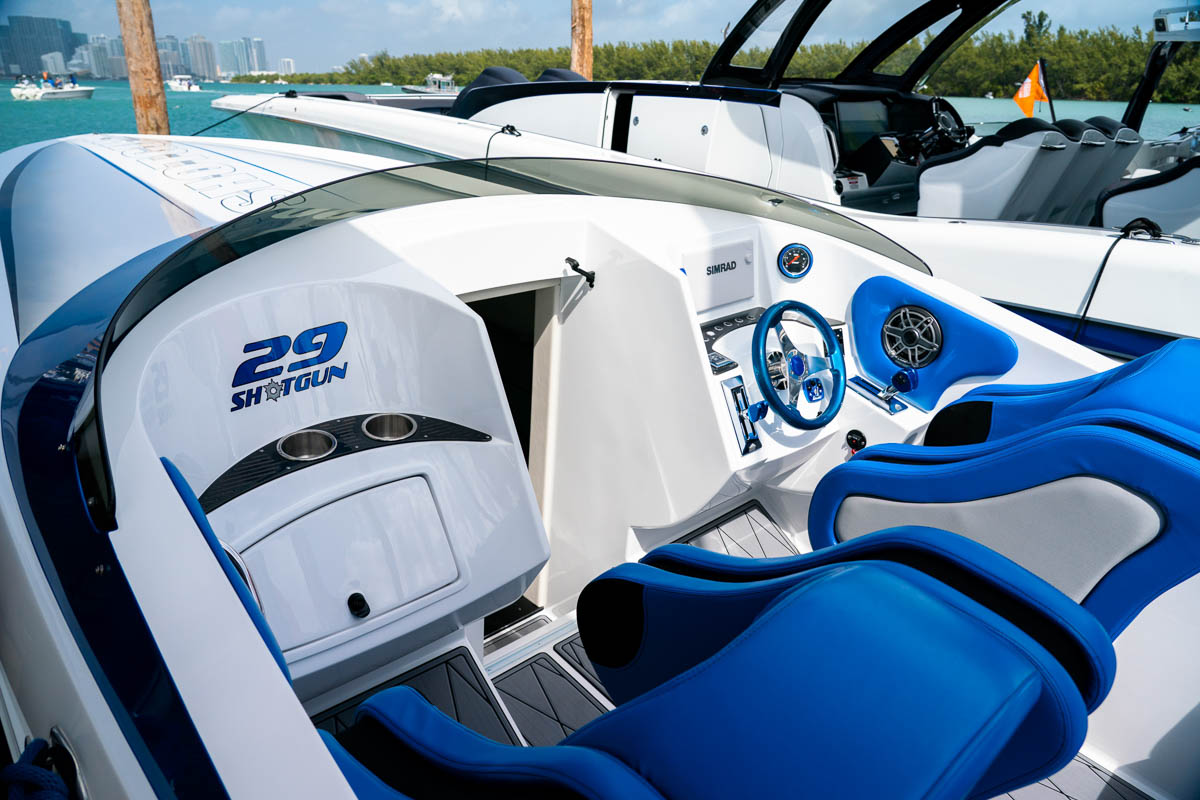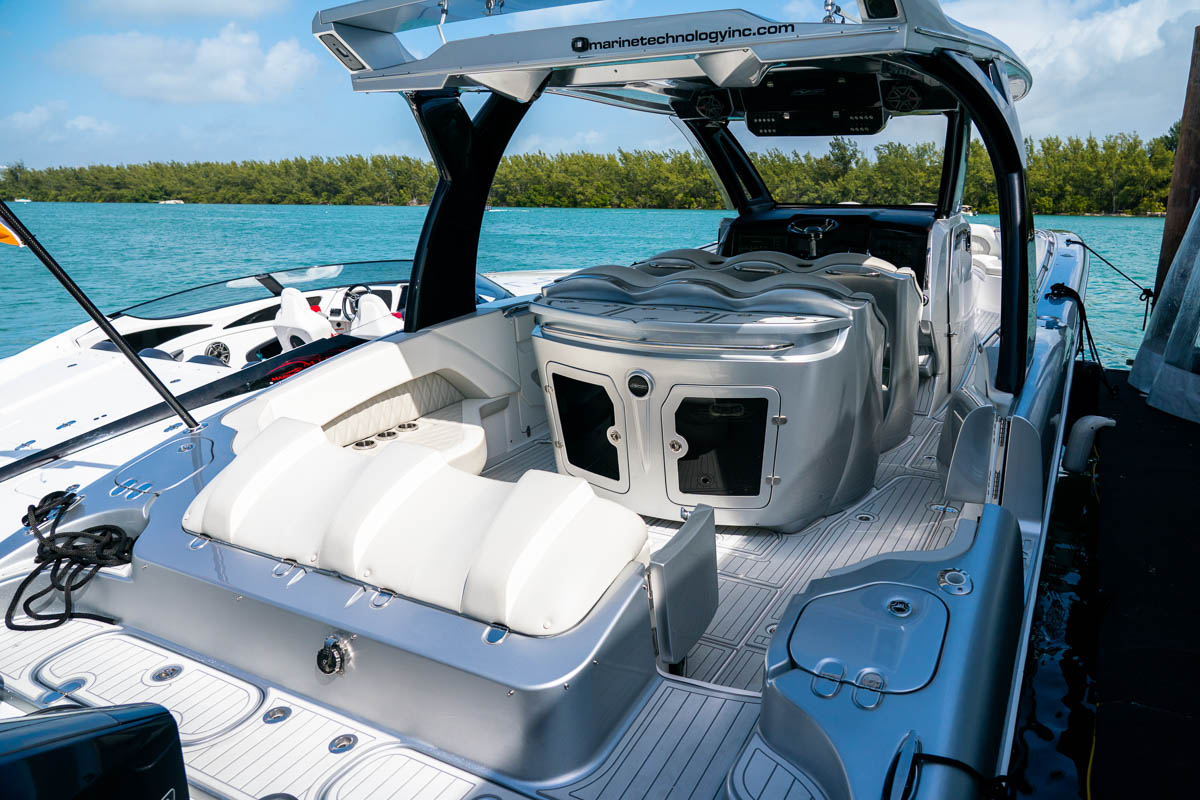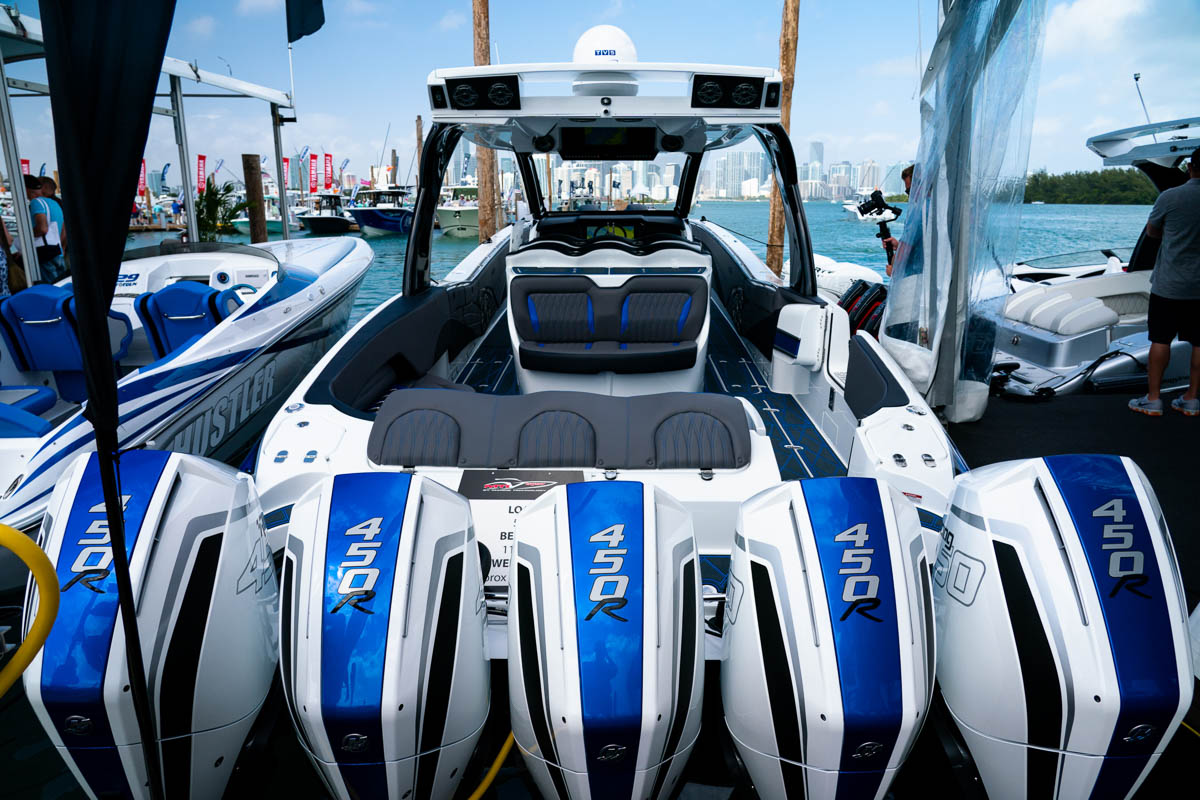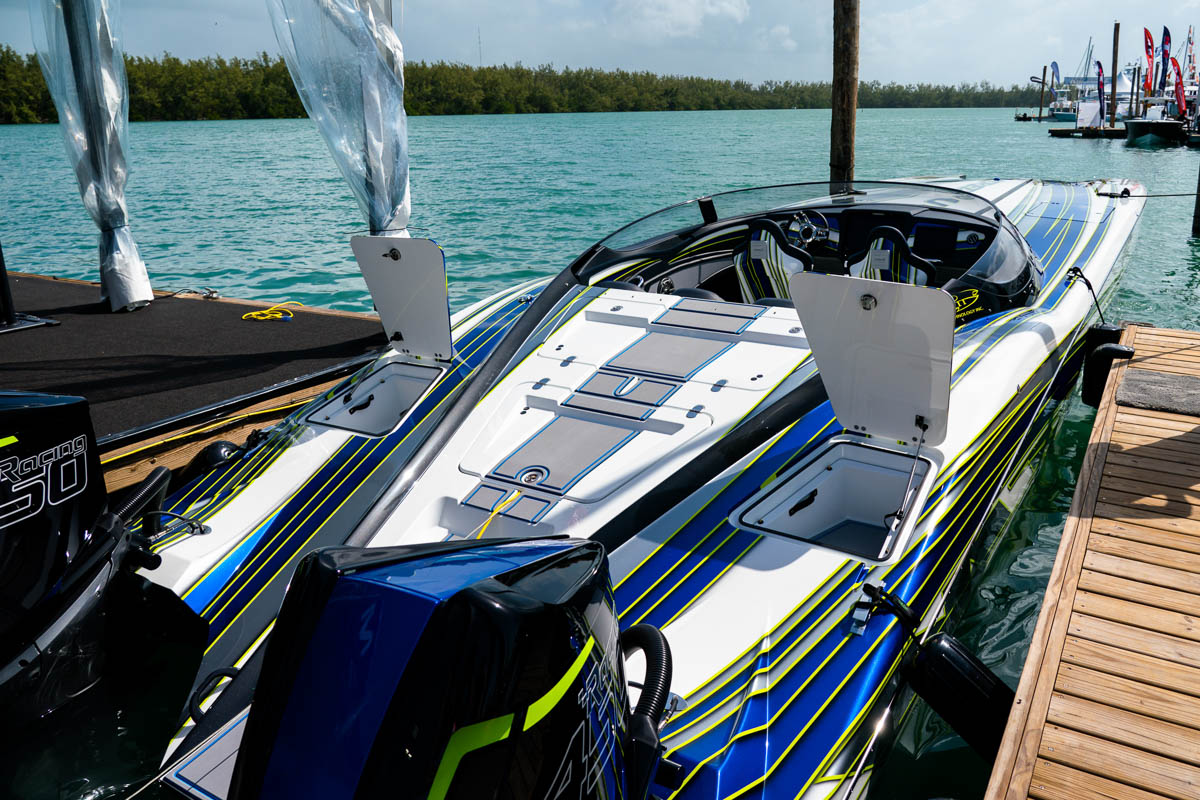 If the MTIs, didn't make your heart stop, maybe the half a dozen Nor-Techs tucked around booth 541 could help. It was the stellar wrap job by Brand 1 Ink LLC on the Nor-Tech 450 Sport that reeled me in. Decked out in dynamite colors with Mercury Racing motor internals, this Nor-Tech demanded your complete attention to fully appreciate the complexity. In chatting with Nor-Tech's vice president of manufacturing during the company's Thursday night dockside get-together while sipping my first ever Budweiser Seltzer, Henrik Margard told me the Nor-Tech 450 was actually sold, and the owner will return to a solid white hull when he takes possession following the show.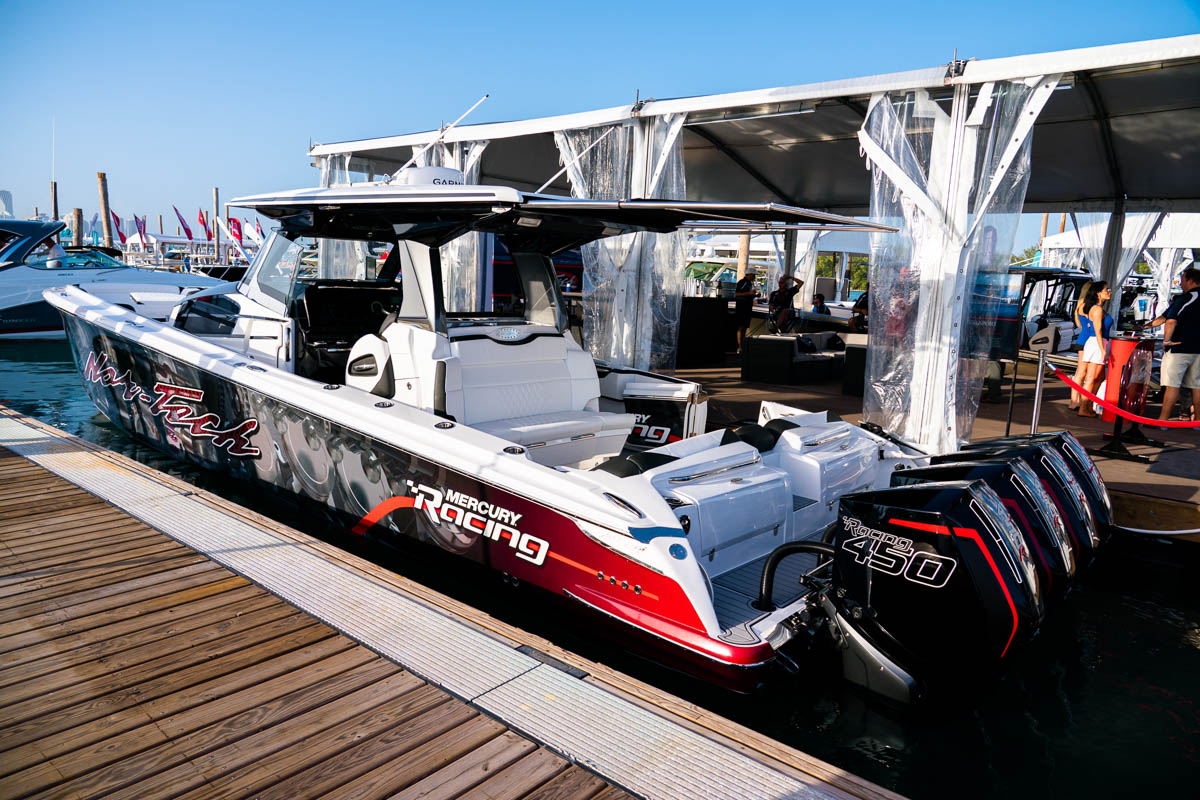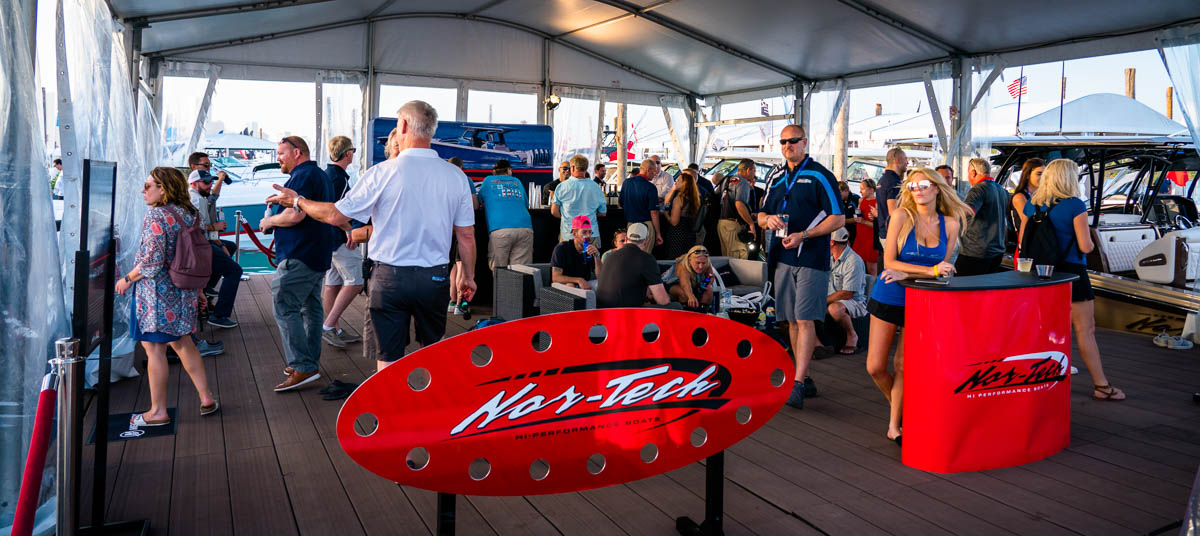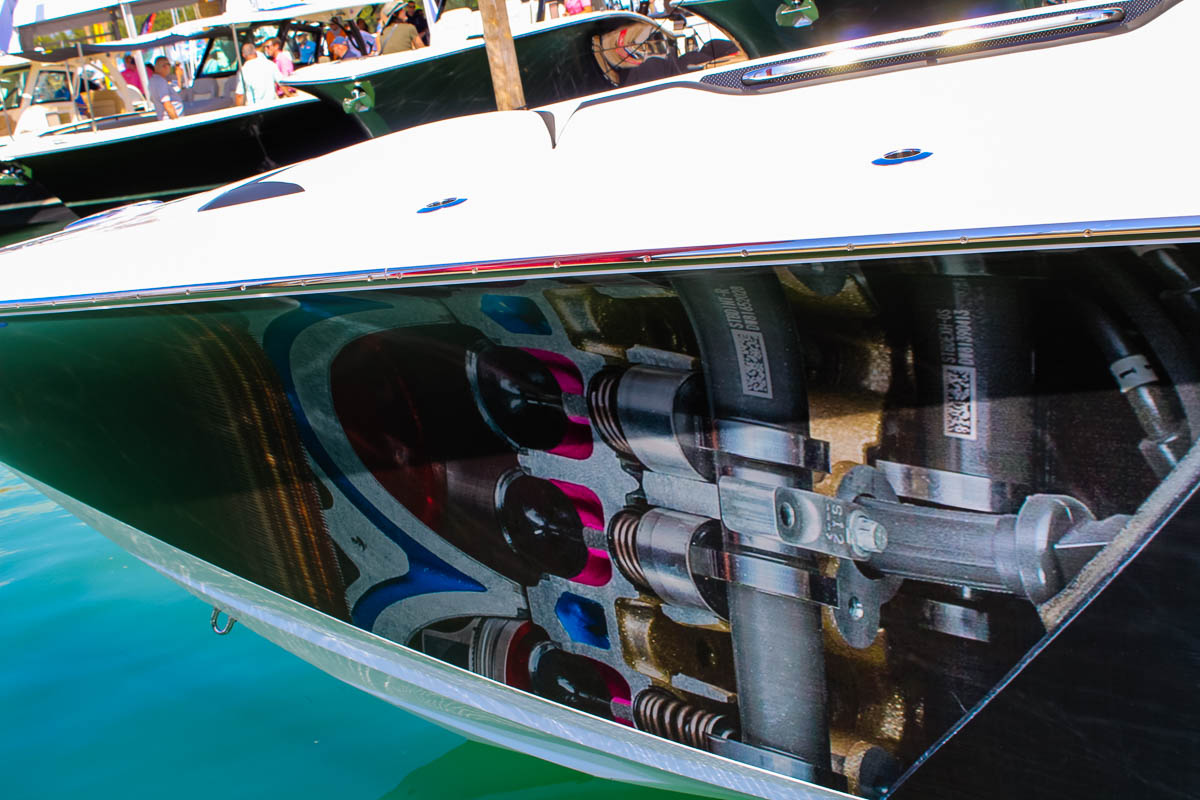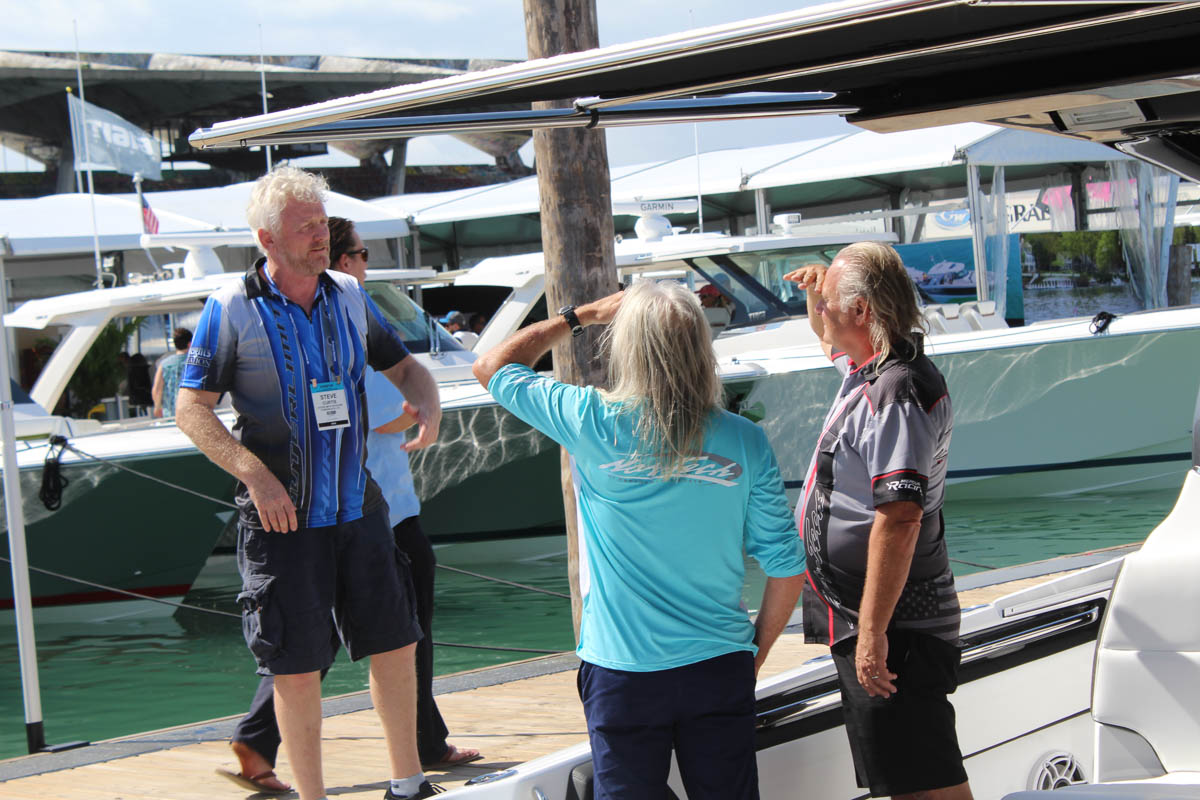 And speaking of color-free hulls, nothing was brighter, whiter, crisper and cleaner than Skater's first 368 with 450s, just out of rigging from TNT Custom Marine, and owned by longstanding Skater customer Sam Jirik.
The 368 Skater shared the stage with G-Force, the fourth hull from the newly revamped 2020 Skater 438 model. If the wrap was outrageous on the Nor-Tech, the flawless blue and white cockpit decor by Jamie Borg from Cutting Edge Interiors on G-Force was equally to die for. With the 1350s, the 438 Skater hit 183mph, and is projected to reach close to 190- 200 mph with the 1550s activated.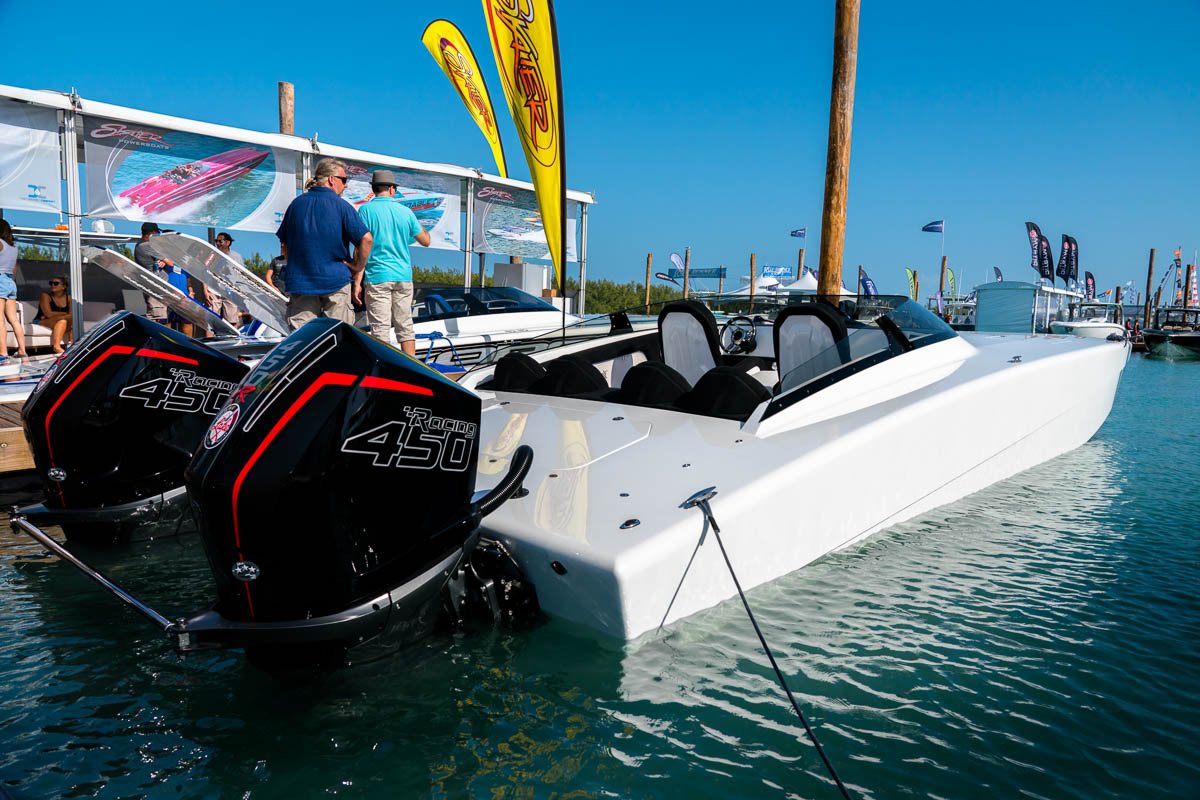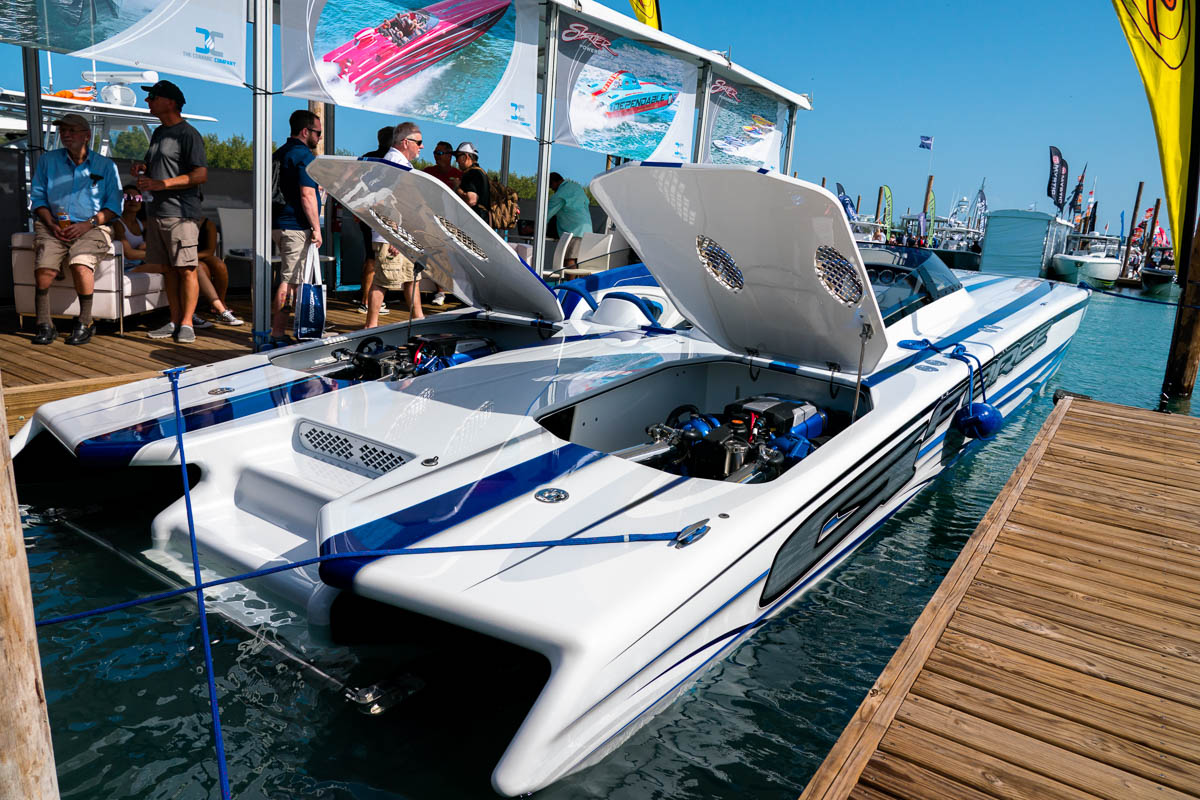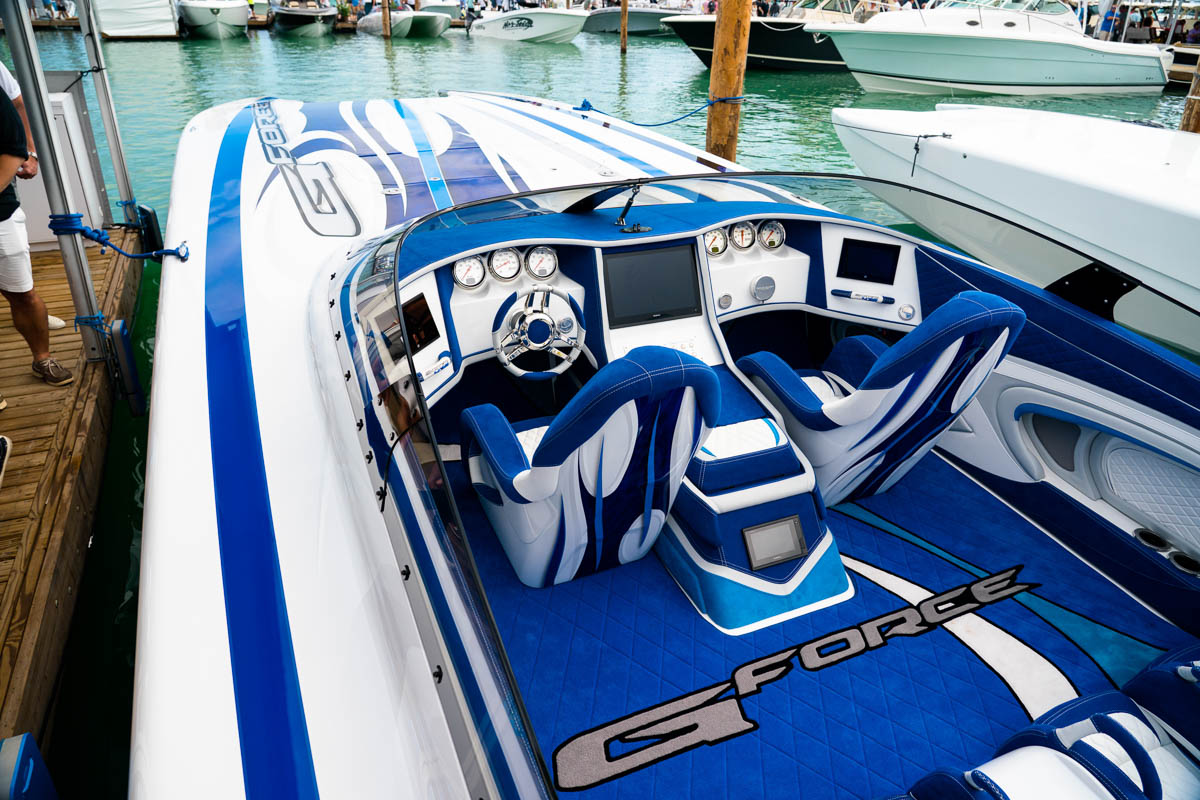 As Monday rolled around, "BIG" breaking news surfacing had little to do with the show, and revolved around psyching up the boating community for  upcoming 2021 reveals. Randy Scism dished out tidbits about the new roomier MTI 50' center console in the works, with a capacity for 550 gallons of fuel; and Skater's national sales manager, Tony Cutsuries, told me what some may or may not already know – the plug is done for the 55 Skater. Look for it at  next year's Miami Show with either twin or quad 1550s. I'd go with quads, just saying...